Knowing what pants look best for a woman with big hips can be a challenging task. Since I have a petite clothing line, I work with models of all sizes and shapes, for example, Wendy, 5'2″ with very curvy hips.
While working with Wendy in our weekly product fitting and photo shoot, I noticed some pant styles look a lot more flattering on her than others. Based on my first hand experience, as well as feedback from thousands of my curvy customers, I've put together this guide to help you find the best pants.
Pants are one of the most important sections of your closet since they take up over half of your body. They have the power to completely shift your silhouette, depending on what style, shape, and color you choose.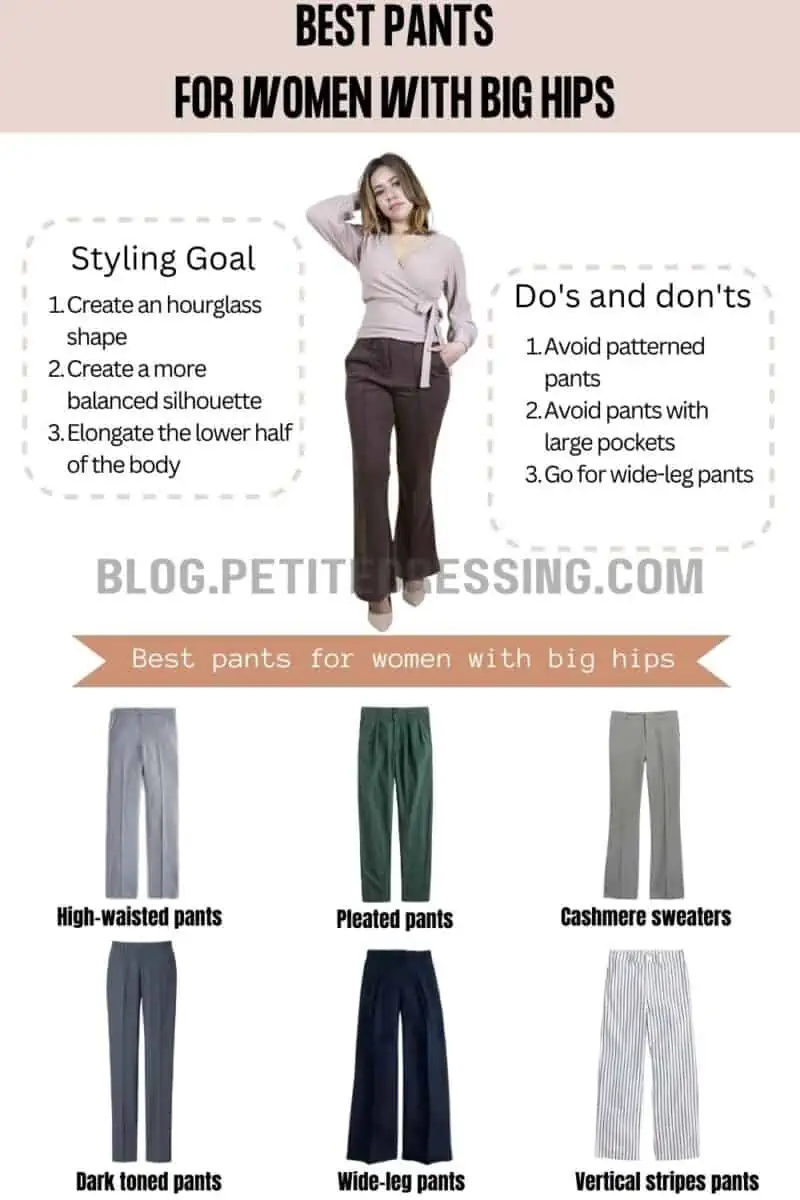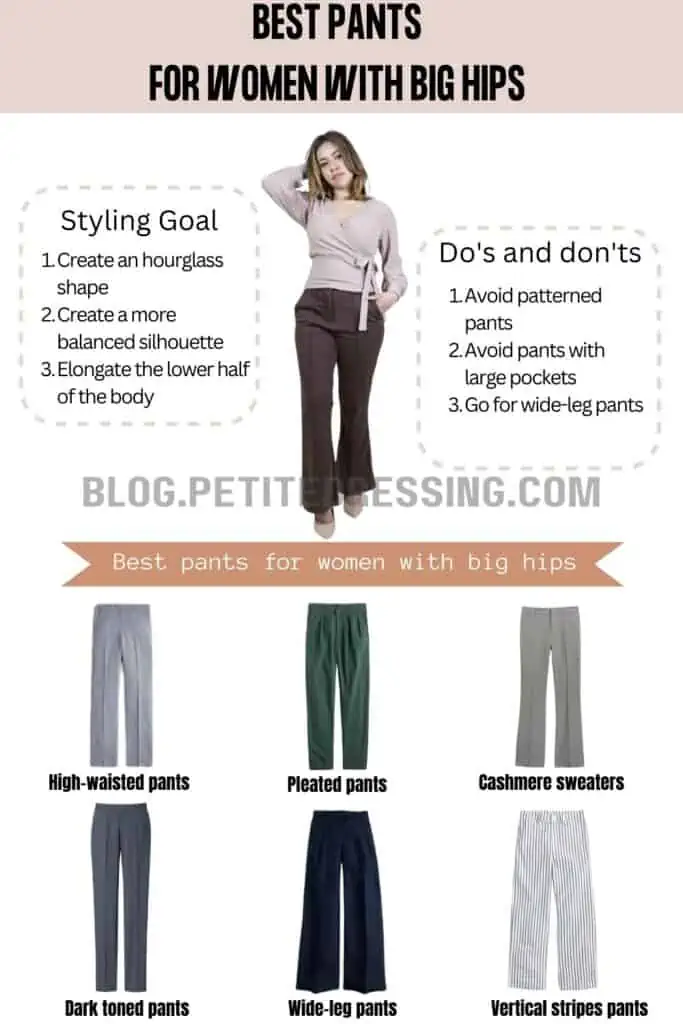 High-waisted pants
As a woman with wide hips, you will learn that high-waisted pants will always be your best friend. High-waisted pants will have a waistline that sits above your hips and at the smallest part of your waist. This creates an hourglass shape, especially for women with big hips.
High-waisted pants will look extremely flattering on any woman with big hips. The material will hug every curve and accentuate what you want to show off.
With high-waisted pants, you can wear any casual outfit, or even dress it up with some heels and a nice shirt. Make sure that you wear a cropped shirt or tuck in your top to show the slimming and hourglass effect tale place.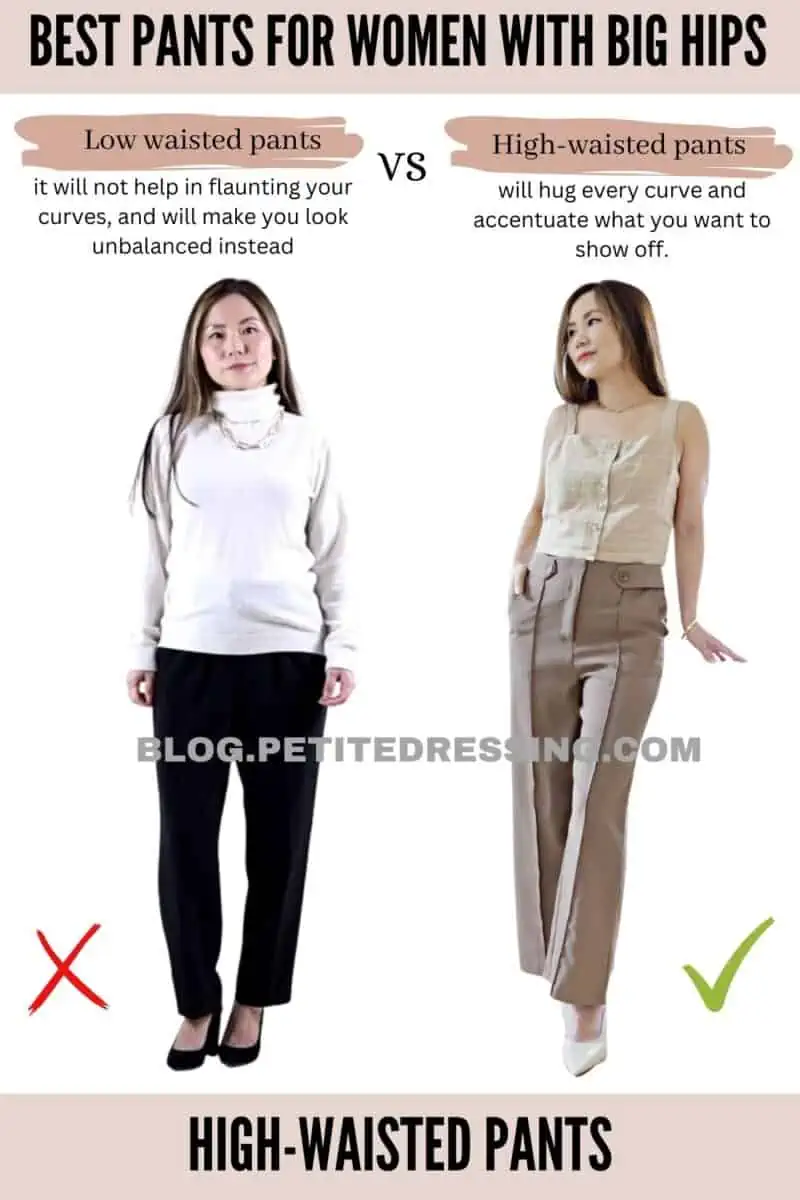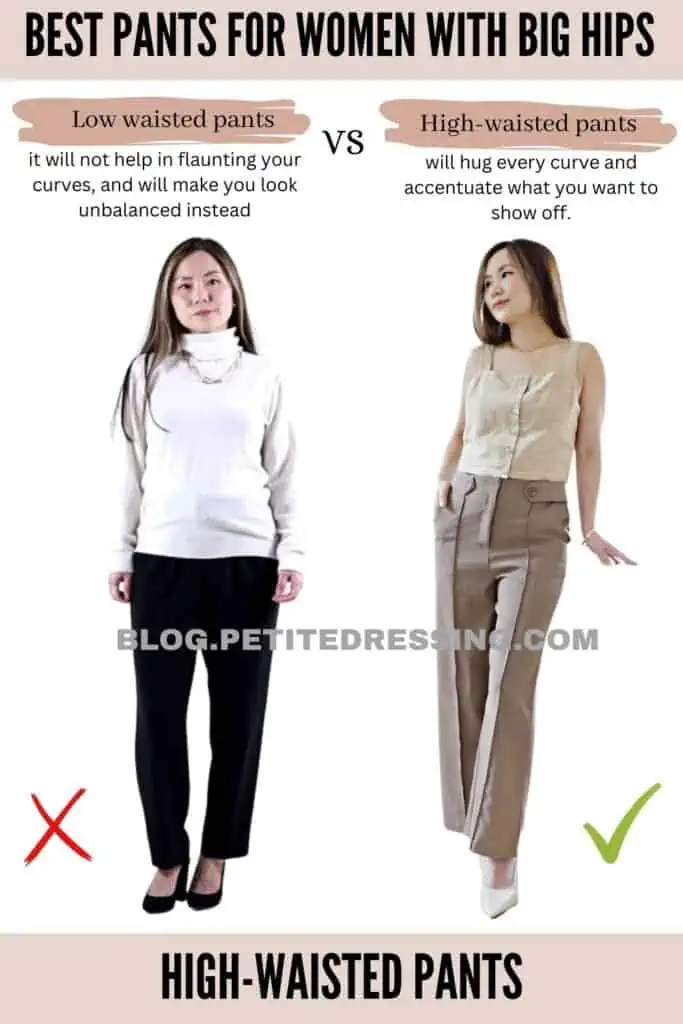 Pleated pants
One thing that typically comes with big hips is a stomach pouch, which may be a part of your body that you want to conceal. Pleated pants do a great job of bringing attention to the middle of your waist while also hiding stomach fat.
The pleats are usually placed in the center of the pants just below the waistline. These pleats are distracting and draw attention to the middle of your waist, creating the illusion that your hips are smaller than they are.
Pleats are not very heavy or bulky so you don't have to worry about them making you look any larger. They simply create some texture and provide a perfect distraction.
The folded fabric of each pleat will create more space for both your hips and stomach, which is helpful for concealing a lower pouch if you have a bigger one.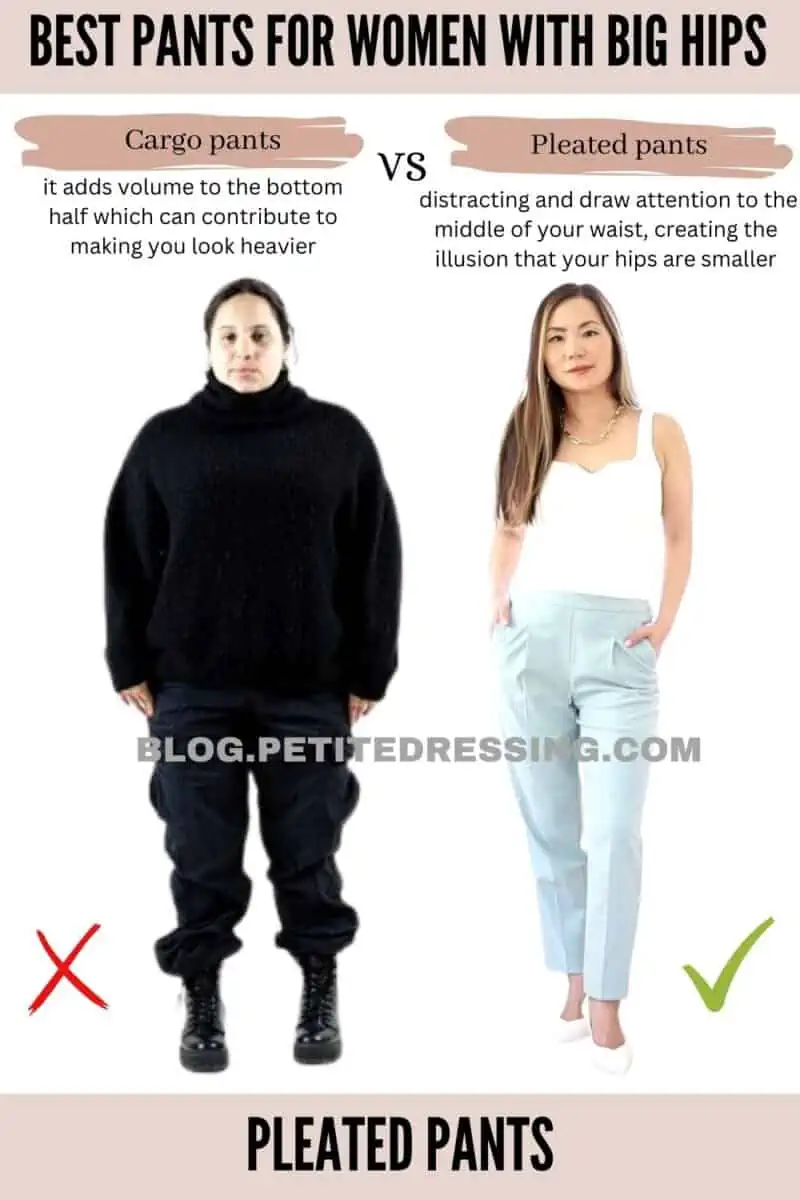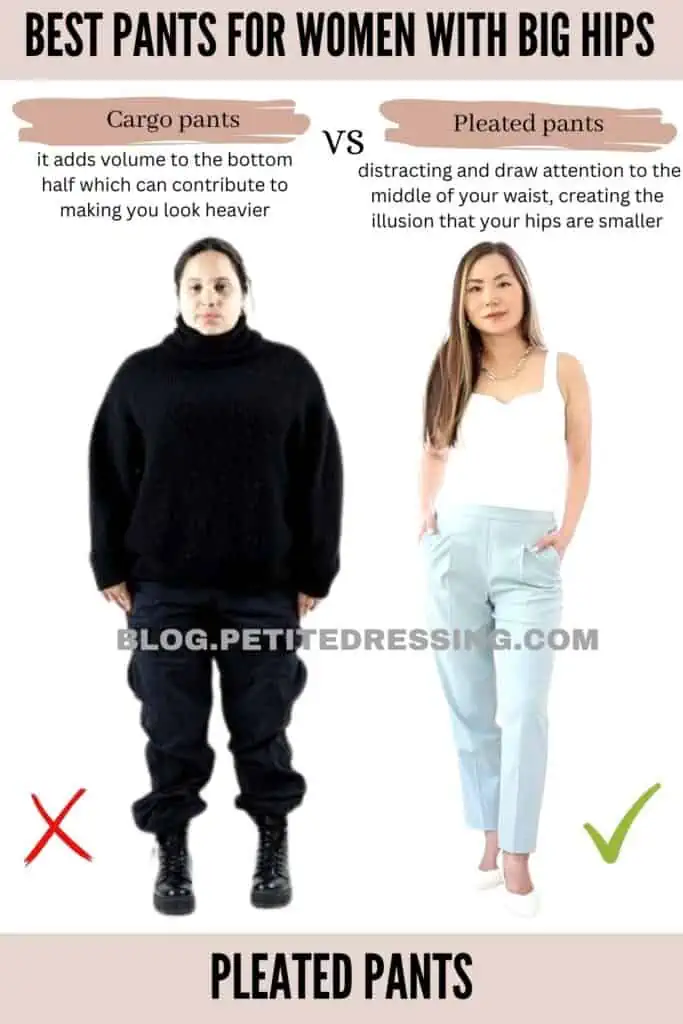 Bootcut pants
Most pants work great for big hips because they are usually slightly stretchy and mold to fit your body type. But because of the form-fitting style of nicer pants, it can highlight bigger hips.
In order to balance out your big hips, try wearing pants with a bootcut flare. The flare at the bottom of your legs will create more space lower on your body, balancing out the overall silhouette of your body.
Bootcut pants are definitely more of a casual look, but they can be very chic if paired with the right accessories.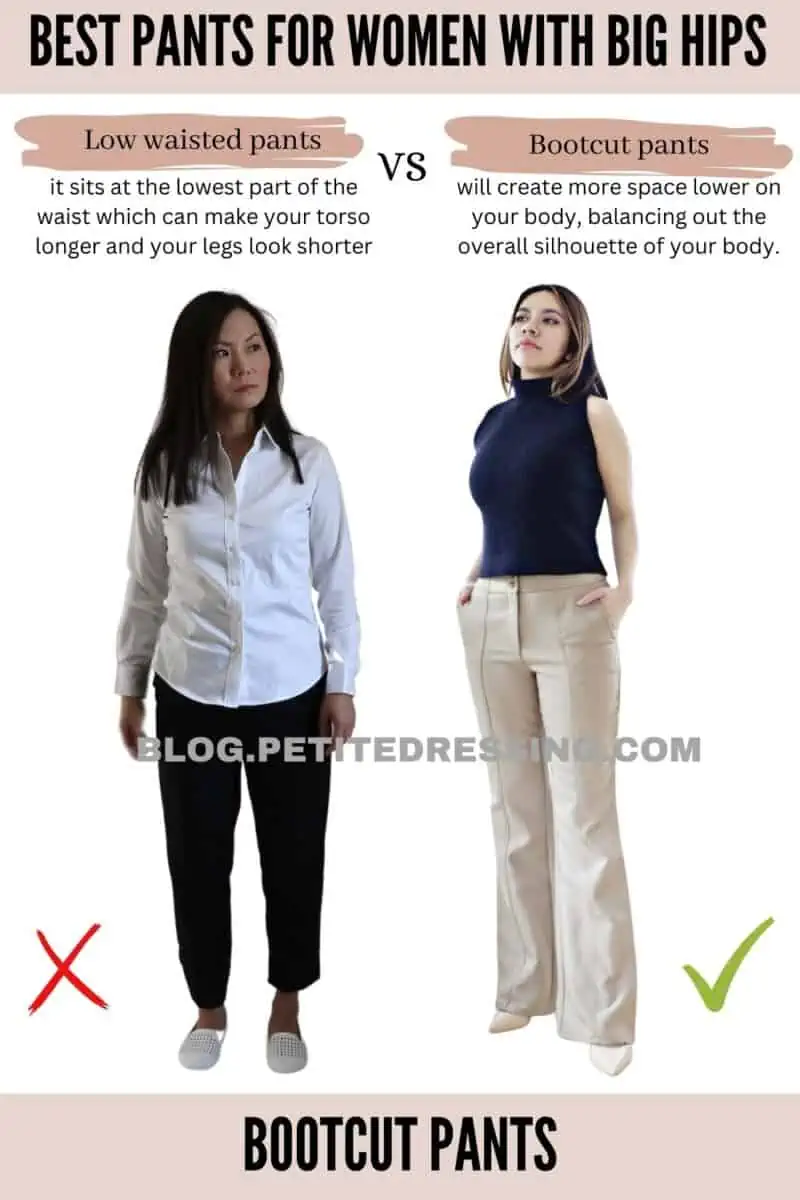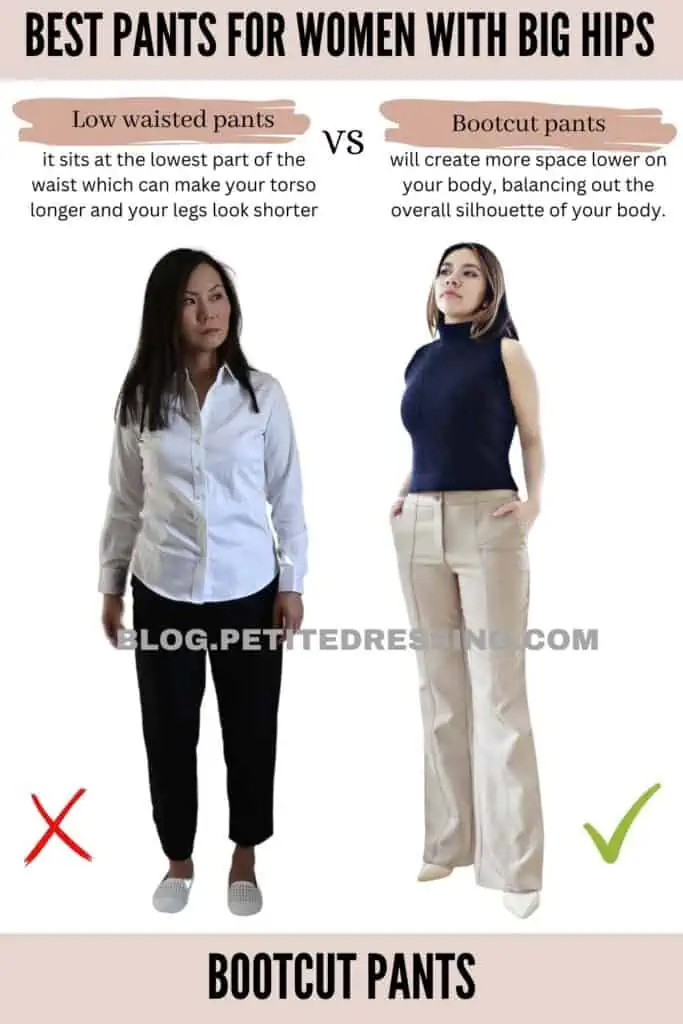 Dark toned pants
One of the best ways to create a slimming illusion is to wear pants that are made in dark colors. Black is known as a slimming color since it erases the possibility for any shadows or creases to appear. Everything blends in with itself so that the surface of the fabric looks smooth.
The smoothing of dark pants will cover up your stomach and make your big hips look smaller than they are. If you pair this effect with a higher waistline, you can craft a much more flattering silhouette.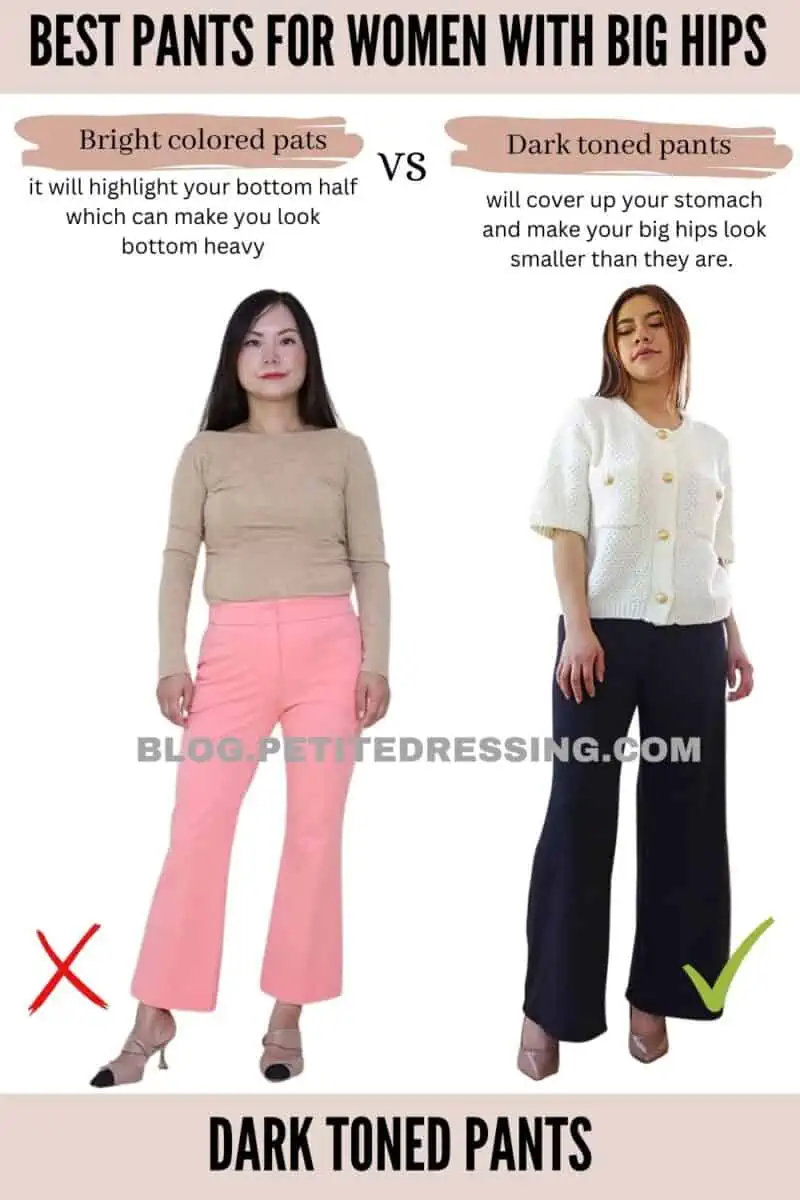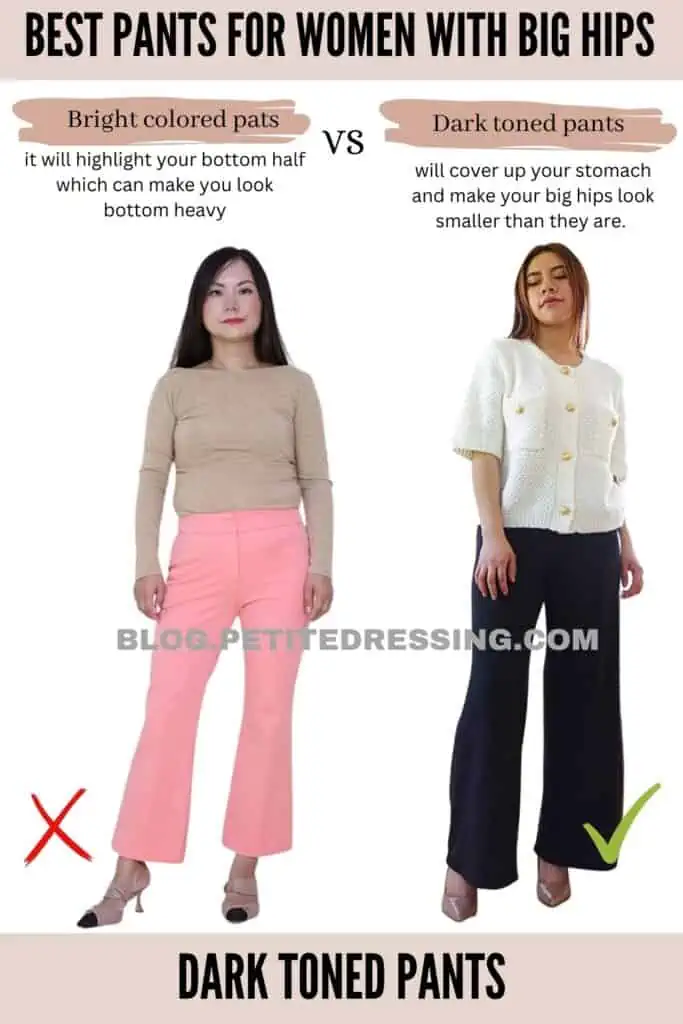 Wide-leg pants
Due to the way most tighter pants accentuate every curve, your wide hips are likely to become more noticeable. In order to distract from this issue, you will need to find some addition that will balance everything out.
Wide-leg pants are an excellent solution to this problem. This increase of fabric and flow where your legs are makes your legs seem slightly wider, which then evens out the proportions of your body. If you have thick thighs or calves and want to conceal them, wide-leg pants will provide plenty of space and coverage for them.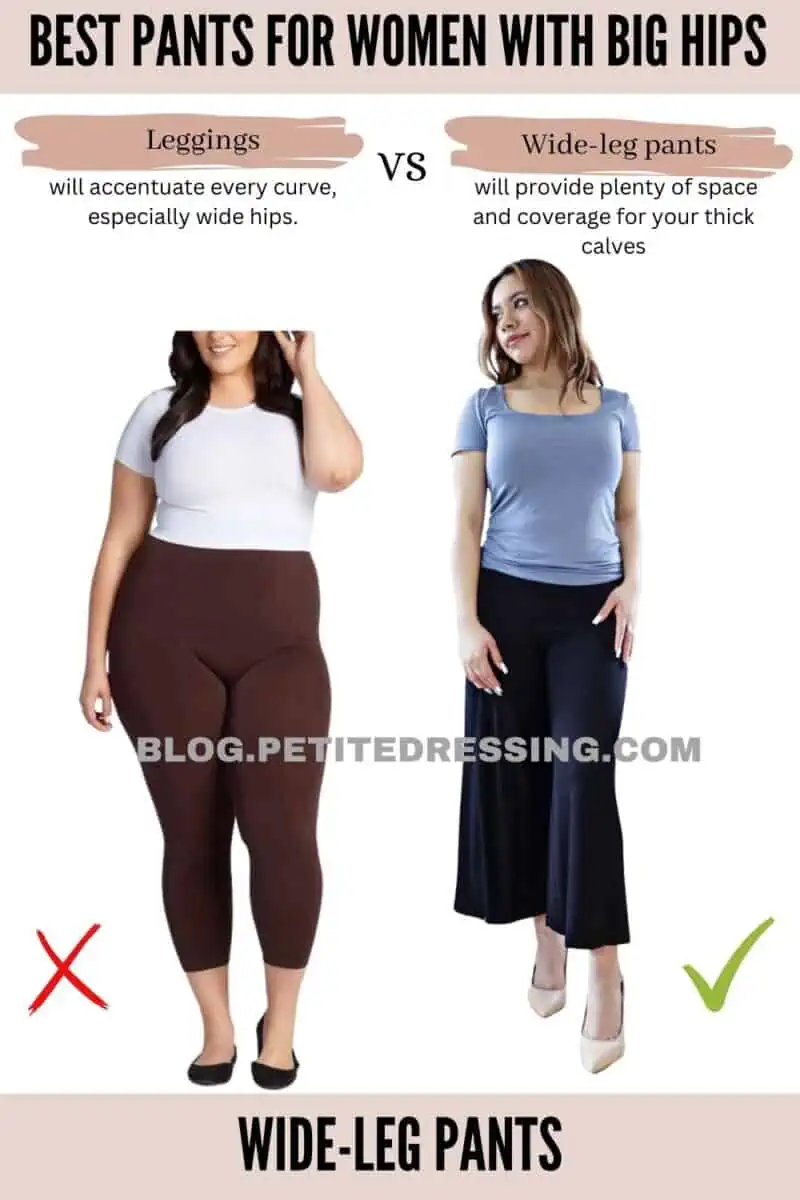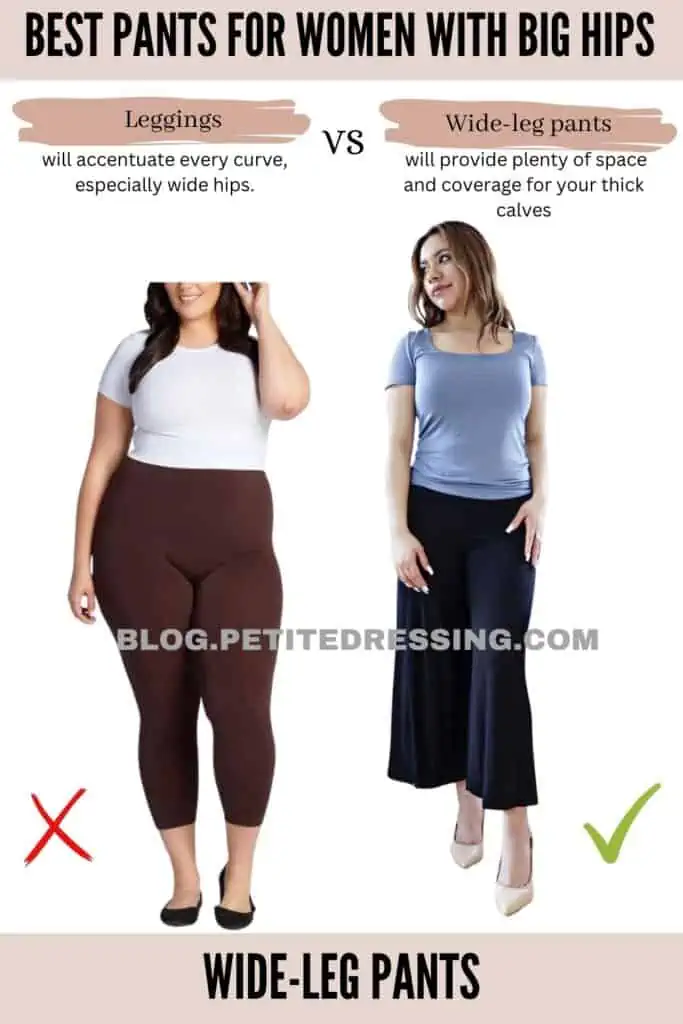 Be cautious with striped pants
Pants with stripes can either be incredibly flattering or add extra weight to your body. The difference all lies between whether the stripes are horizontal or vertical.
Horizontal stripes on pants will make your hips seem even wider than they are. The way the stripes stretch from side to side creates the illusion that everything is wider and larger, which is definitely something you will want to avoid.
Vertical stripes on pants will help to elongate the lower half of your body. The way that the stripes stretch up and down crafts a longer silhouette that ends up working as a way to look more as well.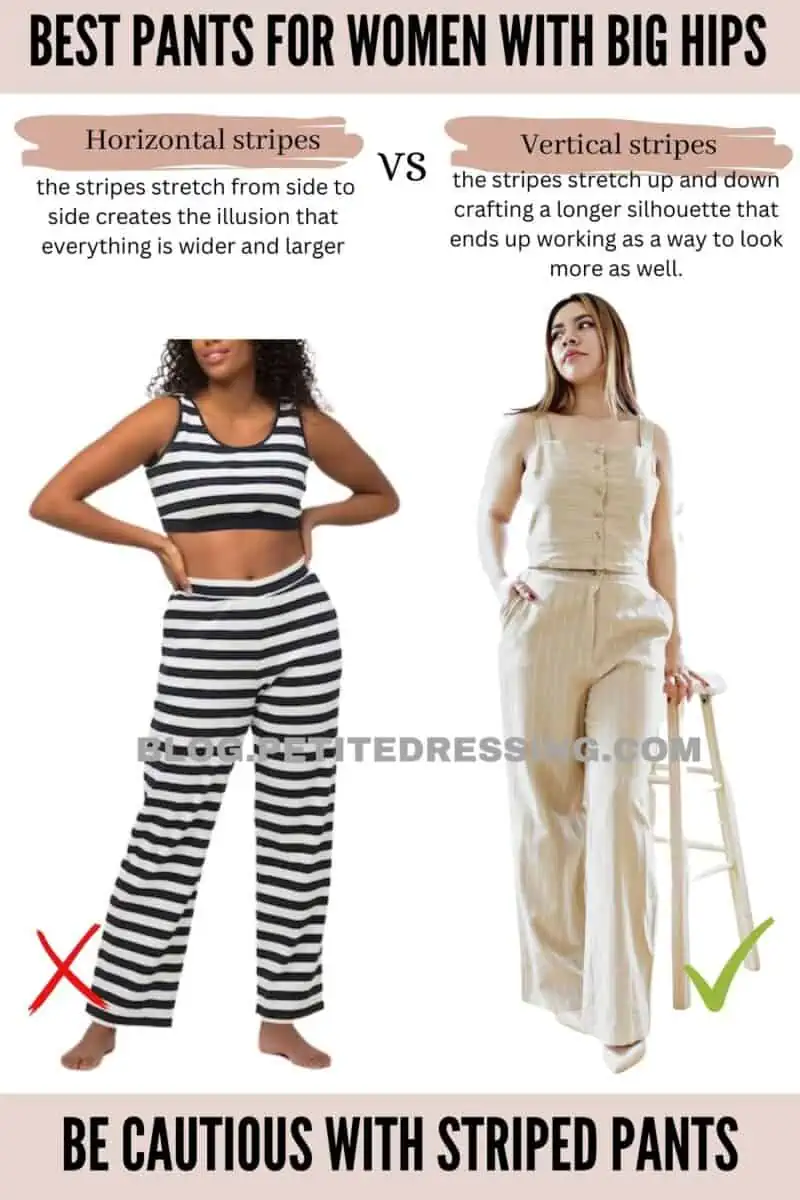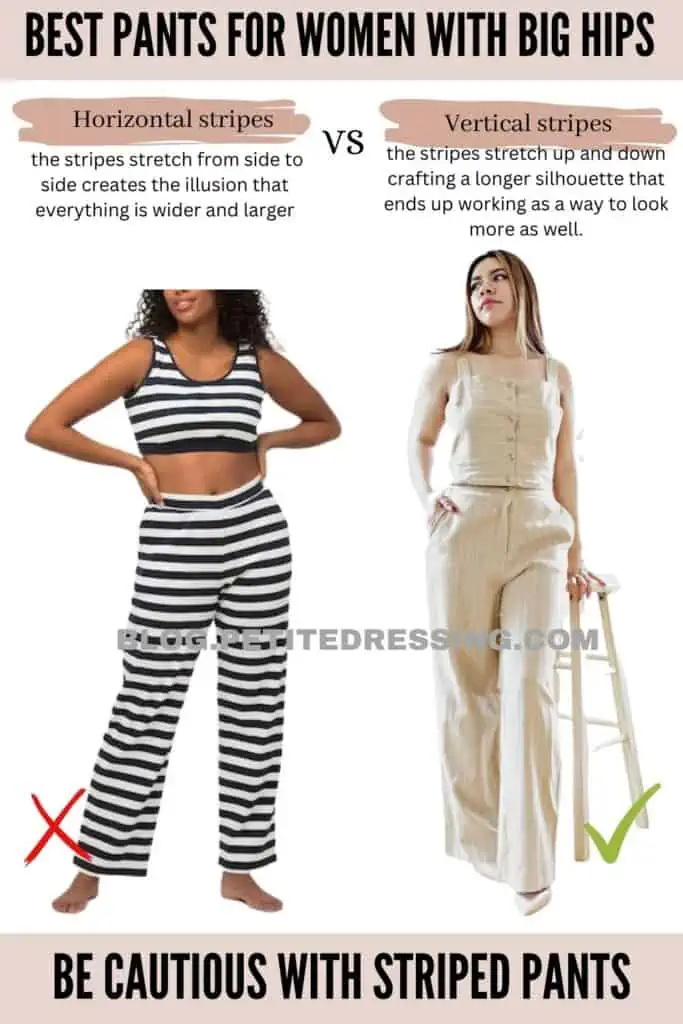 Avoid patterned pants
One of the easiest ways to draw less attention to your hips is to simply wear pants that are not as eye-catching. When you wear pants that are bold and distracting, your hips will become much more noticeable.
Wearing patterned pants will draw attention directly to the lower half of your body, especially if the pattern is full of vibrant colors. Also, if the pattern is stretched due to the fact that you have big hips, it will only highlight how wide they are.
Focus on more neutral colors when you search for pants so that you can use patterns and bright colors to accentuate other parts of your body and lead the attention elsewhere.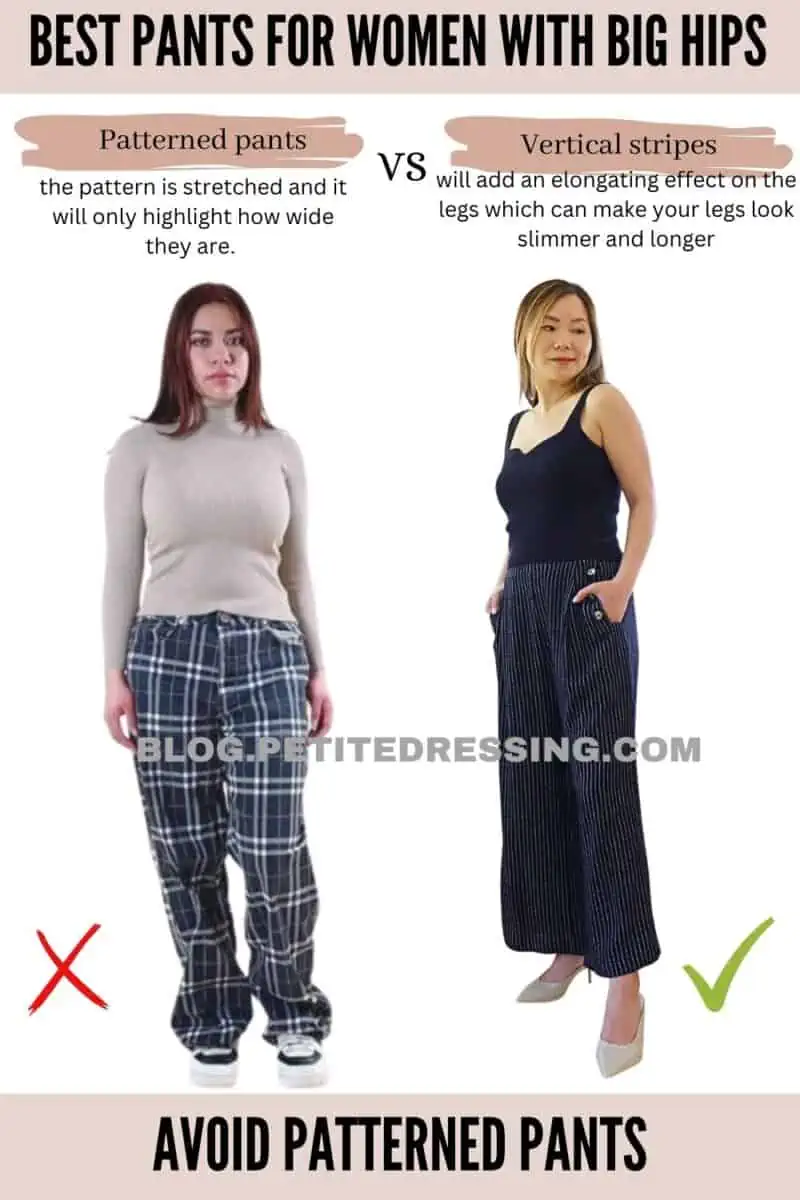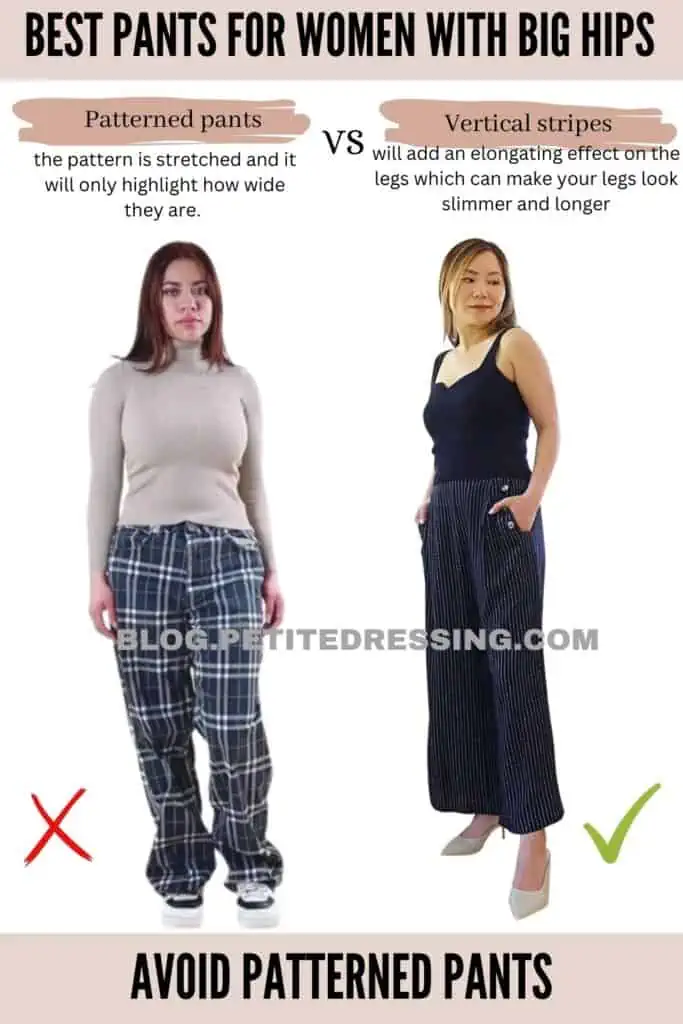 Avoid pants with large pockets
Although women's fashion has not been great at adding appropriately sized pockets, there has always been a strategy and reason for this design choice. Pockets can add unnecessary bulk and width to the shape of your silhouette.
When you have big hips and wear a pair of pants that have large pockets on each side, it will only make your hips look even wider than they actually are.
Some pockets will even flare out and add additional weight to the pants. If you opt for smaller form-fitting pockets, you will not have to worry about them changing the shape that you have created with your outfit.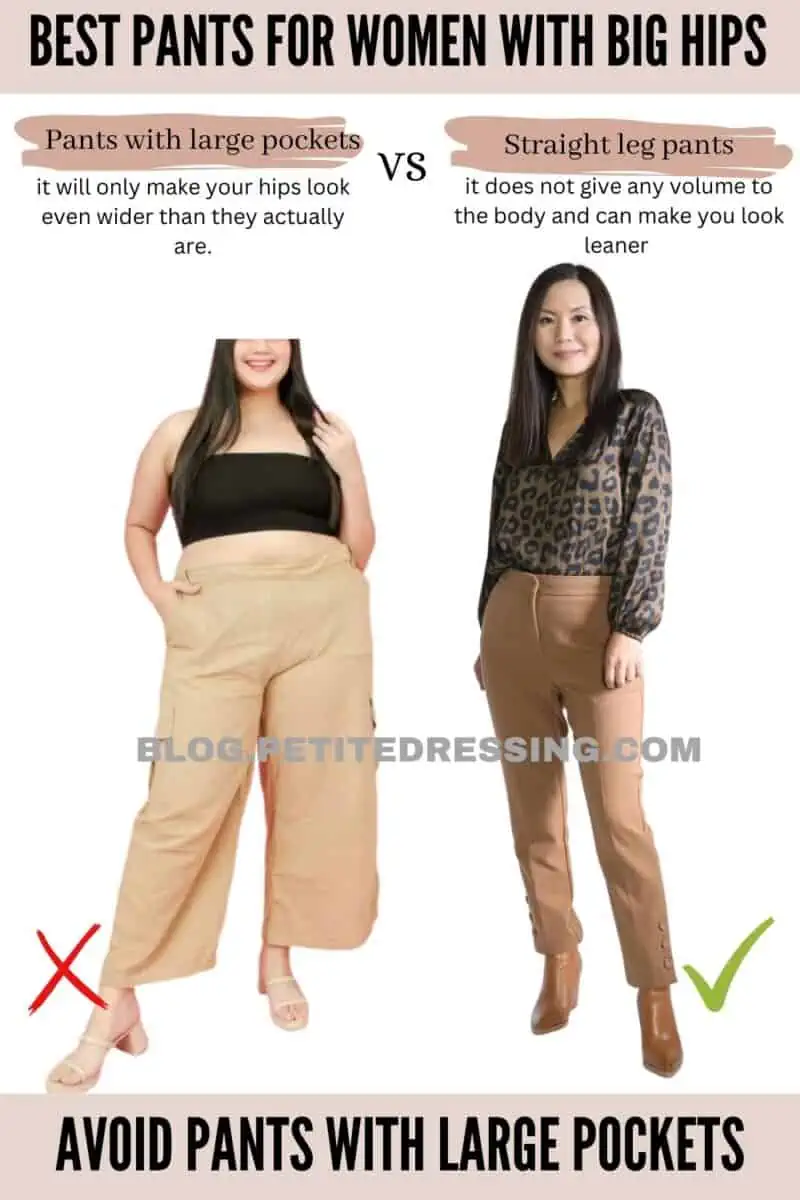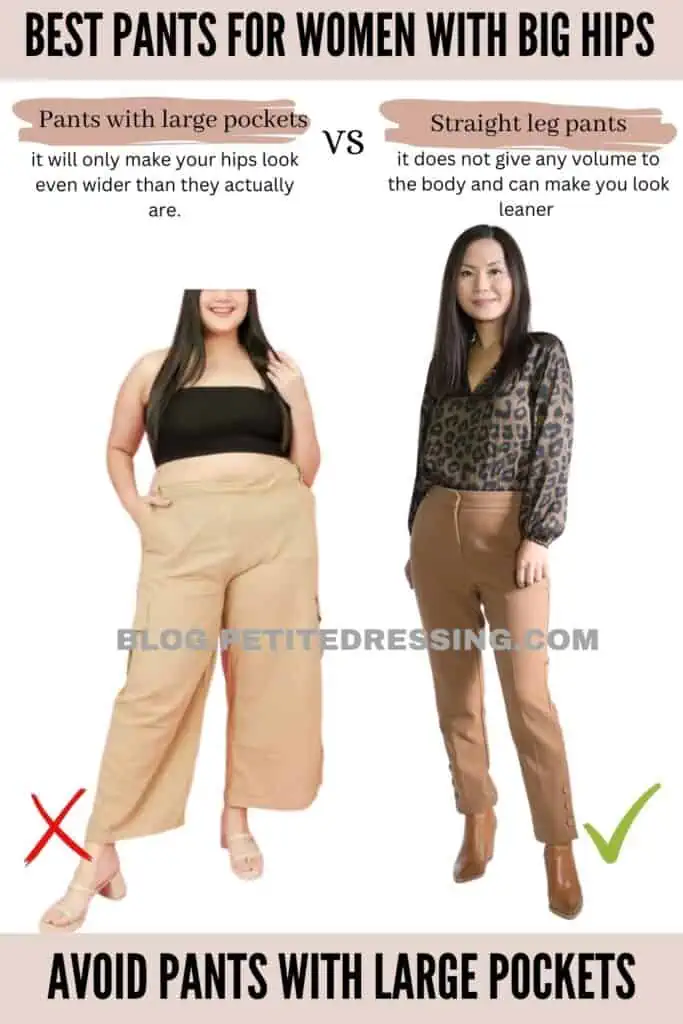 Avoid loosely fitted pants
Some women think that the only way to change the shape of their body is to wear bigger clothing so that they can hide what is underneath. Unfortunately, this tactic usually accomplishes the opposite of their goal.
Oversized pants only add weight and width to the overall shape of your body. Just because the fabric is bulky does not mean people can not immediately see how big your hips are. In fact, they will assume that your hips are wider than they are because of the illusion that oversized pants create.
It is okay to wear your size, even if the number is higher than you would like it to be. Building your own silhouette is all about the way clothing is designed and how it fits your body, not how much fabric is added on.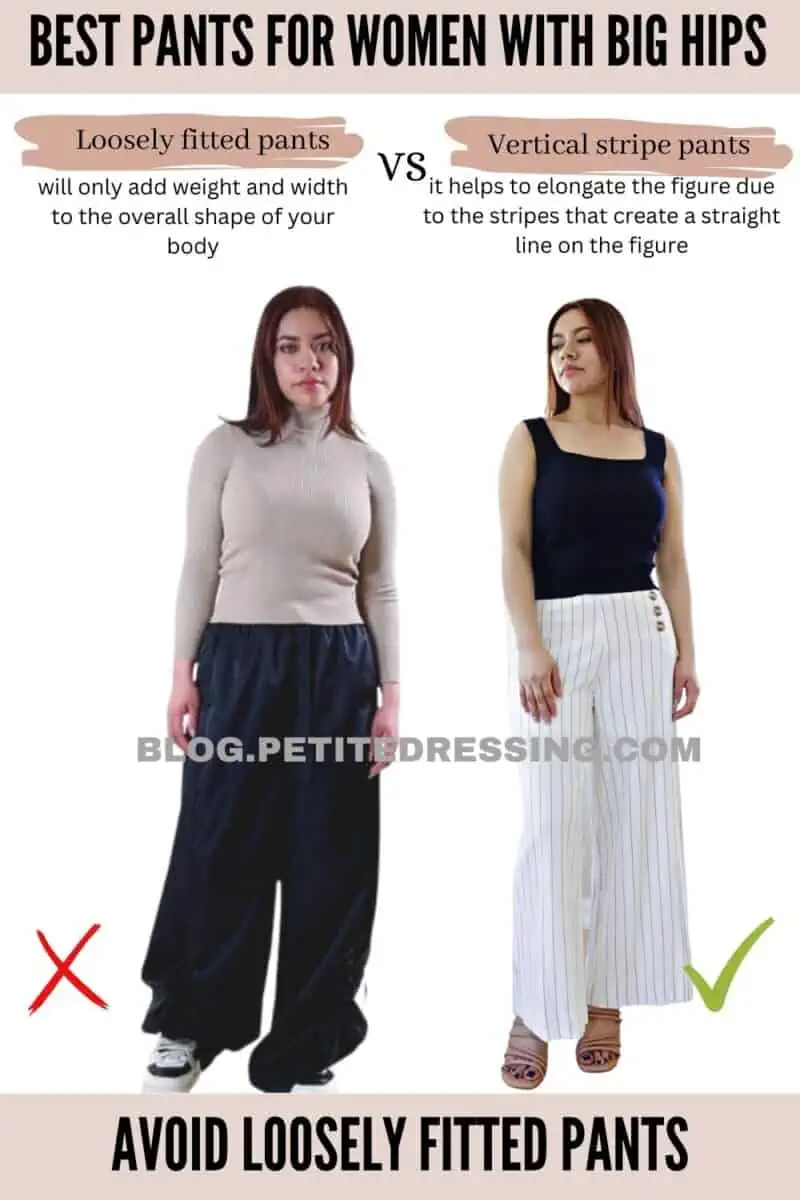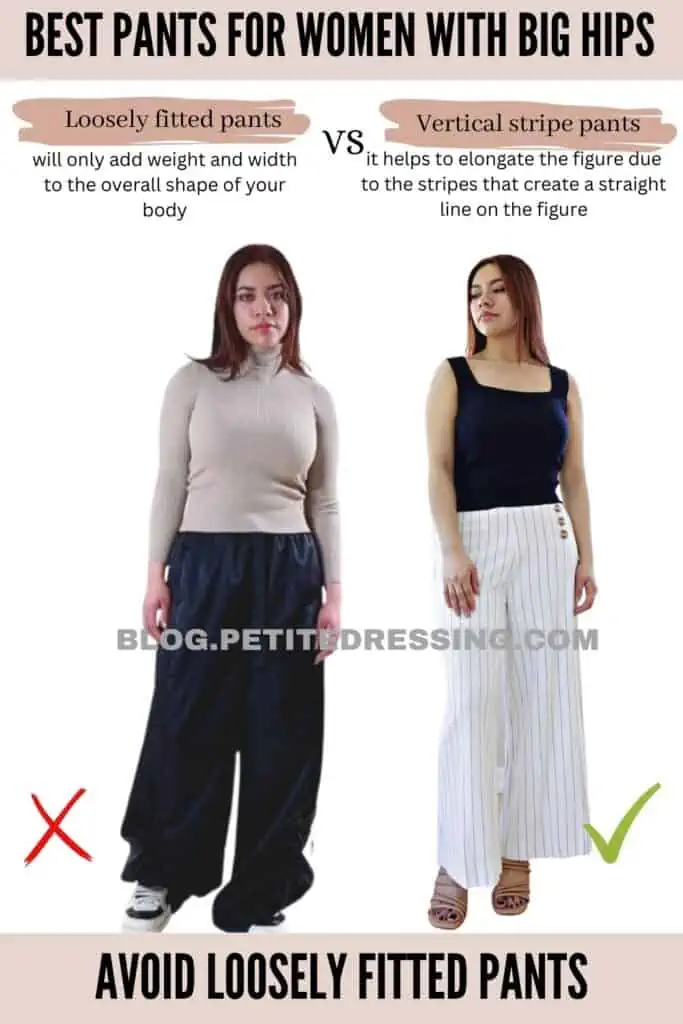 Avoid low-waisted dress pants
Dress pants are a classic choice for all women due to their ability to be worn in more formal situations, while also being comfortable and easy to wear. But some dress pants are not ideal for women with big hips.
Low-waisted dress pants will make the bottom half of your body look much larger than it actually is. When you wear a pair of low-waisted dress pants, the waistline falls directly on the lowest (and typically widest) part of your hips. Since the waistline starts there, it makes your hips look extremely wide.
Low-rise dress pants can also fit more tightly since they fall at the widest part of your body. The best option to fix this problem is to wear dress pants that have a higher waistline so that you can slim down your hips and look more appropriate for formal events.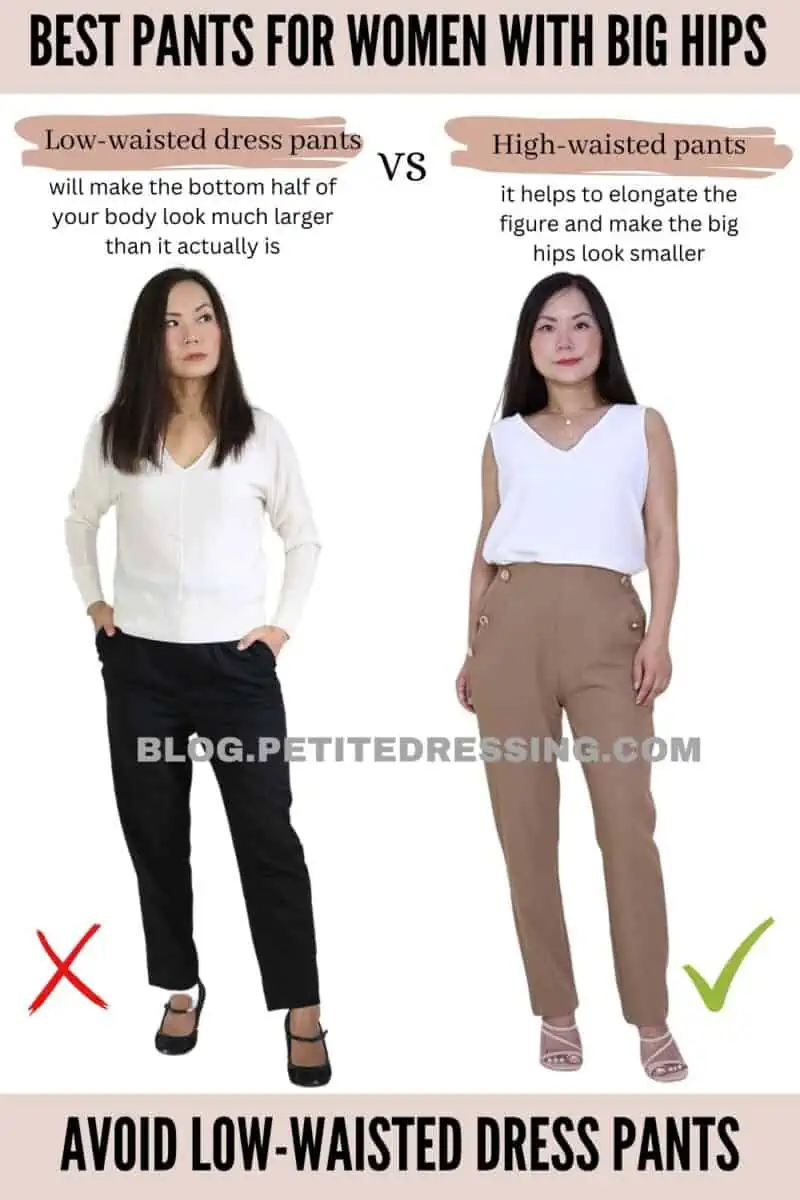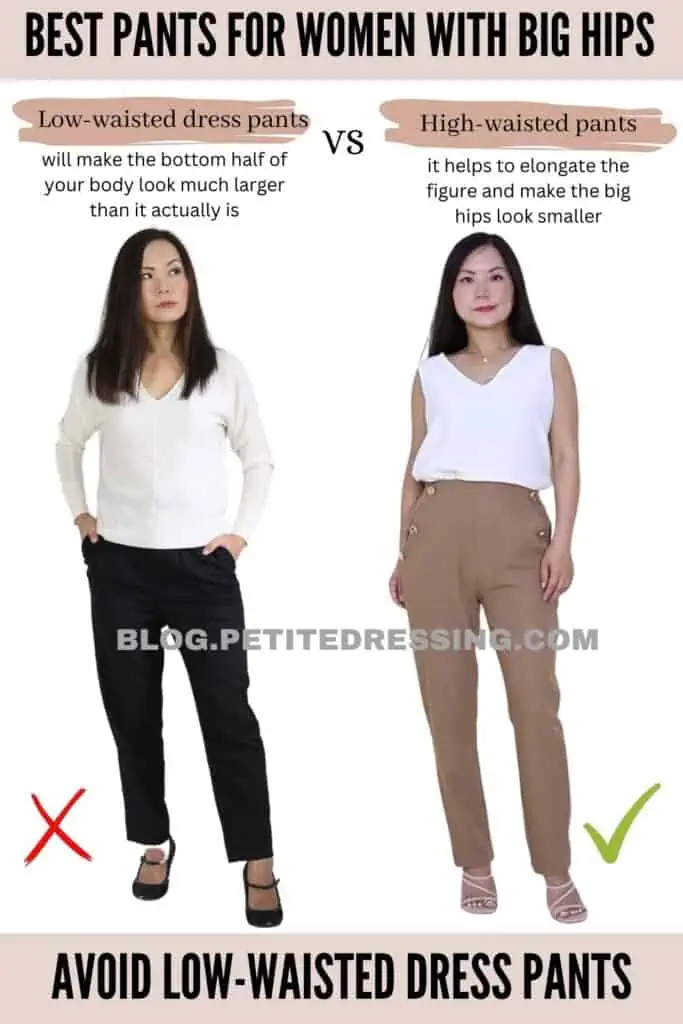 Caution with capri pants
Capris are typically casual pants that are cropped somewhere in the middle of your calf area. They are worn most often throughout the spring and summer since the shorter length is ideal for warmer weather.
You will want to avoid capris pants as a woman with big hips because of the length. Since the pants are cropped at a shorter length than normal jeans but aren't short enough to be shorts, they compress the lower half of your body. If you have wide hips, they will become very noticeable when you are wearing capris.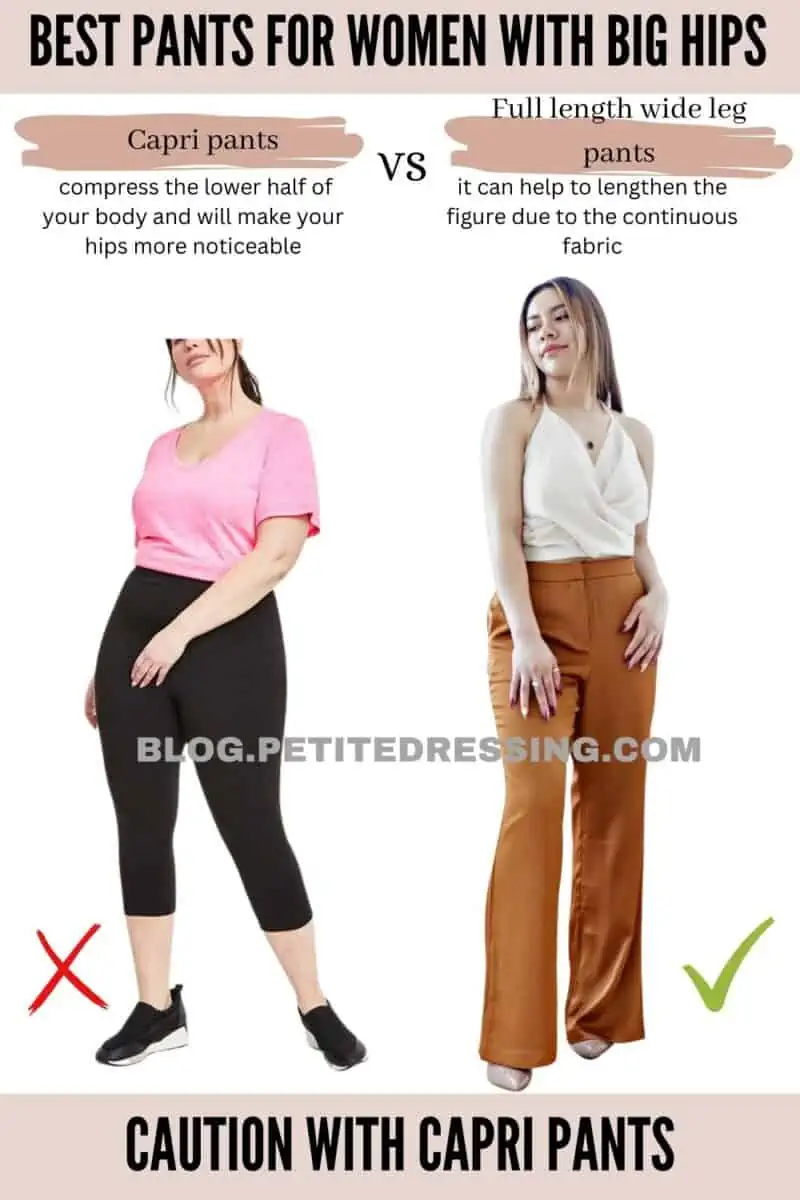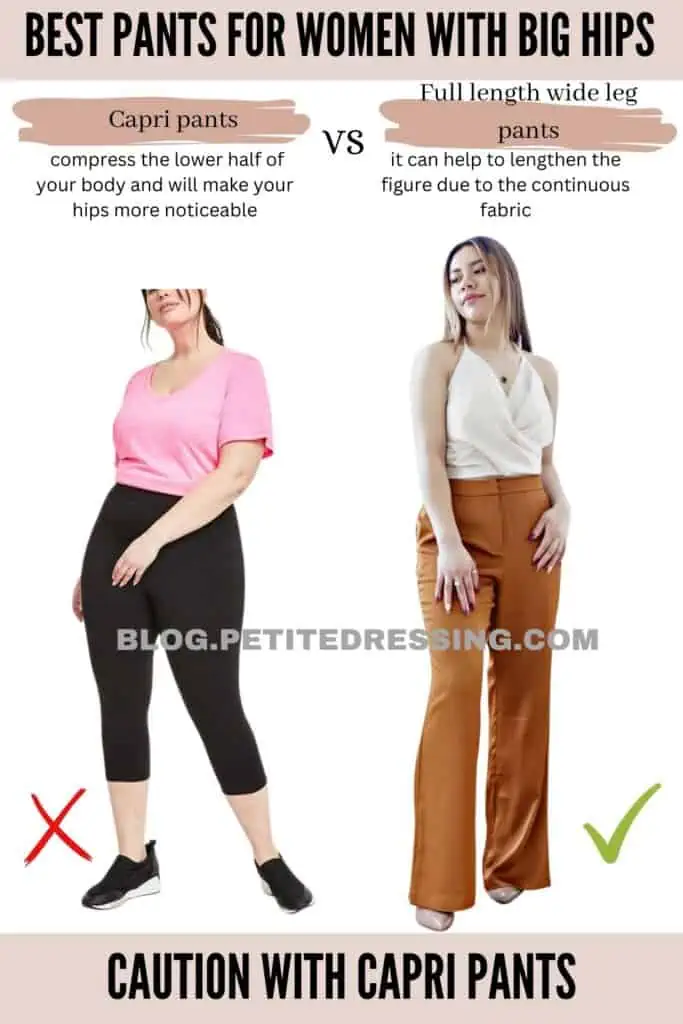 Caution with leggings
Although leggings are very comfortable and easy to style with any casual outfit, they are not completely flattering on every body type.
Leggings fit tightly around your body, clinging to every curve, crease, and imperfection. They will accentuate every curve, especially wide hips. If you are looking to slim down your hips, you will definitely want to avoid leggings.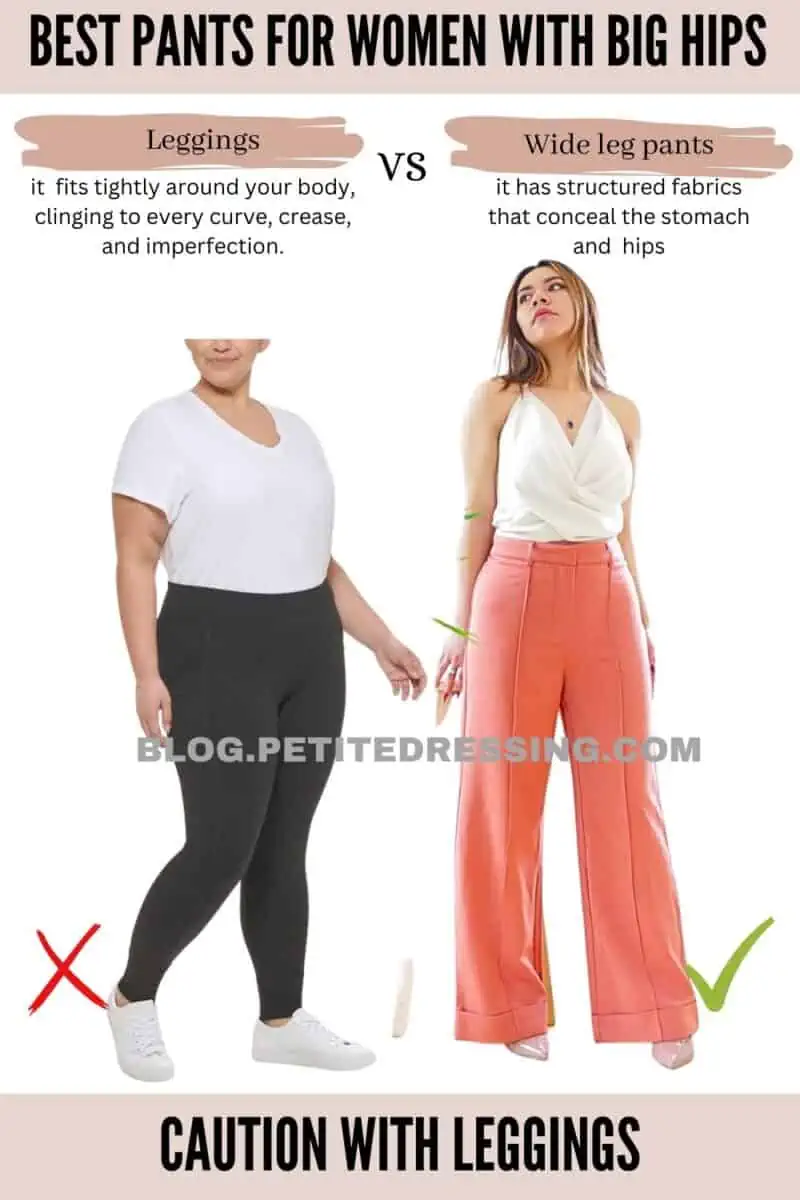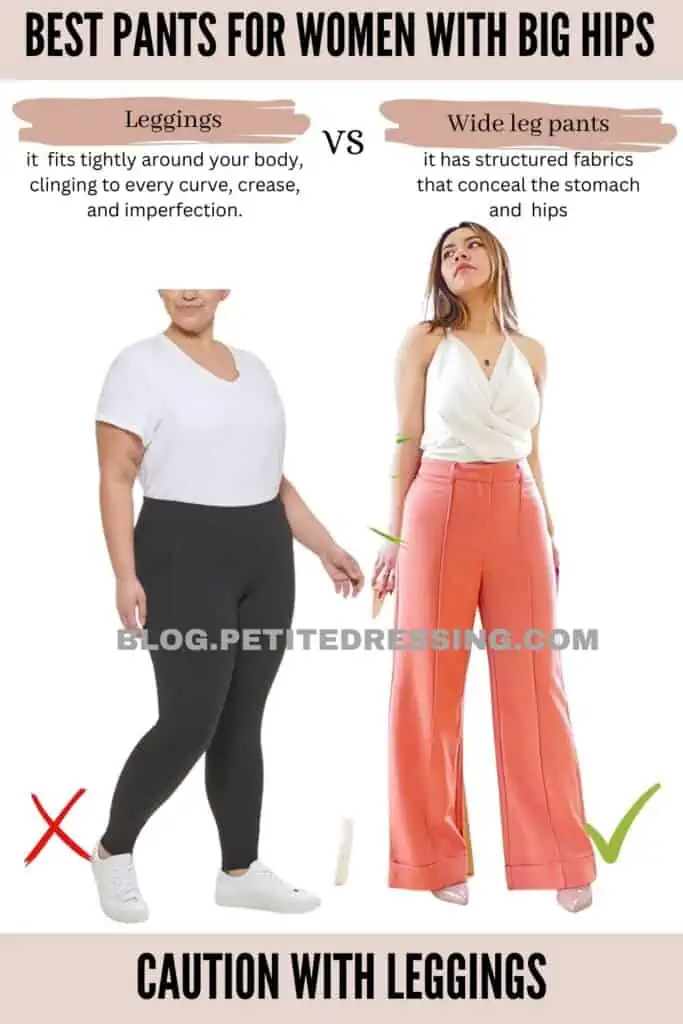 Tight leggings also leave no room for bloating or weight fluctuation, since they will dig into your skin if they are no longer the perfect size. With wide hips, your hips will stretch the fabric out and make the pants even tighter around your stomach.