Everyone loves a versatile piece of clothing like chinos. They can be worn in so many different ways, making them a great alternative to your jeans, khakis and tailored pants for a casual or corporate environment respectively. If you're looking for outfit ideas, here are some best ways to wear with chinos:
With a coat
Coats are functional as they keep you warm on cold days, and they are also a wonderful "third piece" to elevate any chino outfit.
You can get yourself some stylish coats to wear with your dresses or pants. An example of a great pairing is one of a woolen coat and some chino pants.
It's a chic but comfortable look to go for when it's cold outside.
With a blazer
Blazers always add a touch of sophistication to just about any look you go for, be it casual or formal. Blazers come in different designs, lengths and colors all suitable for different body shapes. Once you pick the right blazer for your body, you could style it with a pair of chinos for a great office look.
You can finish the look off with a pair of leopard print closed heels and a brown bag. This is a combination that will have you looking all dressed up in an effortless way.
With a turtleneck
Turtlenecks are great on cold days and if you go for the figure-hugging ones, they allow you to show off the top part of your body while you feel warm at the same time. You can wear them with chinos and several other bottoms.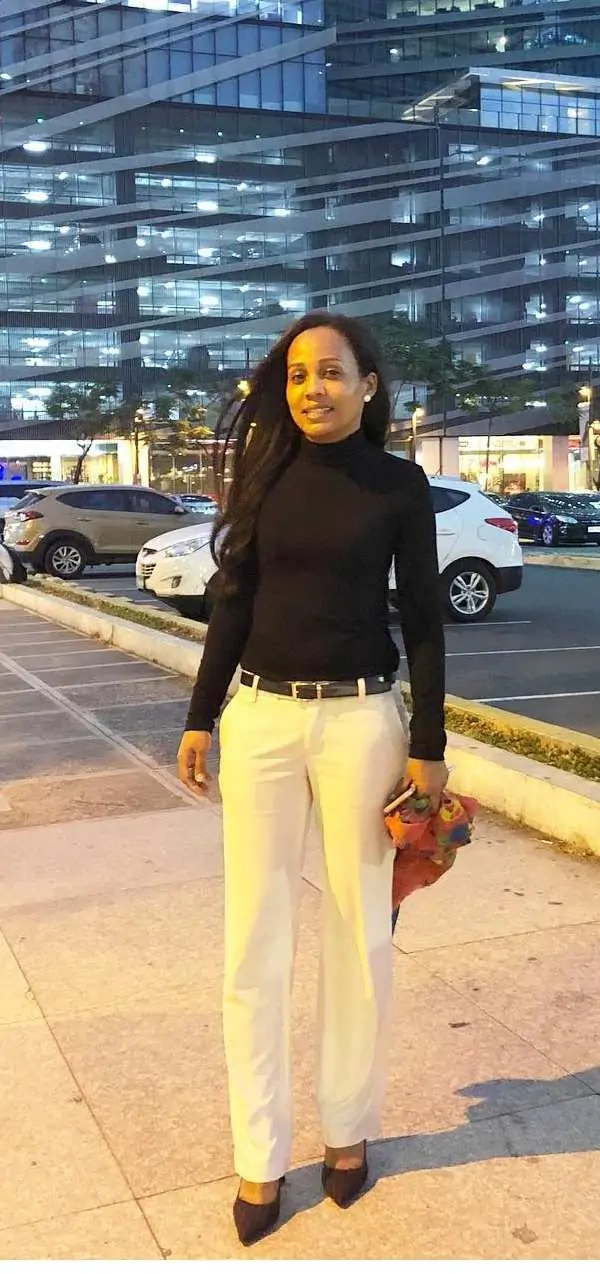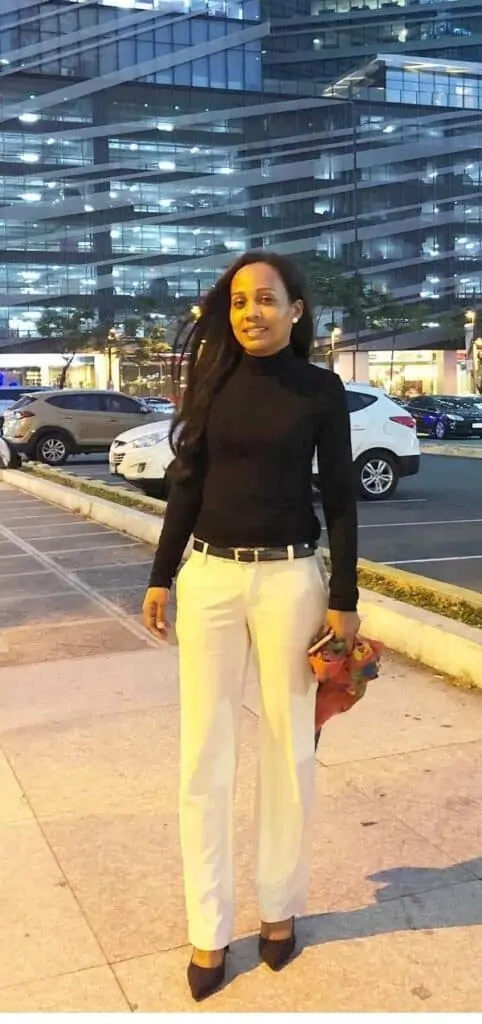 Kate (above) styled her black turtleneck top with a pair of chinos and some closed pumps. It's a great look fit for the office environment but could take you to a date or a brunch. There are also other types of turtlenecks with cut-outs, some are sleeveless and others come in knits.
With a plaid shirt
Plaid shirts can also be worn with chinos for a preppy look.
The plaid print has been around for a while and now back on trend again among women of all age. Plaid shirts are easy to wear and remain timeless throughout the whole year, although they're the ultimate piece for fall.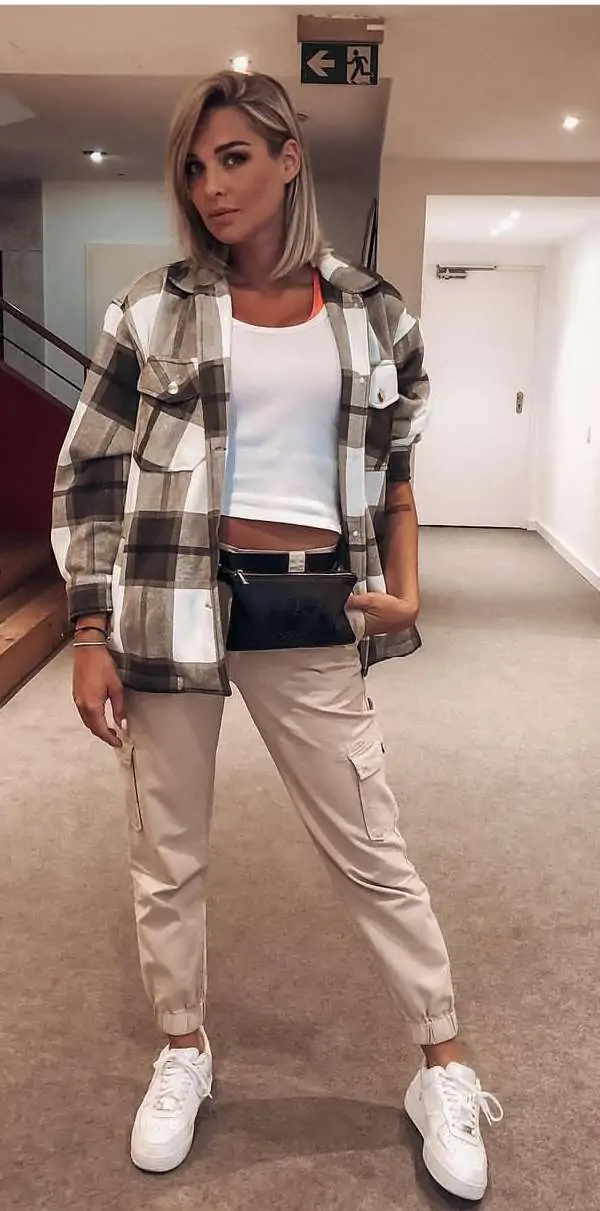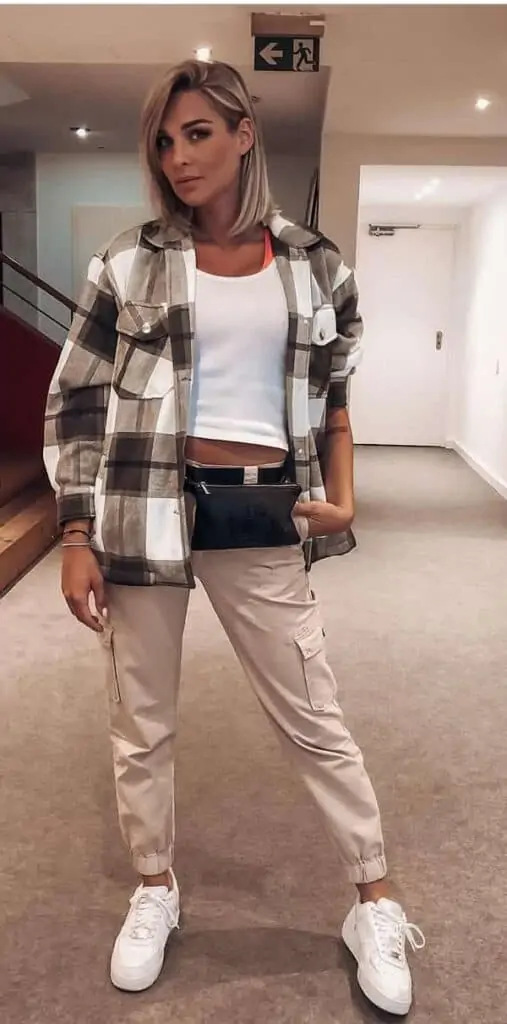 Jenny (above) wore her chinos with a crop top, a plaid shirt and finished the outfit off with a pair of sneakers. Some ankle boots would work too for this chino combination. You can also button up the shirt and tuck it into your chinos for a different casual look.
With a blouse
If you prefer something more feminine, then a blouse works. Blouses look pretty and come in different designs from statement ones to those in more subtle designs. When paired with simple chinos, you get an amazing outfit fit for a nice lunch or brunch with your friends.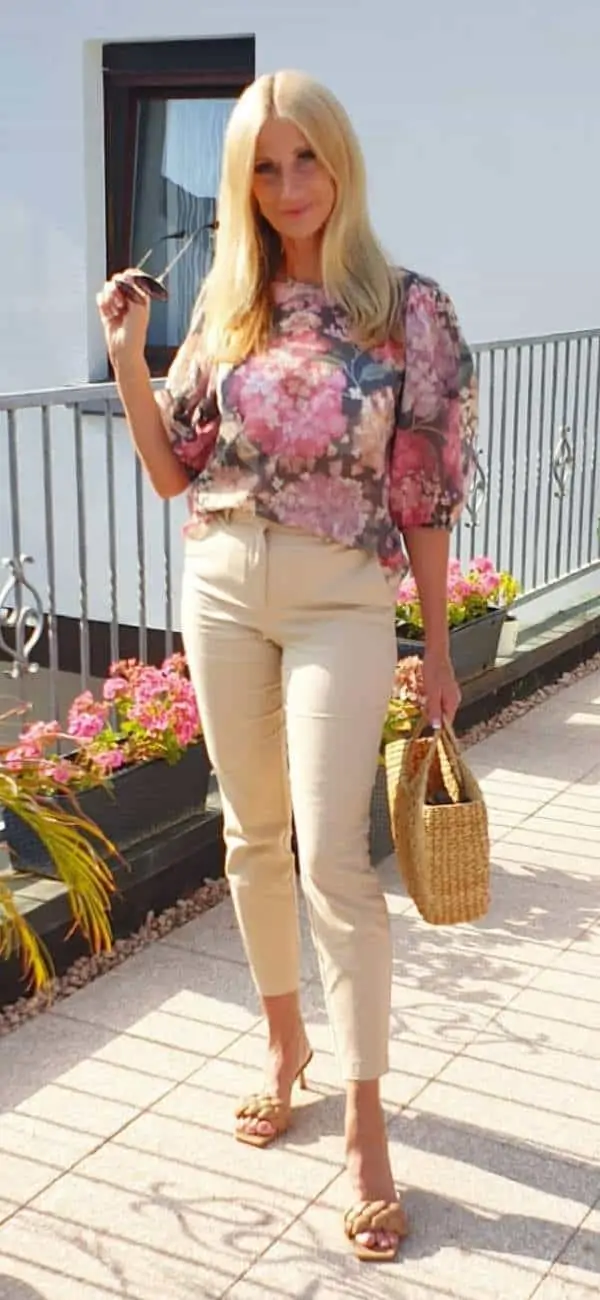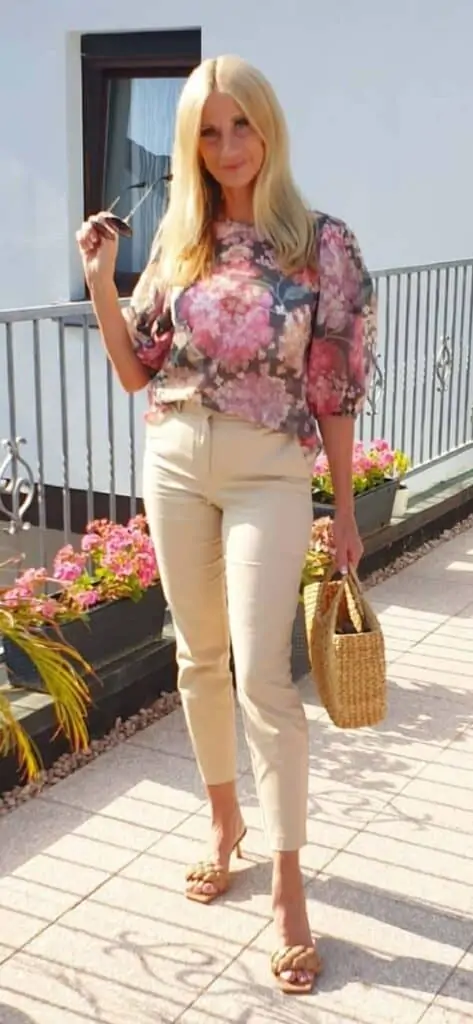 Ulli (above) styled her printed blouse with a pair of plain chinos and some mules. If you're not particularly a big fan of prints, a plain blouse will do just fine.
With a message t-shirt
Message t-shirts are a great way for you to express yourself subtly through clothes. They bring out your personality and things you like and believe in through those few words on them. You can style them with different bottoms, among them chinos.
With a shirt
A shirt is a great way to go if you like a smart look even if the outfit you're going for is casual. Shirts are great for everyone and it's worth investing in a couple of them. They look really great when worn with chinos for either a casual or formal outfit.
The look is very laid back but can easily be dressed up with a pair of closed or strappy heels.
With a bomber jacket
Bomber jackets are cool and often give a youthful look considering they easily resemble college jackets also known as varsity jackets. These can be worn in any season and are easy to style for a casual look. One way to wear your bomber jacket is to pair it with some chinos.
With a girlie top
Sometimes, a t-shirt just won't do if you're trying to get that nice simple look which is why it's worth investing in a couple of fun, girly but simple tops for when you want to look effortlessly nice. These are usually available in different types and can be worn with different skirts and pants. A good example is chino pants.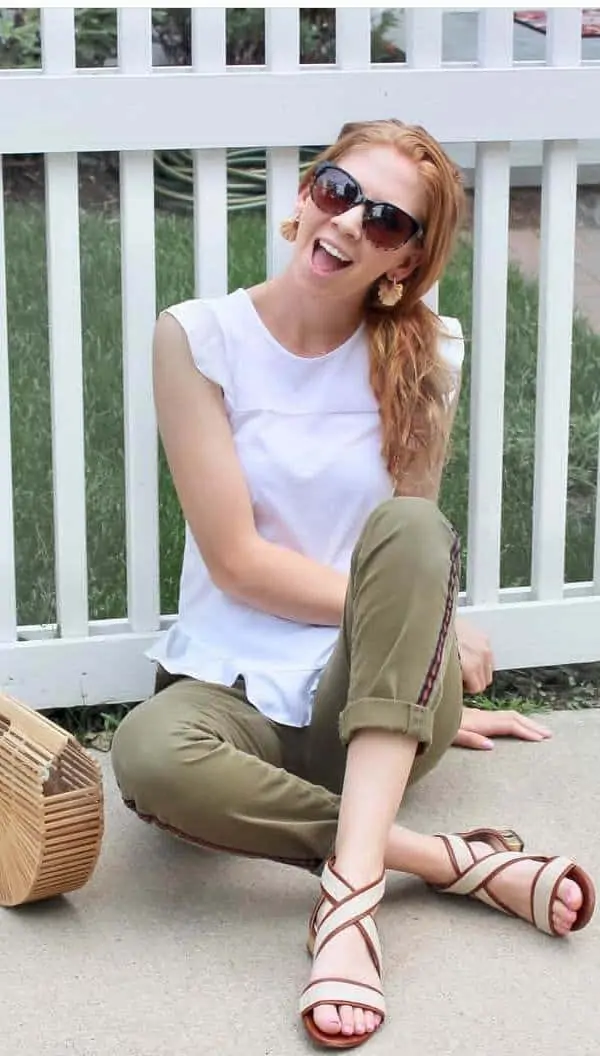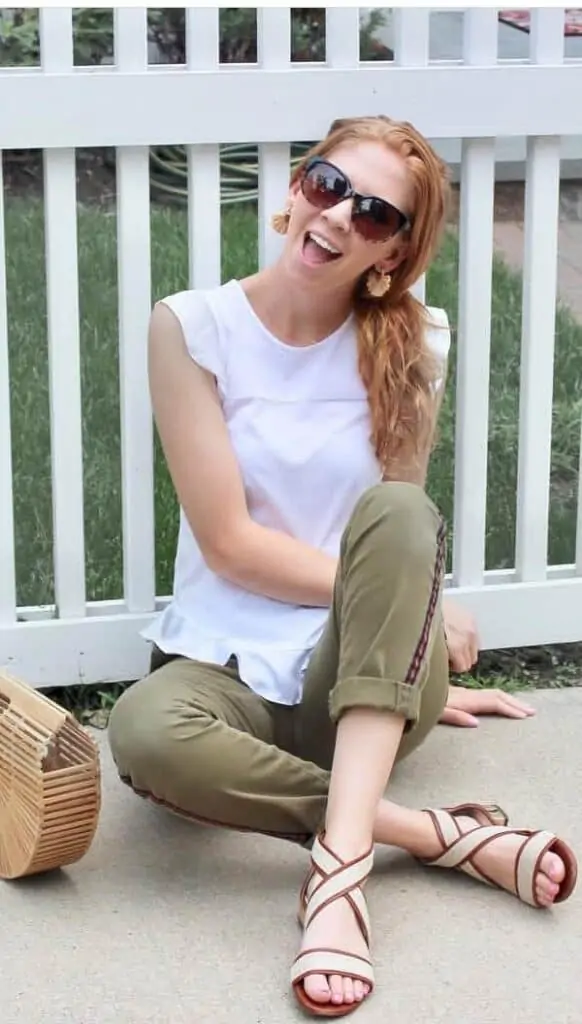 Helen (above) wore her white girly top with a pair of chinos and completed the look with some open sandals. This combination is effortlessly dressy although you can elevate it by wearing a pair of high strappy heels or even stilettos.
With a plain sleeveless top
A plain sleeveless top is a great option on a warm day and can be a great option if you want to pull off an official look. These plain tops can also be styled with your everyday jeans, skirts and so much more in your closet. You could also try them with chinos. Tucking the plain sleeveless top into your chinos gives you a cleaner, chicer look.
To make your outfit more interesting, it's worth rolling up the bottom of the chinos. If it gets colder, a sleeveless top allows you to layer a coat over it.
With a jumper
Jumpers are ever so comfortable and are great for those cooler days. They work with jeans, khakis, and even dress pants and skirts too. You can also try wearing your jumper with chinos which are a great alternative to jeans.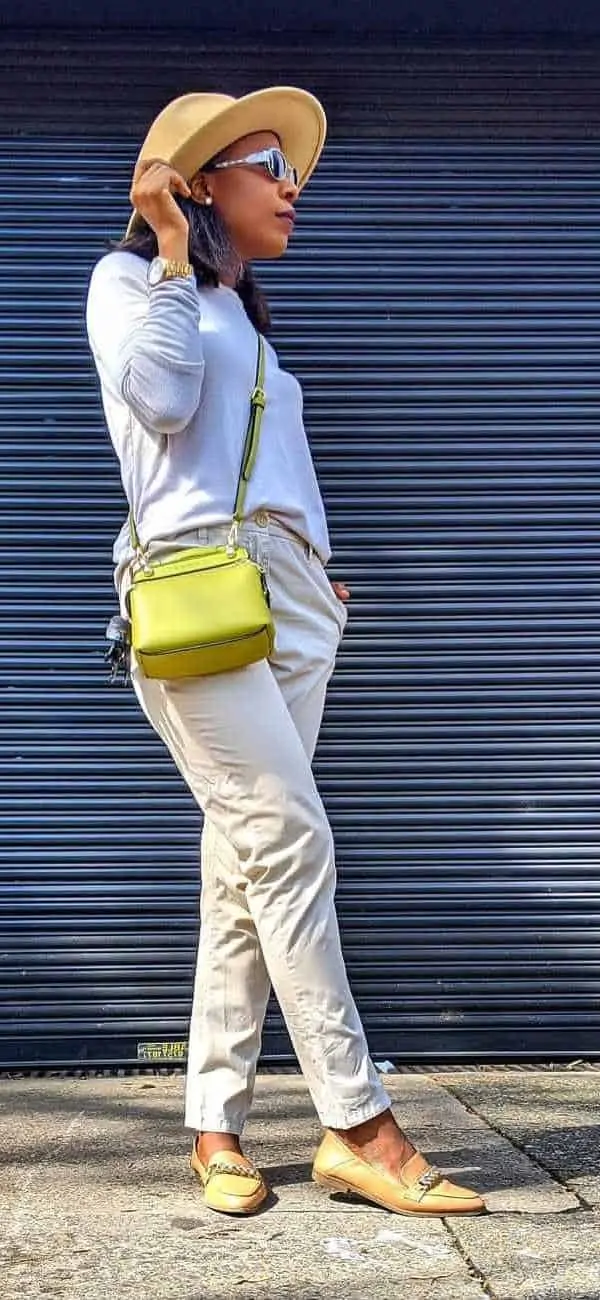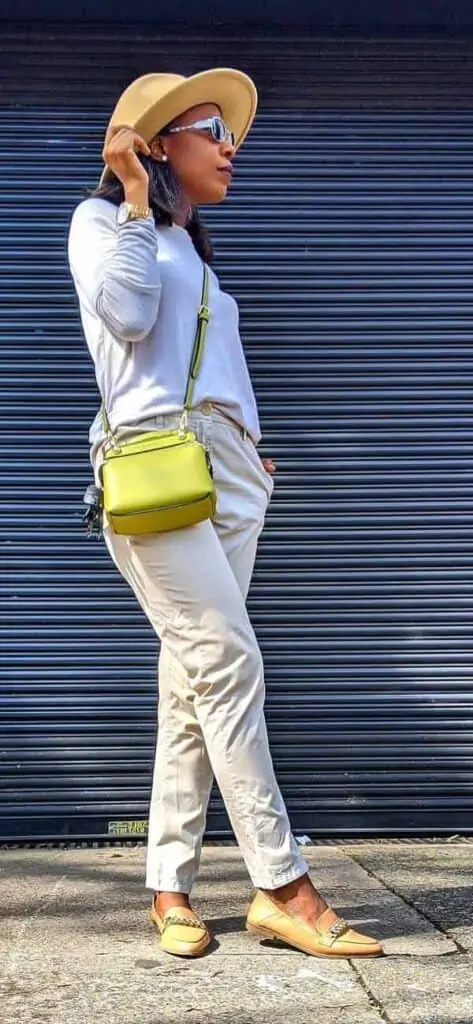 Olie (above) styled her jumper with a pair of chinos and some loafers. If the color of the jumper and that of the chinos are close, you can easily accessorize with brighter pieces.
With a sweater
Sweaters are nice, warm and snuggly, great for colder days as well as transitioning weathers when the temperature start to drop in the fall. One of the bottoms that look great with these pullovers is chinos.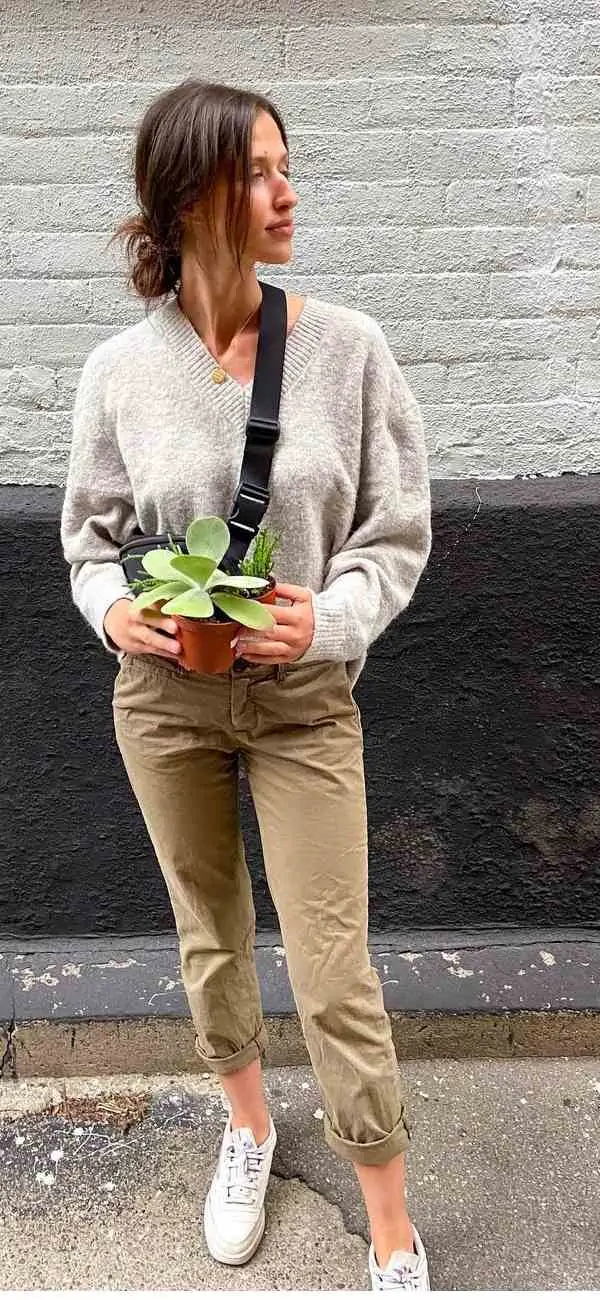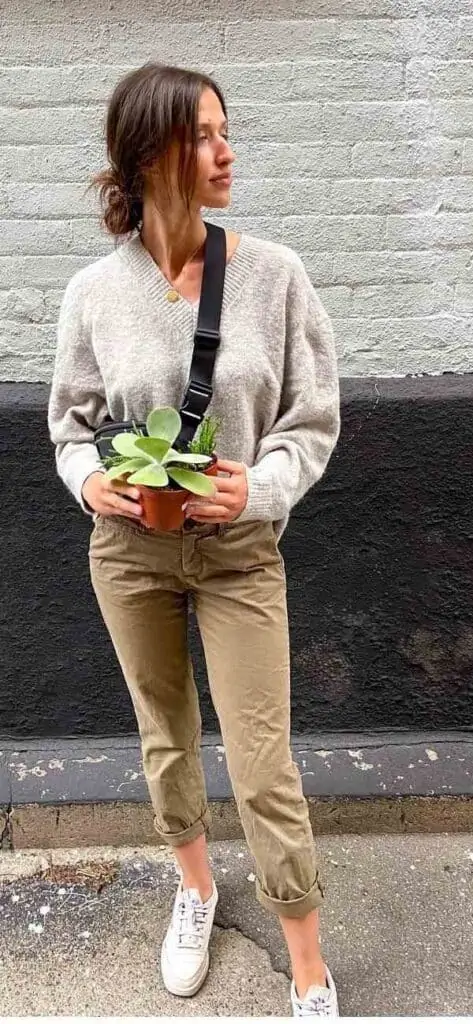 Alanah (above) wore her pullover with a pair of chinos and some sneakers. It's a simple look but so fashion forward and great for a person who wants to look stylish even in the most casual clothes.
With a sheer button-down
Wearing sheer tops is a great way to look feminine and these come in different designs. A button-down design for a sheer top is a great idea if you want to style a sheer top to work. An even better way to make it more work friendly is to wear the sheer button-down with some chinos.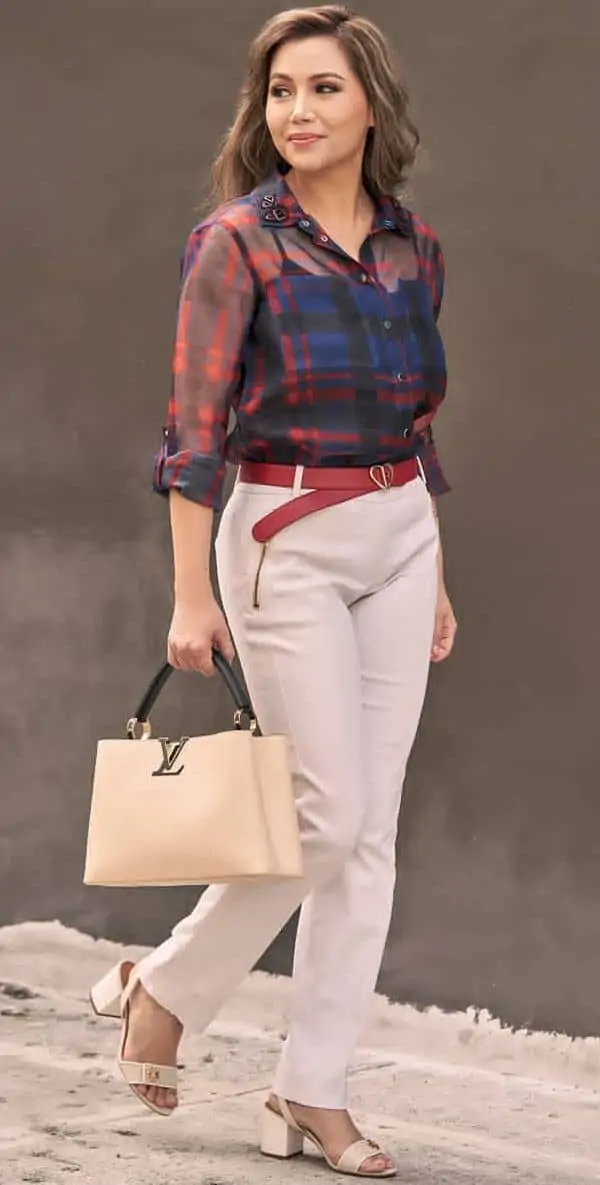 Margaret (above) wore a sheer plaid button-down top with some chinos and a pair of open shoes. This is one of the best combinations for a summer corporate look.
With a puffer jacket
One of the ways in which you could easily style your puffer jacket is by wearing it with some chinos.
Puffer jackets are great for keeping you warm during colder months. While they often appear big and difficult to style, this doesn't have to be the case.
If you happen to be petite, your best options are puffer coats with a defined waist. Belted coats are a great example, or you could go with those fitted at the waist even though they do not have a belt.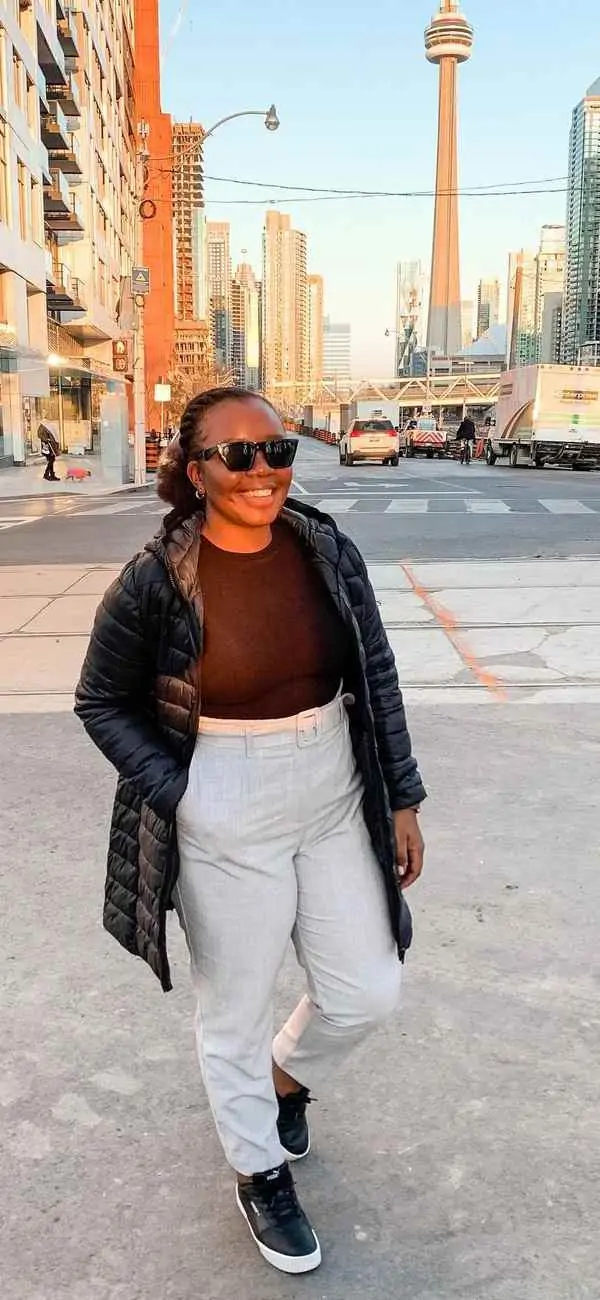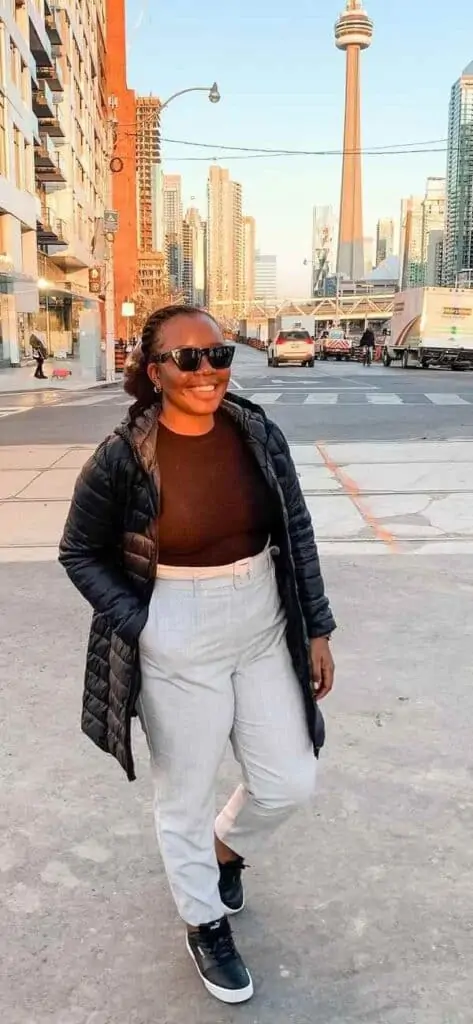 Jo (above) styled her chinos with a simple top and finished off her look with a black puffer jacket. When wearing a puffer jacket, such simple pants are the best way to go otherwise you risk stepping out in an overwhelming outfit.
With a graphic t-shirt
In case you're bolder, then you could wear a graphic t-shirt instead of a message one as a way of expressing yourself through clothes. While they are easy to style literally with anything, a pair of chino pants works well if you don't want to wear jeans.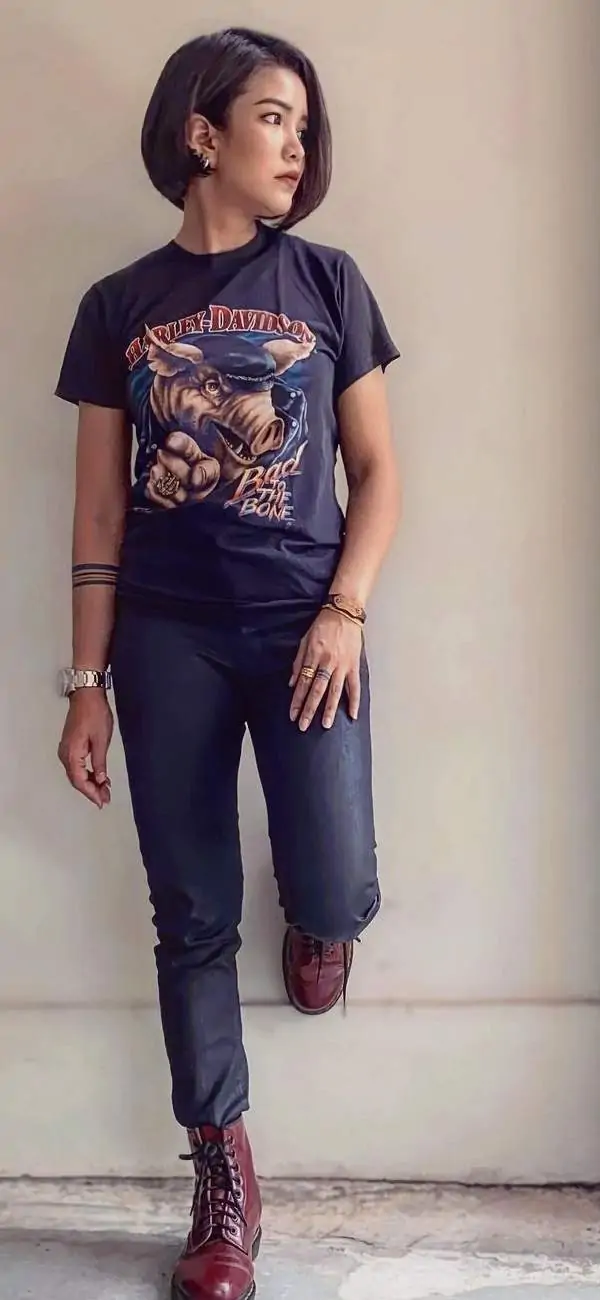 Mini (above) styled her graphic t-shirt with a pair of chinos and some boots. Slimmer chinos look best tucked into boots compared to the ones with wider legs.
These 15 ideas should get you excited about wearing your chino pants out. With them, you can be certain you'll get enough wear out of your chinos which means value for the money you spent on them.