The right top for the rectangle body shape should be able to add volume to the shoulders, the bust, and the hips. The tops should also be designs that can offer to cinch in your waist and create the illusion of curves around your overall shape.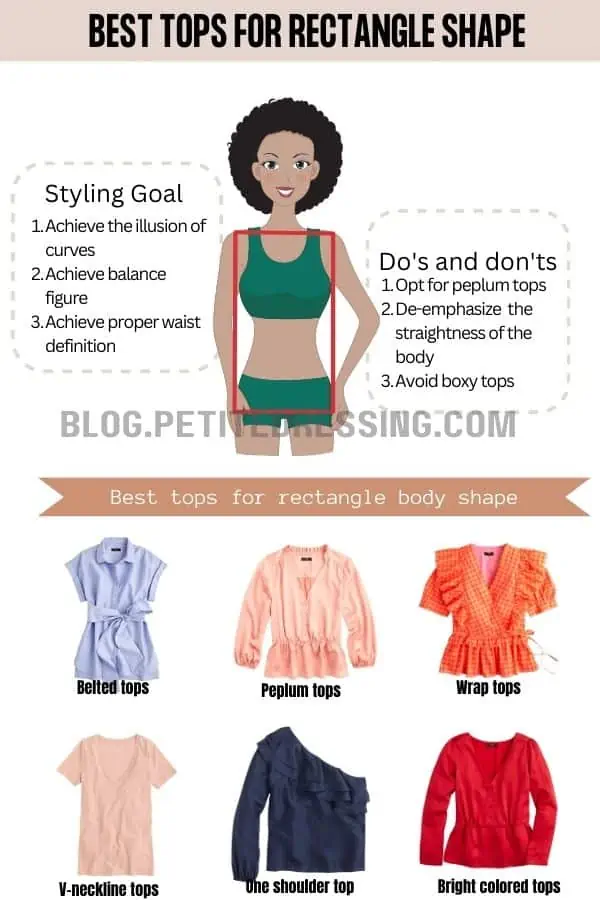 The following are therefore the recommended tops for your rectangle shape;
Belted tops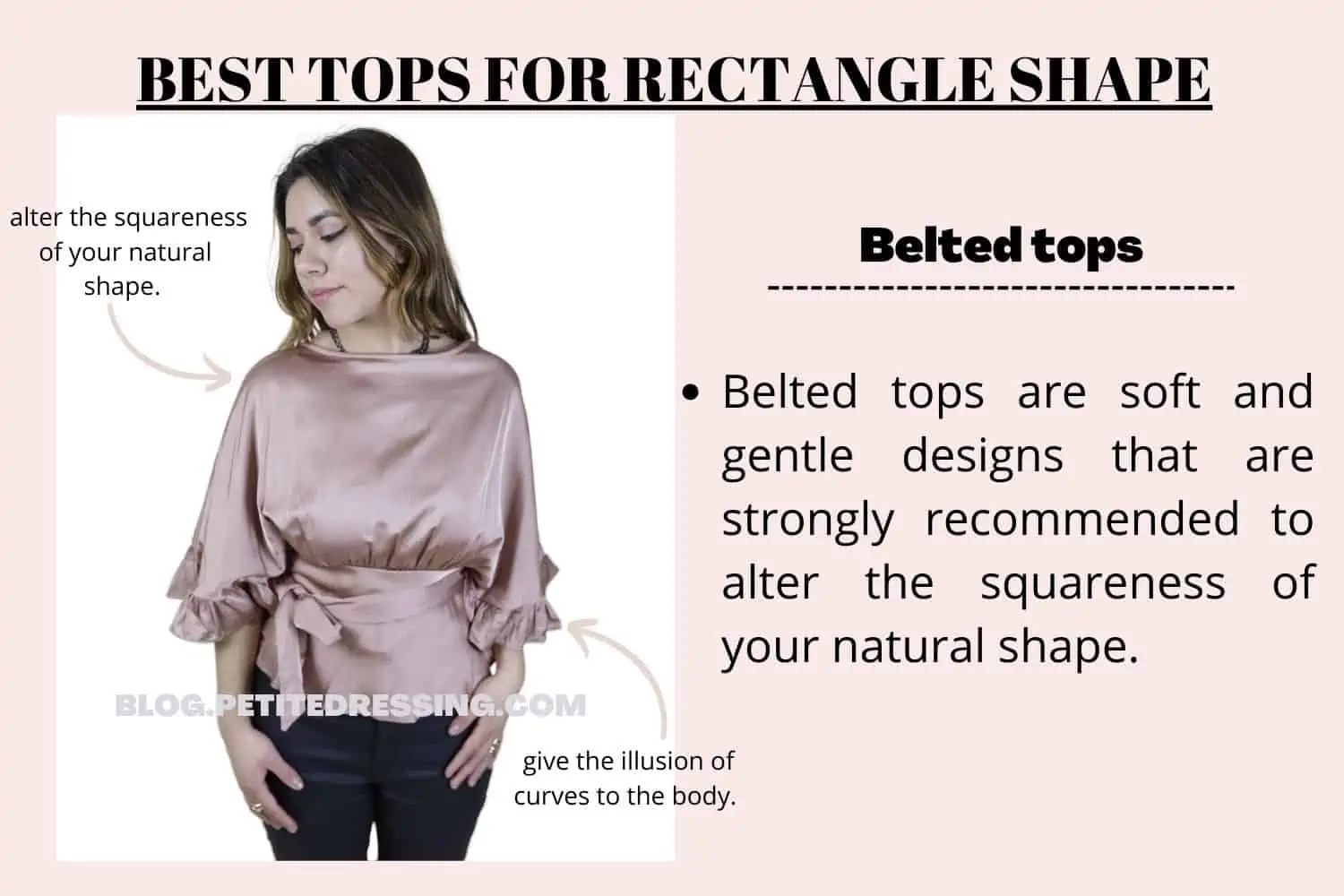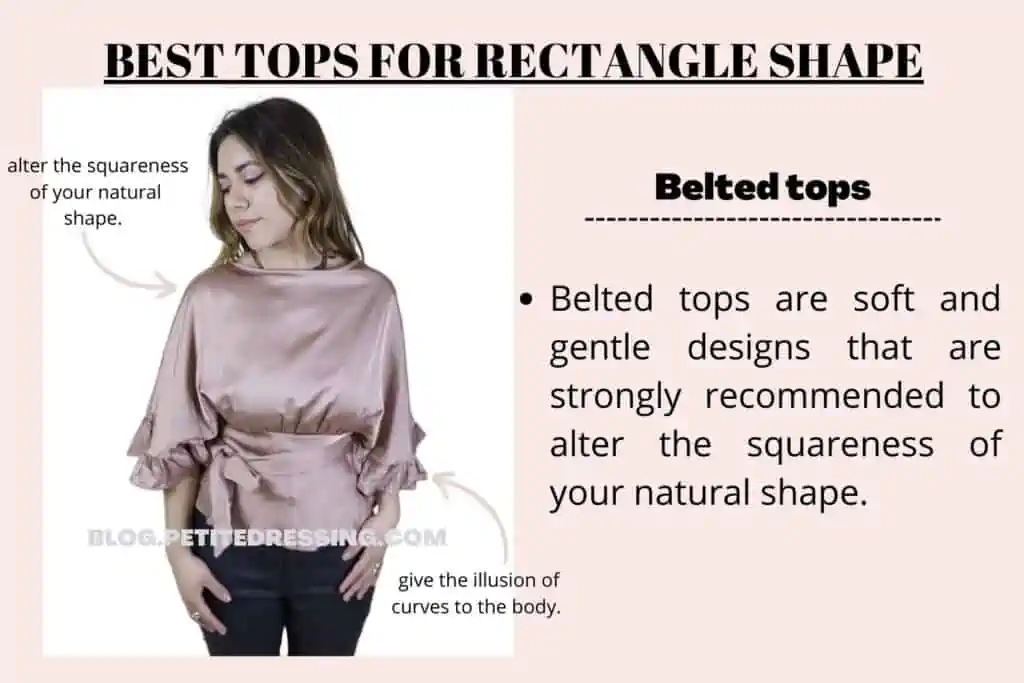 As a woman with a rectangle shape, you can use belted tops can to effectively create a unique waistline. Generally, belts are special accessories that can help give the illusion of curves to the body.
Belted tops are soft and gentle designs that are strongly recommended to alter the squareness of your natural shape. Some tops come with belts while for others you can add belts and transform your looks.
In each case, it is important that you look out for those designs that have belts contrasting with the color of the dress so they can be easily noticeable. Also, for your rectangle shape, you should wear those designs that have wide belts and keep aside those with thin belts.
Peplum tops
For this top to be more effective on your rectangle shape, it is important that you avoid peplum tops with flounces that are wide because they would not complement your figure. Wearing a peplum top over your figure would help add volume to your upper half.
The peplum top has a relaxed fitting on all body shapes perfect for offering comfort to your overall body frame. This is a style of top that can help you stand out and also help achieve balance.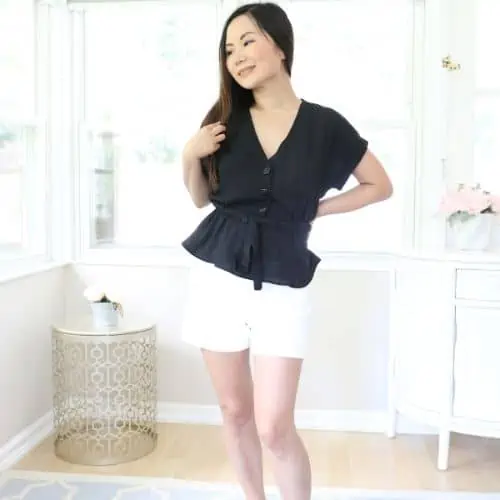 Why opt for peplum tops
Peplum tops are designs that can be used to soften the angular shape of the rectangle.
The flounces in peplum tops are details that are perfect for transforming your looks because they fall over your figure and also create the illusion of curves around the hips.
Wrap tops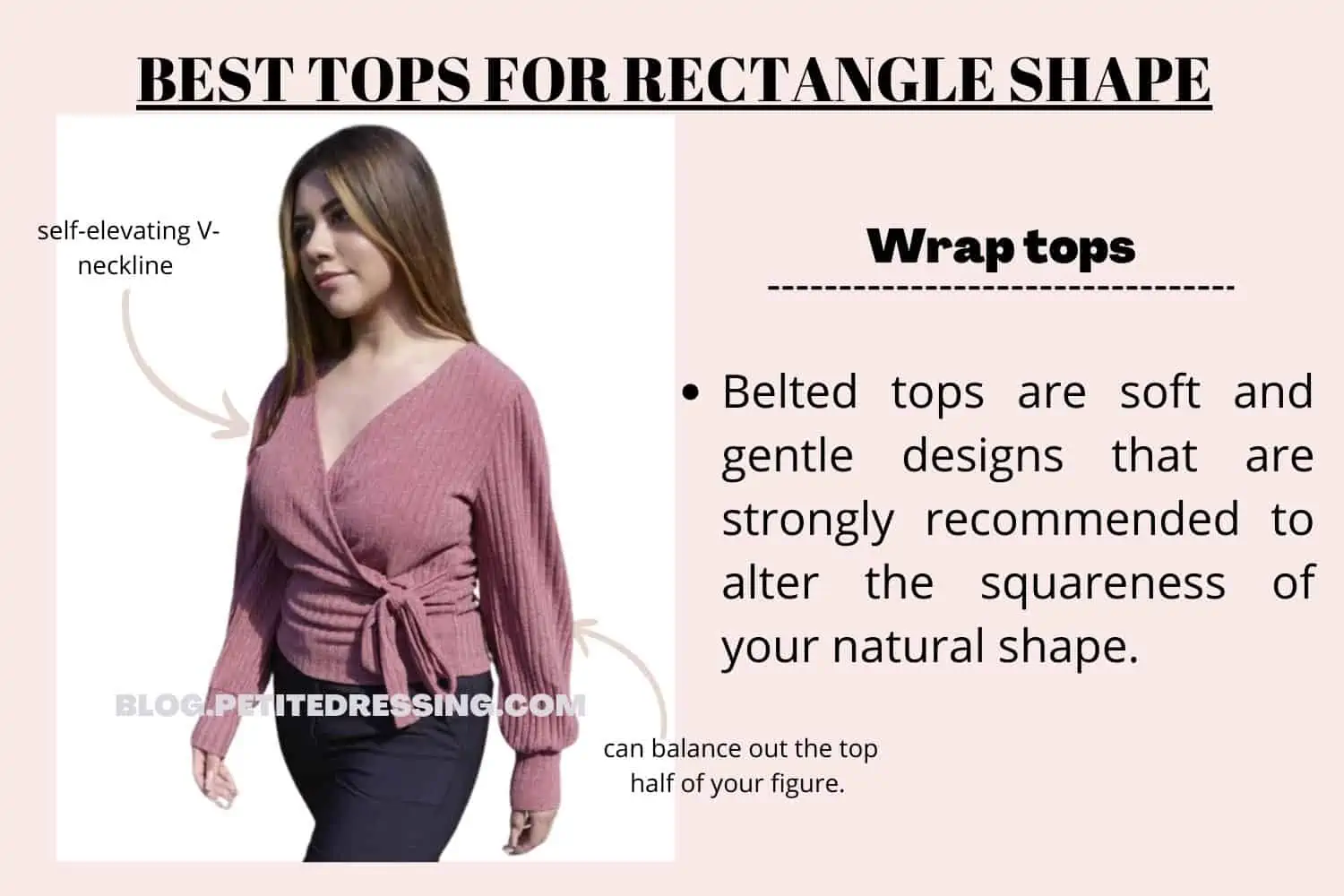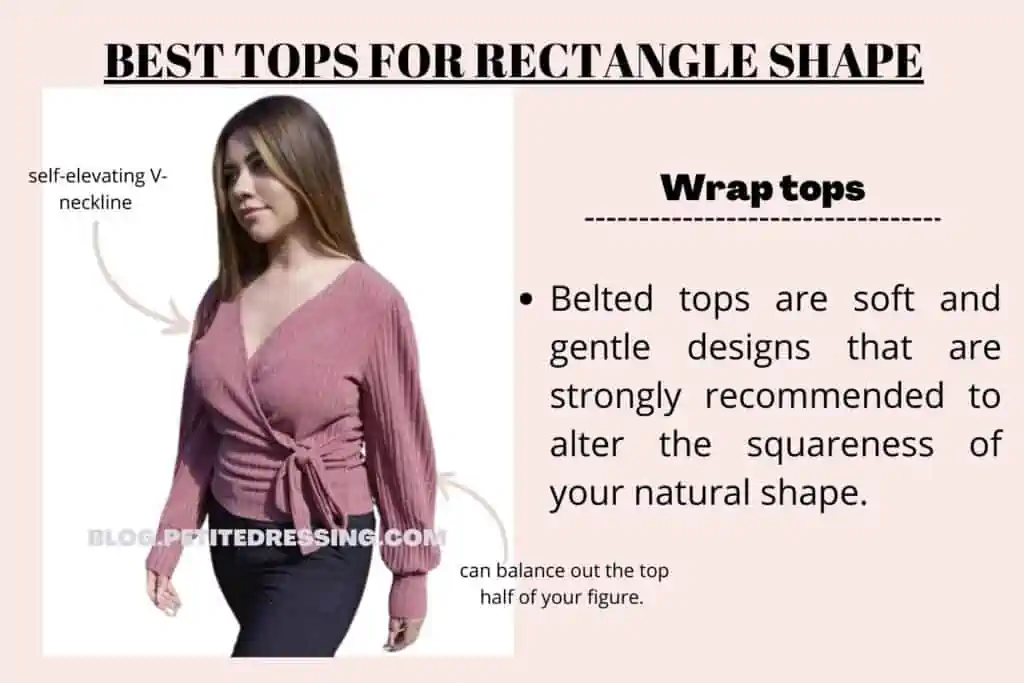 Wrap tops are seen as special tops because they are great on almost all body types with features that can transform your rectangle shape. They have a self-elevating V-neckline that does not exaggerate your straight-up and down structure.
The neckline of the wrap top gives room for dimension and depth which can balance out the top half of your figure. Also, these are tops that can offer you comfort and as well make you appear more feminine.
They also have a wrap that helps create a focal point for the eyes to keep their focus by simply defining the waist. You can never go wrong with this style of the top because it has a design that could balance your rectangle shape in every way.
V-neckline tops
V-neckline tops are incredibly stylish tops that can add dimension to the figure as it works effectively in breaking up the straight silhouette.
The V-neckline top is a design that can help you embrace your feminine structure. It is therefore recommended that you own a few of them because they would certainly help you build a flattering and functional wardrobe.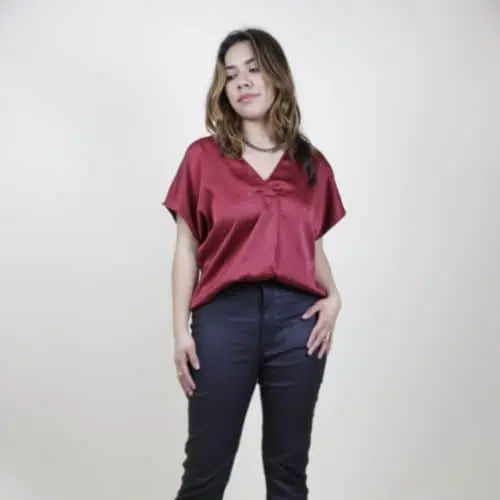 Expectations with v-neckline tops
This is a top that would help direct attention to the chest and bust region of your rectangle body shape.
In addition, the top with a V- neckline can visually add length to your overall figure and as well make it easy to accentuate your slender look.
One shoulder top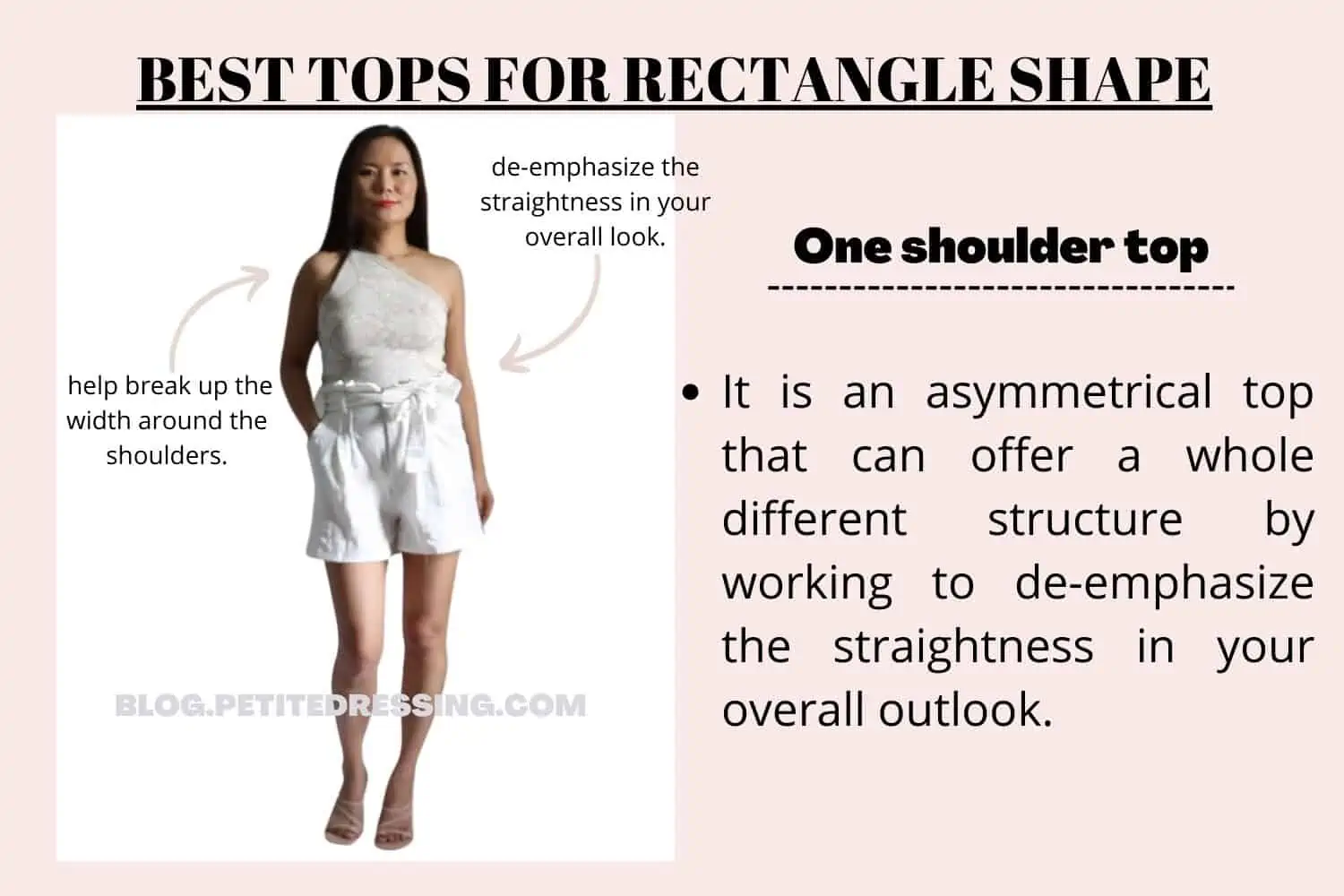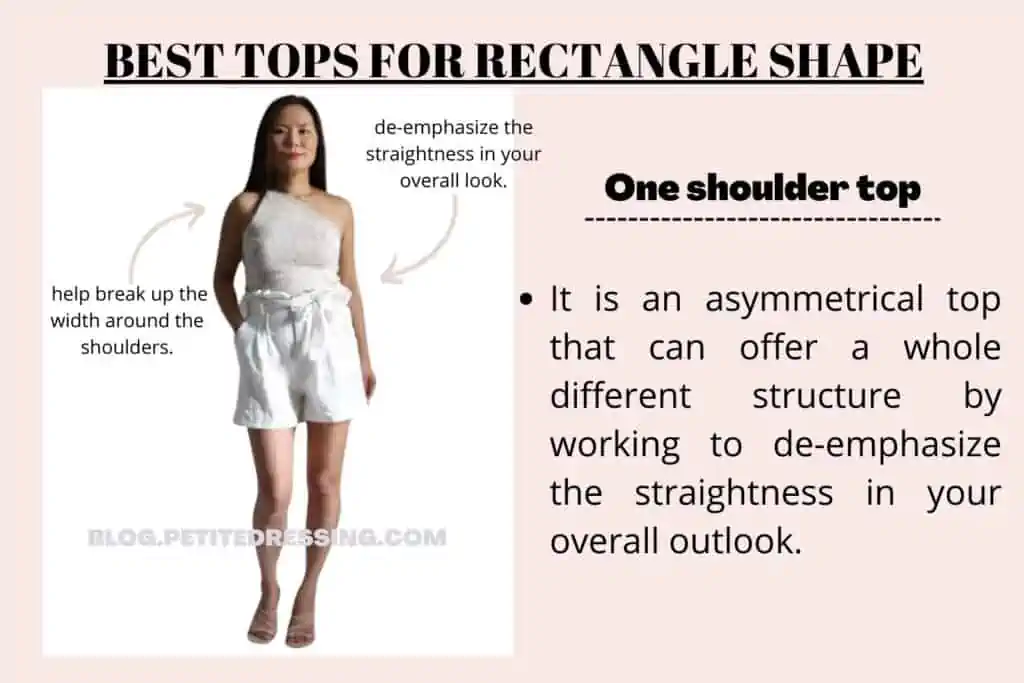 You cannot go wrong with a one-shoulder top, with a special neckline that will surely flatter your figure. This is simply because when you put on the one-shoulder top, it would help break up the width that is just around the shoulders.
It is an asymmetrical top that can offer the rectangle shape a whole different structure by working to de-emphasize the straightness in your overall outlook. Also, these are tops with stylish designs that could make you appear more feminine.
This is a top that would direct the focus to the shoulder line and elevate your general appearance. So with this top, you would feel very confident whenever you get dressed up in it.
Bright colored tops
Opt for tops with bright colors if you have a rectangle shape because they have the possibility to visually make the eyes assume width in your top half. Bright-colored tops are styles that are considered to be great investments for your wardrobe.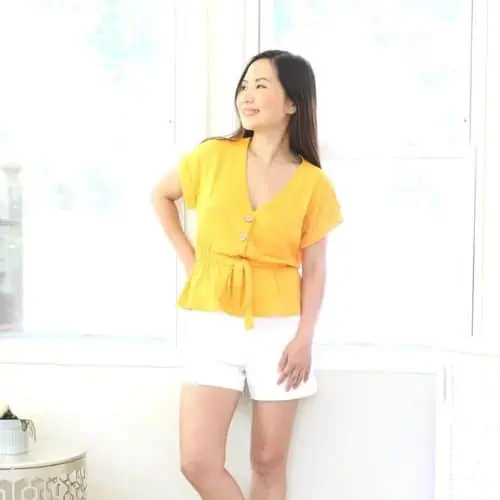 Bright-colored tops are a must-have
These tops have eye-catching abilities that could help complement your structure and elevate your looks.
Colors can make or break up the looks of your rectangle shape, so use color blocking to flatter the straight up and down strategically.
Also. It is necessary that you pair the bright-colored tops with dark-colored pants so there can be balance throughout your body frame.
Avoid tops with shoulder pads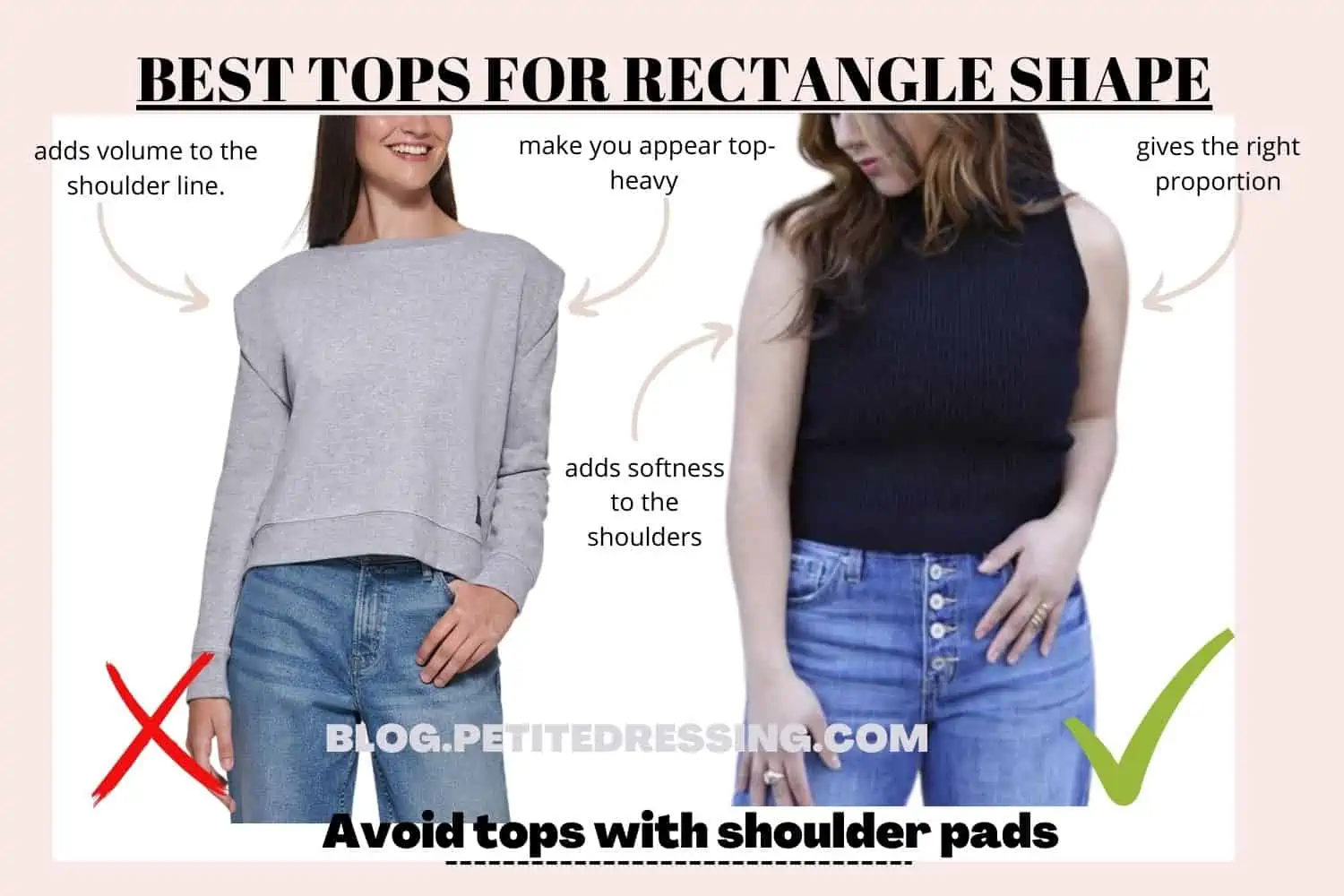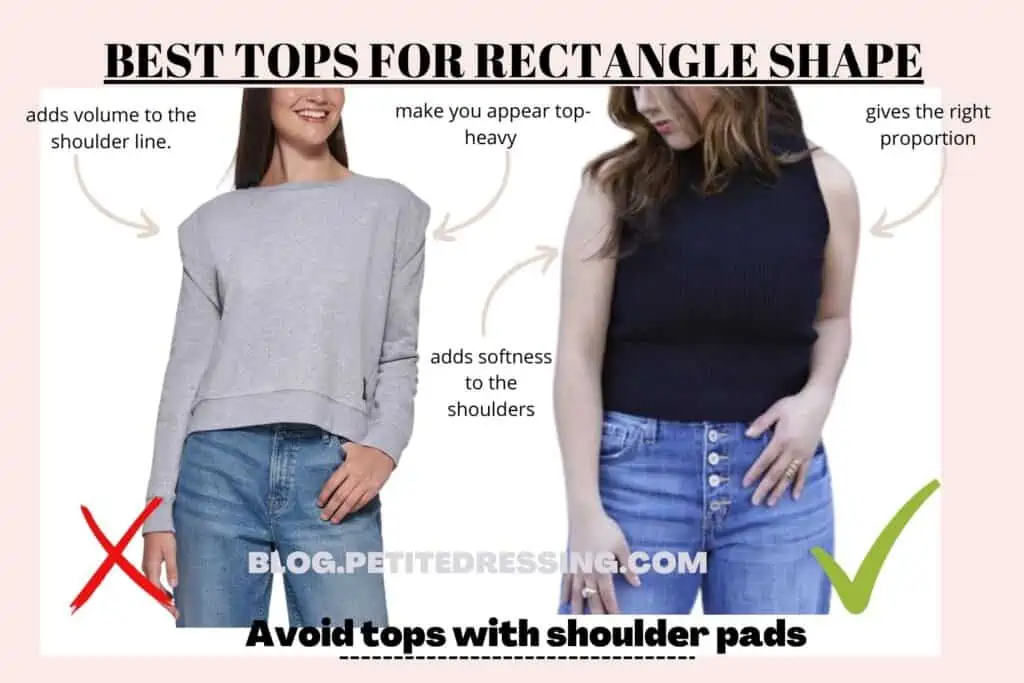 Tops with shoulder pads would emphasize the straight natural structure of the body. You should avoid wearing styles that have shoulder pads because they would sharpen the shoulders and make you lose by adding volume to the shoulder line.
The right tops for your rectangle shape are meant to soften the shoulders but adding shoulder pads to your tops could turn out in making you appear top-heavy. Wearing tops with shoulder pads could even make you appear shapeless and not well structured
These are tops that do not have the most desirable detailing for your rectangle shape to have the right proportion and also appear more feminine. It is for this reason that you should move on to exclude them from your favorite style of tops.
Avoid boxy tops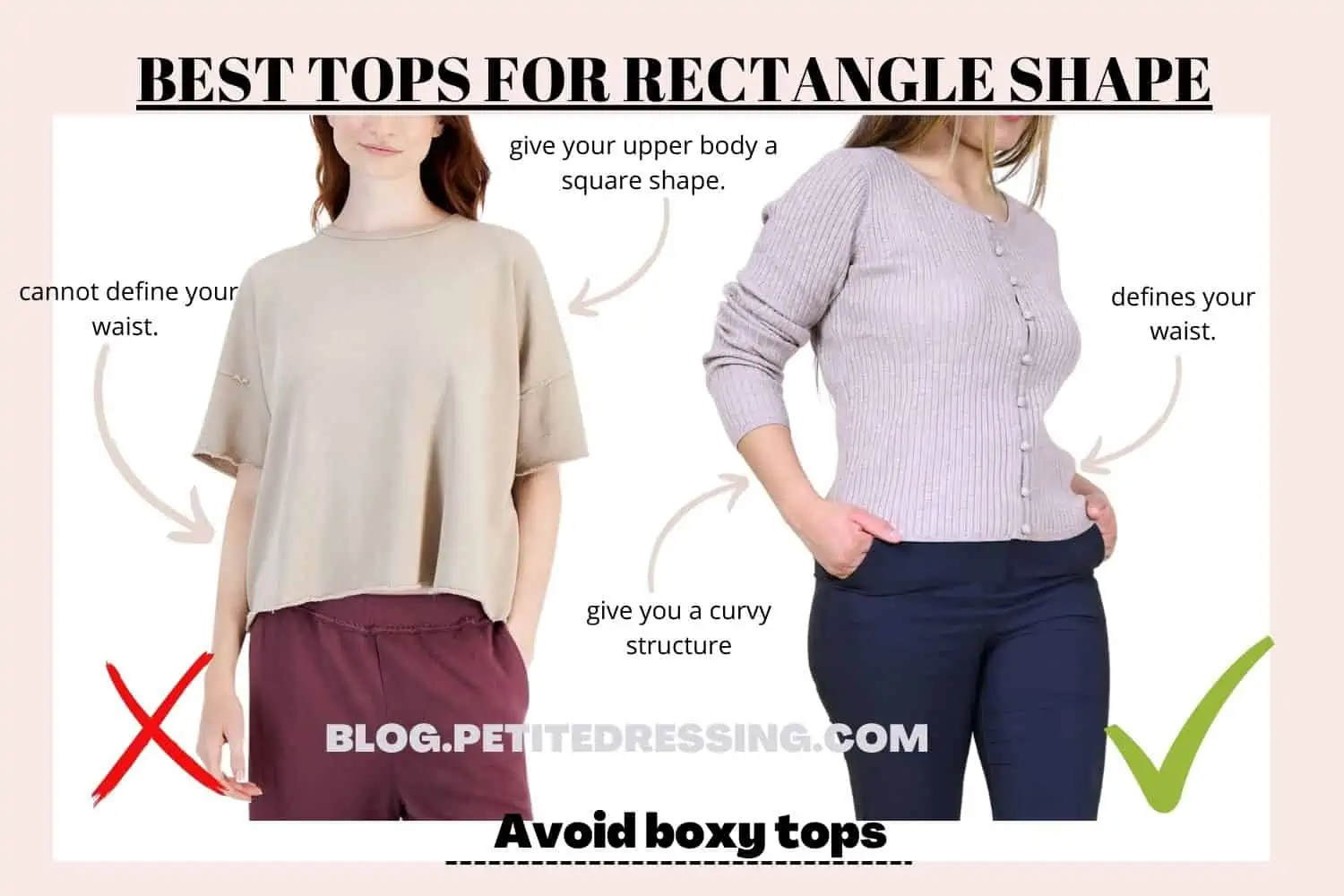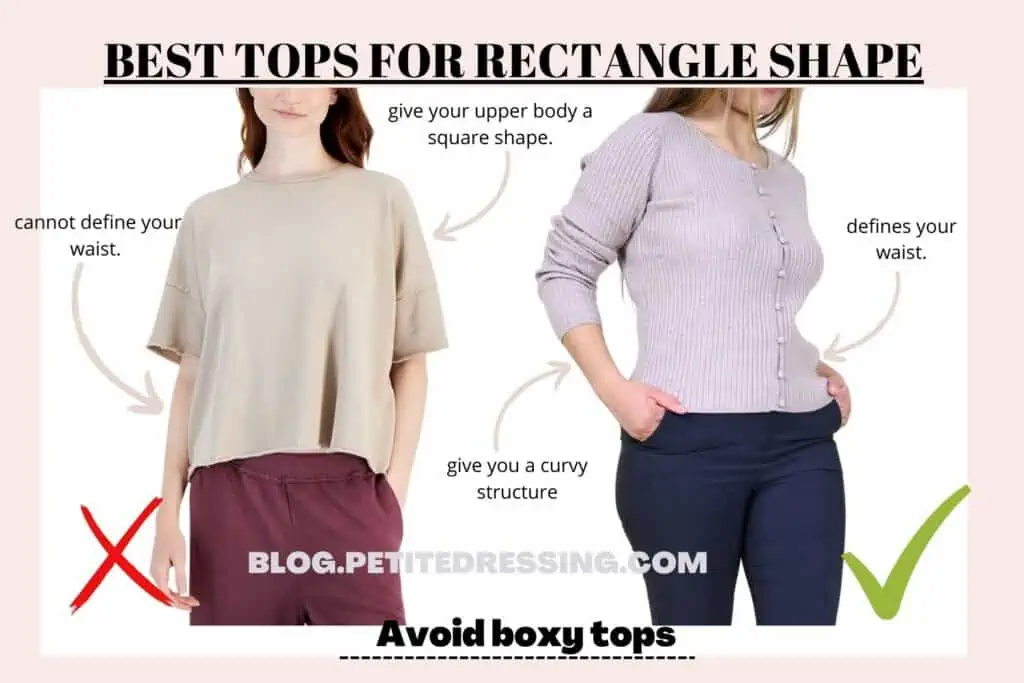 Boxy tops are designed to have no proper shape on the body and are therefore not designed for you if you have a rectangle shape. Boxy tops could appear to be overwhelming on the body and also cannot define your waist.
With a boxy top, you would only appear to be straight and unstructured, and that is why they are not the right style for your shape. As the name implies, boxy tops are cut in a box shape and that could give your upper body a square shape.
It is very important that your top should give you a curvy structure rather than emphasize your figure.
Avoid tops with square necklines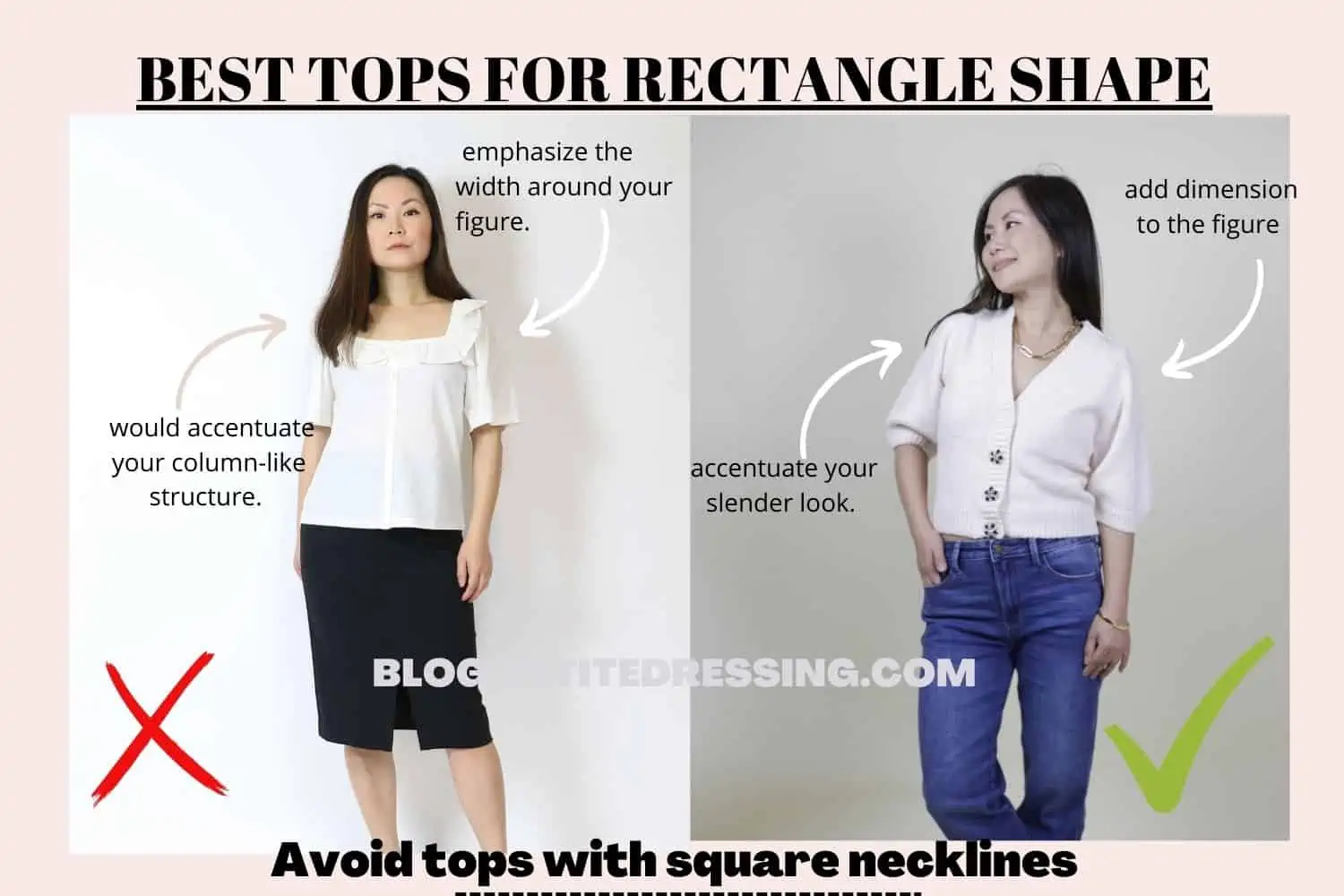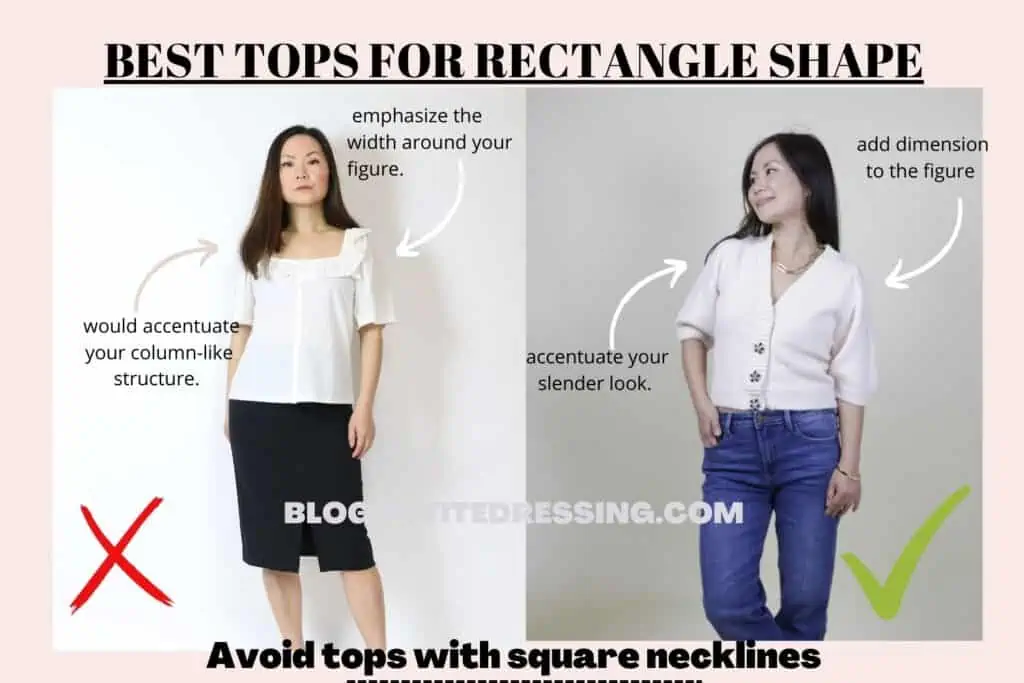 Not all tops sit well on the rectangle shape and one of those few designs is those with a square neckline. Tops with square necklines should not be an option for your shape because they would only accentuate your column-like structure.
These tops are far from being stylish in the rectangle shape because they are not designed to give the right curves your figure desires. Tops with a square neckline are not flattering because they are designed to add strong horizontal lines and also emphasize the width around your figure.
Tops with square necklines would play against your shape because they appear to be too wide and would not help you take into consideration your body proportion.
Avoid tunic tops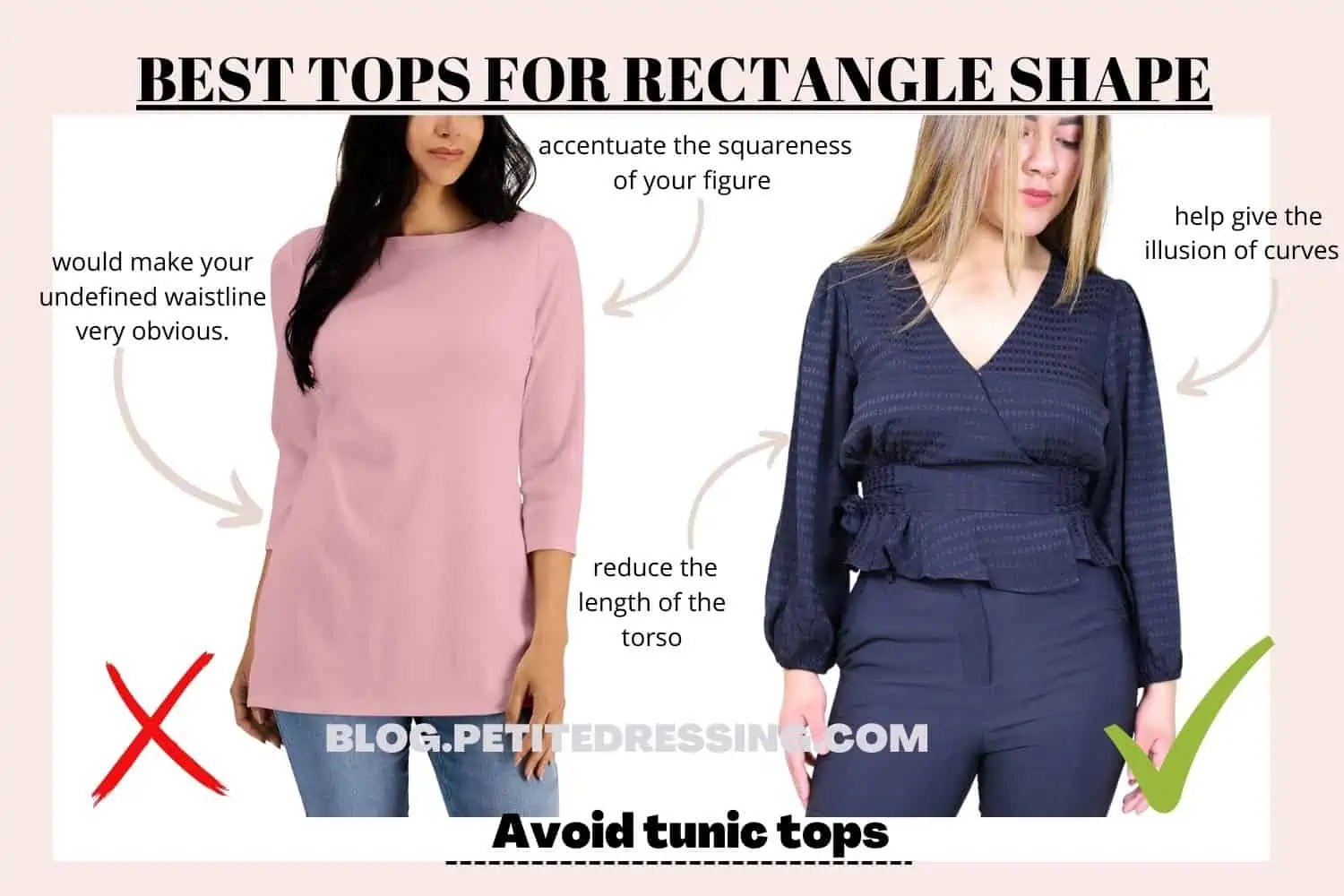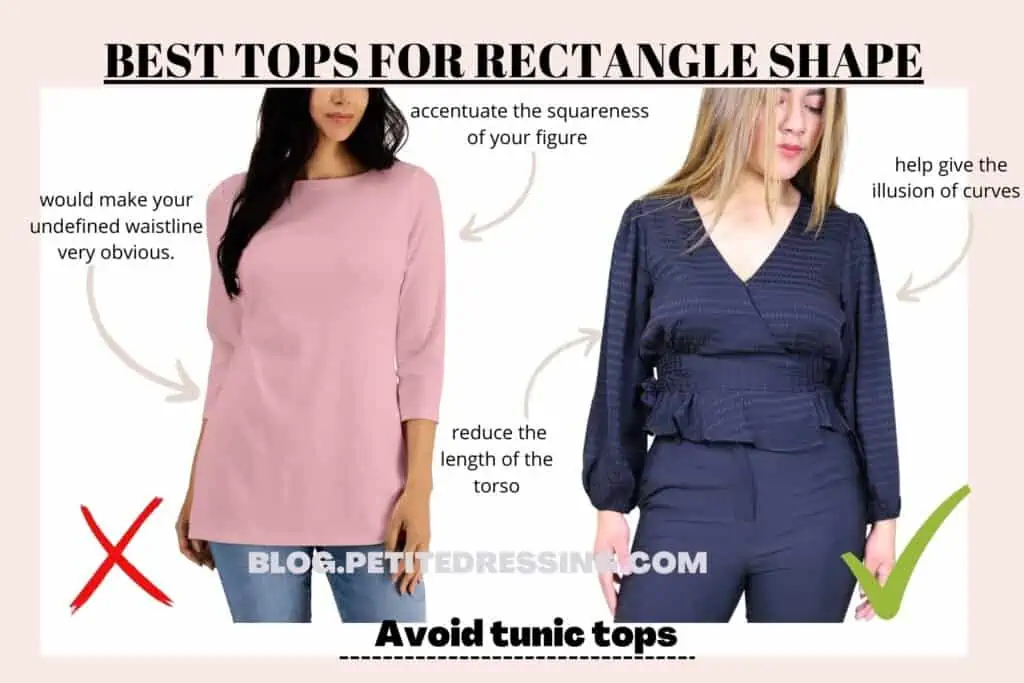 Styles like tunic tops that tend to fall past the hips and provide excessive coverage to your rectangle shape should be avoided. This is because this top would run straight down your figure and would make your undefined waistline very obvious.
Tunic tops are designs that can also accentuate the squareness of your figure and make you look more like a rectangle. It is a top that would not make you appear balanced nor would it offer you a feminine structure.
Besides, the tunic tops are designs that make your legs look cut off because they have a length that would visually elongate the torso rather than reduce it.
Avoid crop tops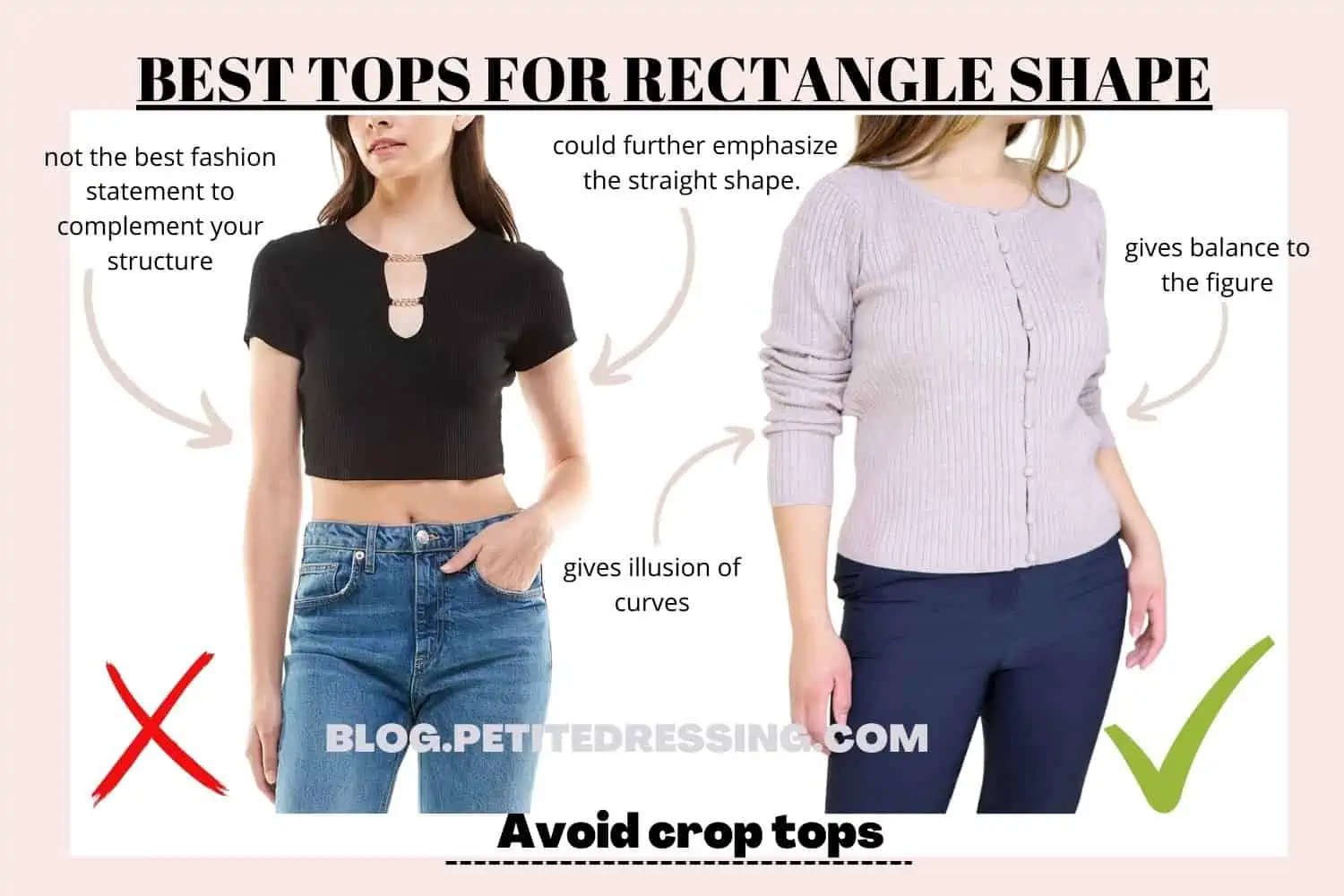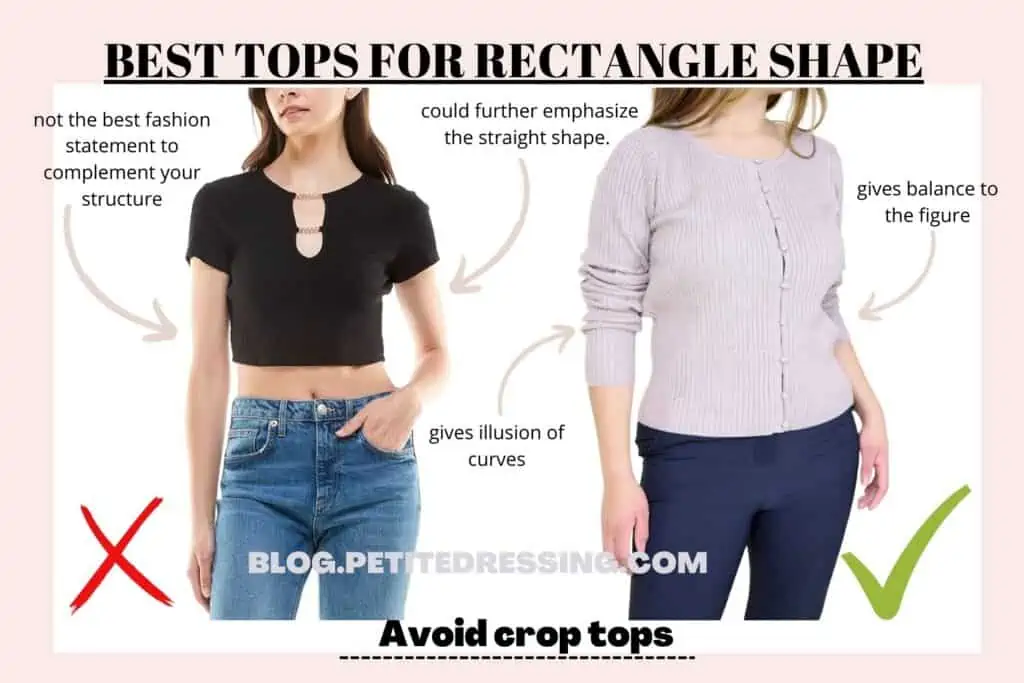 This is a top that is not considered a great fit for the rectangle shape because they are not the best fashion statement to complement your structure. Crop tops have a straight bottom hemline that could further emphasize the straight shape.
It is not a flattering style of top for your shape because it would make it more obvious that you lack natural waist definition. They are tops that cannot work towards your styling goal and as such, it is just best that you avoid wearing them on your rectangle body shape.