The rectangle body type has a straight up and down look which happens to be a very common body type amongst models.
If you have this shape, this means you have small hips, lean legs as well as very little natural waist definition. For this reason, you would want to look out for coats that would add volume to your lower half and give you the illusion of curves.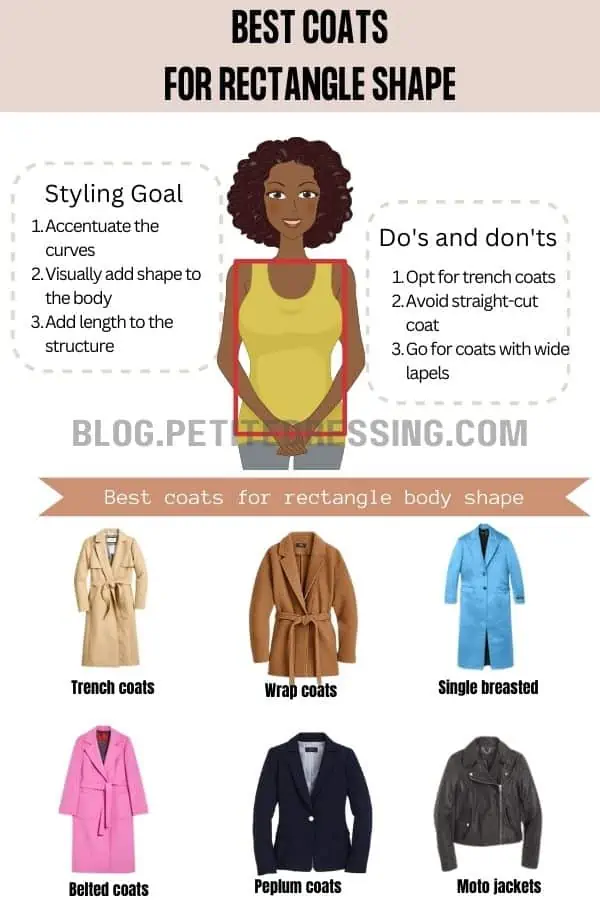 Knowing the right coats for your shape and how to style them is very important if you have a rectangle shape. Below is a comprehensive coat guide with 8 best styles that you should invest in and those that should not make it to your wardrobe.
Trench coats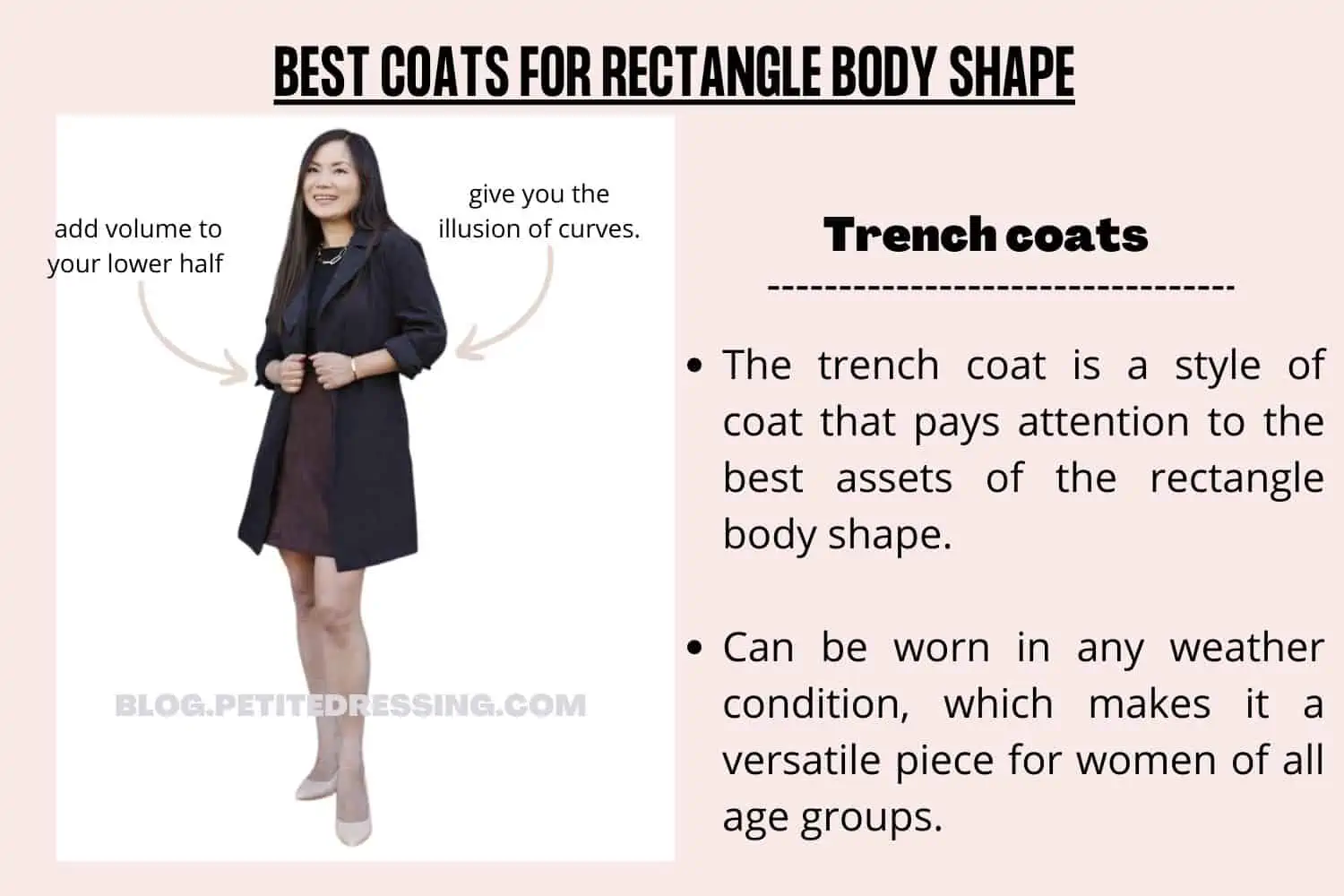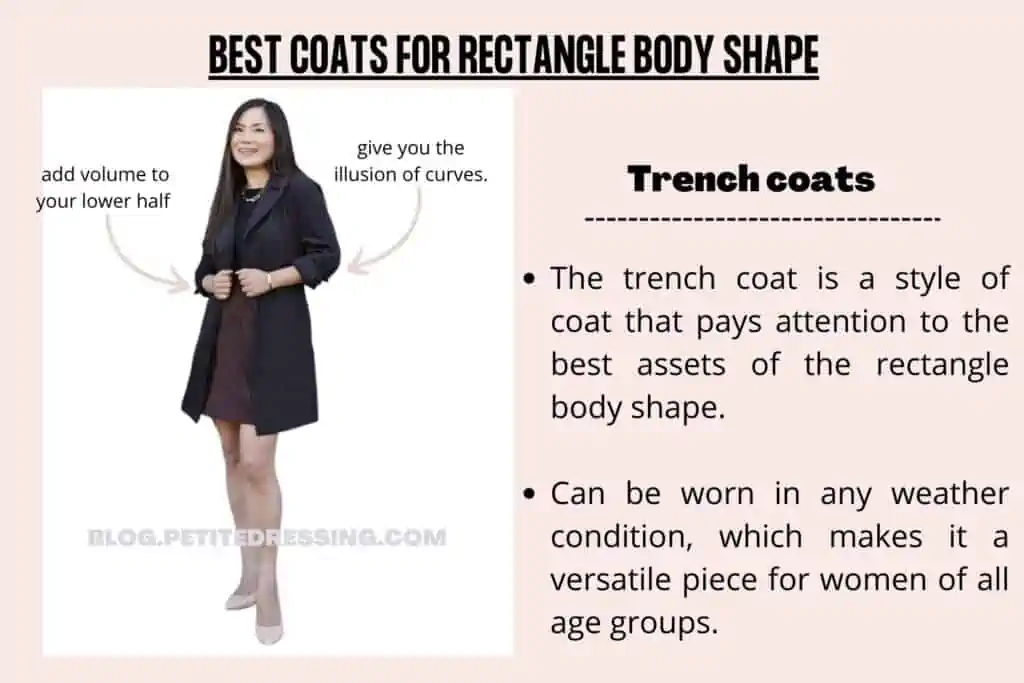 The trench coat is a style of coat that pays attention to the best assets of the rectangle body shape. The coat follows the natural silhouette of your figure and has features that act as a focal point to the eyes.
Also, trench coats can give you a visual vertical line that works to accentuate your slim legs so you could appear taller. They are among the most flattering styles that you should invest in.
Besides, the trench can be worn in any weather condition, which makes it a versatile piece for women of all age groups.
Wrap coats
It draws attention to both the chest and the bust region which is one of your best assets. Another special effect of the wrap coat is that it helps to define your waistline.
Also, the wrap around the waist is such that you can determine how tight or loose the wrap is around the waist. In this way, you would be very comfortable because the coat would offer you more freedom around your entire figure.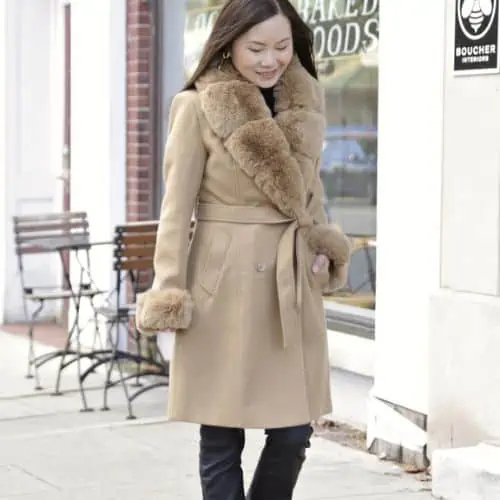 Wrap coats are the best for your figure
This is one of the best coats that can accentuate your overall body frame because it has a flattering neckline and a wrap around the waistline.
The wrap does not emphasize your column-like structure but rather helps to break it.
Single breasted coat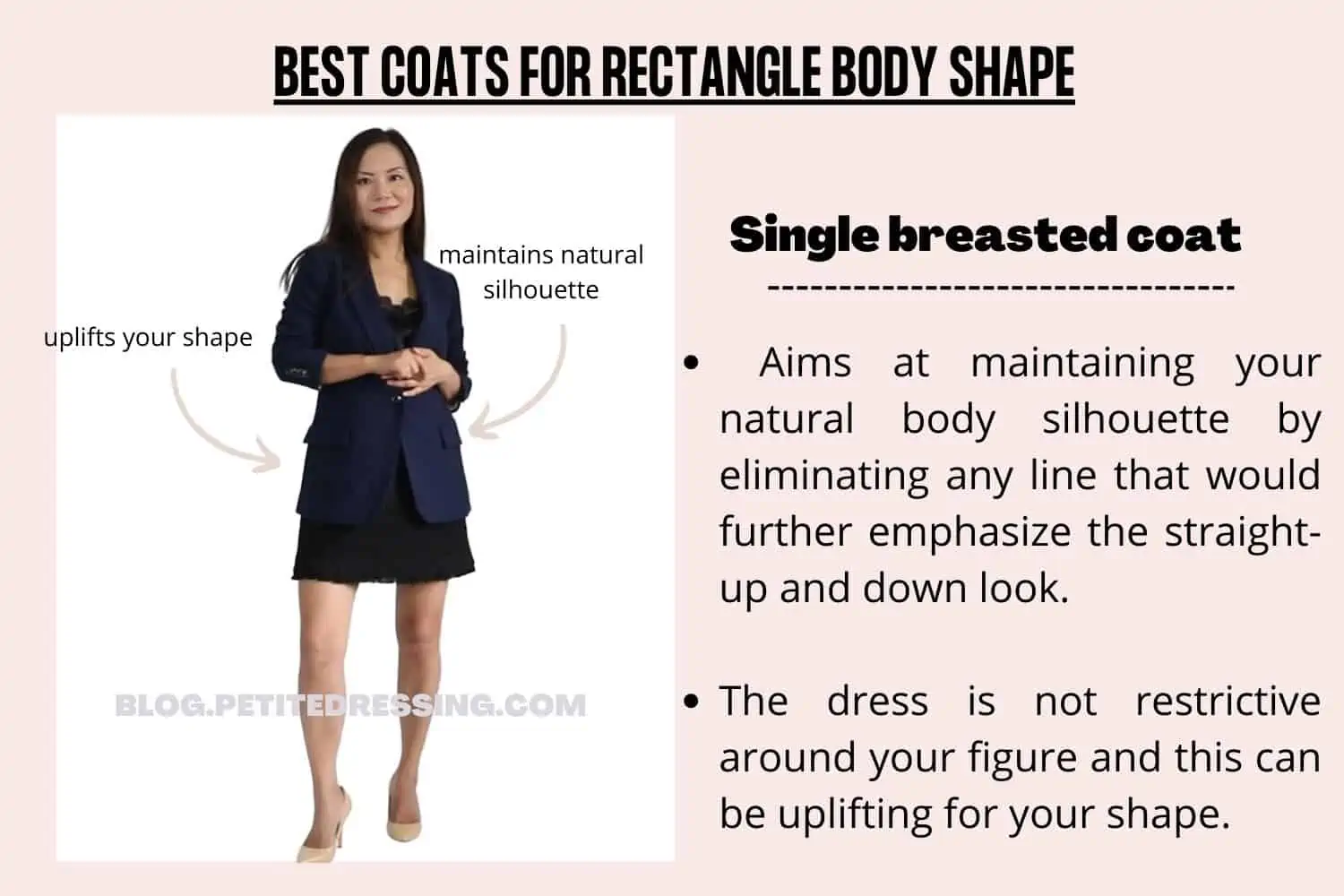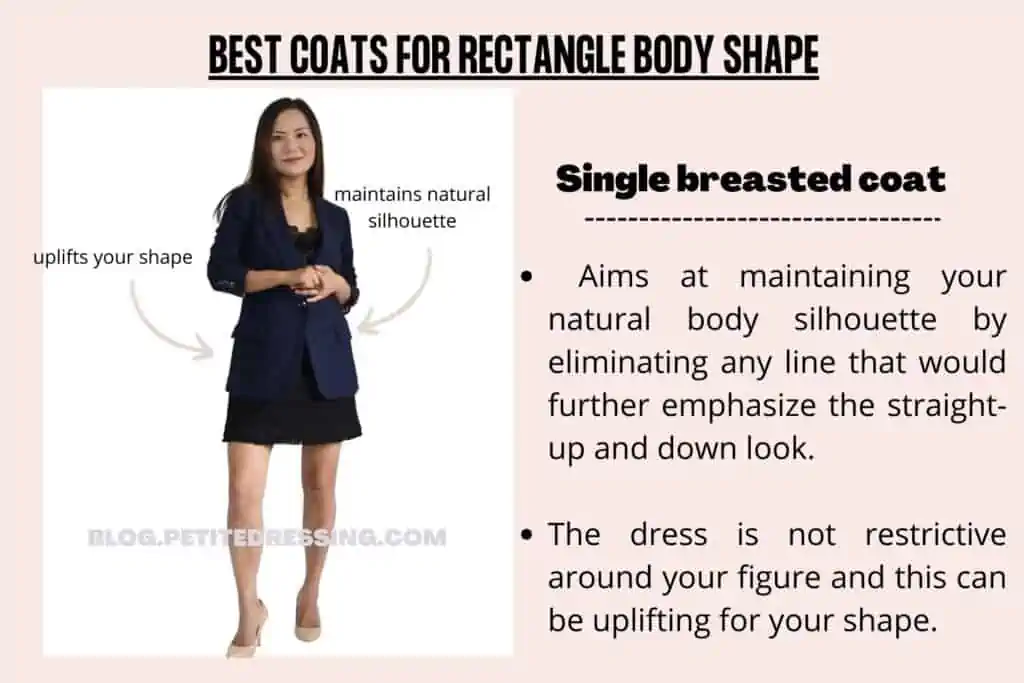 If you have a rectangular body shape, I would suggest that you invest in a single-breasted coat for two major reasons.
Firstly, the dress aims at maintaining your natural body silhouette by eliminating any line that would further emphasize the straight-up and down look. This is an effect that makes them a flattering piece for your figure.
Secondly, the dress is not restrictive around your figure and this can be uplifting for your shape.
Belted coats
If you want to appear more feminine, then you should go for the belted coat because it is one very simple design that would elevate your overall appearance. Since the rectangle body shape does not have a defined waistline, this coat is one that would help define your natural waistline.
Also, you can play with the belted coat if you want your proportions to look better by fixing the belt a little higher than your natural waistline. This way the eyes would assume you have a longer leg and a shorter torso.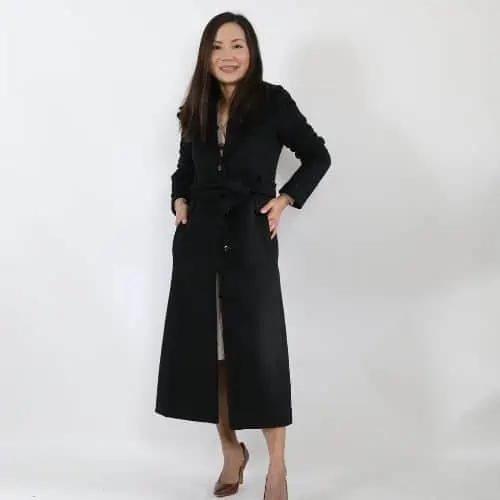 Belted coats are a must-have
This coat appears to also be very comfortable so make sure the coat is not too tight on your waistline.
They remain an excellent coat style for your rectangle body shape and you shouldn't hold back from investing in them.
Peplum coats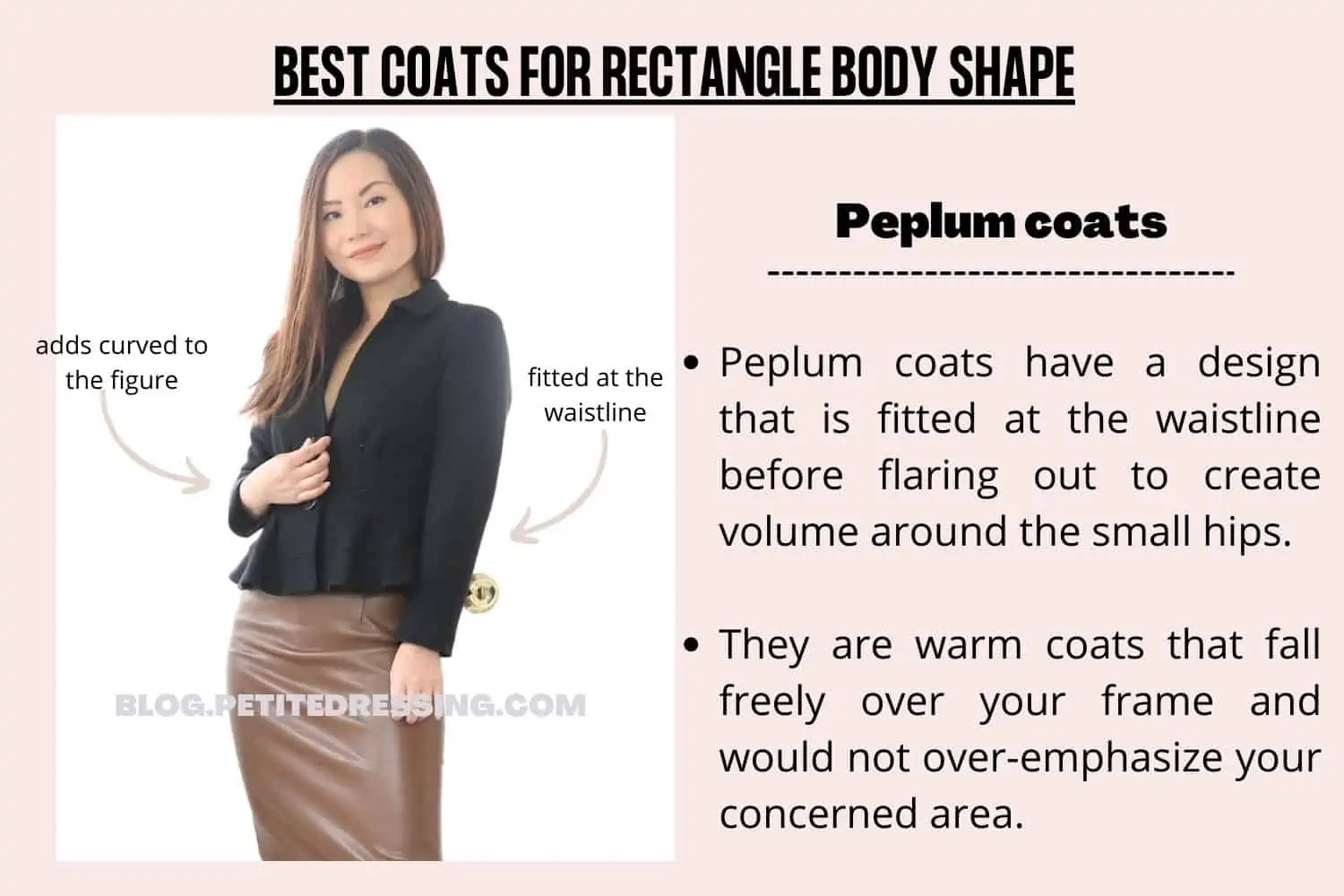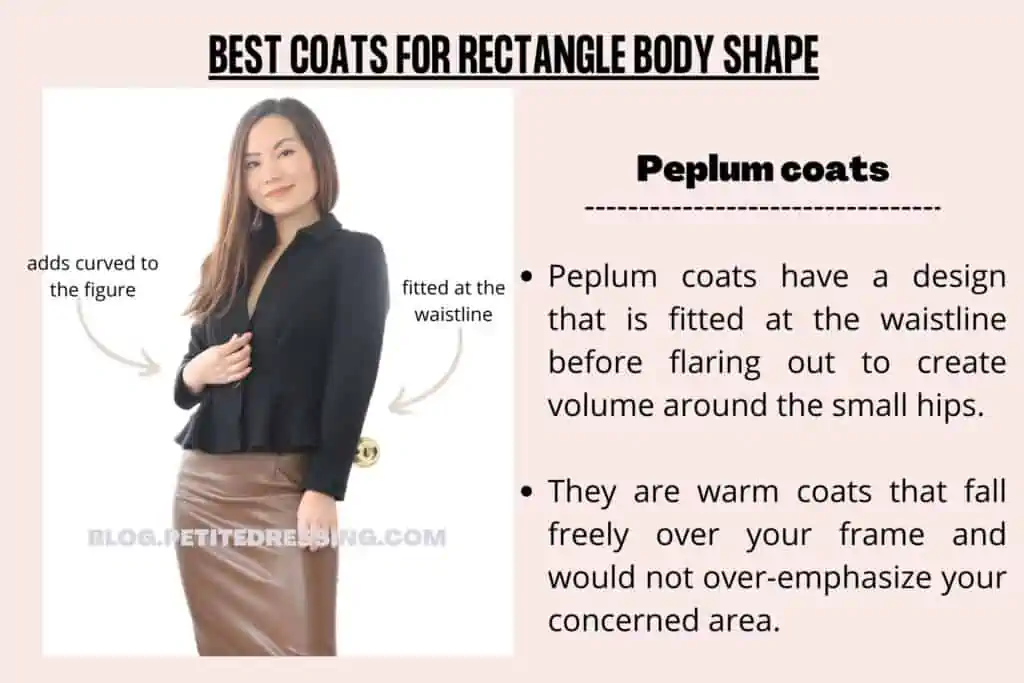 Because your rectangle shape has no defined waistline, the peplum coat is seen to work well for your figure. Peplum coats have a design that is fitted at the waistline before flaring out to create volume around the small hips.
This volume is what gives the illusion of curves to your bottom half making you appear more feminine and structured. They are an excellent coat style that would complement your overall figure while still adding a visual vertical line that can make you appear taller.
They are warm coats that fall freely over your frame and would not over-emphasize your concerned area.
Moto jackets
The Moto jacket is a classic coat style that has a short hemline that makes it a unique style for the rectangle. When you wear a moto jacket on your structure they would emphasize the legs and this could in turn make you appear taller.
The legs appear to be one of your best assets so take advantage of them by opting for moto jackets especially because they are short. The coats also have the edgy vibe that is needed to flatter the athletic build of the rectangle.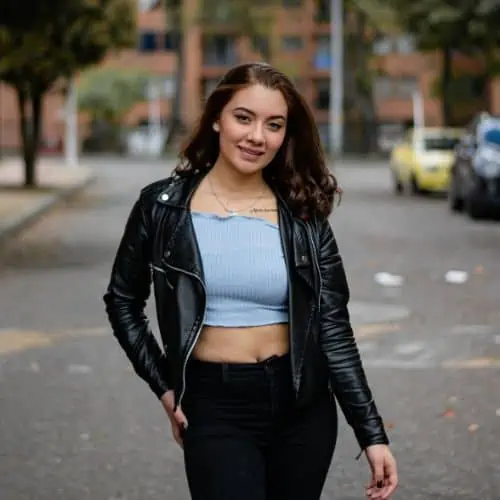 Expectations with moto jackets
These coats are designs that can uplift your general appearance as they are also easy to style in winter.
It is a unique style of the coat with a fit that complements your overall structure.
Flared coats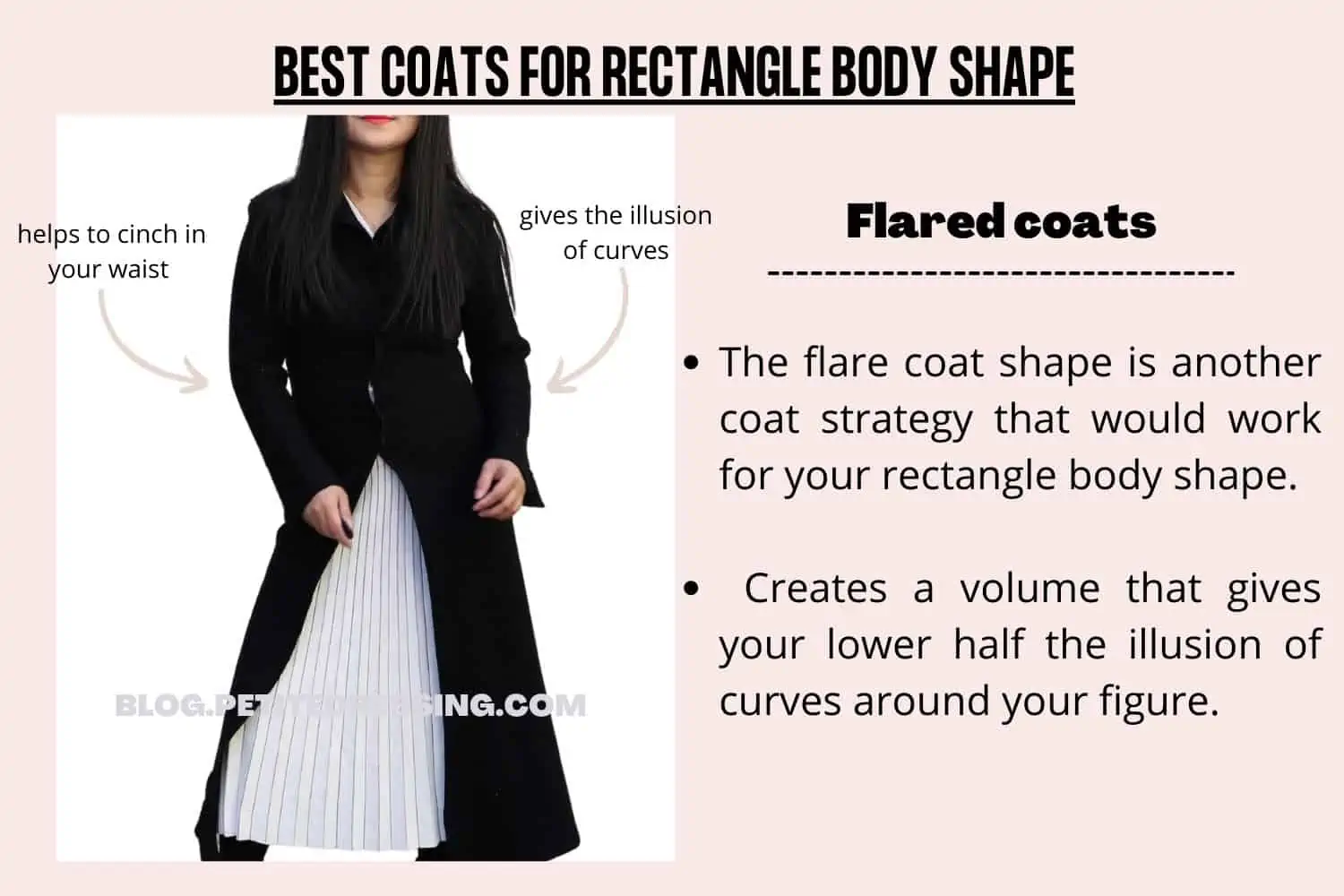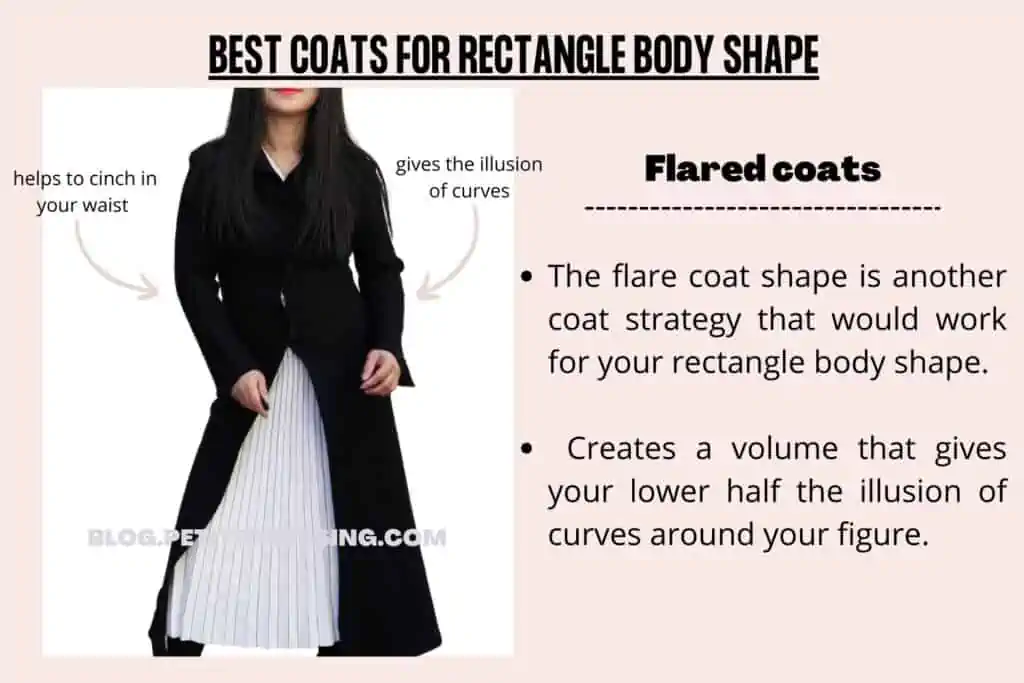 The flare coat shape is another coat strategy that would work for your rectangle body shape. A coat is designed to hug your upper body before it flares out from the waist to fall over your small hips.
This way, it creates a volume that give your lower half the illusion of curves around your figure. it also accentuates your lean legs which is seen to be an asset for your figure.
Also, because the coat is fitted before flaring out over the lower half, it helps to cinch in your waist and gives it a better definition. This is why the flared coat would appear flattering on the rectangle body shape.
Coats with wide lapels
When you wear coats with wide lapel collars, they would add volume to the top half of your figure. This style of coat would act as a focal point to the peering eyes.
I find that coats with wide lapels are more effective in diverting the eyes from the straight up and down shape than those styles with small collars. Because small collars do not add a clear point of interest to the figure like the wide lapels would.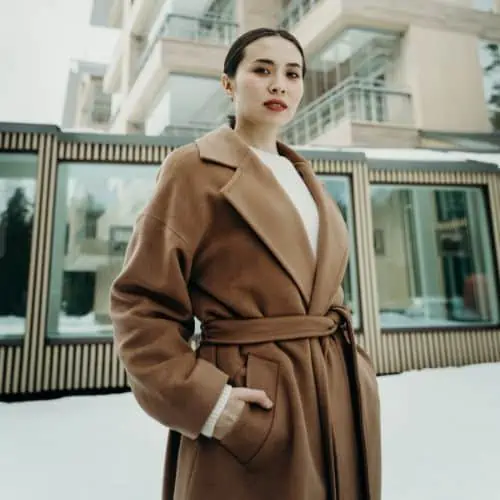 Why opt for coats with wide lapel
With this, there would be less emphasis on the squareness of your rectangle shape which is a unique feature of your best coat styles.
These types of collars are seen as necessary embellishments that would complement your overall figure.
Avoid straight-cut coat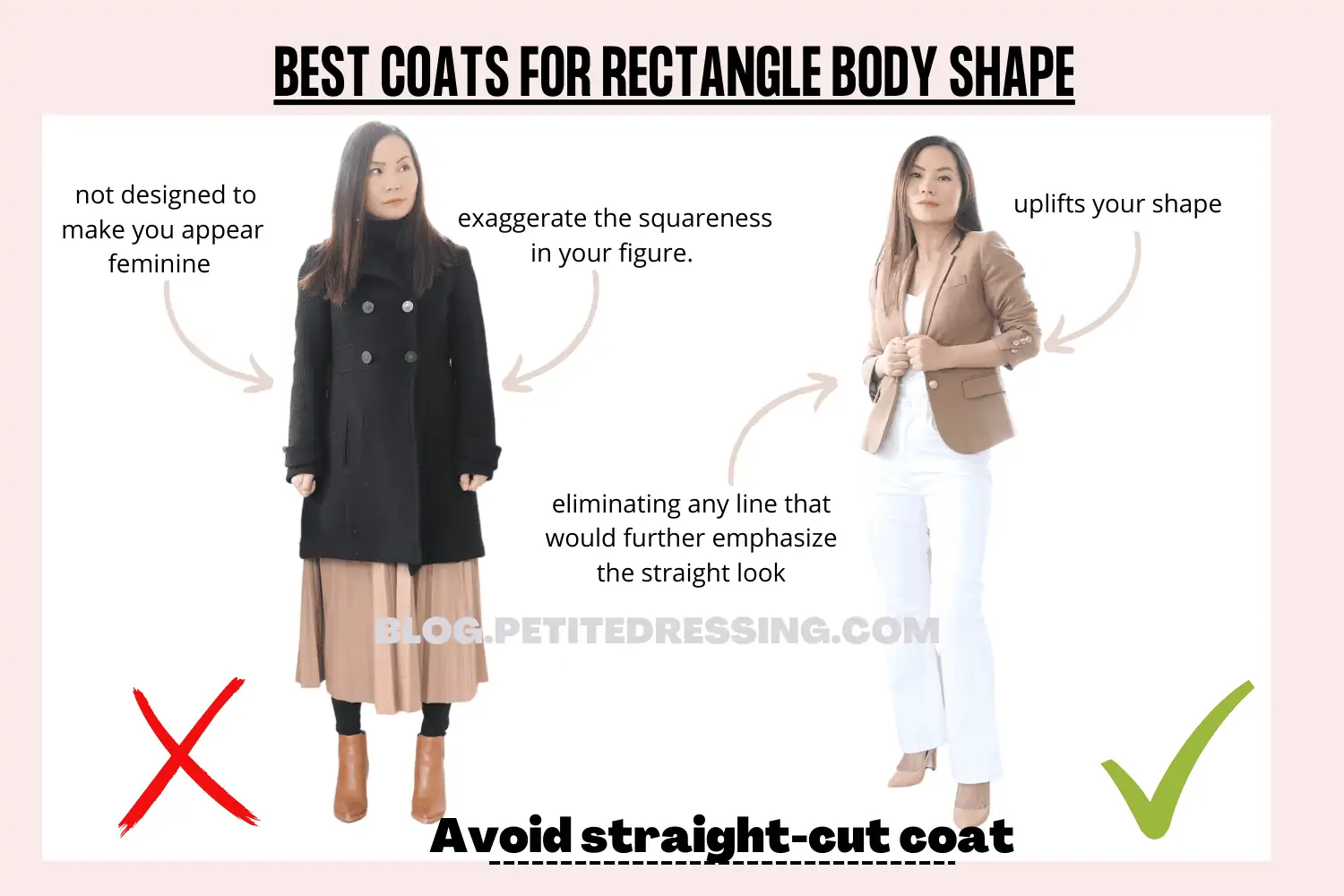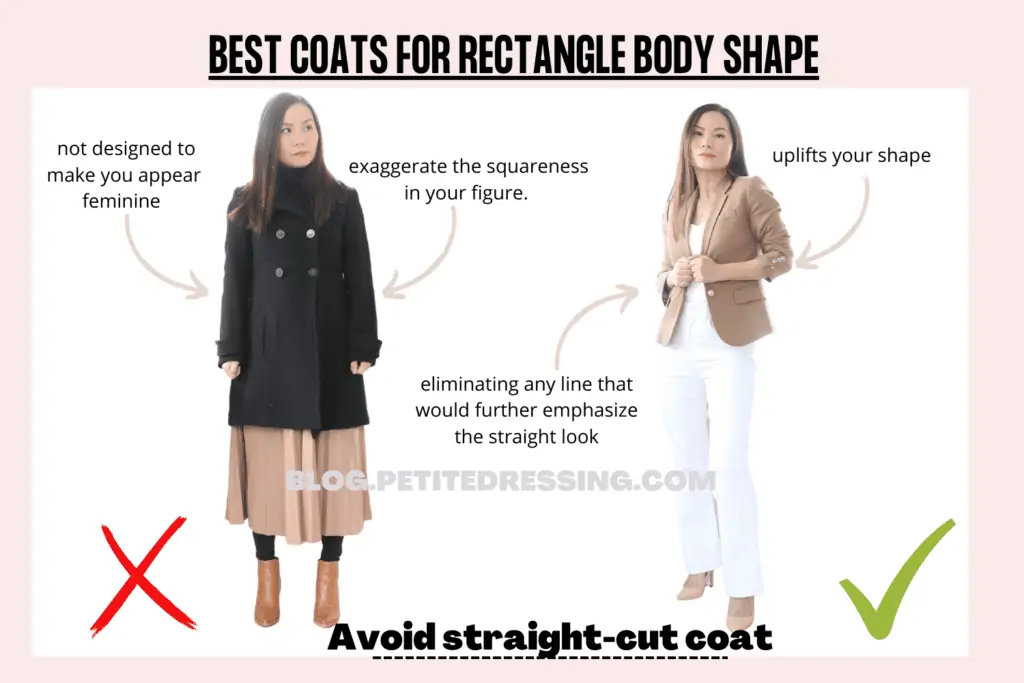 The cut of the coat for the rectangle shape is also very important when making choices so avoid opting for the straight-cut design. This is because the straight-cut coat is not designed to make you appear feminine but would exaggerate the squareness in your figure.
As the name implies, the coat has a straight up and down structure that makes it less effective in defining your waistline. When you wear this pattern of coat on your shape, it can further emphasize the lack of curves in your figure and this can throw you off balance.
This is one coat that is not recommended for you because it has no taste of class that is necessary to keep you looking edgy and stylish. No matter how trendy they may appear, the straight-cut coat remains a design that you should not invest in.
Avoid boyfriend blazers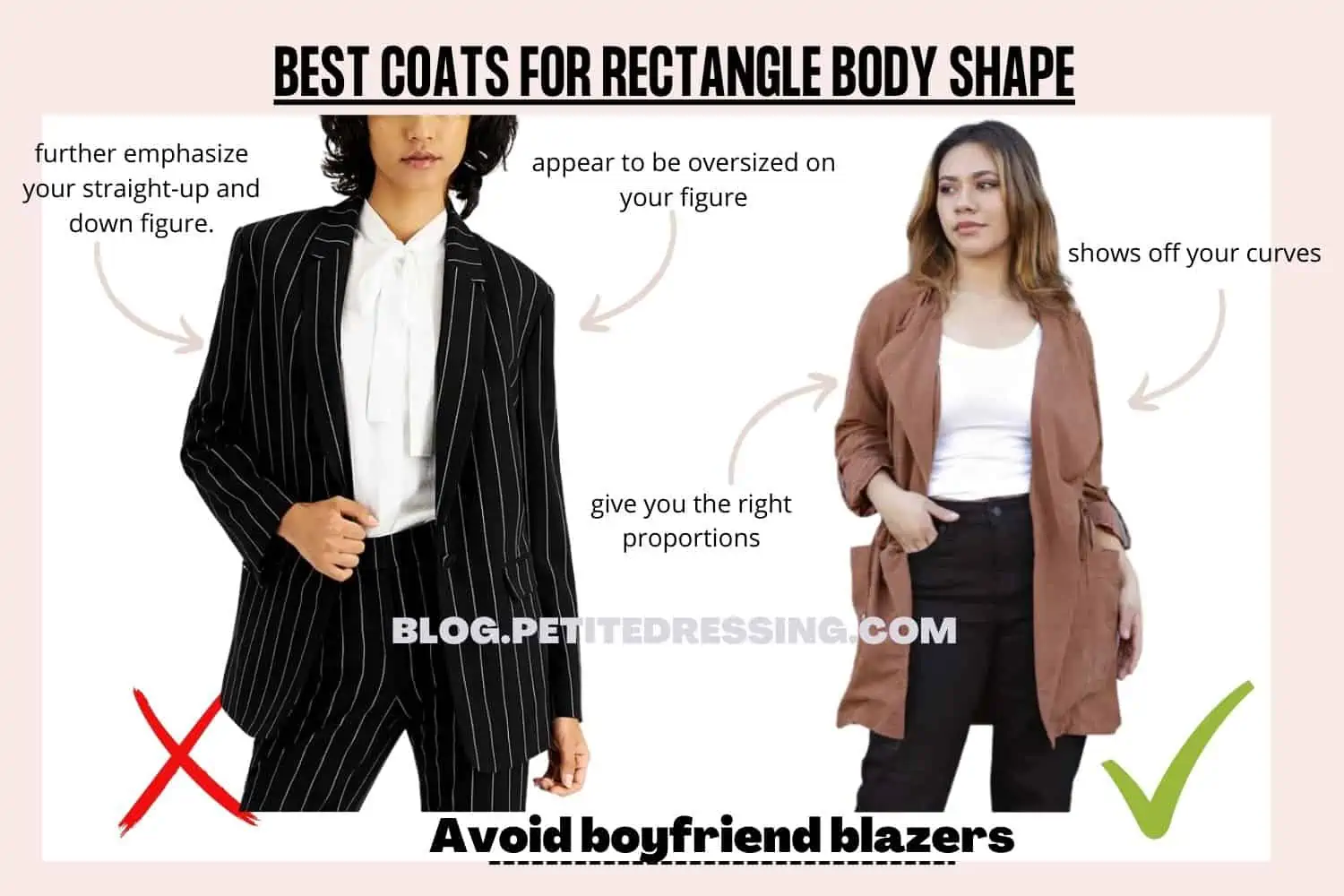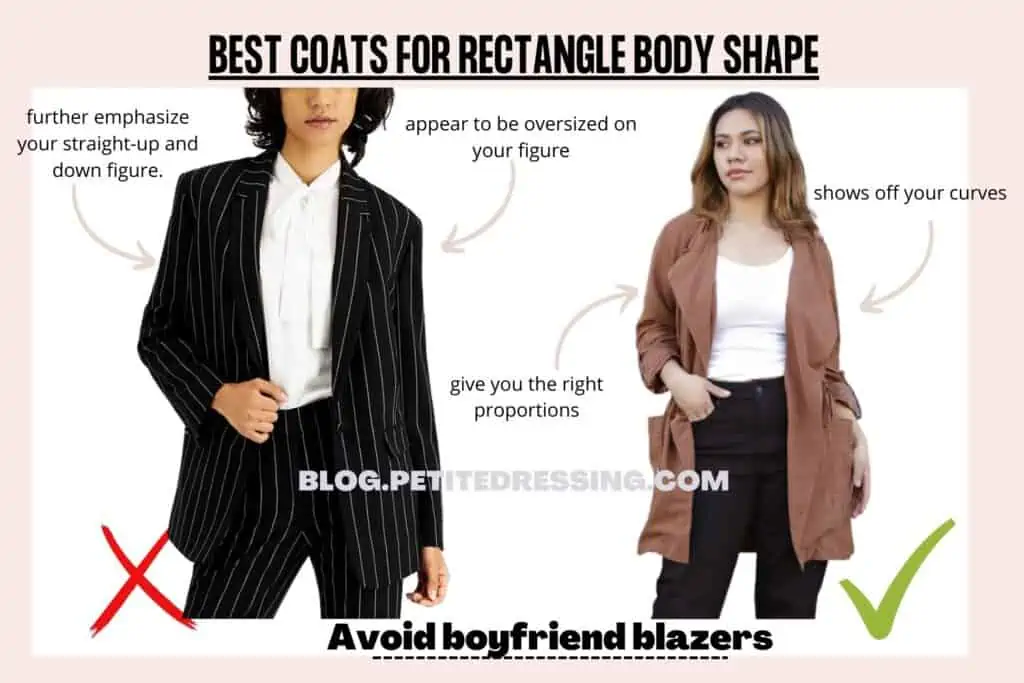 The boyfriend blazer is one of the few designs that would not flatter your figure nor would they give you the right proportions that would make you appear feminine. The boyfriend blazer is designed to be longer than the typical cut.
Most often, they have thigh length and also appear to be oversized on your figure. Because they are oversized, your rectangle body shape would easily get lost in them.
These coats also have padded shoulders that would widen the shoulder line and further emphasize your straight-up and down figure. They are not the best layering piece that should be added to your wardrobe because they would not help you achieve balance.
Avoid cocoon coats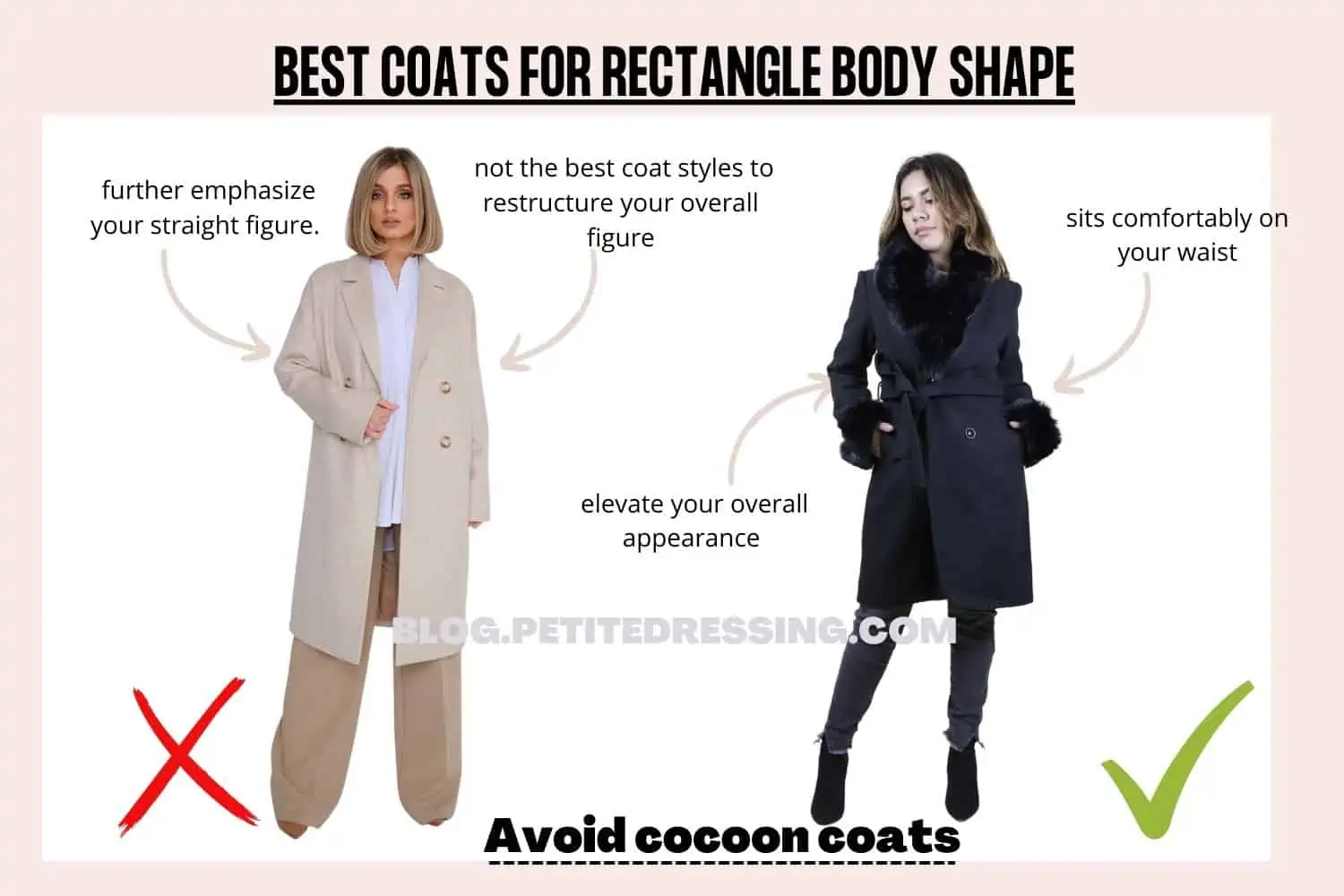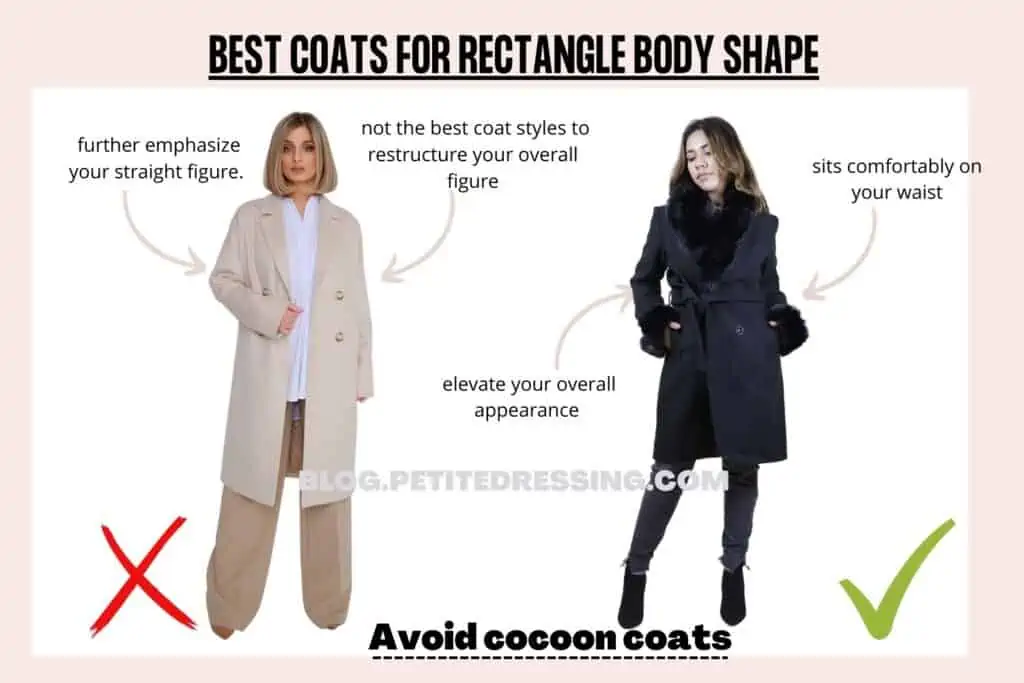 It is important that you know the cocoon coat is a double-breasted design that has the tendency to broaden your slender figure and further emphasize your straight figure. These coats are not the best coat styles to restructure your overall figure so it is best that you avoid them.
These coats do not have a shoulder definition and could exaggerate your straight-up and down structure. it is one of the least flattering styles for your figure because they have an oversized fit that would hide your shape and become overwhelming on you.
The coat appears to be roomy on your structure but it is not classy enough to give the illusion of curves. You should not invest in this coat style as it is not also designed to help define your natural waistline.