The rectangle body shape has an overall straight structure that comes across as square. Also, this shape has small hips, slim legs and lacks waist definition and it is therefore important that you wear the right dresses that could make you appear more feminine.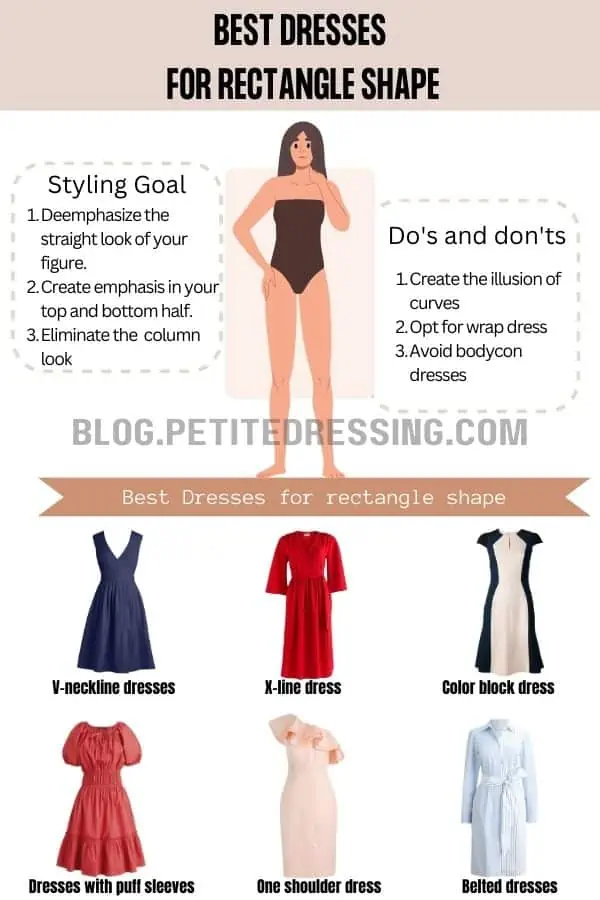 The best dresses are those that would complement your figure and is also balanced on the top and bottom. The dress should also help cinch in the waist so it could be well defined.
Below is a compilation of 8 dresses that are perfect for your rectangle shape and 3 others that you should avoid wearing:
V-neckline dresses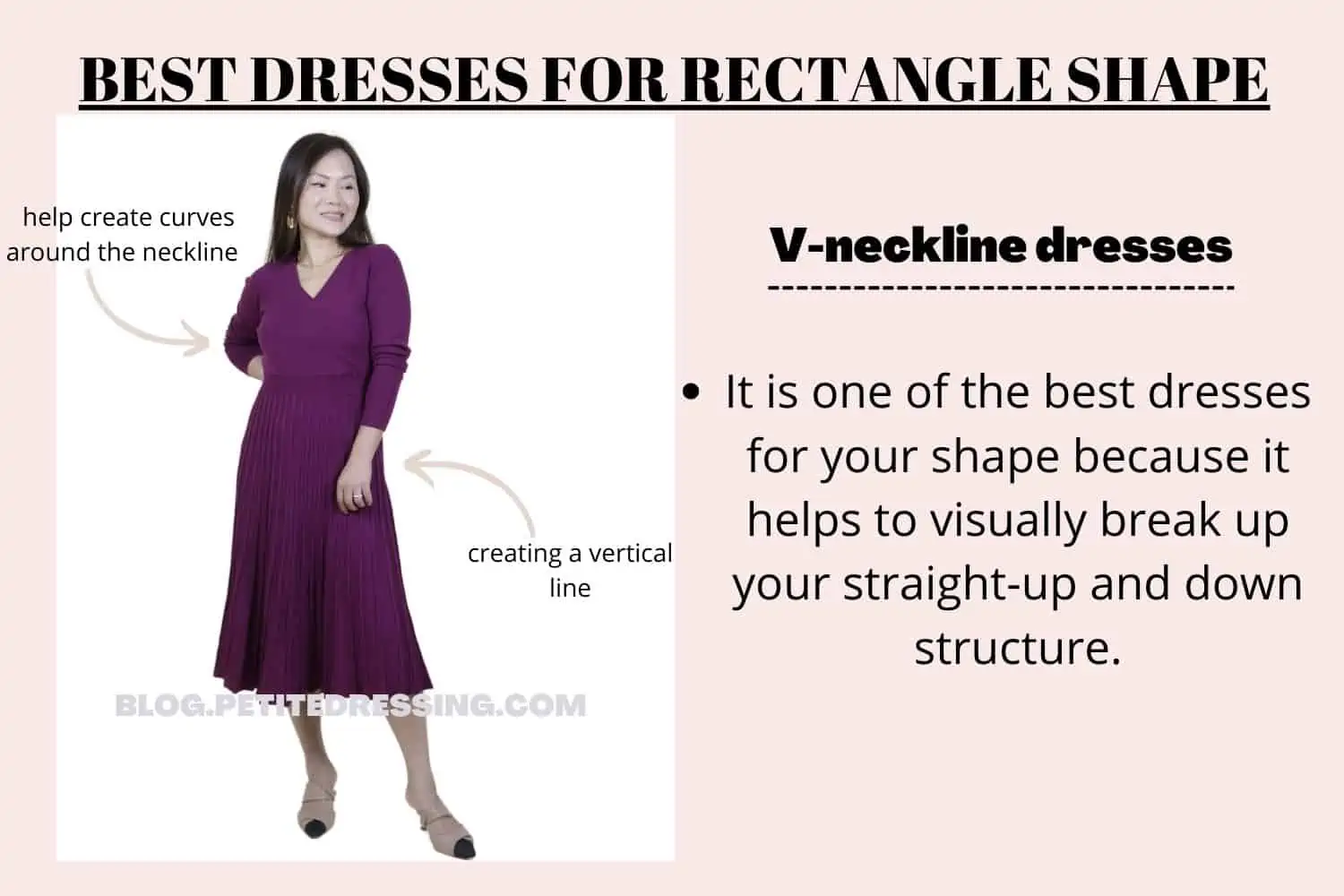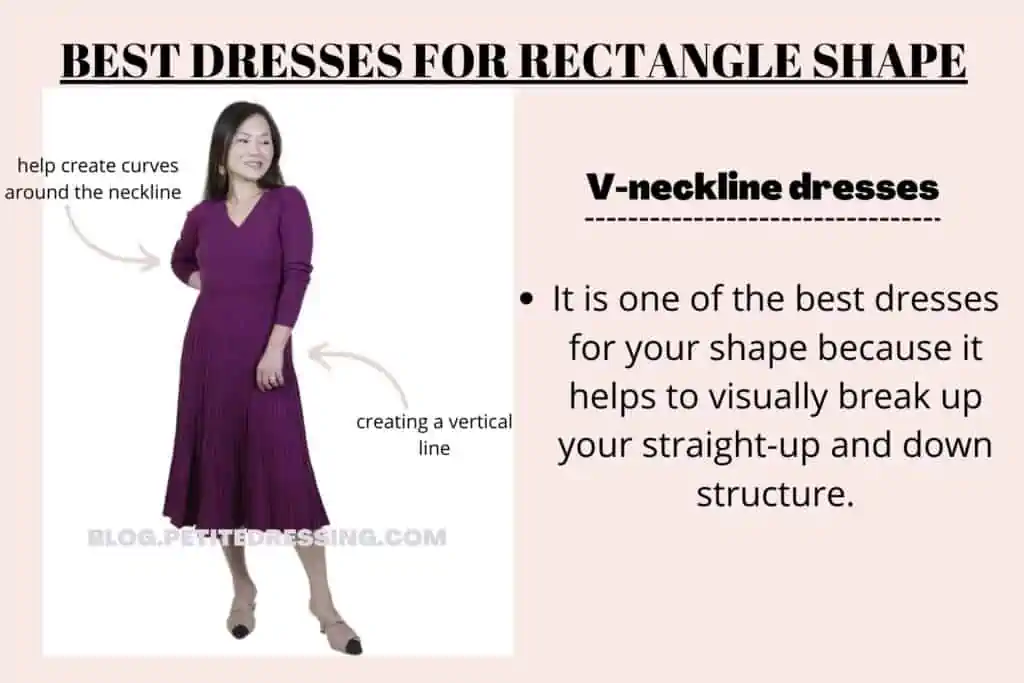 The best neckline for your dress should help create curves around the neckline of your rectangle shape. The V-neckline dress is one designed to deemphasize the straight look of your figure.
It is one of the best dresses for your shape because it helps to visually break up your straight-up and down structure. V-neckline dresses are stylish dresses with a point of interest that is attractive to the eyes by creating a vertical line that helps to direct attention upwards.
This feature in the dress draws focus to the chest and bust region of your rectangle shape making them fit to be added to your classic feminine wardrobe.
X-line dress
The X-line dress is designed to equally add volume to both the upper and the lower halves of the rectangle body shape. It further goes on to balance your shape by adding curves and length to your figure.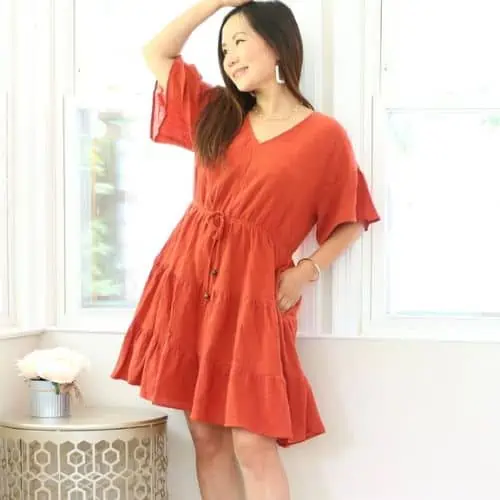 Why use an x-line dress
This is a dress with a pattern that celebrates your feminine shape because it defines the waist and emphasizes the shoulders.
The X-line dress also has a full hem that adds volume to the lower part of your rectangle shape.
Every part of the X-line dress is incredibly designed to align with your shape and are therefore a style to integrate into your wardrobe essentials
Color block dress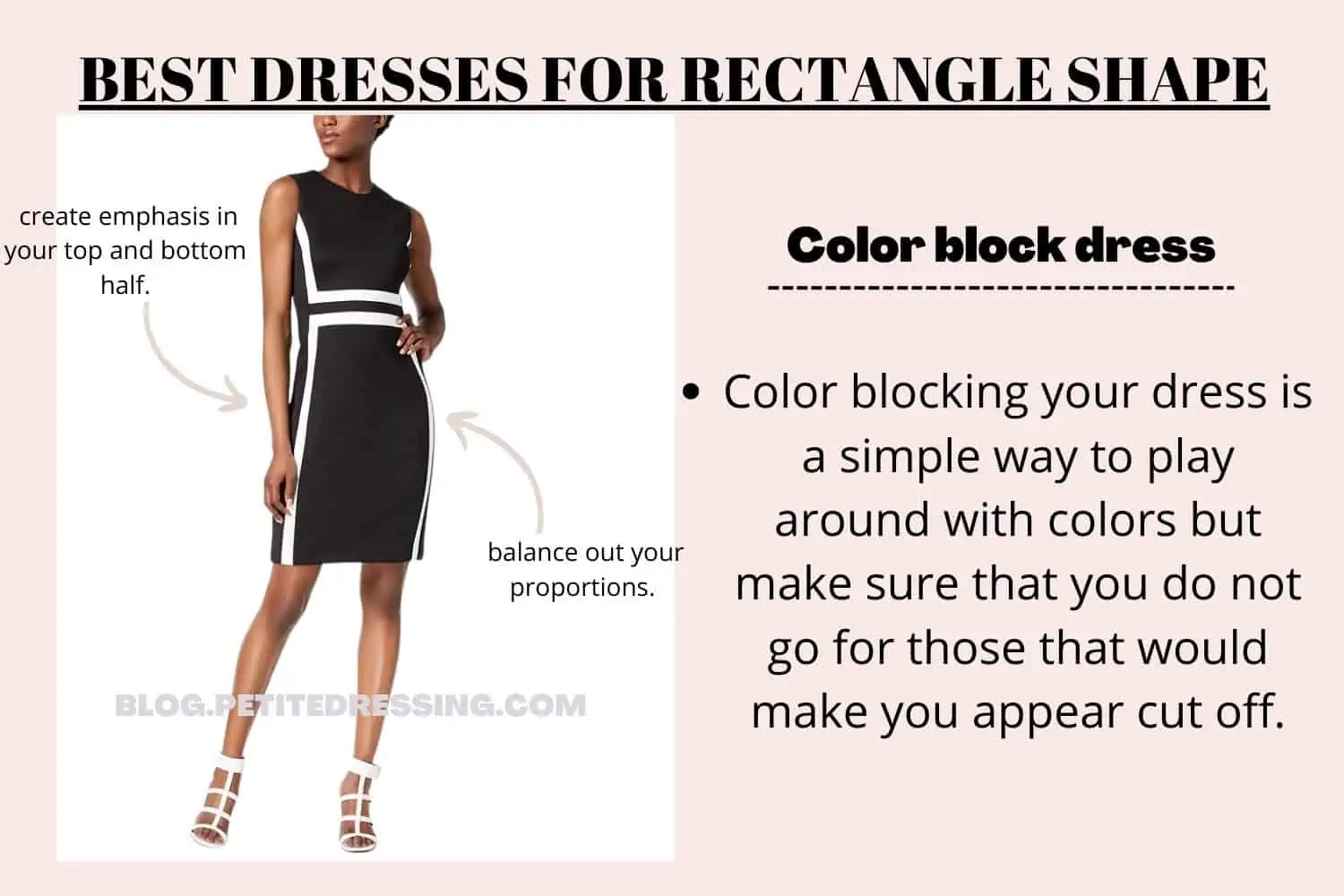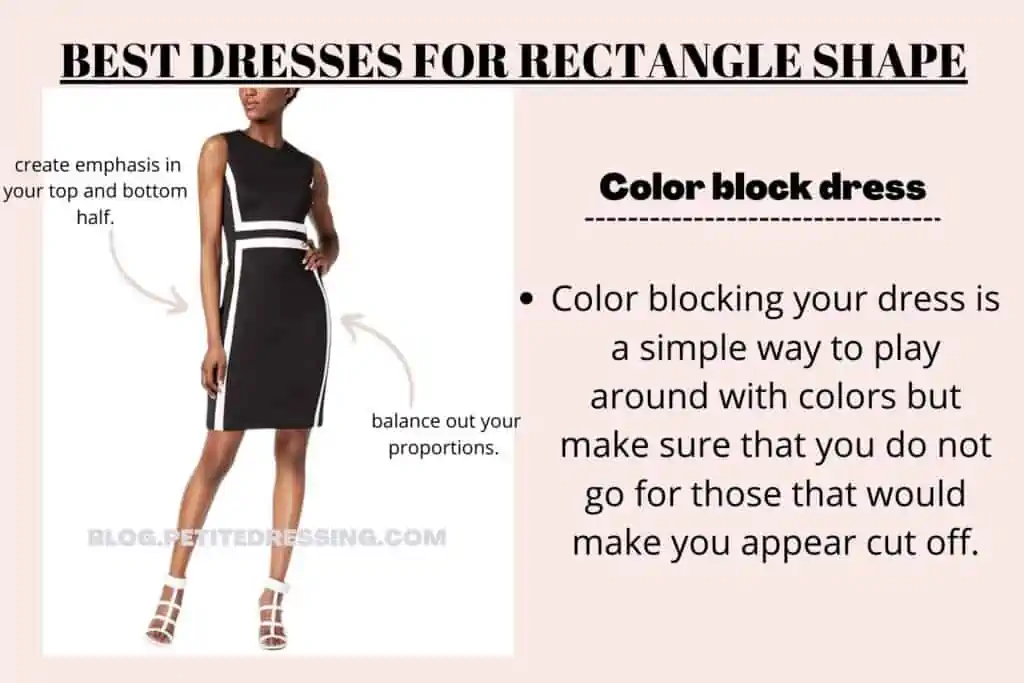 Wearing color-blocked dresses is a simple way to visually place lines that would strategically balance out your proportions. If you properly color block your dress, it would be easy to create emphasis in your top and bottom half.
Dresses with a color-blocking effect around the waist would naturally narrow in the waist just so it can be well defined. Color blocking your dress is a simple way to play around with colors but make sure that you do not go for those that would make you appear cut off.
This simply means there should be a closeness in color between whatever you wear at the top and at the bottom of your figure.
Dresses with puff sleeves
Dresses with puff sleeves are one of the best designs for your rectangle shape because they can restructure your shape by adding volume to it. This dress gives focus to the eyes and also complements your overall outlook.
Besides, a dress having a puff sleeve would not emphasize the angularity in your figure but would rather help to minimize it.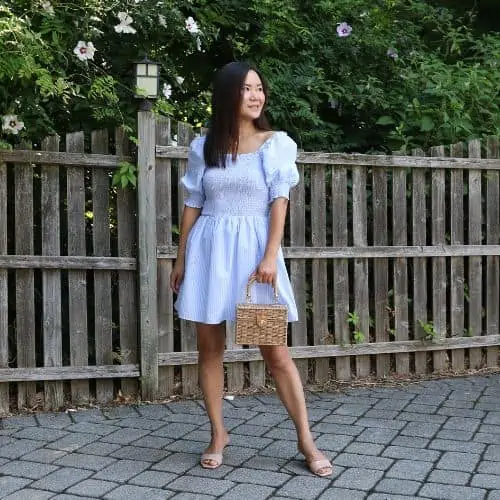 Dresses with puff sleeves are a must-have
Rather than the fitted sleeves, opting for those with embellishments like the puff sleeves is an easier way to achieve your styling goal.
These types of dresses are stunning and flattering enough to improve your looks.
One shoulder dress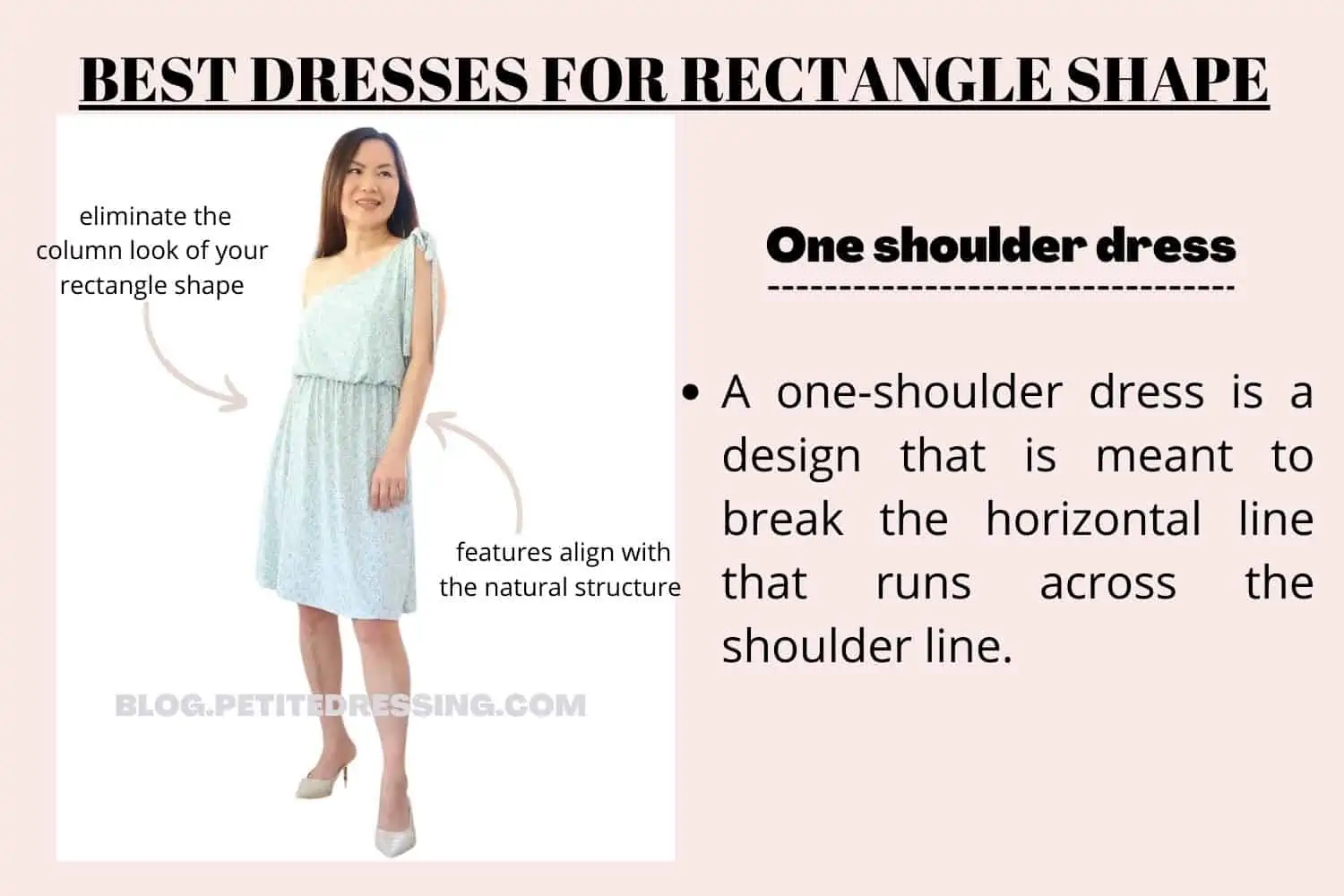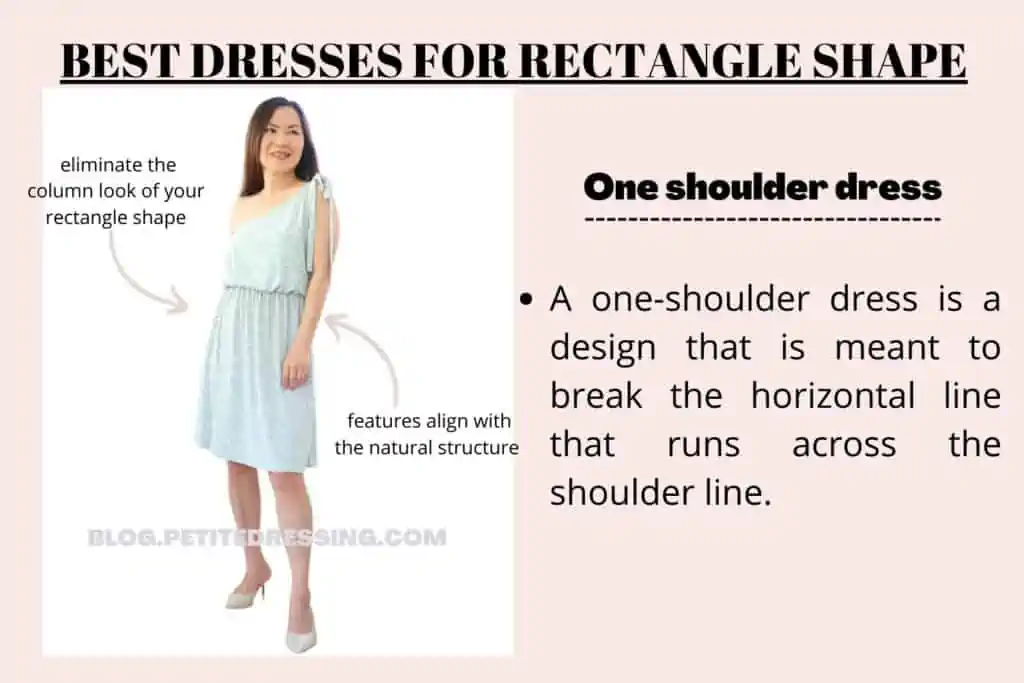 This asymmetrical neckline dress is another flattering dress style that you can wear on your rectangle body shape. A one-shoulder dress is a design that is meant to break the horizontal line that runs across the shoulder line.
The one-shoulder dress has eye catchy features that align with the natural structure of your body. They are sexy in appearance for your figure and can be styled beautifully for every occasion
This is one perfect style that can help to eliminate the column look of your rectangle shape. Also, they are timeless dress piece that is suitable to make you appear more feminine so you can go ahead and invest in them
Belted dresses
If you have a rectangle shape, it means you have no defined waistline and you, therefore, need dresses that could give a better structure to the waistline. For this reason, you should opt for belted dresses so they could help cinch in your waist.
You can further add a unique transformation to your figure by wearing belts with contrasting colors from the dress. With this done, it would be easy to notice the belts around your waist and that is a very stylish way to get styled with a belted dress.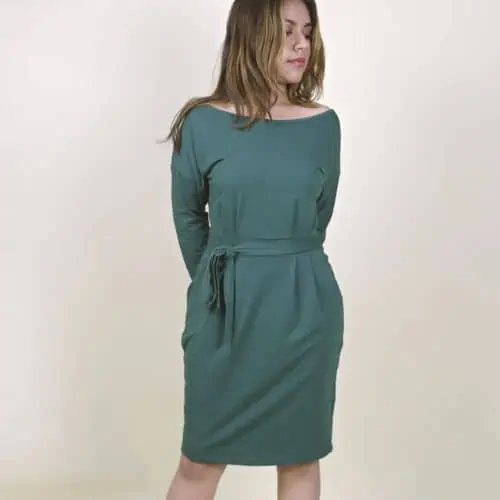 Why opt for belted dresses
Dresses with belts also have the tendency to create the illusion of curves for your rectangle shape especially because belts are known for changing the looks of any dress.
These dresses are therefore a must-have design for your figure so they could alter the straight look you naturally possess.
Wrap dresses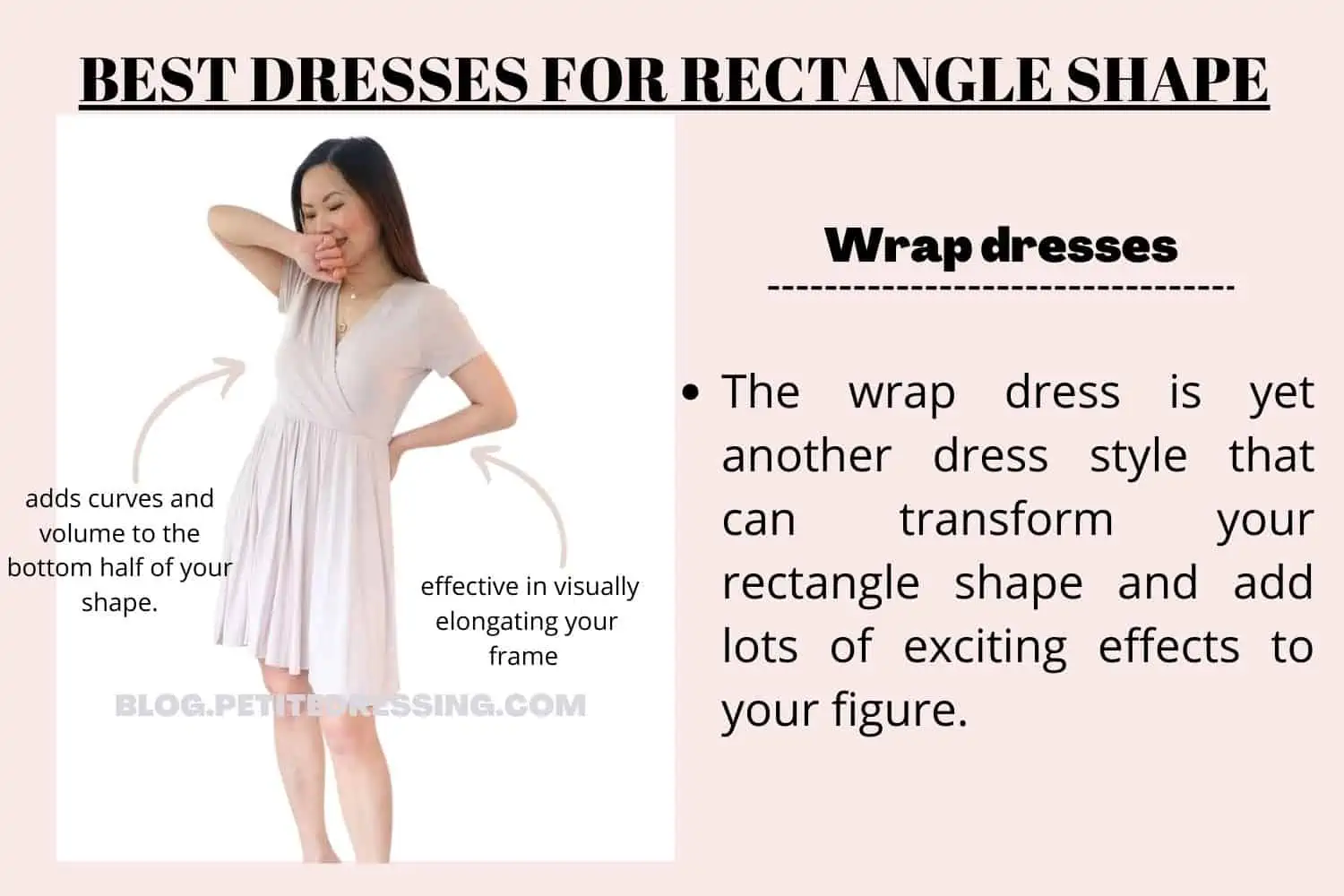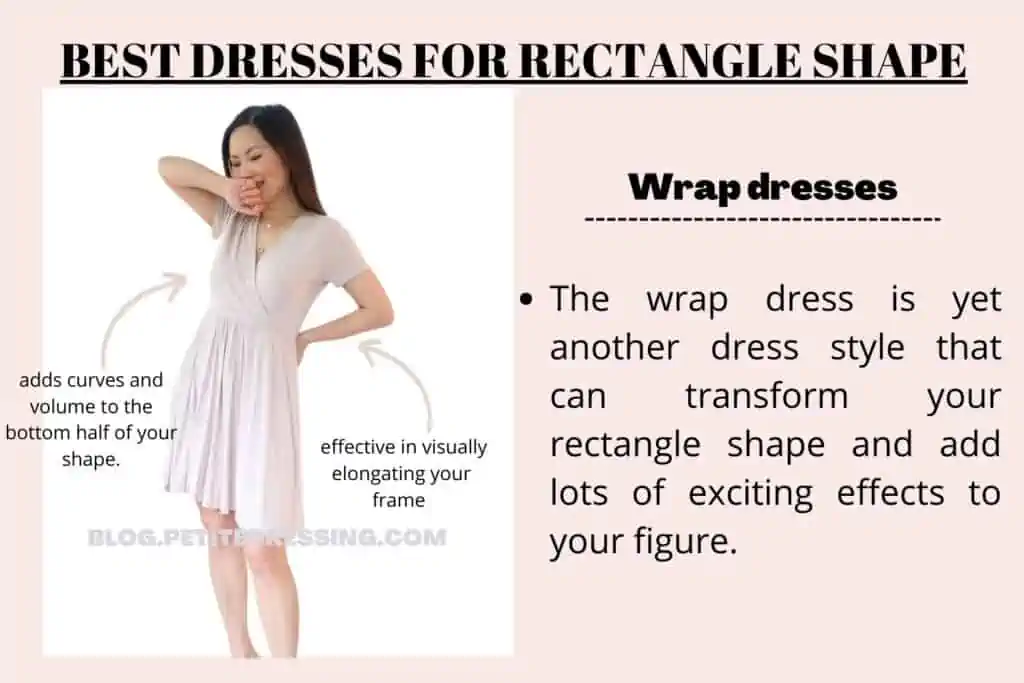 The wrap dress is yet another dress style that can transform your rectangle shape and add lots of exciting effects to your figure. It has a wrap that works wonders in adding curves and volume to the bottom half of your shape.
A wrap dress is further designed to be easily adjusted so you can always feel comfortable whenever you put them on. The wrap is such that you can either tie them to the front or the side but whatever way you tie them is perfect because they still retain the effect of volume around your figure.
The dress also has a V-neckline that is effective in visually elongating your frame and diverting attention to the chest area. In totality, when you have the wrap dress on your rectangle shape figure, then you have done well in restructuring your overall appearance.
Empire waistline dress
The empire waistline dresses are universally flattering dresses that are very comfortable on any body shape without the exclusion of the rectangle shape. This dress pattern tends to help complement your shape by adding volume in the right places.
Also, it is a dress that can effectively add length to your feminine figure by visually reducing the torso and elongating the lower body part. Empire waistline dresses are not too complicated but stylish dresses that you can easily fix up on your rectangle shape.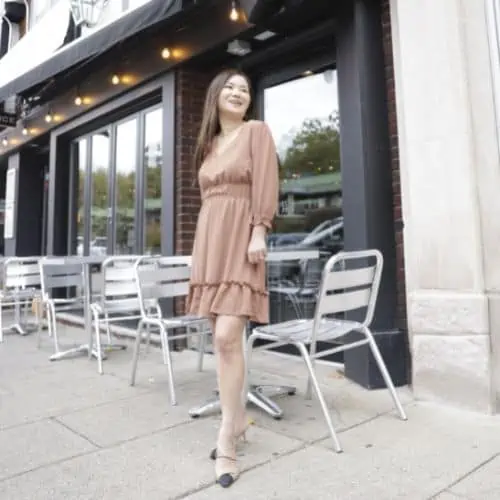 What can an empire waistline dress do to your figure?
An empire waistline dress is a non-restrictive style of dress for the rectangle shape that is particular in giving a different body structure.
This is a dress that is designed to be fitted at the bodice before falling loosely under the bust of the woman.
Avoid bodycon dresses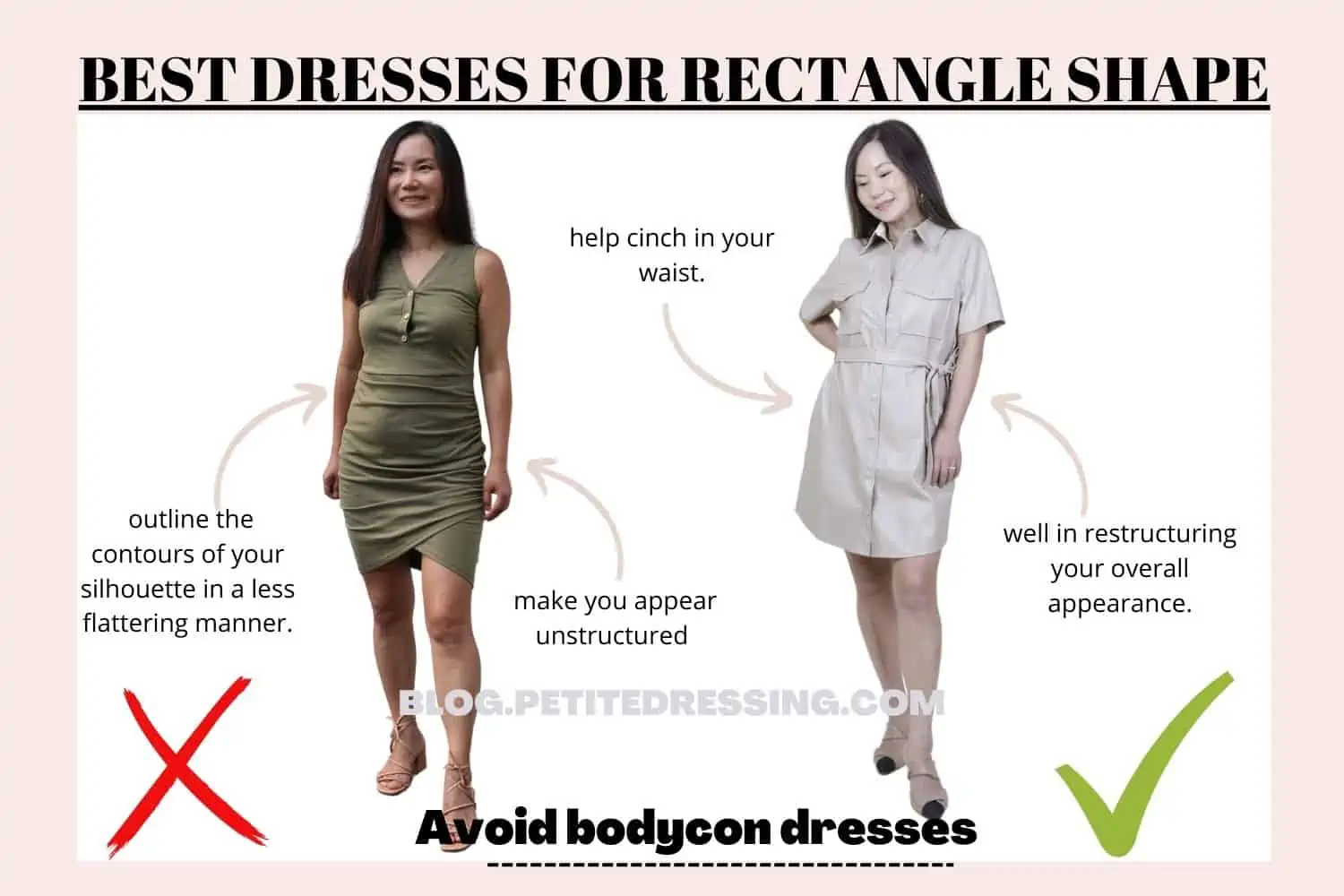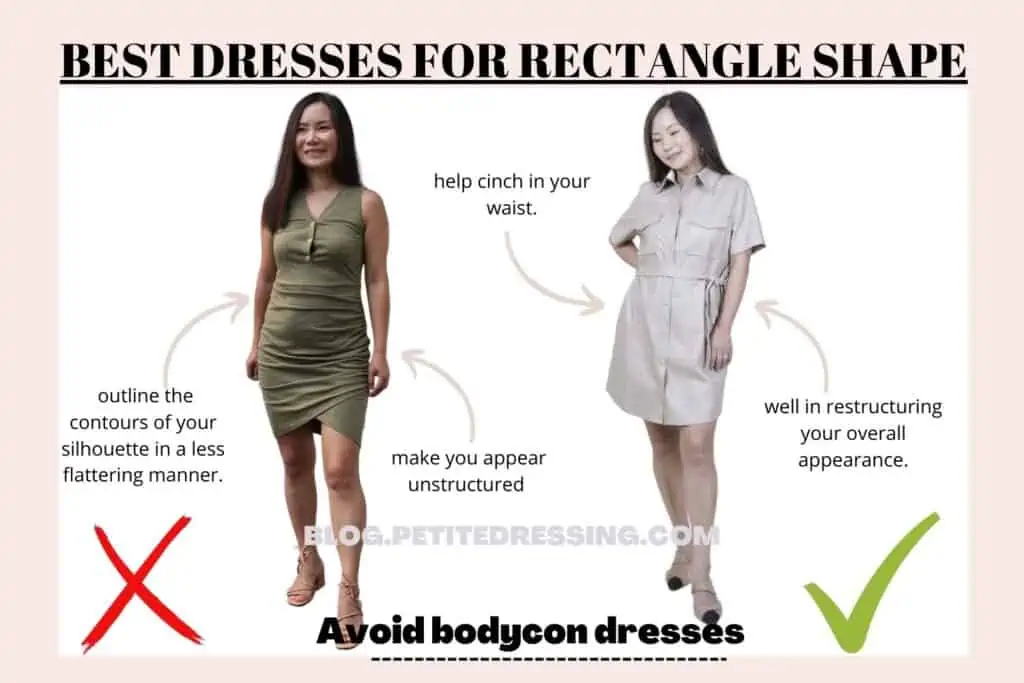 This dress is a total no-no if you have the rectangle shape and this is simply because they are made of clingy fabrics that can be tight fitting on you. Bodycon dresses would make you appear unstructured rather than sexy.
They are a total fashion turn-off for the rectangle shape and would not fit seamlessly over your figure. Wearing a body-conscious dress can affect your general outlook by working to outline the contours of your silhouette in a less flattering manner.
Since they are designed to be too close to your figure, bodycon dresses would effortlessly move to slim down your shape rather than offer you a better structure. It is therefore not the right dress to invest in for your rectangle shape.
Avoid boxy dresses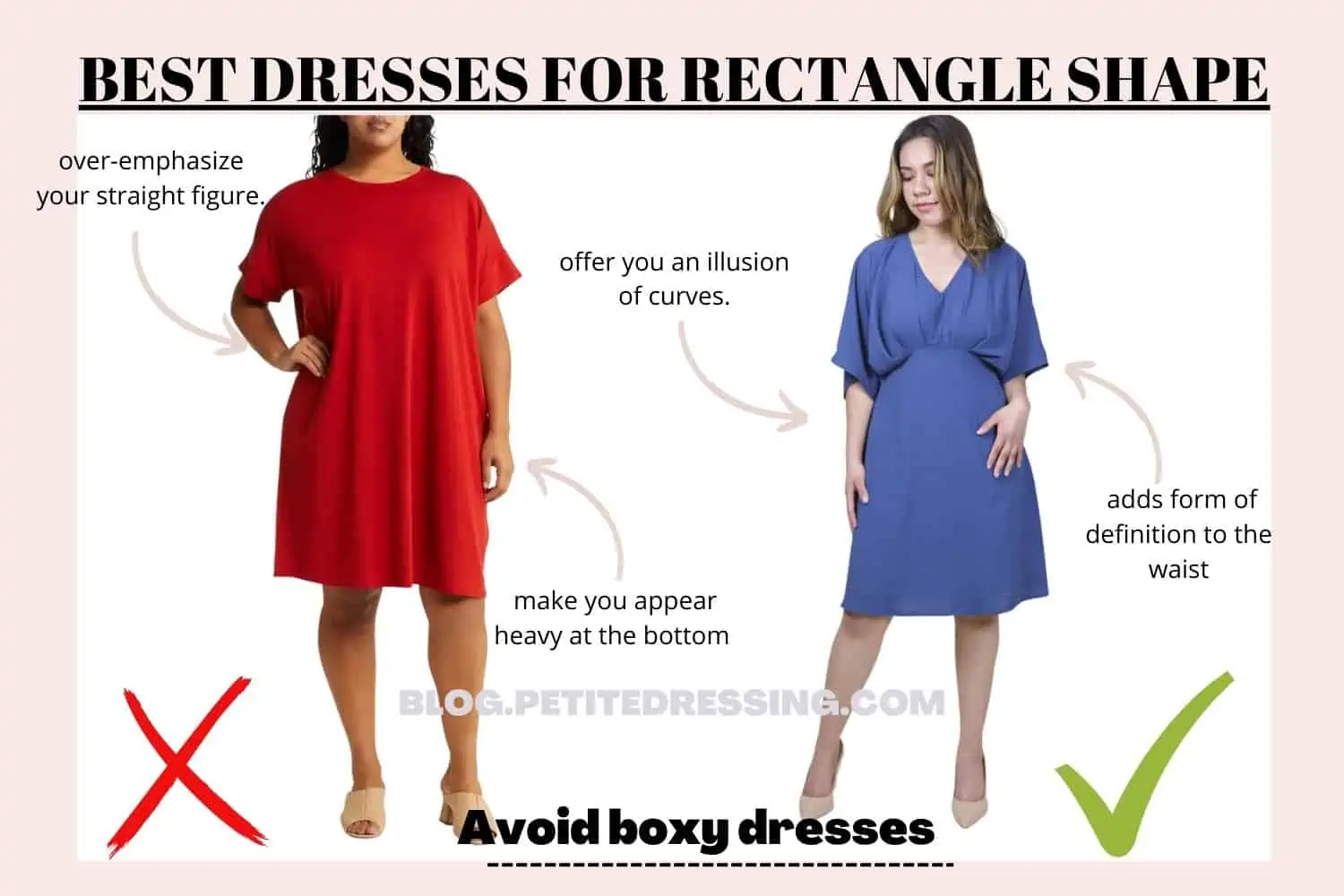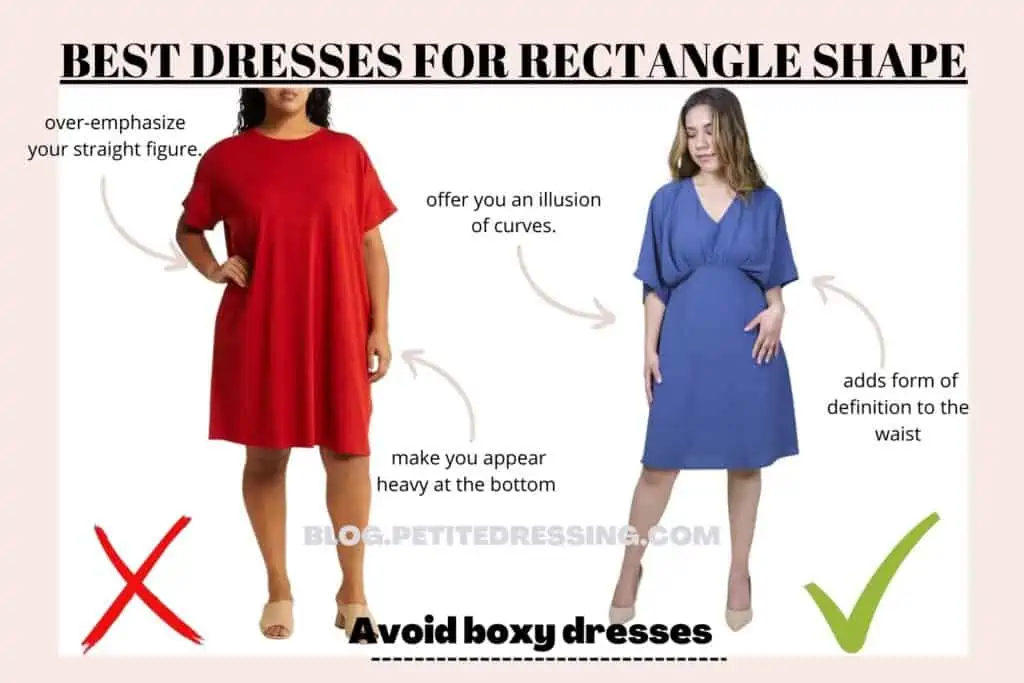 Boxy dresses do not add any form of definition to the waist. This style of dress would only over-emphasize your straight figure.
Those boxy dresses that are too wide at the hem would make you appear heavy at the bottom. Also, boxy dresses have a loose fit and they cannot make you appear more feminine in your overall outlook.
Not all trendy styles work for every shape and if you intend to appear different by feeling edgy and stylish then the boxy dress trend is not for you. It is important to also note that this dress has a squarish cut pattern and cannot offer you an illusion of curves.
Avoid shift dresses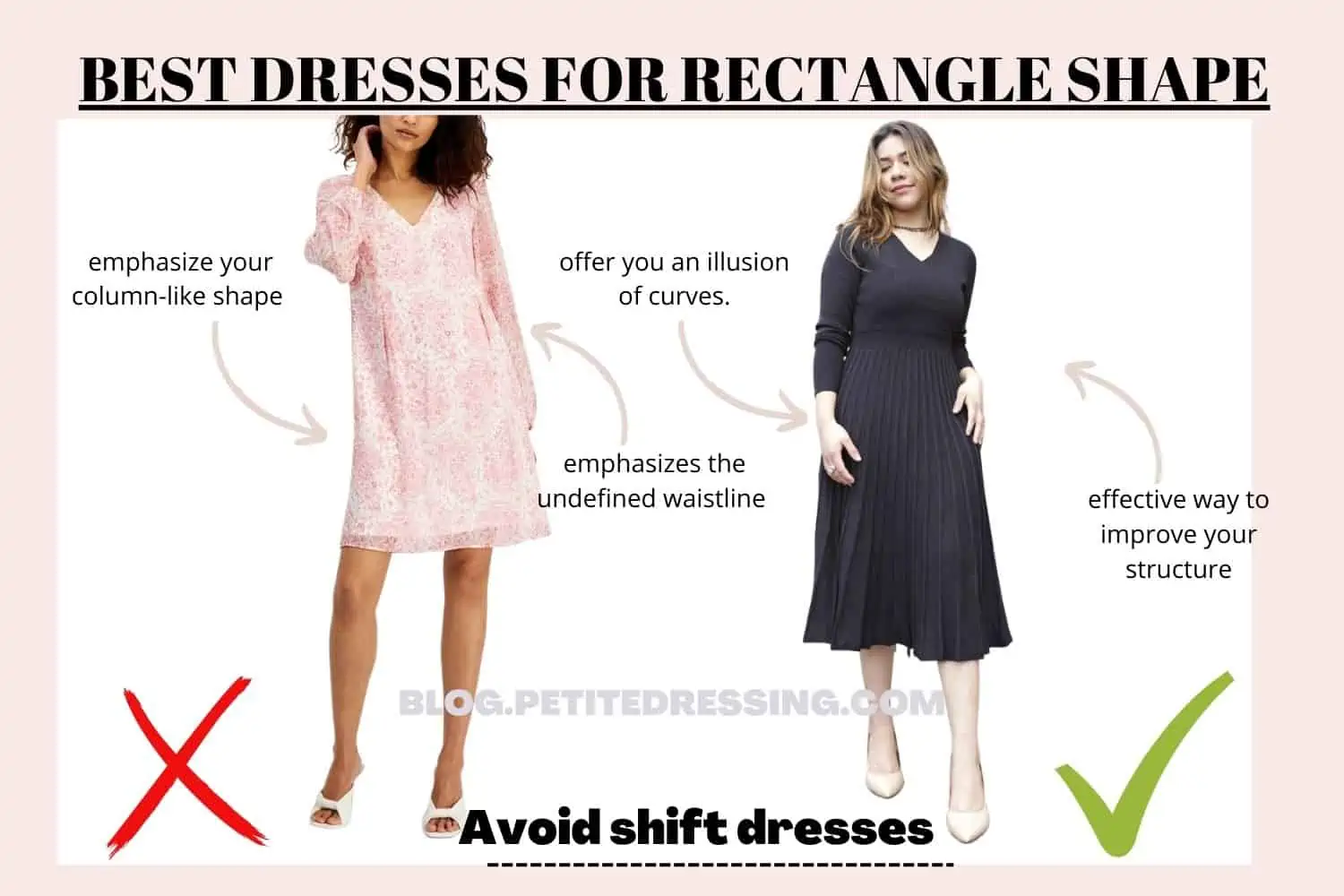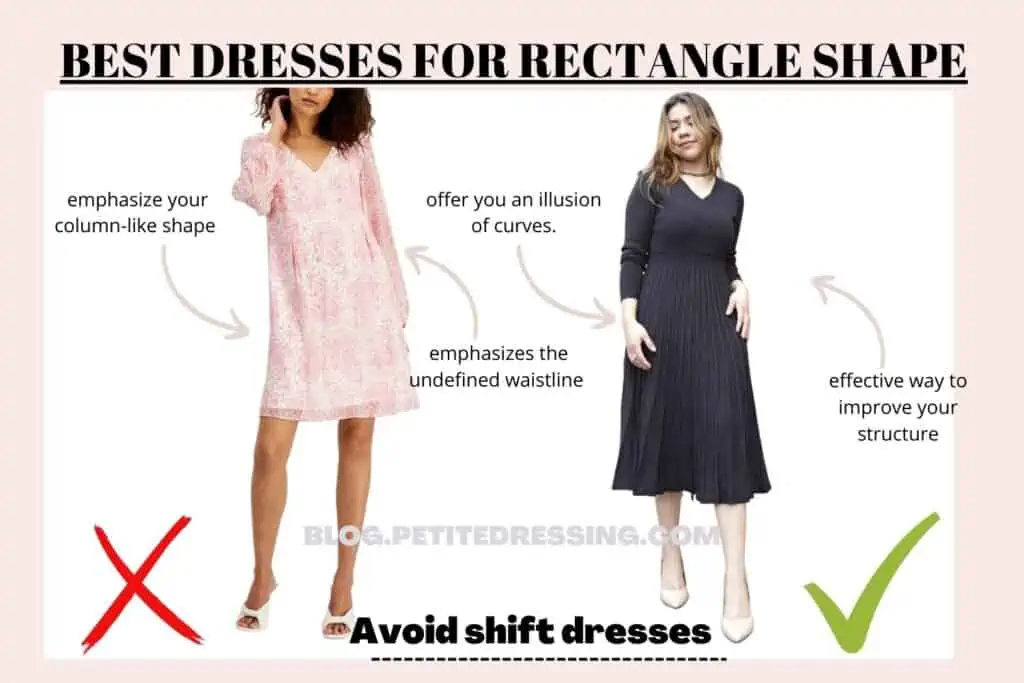 You should not wear designs like the shift dresses on your rectangle shape because they are not the most effective way to improve your structure. Shift dresses are one of the least flattering dress styles for your figure as they would not elevate your looks.
Shift dresses are designs that have a straight up and down cut which can emphasize the undefined waistline of your rectangle shape. The shift dress is not one that can be worn over your figure to any occasion because they would not make you appear elegant and sophisticated.
The way they drop down on your figure would easily emphasize your column-like shape and as such, it is just better that you avoid them.