The perfect skirts for your rectangle shape are those that would add volume to the bottom half. This is simply because you have a column-like shape and the goal of the skirt is to balance out the natural squareness of your figure.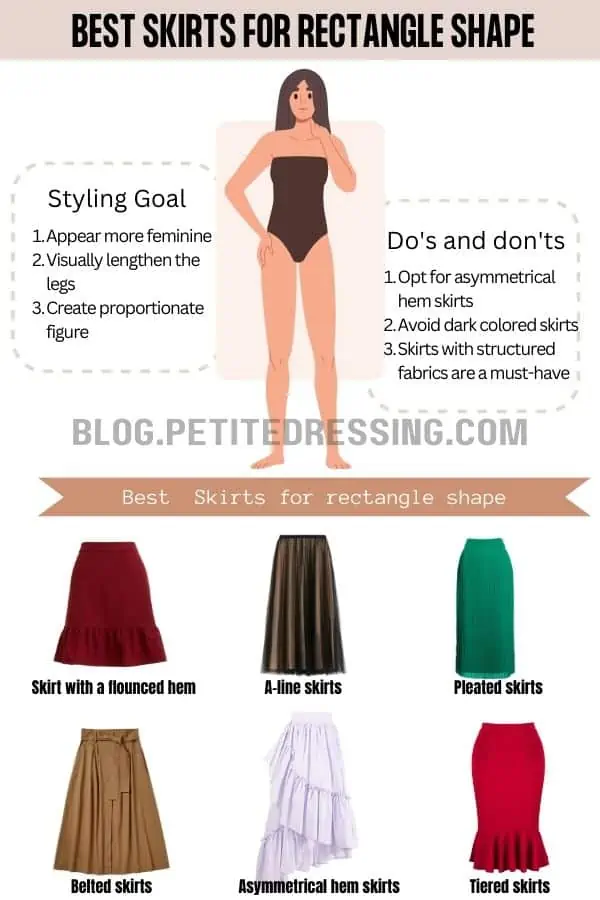 Your skirts can go a long way in either making or breaking you so it is important that you carefully select those that are flattering on the rectangle body shape.
Below, therefore, is a compilation of skirt styles that you need to help complement your natural body shape:
Skirt with a flounced hem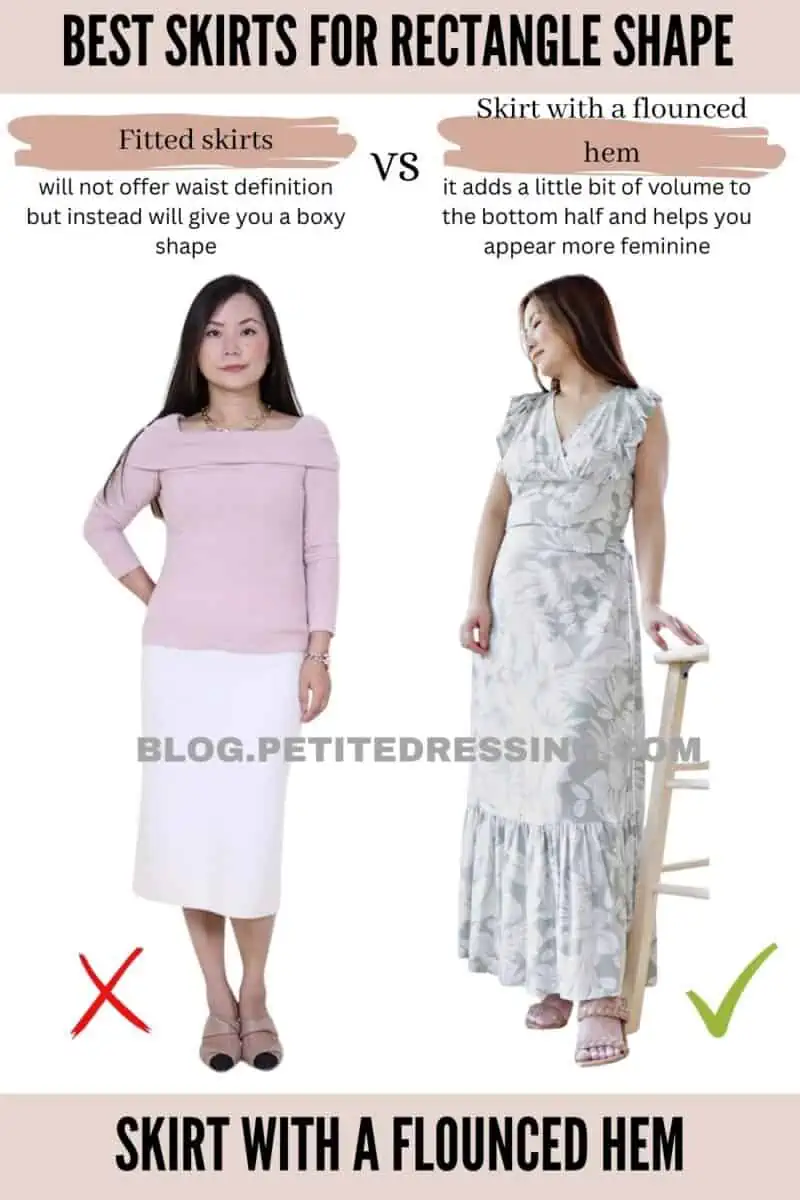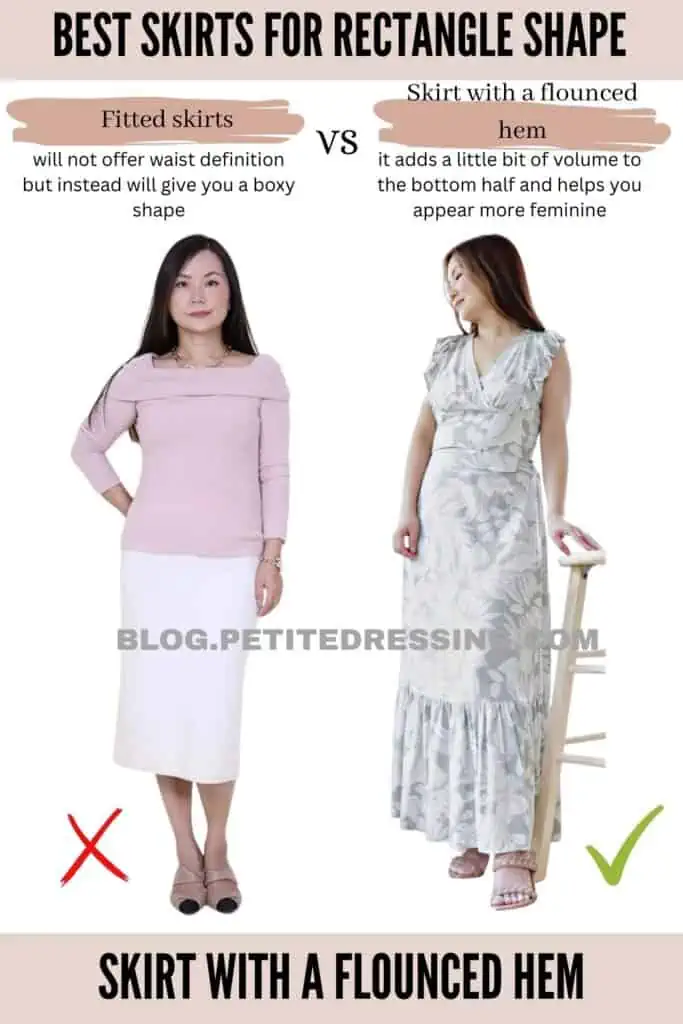 These designs have an attractive silhouette that works to properly complement the structure of the rectangle body shape. In totality, this skirt restructures the figure and still adds an interesting shape that helps to break up its squareness.
It is a relaxed-fitting skirt that further helps you appear more feminine because it adds a little bit of volume to the bottom half. This in turn can give the illusion of curves to the straight-up and down figure.
You should have a few of these skirts in your wardrobe because skirts with a flounced hems are unique styles. Also, make sure you pair these skirts with tops that have a perfect waist definition.
A-line skirts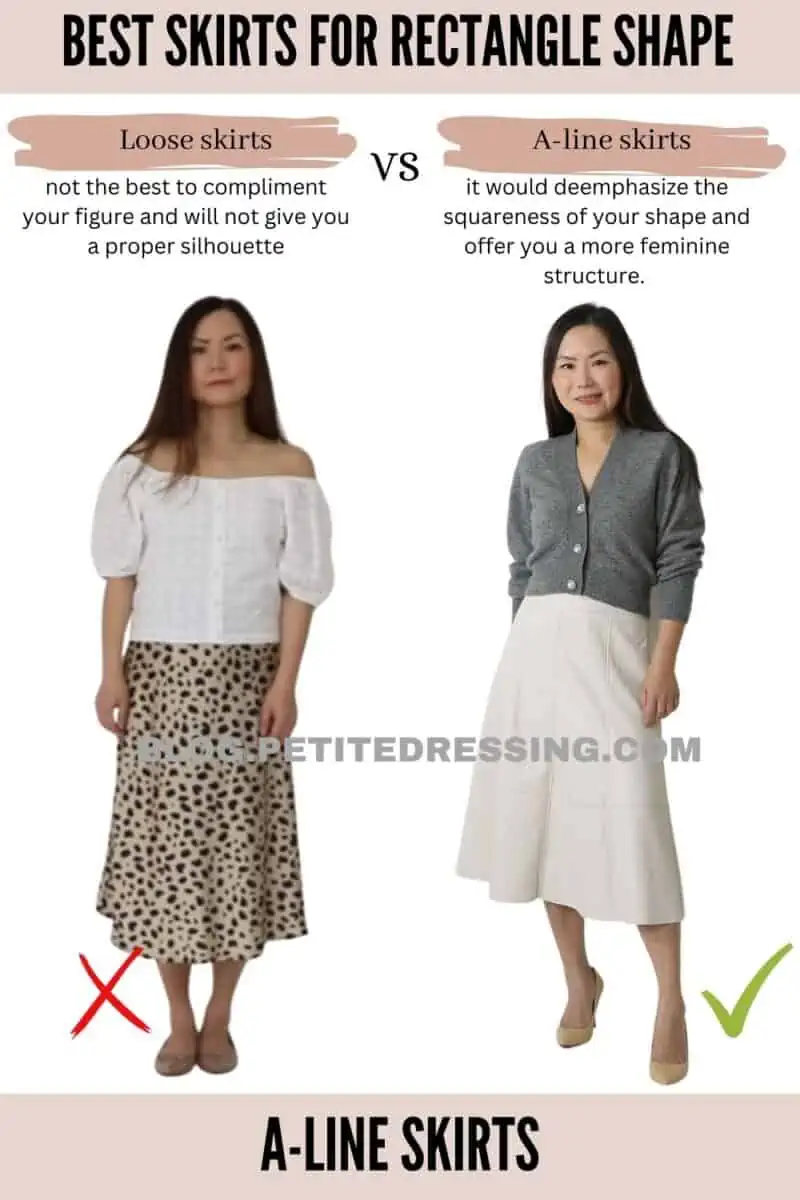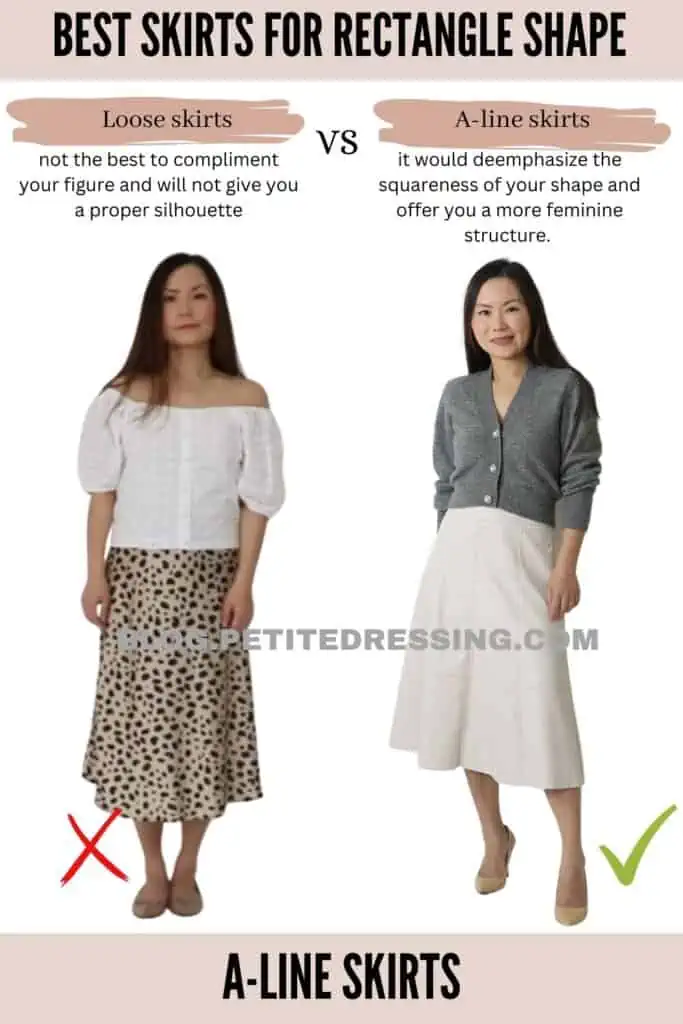 If you have a rectangle shape, the A-line skirt is one to help you achieve balance in your overall figure. The cut of the skirt is designed to be fitted at the waist before it flares out over your small hips.
This way, the skirts would create volume on your bottom half and give a whole different structure to your rectangle body shape. These skirts are flattering on your figure because they can elongate the legs and make you appear taller.
When you wear an A-line skirt, it would deemphasize the squareness of your shape and offer you a more feminine structure. Also, make sure that the top to be paired with the skirt is tucked in so you could get the most out of the silhouette.
Pleated skirts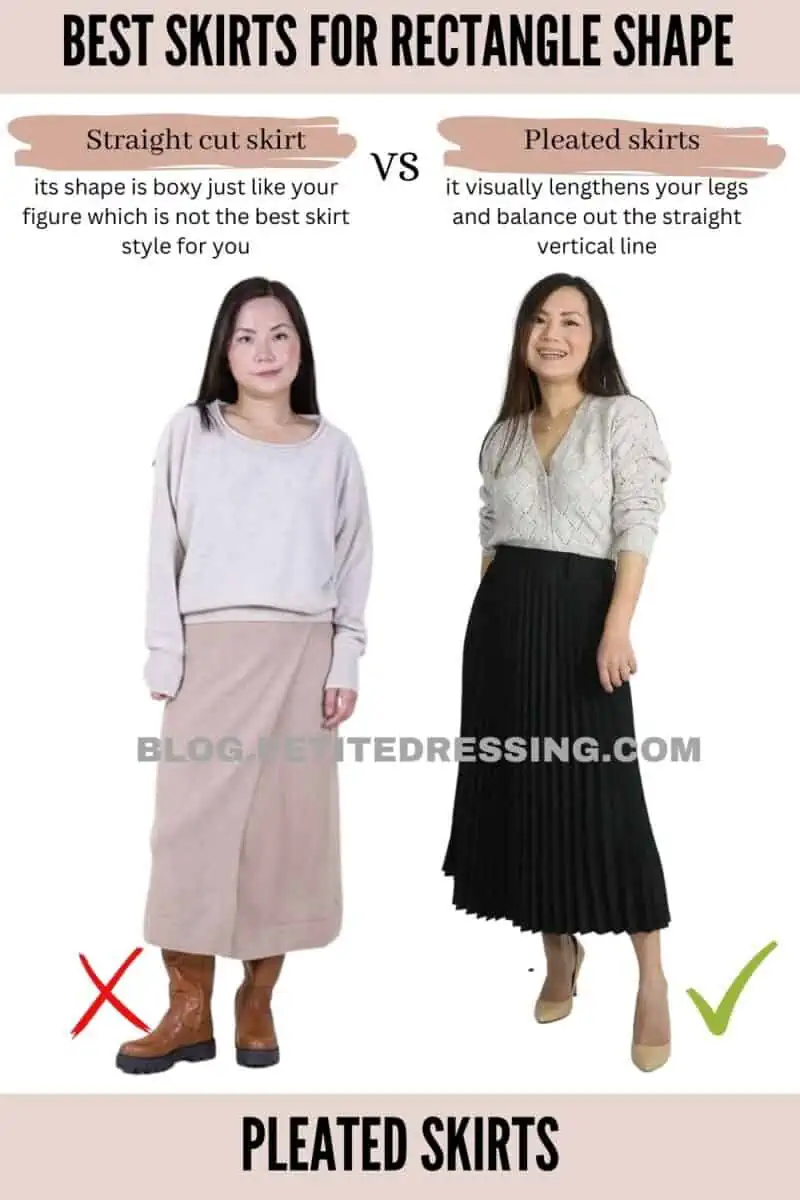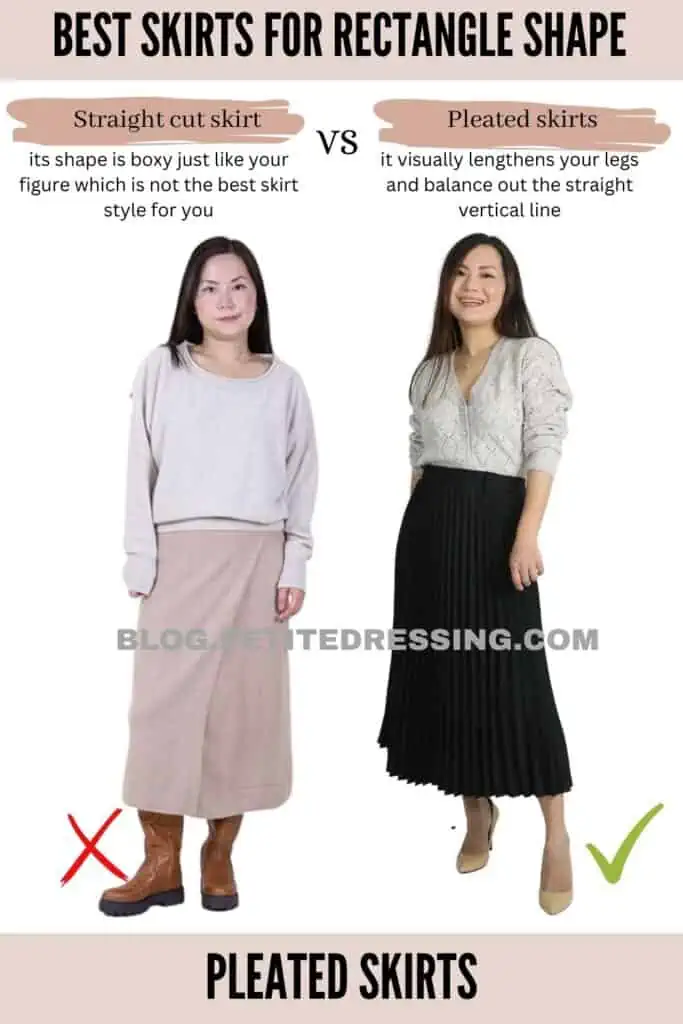 These skirts have a loose fit and are designed with excess fabrics that runs from the waistline to the hemline. The key is still to add volume to the bottom half so it could balance out the straight vertical line your body naturally possesses.
In addition, they can also visually lengthen your legs, one of your best assets. Pleated skirts are super comfortable designs that would not restrict movement around the legs.
A few of them in your wardrobe is just a perfect way to improve your classic functional wardrobe. So, make the best of them by styling preferably with a fitted top.
Belted skirts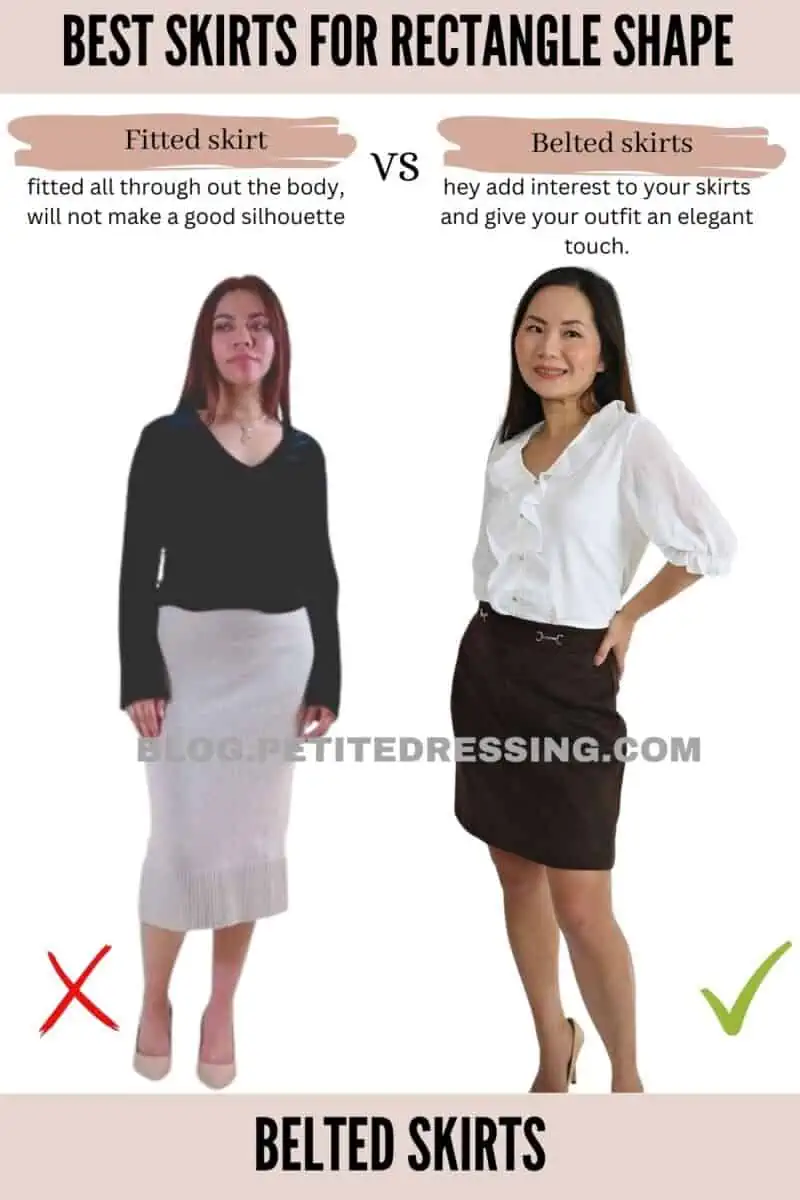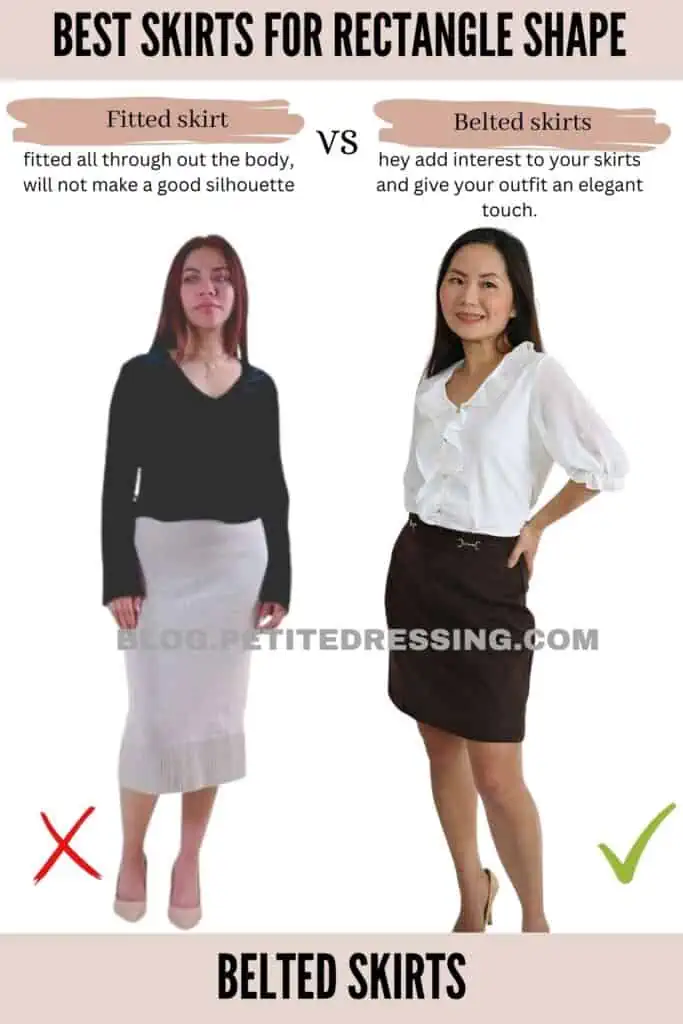 Generally, belts are used to strategically offer a defined waistline to your rectangle shape by causing a break up in your straight structure. Belted skirts make you appear more feminine and are also flattering because they can be adjusted to your comfort.
Adding a simple belt to your skirt can completely transform your looks and that is super beneficial to the rectangle shape woman. They add interest to your skirts and give your outfit an elegant touch.
Belted skirts work effectively in minimizing the squareness in your shape and it is best to go for those with wide belts so the eyes could notice easily.
Those with thin belts would have an opposite effect that would not complement your structure.
Wrap skirts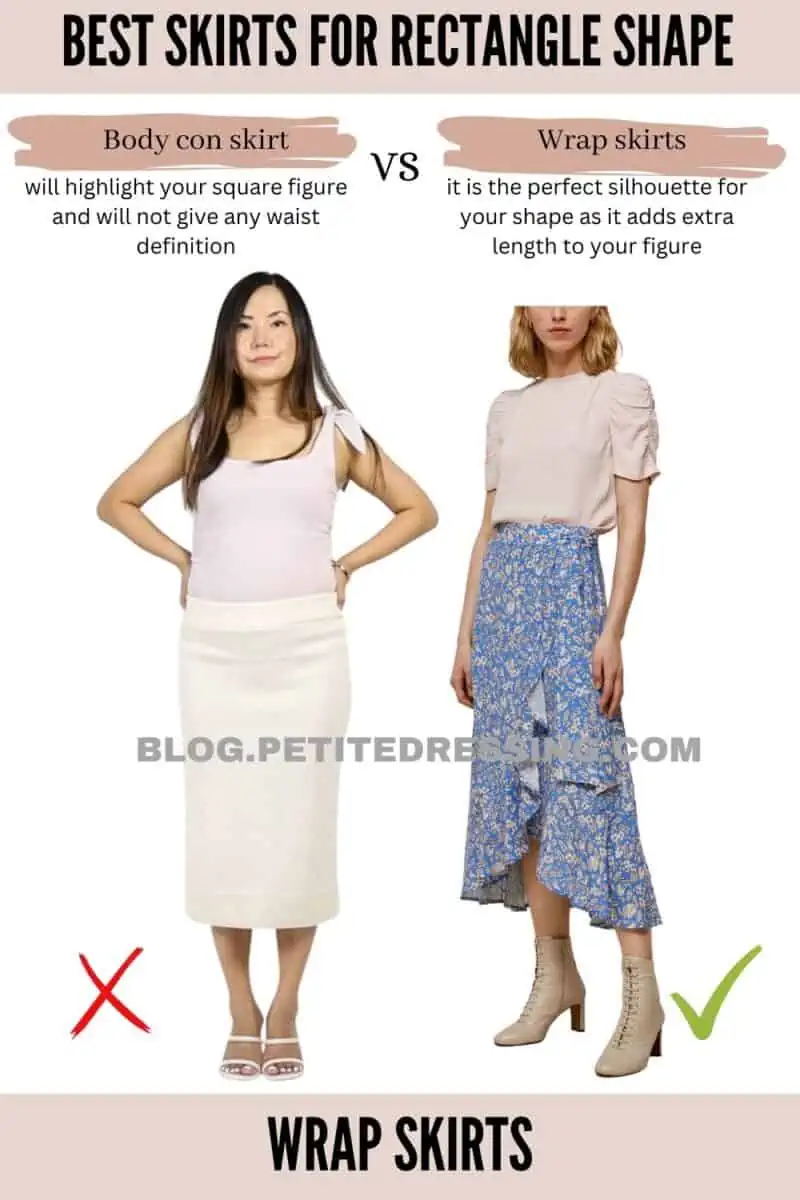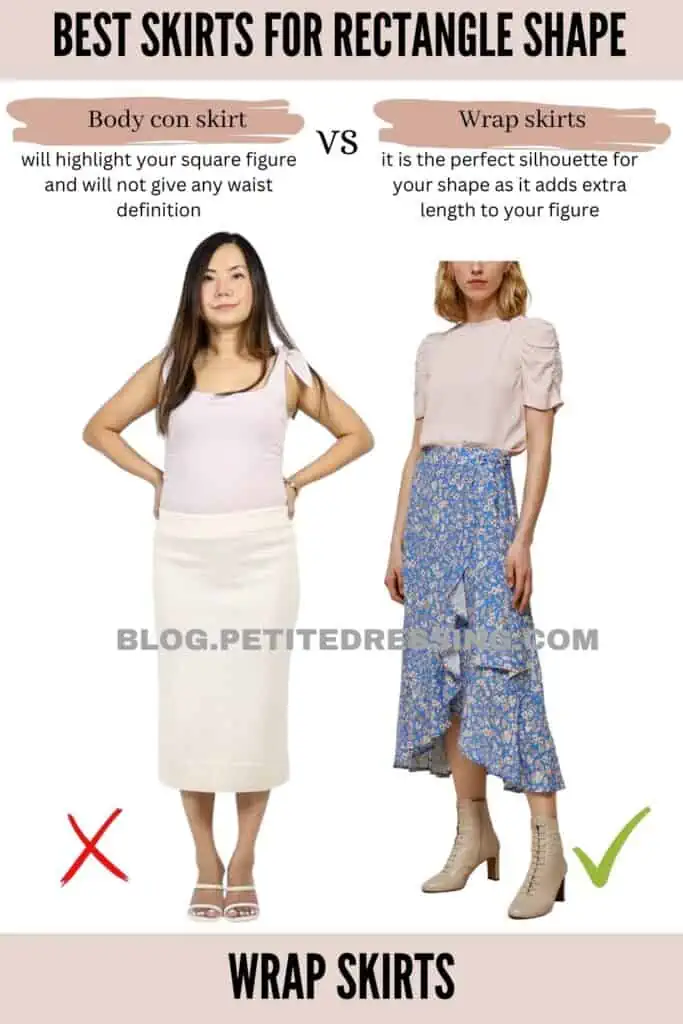 You can create a focal point with the wrap skirts in a tasteful way because they offer a defined waistline to your straight-up and down look. Anytime you want to go a little extra with your style and still appear stylish, then the wrap skirt is an option for you.
Wrap skirts are super flattering styles that also give the illusion of curves to your bottom half and completely transform your looks. They give extra focus to the defined waistline making them a perfect silhouette for the rectangle shape.
Generally, anything wrapped is incredibly stylish and can also add some extra length to your figure. They can be really pleasing to add to your wardrobe as they can serve as great styling tricks for the rectangle shape.
Asymmetrical hem skirts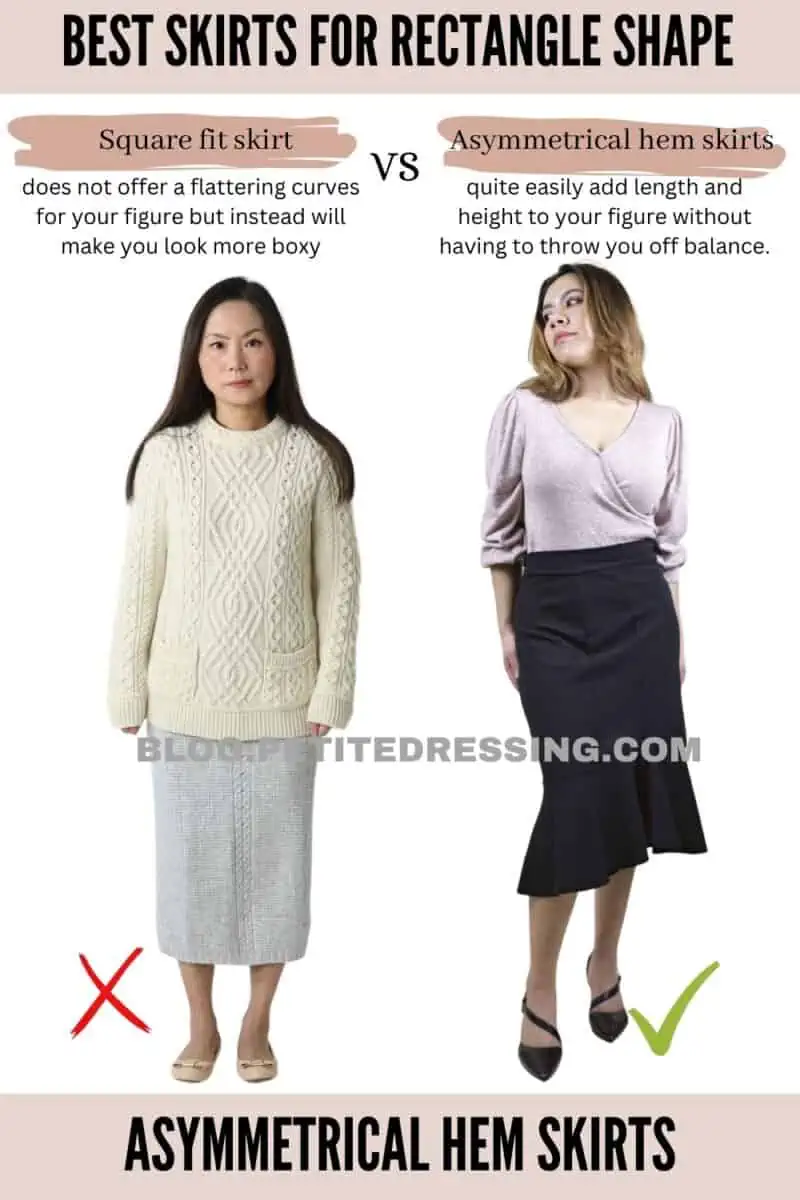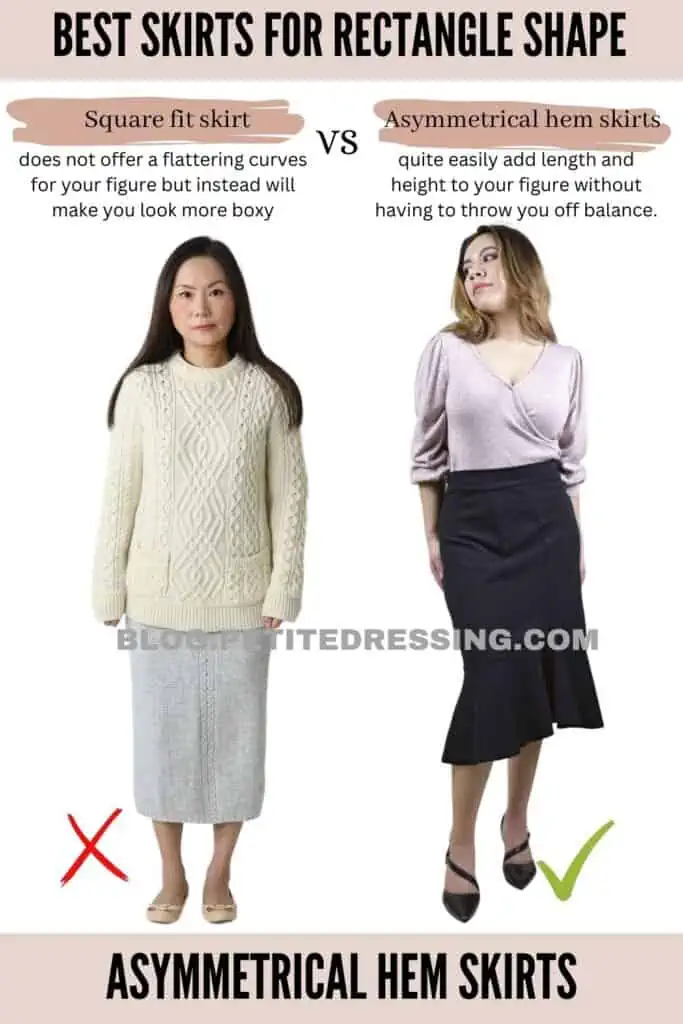 Wearing skirts with an asymmetrical hemline is a great choice for the rectangle shape. They are really simple styles that work well with your feminine structure because they have detail in the hem of the skirt that draws attention.
In addition, asymmetrical hem skirts are flattering skirt designs that can effortlessly add the illusion of curves to your straight figure. The hemline of the dress creates the volume needed to help achieve the right figure balance.
They would make you stylish and edgy without emphasizing the concerns about your overall figure. It can also quite easily add length and height to your figure without having to throw you off balance.
Mermaid skirts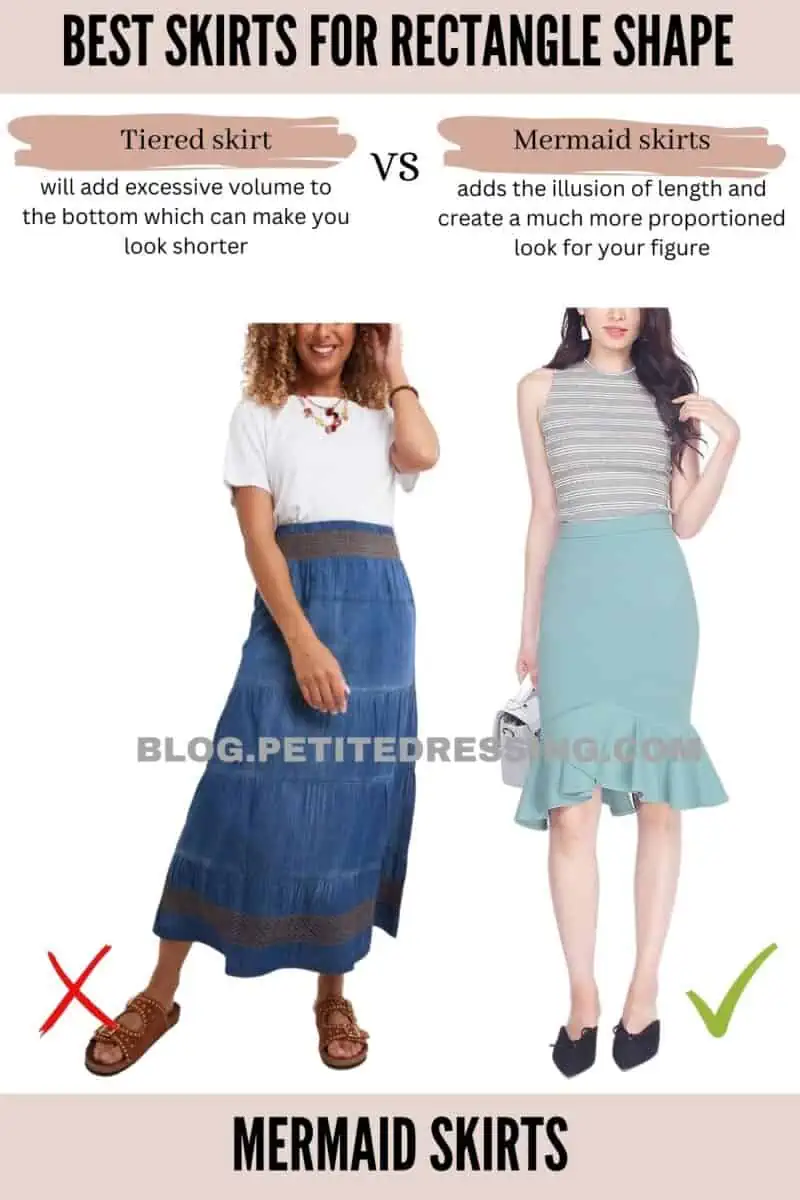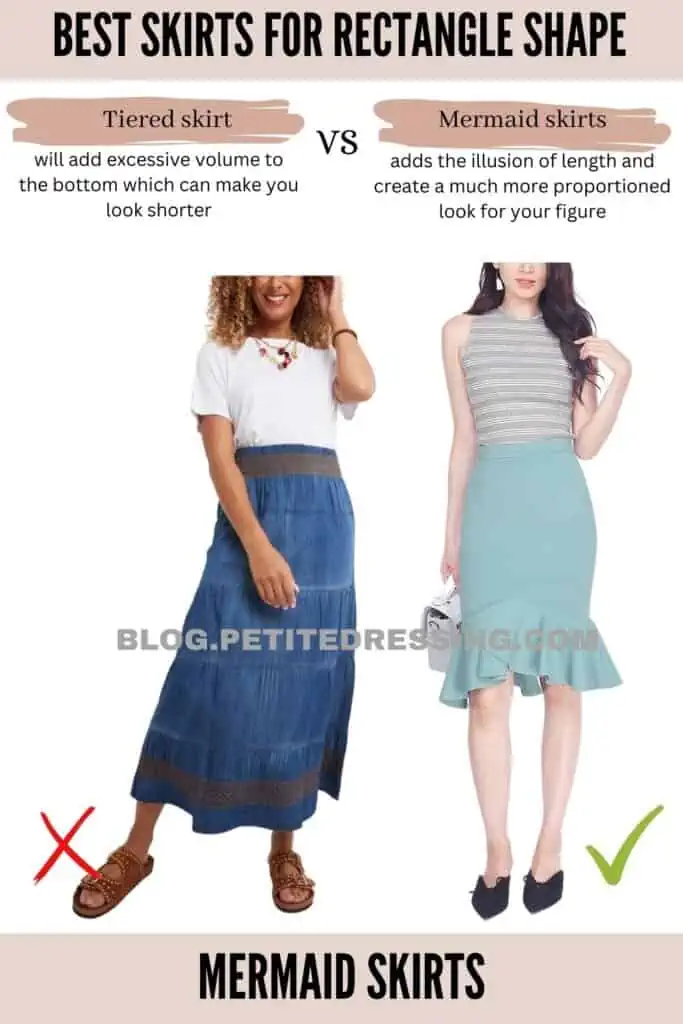 Wearing skirt designs like the mermaid skirt that flares out at the bottom is a sure way to go. This is simply because they add volume to the bottom half of your rectangle shape.
They are gorgeous designs that also help to flatter your feminine structure making you more stylish. When you throw on a mermaid skirt on your figure, it could also add the illusion of length to your overall body shape.
Mermaid skirts have been found to be very pleasing and elevating skirt styles that would help to balance your straight-up and down look. This dress would also create a much more proportionate look for your figure.
Bright colored skirts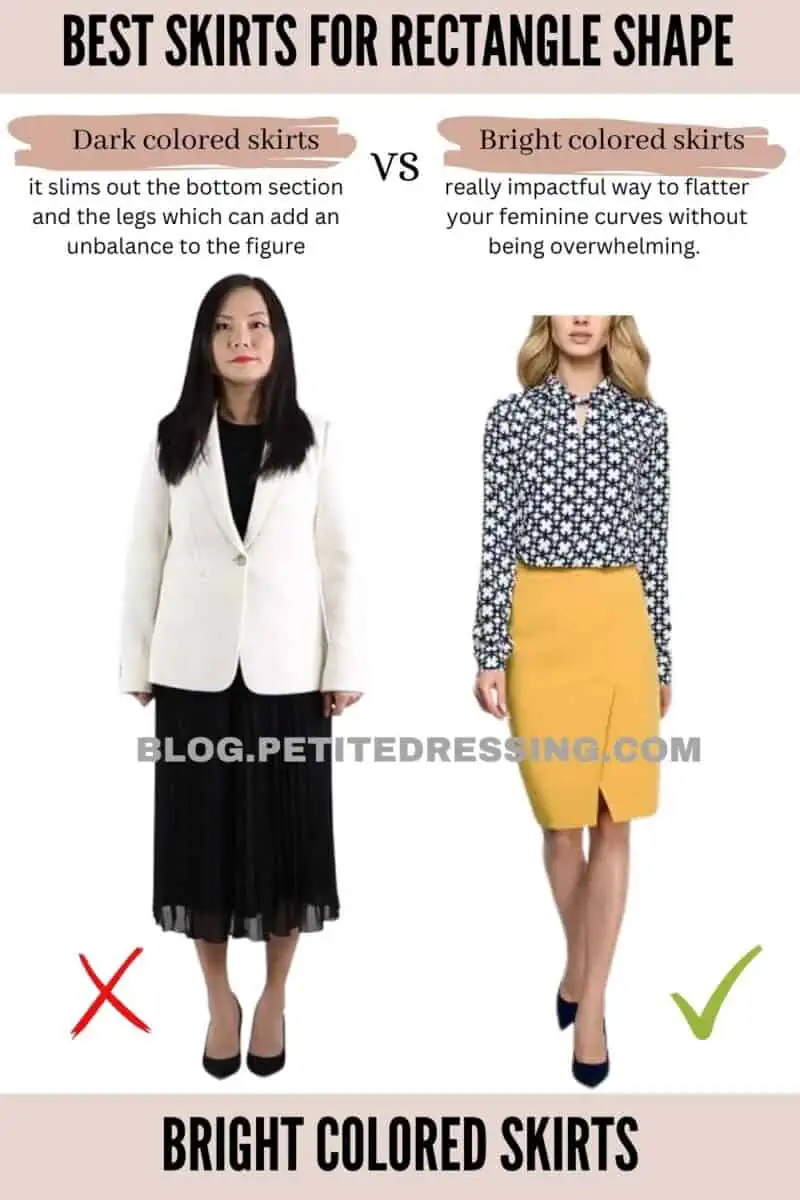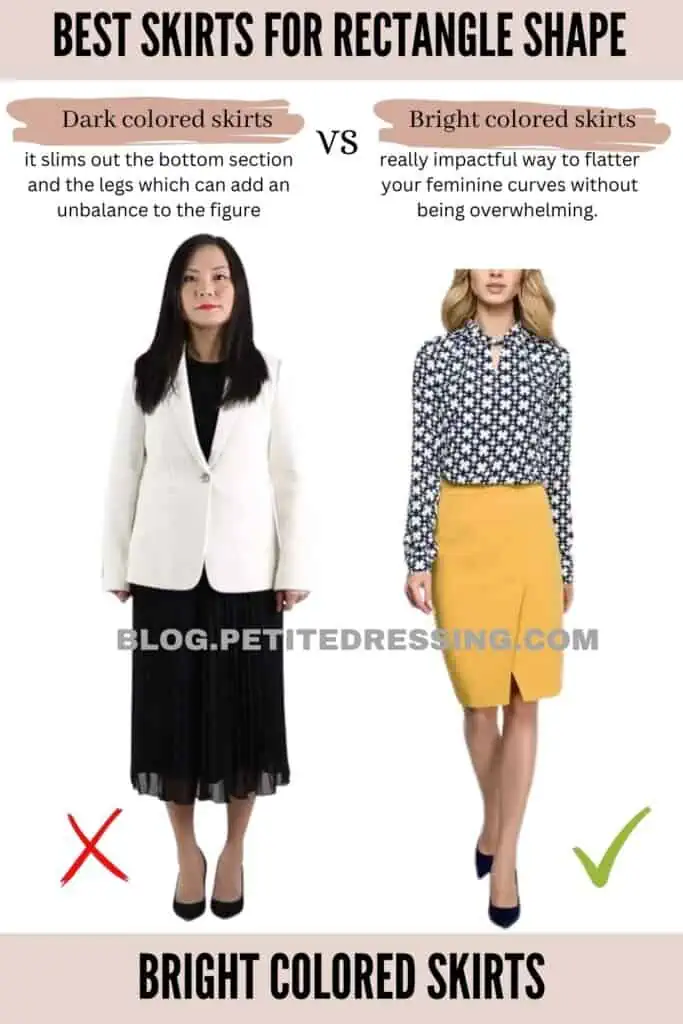 This is just a simple and easy way to play around with colors on your rectangle shape. Bright colored skirts have eye-catching effects that can visually widen your slim legs.
These colors draw the attention of the eyes to the bottom half by creating an aesthetic comfort for your shape. They can also give the illusion of curves and make it easy to achieve the right styling goal.
Skirts with bright colors are a really impactful way to flatter your feminine curves without being overwhelming. These skirts would not exaggerate your straight shape and are also more super comfortable styles.
Skirts with bold prints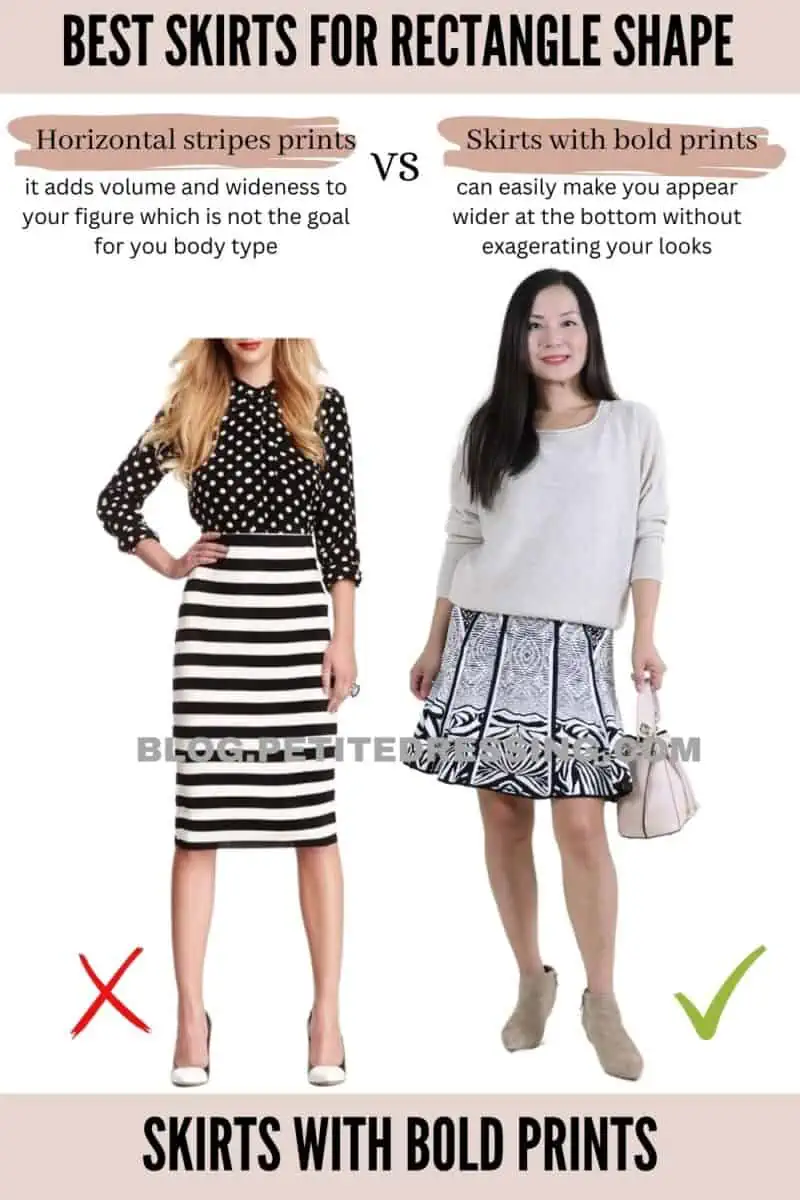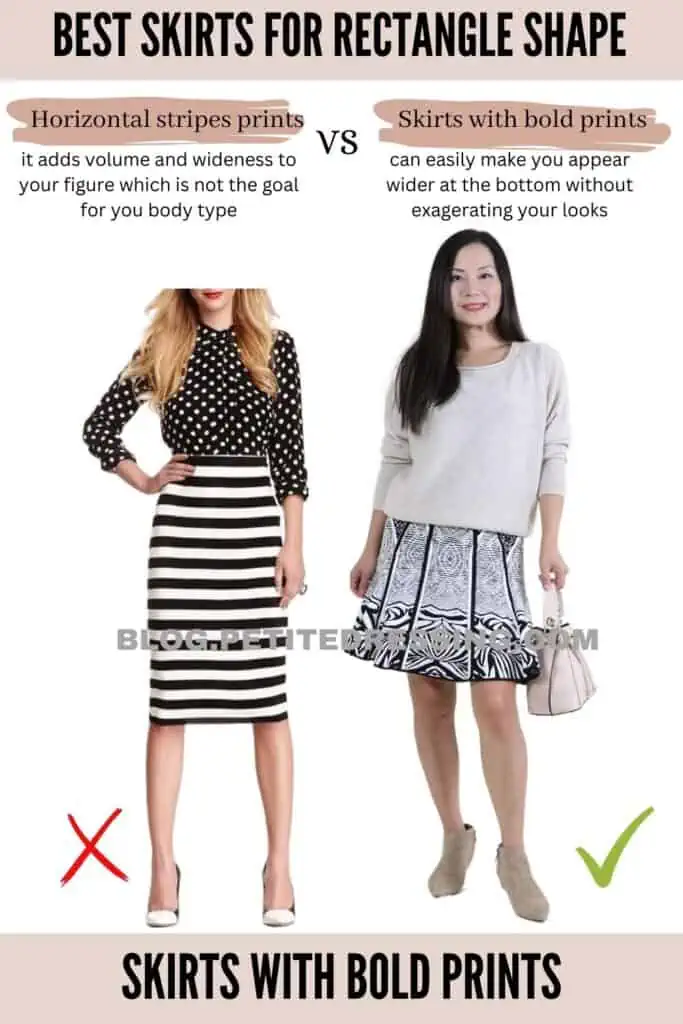 Anything that would add volume to your bottom half should make up your best choices as that is a simple way to break up the rectangle body shape. Bold prints on skirts would easily make you appear wider at the bottom.
They do not exaggerate the straight looks on your figure and are effortlessly stylish making them an excellent option for you. Bold printed skirts would complement your looks and further make you appear more feminine.
If you want to achieve balance with the bold printed skirts, I would recommend that you pair them with a dark colored top. That way, you would have created a focal point of interest to the eyes.
Pencil skirts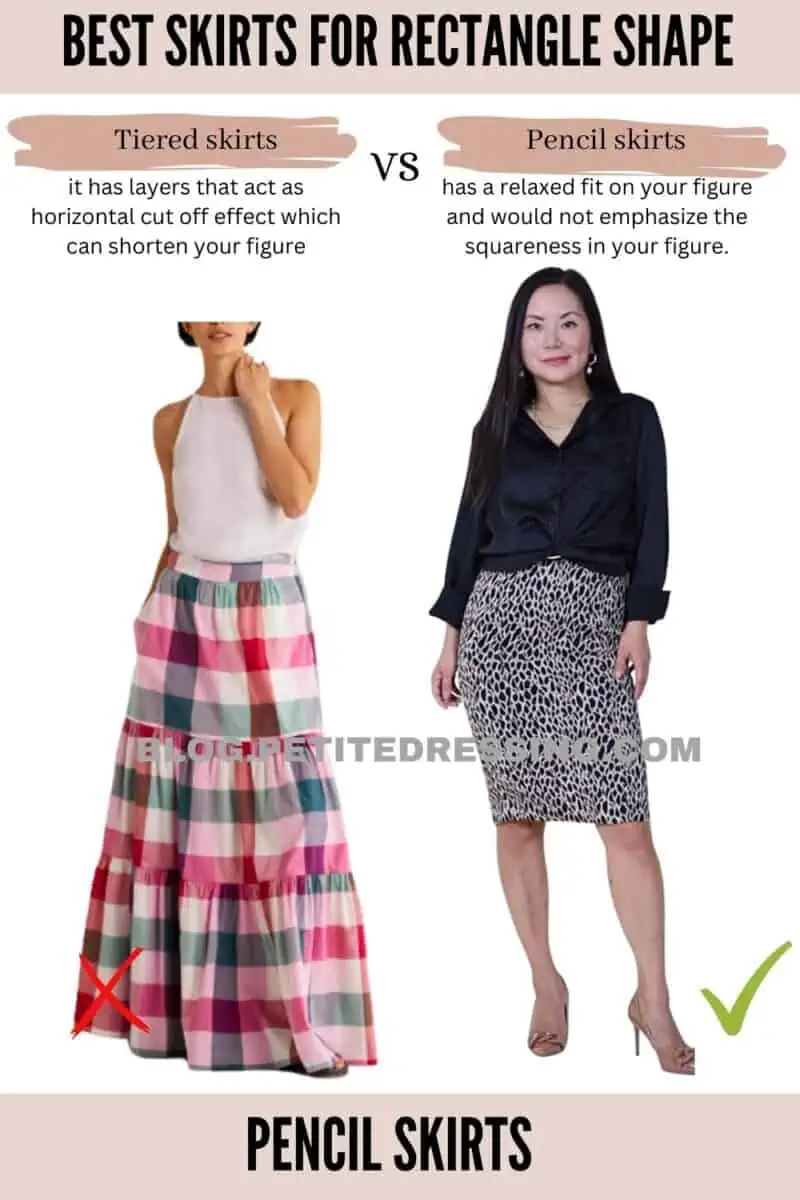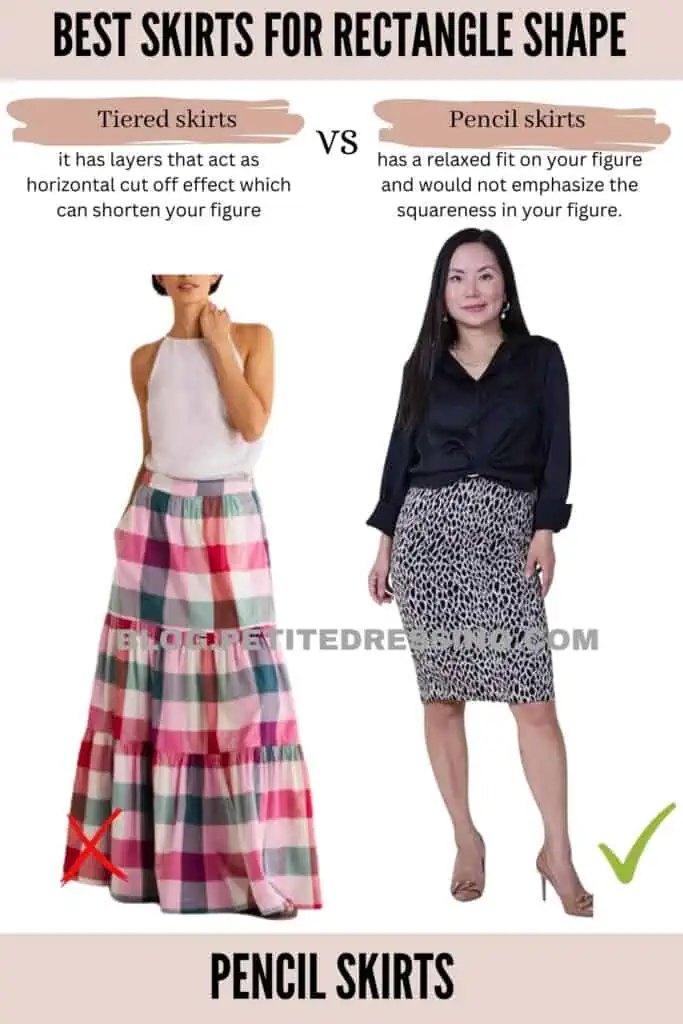 Pencil skirts have a pleasing and gentle feel on the bottom half of your rectangle shape because they have a straight cut. The skirt has a relaxed fit on your figure and would not emphasize the squareness in your figure.
Also, the skirt would give the you the illusion of curves and add also make you appear more feminine. The skirt tapers in at the hem and could serve as classic pieces that can visually elongate your figure.
They are one of the easiest designs you can add to your figure and should also be styled with a top that aligns with the skirt. You are advised to own this skirt pattern most especially because it follows your natural silhouette.
Skirts with structured fabrics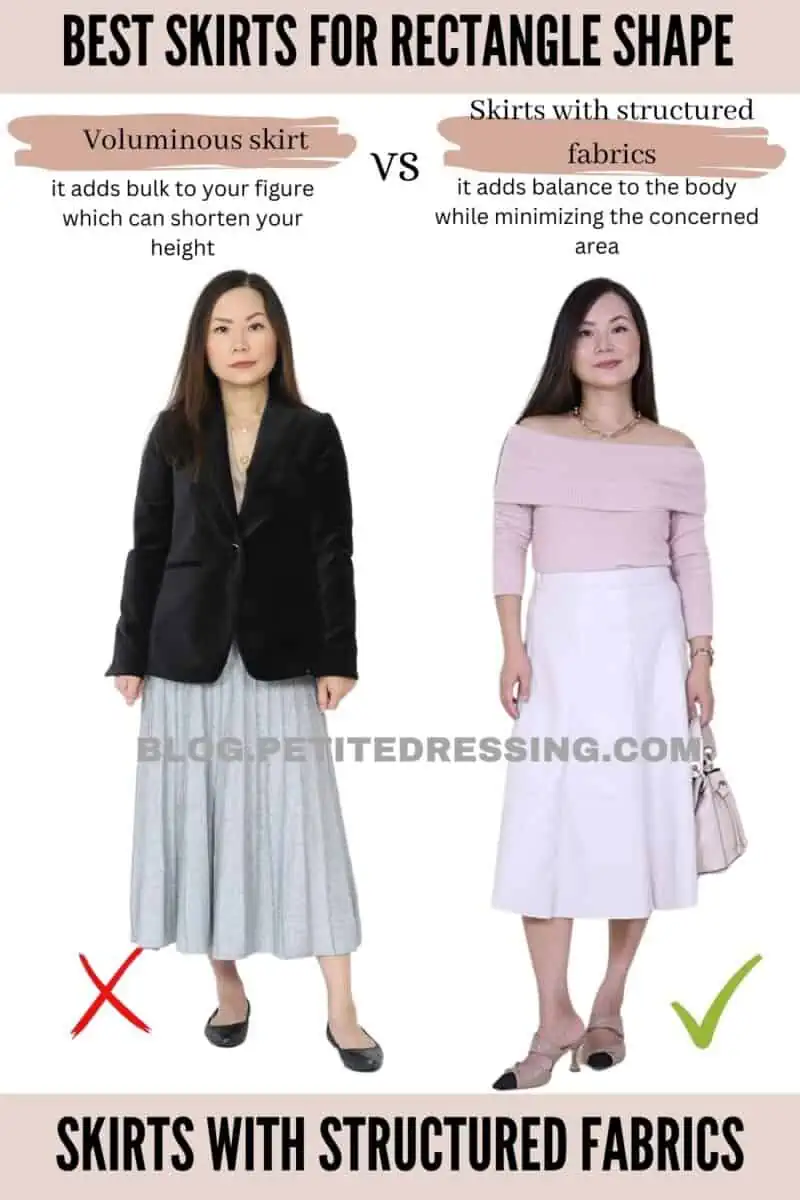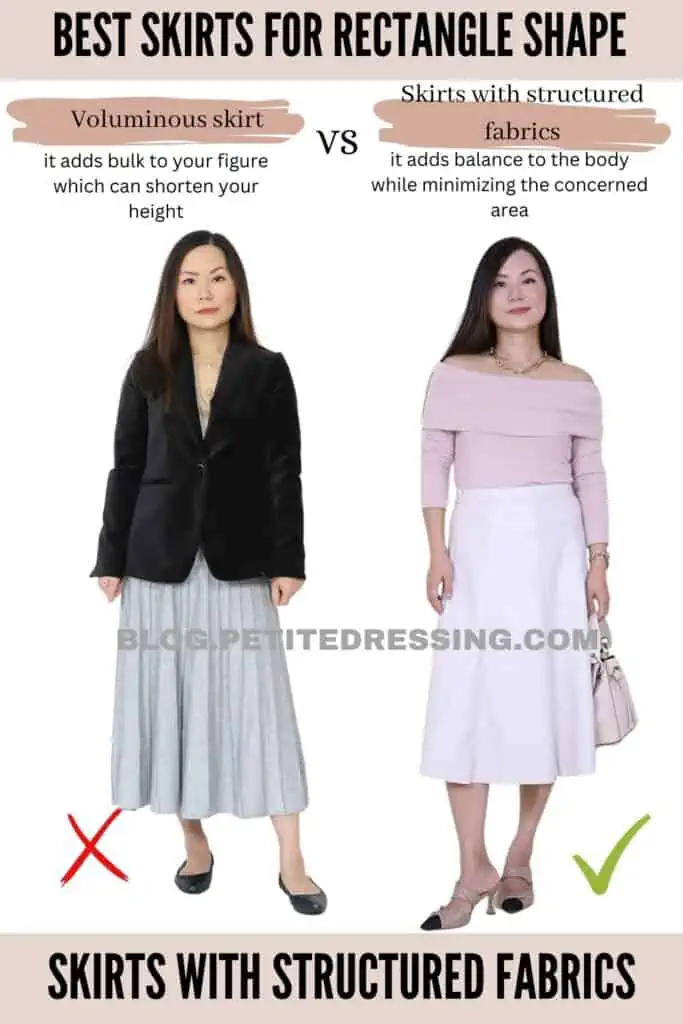 Whether this is obvious or not, the fabrics used in making your skirts are very important, as the wrong fabrics can make you appear shapeless. Skirts made with structured fabrics would fit you properly and complement your general outlook.
They can be used to create aesthetic designs that would strongly elevate your rectangle shape and further minimize the concerned area. in addition, this pattern of skirts can be used to create the right proportions you desire.
Contrarily, unstructured and stiff fabrics are very uncomfortable and less stylish for any body shape so avoid using them for your skirts. They could even throw you off balance and reduce your self-confidence.
Avoid dark-colored skirts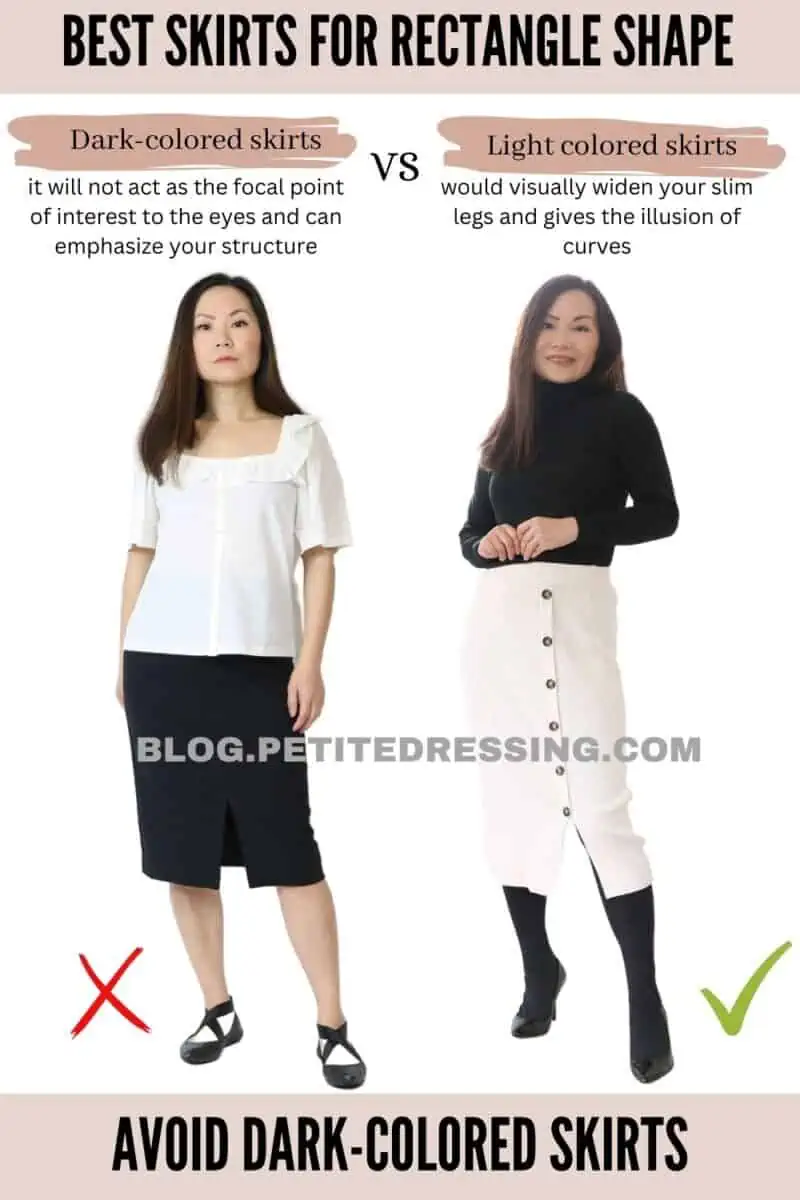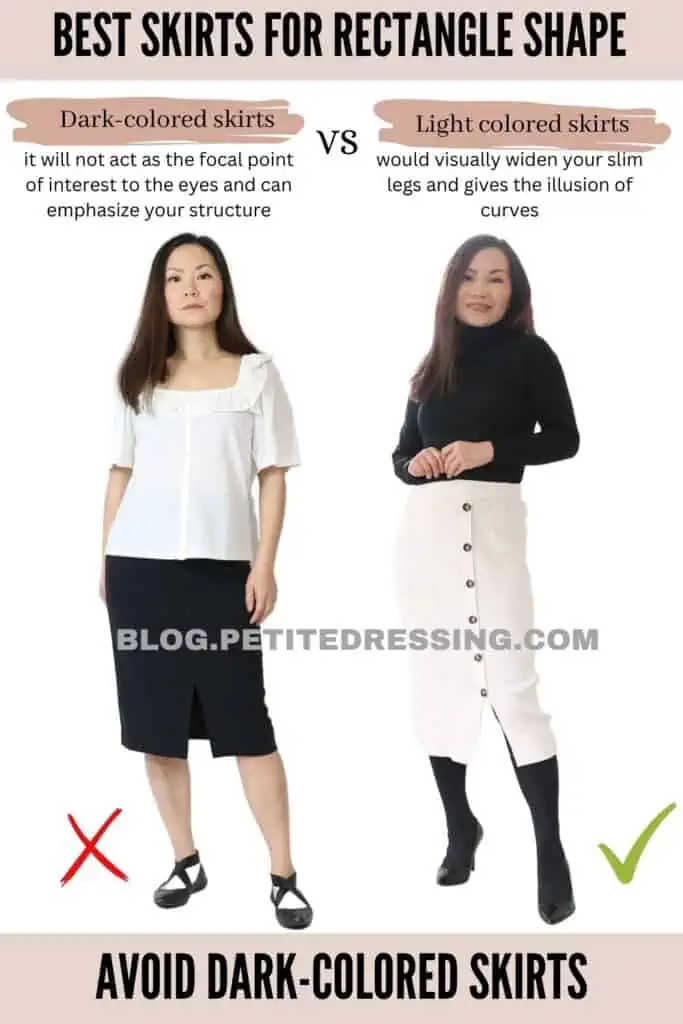 These colors of skirts would naturally slim down your figure. The rectangle shape has a straight up and down look and wearing a dark-colored skirt over it would emphasize your structure.
This is exactly why it is important that you avoid wearing them over your figure. The skirts would further deemphasize your natural structure and not act as a focal point of interest to the peering eyes.
They are skirts that would not let you have all the fun you desire and as such, make efforts to exclude them from your classic wardrobe. Colors are known to either make or break one's look so be careful when making the choice of colors for your figure.