Are you a petite woman with an inverted triangle shape? Do you love skirts but have difficulty finding one that's flattering to your figure? Well, I understand the struggle because I am 5'2″ myself. Besides, I have a full petite clothing line, which gives me the opportunity to style petite models of all shapes and sizes.
Based on feedback from thousands of my customers, I've put together this comprehensive guide so that you can choose the best skirts for your shape.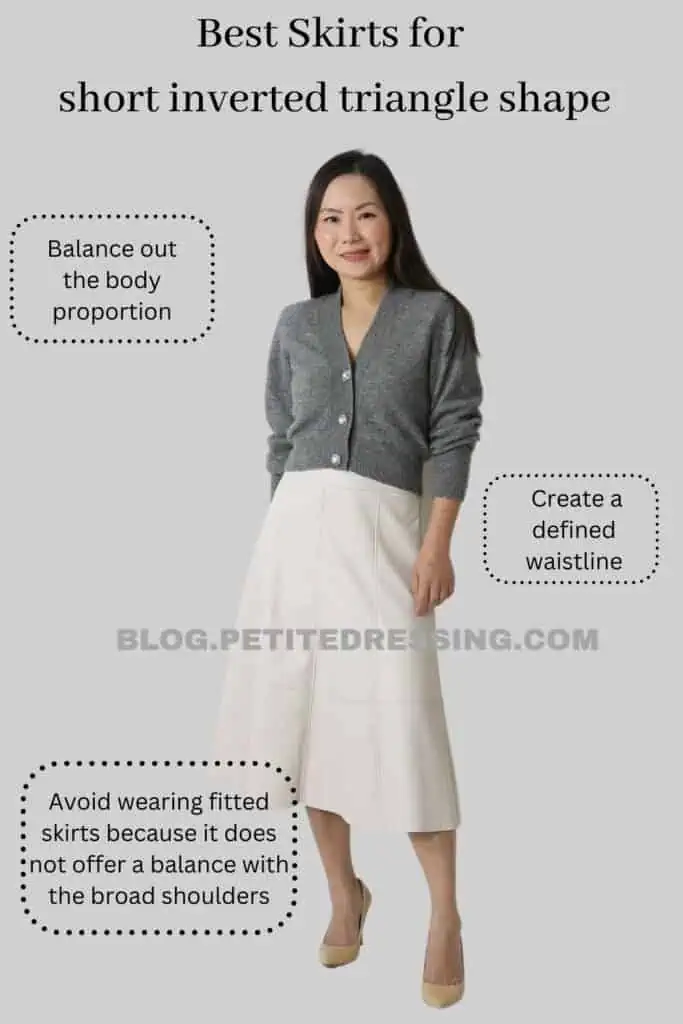 Tulip skirts
If you've ever come across a style of skirt with extra fabrics, there's a high chance that's a tulip skirt. This skirt has an accentuated waist alongside a tapering hemline. This combination means you have the right amount of attention on your butt and hips.
This is perfect for short women with an inverted triangle shape because it perfectly complements your feminine shape. The best part about tulip skirts is that they are super easy to style, so you don't have to jump through hoops to get a perfect fit.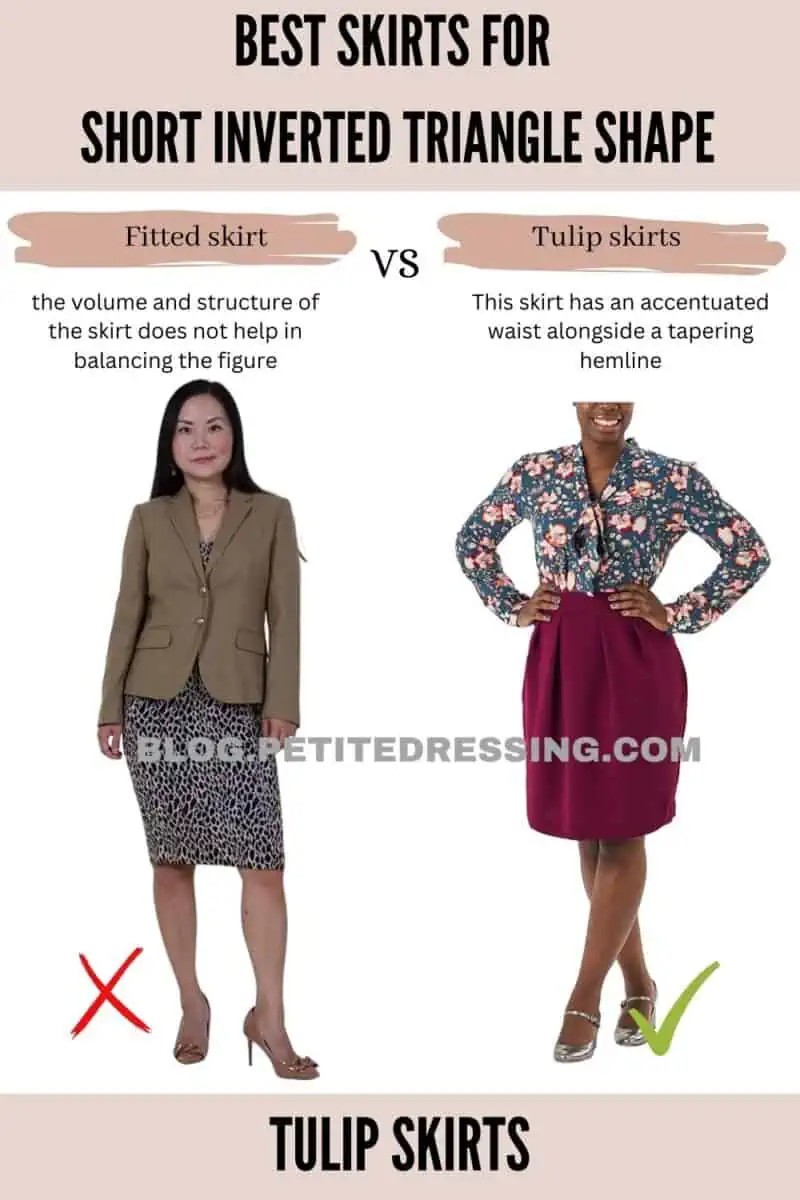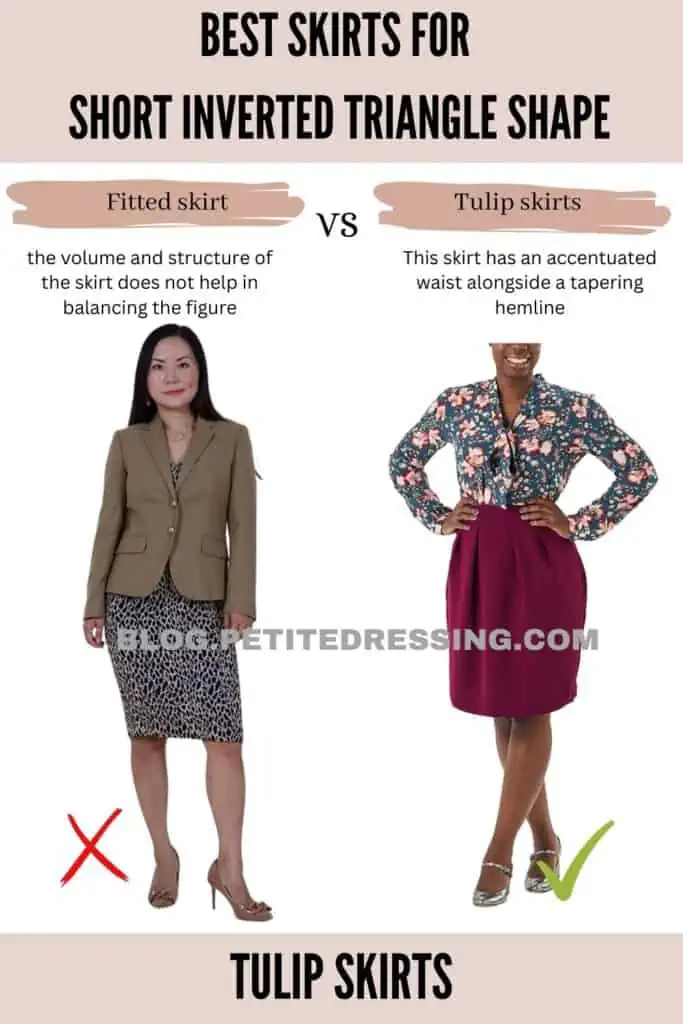 So, what makes this perfect for the inverted triangle shape? Well, this style of skirt adds volume to the bottom half of the body. Also, since most people with this body type have wide shoulders, tulip skirts make this less obvious at first glance.
Overall, you'll love this super flattering skirt that's great for your body shape and has that great style for adding structure to the bottom half of your body.
Layered skirts
The goal with dressing for your inverted triangle body shape is to wear skirts that aesthetically add more volume to the bottom half of your body. An easy way to achieve this is with a layered skirt.
Apart from its positive effect on your unique body shape, it also has a loose fit, and this is a great design for balancing your figure. The good news is that there's a high chance you'll find a layered skirt that fits your personal preference.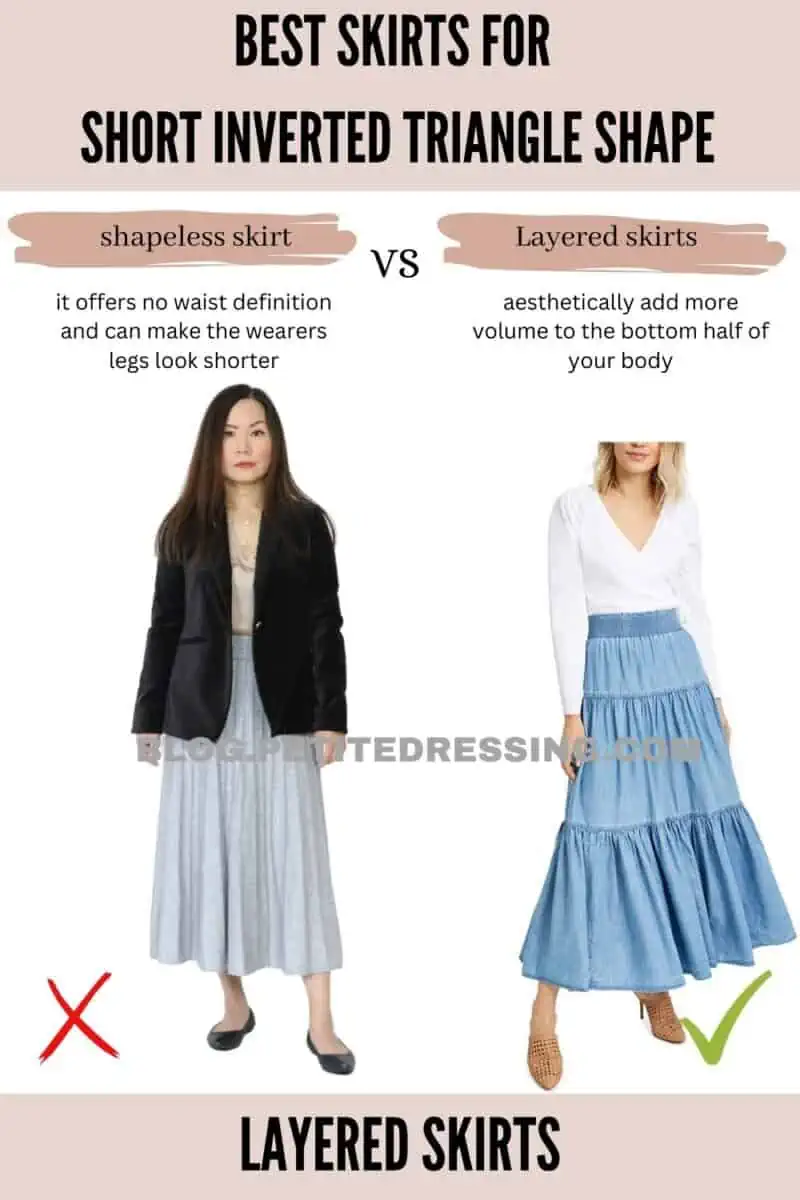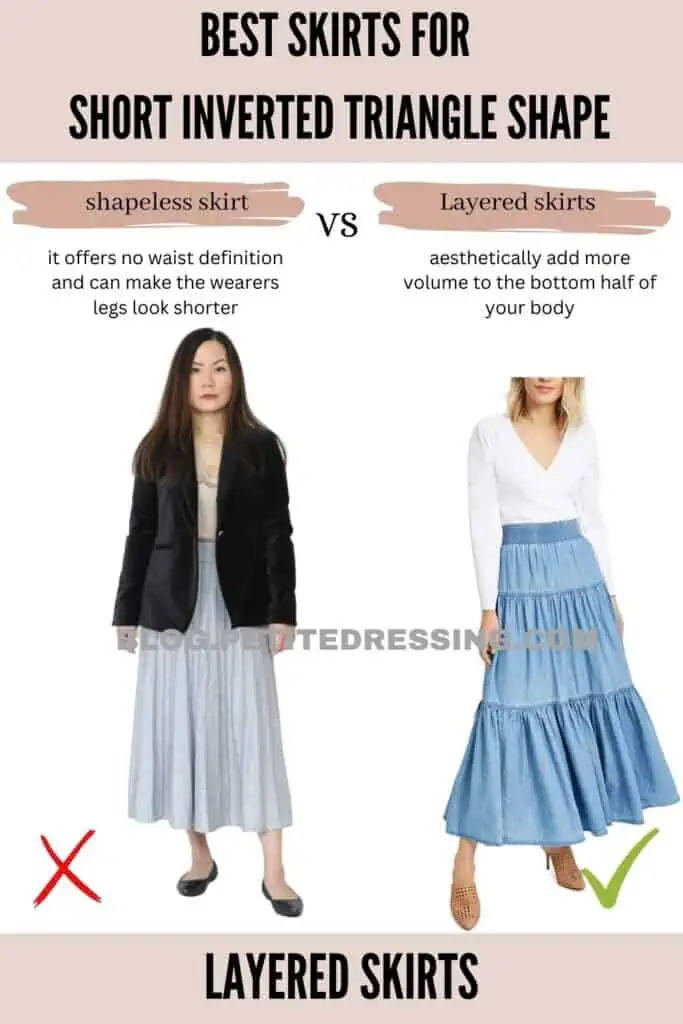 However, remember that the right top pairing will make this positive effect possible. You should consider wearing tops with a v-neckline or scoop neck, further elevating your overall appearance.
No doubt about it, a layered skirt is one of the first steps towards wearing a skirt that gives you an elegant look and works with various occasions.
Bias skirts
Bias skirts have a fitted waist and are then slightly pleated from the hips to the hemline. Usually, they are knee-length and have a close fit that's flattering to petite women with an inverted triangle shape.
There are so many things I love about this style of skirt. Top among them is the fact that it's not too fitted on the hips and this is good because it won't visually pull your hips in. Details on a skirt add a lot of interest to your hip area.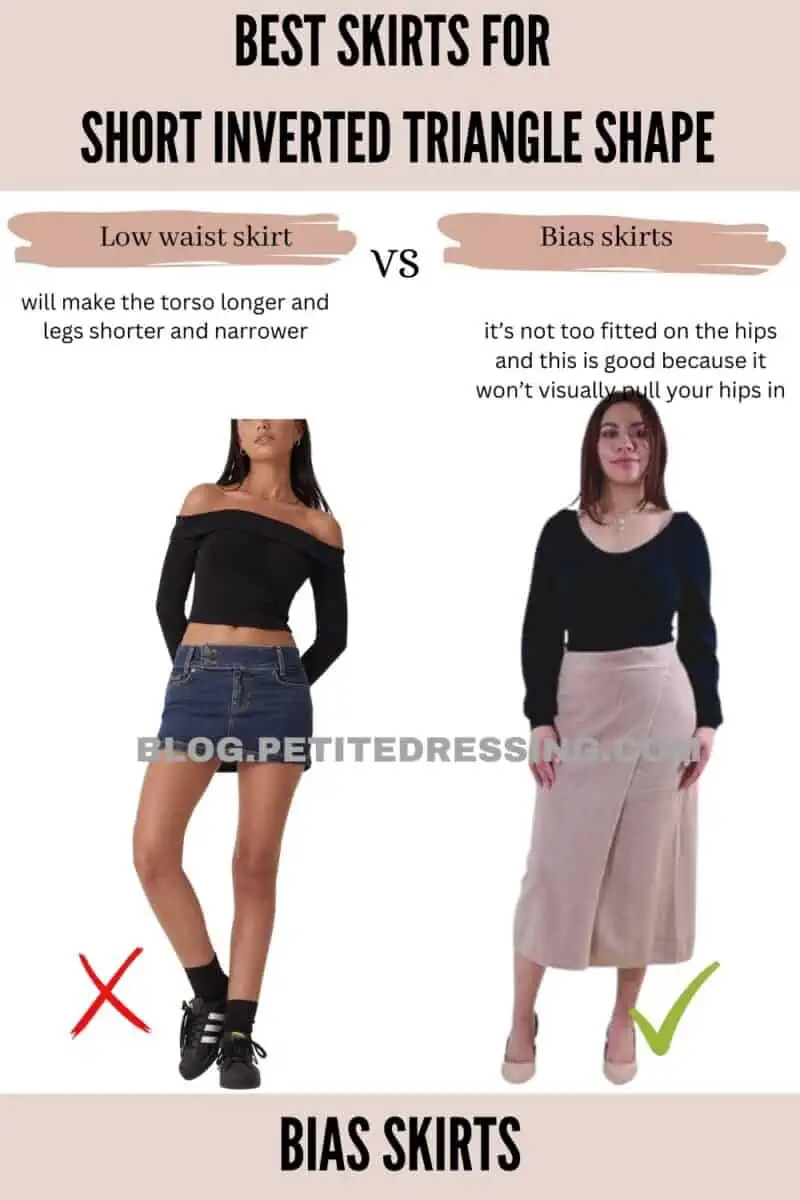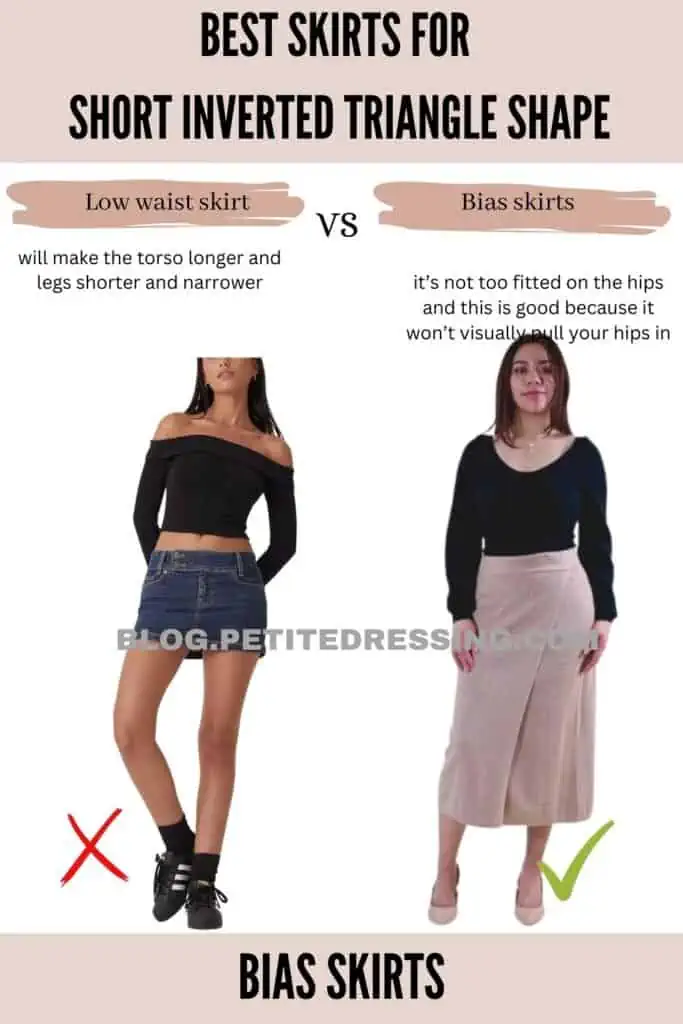 With your body shape, you would want more attention on the bottom half of your body than the top, and skirts with pleats like bias skirts will help you achieve this easily. Feel free to pair this with any stylish top of your choice with a sweetheart neckline.
Box-pleated skirts
Most petite women with an inverted triangle shape have a smaller bottom half and this needs to be balanced out with skirts that will add volume. I've realized that box pleated skirts have the necessary feel to help you achieve this balance without overwhelming your body figure.
Apart from the fact that you'll be rocking a more feminine structure with box pleated skirts, there's also a lot of breathable room for your slim legs to stay comfortable, even when you're on the move.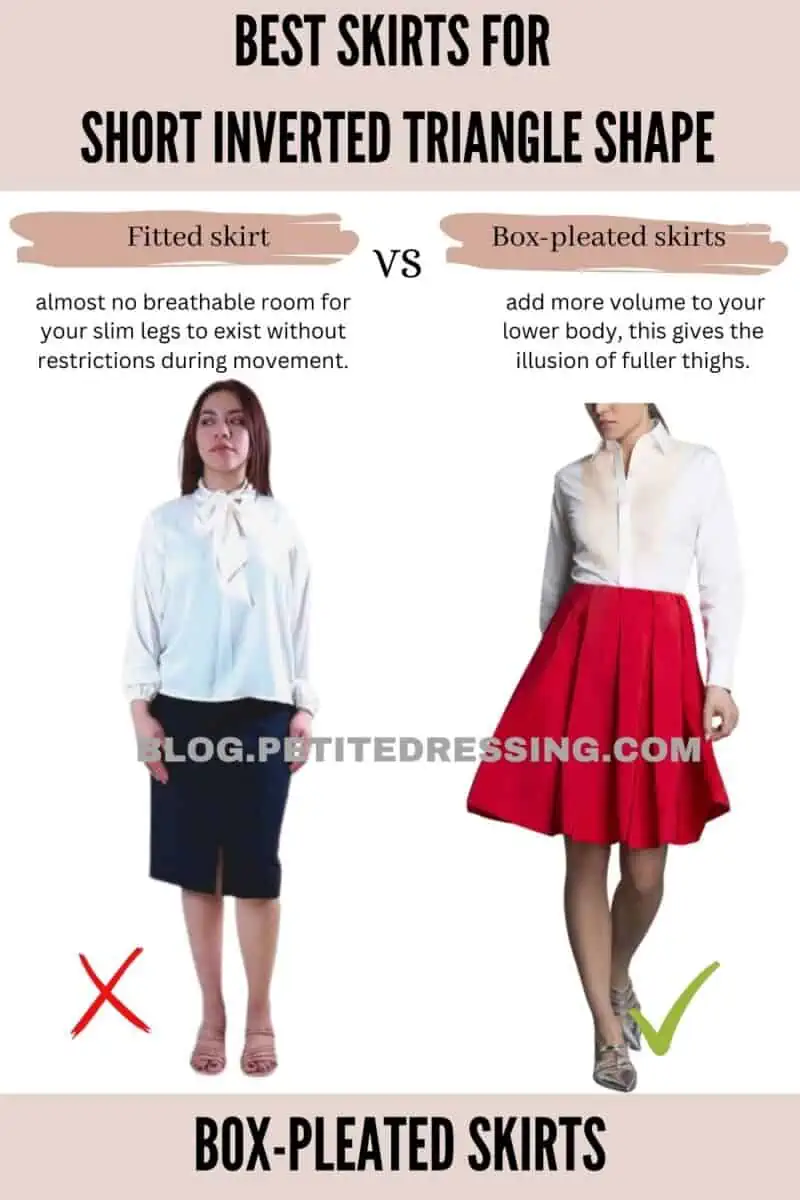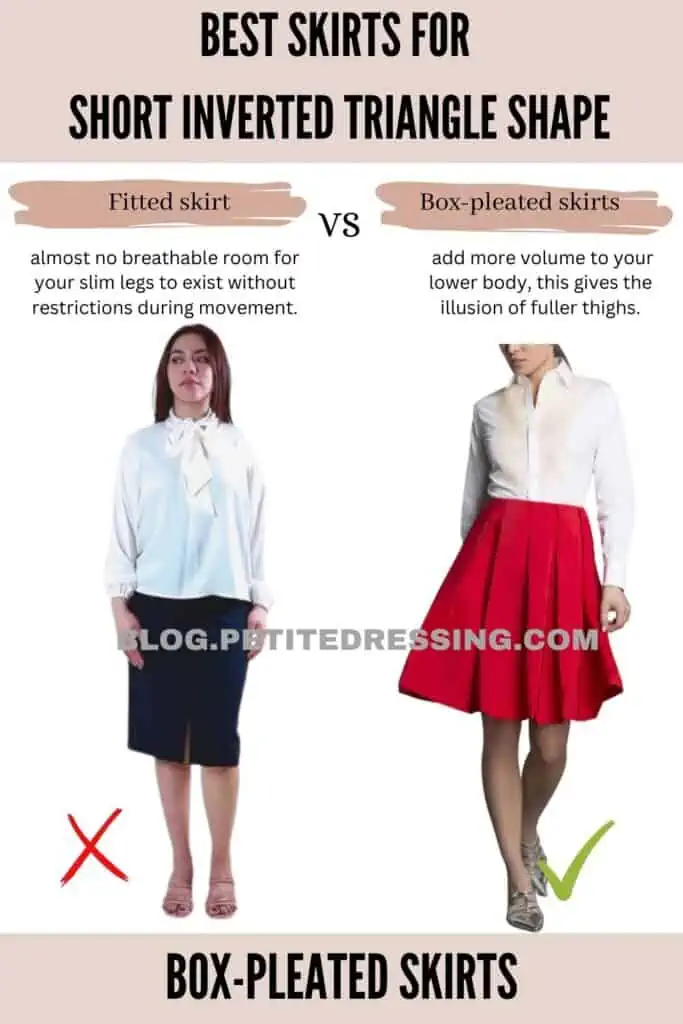 So, as a petite woman with broad shoulders, narrow hips and a wide upper body, it's inevitable that this will create an imbalance in body proportions. However, when box-pleated skirts add more volume to your lower body, this gives the illusion of fuller thighs.
Overall, this creates a pleasant silhouette while adding a stylish touch to your outfit. When it's worn high on the waist, there's less attention on your upper body.
A-line skirts
The A-line silhouette is great for almost every petite woman with different body shapes, and that's especially true for the inverted triangle shape. This skirt is specifically designed to fit at the waist before forming a seamless flare into an A shape.
This A-shape then moves towards the hem of your skirt to give more volume to the bottom half of your body. Thanks to this stylish skirt, your slim legs will be less obvious and there will be more attention to more flattering parts of your body.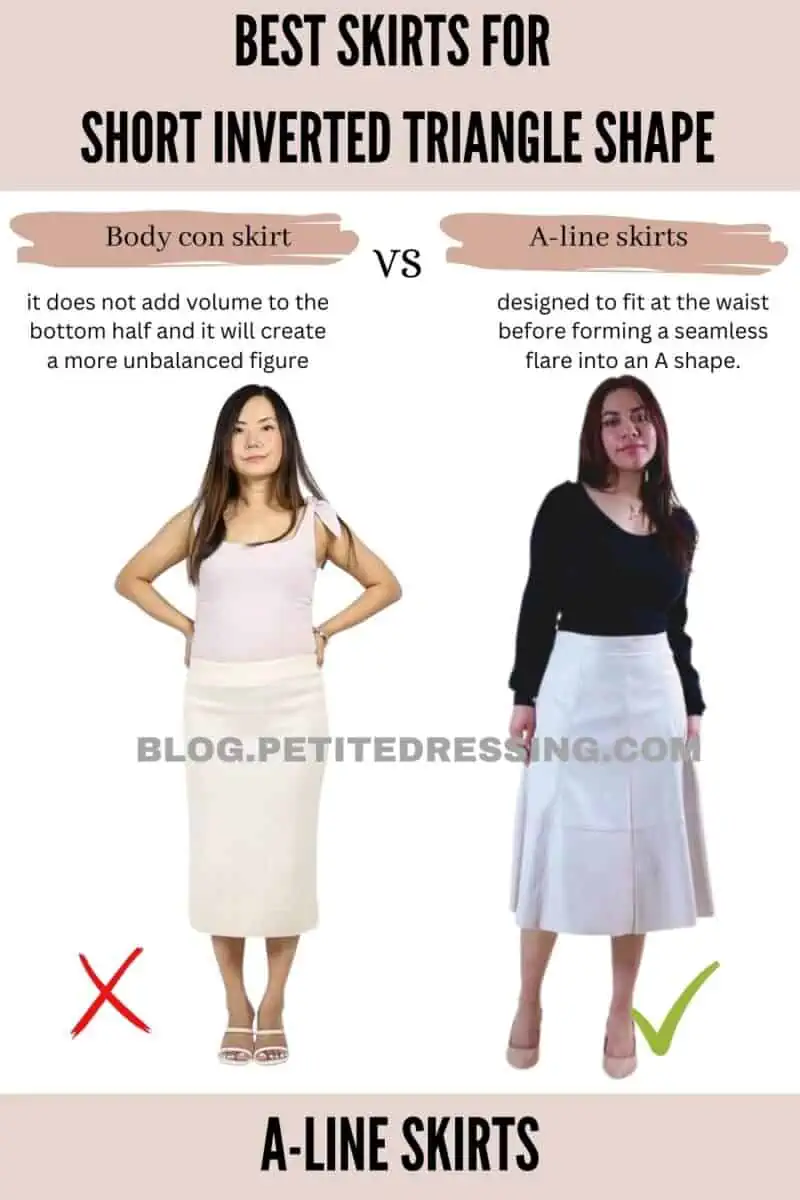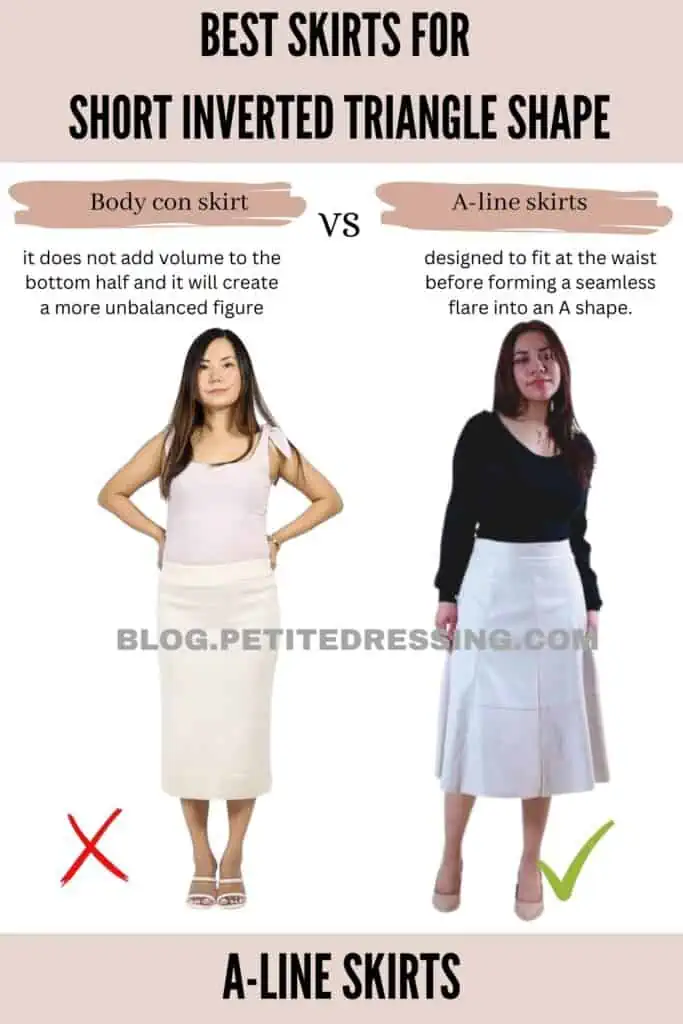 An A-line skirt is one of the best ways to create a balance between your legs and broad shoulders, giving you a more feminine silhouette with a skirt style that can be worn to various occasions. Pair this skirt with a fitted top to add more slimming effect to your broad shoulders.
Skirts in bright colors
Don't mind wearing clothing that is in bold and bright colors? Well, you're in luck, as that's exactly what you need as a petite woman with an inverted triangle body shape. Skirts with bright colors are great because they visually add more width to the lower half of your body.
So, with a brightly-colored skirt on your inverted triangle shape, there's less attention on your broad shoulders as all this attention is diverted to the lower half of your body. This is a good thing because it visually balances your body frame.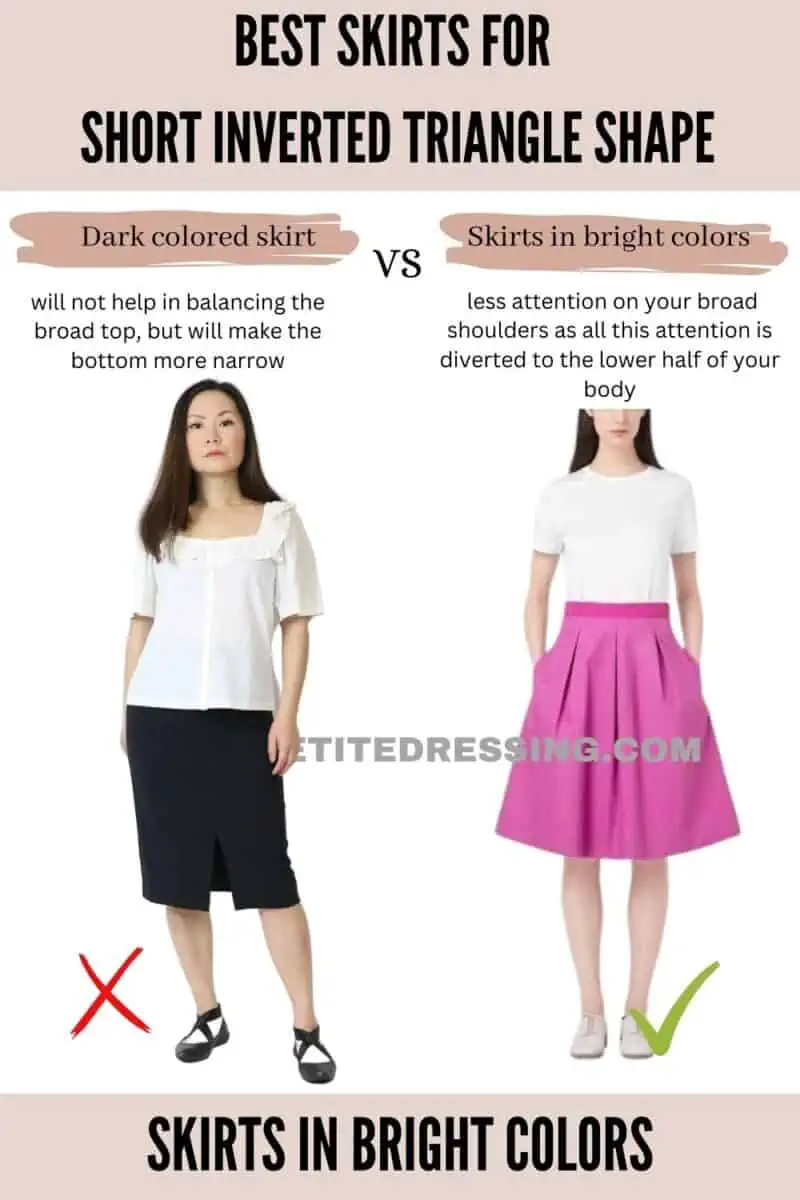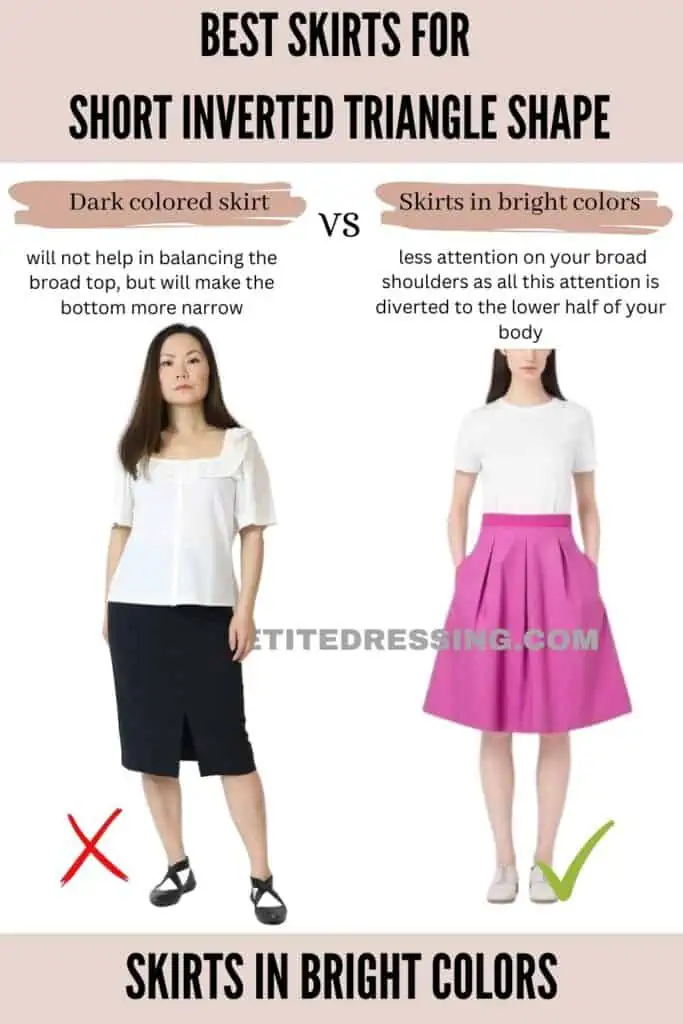 You don't have to worry so much about finding beautiful, brightly-colored skirts. On several occasions when I'm out looking for something great for my petite models, I've not had so much trouble finding skirts that stand out. You shouldn't too.
Feel free to pair your brightly-colored skirts with darker tops, so that this can do more to downplay the width of your broad shoulders. Overall, this is great for making your figure stand out elegantly.
Skirts with side pockets
Side pockets add bulk to skirts and this is not always a good thing. However, for short women with an inverted triangle shape, this extra bulk is necessary to create volume in the bottom half of your body. This extra volume helps in balancing out your body frame.
Therefore, you should consider wearing skits that have side pockets as this is a great and stress-free way to look elegant and sophisticated. It's just so amazing how this style of skirt elevates your appearance with the illusion of curves on the lower half of your body.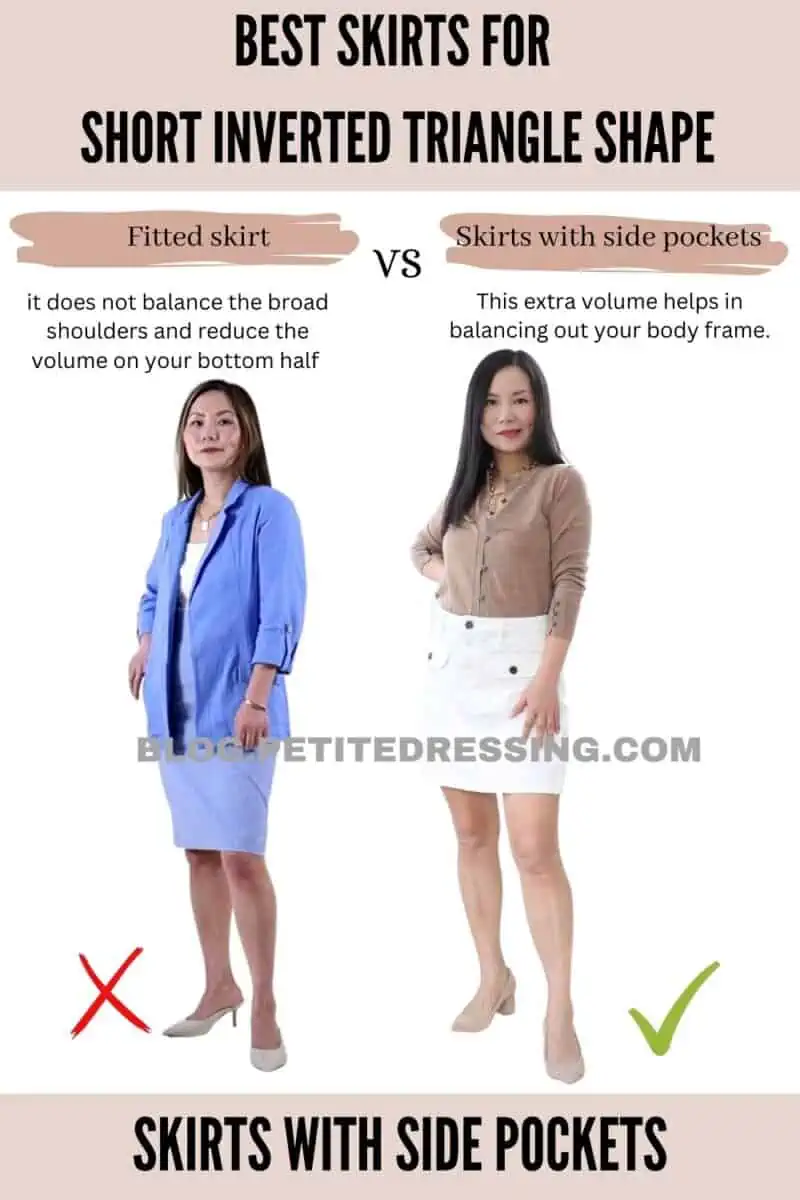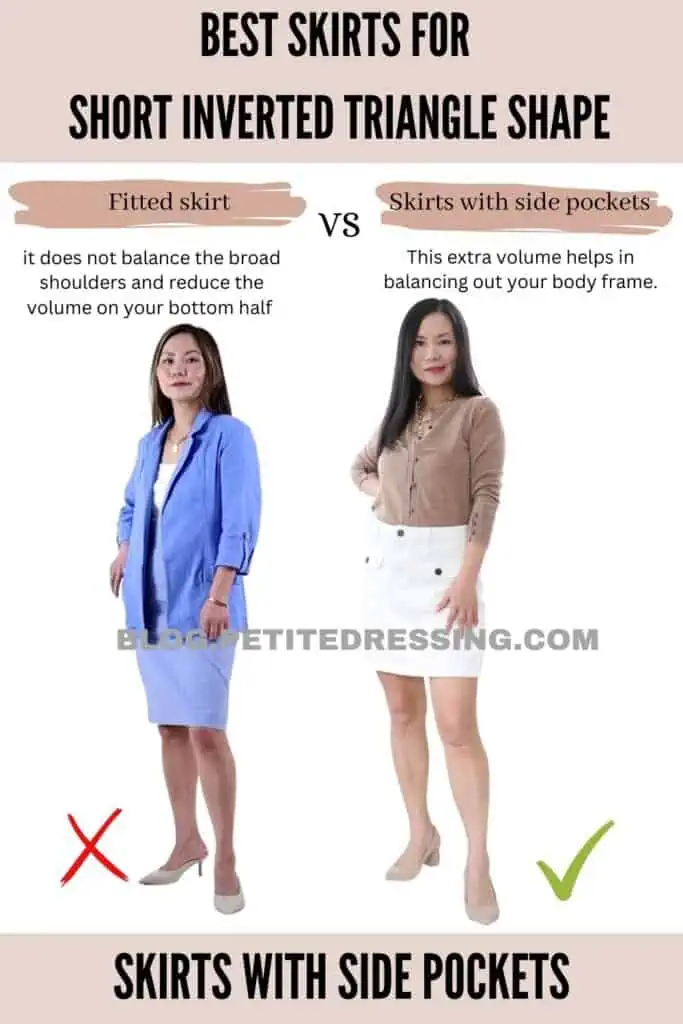 It's always great to wear styles that are flattering for your inverted triangle shape and skirts with side pockets do a good job of defining your natural waistline.
Wrap skirts
Wrap skirts are another trendy skirt design for petite women with an inverted triangle shape. This is a great style because it has a cinching effect on your waistline which gives your small waist the illusion of having curves.
The cinching effect draws more attention to your natural waistline and that's perfect for the inverted triangle shape. Therefore, you shouldn't hesitate to add wrap skirts to your wardrobe.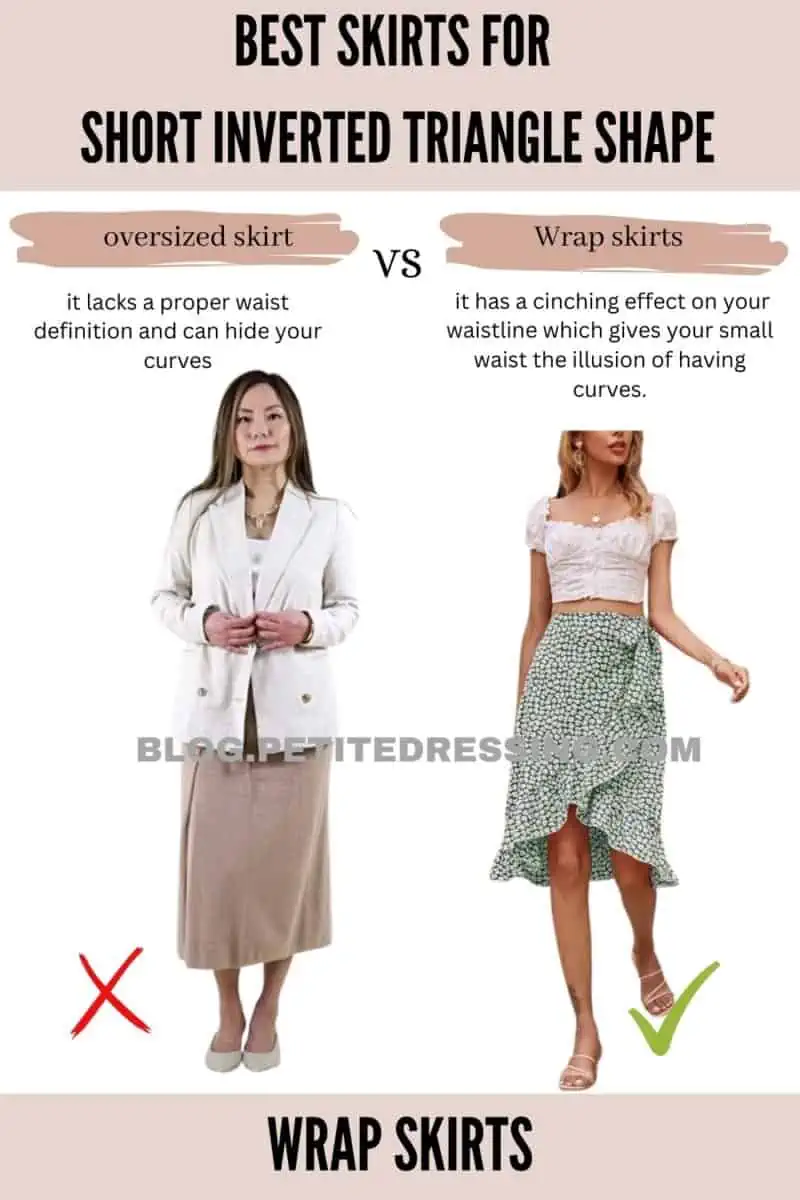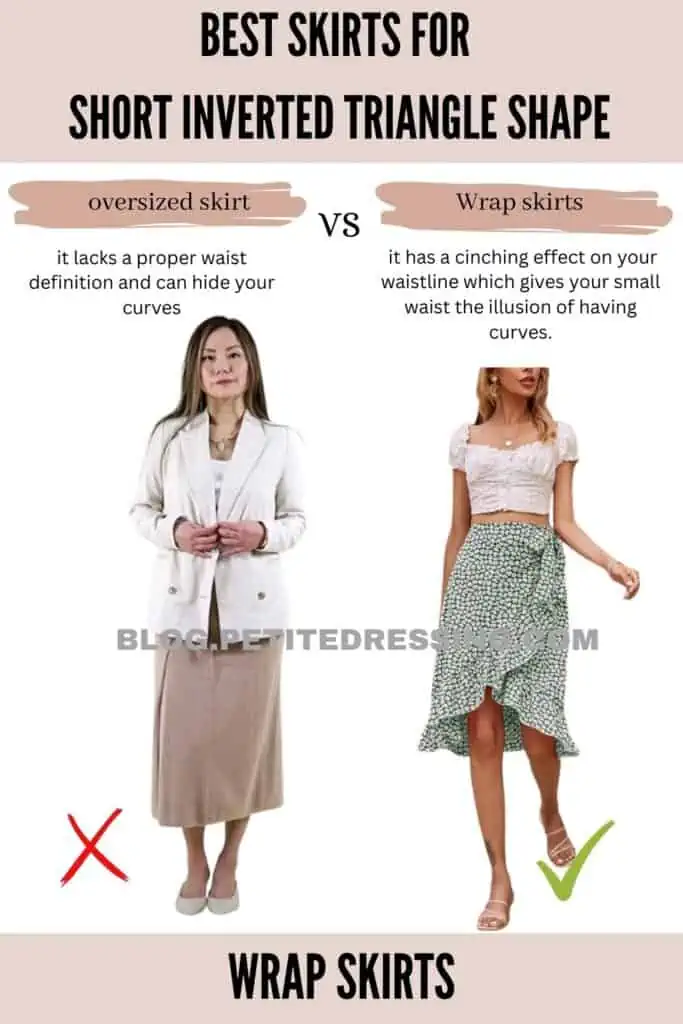 One more feature you'll love about wrap skirts is that they reduce the emphasis on your narrow hips while balancing out your broad shoulders.
Avoid tight-fitted skirts
Tight-fitted skirts hug your body, and that makes your undefined waistline and narrow legs which are typical features of the inverted triangle shape to appear even less flattering. There's also almost no breathable room for your slim legs to exist without restrictions during movement.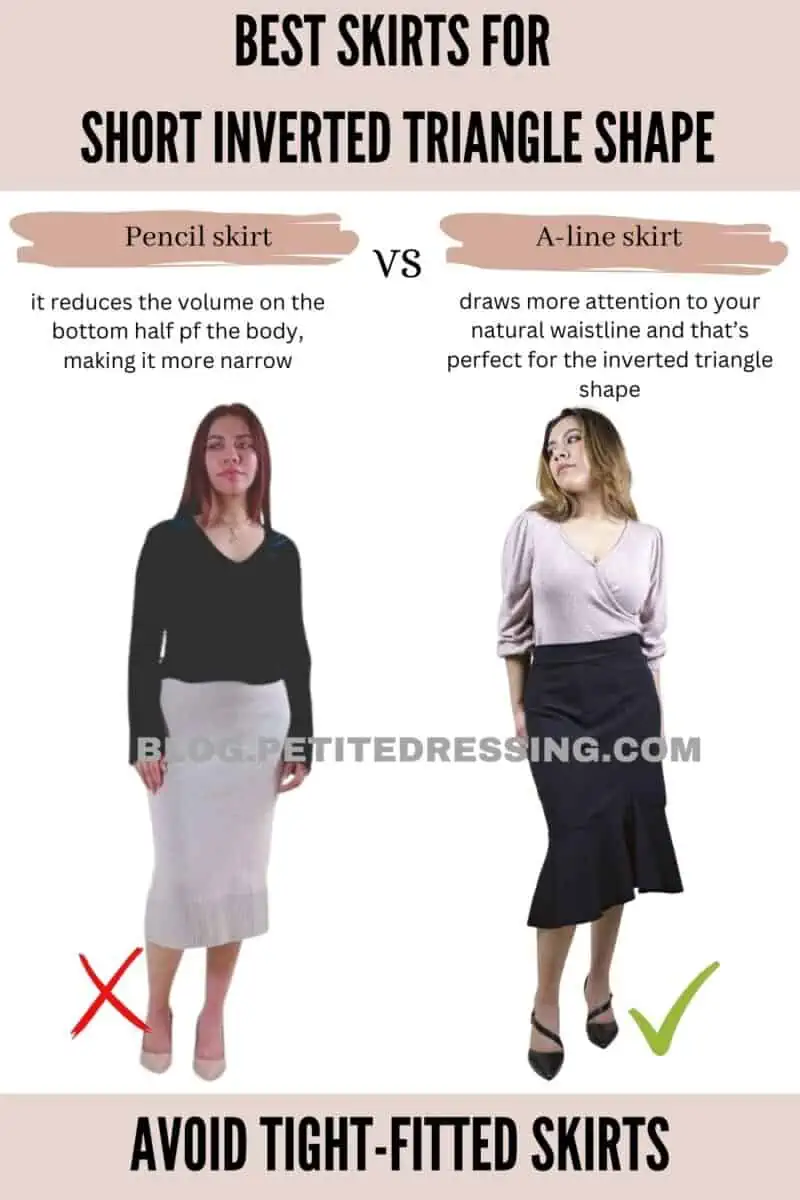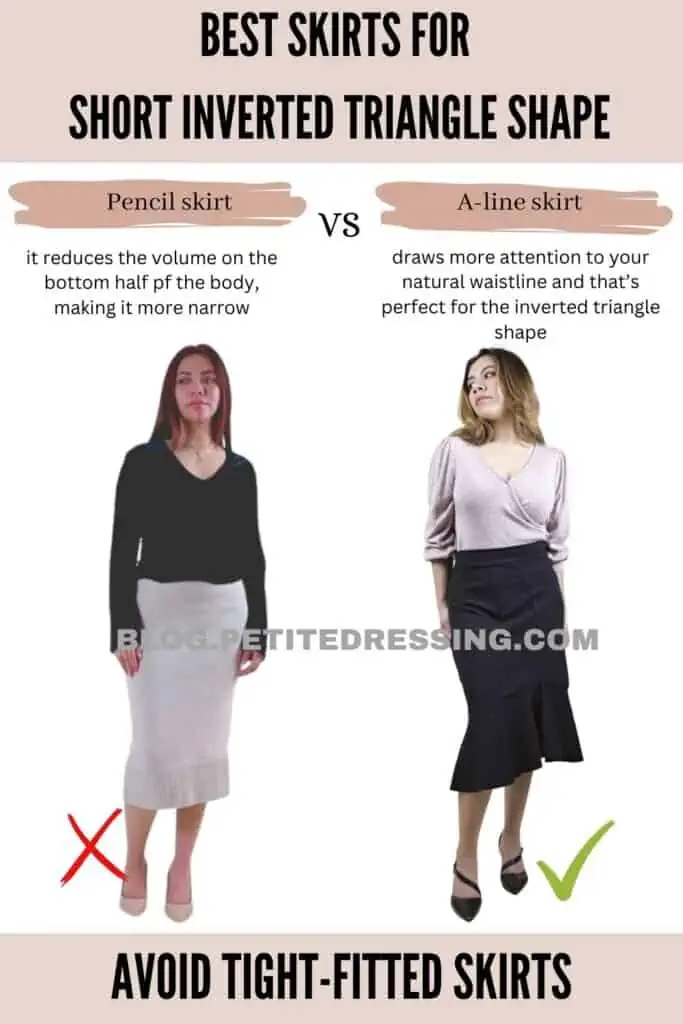 Therefore, if you don't want to draw more attention to your narrow bottom and broader shoulders, you should avoid wearing tight-fitted skirts. It's always a great idea to avoid skirts that are too figure-hugging.
The best way to style your inverted triangle shape as a petite woman is to avoid skirts that reduce the volume on your bottom half rather than add to it.