For those with a petite apple-shaped body, finding the right wedding dress can be a bit challenging because you need to work on a figure that's not naturally balanced.
I know this from first hand as I am 5'2″, with an apple body shape. Besides, as an owner of a petite clothing line, it is important for me to understand what kind of styles suit what body shape and make the right decisions. I can definitely tell which type of wedding dress structures actually work for this particular body shape.
Petite apple shape women are short (5'4 or below), have a prominent bustline, and lean legs, but lack waist definition.
With so many styles and options available, it can be overwhelming to decide which one to choose, but I assure you that your worries are going to end right here as I have some tips that will help you find the perfect wedding dress for your petite apple-shaped body.
Styling Goal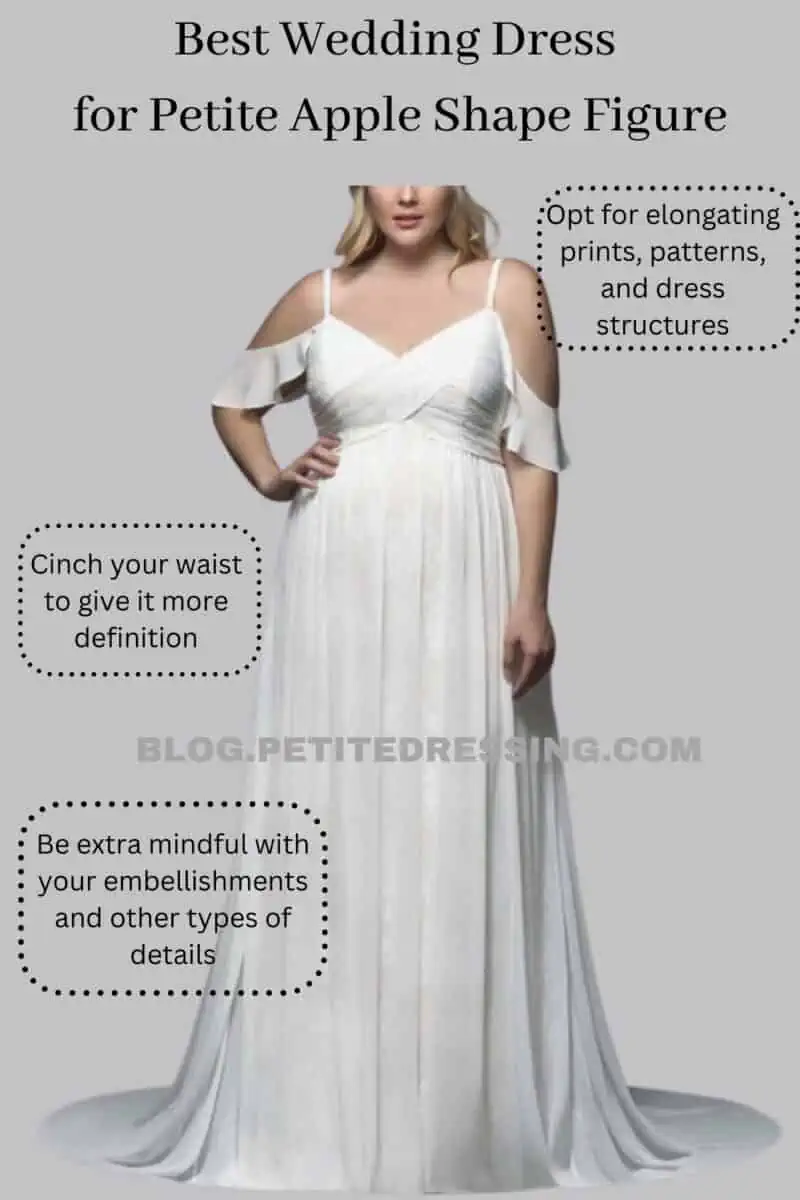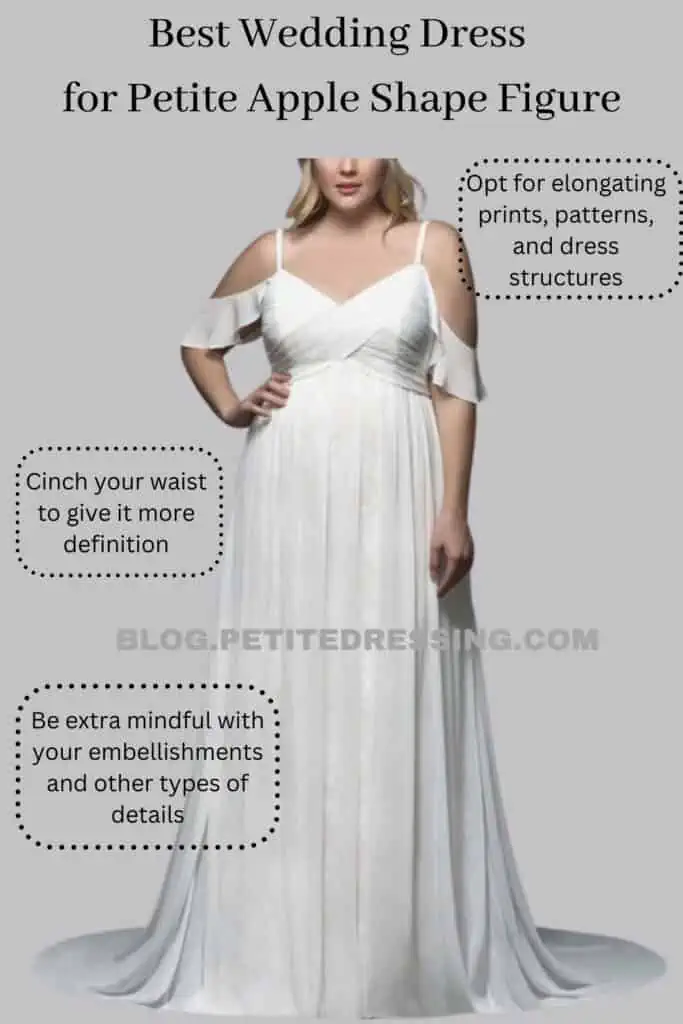 Opt for elongating prints, patterns, and dress structures to create the illusion of height. I'm 5'2 myself so I know how certain details can make a whole world of a difference when it comes to elevating our petite frame.
Cinch your waist to give it more definition. Apple-shaped bodies have little to no waist definition so this area can use a bit of help for it to look more prominent.
Be extra mindful with your embellishments and other types of details. Going for a minimal, classic design is ideal but if you feel like adding more details to your wedding dress, just make sure they don't add too much volume.
Satin A-Line Wedding Dress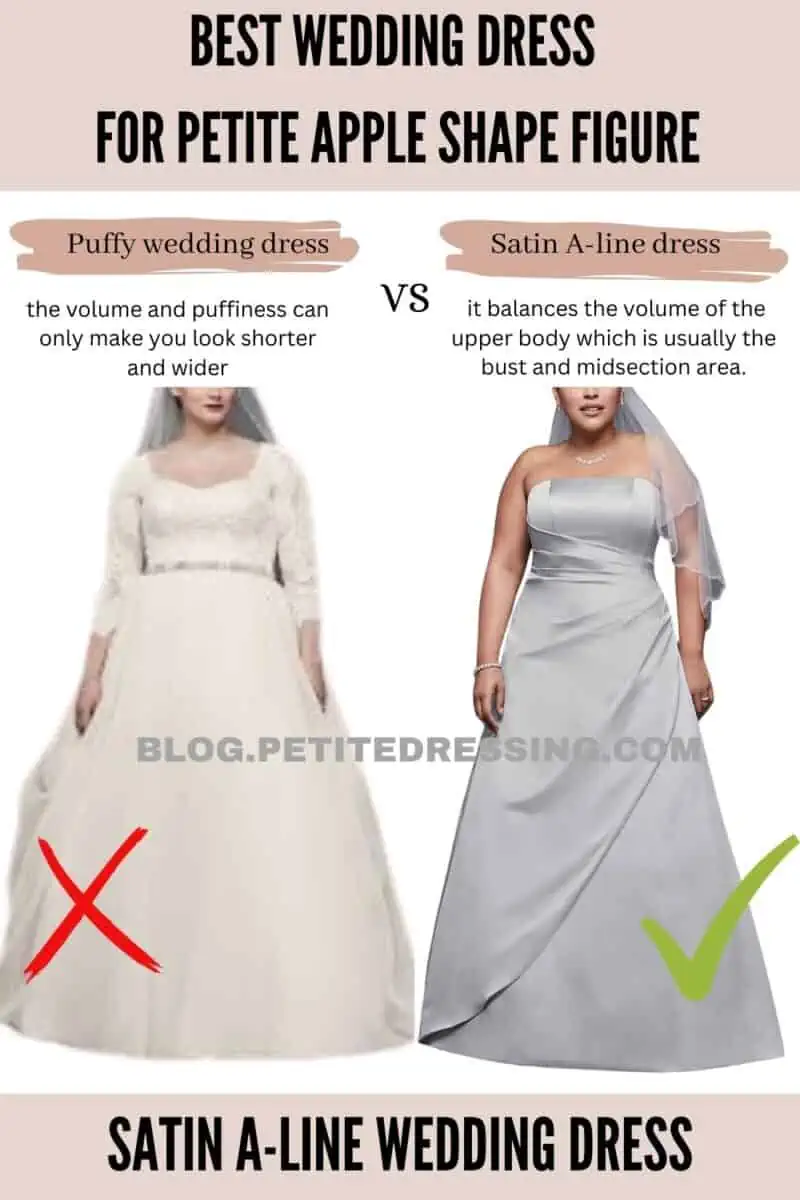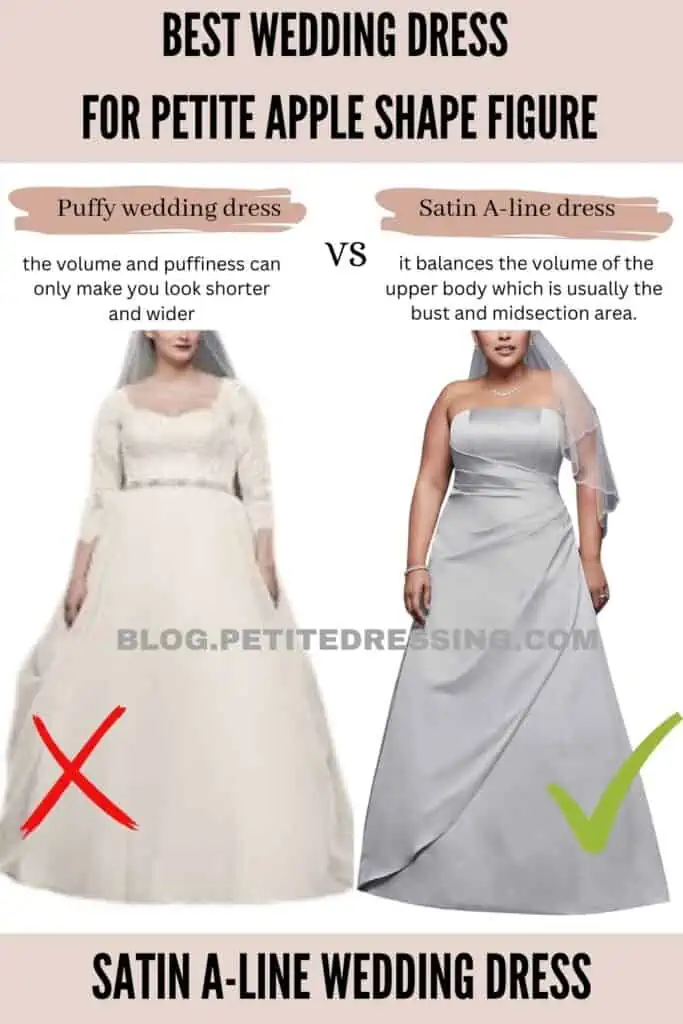 A-line wedding dresses are a classic style that flares out gently from the waist to the hem which gives an elegant and feminine silhouette. The cut of this dress skims over the hips which makes it an ideal choice for apple-shaped petite women because it balances the volume of the upper body which is usually the bust and midsection area.
The dress' flare also adds a touch of subtle volume to the lower half of the body, giving the impression of longer legs, which can be particularly beneficial for shorter brides. If you're also wearing heels to pair with this dress, it will be less noticeable that you're wearing high heels to elevate your height, hence looking more naturally taller.
Choosing the right fabric can help create a smooth silhouette and accentuate the dress's flare. For this in particular, I suggest you go for satin because its elegant structure shall give more definition to the overall silhouette of your A-Line wedding dress.
Mermaid Wedding Dress in Structured Fabric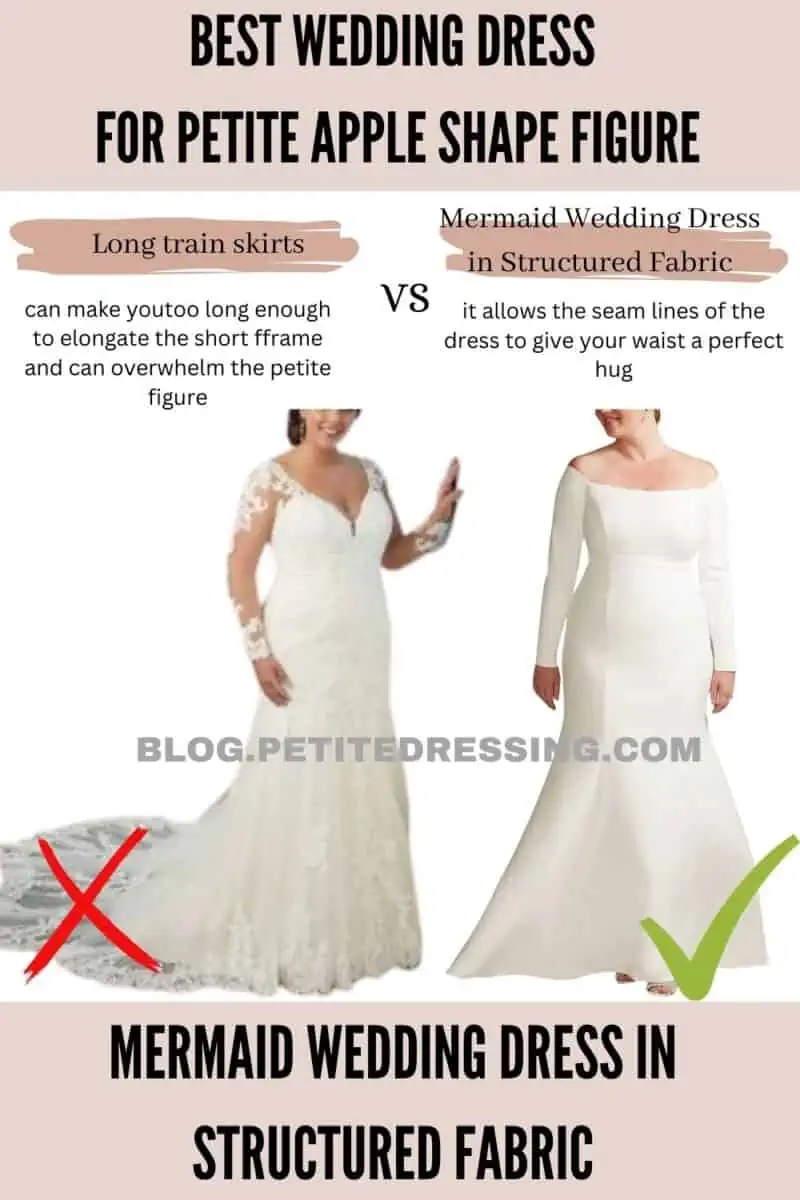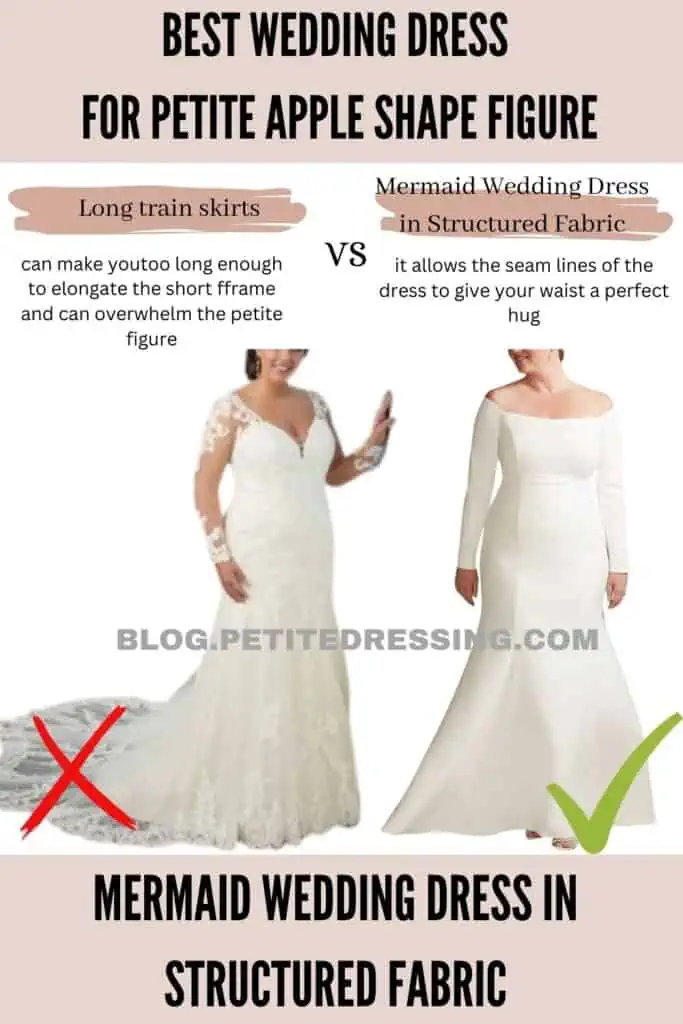 Here's a sexy, form-fitting wedding dress style option that your short apple-shaped body would love – Mermaid wedding dresses! A mermaid-style wedding dress features a form-fitting style that hugs the body from the chest to the knees, before flaring out into a dramatic train.
This cut accentuates the curves and creates a sexy and sophisticated silhouette, making it an excellent choice for petite apple-shaped women. The dress' snug fit hugs the body in all the right places, while the flare adds volume to the lower half, creating a dramatic yet very balanced overall look.
Because of its form-fitting structure, it allows the seam lines of the dress to give your waist a perfect hug. This subtly nips in your waist and therefore efficiently enhances your curves.
V-neck Chiffon Wedding Gown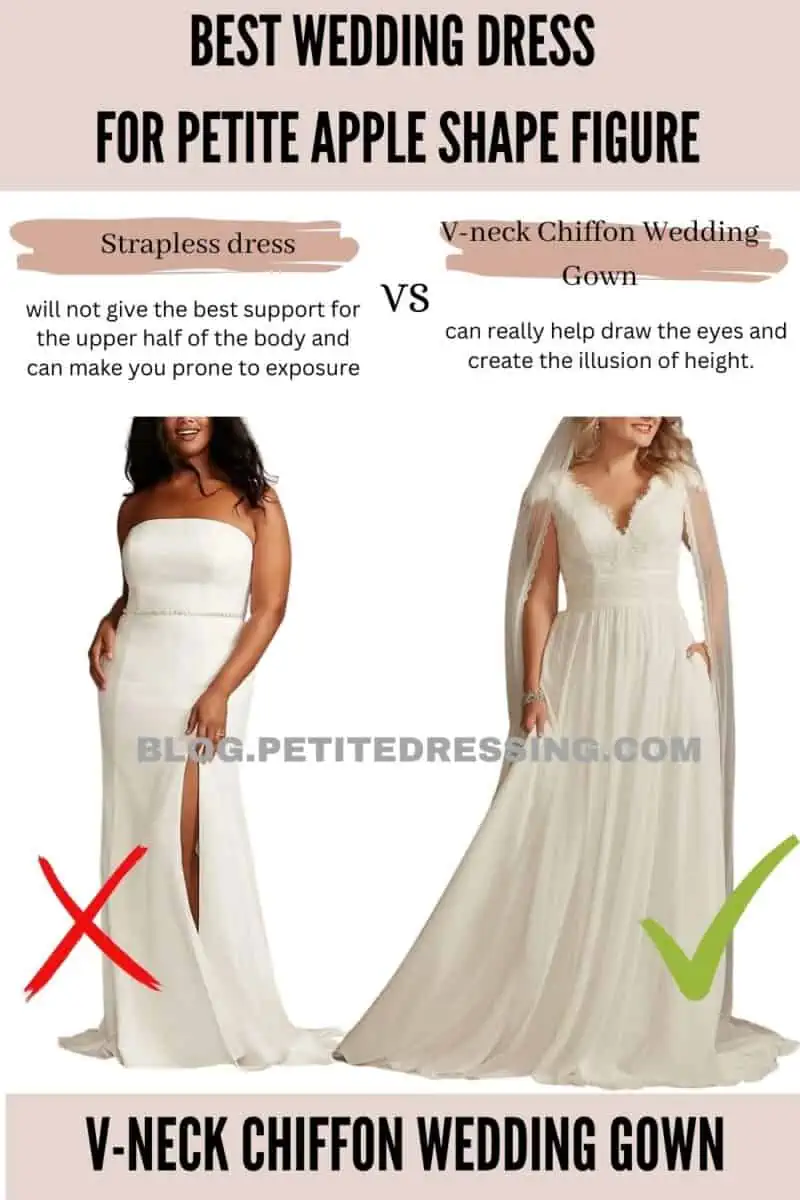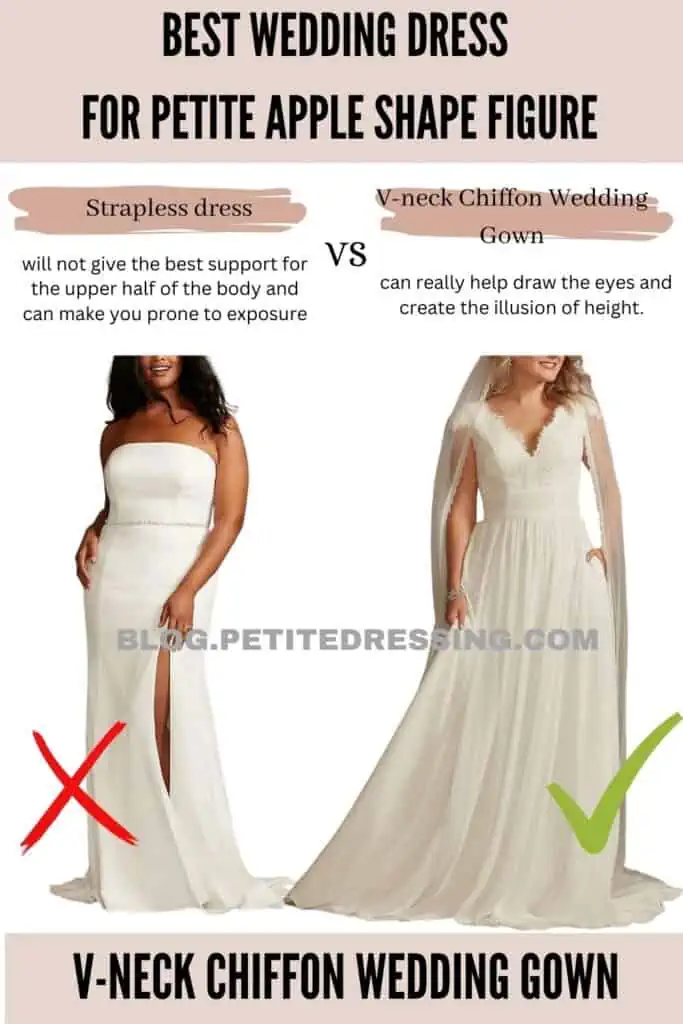 Necklines are very important when it comes to choosing a wedding dress to flatter your figure as they can really help draw the eyes and create the illusion of height. A V-neck wedding dress is a classic and timeless style that adds a touch of elegance and sophistication to your look in an instant.
This is particularly beneficial for women with petite apple shape figures because it creates the illusion of a longer body and draws attention to the face and neckline. The V-shaped cut of the neckline elongates the appearance of the upper body and also subtly slims it down to balance your lean legs.
Since one of the best features of an apple-shaped body is her bust, then your V-Neck wedding gown will surely enhance this asset of yours!
Sweetheart Neck Wedding Dress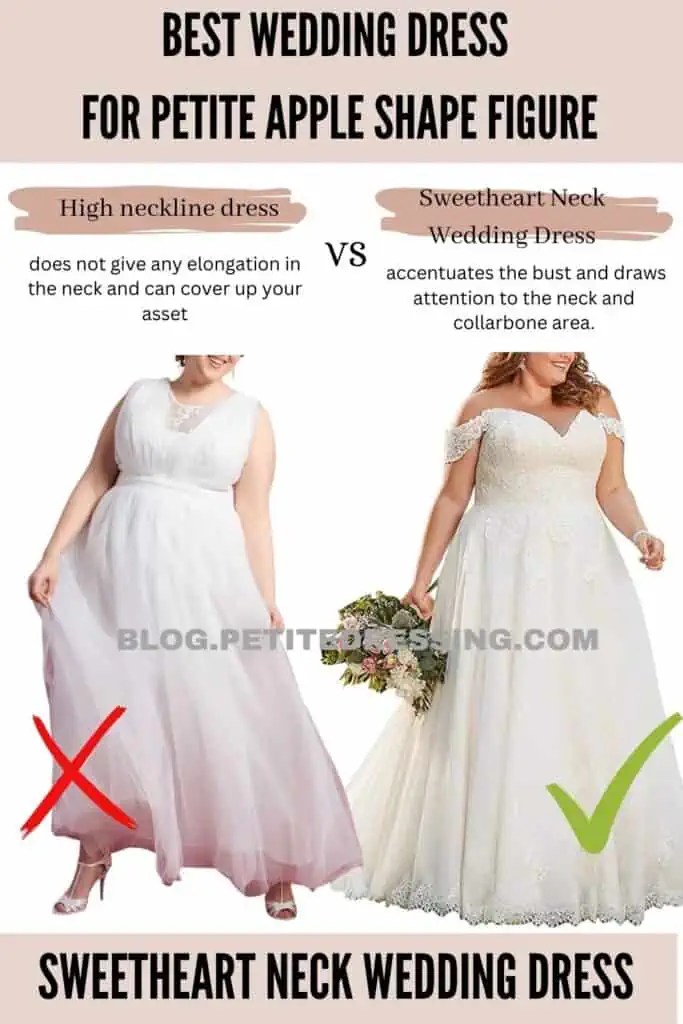 Another flattering neckline for petite apple shapes would be the sweetheart neck. It's an alternative for those who want an open neckline but still want more coverage on the bust area.
The sweetheart neckline is a popular style that features a curved neckline that dips in the center to create a heart shape. This cut accentuates the bust and draws attention to the neck and collarbone area.
Another great thing about sweetheart necklines is their ability to create the illusion of a slimmer upper body. This is a common concern for apple-shaped women, as they tend to carry more weight in the midsection.
Flowy Wedding Dress with Slit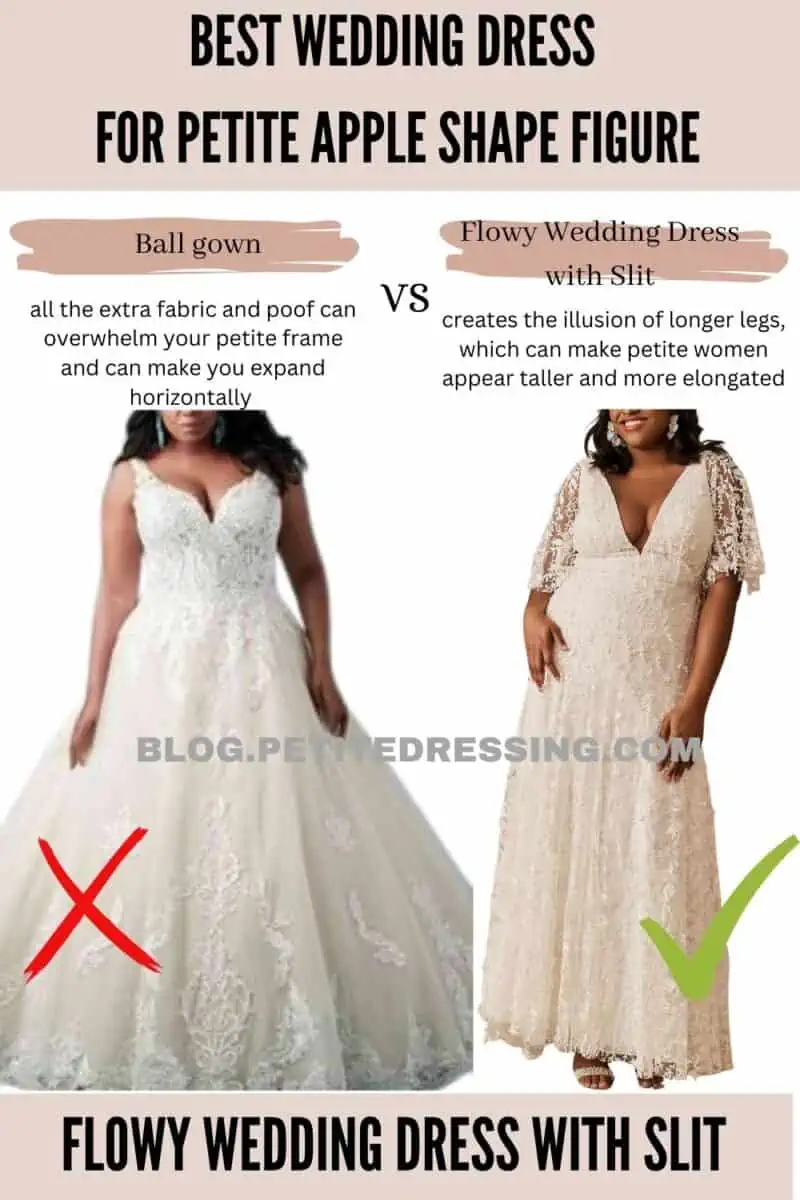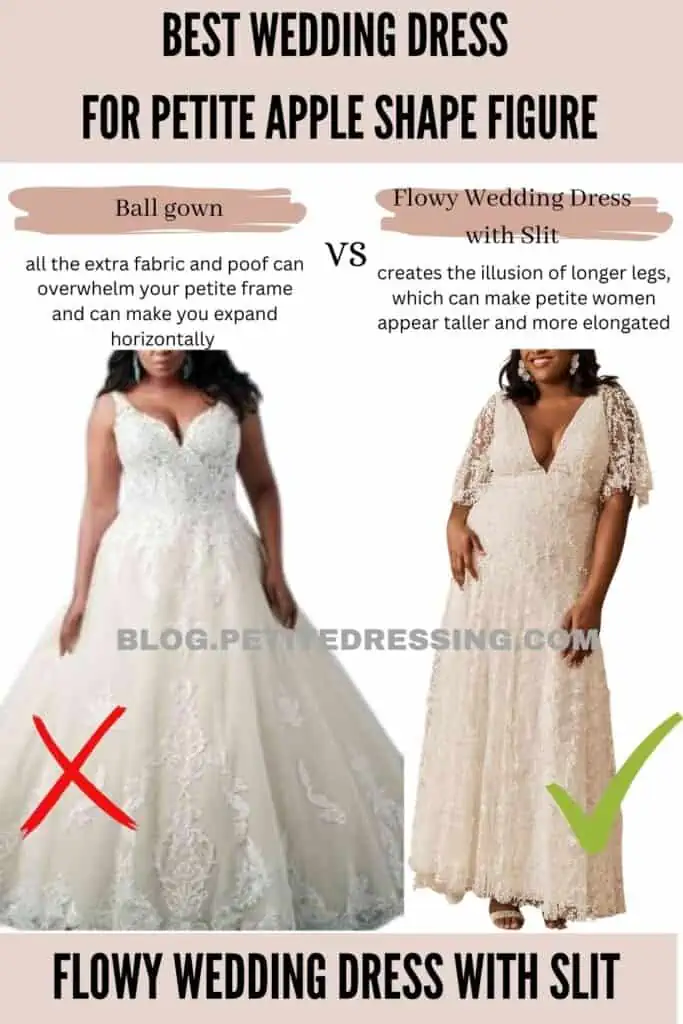 If you're looking into adding a bit more "oomph" to your bridal dress, then one way to do it is by going for a slit! Not only does a wedding dress with a slit bring sophistication to your look, but it also has visual advantages to flatter your petite apple-shaped figure.
The high slit on the skirt creates the illusion of longer legs, which can make petite women appear taller and more elongated. This is especially advantageous for apple-shaped women, who typically have a shorter torso and fuller midsection.
The slit can be located in the front or the side of the dress and can be paired with different styles of skirts, such as A-line or mermaid. Petite apple shape women can choose a slit that is not too high or too low, depending on their comfort level and personal preferences.
Belted Wedding Dress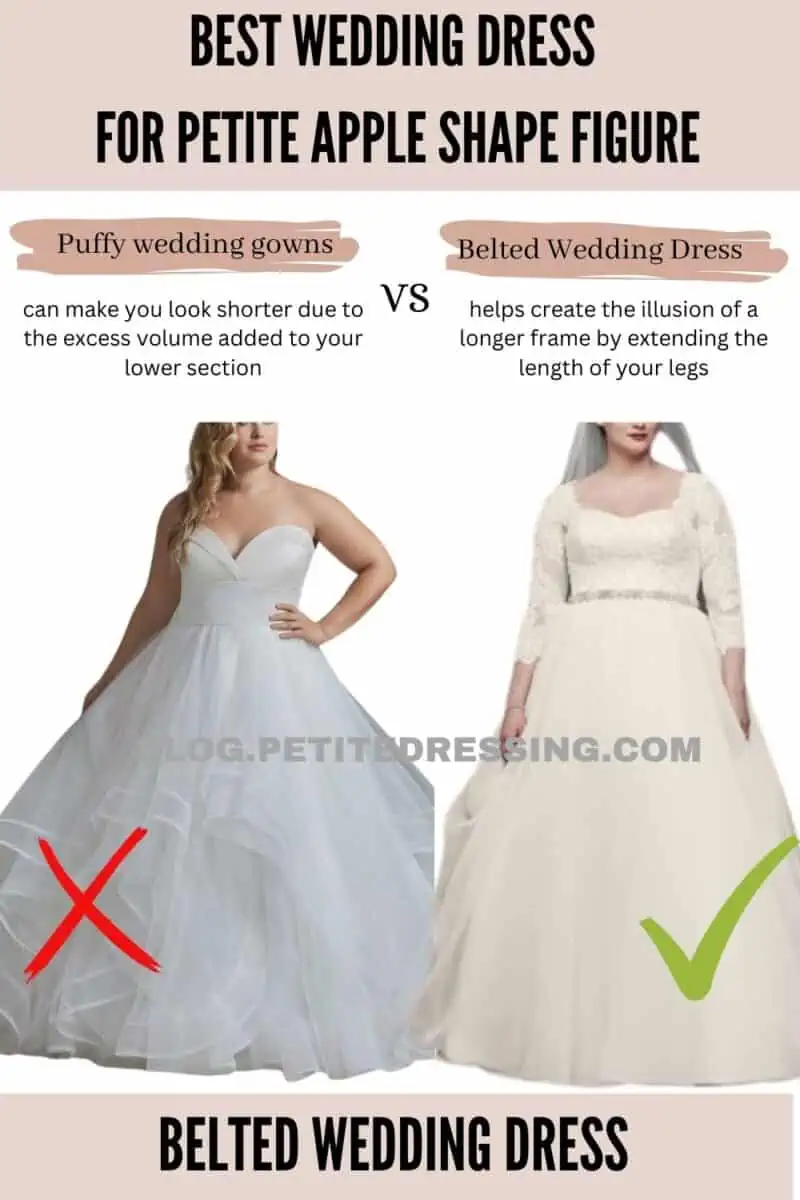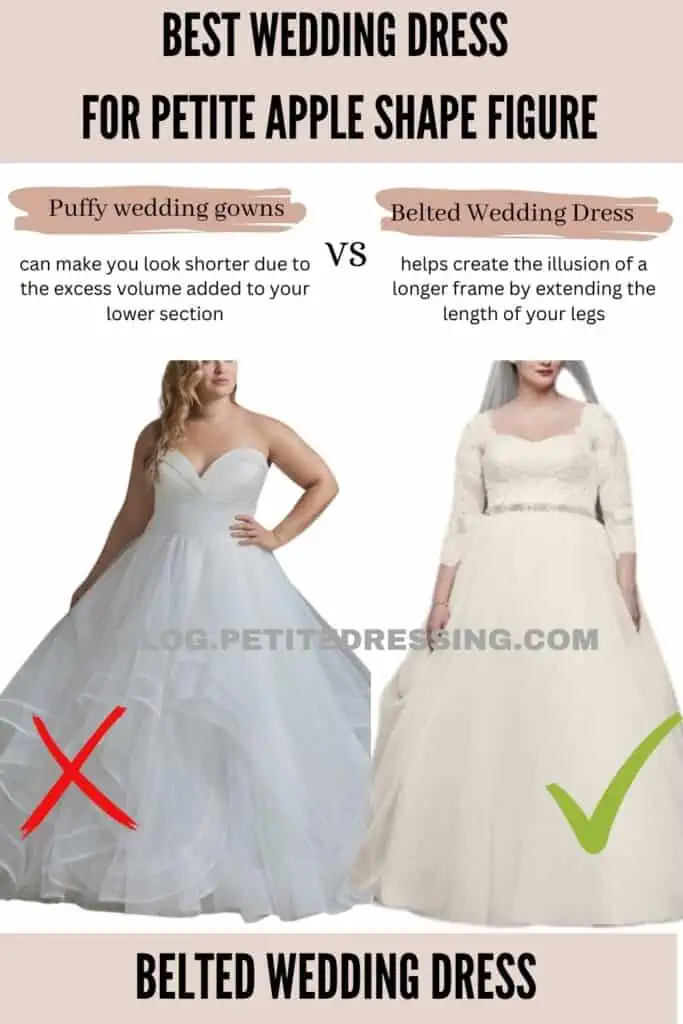 Just as we have discussed in our "Styling Goal" section, cinching your waist is a very good way to bring definition to your waistline. Doing so will neutralize the slightly significant volume on your midsection and therefore keep your frame ratio at a nice balance.
It also helps create the illusion of a longer frame by extending the length of your legs through the apparent division it gives between your upper and lower body. Just keep in mind that the right width of the belt can make or break your ensemble.
This means you can't go too thick nor too thin with your belt because both will have obvious disadvantages that will make your body's visual line seem "cut off". Ideally, a belt that's around 1 to 2 inches should be perfectly proportionate for a petite body.
Cold Shoulder Wedding Dress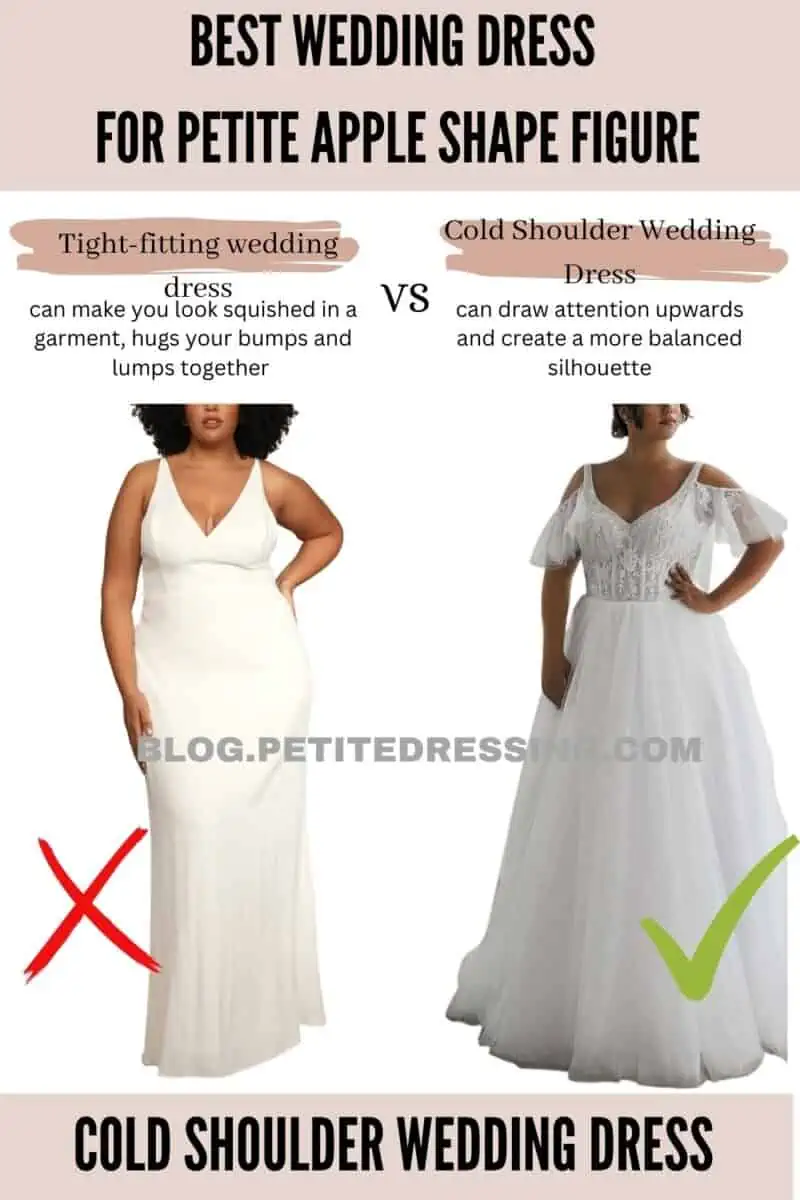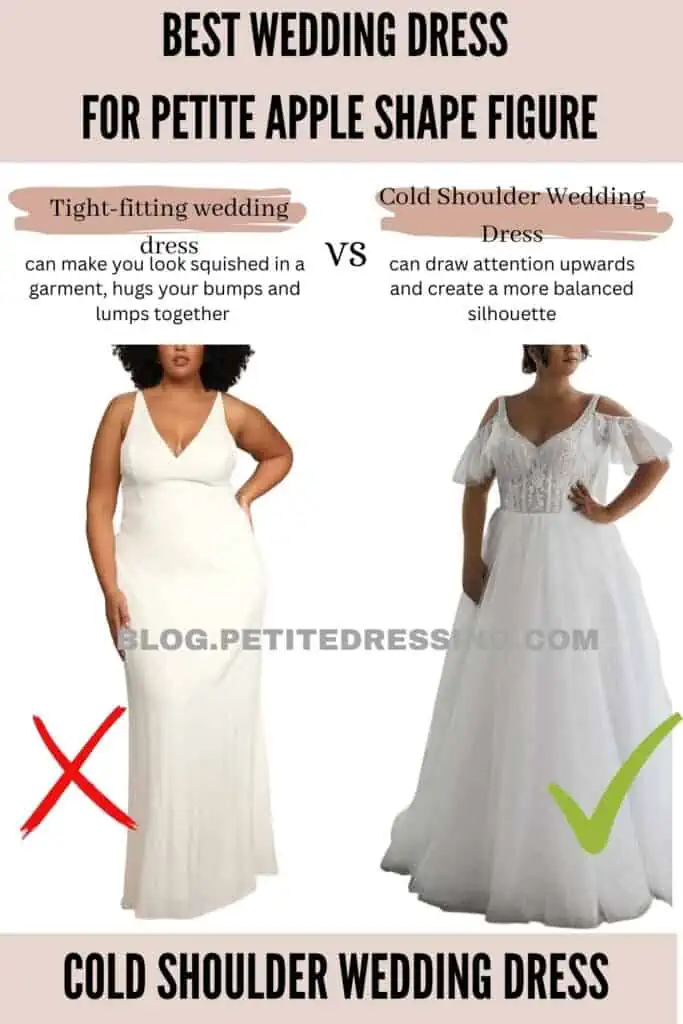 This still applies the principle of having a more open neckline to flatter your petite apple-shaped body.
A cold shoulder wedding dress features cut-out shoulders, leaving the upper arms and shoulders exposed while still providing some coverage to the upper arms. This style has gained popularity in recent years as a modern and stylish alternative to more traditional wedding dress styles.
By exposing the shoulders and upper arms, a cold shoulder wedding dress can draw attention upwards and create a more balanced silhouette. The cut-out shoulders can also create the illusion of narrower shoulders, which can be especially flattering for those with a broader shoulder line.
Bespoke Wedding Dress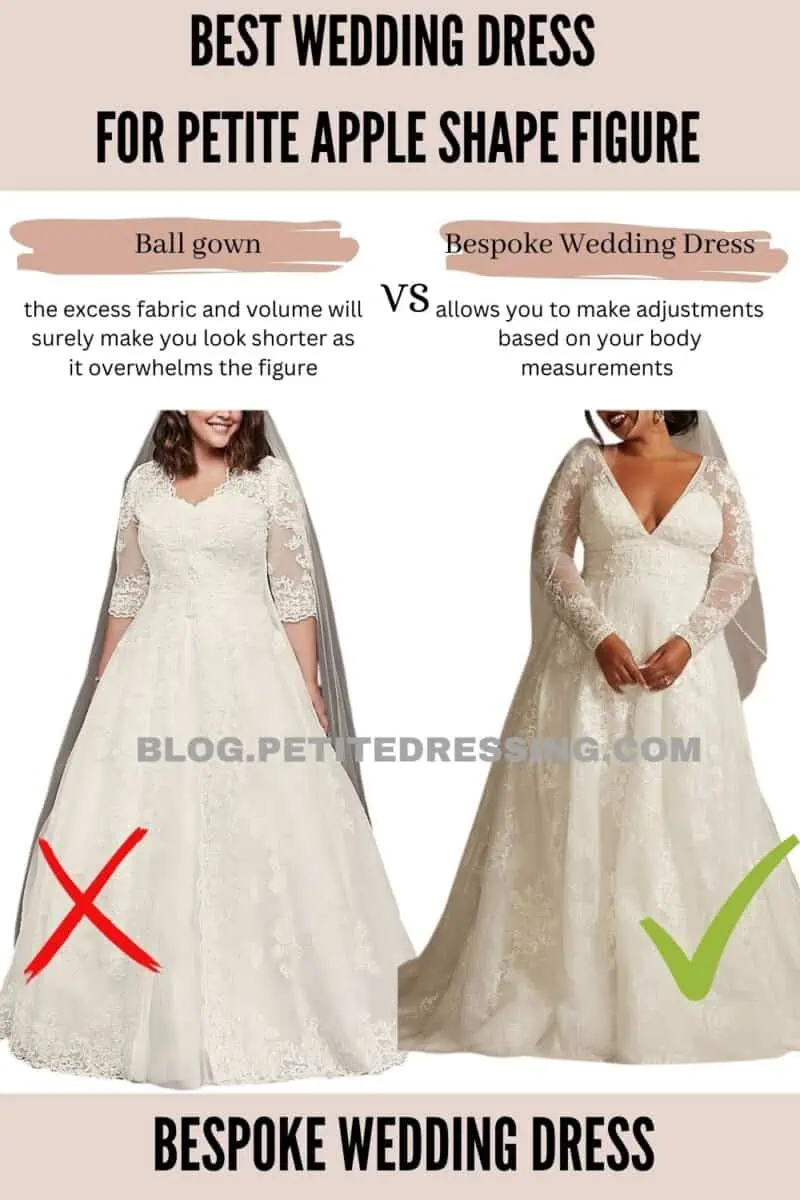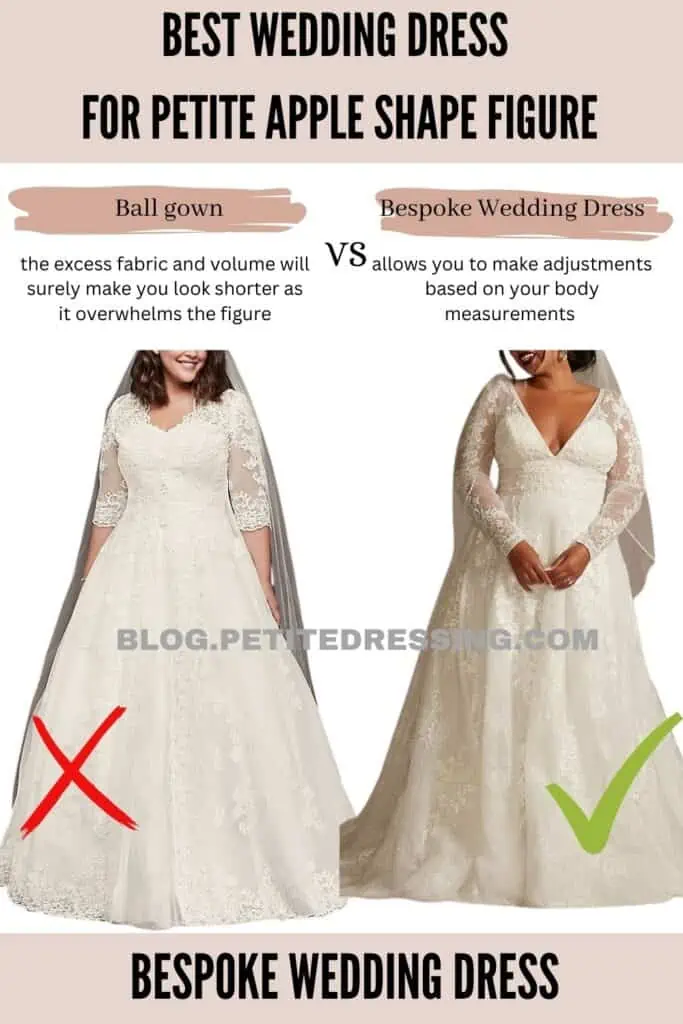 Well, of course, going for ready-to-wear wedding dresses can be just as beautiful, but having a wedding dress tailored specifically for you just hits differently. For petite apple shape figures, you have to deal with a natural imbalance in your frame so your body may require specific measurements in certain areas.
This is where a bespoke wedding dress becomes extremely ideal. If you have a bit more budget to spare, it's something you may want to consider.
The Key Takeaway
You should always be meticulous in styling your body shape, but this most especially applies when you're choosing the best dress for your big day! Never settle for anything less and let the natural beauty of your figure shine by taking these style factors into consideration.