For women 5 foot and under, it is not always easy to find the right style as a wedding guest. I know this can be a challenge as I am 5'2″ myself, and I often have to go through a lot of styles in order to find the right one.
Besides, I also have a petite clothing line and many of my customers are 5′ and shorter. Based on their feedback, as well as my own experiences, I've put together this guide to help you find the most suitable outfits as a wedding guest.
Belted fitted jumpsuits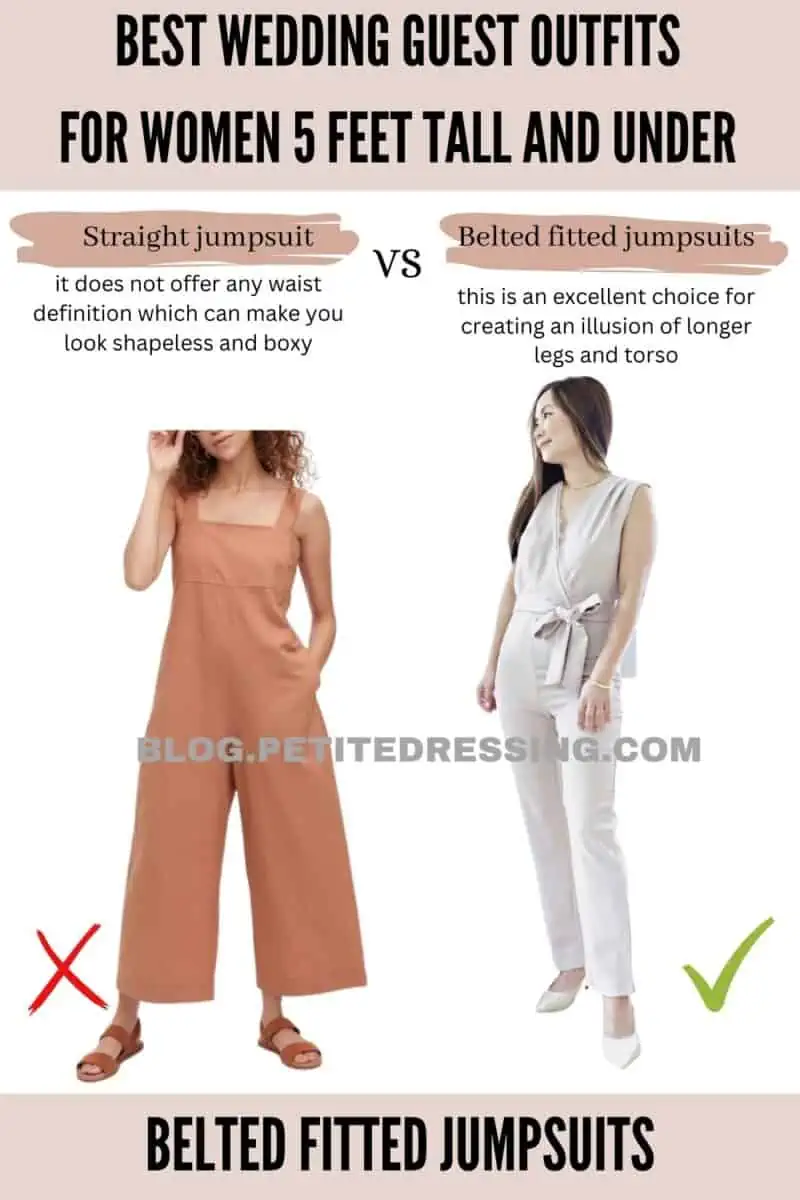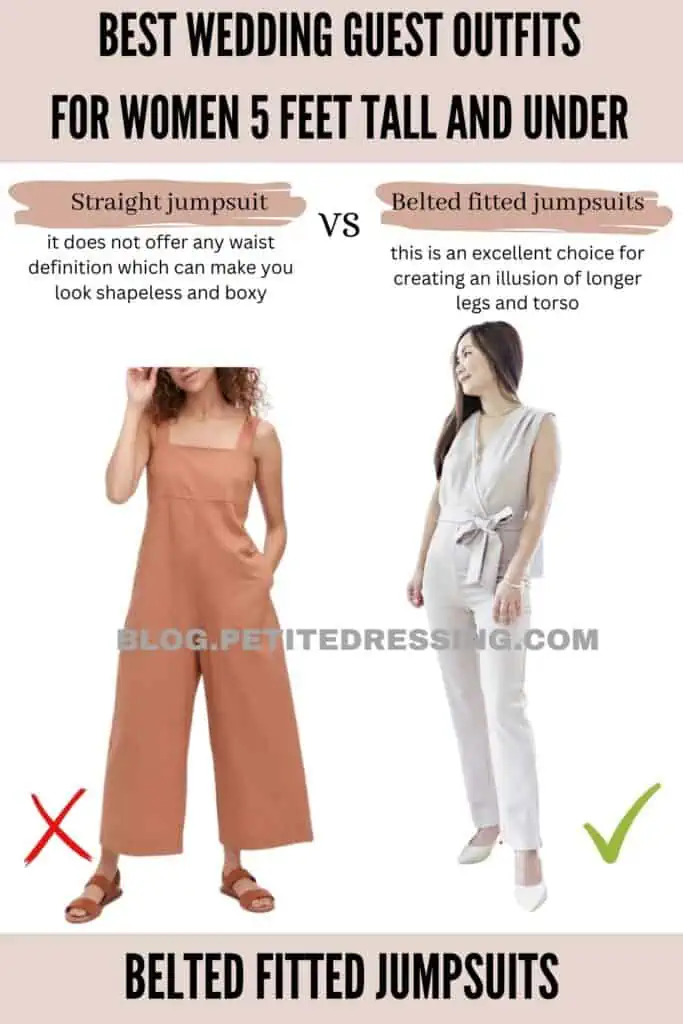 Belted clothing styles are amazing for their waist-cinching effect. For women that are five foot tall and under, this is an excellent choice for creating an illusion of longer legs and torso. So, if you have a naturally short torso, this elongation effect will help you to balance out your body proportions.
Start with the belted fitted jumpsuit which is both classy and great at creating a more defined waistline. This contributes to an hourglass silhouette that is incredibly feminine. A fitted silhouette is always better for petite women as you don't want to wear clothing that overwhelms your smallish figure.
For the jumpsuit, it's a great idea to choose one with a v-neckline which adds more to lengthening your torso. Overall, jumpsuits have a one-of-a-kind elegance that shines through when petite women rock them.
A-line floral dresses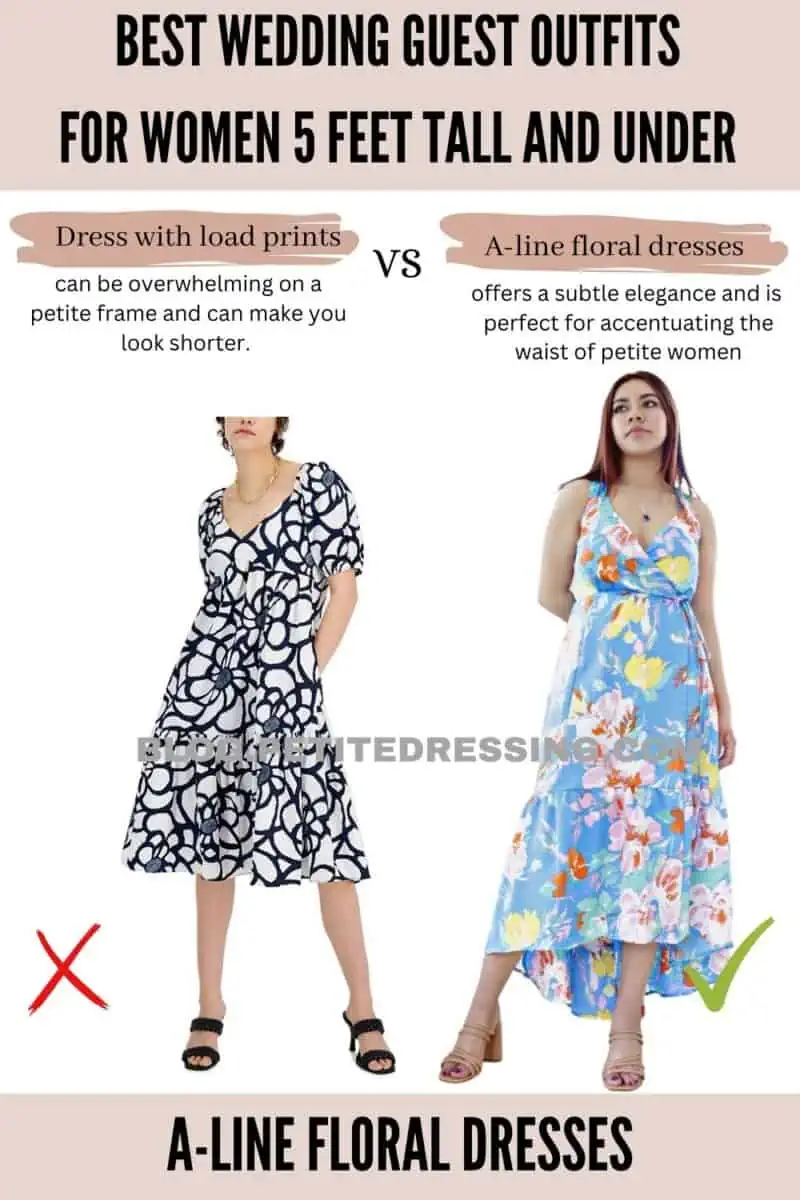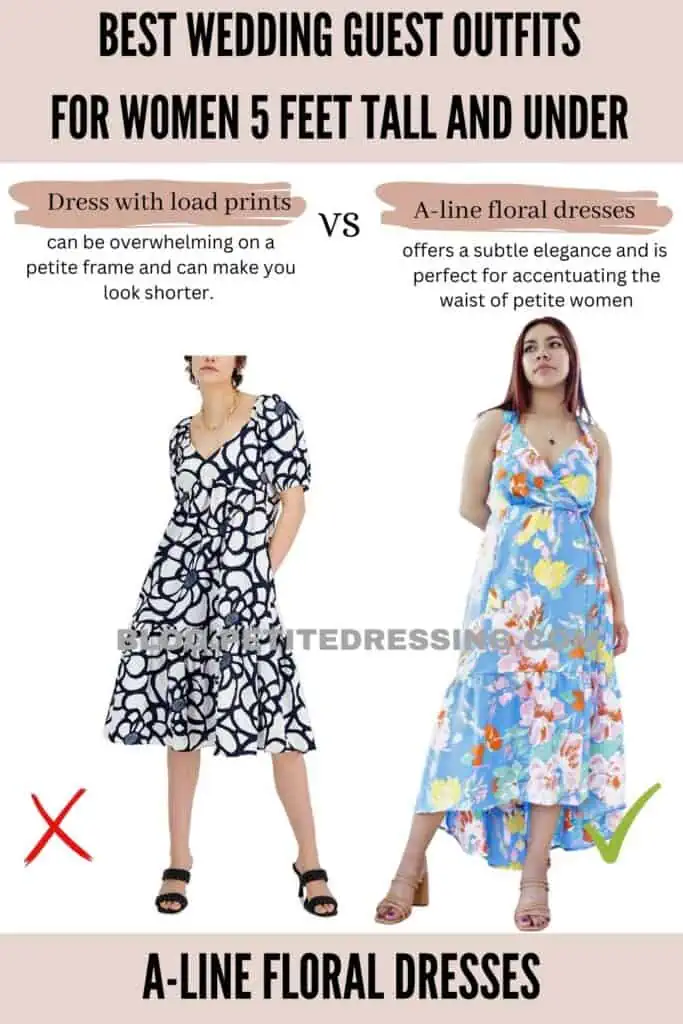 Floral dresses are amazing and I have a soft spot for them. Apart from the subtle feminine elegance that they project, the patterns bring your dress to life which is way different from the typical plain dress.
So, when you're attending a wedding, you can look just as amazing as everyone else with an A-line floral dress. The A-line style is perfect for accentuating the waist of petite women. The floral patterns do more than beautify your dress.
They are also perfect for camouflaging your muffin top, so your tummy bulge isn't visible if you have any. You should also choose a floral dress with a shorter hemline as this adds to the illusion of longer legs. This works with off-the-shoulder and v-neckline dresses.
You shouldn't forget your accessories. Accessories are a great way to light up your dress without doing too much. So, dainty jewelry here and statement earrings there are just all you need to create an effortless look as a wedding guest.
Satin wrap dresses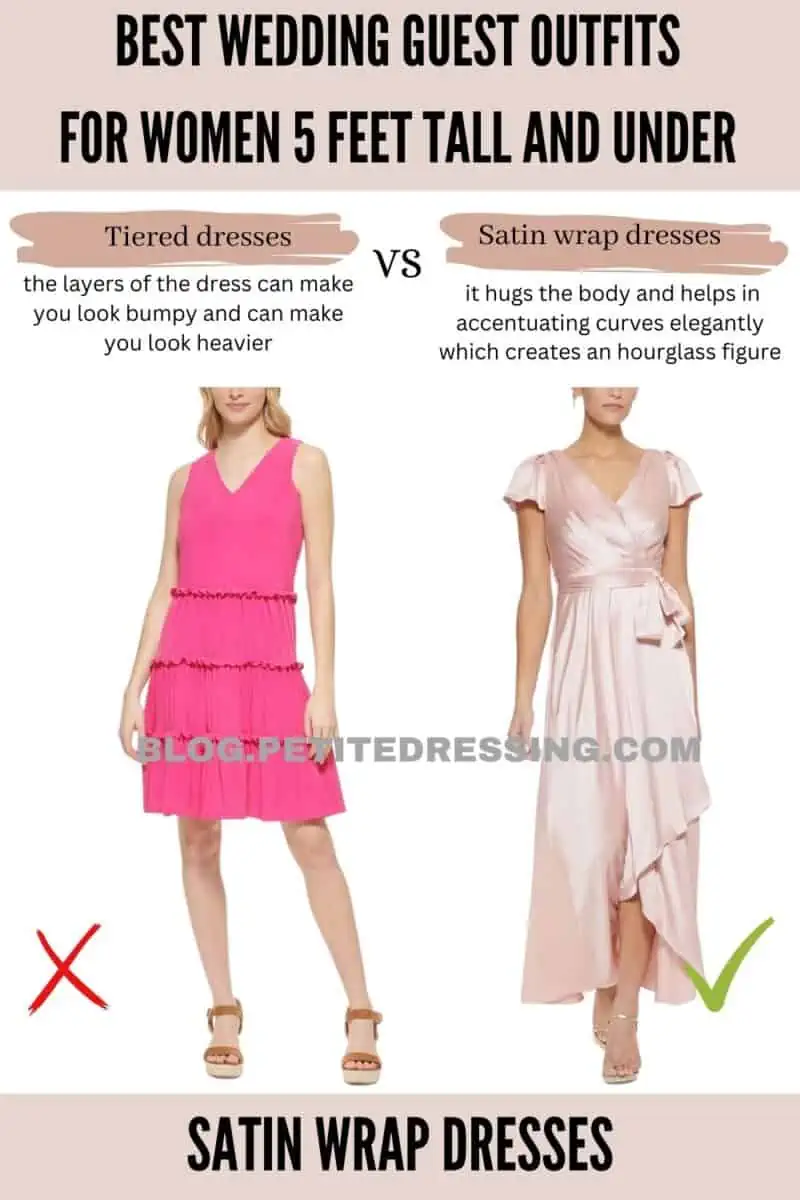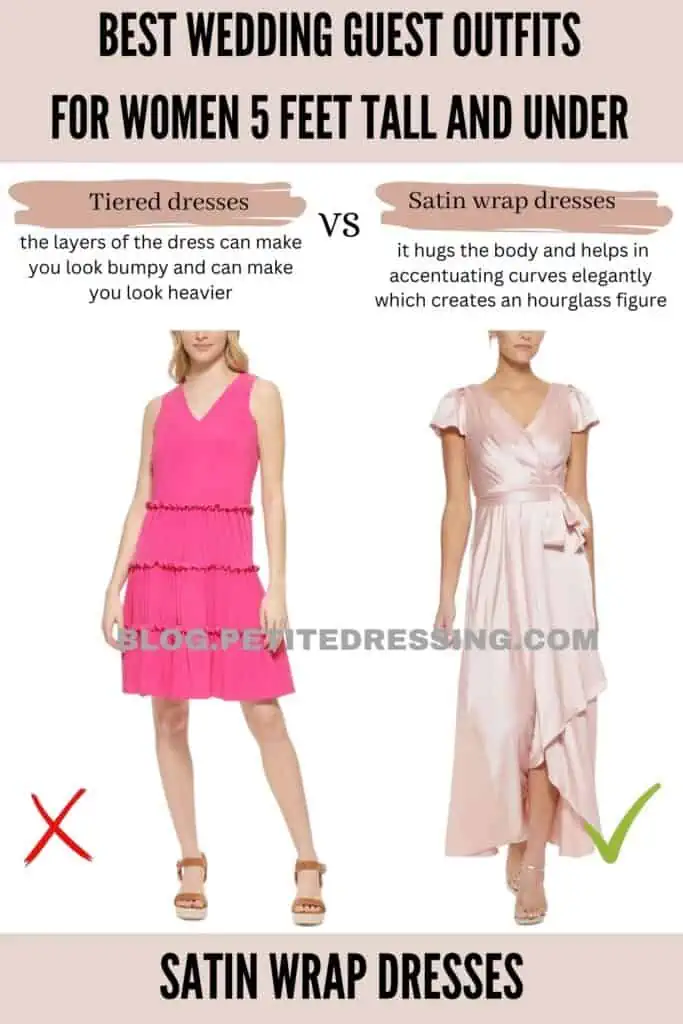 There's an unspoken rule with weddings which is that you shouldn't try to dress better than the bride, as that's her special day. However, there's nothing stopping you from rocking a style that makes you look incredible without stealing the spotlight.
A satin wrap dress can help you achieve this flawlessly. This style of dress is perfect for women that are five foot tall and under because it hugs the body and helps in accentuating curves elegantly.
The wrap dress design works because the waist-cinching effects make your waist appear smaller while your hips curve outwards more. Therefore, this creates an hourglass figure that enhances the feminine silhouette while the flowy style of the wrap dress adds a delicate touch of elegance.
You can wear this in monochrome colors, or bold colors like navy blue. The satin material is a breathable and lightweight fabric that glows. Pair this with statement earrings for a chic wedding guest look.
High-waisted skirts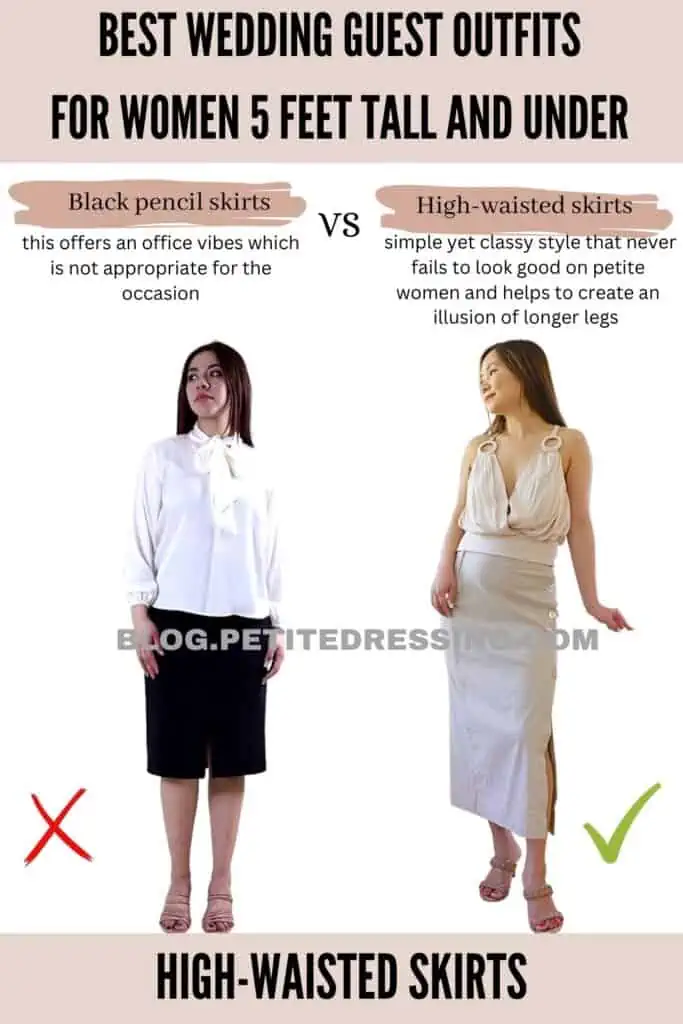 A high-waist skirt and crop top combo is another amazing choice to help you look awesome as a guest at your next wedding event. This is a simple yet classy style that never fails to look good on petite women, no matter your body type.
The high-waist skirt helps to create an illusion of longer legs which can be complemented with block heels. The advantage of this is that you don't have to wear stilettos which are both uncomfortable and not exactly flattering for petite women.
A crop top on your high-waist skirt will help you show off your waistline while also elongating your torso. This is all you need as a petite woman to appear taller than you actually are, which draws less attention to your real height.
Add a splash of color to your outfit. I would recommend a black high-waist skirt on the navy blue crop top. This crop top can also have a v-neckline that flatters your bust area and tones down your full chest if you have a prominent one.
Off-the-shoulder jumpsuits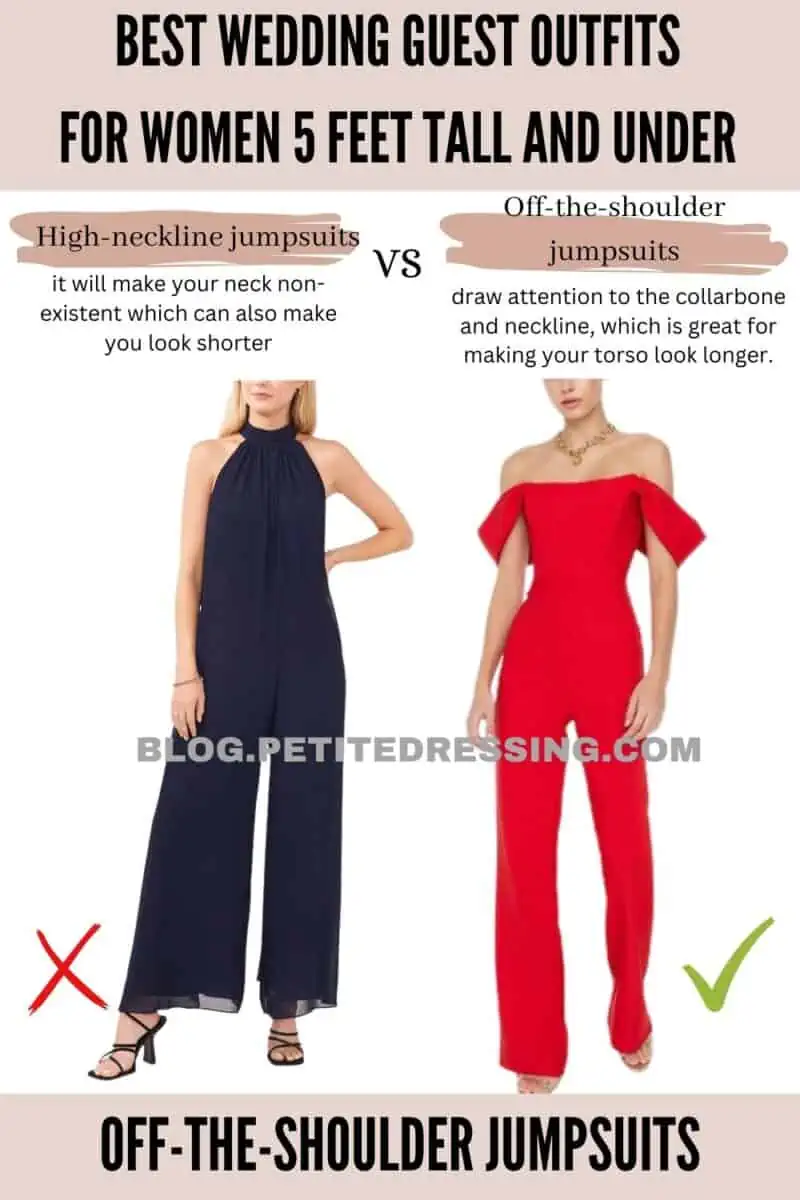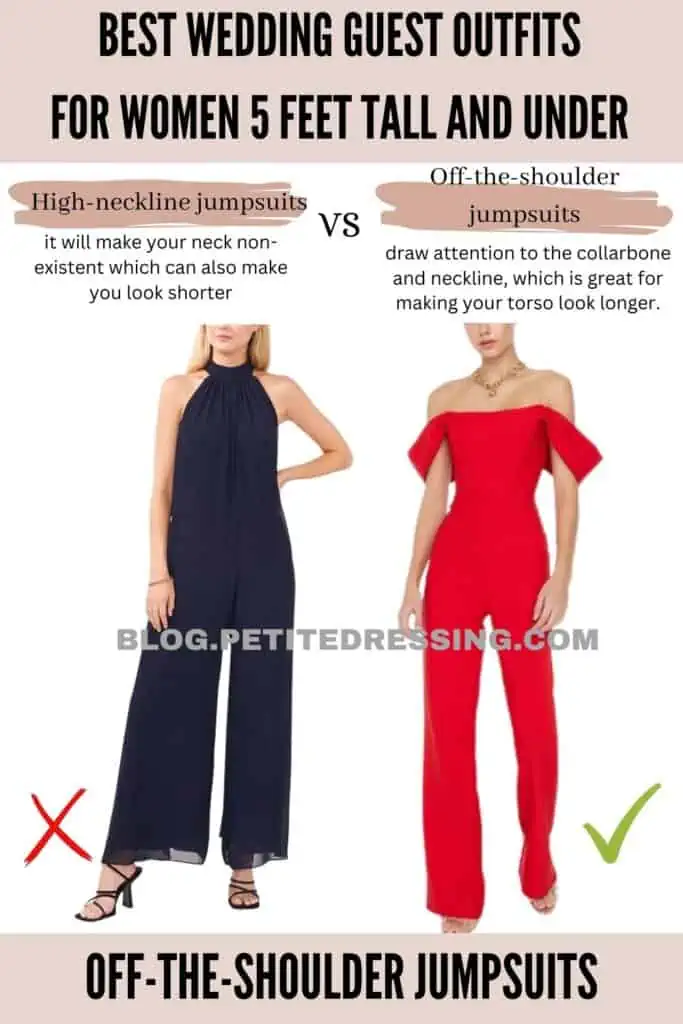 If you're not a huge fan of belted jumpsuits, a suitable alternative is an off-the-shoulder jumpsuit which is just as awesome. Enjoy twice the elegance and twice the class with an off-the-shoulder jumpsuit.
As I mentioned earlier, off-the-shoulder styles are flattering necklines for petite women. They draw attention to the collarbone and neckline, which is great for making your torso look longer.
Of course, anything that makes your collarbone look cool is a huge plus. The longer your torso appears, the taller you look. You can also opt for an off-the-shoulder jumpsuit with a wide-leg silhouette.
This adds more elongation effect to your legs, especially when combined with the right pair of heels. You can choose an off-the-shoulder jumpsuit in solid colors that blend well with statement jewelry.
Mermaid-style maxi dresses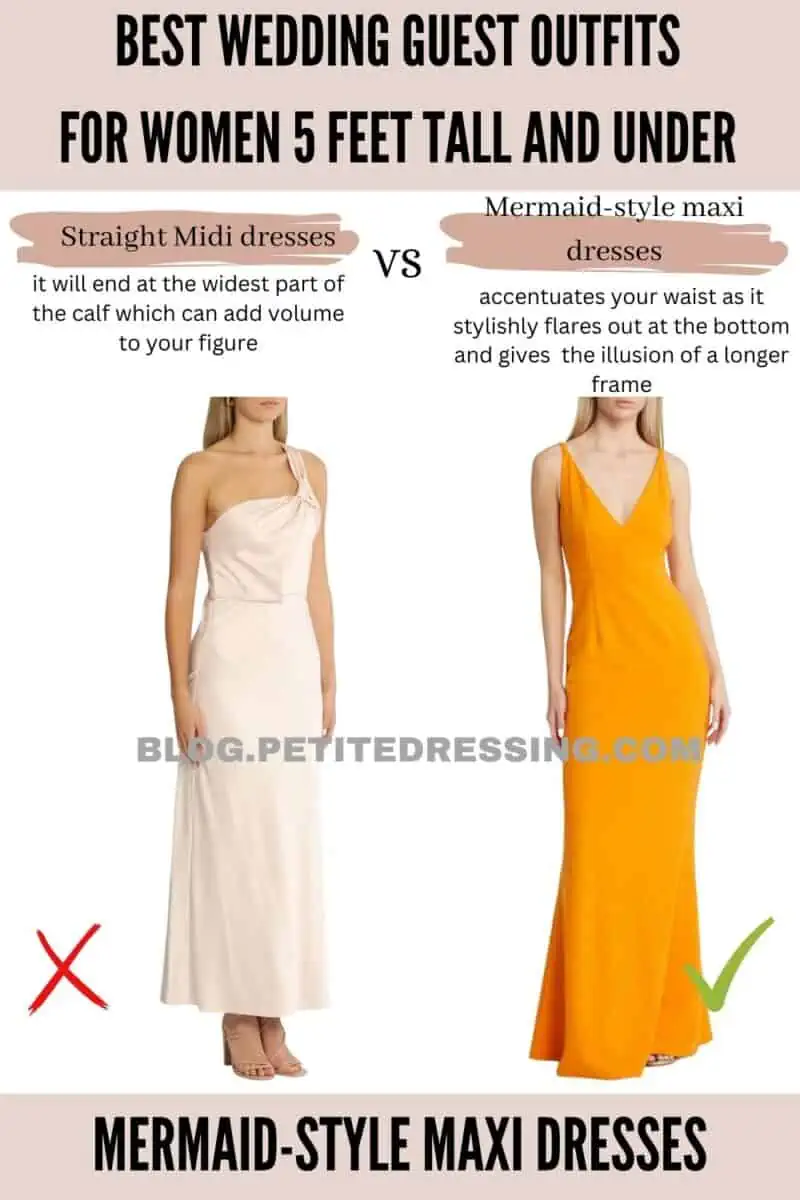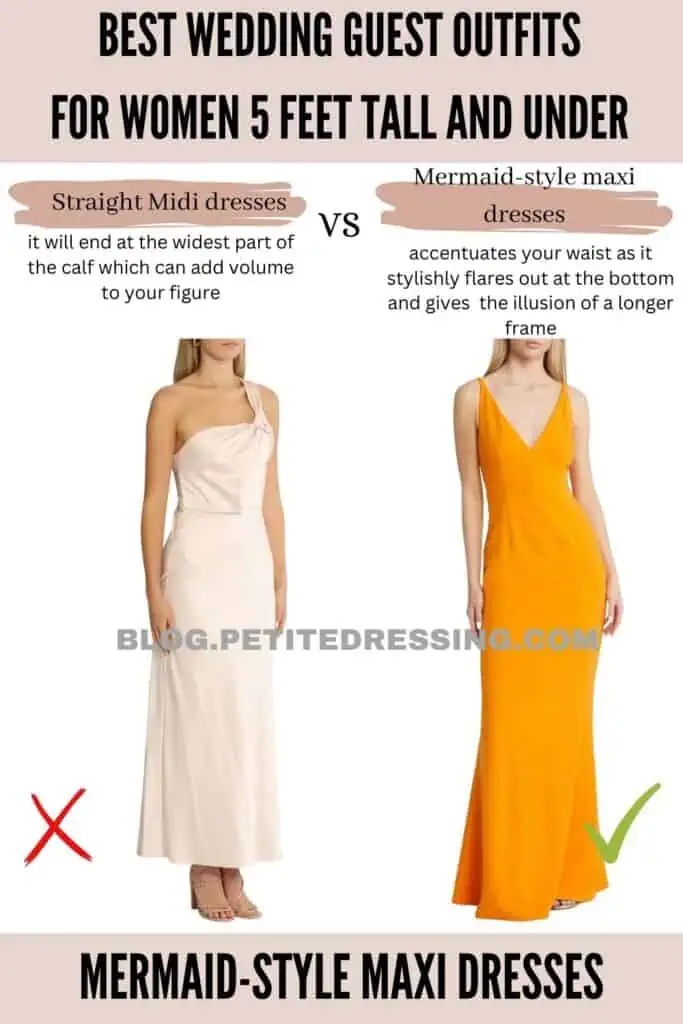 Another seamless way to stand out at a wedding event is by wearing a mermaid-style maxi dress. Maxi dresses are one of my favorites, personally and for my petite models. You'll be surprised at just how versatile these dresses are.
They are also very stylish and comfortable. You can stick with bold colors for a sleek and simple result, or make a statement with prints on your dresses. Regardless, you'll be creating magic.
It's so much better with mermaid-style maxi dresses. It's a perfect choice for any woman that's five foot tall and under that wants to look trendy and chic at wedding events. If you have a short and curvy frame, it's just as amazing.
With a mermaid-style maxi dress, you don't have to worry about anything riding up when you sit down. It's informal but just sophisticated enough to make you look beautiful at wedding events.
The mermaid-style accentuates your waist as it stylishly flares out at the bottom. Enjoy the illusion of a longer frame with a mermaid-style maxi dress that has a flared skirt and fitted bodice. You'll be glad you did.
Ruched midi dresses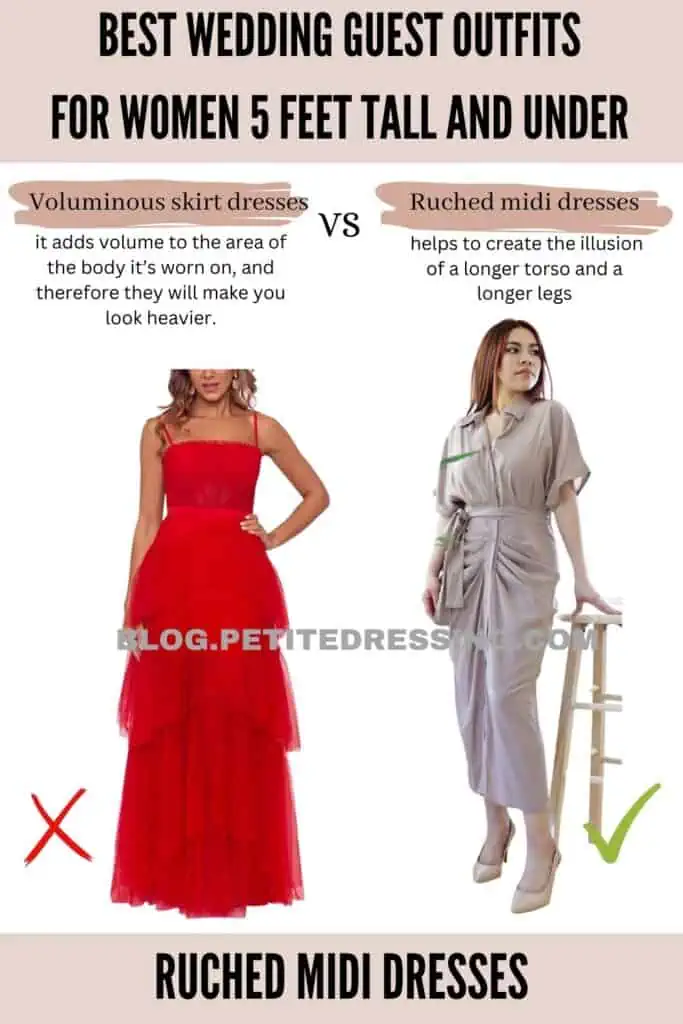 With midi dresses, you have an incredibly stylish choice that can be easily dressed up or down for various occasion. There's so much to love about the flattering and comfortable fit you get out of midi dresses, and that's why it's a must in every petite woman's wardrobe.
Midi dresses come in a wide variety of fabrics, ranging from lightweight and breathable to thick and structured. So, you have the freedom to choose the one that fits your personal preferences.
Another amazing benefit of this style of dress is that you could seamlessly move from a work wear to a wedding guest dress. A top choice is the ruched midi dress and that's majorly because this style helps to create the illusion of a longer torso.
It also makes your legs look longer which is a huge plus for petite women. So, what about the ruched design? Well, this is the perfect camouflage for tummy bulges. So, if you're feeling a bit self-conscious about your muffin top, this is a flawless way to minimize attention on tehm.
Ruching cinches your waistline, creating a more defined hourglass figure that makes you look elegant and sophisticated. Since this dress style is incredibly versatile, you don't have to worry about it sitting in your wardrobe after wearing to a specific wedding event.
Are you ready to look your best at your next wedding event? These clothing styles will help you narrow your choices down to the best. Remember that your personal preference matters, so choose one that fits your body type and makes you as comfortable as possible.