If you have the skinny pear shape, your shoulders are narrower, compared with your hips. Besides, you tend to gain weight in your thighs and hips, even though you are overall thin.
Since I have a petite clothing line, I receive feedback constantly from thousands of my customers, many of whom have the skinny pear shape. Based on their feedback, I've put together this guide to help you find the best tops.
Styling Goal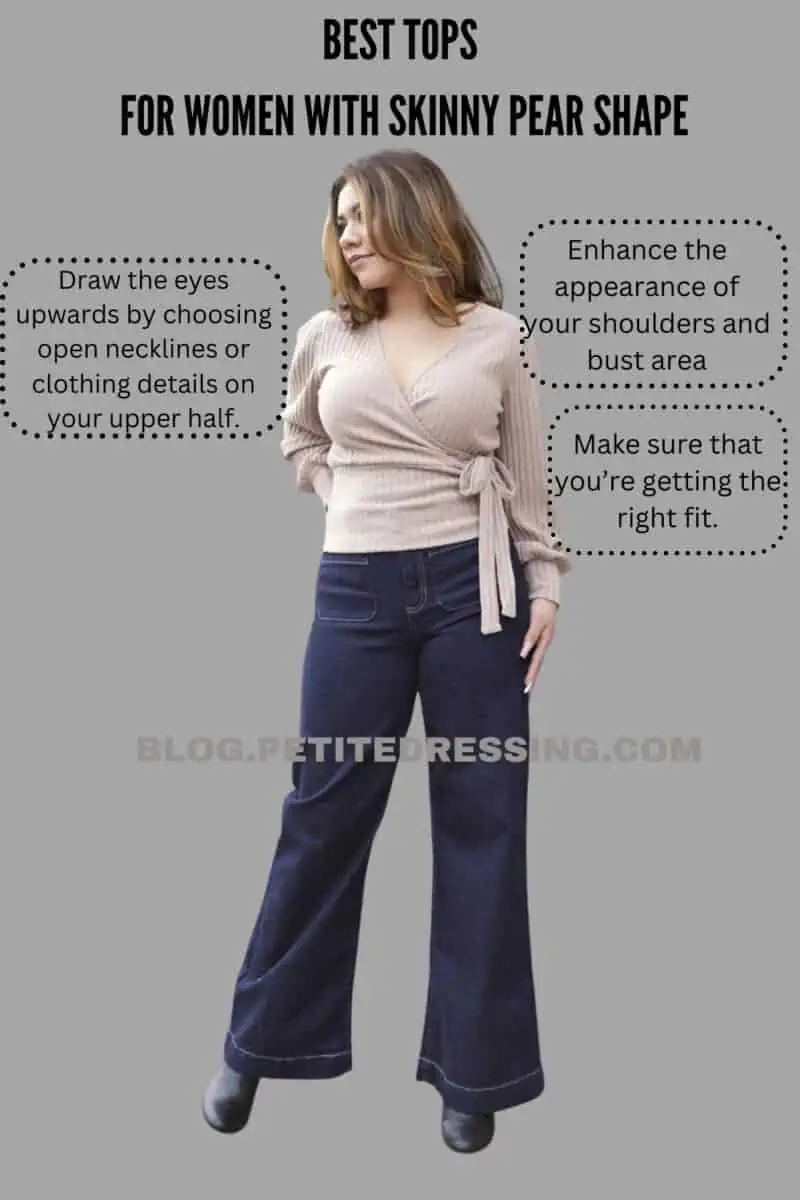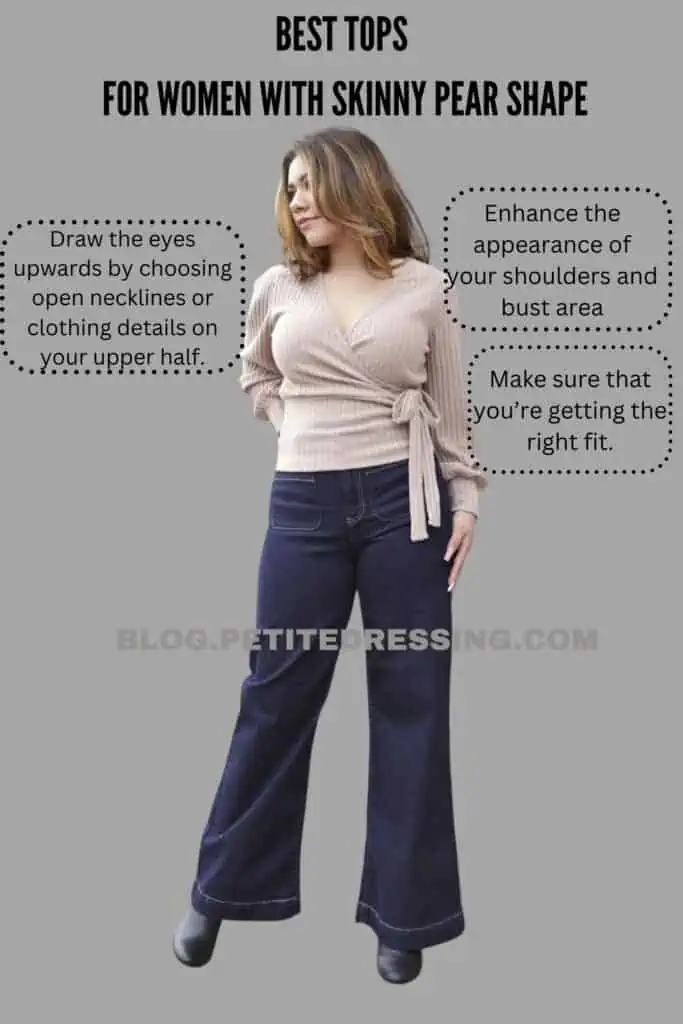 Enhance the appearance of your shoulders and bust area. As you have a skinny frame overall, the upper half of your body is relatively way smaller compared to your wide hips and thighs so you need tops to amp up your upper body.
Draw the eyes upwards by choosing open necklines or clothing details on your upper half. This is to steer the attention away from your bigger bottom half.
Make sure that you're getting the right fit. Tops that are too tight will only make your less prominent upper half more apparent and this will result in getting your areas of concern (wide hips and thick thighs) more highlighted.
Choosing your tops properly will have a great effect on keeping the balance of your skinny pear-shaped body. So to make your shopping experience easier, here are several top styles that will surely flatter your figure.
Tops in Bright or Pastel Colors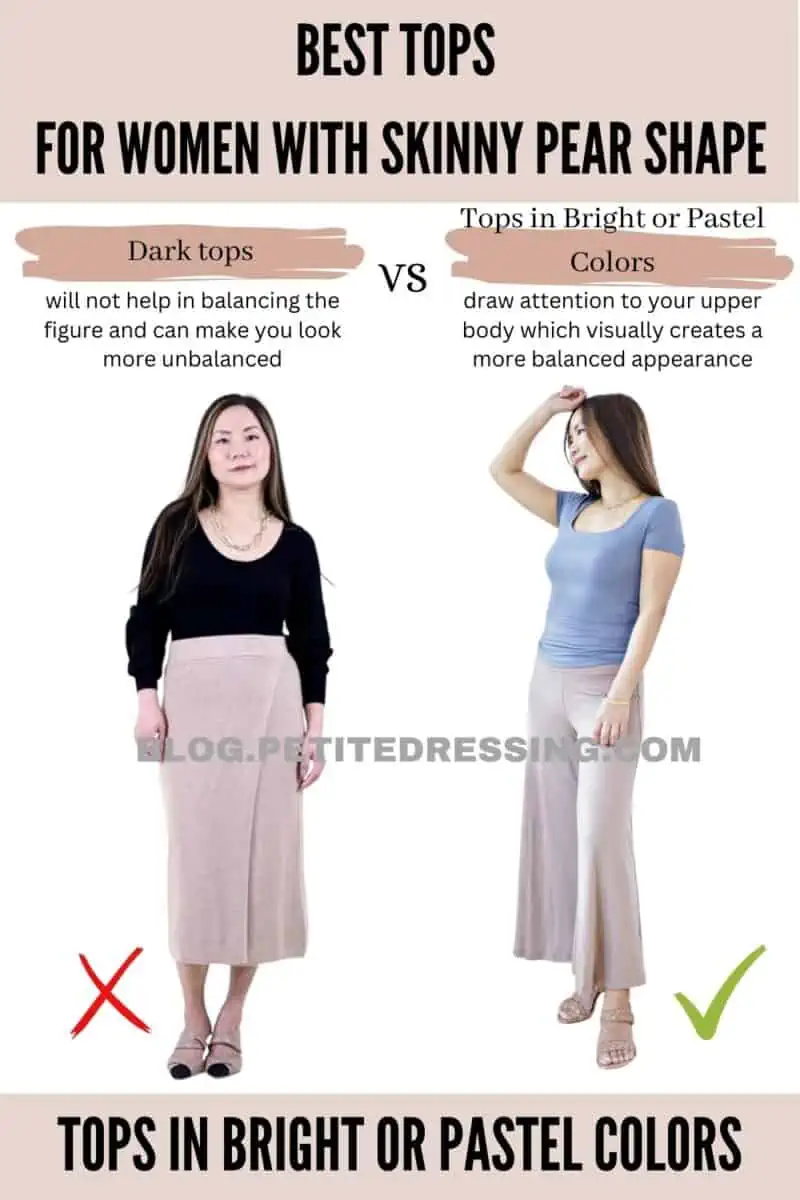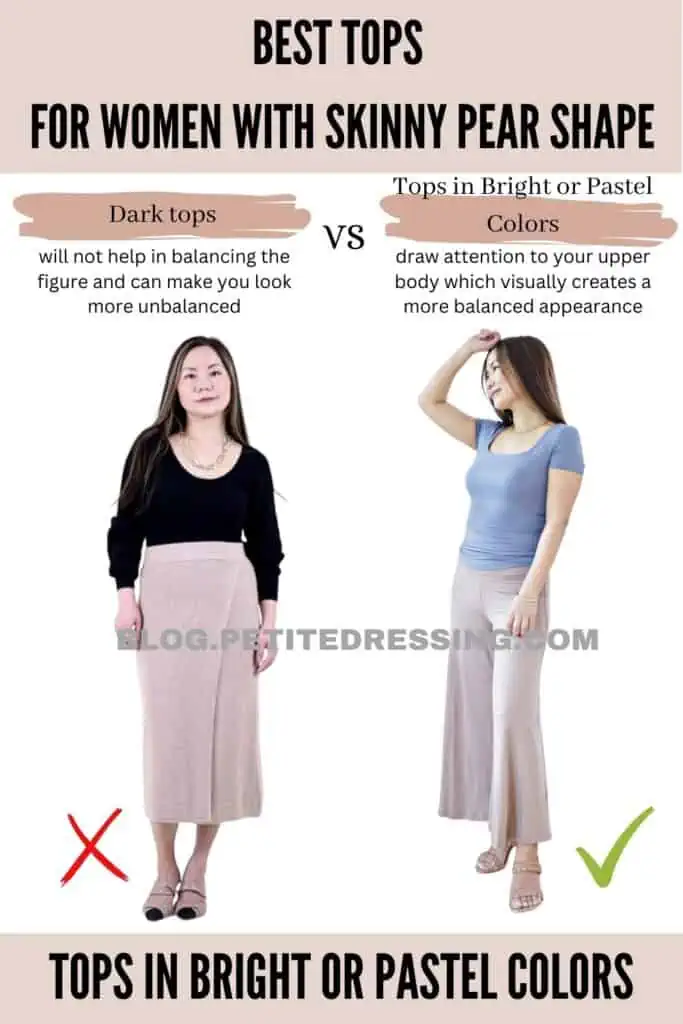 Bright and pastel colors can be your go-to choice for your body shape because of the fact that tops in these colors amplify the appearance of your relatively smaller upper half. Moreover, these colors also have a way of bringing out the radiance in your skin tone, giving you a healthy and youthful glow.
Bright and pastel hues draw attention to your upper body which visually creates a more balanced appearance by shifting the focus away from your wide hips and thick thighs. Skinny pear-shaped ladies will find this very helpful, as it helps to create the illusion of an hourglass figure.
Another reason why bright and pastel colors work so well for skinny pear-shaped individuals is that they add some volume to your upper body, unlike dark colors that are generally slimming. Opt for tops with ruffles, frills, or embellishments that create the illusion of curves and add interest to your outfit so that you can give your figure a more balanced look.
Cap-Sleeved Tops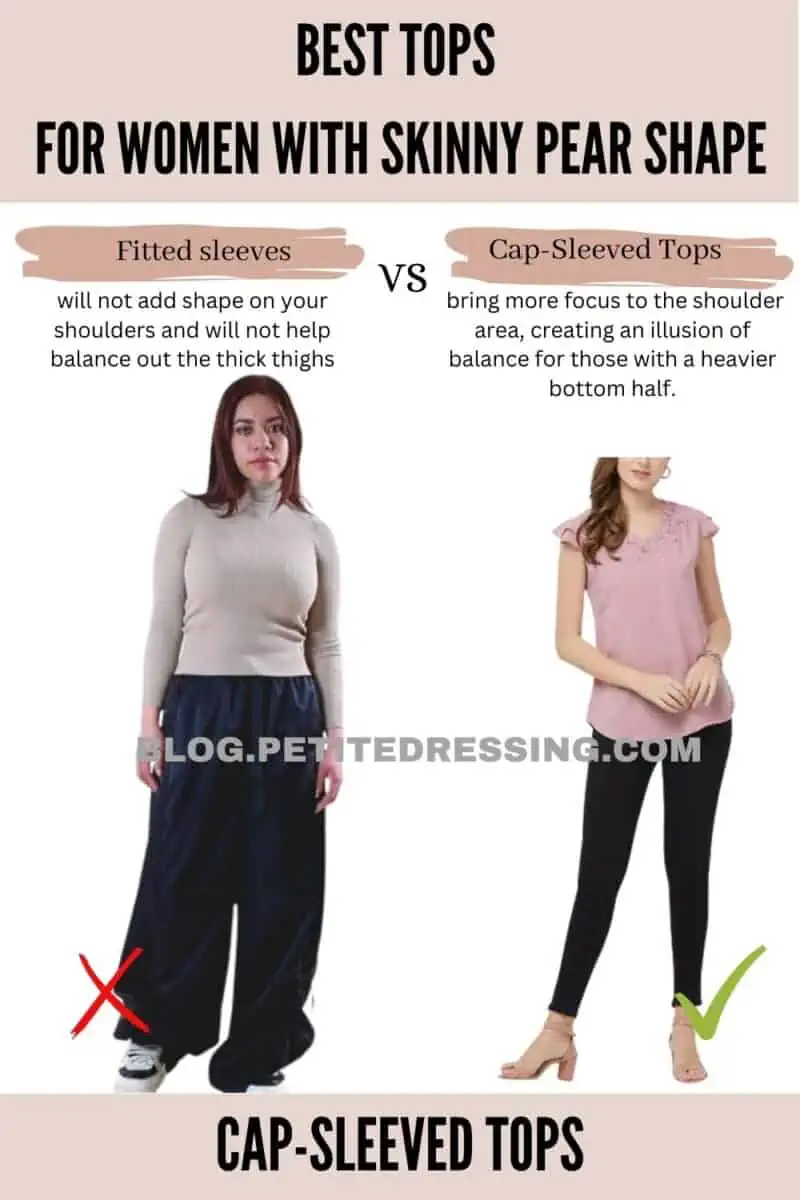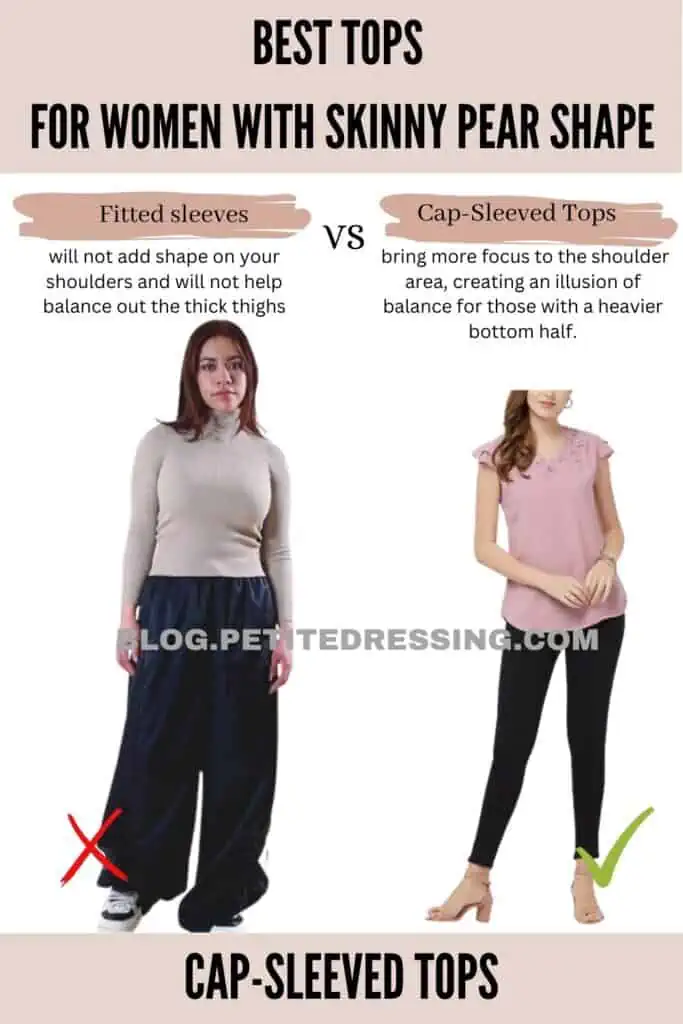 Cap sleeves can have a great impact on the style and silhouette of skinny pear-shaped women more than you think! Cap sleeves bring more focus to the shoulder area, thereby creating an illusion of balance for those with a heavier bottom half.
One thing to note when choosing this style is that it is important to remember that the fit of cap sleeve tops is essential. If the fit is not right, it can look unflattering so make sure that the seam at the shoulder rests at the corner or edge of your actual shoulder, or else it may not provide the desired look.
You may opt for those cap sleeve tops made from a more structured fabric. That way, the sleeves will have more shape and it'll help neutralize the size of your wide hips and thighs more efficiently.
Padded Shoulder Retro Tops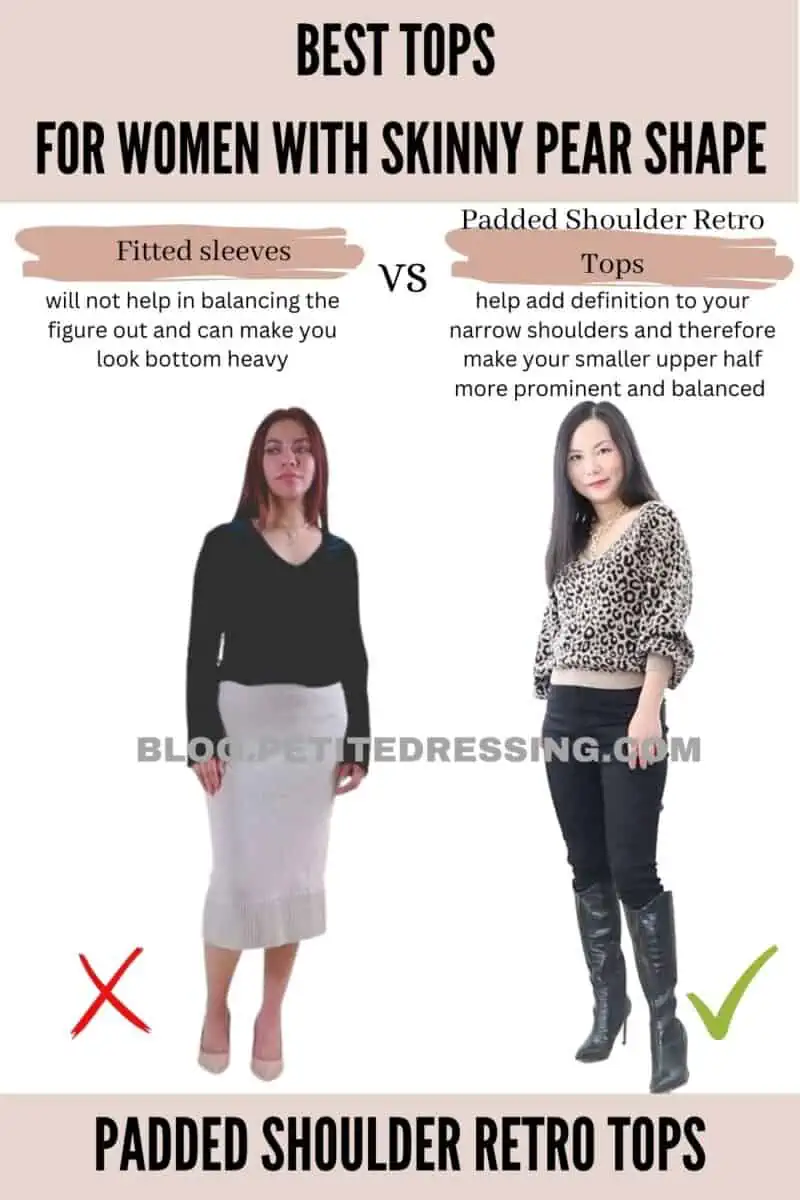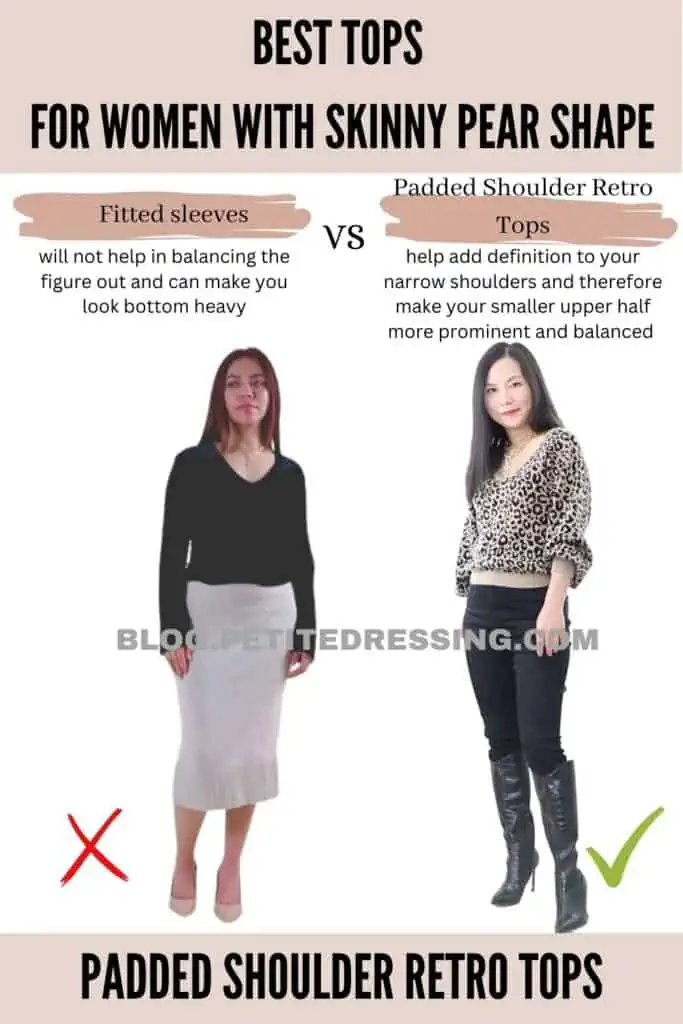 Basically, any type of top that features shoulder pads would be a great wardrobe piece for skinny pear-shaped women. To spice up your style a bit, then why not try pieces that are somehow retro or vintage?
The classic retro tops feature neat seams more typically on the shoulder line and collar and these types of detailing create a more streamlined look on the upper body. In addition to this, shoulder pads help add definition to your narrow shoulders and therefore make your smaller upper half more prominent and balanced with your wide hips and thighs.
When choosing retro tops with shoulder pads, opt for tops with v-necks or scoop necks as these necklines can help draw attention away from your hips. Avoid tops with high necklines, which can make your upper body look shorter and less prominent.
Bustier Tops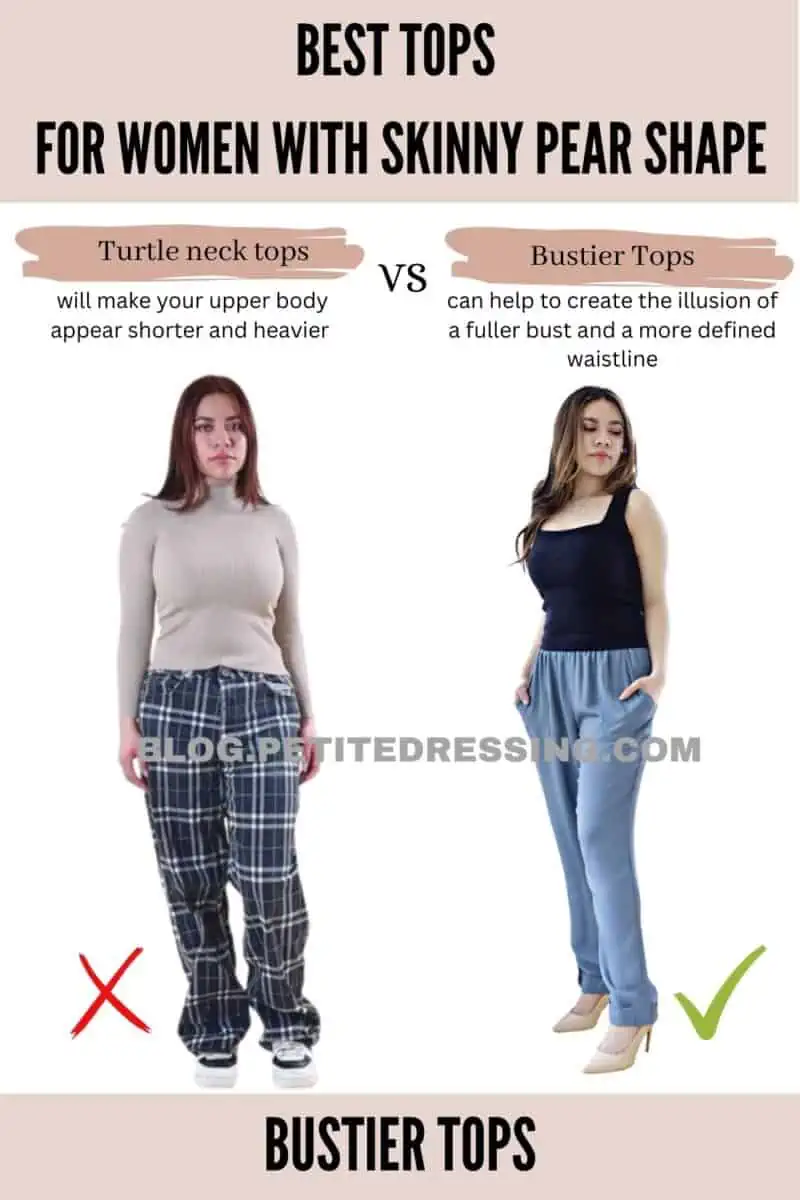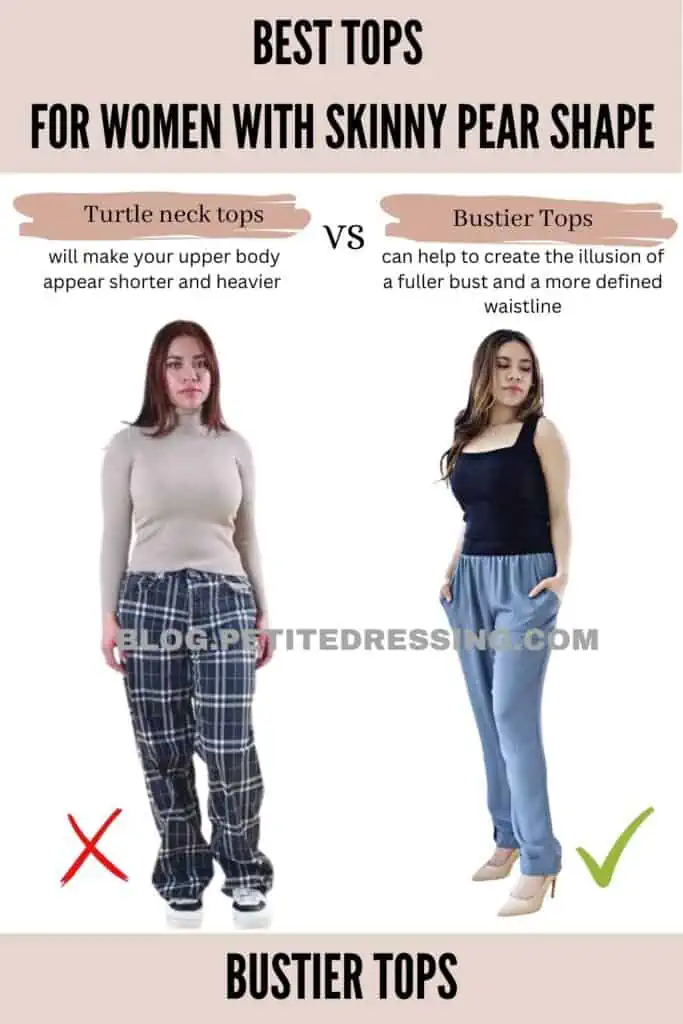 Your figure's best features are your well-shaped breasts and narrow waistline but since your wide hips tend to get more attention, this tends to overshadow your features. This is where bustier tops come in because they give your breasts a nice lift and your waist a sexy cinch.
A bustier top is a form-fitting garment that is designed to enhance and support the bust. Typically, it features structured cups that are similar to those of a bra, and it may have boning or other supportive features to help create a defined waistline.
With their structured cups and waist-cinching design, bustier tops can help to create the illusion of a fuller bust and a more defined waistline. In addition to this, they usually come in thin straps too which makes the neckline quite open, exposing more of your beautiful shoulder line.
Chunky Knitted Sweaters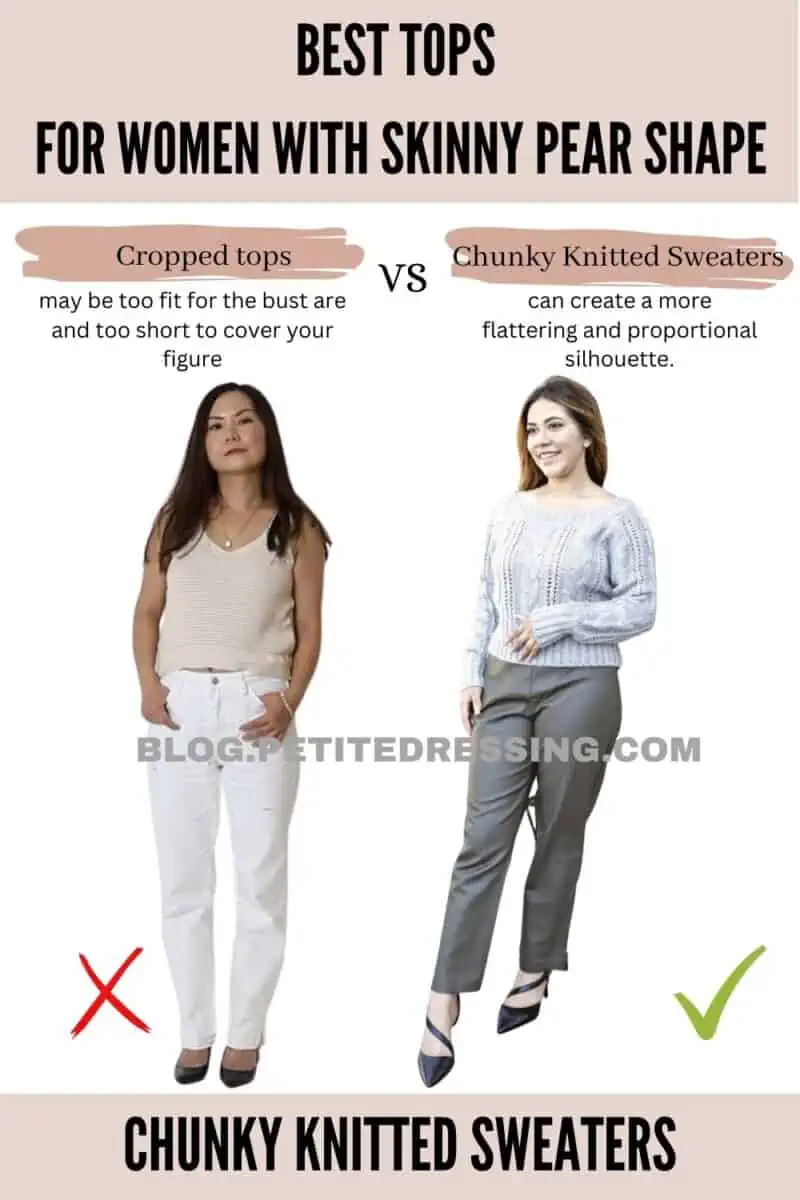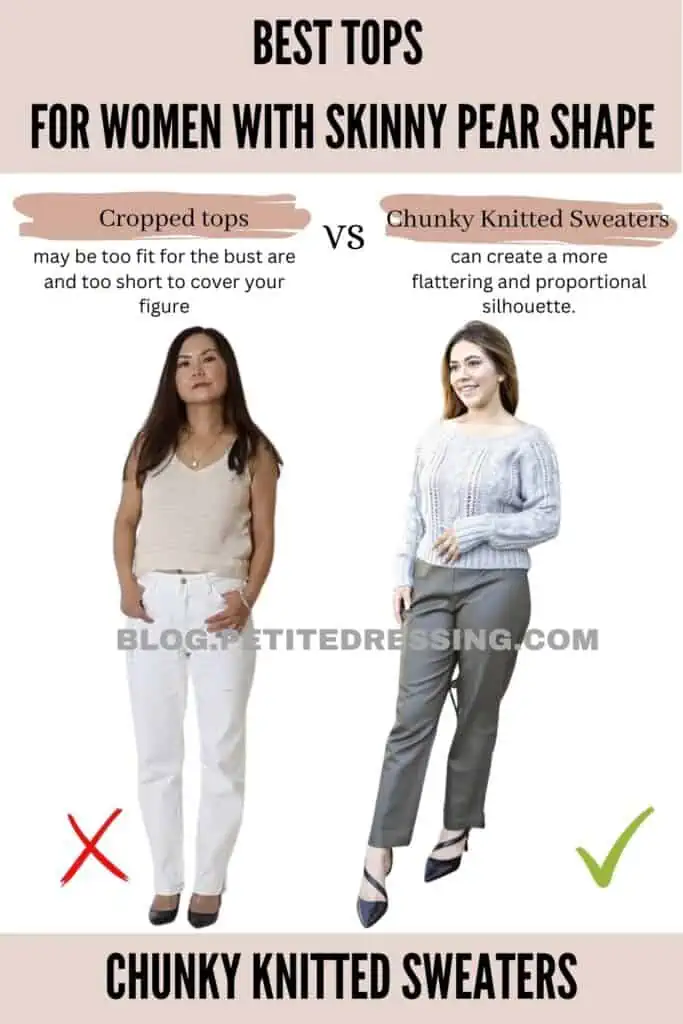 If you're looking for something cozy and comfortable to wrap you up in the colder months, chunky knit sweaters can be a very good choice for skinny pear shapes like you.
The chunky knit top adds volume to the narrow top half of a skinny pear-shaped body, helping to balance out curvier hips and thighs. By working with your proportions in this way, you can create a more flattering and proportional silhouette.
Of course, it's important to choose the right chunky knit top to achieve this effect and you don't want the top to be too overwhelming on your body, as it can make you look shapeless. Instead, opt for pieces that still show the outline of your body.
Medium-Length Tops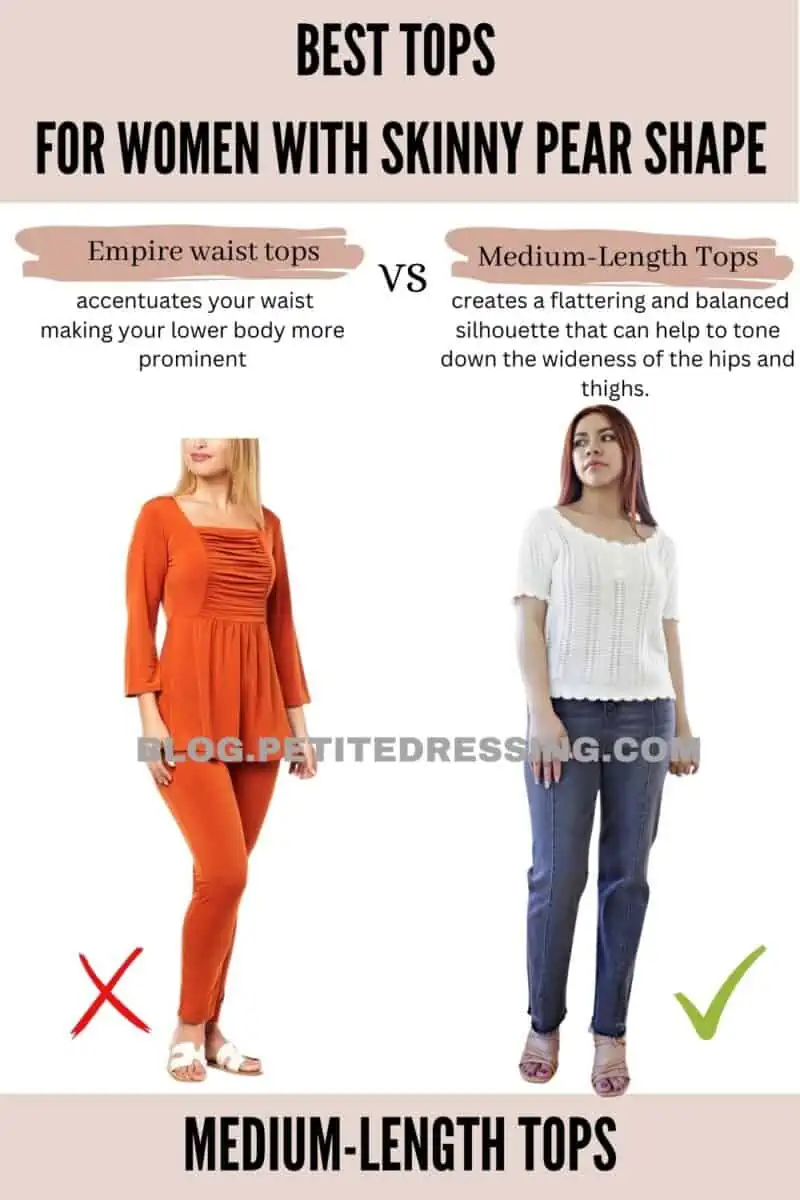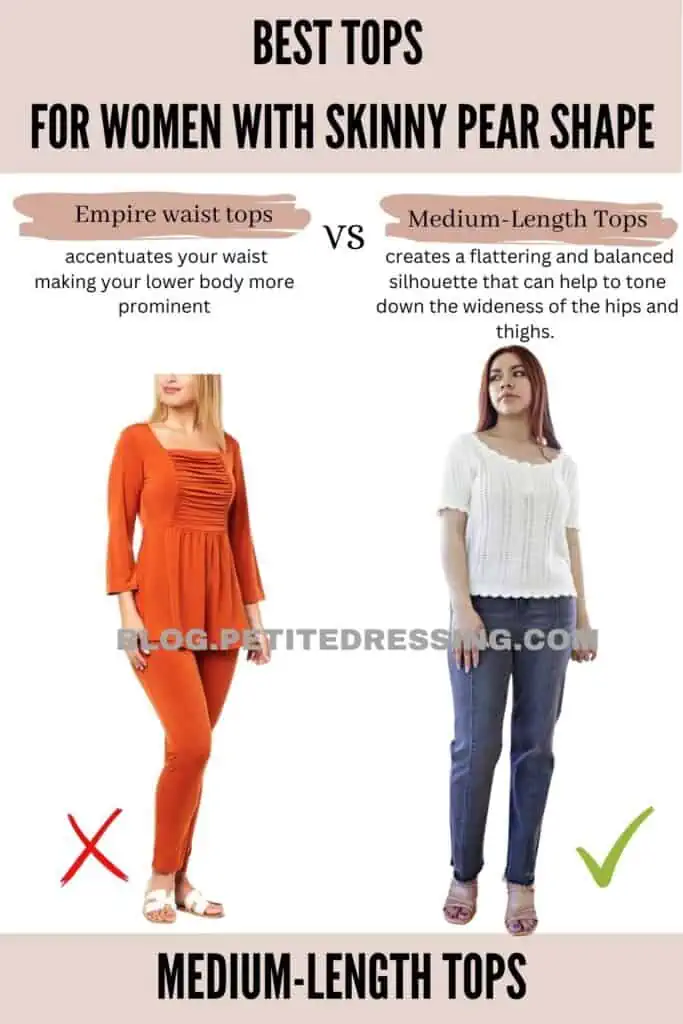 These tops fall just above the hips, creating a flattering and balanced silhouette that can help to tone down the wideness of the hips and thighs.
One of the key benefits of medium-length tops for skinny pear-shaped women is their ability to create balance. By highlighting the slimmest part of the torso, these tops help to draw attention away from the lower half of the body, which can be wider on skinny pear-shaped figures.
In addition to their balancing effect, medium-length tops are also great for putting the focus on the top half of the body. Quick styling tip? This can be particularly helpful if you have a favorite top with a unique design or pattern that you want to show off!
Off-the-Shoulder Tops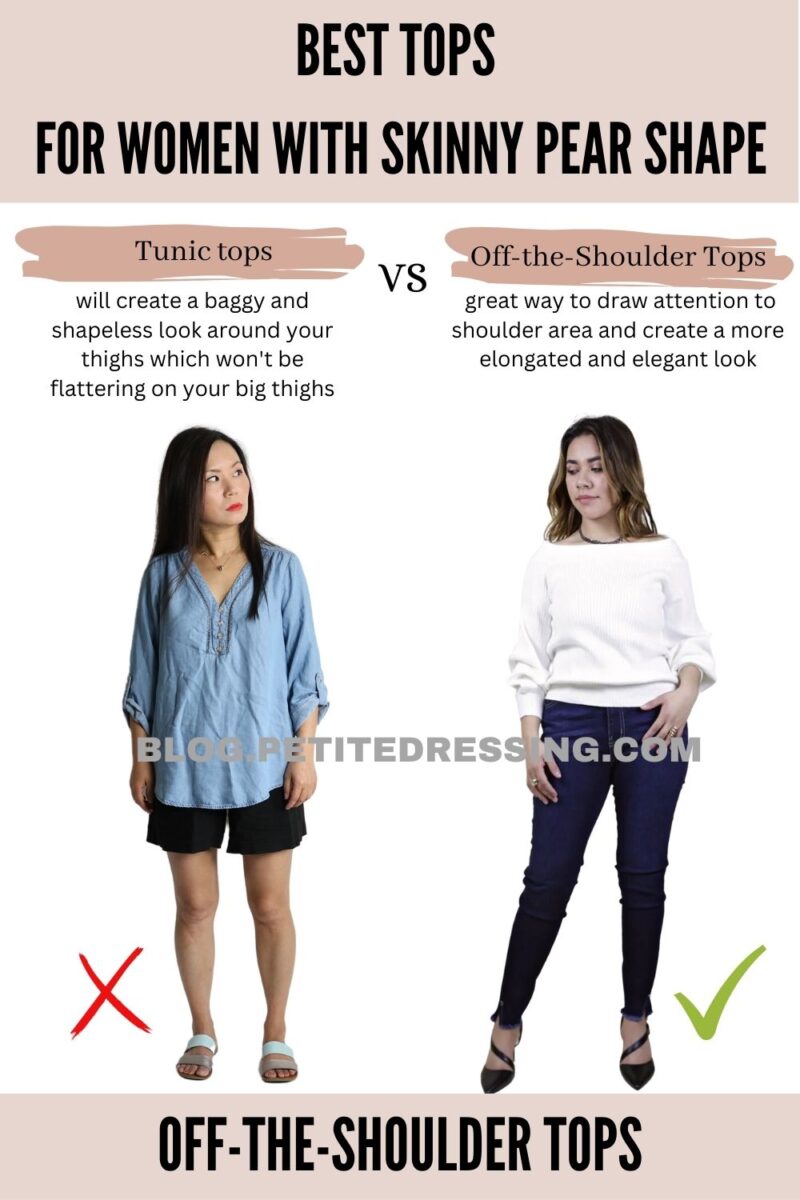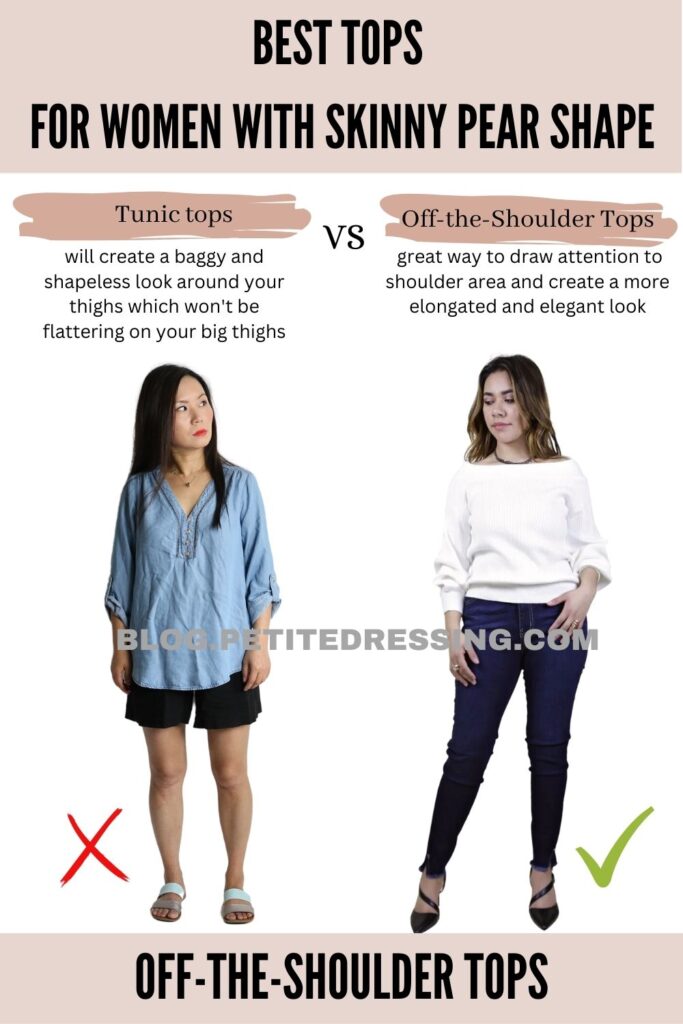 Ruffled off-the-shoulder tops have become increasingly popular in recent years, and they can be a great choice for skinny women with pear-shaped bodies!
The ruffled off-the-shoulder style draws attention to the shoulders, which can help to balance out the wider hips and thighs that are typical of pear-shaped bodies. This style of top often has a form-fitting bodice that highlights the waist and a flowy fabric right across the bust line to enhance your breast shape.
With the off-the-shoulder style, this top highlights the neck and collarbone area which is usually slim in most women. This can be a great way to draw attention to this area and create a more elongated and elegant look.
Puff Sleeve Tops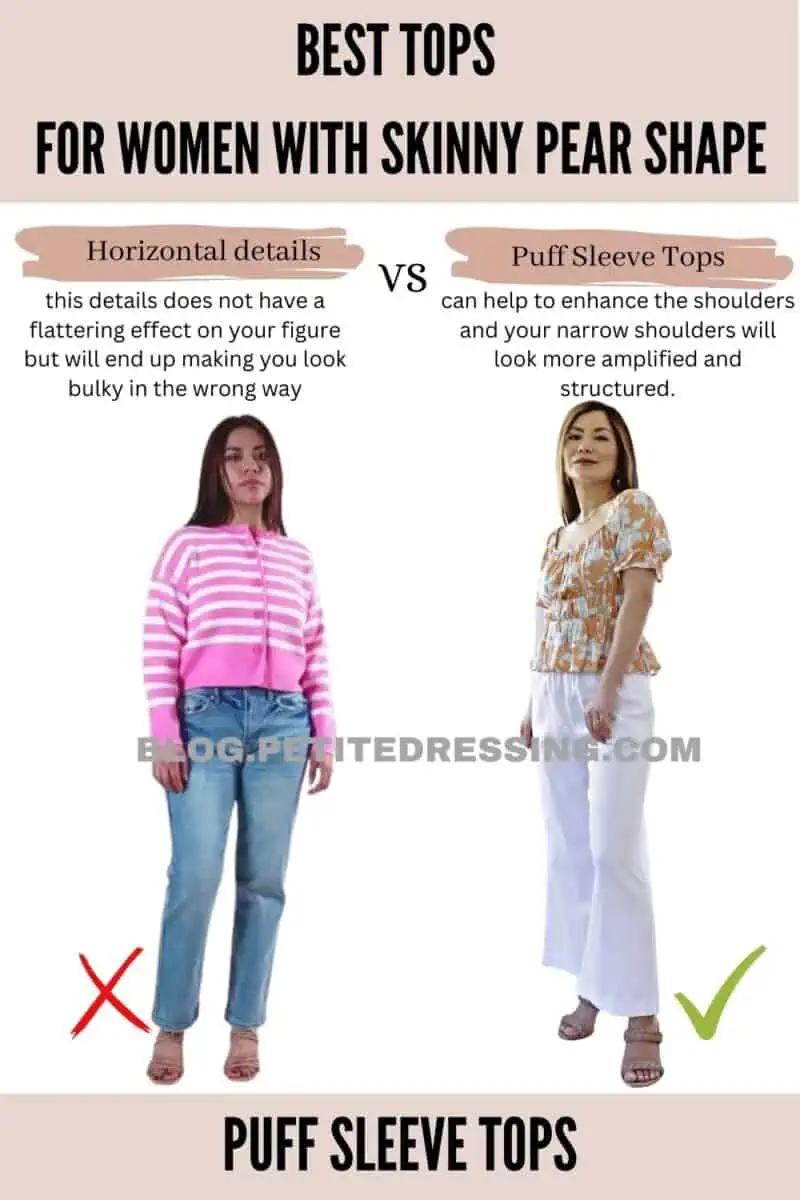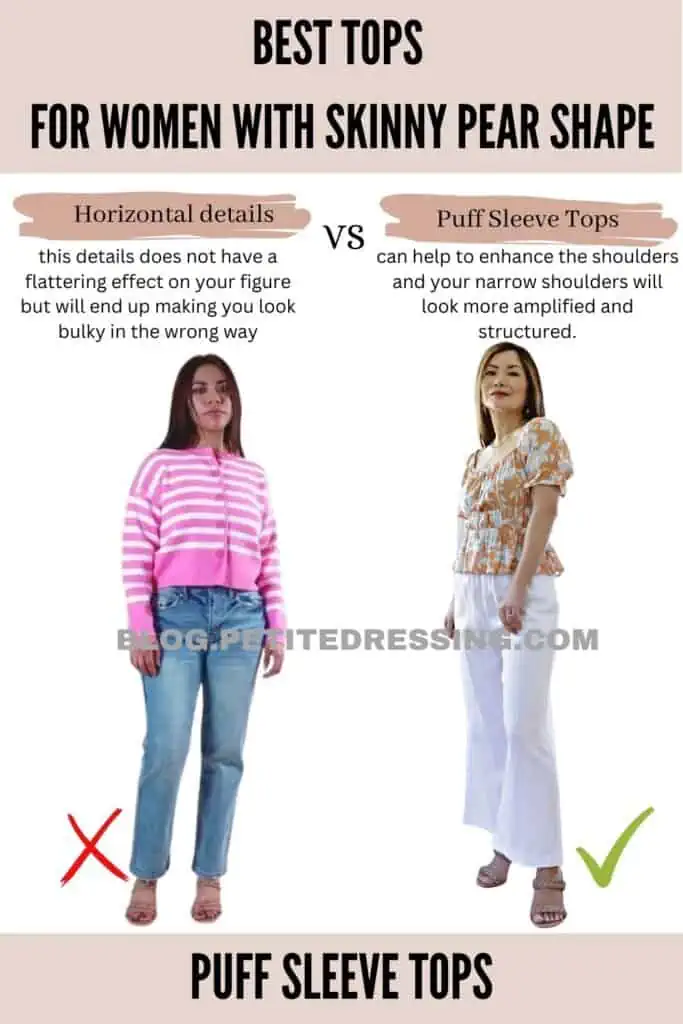 Puff sleeve tops can help add volume to the upper body, creating a more balanced and proportional silhouette to create a more pleasing overall body ratio. This is a strategic way to visually balance out your wider hips and thighs.
Puff sleeves can help to enhance the shoulders, which can be beneficial for women with a pear-shaped body type. By drawing attention to this area, your narrow shoulders will look more amplified and structured.
Flowy Halter Neck Tops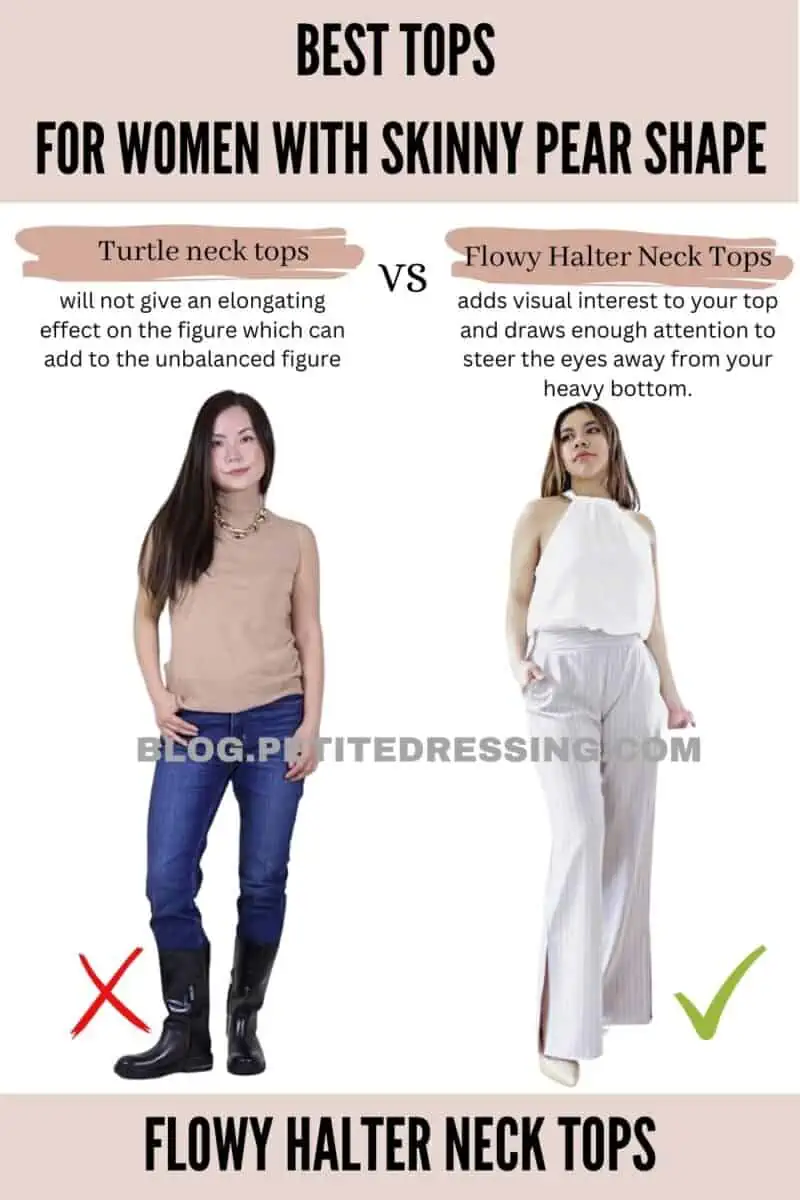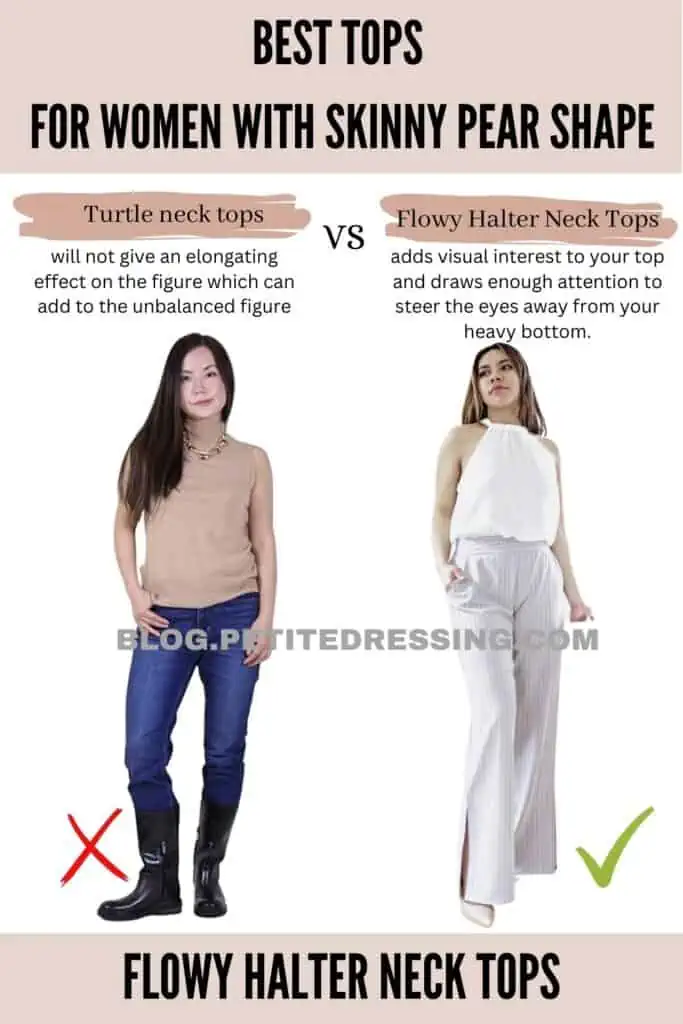 One of the reasons that halter neck tops are so flattering for skinny pear shapes is that they draw attention to the neck and upper body in a way any open neckline would, and this visually balances out a curvy lower half. Additionally, the style of a halter neck top tends to add some width to the shoulders, which can be especially beneficial for those with narrow shoulders.
It's also ideal to go for flowy fabric materials because these soft types of fabrics create movement. This adds visual interest to your top and draws enough attention to steer the eyes away from your heavy bottom.
The Key Takeaway
Having a skinny frame while also dealing with the features of a pear-shaped body (aka wide hips and heavy things) is, without a doubt, quite tricky. Because of the apparent size difference between these areas, it's crucial to choose a top that can elevate the appearance of your upper half.
As long as you are flaunting the right fit, you'll make the most out of your figure. I hope shopping for tops has become easier for you after letting us walk you through this guide!