Are you a petite girl who has a pear-shaped body? Finding the right types of dress is critical to flatter your shape.
I'm a petite girl at 5'2 and it can be a tough task to shop for dresses when you're short like me. As I also have a petite clothing line that caters to all shapes and sizes. During our product photo shoot, I style models of different sizes and shapes, so I know that it gets tougher when you're short and pear-shaped at the same time!
Below are the tips and tricks based on my first hand experiences, as well as feedback from thousands of my petite customers!
Styling Goal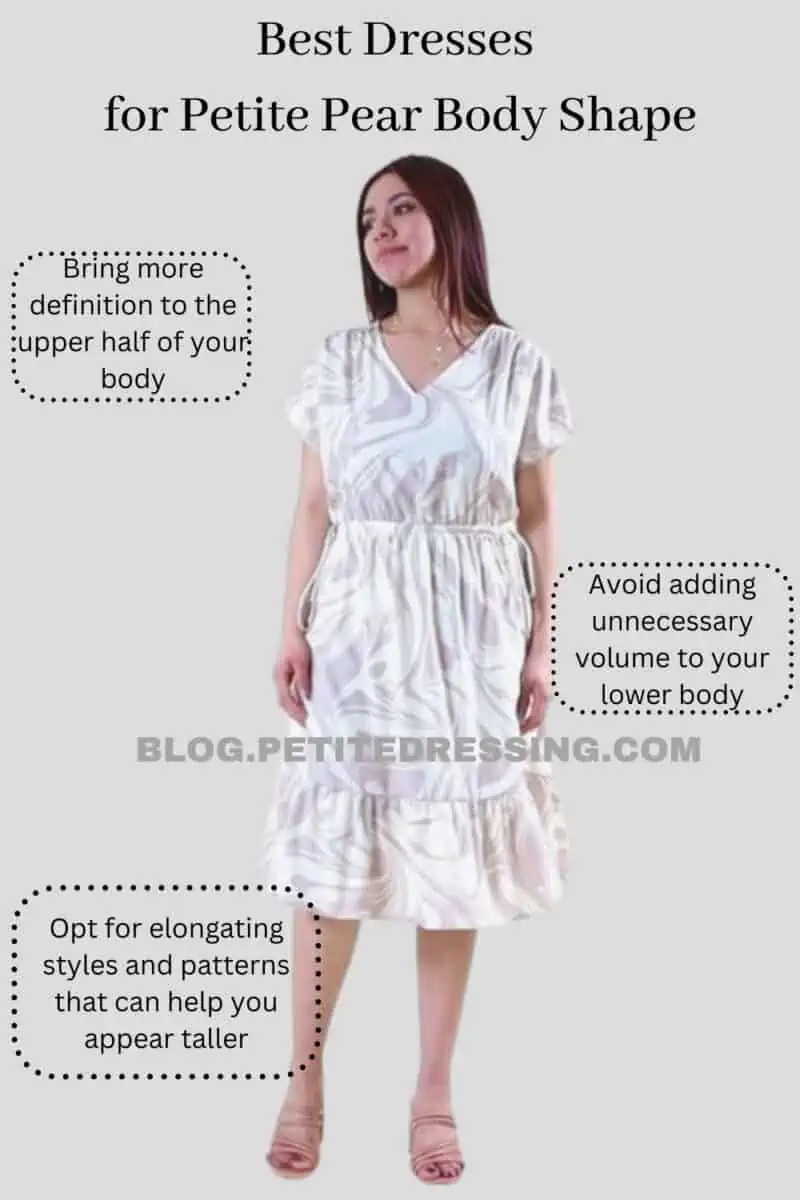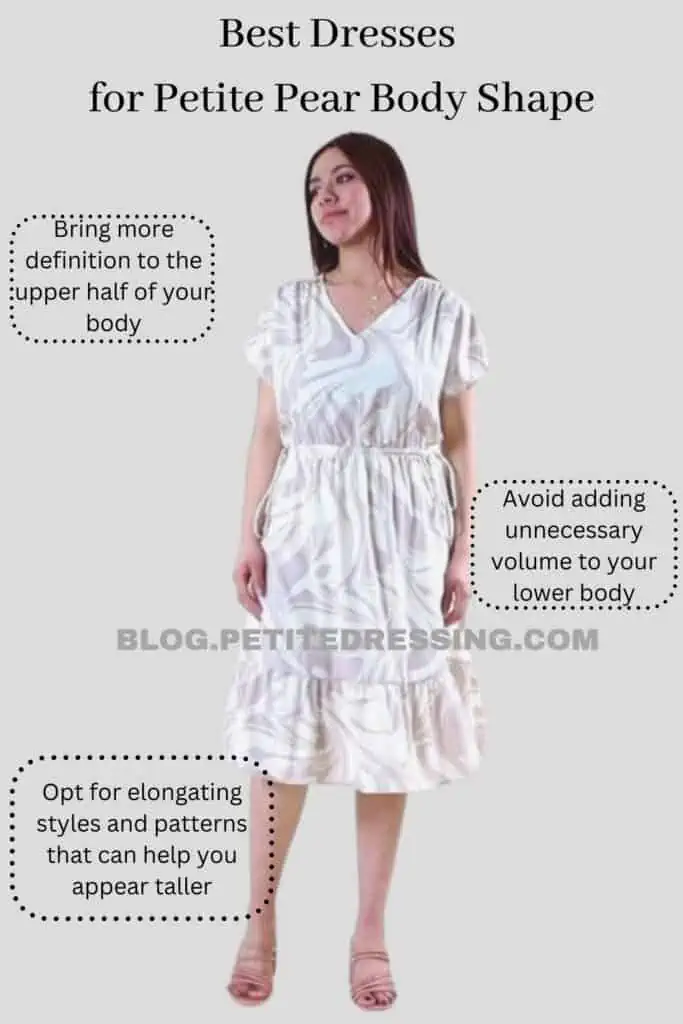 Bring more definition to the upper half of your body (particularly the shoulder and bust line). You can do so by going for structured dresses that feature figure-enhancing details.
Opt for elongating styles and patterns that can help you appear taller. Some samples are vertical prints and open necklines.
Avoid adding unnecessary volume to your lower body, most particularly on the hips and thighs. These areas are already naturally thick and wide so you wouldn't want to accentuate those even more and make the upper body look too small.
Sophisticated Fit and Flare Dresses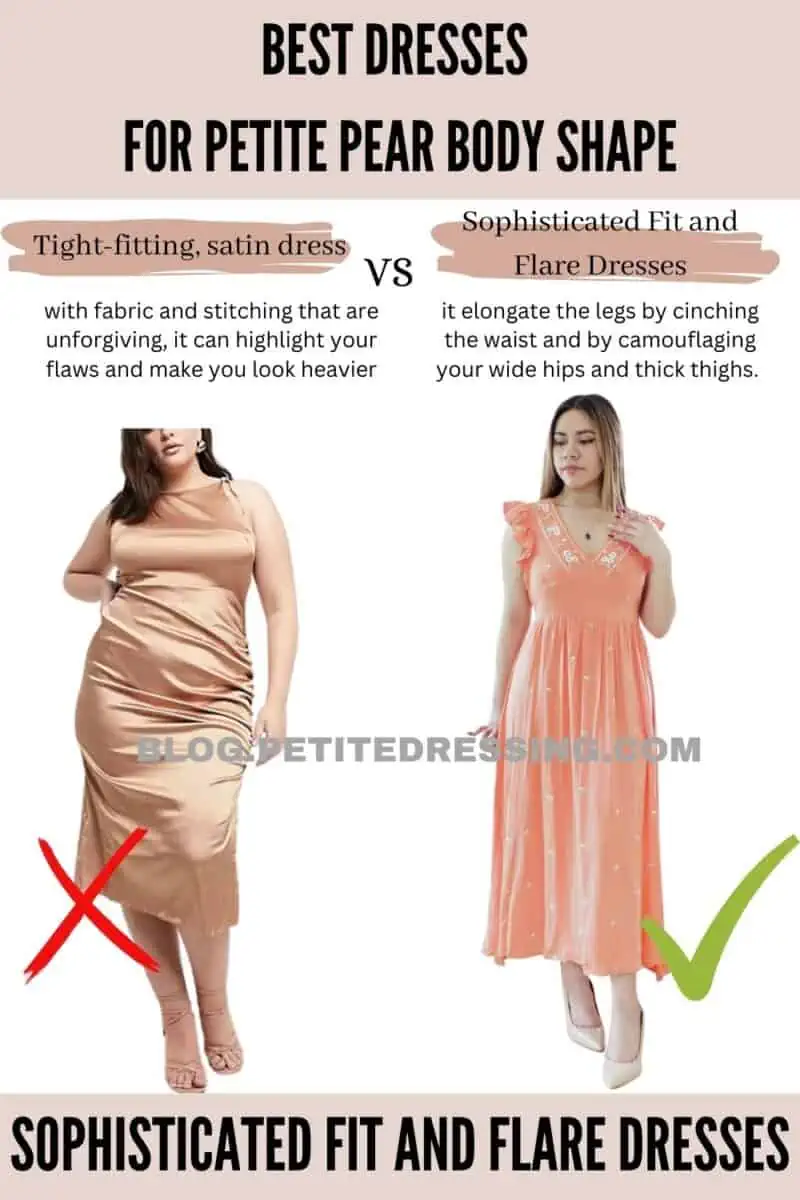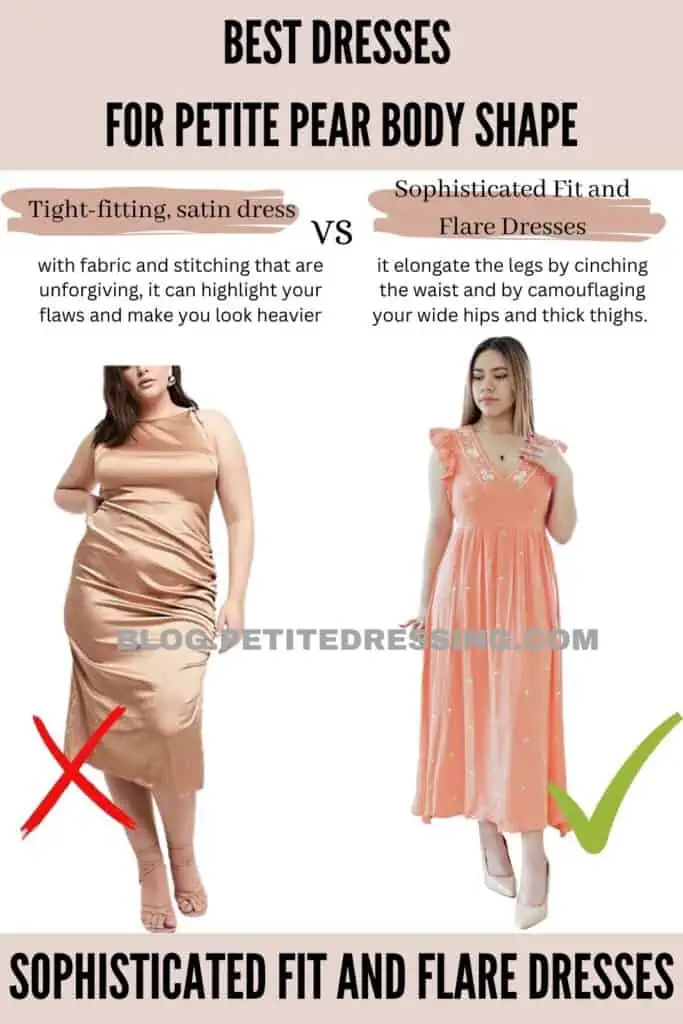 Fit and Flare dresses are characterized by being fitted through the bodice and then flaring out from the waist that creates a flattering silhouette that balances out wider hips and thighs. The two main reasons why they are flattering for short pear-shaped girls are the fact that they elongate the legs by cinching the waist and by camouflaging your wide hips and thick thighs.
The flared skirt of the dress creates a sense of movement and flow, which can create the illusion of longer, leaner legs. Since it offers more space for the lower body, a nice fit and flare dress also help conceal and neutralize your big hips and thighs.
X-Line Dresses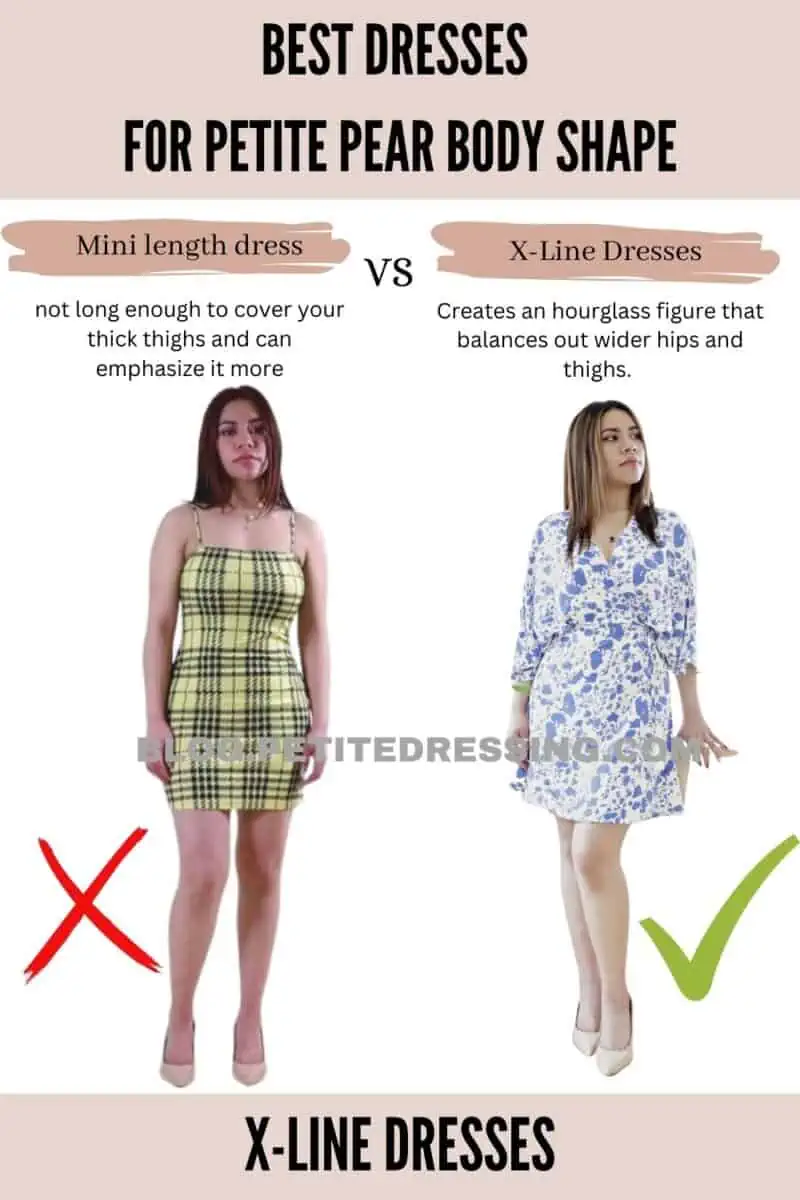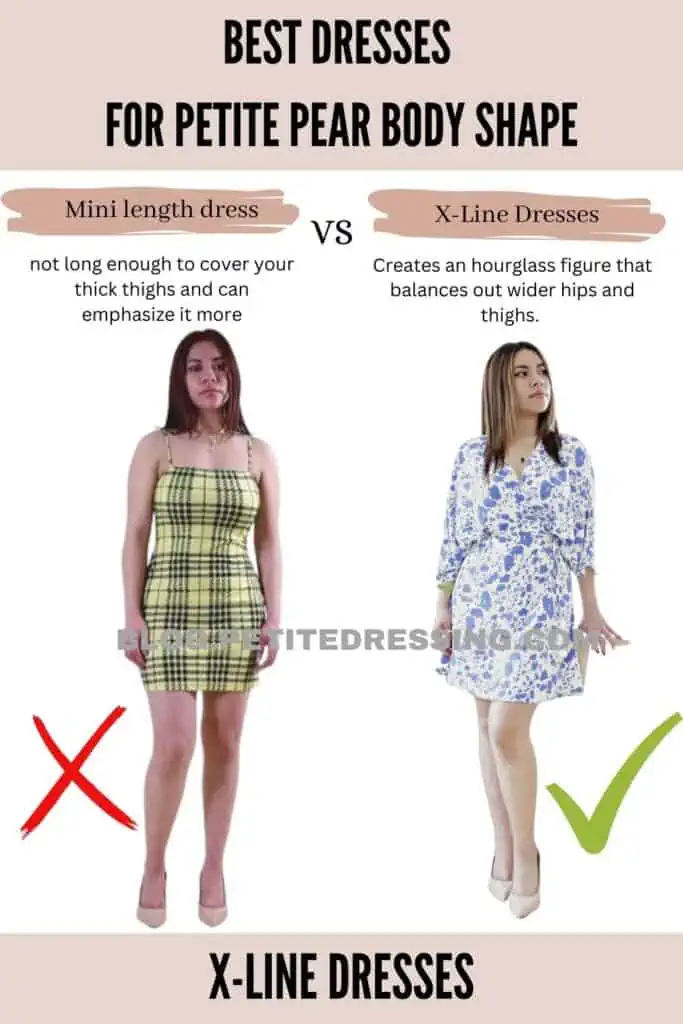 Balance is a very important factor in dressing up a pear-shaped girl and this is why X-Line dresses make a great style candidate for you! From the name itself, the X-shaped silhouette that it creates when worn features a fitted bodice that skims over the waist and hips and a flared skirt that creates movement and flow.
One of the reasons why the X-line dress is particularly well-suited to petite pear-shaped women is that the fitted bodice helps fully accentuate the waistline, creating an hourglass figure that balances out wider hips and thighs.
Its well-balanced silhouette efficiently gives a more proportionate figure that flatters your petite frame.
Dresses with Shoulder Pads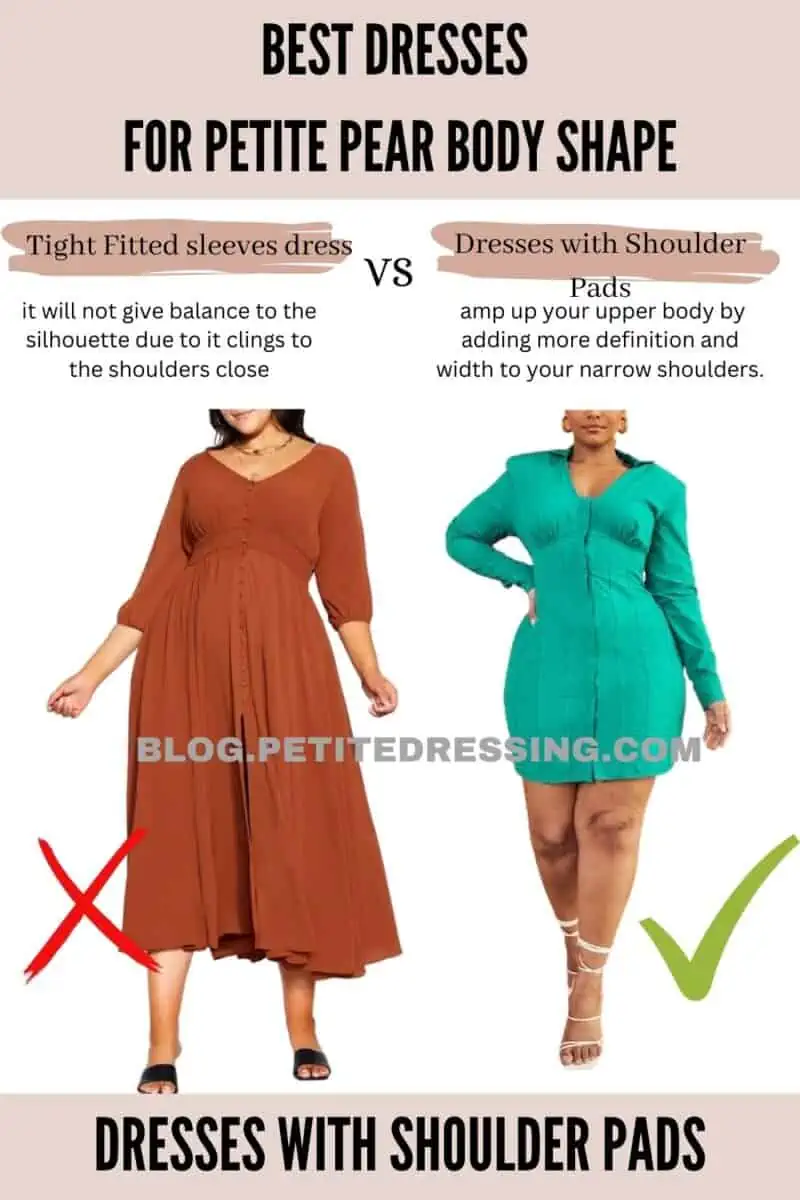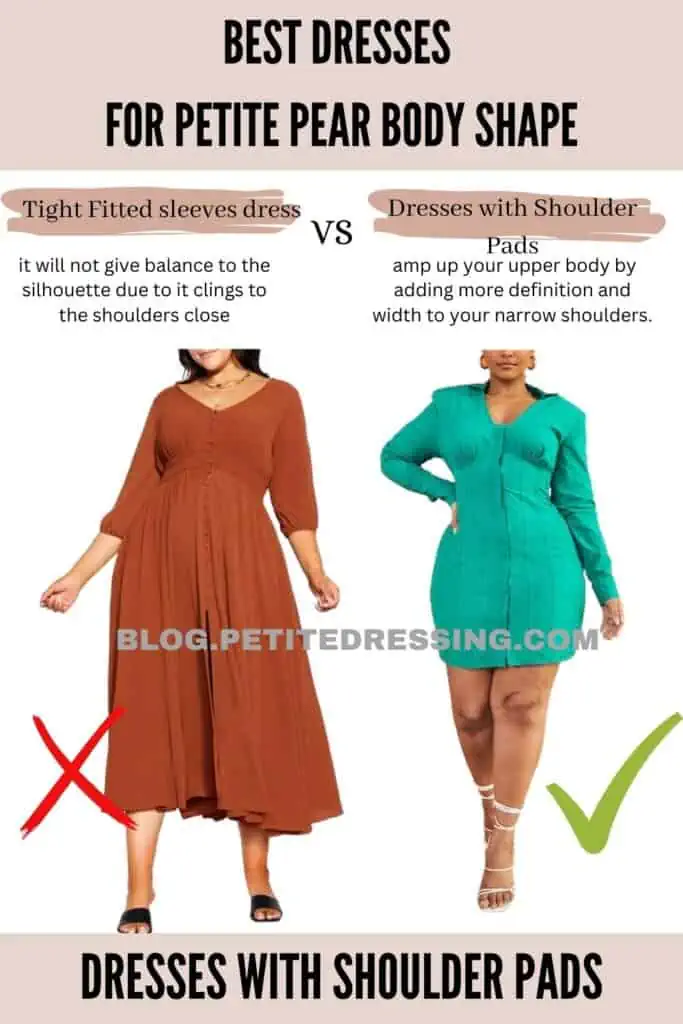 Shoulder pads can be your petite pear-shaped body's best friend and the reason is quite obvious! As you have a smaller upper half, including narrow shoulders, shoulder pads can amp up your figure in an instant.
It may be a trend that really thrived in the past, but vintage collections will always be iconic and timeless so vintage dresses with shoulder pads should be something to watch out for. Shoulder pads amp up your upper body by adding more definition and width to your narrow shoulders.
Empire Waist Dresses with Soft Fabrics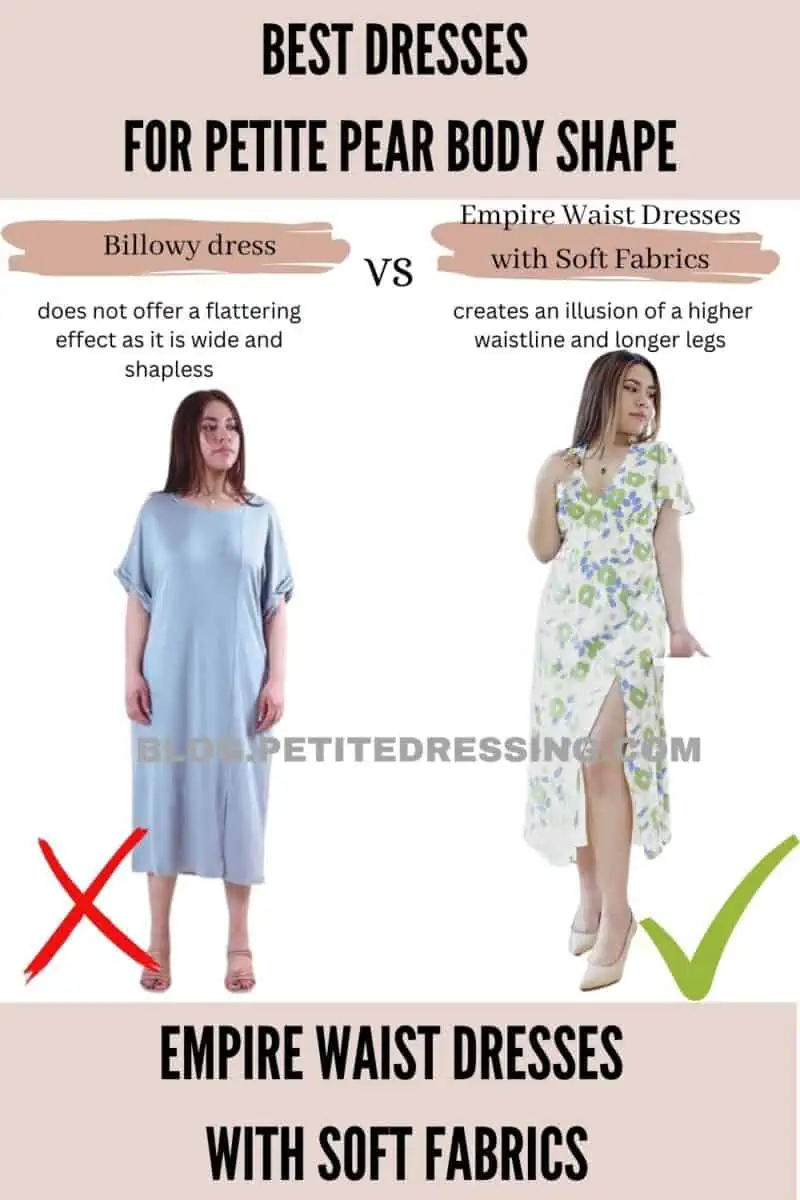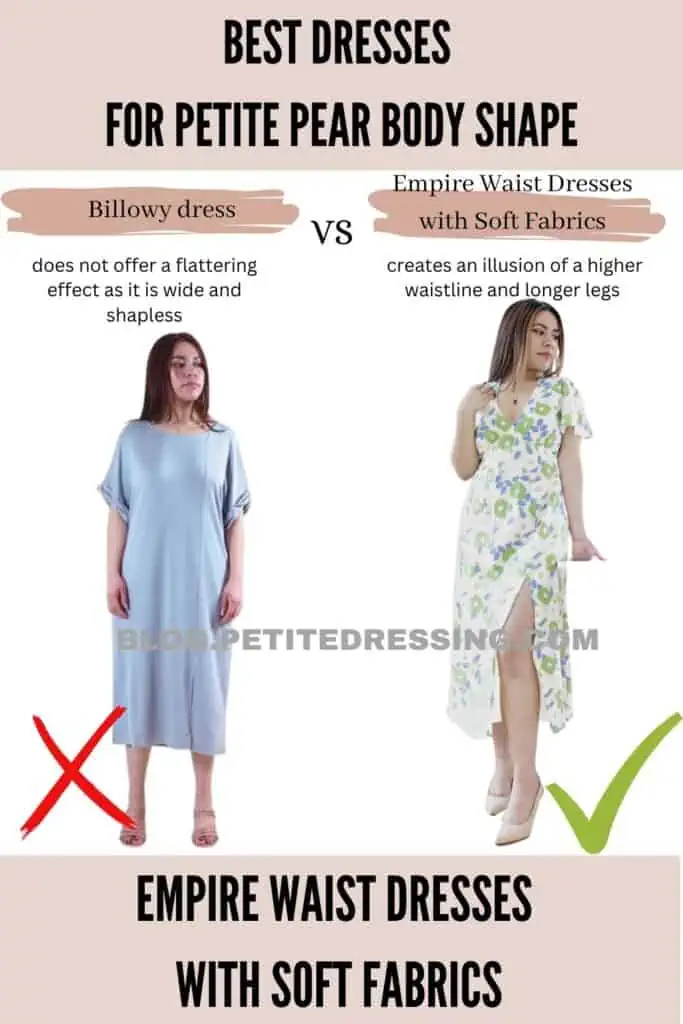 Empire waist dresses cinch at the narrowest part of the body just right below the bustline, which creates an illusion of a higher waistline and longer legs. This style also creates a more balanced silhouette by drawing attention to the upper body and away from the hips.
One of the great features of the empire waist dress is its flowing, A-line skirt. This particular style skims over the hips and thighs, which can be especially flattering for women with a pear-shaped body type.
Empire waistline dresses may come in different kinds of fabric materials, but in order to seamlessly conceal your wide hips and big thighs, soft fabrics are ideal. Soft fabrics such as chiffon or georgette just skim through your curves without adding extra volume which makes them very ideal for pear-shaped bodies.
Flowy Off-the-Shoulder Dresses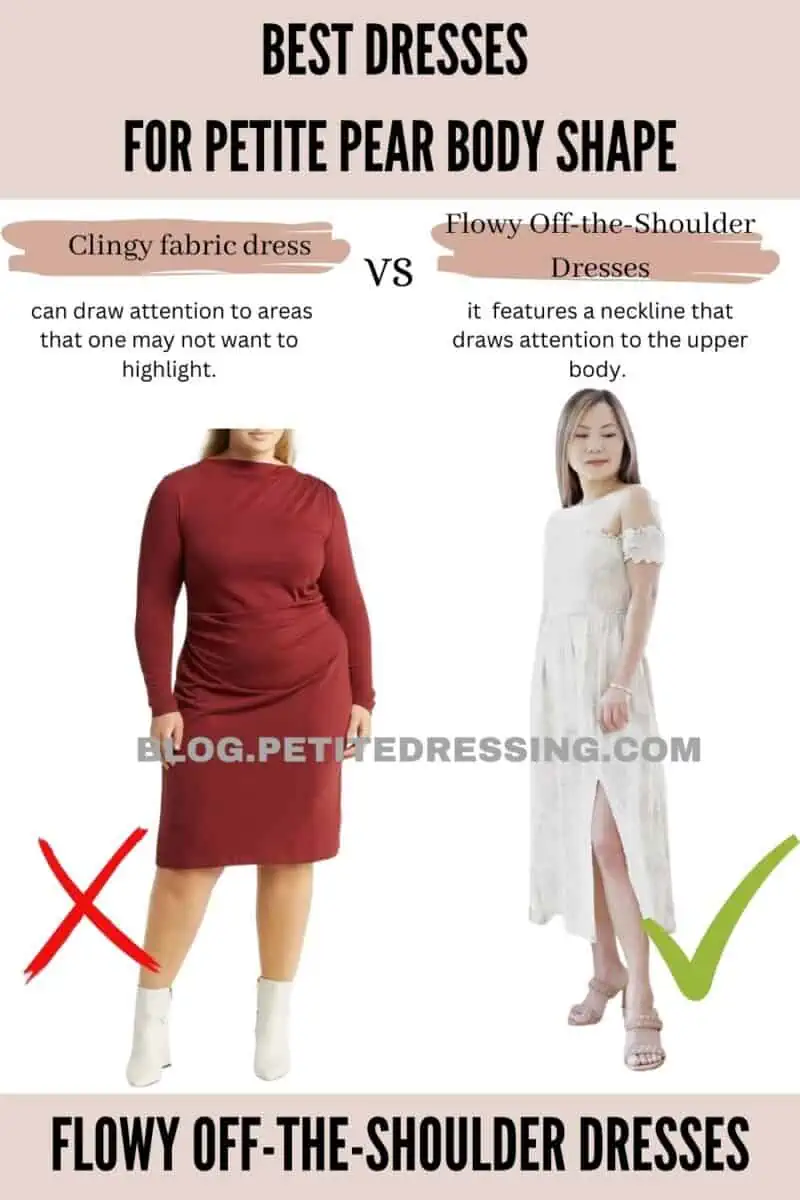 If you're looking for a go-to summer dress, off-the-shoulder dresses should be in your wardrobe! Off-the-shoulder dresses can actually be quite flattering for petite pear-shaped women since they feature a neckline that draws attention to the upper body.
Since pear shapes have a less prominent upper body, making it stand out will help balance out the proportions of the body. This neckline can also create the illusion of a wider shoulder, which can be especially flattering for women with a pear-shaped body type.
Of course, as with any style of dress, it's important to find the right fit. Petite women with a pear-shaped body type should look for off-the-shoulder dresses that give a tailored fit around the bust and waist but have a flowing skirt that skims over the hips and thighs.
Cotton or Linen Wrap Dresses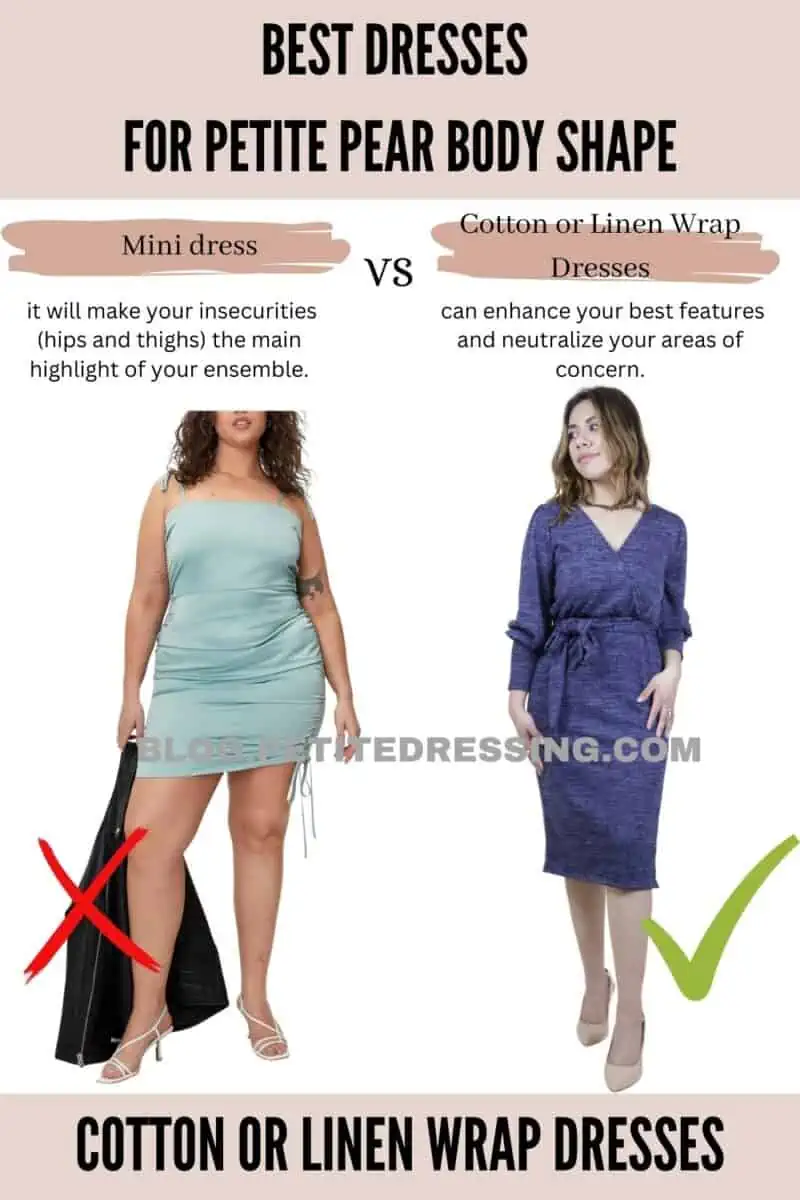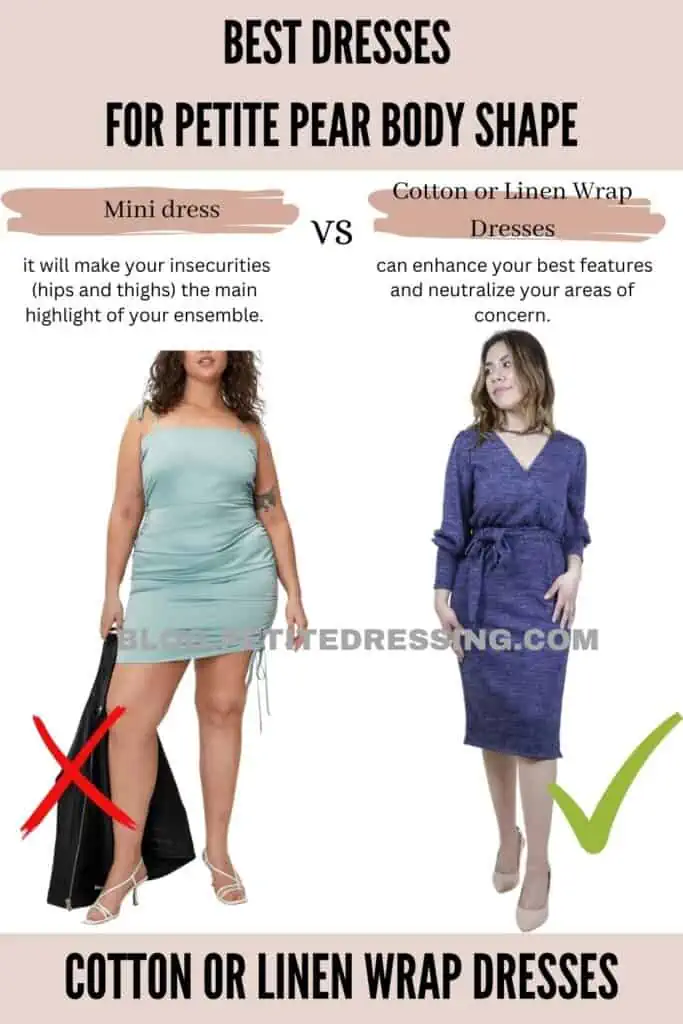 I'll never get tired of recommending wrap dresses because I simply swear by how universally flattering they are! For short girls who have pear-shaped figures, a nice wrap dress can enhance your best features and neutralize your areas of concern.
One of the distinct features of a wrap dress is the way that it cinches at the waist and flares out at the hips, which creates an A-line shape that flatters the lower body. For short women with a pear-shaped body type, this is especially flattering as it helps give a pleasing ratio between the upper and lower body.
The cinched waist also helps to elongate the legs to make you appear taller, slimmer, and more proportionate. Another great feature of the wrap dress is its adjustable fit as it wraps around the body and ties at the waist, to be adjusted to fit according to your level of comfort.
Avoid Clingy Mini Dresses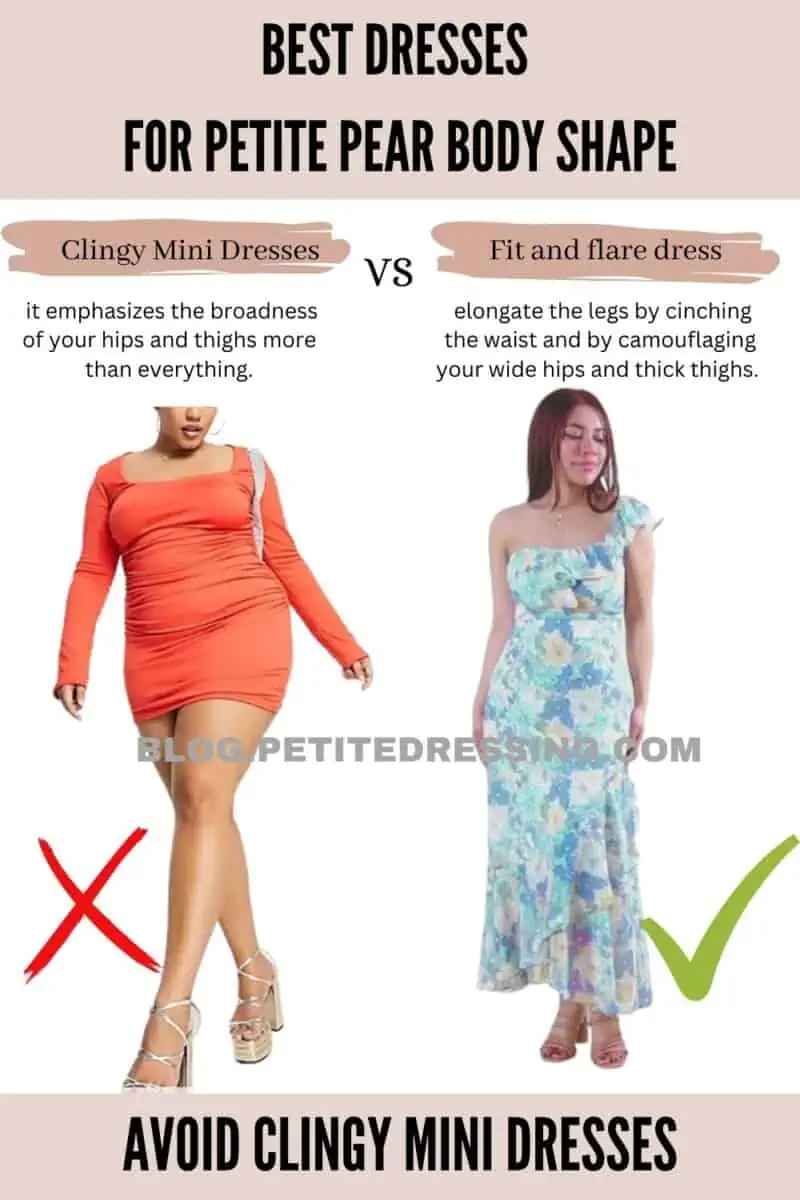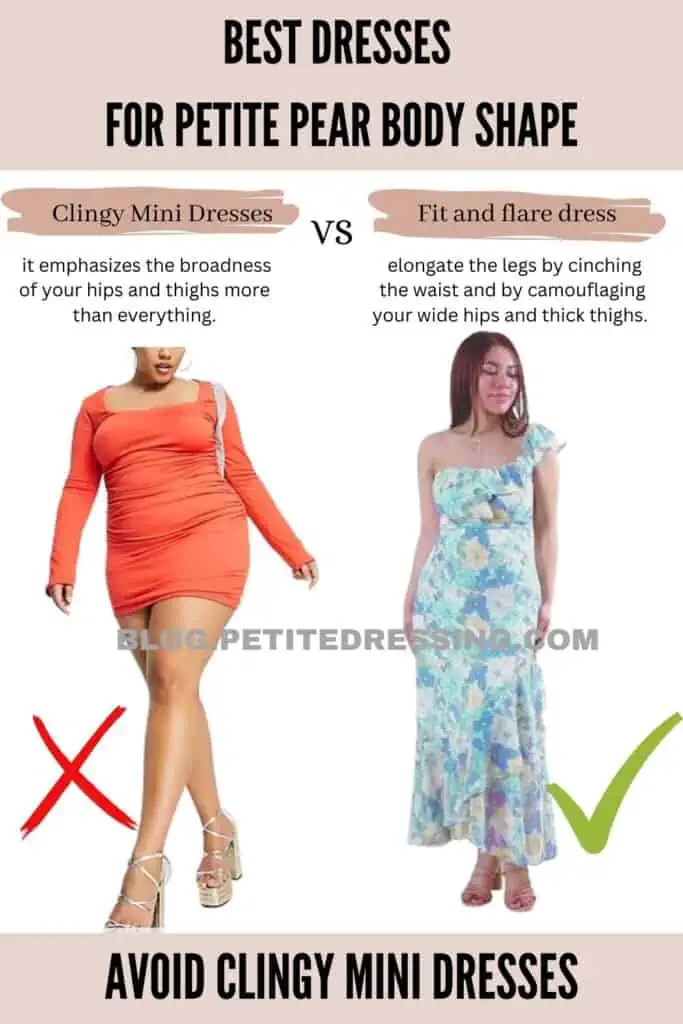 Mini dresses can be absolutely stunning and sexy, and the way they expose the legs is one of the reasons why petite girls think of them as their easy go-to dress. However, it may not be the same story for petite pear-shaped ladies because it can actually cause more visual imbalance.
Because of the length of mini dresses, they tend to draw attention not only to your legs but also to your thick thighs. Such an effect will make you look shorter and wider as it emphasizes the broadness of your hips and thighs more than everything.
The shorter length of the dress can also cut off the legs, making them appear stubby and disproportionate to the rest of the body. This will result in an unbalanced silhouette, which can obviously be unflattering as it will make your insecurities (hips and thighs) the main highlight of your ensemble.
Avoid Bodycon Dresses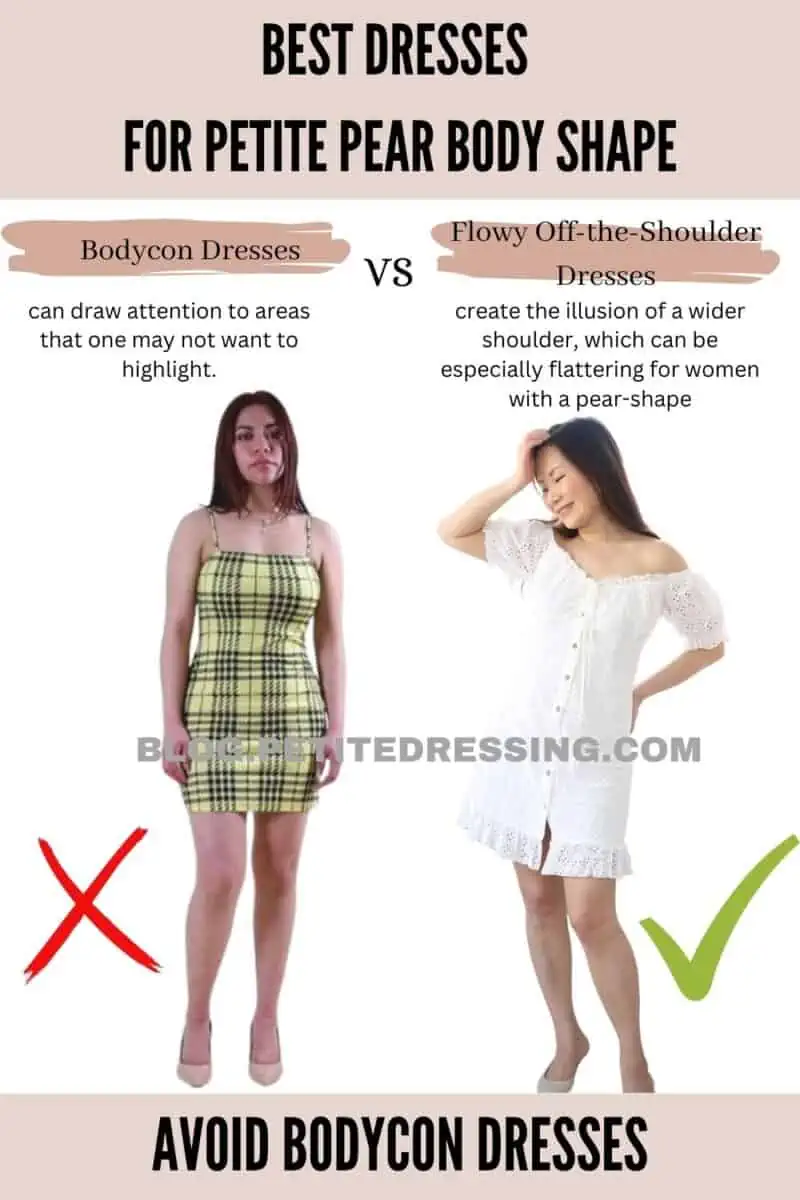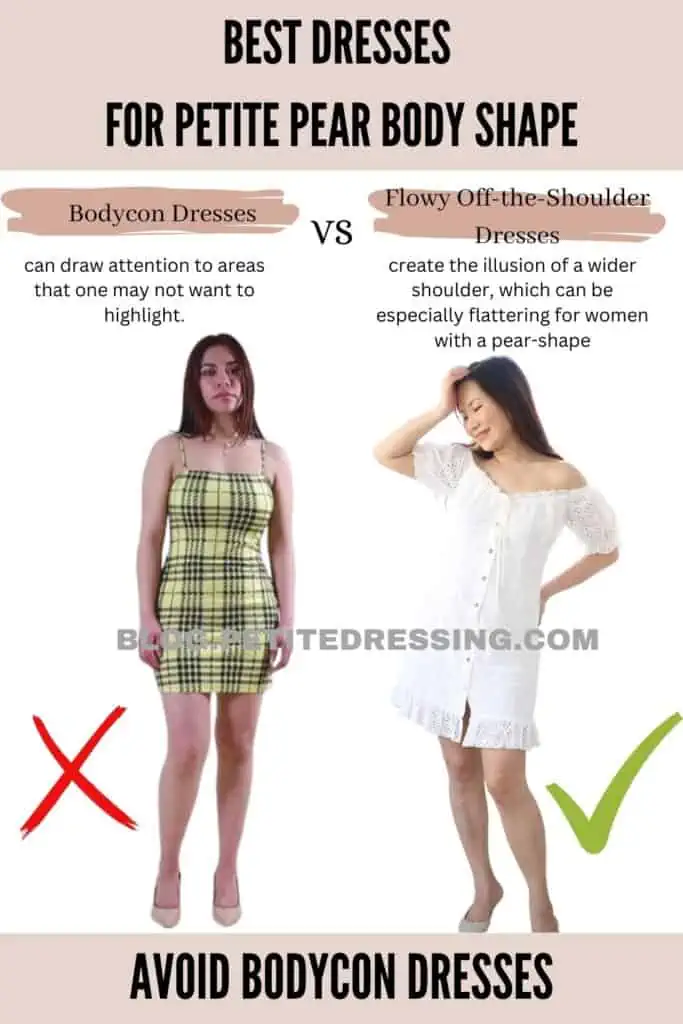 Pear-shaped bodies have wider hips and thicker thighs, both of which can be made more obvious by bodycon dresses. These dresses are designed to cling tightly against the body which can draw attention to areas that one may not want to highlight.
Wearing bodycon dresses can emphasize the disparity in size between the upper and lower body so it may give you an awkward-looking frame. Instead, opt for dresses that have a more streamlined silhouette and a more tailored fit.
The Key Takeaway
Being a petite pear-shaped girl is beautiful and you should fully embrace it! By knowing the right dresses to have your figure shine at its best, you'll never have to worry about your insecurities!