For many women with sloped shoulders, it can feel frustrating finding clothing that enhances your body type.
If you have narrow shoulders, the best way to dress is to add volume to the shoulders to balance out your natural shape. Choosing a neckline can play a big role in highlighting or minimizing certain attributes within your body. Yes, even the neckline of a shirt or dress can make or break how flattering an outfit looks.
Although the pear body shape is known for having sloped shoulders, but you could have any body type and have sloped shoulders. This is a guide to help you navigate the best ways to create a balanced silhouette for women with sloped shoulders, regardless of your specific body shape.
Wear Square Neckline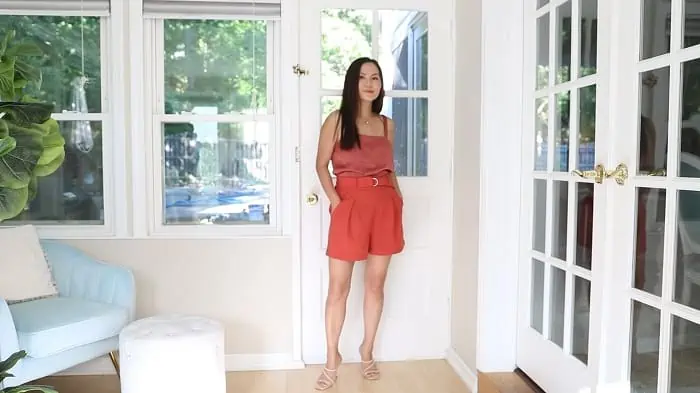 Because the neckline is so close to the shoulders, knowing which necklines to choose are even more important to you.
A square neckline quite literally has a squared shape to it, because of the distinct vertical and horizontal lines that are established it makes for a great style choice that flatters sloping shoulders. The shape creates the illusion of a more lifted neckline and shoulders.
Because sloping shoulders appear lower on the body, this lifted effect is a really flattering route to go with your neckline choice.
Due to the squared neckline being such a strong focal point, it can be paired with just about any sleeve type (or sleeveless) to enhance sloping shoulders. And don't worry, even though it's quite a structured look it still provides a feminine feel to an outfit.
Wear Puffy sleeves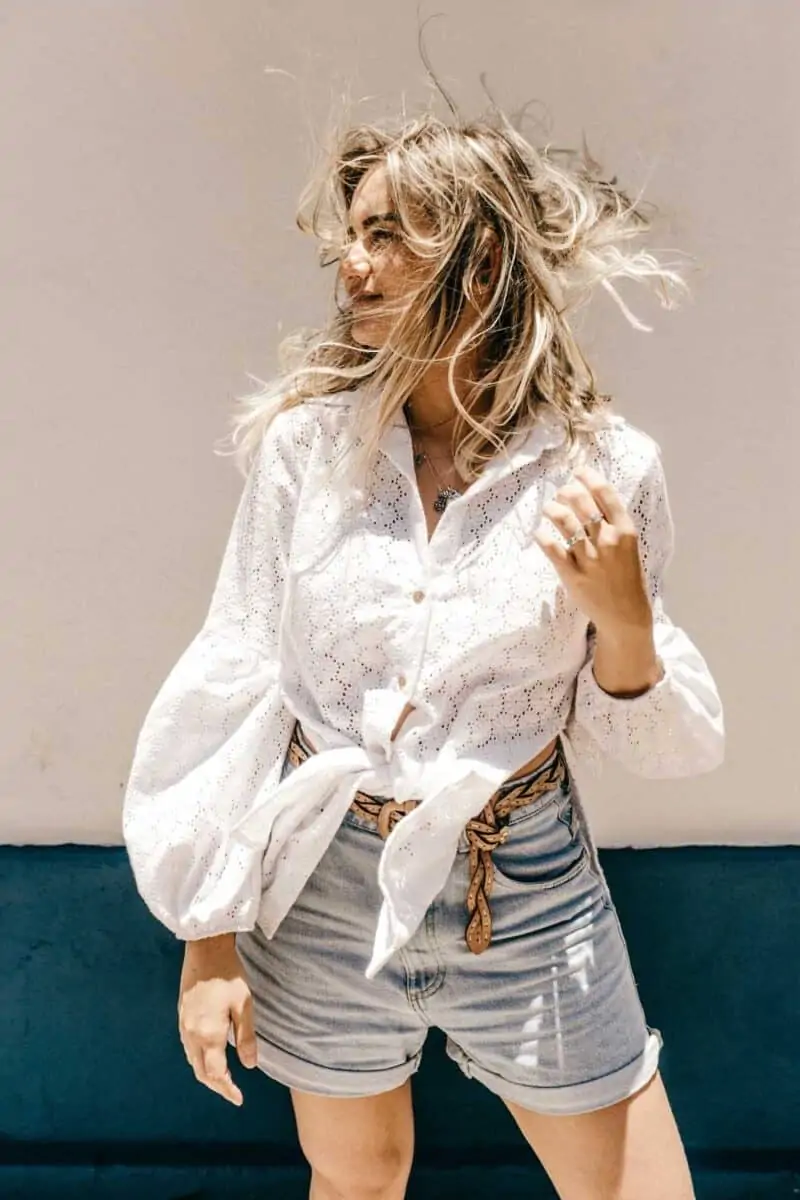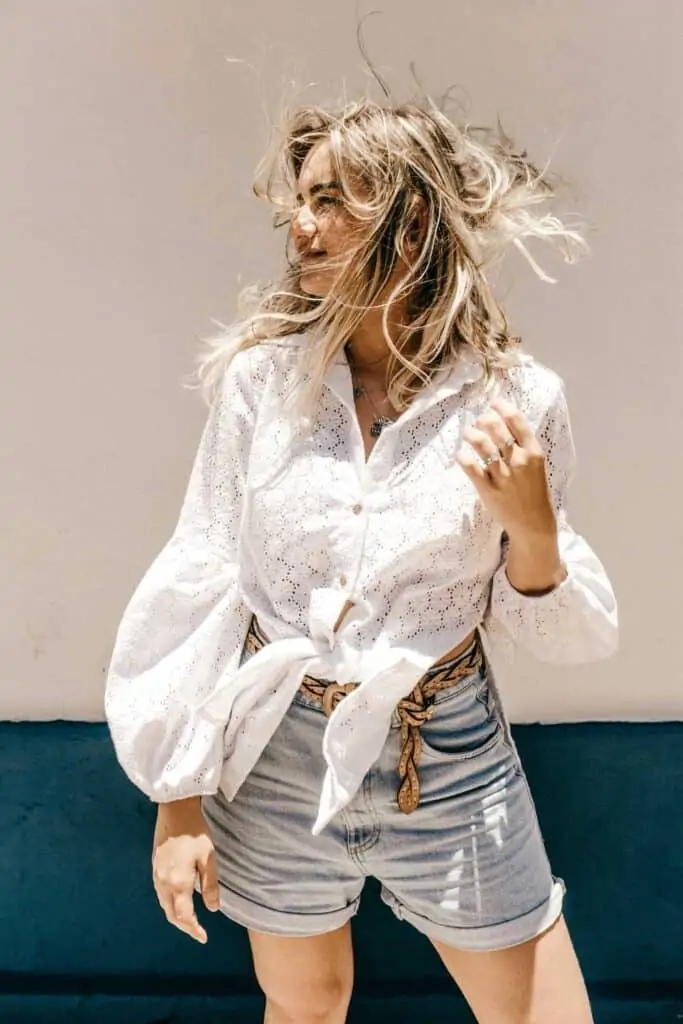 While necklines play a big role in how sloped shoulders are flattered, or not, you will also want to make sure you're choosing sleeves accordingly. Because your shoulders are sloped, you're able to really have fun with different sleeve types that aren't necessarily flattering on most body types.
Anytime you have a top or dress with a more exaggerated sleeve it's going to further enhance the neckline elements. Puffed sleeves are a great example of this. In fact, puffy sleeve are one of the best tops for women with pear shape!
They're tricky to wear for most women but because your shoulders are naturally sloped and on the narrow side they're going to transform your shape beautifully.
Wear Boat Neckline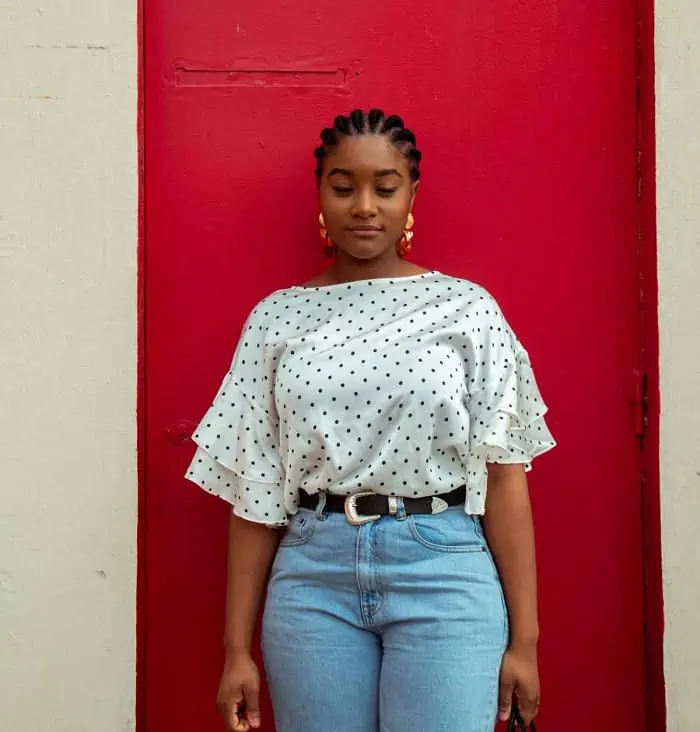 One of the more underrated neckline options has to be the boat neckline. It's too bad, too, because it's really flattering on a lot of different body types – sloping shoulders included.
This is a great option for sloping shoulders because it draws the eye up towards the neck, which makes the shoulders appear less sloped on the body. The horizontal line that's established with a boat neck, that sits wider around the shoulder area, also creates this subtle widening effect to the top of the shoulders. Not only does this lift sloped shoulders but it makes them look more balanced to the rest of your body.
Wear Off-the-Shoulder Tops or Dresses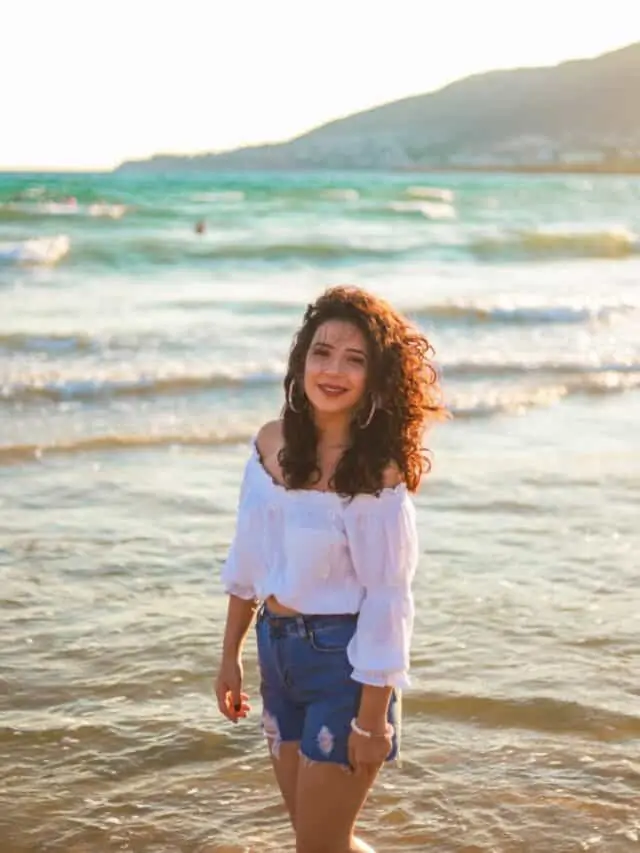 This one may sound surprising to you, if you are thinking you should be "hiding" your sloped shoulders under clothing. It may sound like wearing a top or a dress with off-the-shoulder is going to "expose" your sloped shoulders, but it actually works wonders to flatter women with sloped shoulders.
Here is how it works.
When you wear anything off shoulder, it creates a horizontal line at your shoulder, which extends and widens your shoulders and therefore perfectly balance out your natural sloped shoulders.
That is why off the shoulders is one of the best styles and necklines for women with a pear shaped body, who typically have sloped shoulders.
This is also a great a way to balance out your shape if you happen to be bottom heavy.
Add Shoulder Embellishments
Additionally, don't be afraid to try garments that offer embellishments and other fun details around the top of the shoulders. This will help similar to the way an exaggerated sleeve does to enhance sloping shoulders.
In general, the more detail and attention you bring to the shoulder and chest area the more it will give the illusion of a more balanced shape. This is especially true if you have sloped shoulders paired with wider hips.
Wear Sweetheart Neckline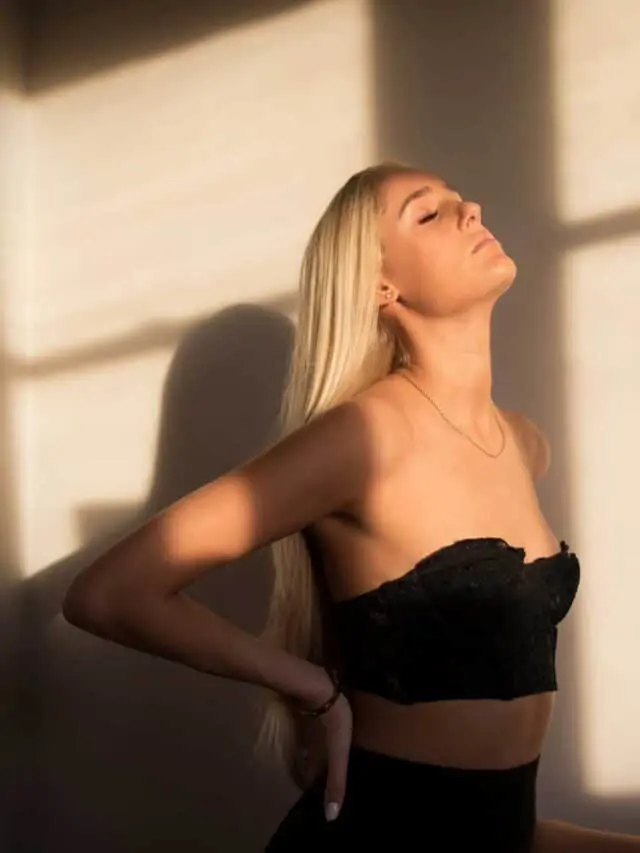 Another neckline that isn't used enough in the fashion world – sweetheart neckline. It's another great choice to establish a slightly wider feel to the shoulders.
Anytime you're able to find a neckline that creates a slightly wider feel to the shoulder area it's going to be a tremendous benefit to flattering sloping shoulders.
The great thing about the sweetheart neckline is not only does it flatter sloped shoulders but it can make any outfit look more feminine. This is really due to the fact that a sweetheart neckline is more of an open neckline that's paired with a rounded shape.
Try adding more of this neckline into your wardrobe. It's not just for formalwear!
Use Shoulder Pads
It is self explanatory that when you add shoulder pads, your shoulders will broaden and therefore your shape will look more balanced.
Yes, this is the easiest and most straightforward way to dress a woman with sloped shoulders!
Padded shoulders were such a big trend back in the 80s when every girl was wearing tops or jackets with shoulder pads.
Shoulder pads are making their come back to the current season, and you will notice more and more designers using them again especially in jackets.
So this is definitely a good news for you if you have sloped shoulders!
Wear V-Neckline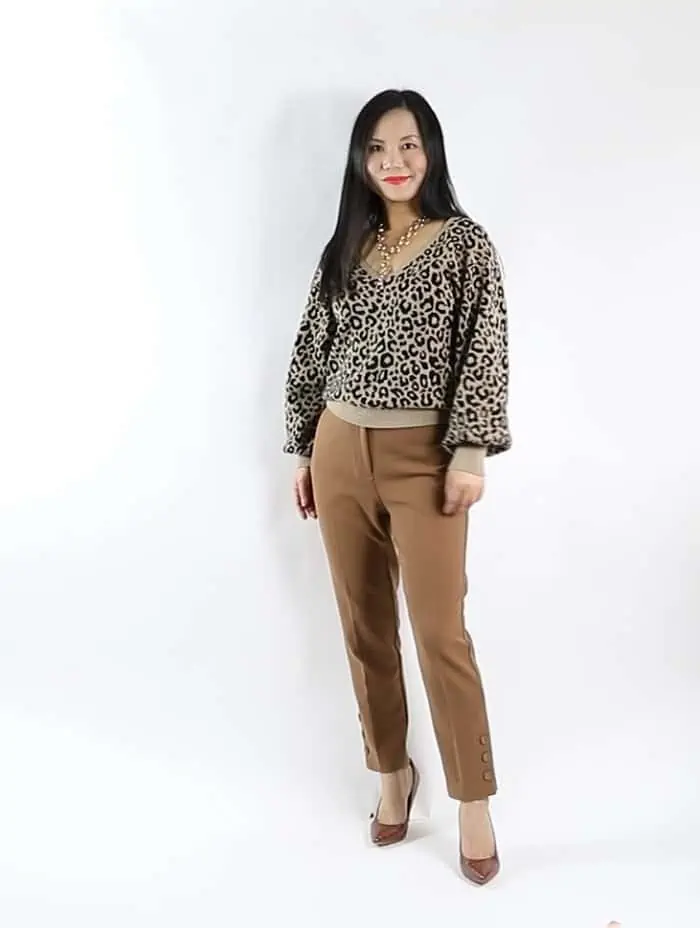 Regardless of your body type, the v-neckline is going to look great. So naturally it had to be included in this guide because sloping shoulders are no exception.
Generally speaking just about any v-neckline garment is going to be flattering to your figure. However, most experts recommend favoring wide v-necklines for sloping shoulders.
This is because a more exaggerated 'v' shape is going to do a few things for your particular body type. First of all, a wider v will create longer and more prominent vertical lines to the torso. This helps to draw more focus towards the center of the body (giving a great slimming effect).
The wider placement quite literally widens the appearance of shoulders. Definitely a win-win for sloping shoulders.
Wear Crew Neckline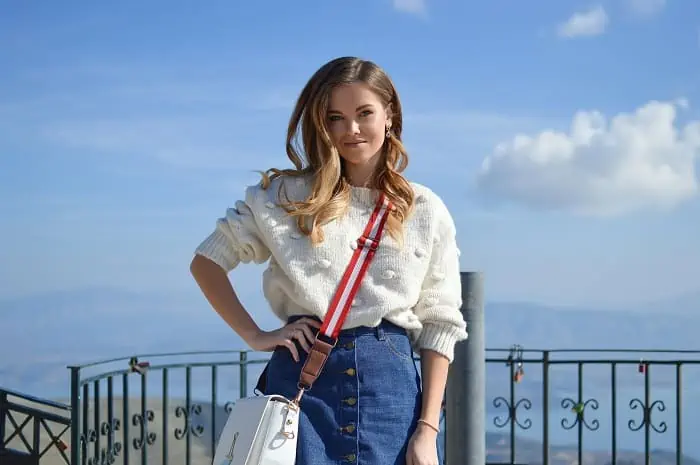 Sometimes going back to the basics is best when you're seeking necklines that are going to be the most flattering. Crew necklines are a great style choice for enhancing sloped shoulders.
By now you understand the main focus with necklines for your shape is to widen and lift. With crew necks you're able to achieve this quite easily. The high neckline sits high on the body (obviously), which brings the eye up towards the neck. By default, this makes the shoulders look slightly wider than they naturally are, it even helps get that lifted effect effortlessly.
Wear Turtleneck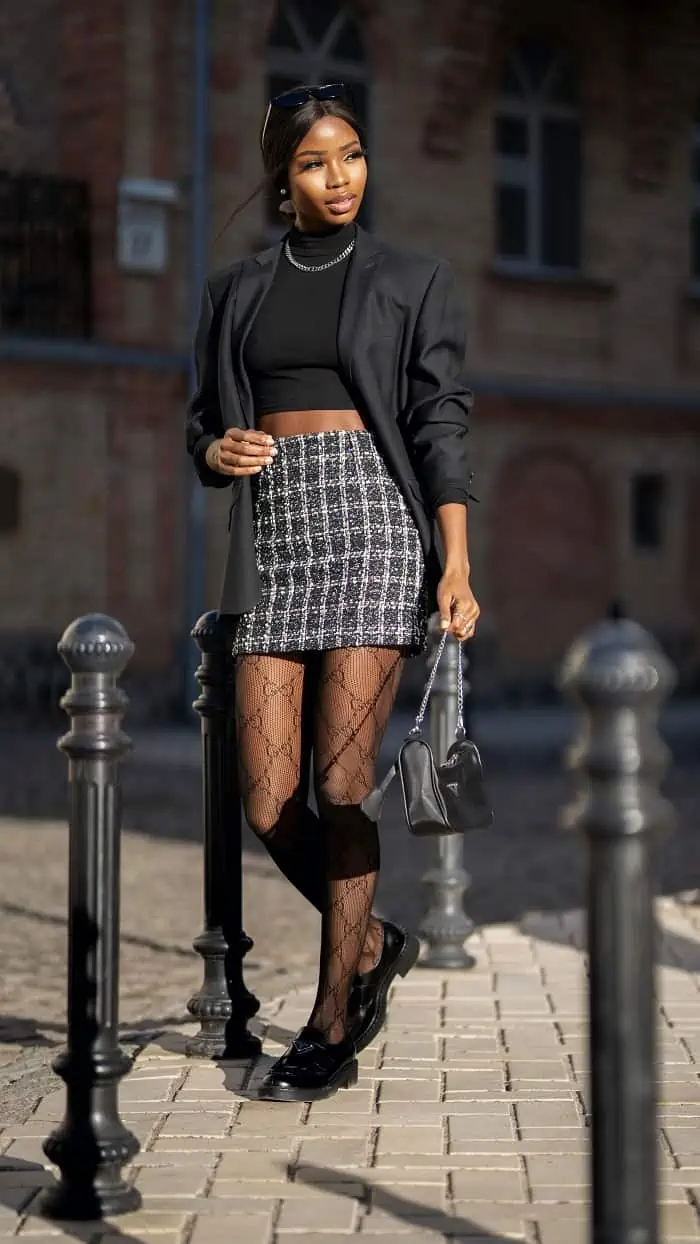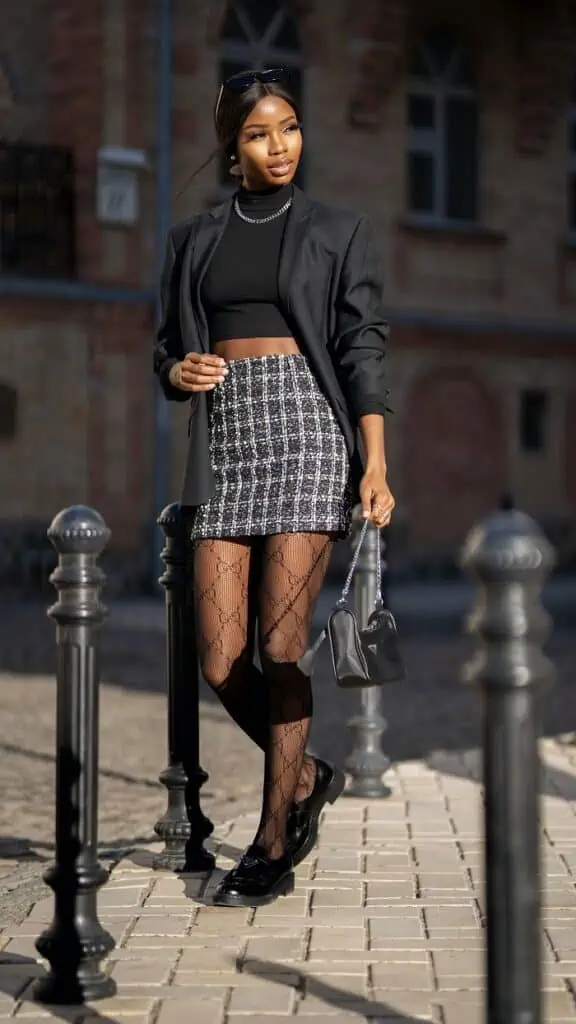 This is pretty similar to the crew neckline in the way it enhances sloped shoulders. Turtlenecks aren't used enough for flattering body types, but it's certainly one to make more use of when you can.
The main difference between a turtleneck and crew neckline is simply the fact that turtleneck is a bit more exaggerated in the placement on the neck. This only helps to further emphasize the benefits gained from the crew neck.