Women with the pear body shape are known for feminine curves because of a wider hips and bigger thighs. Meanwhile, these features can also make your bottom half look more prominent than your top half.
In order to balance out your body shape, below is a complete guide with 5 best skirt styles and 6 types of skirts you should use caution.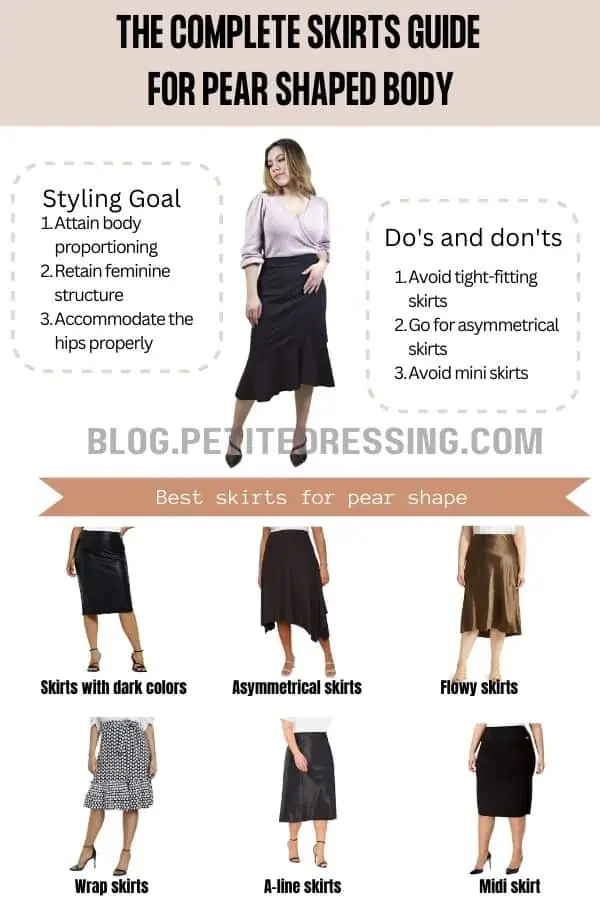 A-line skirts
The A-line skirt has a wide shape at the bottom that helps to visually elongate the pear shape and still complement the overall figure. it is a flattering skirt that is effective in balancing out the hips of the woman just so a better structuring can be attained.
The skirt would not emphasize the disproportion in the top and bottom region of the pear shape woman and as such are desirable for her. It gives the illusion of a slimmer waist and narrow hips making them an ideal skirt to draw attention away from the lower figure.
The design of an A-line skirt is a friendly design with a gentle silhouette that perfectly graces your figure so you can step out with so much confidence and class.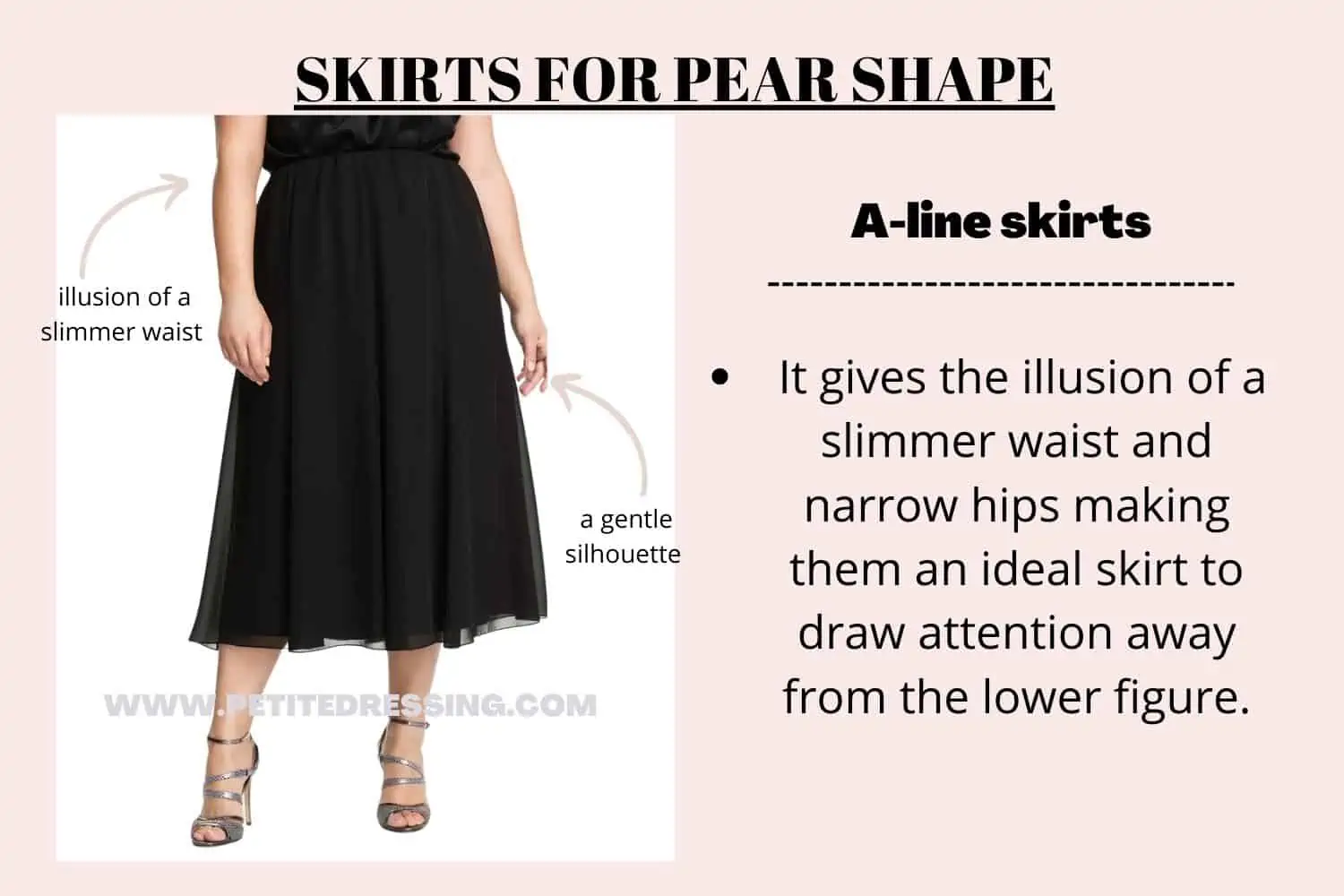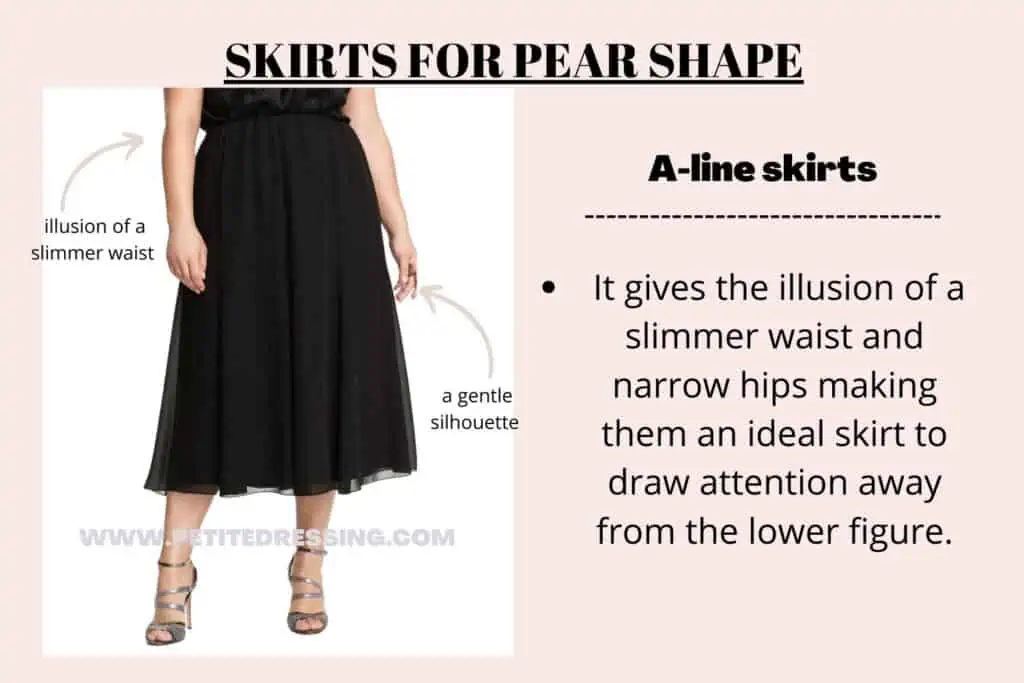 Wrap skirts
A wrap skirt is an ideal choice of skirt for the pear shape because it skims over the wide hips and offers a flattering finish to the figure. This skirt is a relaxed fitting pattern that can help you downplay your wide curves.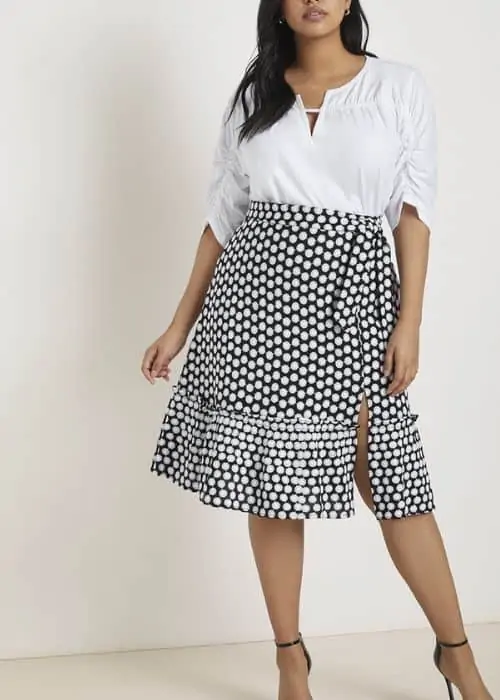 Wrap skirts are the best
Wrap skirts are great in acting as a concealer to the concerned area that can be invested in for the pear shape woman.
This skirt design is one that easily flatters the pear shape because they have a unique effect on the lower frame that would not alter the body balance.
If you have a pear shape figure, the wrap skirt is a design that could help offer you a perfect waist definition and still eliminate any horizontal line across your shape.
To appear stylish, this skirt style should be part of the major wardrobe essentials for the pear shape.
Flowy skirts
One major thing that you want to avoid if you have a pear body shape is unnecessary attention towards your concerned area. This is a fault that can be achieved when you wear a flowy skirt on your bottom half.
Flowy skirts are designs that do not have the strong tendency to cling to your bum and thighs. This type of skirt design has a relaxed fit on the lower part of your figure to help offer you comfort.
They can accommodate your wide bottom half and skim gently over it so you could feel very much elevated with your pear body shape.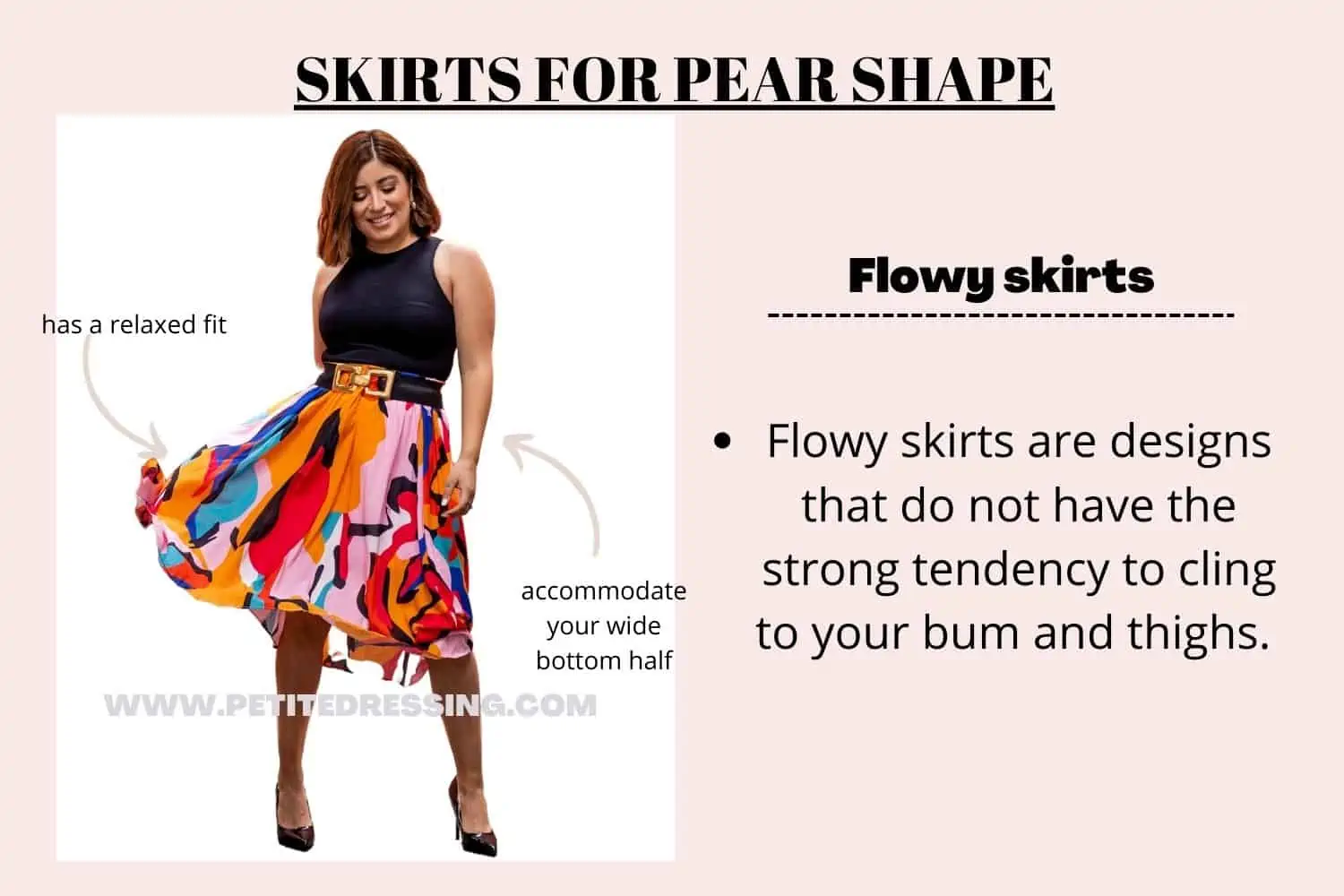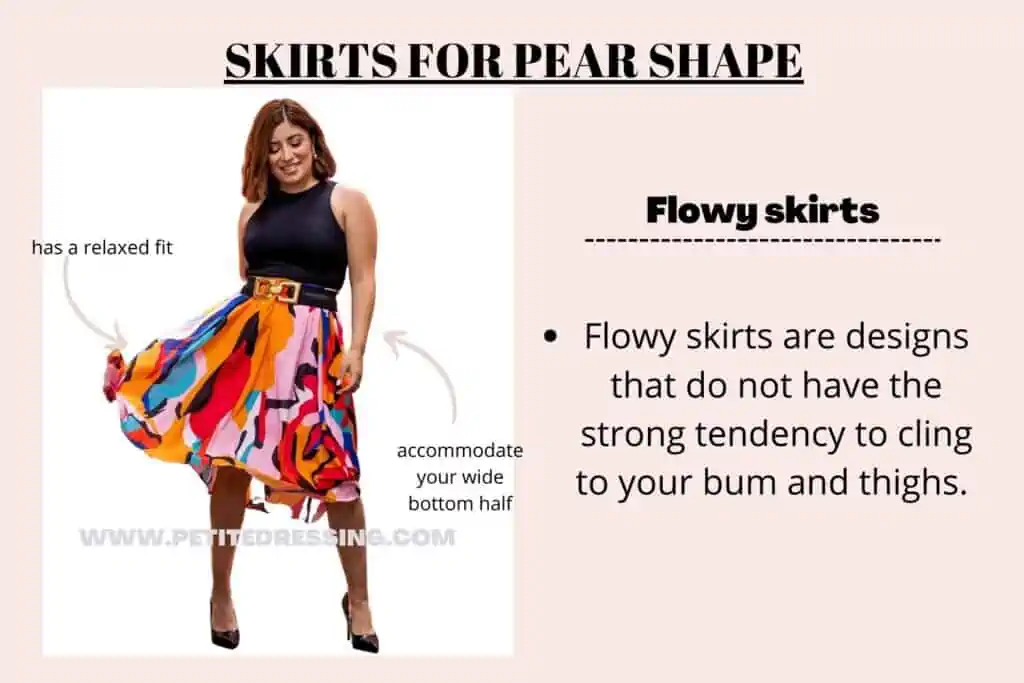 Asymmetrical skirts
When you have an asymmetrical skirt fixed on your pear shape then you should have no reason to worry over any form of fashion blunder. This is simply because this type of skirt can help to disguise the voluminous part of your figure while still complimenting the body frame.
The skirt does not have an equal length with a high level of figure elongation on the pear shape figure. An asymmetrical skirt is a design that can help uplift your overall figure while still helping you achieve balance greatly.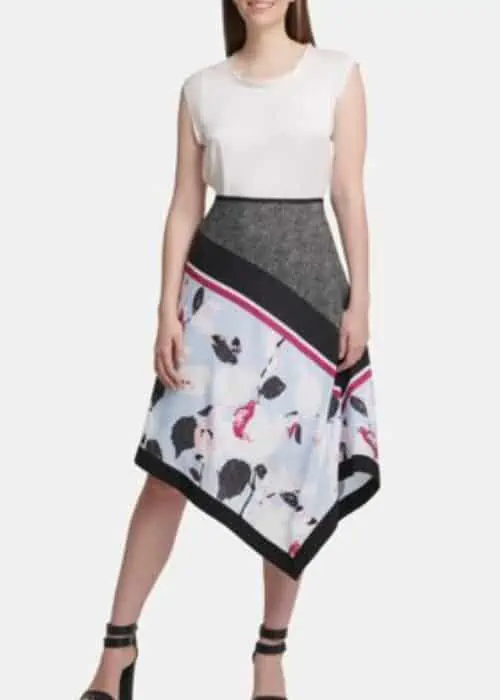 Expectations with asymmetrical skirt
They are effortlessly cool and stylish skirts that would help keep you intact and elevated all around summer because they are very efficient in aligning with the pear shape.
They are one of the most versatile skirt pieces that can get you ready for any occasion.
Skirts with dark colors
Dark colors are the favorite colors for almost all shapes and even for the pear shape woman. Dark color shades are very pleasant colors with a gentle feel on the figure that offers length to the woman's overall figure.
Skirts with dark colors are amazing and are incredibly stylish designs that work well with the pear shape and as such should be included as a wardrobe essential. The skirts act as great concealers that help to visually minimize the width in the hips.
Keep them close to your figure and find comfort in them because they would complement your pear shape better than the bright-colored designs. A bright-colored skirt design has a higher tendency of giving the eyes an illusion of width around the bottom half because they can draw attention easily.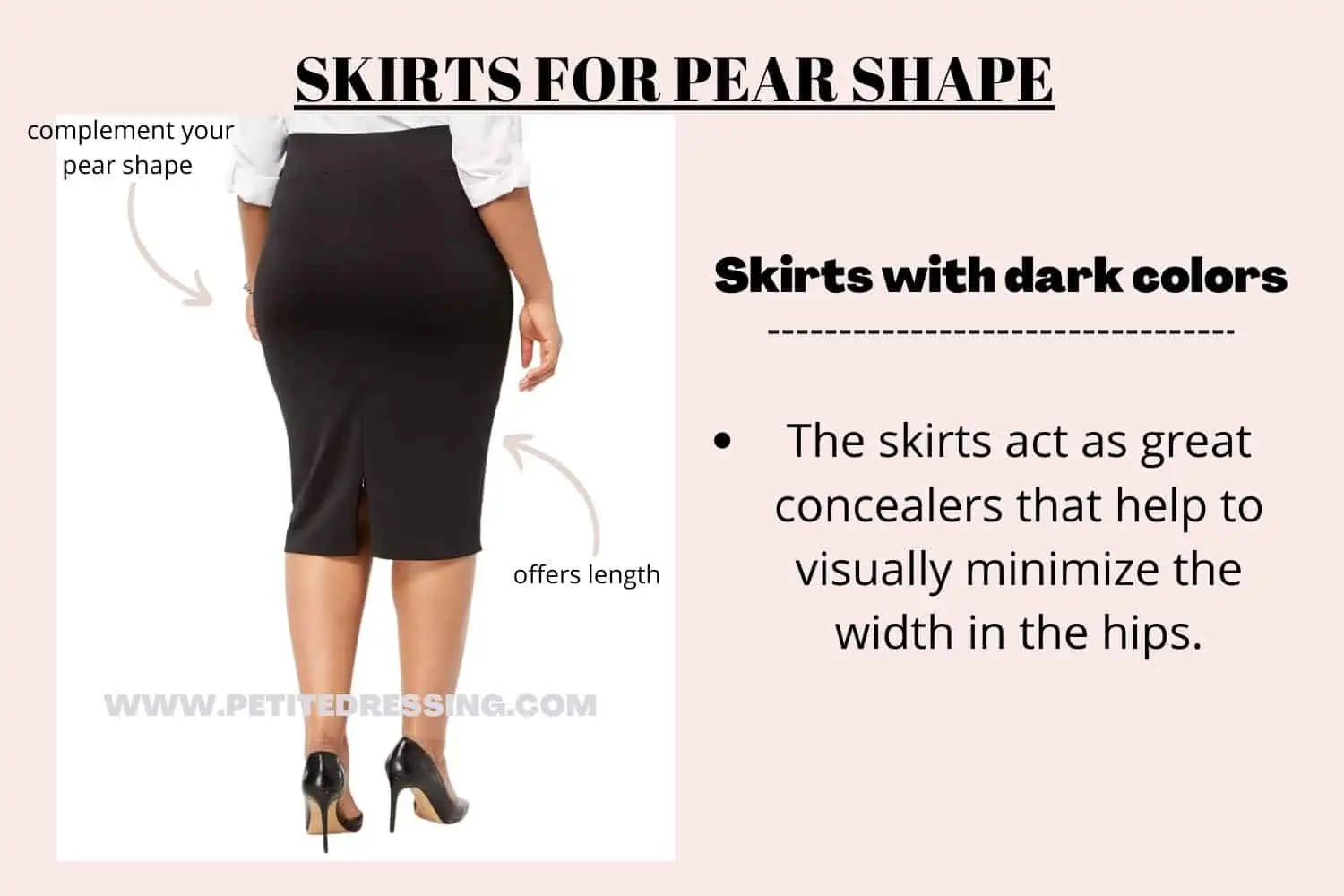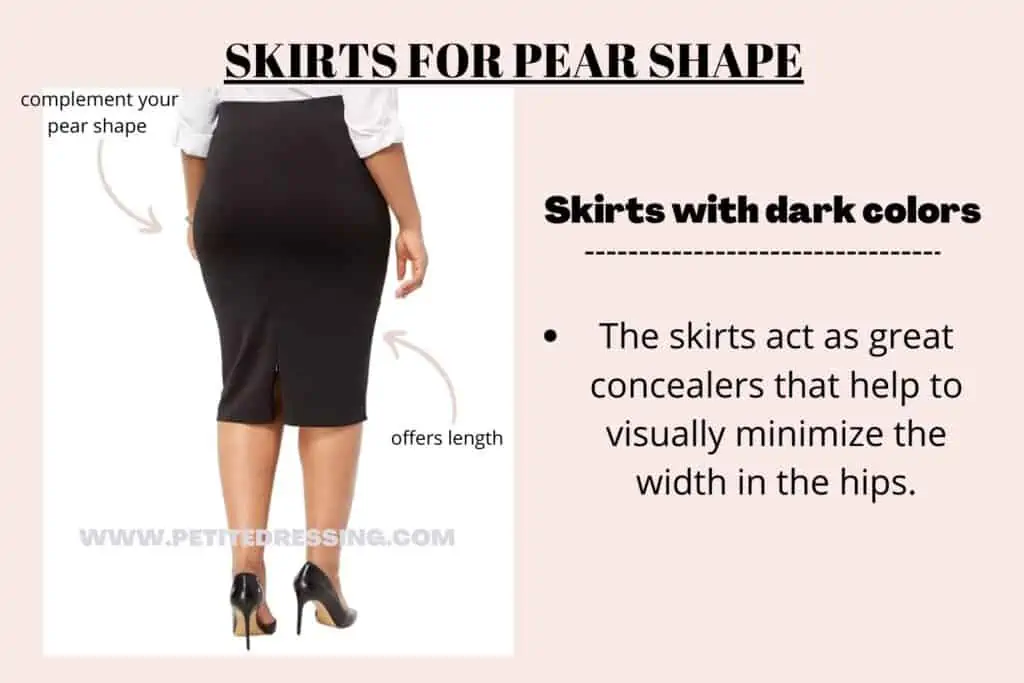 Avoid pencil skirts
Having a pear shape could simply mean the widest part of your body is around the hips and thighs and wearing a pencil skirt would never work for you. The case of a pear shape is to get those wide parts back in proportion but the pencil skirt would create a contrasting effect on your bottom half.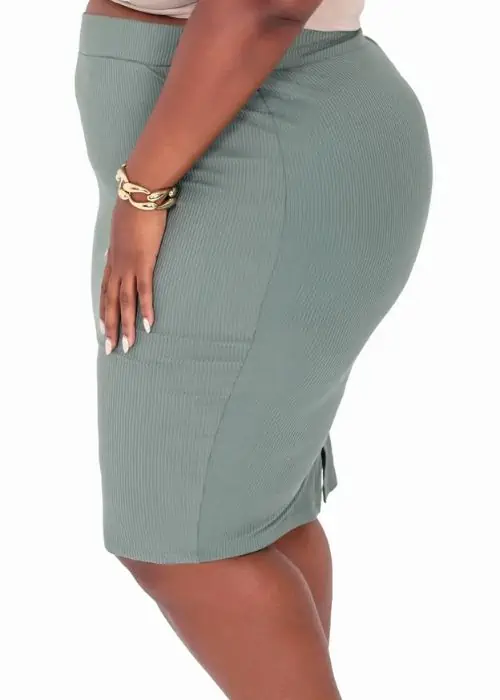 Pencil skirt is not for you if you are a pear shape
You have to think of minimizing strategies and the pencil skirt cannot offer such strategy to your lower half so the wide parts can align with the slender frame.
Pencil skirts are definitely not skirts designs that you should wear because they would highlight the hips and thick thighs.
It is necessary that you offset the extra in your lower half and using the pencil skirt would not help you achieve that goal in your pear shape.
You do not need to add extra volume to your lower half with a pencil skirt so it is just best that you avoid them.
Avoid tiered skirts
Your pear shape figure already has so much volume in your lower half and there is therefore no reason to add more volume to it. A tiered skirt is known to be a bulky skirt style that you should avoid on your shape.
The skirt has a series of layers attached to it at the hemline that could give the eyes an illusion of increased width around your hips. There are great styles that give room to your wide hips without making you feel but the tiered skirt has none of those qualities.
You can be thrown off balance when you fix up yourself with a tiered skirt. Do not consider them a great style for your pear shape if you would love to have a balanced structure in your overall frame.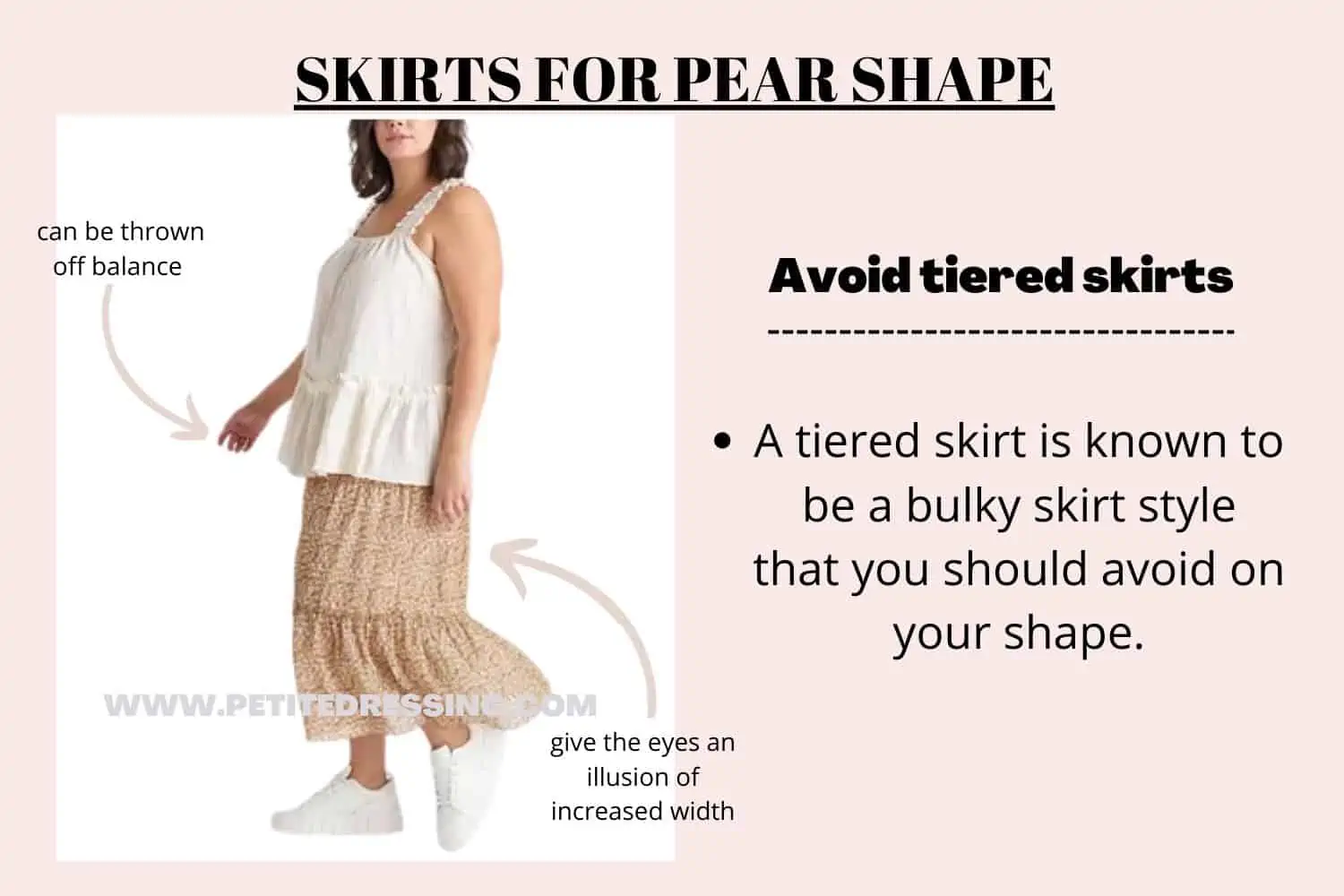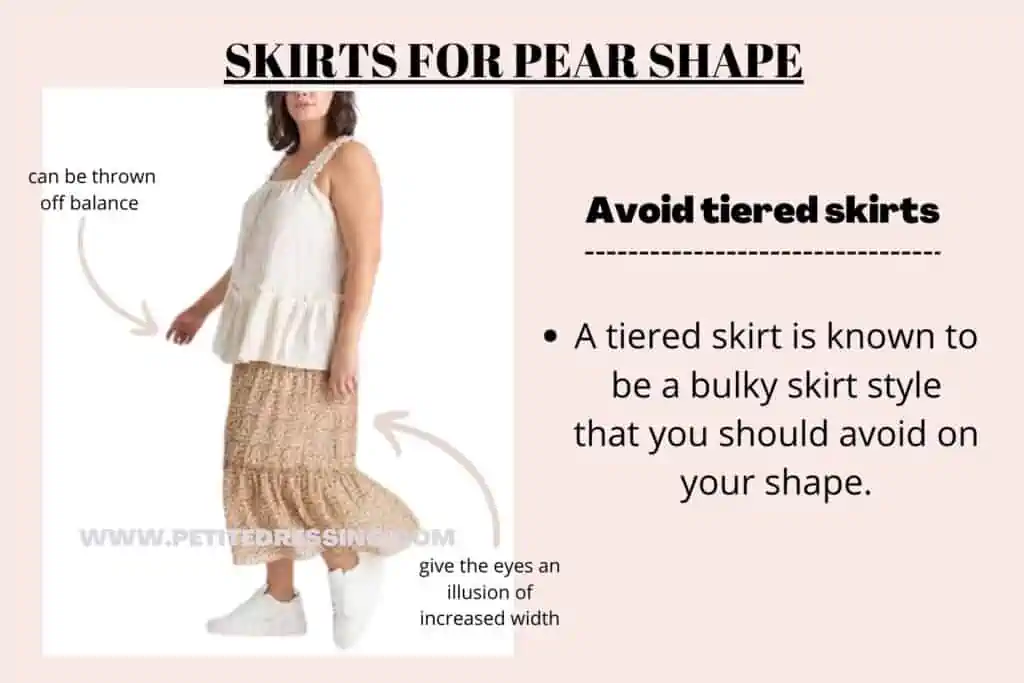 Avoid tulip skirts
Anything that has to do with giving extra effect to the bottom half should be unacceptable If you have a pear shape. A tulip skirt is a total no-no to your overall figure because they can also make you appear heavy around the hip region.
You can never look outstanding and sexy when you dress yourself up with a tulip skirt so make sure you make every effort to rule them out of your best designs.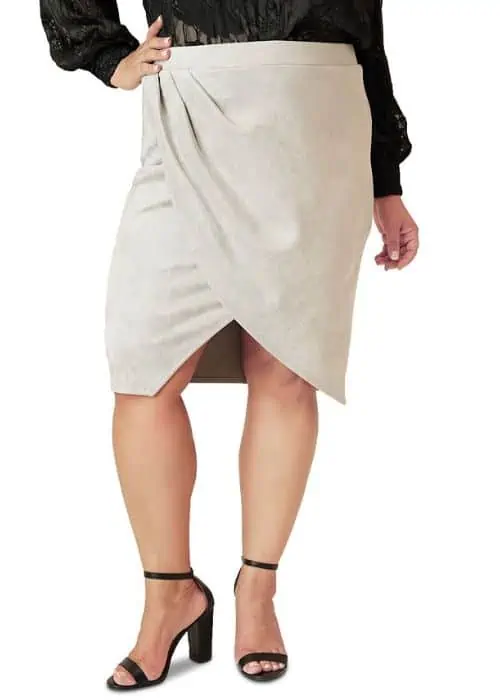 Tulip skirt should be out of your wardrobe staple
When a tulip skirt is worn over your wide hips, they would wrongly accentuate the wide hips and work against your gracious figure.
The skirt is designed to have an extra fabric that can making losing figure balance an easy process.
They have very heavy horizontal details that can exaggerate your body shape.
Avoid mini skirts
The pear shape has a wide hip and wearing a mini skirt is not just the right skirt length for your shape because it would wrongly accentuate the hips. Mini skirts are too short for your body shape because they would make the width of the hips easily noticeable to the eyes.
This skirt design would further make the lower half of the pear shape woman feel very heavy. Mini skirts can easily cause the pear-shaped woman to feel uncomfortable with no added trace of elegance.
A skirt of this length does not offer proper coverage to the pear shape and as such should never be worn on your figure. Your skirts should be able to smoothen your shape and fall gently over your wide hips but the mini skirt Is a total exclusion to this unique effect.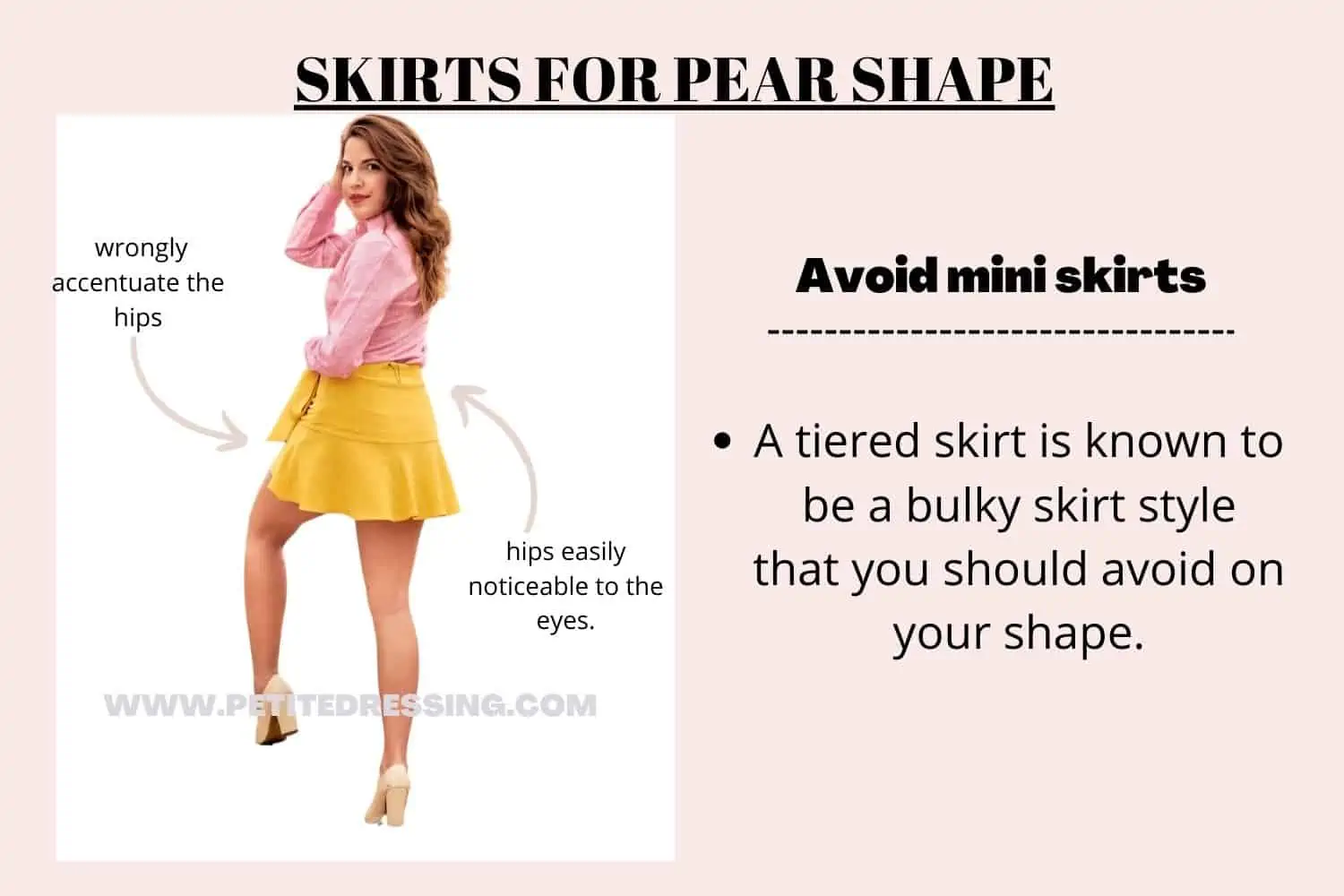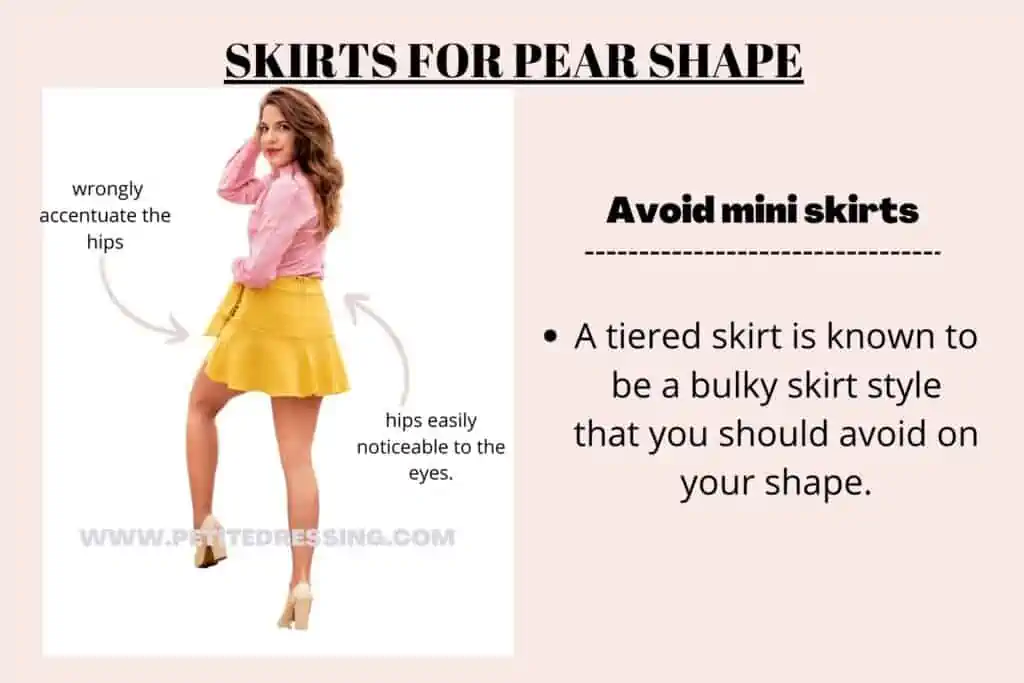 Avoid tight-fitting skirts
You do not need any type of skirt that would snug tightly to your overall shape so do not wear tight-fitting skirts on your pear shape. Tight-fitting skirts are known to often times cause restrictions when in motion.
They also clearly reveal any lump in your lower figure and make your concerned area seen by the peering eyes. Tight-fitting skirts are not great in elevating your overall look and you are advised to avoid them by not investing in them.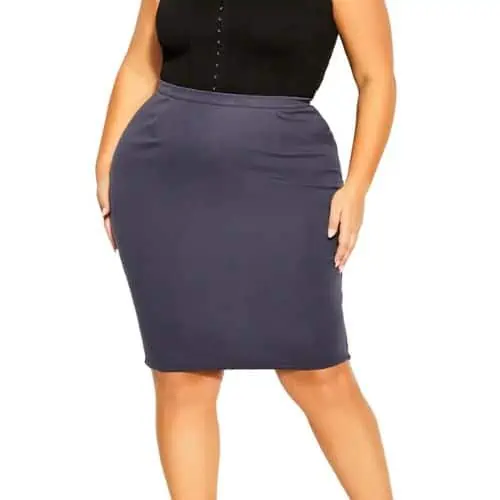 Tight-fitting skirts are not the best
They do not keep your structure intact and could even make you look provocative no matter how you try to style them on your pear shape.
Tight-fitting skirts are not the best fit for your feminine figure and trying to look sexy in them is not a great fashion sense.
Avoid bias-cut skirts
The bias cut skirt is a less flattering skirt design that drapes over the pear shape with a higher tendency to alter your overall appearance. The skirt has a design that does not help in visually minimizing the width in your lower half thus making you appear heavy down there.
Bias-cut skirts are not great skirt styles because they have a cut that works against the pear shape. This bias cut can easily allow the skirt to snug tightly over your figure rather than skimming gently over it.
This skirt style is one that would wrongly accentuate the natural lines of the skirt and cause more emphasis to be laid on your concerned area. It is not the right skirt to help you achieve the right styling goal for your pear shape.