Finding pants that don't look frumpy and aging can be difficult for women over 60. It is challenging to figure out what pant shape, length, rise, and fabric to go for. Some styles will be unflattering and lose their popularity as you get older.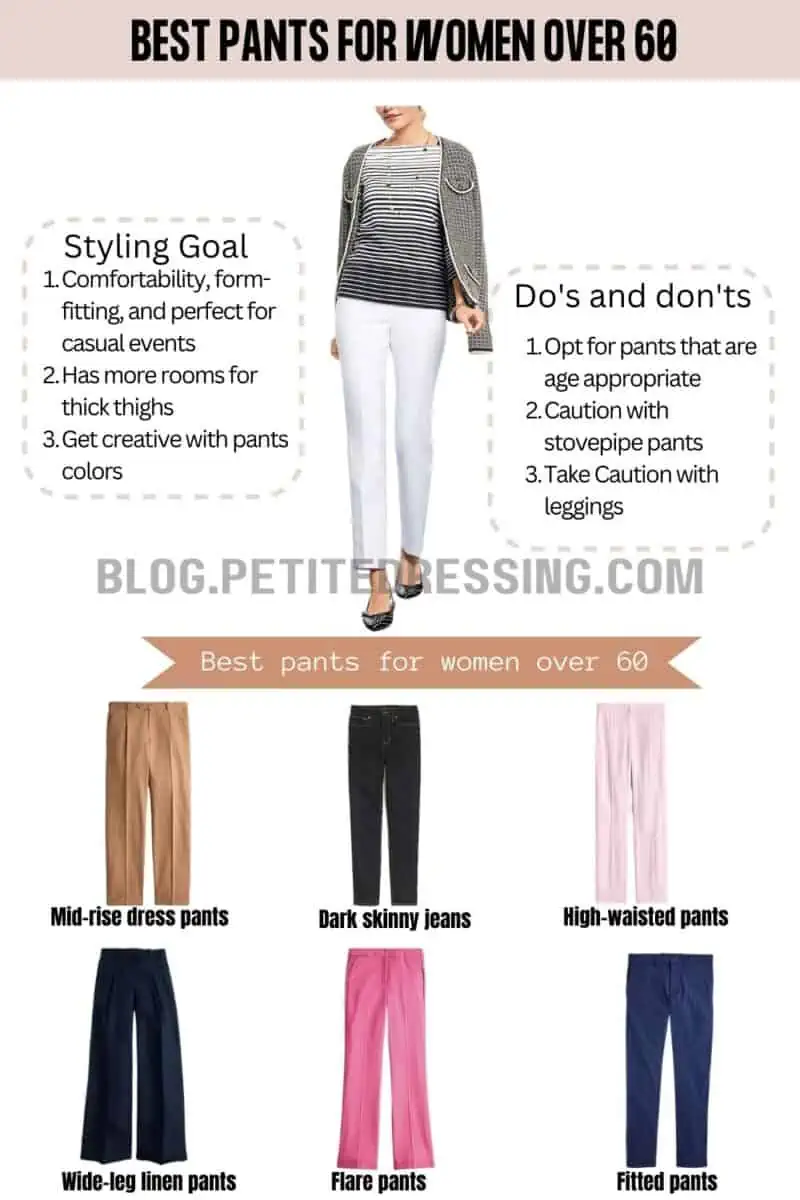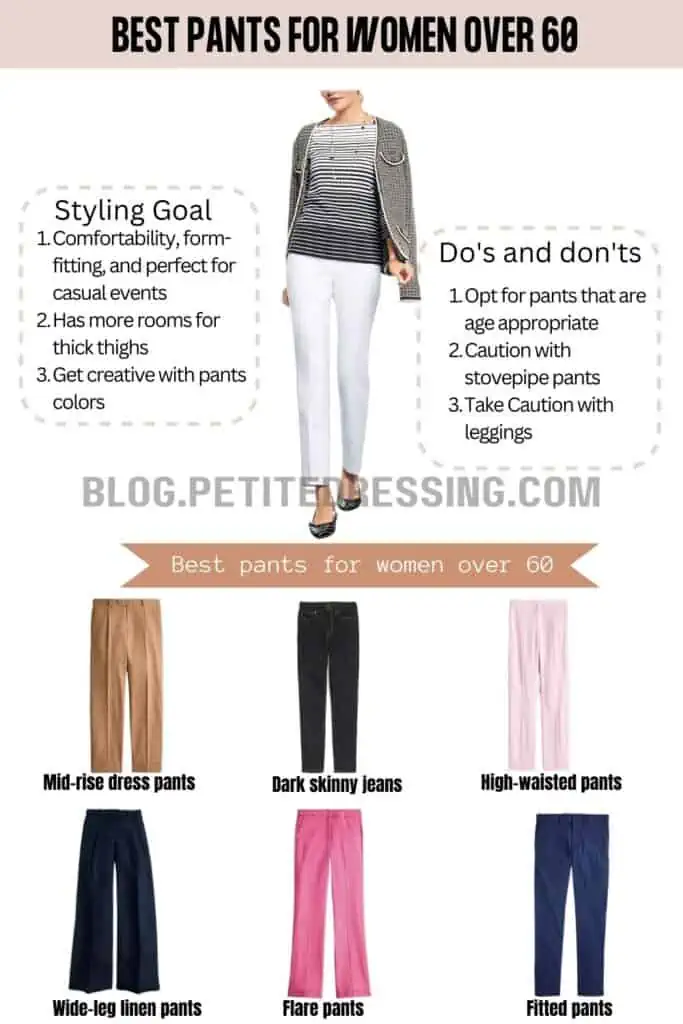 Your journey to learn about the best pants for you stops here. Being a woman over 60 should not mean that you can't appear incredibly stylish and sophisticated with your clothing choices. This guide will show you what to avoid and what you need in your closet in order to look as chic and flawless as possible.
Mid-rise dress pants
Mid-rise dress pants are considered classy, elegant, and dressy enough for most occasions.
Mid-rise dress pants are ideal for those who often find themselves in fancier settings since they can be paired with dressy clothing like blazers and satin blouses.
The mid-rise waistline is important for this style of pants because it is flattering for a higher percentage of women over the age of 60. If you have a petite frame, mid-rise is perfectly appropriate and sophisticated enough for an older woman.
It is important to make sure that your dress pants are long enough since it looks unprofessional to sport a pair of high waters. This is even more essential for women who wear dress pants to an office or business setting.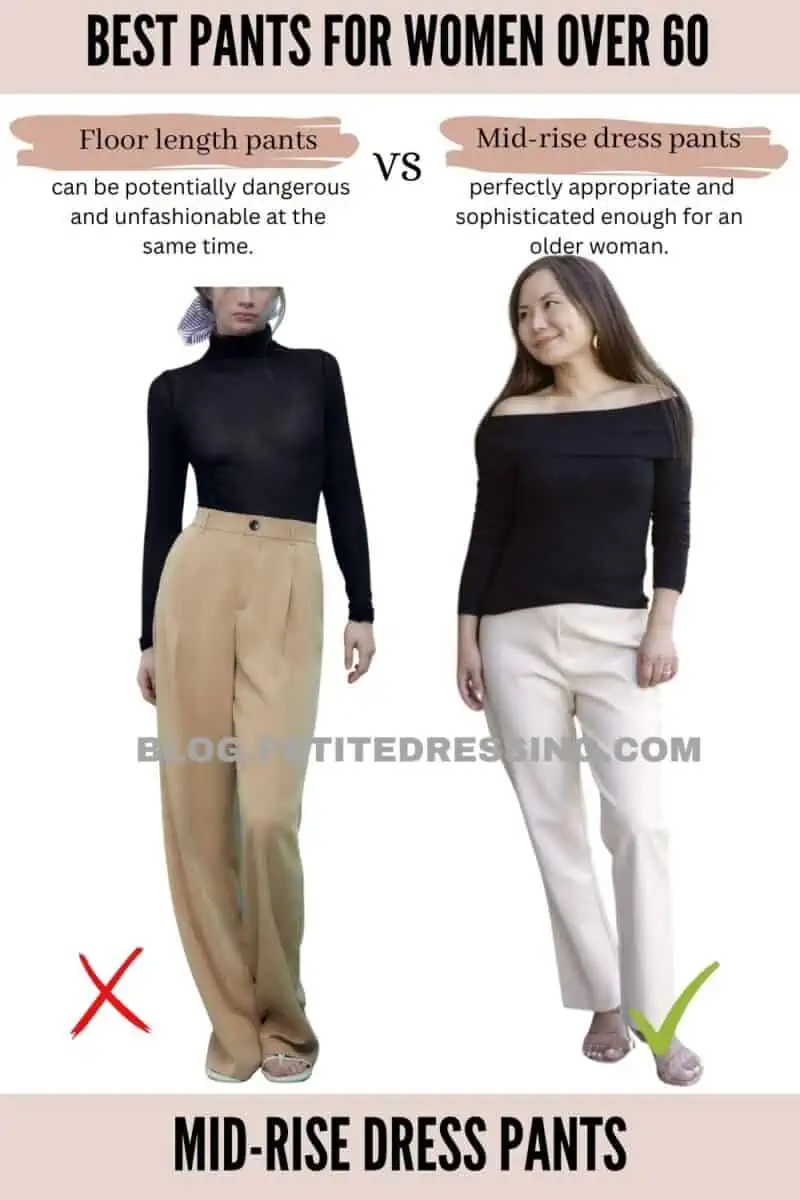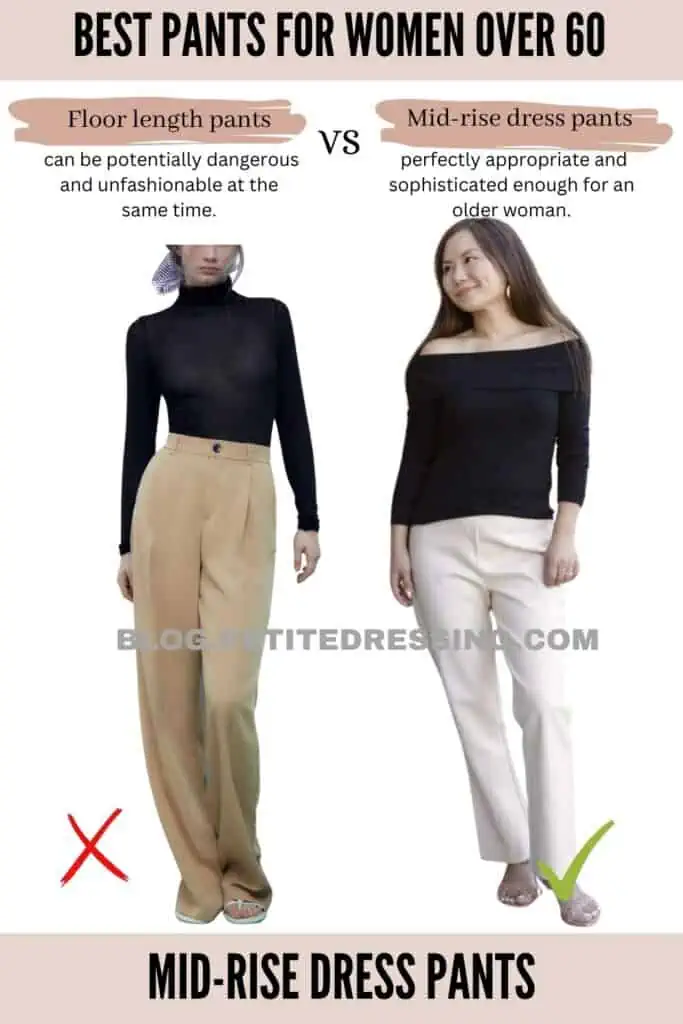 Dark skinny jeans
The jean material is also structured enough that it can stick more to a certain shape and amplify your best features. Even though you are over 60, you should not have to hide your body if you are confident and comfortable with the way you look.
Dark skinny jeans are also slimming and flattering on all body types. A dark wash will hide stomach fat and any creases, making things blend in that you may not want to stand out. If you get a high-waisted pair, you can push for an hourglass illusion which will look even more appealing.
Skinny jeans are similar to a more structured version of leggings. They are comfortable, form-fitting, and perfect for casual events.
Dark skinny jeans hide a lot of imperfections that would show with lighter washes.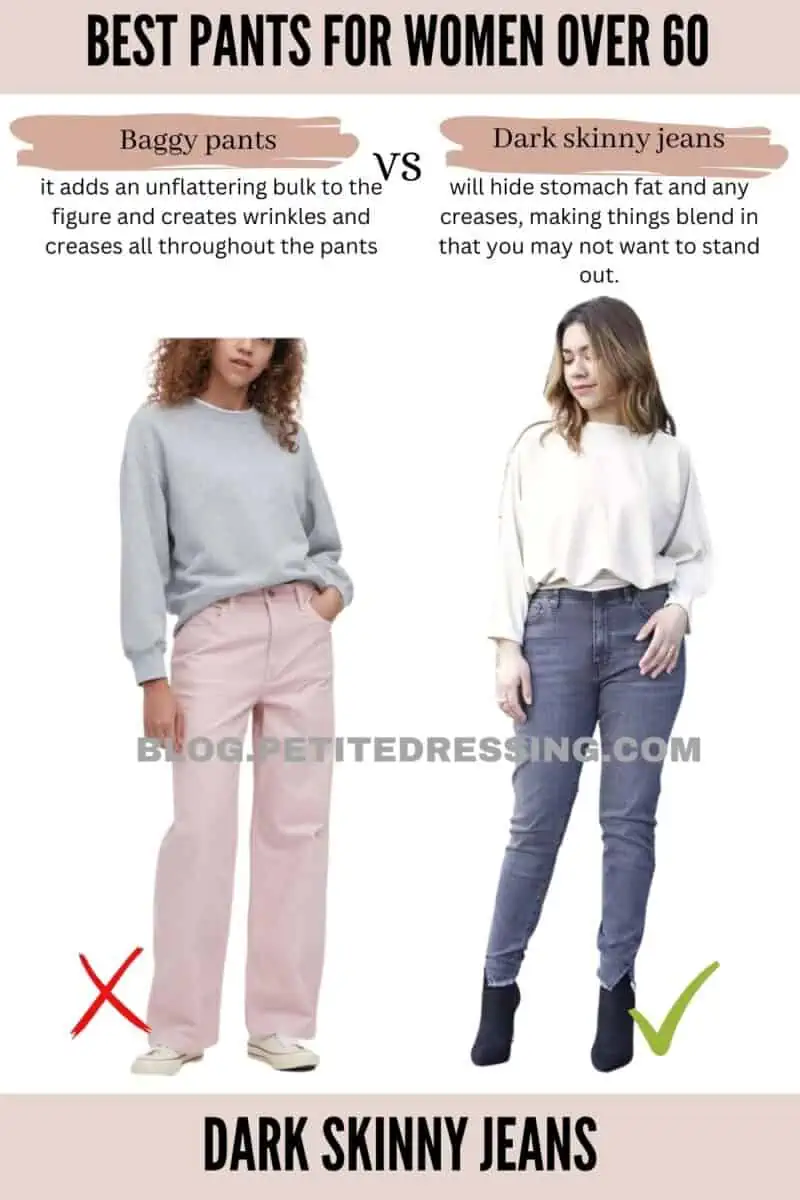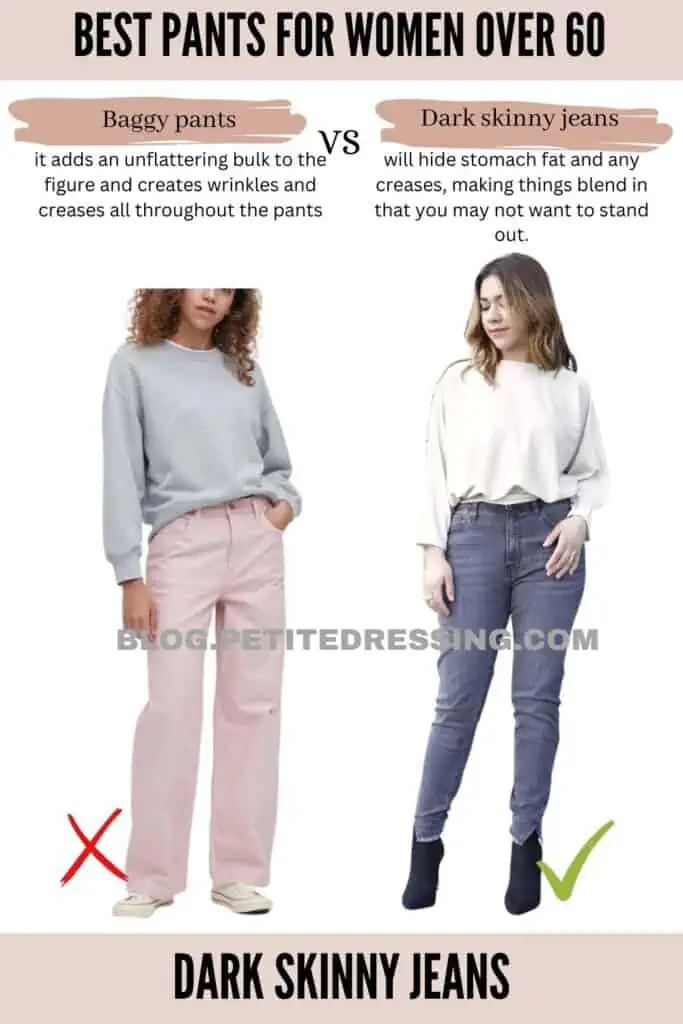 Wide-leg jeans
Wide-leg jeans are one of the best jean choices for women over the age of 60. This style of pants is another trend that has cycled back from vintage inspiration, making it a timeless classic option.
The wide-leg style creates more room for thick thighs or calves without being baggy or frumpy. If you are not feeling confident enough to put on a pair of skinny jeans, wide-leg jeans are the ideal alternative.
The jean material will help keep the shape of the pants, so you will not have to worry about unflattering creases and folds compared to other fabrics. Wide-leg jeans can be styled to make the perfect casual look.
You can always count on jeans to be dependable and long-lasting, which means you won't have to constantly search for a new pair of pants every few months.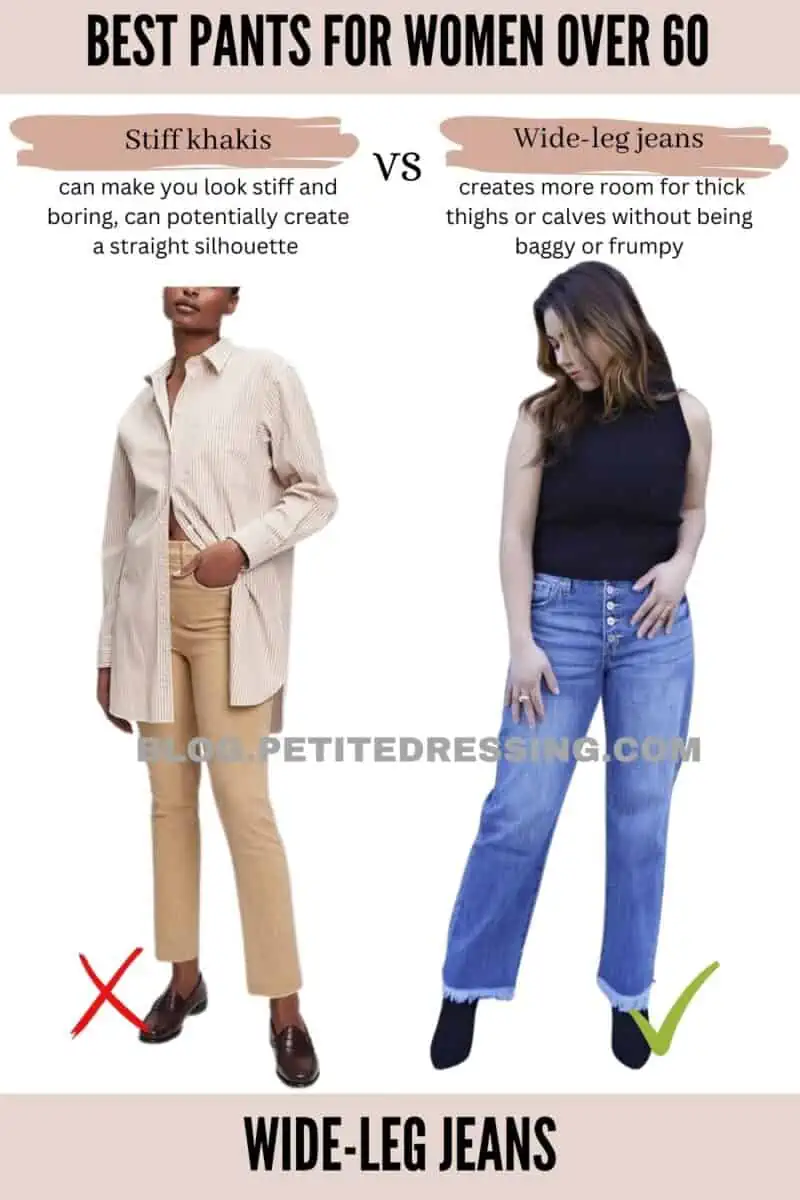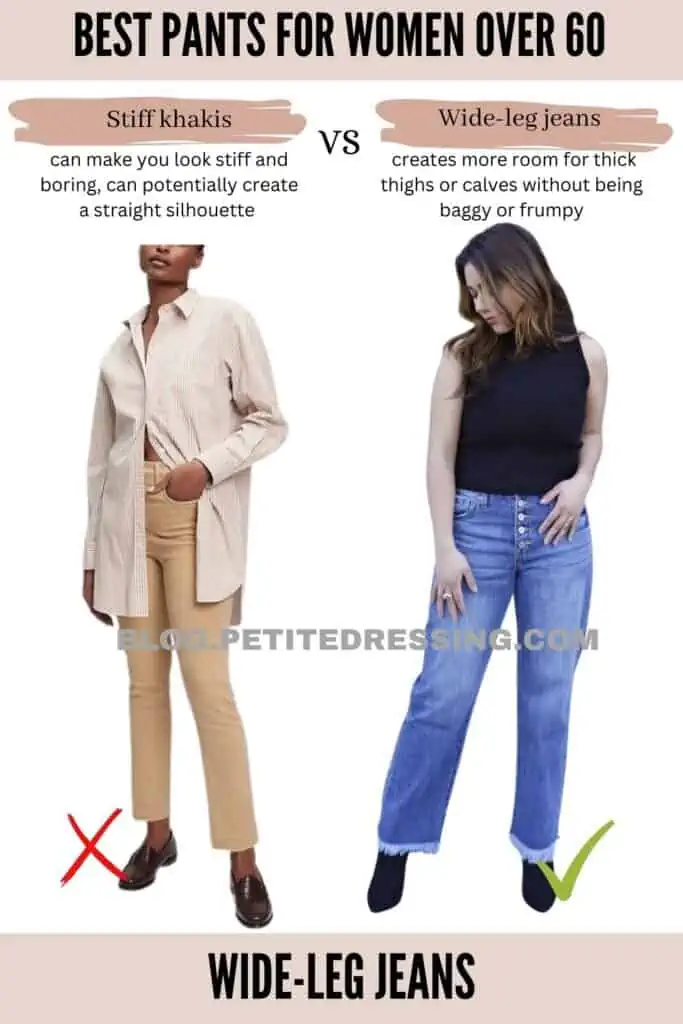 Wide-leg linen pants
If you are looking for a pants option that is both comfortable and casual without being too informal, wide-leg linen pants are an excellent choice. Linen pants in general are very light and breezy, making them perfect for a spring outfit.
Wide-leg linen pants are commonly made with a cream color that is ideal for neutral outfits. This neutral color is also flattering for many different skin tones. Linen pants are breathable and will provide comfort with class, which is very beneficial for women over 60.
Wide-leg linen pants are slightly flowy, leaving plenty of room for thicker thighs.
If you choose a pair of high-waisted wide-leg linen pants, you can use the fabric's shape to conceal your stomach as well.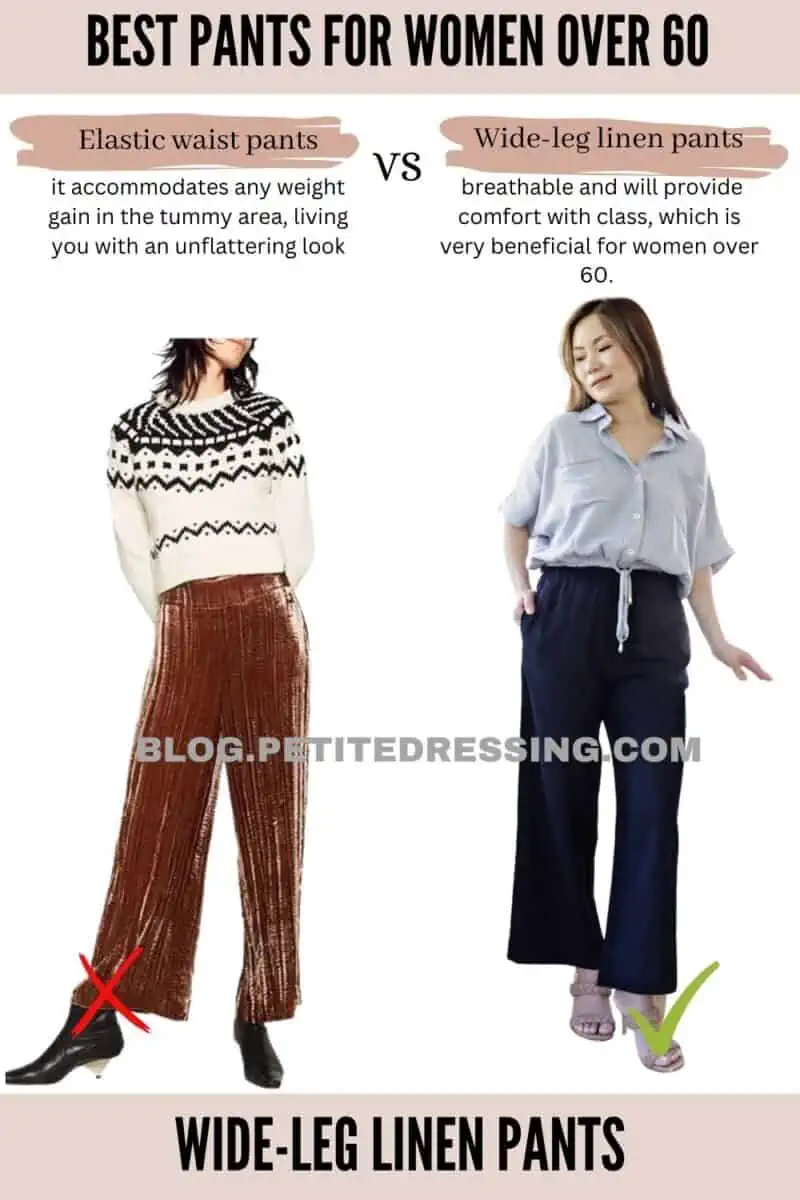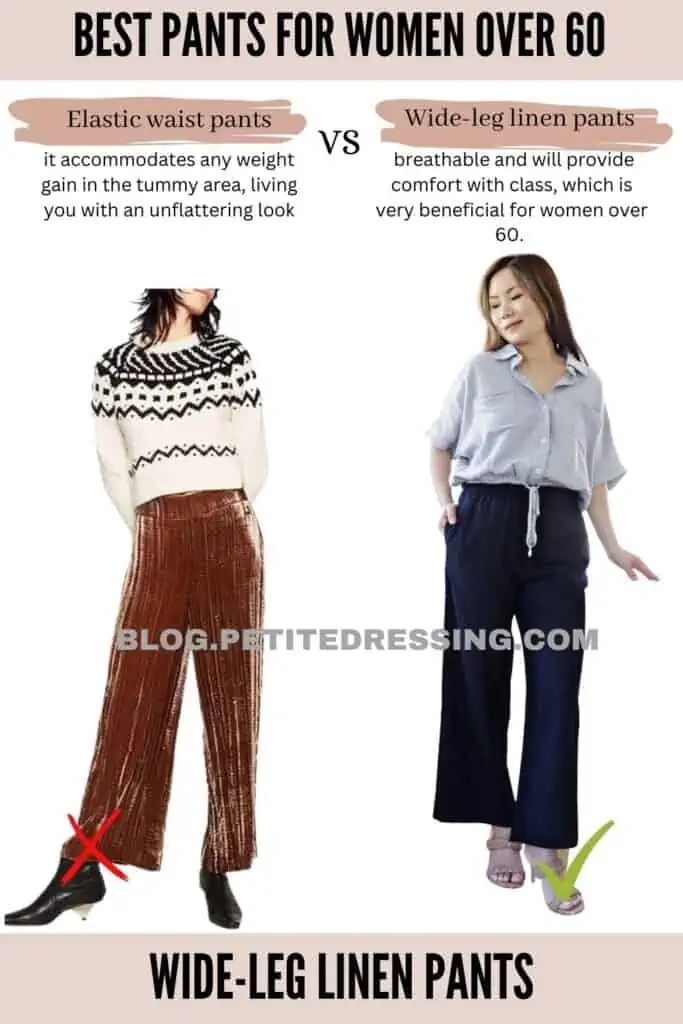 Embrace bold colors
Many women tend to lean towards neutral colors for their clothing as they age past 60. But bold colors, if worn tastefully, can actually make you look more youthful.
The trick is to add a pop of color to some of your standard outfits and use that as your statement piece. Pants are perfect items to wear as a statement piece since they take up a lot of space on your body.
For example, a muted gray monochromatic outfit with a pop of pink or blue will completely change the aesthetic of your look. Fashion is created from self-expression, so adding a pair of pants to your closet that is your favorite color may bring joy to your life and allow you to get creative with your outfit choices.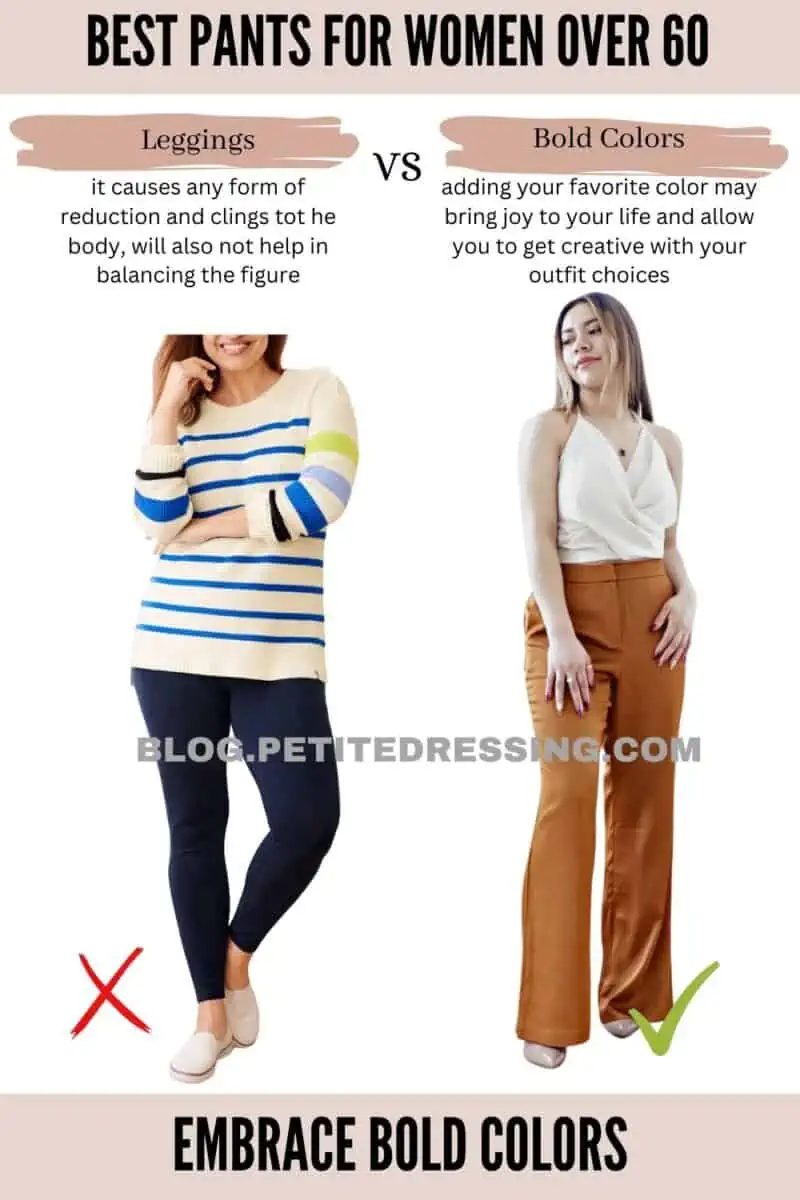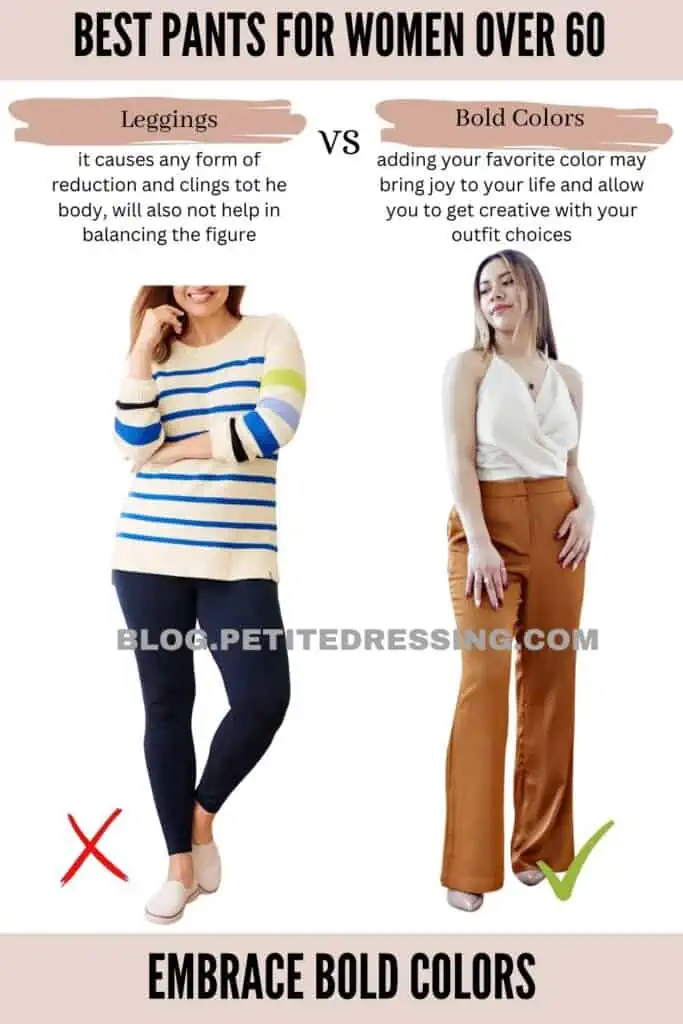 Caution with stovepipe pants
Stovepipe pants are straight-leg trousers that fall at a regular length with a low to mid-rise waistline. These pants are fitted to the body, with a tighter fit at the knees.
This style of pants can be worn around the office or for a more casual day out. They are an excellent mix of dressy and casual, which allows you to wear them for a large variety of occasions.
Many women over the age of 60 have a more petite frame, making stovepipe pants an ideal choice. They can also be used to accentuate certain features due to the fitted style.
Stovepipe pants can draw attention to your stomach since they usually fall right around your hips. If you have large hips or a larger stomach, this type of pants may not be the most flattering for you. If you have a more rectangular body shape, the accent on your hips may give off a curvier illusion.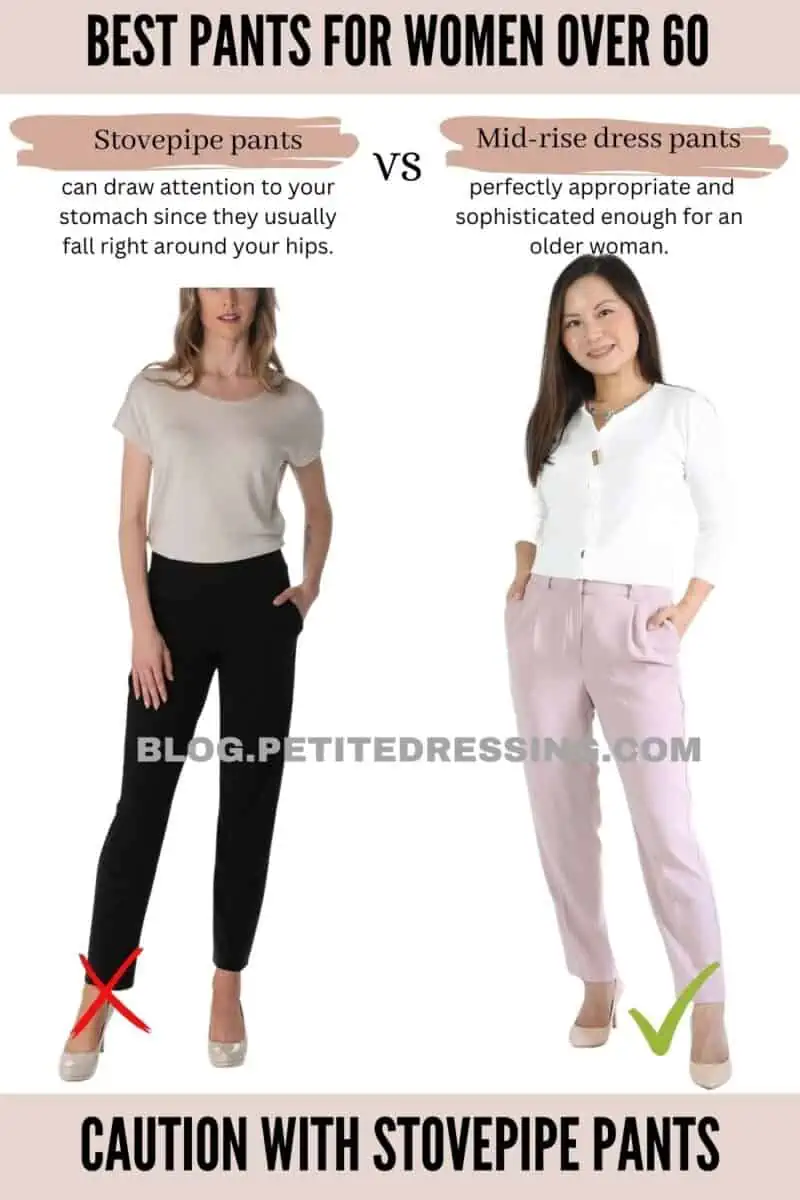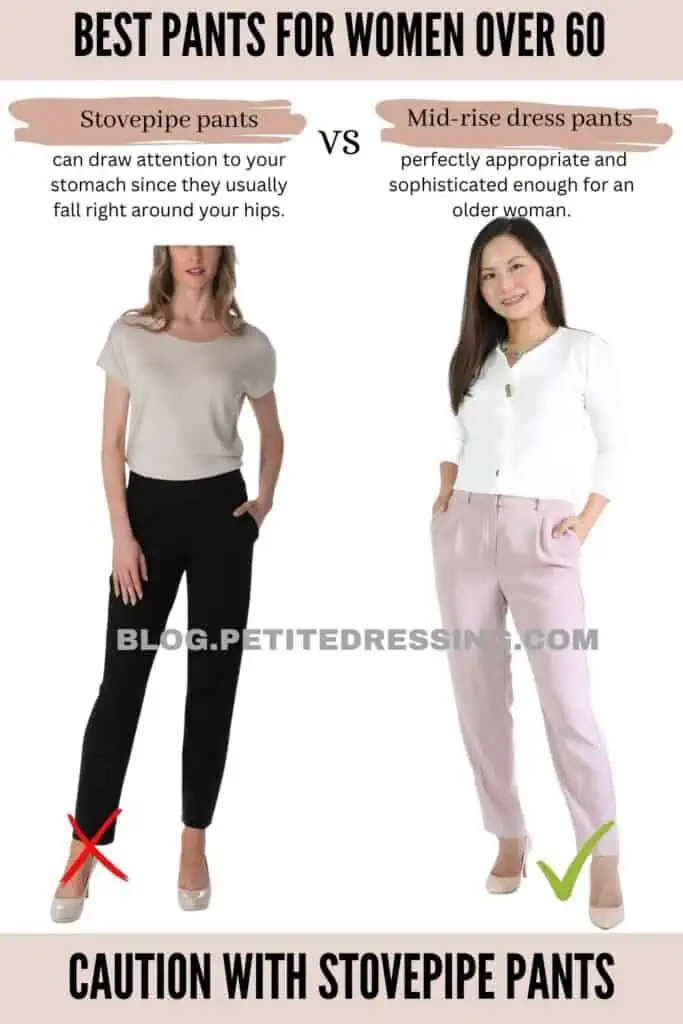 Caution with leggings
Leggings are extremely comfortable but are not always the most flattering pant choice. They are typically made of soft fabric, which will keep you warm and cozy during the colder seasons.
Leggings are also designed to be stretchy and provide plenty of room for any bloating or fluctuating weight. The fabric is usually breathable, so you can wear leggings for athletic activities as well.
The main issue with leggings comes from the fact that they are completely form-fitting. The thin fabric will cling to every curve, bump, and crevice of the lower half of your body.
As a woman over the age of 60, you know how challenging it is to stay in perfect shape. Your body has looser skin, and some imperfections will clearly show through a pair of leggings. Aging is not something you can completely avoid, but you can control how and where it shows.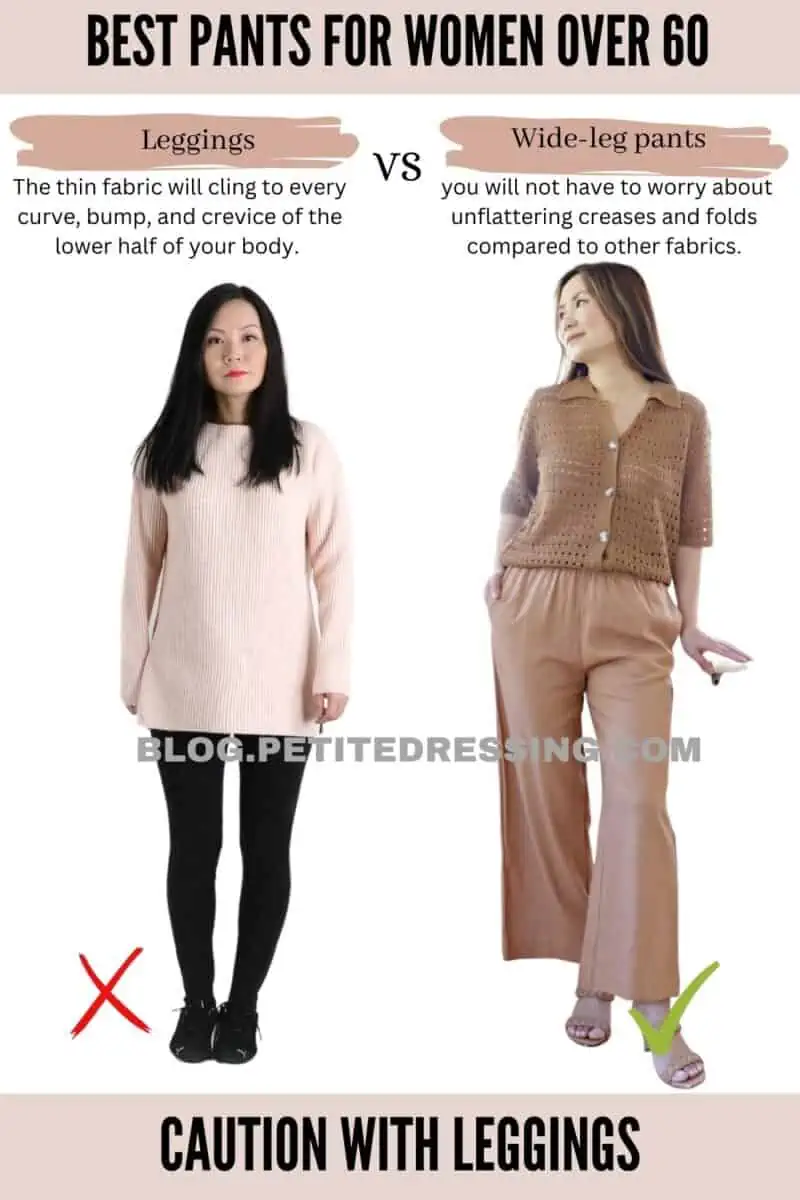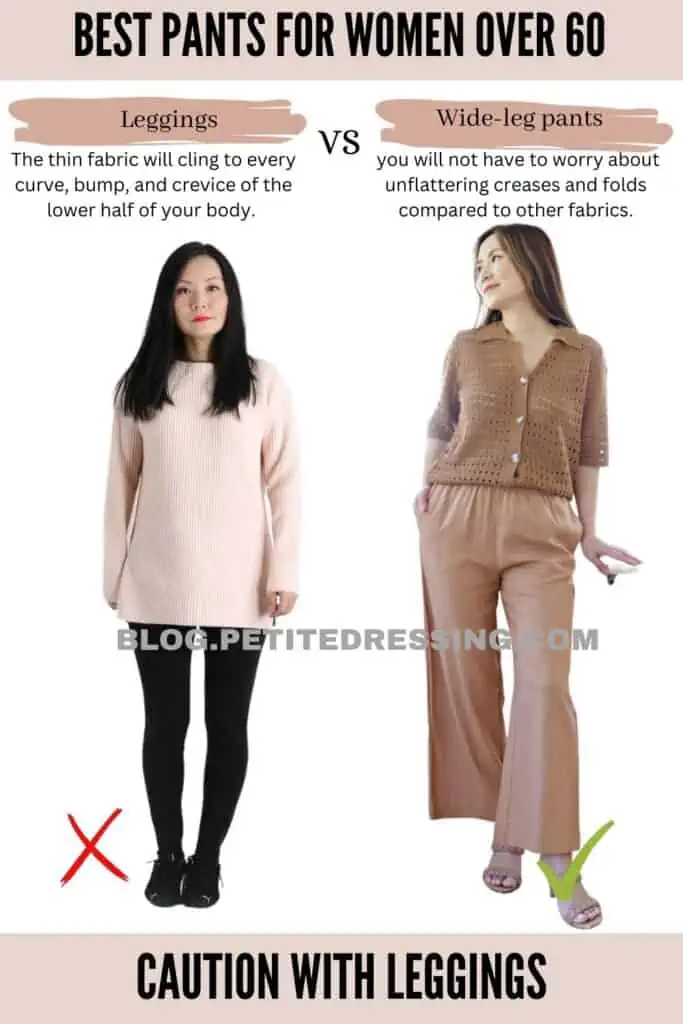 Caution with elastic-waist pants
For some of us, elastic waist pants are ideal once you are over 60 because they can accommodate any weight gain in the tummy area, which is quite common as you age.
However, these can also be unflattering and aging.
If the waistband is just an elastic cinch, without any buttons, zippers, ties, or straps. The lack of accessories is unappealing, and the thin fabric lacks structure. The waistline is not chic and not ideal for any formal event.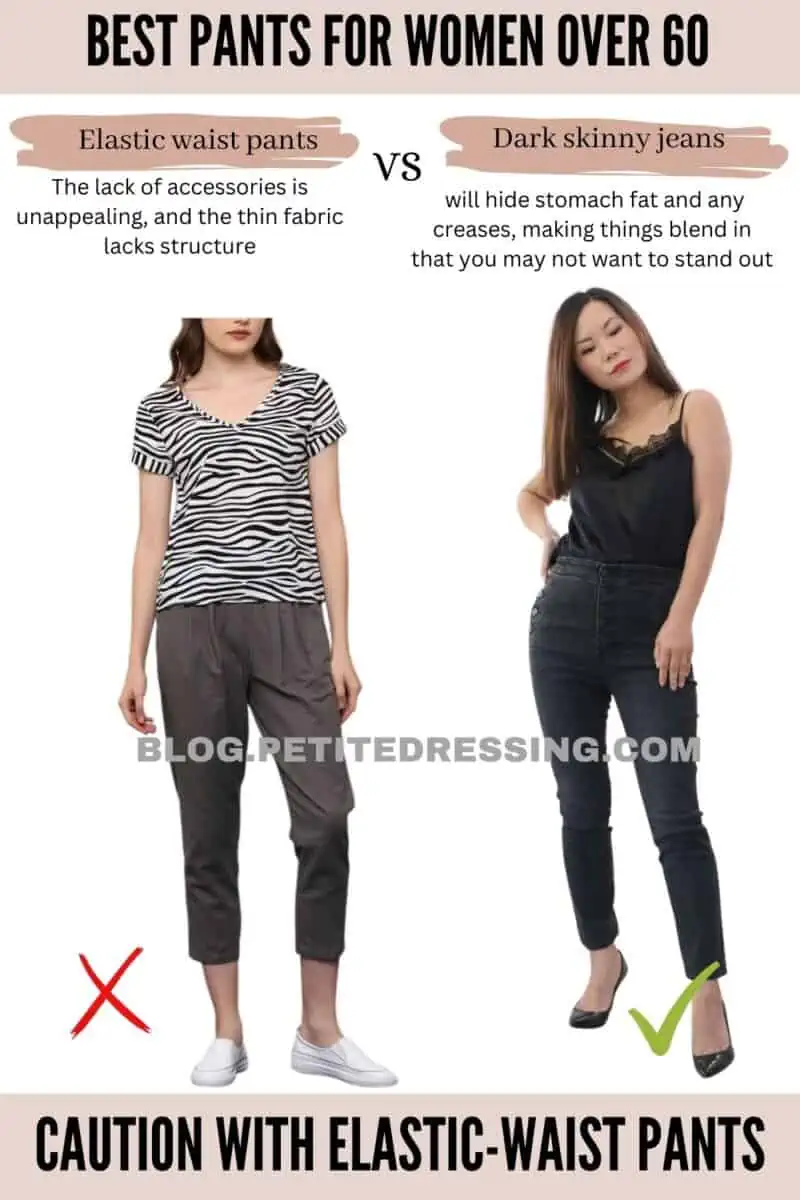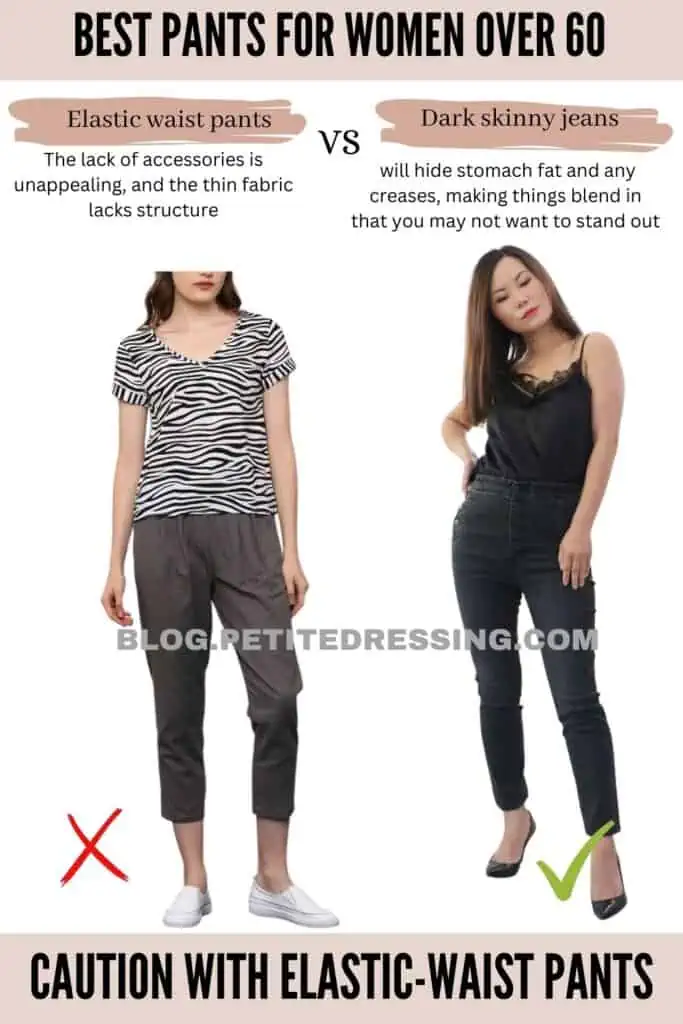 That is why you should be selective with the types of elastic waist, and how to style them.
The best type of elastic waist for women over 60 are those with side elastic band. In the front, they still look like regular pants, and that is why they look just as stylish as "regular pants", but they provide you the comfort of elastic waistbands in the meantime.
Avoid stiff khakis
A lot of older women fall into the habit of buying a pair of stiff khaki trousers that make them look boxy and boring. Stiff khakis take away the shape of a woman, which is not something you should aim for.
Stiff khakis take the femininity out of an outfit, making them look more basic and shapeless. They are also often seen worn by older women, so this style of khaki can become aging.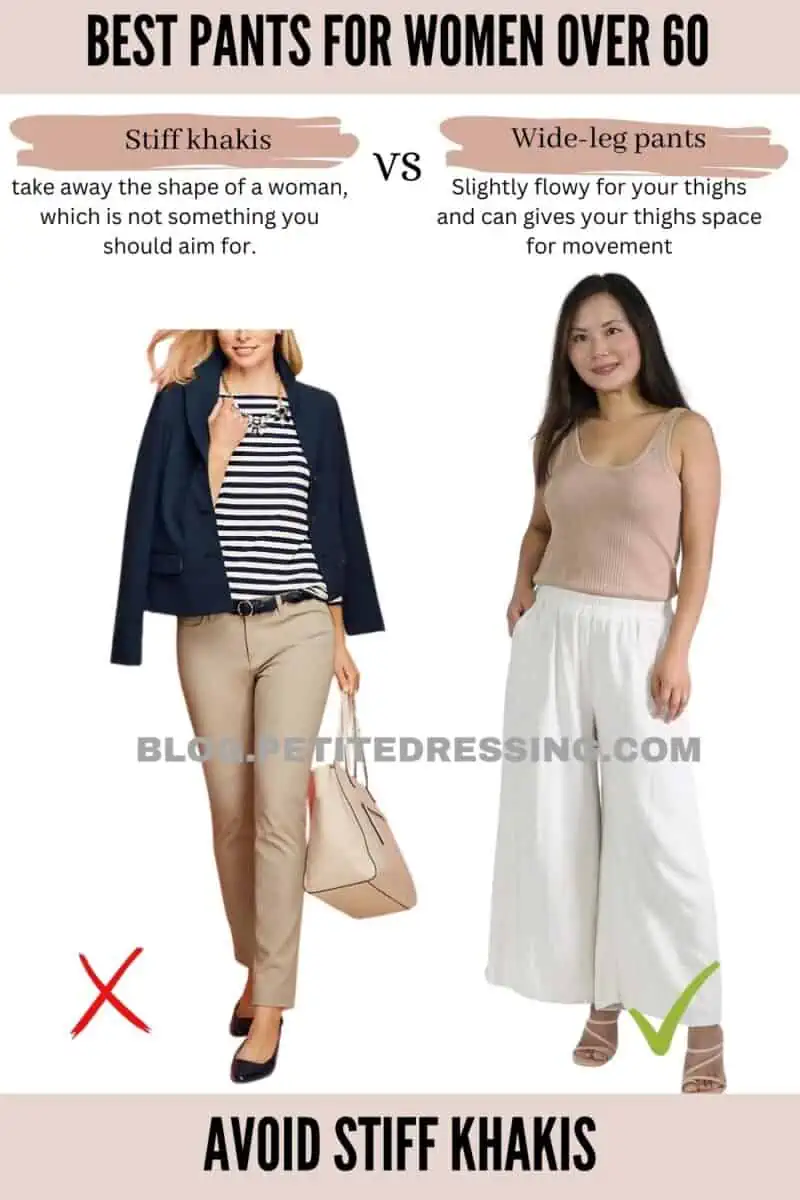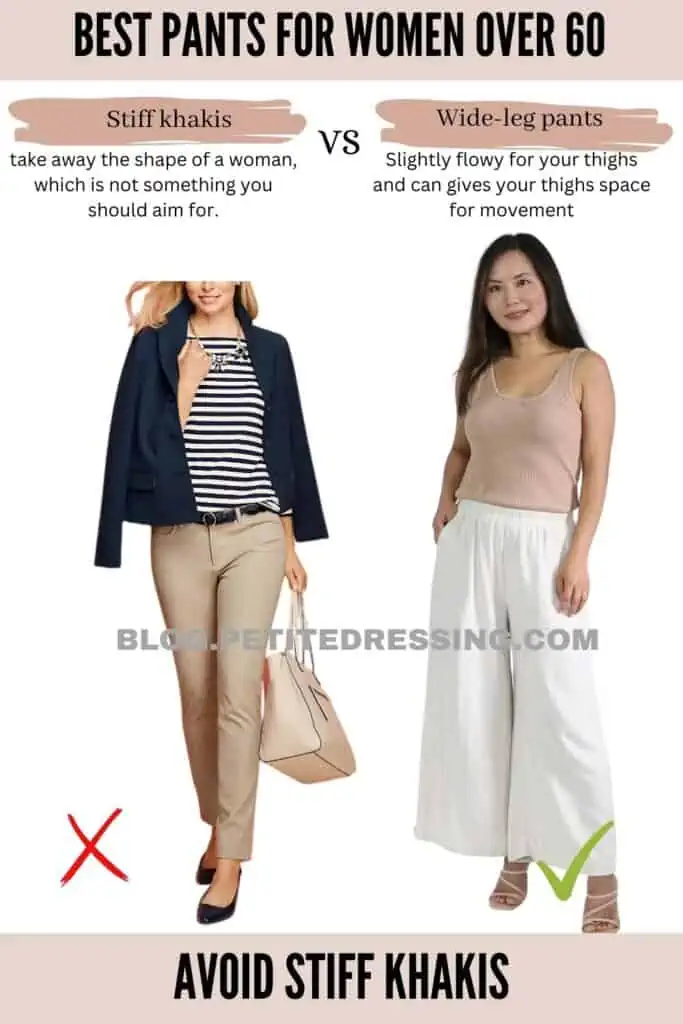 Avoid baggy pants
Baggy pants are currently very trendy due to the Y2K fashion cycling back around. But they are not flattering in any way unless you are incredibly in shape. This style of pants is often worn with a revealing top to balance the outfit out, which is a look women over 60 should avoid.
This style of pants often looks frumpy, especially on older women. You may think that the extra fabric will hide stomach fat or thick thighs, but it won't. Larger clothing will only make you look bigger than you actually are. They add bulk to any frame, which is something you definitely want to avoid with any pair of pants you choose to wear.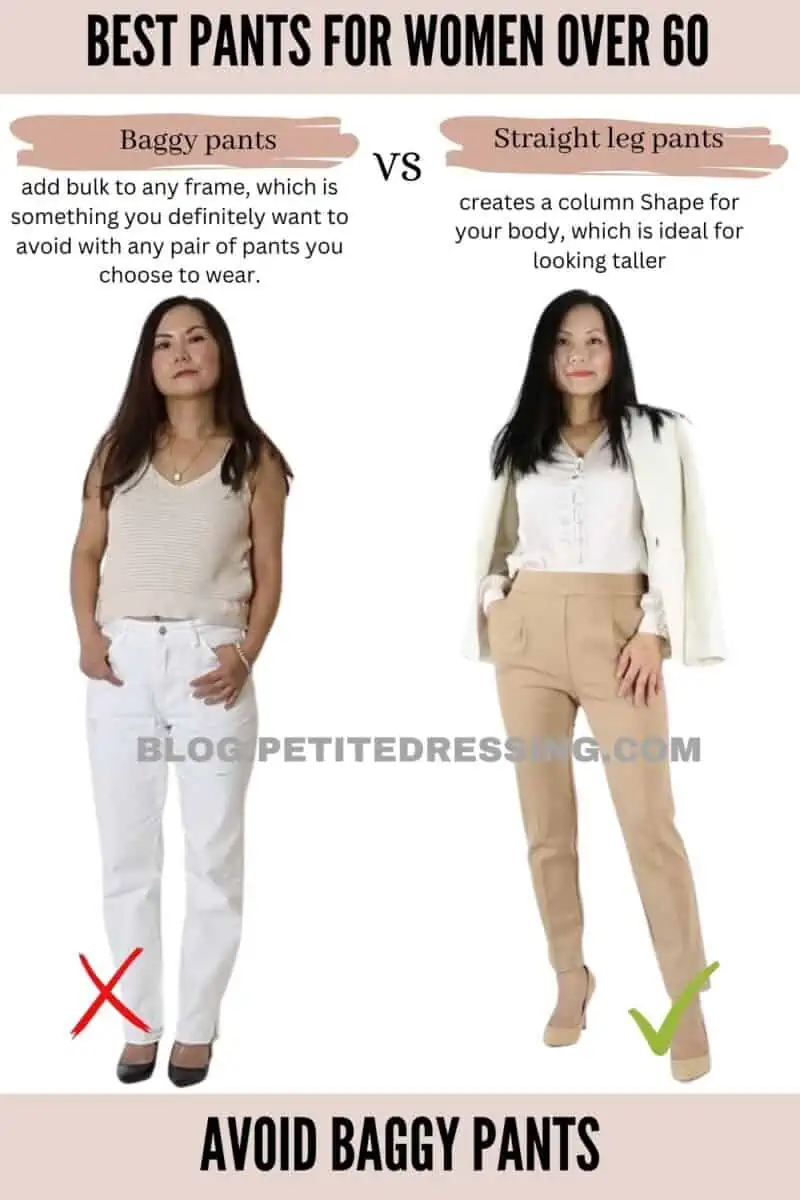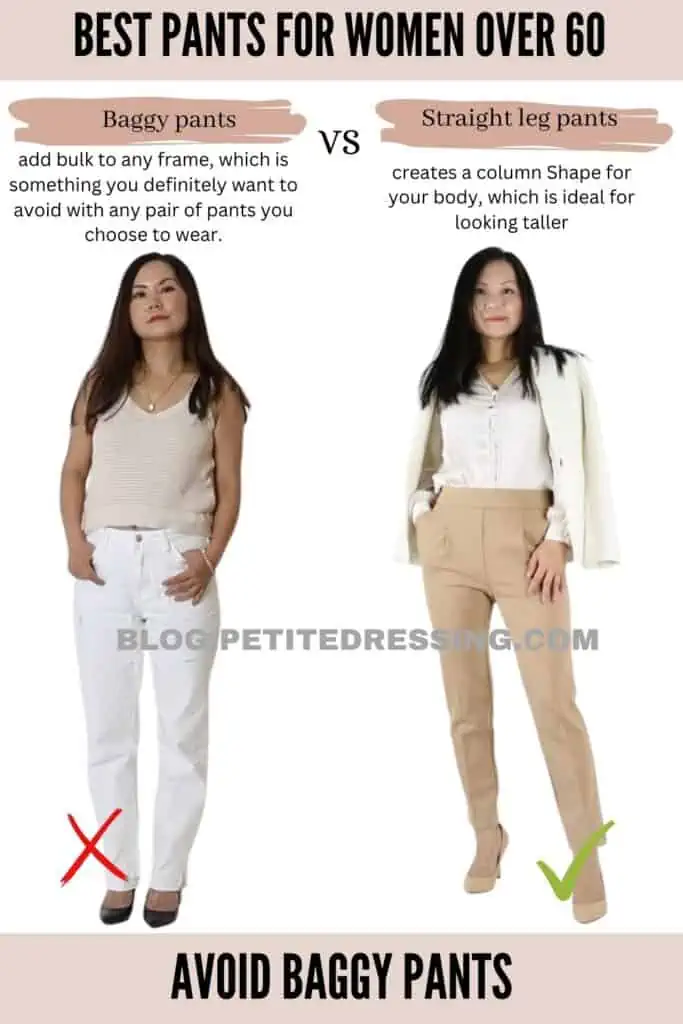 Avoid pants that are too long
It has become increasingly popular to wear pants that are long and require heels to be worn with them in order to prevent them from dragging on the floor. These pants are not very flattering and require shoe choices that will most likely be uncomfortable for women over 60.
These long pants can also become a safety hazard, and lead to you tripping and injuring yourself. The long style is also known to be a more youthful look, and it may seem like you are purposefully trying to look younger if you wear them. It is nonsensical to wear pants that can be potentially dangerous and unfashionable at the same time.