If you are 5 foot tall and under, it is important to find the right swimsuit styles that flatter your height. Since I am 5'2″ myself, I understand it can be quite a challenge to dress a petite woman. Besides, I also have a petite clothing line for women 5'4″ and under and I have numerous customers who are 5 foot tall and under.
Based on my own experience as well as feedback from thousands of my customers, I've put together this comprehensive swimsuit guide to help you find the best bathing suits.
Belted one-piece swimsuit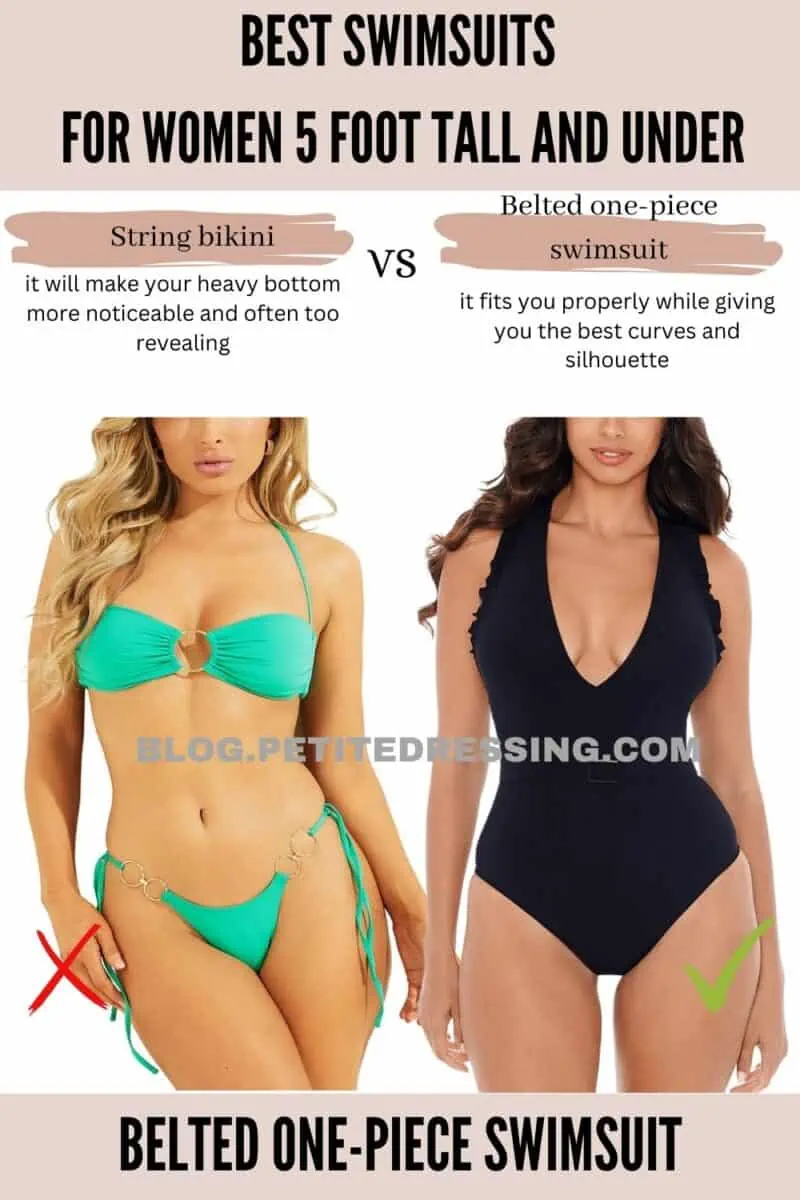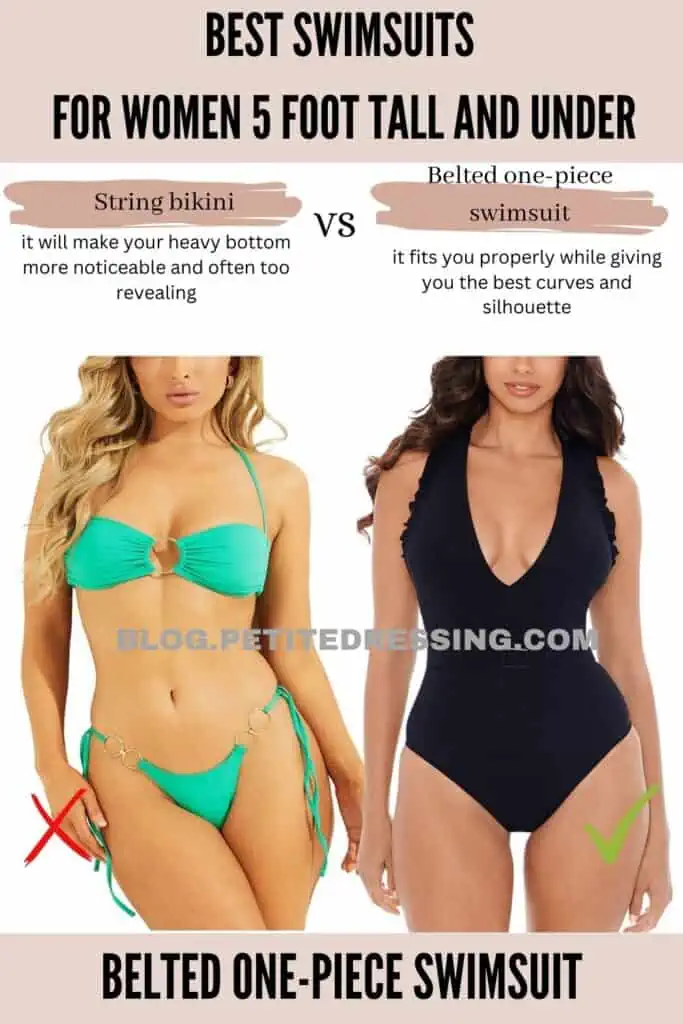 A belted swimsuit works wonders for petite women who wish to stand out elegantly. With a belted one-piece swimsuit, you can effortlessly make your legs look longer while making your body look more proportionate.
This works by dividing your body into two proportions, while the belt sits above your natural waistline. These features work together to create the illusion of longer legs and accentuate your curves, especially if you have an hourglass body type.
So, if you're looking for the opportunity to highlight your best assets while you're on the beach or poolside with friends, consider putting on a belted one-piece swimsuit. They also work great on petite women without a defined waistline, since the belt helps you create one.
Feel free to choose any of your favorite colors for this, including beautiful ones like navy blue, black or a subtle mix of colors. Some one-piece also comes with a v-neckline which works great for petite women.
Off-the-shoulder swimwear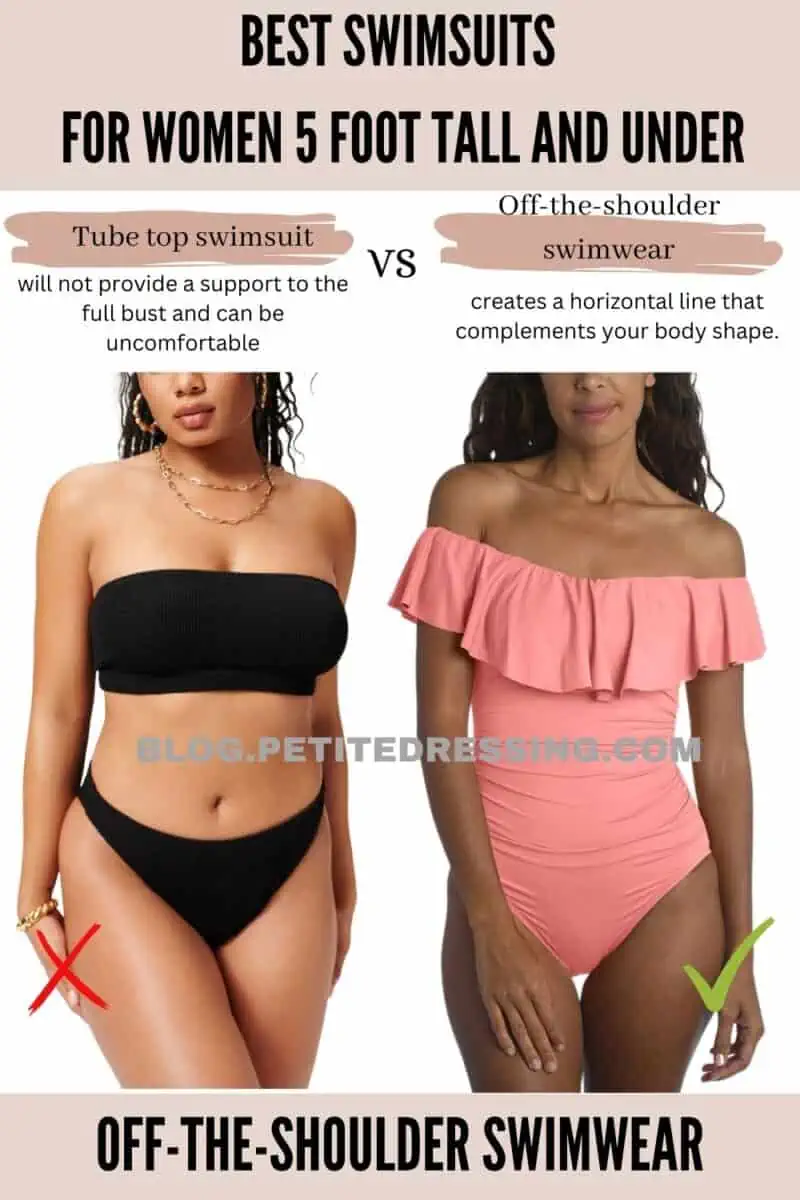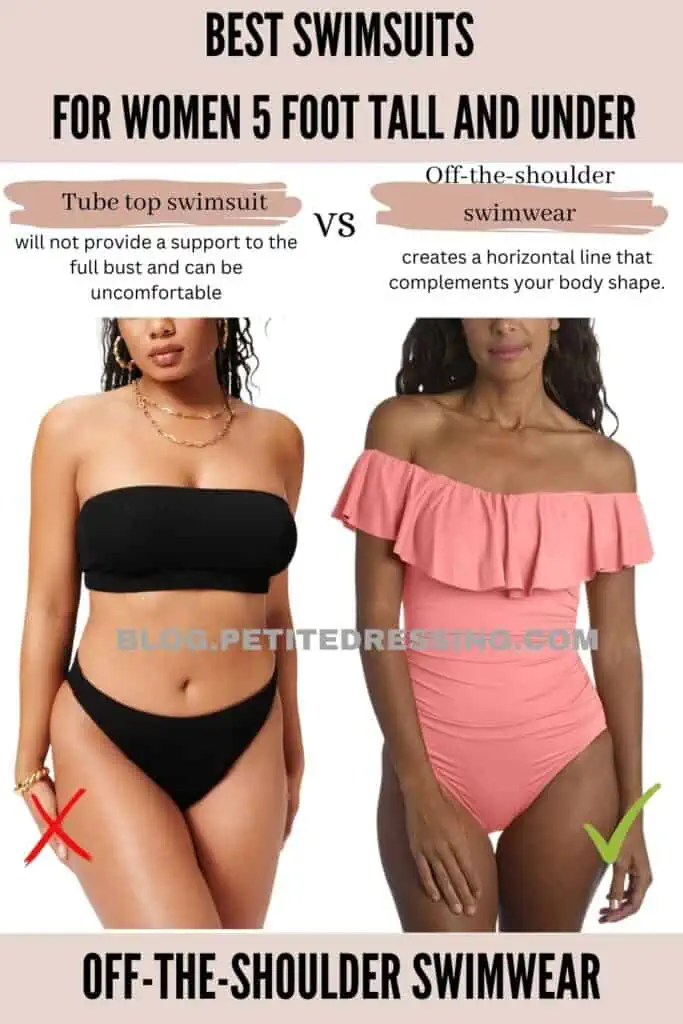 Another flattering swimwear style for women who are 5 foot tall and under is the off-the-shoulder swimwear. It's an extremely amazing design for petite women that's so easy to fall in love with.
So, what's so special about the off-the-shoulder design for your swimwear? Well, it's so obvious that this is absolutely sexy and chic, but that's not all there is to this swimsuit. This shoulder design creates a horizontal line that complements your body shape.
You don't just get the chance to show off your shoulders. You can easily use this style to balance out your body proportions, especially if you're pear-shaped with a wider bottom. Wearing off-the-shoulder swimwear is the perfect opportunity to show off your body stylishly, without revealing non-flattering parts of your body.
Wrap swimsuit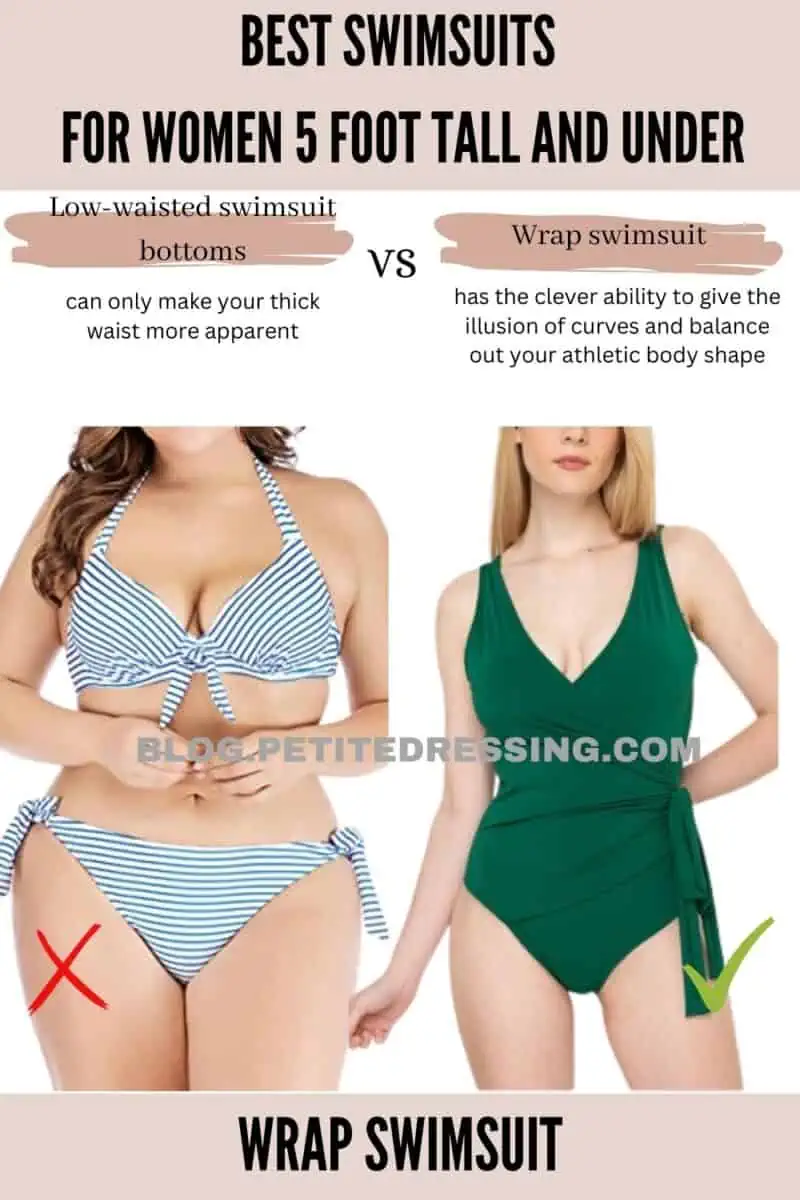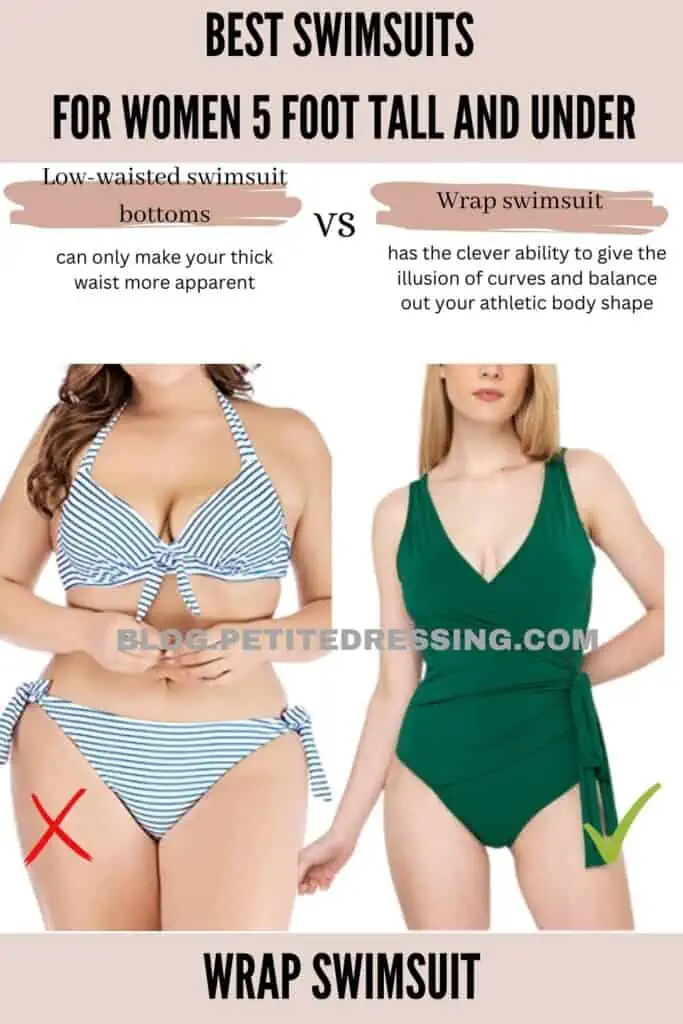 Got lovely curves on your hourglass-shaped body? Well, check out the wrap swimsuit as your choice for your next beach outing. Wrap swimsuits accentuate your assets by highlighting your slender waist and bust area.
This is great for women that are 5 feet tall and under since they conceal areas like your muffin top and make you look a few extra inches taller. If you have a triangle or rectangular body shape, you're in luck.
The wrap swimsuit has the clever ability to give the illusion of curves and balance out your athletic body shape. So, all you have to do is look out for some trendy wrap swimsuits available, especially those with suitable necklines like the v-neck.
High-cut one-piece swimsuit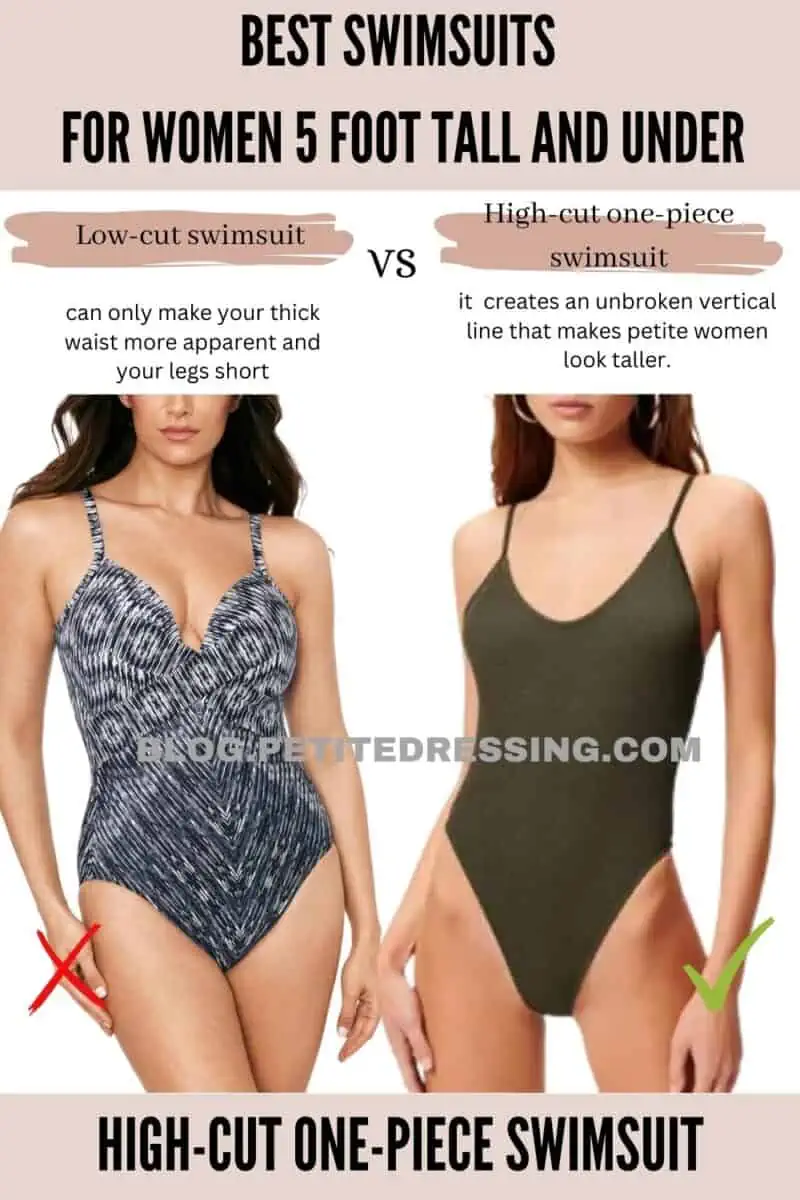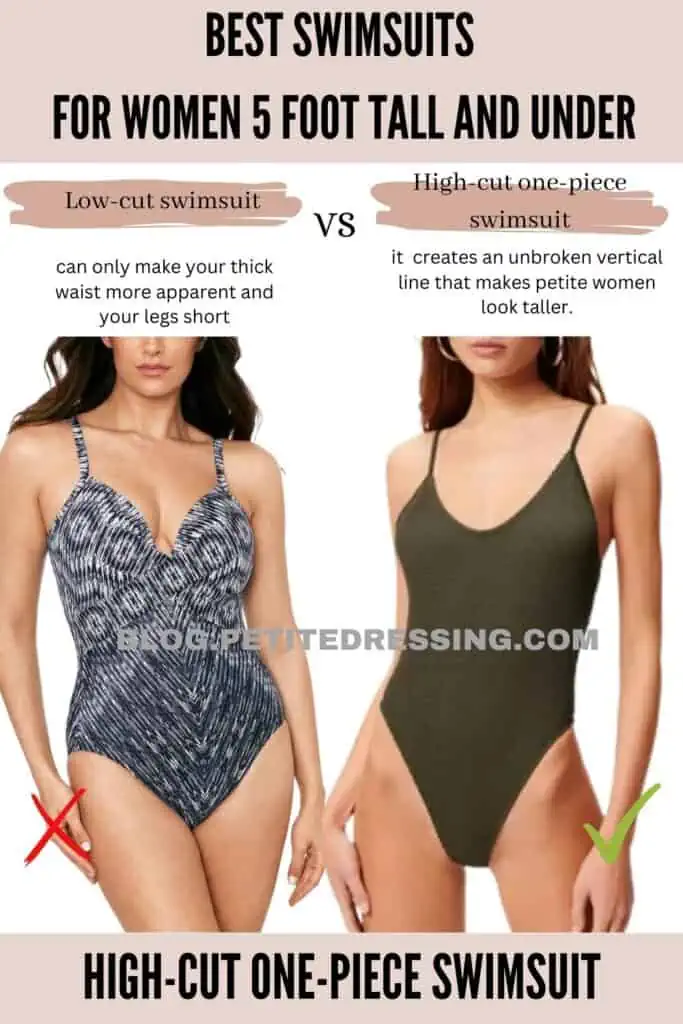 What makes the high-cut one-piece swimsuit perfect for women that are 5 foot tall and under? Well, I have the answer to that question. The most interesting one is that the one-piece style usually creates an unbroken vertical line that makes petite women look taller.
So, if you don't mind adding a few inches to your height without putting on a pair of heels, you should definitely try out a one-piece swimsuit. Your legs will seem longer since there's more attention on them and less on your torso.
And that's where the high-cut style comes in. The one-piece swimsuit is perfect for camouflaging your tummy area so that it can conceal any belly bulge you would love to hide. The high-cut design adds to this effect while adding more elongation effect to your legs.
Overall, this combination will make your body proportion so much better. You don't have to worry about showing off some unflattering areas of your body in a high-cut swimsuit. There are tons of styles that are classy and get the job done.
Print triangle bikini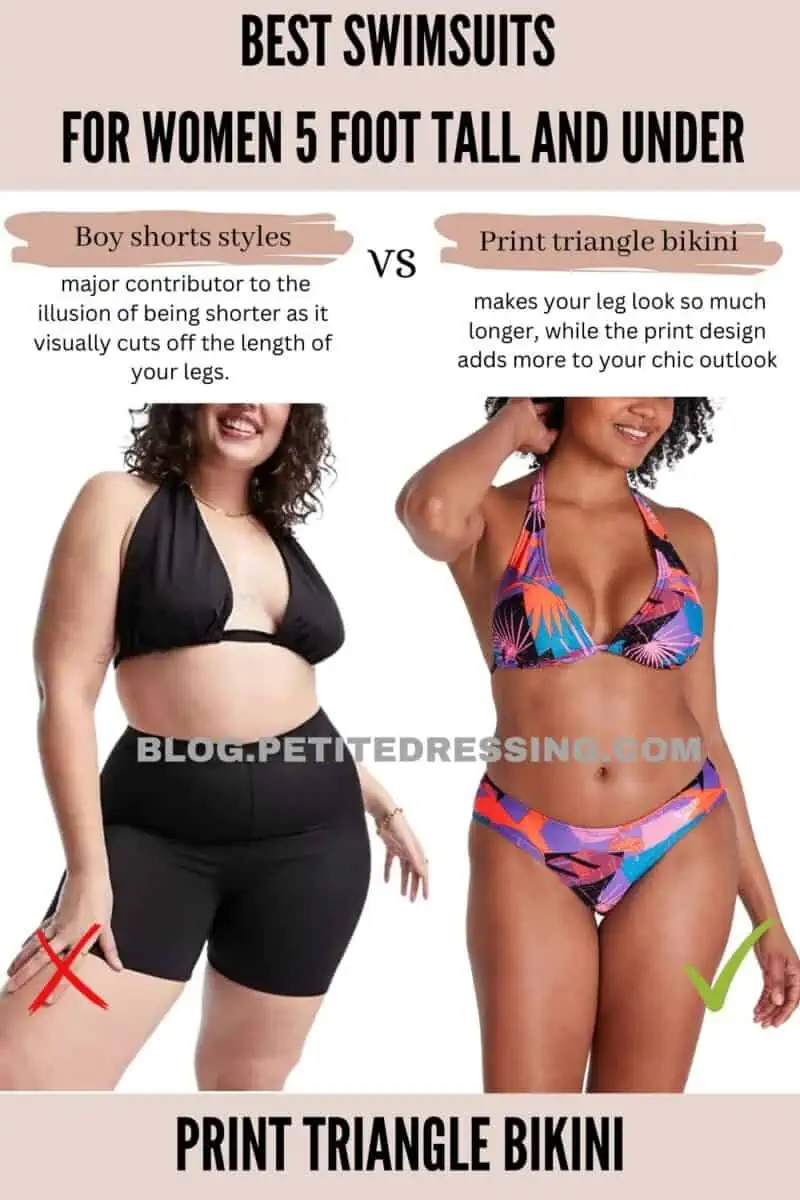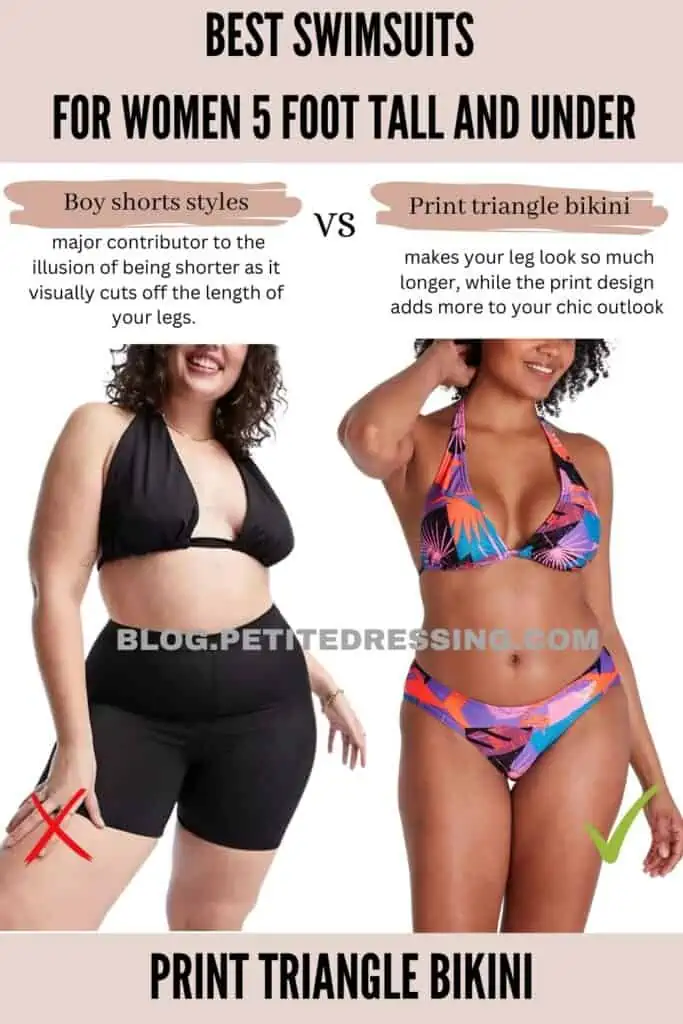 Putting on a swimsuit is the perfect occasion to be free without the extra weight of heavy clothing. With a print triangle bikini, there's the minimum amount of coverage but just the right amount to be flattering to your height and body shape.
The triangle bikini makes your leg look so much longer, while the print design adds more to your chic outlook. If you have a big bust, be sure to wear a swim top with a structured bra design.
With this swimwear, your 5-foot height won't be so obvious since you would look much taller and classy in a stress-free way.
Vertical print one-piece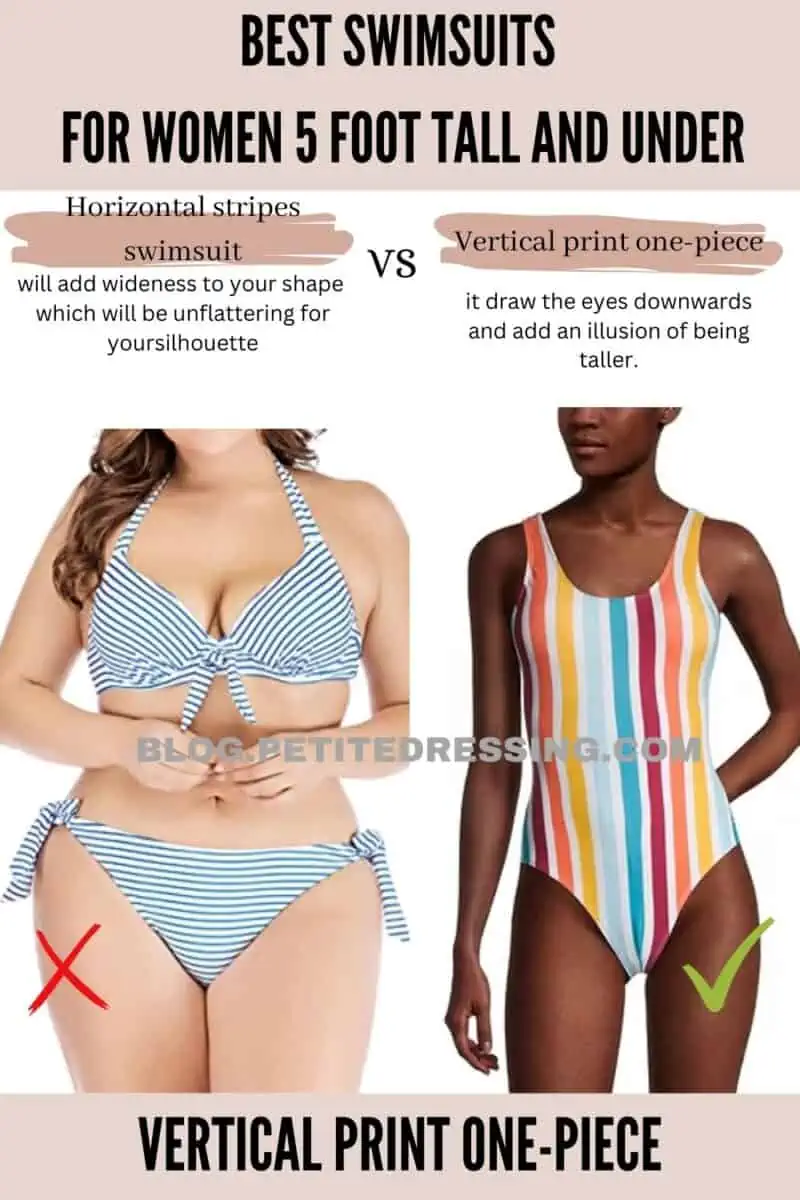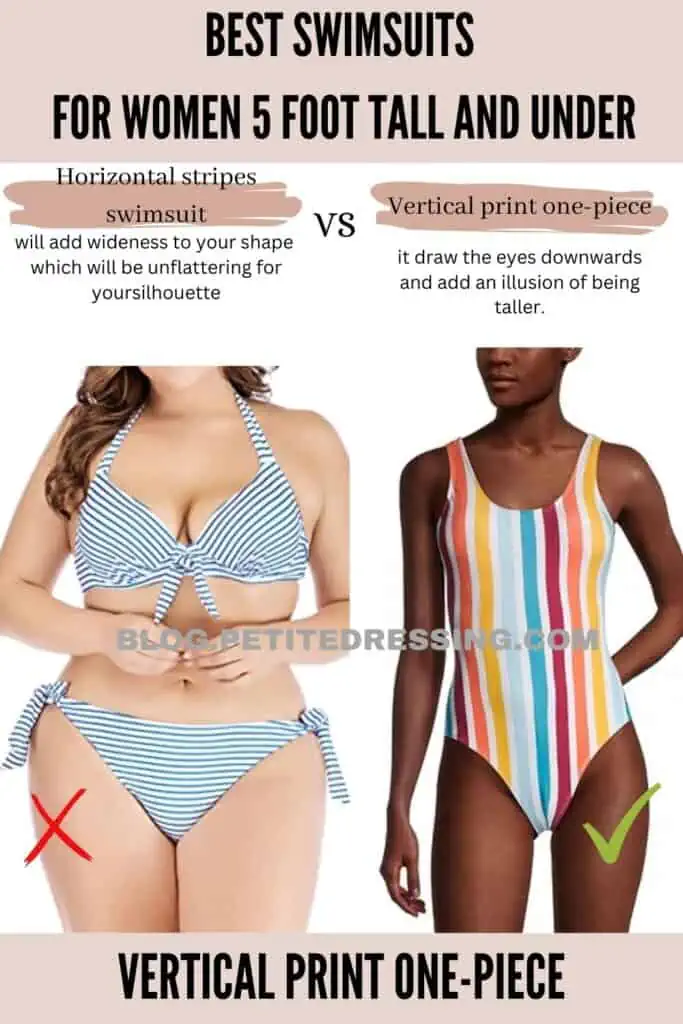 Unlike horizontal prints that draw the eyes sideways and make you look wider, vertical prints are an incredibly flattering design for petite women. In this scenario, I mean swimwear with vertical designs that draw the eyes downwards and add an illusion of being taller.
So, you should definitely rock this on a one-piece swimsuit that gives you the opportunity to show some skin in a classy yet sexy way. Whether it's vertical floral designs or stripes, these all have the ultimate lengthening effect on your body.
They work great for elongating your torso, such that you look taller and your legs look like they go on forever. A huge favorite is the black and white stripe one-piece that has a cute outlook.
If this is not exactly your style, you can try this in other colors. Be sure to pick vertical designs that don't cover up all the space on your swimsuit and overwhelm your petite frame. The goal is to complement and not make it too attention-grabbing.
Deep v-neck swimsuit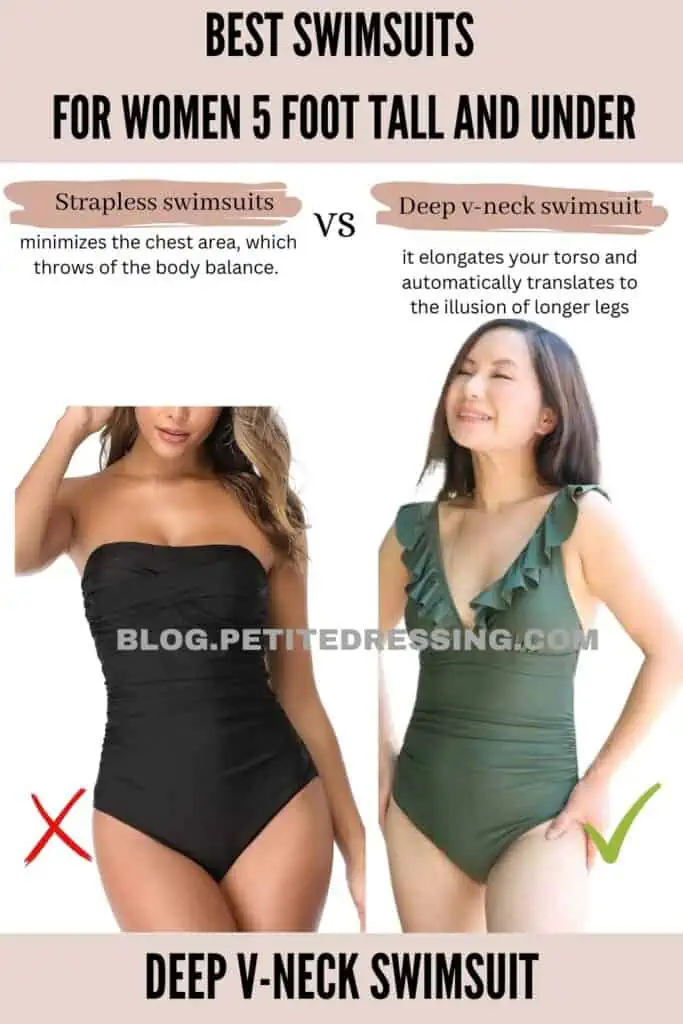 Got a short neck? Well, this is a major feature in most petite women like myself, and the deep v-neck swimsuit is a great way to elongate your neck. Try out this flattering design if you need a style that conceals just how short your neck is.
The good thing about this is that the deep v-neckline swimsuit also elongates your torso. So, it's not just your neck that appears longer, this is also the same with your torso, which automatically translates to the illusion of longer legs.
If you also have a round face, this deep v-neckline swimsuit will balance out the roundness of your face perfectly. It's perfectly okay if you don't want the v-neck to plunge downwards so much.
You're free to adjust this to just the right plunging level that fits your unique preferences. The beautiful thing about swimwear is that you get to wear what you feel the most comfortable in.
Black string bikini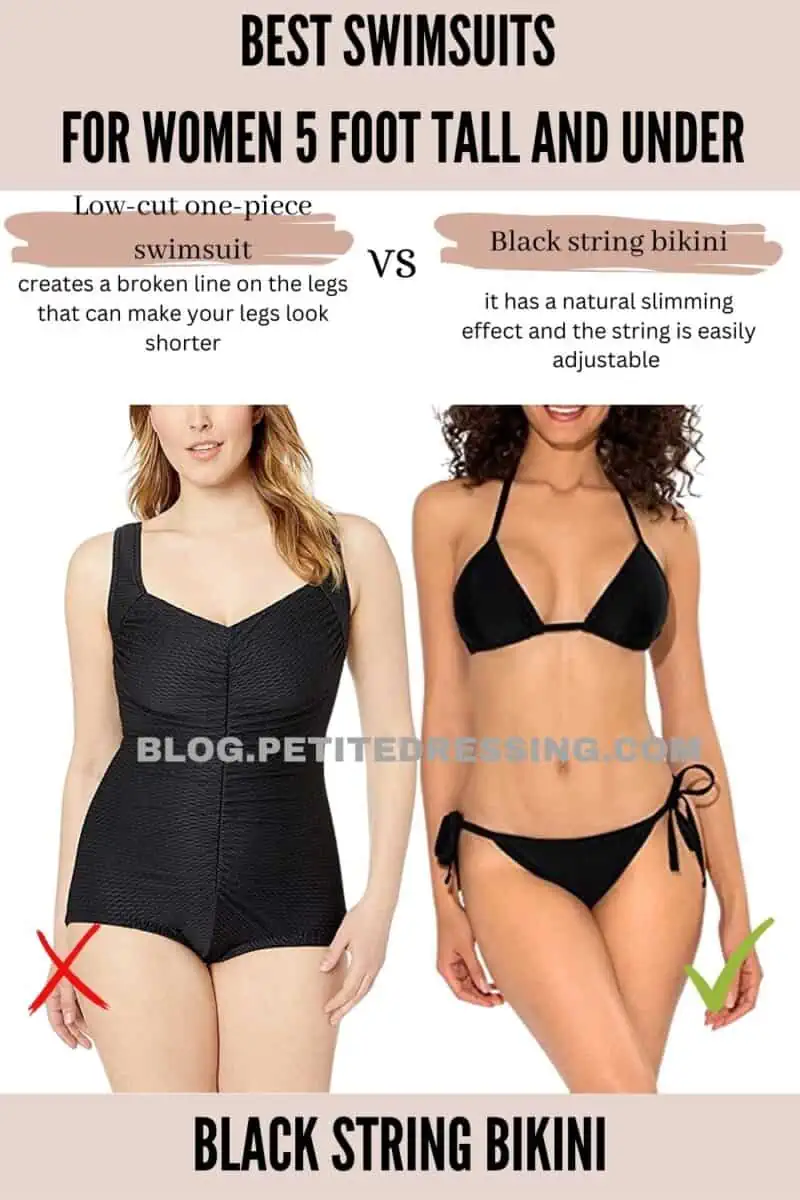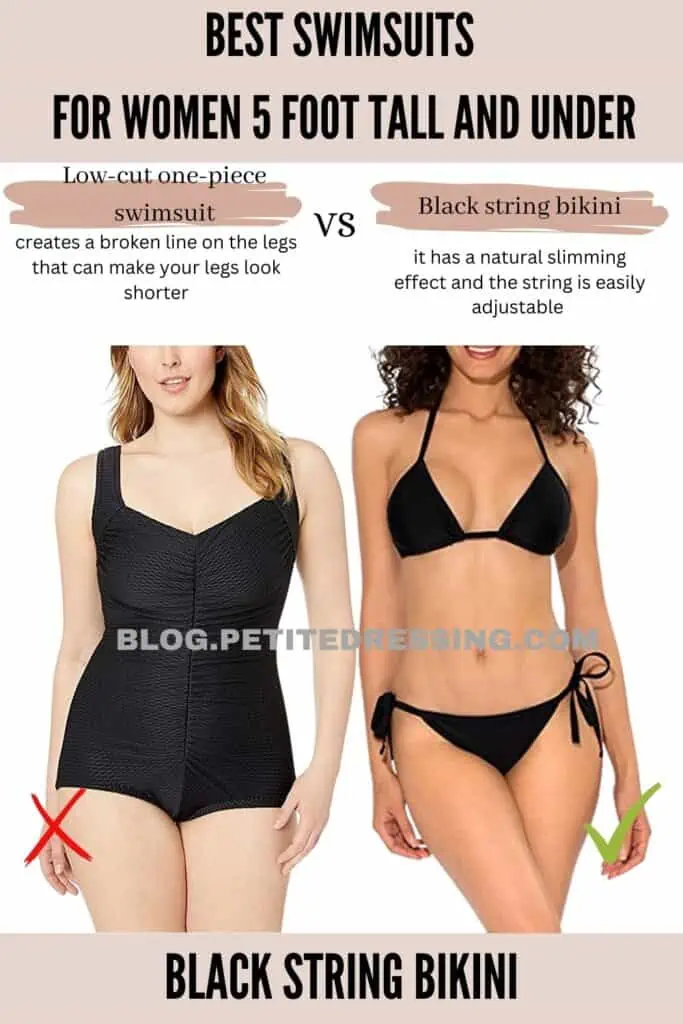 How would you look in a black string bikini? Well, as a petite woman who's 5 foot tall and under, I dare say that you would look absolutely gorgeous. While it's always a great idea to wear high-rise pants or skirts, especially as a short woman, you can experiment with low-rise bikini bottoms and it would turn out great.
String bikini bottoms do a great job of making your legs appear longer, and that's all thanks to the ties on the sides. These are perfect at lengthening your legs, so you appear taller than you actually are.
Of course, there's a lot of flexibility that comes with wearing black string bikini bottoms. Apart from the natural slimming effect that black colors have on petite women, the string is easily adjustable so you can play around with it until you find the perfect fit.
It's always great to put on clothing that can be adjusted to your body type and size seamlessly, without worrying about it being too tight or too loose. So, if you can, be sure to include a black string bikini bottom in your wardrobe as it's one of the most flattering swimsuit styles for women who are 5 foot tall and under.
More tips and tricks for swimsuits
If you don't mind playing around with ruffles, you can try this with swimwear that have ruffles around the tummy area. They are great for concealing tummy bulges and increasing the elongation effect on your legs. Keep this minimal though.