If you have the hourglass body shape, skirts are one of the best items to flatter your feminine figure. The ideal skirts should emphasize your curves without being too tight, and they should create a balance between your full bust, small waist and wider hips.
Below is the comprehensive guide with 8 best skirt styles for women with an hourglass figure, and 4 skirt styles you should use caution or stay away from.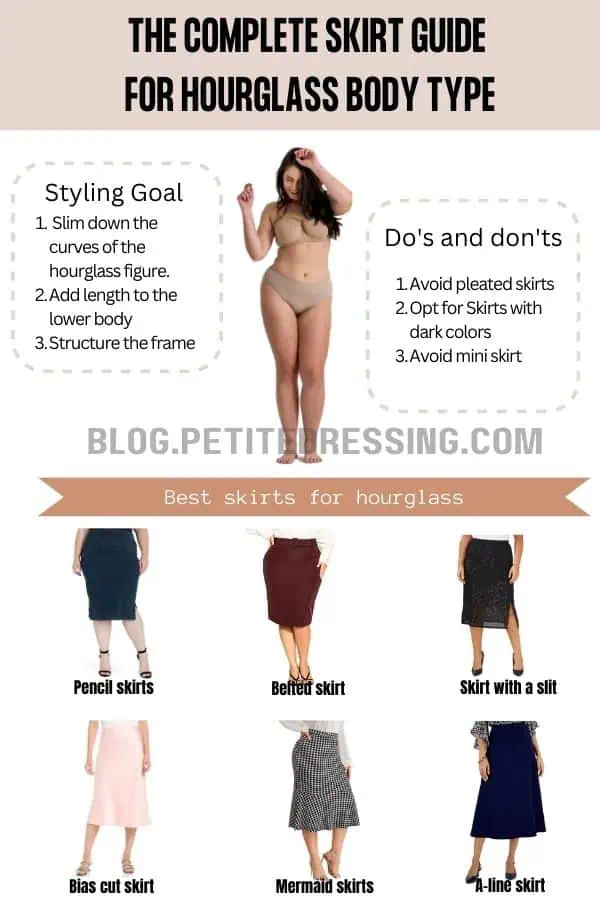 Pencil skirts
Since more focus is given to the hips and the waist of the hourglass body frame, then the pencil skirt would offer a better fit. The pencil skirt is one of the best ways to achieve a classic scarlet look in your everyday style.
The skirt follows the natural vertical line of the body without clinging too tightly to it but still maintains the feminine figure. Pencil skirts are sure to give you a leaner and slimmer look with no form of discomfort around the hips and legs.
The pencil skirt can serve as a workwear favorite for the hourglass figure and still draw attention to the narrow waist. The skirt further helps to retain the naturally balanced figure of the woman so feel free to embrace your curves in them.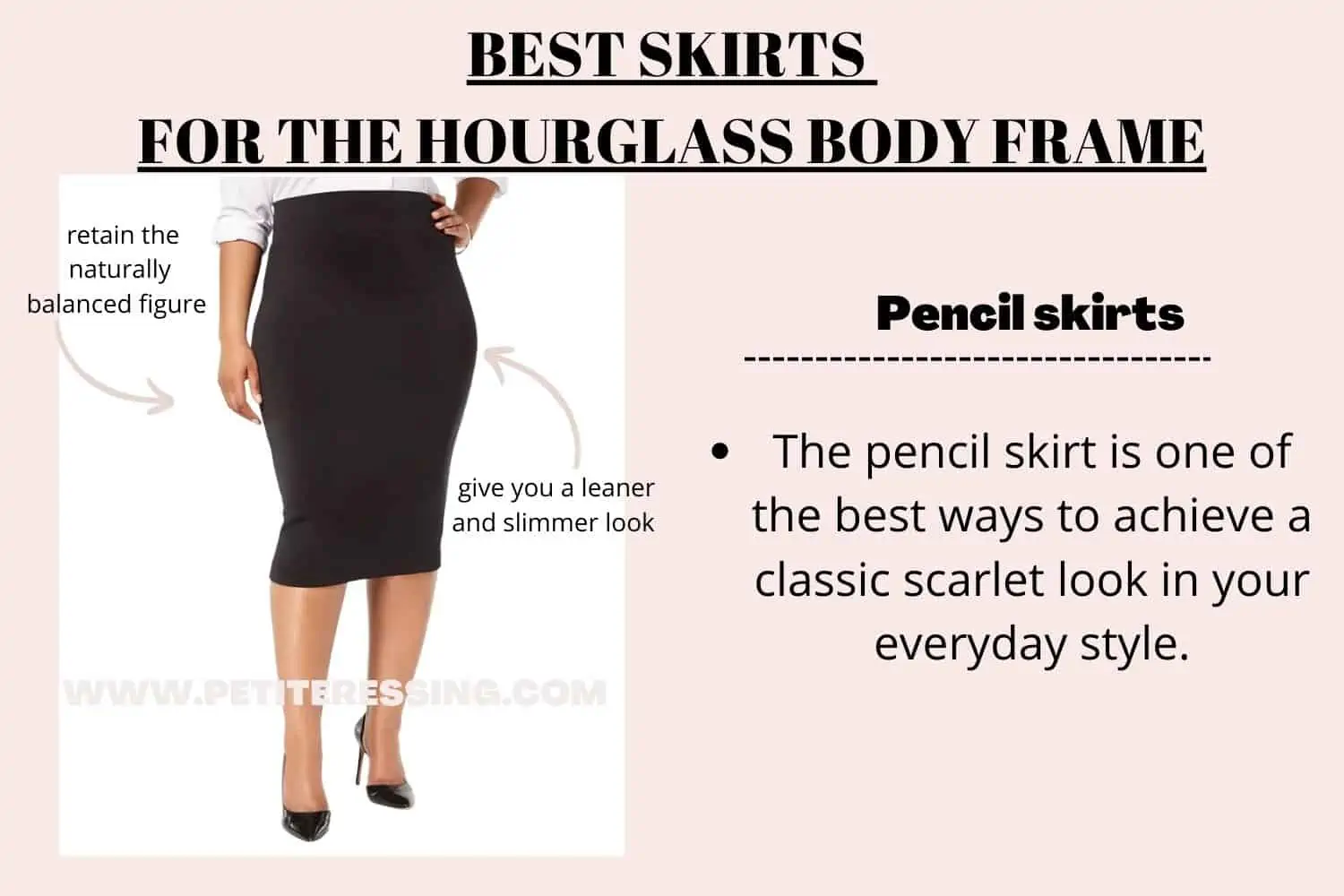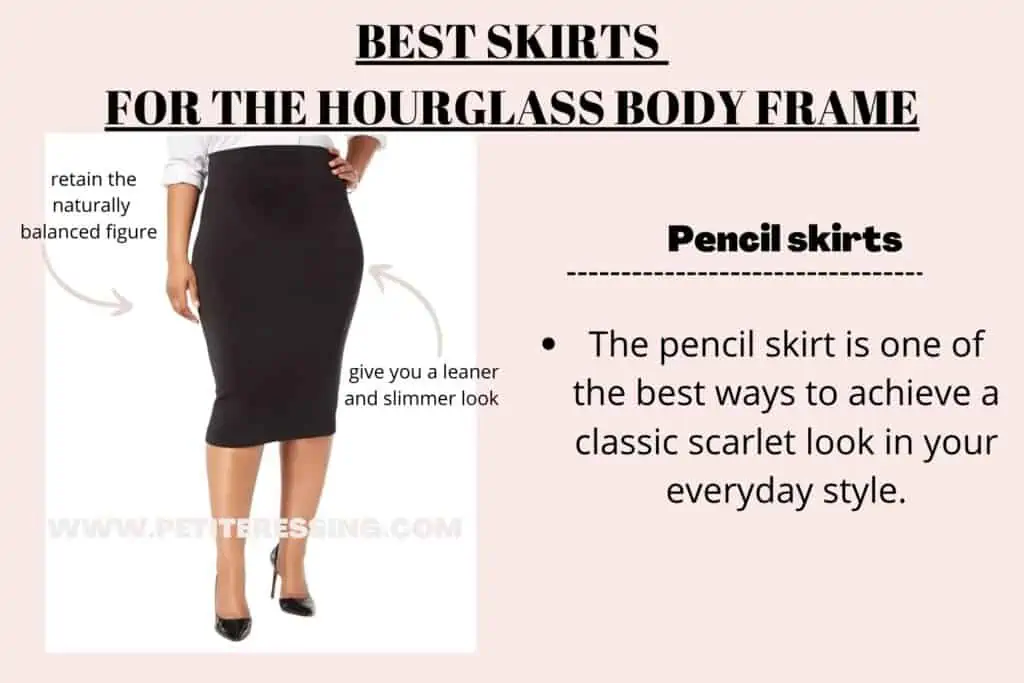 Skirts made with structured fabrics
Skirts made with this type of fabric should be prioritized over skirts that are made with stiff fabrics. Stiff fabrics would not allow you to stay comfortable and look sexy so it is best to not invest in them.
Investing in skirts with a structured fabric would keep you uplifted and outstanding in summer. The woman with the hourglass shape is encouraged to have skirts with structured fabrics in her feminine wardrobe.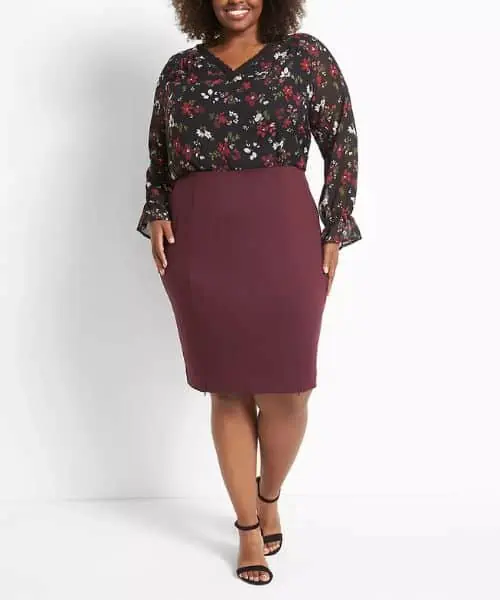 What skirts with structured fabrics can offer
Accentuating your curves and highlighting your small waist can easily be done when you wear a skirt made of structured fabric.
You can never look shapeless or unbalanced with a skirt sewn with a structured fabric.
Belted skirt
A further attempt to nip in the waist can easily be achieved when a belt is attached to the waist of the hourglass frame. Belts are a great accessory that has a high waist definition effect as long as the right ones are worn on them.
A belted coat would move the attention of the eyes away from other concerned areas and place more focus on the waist. The hourglass shape has a small waist and the belted skirt can highlight this waist properly and comfortably.
The belted coat can further add a unique look to your overall figure so you can easily appear stylish and elegant for any occasion. Belts are just perfect in serving a s a complimentary appearance for your hourglass shape.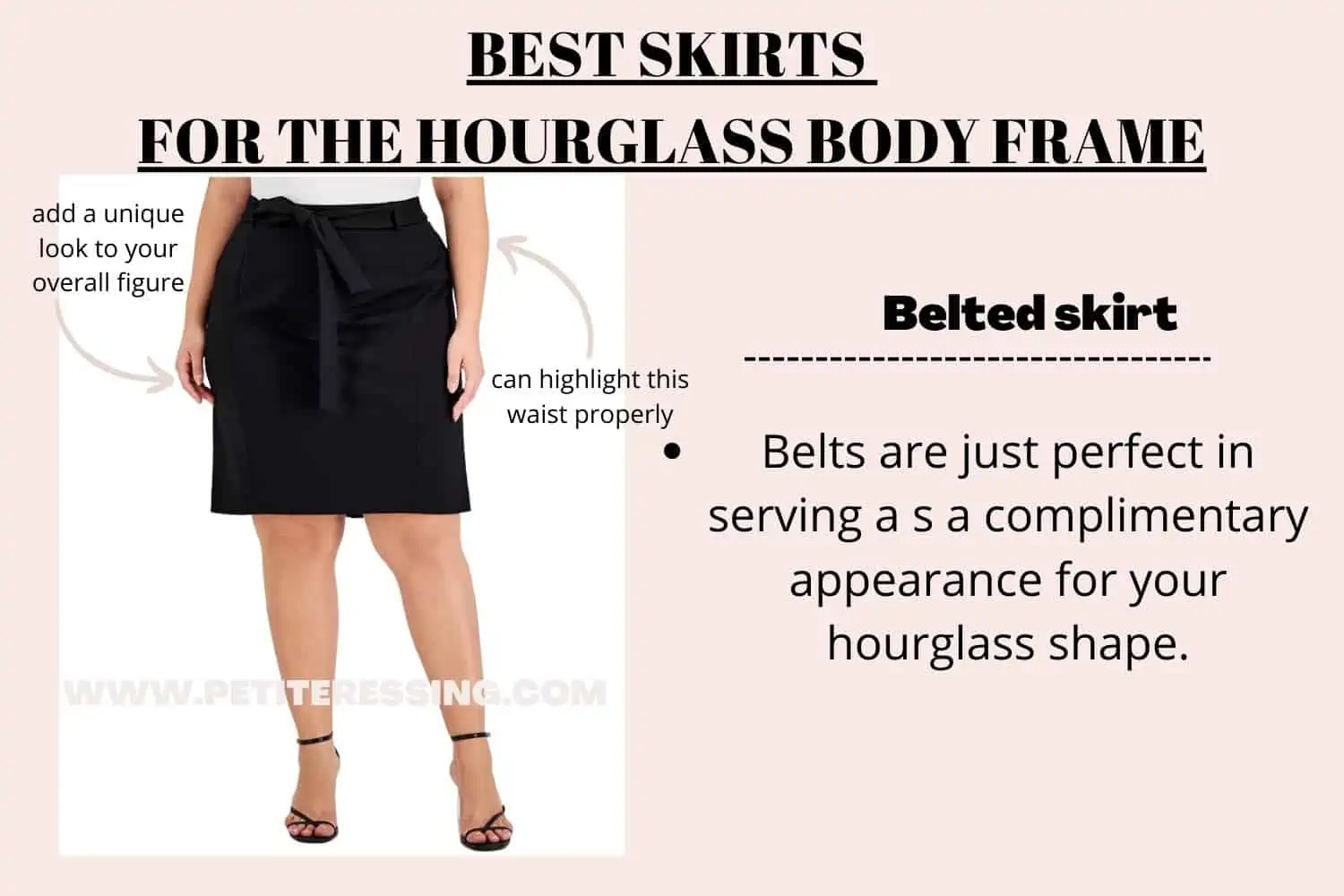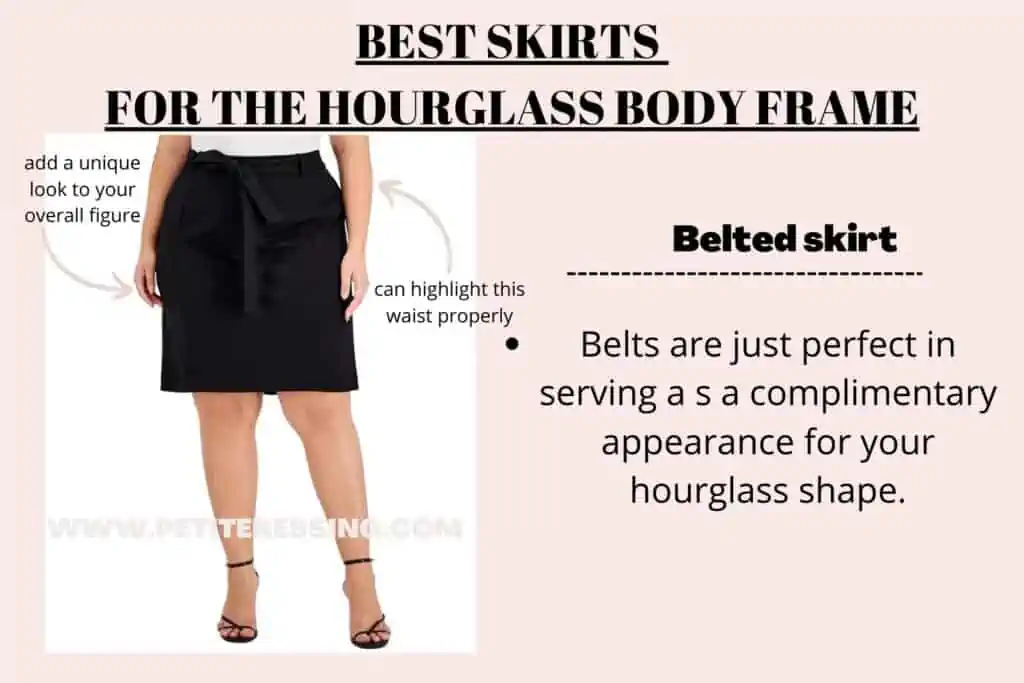 Skirt with a slit
The skirt with a slit has a strong vertical element that could make the hourglass shape appear leaner and taller without her losing her balanced figure. Skirts with a slit are not only sexy but are also flattering and you just would always appear fashionable in them.
Having a few of these skirts is highly recommended for your shape.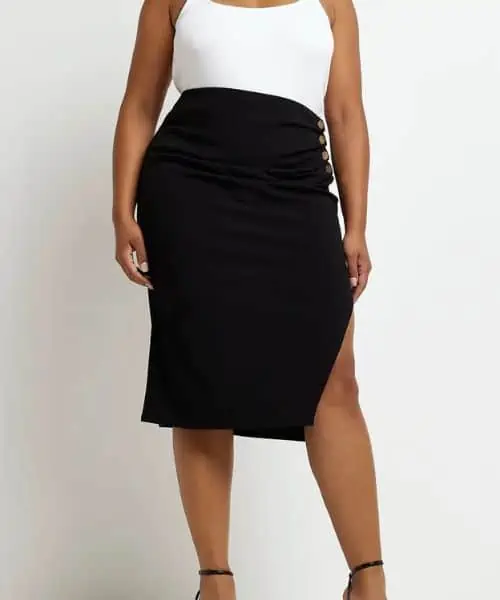 Why opt for a skirt with slits
This skirt makes the eyes notice the legs and give less focus to the wide hips, this way the exact width of the hips is less noticeable.
It is just a unique way to transform your look while still looking structured in your overall figure.
Bias cut skirt
This is a key skirt that should be a new go-to style for your body shape as it creates a garment that drapes more elegantly than the straight cut. A bias-cut skirt is a design that is cut diagonally and not parallel to the weave
A bias-cut skirt is very flattering as it hugs the small waist of the hourglass figure and further skims over the hips of the woman. It is not a tight-fitting skirt yet it is great for maintaining natural body balance.
The design is a very comfortable pattern that is warm and stylish for your shape so you can rock them desirably in summer. It is a skirt that is highly recommended to be a part of the favorite skirt styles suitable for the hourglass body shape.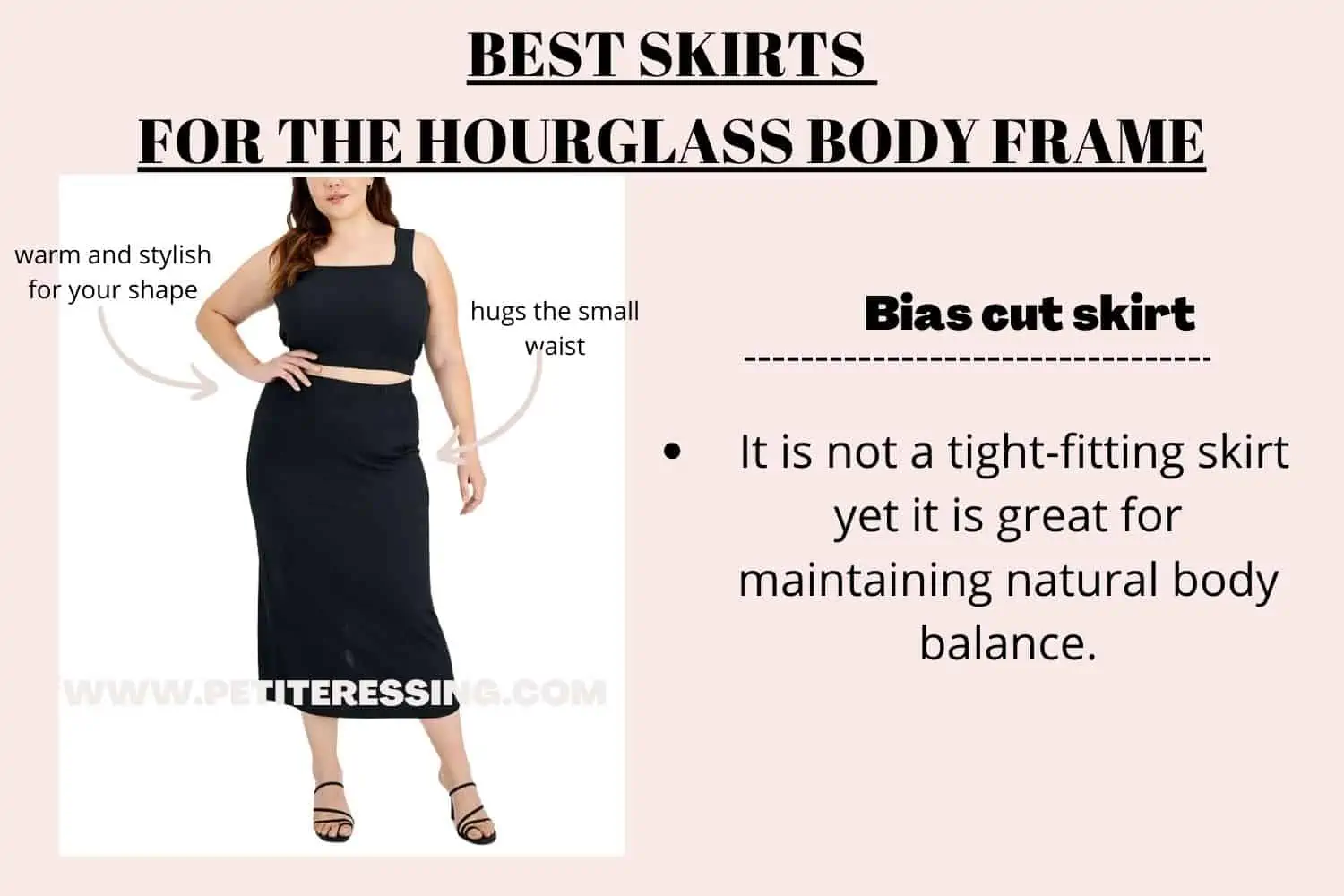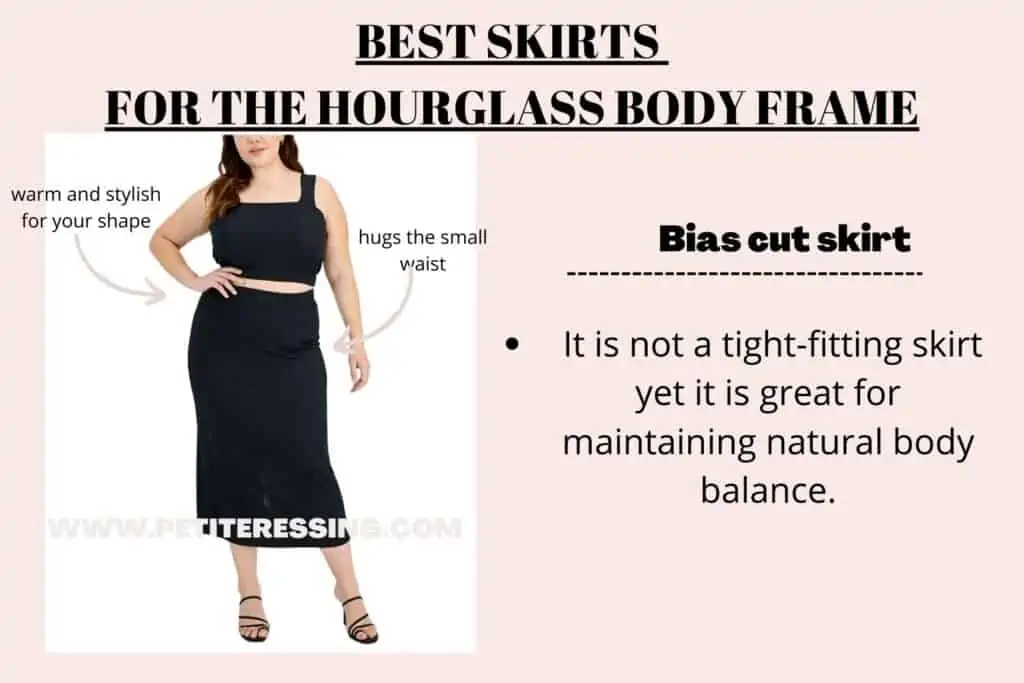 Mermaid skirts
There is something special about this skirt that makes it a pleasing and warm style for the hourglass shape. Mermaid skirts have a great balancing effect and attaching them to your figure would further structure your naturally balanced frame.
A Mermaid skirt is good for highlighting the waistline of the hourglass body frame so you should definitely have a few of them. Keep the flare in the skirt as minimal as possible if you want it to suit your hourglass figure in the right way.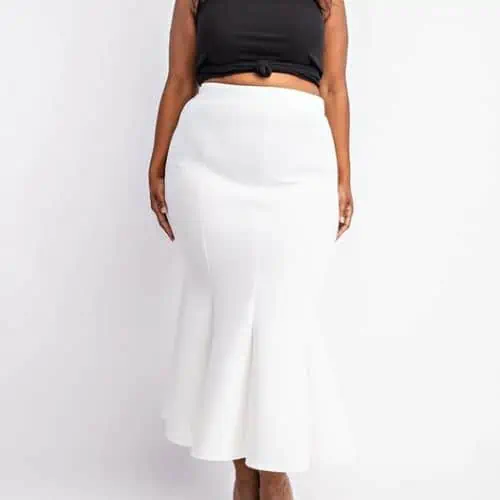 Mermaid skirts are the best
The skirt is designed to be fitted around the waist and the hips region before flaring out towards the hem of the skirt.
Whatever length you choose for your figure, it would always flatter your feminine figure and improve your look.
A-line skirt
The A-line skirt is another simple skirt design that the woman with an hourglass body shape can use to dress herself up. The skirt could also act as a great concealer for any lumps around the body of the woman.
It is designed to highlight the small waist of the hourglass woman before it flares out over the curvy hips. Sticking closely to the figure to create discomfort is not a feature of the A-line skirt as such you should be less worried about your shape.
It is a very beautiful skirt that is known for also adding length to the lower body of the woman so she could visually appear taller than normal. A-line skirts are very flattering skirts that you should appreciate as clothing essentials in summer.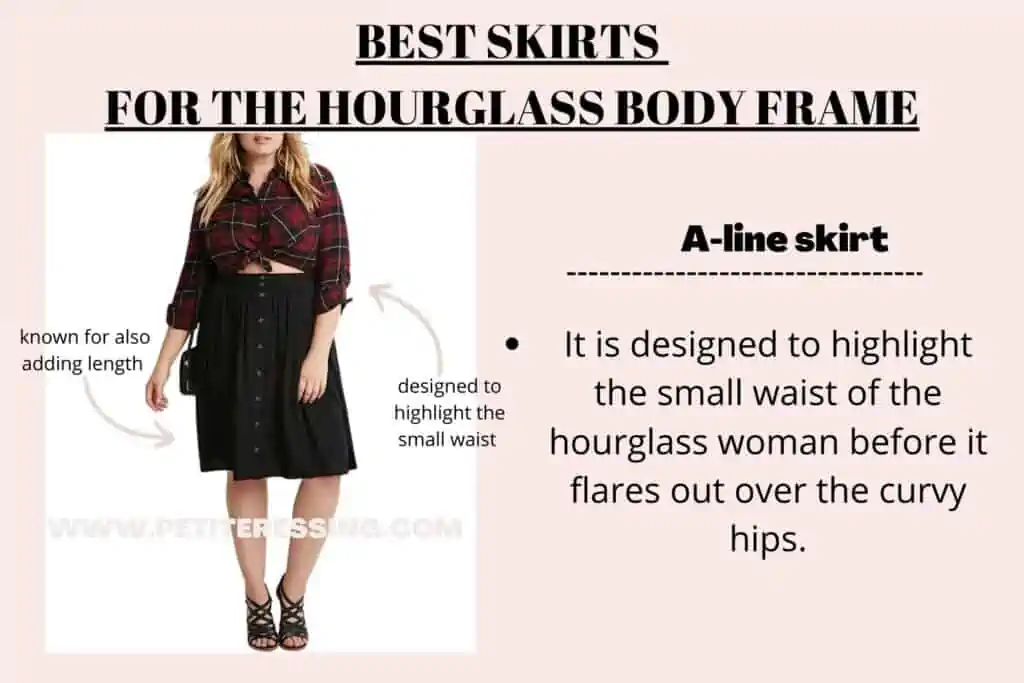 Skirts with dark colors
Be ever ready to accept and invest in skirts with dark colors on your hourglass shape because they are the most universally flattering type of color for you. Dark-colored skirts are great for oozing every feel of elegance that you should appreciate.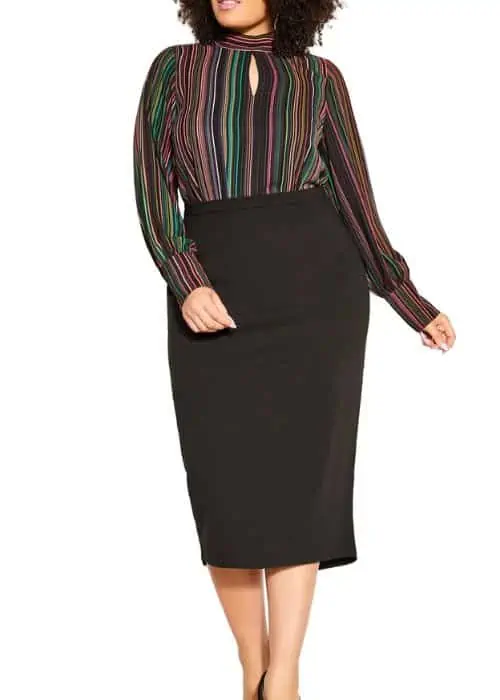 Dark-colored skirts are a must-have
On every occasion, the skirt would help you stand out as less attention is drawn to the lower figure carrying the skirt.
There is also a high level of maturity that a skirt with a dark color would naturally offer to the overall body shape.
Skirts with dark colors are perfect for slimming down the curves of the hourglass figure.
This color of the skirt further comes down to visually increase the length of the legs so a more structural balance can be achieved.
Avoid tiered skirts
Feeling all refreshed and calm in summer can never be achieved in summer especially because of the hourglass shape. You have a great shape that you should derive comfort in retaining its feminine structure so don't go overboard by wearing a tiered skirt.
The skirt is designed to have excessive layering that would work against your naturally balanced figure and cause you to look bulky. It would add width to the hips and disfigure your lower half so you are advised to never wear them for any occasion.
They are also good at drawing too much attention to your lower half and further making you look down on your style. No matter how you pair them, they would never fit the hourglass body frame and as such should be kept far from the wardrobe.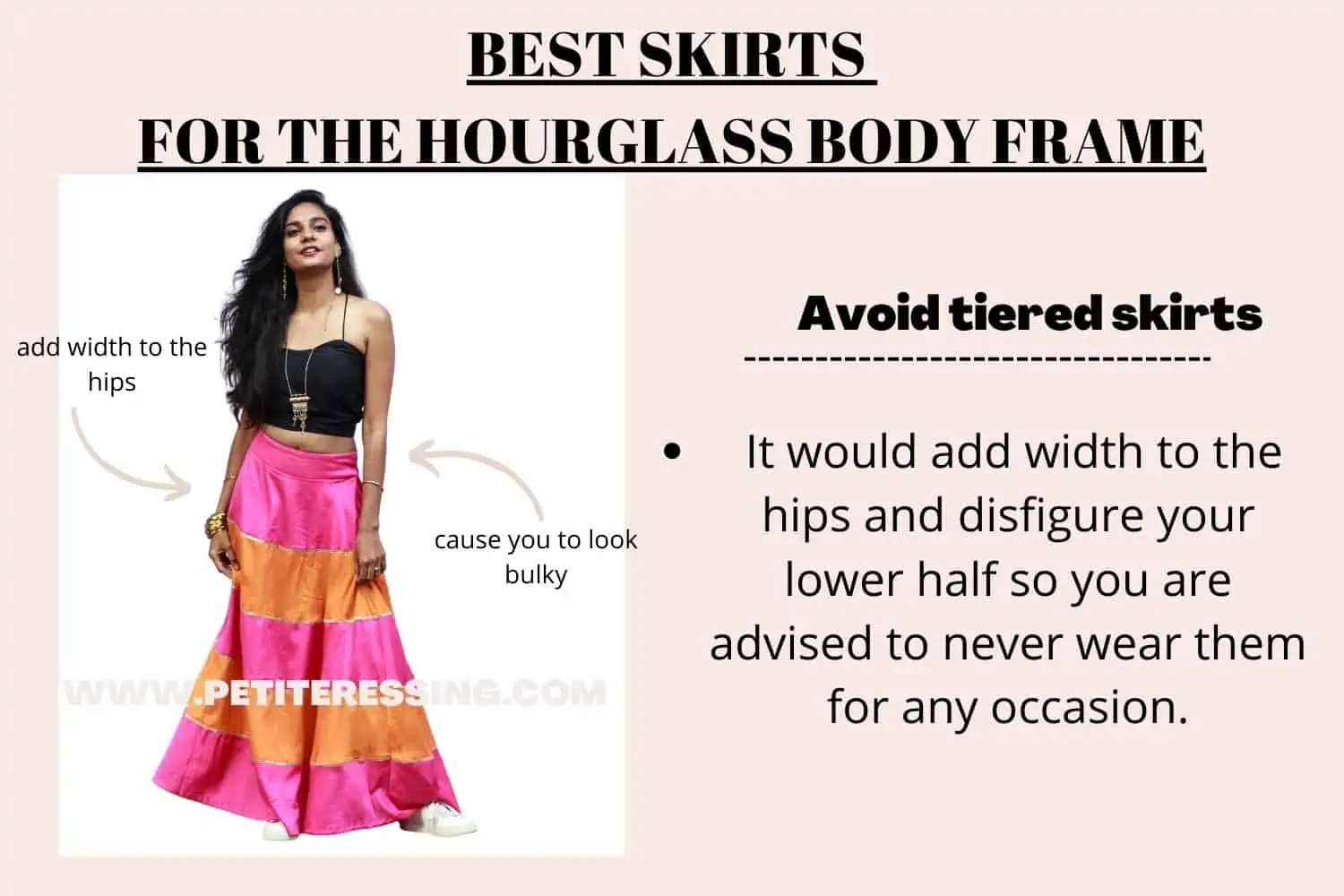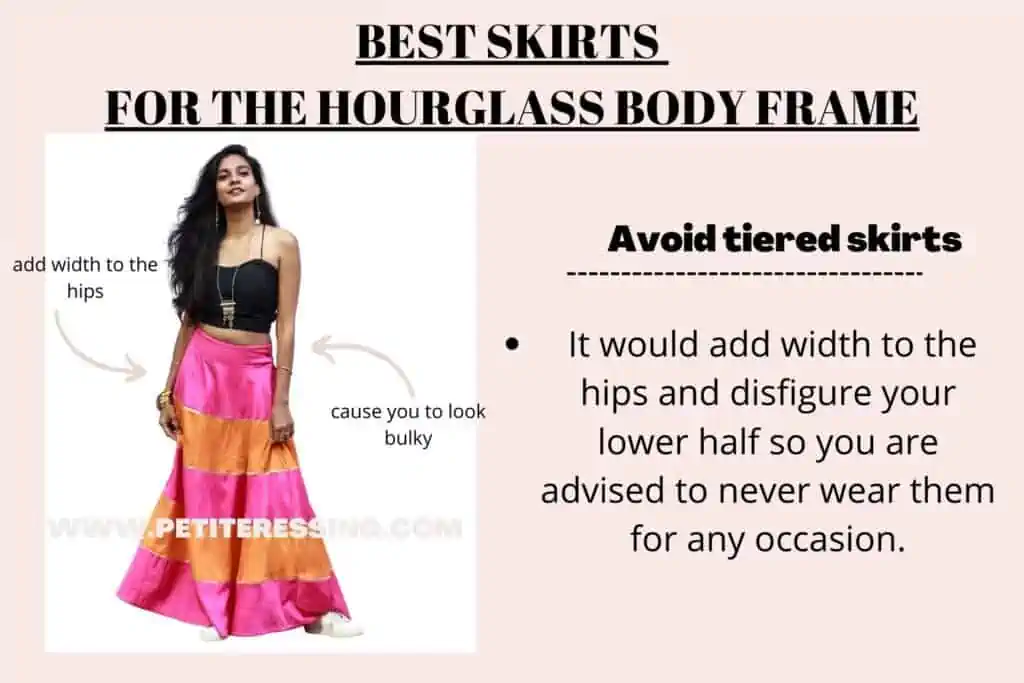 Avoid pleated skirts
Extra volume from the pleated skirt is not encouraged for the hourglass body frame because of the curvy feminine figure in the lower half. Pleats can add to the width of your hourglass frame and throw you off balance.
Pleated skirts are known for making the woman with an hourglass figure appear bottom-heavy. They also have the tendency to stick the focus of the eyes on your lower half.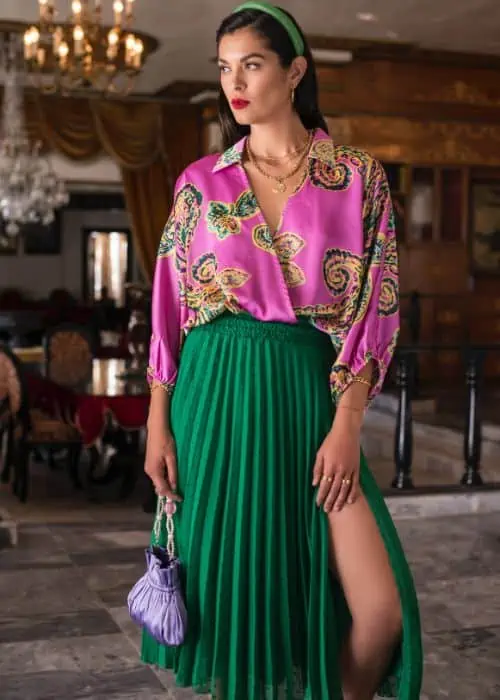 Why you should not opt for pleated skirts
It is not advisable to use a pleated skirt to style your figure as it can easily alter the natural balance that you already own.
Since your styling goal is for you to embrace your curves then you should avoid the pleated skirt.
Avoid tulip skirts
This skirt is a style that is kicked against the hourglass body frame because it has an extra fabric that envelopes the figure. it has a high tendency to give the woman a voluminous figure, especially around her curvy hips.
Tulip skirts are not the best stylishly recommended skirt style designed for the hourglass shape and as such must be avoided. The hourglass frame has a gracious hip that should either be slimmed down or well-accentuated with the skirt.
No matter the length, the tulip skirt would definitely work against your unique shape and as such never a pretty clothing item. They should never make it to your wardrobe if you have an hourglass body frame.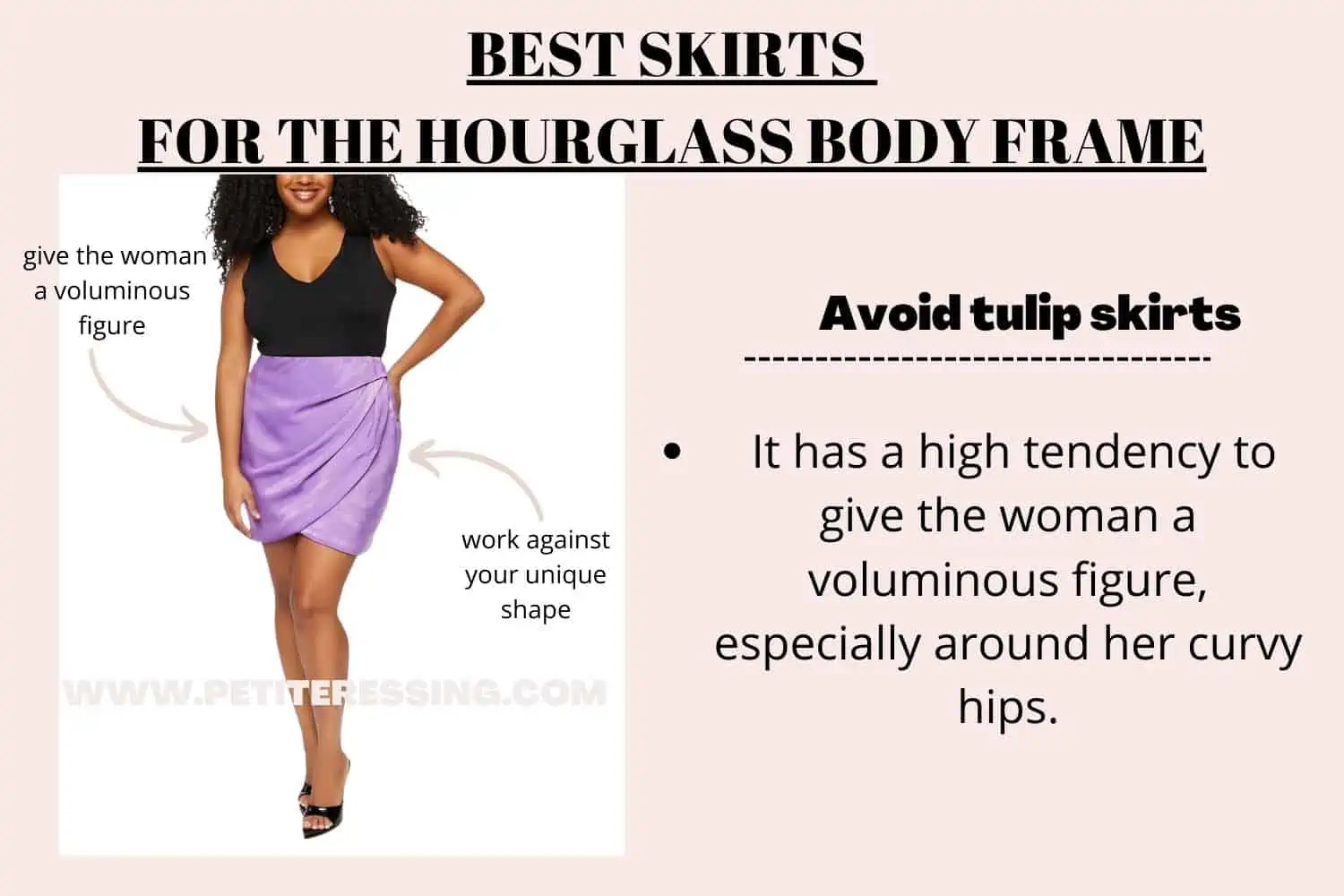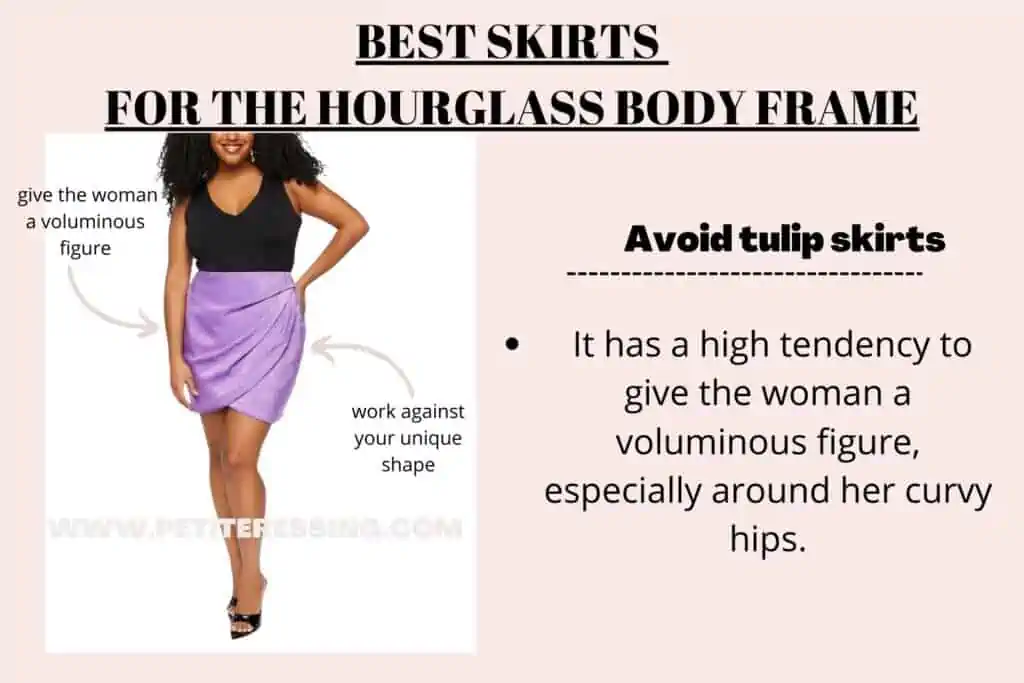 Avoid mini skirt
To avoid appearing provocative and less flattering then it is best that you avoid the mini-length skirt. It would effortlessly work against your body structure and throw you off balance in summer.
The mini skirt is not a precious skirt length to help you look warm and stylish for any occasion. It could give the eyes the illusion of width around the hips and this would lead to making you appear bottom-heavy.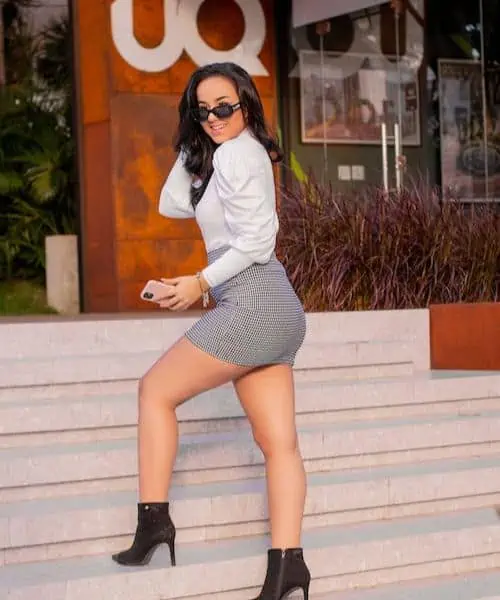 Mini skirts should be out of your wardrobe when you're an hourglass
The skirt shows too much skin which can make the eyes easily notice the curves in your lower figure.
Mini skirts are very uncomfortable skirt designs for the hourglass body shape so do not attempt to keep them close to your figure.