For women with hourglass figure, it is important to find the right pant style that flatters your curvy shape.
A typical hourglass has big bust, slender waist and wider hips. The ideal pant style for hourglass should emphasize your feminine curves, which is your biggest asset, without clinging to your bum and your thighs.
Below is a comprehensive guide with 9 best pant styles for the hourglass shape, and 4 pant styles you should be careful with and even stay away from.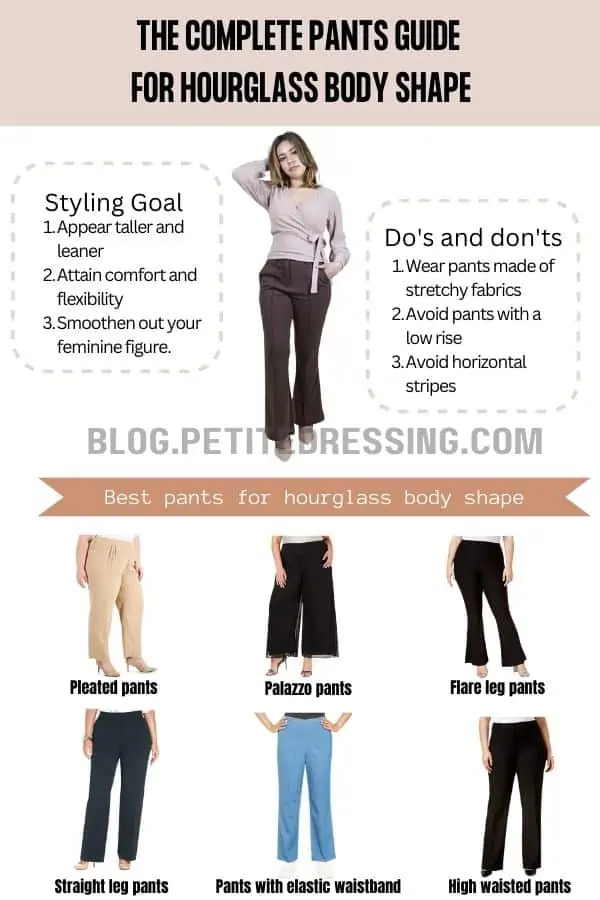 Pleated pants
The pleated pant is a relaxed fitting pant style that works well for the hourglass body shape making them a great recommendation. You should appreciate these pants because pleats come with volume to balance out your curvy shape.
Pleated pants are also very comfortable designs that are well-built to give room to the woman's wide hips. The pleats in the pants are often right below the waistband without having to alter the structure of the hourglass frame.
You would not experience any stiffness around the legs as it further reduces the focus of the eyes on the lower body figure. The pleated pant is a flattering pant style that the hourglass shapes for any occasion so it's a good idea to own a few of them.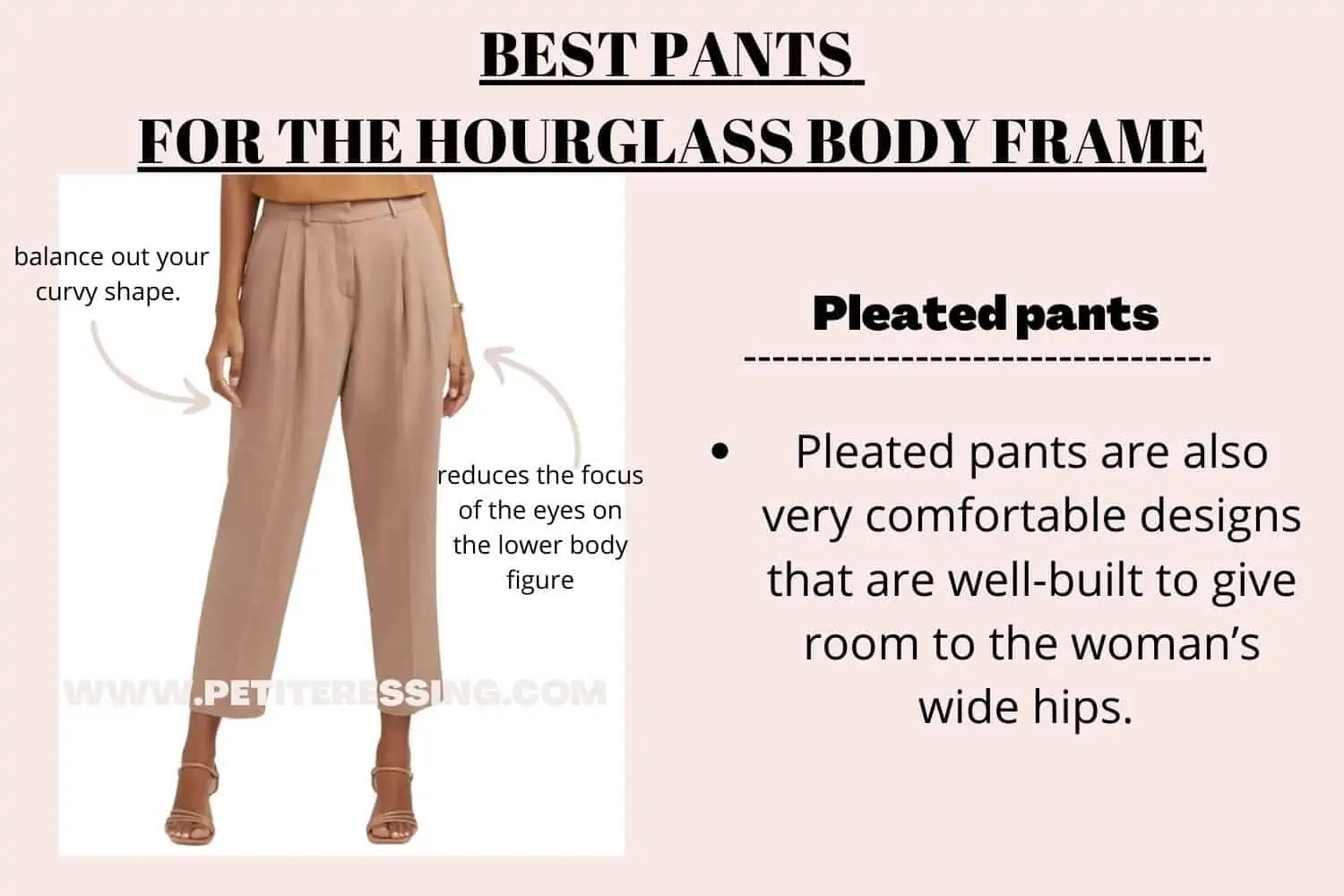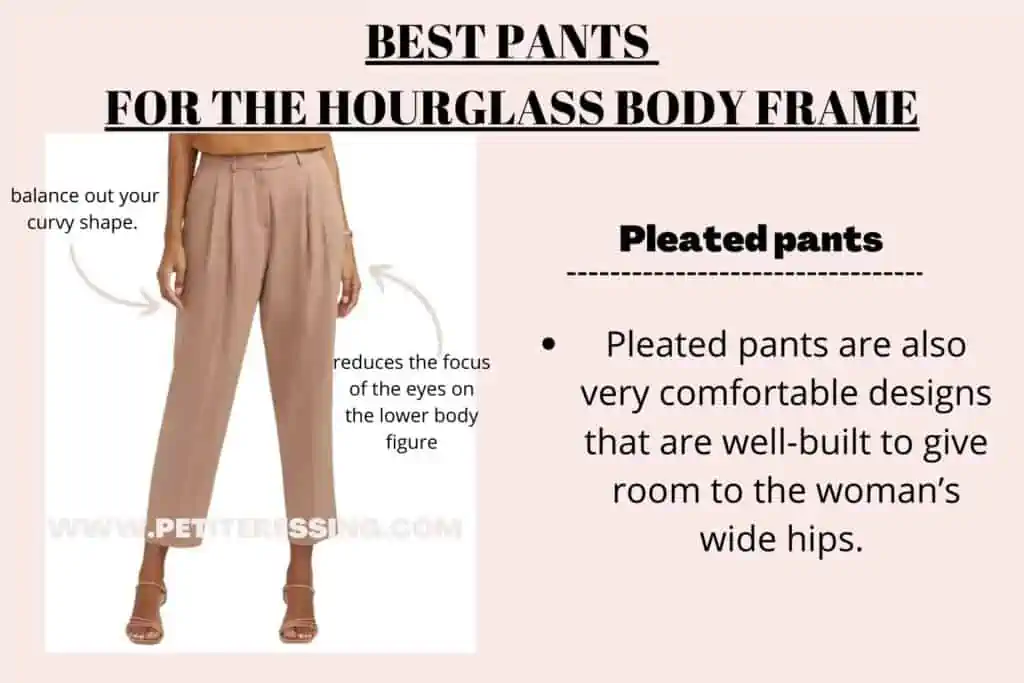 Palazzo pants
The palazzo pant is often made of flowy fabrics that are very comfortable for the woman with an hourglass body shape. They give a graceful flare to the woman and also help to conceal any concerned area around the lower body.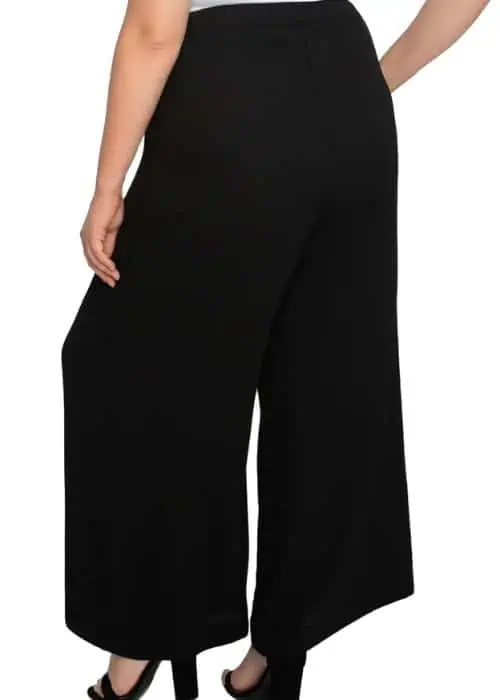 What Palazzo pants can offer to your hourglass figure
The palazzo pant is a loose-fitting pant style that creates the perfect atmosphere for you to look classy in summer.
The pant also has a wide leg that can accommodate your curvy hips and still maintain a perfect balance in your figure.
The pant has a feminine feel that could help to further elongate your hourglass shape.
It is a simple pant style that is recommended to help you achieve the right styling goal.
Flare leg pants
This is a type of pant that has a flare beginning from the knees to the ankles while staying fit at the waist, hips, and thighs. One simple rule to pair the hourglass shape with the fit and flare pants is to make sure that everything else should be well-fitted.
The rule is a way to help the woman achieve balance in her overall figure especially because it has a relaxed fit that you should appreciate. Fit and flare pants can also make a woman with an hourglass shape appear taller than she is normally.
It is a great choice of pants but for you to avoid looking overwhelmed by the pant, make sure the flare isn't too wide. A too-wide flare can create a wrong fashion statement for the hourglass frame by making the lower body appear imbalanced and too heavy.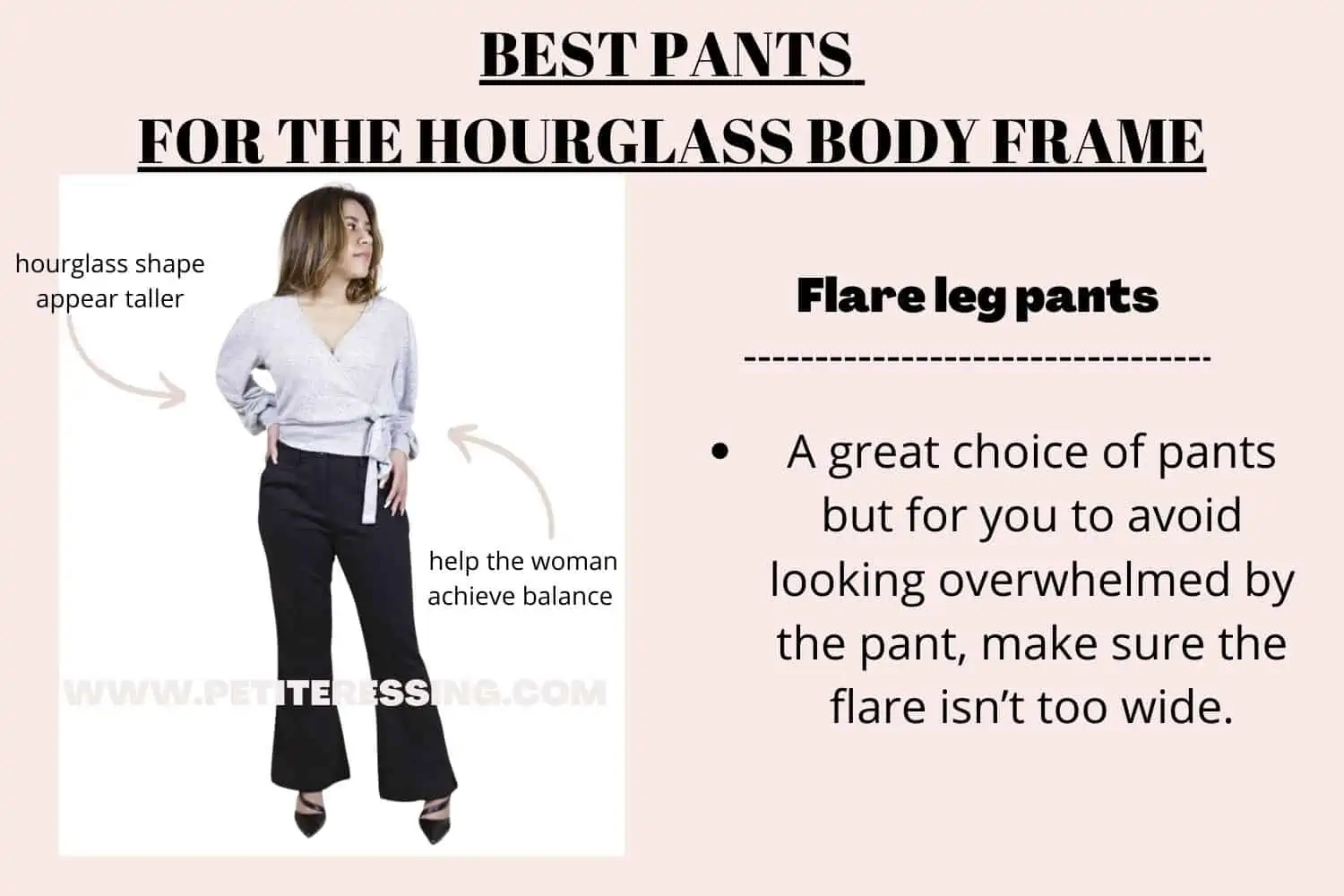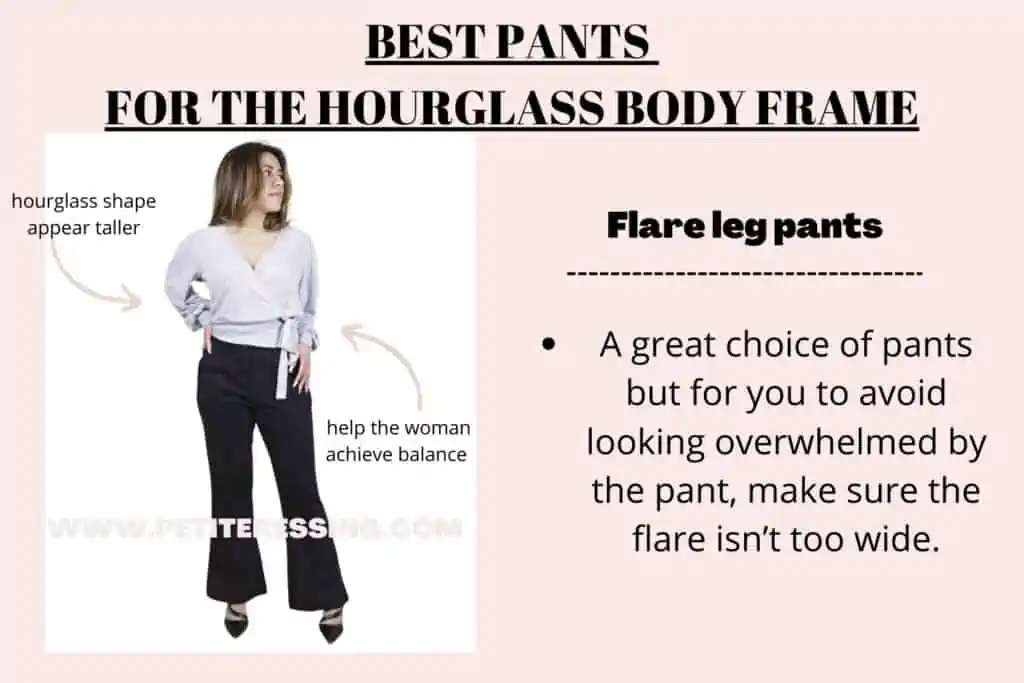 Straight leg pants
As the name implies, the straight leg pant is designed to be straight all along their length. It has a simple cut that gives absolute comfort to your curvy hips and small waist.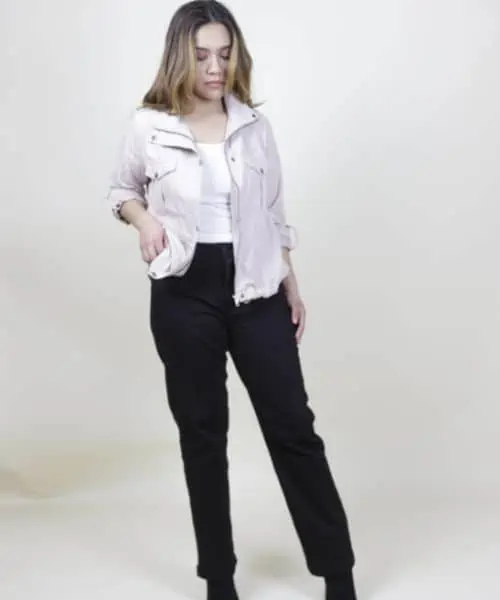 Straight-leg pants are the best
The pant does not snug tightly to the hips but sticks to the body to help accommodate your wide hips.
It further gives your overall body frame the illusion of length.
To attain an edgy and stylish look with details that align with your hourglass figure, then you should own the straight-leg pant.
Pants with elastic waistband
Since the hourglass shape has a small waist, one very efficient way to help highlight the waist is to simply wear an elastic waistband. The comfort and flexibility that an elastic waistband offers the hourglass shape are one of its greatest advantages.
Instead of wearing a pant that has buttons and zippers around them, you should opt for the design with an elastic waistband. They do not add width to the hips and do not pull the attention of peering eyes excessively to the concerned area.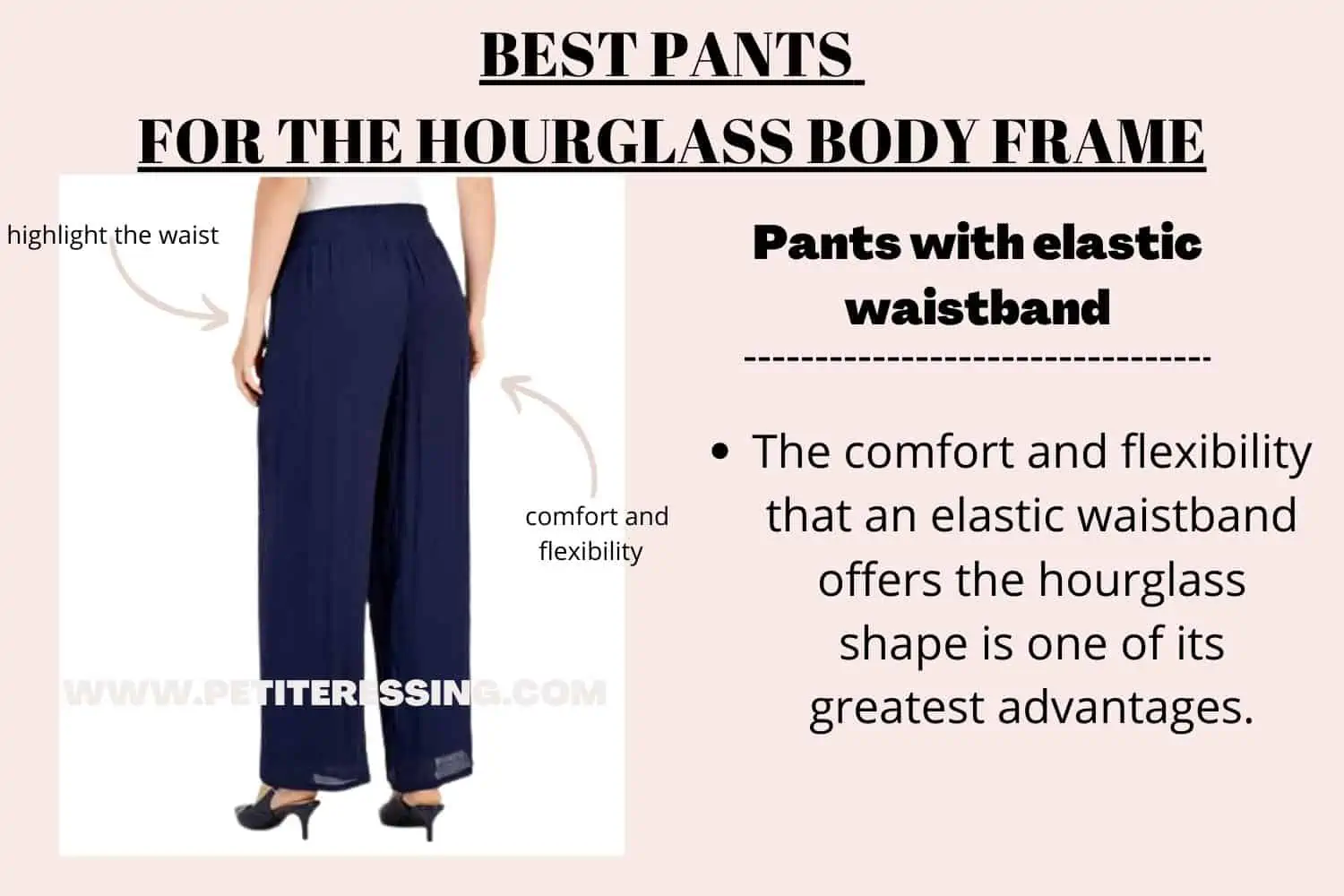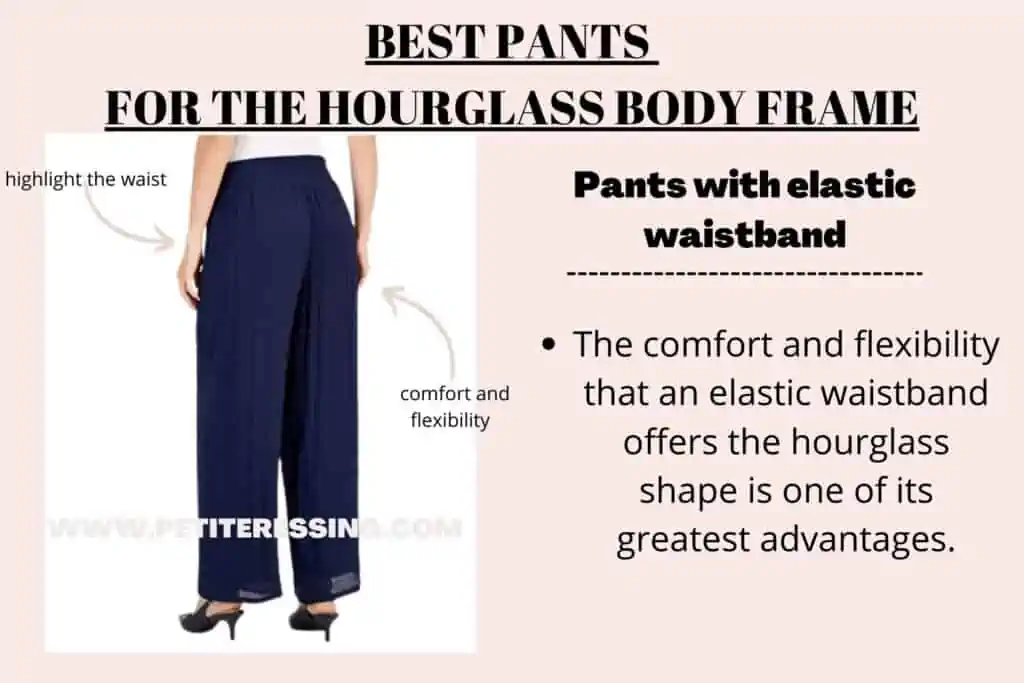 High waisted pants
The hourglass body frame looks very good on the high-waisted pant because of the kind of rise it features. The high-waisted pant has a rise that extends above your natural waistline to help reduce the torso and increase the length of the legs.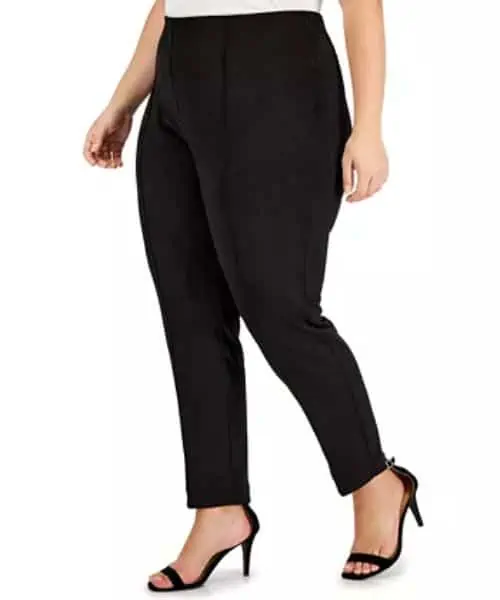 Why opt for high-waisted pants
High-waisted pants have a feminine touch on the hourglass shape that helps to define the waist and retain the structure of the woman.
They remain desirable and trendy pants that should be one of your major wardrobe-essentials.
You should always pay attention to the rise of your pants because it can either make or break your look.
Stick to the high-waisted pants and not the low-waisted pant if you have an hourglass shape.
Pants in dark shades
The color shade of your pants could determine the level of attention that could draw the eyes to your figure. Pants with dark shades are not great attention seekers so the eyes are never given the impression of additional width around it.
They have a high level of lengthening effect on the lower figure that gives the hourglass frame a feel of elegance and poise. The pants with dark shades are unique styles that never work against your shape so keep them close.
It is an extremely versatile shade of color that gives a conservative look and as such should be chosen in preference to the bright shade pants. Dark-shade pants are more flattering on your curvy hips with less detailing that doesn't make you feel bottom-heavy.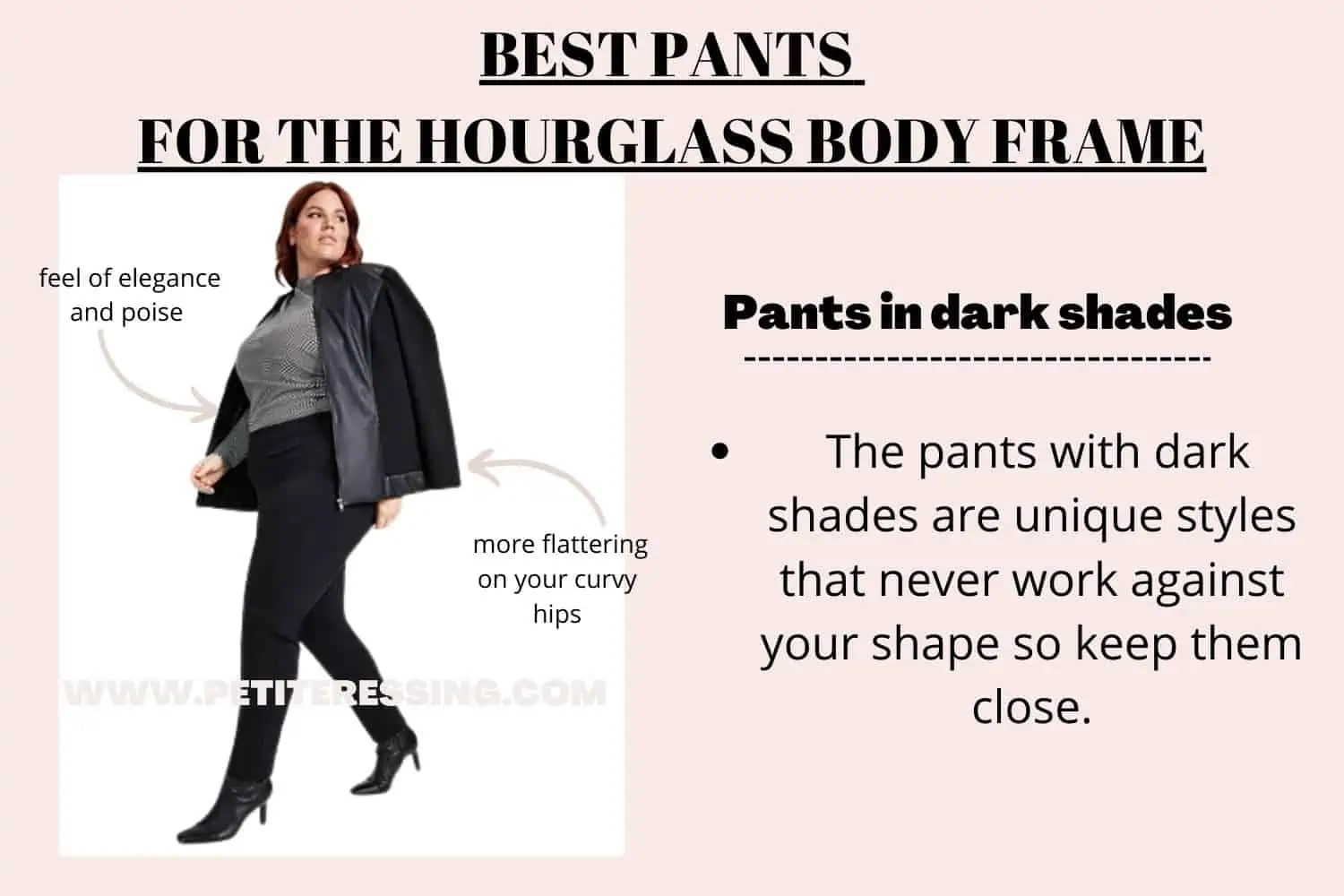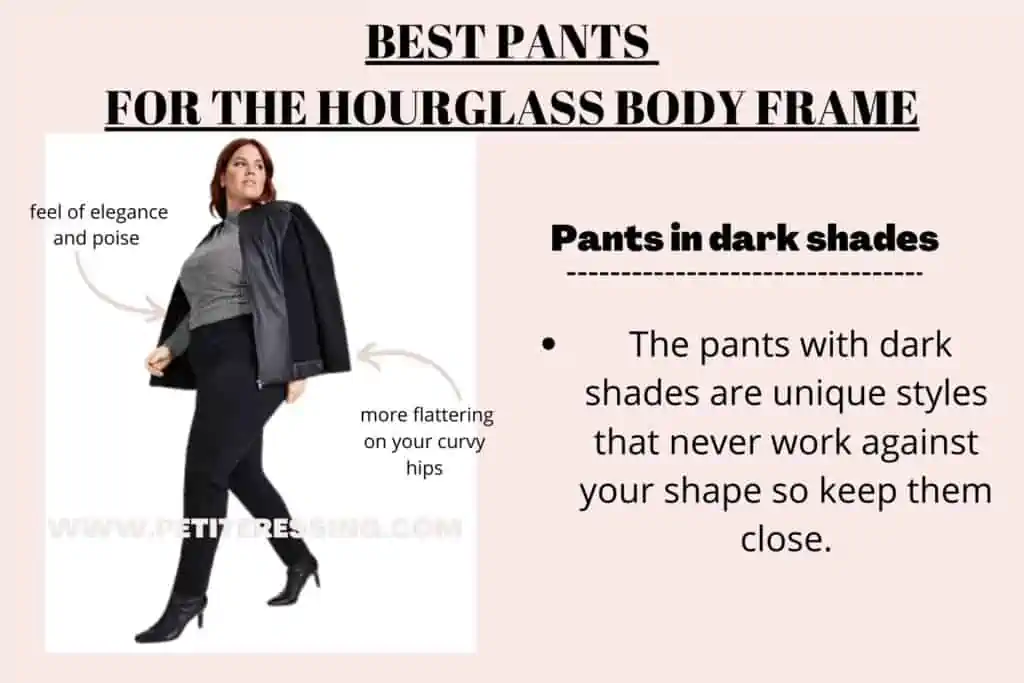 Vertical striped pants
This type of pant moves the eyes upwards and downwards from the defined waist down to the hem of the pant. This way the hourglass body shape is given the illusion of length in the lower body frame of the woman.
You would always appreciate your figure if you wear vertical striped pants on your hourglass figure. It is also very essential that you do not wear vertical striped pants that are very wide because they would only create a contrasting effect around you.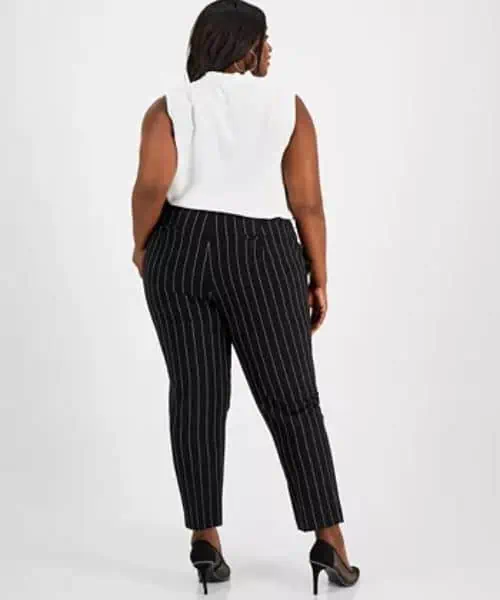 Expectations with vertical stripes pants
Vertical striped pant has the ability to make you look trimmer than you actually are, and make you look very fit.
They have no trace of volume on the hourglass frame and are best used to smoothen out your overall feminine figure.
Wear pants made of stretchy fabrics
When the fabrics used to make the pants have elastane contained in them, then they are a go-to option for your shape. Pants made of this type of fabric are very comfortable and have a relaxed fit on your figure.
They help to properly structure your whole frame by accentuating your hips and efficiently defining your small waist. Figure balancing is very much possible with a pant made of stretchy fabrics.
Keep stiff fabrics away from the hourglass shape because they would not flatter your figure and could easily restrict movement around your figure. There is absolutely no reason to own pants that are made of stretchy fabrics.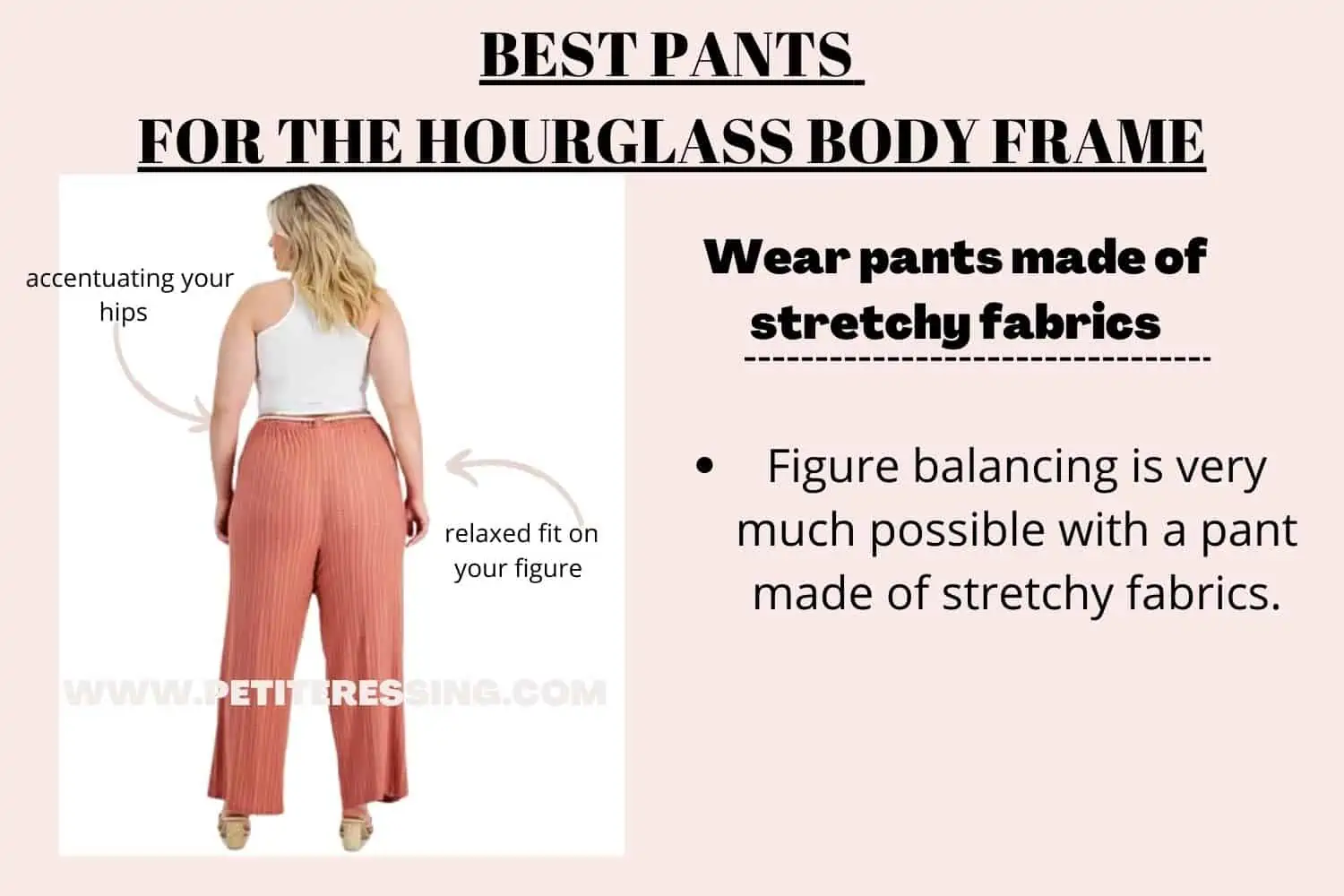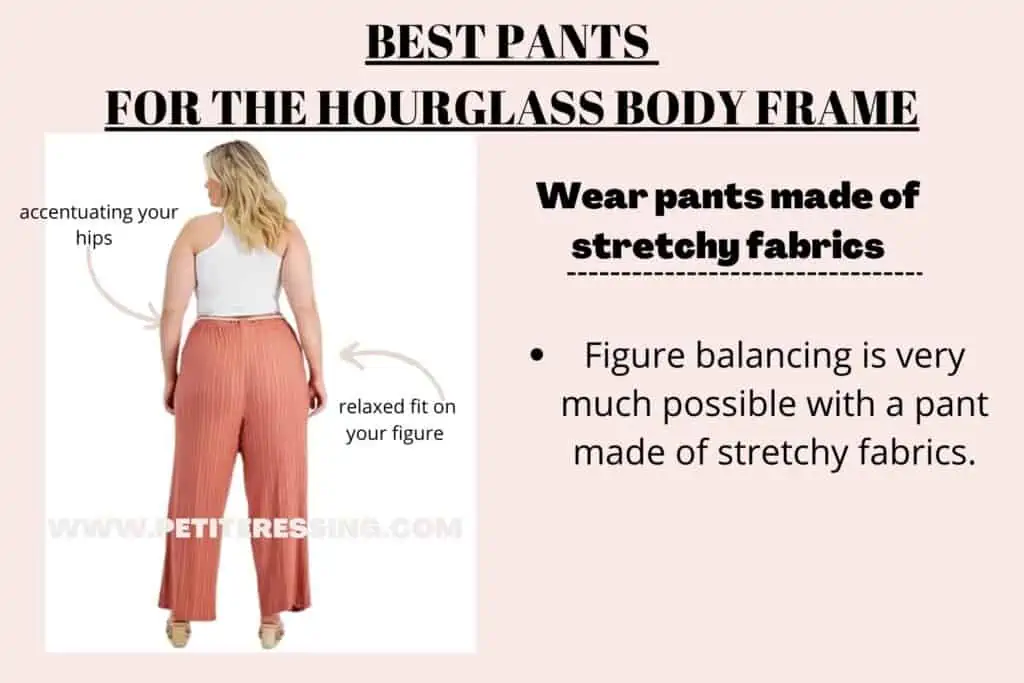 Avoid pants with a low rise
This type of pant does not have a great fit for the hourglass shape because it sits low on the waist of the woman. It gives the lower figure an entirely different look that could make the woman appear shapeless.
Wearing a pant with a low rise should never be an option for you because they could make you look cut off and could wrongly accentuate your hips. Pants with a low rise also have the tendency of reducing your natural length.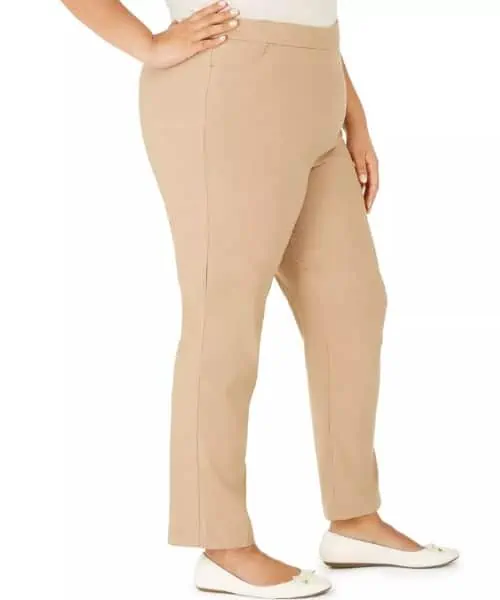 Why you should not opt for low-rise pants
These types of pants do not define your natural waistline making them the least comfortable and unflattering rise of pants.
For a more structured appearance, it is better that you stick to the high-rise pant and avoid low-rise designs.
Avoid wearing leggings
This type of pant could be termed a provocative pant style because it is a tight-fitting style that shows off all of your figures. It could make the hips appear bigger than their normal size so do not try to pull off a great fashion statement with them.
They are not a breathable pant style suitable for a woman with an hourglass body shape and avoiding them is a great idea. Leggings can disrupt your already naturally balanced figure by making you more visible in your concerned area.
You are not advised to wear them for any occasion nor make them a major wardrobe essential if you have an hourglass body shape.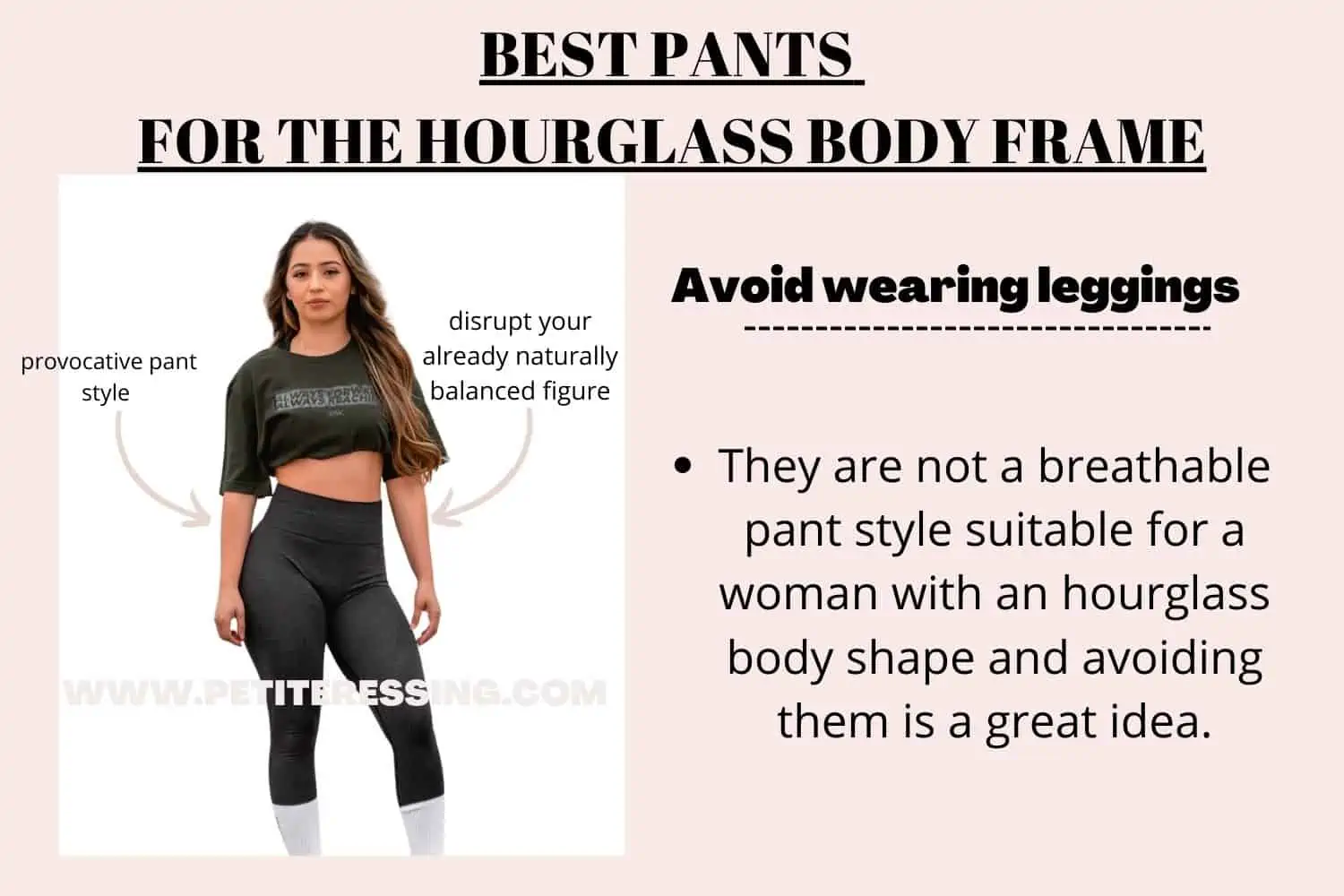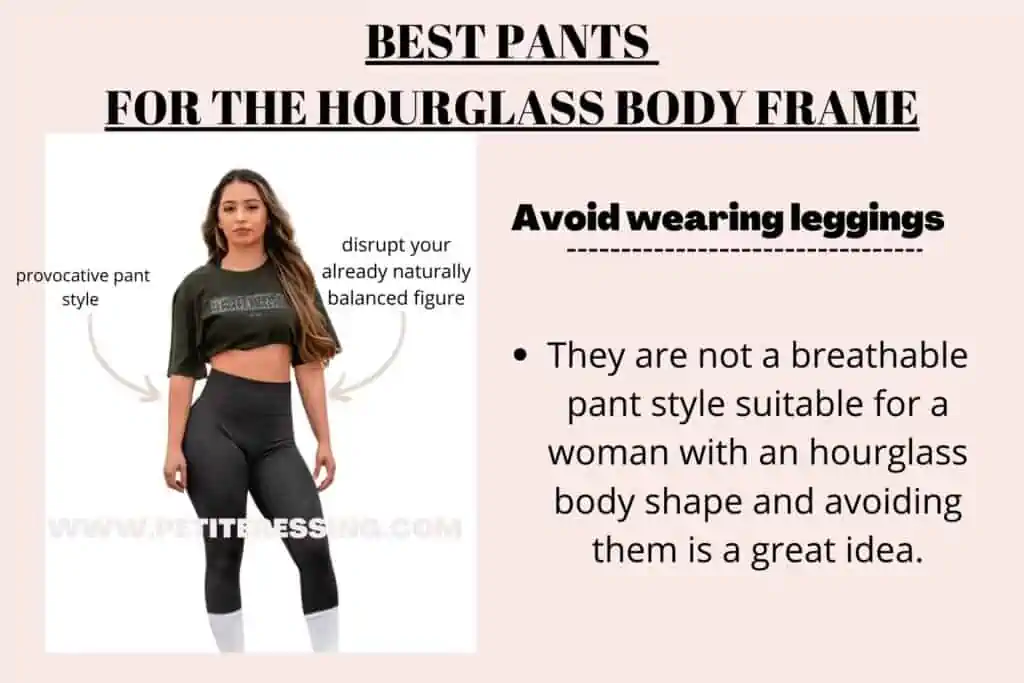 Avoid skinny jeans
Any type of pant that would wrongly accentuate your figure isn't recommended for the hourglass shape. Skinny jeans are tight-fitting jeans that should be ruled out from your best pant styles.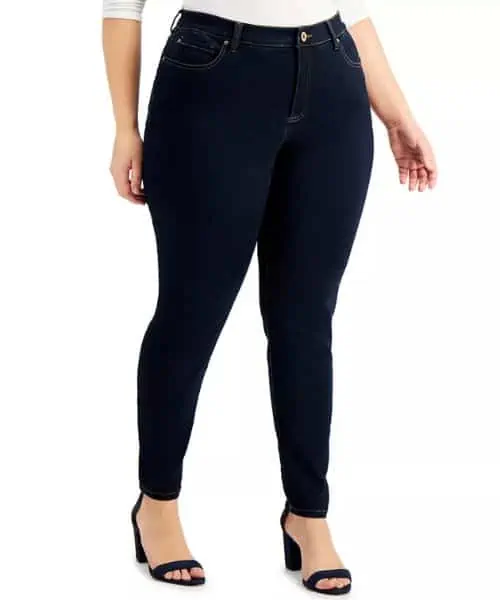 Skinny jeans are not the best when you're curvy
They do not create comfort for your hips and could restrain easy movement around your lower figure.
Skinny jean is not a flattering pant style that you should own so it's best to avoid them.
Hourglass shape does not require any form of restrictions to appear edgy and stylish.
Skinny jeans often make more noticeable the concerned area in the woman's figure.
Avoid tapered leg
Aside from keeping the structure of your naturally balanced figure, the length of your body is also important. Tapered legs could make your legs look cut off and add weight to your lower half.
The pant would shorten the legs of the hourglass figure it has a cut that narrows down to tightly fit the legs. You could easily appear shapeless when you wear tapered pant and that is why it is not suitable pant.