When choosing coats and jackets for the hourglass figure, the goal is to balance your full bust, wider hips, and slender waist.
Your overall styling goal is to flatter your curves without making you look bulkier. Your choice of coats should follow the same principle of emphasizing your feminine figure but at the same time making you look slimmer.
Below is a comprehensive coat guide with the 7 best coat styles for the hourglass body shape, and 5 styles you should use caution.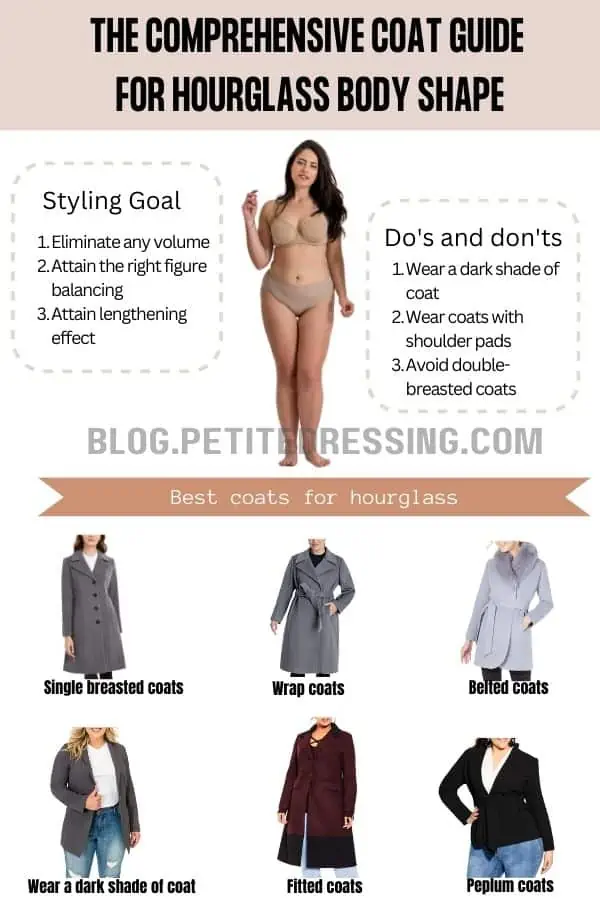 Single breasted coats
You can absolutely make the best out of the single-breasted coat since it has a single point of fastening that is special for your shape. With this shape, it is easy to eliminate any form of volume around both the lower and upper regions of your body.
The single-breasted coat is a highly unique coat style that helps the woman with an hourglass shape attain the right figure balancing. It is great for accentuating the hips and keeping the structure of the narrow shoulders intact.
It is one of the most-trendy coat styles because it works virtually for all body types with the inclusion of the hourglass shape. Single-breasted coats would always stand out over double-breasted coats because of their distinct features.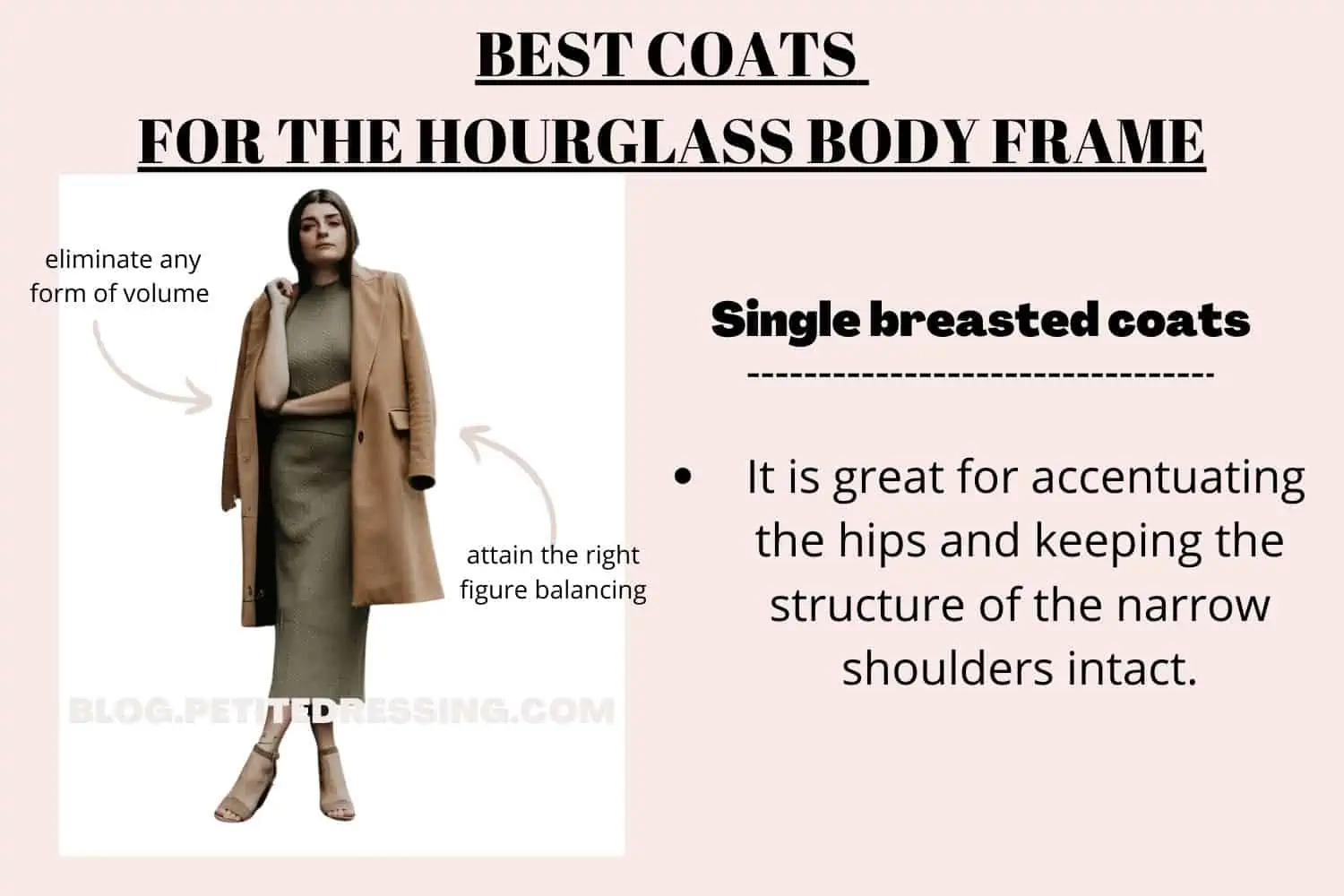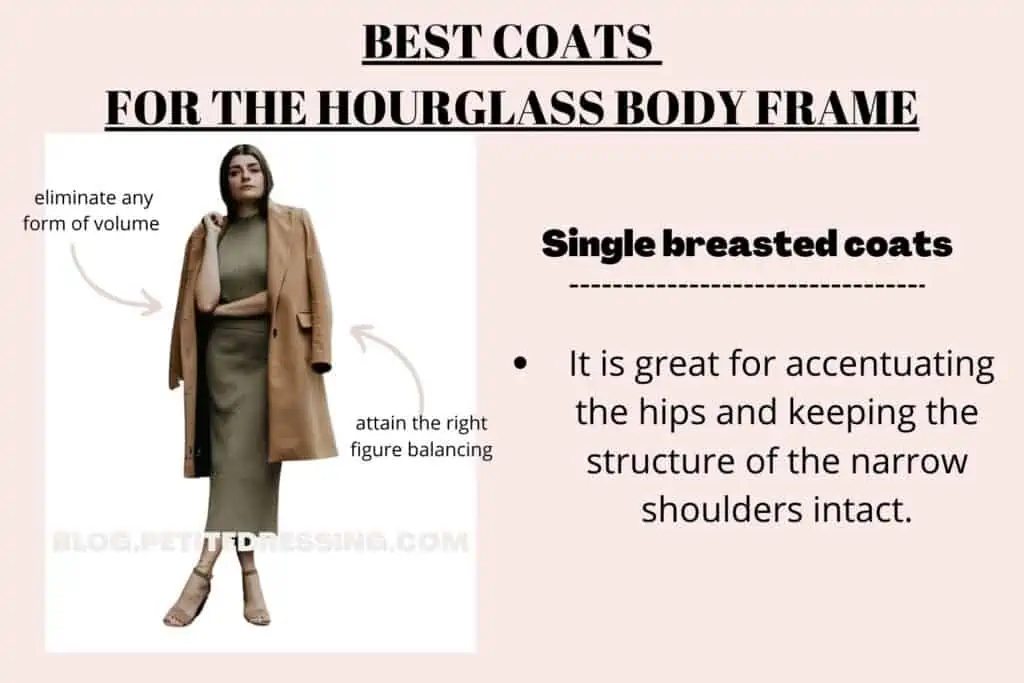 Wrap coats
Aside from the hips and bust, it is important for the woman with the hourglass shape to be particular about her small waist. This can be possible with the wrap coat design because it is a cool coat style that easily defines the nipped-in waist.
Wrap coats provide great coverage and follow the natural shape without sticking too tightly to you. It is also great for accentuating the hips because the coat skims gently over the hips with more focus of the eyes fixed on the defined waist.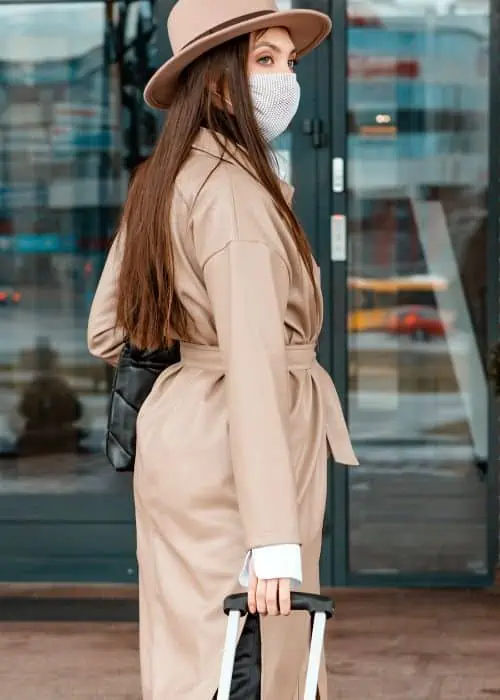 Expectations with wrap coats
It has a simple coat with an overlap that gives you an irresistible comfort that aligns strongly with your shape.
The overlap contained in the coat offers the coat a V-neckline that is universally flattering for the hourglass body figure.
Belted coats
The belted coat is one of the most flattering coats that the hourglass shape should be glad to wear on her figure. This coat is very good at cinching the waist and causing the eyes to keep their focus on it.
This coat is perfect for you because it can easily be adjusted for you to attain comfort while wearing it on your figure. Belted coats are special coats for your shape and it is advisable for you to own a few of them in your wardrobe.
They are also great in structuring your figure so more appreciation could be given to your feminine figure. Rather than trying to hide the natural waistline with any boxy coat, it is best that you make the belted coat a better preference.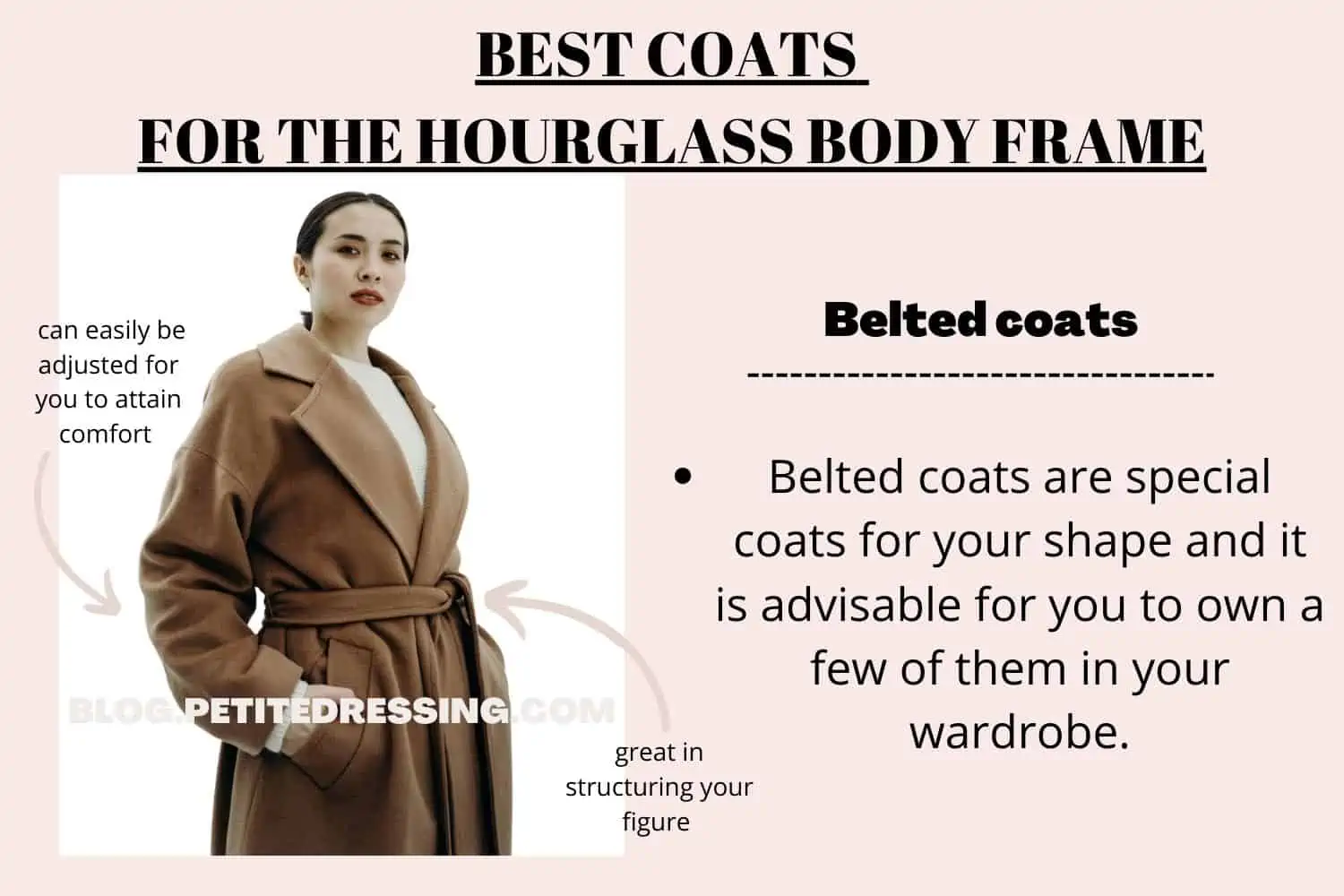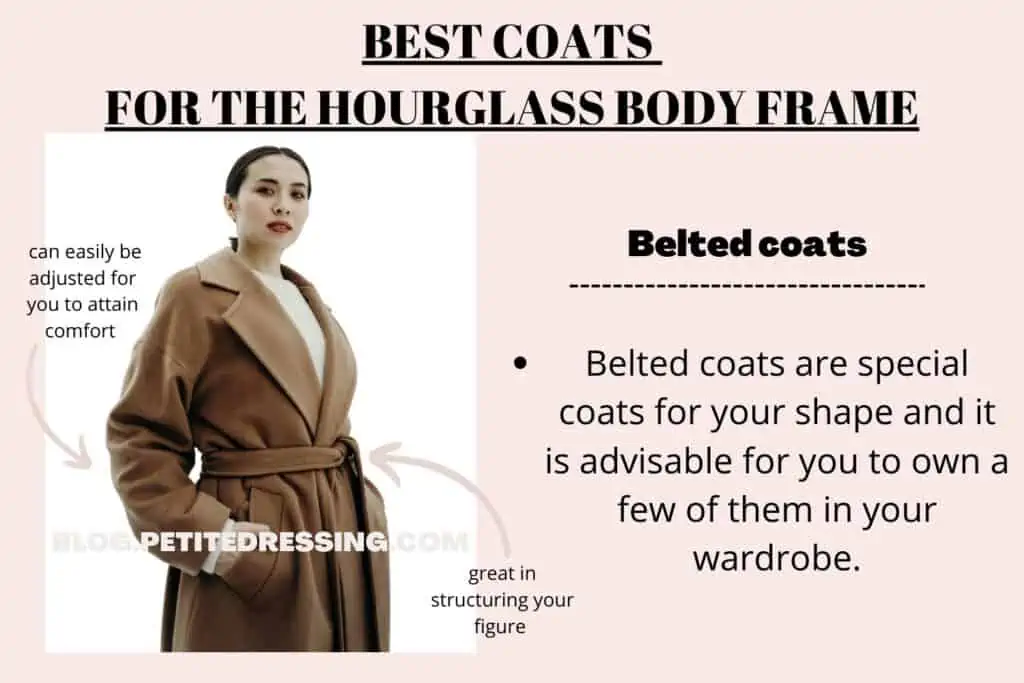 Wear a dark shade of coat
Dark shades have always been a classic color that should be owned by every woman with the inclusion of the hourglass shape.
Colors have a strong effect on the body that can assist in improving your everyday look without affecting your figure balance. Dark color shades have a full feel of maturity on the skin that's why they are flattering on the hourglass frame.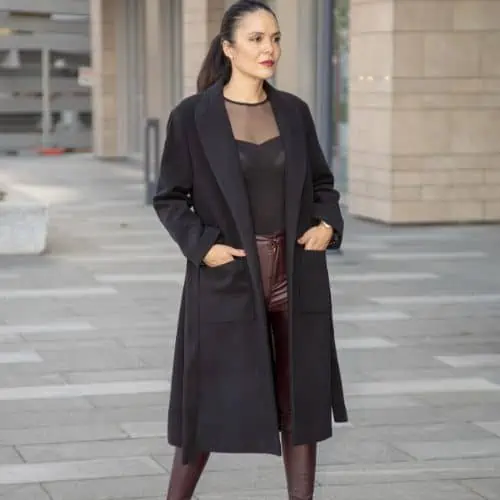 Why opt for dark-shade coats?
These shades of colors are very useful if you want to downplay your curves by not attracting the attention of peering eyes.
A coat with a dark shade would also help to easily slim you down and naturally elongate your frame.
Fitted coats
The most basic way to appear chic, stylish, and elegant is to simply wear a fitted coat on your hourglass shape. The coat has no bulky feature that could alter your body shape but it is designed to fit you in every part.
They also make you look taller than you are normally because of the visual vertical effect they offer your body frame. You are already in shape so wearing a fitted coat would help create a flattering silhouette in your everyday style.
Wearing a fitted coat does not mean that it has to be very tight on you but it has to properly work well with the normal structure of your body. They make a huge difference to your shape because they are best in complementing your hourglass shape.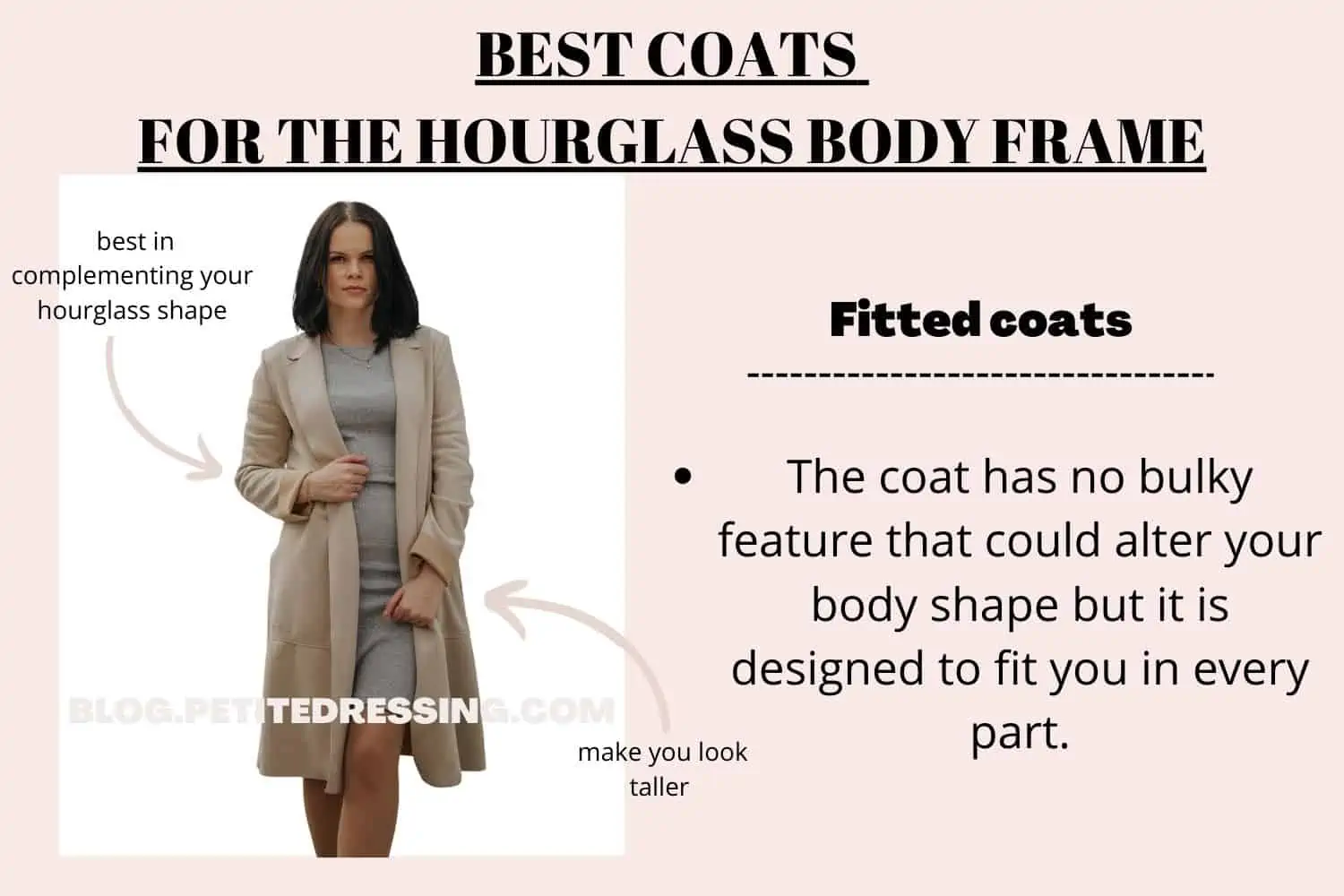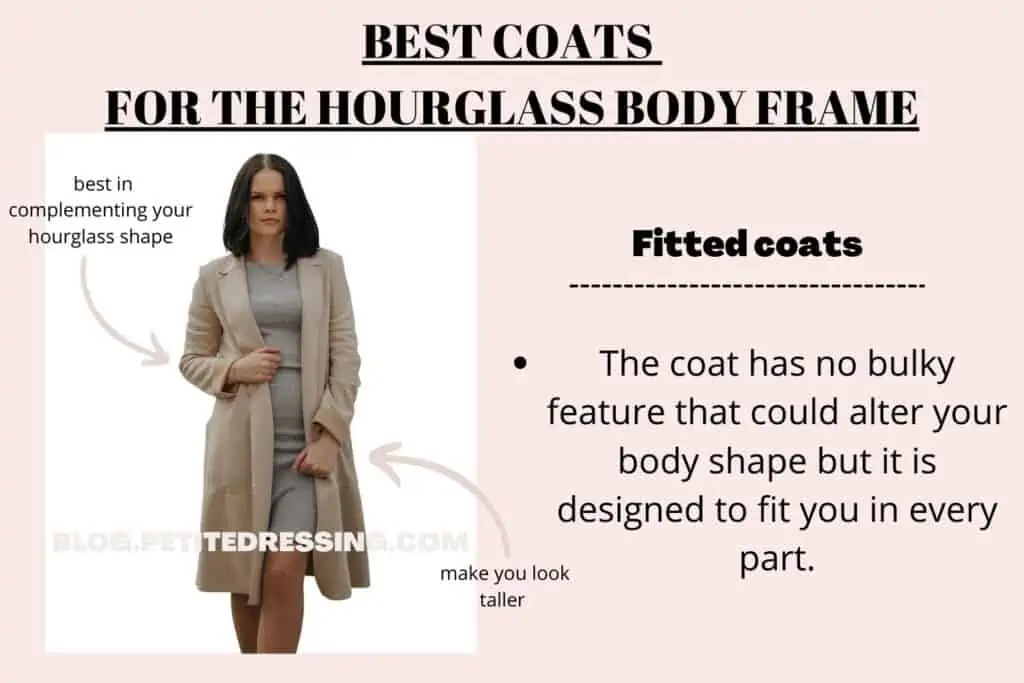 Peplum coats
You are advised to go for this beautifully designed coat skirt that is fitted to your upper figure before having an overskirt that sits comfortably over the hips. The peplum coat has a high level of versatility that you can rock in the most elegant way.
The coat is not one to ruin your shape nor one to disrupt the illusion of a leaner waist so do not restrain yourself from wearing them.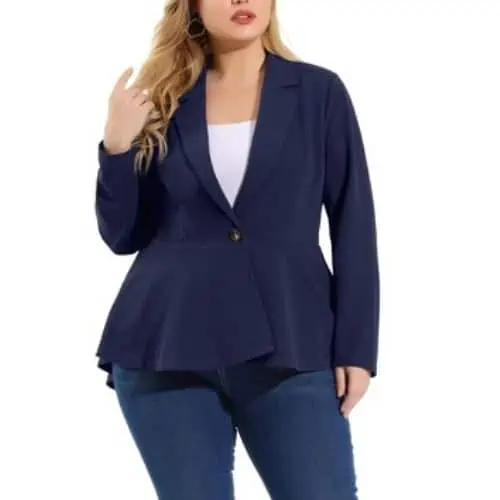 Peplum coats are the best
It is best in defining the waist of the hourglass shape as well as accentuating the hips without revealing any of your concerned areas.
The structure of the A-line skirt creates a wonderful silhouette for the woman with an hourglass body shape.
Wear coats with shoulder pads
The hourglass frame has a narrow shoulder and wearing coats with shoulder pads would are definitely great on your figure. This type of coat helps to prevent the shoulders of the woman from appearing sloppy and unstructured.
They are a great dress detail that helps to draw the attention of the eyes upwards so there is less focus on the other part of the body. A shoulder-padded coat is unique and edgy for the hourglass figure so do not turn away from styling yourself with them.
It is an extra coat detailing that has no voluminous effect on the body but helps to broaden the shoulders so they would be in line with both the bust and the hips.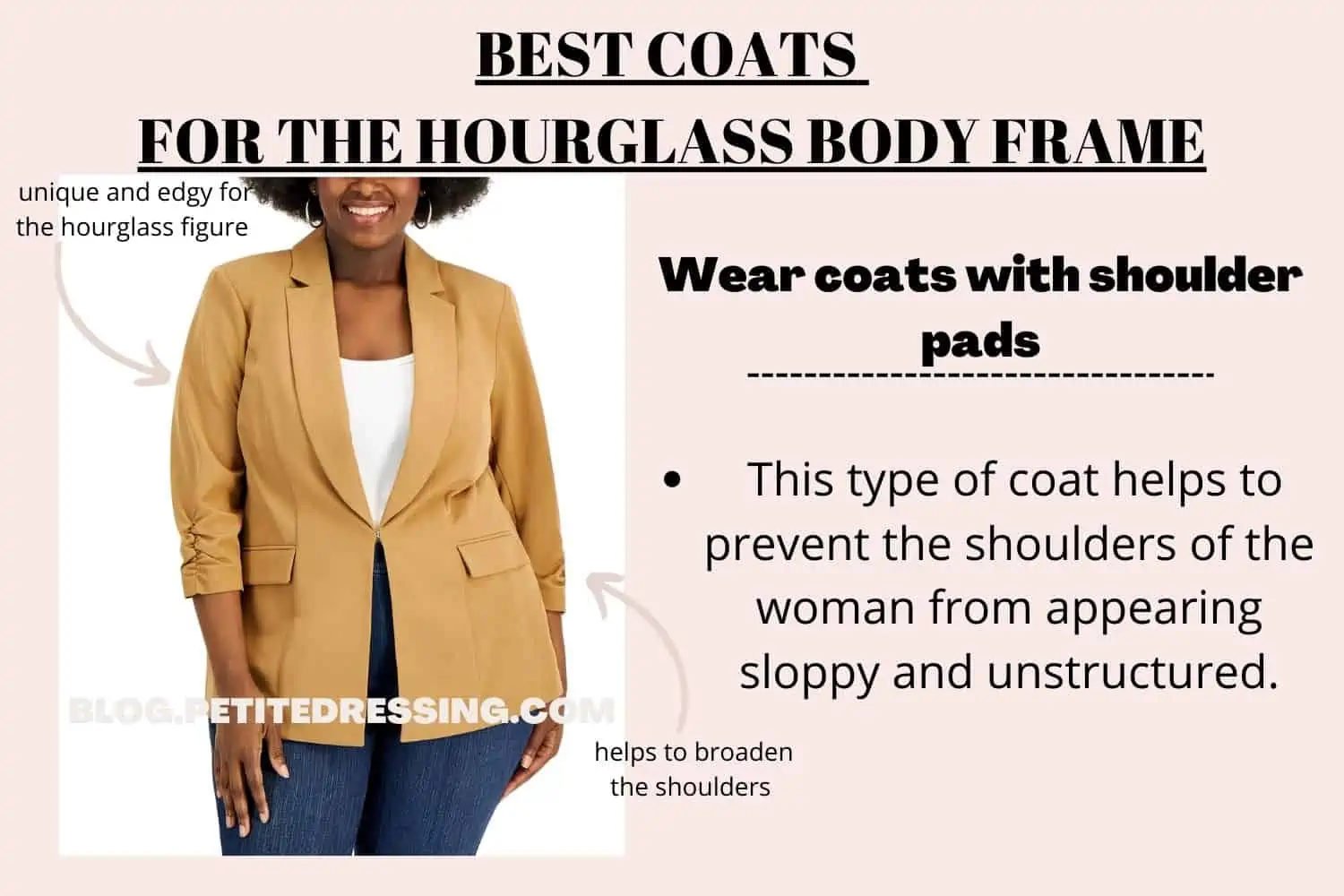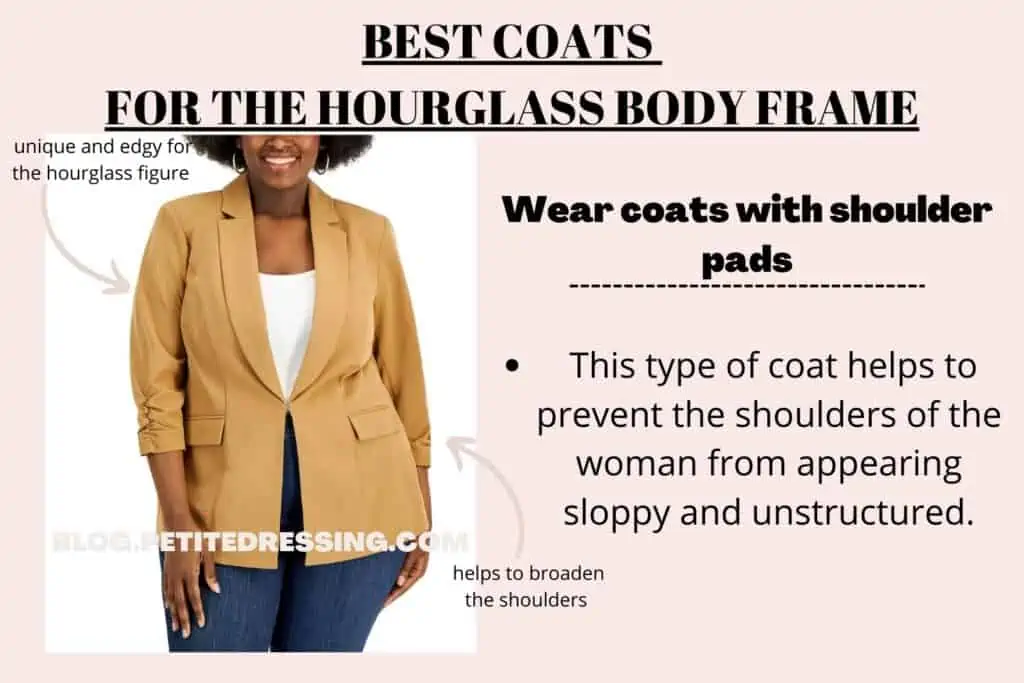 Avoid double-breasted coats
Discard the double-breasted coat design from your classic feminine wardrobe because they would not offer you every feel of utter sophistication. The pattern of the double-breasted coat is best in altering the beautiful structure of the hourglass body frame.
Make sure you avoid a double-breasted coat on the hourglass figure because they most often feel too overwhelming. The coat is seen as an overly embellished coat style that has no effect in improving your entire body frame.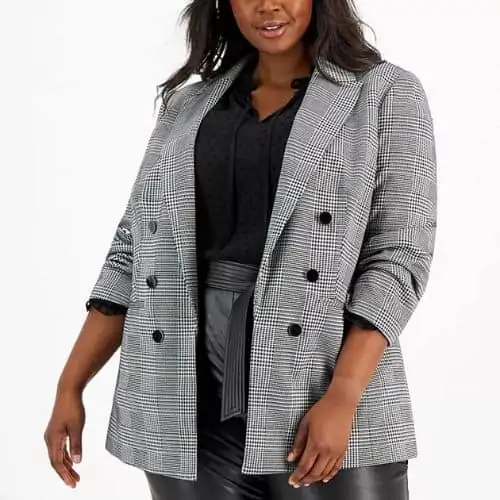 Why you should not opt for double-breasted coats
There is an overlap of buttons attached to the front of the double-breasted coat that could increase the width of the bust.
When there is a visual increment in the size of any part of the body, the natural body balance is lost.
Avoid boxy coats
You can easily disfigure your beautiful feminine frame with a boxy coat so it is best to not place them on your figure. This coat is designed to look very big on a woman with an hourglass body frame and this could mean adding width to the hips.
A boxy coat would effortlessly make the waist of the woman appear undefined and unstructured because of its volume. The size a boxy coat gives to your figure can be overwhelming so do not try to achieve comfort in them.
They do not create a streamlined flattering figure for the hourglass shape and that's a good reason to avoid wearing the boxy coat. Balance in both the upper and lower body part can be lost when you wear this pattern of the coat.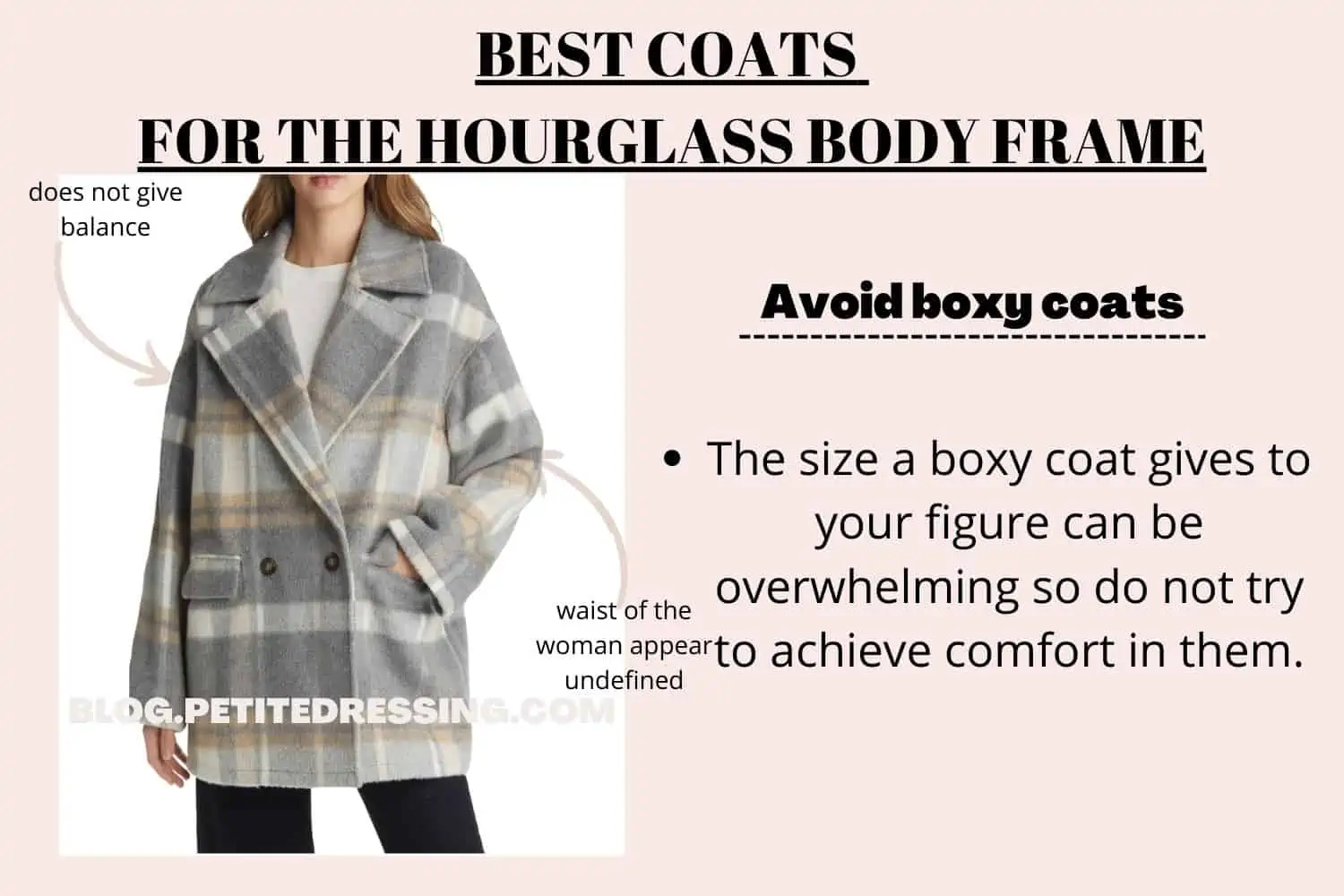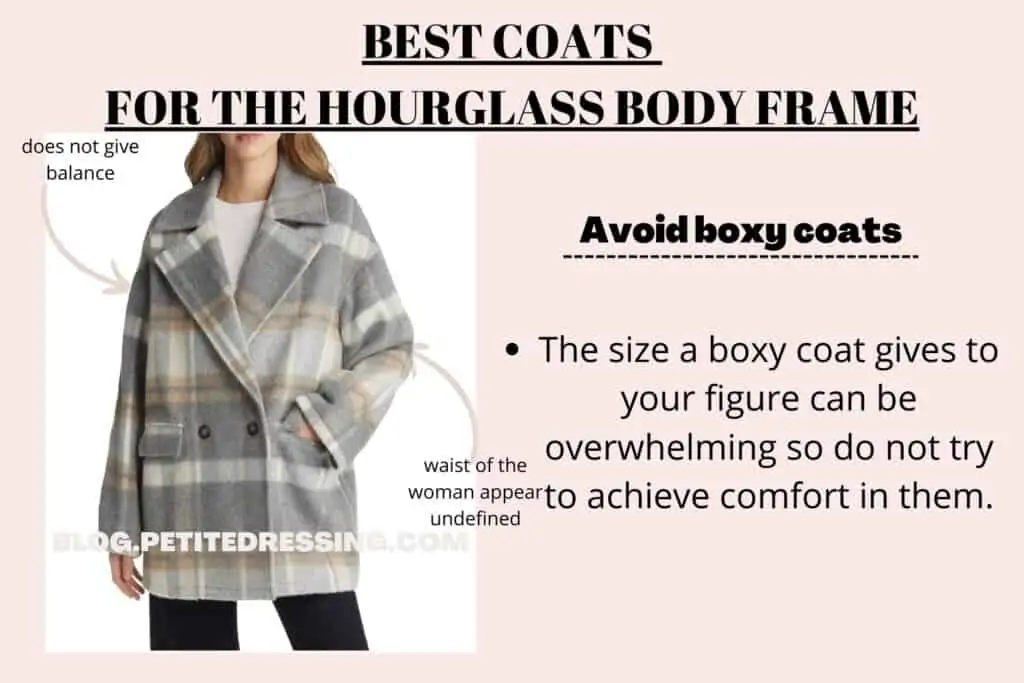 Avoid shackets
Shackets are not the best coat trend to adopt if you have an hourglass shape because they are not classic. The style of play does not have the right structure that is necessary to flatter your feminine figure and as such is not desirable.
There are other great styles that can help you achieve simplicity in fashion without having to make you lose shape and packets aren't one of them. The hourglass shape is the most naturally balanced figure and attempting to disfigure it with a shacket is totally a bad idea.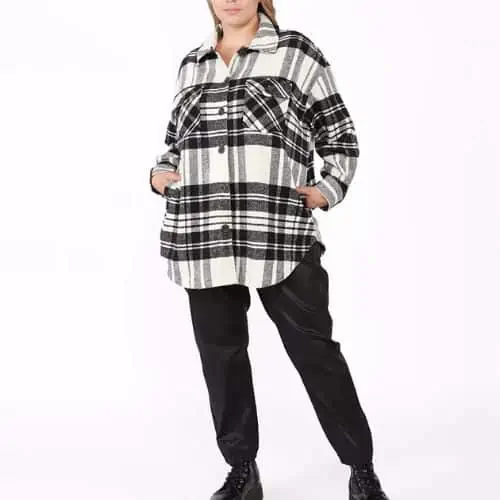 Shackets should be out of your wardrobe when you're an hourglass figure
You should never wear a shacket because the undefined structure would make your hourglass shape look bigger than they are normally.
They should never make up your favorite coat styles so the eyes would not easily notice your concerned area.
Avoid cropped coats
The cropped coat is not a friendly coat style for the hourglass shape because your full bust could easily pull up the coat. When this happens, the coat appears to be shorter than it is normally.
The extra reduction in the length of the coat could make your top half appear top-heavy and this could become uncomfortable for you. Peering eyes would further focus their attention on your top half.
This coat is not among the best coat styles for the woman with the hourglass shape and as such you are not advised to invest in them. The cropped coat would effortlessly shatter the balance in your beautiful figure and as such, it is best to avoid wearing them on your frame.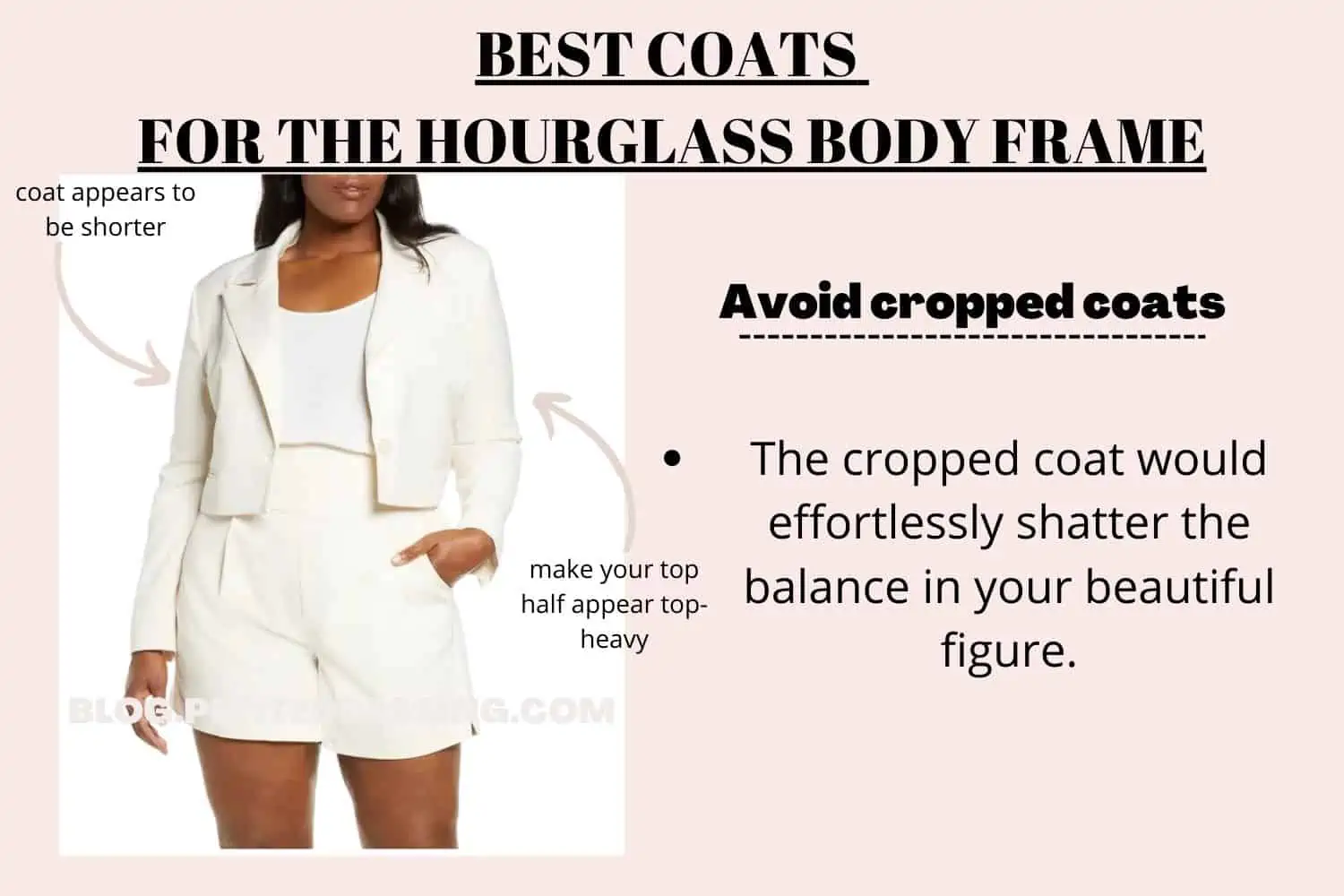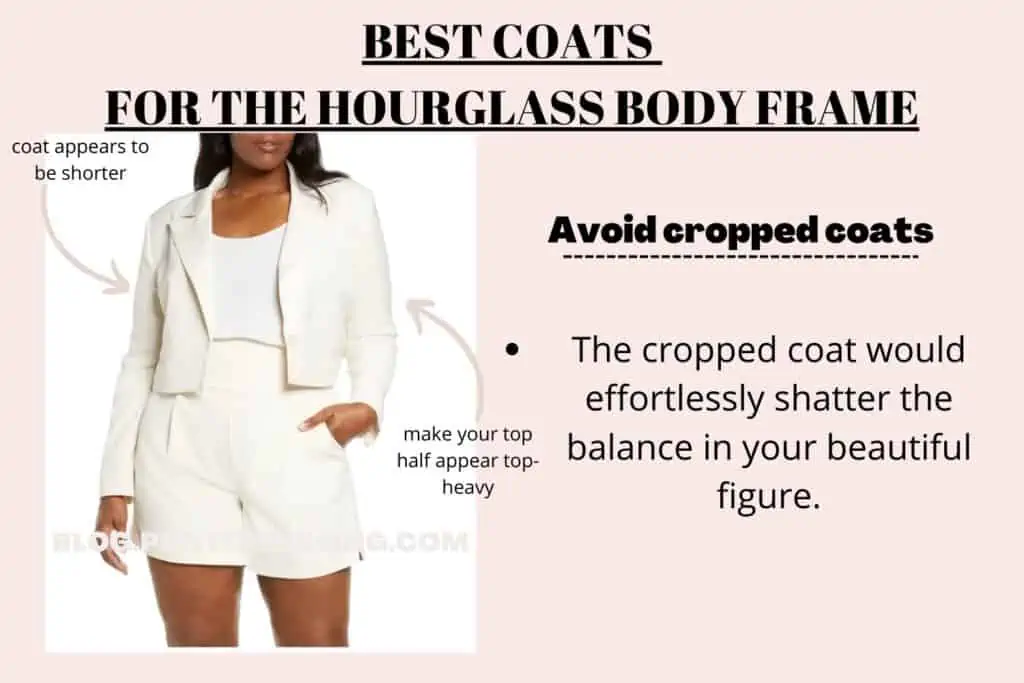 Avoid oversized puffer coats
Your shape is amazing and well-proportioned but an oversized puffer coat could alter the body balance. Your shape could be easily lost in this type of coat so keep them far from your hourglass shape.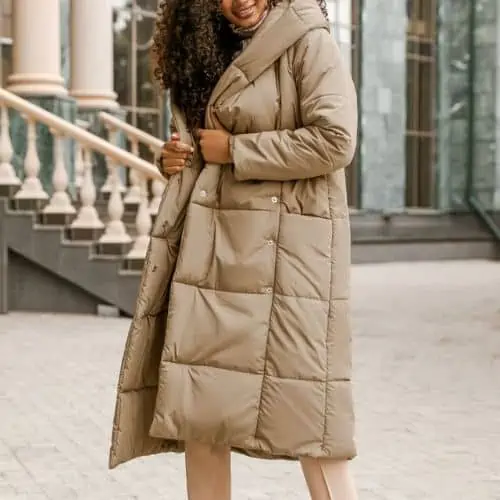 Why you should not opt for oversized puffer coats
An oversized puffer coat is less flattering as it would appear voluminous on your figure thereby making you appear rounded.
An oversized puffer coat is good for making you look undefined by creating visual horizontal lines.
It is not a coat that works efficiently with your figure as it contains a series of puffs that would hide your great shape.