Having a long torso can be a challenge to find clothes, and it is especially hard to find swimsuits that fit women with a long torso. Most taller women have longer torso, but it is also possible for someone to be 5'5″ tall or shorter and need long torso swimsuits.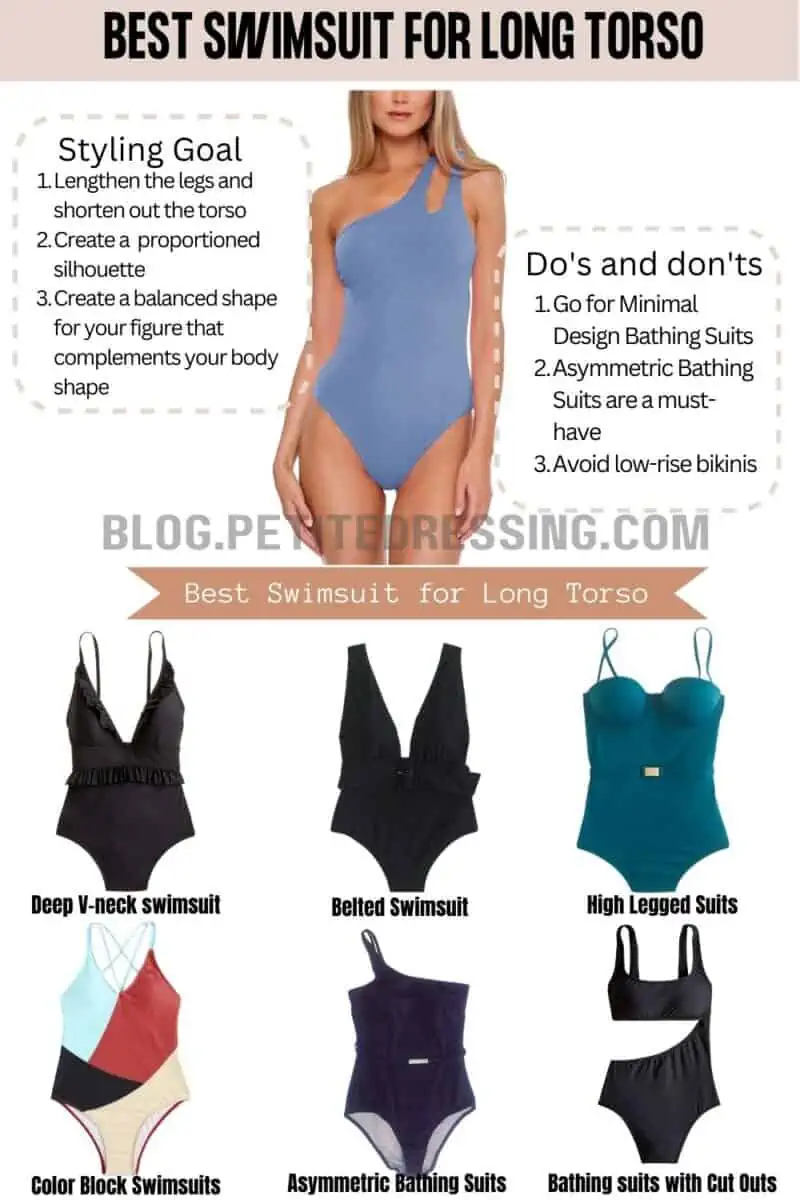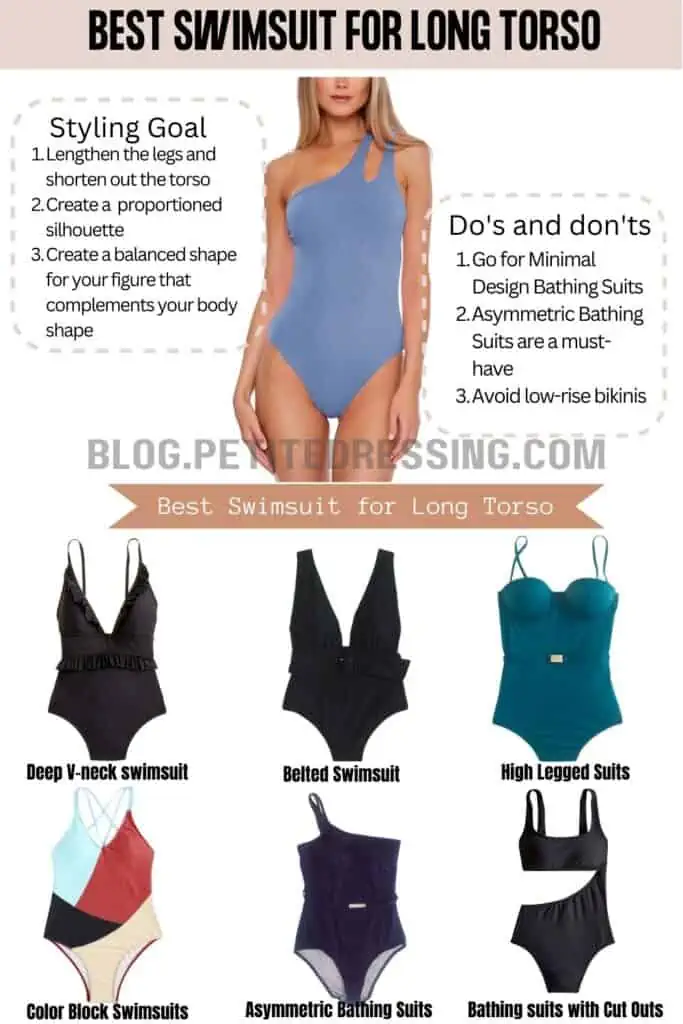 If you happen to have a long torso with relatively shorter legs compared with women of your height, then swimsuits can be a real struggle. The reason is bathing suits do not cover much of your body, so they cannot camouflage your long torso and short leg body, compared with dresses or skirts.
The best swimsuits for women with long torso should create the visual illusion of a more balanced body proportion, i.e. making legs look longer and torso look shorter. Below are the best bathing suit styles that flatter a long torso body type.
Plunging One Piece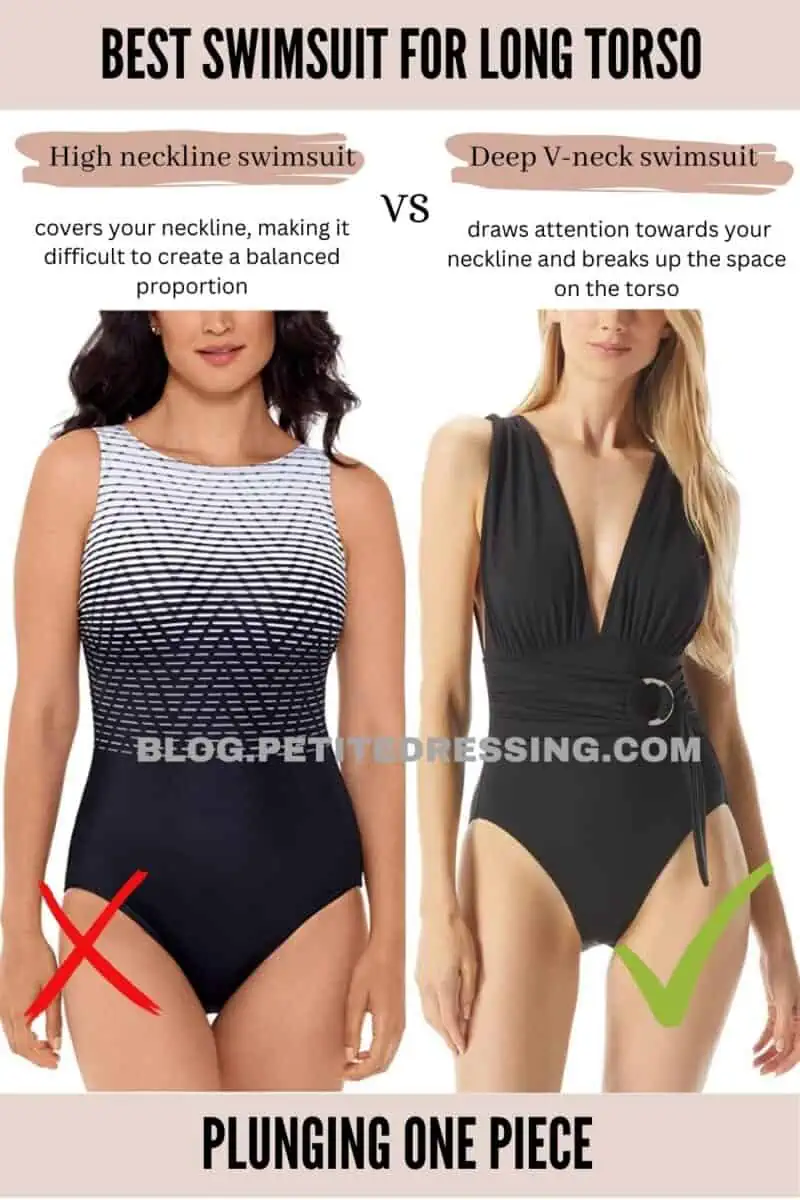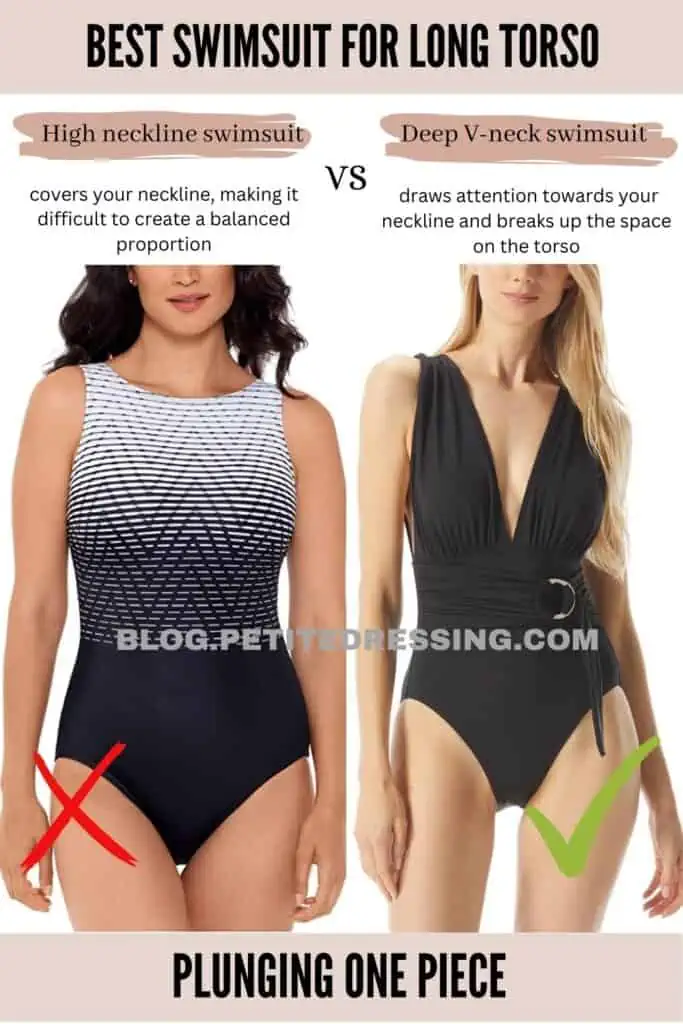 Most long-torso women have difficulty with one-piece swimsuits more than bikinis. The obvious reason is bikinis or other separates can always fit women with longer torsos, while one piece may not even fit properly. Besides the fit issue, you also need to be selective with the style, which is especially important when it comes to the one piece.
If you're a one-piece kind of woman, you will want to try something that has a plunging neckline to flatter your long torso. A plunging neckline draws attention towards your neckline and breaks up the space on the torso, creating more balance in your body. Have fun with this, there are a lot of really unique options available now.
Belted Swimsuit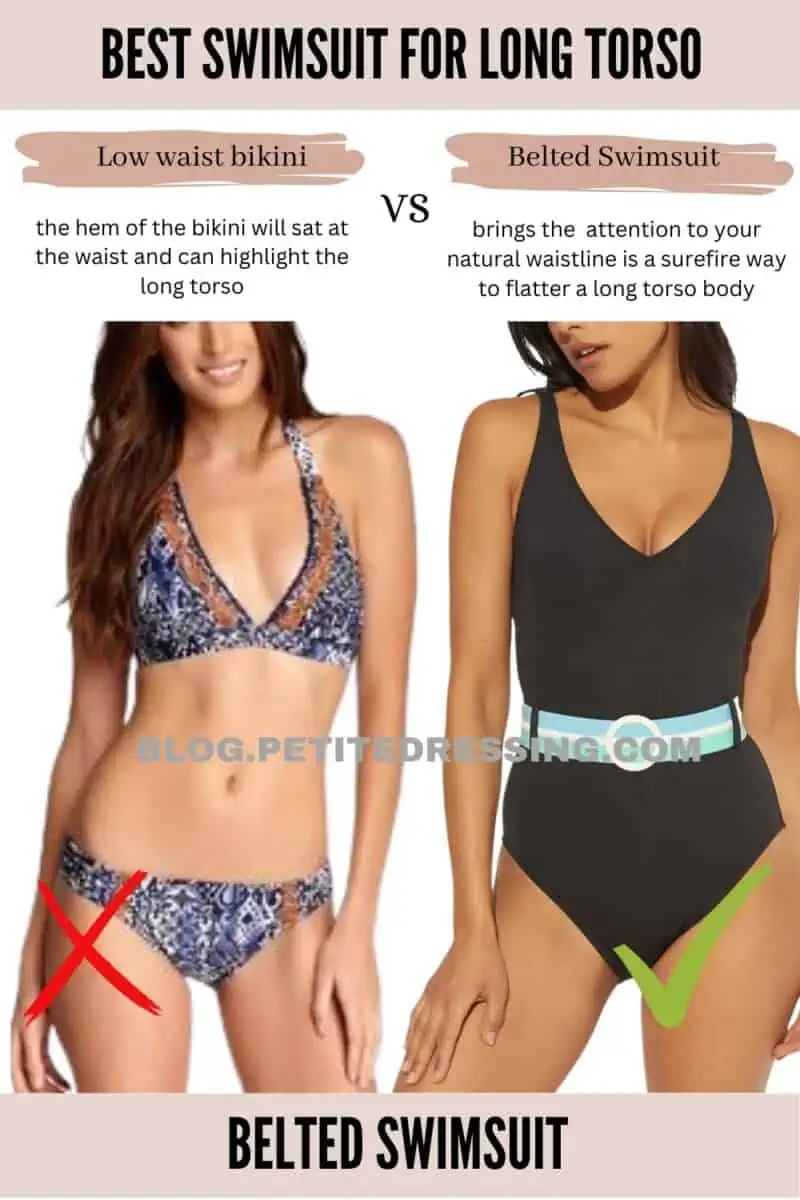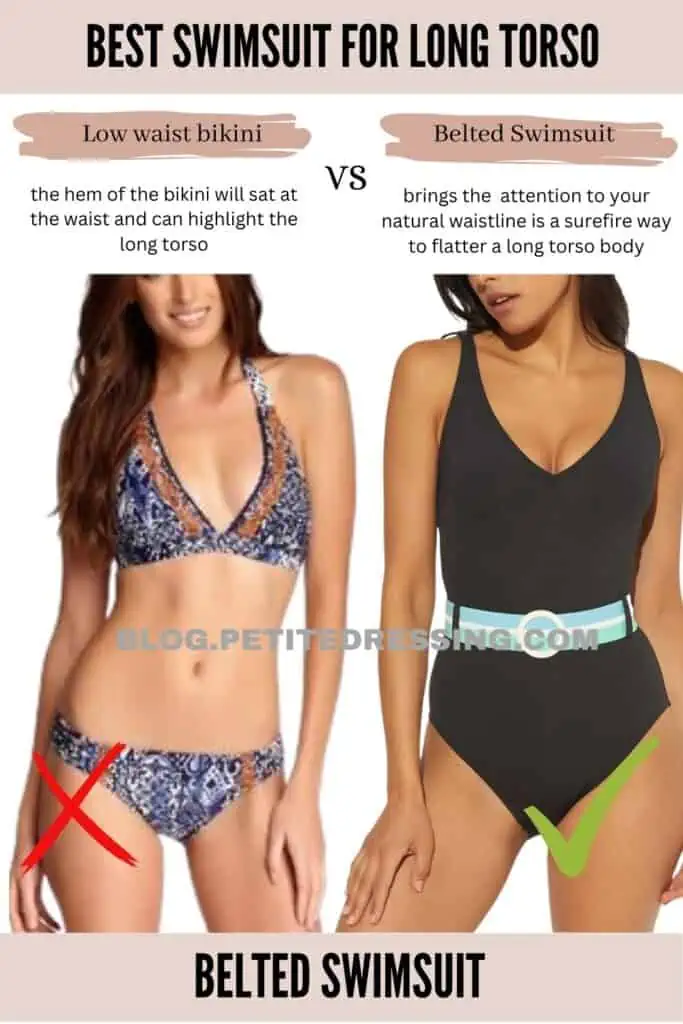 As mentioned above, bringing attention to your natural waistline is a surefire way to flatter a long torso body. Aside from a high-waisted bikini, another way to accomplish this is with a swimsuit that offers some sort of belted element.
This can be an actual belt at the waistline or something that looks like a simple band around the waist. It doesn't have to be an element that vastly stands out, even a subtle touch of a 'belt' around your waist will do the trick.
High Legged Suits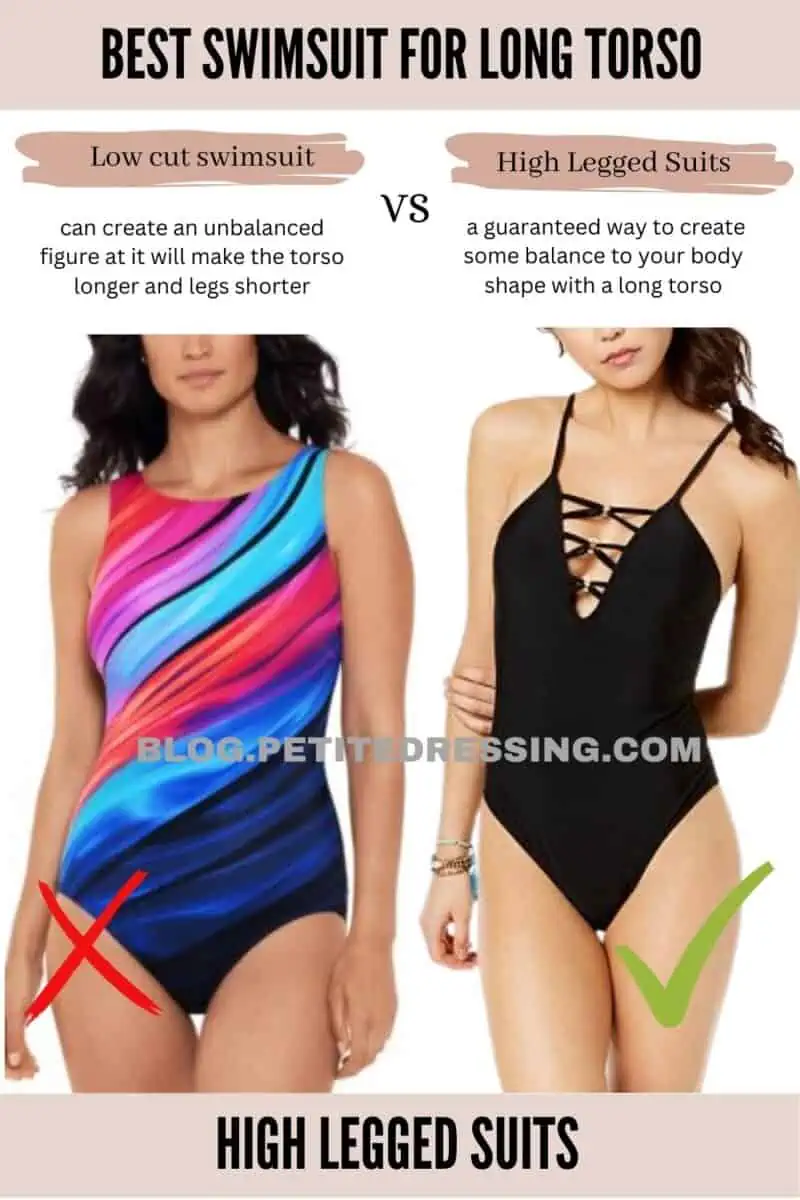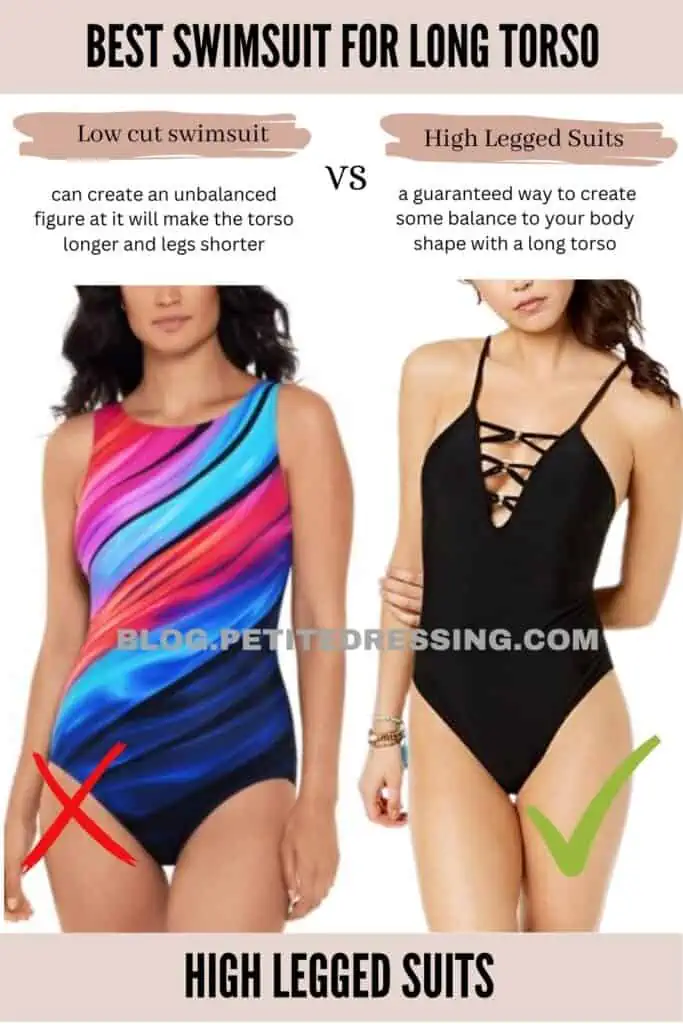 Giving your shape the look of elongated legs is a guaranteed way to create some balance to your body shape with a long torso. A really subtle way to achieve this? Opting for swimsuits that have a high-cut leg.
Even just a couple of inches (or less) can be just enough to make your legs appear significantly longer in a swimsuit. If you aren't familiar with this style suit, think 90's style with the legs resting slightly higher on your hip than is 'typical.'
Color Block Swimsuits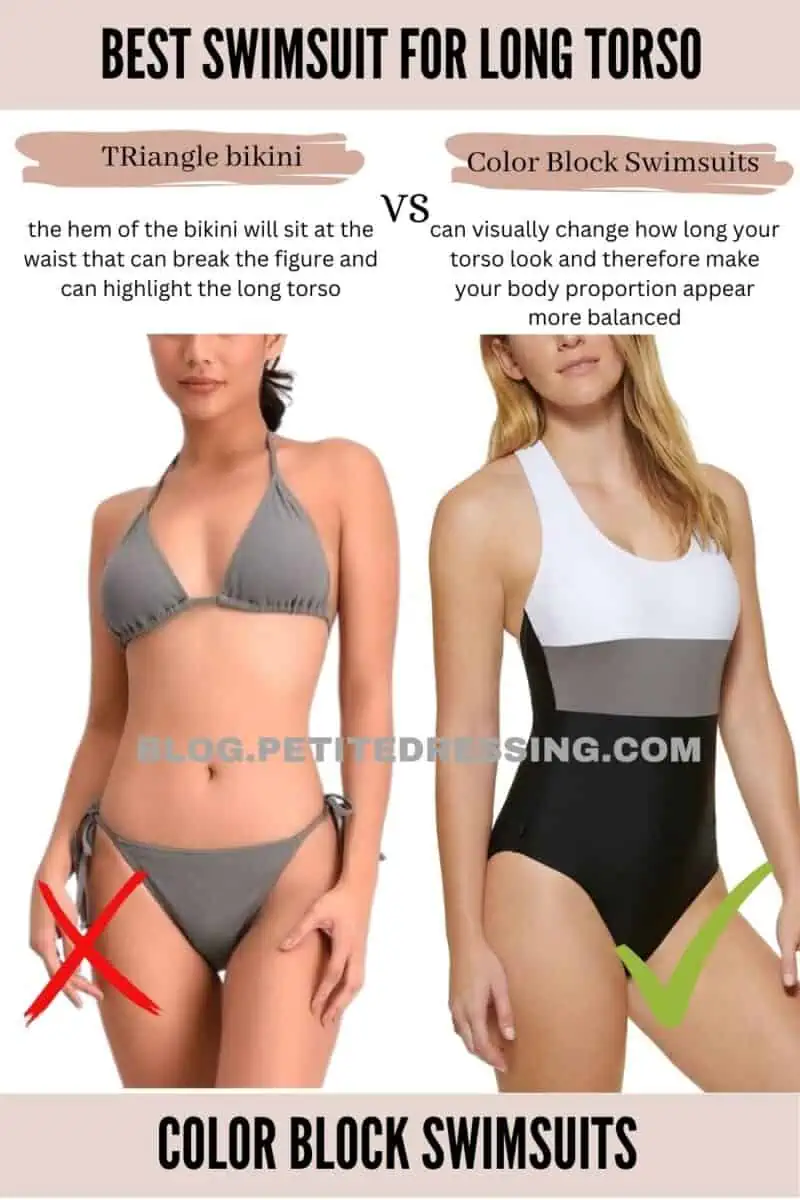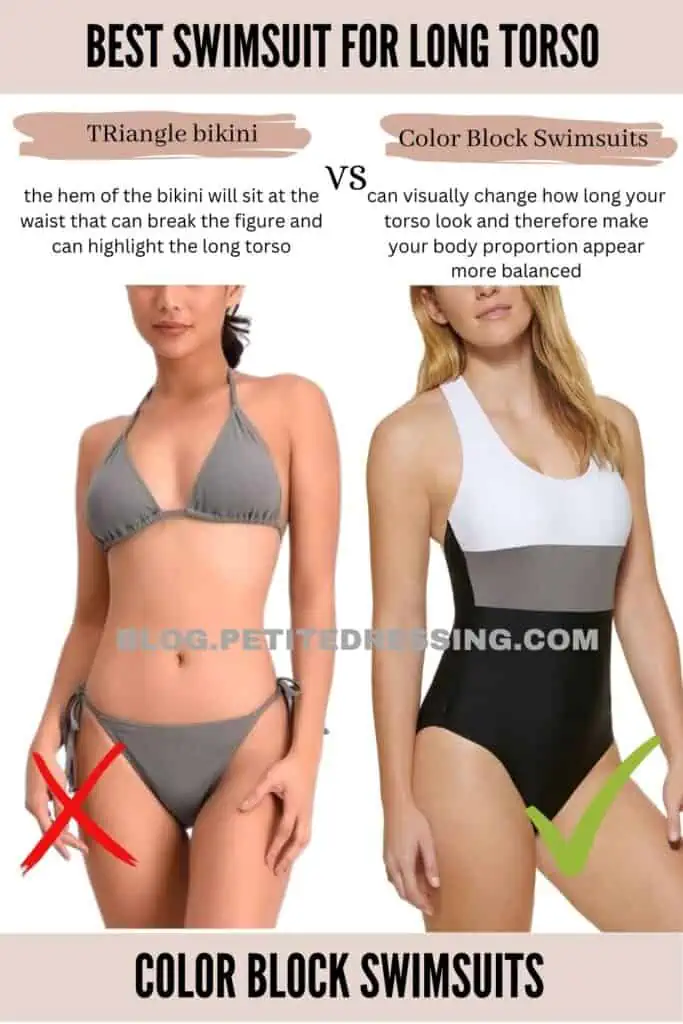 These are a smart choice for women with a longer torso, as they can visually change how long your torso look and therefore make your body proportion appear more balanced. This Land's End long torso suit is a perfect example, as it effectively breaks up the long torso through color blocking, creating a more balanced look.
Asymmetric Bathing Suits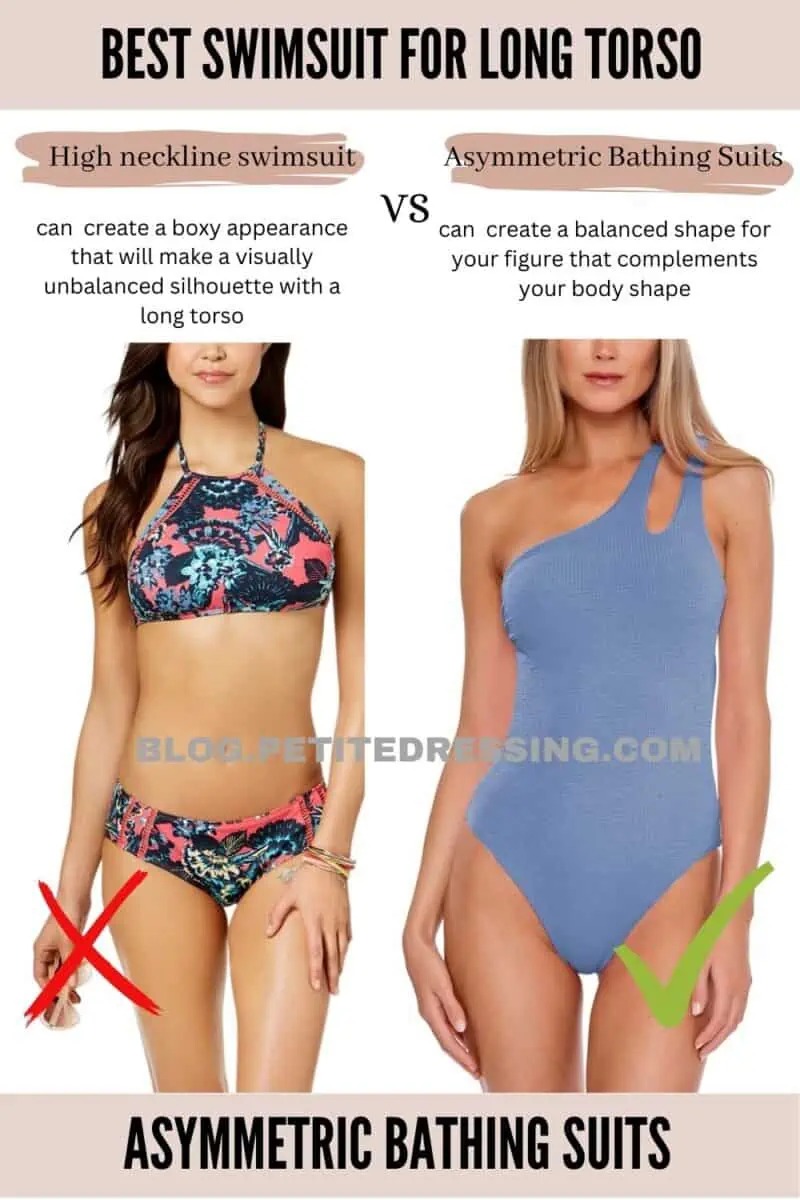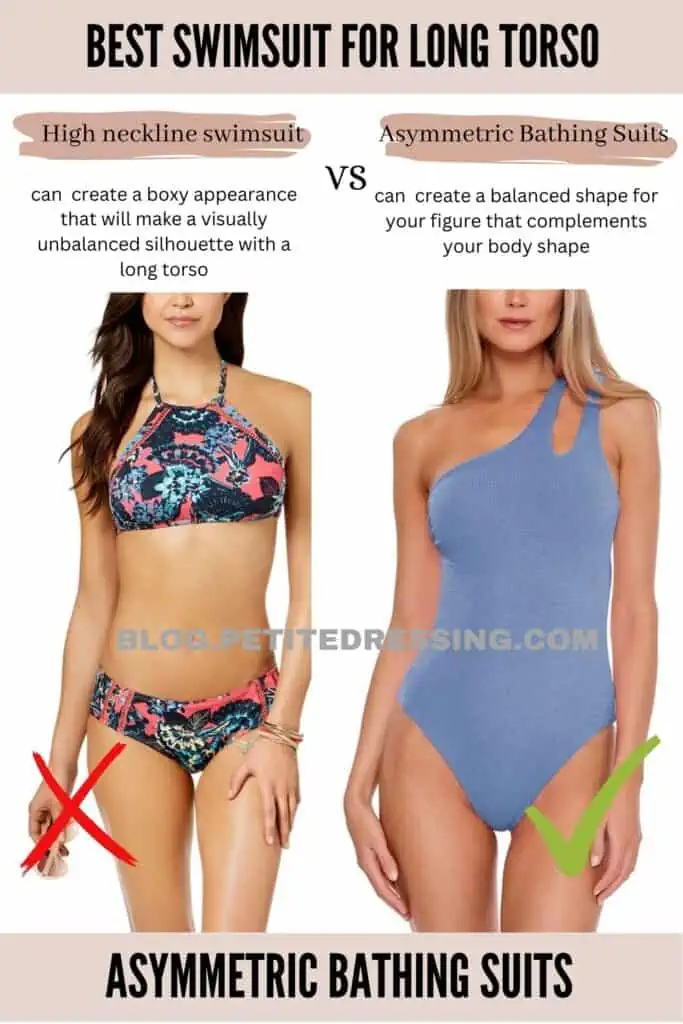 Give a long torso some unexpected dimension with an asymmetric silhouette. Solid one-piece swimsuits can sometimes create a boxy appearance with a long torso, and one-shoulder bathing suits help create a feminine shape that's subtly sexy and feminine.
If you want to create even more shape for your figure, look for a one-shouldered swimsuit that has color blocking to further enhance your shape.
Minimal Design Bathing Suits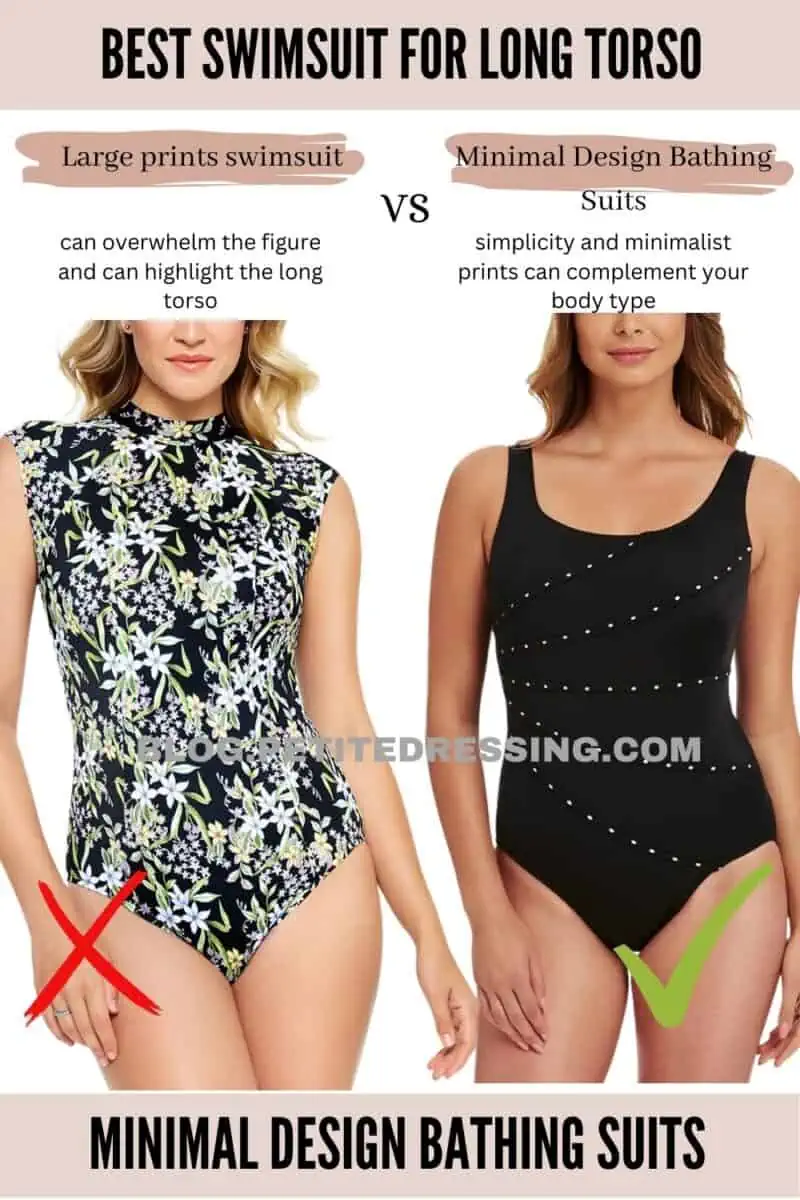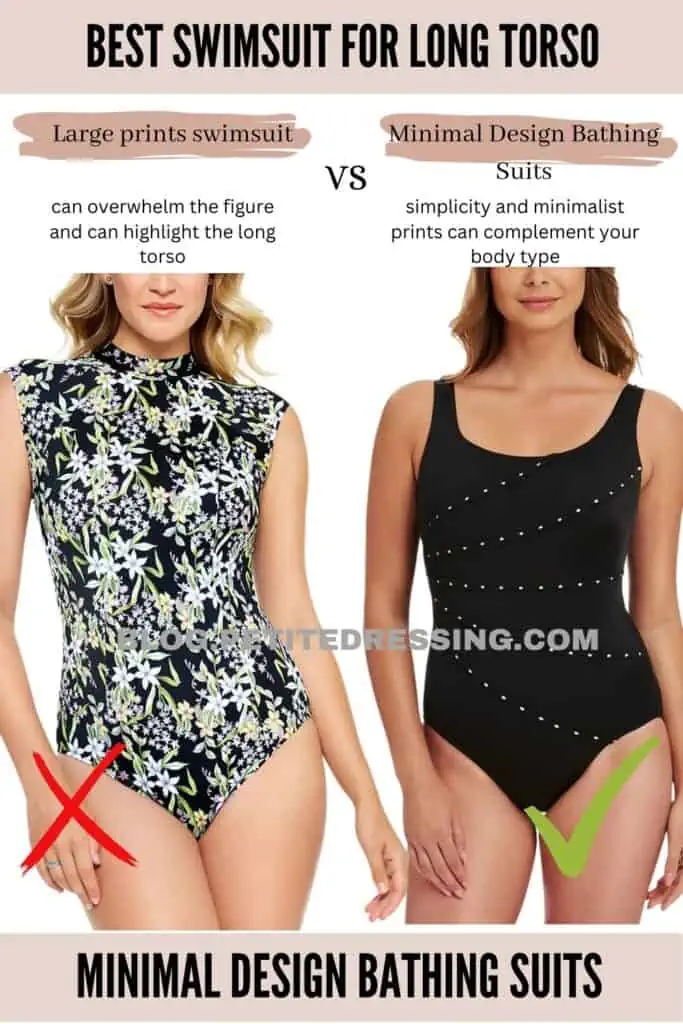 It's easy to get caught up in what works and what doesn't for any body shape, particularly with a long torso. Since fit, as a whole, can be a challenge when it comes to one pieces in particular simplicity is often best. Anytime you're in doubt, just keep it minimal with your swimwear.
Solid colors, minimal embellishments, etc. Not only will it ease any stress you have, but it will also look great with your shape. Sometimes wearing swimsuits that have a lot going on can be too overwhelming.
Bathing suits with Cut Outs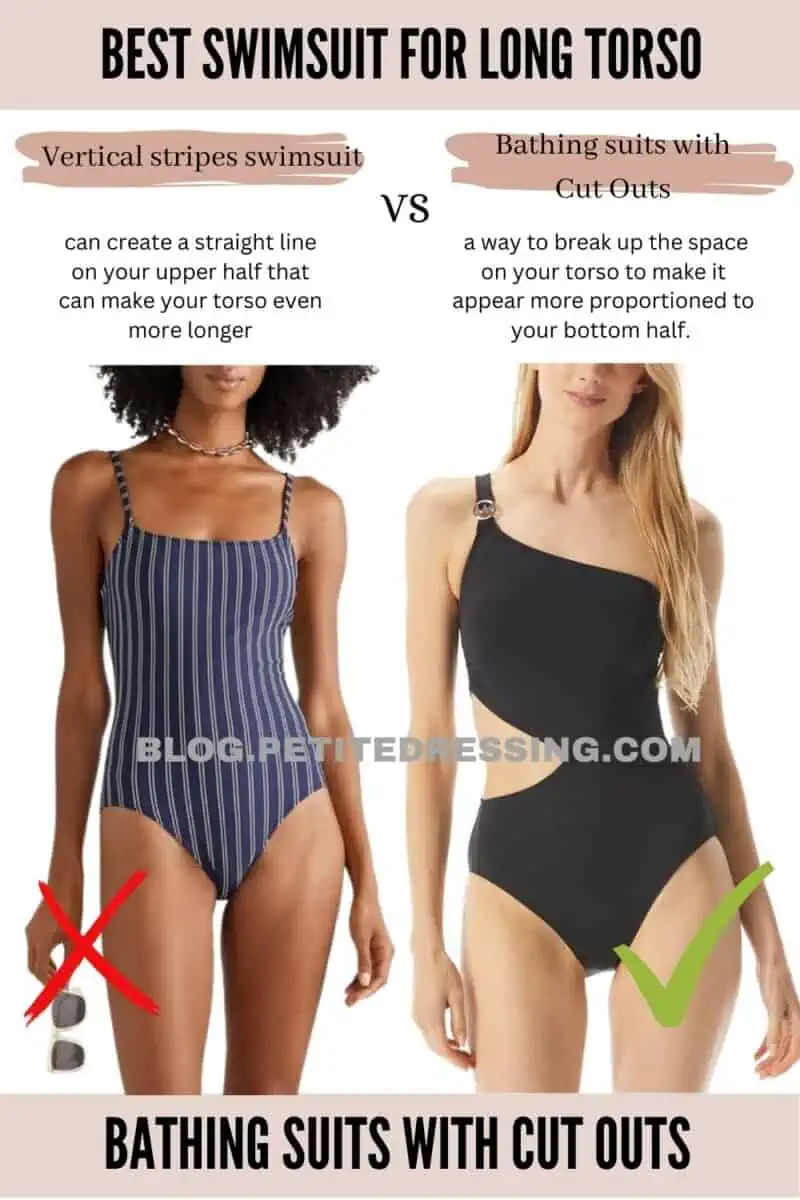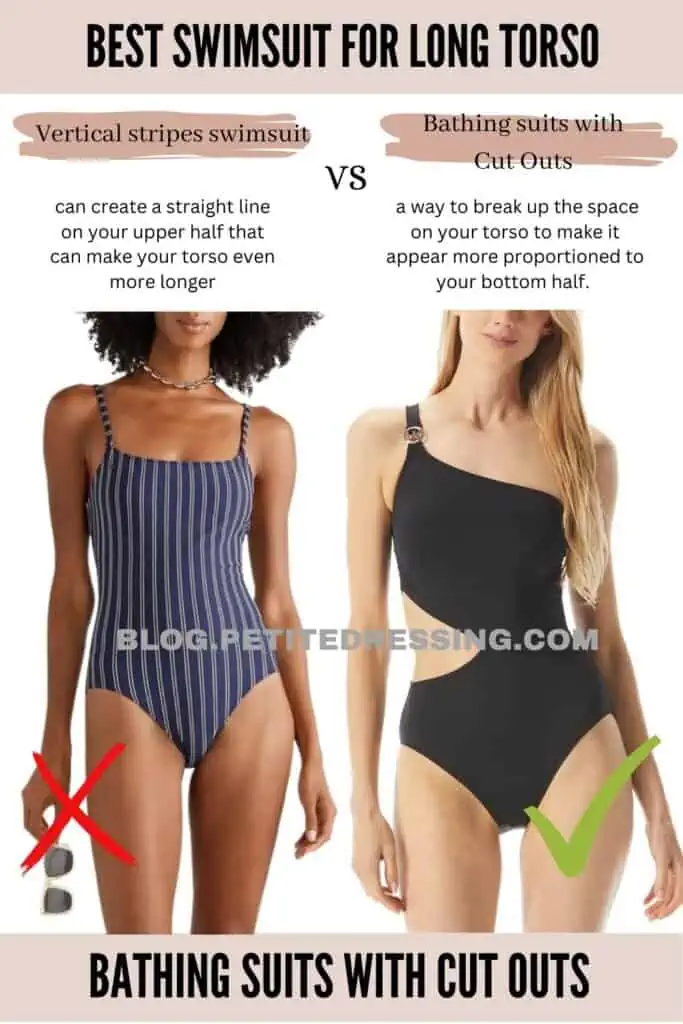 Cut-out swimwear has been all over the place the past couple of years. Fortunately, it's a trend that happens to be pretty great for long torsos. Any swimsuit that offers a cutout element, whether it's dramatic or subtle, is a way to break up the space on your torso to make it appear more proportioned to your bottom half.
Cut out suits also happen to be a really fun style to wear because they're unique and trendy – so it's really a win-win. This is a tip you can really have fun with so if it's something that speaks to you and your style, you're in luck.
High Waisted Bikini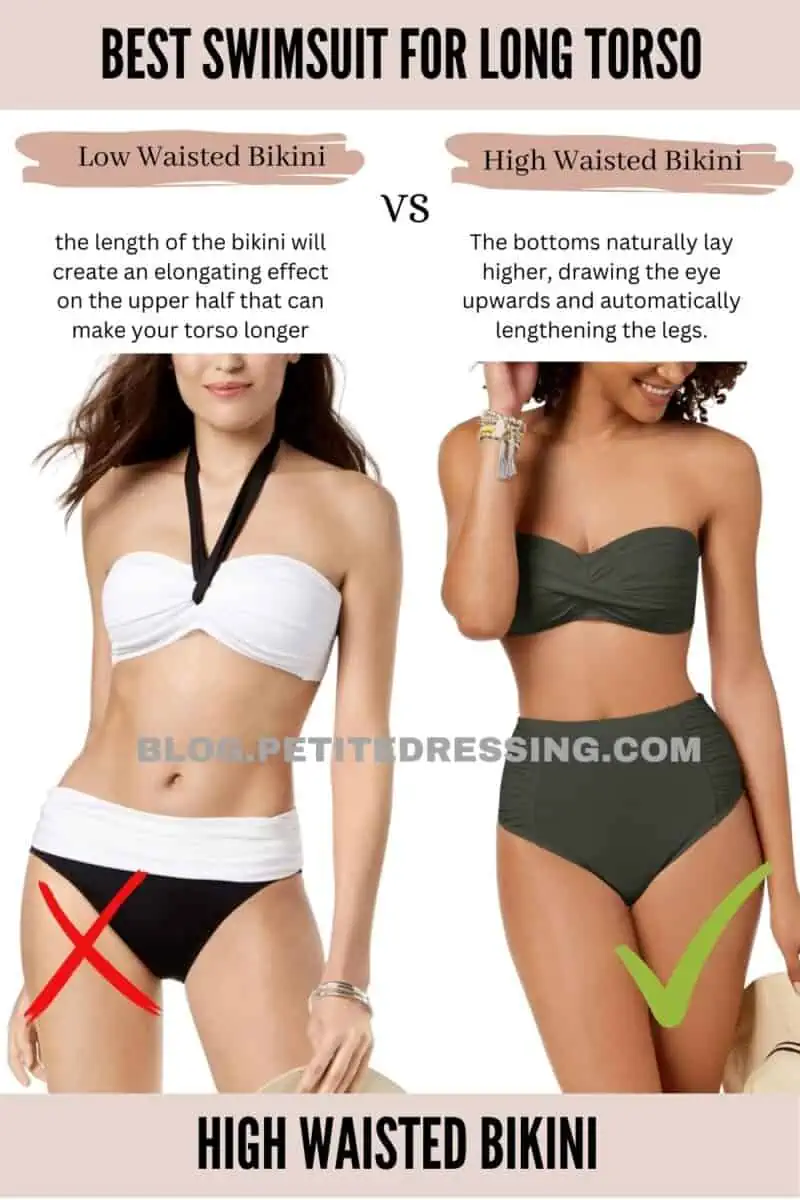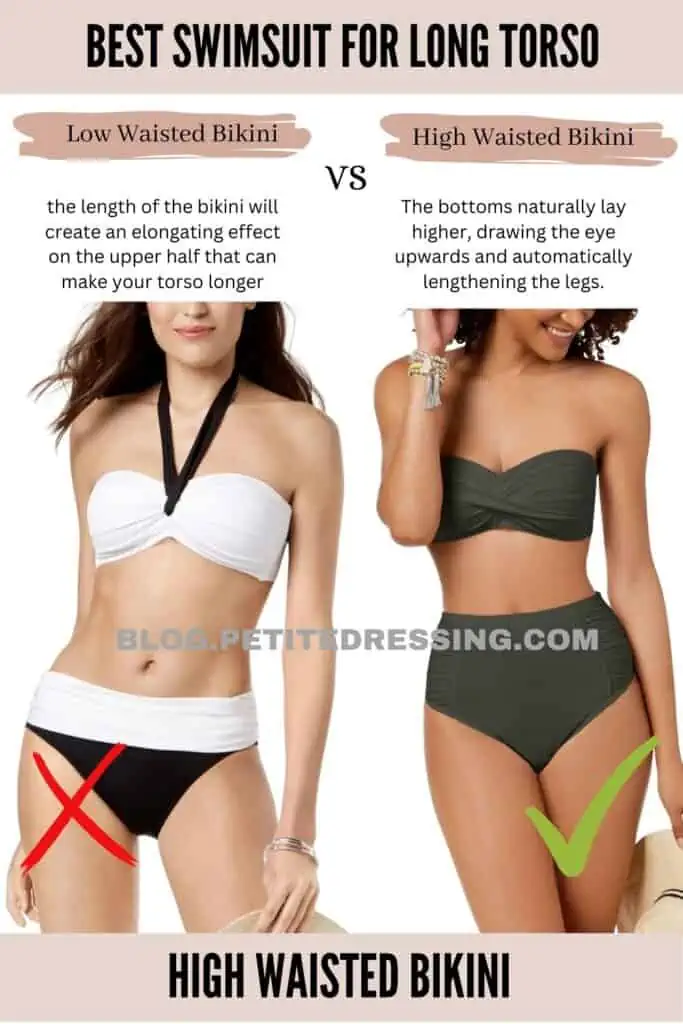 For long torso women, even though bikinis tends to be much easier to shop than one piece, you still need to look for the most flattering styles. All bikinis are not created equal. When selecting a bikini that enhances a long torso, opting for something that creates the illusion of longer legs – often by drawing attention to the natural waistline area – is a major win. That's why high-waisted bikinis are a great choice for you. Not only do they offer a little more coverage to your body, but they are also happy to be a long torso's dream. The bottoms naturally lay higher, drawing the eye upwards and automatically lengthening the legs.
List of Long Torso Swimsuit Brands
As a long torso woman, you have likely experienced the hassle of trying on swimsuits that aren't comfortable or don't quite fit right. A good rule of thumb to keep in mind when you're shopping for swimwear is to be picky about the brands you wear. Not all brands are created equal, some cater to long torso's better than others. These are some of best places recommended by our readers to shop for long torso swimwear.
Andie Swim
Andie Swim has a long torso bathing suit line featuring simple and classic styles not designed to fit women with longer torso, but also flatters. They offer plenty of styles to choose from including plunging neckline and high leg cut etc. They also offer different fabric options for the same swimsuit styles, a convenient feature that our readers love.
JCrew
Jcrew has a good selection of swimsuits for long torso on their website. Whether in solids or patterns, these have the same colorful Jcrew style we are familiar with. Most of them are one piece swimsuits, since that is the hardest to fid for most women with longer torso. Prices are around $100, but you can certainly find a steal when Jcrew go on sale.
Lands' End
Lands End have a collection for long torso swimwear with a wide variety of styles from one piece to separates. They have bathing suits styles suitable for women of different age groups, featuring sweetheart necklines, wrap fronts, V-necks, and many other designs that fit as well as flatter women with a long torso.
Most of their long torso suits are under $100, and you can find plenty even under $50 when they go on sale. This is an affordable option that can fit most budget.
Summer Salt
They offer a colorful selection of one piece swimsuits for long torso women. The design is quite modern such as one shoulder, plunging neckline, etc. Price point is $80 to $125.
ASOS Tall
Since many women with long torso are indeed tall, it only makes sense to search for the tall swimwear line from brands like ASOS. ASOS Tall is the most affordable swimsuits for women with long torso, with the price tag ranging from $15 to $35. As the other ASOS lines, their long torso swimwear have youthful designs that cater to those who enjoy some bolder designs such as the cut out one piece suits and thong bikinis.
Albion Fit
This brand offers plentiful choices of one piece swimwear for long torso. Popular suits include one shoulder design, camo prints, ruffle neckline, etc.
If you're shopping for bathing suits online, besides the list above, you can also look around other sites to see which brands/stores include measurements and a size guide. This tends to help the shopping process, and your swimsuit experience tremendously.
If you're shopping in-person, don't be afraid to try on various brands and styles to find what works best for your body type. Swimwear, like anything else, requires some trial and error when it comes down to finding the perfect fit for you.