Having a hourglass shape typically means you are well endowed (with full bust), significantly smaller waist and full hips as well.
Generally speaking, hourglass figure is considered the most feminine and balanced body shape that is viewed as the ideal by both men and women.
Because of the curves, hourglass shape women also tend to look rounded and fleshy, even if you are a skinny hourglass.
Therefore, the curvy shape can also make you come across as heavier than you actually are. Even though the hourglass is highly desired and can, in most cases wear anything she likes, it doesn't mean all the styles look equally good on you. The eyes like balanced things. If you are an hourglass shaped woman, consider avoiding below clothing to achieved a more balanced look:
High Necklines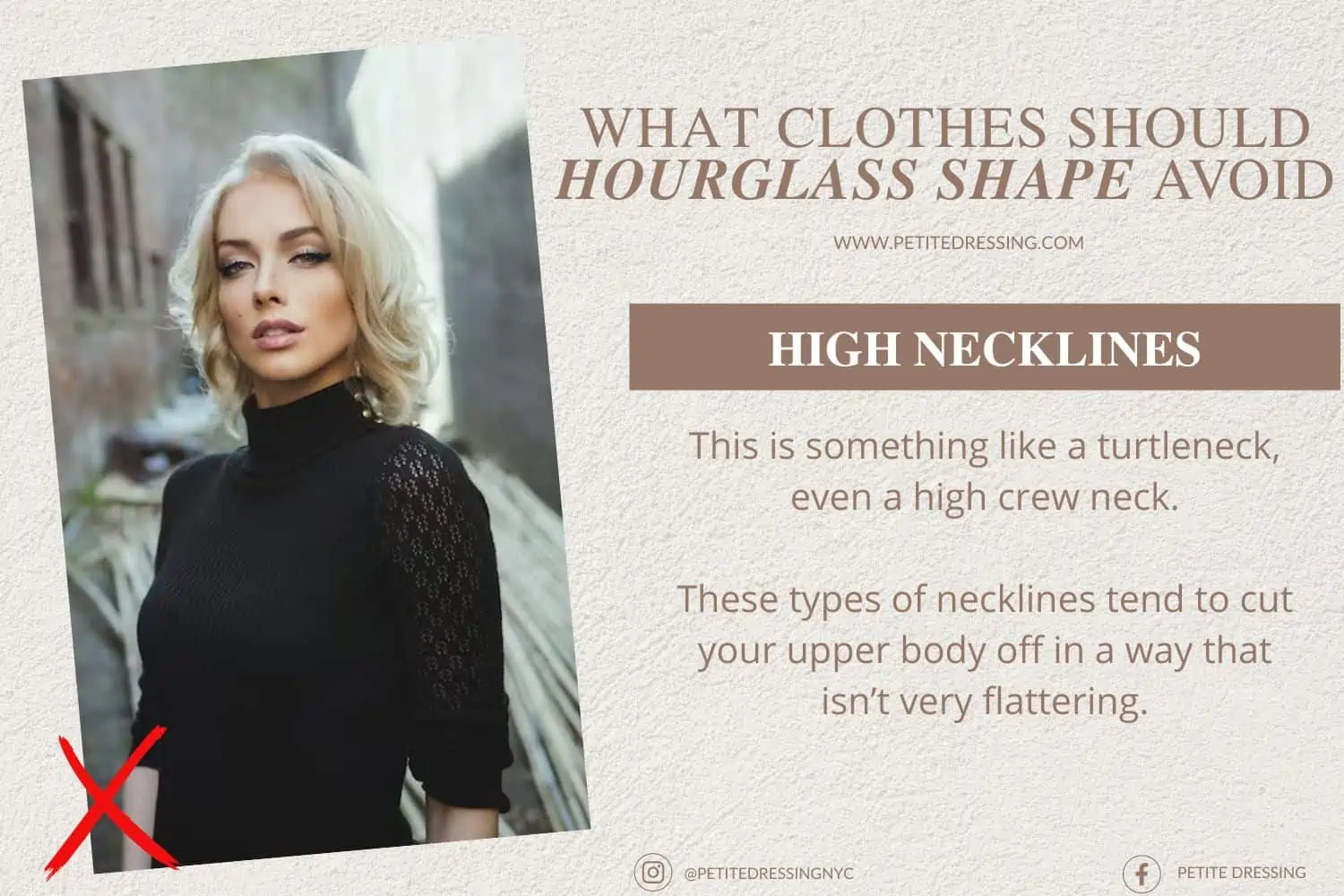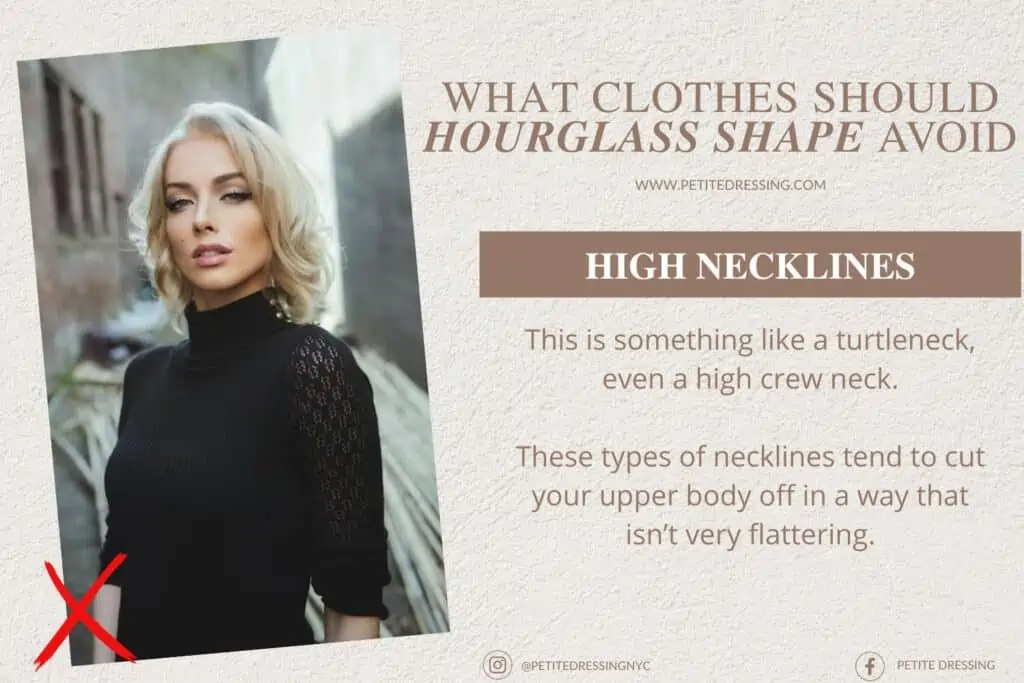 Necklines play a critical role in how we look, but it is often overlooked by most women.
While an hourglass body type is easily flattered by a variety of different necklines and styles, one that's best to avoid is a high neckline. This is something like a turtleneck, even a high crew neck. These types of necklines tend to cut your upper body off in a way that isn't very flattering. This is particularly true if you're busty. An open neckline well, opens up that area and enhances your already naturally balanced body shape. If you must wear a high neckline, create some balance by wearing a necklace that gives the look of an open neckline to get a similar effect.
This turtleneck sweater is gorgeous on Shanai. Opting for something with an open neckline will add a little more balance to an hourglass.
Anything Shapeless
This may seem obvious (or perhaps not), but anything that's shapeless and boxy should be avoided at all costs when you have an hourglass figure.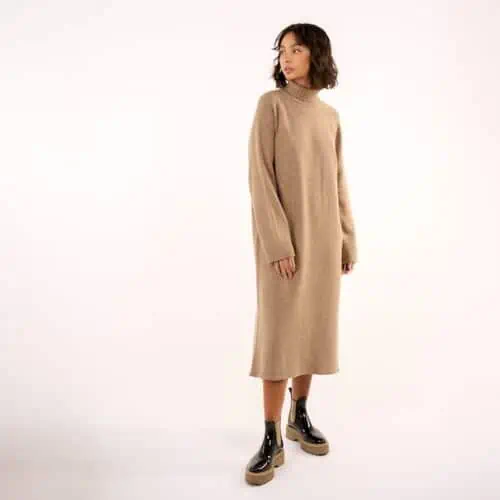 Why you Should Avoid Shapeless Silhouettes
Because your body is balanced as is, wearing something that hides that and doesn't offer any shape tends to make you look bigger than you really are.
Since the hourglass women are mostly well endowed, sometimes you may want to take a "break" from that "Marylyn Monroe" stenotype and want to opt for something that de-emphasize your curves. That is when many hourglass shaped women are easily fall for the "traps" of loose T-shirts etc.
These shapeless pieces tend to fall from the curviest areas of your body, hanging down from there which leads to your shape being completely hidden in the process. One major rule to keep in mind when dressing your body type is to always make sure your waist is defined. This automatically enhances your shape and gives you a slimming element to any outfit.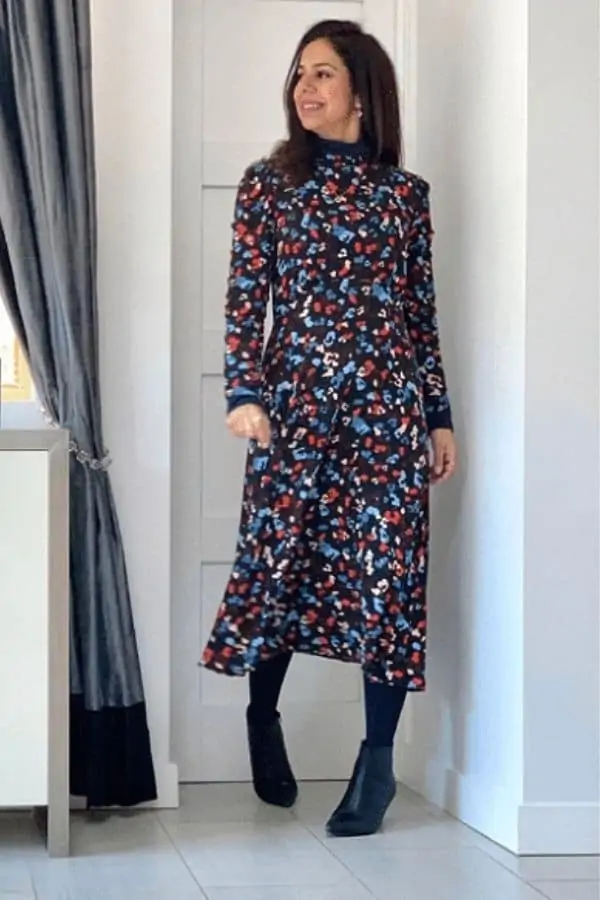 Anita looks incredible in this dress straight shaped dress for her figure. However, something with a more defined waistline is best for an hourglass body type.
Drop Waist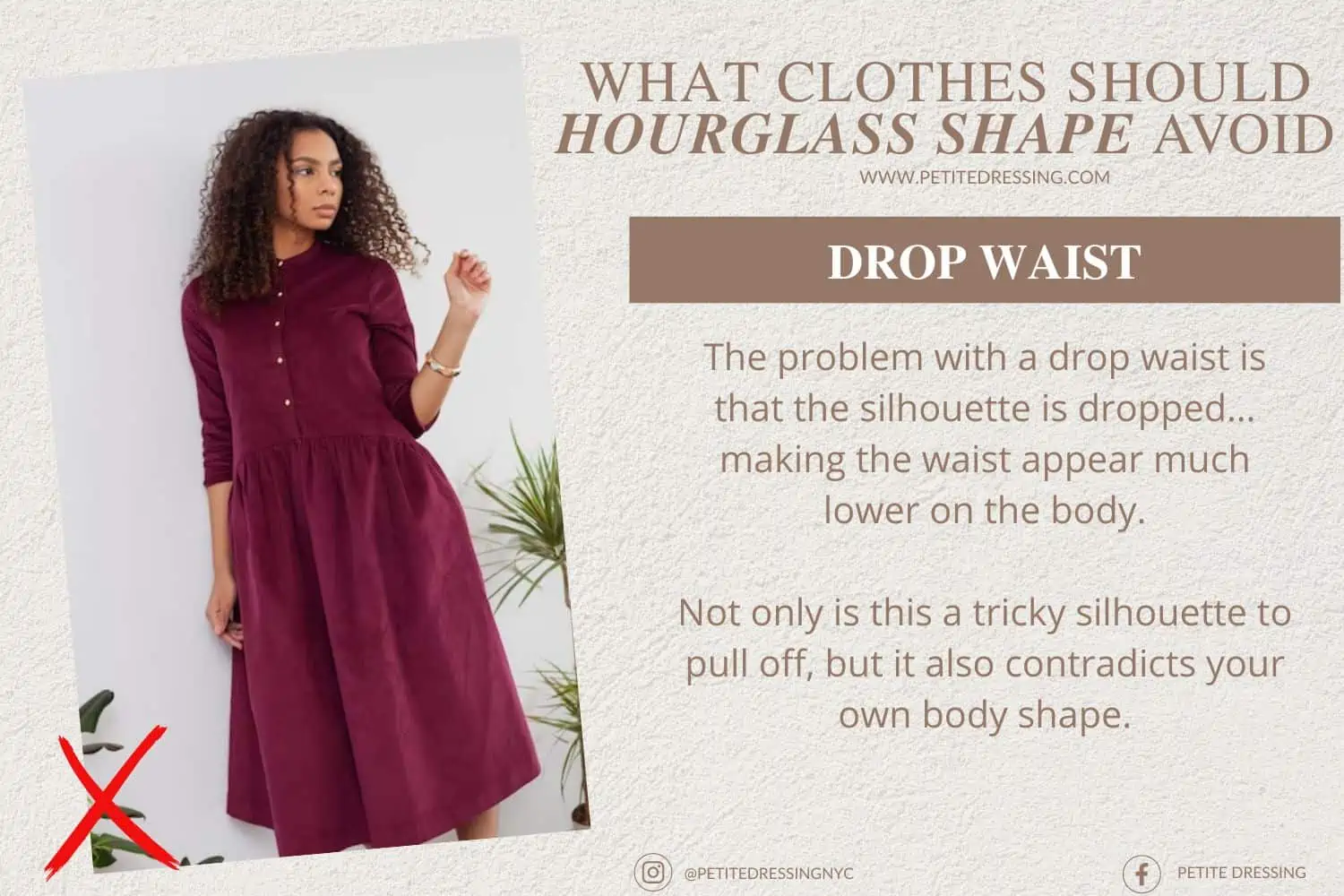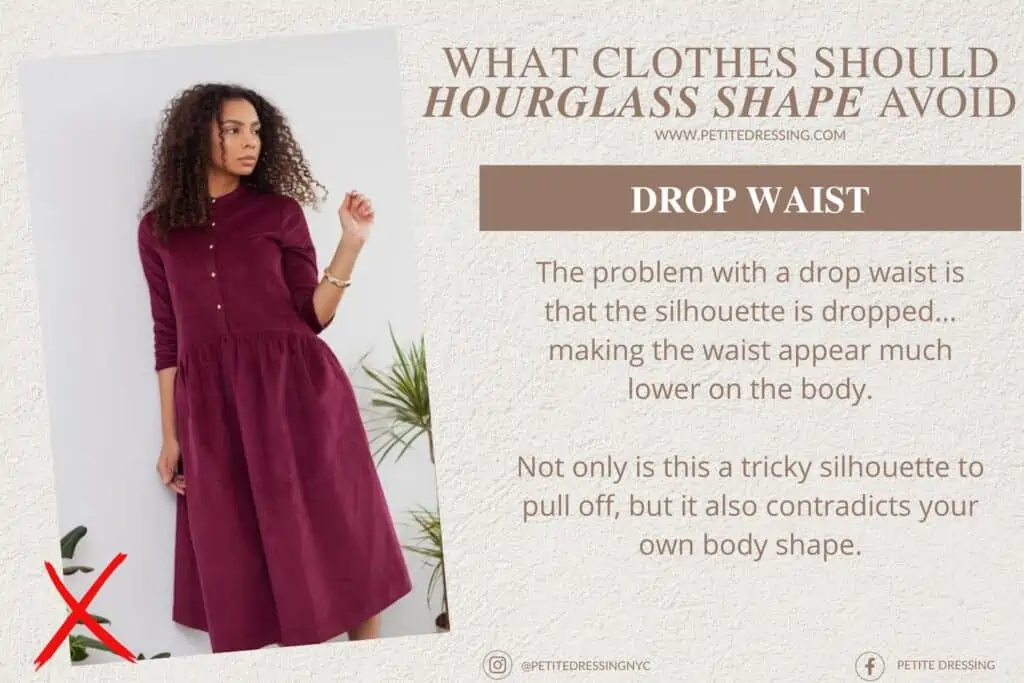 Chances are you have seen the drop waist silhouette a time or two in your life. It can be a really fun and unique silhouette, but not something to favor as an hourglass woman. The problem with a drop waist is the silhouette is dropped…making the waist appear much lower on the body. Not only is this a tricky silhouette to pull off, it contradicts your own body shape. Instead, try shapes like fit and flare where the waistline is relative to your natural waistline.
Skirts that are too Short
If you love to show off your legs, that's great! In order to flatter your figure, though, just make sure the skirts and dresses you wear aren't TOO short. It is all about balance when dressing yourself, length of dresses and skirts included. There are a few things to keep in mind when selecting the perfect length for your shape.
How to select the perfect length for your shape
First, make sure it doesn't rest at the widest part of your thighs. Anytime a skirt (or dress) lays there it accentuates the widest part of your leg and, by default, adds weight and shortens your body.
This is why it's ideal to find skirts that rest either just above or just below that area of your leg.
The other thing to keep in mind is the area just above your knee is the most universally flattering length, regardless of your height (yes, even petite ladies are included here!).
Wide Belts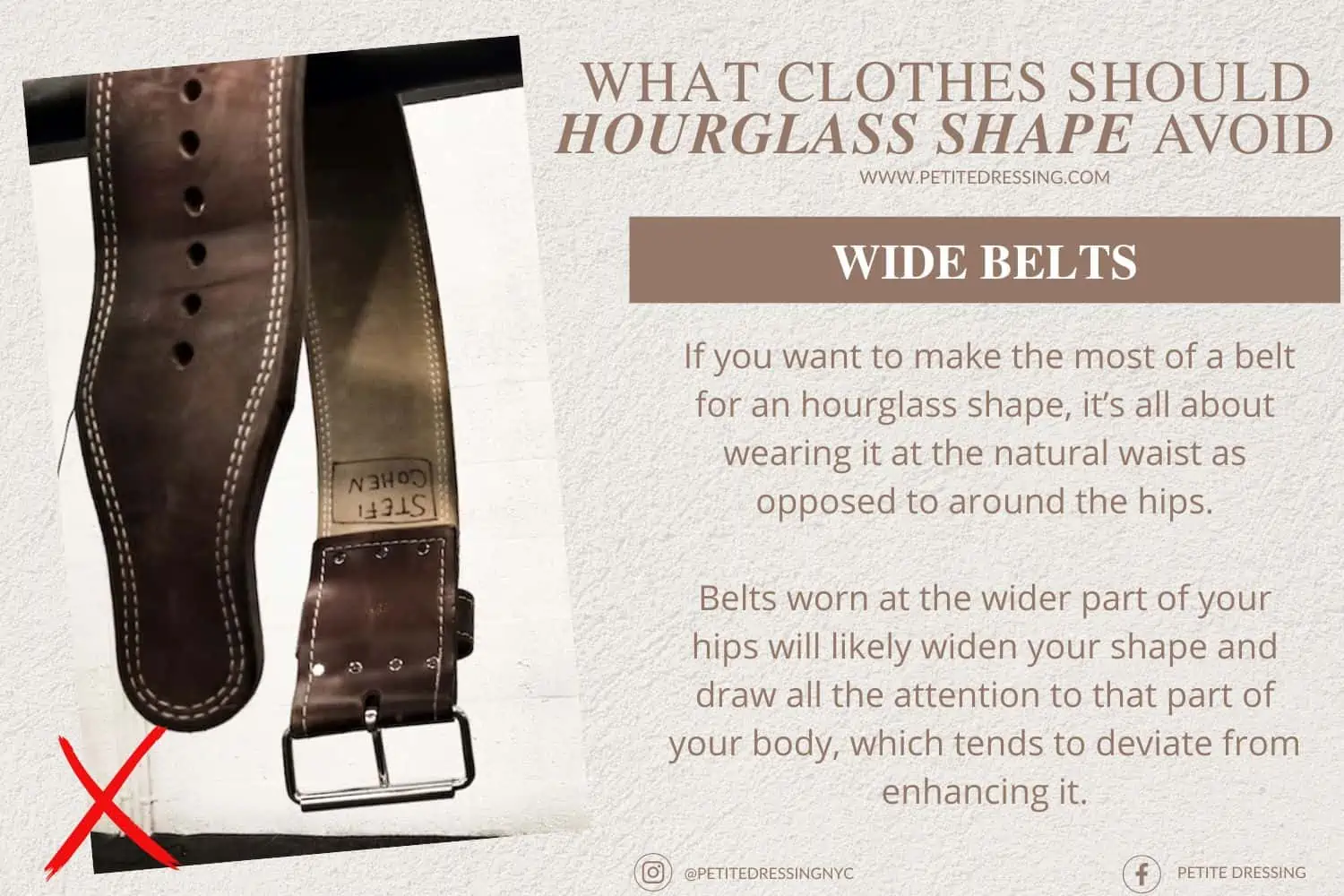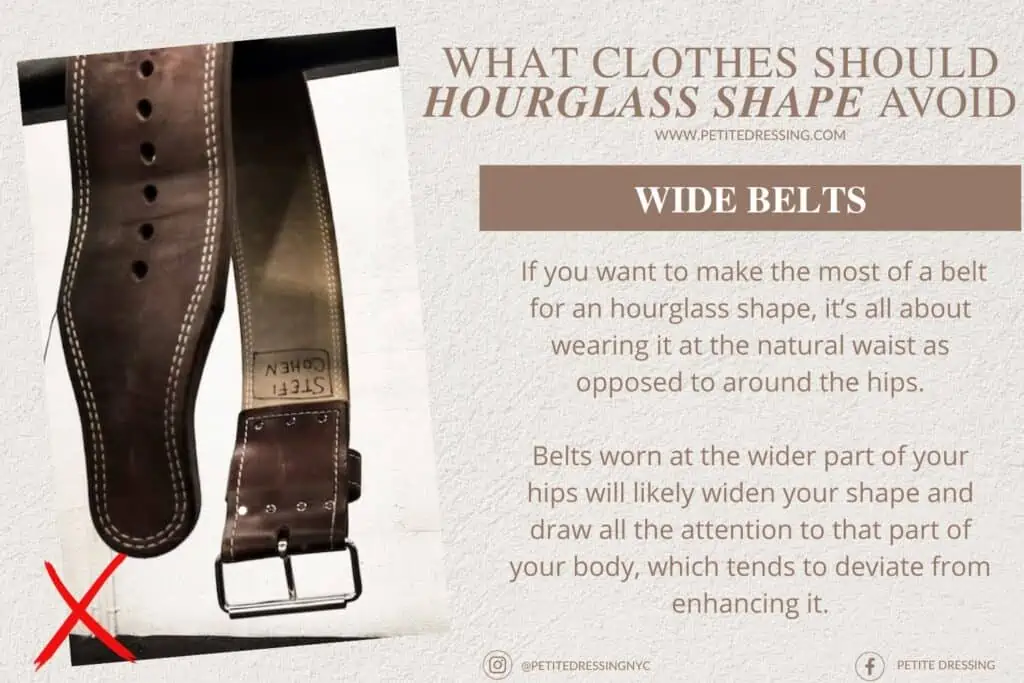 This is not to say you have to totally stay away from any belts, but you do need to use plenty of caution when it comes to choosing the right belts for the hourglass shape. Belts can really evolve an entire outfit. While one of their benefits is that they can highlight a smaller waistline, the placement is key. If you want to make the most of a belt for an hourglass shape, it's all about wearing it at the natural waist as apposed to around the hips. Belts worn at the wider part of your hips will likely widen your shape and draw all the attention to that part of your body, which tends to deviate from enhancing it.
Another key to consider when utilizing belts in outfits is the width of the belt you are wearing. Air on the thinner (in width) side for belts, and avoid anything that's very wide. Really wide belts have a tendency of taking up a lot of space on the body and can be quite overwhelming on an hourglass body type.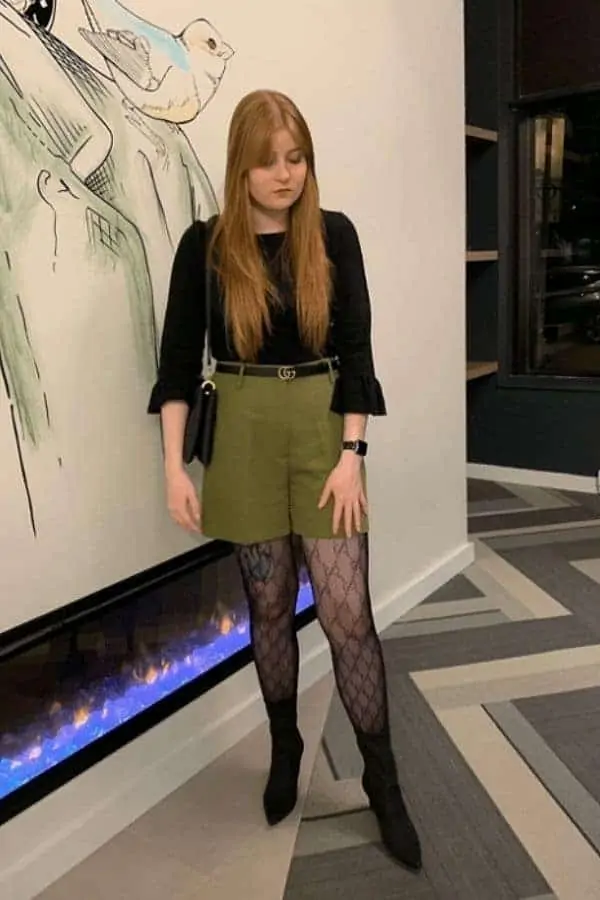 Morgan is wearing just the right size belt to flatter an hourglass shape.
Empire Silhouettes
This is not to ask you to never wear any empire waist design, but you do need to be thoughtful and selective when it comes to the empire waist silhouettes, whether it's dresses or tops.
Defined waistlines are essential for an hourglass shape, yes, but this isn't to be confused with an empire silhouette. The two tend to be referenced interchangeably even though they're quite different.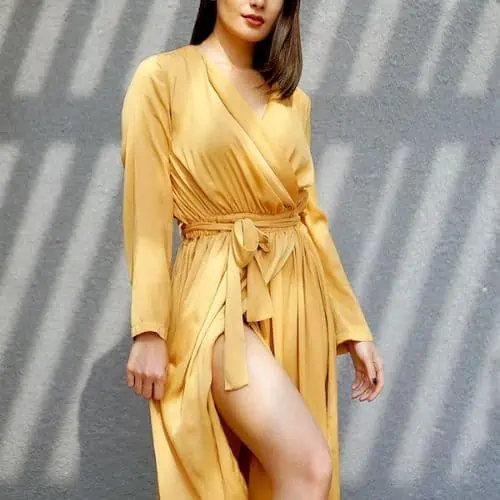 The Difference Between Defined Waistline and Empire Silhouette
The main difference between an empire silhouette and a (flattering) waist defining silhouette is the placement of the waist definition and the fabric on the bottom half.
In an empire dress silhouette, the fabric is very flowy and loose around the body, below the defined waist (which is often just below the bust).
The problem with this is it hides an hourglass's natural waistline and adds bulk around the midsection.
This is why it's best to avoid this style and opt for dress silhouettes like a-line, sheath and fit and flare instead. These options offer great natural waist definition, and also enhance the rest of your shape without hiding anything.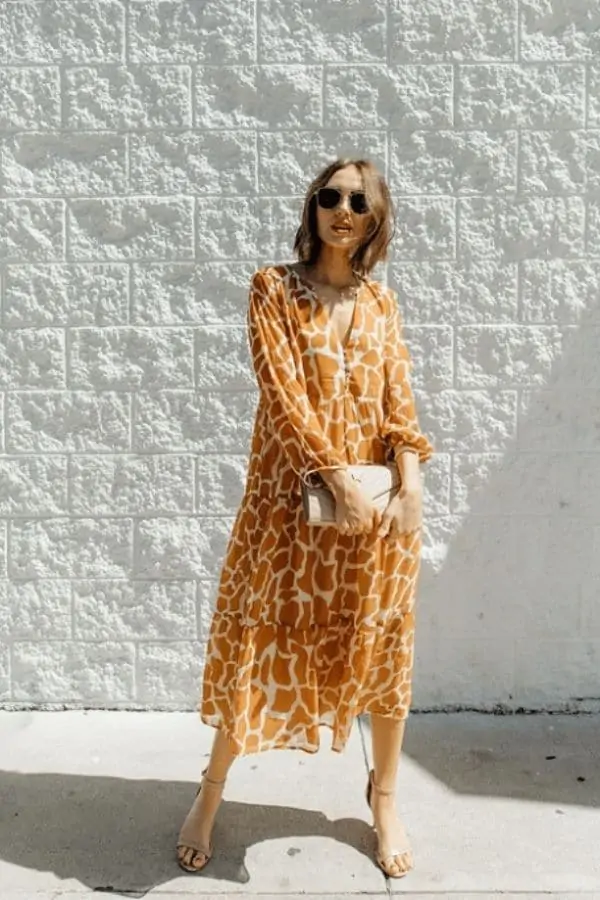 Tessa pulls off this empire waist dress with ease. Hourglass body types aren't always enhanced by this silhouette, instead look for something that fits a bit closer to the body.
Slouchy Jeans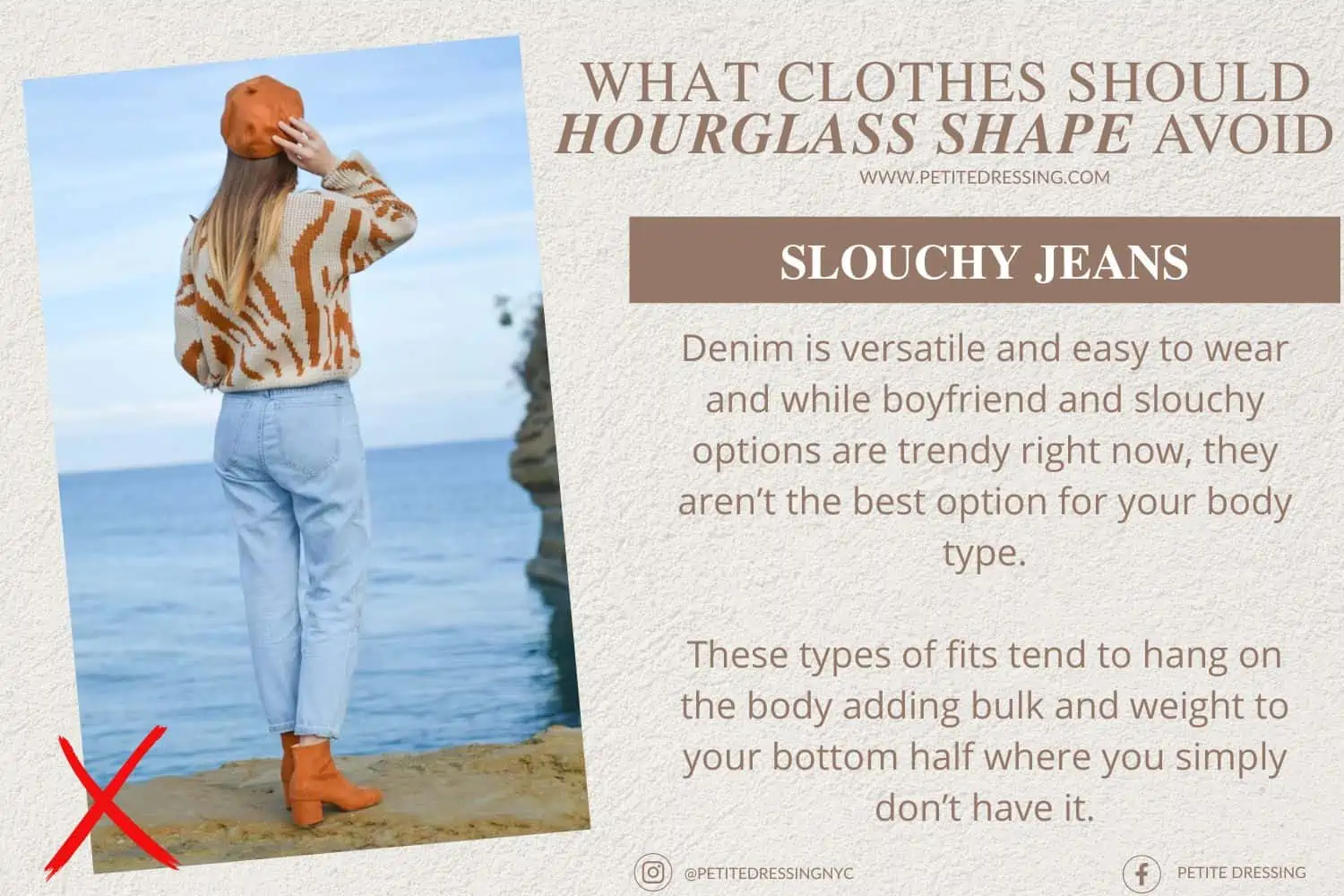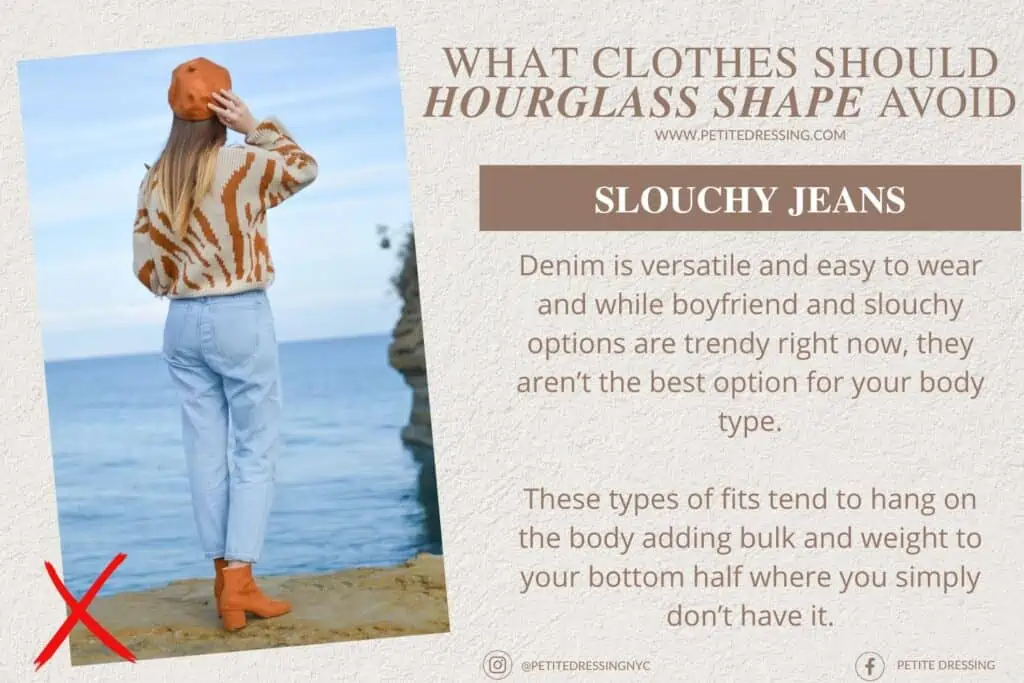 Because you are lucky enough to be able to wear a lot of different clothing styles and still look great as an hourglass, it can be difficult to know what to avoid. Denim is versatile and easy to wear and while boyfriend and slouchy options are trendy right now, they aren't the best option for your body type. These types of fits tend to hang on the body adding bulk and weight to your bottom half where you simply don't have it. Stick with denim that fits close to your body, but isn't overly tight. Denim styles like straight leg, boot cut and even skinny jeans are going to be some of the most figure flattering options.
Chunky Shoes
These are tough to wear indeed, especially if you have an hourglass shape. Whether you realize it or not the shoes you wear can play a role in how your body is flattered (or not) in an outfit.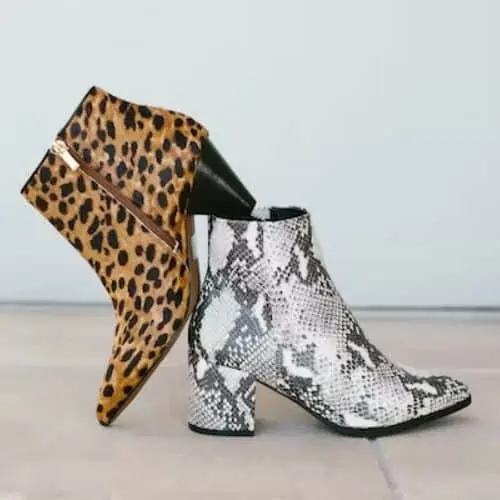 Why you should avoid Chunky Shoes
In general, shoes that are really bulky…even chunky aren't a great choice with an hourglass shape.
These types of shoes tend to drag the eye and your shape down making you appear shorter and wider overall.
Chunky shoes can include anything from really heavy boots to heels with a really chunky heel on them.
Skip those styles and choose something that's a bit more delicate, this will help to elongate your figure and really emphasize your body as it is naturally.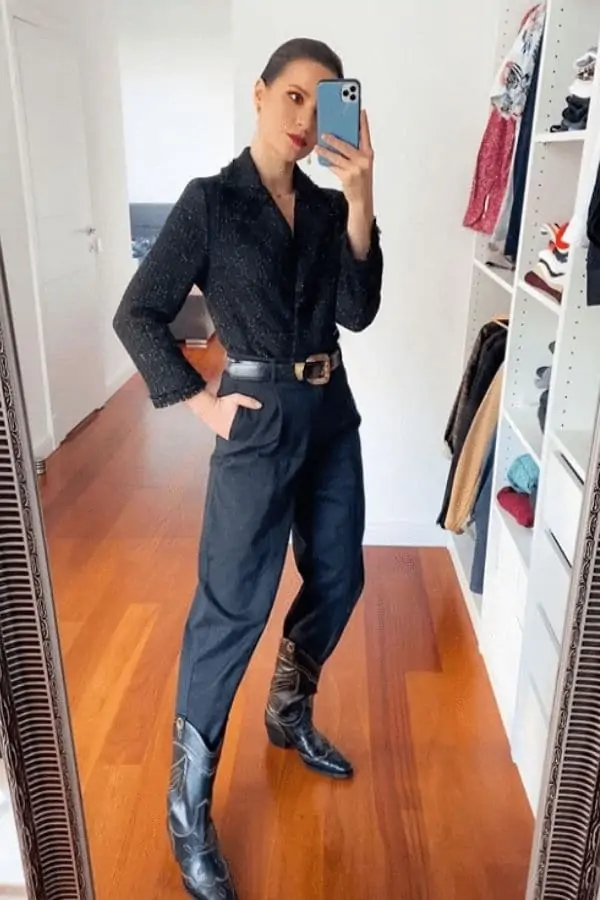 Agnes' long, lean shape can wear just about anything and look incredible. These chunky cowboy boots are chic but can add bulk to an hourglass shape.
Too Many Girly details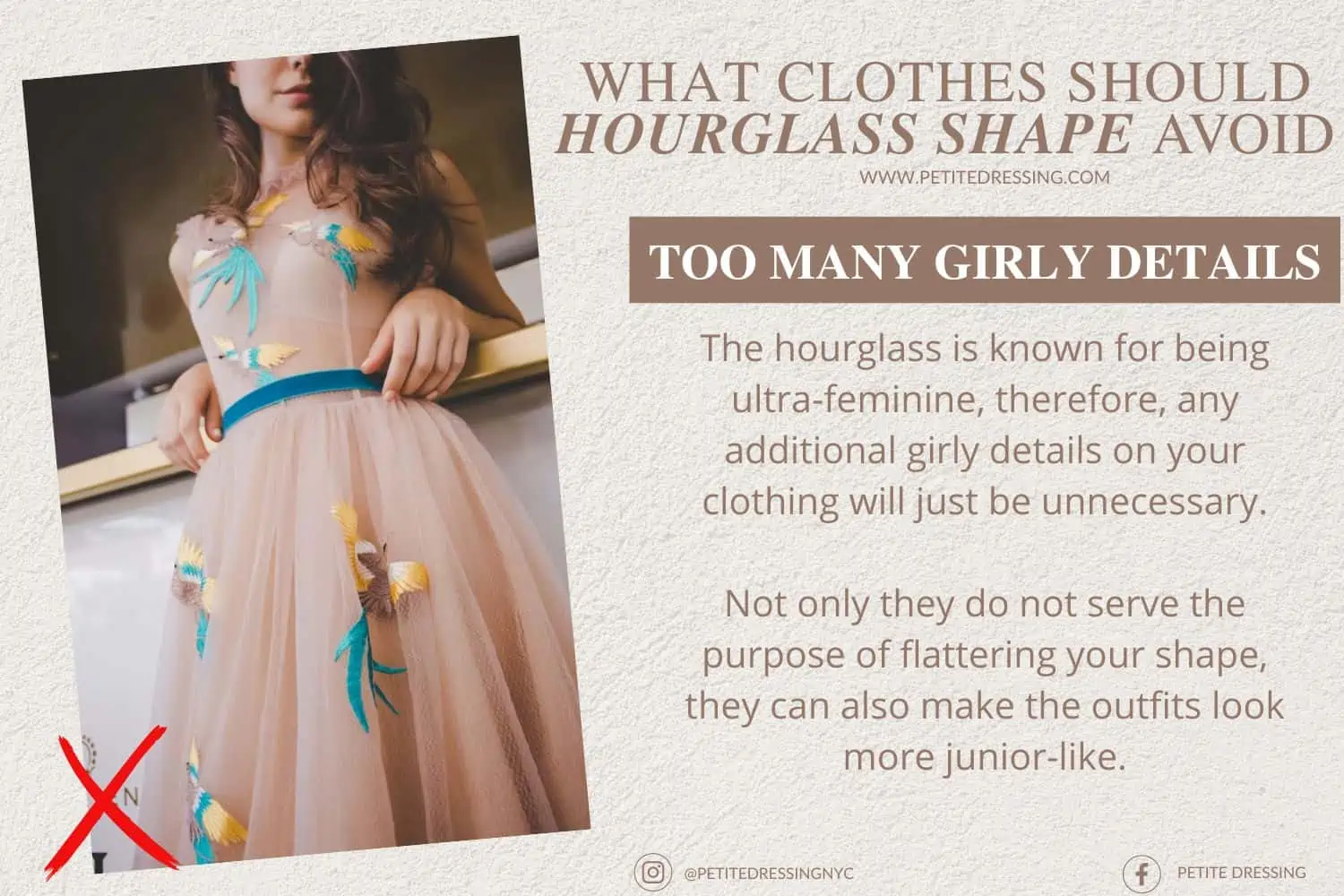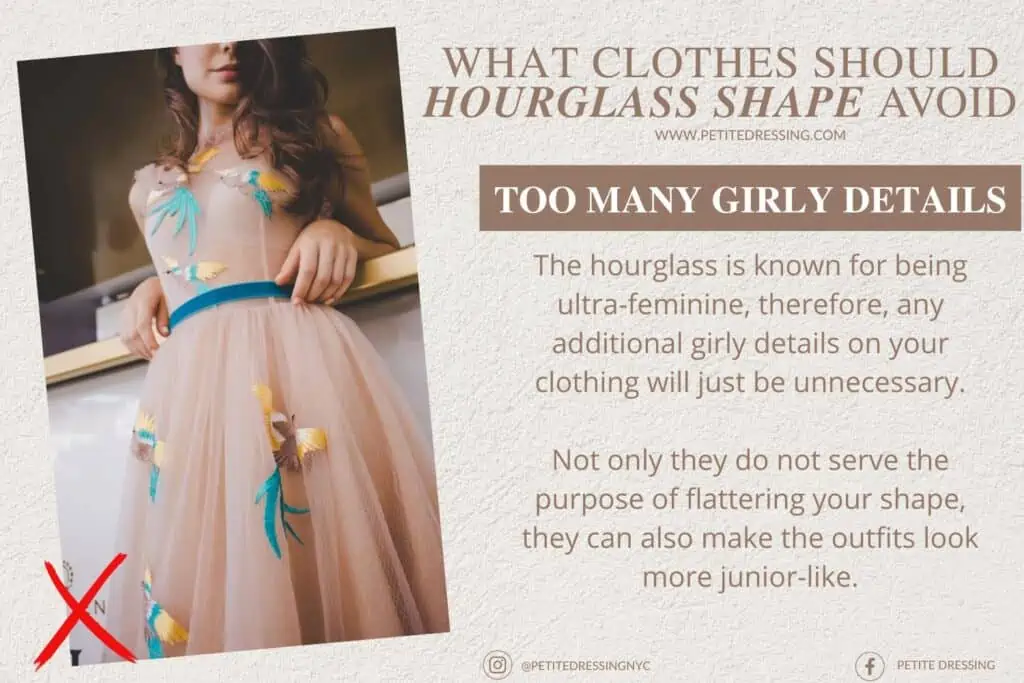 Many women are drawn to the girly designs, especially on the tops or dresses, because they look youthful and have the natural appear to women of any age, regardless of our body shape. That may not be the best option if you happen to be an hourglass shape.
The hourglass is known for being ultra-feminine, therefore, any additional girly details on your clothing will just be unnecessary. Not only they do not serve the purpose of flattering your shape, they can also make the outfits look more junior-like. The girly details we are referring to include too many ruffles, laces, and etc. For the hourglass shape, less is more. Since you already got such great curves, stay with a simpler cut will indeed flatter your shape more.