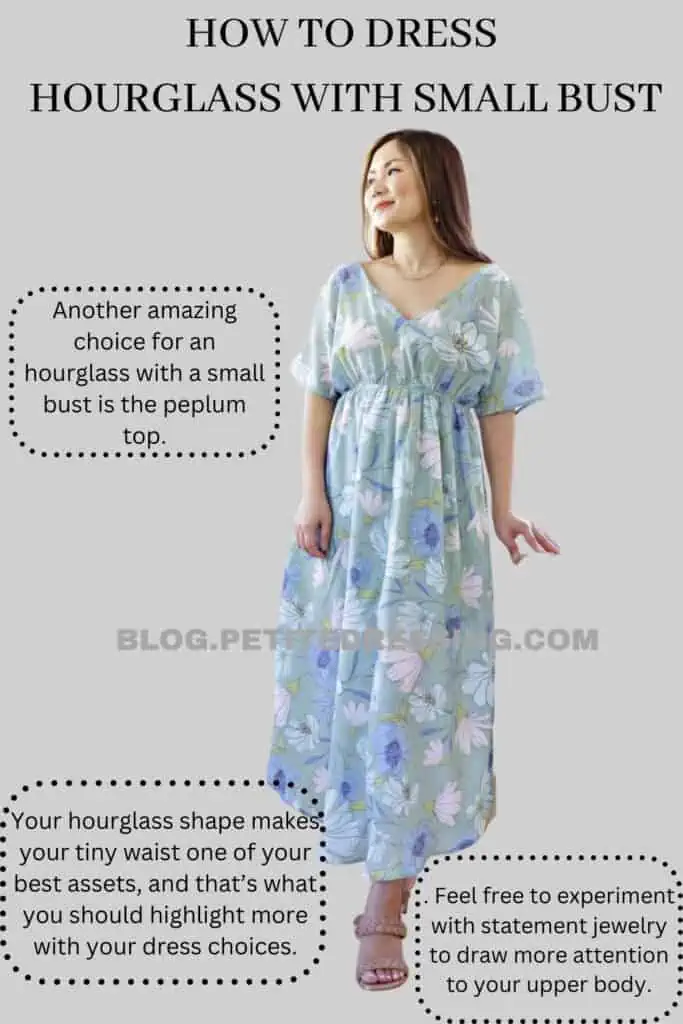 A-line dress
Hourglass-shaped women with a small bust should opt more for styles that cinch their waist. This is one reason why A-line dresses will always be a top choice. Your hourglass shape makes your tiny waist one of your best assets, and that's what you should highlight more with your dress choices.
The A-line dress is named after its shape, which looks a lot like the letter "A." So, it starts from a fitted top that gradually widens towards the hem, creating a super flattering silhouette for your hourglass shape.
There are lots of things to love about the A-line dress, but one feature that appeals a lot to me is its versatility. Whether it's for formal events or more casual outings, the right A-line dress will make you stand out in style. There's always an A-line dress for every occasion.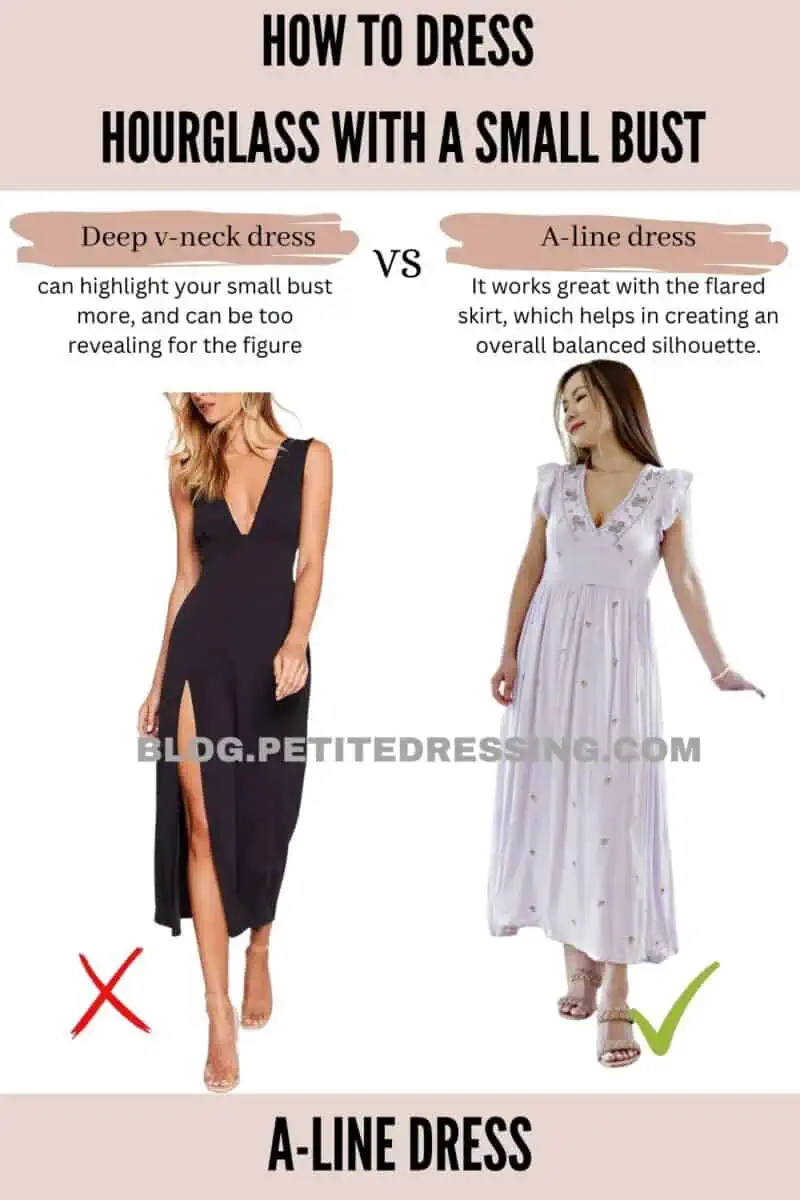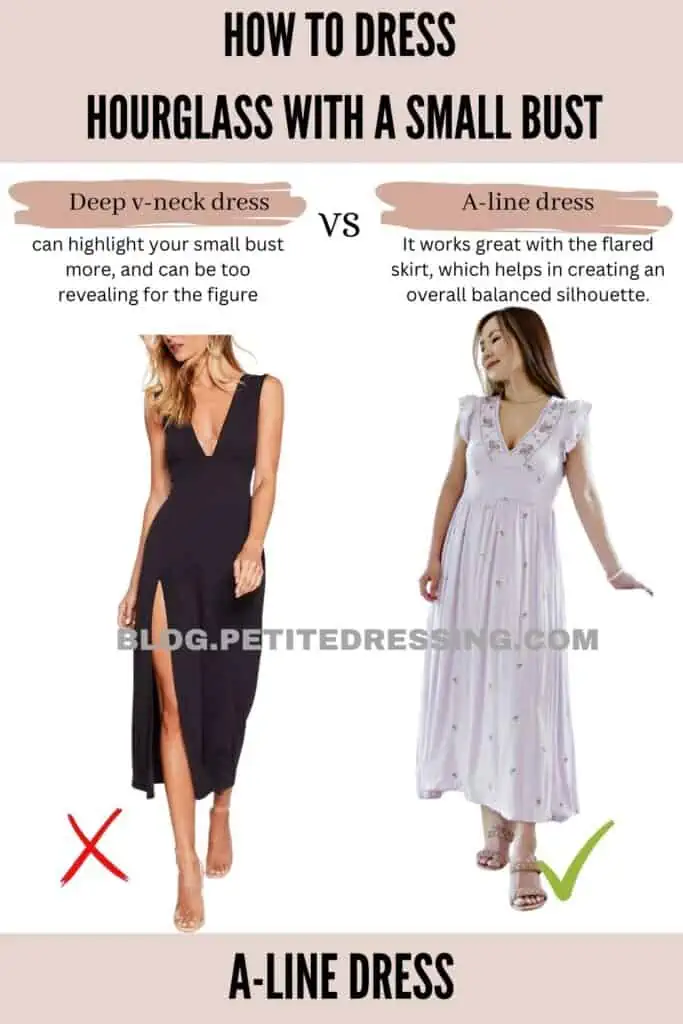 So, why should you rock this classic style as an hourglass-shaped woman with a small bust? This is perfect for your shape because it accentuates your curves and increases the illusion of having a fuller bust area. This is all thanks to the fitted top that highlights your narrow waistline.
It works great with the flared skirt, which helps in creating an overall balanced silhouette. This style of dress also provides some extra volume in the bottom half of your body without drawing a lot of attention to your chest area.
Belted dress
You may or may not have heard rumors that you'll always look good in any clothing when you have an hourglass shape. However, I'm sorry to burst your bubble, as that's not always true. The truth is you have to lean more towards fitted clothing to look your absolute best.
With a belted dress, you can highlight your natural curves. Loosely-fitted clothing will only make you look bigger, and that extra bulk on your body as a woman with a small bust won't help your figure.
This flattering style creates a cinched waistline which draws more attention to your natural waist and creates a feminine silhouette that highlights your beautiful hourglass shape. The style of your belted dress also matters.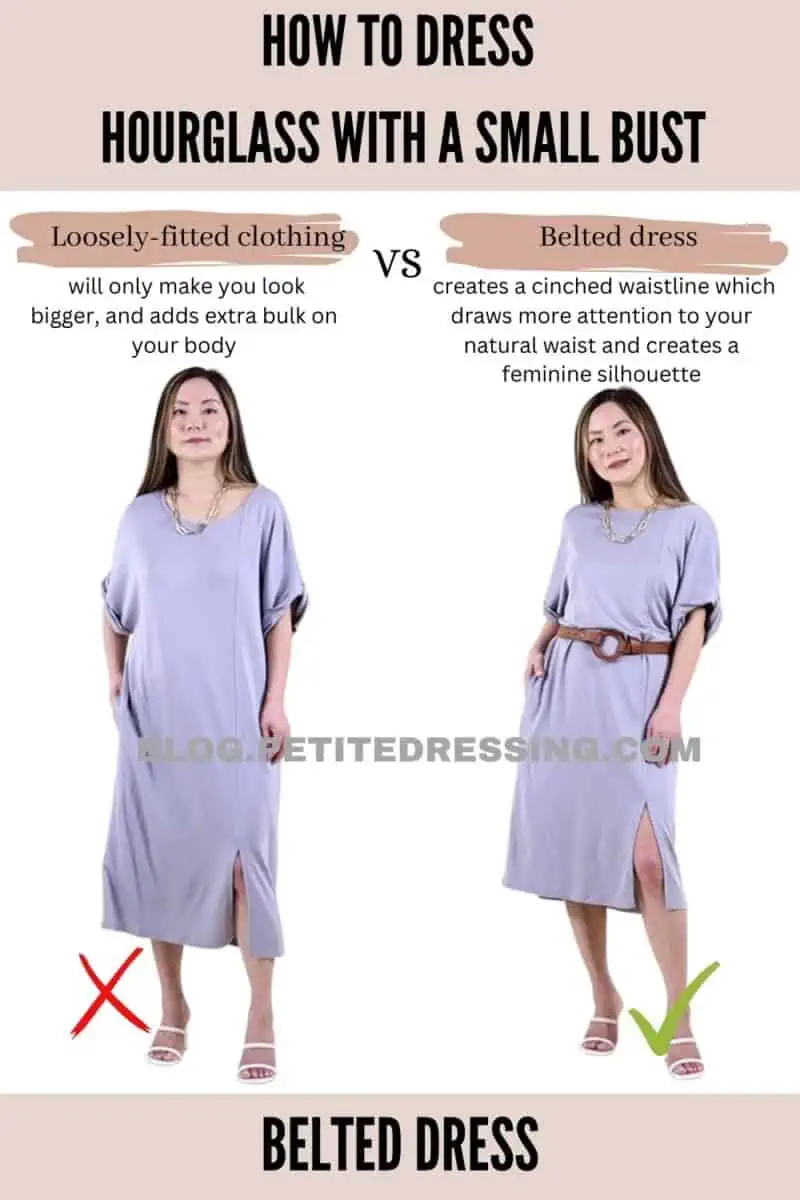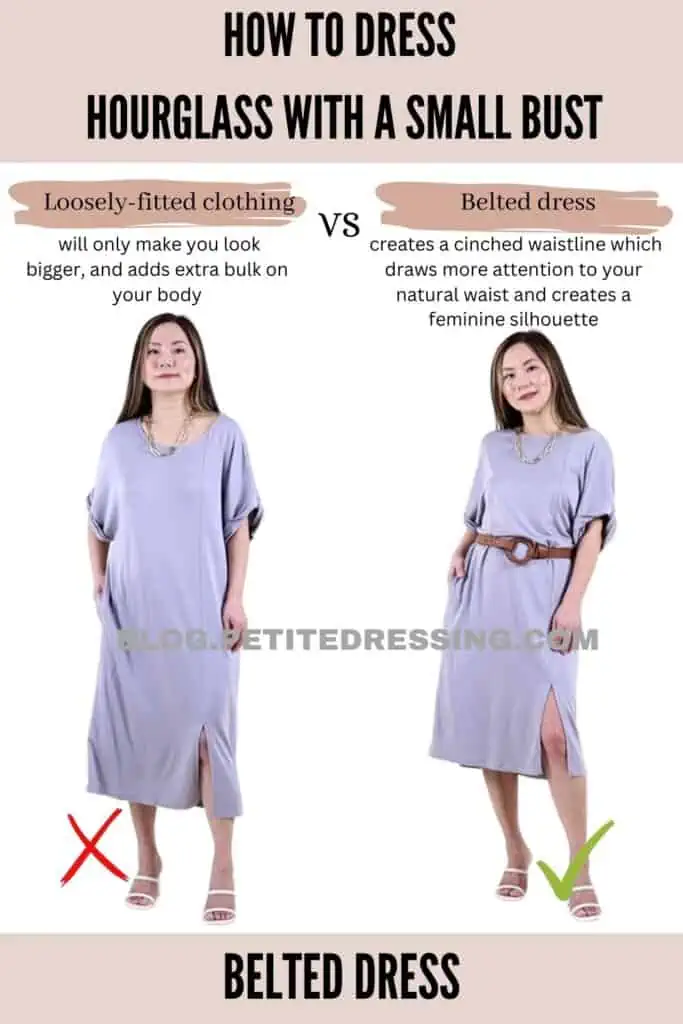 I love to recommend belted dresses with a scoop or V-neckline, which adds to the illusion of a fuller dress. These neckline styles draw attention to your collarbones, which is great for your small bust area.
Interestingly, I've seen several belted dresses in A-line skirt styles that can create a sleek and flowy look. Overall, this is perfect for creating a balanced silhouette that makes you look amazing.
Off-the-shoulder tops
Off-the-shoulder tops are great for balancing out your body proportions. Since this style of top reveals your shoulders and collarbones stylishly, it draws attention to your shoulders, which is perfect for giving your bust a fuller appearance.
So, as an hourglass-shaped woman with a small bust, this top style will add more volume to your chest area as it gives the illusion of a broader upper body. This is also great for balancing out the curves on the lower part of your body seamlessly.
Also, you'll absolutely love this neckline that has a feminine outlook without being too revealing. There are lots of ways to rock off-the-shoulder tops, and you'll stand out in style. One of my top choices is pairing with high-waisted pants. This is perfect for creating a balanced silhouette.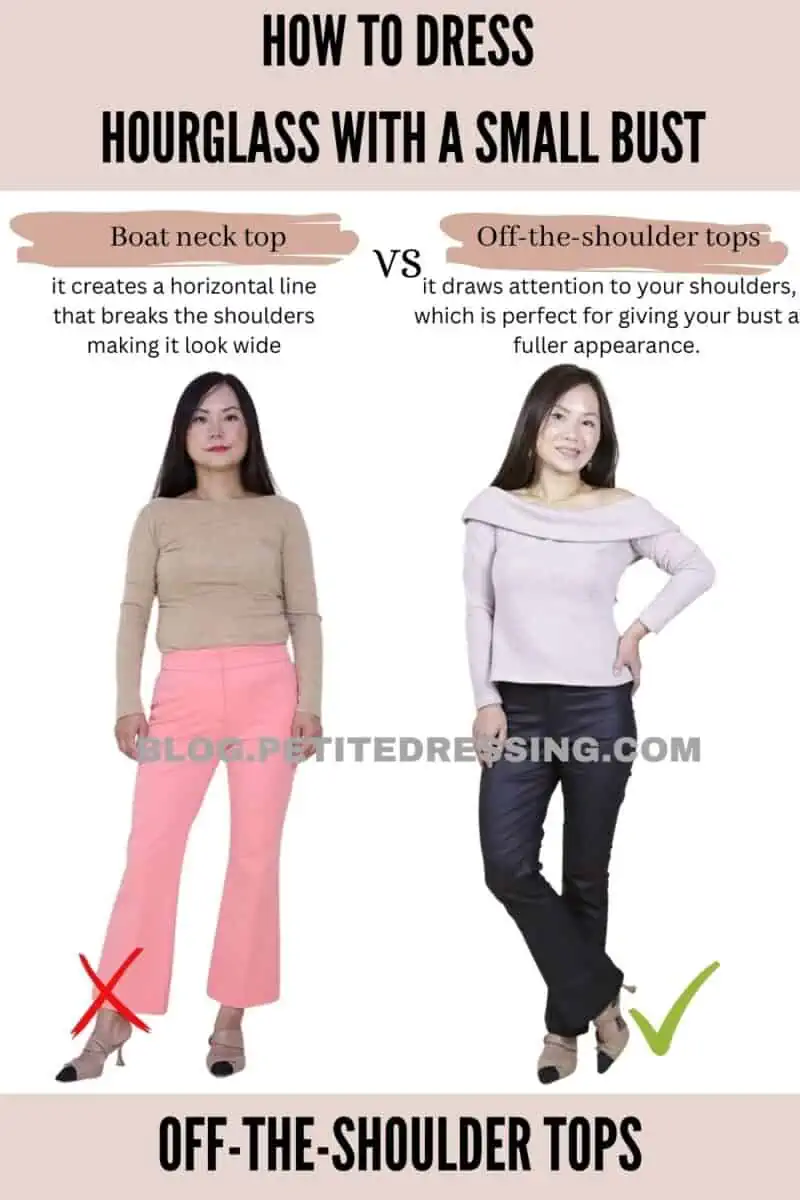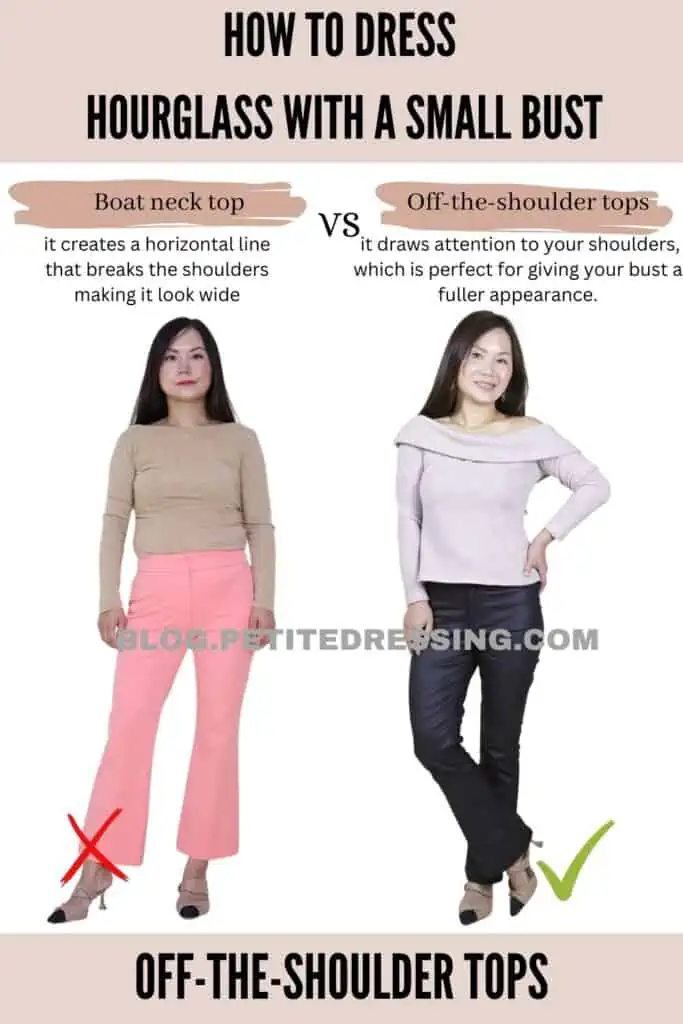 You can also pair this with statement earrings so there's more attention on the upper part of your body. Some off-the-shoulder tops have ruffle details around the neckline, and this can create a flattering silhouette since it balances out your hips.
Smocked tops
What's so special about ruched tops, especially for the hourglass with small bust? Let's start with how the gathered fabric around the bust area helps to create the illusion of a bigger chest area, which is great for women with a small bust.
This works in tandem with your waistline as it accentuates the curves on your body, making your hourglass shape more prominent without going over the top. So, you have the perfect top to highlight your waist and add more fullness to your bust area.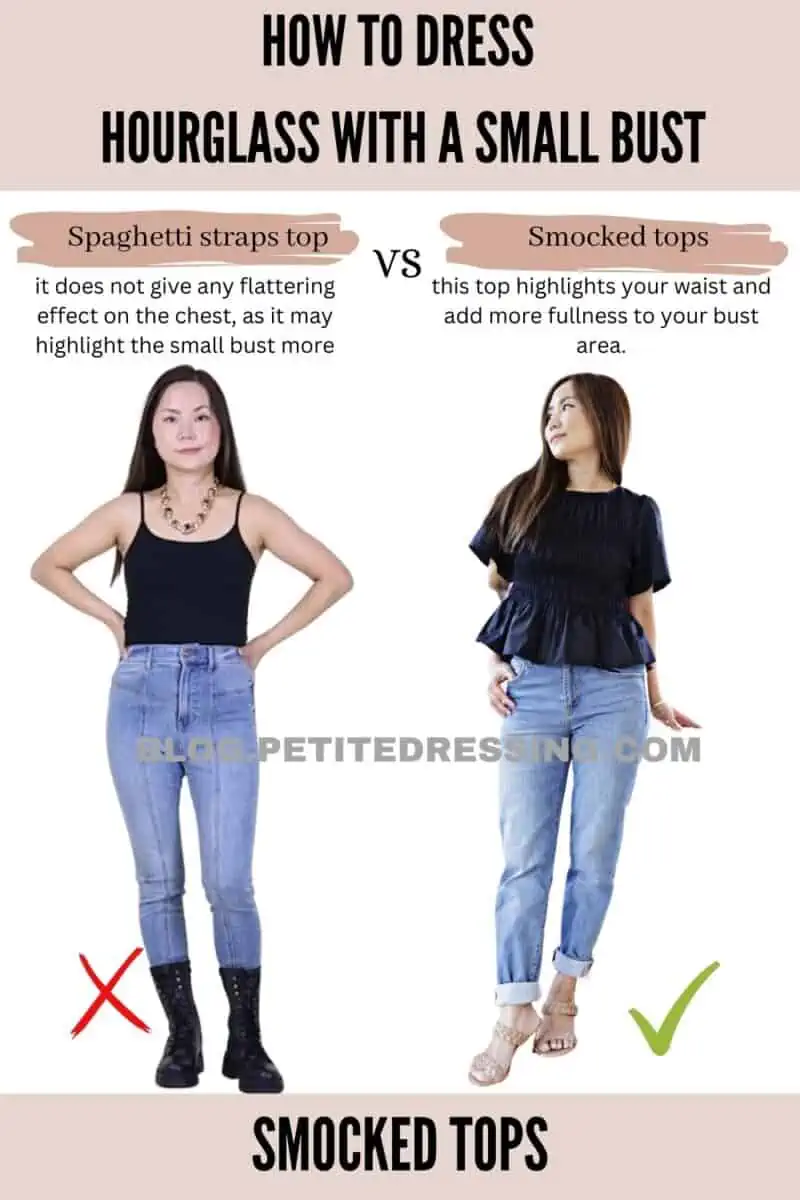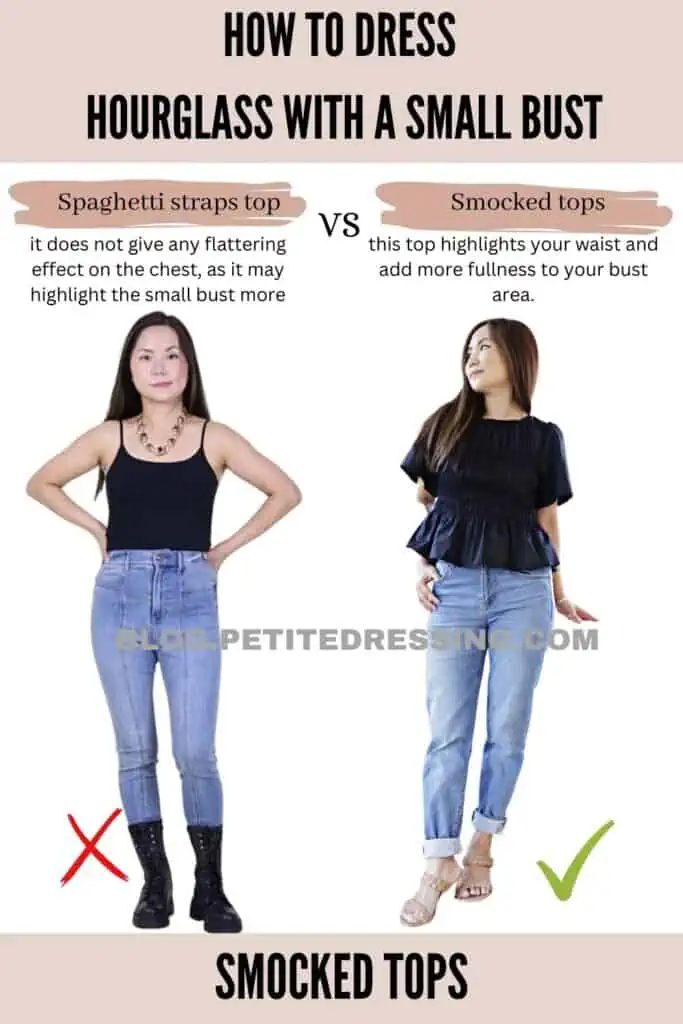 Ruched tops give you a curvier outlook, which is great because it highlights your best assets. You can pair this easily with high-waisted pants to create a more streamlined look. Feel free to experiment with statement jewelry to draw more attention to your upper body.
This top style also looks great in an off-the-shoulder style or deep V-neckline. However, it's okay to try out a few styles to see which one resonates more with your personality and preferences.
Wrap tops
Wrap tops are also perfect for creating the illusion of a fuller chest which draws attention to your curvy waistline and balances your body silhouette. What I love most about wrap tops is how easily adjustable they are. You can create the perfect fit with a few adjustments, and that makes this a versatile choice for hourglass-shaped women with small bust.
A great way to emphasize your waist, even more is to include a statement belt that's not too bulky. You can also pick wrap tops with bold prints or patterns, as they are known to add visual interest to any outfit.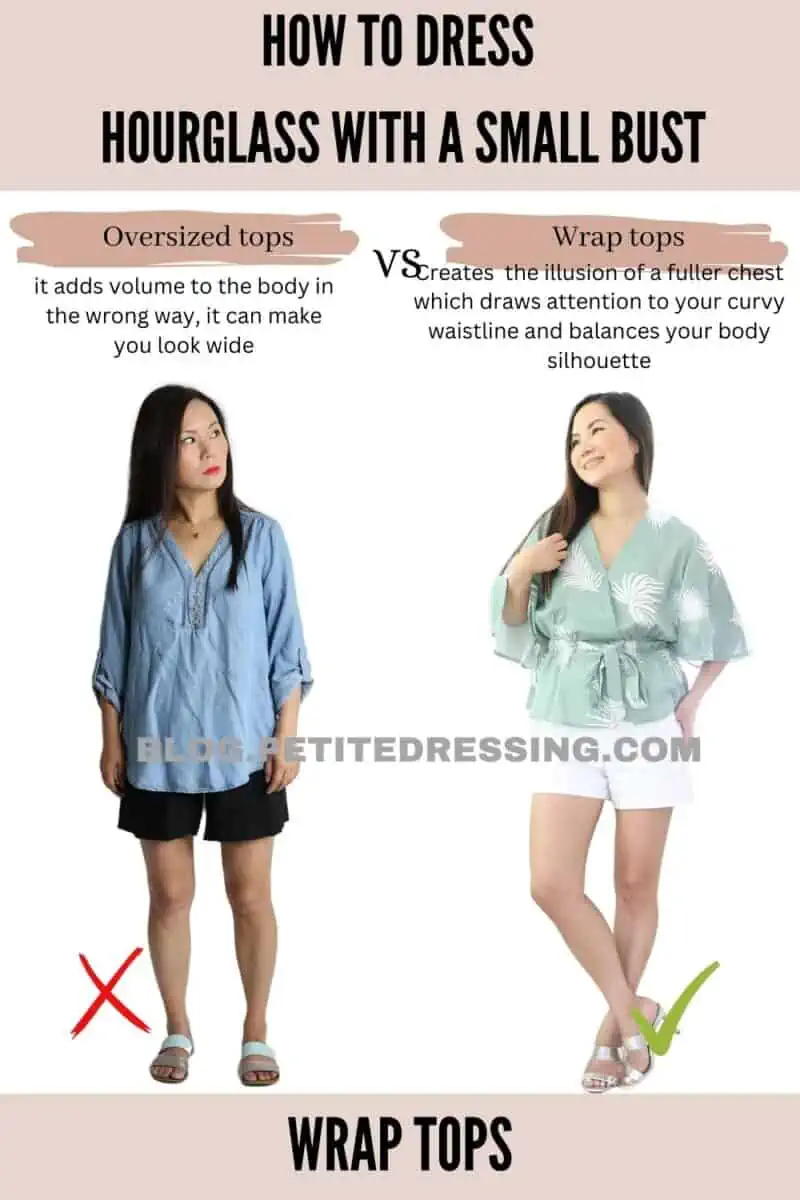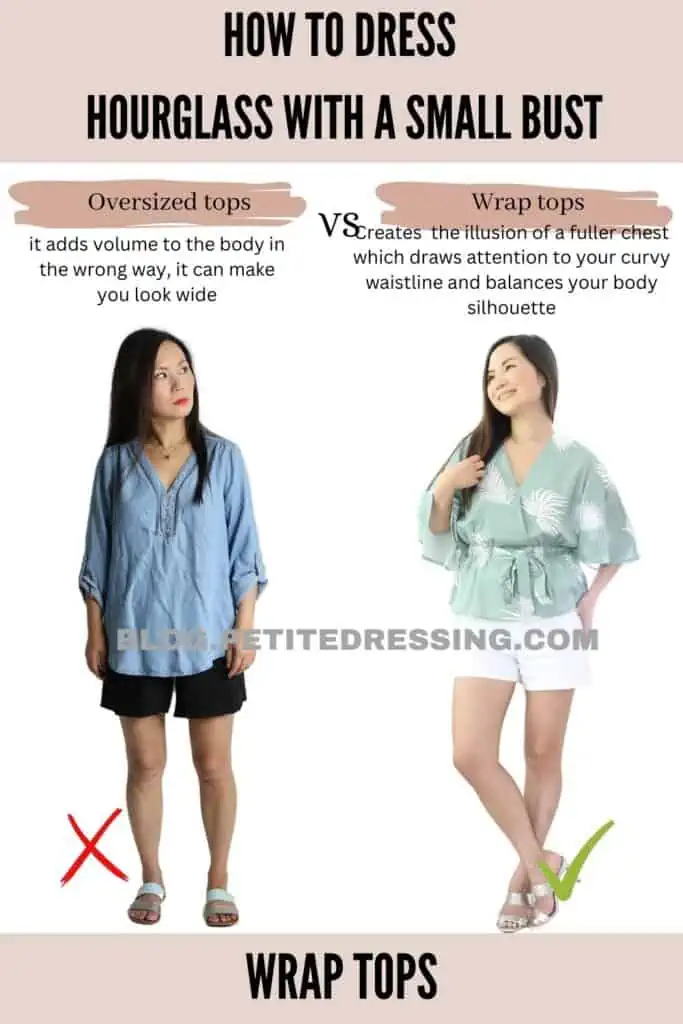 Of course, I have to point out how feminine wrap tops make you look, especially as they highlight your curves and easily mold with your hourglass shape. This makes them incredibly flattering for hourglass-shaped women with small bust.
Peplum tops
Another amazing choice for an hourglass with small bust is the peplum top. This is perfect for accentuating your best assets, and it feels a lot like it was made for your body shape. Peplum tops are usually well-fitted as they flow seamlessly with your natural curves.
You'll also love the waist-cinching effect, which is a major feature of this style of top. This works because it flares out underneath to emphasize your beautiful hourglass figure. So, be sure to pick peplum tops that have a fitted waist and flared hem.
This ensures that you can maintain your hourglass silhouette, which balances out your hips and makes you stand out elegantly. Peplum tops can give you a sophisticated outlook, especially as an hourglass-shaped woman with a small bust.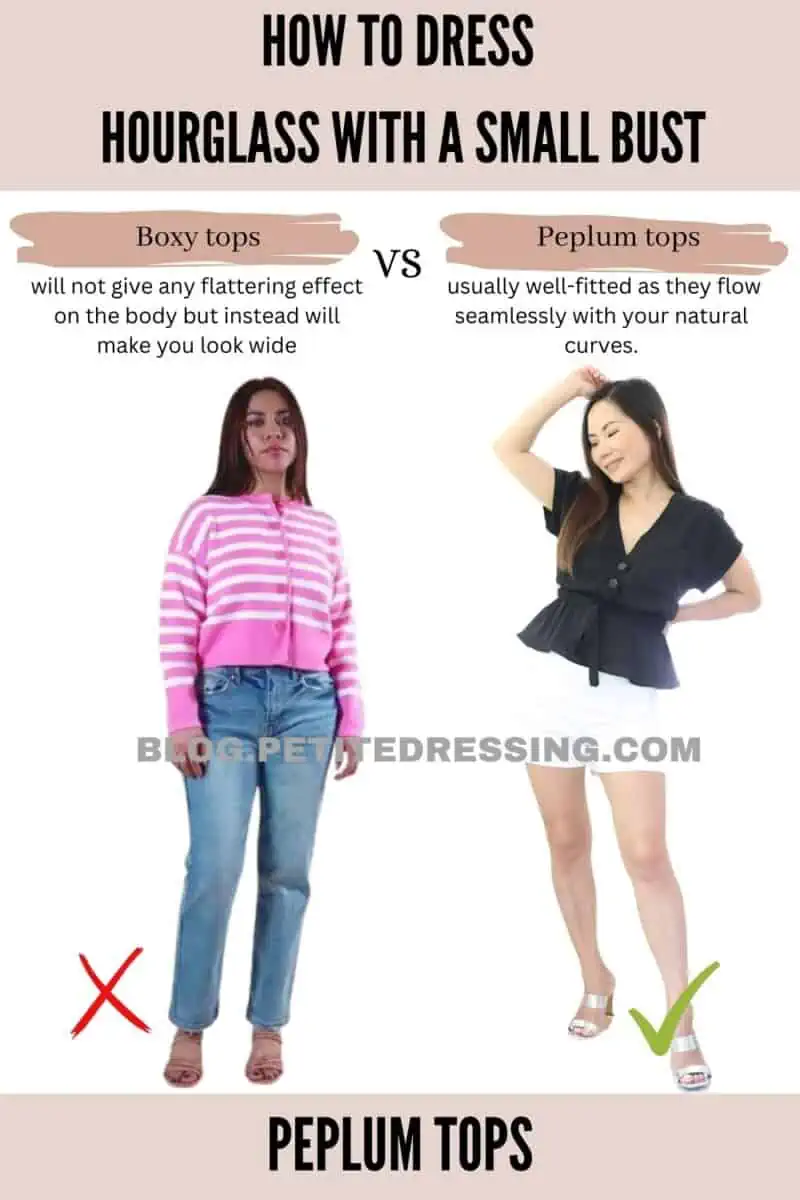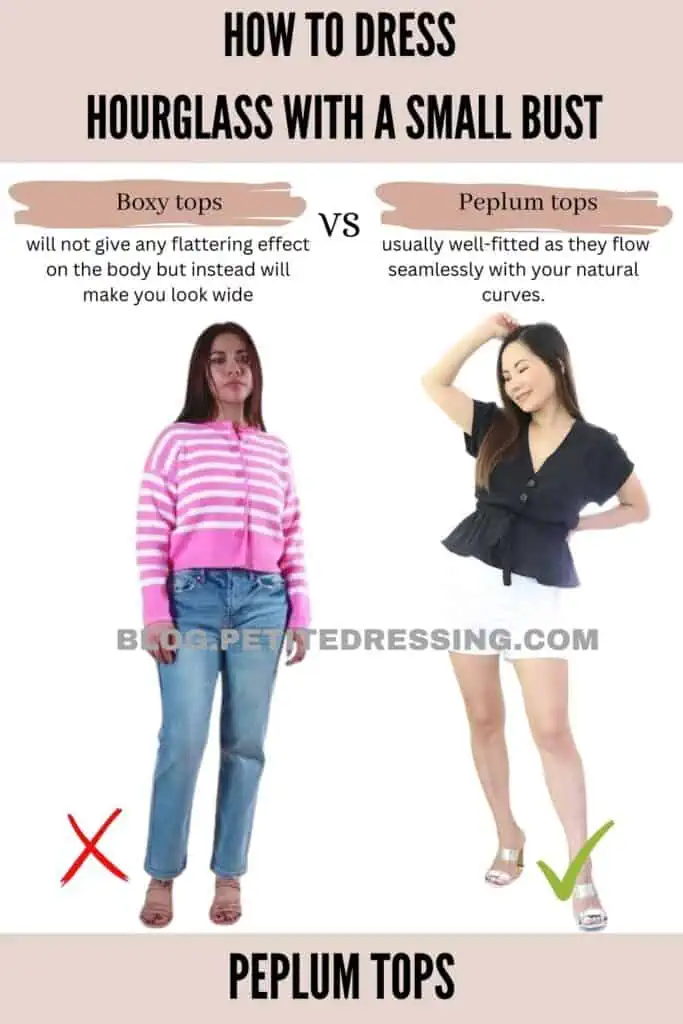 Take advantage of this style to highlight the narrowest part of your body and improve the illusion of a fuller bust. You can wear these in V-necklines or scoop necklines. Also, be sure to pick styles that are not too tight on your frame, as your goal is to stay comfortable no matter the clothing style.
Caution with empire waist dresses
As an hourglass-shaped woman, your curvy shape is always visible, and you need clothing styles that help you play around with this without downplaying this amazing asset. Empire waist dresses are tricky in this regard because they are not designed to complement your curvy shape.
Instead, they give the outlook of a muffin top which means that you'll look more like a woman with a prominent tummy bulge. While there are few empire waist dresses that don't have this effect, it can be stressful trying to find one that's different from others.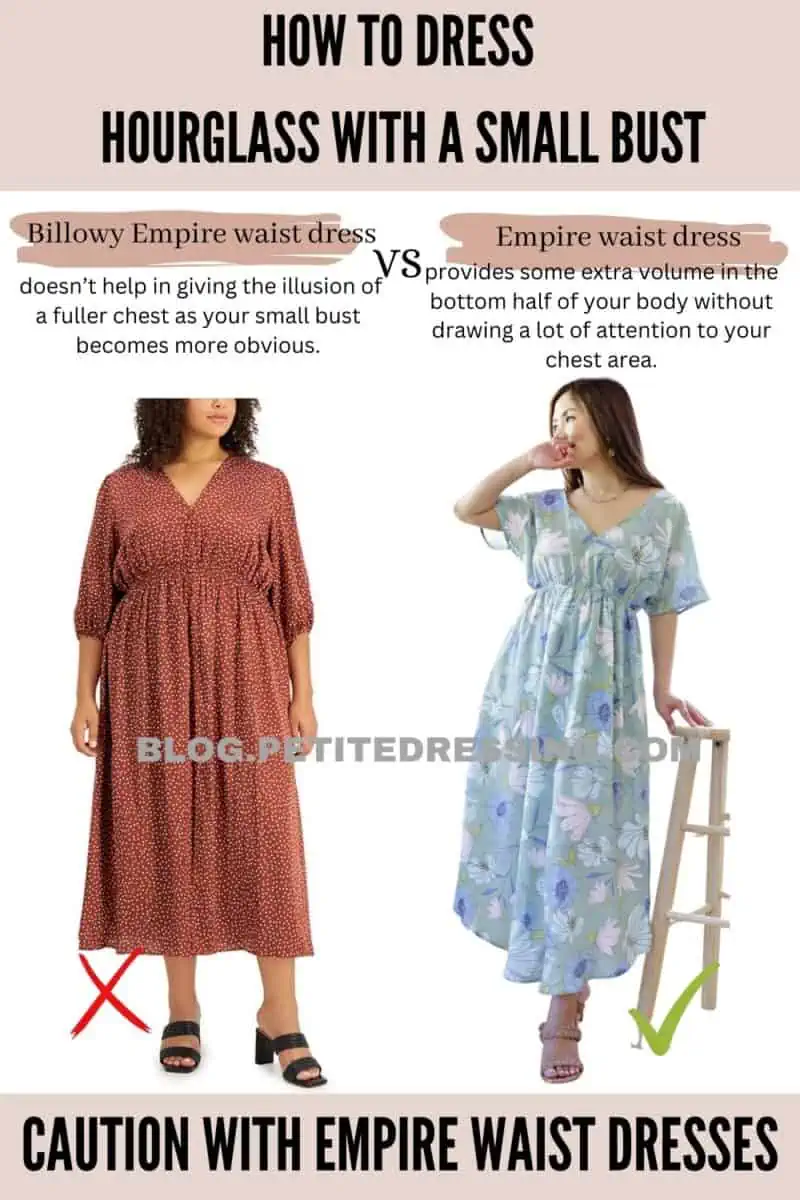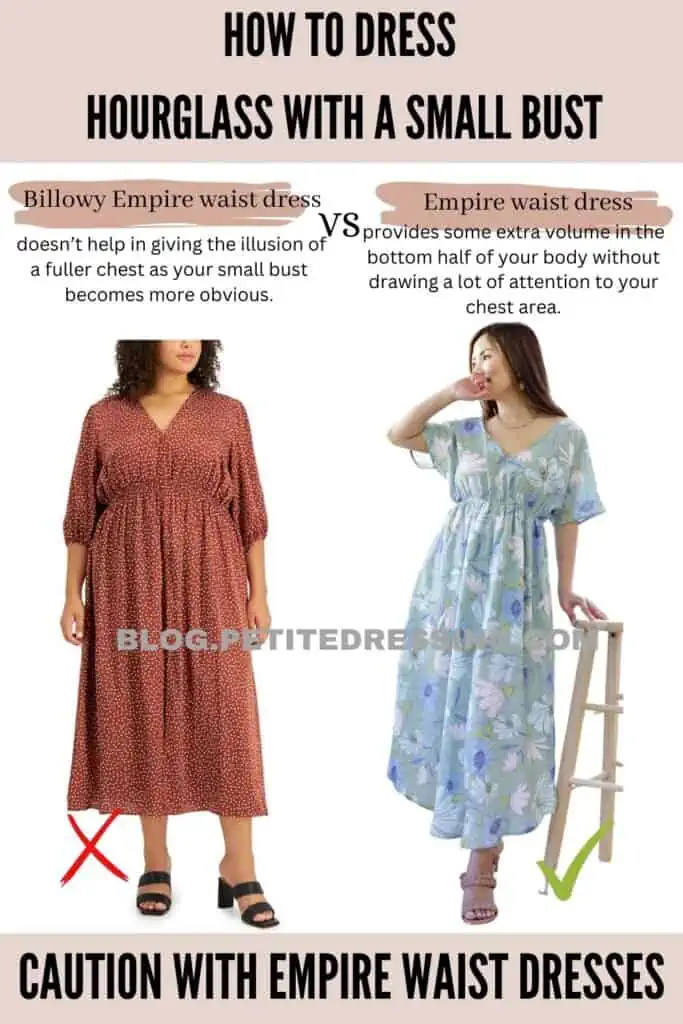 So, I believe it's better to avoid empire waist dresses as they don't help in defining your waistline. Rather, they create a straight silhouette from your small bust area to your hips. This also doesn't help in giving the illusion of a fuller chest as your small bust becomes more obvious.
Tilt more towards clothing styles that highlight your curvy silhouette and have a balancing effect where your small bust is less prominent. Also, look out for dresses with wider waistbands, as these can make you look great.