Regardless of what your body type is, shopping for coats is not always the easiest. However, this can be a tad tougher for petite apple shape figures as they require more thought to properly balance their overall frame.
I'm 5'2 and I know how coats in general tend to be very overwhelming because of how naturally bulky they are on a short person! Even though I am overall skinny, I do have a typical apple feature, i.e. always carry weight on my stomach. And ever since I started my own petite clothing line, I have figured out which coats are most especially flattering for women with petite apple shape body type.
So in this article, let me guide you through the best types of coats to flatter your short apple figure.
Styling Goal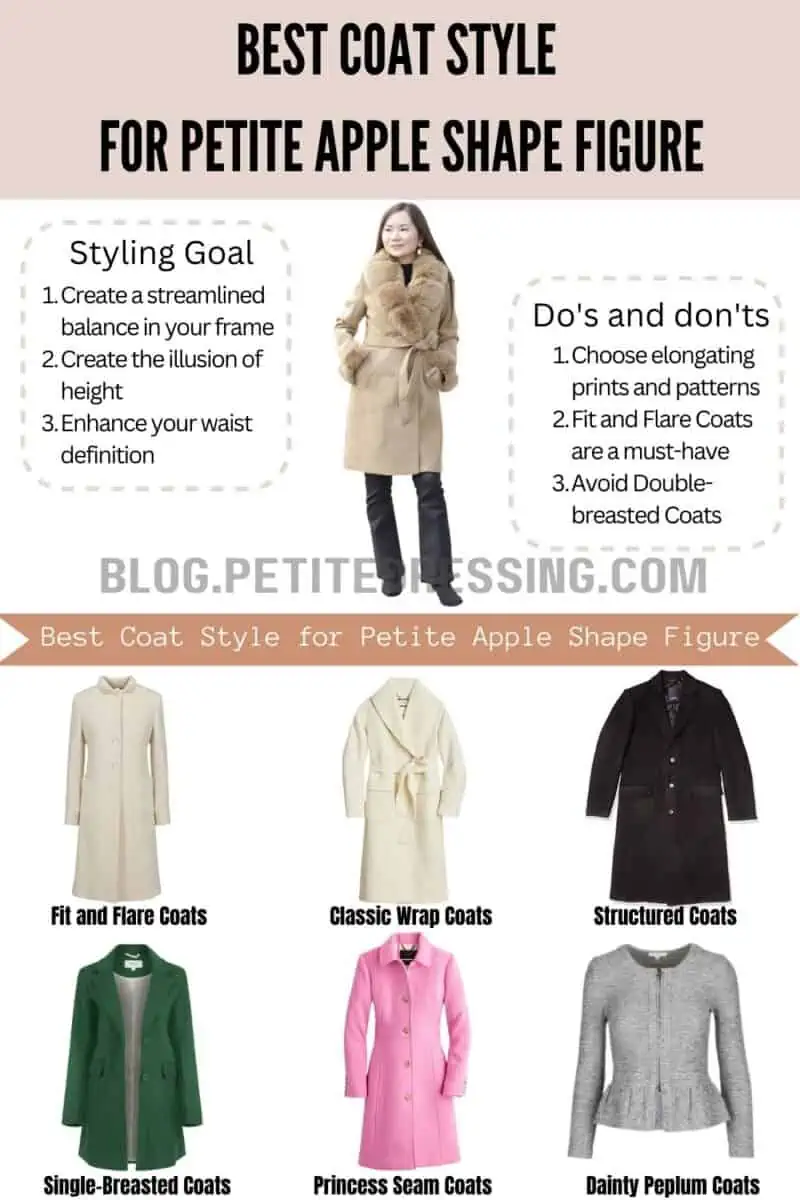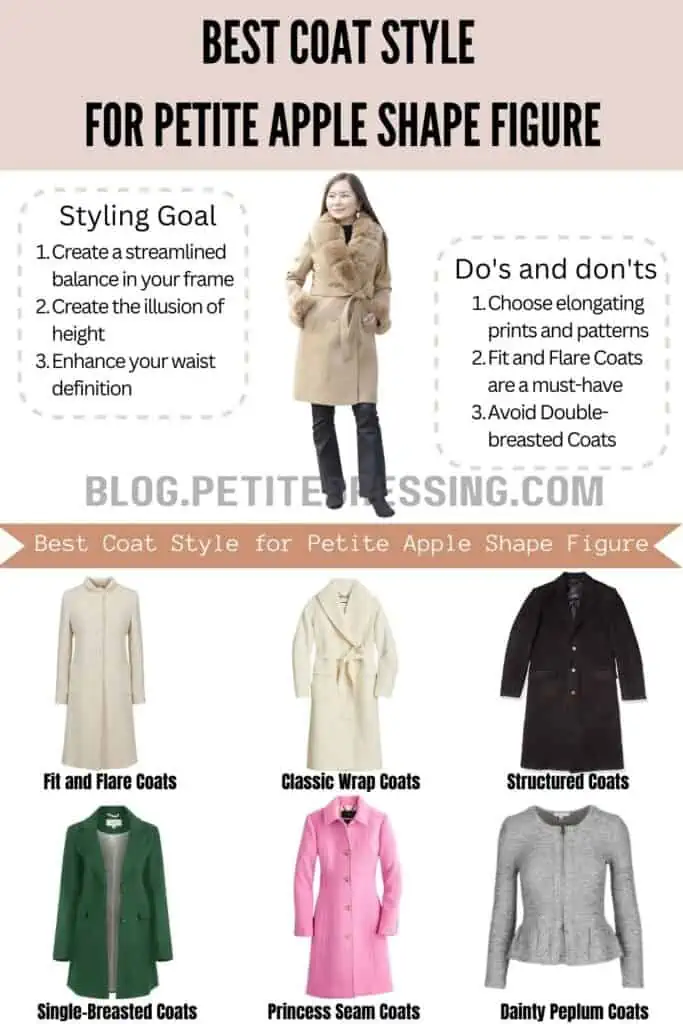 Create a streamlined balance in your frame by choosing structured coats. Your figure tends to look heavier on the upper region with your larger breasts and prominent midsection, so it'll be ideal to keep your silhouette minimal.
Choose elongating prints and patterns to create the illusion of height. Vertical lines or straight button-down placements are some of the samples of visually elongating details to make you look taller.
Enhance your waist definition by giving it a nice cinch. Apple shapes usually lack waist definition so this is where you'll need a coat that cinches the waist.
Fit and Flare Coats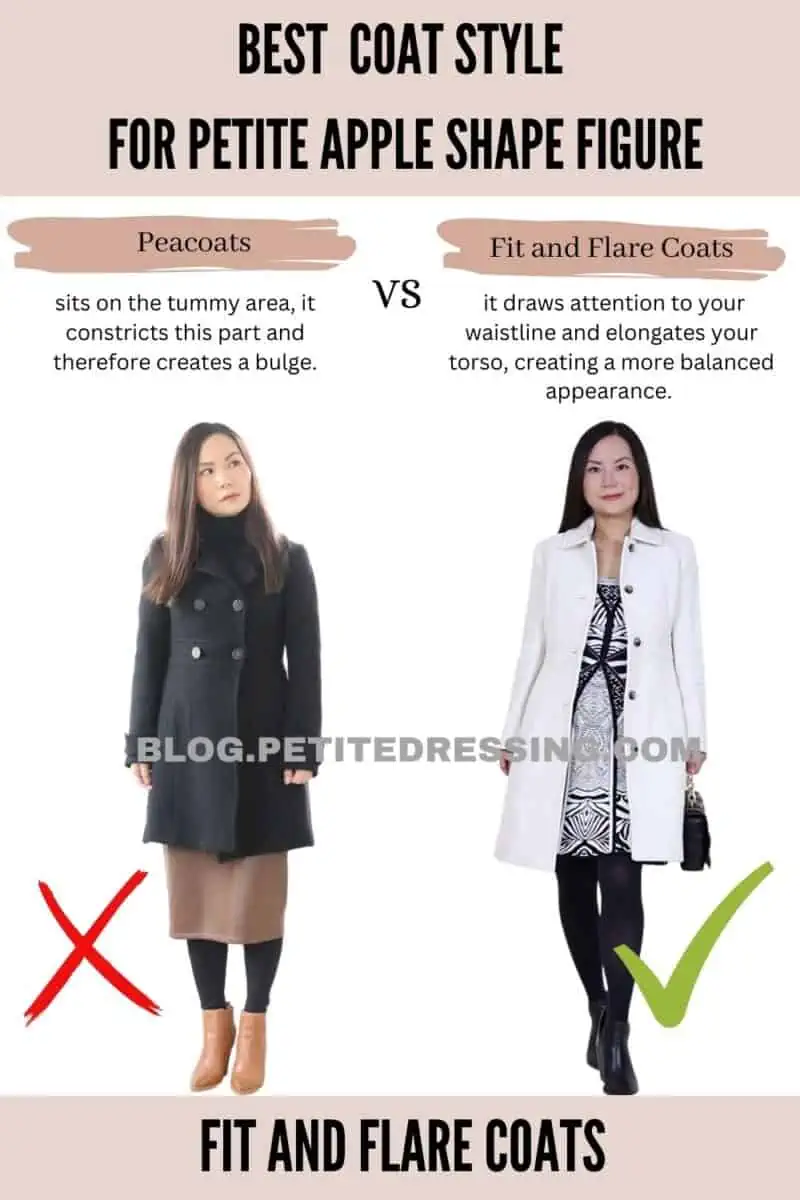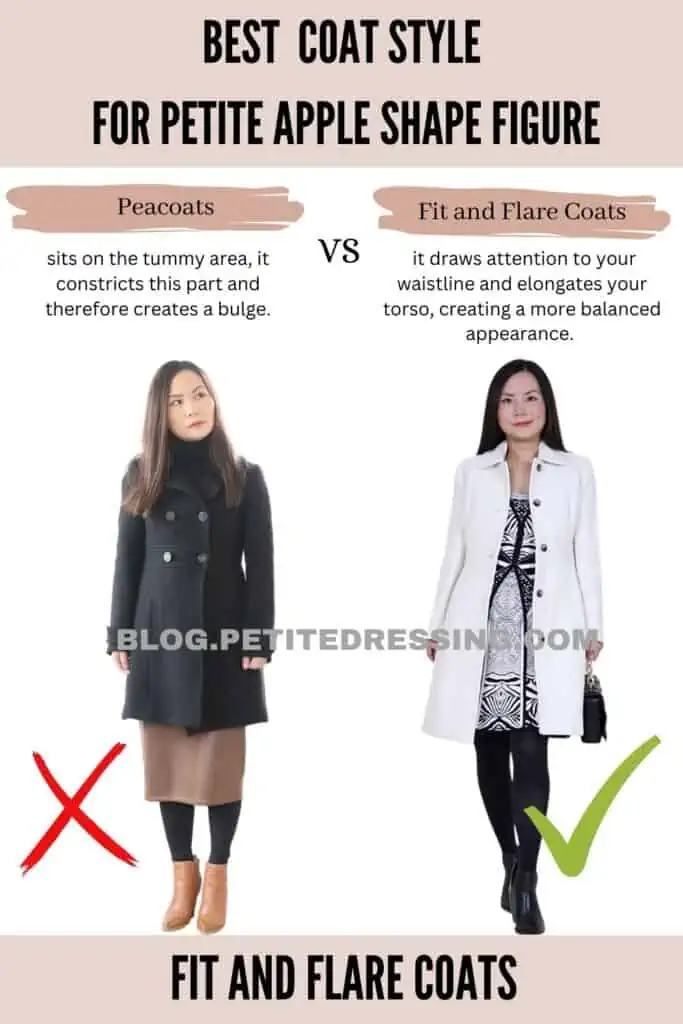 For petite apple shapes, fit and flare A-Line coats will always be a safe option due to their universally flattering silhouette! It hugs the naturally beautiful shape of your bust and adds apparent definition to your waistline.
A-line coats are designed to flare out from the waist, creating a gentle, feminine silhouette that skims over your curves without adding extra bulk. This style is particularly flattering for women who are short in height and have apple-shaped figures, as it draws attention to your waistline and elongates your torso, creating a more balanced appearance.
Additionally, the flared hem of the A-line coat provides extra coverage and shape on your narrow hips and thighs so it'll balance out your more prominent upper body. When choosing an A-line coat, look for styles that hit just above the knee or mid-thigh, as this length will help to elongate your legs and make you appear taller.
Classic Wrap Coats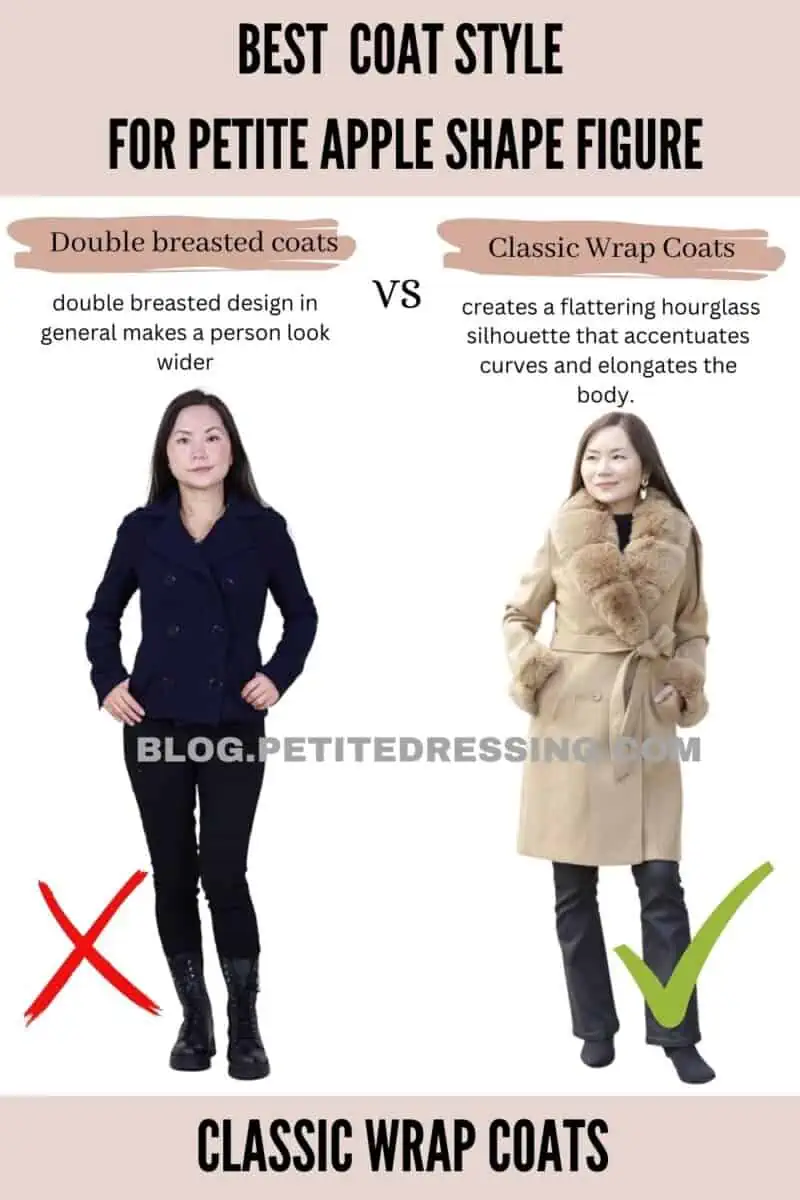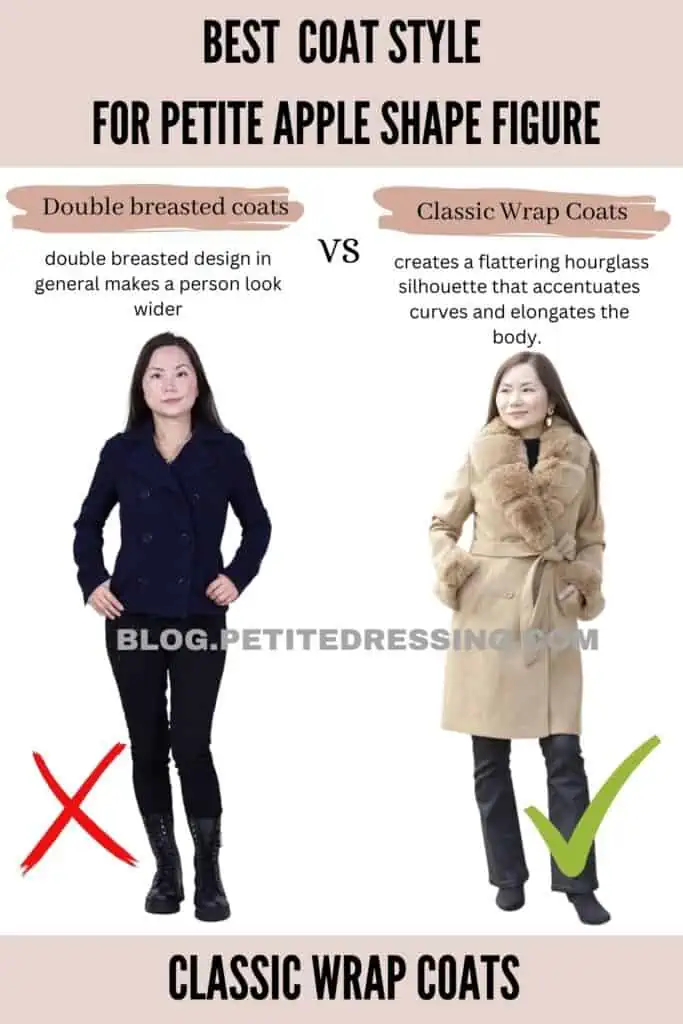 Of course, wrap coats should be on this list because they're just simply a foolproof style option for petite girls, including apple-shaped bodies! Wrap coats are an excellent option for those with a short height and apple body shape because this style of the coat features a wrap front that can be cinched at the waist, creating a flattering hourglass silhouette that accentuates curves and elongates the body.
For those with an apple body shape, this is especially important as it helps to balance out the proportions of the upper and lower body. The wrap style allows for adjustable closure, which means you can adjust the coat to your desired fit and avoid any excess fabric that can overwhelm a smaller frame.
Structured Coats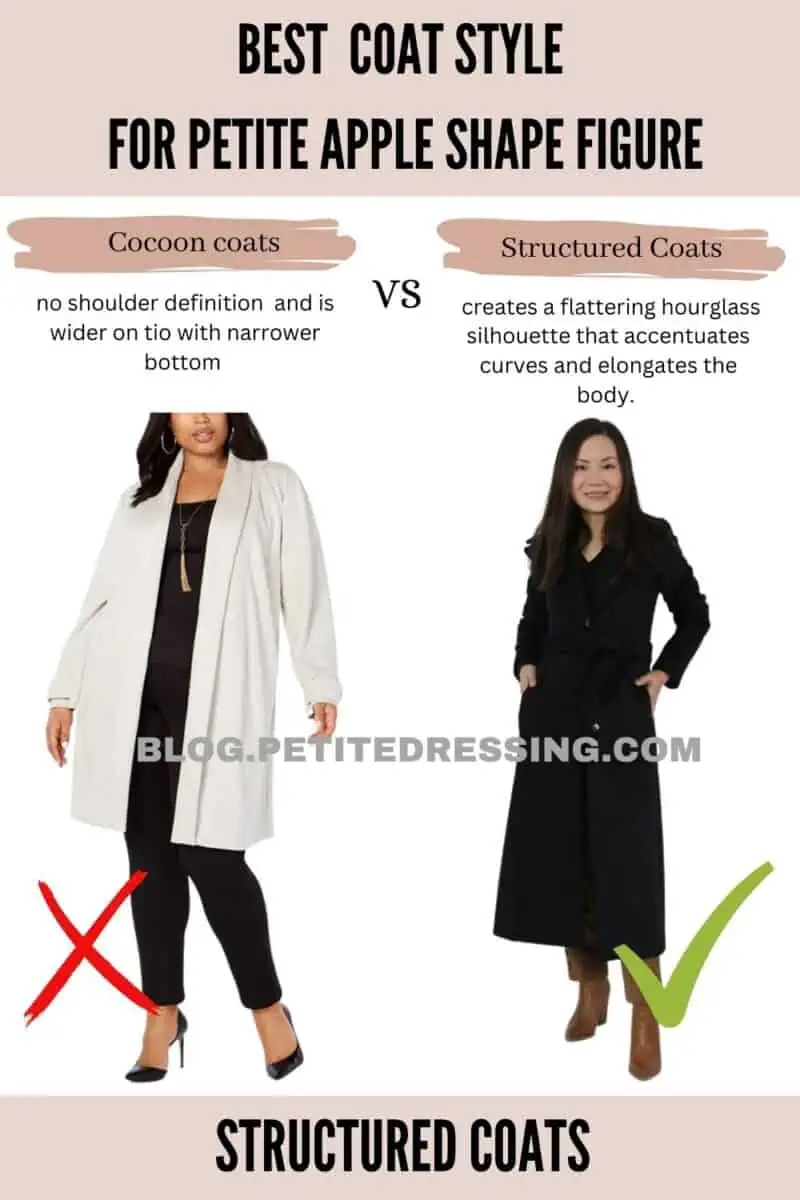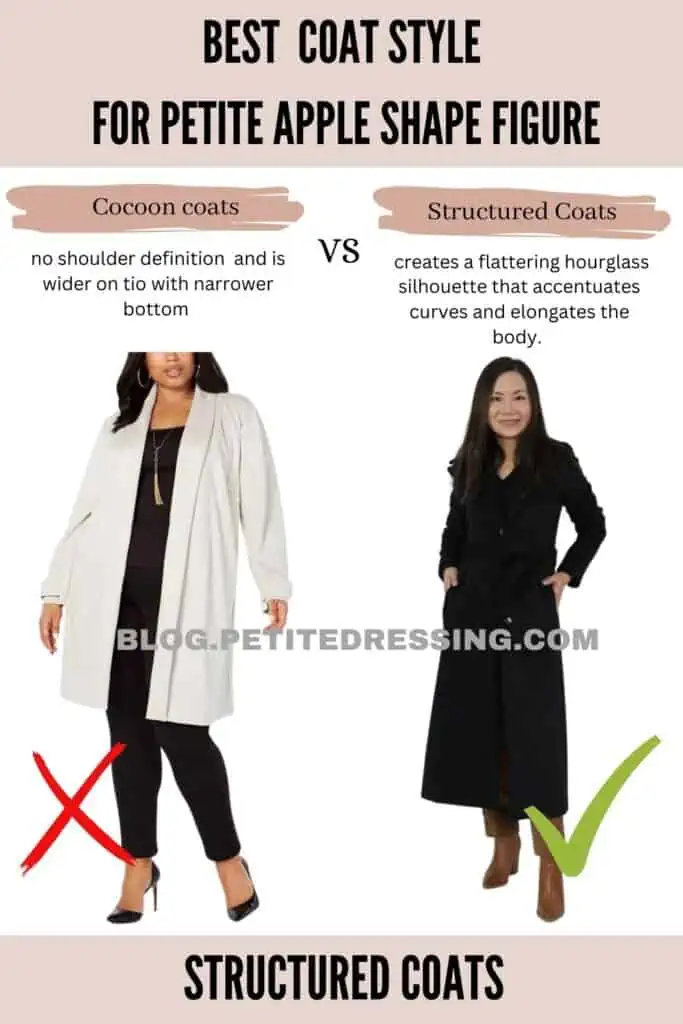 Structured coats feature neat seam lines that smoothly run through the natural shape of the body. They have defined lines and shapes, often with tailored or fitted elements that give them a more structured appearance.
They feature a more defined waistline and a streamlined silhouette that elongates the body and creates the illusion of curves in all the right places, which is pretty much what a petite apple shape figure needs. Not only do structured coats flatter your figure, but they also offer a sense of sophistication and elegance that can elevate any outfit!
Structured coats also come in many different kinds of fabric materials. I highly suggest you also go for structured fabrics such as wool, as they are slightly stiffer and therefore more shaped.
Single-Breasted Coats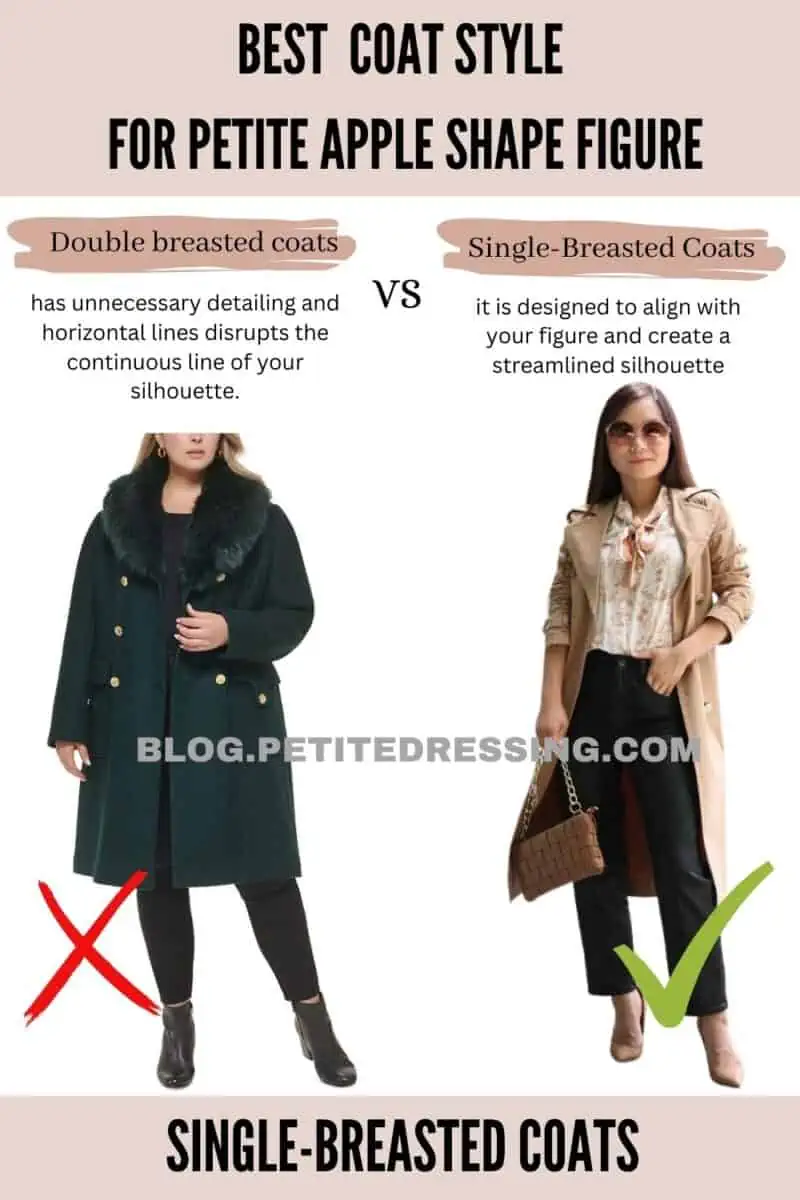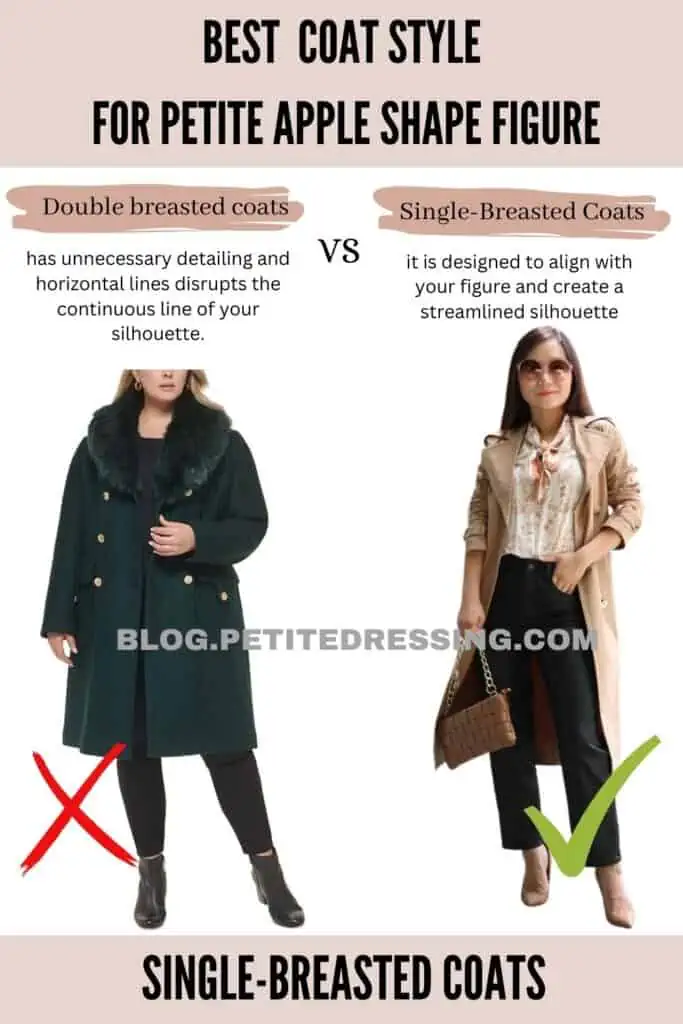 If you're looking to minimize volume in your upper body and accentuate your feminine apple shape figure, consider opting for a single-breasted coat. This style is designed to avoid unnecessary detailing and horizontal lines that could disrupt the continuous elongating line of your silhouette.
Single-breasted coats are particularly flattering on petite apple-shaped bodies, as it is designed to align with your figure and create a streamlined silhouette. With just a single column of buttons at the front, it doesn't add volume to the front section of the woman, allowing you to feel confident and well-structured.
Due to its structure, you can also freely wear it with buttons closed or just plainly unbuttoned. Either way, you'll get the visual balance that will flatter your figure.
Princess Seam Coats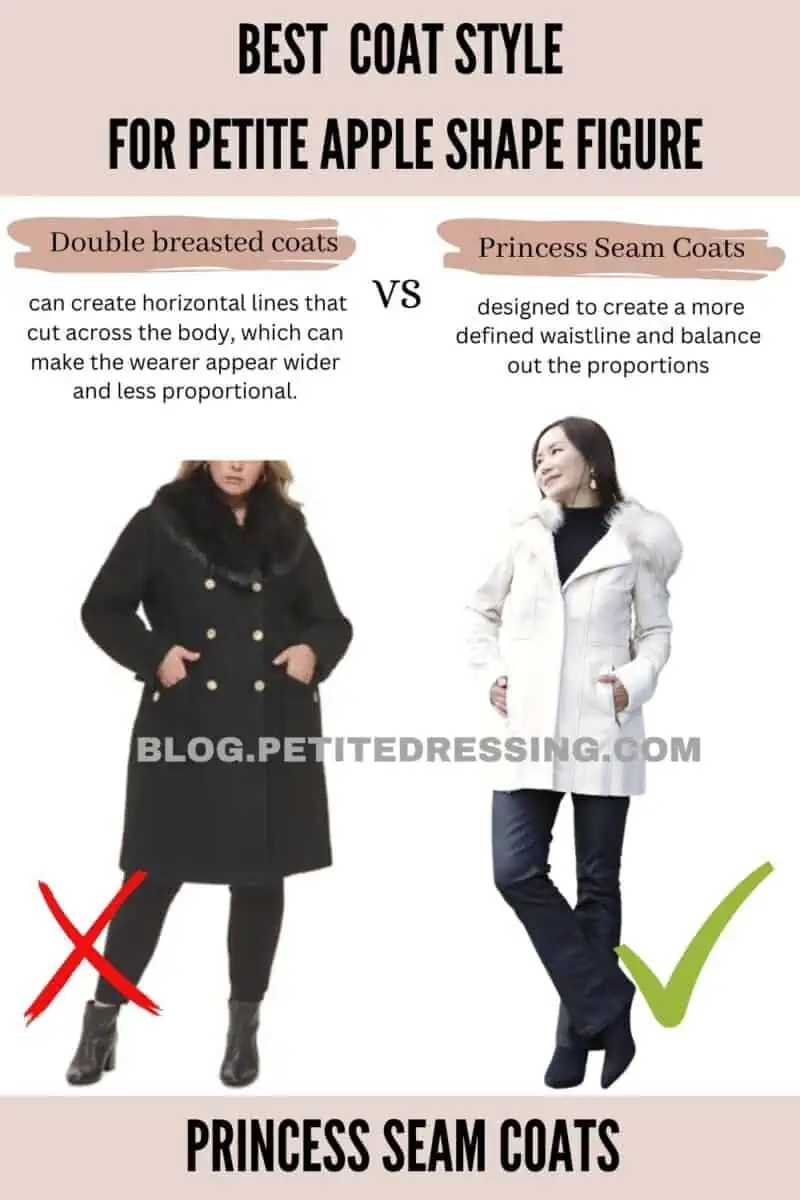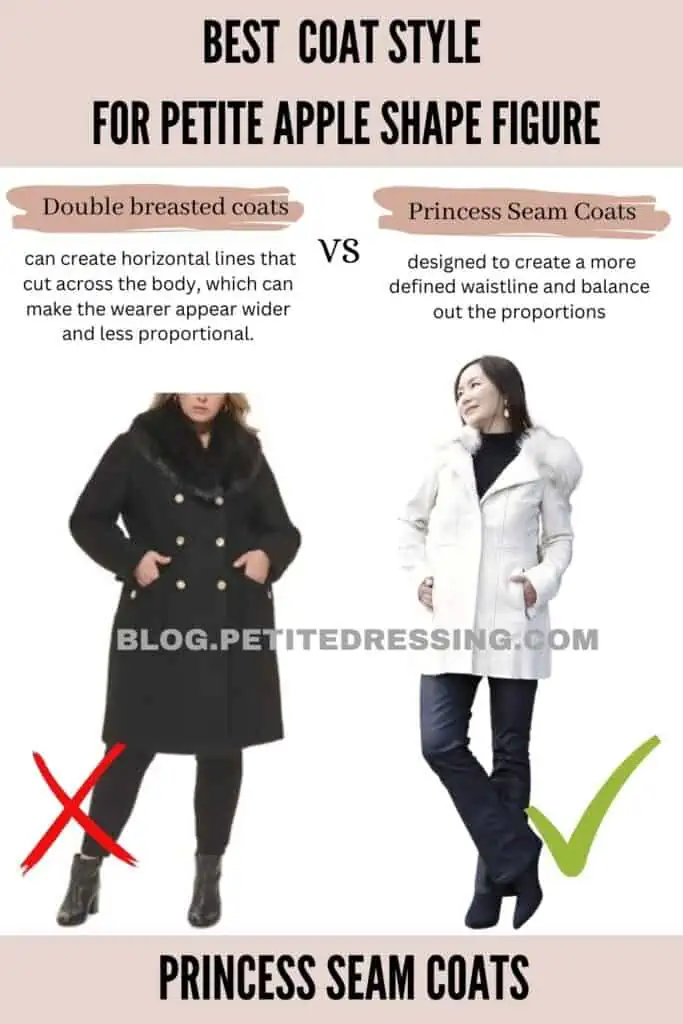 Here's a very classy option for you, as you can clearly see by its obviously elegant name – Princess seam coats! Princess seam coats are a type of coat that features seams that run vertically from the shoulder to the hemline, creating a fitted and tapered shape that follows the curves of the body.
Its seams are often accompanied by darts, which help to shape the garment around the bust, waist, and hips. These details can be a particularly flattering option for petite apple shapes because they are designed to create a more defined waistline and balance out the proportions of the body to make it look more visually pleasing.
In addition to their figure-flattering design, princess seam coats also have a classic and elegant look that can elevate any outfit of your choice!
Dainty Peplum Coats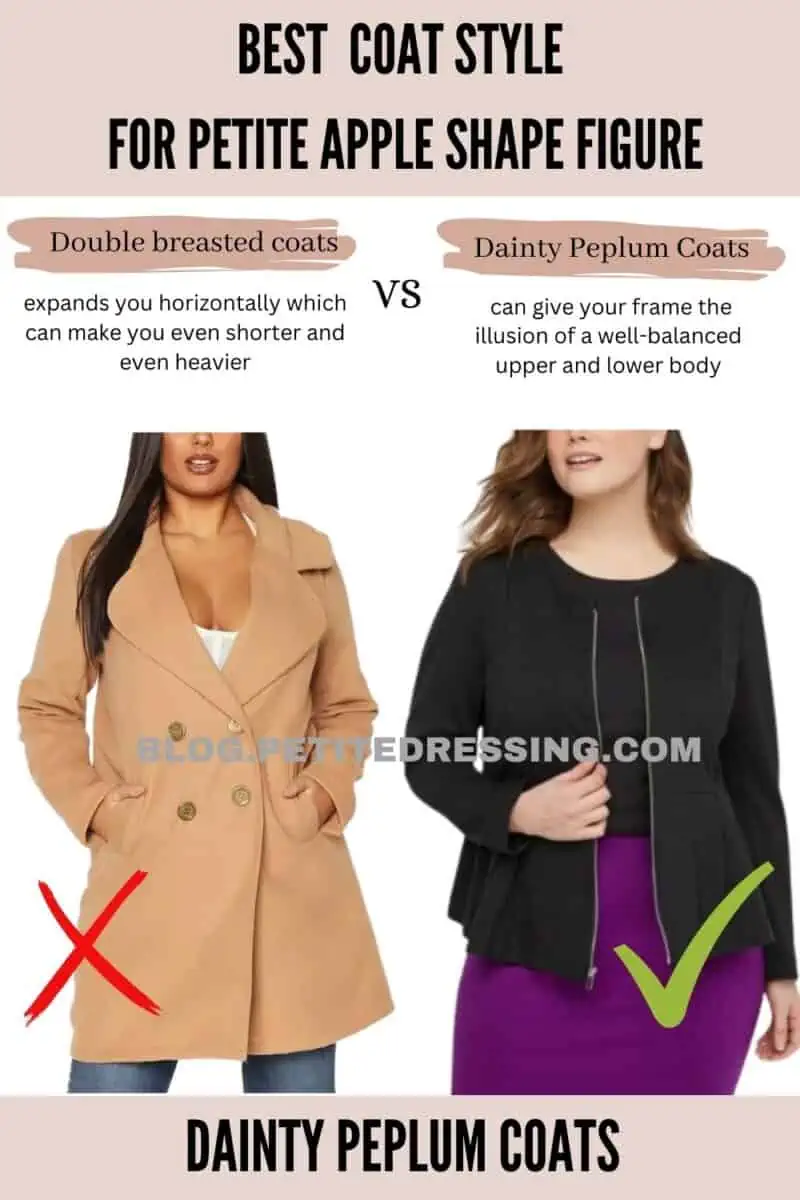 If you're looking to enhance the appearance of your feminine apple-shaped figure, a peplum coat can work wonders! This coat is specifically designed to create a balance between the upper and lower regions of your figure to bring your frame to flattering perfection!
Peplum coats are a type of coat that features a flared section at the waistline, creating a ruffled effect that adds volume to the lower body. This particular coat style and shape can give your frame the illusion of a well-balanced upper and lower body, especially because the two aren't really of the same size for apple shapes.
The coat is fitted at the upper part of the apple shape, before flaring out to cover the midsection of your body. This design helps to draw attention away from the midsection and towards the slimmer areas of the body, enhancing your natural curves and adding more height to your frame.
Streamlined Straight-cut Coats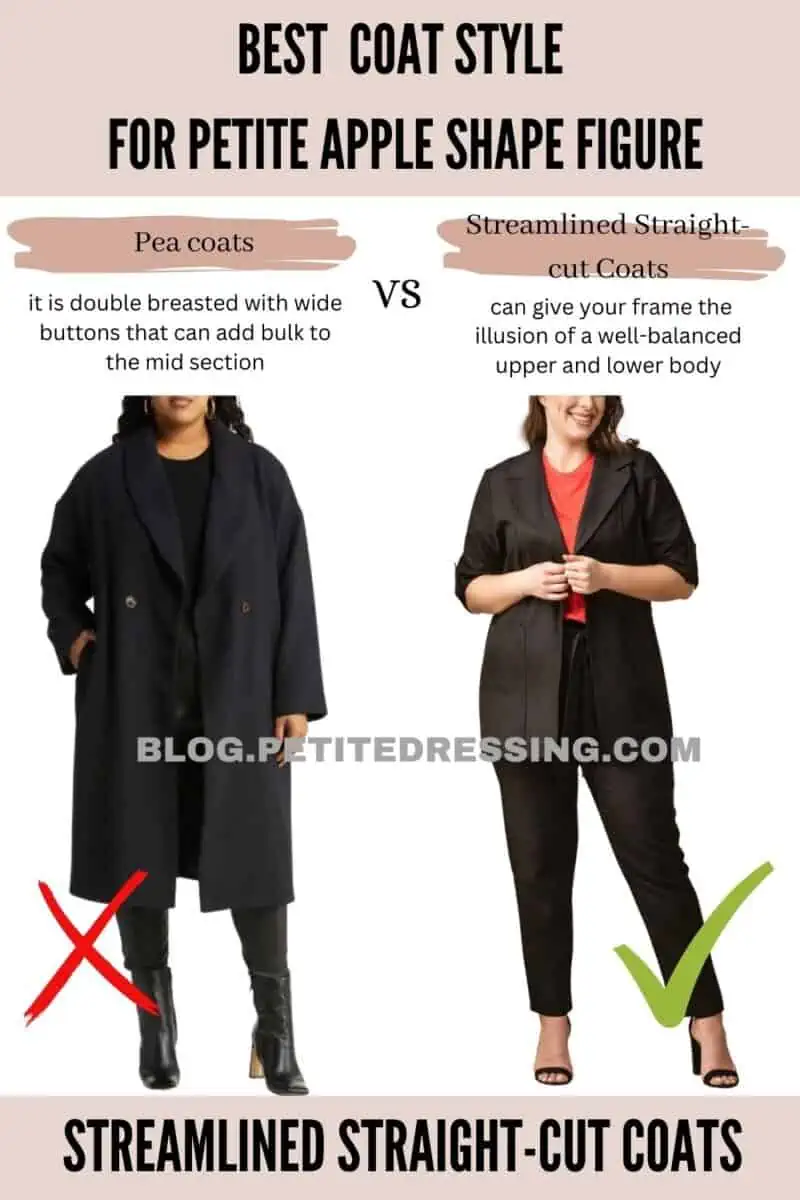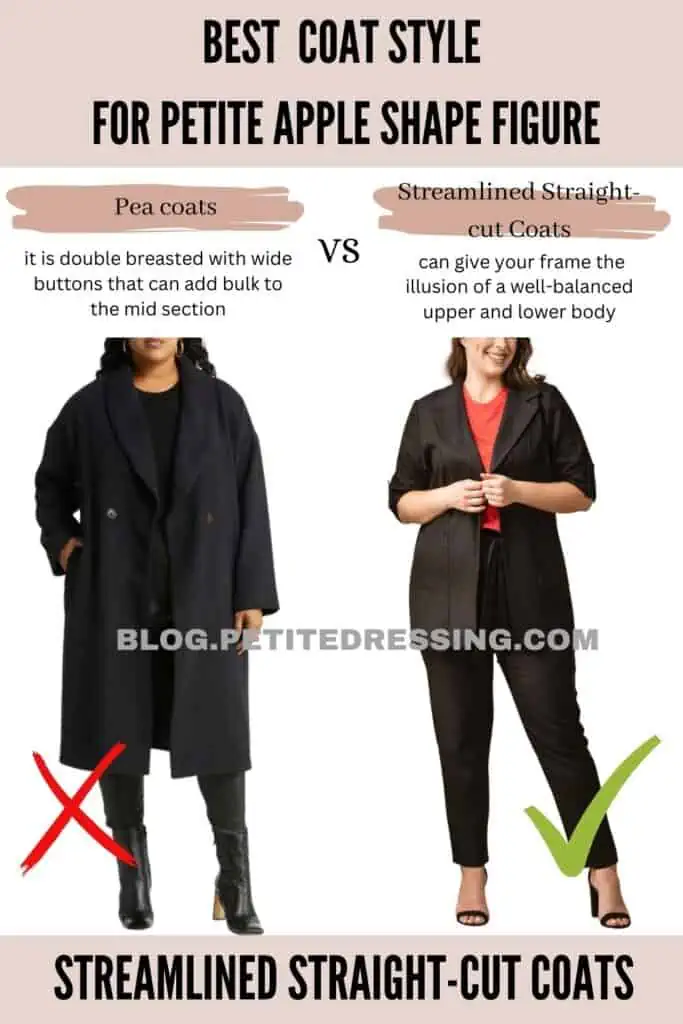 One of the safest ways to perfectly style your petite apple-shaped body is to opt for minimal options. Straight-cut coats are definitely the best choice if you're looking for something quite minimalist.
The straight-cut coat is designed to hang loosely and straight down from the shoulders, without any flares or ruffles that could add unnecessary bulk to the body. Additional volume or bulk is the last thing you'll ever want for your body shape and these are things you won't find in straight-cut coats!
This style is perfect for apple-shaped women, as it helps to create a streamlined silhouette and elongate the body. Its clean lines and minimal detailing help to create the illusion of height and length, making the wearer appear taller and more proportionate.
Avoid Double-breasted Coats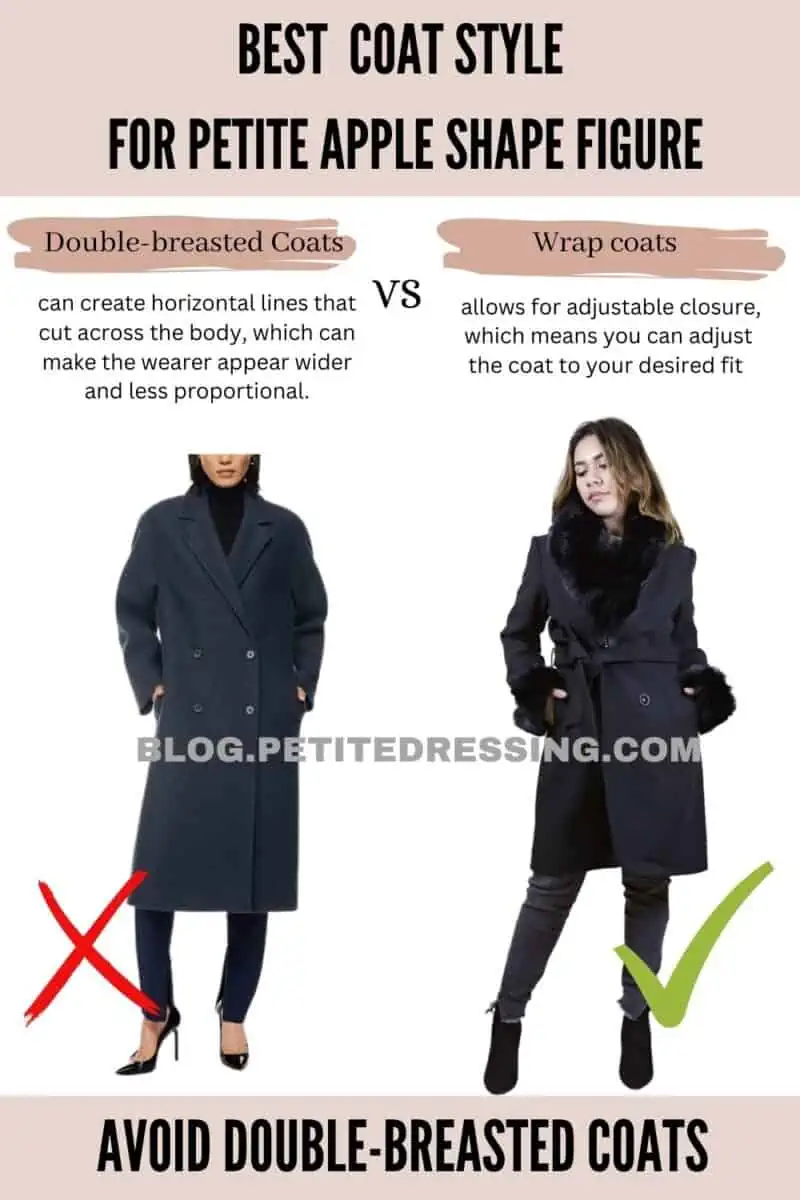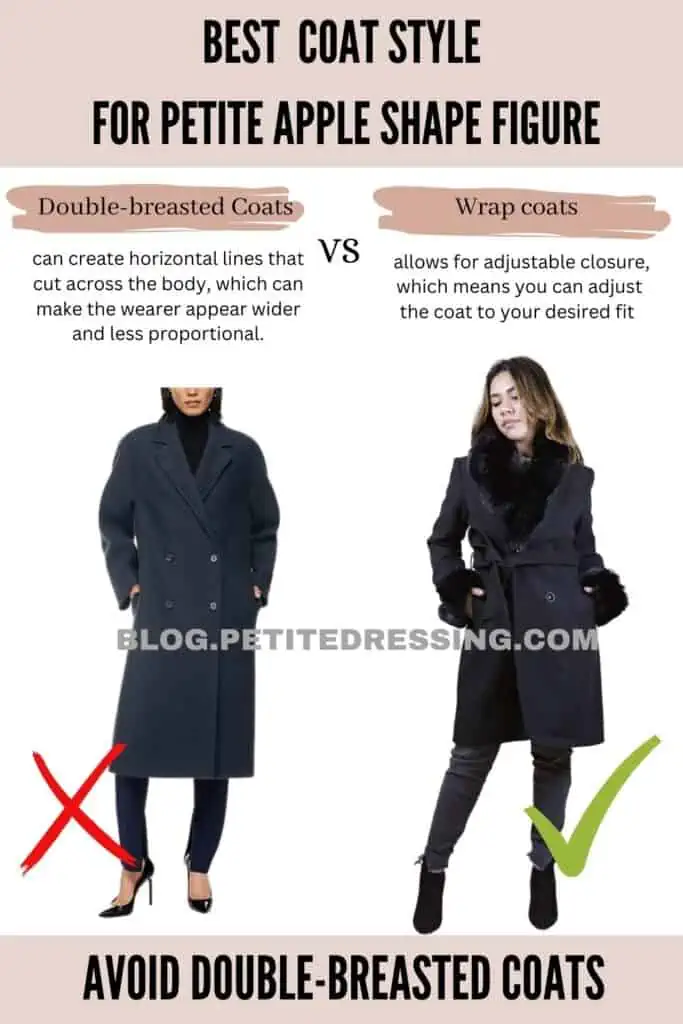 While double-breasted coats are undeniably stylish and sophisticated, they're not always the most flattering option for apple-shaped women, especially those with a petite frames. It's because they tend to add bulk and width to the upper body, which an apple-shaped girl already has.
As a woman with a petite apple-shaped frame, you are already busty and probably have a bit more weight on your torso too, so the button placements on a double-breasted coat may only add more to these aspects. The overlapping fabric and extra buttons can create horizontal lines that cut across the body, which can make the wearer appear wider and less proportional.
The Key Takeaway
Shopping for coats for your body shape shouldn't be all too tasking! As long as you keep the right styling goals in mind, you'll understand how to embrace your figure through style.