Having a flat chest in fashion industry is considered an asset for a model, because that means she can wear almost anything. I know this because I have a petite clothing line for women 5'4″ and under, so I style models of all body shape on a weekly basis for our product fitting and photos. That said, I do understand women with smaller chest can feel self-conscious at times, therefore, choosing the right style is important.
Based on the feedback from thousands of my customers, I've put together this comprehensive guide to help you find the most flattering style for your shape.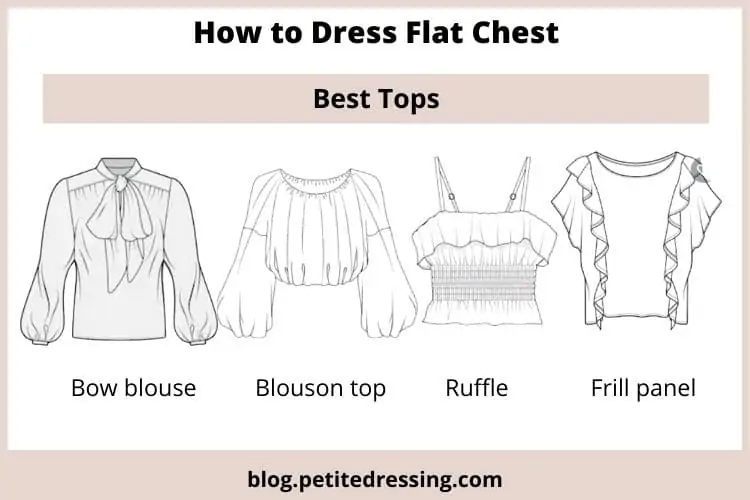 Styling Goal
The best way to dress the flat chest is to wear clothing with designs to direct the attention away from your chest and break up the space.
Best clothes for small bust are tops with designs like bows or ruffles, because they can add dimension to your chest.
You can also draw eyes to other area of your body using creative ways to distract others from noticing your flat chest.
Another great way is to cover up your bust area strategically to camouflage the bony chest.
It's worth noting that many women with flat chest have toned arms, a big asset of the body. Therefore, when you considering the most flatting clothes for flat chest, you should not only camouflage the small bust, but choose style that can accentuate your shapely arms.
While women of any body type can have a flat bust, many rectangle shaped or banana shaped women tend to have smaller bust.
Blouse with a bow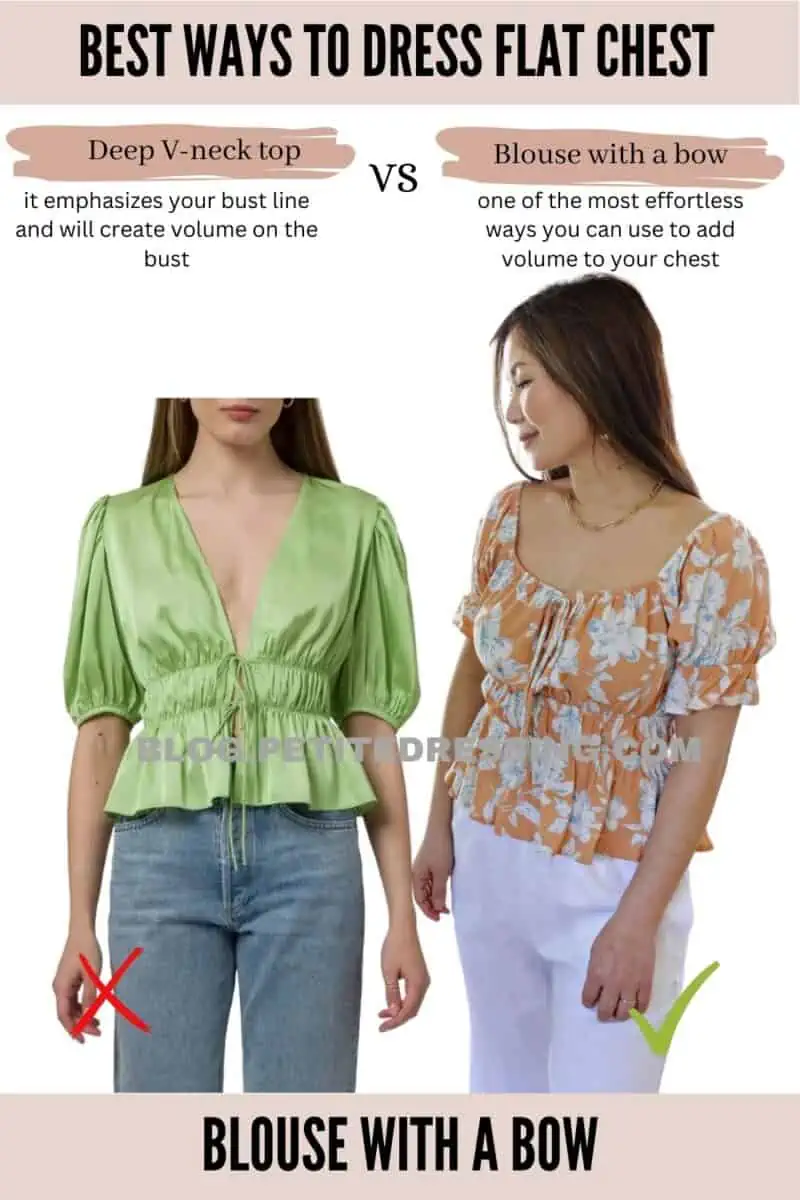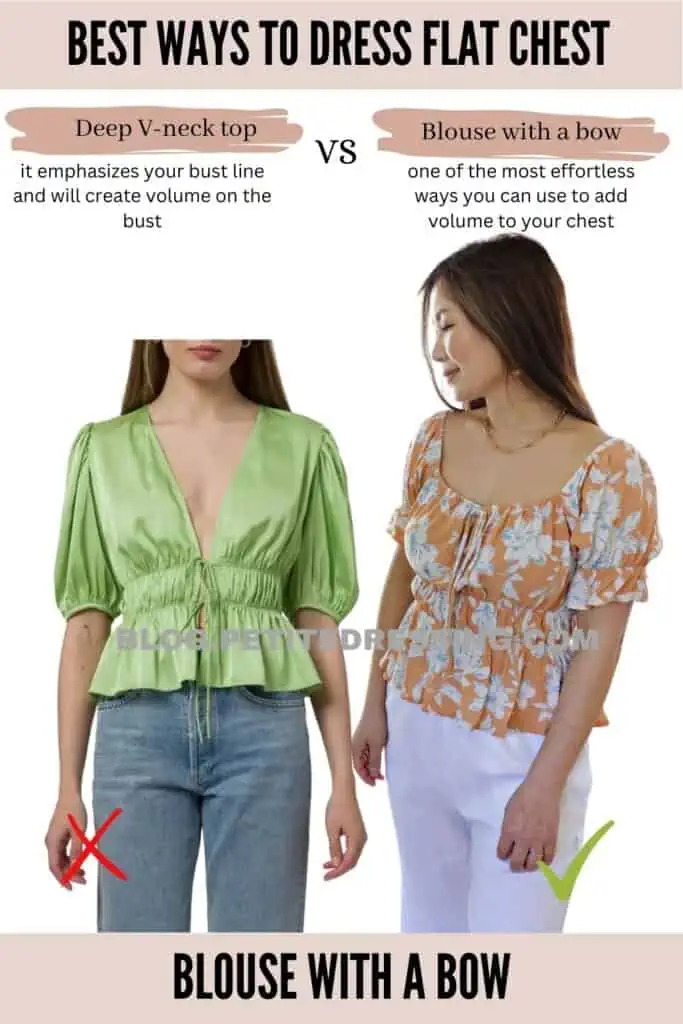 The easiest way to flatter the flat chest is to wear decorations near your breasts. A blouse with a big bow is one of the most effortless ways you can use to add volume to your chest. Because this is a classic design, you can wear them with jeans for every day casual style, or wear them with dress pants or pencil skirts to go to work.
Tops with front frill panel
If you want to enhance a smaller chest, opt for tops with frills. This is another easy way to add volume to your chest and make them visually look bigger than they actually are. Choose those with an entire panel of frills in the front!
Blouses with ruffles
Ruffles are not only one of the girliest designs, and they also add volume to your chest quickly.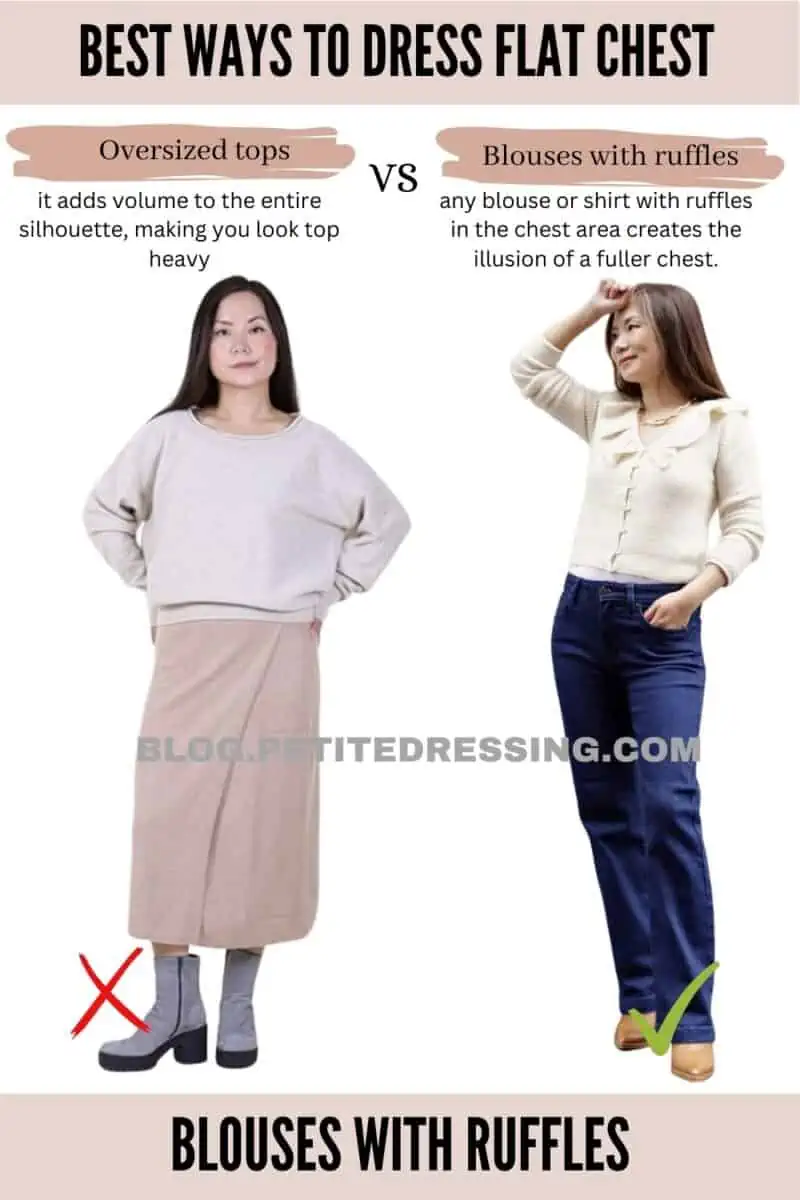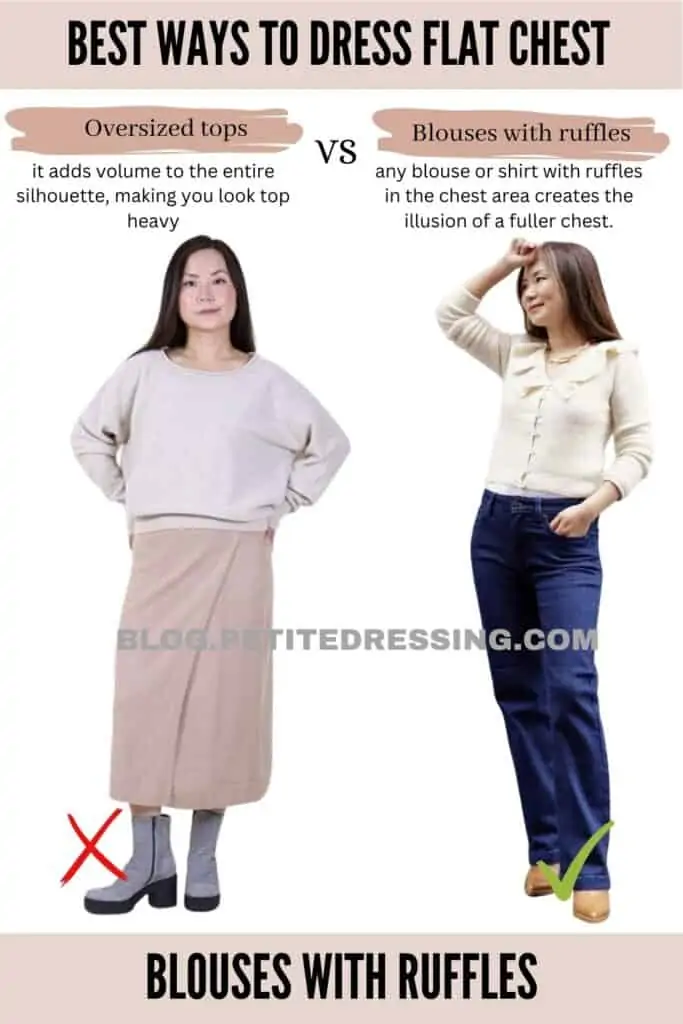 You can go with any blouse or shirt with ruffles in the chest area to create the illusion of a fuller chest.
Tops with blouson styling
This kind of top can easily create a volumizing effect, thus they look good on women with a smaller bust! A blouson top generally has an elastic hem that sits at your waist to create a blousing effect with the excess fabric.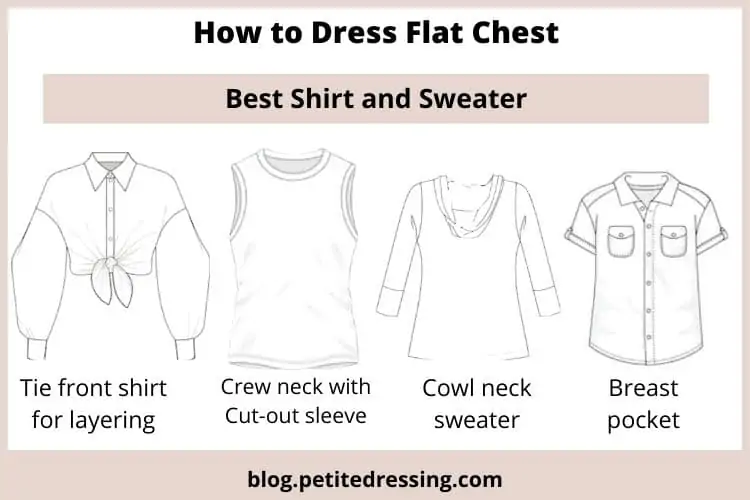 Tie-front shirt on top of the camisole
One of the best ways to dress women with smaller busts is to layer the clothes. In the winter, layering is much easier than in the summer, as you will always need to wear a sweater or jacket. The best way to apply layering in the summer is to wear a camisole and then wear a tie-front shirt on top. This will direct eyes to pay attention to the tied bow on the shirt and ignore your small chest.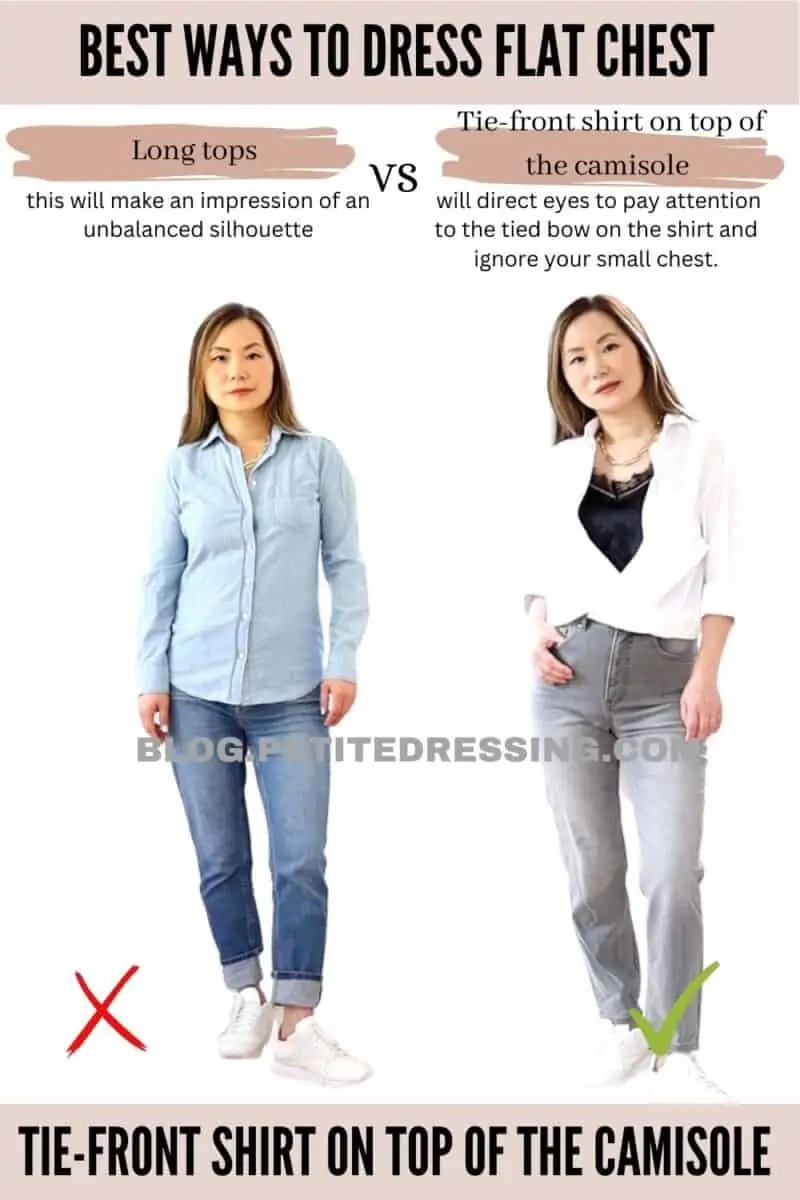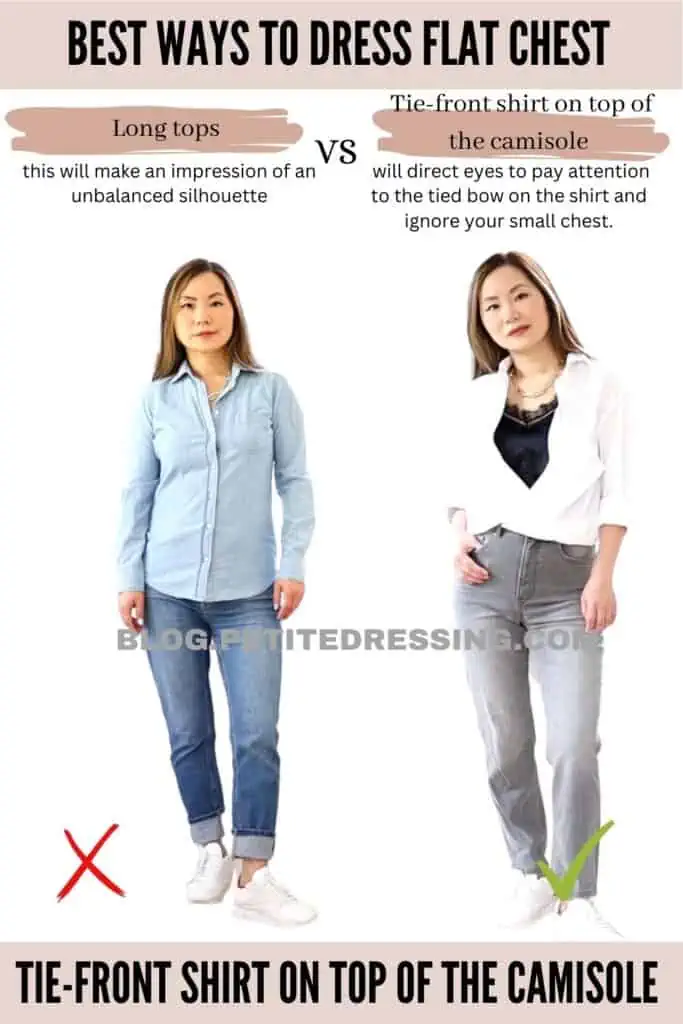 Tie-front shirts are quite a trend, but you do not need to purchase them if you don't already have them in your closet. It is quite easy to use the shirt you already have and just tie a bow casually on the side or in the front.
The point is you will wear the shirt open so that your camisole will be shown. That is critical to creating the illusion of a fuller bust.
Crew neck tank tops with cut-away sleeves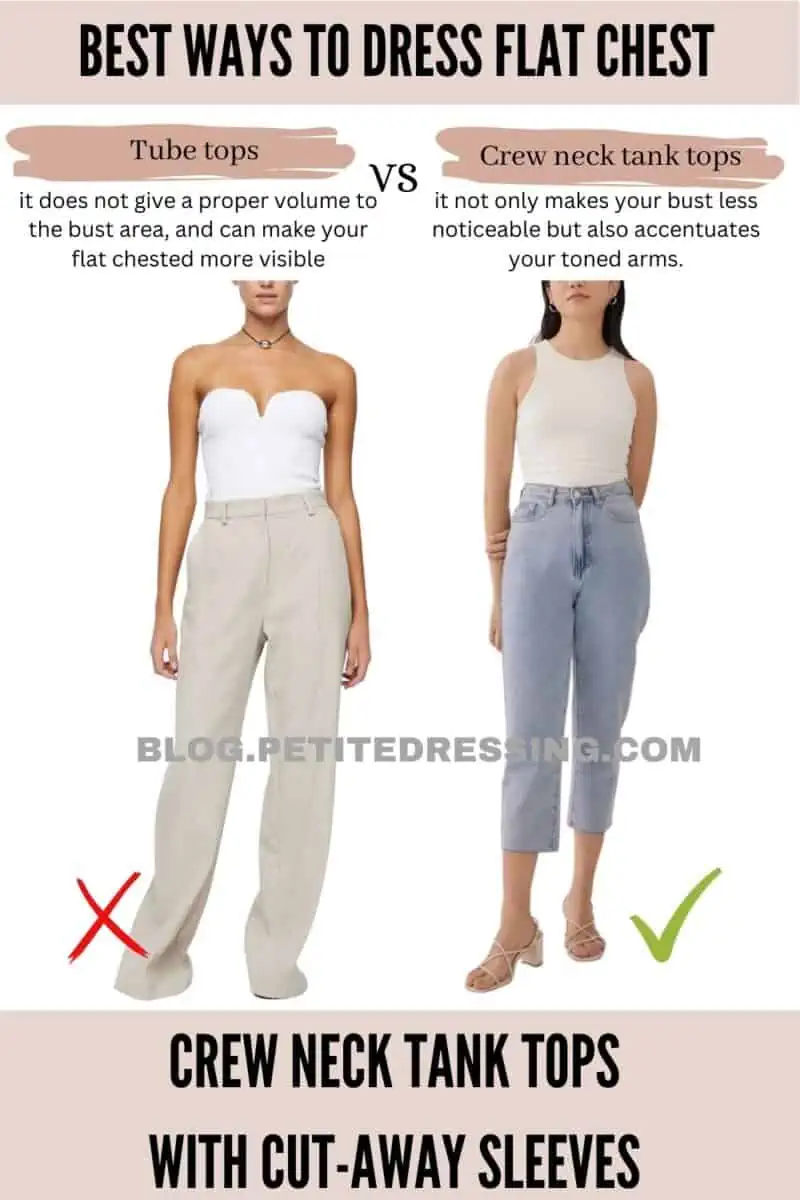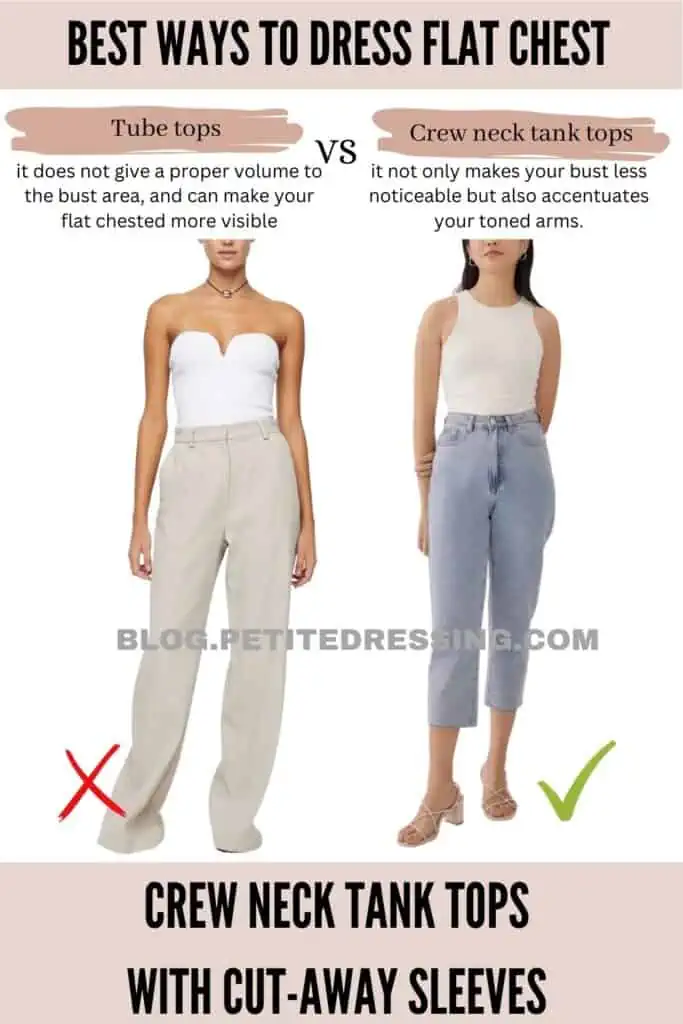 Crew neck is one of those higher necklines that flatter women with a small bust because they draw more attention to your face instead of your chest. Any tops or dresses with crew neck can achieve this effect to a degree.
When you wear a crew neck tank top combined with cut-away sleeves, it not only makes your bust less noticeable but also accentuates your toned arms.
The reason is that cut-away sleeves are one of the best designs to draw attention to your arms.Women with flat chests typically have toned arms, so this is a win-win because it highlights your strength and hides your weakness.
Cowl neck sweater
Just like the turtle neck, the cowl neck is also a high neck mostly seen in knits or sweaters.
The difference is that the cowl neck is bigger and looser, which means it drapes down on your chest and can form another layer. Because of the layers, they can create dimension to the chest and the illusion of fullness.
Turtle neck sweaters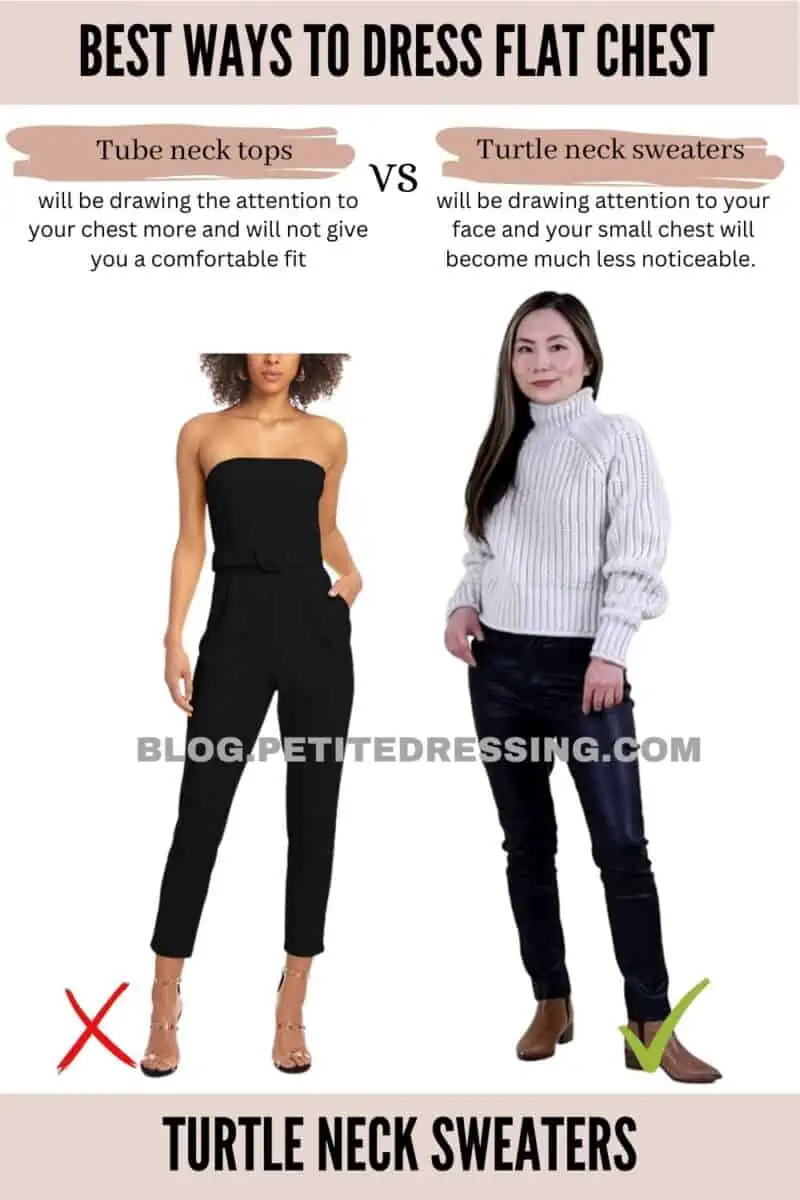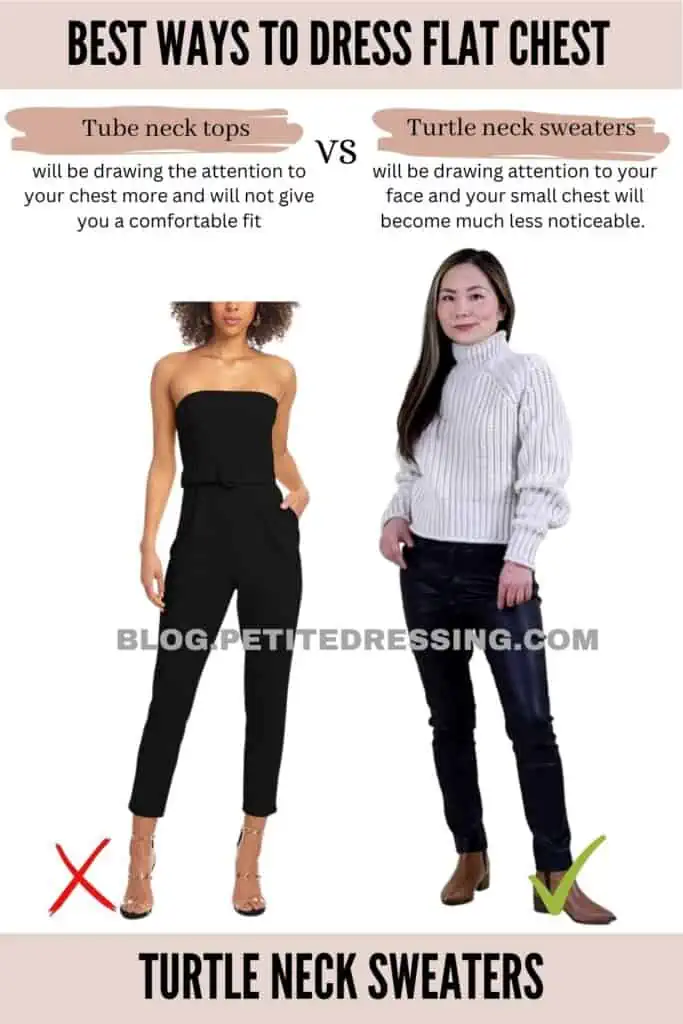 A turtle neck sweater is an essential item for women with a smaller bust in the fall and winter. Because the neckline is high, the sweater will be drawing attention to your face and your small chest will become much less noticeable.
Choose a turtle neck with cable knit, instead of a ribbed sweater. The chunkier the knits are on the sweater, the better they serve the purpose of adding volume to the chest.
Ribbed sweaters in general are not your best friend, because they cling to your body too tightly and highlight the fact that you do not have much curve.
Double Breasted Jackets
These are the best jackets for women with a flat chest, because the double breast design is a classic way to add volume to your bust.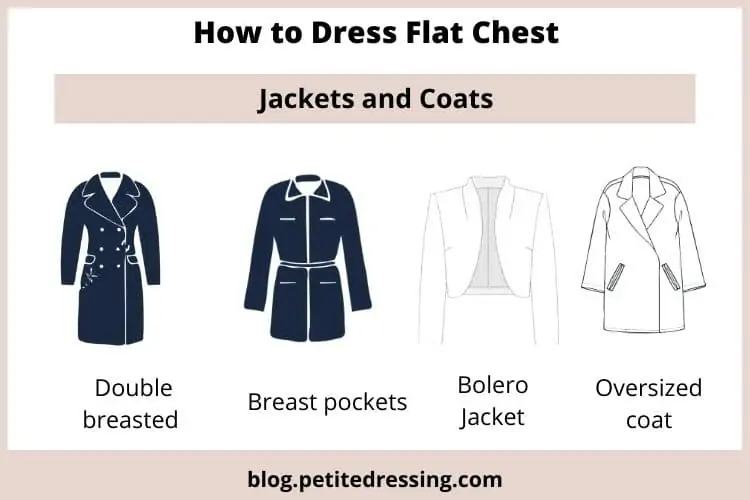 In fact, this style is much easier for girls with smaller busts to wear than for women with big breasts. Typically, women with full breasts, tend to feel restricted by the double-breasted design in these. On the other hand, this is heaven-sent for less endowed girls.
Bolero-style jacket
A bolero jacket is open front, collarless, and crop length.
These create visual fullness for women with smaller chests. This kind of jacket is a wonderful style to layer over a dress or a sweater. There are different types of bolero jackets you can choose for the occasions you are dressing for.
Not only can you style them with your casual outfits, you can also wear them for special occasions, such as mother-of-the-bride or mother-of-the-groom.
Jackets with breast pockets
Jackets or coats with breast pockets should be the wardrobe staple for women with flat chest in winter.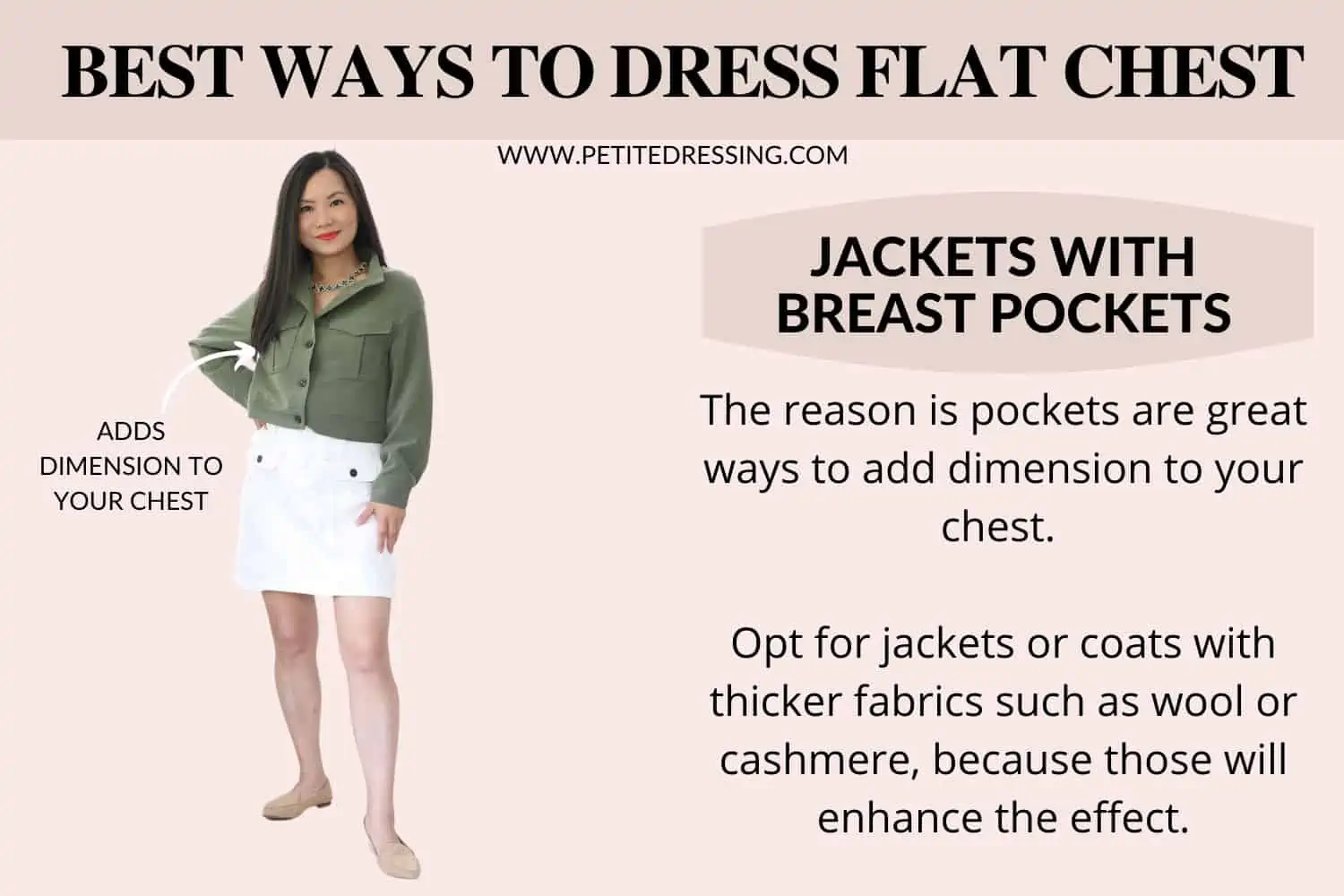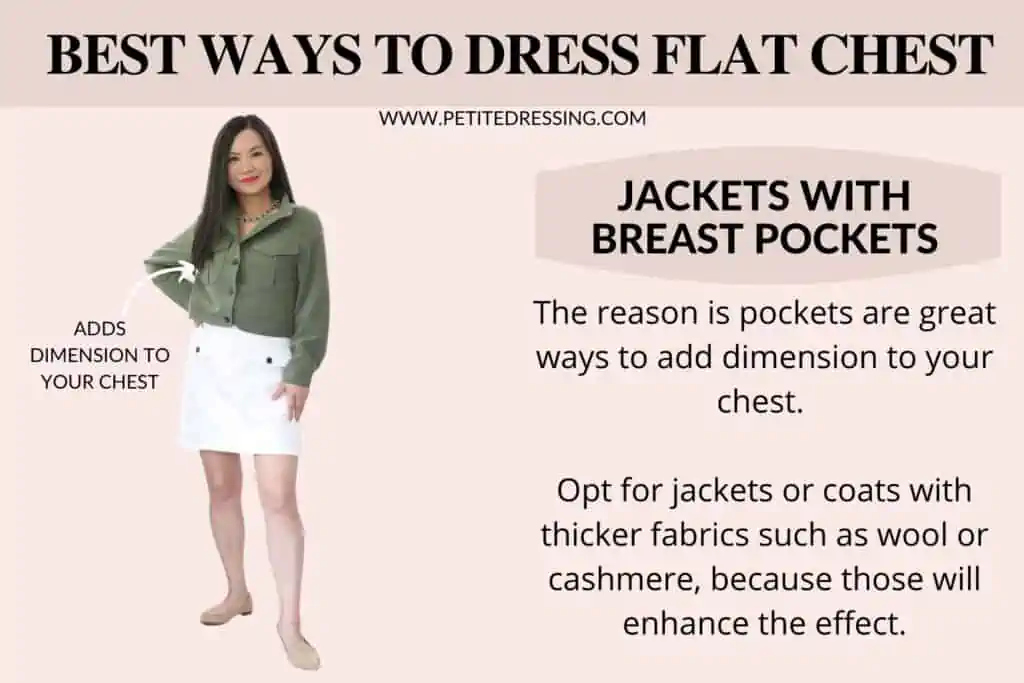 The reason is pockets are great ways to add dimension to your chest. Opt for jackets or coats with thicker fabrics such as wool or cashmere, because those will enhance the effect.
Tops with draping
Draping in any tops you wear is a great option to flatter women with flat chest.
The reason is draping can create volume in your top, which will create an illusion of a fuller bust. The more layers the draping has, the more volume it can create in front of your chest. It is key to make sure the draping is in front of your chest. You can opt a top, or a layering piece to wear over your dresses or camisoles.
High neck sleeveless top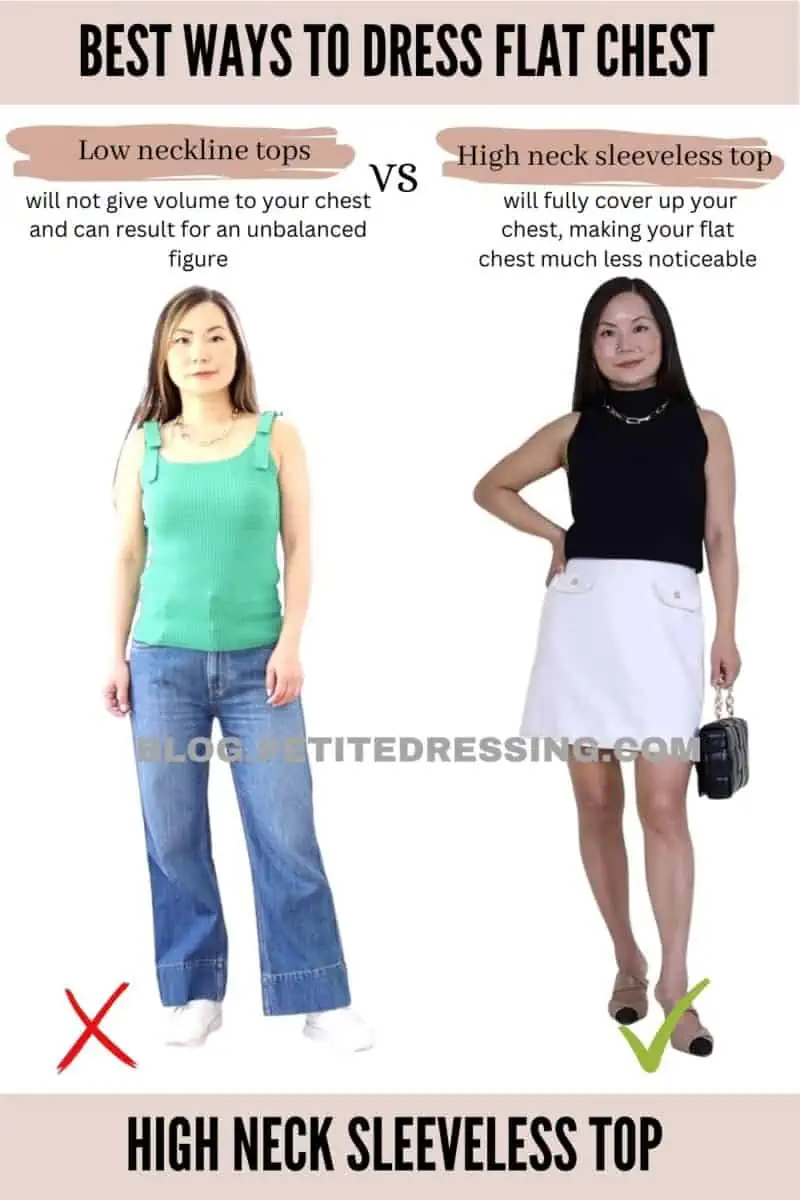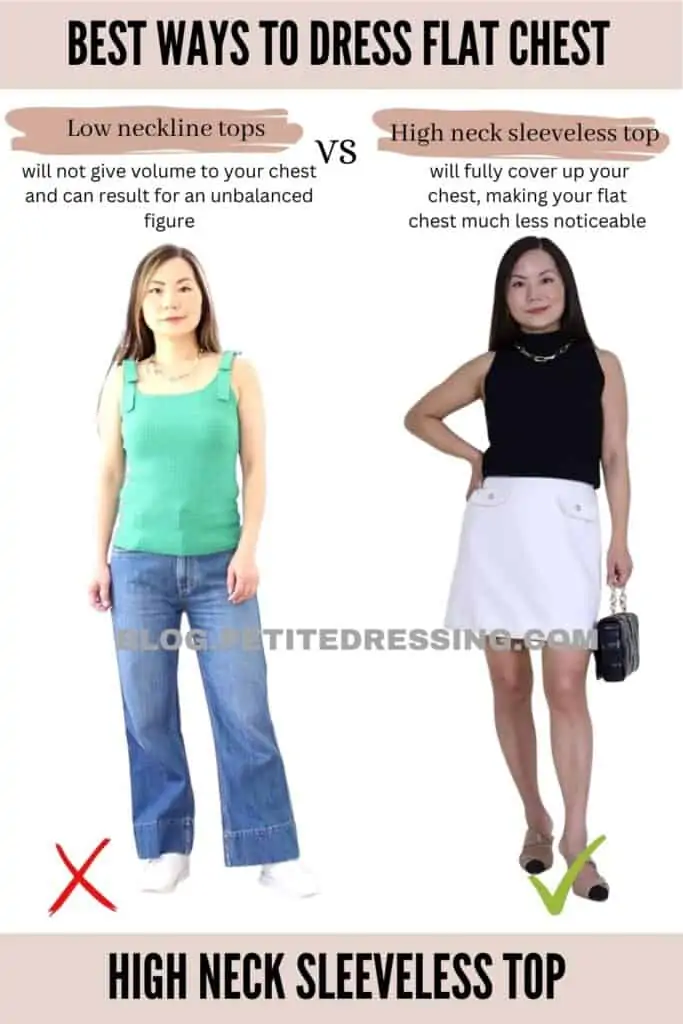 A high-neck top will fully cover up your chest, making your flat chest much less noticeable. If the high-neck top is also sleeveless, then they at the same time will also be directing attention to your arms. Double win for women who have flat chest but nice arms.
Infinite scarf
The Infinite scarf is one of the most trendy items in recent years, and you can totally take advantage of this trend.
Why?
Because they can create plenty of fullness for you!
In the winter, wearing a longer scarf to add fullness to the front is a great style solution to cover up your chest. Infinity scarf is the type of scarf that has the form of a loop without ends, thus the name "infinity". It is typically worn around the neck, covering your chest.
While a regular scarf can also be worn around your neck, an infinity scarf is designed to create more volume in front of your chest.
Wear layers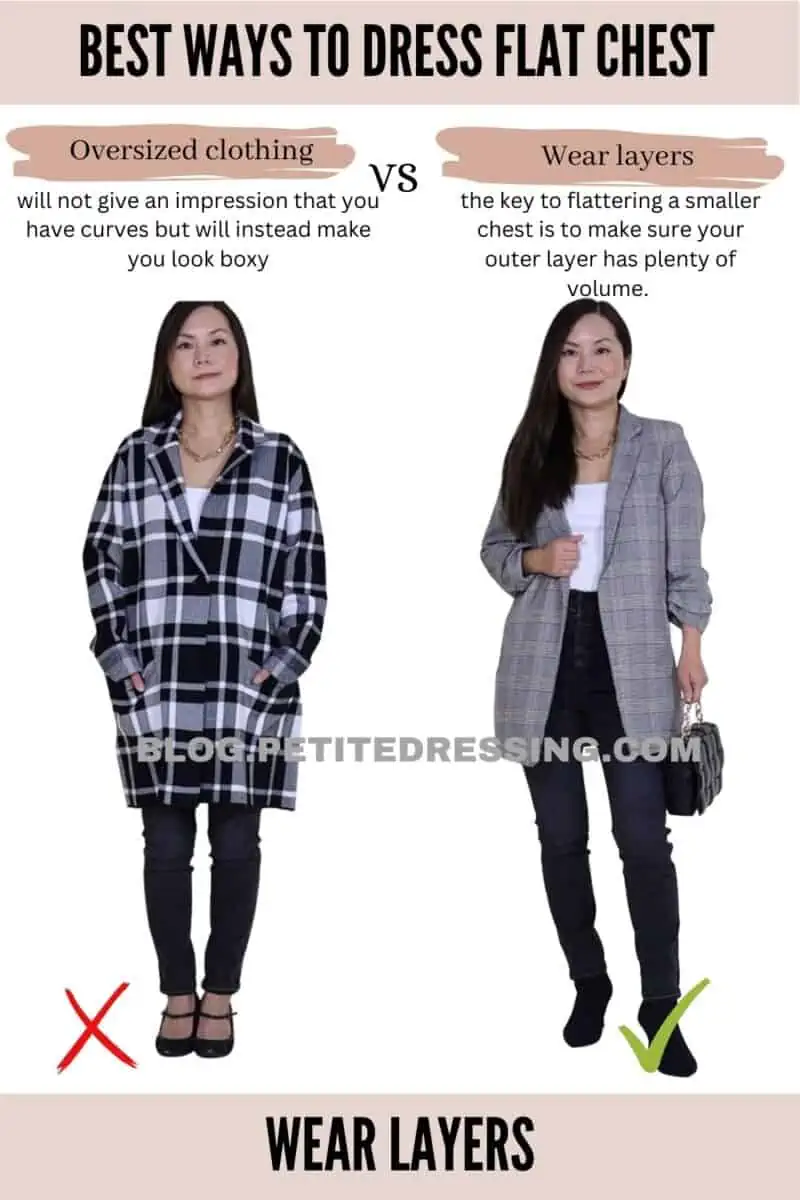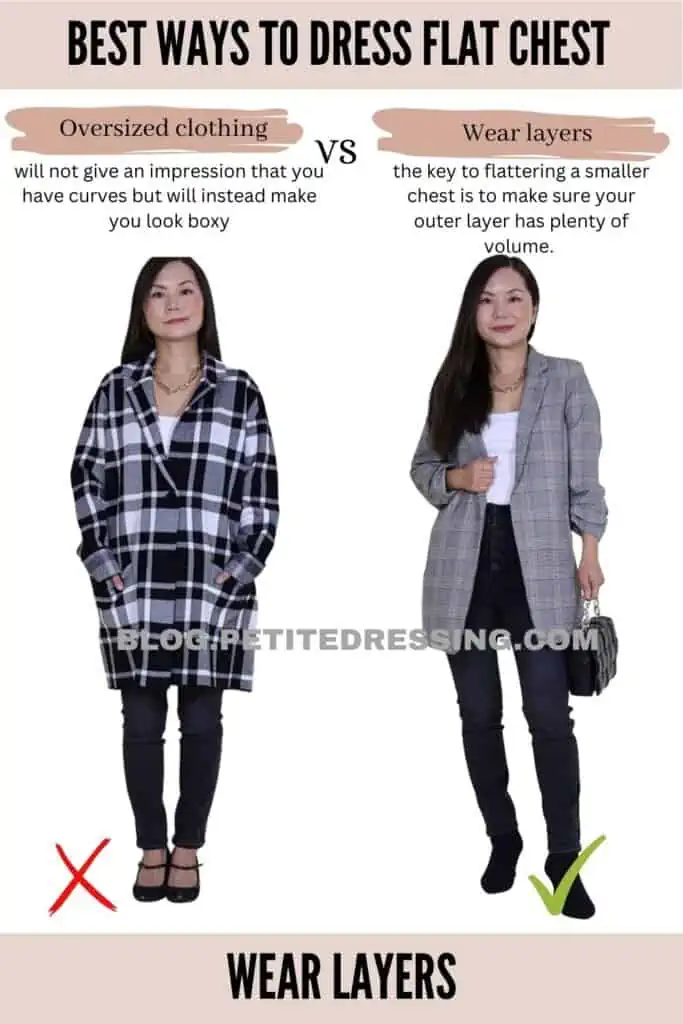 A great way to dress less endowed women is to layer smartly.
In the spring or fall, you can wear a sweater over a shirt or T-shirt.
It will create the fullness visually!
Layering is an art. While there are numerous ways to layer, the key to flattering a smaller chest is to make sure your outer layer has plenty of volume.
By wearing a sweater over an under layer, it can make your top half look fuller, and thus create the illusion of a curvier shape.
Bodices in lighter and brighter colors
We all know that bright colors expands and dark colors shrinks.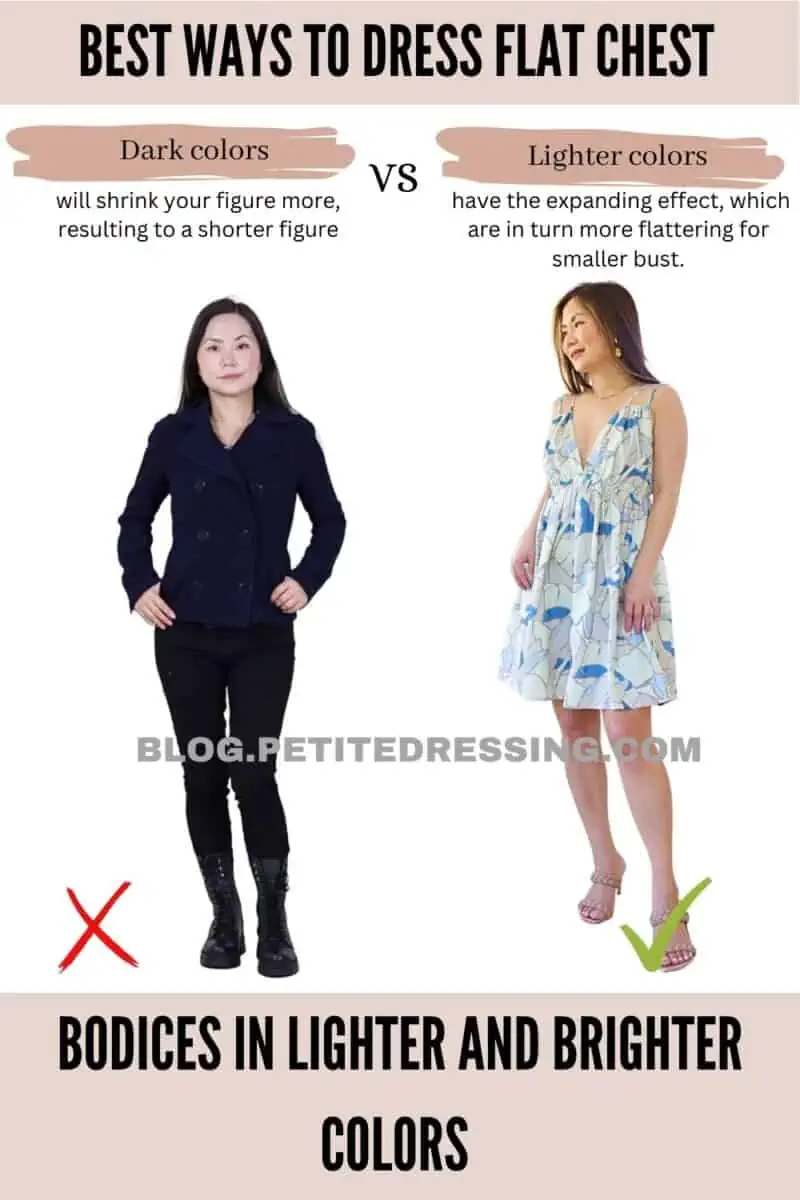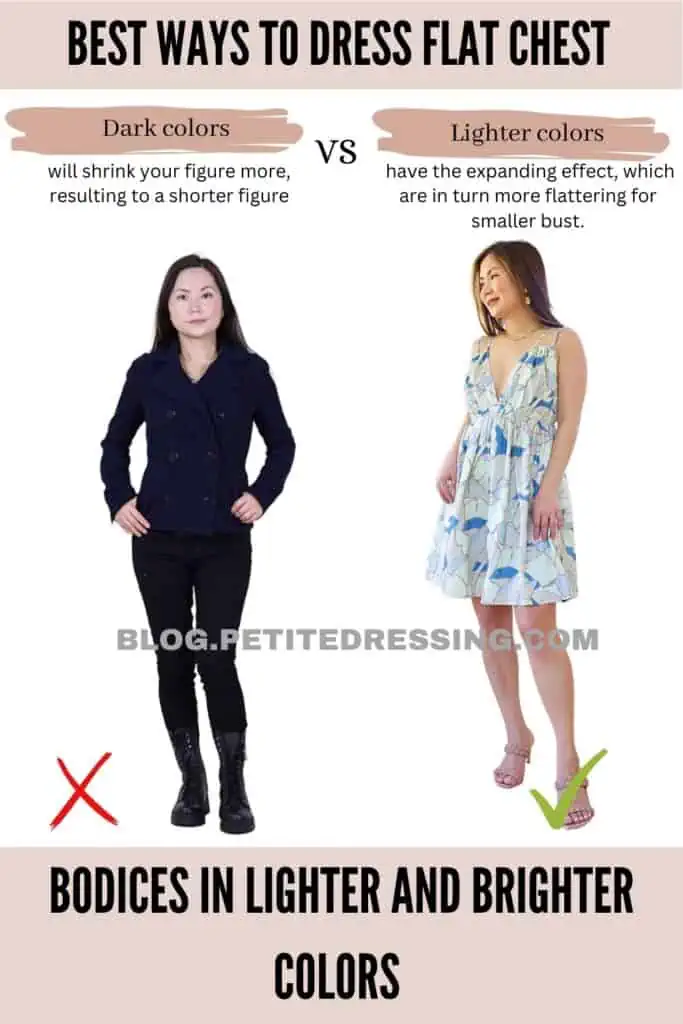 Quite often we see women with smaller chest wear black tops or sweaters, in an effort to make their bust less noticeable. However,that doesn't serve the purpose of enhancing your chest.
When you wear lighter colors, they have the expanding effect, which are in turn more flattering for smaller bust.
Tops with horizontal trims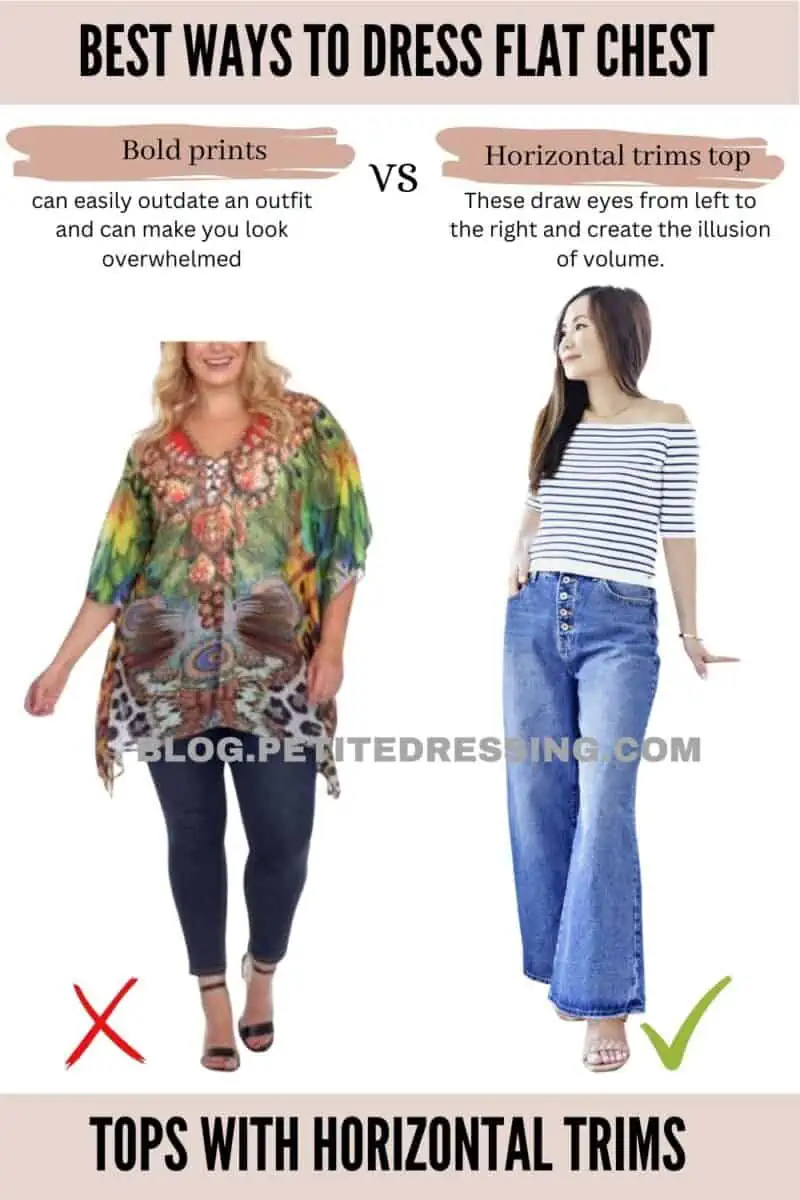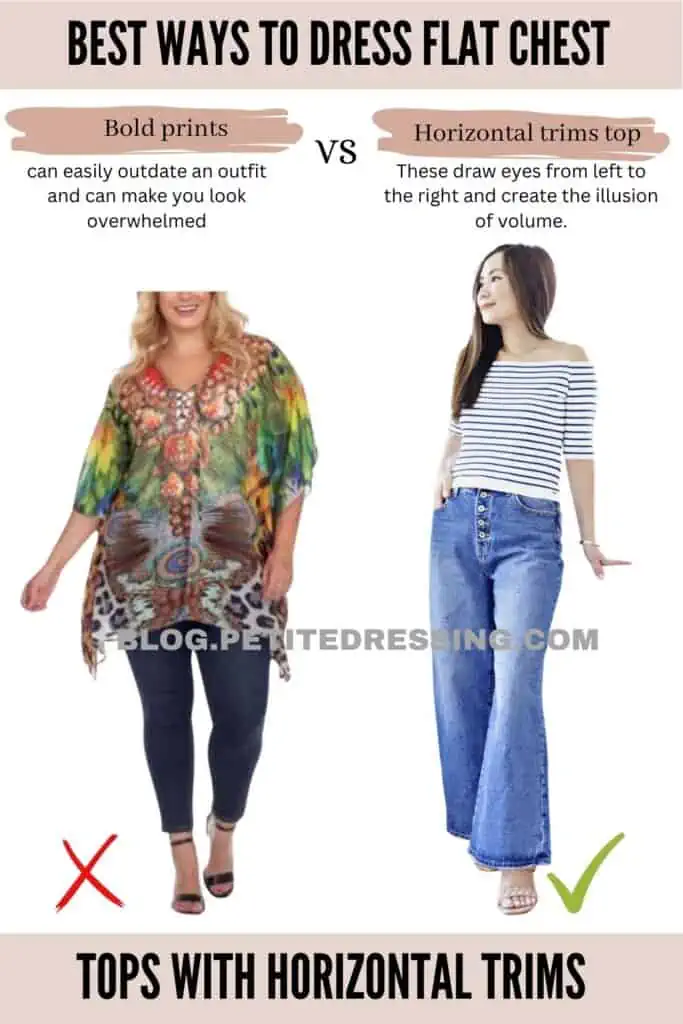 Anything horizontal is flattering on women with a smaller chest.
These draw eyes from left to the right and create the illusion of volume. Even though the goal is to make your top half look fuller and curvier, it is also important to keep you entire outfit in harmony by choosing the bottom that goes with with your top.
Because most horizontal stripes have contrasting patterns, it is key to wear them with a bottom in solid colors.
Avoid any tightly fitted clothes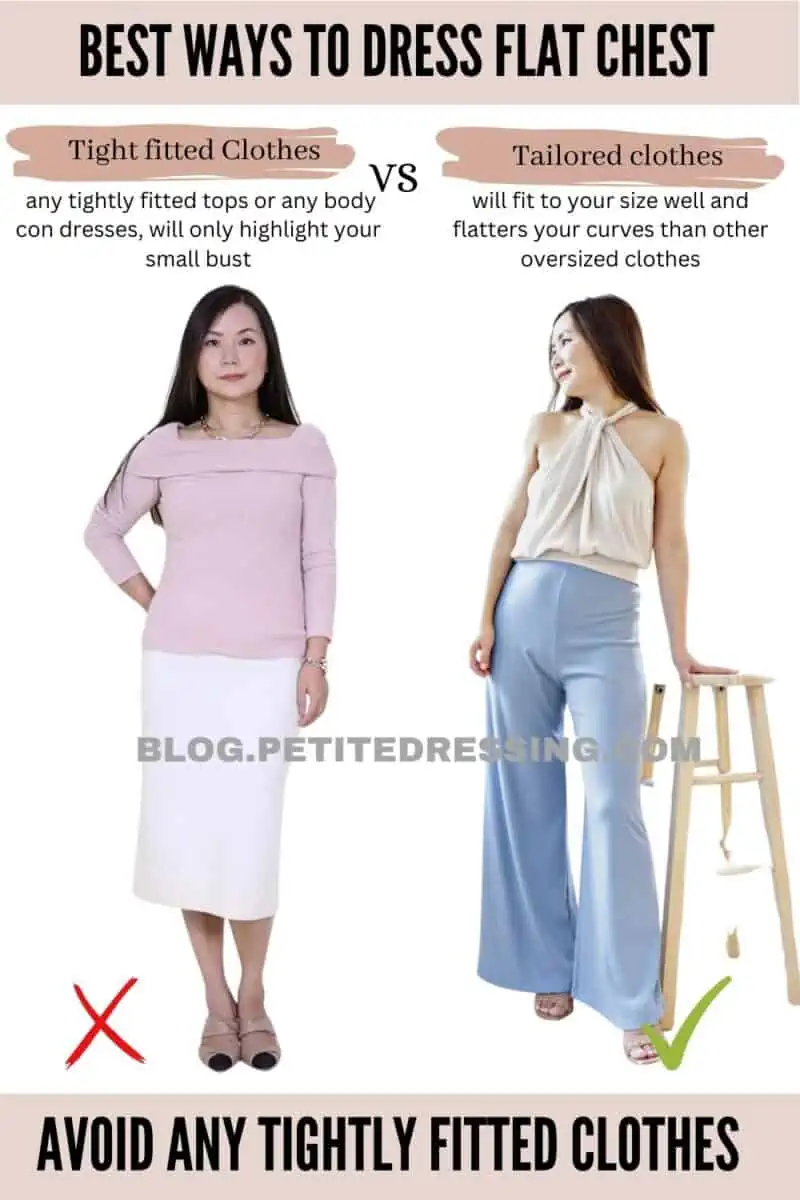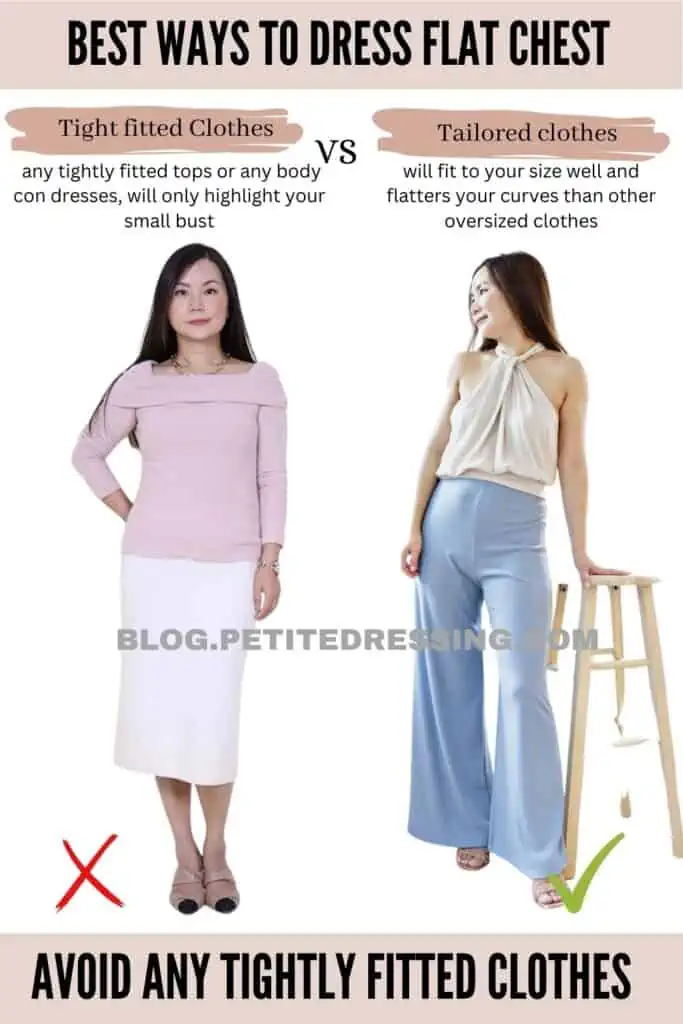 They will only highlight your small bust. If your goal is to direct attention away from your chest, then stay away from anything that clings to your body. This includes any tightly fitted tops or any body con dresses.
Avoid low scoop neck tank top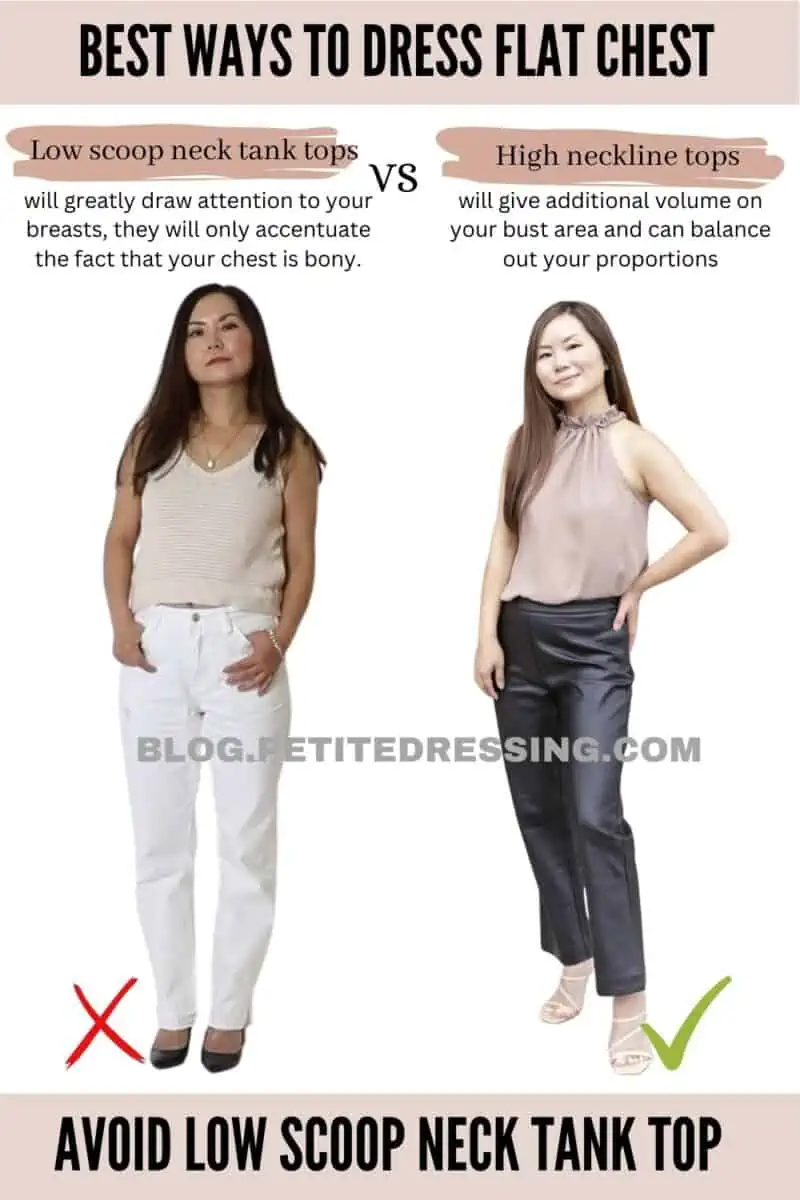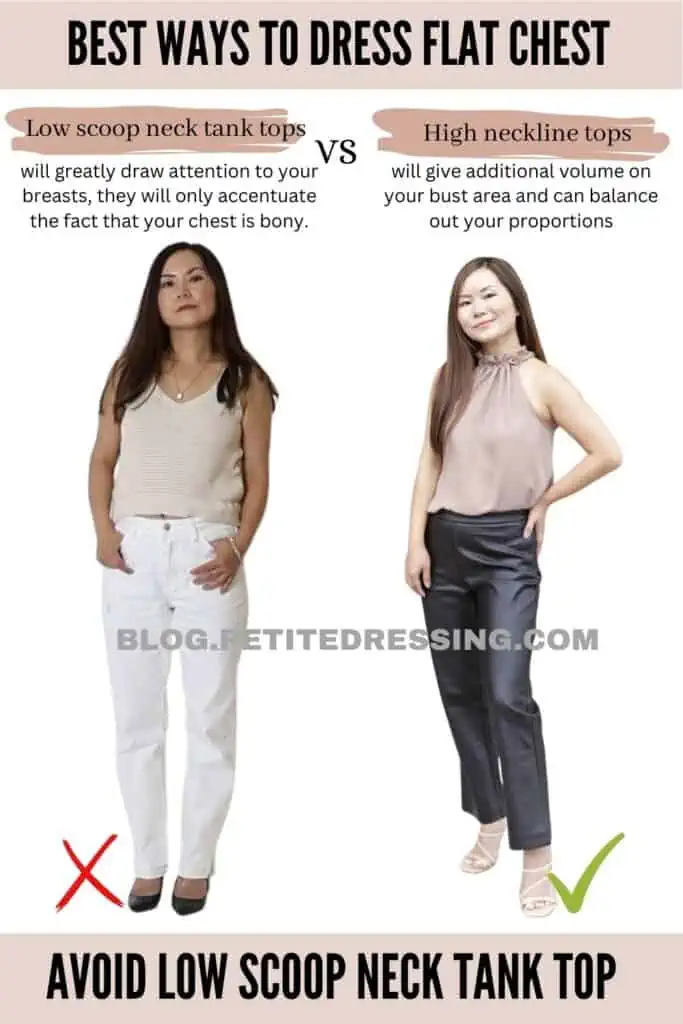 Low necklines generally are a disaster on women with flat chest. Since they will greatly draw attention to your breasts, they will only accentuate the fact that your chest is bony.
Avoid deep v-neck sweaters
Similar to low scoop neck or U neck, any deep V neck is also not your best friend, unless you don't mind drawing attention to the flat chest. Like any other low neckline, deep V also has the same effect to highlight your small bust.
On the other hand, it's ok to wear a V-neck pull over if it is a shallow neck instead of deep.
Stay away from corset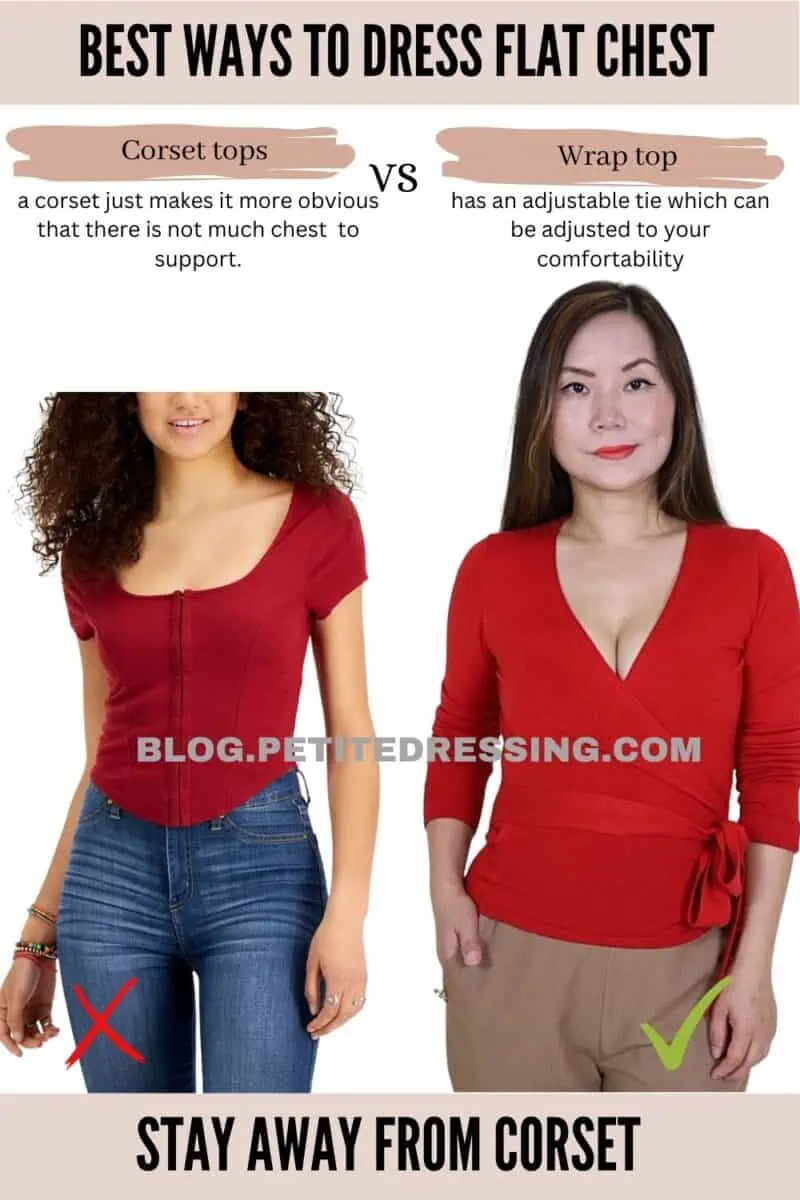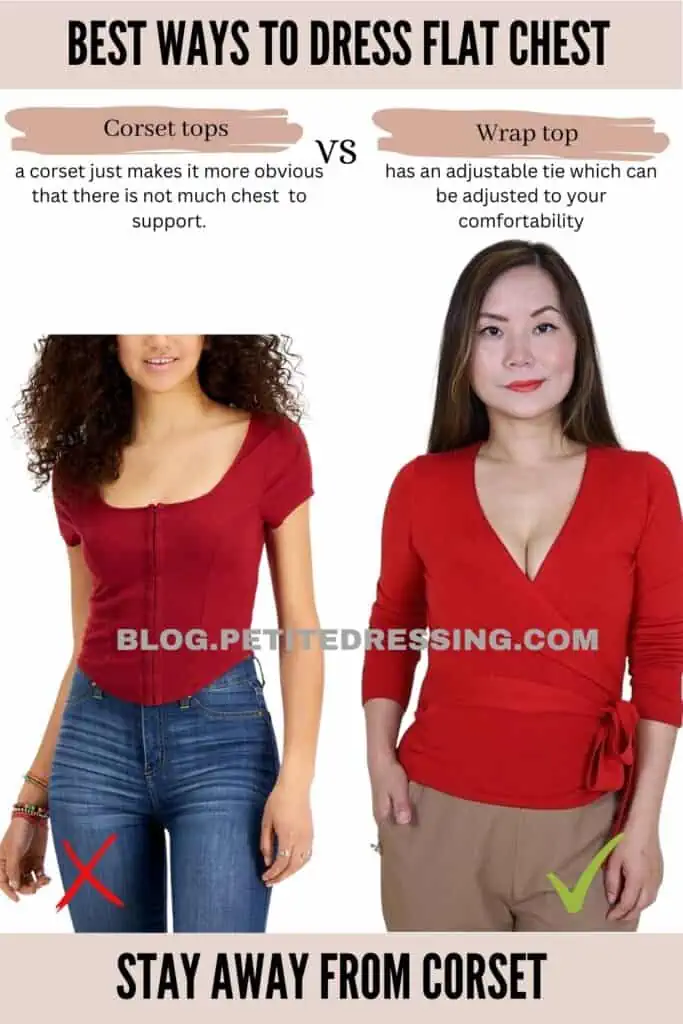 Corset is one of the most feminine designs ever invented. However, these look better on women with full bust because the boning provides support for the big breasts. On a girl with a small bust, a corset just makes it more obvious that there is not much to support.