Every woman should have at least one pair of boots in her closet because it's simply a fashion essential. Especially when the weather gets colder, boots are very much-needed to keep you cozy and warm.
However, if you are a short and curvy girl, rocking boots is not always a walk in the park. Since boots go up to a certain height, there are specific lengths that may make your legs look shorter and that's what you have to avoid at all costs.
You no longer need to feel intimidated with choosing the right pair of boots to flatter your short and curvy figure as we're here to thoroughly guide you on which specific types of boots should work for you. But before we dive into the types, let's do a quick run-through on what your styling goal should be.
Styling Goal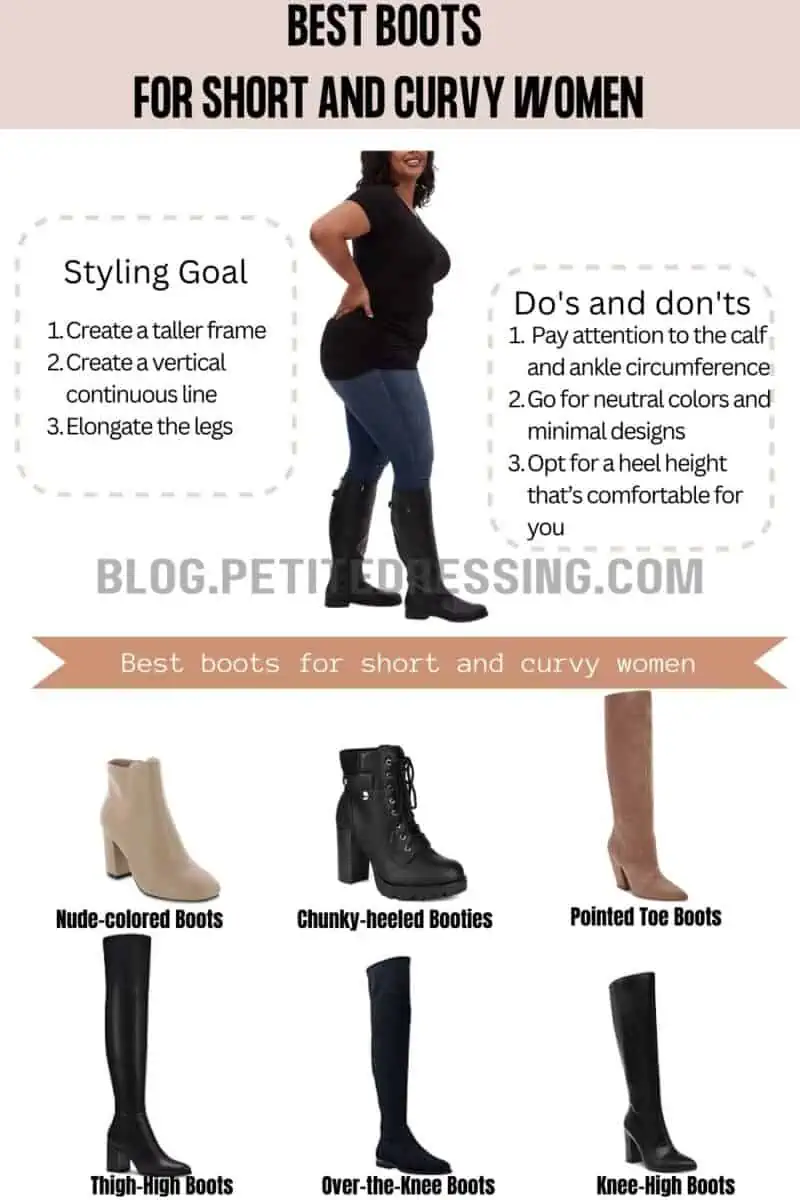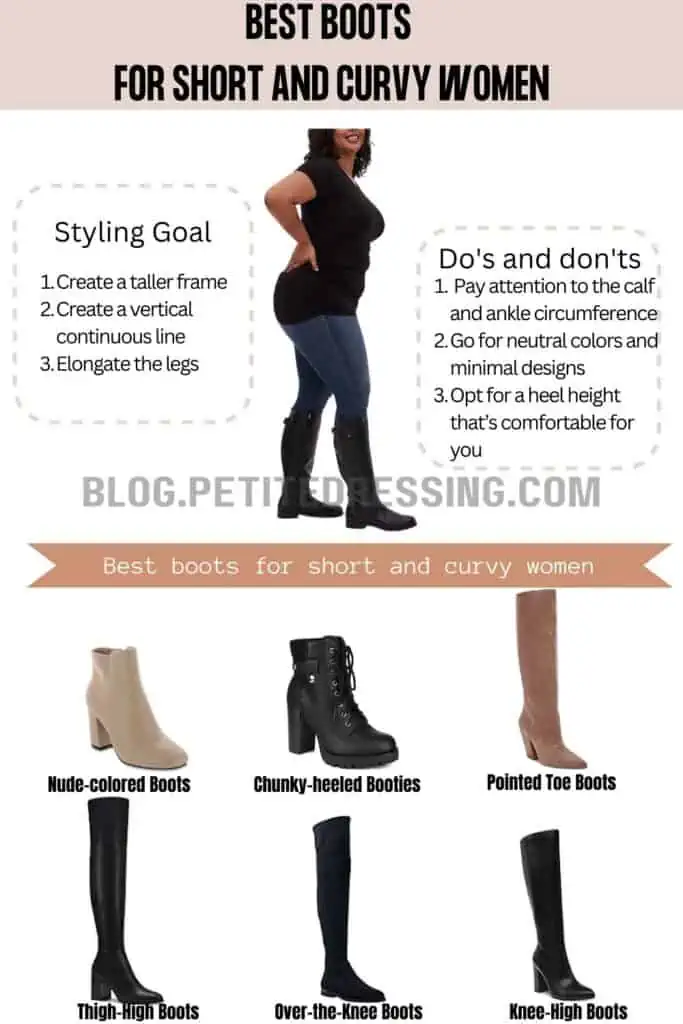 The size and shaft height of the boots should be something you have to carefully consider when it comes to choosing a pair that will suit your short legs and balance out your curves. Remember that not all shoe brands share the same standard measurements so take note of the exact measurement value in centimeters or inches (preferably 15 to 16 inches shaft height).
Ladies with short legs and curvy figures either will usually have thicker or wider legs so this is where you should pay attention to the calf circumference and ankle circumference of the boots of your choice. This will not only affect the overall visual appeal of your boots but also play an important role in providing superior comfort.
Go for neutral colors and minimal designs. Too many details like laces, buckles, or horizontal creases will draw too much attention and break the straight line that's supposed to elongate your legs.
Opt for a heel height that's comfortable for you. Your boots don't really necessarily have to have heels but they also help elevate your look by adding a few more inches to your height.
Now that you have considered these styling goals in choosing the right pair of boots for your short legs, let's now enumerate the specific types of boots that should work for you.
Ankle Boots
Ankle boots are the most flattering type of boots for ladies that are short and curvy because their shaft height only goes up to the ankle and therefore doesn't take too much space on your legs. This allows the invisible vertical line that draws the eyes down to go completely unbroken to elongate your legs.
Ankle boots are great for everyday wear as they are quite versatile and easy to style. However, they don't have too much coverage so they may not be too practical in colder months, especially during the winter season.
In this case, let's talk about several types of tall boots to gear you up during the colder seasons.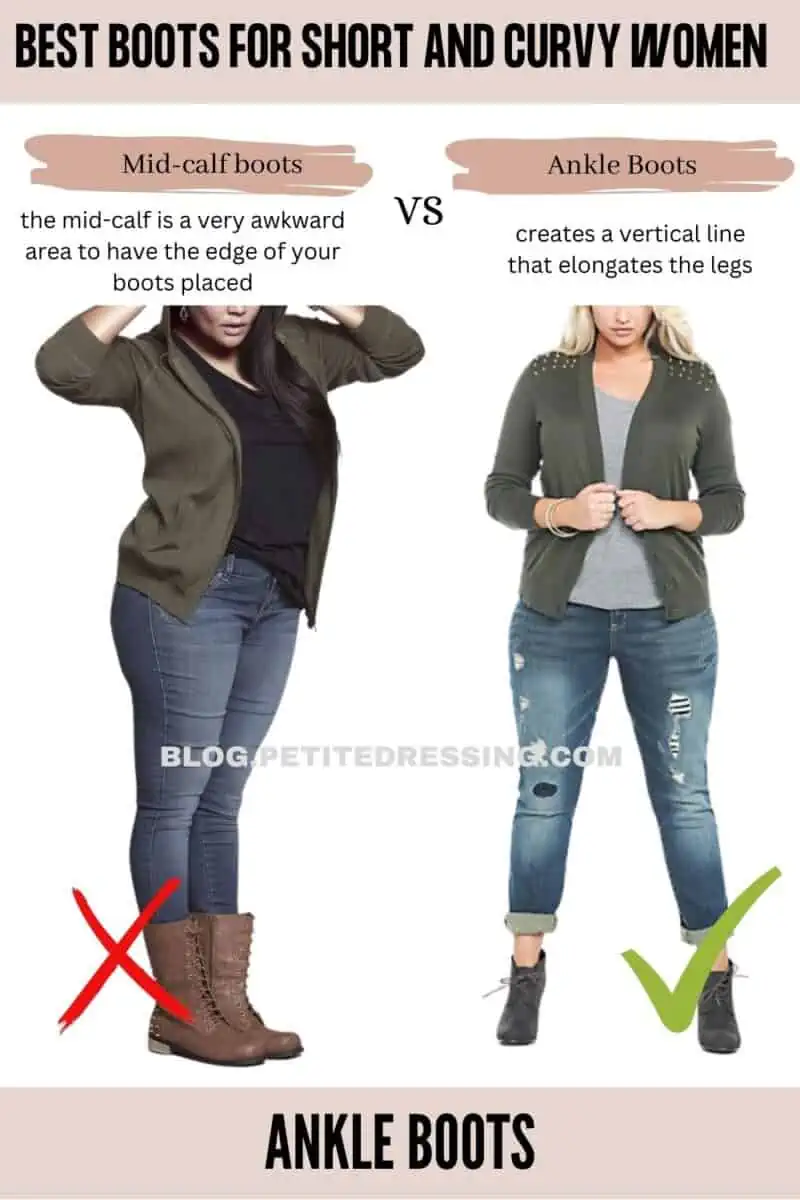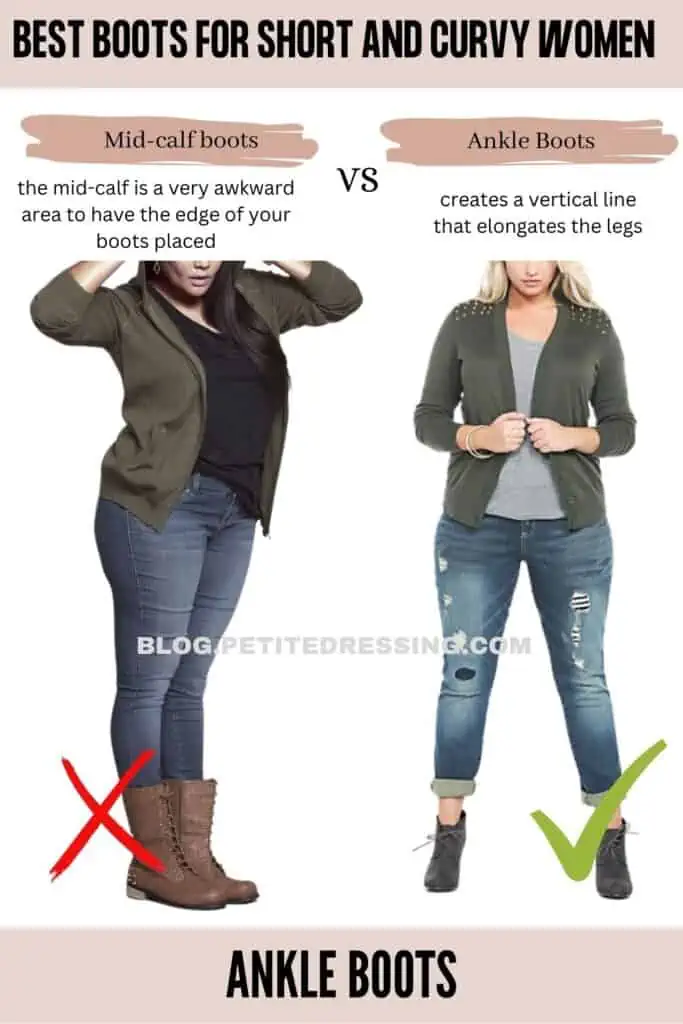 Over-the-Knee Boots
Yes, you can definitely rock over-the-knee boots despite having short legs! It's really just all about the right proportion by keeping the vertical straight line continuous.
They go over your knees so they usually come in materials that are more stretchy and flexible. Its high length covers the knee so not only are they warm but also quite flattering because they don't land on an awkward portion of your legs.
Over-the-knee boots also have a subtle slimming effect that can help enhance but not overwhelm your natural curves.
After all, you'll usually wear these paired with warm leggings, long dresses, or coats during colder months. This will hide the upper part of your boots which gives the visual effect of an unbroken leg-elongating line.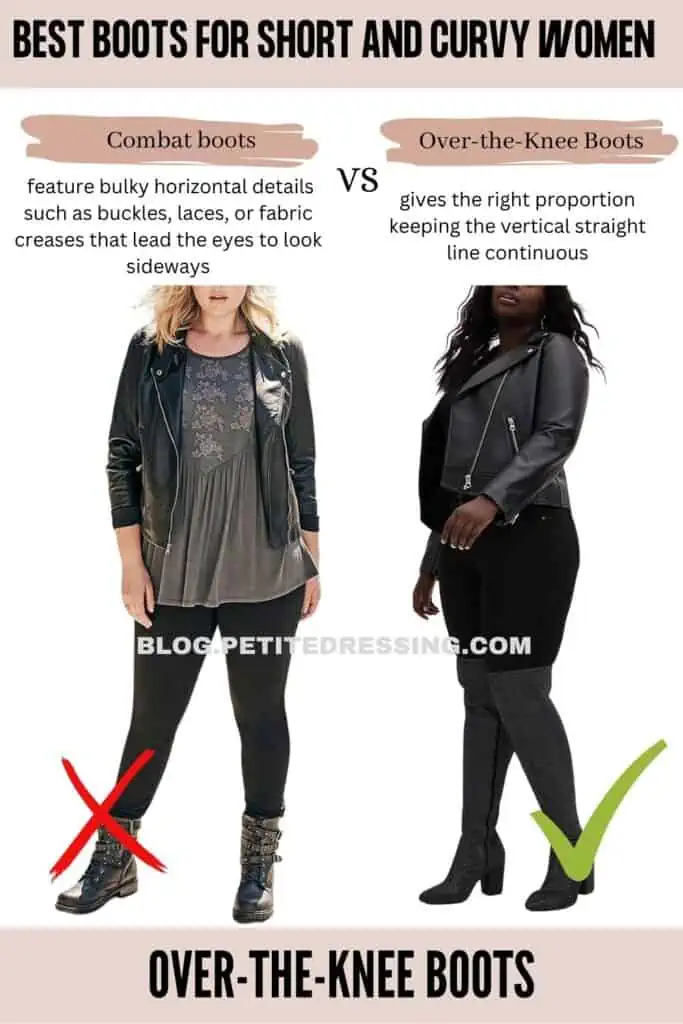 Knee-High Boots
Knee-high boots also feature a flattering shaft height that efficiently elongates the legs. However, this style trick will work more effectively if you match them with the color of your leggings and jeans so that it can carry on creating a flattering straight line that gives you a taller frame.
The thing is, going for contrasting colors will break this visual line and therefore make your frame look unbalanced. This effect will make you shorter so always pay attention to your colors as long as they belong in the same palette.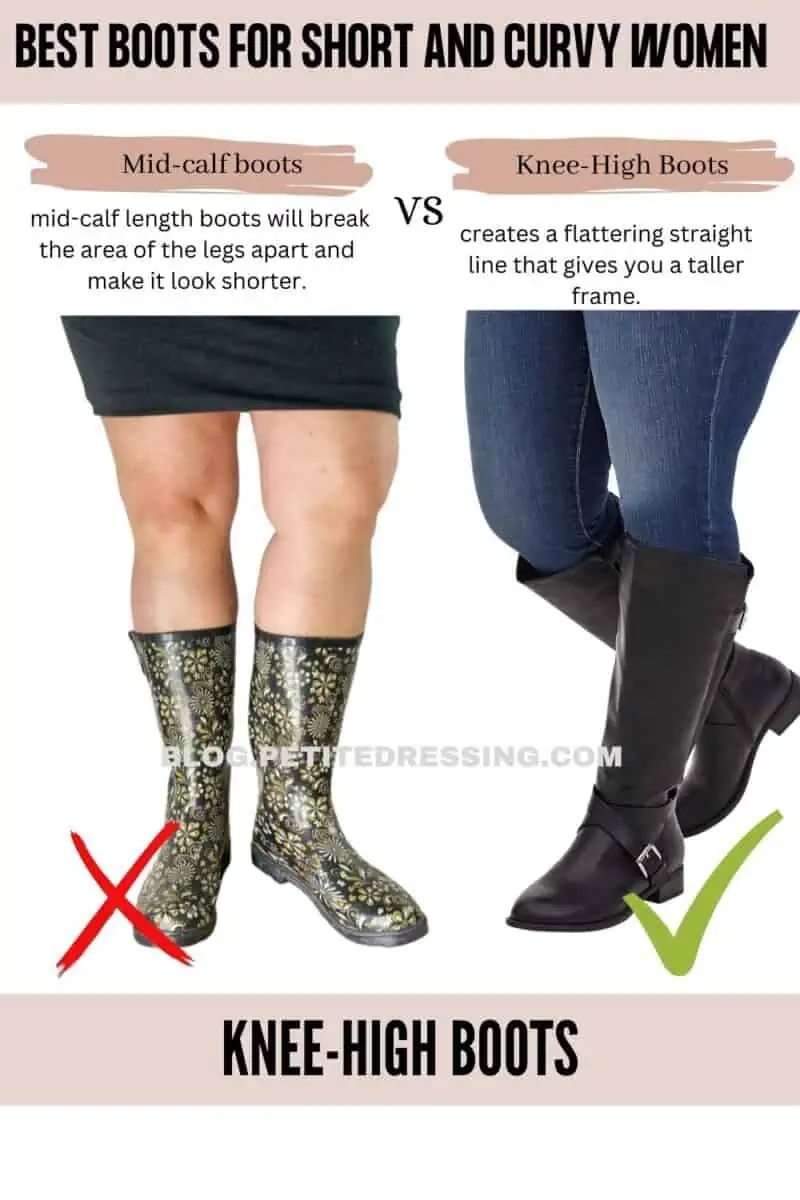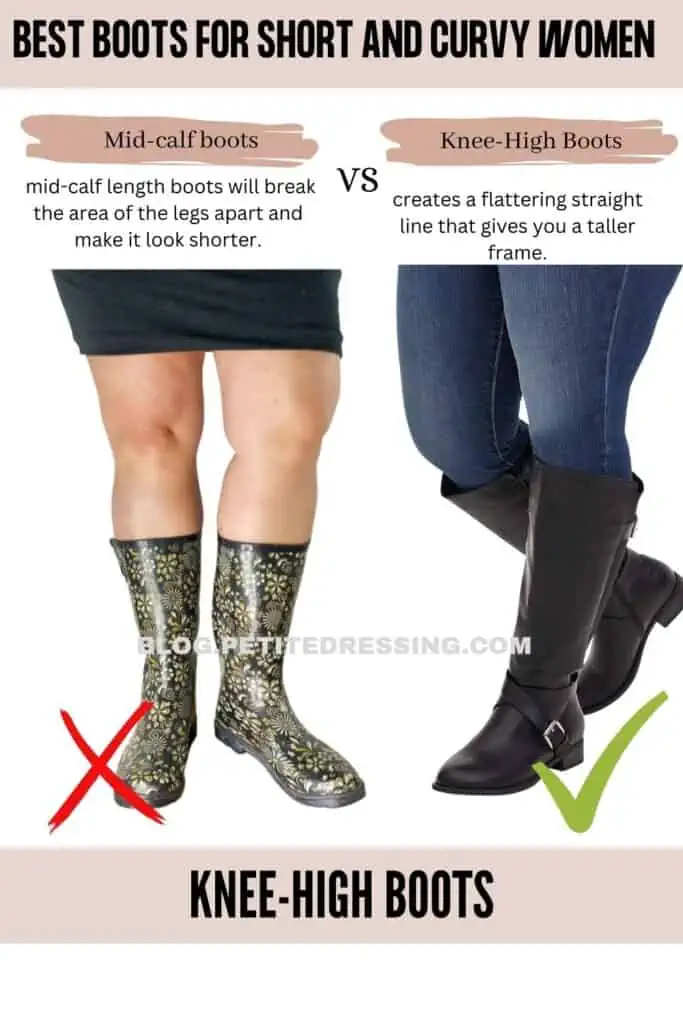 Thigh-High Boots
This shares the same style principle of over-the-knee boots. The only difference is that these types of tall boots go way past your knee to reach the level of your thigh.
They are also quite warm during the winter because thigh-high boots provide more coverage. You can wear them with short skirts and they will still look flattering by making your legs appear longer.
But since you will most likely wear it with winter wear that gets you all covered up, then they'll most likely just seamlessly blend with the rest of your ensemble.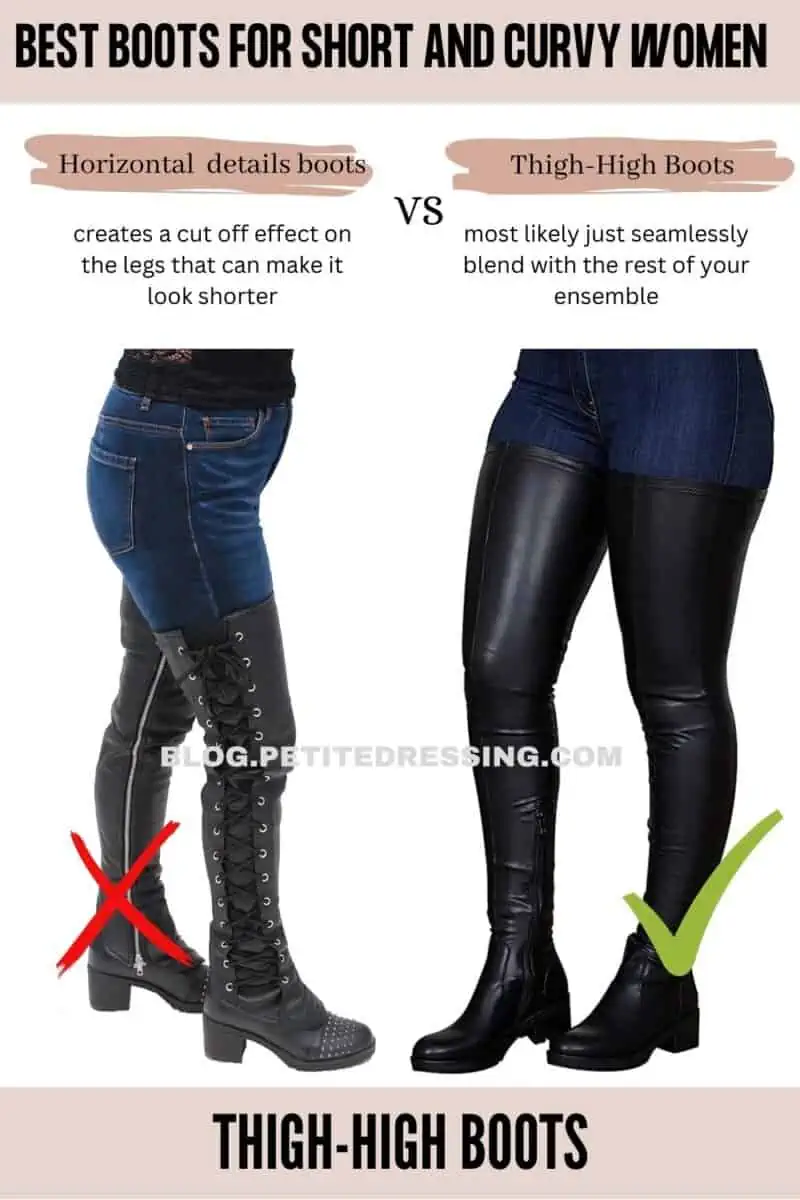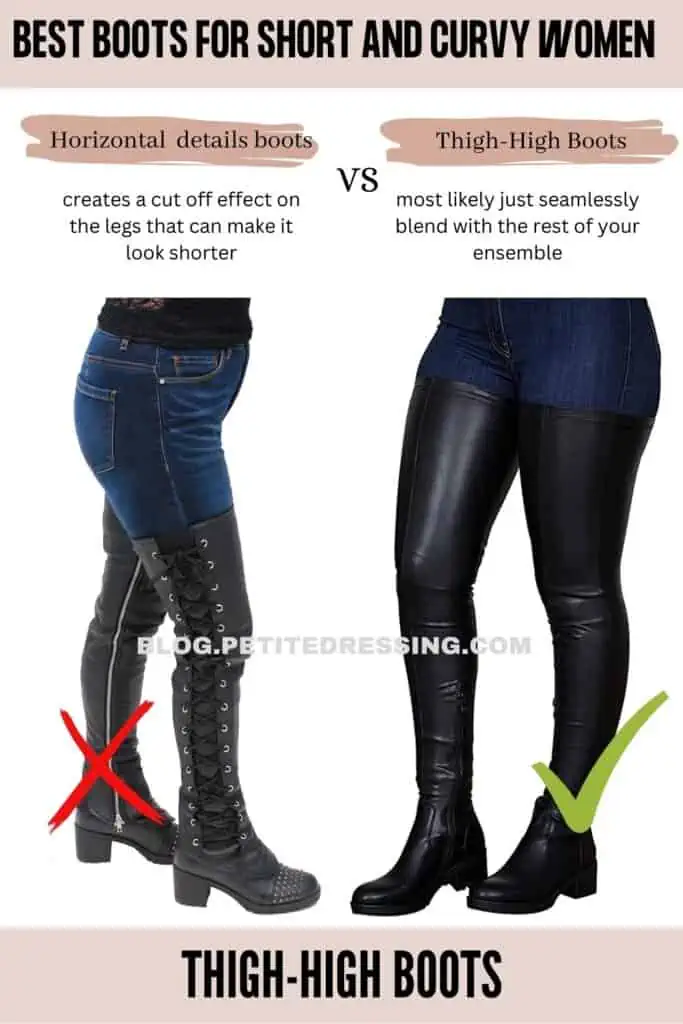 Pointed Toe Boots
This may not look that much at first glance but wearing pointed-toe boots actually help in creating a visual illusion of having longer legs and a taller frame. This is also a good option if you'd like to go for boots that have lower heels or even don't have heels at all.
Its vertically lengthening effect will make up for the absence of your heels and still make you look taller and leaner.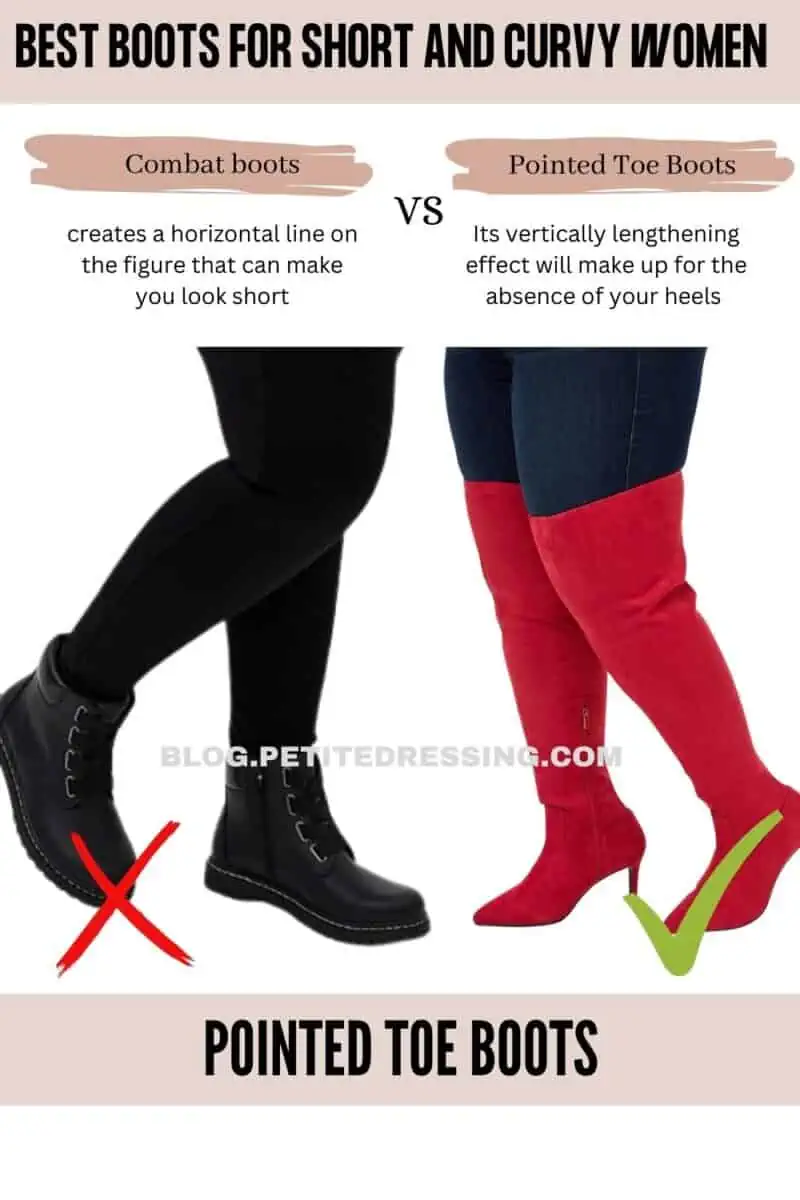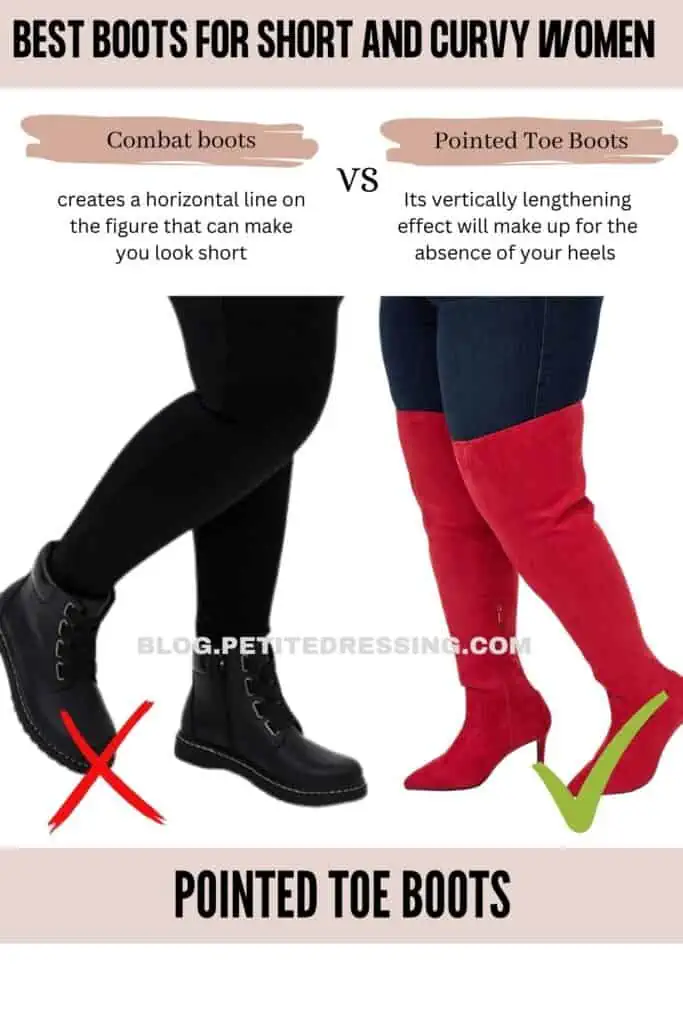 Chunky-heeled Booties
Going for heels will always be an obvious solution if you are concerned with your short legs. Heels give you that instantly elevated lift, after all!
While thin or stiletto heels are quite tempting to give you that sophisticated look, they aren't always the most comfortable. Curvy girls tend to be heavier as well so if you want to walk comfortably in heels to provide enough support for your body, go for the chunky ones.
You can go for as high as 10 centimeters and you won't struggle as much as you will on a stiletto. Well, of course, that still significantly depends on your personal preference.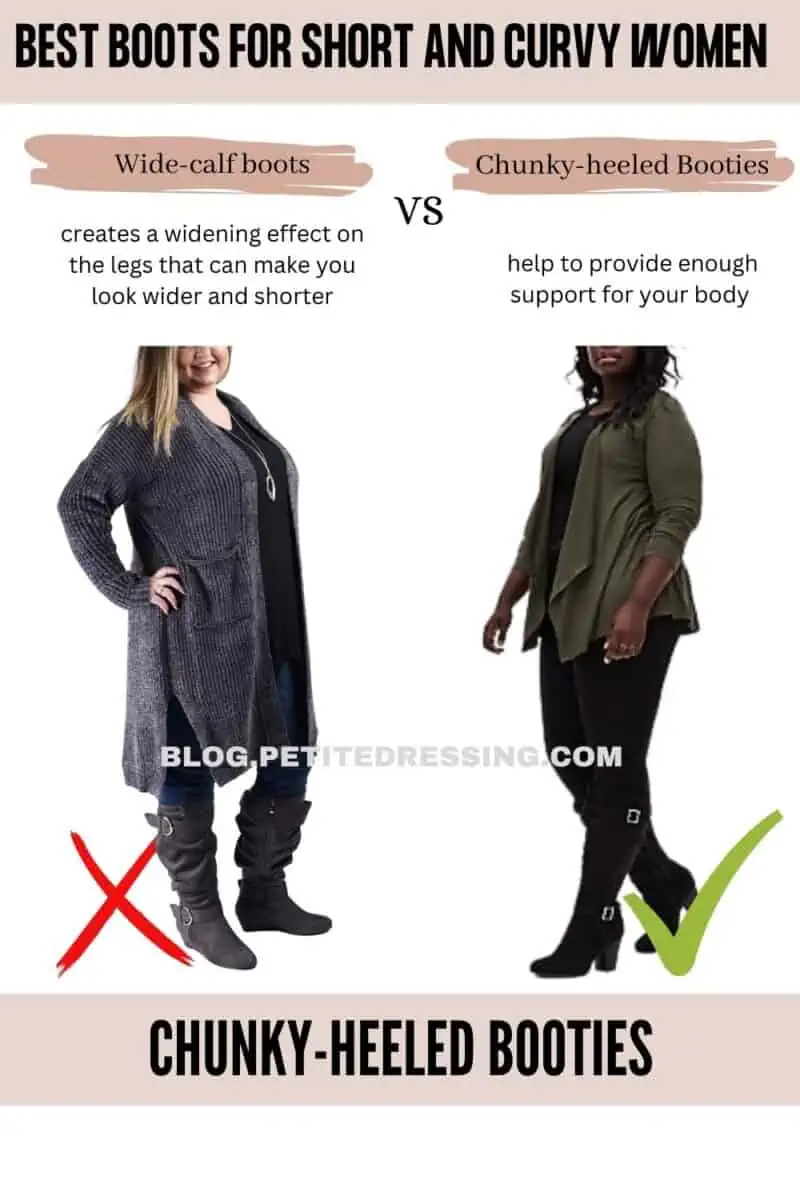 Nude-colored Boots
We will say this over and over: keep that invisible vertical visual line unbroken from top to bottom. Because keeping this line continuous by sticking to flattering colors and designs will camouflage the actual length of your legs.
Nude colors resemble our natural skin color and even if the color is not exactly the same, it can still give the same elongating effect as long as it belongs in the same color palette. Aside from its ability to visually create the illusion of having a taller frame, nude colors are also very easy to style and work with.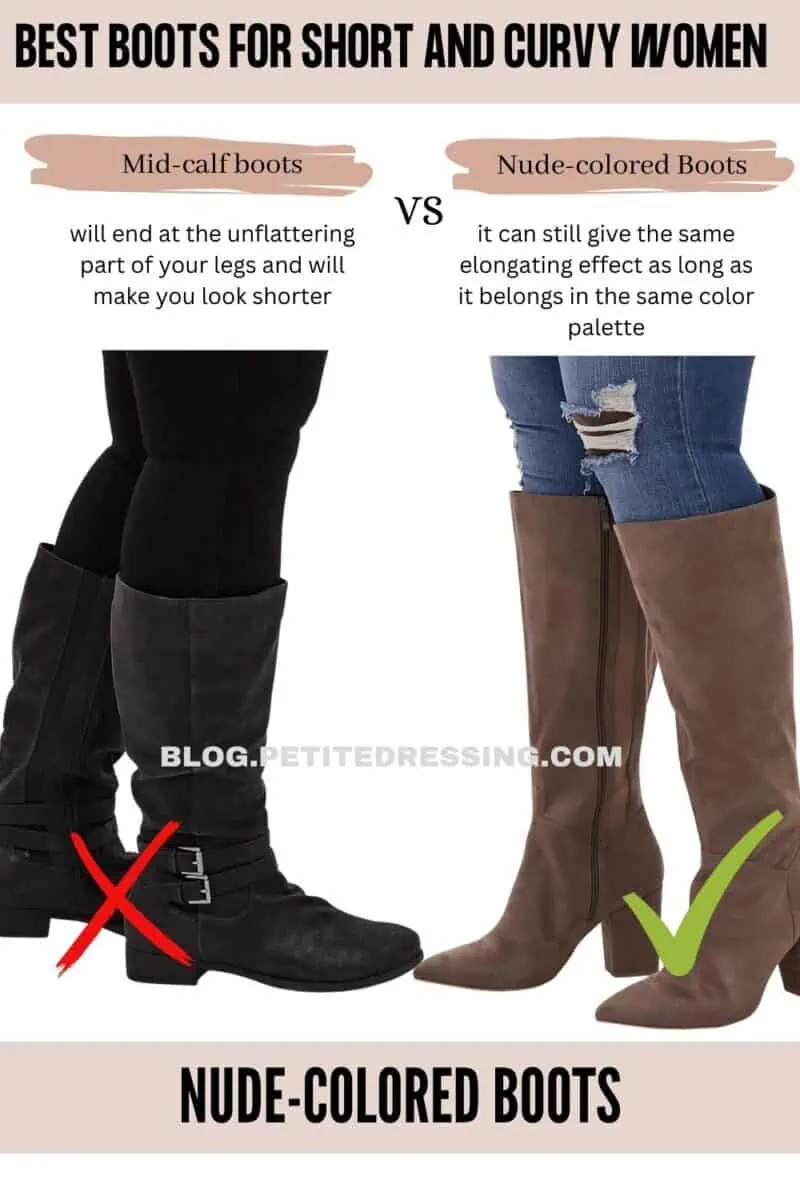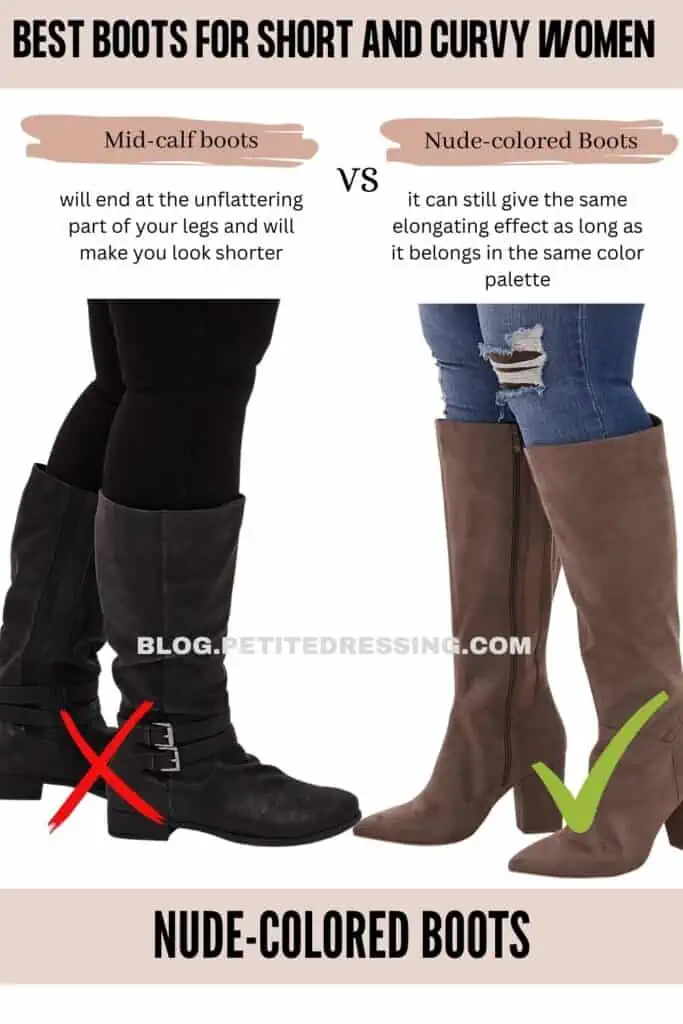 Avoid Mid-Calf Length Boots
Boots that go up to the level of your mid-calf are a very unflattering shaft height for girls with short legs and curvy body. It is because this area of the leg is quite short and mid-calf length boots will break this area apart and make it look shorter.
Unless you have long legs, the mid-calf is a very awkward area to have the edge of your boots placed. They are also quite difficult to pair with certain types of dresses and coats because some may leave an awkward gap between the hemline and the boots.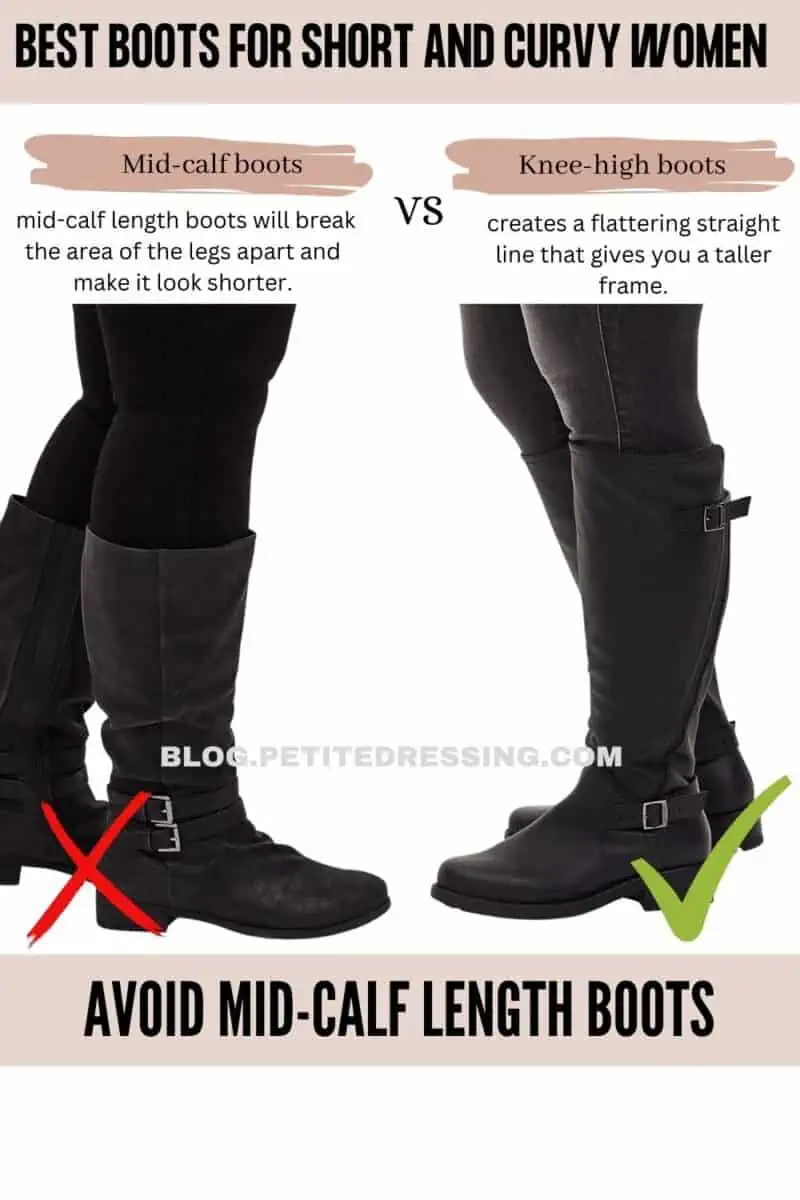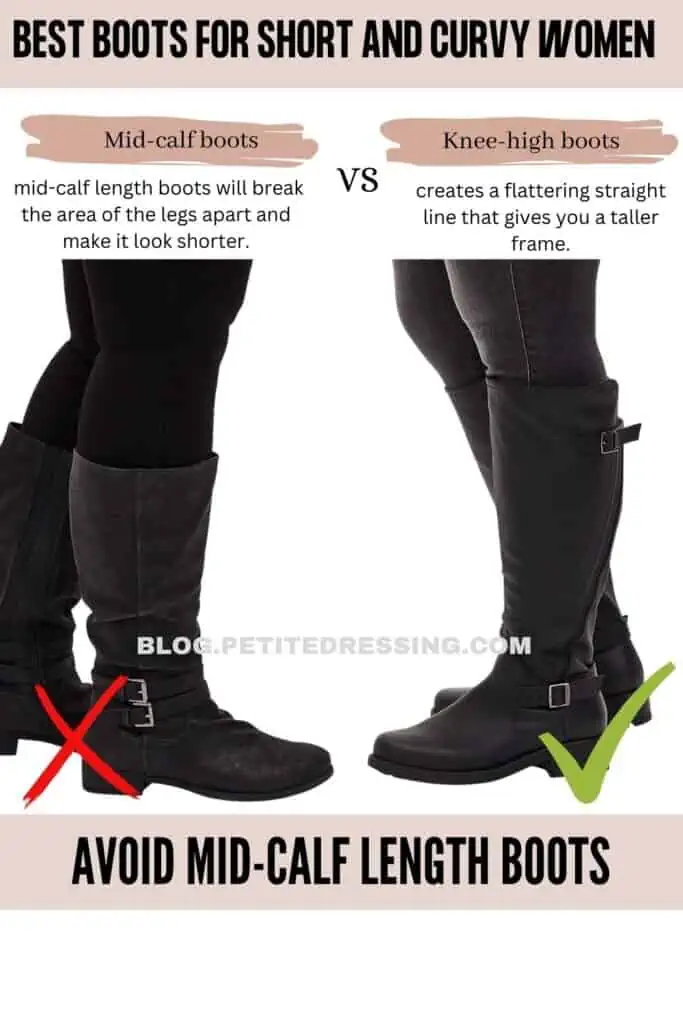 Avoid Boots with Horizontal Details
Some boots feature bulky horizontal details such as buckles, laces, or fabric creases that lead the eyes to look sideways. This invisible horizontal line that these details create makes your legs look wider (or thicker) and therefore takes inches off your height.
You have to avoid these kinds of horizontal details to keep the vertical line flowing from top to bottom. So instead, try to go classic and minimal with your design option when it comes to choosing a pair of boots.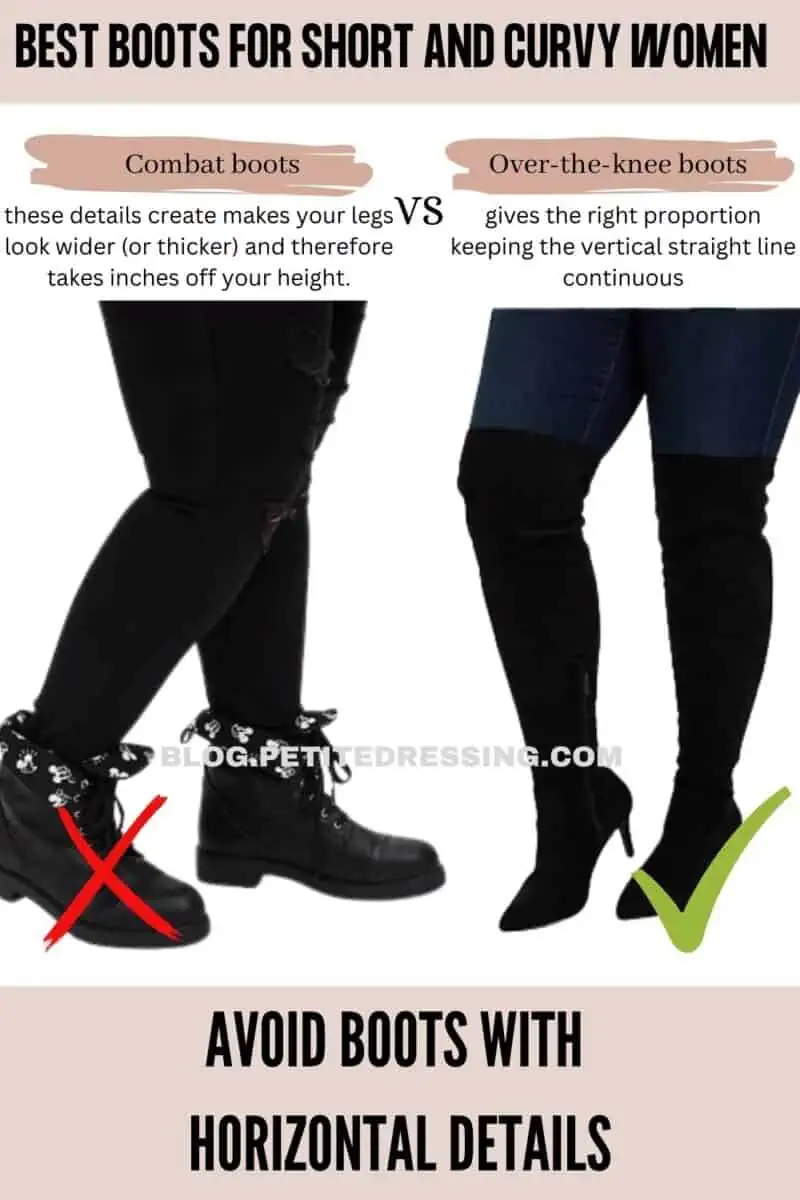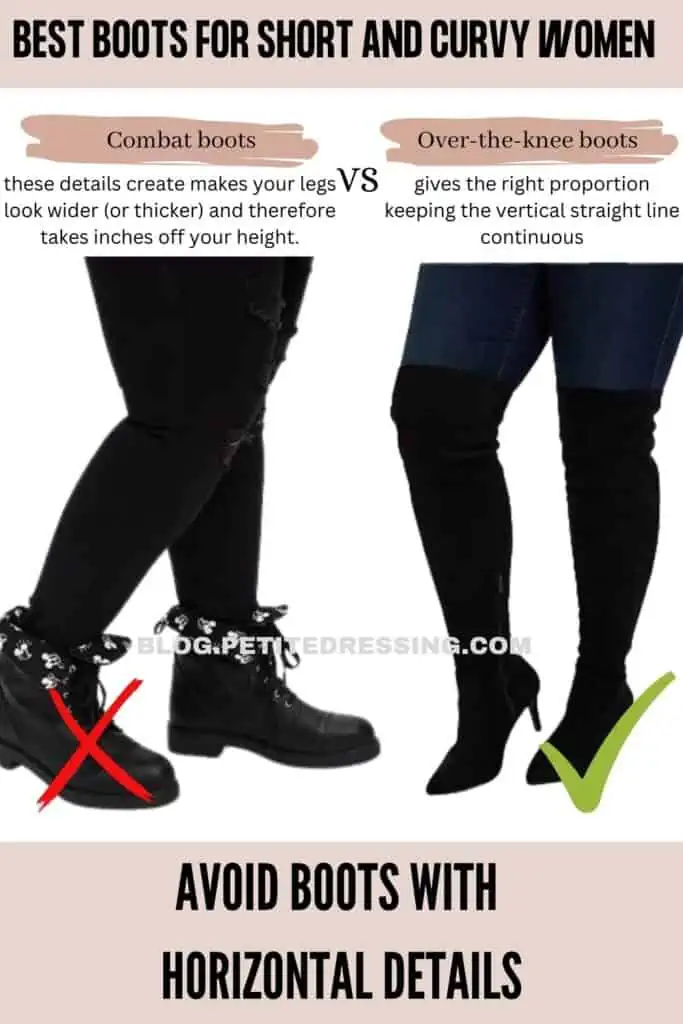 The Key Takeaway
Being short and curvy is a blessing and this shouldn't really stop you from wearing a nice pair of boots! It really just all goes down to proper styling and being mindful of your proportions.
The right proportion is very important when it comes to working around styling boots for short and curvy women. Just keep in mind that your goal should always be to lengthen your frame by keeping the visual vertical line continuous to always draw the eyes up and down.