Due to what may be considered an awkward length, cropped pants have been an item of clothing that many petite women avoid.
As a petite woman, you know that it can be challenging to figure out what types of clothing you can look the best in.
These pros and cons will help you decide whether or not cropped pants will work for you as a petite woman.
Pros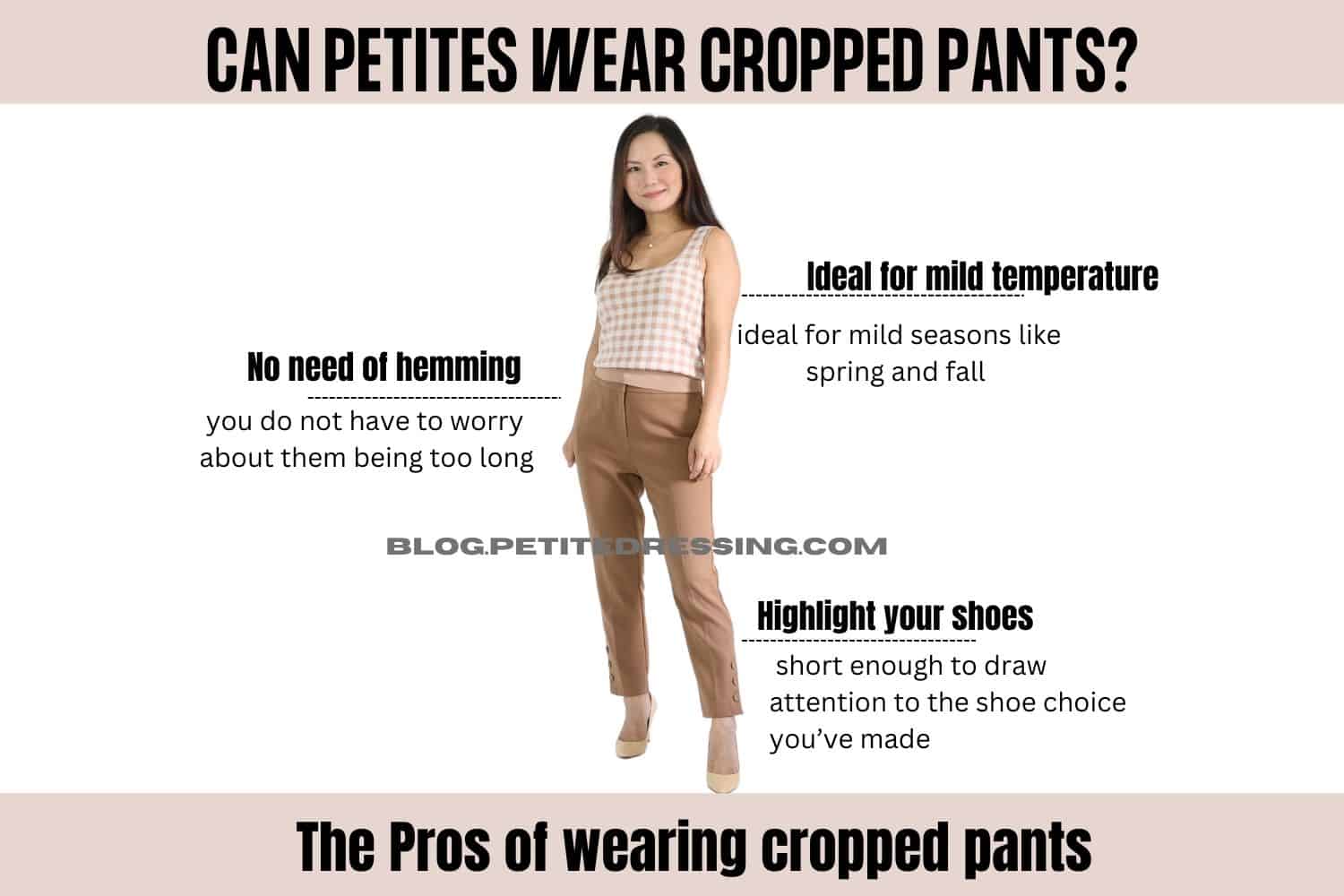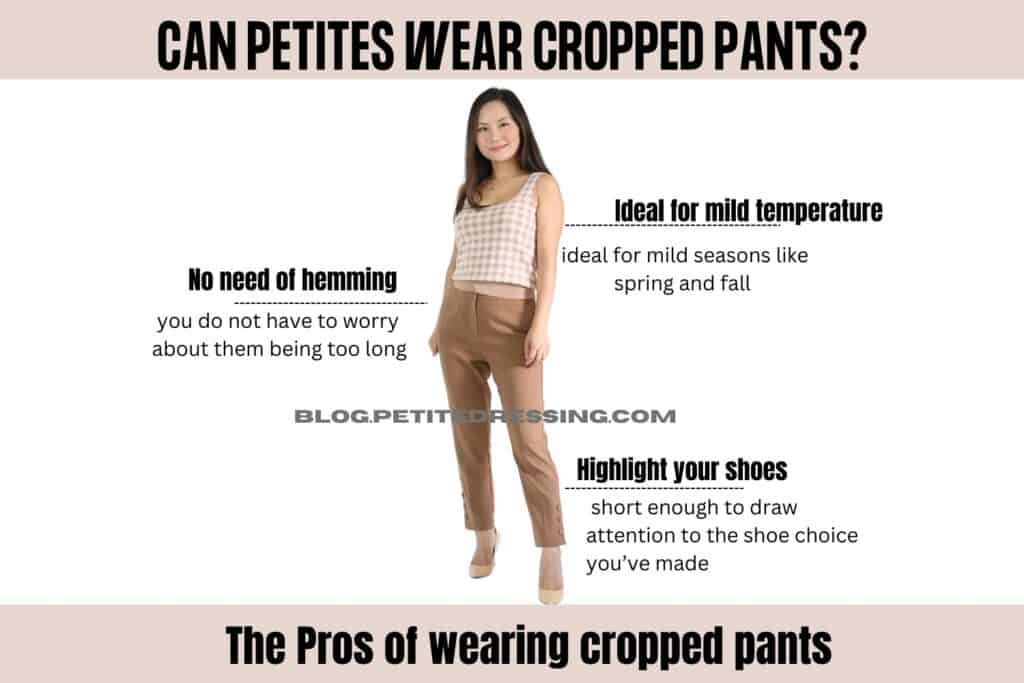 No need of hemming
As someone who is 5'2″, one of the biggest challenges when it comes to pants is the length.
With cropped length, the most obvious benefit is you do not have to worry about them being too long, therefore saving you the cost of tailoring.
Ideal for mild temperature
Cropped pants are just short enough to show some extra skin and create more airflow for your legs. This makes them ideal for mild seasons like spring and fall, and sometimes even the summer. 
You will also have plenty of coverage with cropped pants. They may not fall past your ankles, but they still cover a majority of the lower half of your body.
Highlight your shoes
Cropped pants are just short enough to draw attention to the shoe choice you've made. You can have fun with your styling when it comes to shoes because they can become a major point of focus with your outfit.
This style of pants will never reach past your ankles, so you won't have to worry about the bottom dragging on the ground or becoming something you end up tripping on.
Cons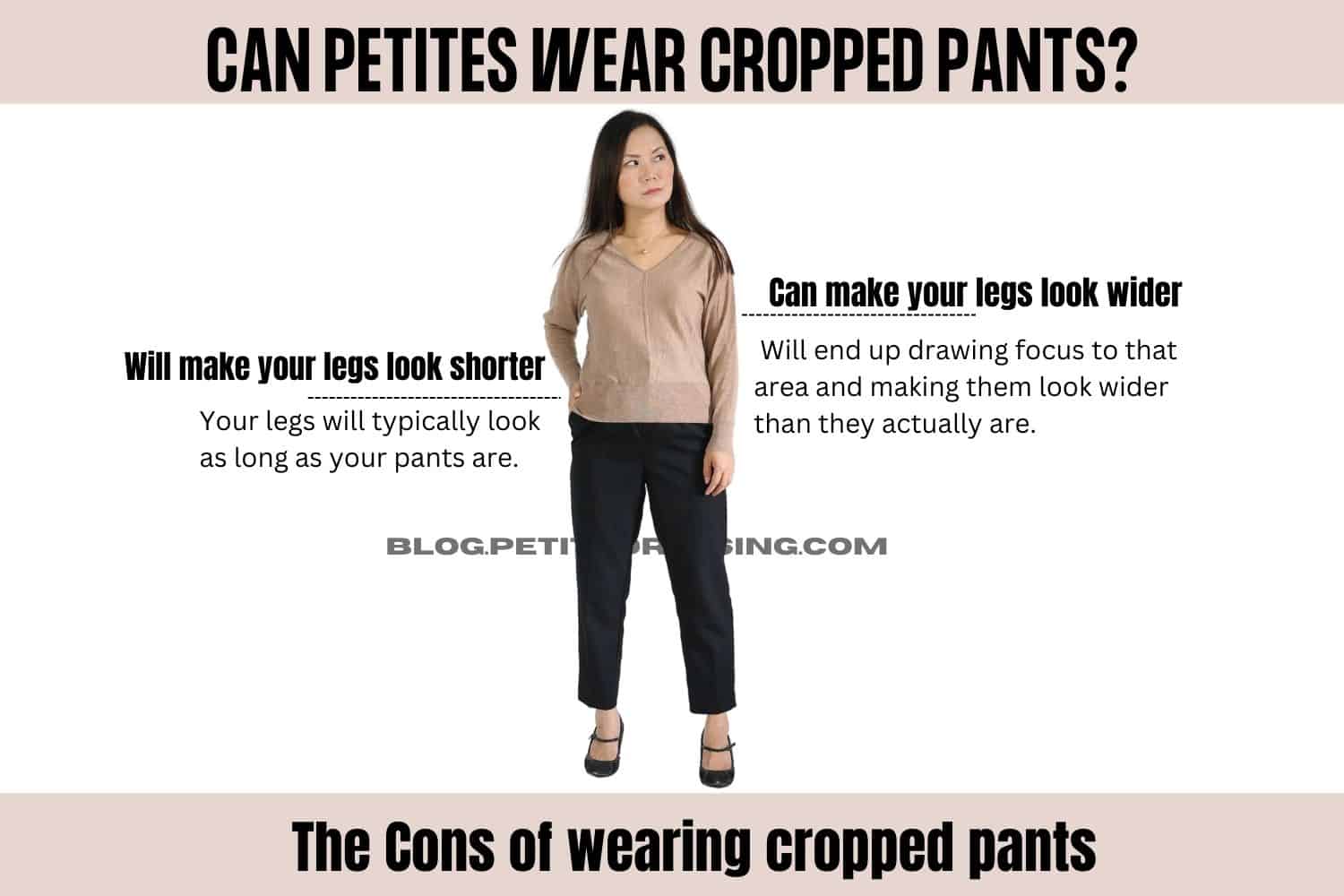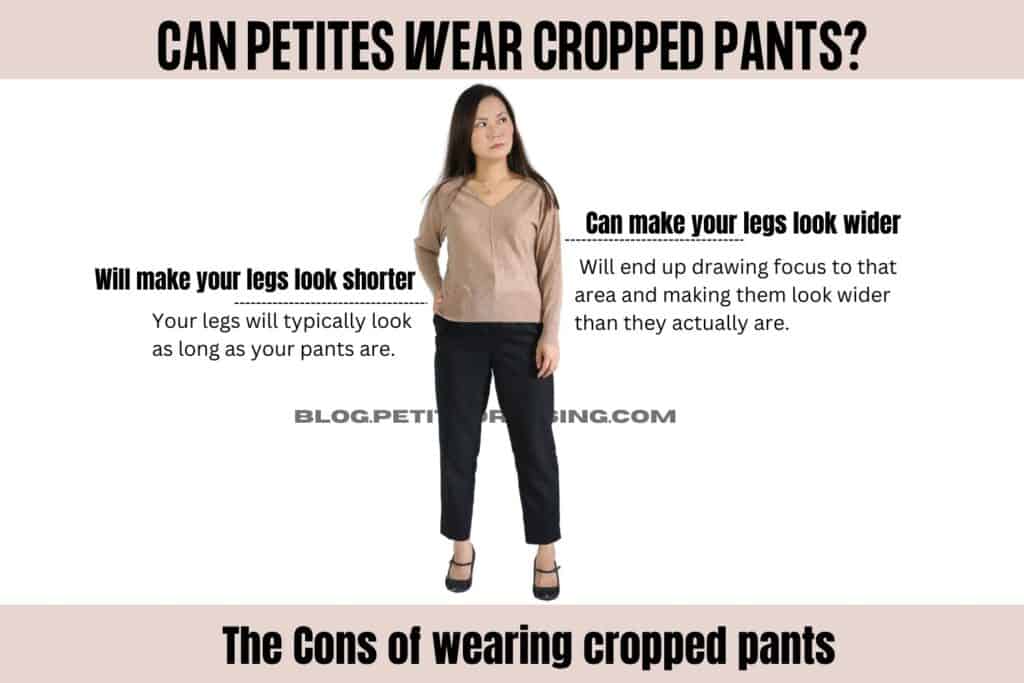 Will make your legs look shorter
It is almost impossible to avoid the fact that cropped pants will almost make a petite woman look short. Your legs will typically look as long as your pants are since pants usually cover all of your legs. 
Once you accept that this style won't make you look taller, you can put your energy into trying other methods and wearing additional clothing that will help to elongate your body.
Can make your legs look wider
If the pants are too cropped, they may fall closer to the center of your calves. This is also the thickest part of your calves, which will end up drawing focus to that area and making them look wider than they actually are.
Ultimately, yes, you can definitely pull off cropped pants!
Although it may take some styling effort and time, it will be worth it.
The following list of tips will show you how to style cropped pants as a petite woman.
HOW TO STYLE IF YOU ARE PETITE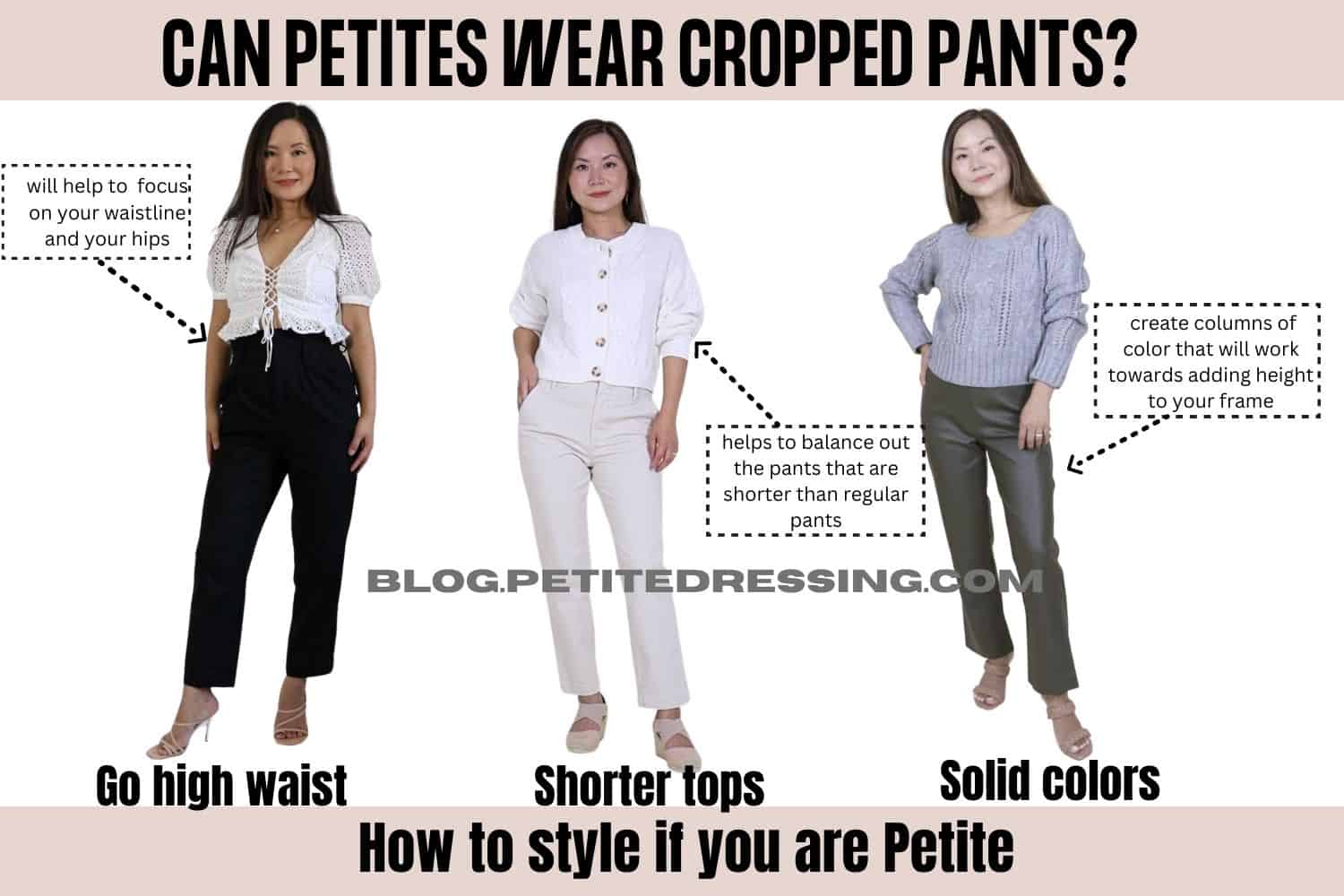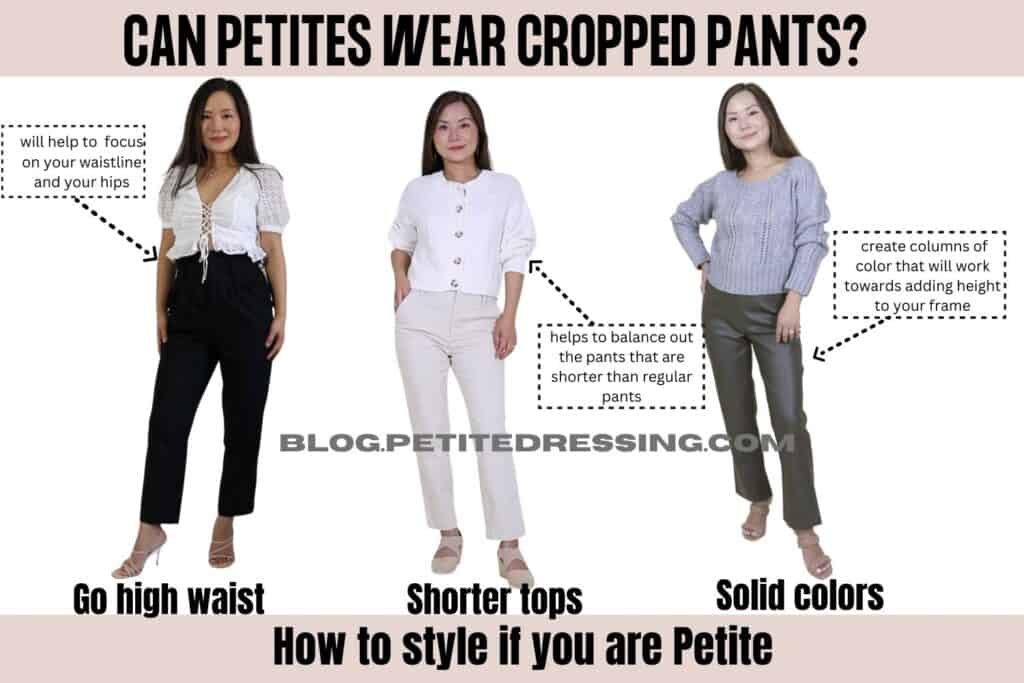 Go high waist
One of the best ways to draw attention elsewhere is to focus on your waistline and your hips. A high-waisted pair of pants will be an excellent choice. They form a waistline at the smallest part of your waist, slimming your frame and hugging your curves at the same time.
Even though the cropped pants may make you look short, the high waistline will end up elongating your legs and directly combatting that issue.
Shorter tops
In order to balance out a pair of pants that are slightly shorter than regular pants, you should wear a shirt that is also cropped or short. Showing some skin on opposite areas of your body will make the pant length look less out of place.
You can even wear a shorter top that has some ruffle or extra flair to make that more eye-catching than your pants.
Solid colors
Solid color will help to create columns of color that will work towards adding height to your frame. The goal is always to make your legs look longer. Adding patterns and crazy prints will only make the cropped pants more distracting.
The simplicity of solid color will also make the cropped pants less distracting. It allows you to focus on adding prints and patterns to your shirt or jacket in order to spice up your outfit.
Avoid bulky shoes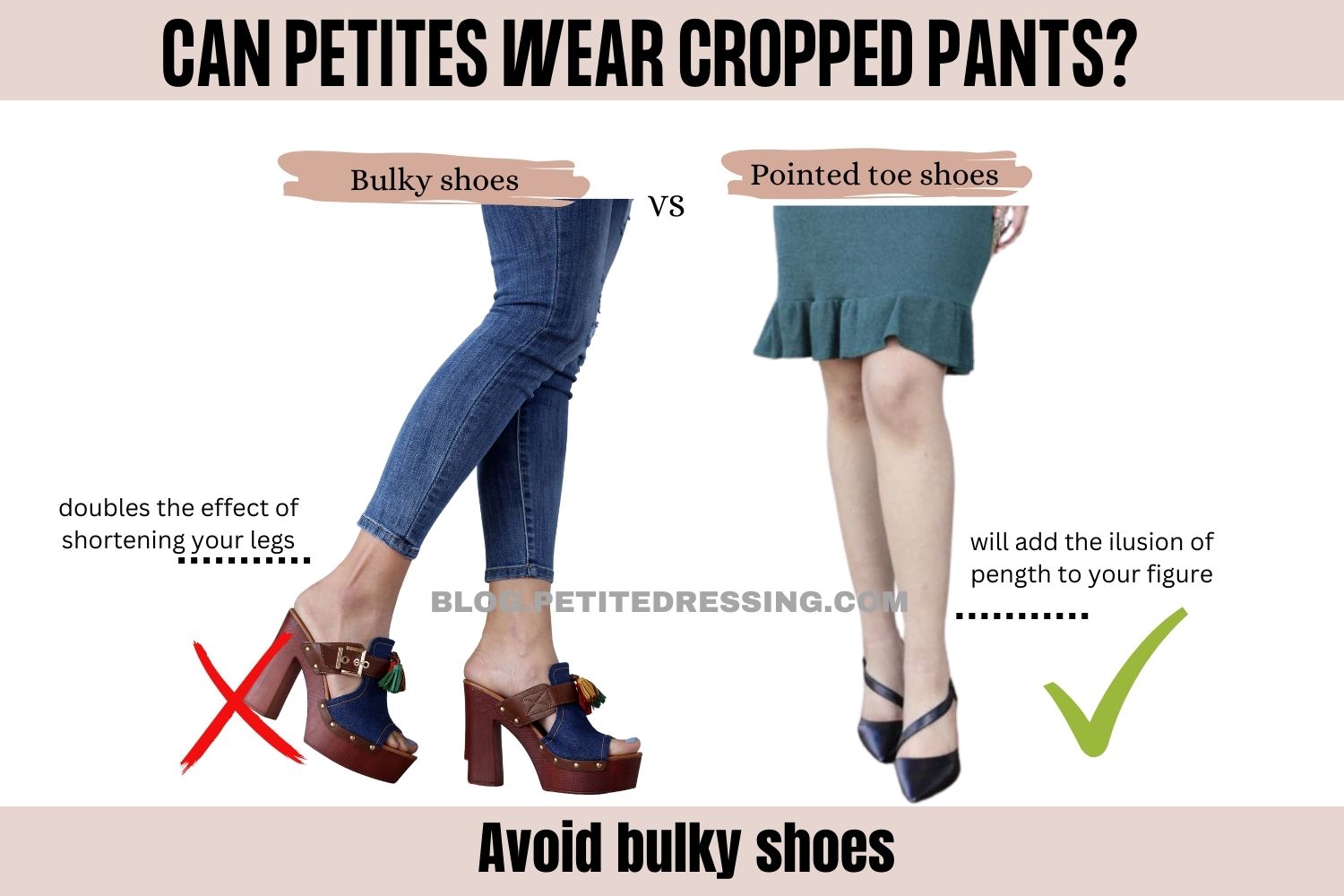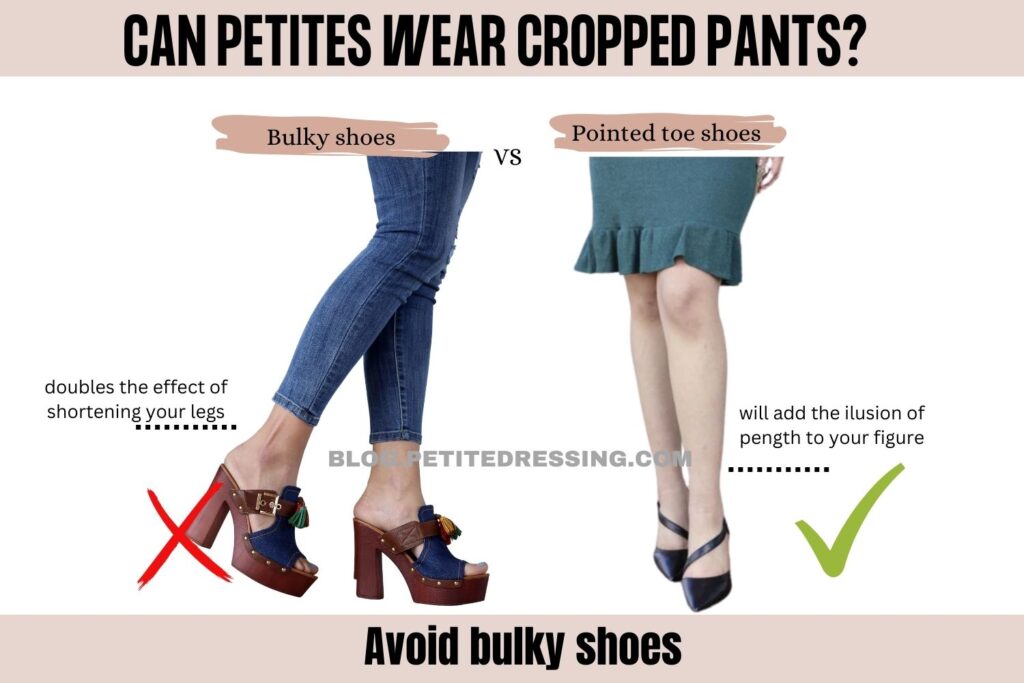 Since cropped pants run the risk of making your legs look shorter, it is critical you should not wear them with any bulky shoes.
The reason is, shoes with bulky toes or bottoms will make you look bottom-heavy, which in turn doubles the effect of shortening your legs!
Hire a trusted tailor
Since cropped pants can vary in length, it will be easier to find a tailor that you can depend on. They can alter the hemline of the cropped pants to make sure it falls at the exact place it is supposed to.
There is a chance that you will find a pair of cropped pants that are the perfect length but don't fit around your waist. Once again, you can turn to your tailor and have them fix the waistline to look as flattering as possible.