If you are 5 foot and under, finding the right tops that flatter your shape is critical. Since I am 5'2″ myself, I know how big a difference the style of the tops can make on me. Besides, I also have a petite clothing line for women 5'4″ and under, so I constantly receive feedback from thousands of my customers, many of whom are 5′ and under.
I've put together this guide to help you find the best tops for your height and body shape, based on my own trial and error as well as feedback from numerous of my customers.
Styling Goal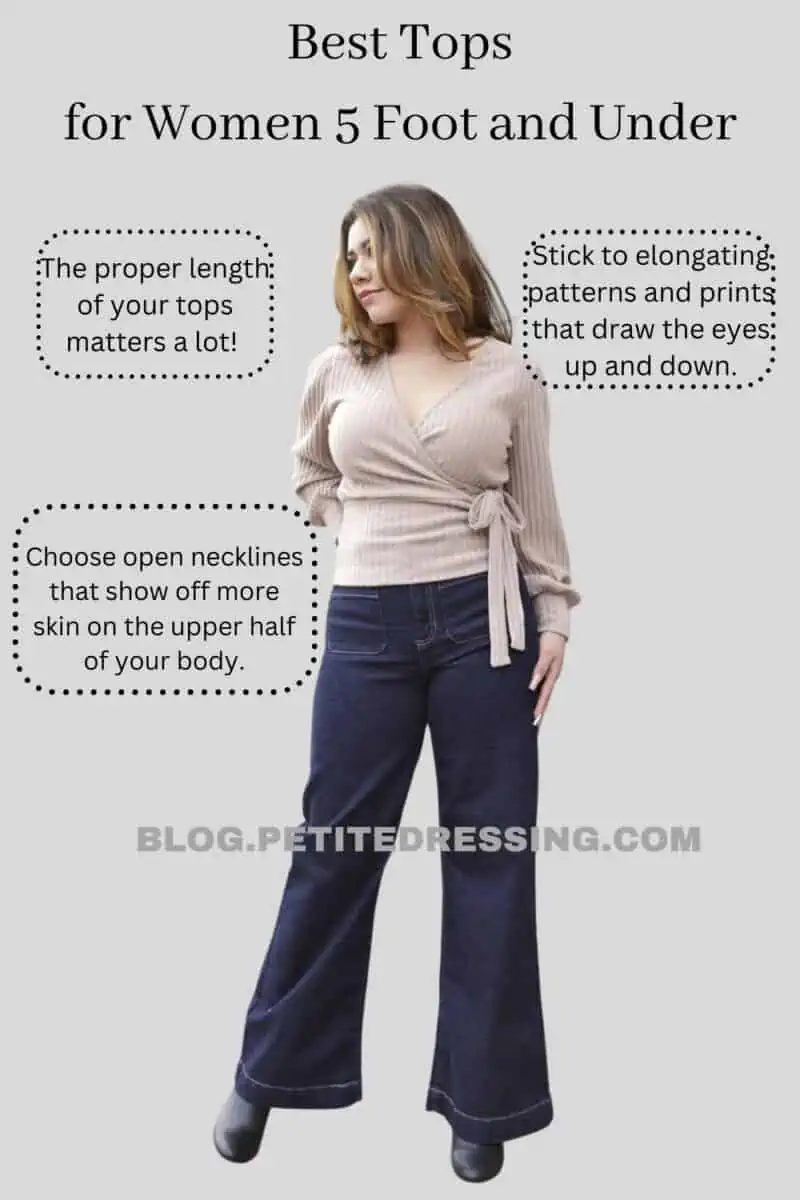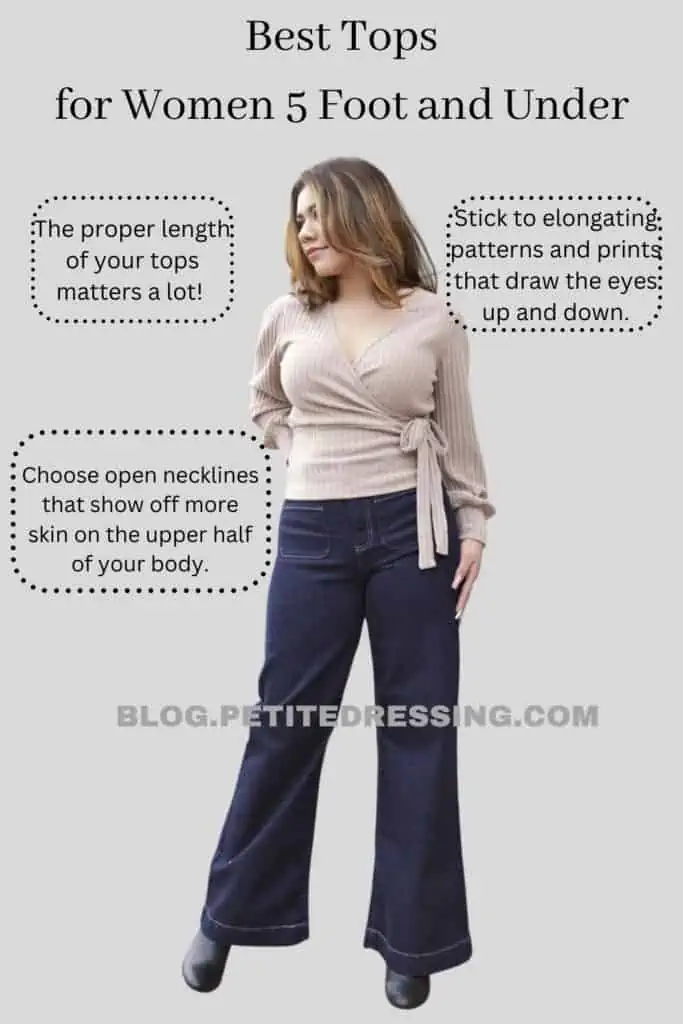 The proper length of your tops matters a lot! Tops that are too long, most particularly those that go past your hips, can make your torso appear way longer than your legs and it's definitely not a flattering look.
Stick to elongating patterns and prints that draw the eyes up and down. Vertical stripes are one classic example of patterns that instantly and efficiently elevate your height.
Choose open necklines that show off more skin on the upper half of your body. Necklines that highlight your shoulder line, neck, and collarbones also strategically elongate your frame to make you appear taller. 
Never settle for the wrong fit. One of the biggest fashion faux pas short girls who are 5 feet and under can commit is wearing tops that are too loose or baggy as this will not only look awkward but also make you look even shorter than you actually are.
With these styling goals in mind, it will be much easier for you to determine what certain styles of tops should flatter your frame. To make it even easier and simpler for you, here are the specific top styles you can try.
Crop Tops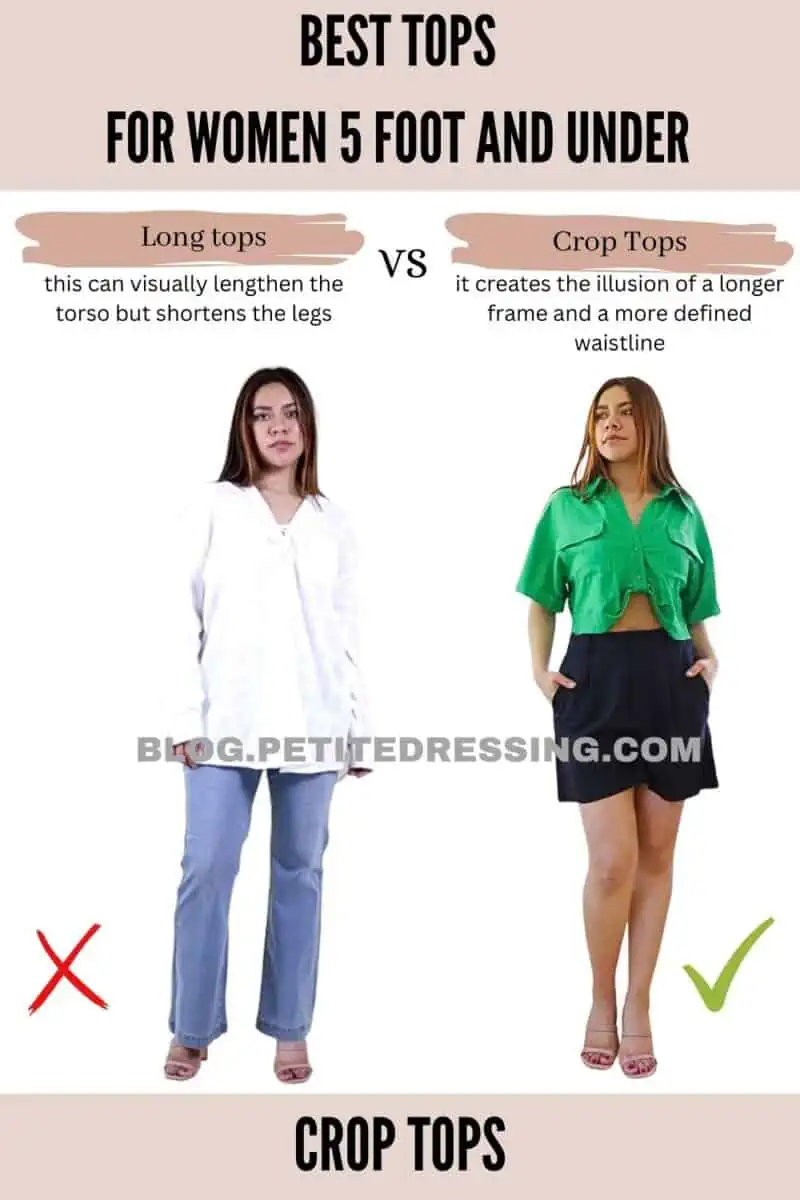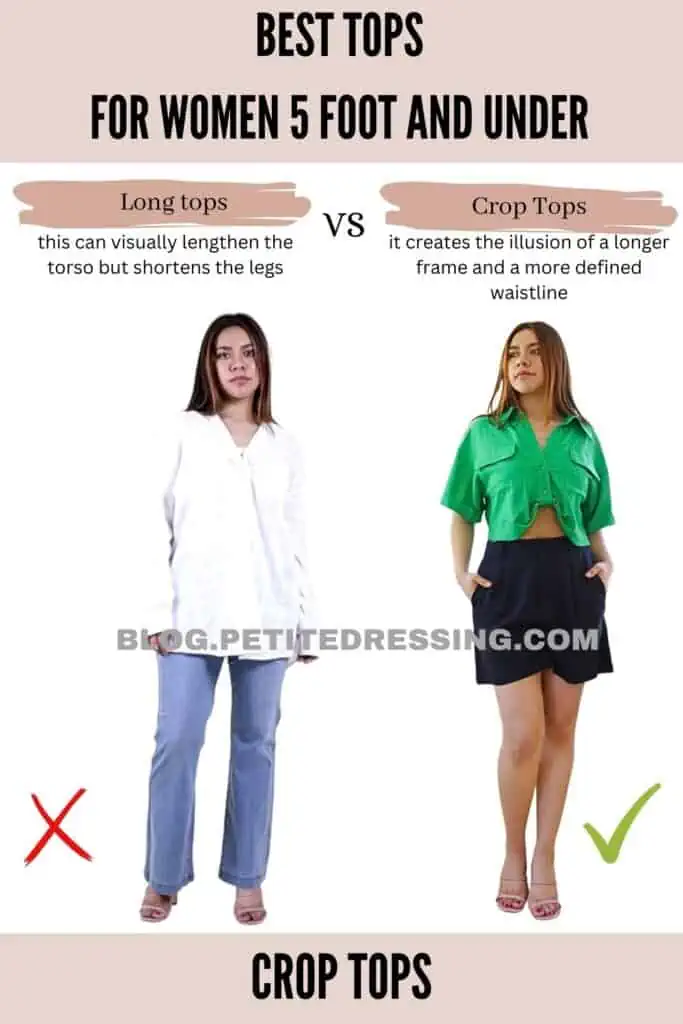 Crop tops are just some of the easy go-to fashion options that short women find very easy to pull off. Because of the crop top's strategic cropped length, it efficiently creates the illusion of a longer torso and legs to make you appear taller and more proportional.
Crop tops can draw attention to your waistline and create the illusion of a longer frame and a more defined waistline. If you feel like showing off your natural curves a bit more, you can also opt for a fitted crop top that flares out slightly at the bottom to create a flattering silhouette.
Wearing a crop top that features a hem that ends at the midriff or slightly above your natural waistline can create the illusion of longer legs to amp up your height. To further enhance this visually elongating effect, pair your crop top with high-waisted pants or a skirt, and rest assured that this combination can make your legs appear longer and more proportional to your body.
Medium-Length Tops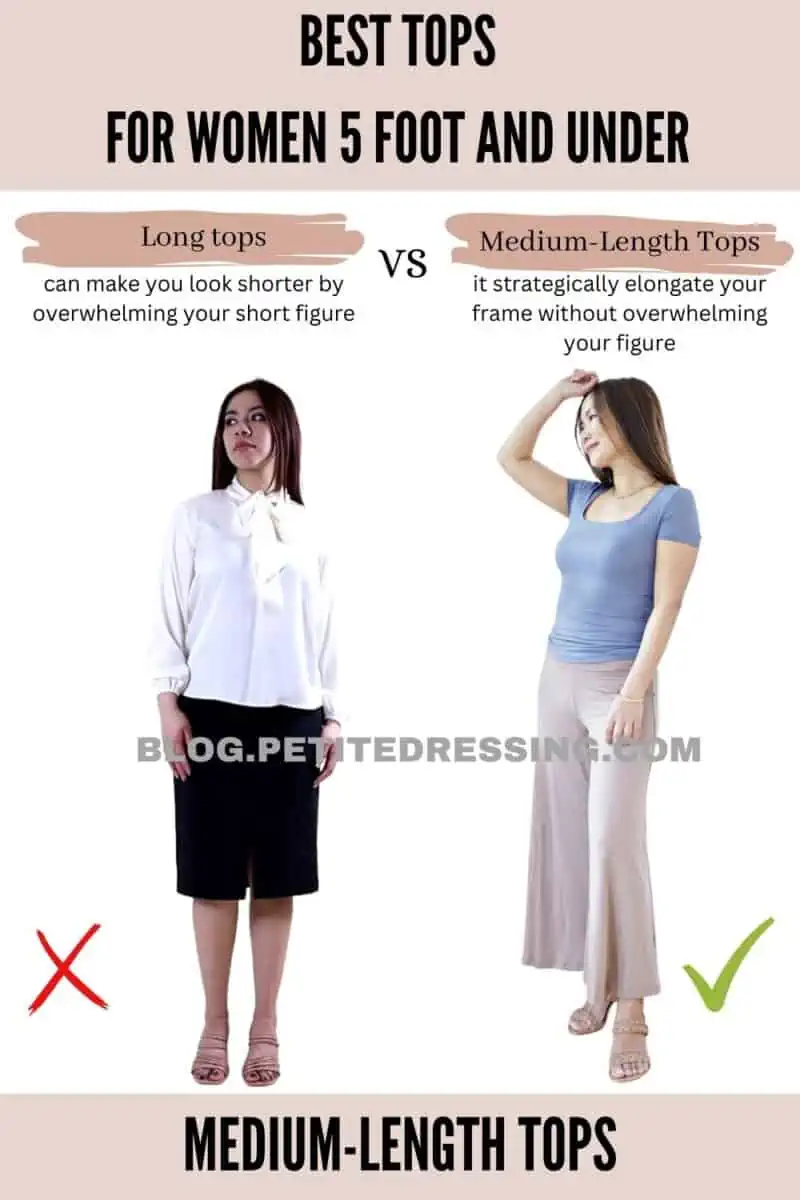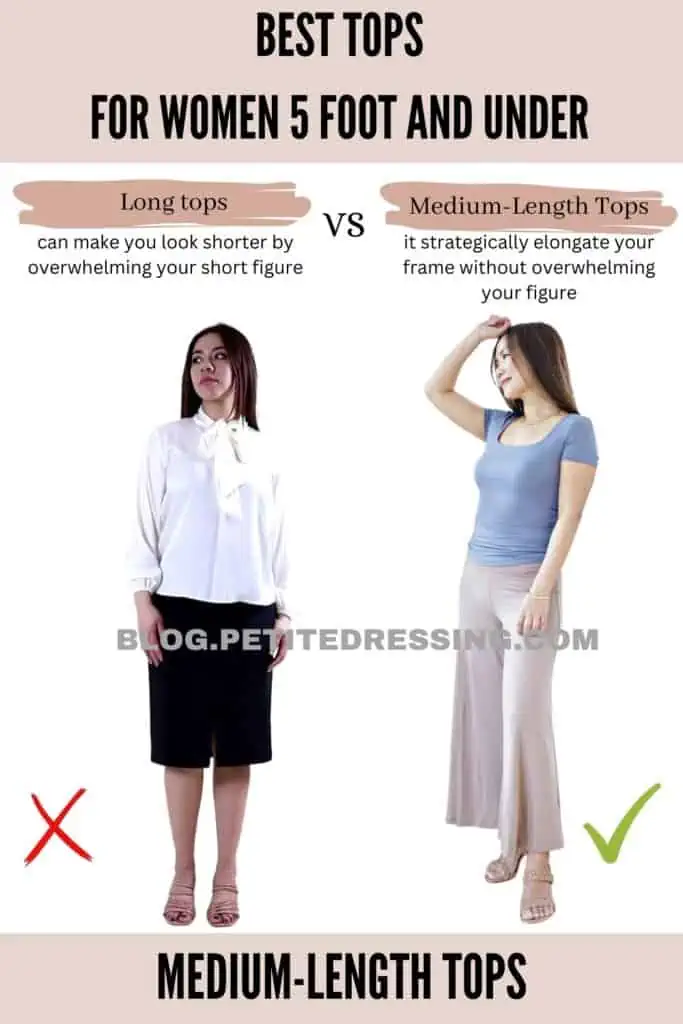 Medium-length tops are a great choice for short girls because they strategically elongate your frame without overwhelming your figure. Unlike long tops, which can make you look shorter, medium-length tops provide just the right amount of balance to flatter your height and frame.
By ending at the hip bone or slightly higher, they visually elongate your upper body, making your legs look longer in proportion. This effect can be especially helpful if you have an unbalanced torso and length proportion because it can visually level out your body ratio and create a more flattering silhouette.
If you already have a collection of tops that are a bit longer, don't throw them out just yet! Tucking them in helps visually shorten the length of the top while also defining your waistline and creating a more streamlined look in fact, this trick can work with a variety of tops, from button-down shirts to oversized sweaters, and can be paired with any type of bottoms, depending on your personal style.
Open Neckline Tops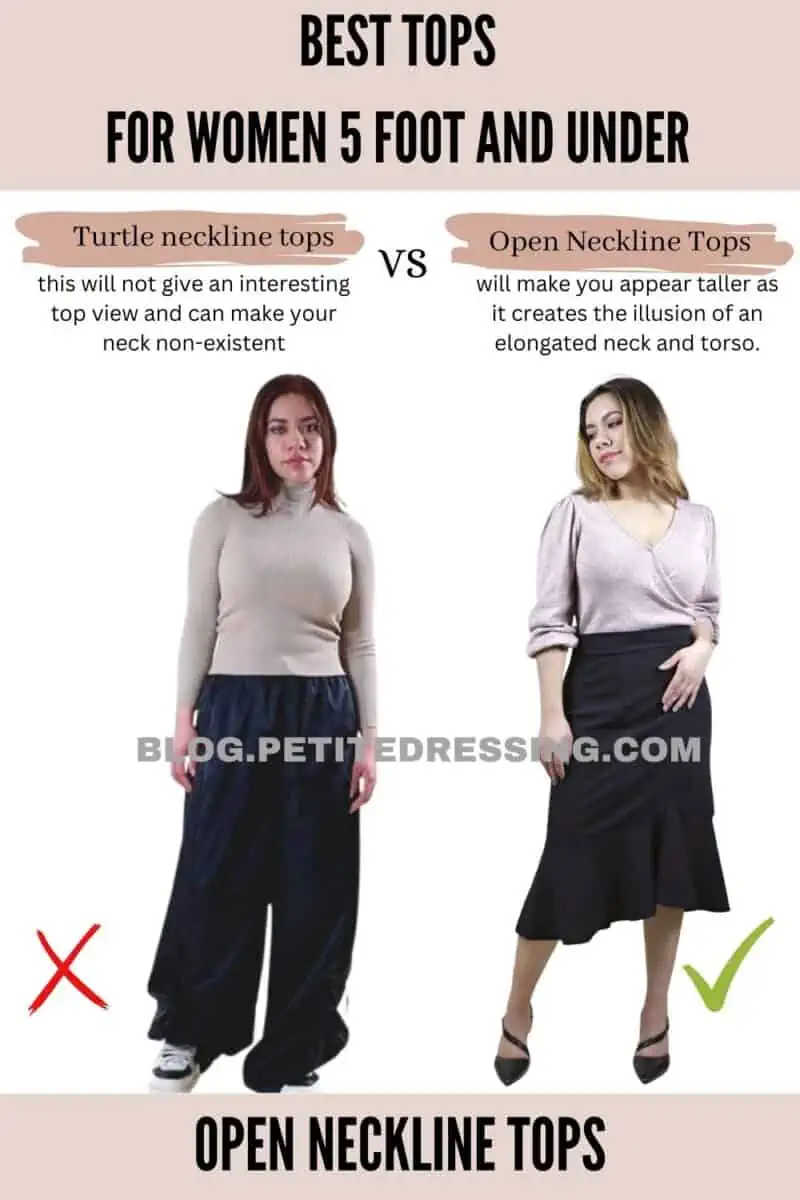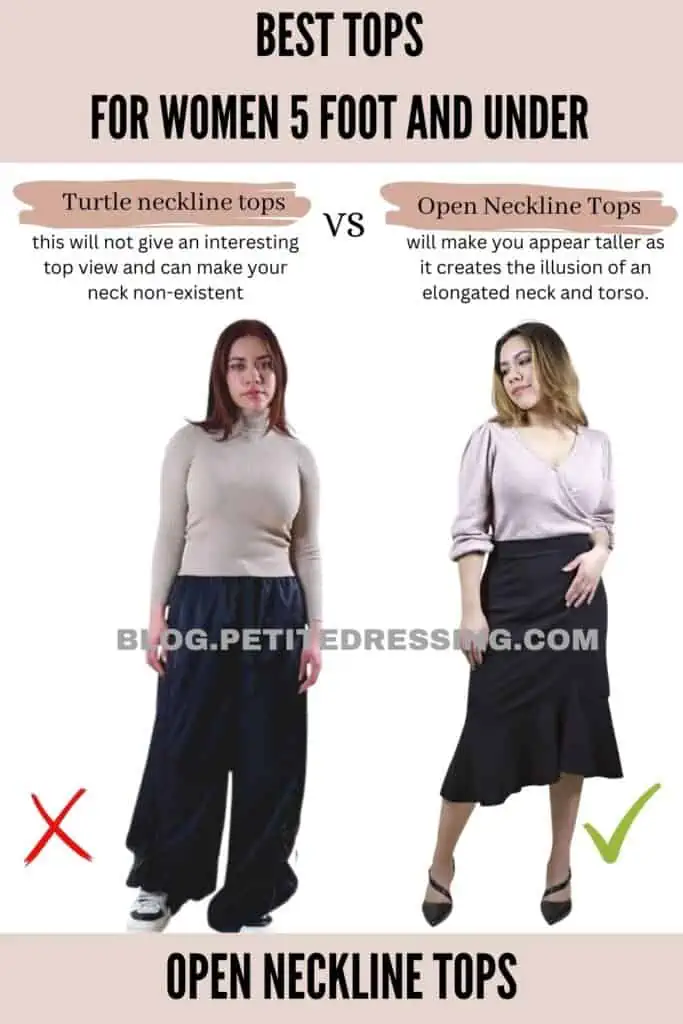 This is one of the most important style principles when it comes to styling petites: Open necklines are universally flattering for your frame!
Open necklines such as V-neck, scoop neck, and square neck are good for making women 5 feet and under appear taller because they create the illusion of an elongated neck and torso.
If you're 5 feet and under and you wear a top with a high neckline, it can create a visual barrier across your upper body that will instantly make you appear shorter and more compact. On the other hand, open necklines create a vertical line that draws the eye up and down, creating the illusion of length.
Peplum Tops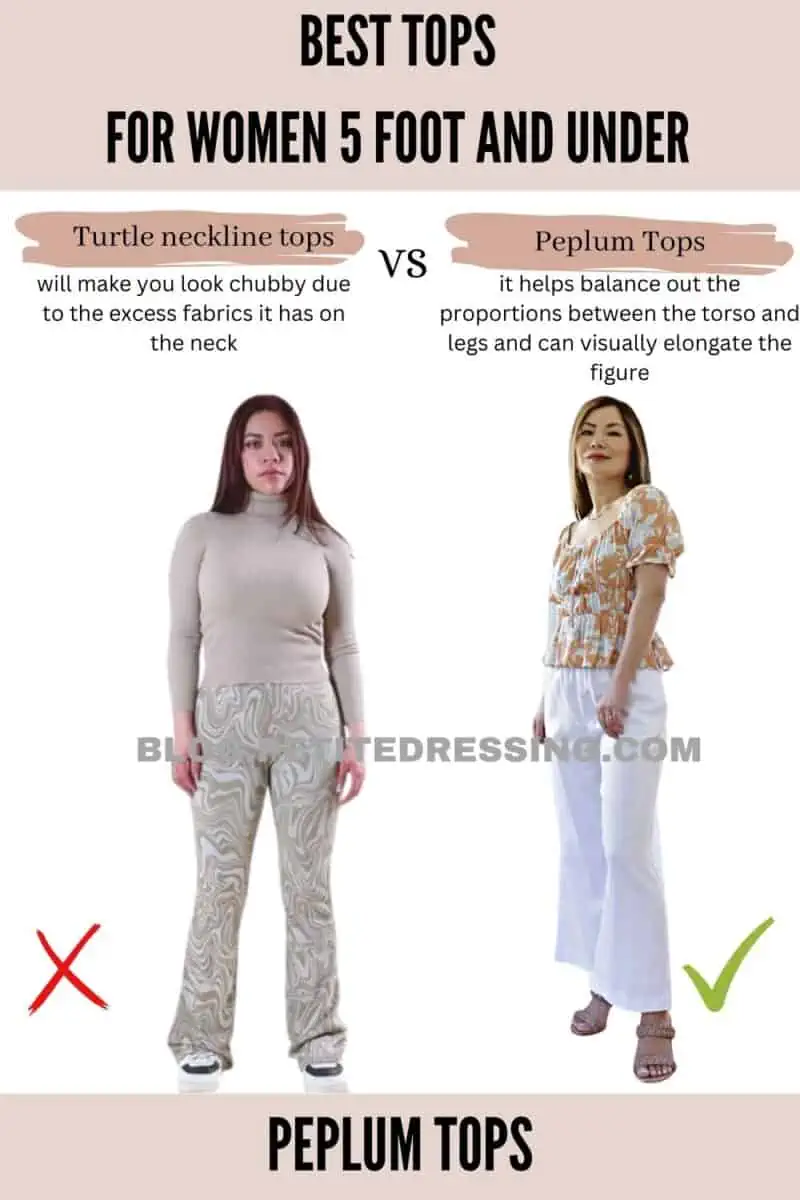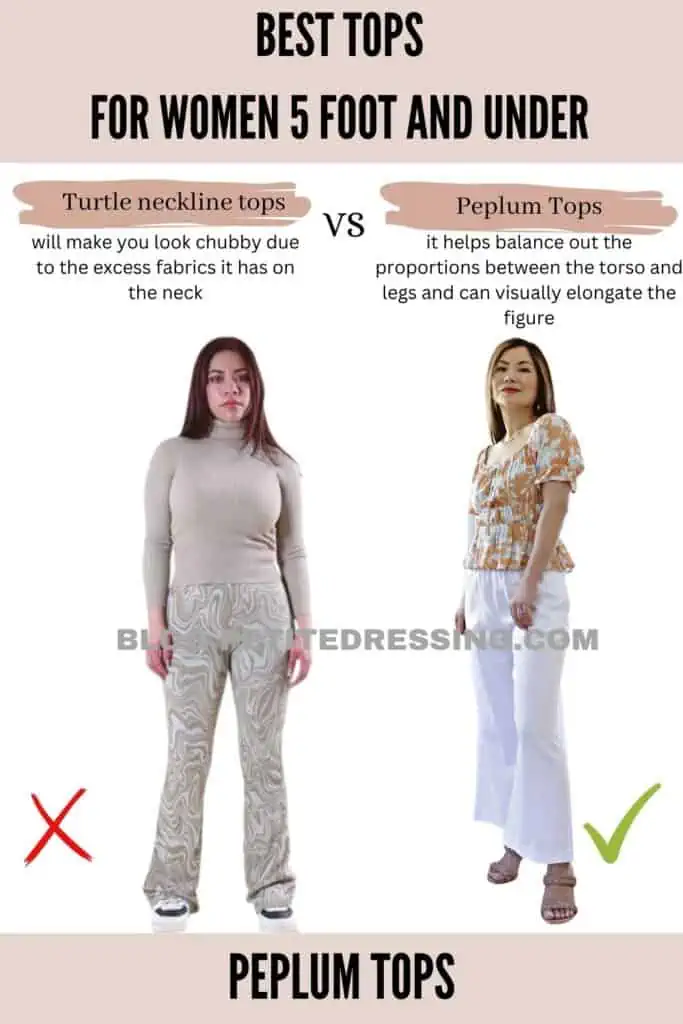 The flared silhouette of the peplum top adds volume and shape to the waistline, which helps balance out the proportions between the torso and legs. This creates a visual effect of an elongated frame overall.
The distinct waist cinch plus the flare also draws attention to the waistline, which is typically the narrowest part of a petite girl's body. This helps to create a slimming effect and also makes the legs appear longer in proportion.
Peplum tops often have a fitted bodice that accentuates the upper body, drawing the eye upwards. This can also create a sense of height and you can even elevate its elongating effect by pairing it with slim-fit pants or pencil skirts and heels!
Fitted Button Down Shirts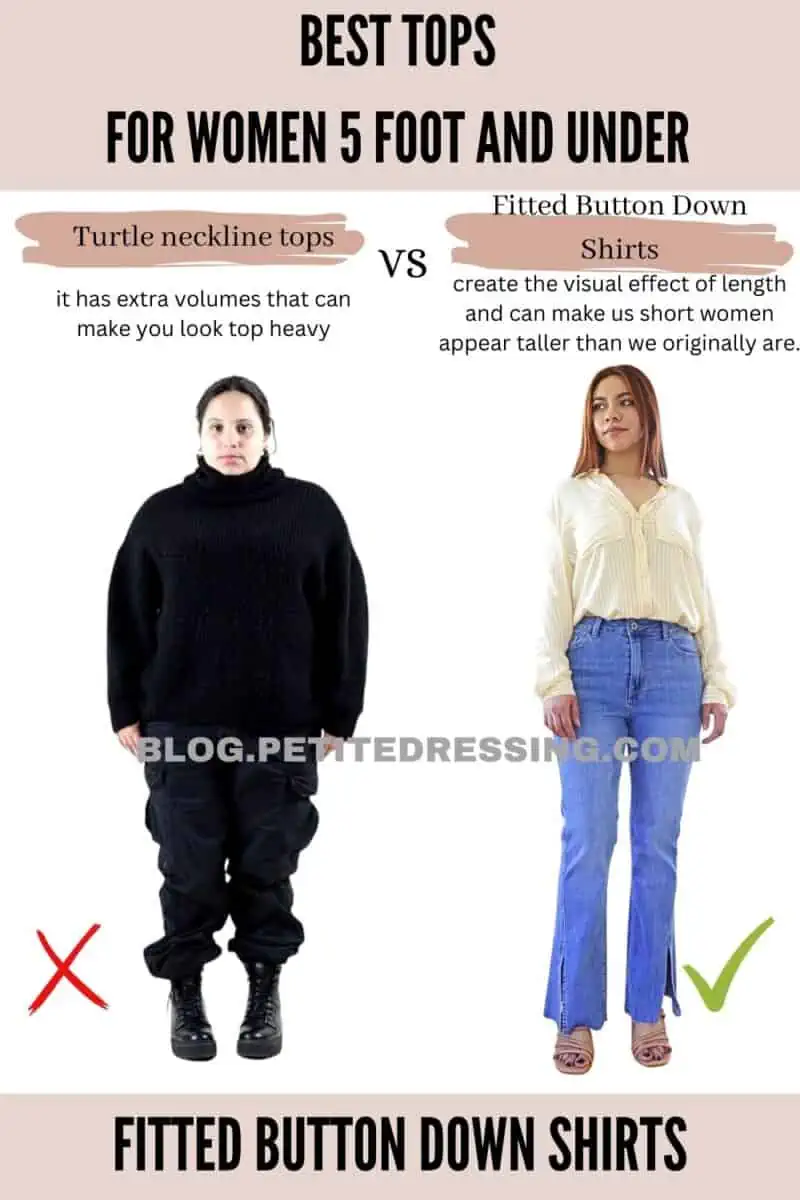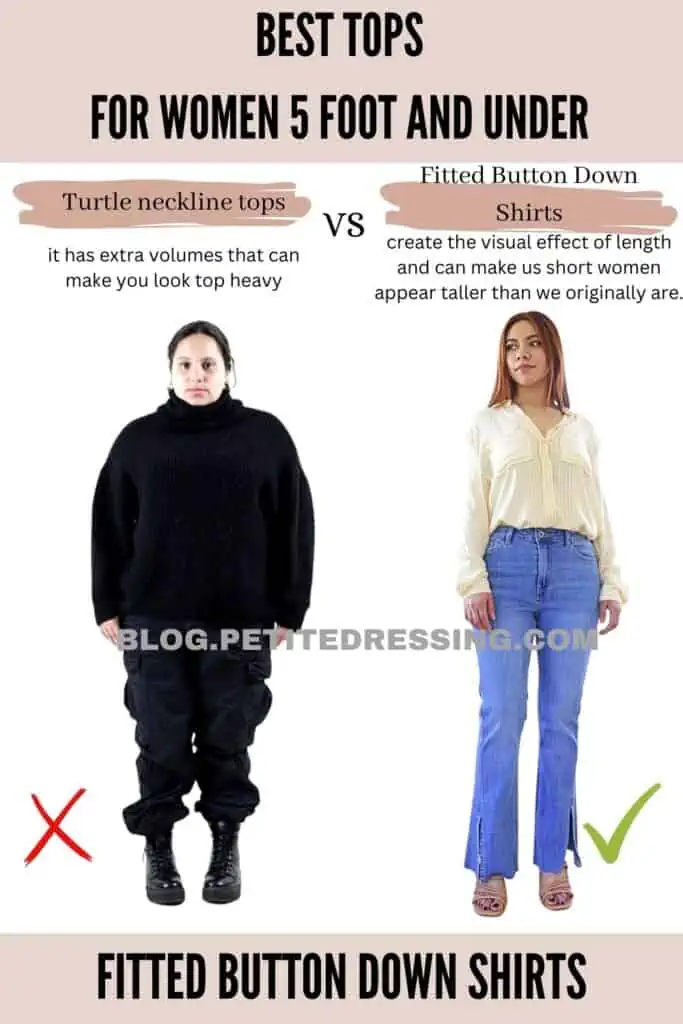 Structured button-up shirts typically have vertical lines created by the buttons and the seams and so these lines create the visual effect of length and can make us short women appear taller than we originally are.
A structured collar can also add height to the upper body because it gives a sense of verticality visual-wise. This effect can be enhanced by opening up some buttons to mimic a deep V-neck and make your neck look longer.
To maximize its lengthening effect on your body, tuck your button shirt into high-waisted pants or skirts as this trick gives the legs a leaner look and creates a more streamlined silhouette.
Tops with Vertical Details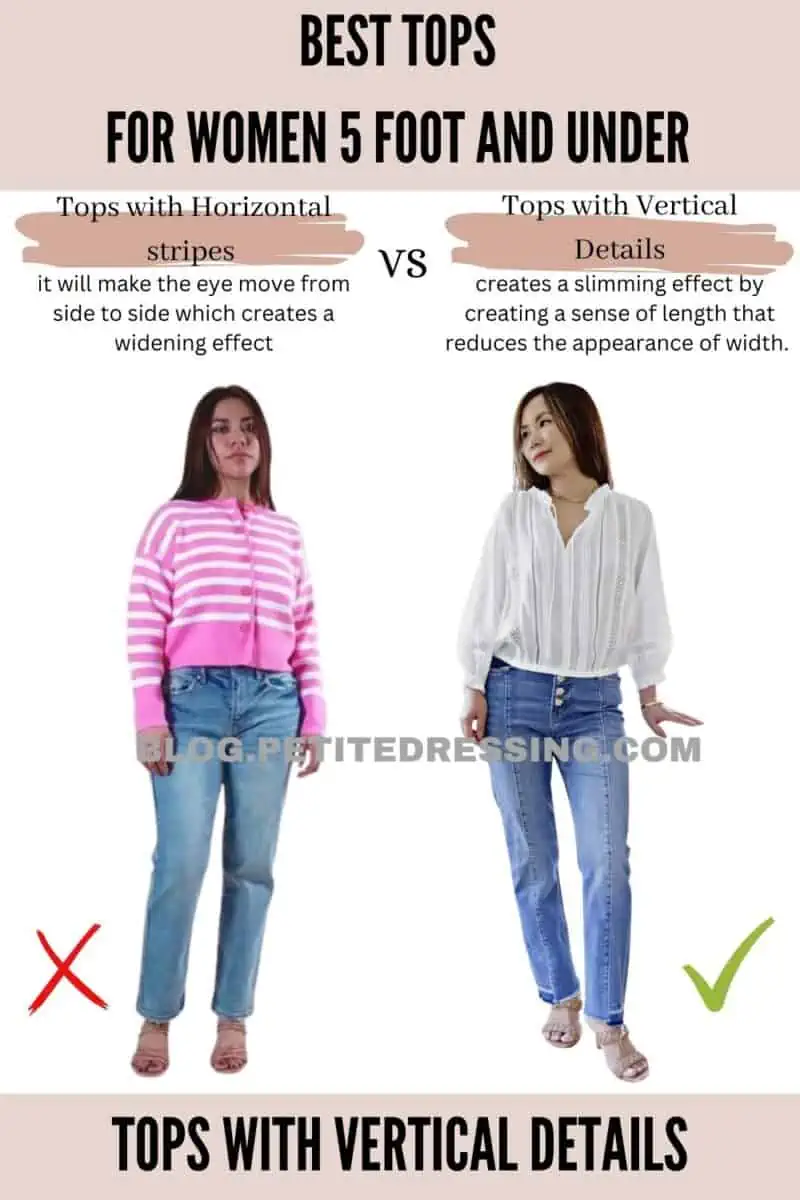 Wearing tops with vertical details can be a great way for women who are 5 feet and under to efficiently amp up their height. It's no secret that vertical patterns instantly trick the eyes into creating the illusion of length, not to mention their ability to make your figure look leaner.
Tops with vertical details such as stripes, pleats, or seams make the eyes follow the vertical lines up and down, creating a sense of elongation. Vertical details can also create a slimming effect by creating a sense of length that reduces the appearance of width.
Wearing tops with vertical details can help balance out the horizontal lines created by pants, skirts, or jackets and therefore produces vertical balance. This creates a more harmonious overall look and can make a shorter woman appear more proportionate.
Floral Off-the-Shoulder Tops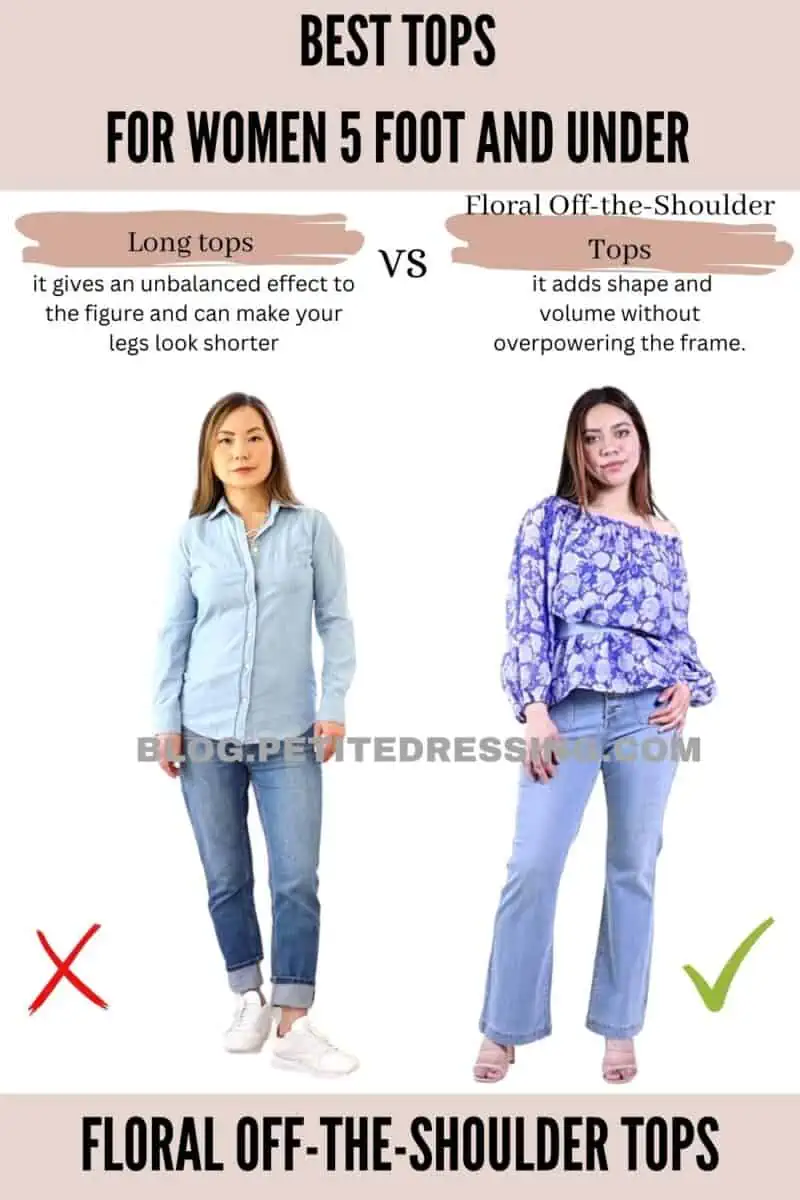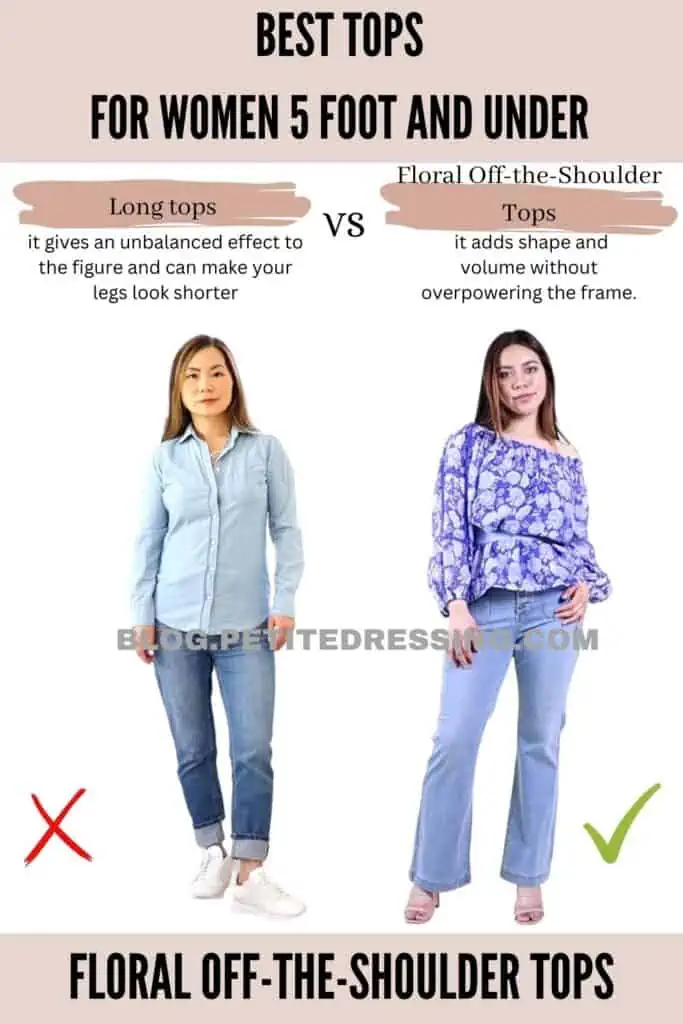 Its shoulder-baring cut also ticks the "open neckline" checkbox, which explains why it's a flattering style option for women who are 5 feet and under. One of the key benefits of an off-the-shoulder top is that it draws attention to the shoulders and highlights your collarbone, creating a sense of height and elongation.
Many off-the-shoulder tops have a flared or flowy silhouette that can create a sense of movement and fluidity. This can be very flattering for shorter women, as it adds shape and volume without overpowering the frame.
These types of tops come in a vast variety of designs but we can't deny the summer allure of dainty floral prints! Floral patterns can be very flattering as they add visual interest and texture without overwhelming the frame and smaller floral patterns can also be especially effective as they create a sense of dimension and depth without adding bulk.
Tops with ¾ Sleeves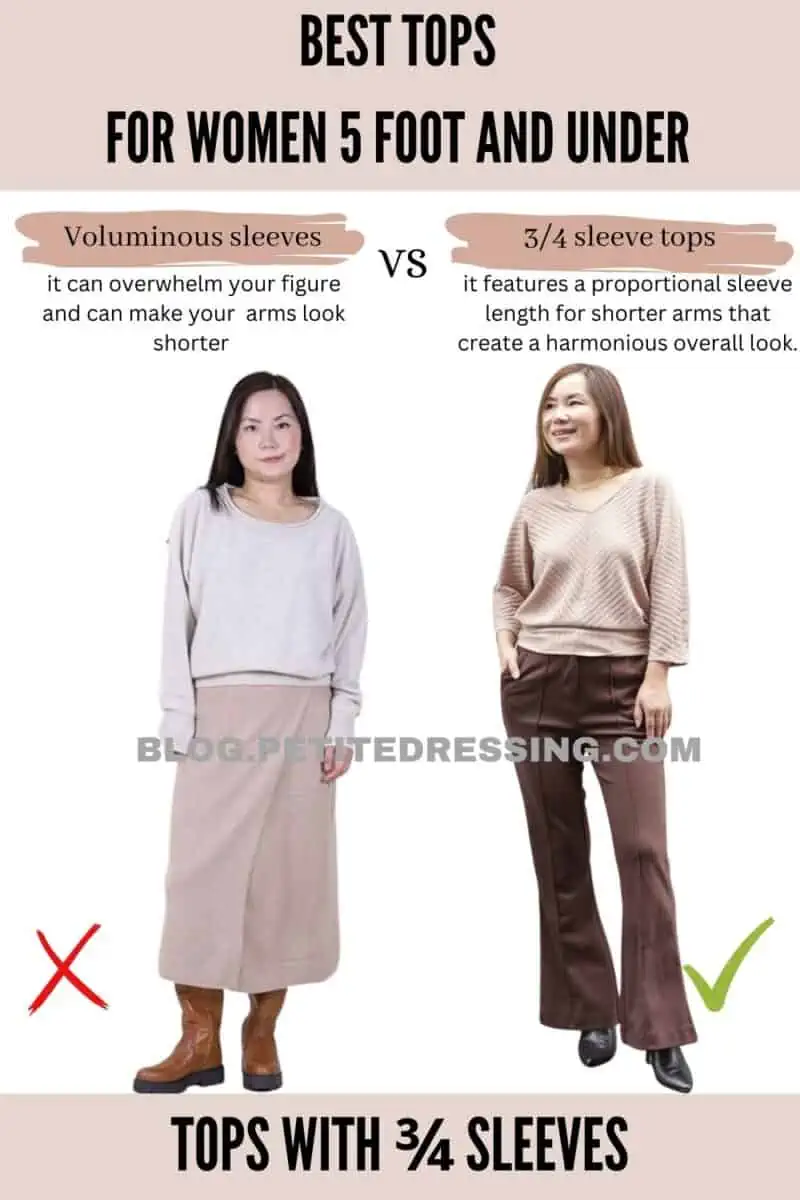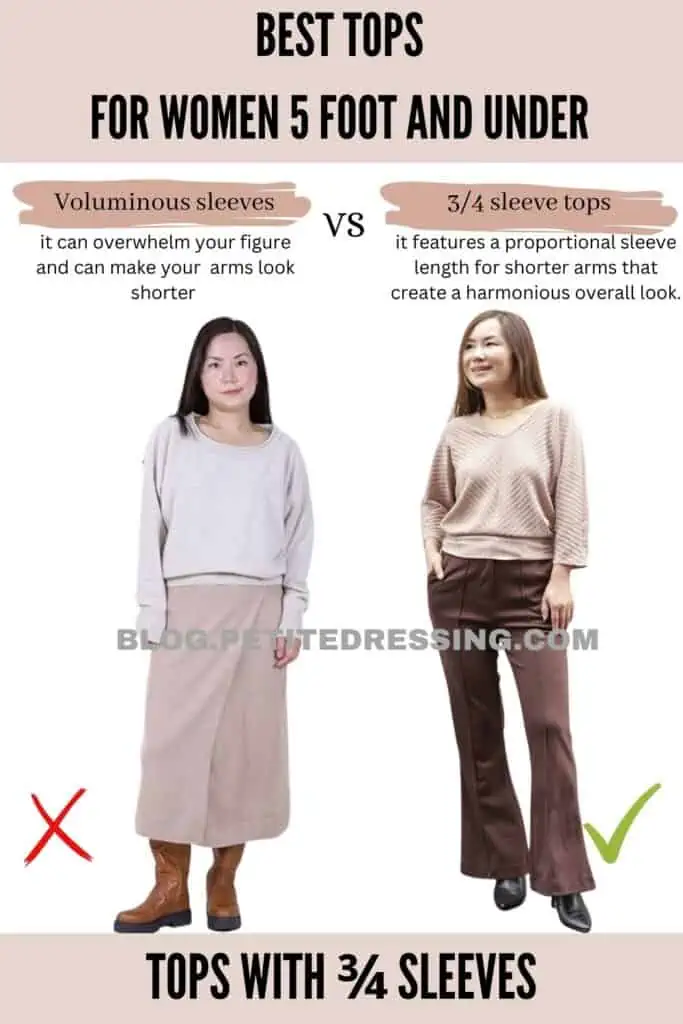 Tops with 3/4 sleeves fall just below the elbow, which can help create a sense of balance and proportion for shorter women due to the fact that it features a proportional sleeve length for shorter arms. Additionally, the sleeves end at a point that is neither too high nor too low on the arm, which can help create a harmonious overall look.
By covering a portion of the arm, 3/4 sleeves can provide coverage without looking too cramped up. Apart from this, it also contributes to elevating your height as it also gives your figure an unbroken visual line.
The Key Takeaway
It's quite easy to overlook the effect of tops when it comes to making you appear taller because we usually put the focus on the legs more. But then as you can tell, choosing the right structure, design, and fit of your tops can make a whole world of a difference to how you enhance your frame overall!
Hopefully, you can fill your fashion shopping cart with the ones that will surely embrace your height after reading this style guide.