Coats are not just great for winter; you can also rock them in summer months to beautify your outfit and add a lot more flare. As a 5'2' woman with a petite clothing line for short women, I've had to try out different coat styles to find the one that works for our unique body type.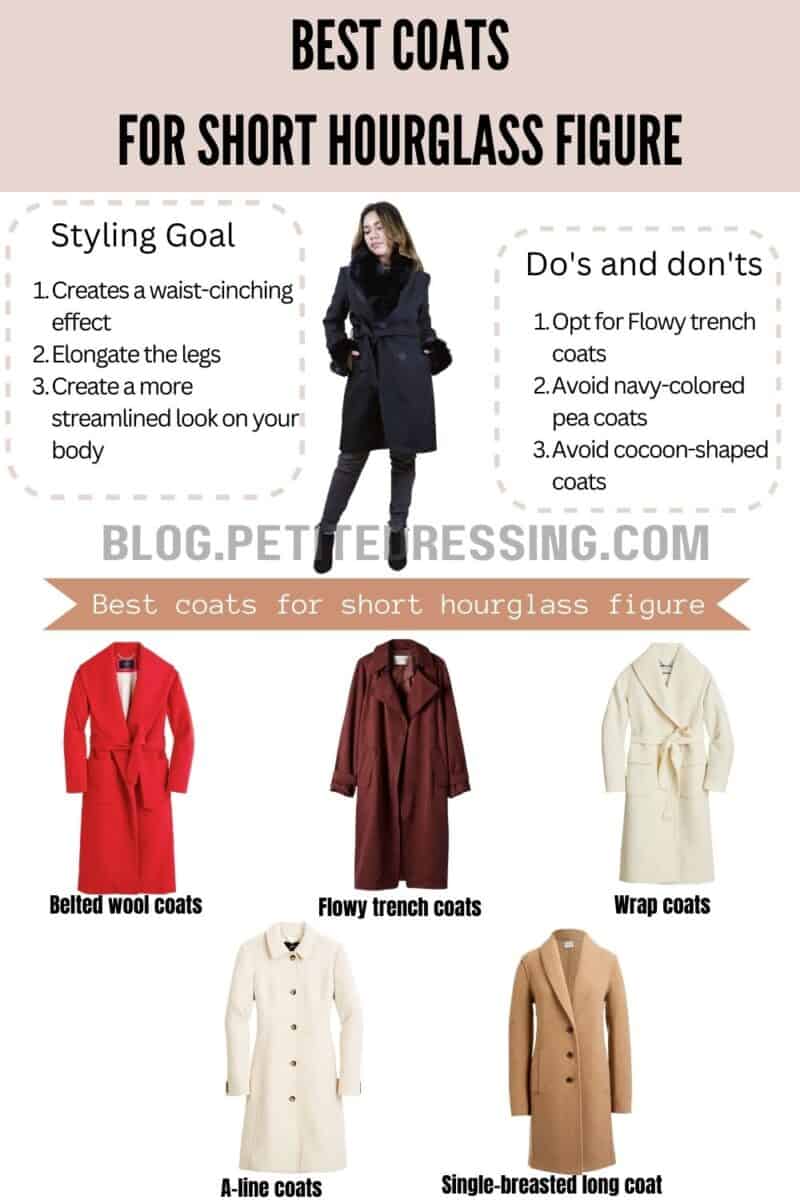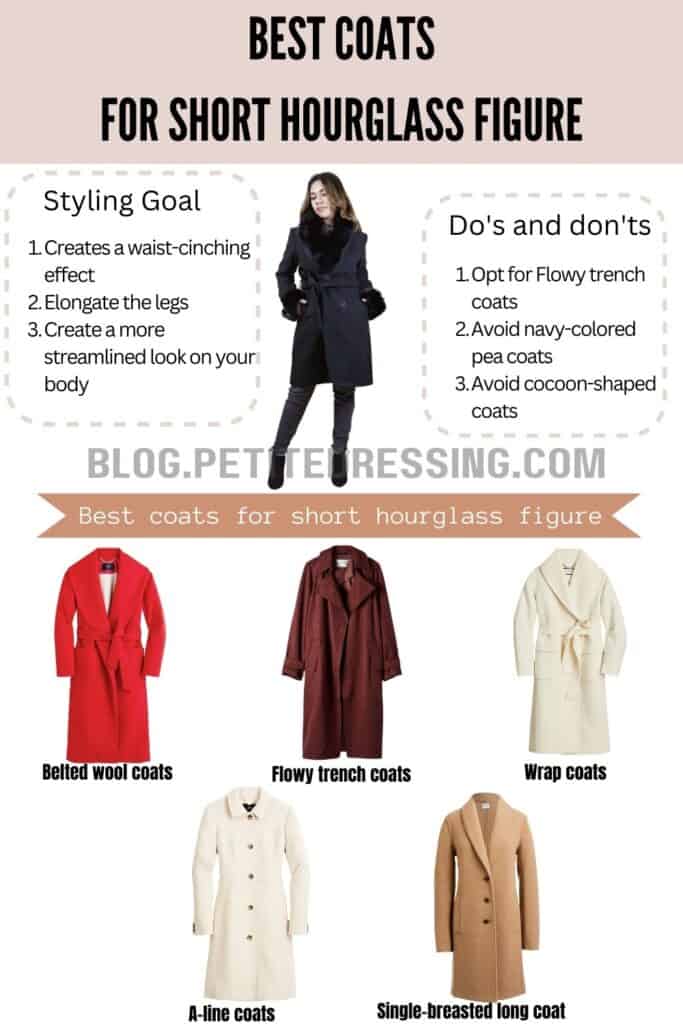 Some have been super flattering, and others made my petite body frame extra obvious. So, here's the ultimate coats guide for the short hourglass figure to save you the trouble of going through multiple unflattering coats.
Belted wool coats
How flattering is the belted wool coat on the petite hourglass figure? On a scale of one to ten, I would say eight. The waist cinching effect is one of the major features that makes this a top choice with the short hourglass shape.
The belted wool coat is great at cinching the waist which draws attention to this part of the body. Since this is a wool coat, this is a clothing material that is not so structured on the body. Therefore, it works with the belted waist to highlight your hourglass shape.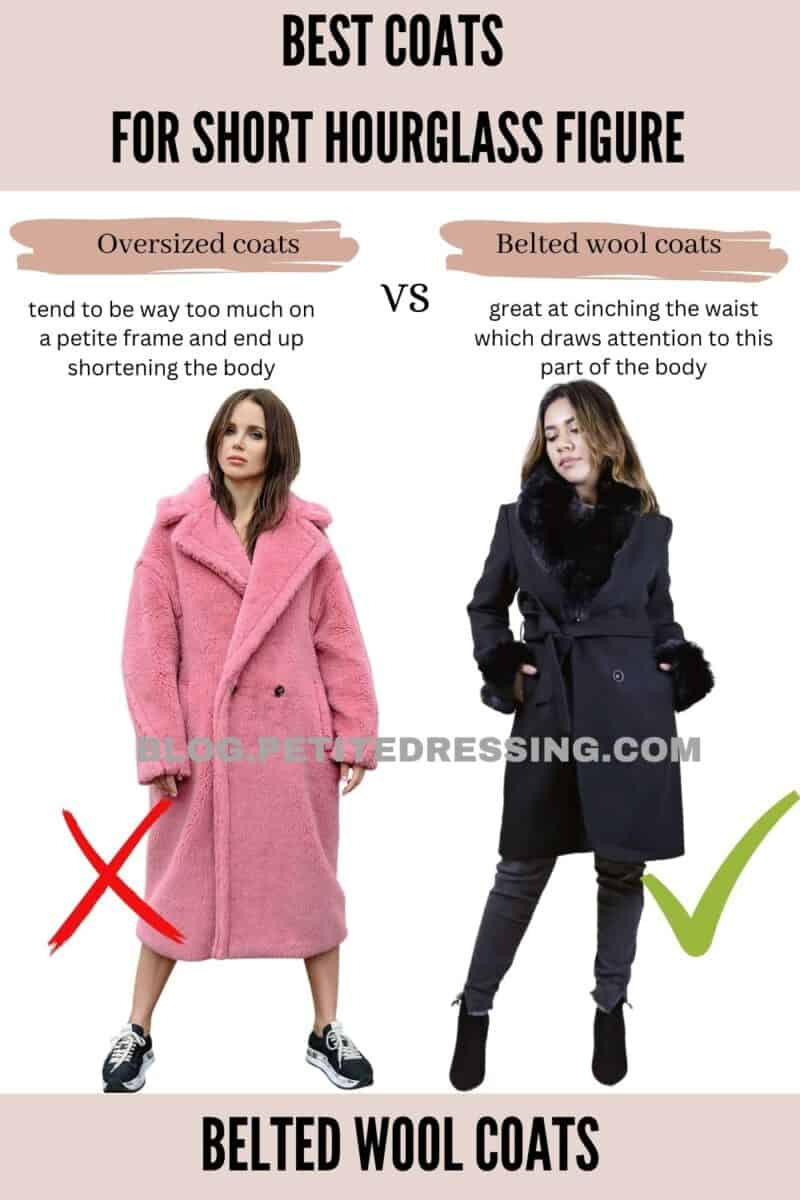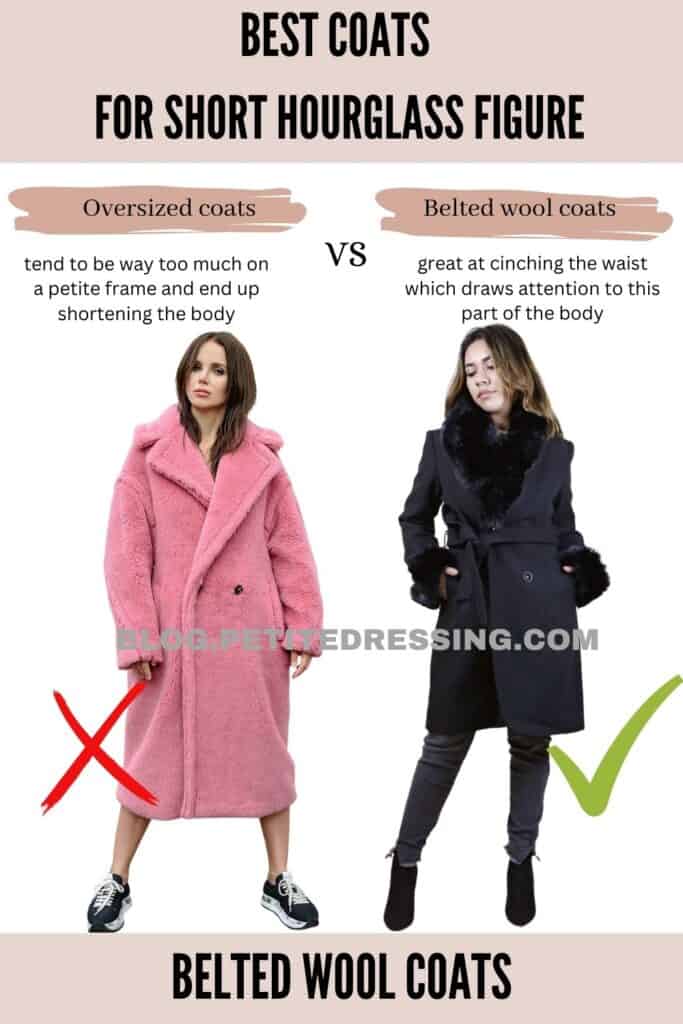 You'll love how easy it is to adjust this coat as freely as you want until it is super comfortable on your body. The fact that it's not a rigid clothing style is a huge plus. So, I'll advice you to own a few belted wool coats in your wardrobe and use this to emphasize your lovely feminine figure.
Flowy trench coats
The classic and timeless trench coat is quite famous for how it flatters almost every body type. The effects are even more glamorous on the short hourglass figure and that's why I always recommend this for petite models who want their natural body shape to stand out beautifully.
The amazing thing about flowy trench coats is that they help to emphasize the waist, especially as most come with a waist tie which highlights the narrowest part of your hourglass curves.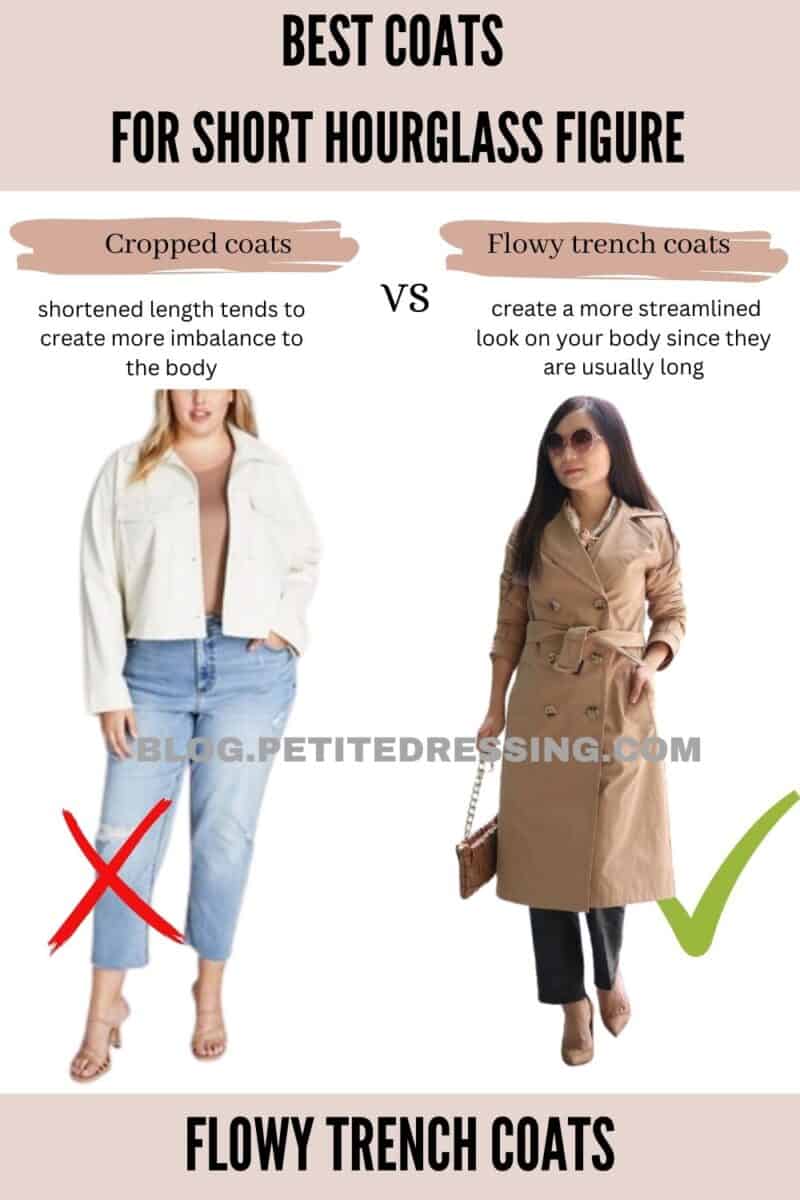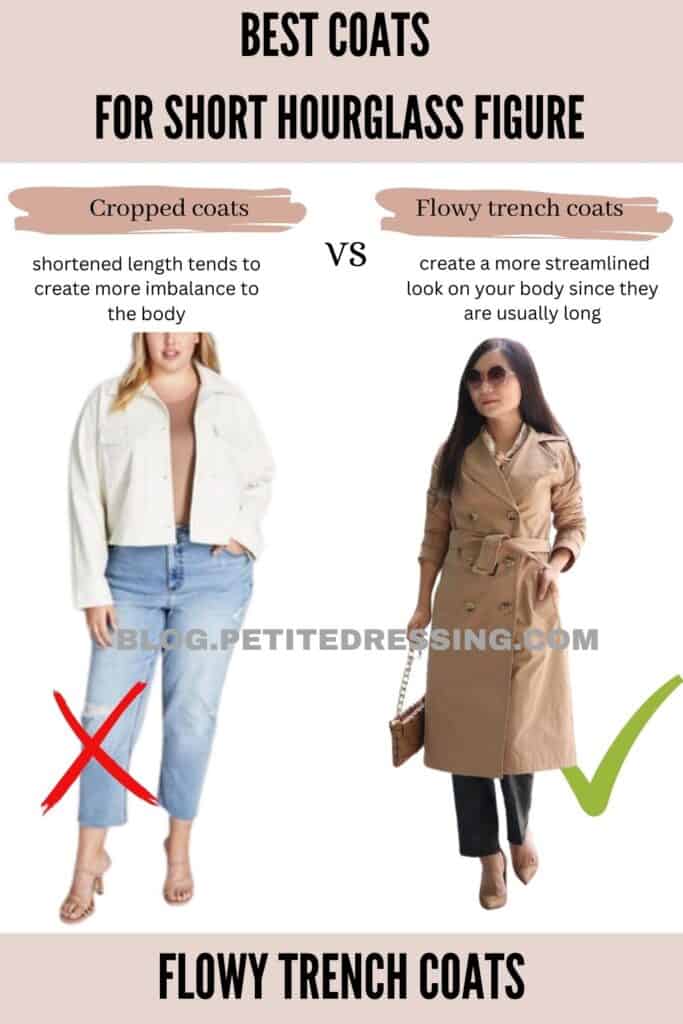 The focus here is on flowy trench coats and this style creates movement that adds a sense of fluidity to the complete look. For petite women, this will add a lot of visual interest to your outfit without that overwhelming feel on your body frame that's common with oversized coats.
Interestingly, flowy trench coats also create a more streamlined look on your body since they are usually long. This is great for creating the illusion of being taller.
Wrap coats
Wrap coats have a lengthening effect on the body frame and that's great for a petite woman who would love to give the illusion of being taller. This is possible as they are usually long which helps in elongating the body.
You can wear this over your high-waisted jean pants and you'll look amazing. Most wrap coats are made from soft and cozy materials like cashmere, so you should consider this when shopping.
The softer it is on your body, the better. You wouldn't want to sacrifice comfort when choosing the perfect coat for your body type. Another huge plus with wrap coats is that they usually create a V-shaped neckline which draws the eye upwards and flatters your chest.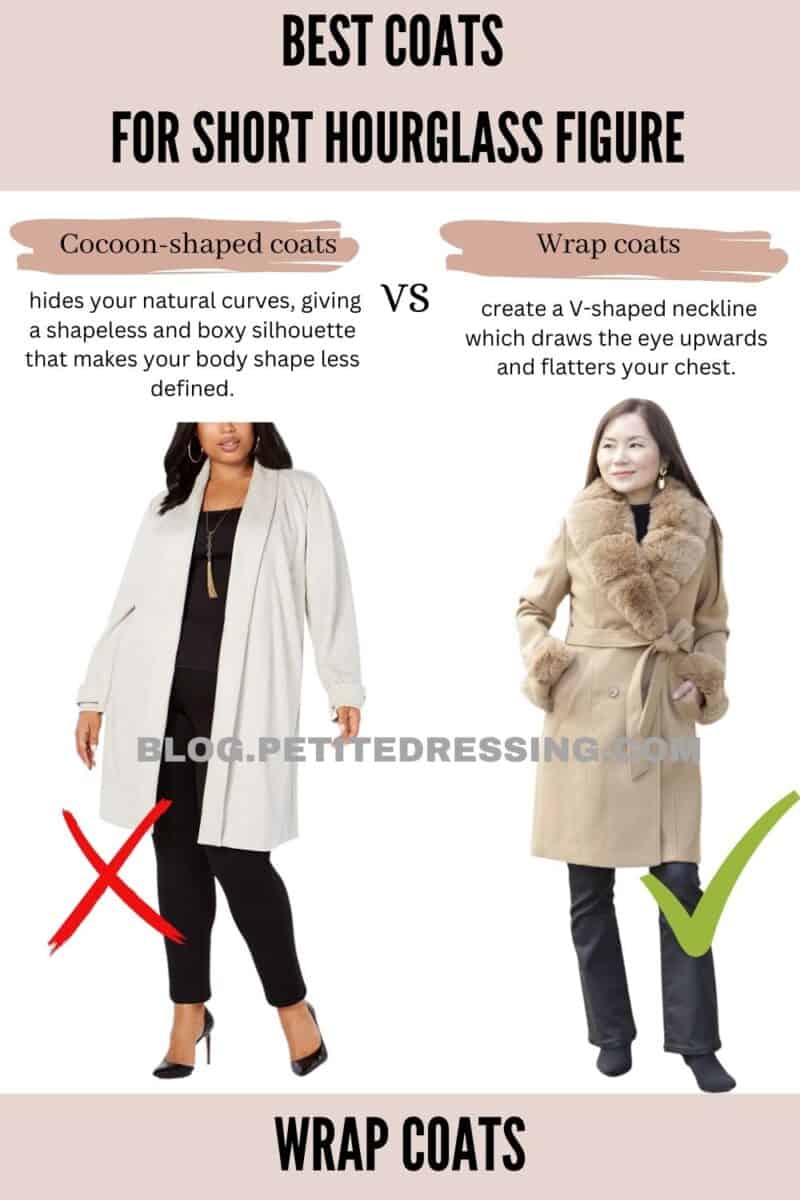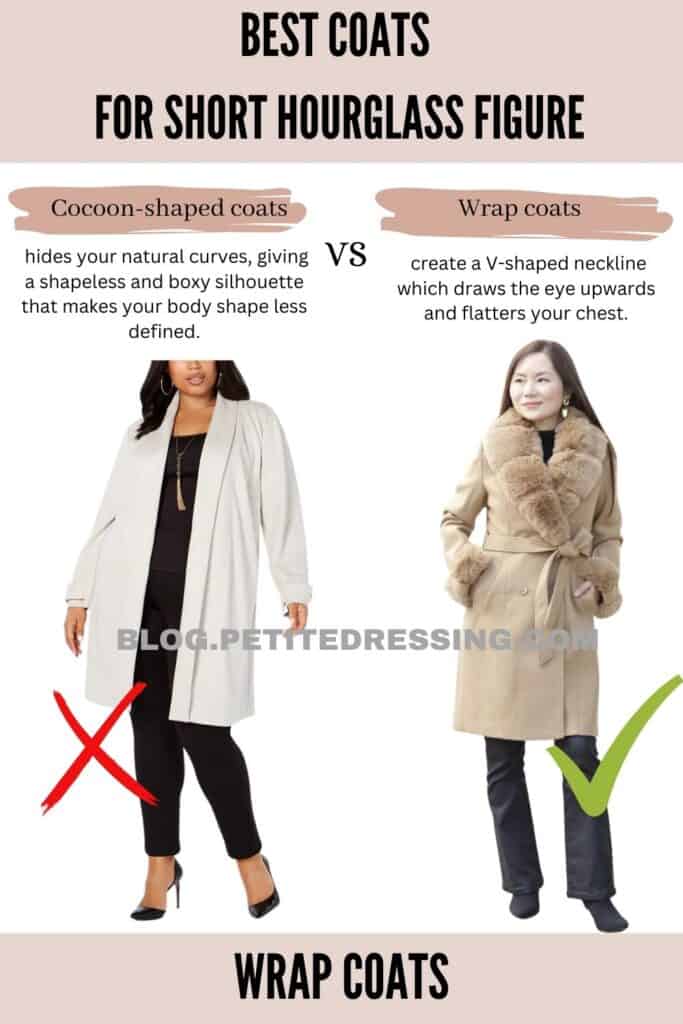 Feel free to play around with the wrap design until you achieve a fitted look that's both comfy and amazing on your body.
A-line coats
You may have noticed so far that I'm big on comfort. I honestly believe that there's absolutely no reason to let go of comfortable clothing choices when shopping for coats that fit your unique body type.
That's one reason why you shouldn't ignore A-line coats when shopping for coats that will flatter your petite hourglass shape. This style of coat has a wider bottom which is perfect for creating a flattering and more balanced silhouette.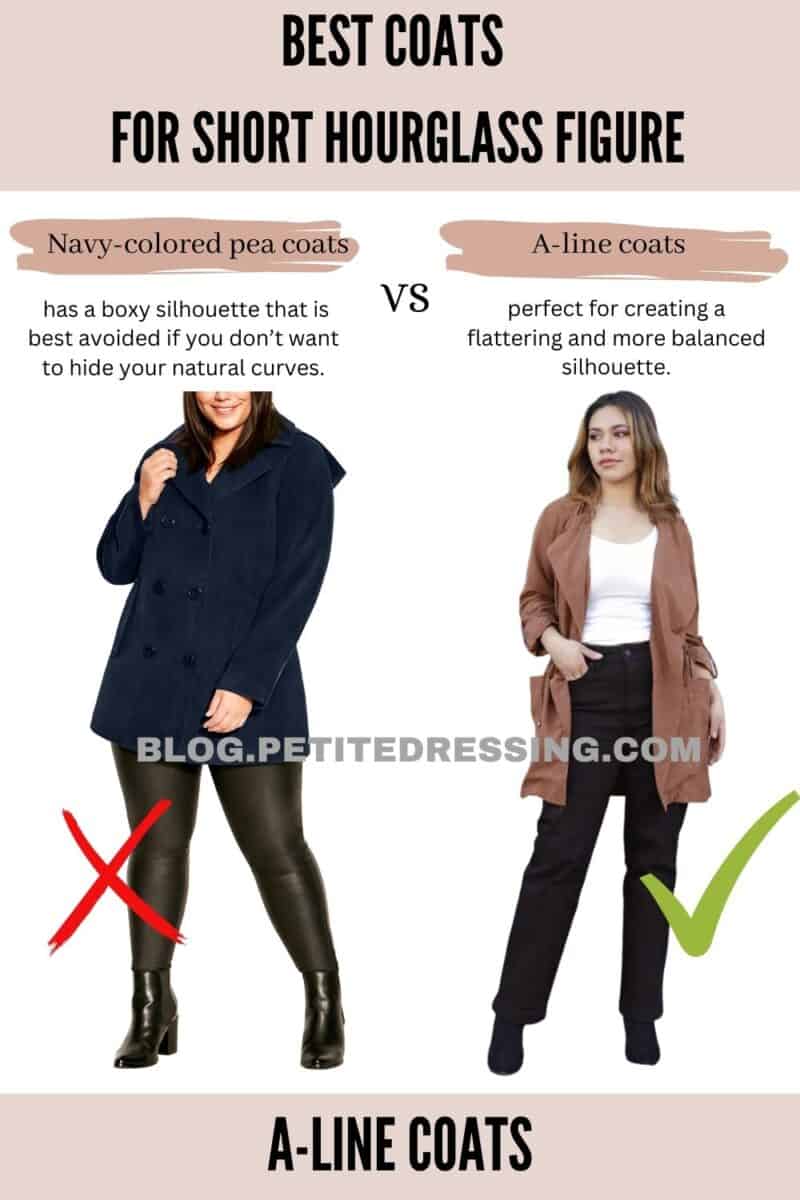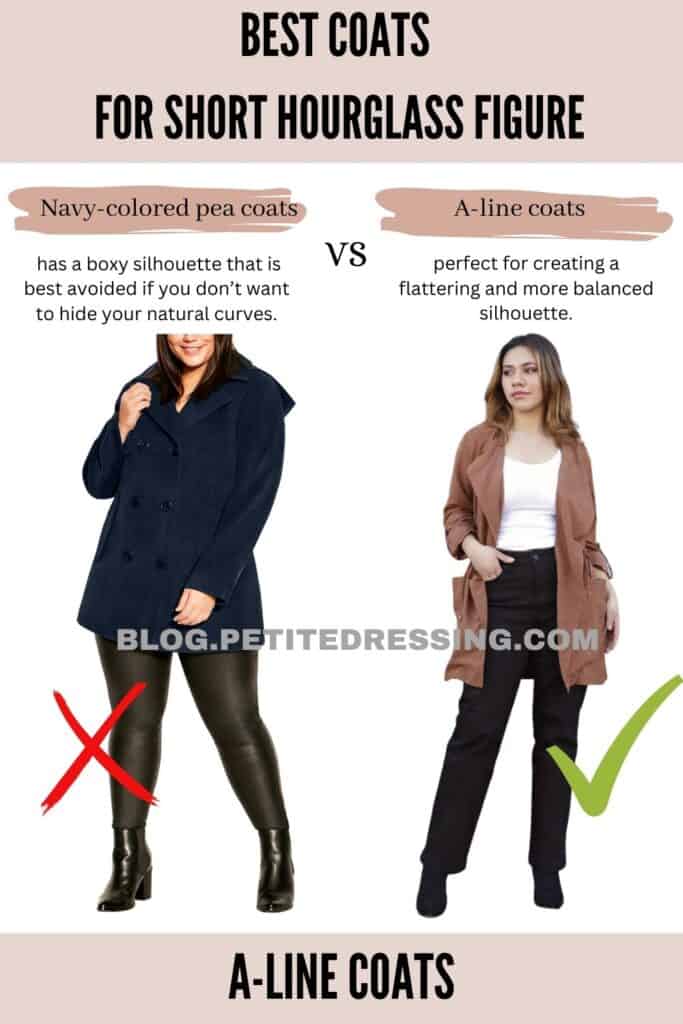 This fit and flare style also adds elongation effect to the body since they are usually longer, and this is helpful for your small frame. Feel free to experiment with different combinations to decide how this works for you.
Single-breasted long coat
The single-breasted long coat offers comfort, versatility and of course the easy creation of a flattering silhouette for the petite hourglass shape. This is perfect for cooler weather, so it's okay to pick long coats made with cashmere or wool.
The long style of this single-breasted coat helps to elongate the body but the effect of the single-breasted style is even more impressive. This style is flattering for curvy women with a big chest that don't want to draw too much attention to this area.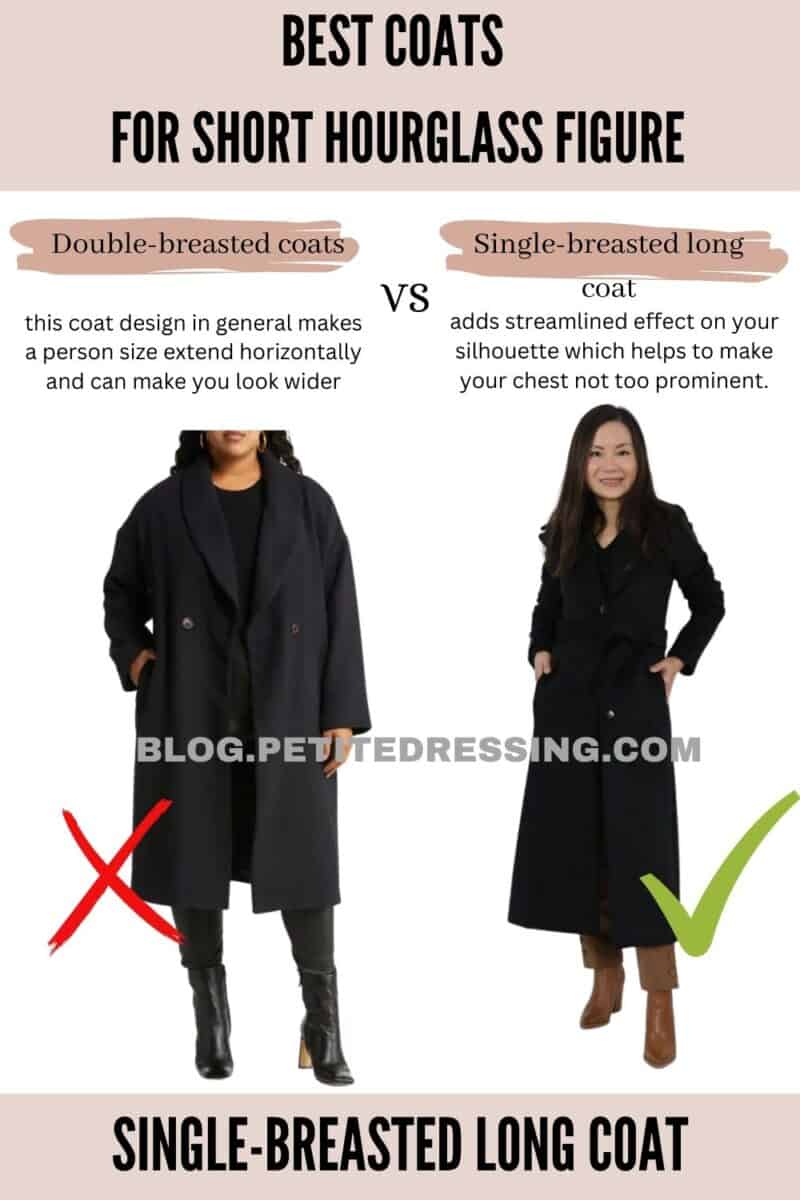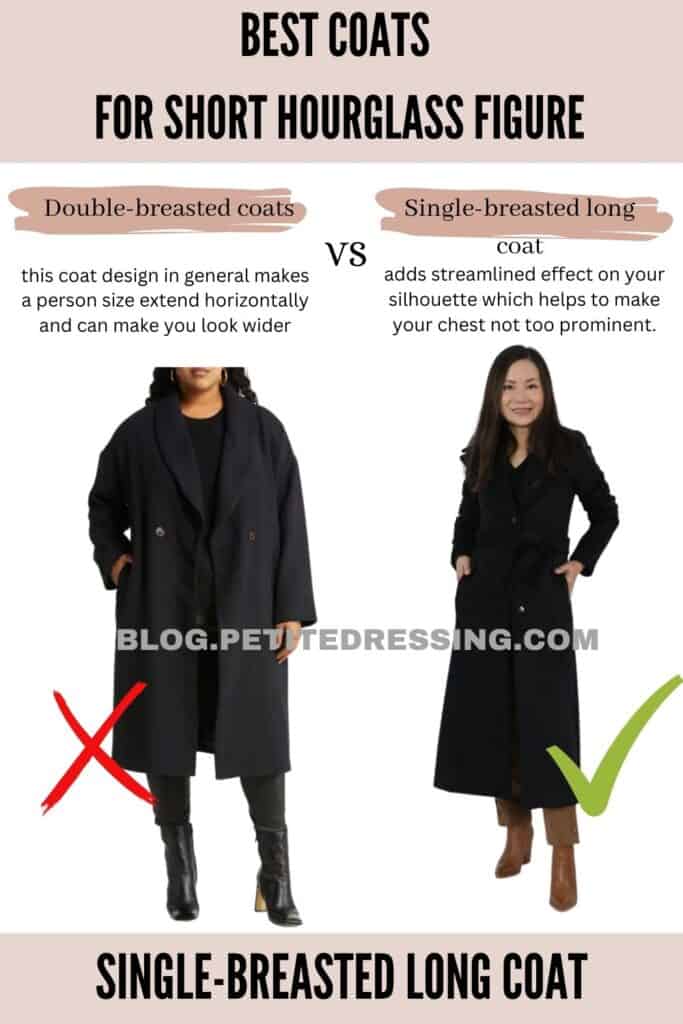 Pockets on coats can create an unflattering bulge but when it's single-breasted, this adds more to the streamlined effect on your silhouette which helps to make your chest not too prominent.
Avoid oversized coats
Coats that are too big on the body should completely be avoided if you have a petite figure. Oversized coats can make you appear bottom-heavy or top-heavy as they throw off your body proportions, and this can be very problematic for petite hourglass-shaped women.
The focus is on maintaining an overall balanced silhouette and oversized coats won't help you achieve this. Since they are also too long, oversized coats will only shrink you further, making your body appear more compact and shorter than it actually is.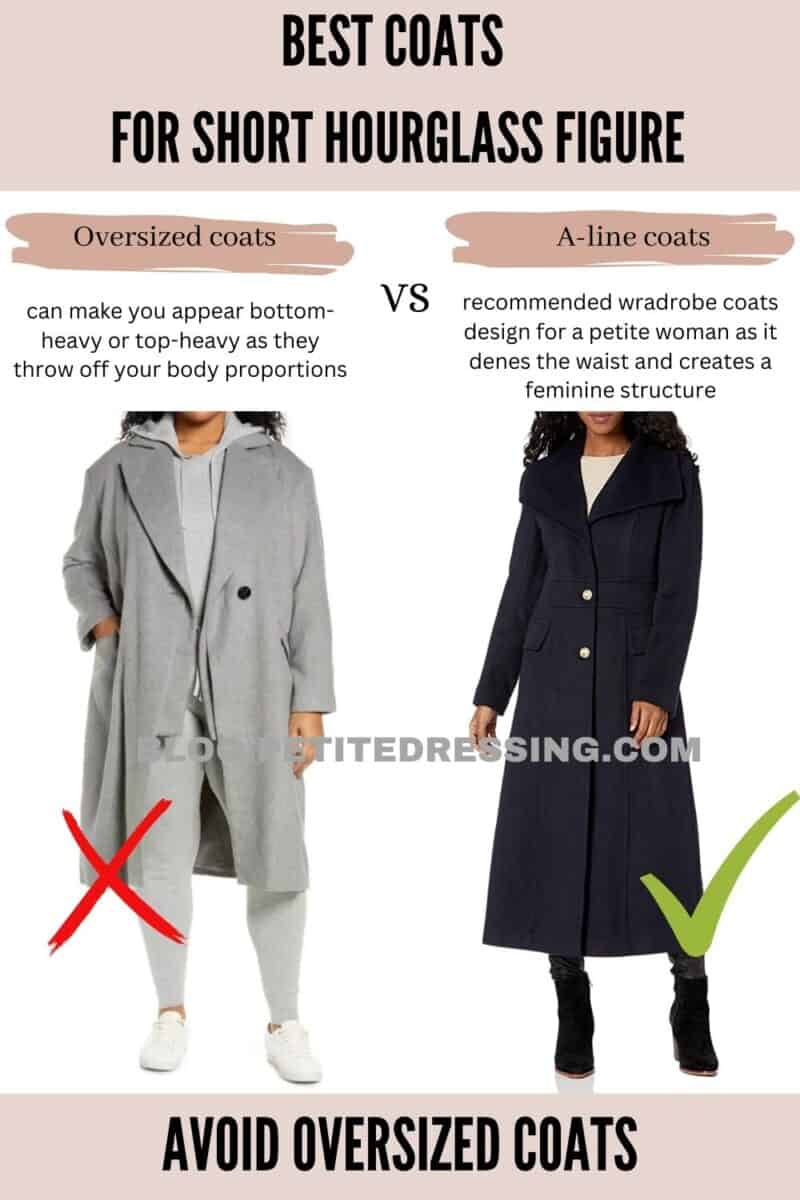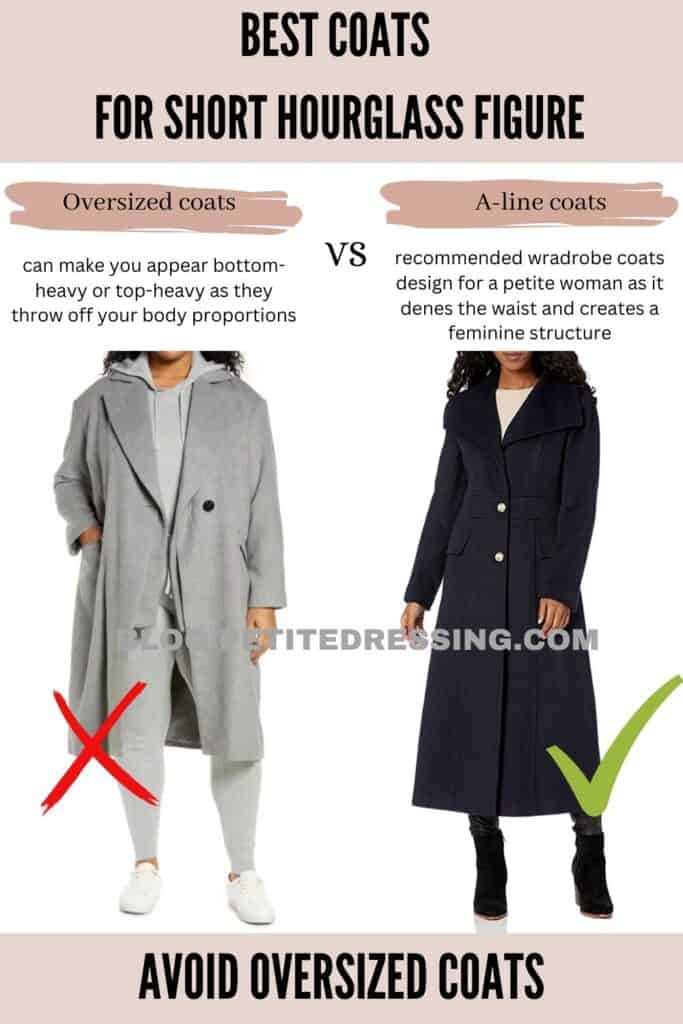 Meanwhile, this type of coats can create a boxy silhouette that conceals your natural curves. I believe that you can use coats to your advantage to highlight your feminine curves rather than hiding it in a way that makes you look unflattering and shapeless. Therefore, it's best to avoid oversized coats.
Avoid cropped coats
Just as oversized coats have an unflattering effect on the petite body shape, this is similar to what you get with cropped coats. They can make you appear top-heavy while the extra short length of cropped coats creates a shortening effect on your body frame.
For petite curvy women, I believe that you should stay away from cropped coats. It doesn't help that they can only work with very few outfits, so you have limited styling options with cropped coats.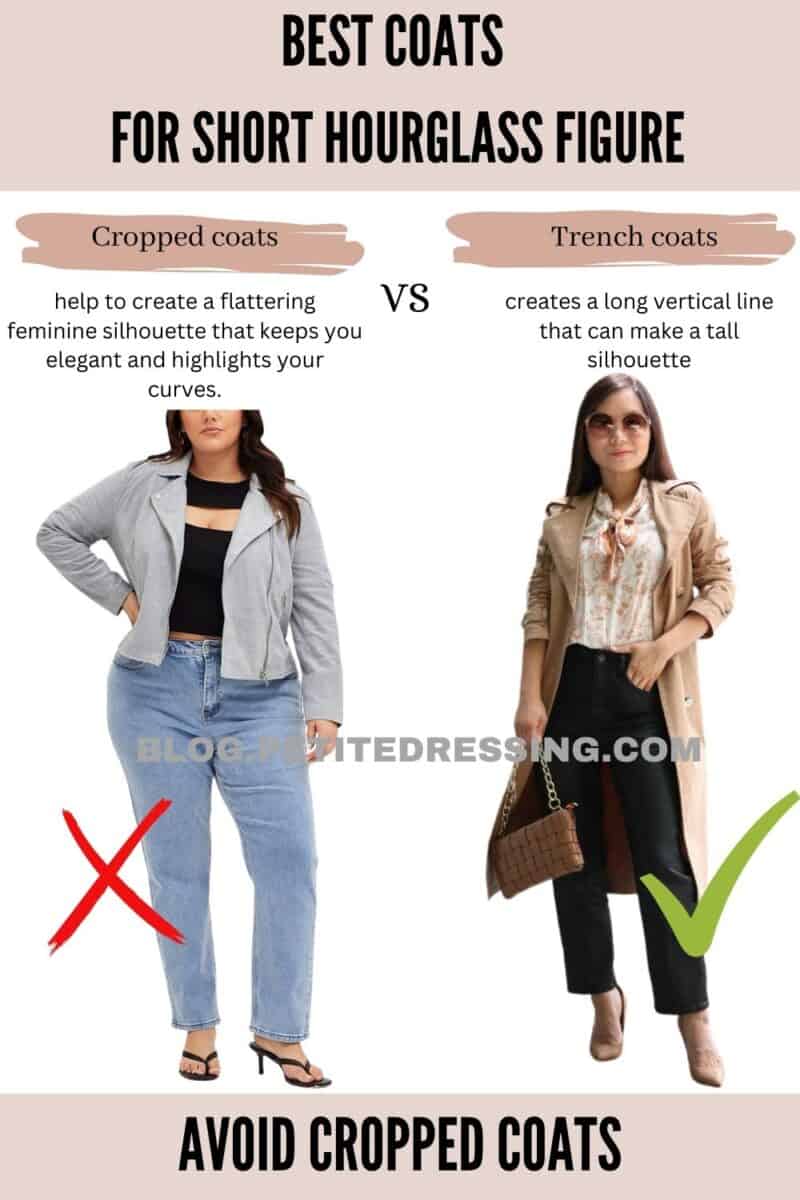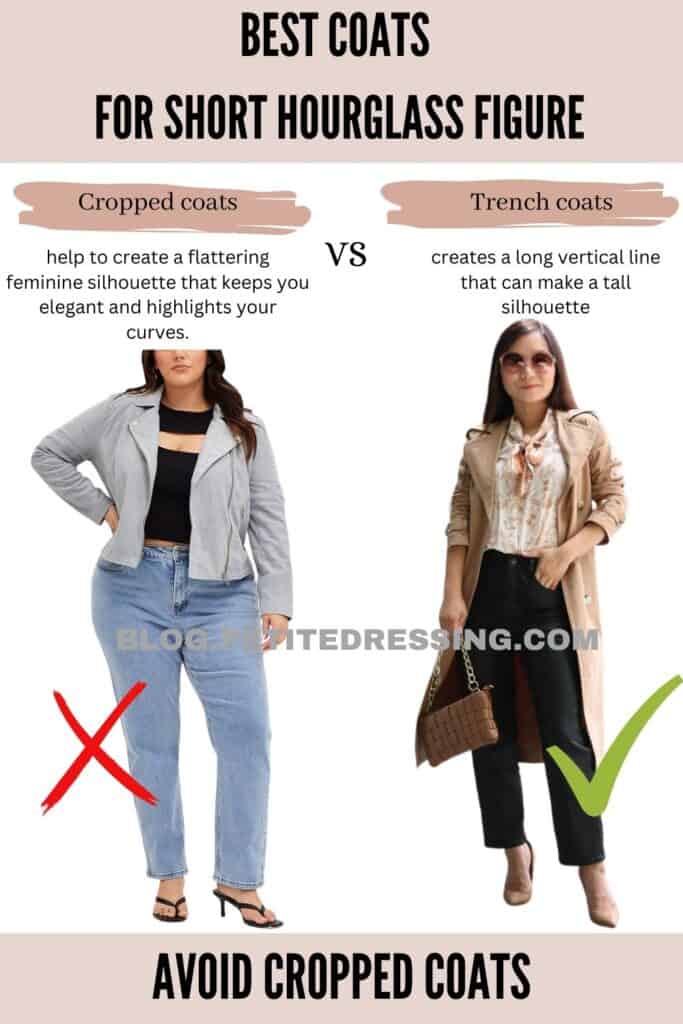 Rather than cropped styles, go for coats that are longer than your knee as this help to create a flattering feminine silhouette that keeps you elegant and highlights your curves.
Avoid cocoon-shaped coats
Cocoon coats are oversized silhouettes with dropped shoulders and a soft egg shape that can be overwhelming on a petite body frame. Sure, they are an amazing trend, especially for taller women, but they don't have a great effect on short women.
Instead, they create an unstructured silhouette due to the extremely loose fit and this can make you look buried under a pile of clothing. The bulky style hides your natural curves, giving a shapeless and boxy silhouette that makes your body shape less defined.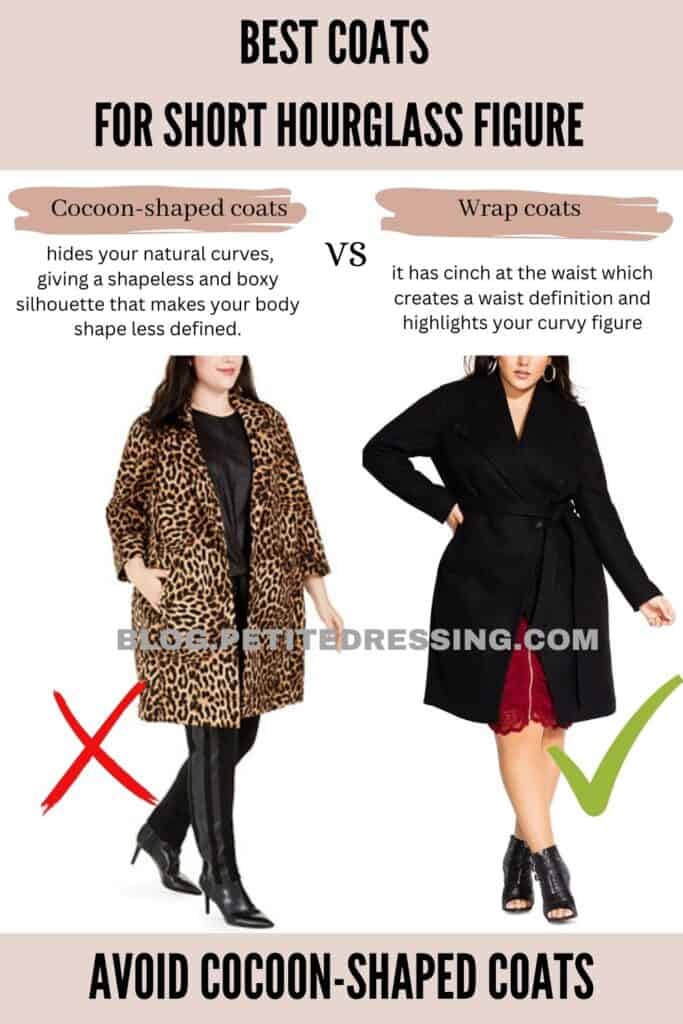 Therefore, this will also make you look shorter which is problematic if you want to maintain a balanced silhouette and the illusion of height.
Avoid Pea coats
Pea coats are a double-breasted style and that makes them a huge-no for petite hourglass-shaped women. Most women with the hourglass body type have big chests and pea coats are styled in such a way that it highlights this area of the body.
With its double-breasted style, this is not flattering for big chests and will draw more attention to this part of the body, making it appear larger than it actually is. This style of coat also has a boxy silhouette that is best avoided if you don't want to hide your natural curves.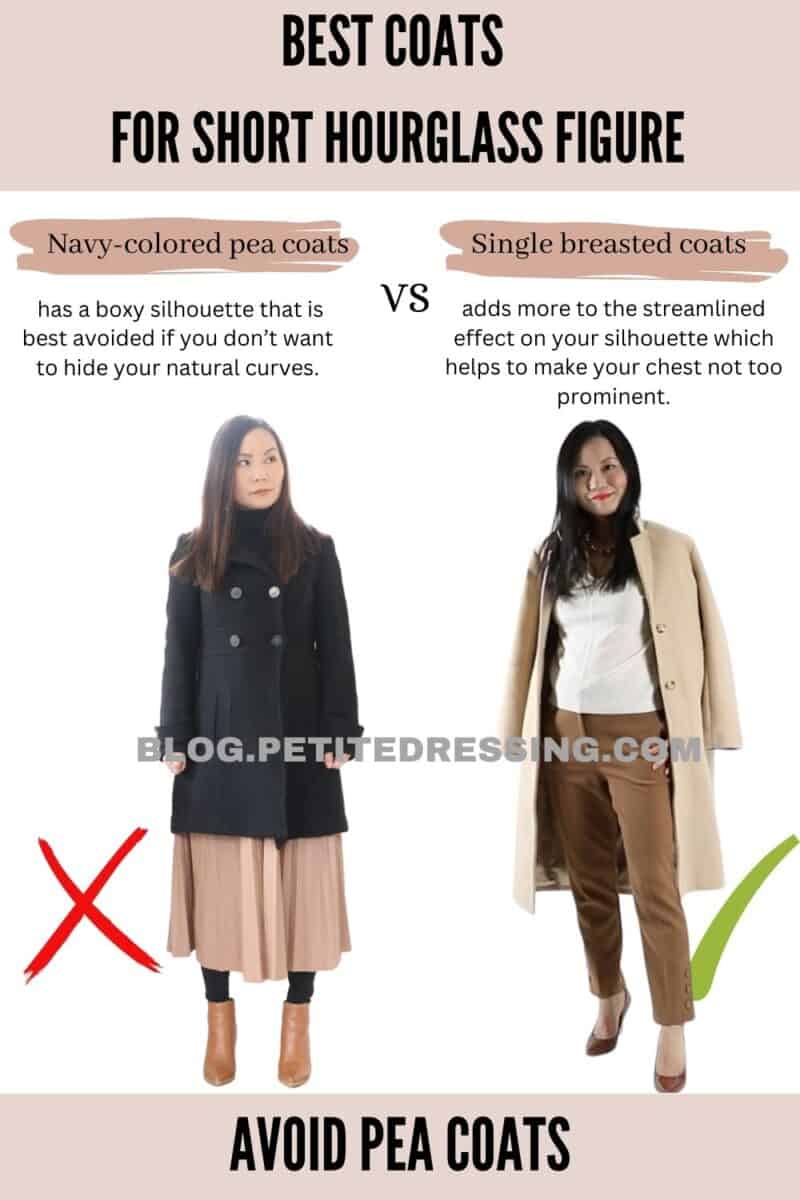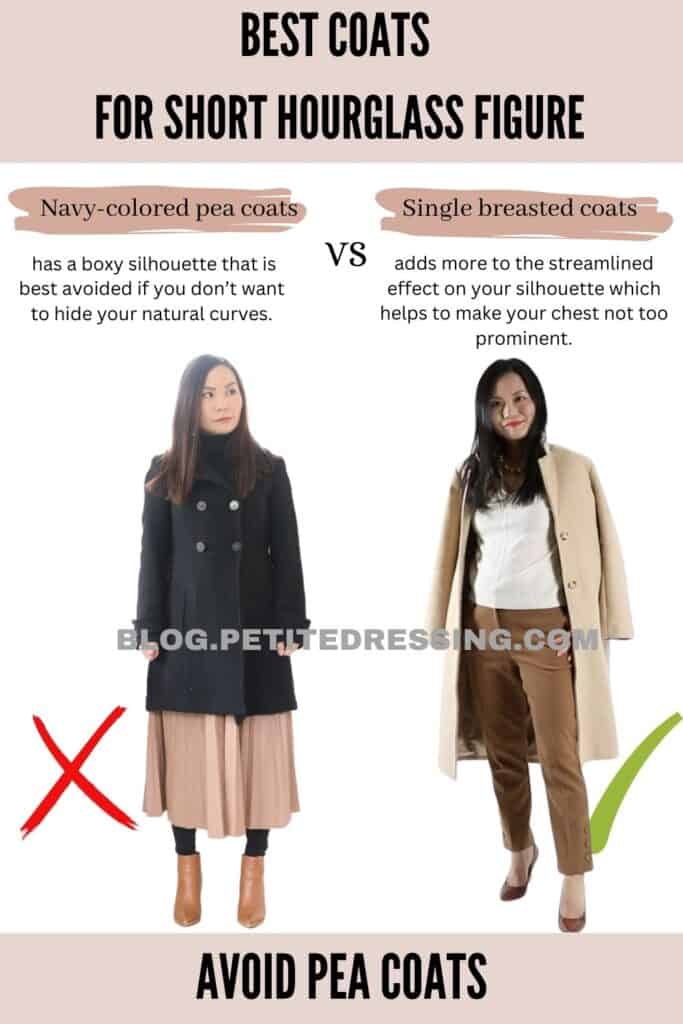 Also, it's always a great idea to choose coats that are not so big on your body. The more fitted they are, the better. However, you should find the proper balance as you won't want to go for tight-fitting coats that are uncomfortable.