Have you been having trouble finding the perfect pair of booties for your short legs? No doubt about it, it can be a challenge to find the best boots for short and chubby women that will fit your body frame while being both stylish and chic.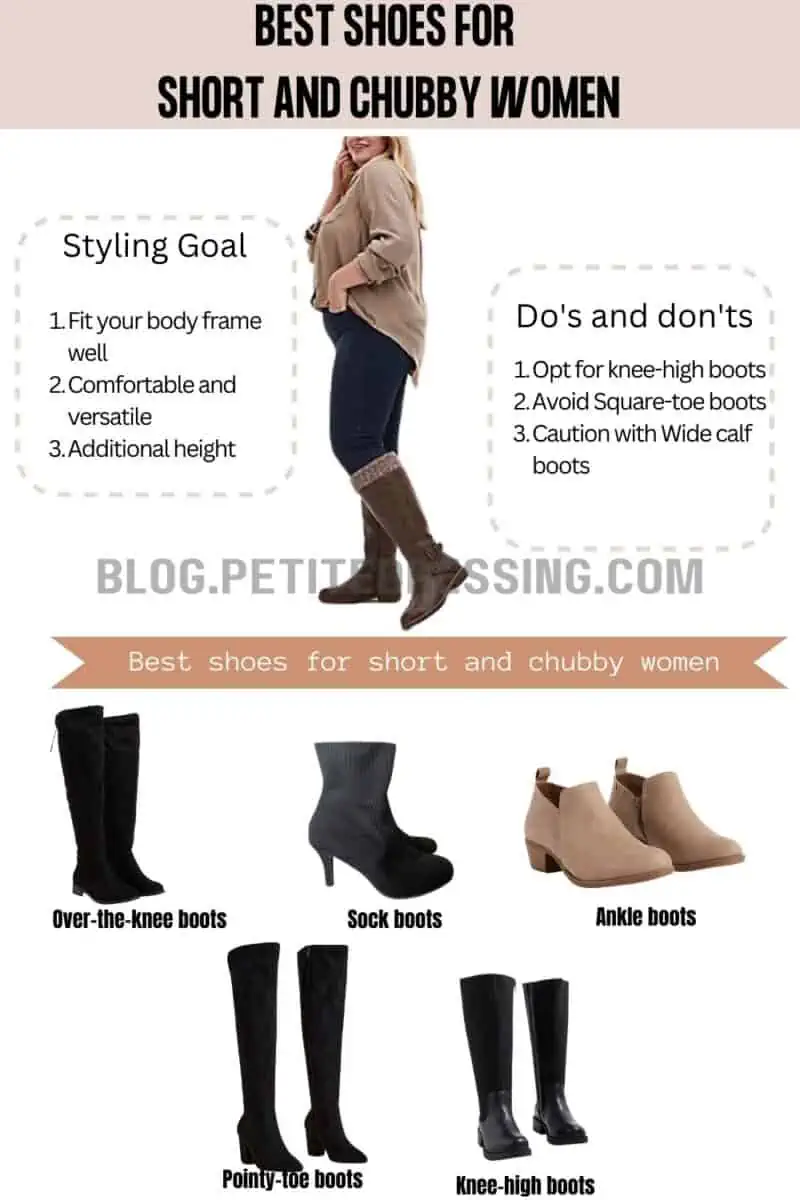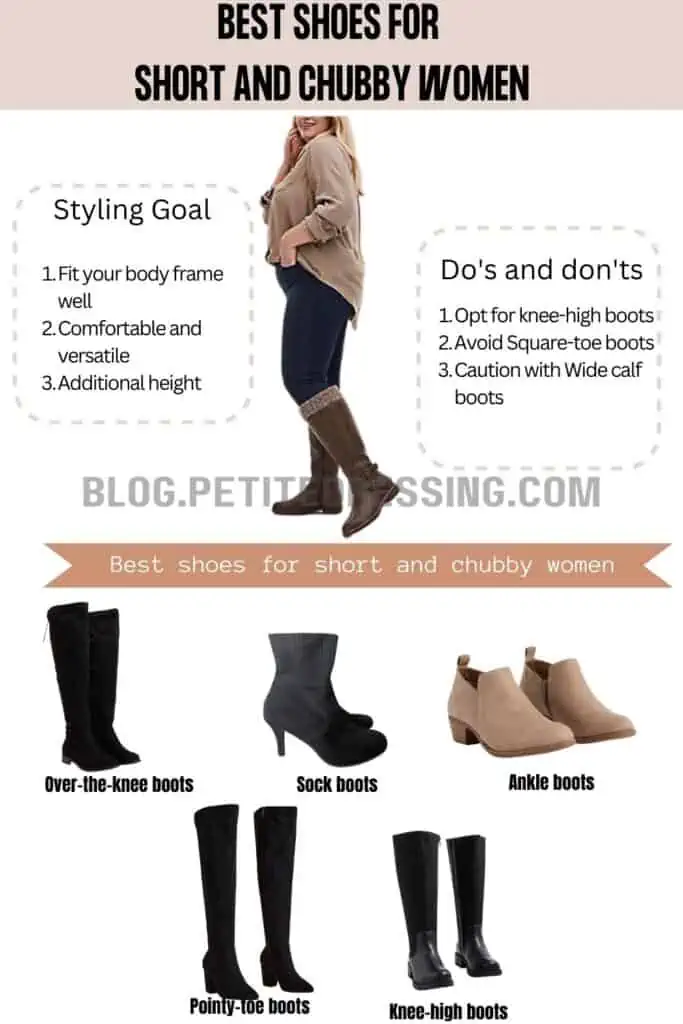 The good news is that all the tips you need to get this done will be covered in this guide for short and chubby women. We have put together top styles to choose from when you go boot shopping and what you should absolutely avoid if you don't want to give your fit some extra work. Let's get started.
Over-the-knee boots
Add a touch of sophistication and class to your outfits with over-the-knee boots, which are perfect for making your legs look taller and slimmer. You can wear over-the-knee boots with several outfits, including shorts, skirts, and dresses.
This versatility is a huge plus and one of the reasons why these boots come highly recommended. You can even choose to use it to create a casual look with jeans and a simple cardigan. 
If you're feeling more daring, a midi skirt or mini skirt will be a lovely touch. Luckily, there's a wide range of styles of over-the-knee boots available, ranging from leather to suede. This is a great fashion choice for women with short legs.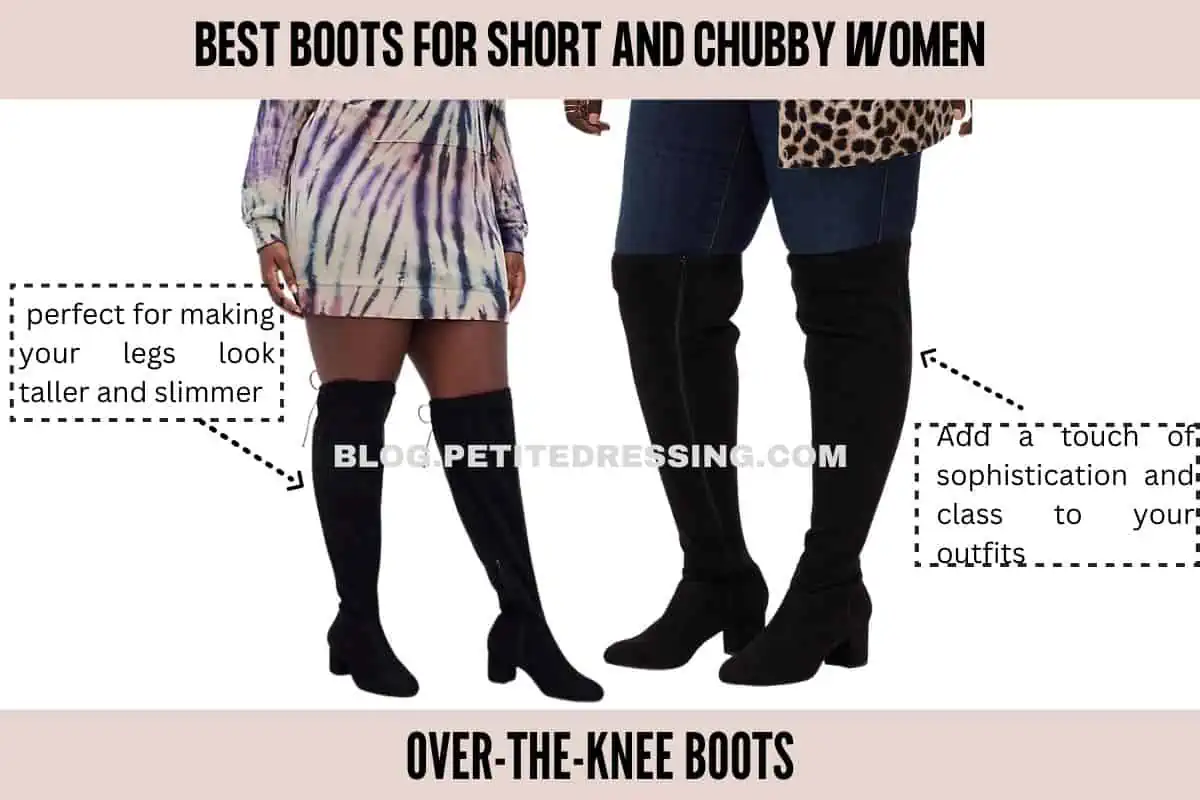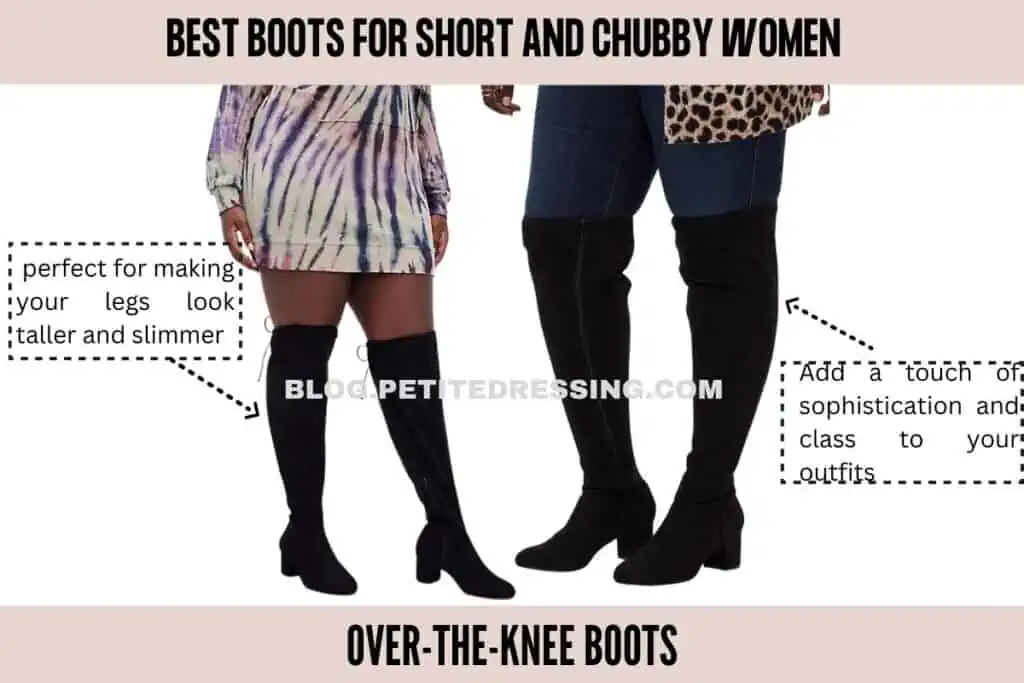 Another way to rock this style of boots is with high-waisted pants, as this draws more attention to your legs.
Sock boots
Sock boots have been a fashion trend for more than a decade, and it doesn't look like they'll be fading anytime soon. One reason why they'll remain a top fashion trend is due to how great they make short and chubby women look.
Socks boots usually fit snugly around the ankle like a sock, and this tight fit makes the legs appear longer. Since they work with almost every outfit, they are a great versatile addition to your closet.
These boots are also styled with pointy toes, which add to the overall illusion. Sock boots come in different styles, including those made with jean material. You can easily mix and match this with different outfits to achieve a casual or formal look.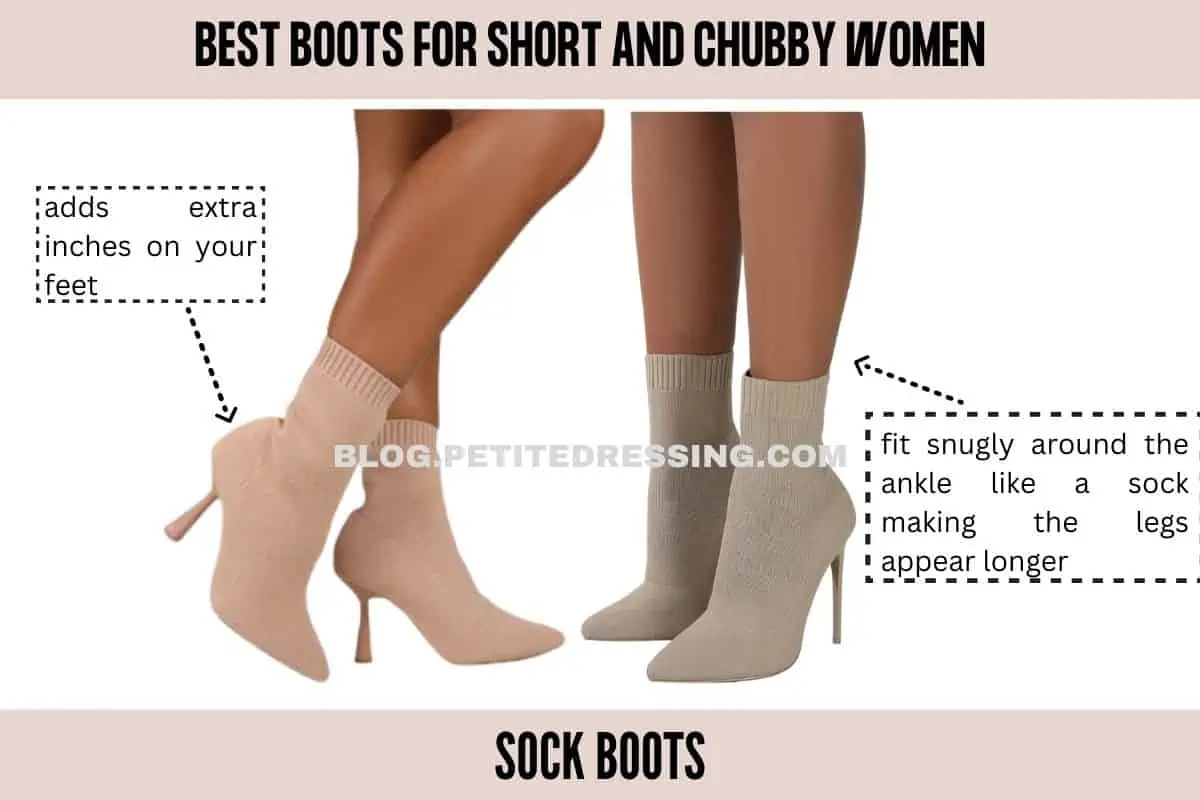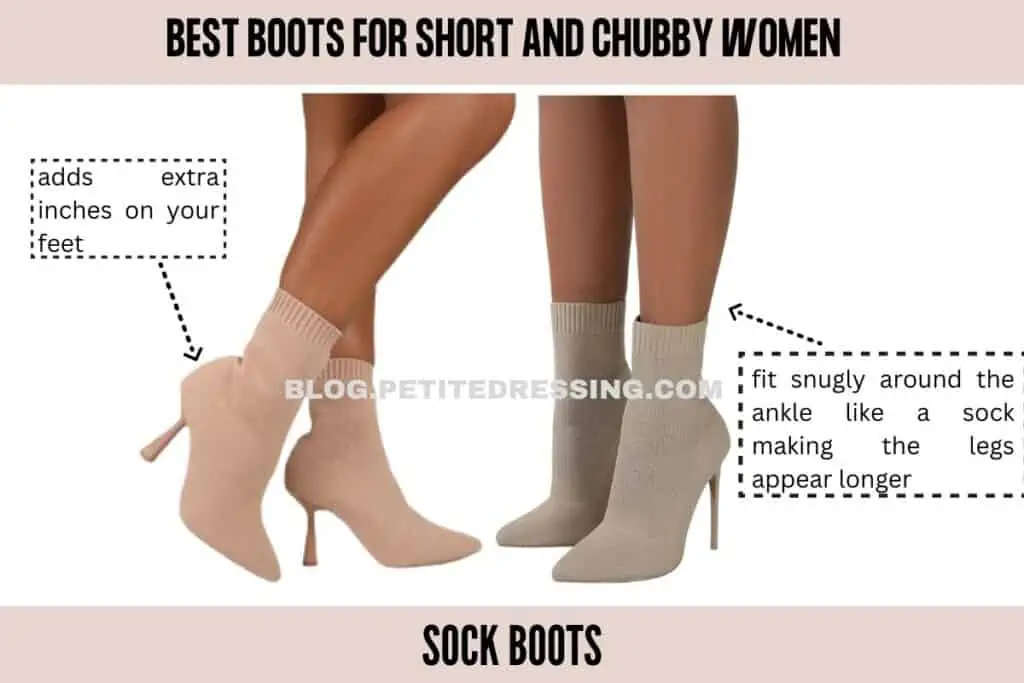 Since these come in heels, it wouldn't hurt to get those extra inches on your feet, especially as they are incredibly comfortable. Wear them all year round, and you'll never run out of options.
Ankle boots
The classic ankle boots come in various decent heel heights and styles that make them a great choice for women who are on the chubbier side. You can choose to keep them as everyday wear or take it up a notch by wearing ankle boots to formal events.
Whatever your choice, ankle boots have the impressive benefit of elongating the legs of short women. Typically, they have a shorter cut, and this is perfect for creating the illusion of longer legs. With this taller silhouette, you'll feel a lot more confident at outings.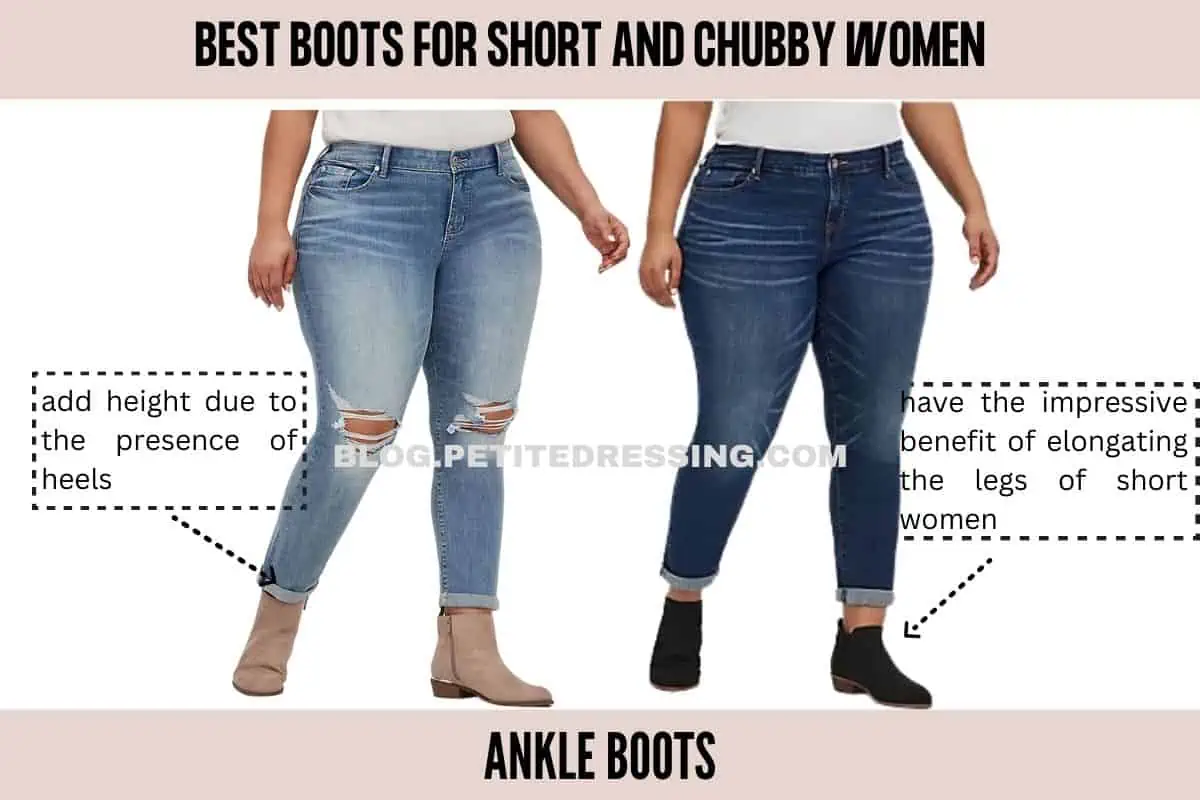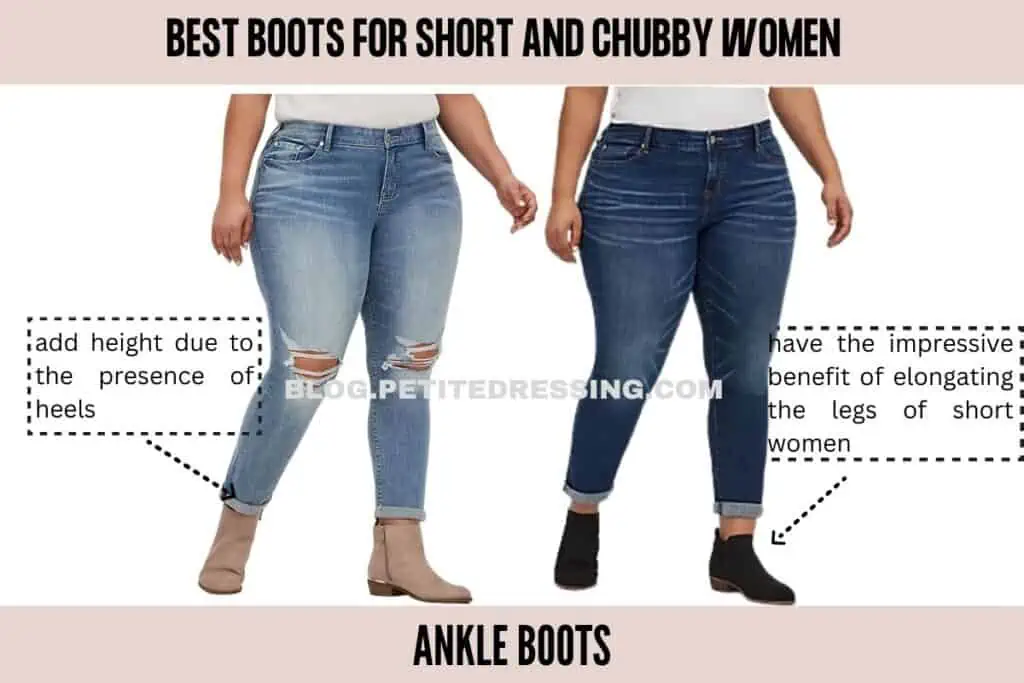 Ankle boots also add height due to the presence of heels. You'll love the fact that they are not limited by season, so you can wear them during hot and cold months. We recommend black suede ankle boots as these look really cool.
Pointy-toe boots
Pointy-toe boots have always been a top choice for women who are shorter and chubbier. Can you picture yourself in high-waisted pants, a v-neck top, and pointy-toe boots? If you love what you see, then you'll definitely love the different styles of outfits you can get paired with pointy-toe boots.
Just like ankle boots and over-the-knee boots, they create the illusion of longer legs with their narrow, pointed-toe shape. The beautiful thing about this boot is that it draws attention to your legs which is great for making you look taller.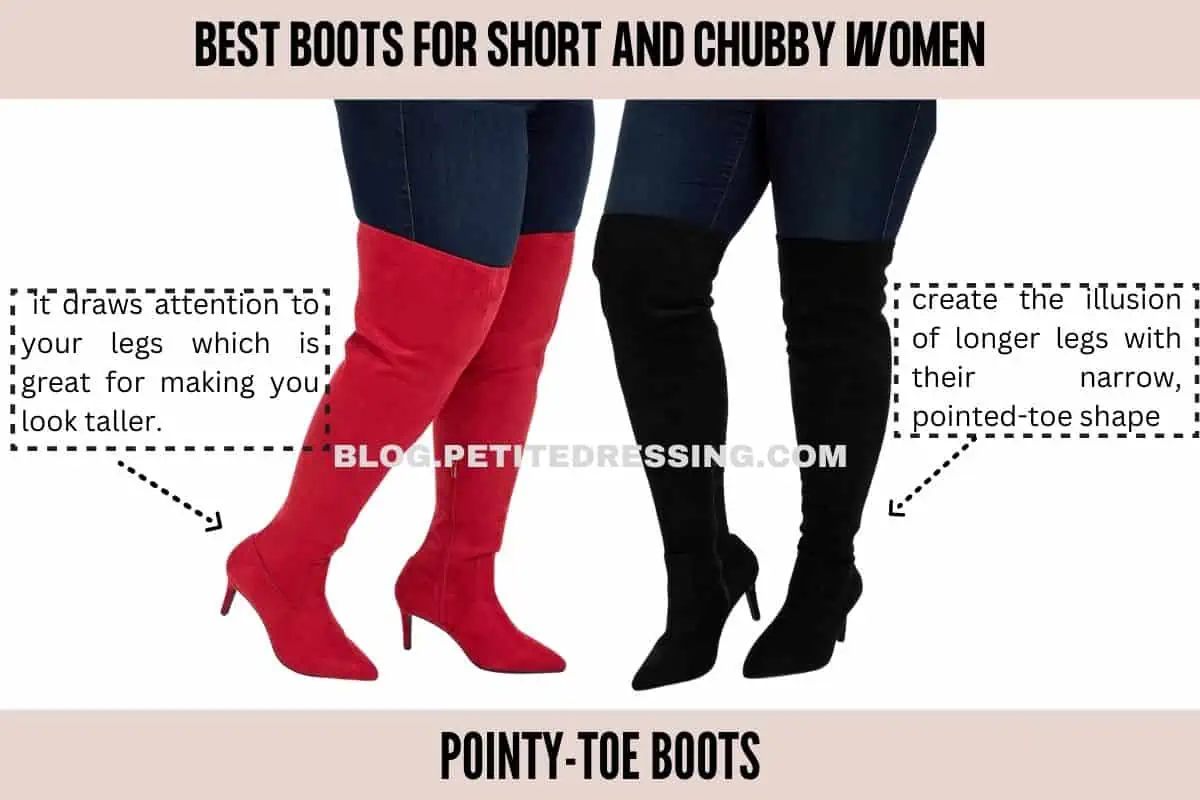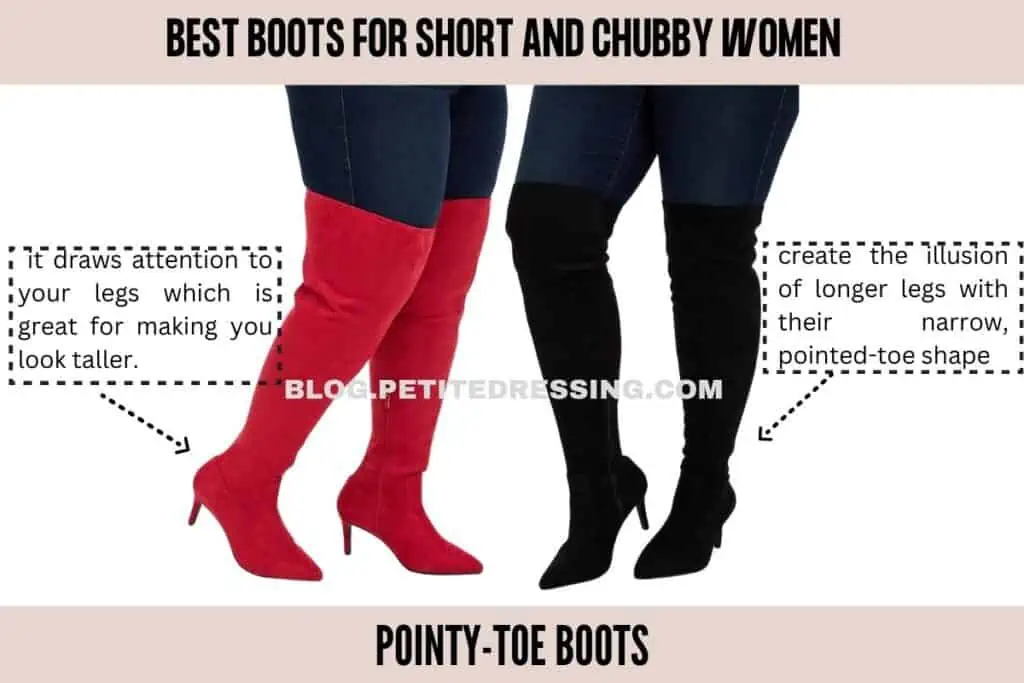 Boots can make you look incredibly elegant, and pointy-toe boots are top on that list. So, you should definitely get a few for your shoe closet.
Knee-high boots
Wear knee-high boots with pants to give off that classy chic vibe. There's just something incredibly elegant about this style of boots, especially when in a relaxed setting. It's also great that you can use them to stay warm during cold months, without sacrificing any piece of your style.
Even in warmer months, knee-high boots are a hit. Wear them with shorts, skirts, dresses, pants, and a jean to truly stand out. The major benefit you want to get out of your shoes is to add the illusion of height, stay comfy and slay all at once. The good news is that knee-high boots can help you achieve these.
Be sure to go for a size that's just right for your feet. If it's too tight, you won't be able to stay on your feet for a long time, and that discomfort can put a dent in your outfit.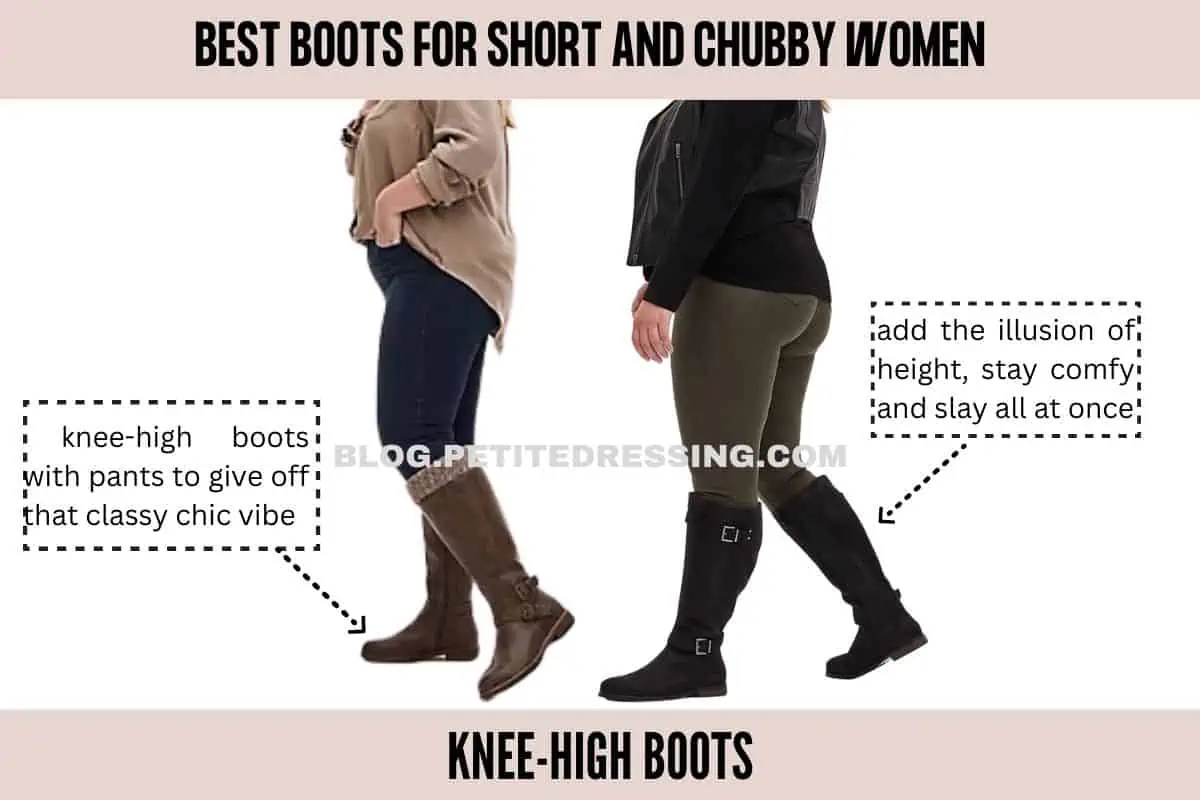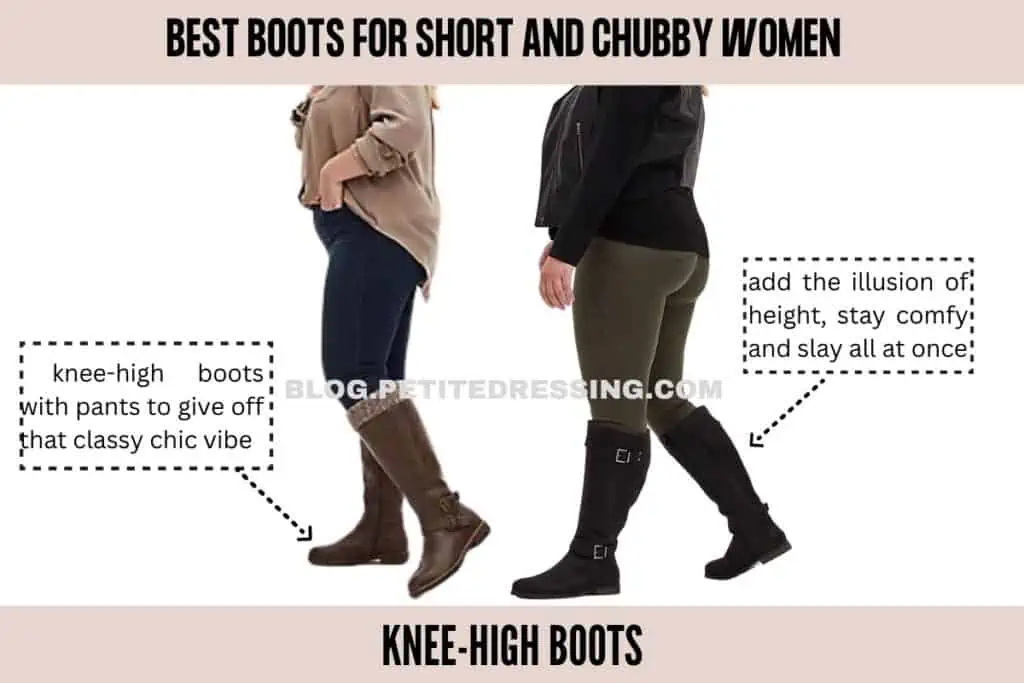 Not every boot is flattering for short women. Some boots are great at making your feet look wider and shortening your legs. The goal is to wear boots that don't shrink your appearance. Therefore, you should avoid these four boot styles if you don't want negative attention on your feet.
Avoid Ankle boots with too many straps
Yes, ankle boots are great for your feet, but when they have too many straps, that is a red flag. In the shoe world, simple is sometimes better, and this is one of those situations. It might be cute to place ankle boots with straps on your shelf or in your closet, but on your feet, they stop being cute.
Too many straps draw more attention to your feet, but you want that attention to be on your upper body instead. Therefore, you know you have the right pair of boots when they have simple and sleek designs.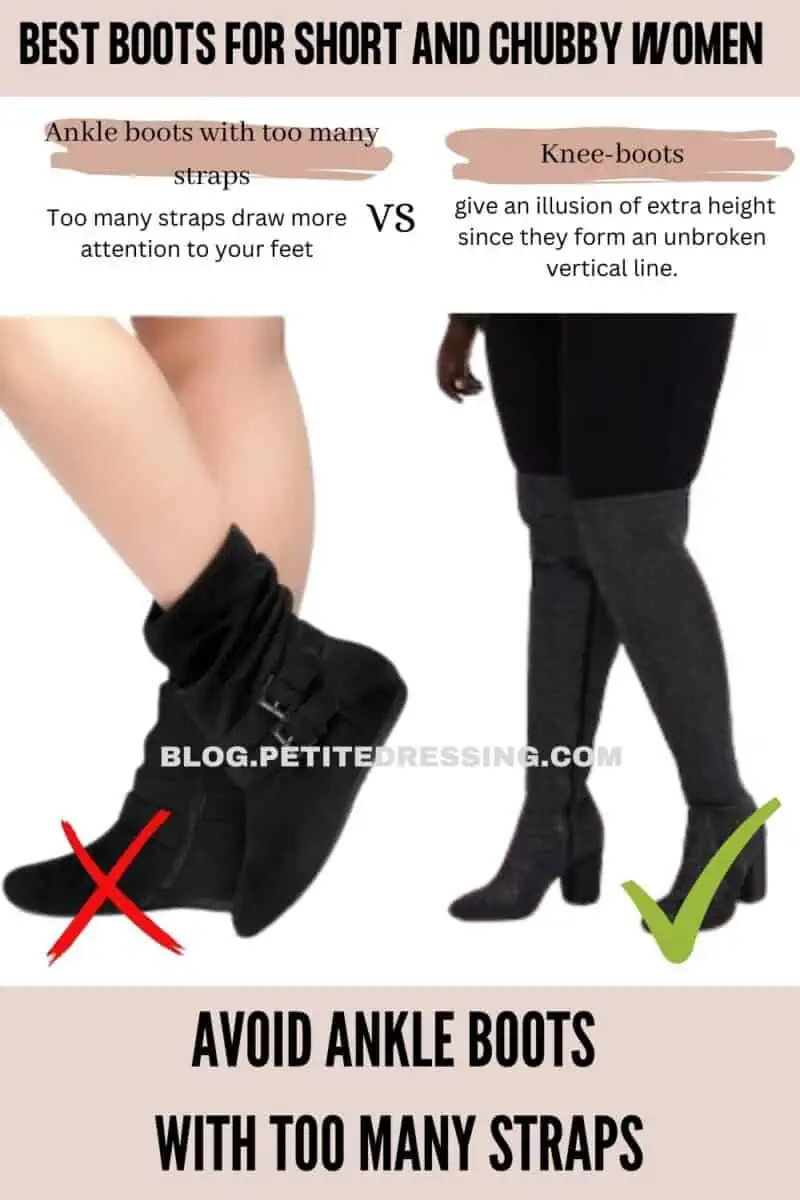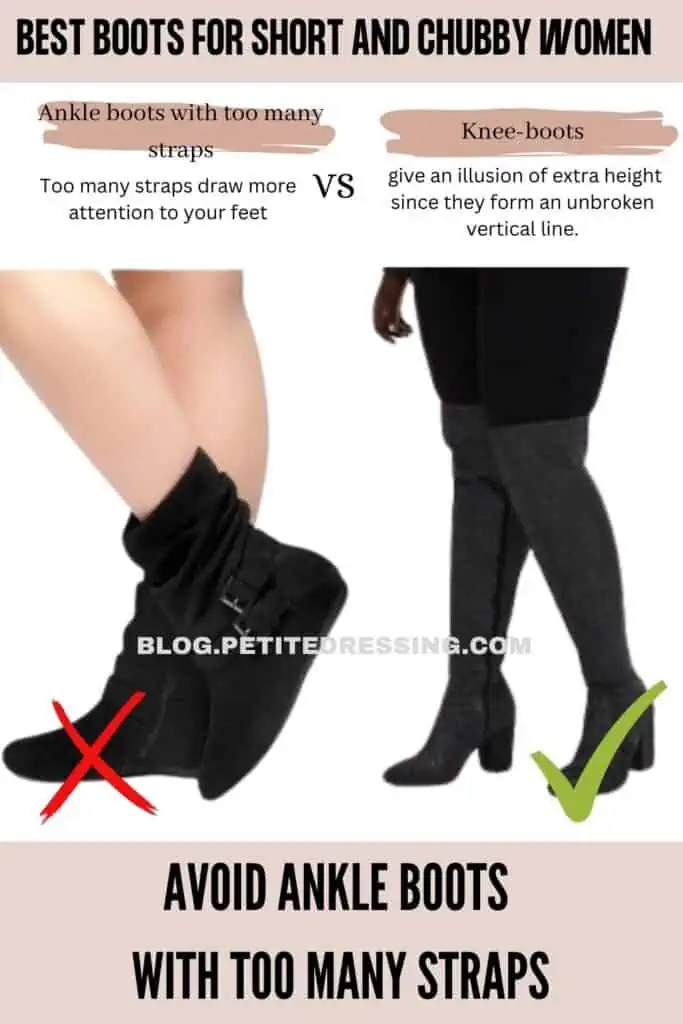 This doesn't just apply to ankle boots. Generally, you should avoid booties that come with numerous straps and buckles. They can also give off a messy appearance on your feet. Our recommended boots give an illusion of extra height since they form an unbroken vertical line.
Caution with Combat boots
Women with short and chubby legs should avoid combat boots as they have heavy soles and are thick with multiple straps. These multiple straps contribute to the impression of making your looks look wider and shorter.
These boots are also really heavy and bulky, which won't complement the overall look of your outfit. It's not a good idea to go for boots that are overpowering on our petite frame. They are also not great for formal occasions, as they give off a casual and rugged outlook.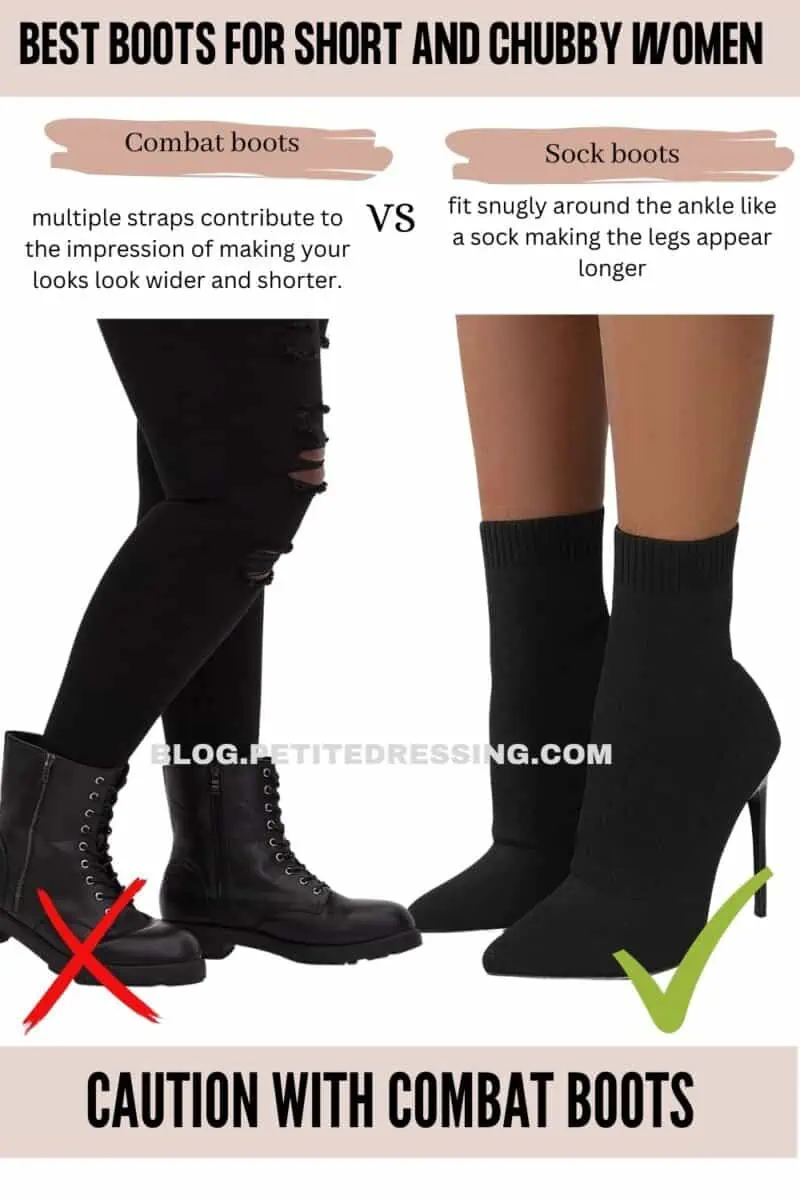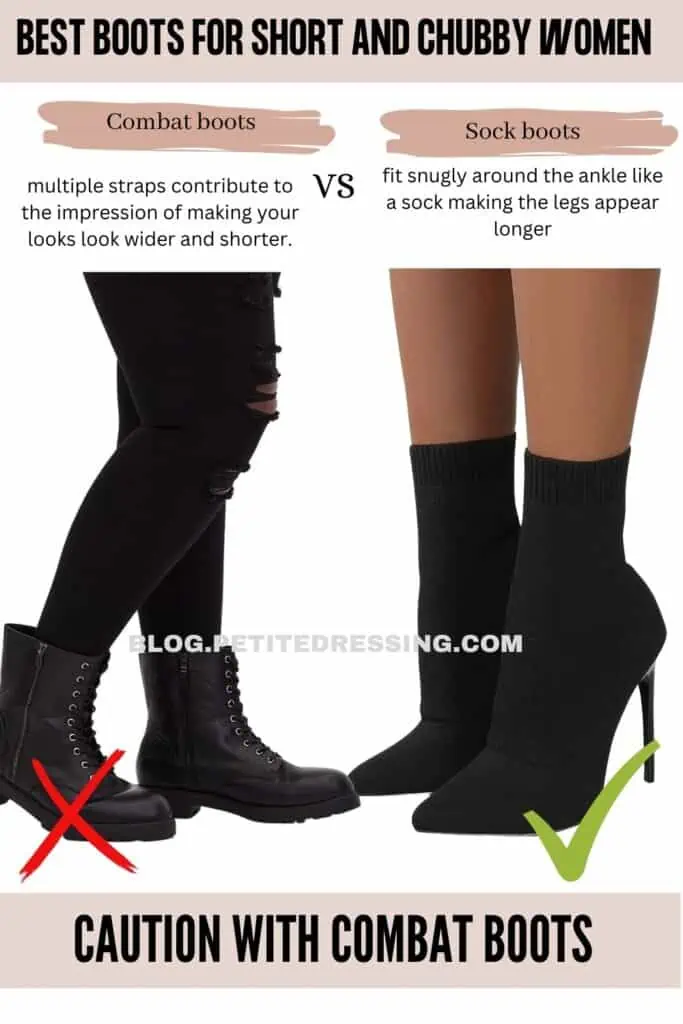 It's best to go for versatile shoes, and combat boots are not on that list. Therefore, avoid combat boots if you need comfortable boots that are not so rugged and heavy, with a look that's not flattering for your body frame.
Caution with Wide calf boots
Wide-calf boots are exactly how they sound. They feature a wide calf style which will look oversized on your small legs. These boots are actually designed to fit larger calves, making them naturally heavy and bulky.
On women with short and chubby legs, this would feel a lot like your feet are in the shoes of your 6-foot-tall older sibling. It can be a real hassle wearing them around, and that includes the feeling that you're lugging around a lot of extra weight.
Wide-calf boots are for people with larger feet as they won't be overpowering on their body frame. For petite women, it's the exact opposite. They are also not cool for casual wear and can be quite limiting with outfits.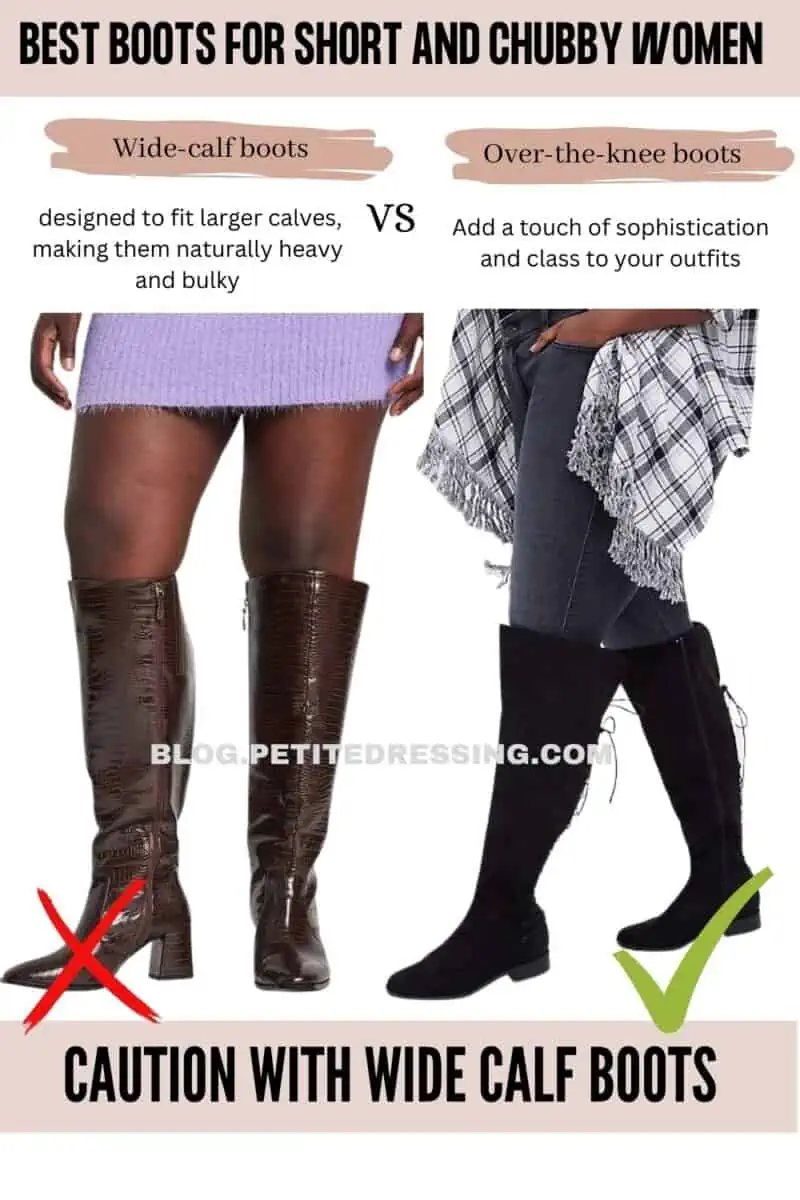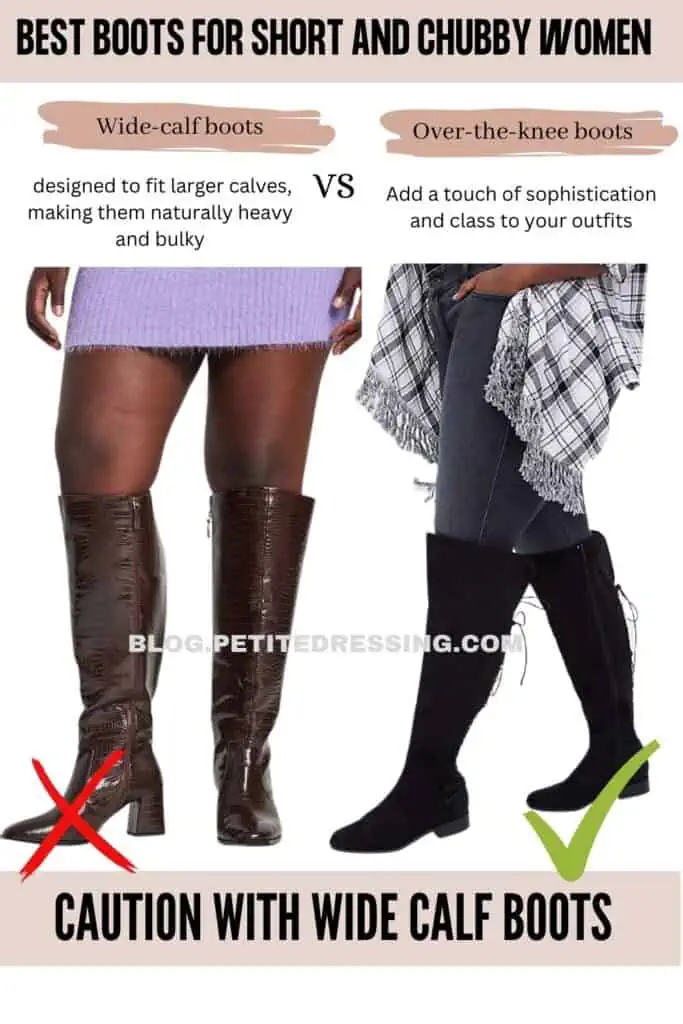 The boots may feel like they are your size, but the wide-calf design means the calf circumference will always be too wide for you, making it difficult to move briskly. Wearing shoes shouldn't feel like a tough job.
Avoid Square-toe boots
Square-toe boots will make your legs look wider and shorter, which is one feature that short women should avoid. The last thing you want is too much attention on your feet, and square-toe boots can also get very uncomfortable on the feet.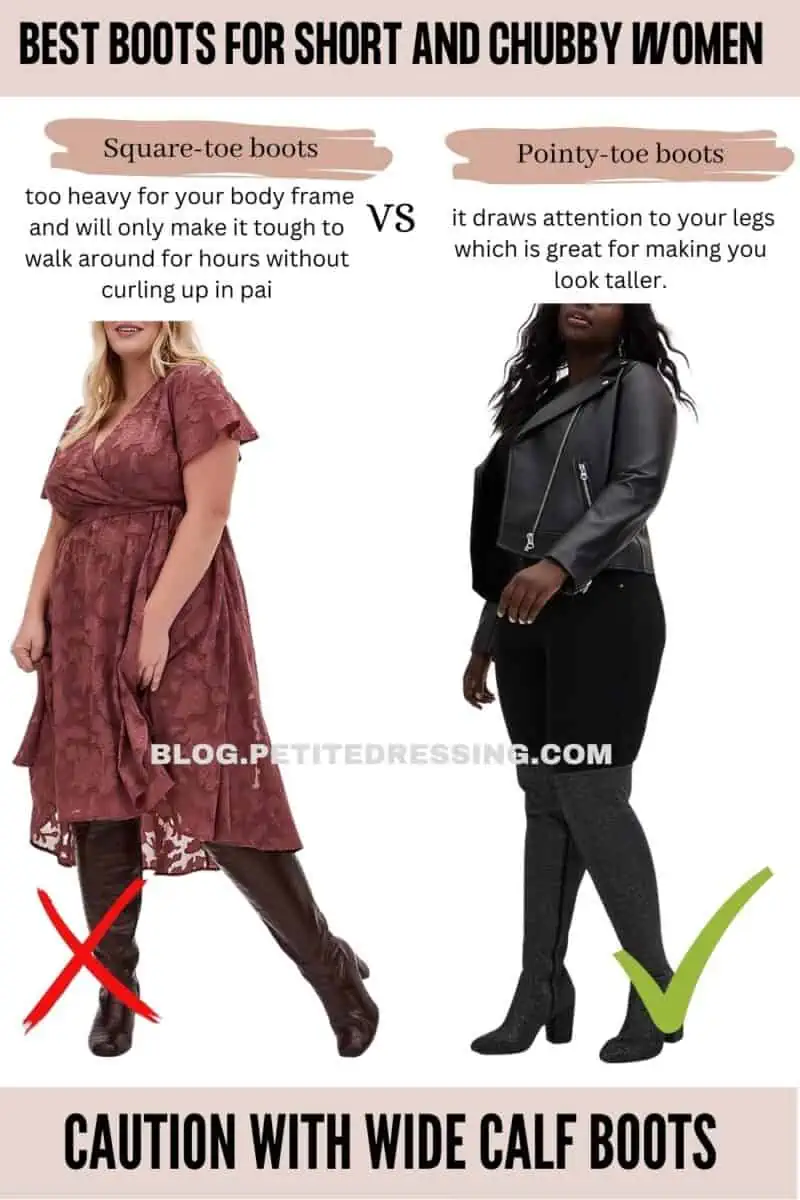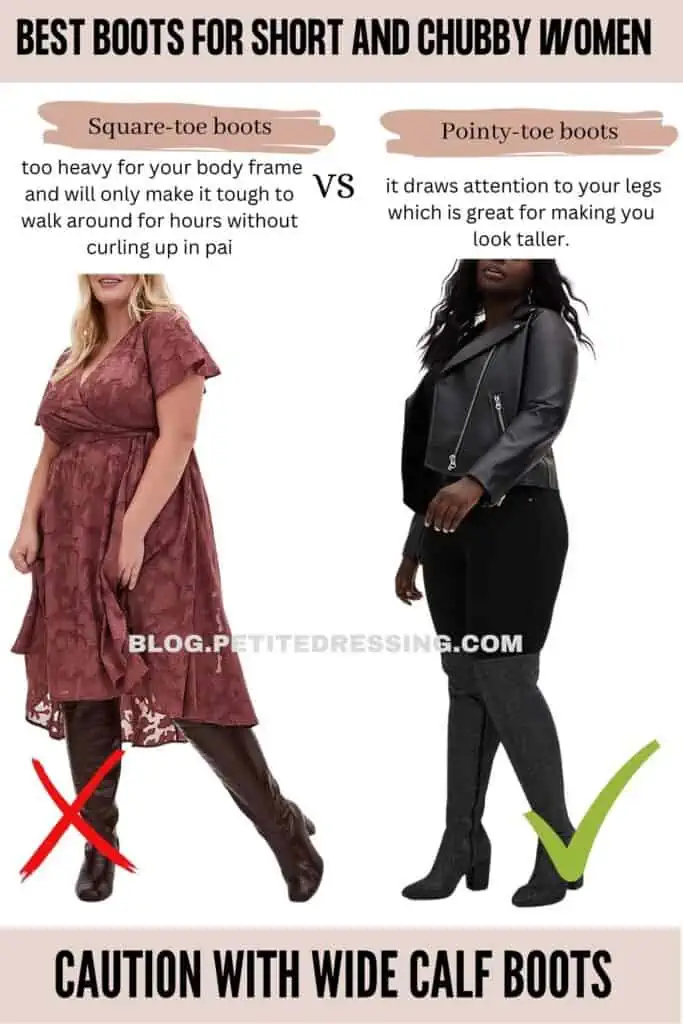 They might seem cute at first, but ultimately, square-toe boots are too heavy for your body frame and will only make it tough to walk around for hours without curling up in pain. Instead of this style of boots, go for a more versatile option like the boots we mentioned earlier.
Those styles are all designed to be flattering on the feet of short women, and you can always experiment with different colors until you find one that suits your personality perfectly.
So, what are you waiting for? It's time to get out your shopping bags and discover which boots are your favorites. All you have to do is follow these tips, and in no time, you'll have a lovely collection of boots you can rock for different occasions, whether casual or formal.