Denim is one of the most common clothing styles for women. As diverse as it can be, not all styles are perfect for various body types. Some jeans can highlight your natural body shape and make you look awesome, while others can emphasize your not-so-flattering features. Therefore, these jeans guide for short and chubby will help you pick the perfect ones for your body type and know the styles to stay away from.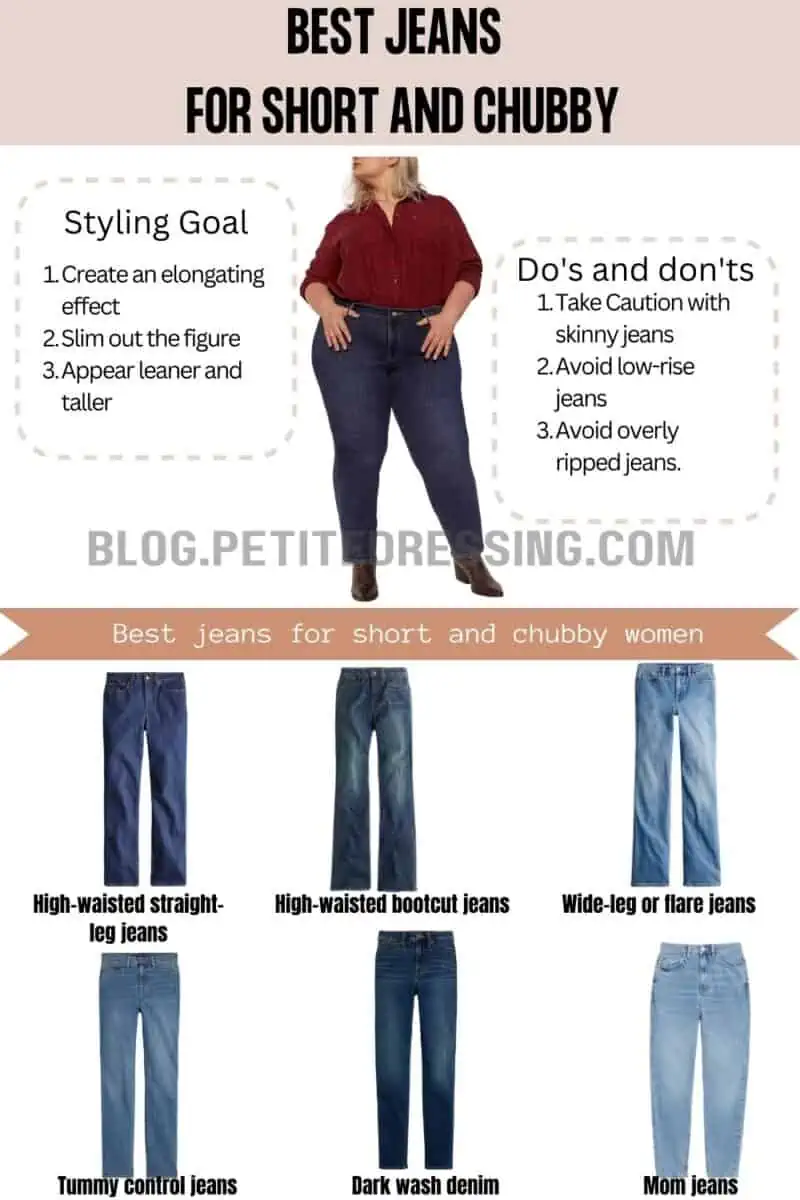 High-waisted straight-leg jeans
With high-waisted straight-leg jeans, short and chubby women can enjoy that extra bit of support and coverage that's perfect for anyone with more weight in the midsection area. The straight leg style also adds more flavor to your overall look as this cut elongates the leg.
This helps in creating a slimmer silhouette, which is perfect for short women. If you need a jean clothing style that helps in balancing out your body proportions, you should seriously consider high-waisted, straight-leg jeans. 
Since it doesn't cling to your thighs, this can help even out your body sizes, and the best part is that with the right top, you can wear this almost anywhere. Pair this with sneakers and a t-shirt for a casual look, or make it more sophisticated with a pair of heels.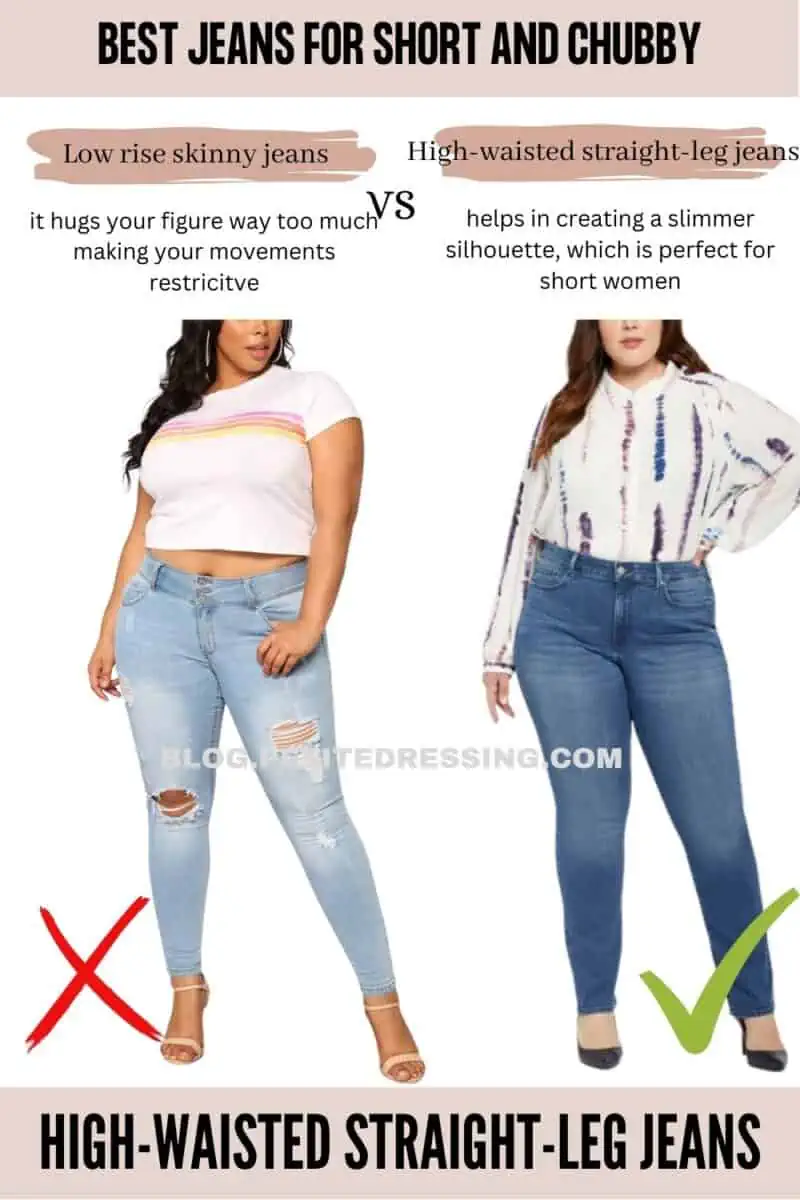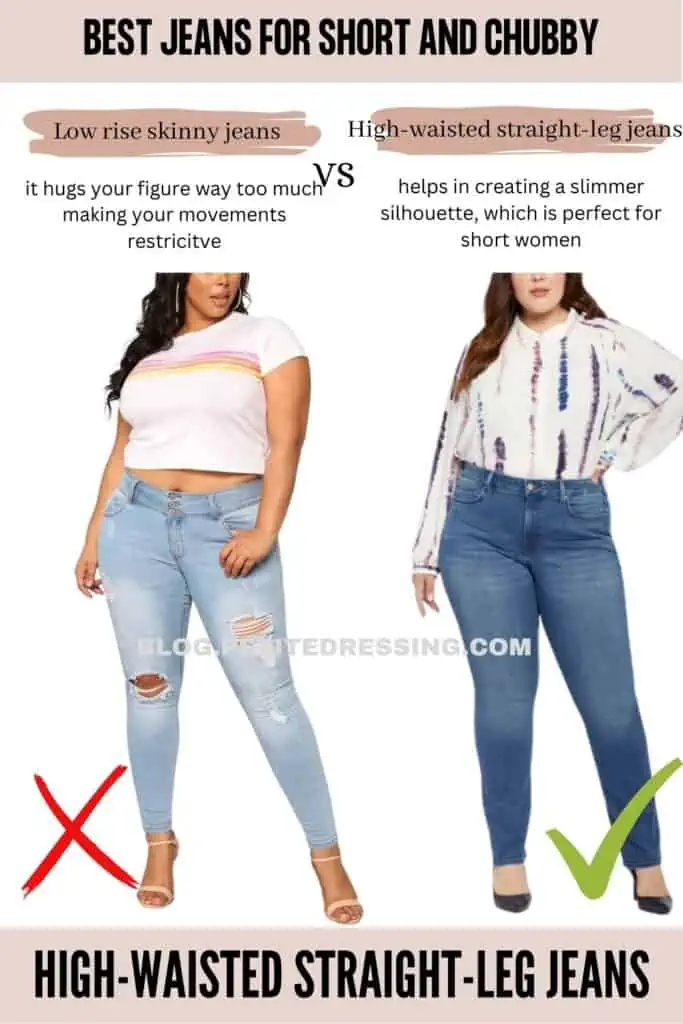 High-waisted bootcut jeans
High-waisted bootcut jeans offer a flattering fit for short and chubby women who would love to wear jeans that covers up their muffin tops perfectly. Thanks to the bootcut design of the jeans, this provides a lengthening effect on your legs, as they appear slimmer and longer.
Even better, bootcut jeans are incredibly versatile, so you can dress them up or down for various occasions. Sneakers will give you the perfect casual or athletic look, while you can make this a bit more formal with a pair of heels.
One of the effects we love to look out for with clothing styles is comfort. Thankfully, high-waisted bootcut jeans have a looser fit in the calf area, and this means more comfort and room for chubby women, especially those with bigger thighs.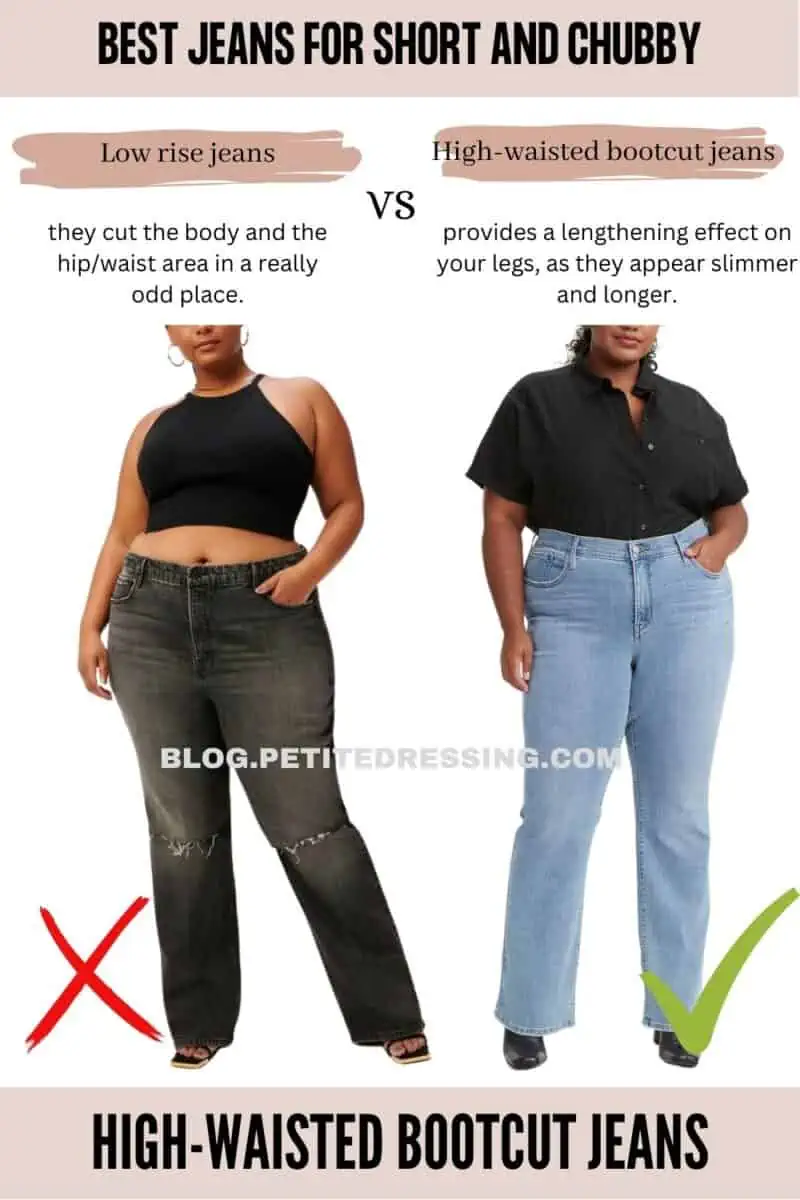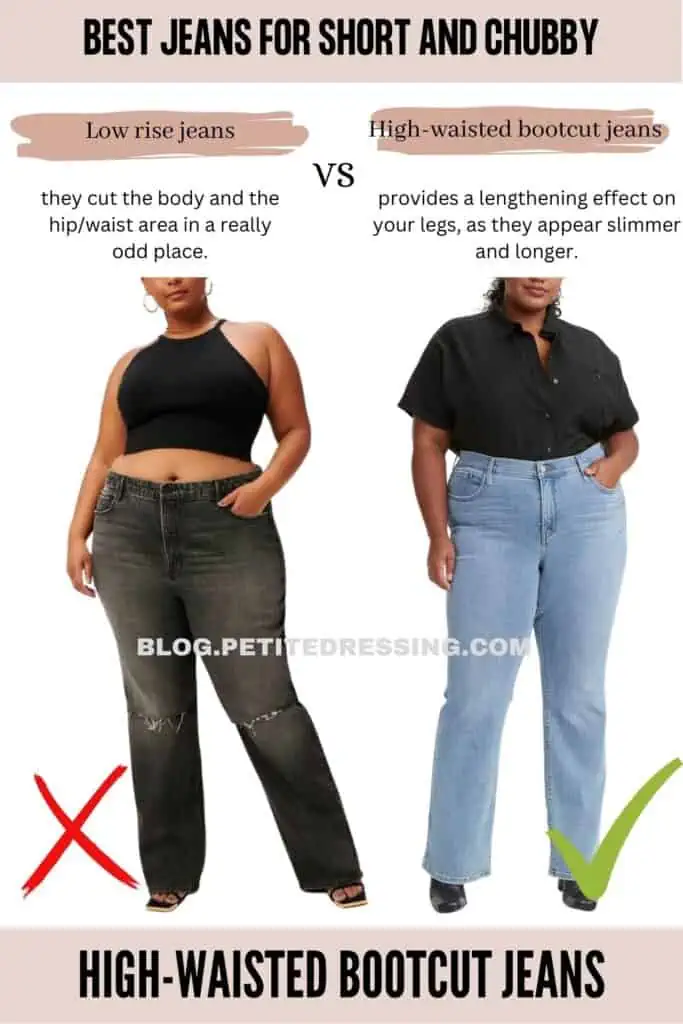 Wide-leg or flare jeans
If you choose wide-leg or flare jeans made from high-quality, stretchy denim which curves freely on the body without being too figure-hugging, this will provide a comfortable fit that's perfect for your short and chubby body frame. 
Of course, this means maximum comfort because your body has all the room it needs without the clothing being too baggy. Flare jeans also provide a comfy fit on the hips and legs. Meanwhile, you can also enjoy the illusion of a slimmer and longer silhouette that's possible thanks to the flare design of the jeans that lengthens the legs.
Overall, the wider cut at the bottom helps to even out your body proportions and provides a flattering silhouette for your body shape.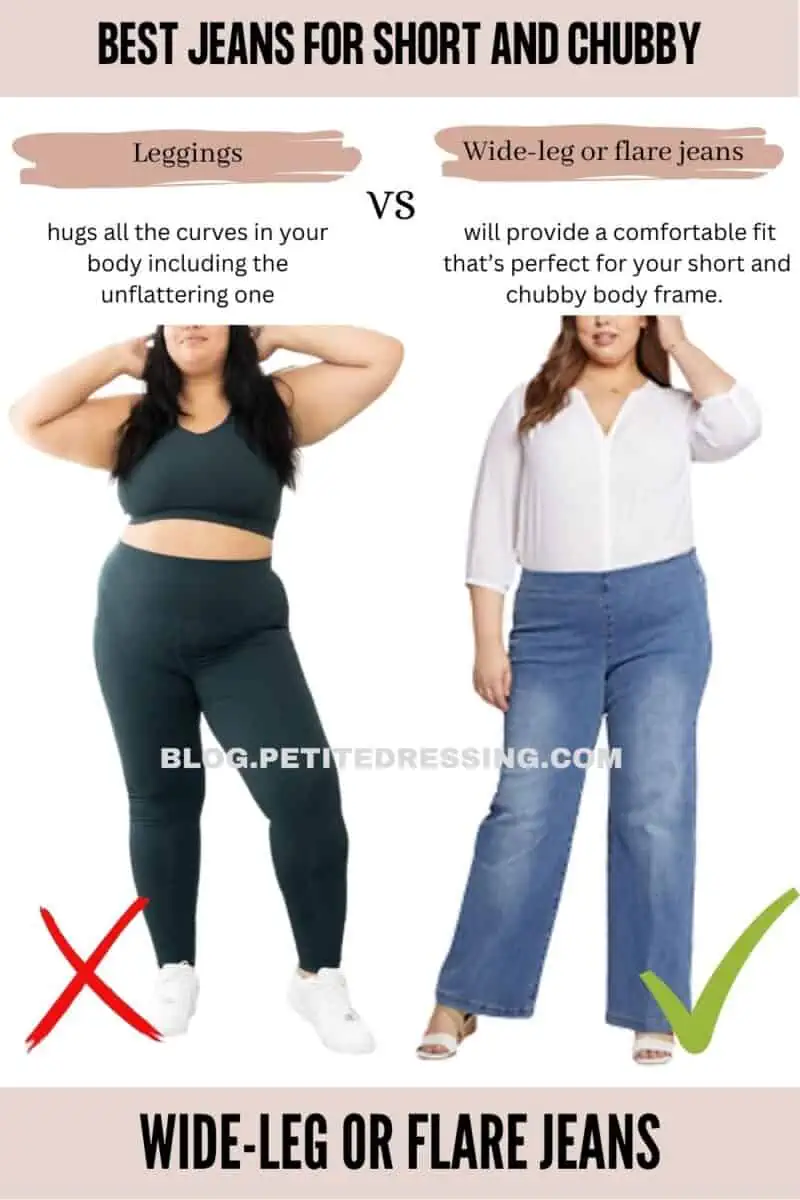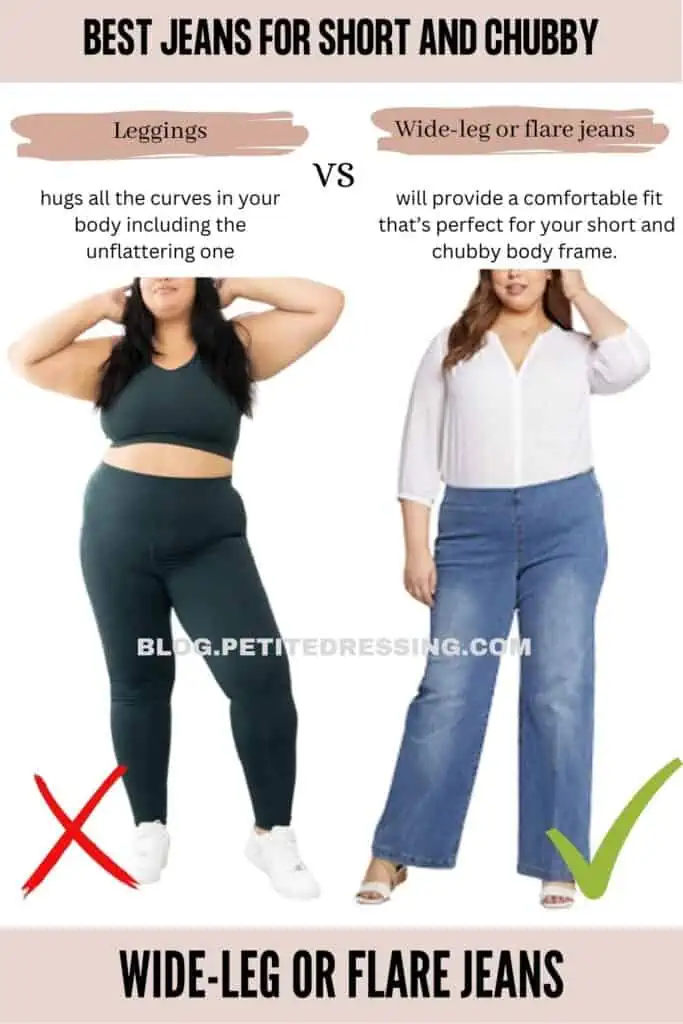 Tummy control jeans
Tummy-control jeans are exactly how they sound. They are specifically designed for that extra bit of compression and support around the tummy area, which provides a smoothening effect. 
This automatically translates to more flexibility, as you'll feel freer and more comfortable all day long. Apart from the slimming effect, tummy control jeans can also help with improving your posture.
The best ones are those made with soft, breathable denim material, so be sure to look out for this when shopping. Several short and chubby have also admitted that tummy-control jeans help with improved circulation while leading to a more streamlined appearance.
Here is one of the most amazing ways to look your best and feel more confident knowing that your body is contoured in all the right spots. Take advantage of the flattering fit of tummy-control jeans.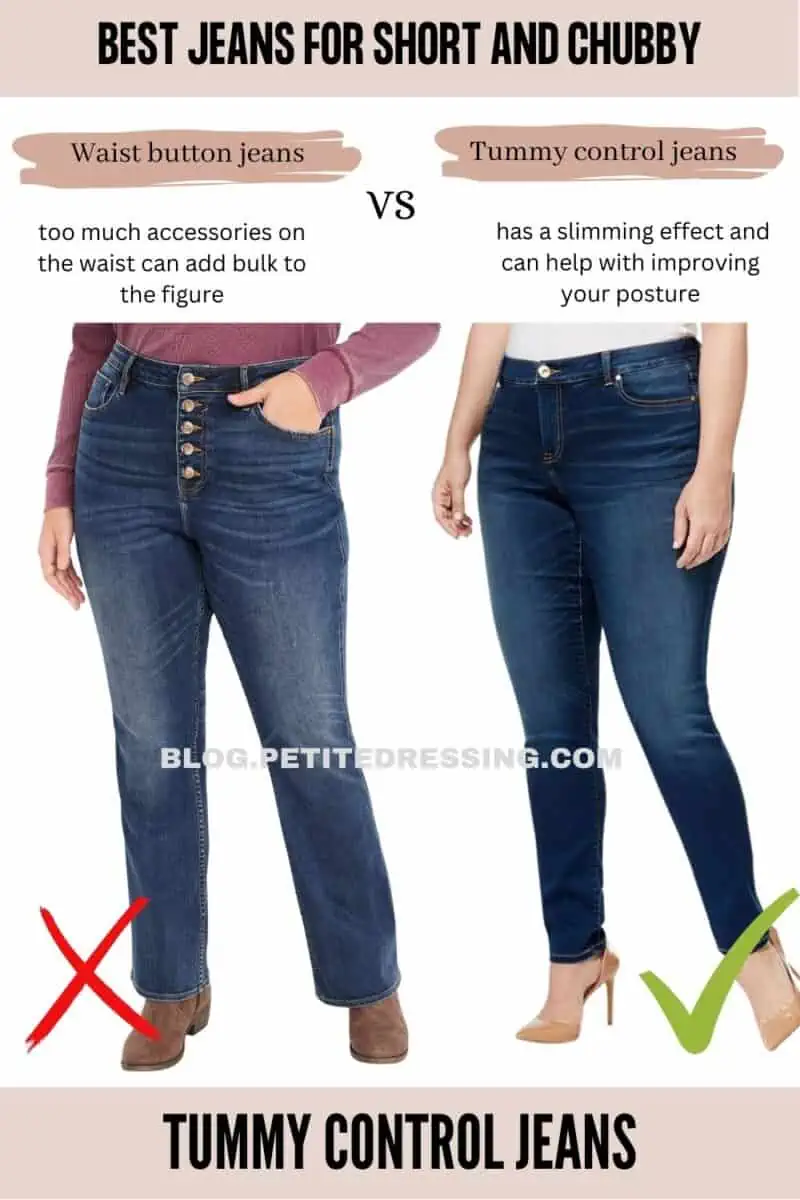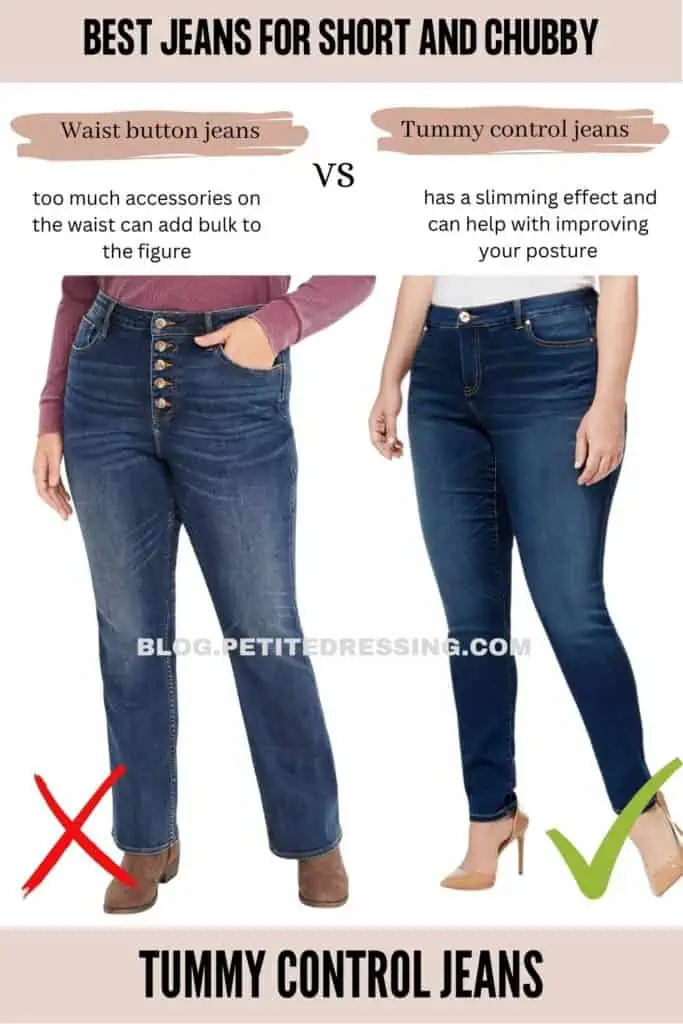 Dark wash denim
Darker-colored jeans are the best friends of short and chubby women. So, you'll definitely love how dark-wash denim makes you look and feel. We love the fact that this is a timeless style that has been in the fashion world for a while and doesn't seem like it will be going out of style anytime soon.
So, you can pair your dark wash denim with bold-colored shoes and tops to create a super-flattering fit. This style of jeans also creates a sleek and streamlined appearance, which is a plus for short and chubby women that need a balancing effect on their body frame.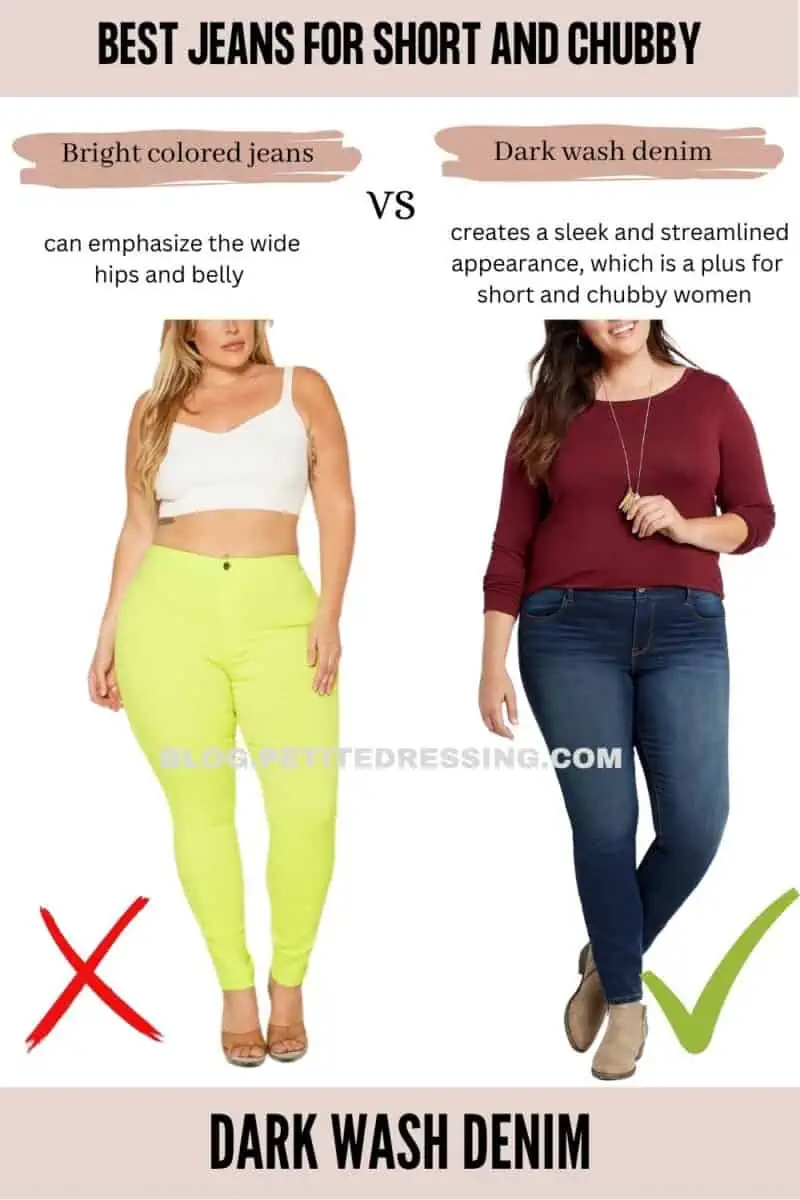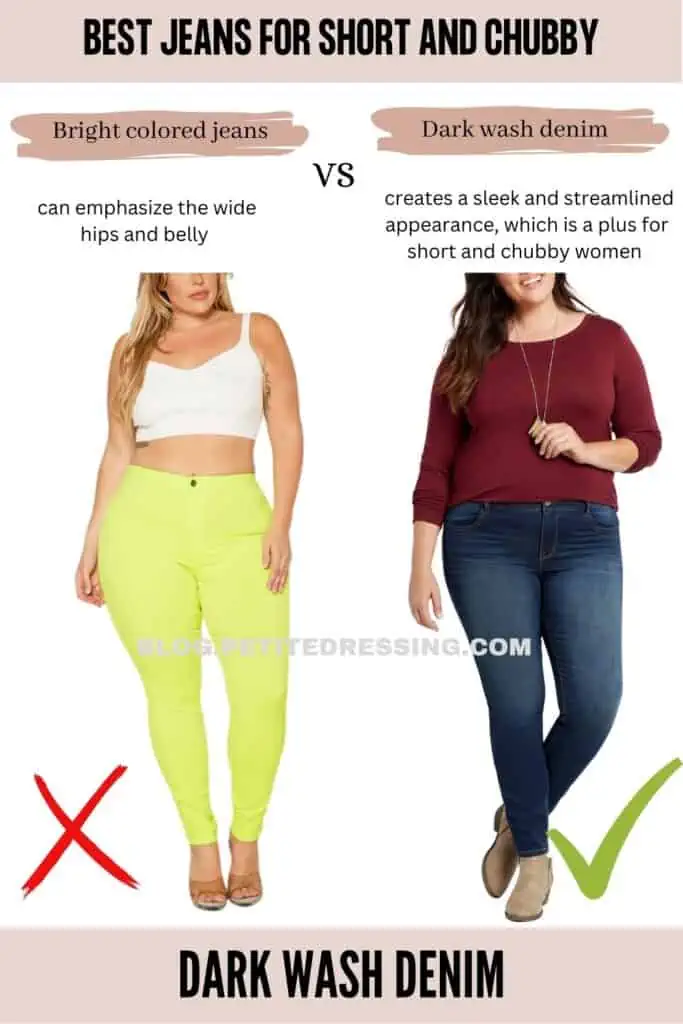 Mom jeans
You don't have to break the bank to rock jeans as a short and chubby woman. Mom jeans are not only affordable but also super comfortable and stylish, so you can look good all day long without going beyond your budget.
Thanks to the high waist style on mom jeans, this has a relaxed fit on the body which balances your body proportions and creates a flattering feminine silhouette. The stylish style of mom jeans is trendy enough for any fashion-forward woman to love.
This is a great way to make a fashion statement with a secure and confident clothing style that never goes out of fashion. The relaxed fit also means more flexibility with movement.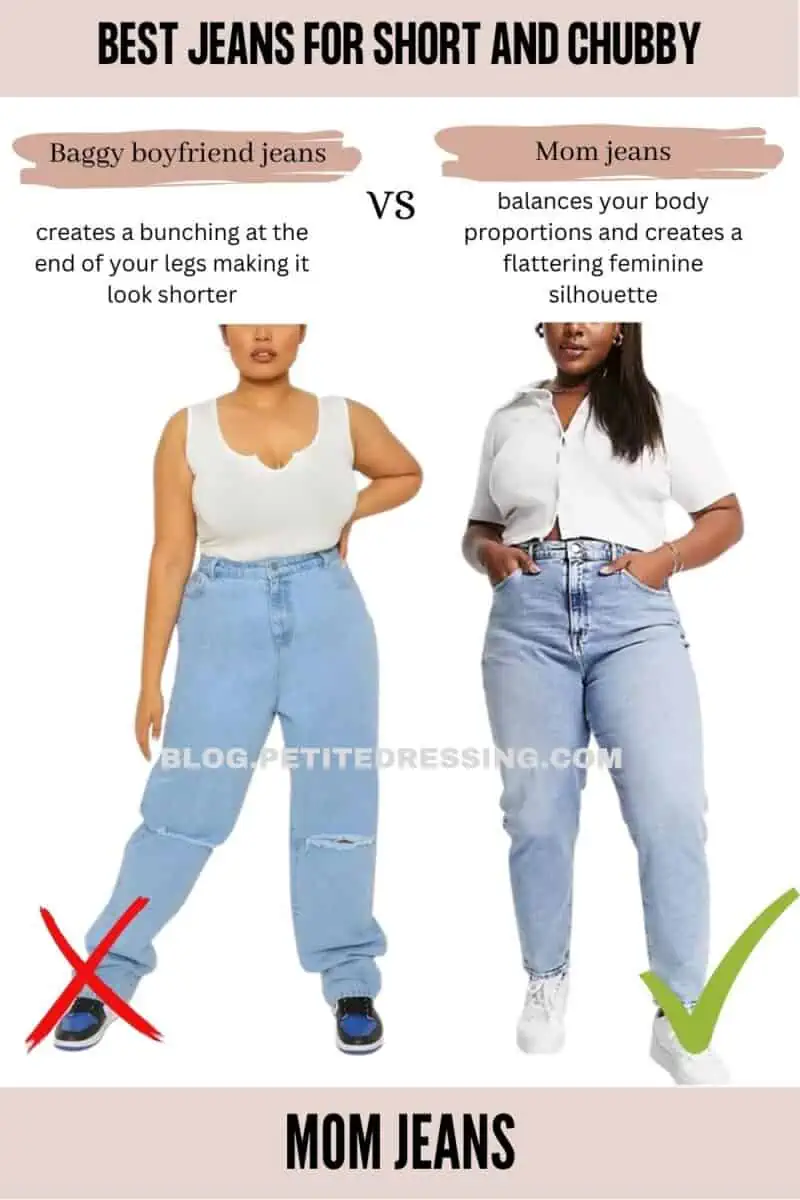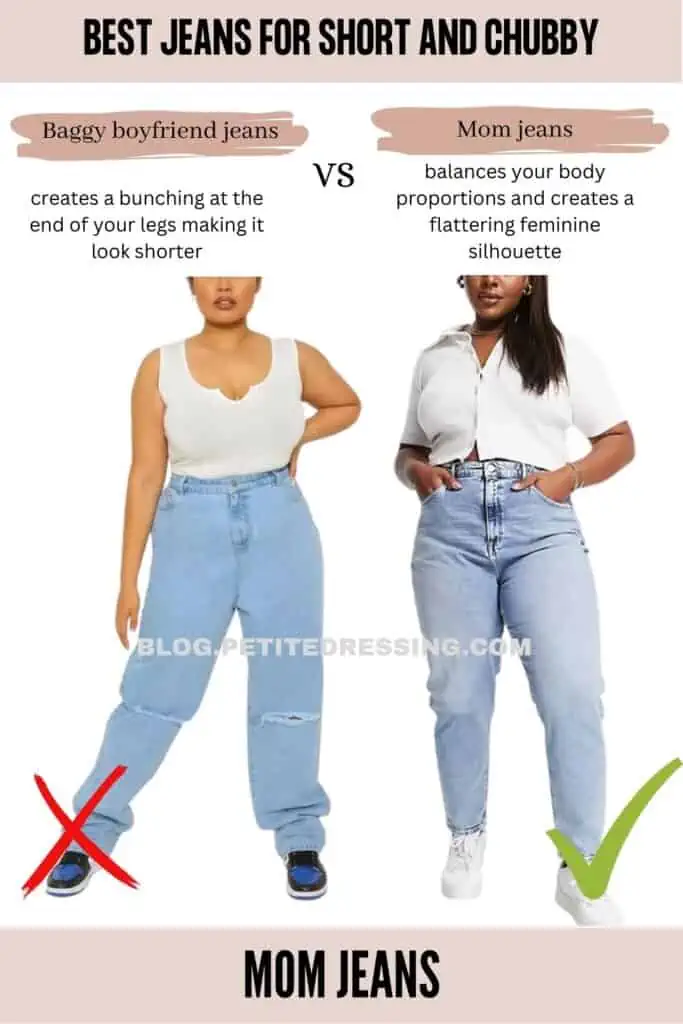 Caution with skinny jeans
Skinny jeans are incredibly tight jeans styles that can create unflattering curves and make bulges more obvious on the body. Any clothing style that's fitted too close to the body will be uncomfortable and restrictive, and skinny jeans are no different. 
For short and chubby women that have a lot more weight on their hips and legs, this extra accentuation effect won't make you look good. Since skinny jeans are too figure-hugging, they can also be restrictive on movement.
It can be quite difficult to move as much as you want to with skinny jeans. There's also a higher risk of experiencing rips and tears as there's too much strain on the fabric. It would be a disaster to have to get through your day with such a huge wardrobe malfunction.
Therefore, our verdict is to stay away from skinny jeans as they don't give your body the silhouette you desire.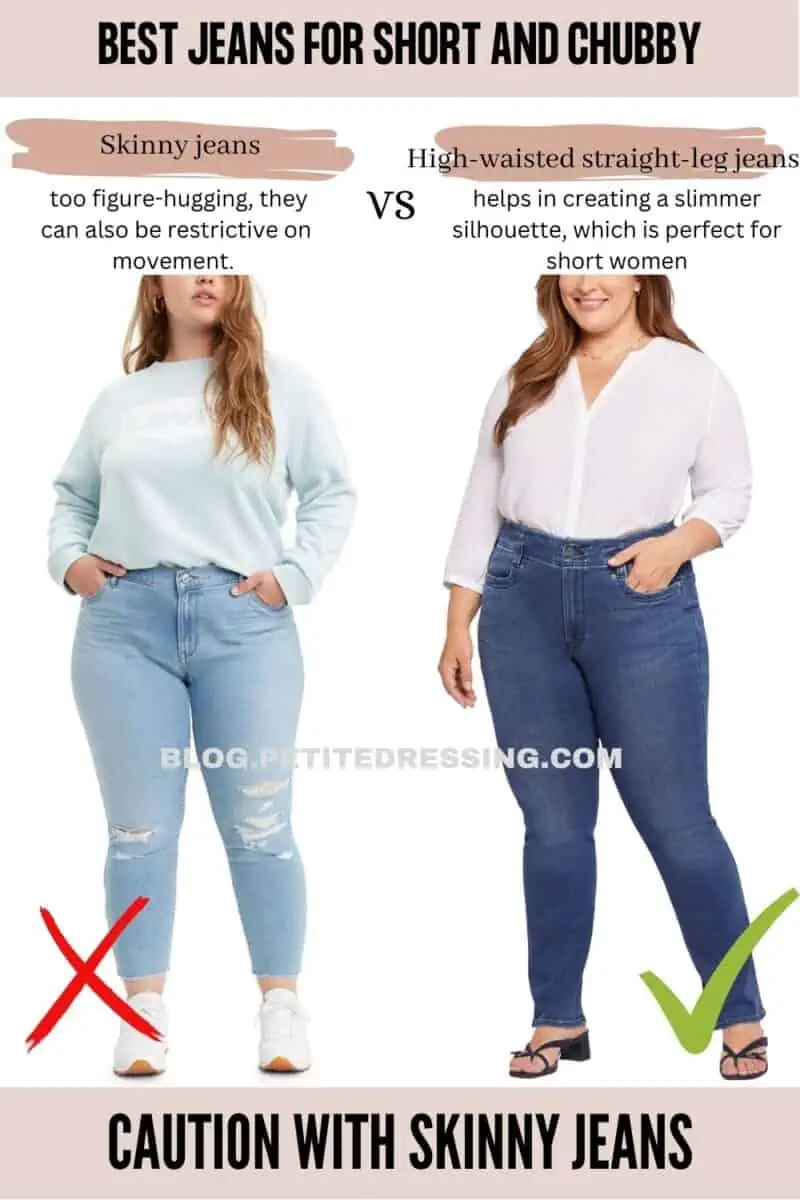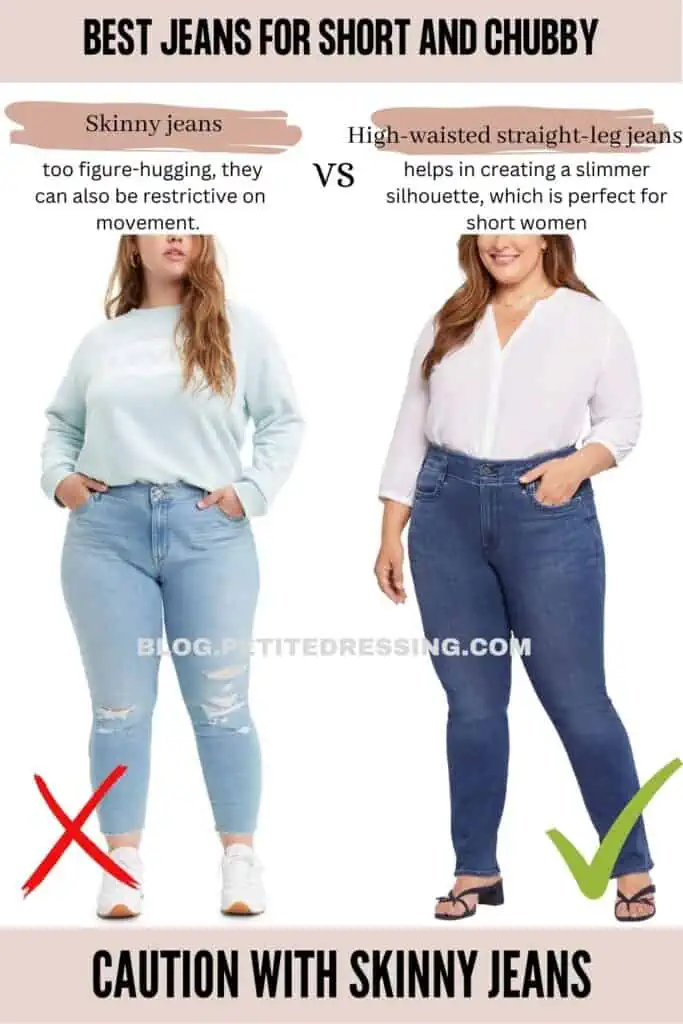 Avoid low-rise jeans
Low-rise jeans highlight muffin tops as they draw a lot of attention to the midsection area. This is unflattering for short and chubby women as this sits low on the hips, where it exposes more skin than you would love.
Jeans that sit this low create an unflattering look and can limit the different types of blouses you can style with them. Instead of tight-fitted tops that are not too tight on the body, you may be forced to opt for longer tops that are uncomfortable.
Overall, low-rise jeans can be a ticket to an embarrassing wardrobe malfunction. It's best to opt for high or mid-rise jeans, which offer a lot more coverage and comfort.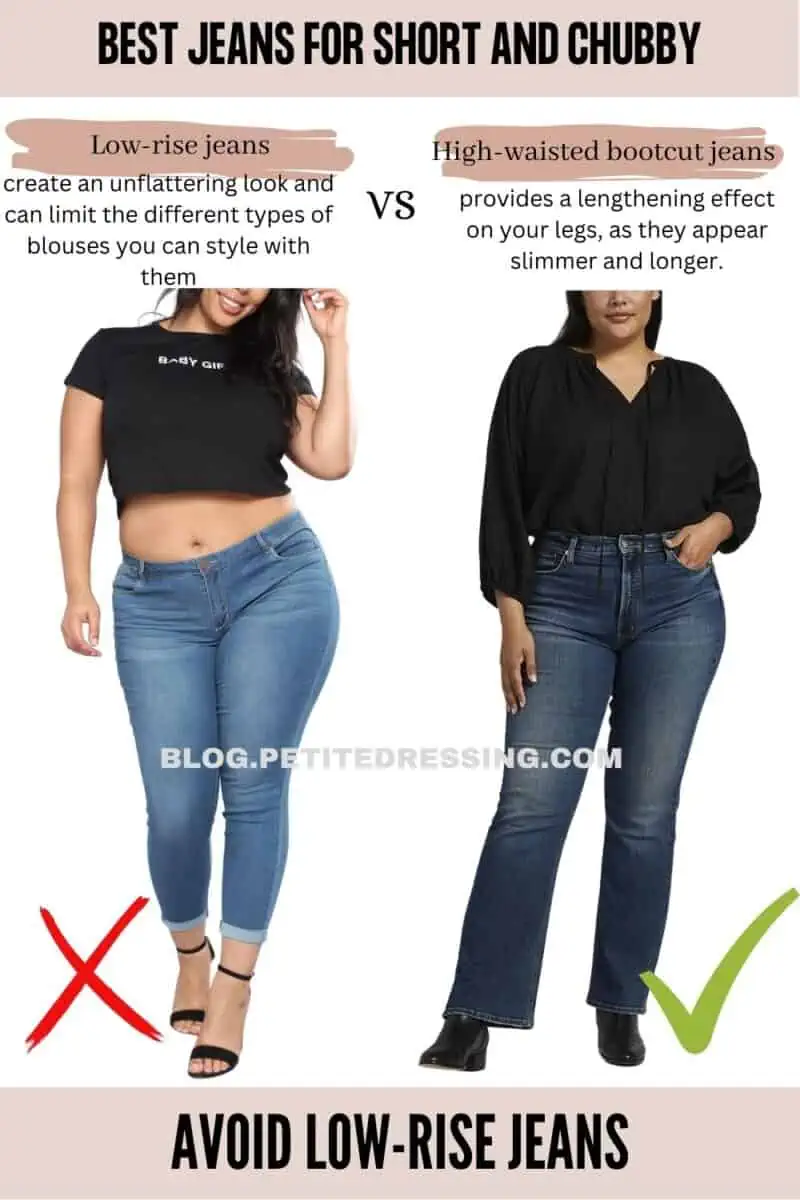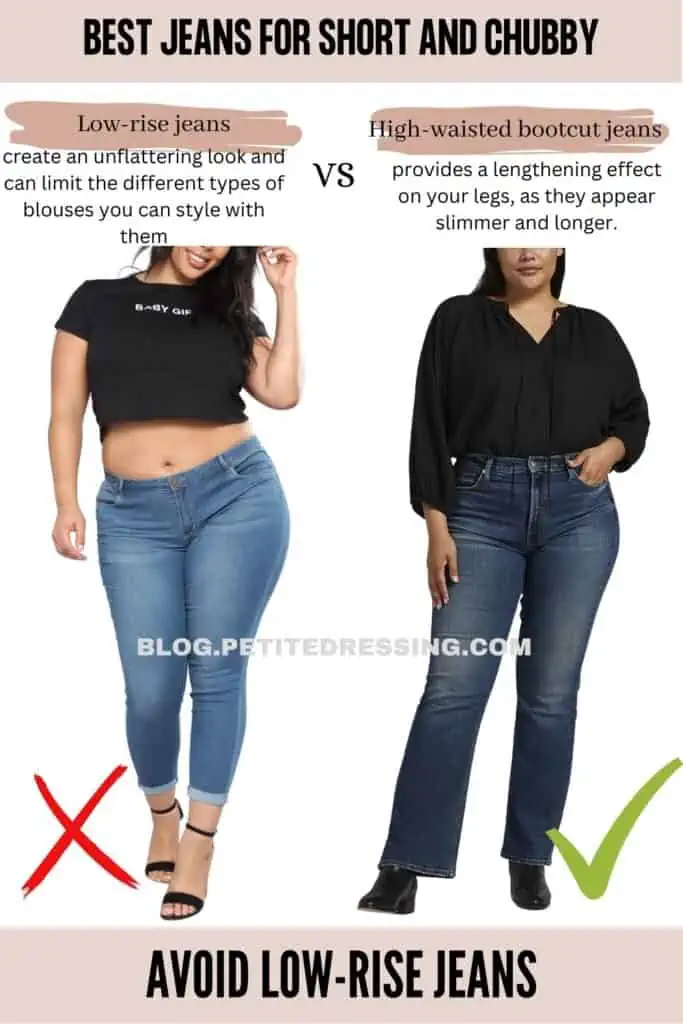 Avoid overly ripped jeans.
Overly ripped jeans give off a distressed look that emphasizes tummy bulges, and most times, this is not the effect you would want on your body type. Apart from this, this style of jeans comes in a tight fit that can be quite uncomfortable.
Let's be honest. Ripped jeans don't exactly give off a professional look. Even for casual outings, it can be pretty difficult to pull it off without looking so tacky. A few rips might be alright, but when it's excessive, that won't create the flattering silhouette you desire.
Therefore, we would recommend more stylish options like high-waisted jeans or bootcut styles that elongate your legs and hug your hips in a way that flows seamlessly with your natural curves.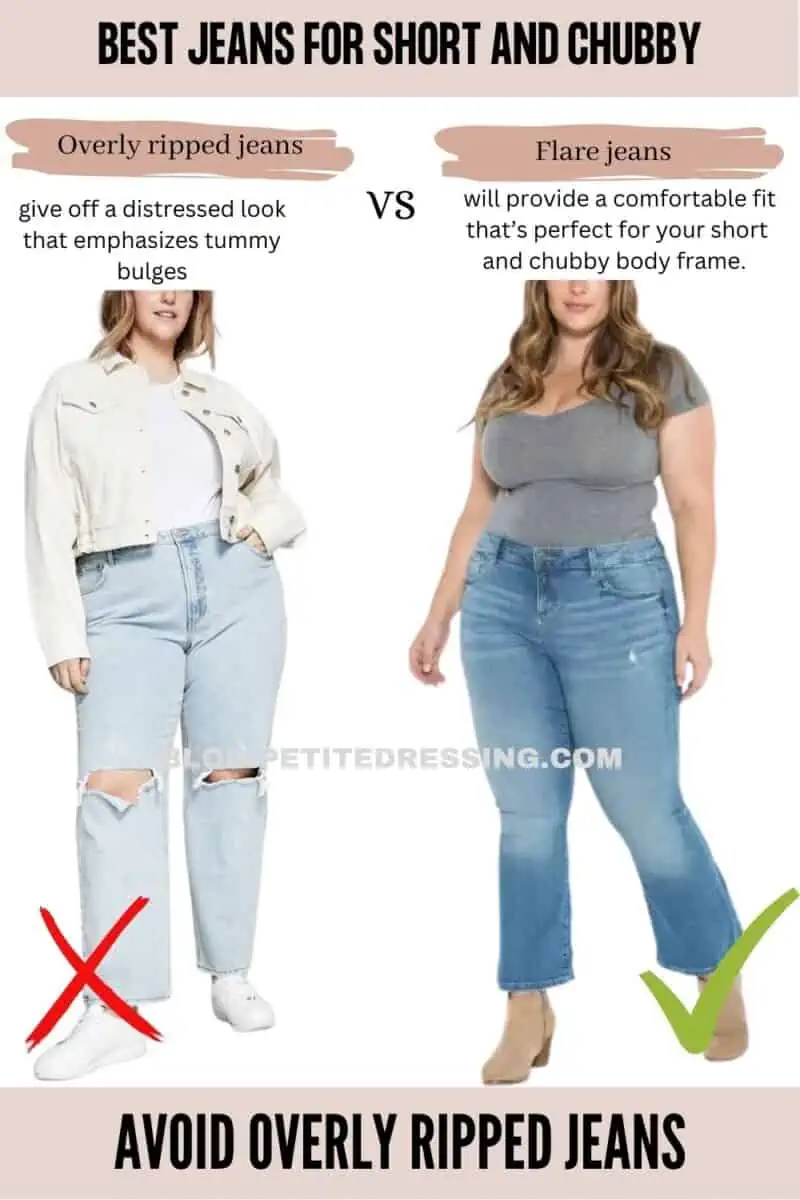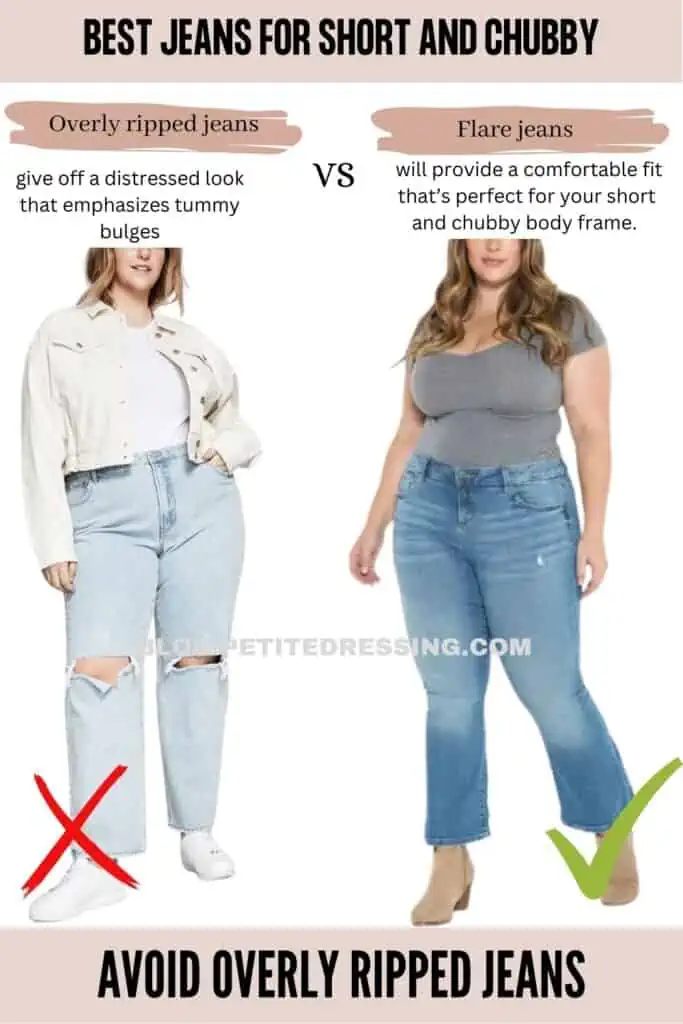 Avoid baggy jeans
Baggy jeans can overwhelm a small body frame with their loose and shapeless design. Since it's difficult to see the outline of your body through them, this style of jeans does more to hide your curves and add more bulk to your body.
Therefore, this is not part of the fashionable styles you can rock as a short and chubby woman looking for the perfect denim for your body type. Instead, they will make you feel frumpy, which is a very uncomfortable feeling.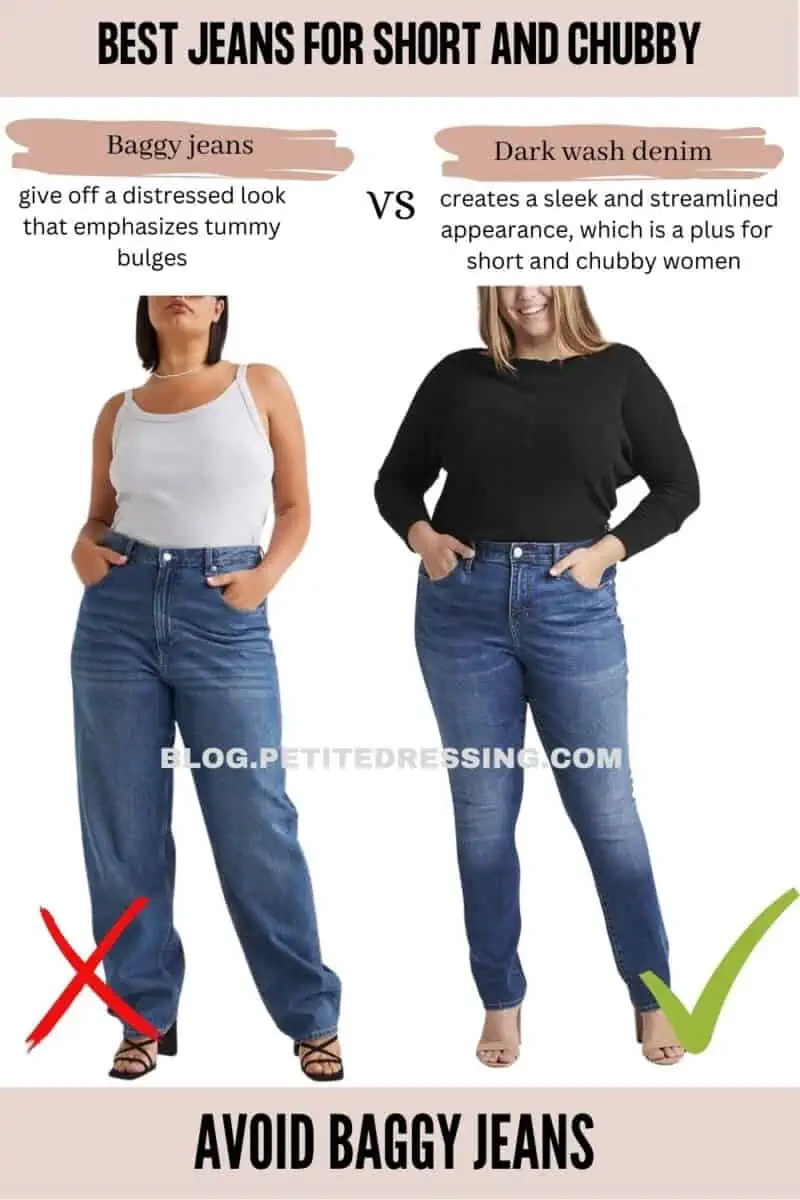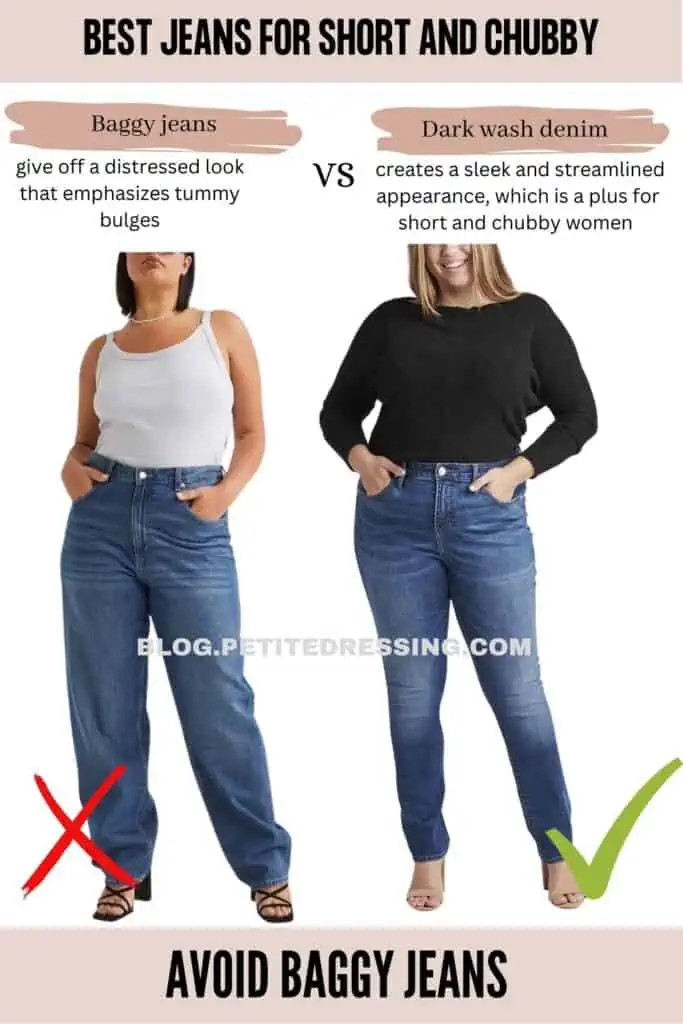 While we've given you expert recommendations that have been noticed over the years, don't completely disregard your personal style when searching for the best jeans for you. Using these tips, you can work through various jeans styles until you find one that suits your unique personality. Well, it's time to give your wardrobe a major lift with these denim styles that are guaranteed to flatter your unique body frame and highlight your best features. You'll be glad you did.