Shopping for bottoms such as skirts generally requires a bit more thought especially when you have short. I know this from first hand experience, as I am 5'2″ myself. Besides, I also have a petite clothing line, so I hear from my petite customers who have all different body shapes and sizes.
As someone with short and thick legs, not all skirts that are trending out there would be a nice fit. In fact, if you go for the wrong cut, pattern, or even size you may end up giving your body an unflattering look.
Based on the feedback from my petite customers, I've put together this guide on the specific skirt styles that would look great on your figure.
Styling Goal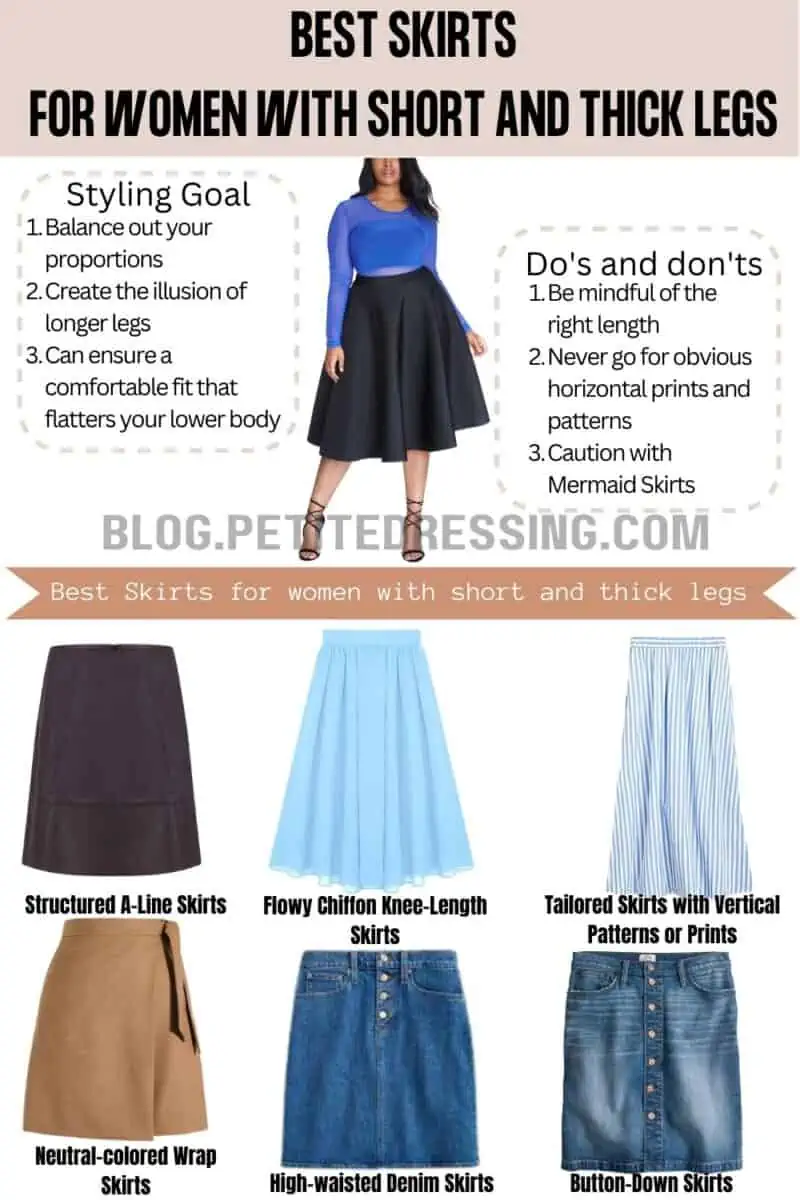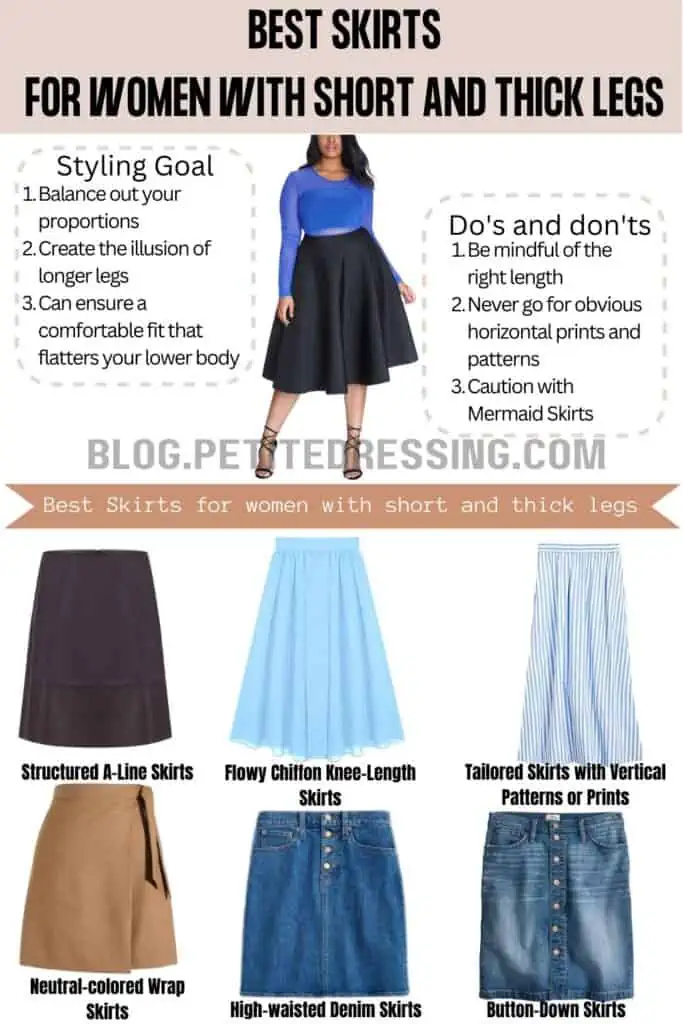 Be mindful of the right length by going for a skirt that hits above the knee or slightly below the knee. This opens up enough space on your lower body and therefore creates an illusion of longer legs and makes you look taller.
Never go for obvious horizontal prints and patterns as this can visually make your legs look thicker and shorter. Always go for elongating patterns such as vertical stripes or vertically-placed details such as buttons.
Tone it down with voluminous fabric flounces. Thick layers, dramatic ruffles, and bulky embellishments will add too much weight to your lower body and so this type of visual effect will make you look shorter.
Now that we have briefly tackled these styling goals, consider putting these on your checklist to see if the skirts you're shopping for are ticking the right boxes. To even help you more in narrowing your style options, here are specific skirt styles you may want to go for.
Structured A-Line Skirts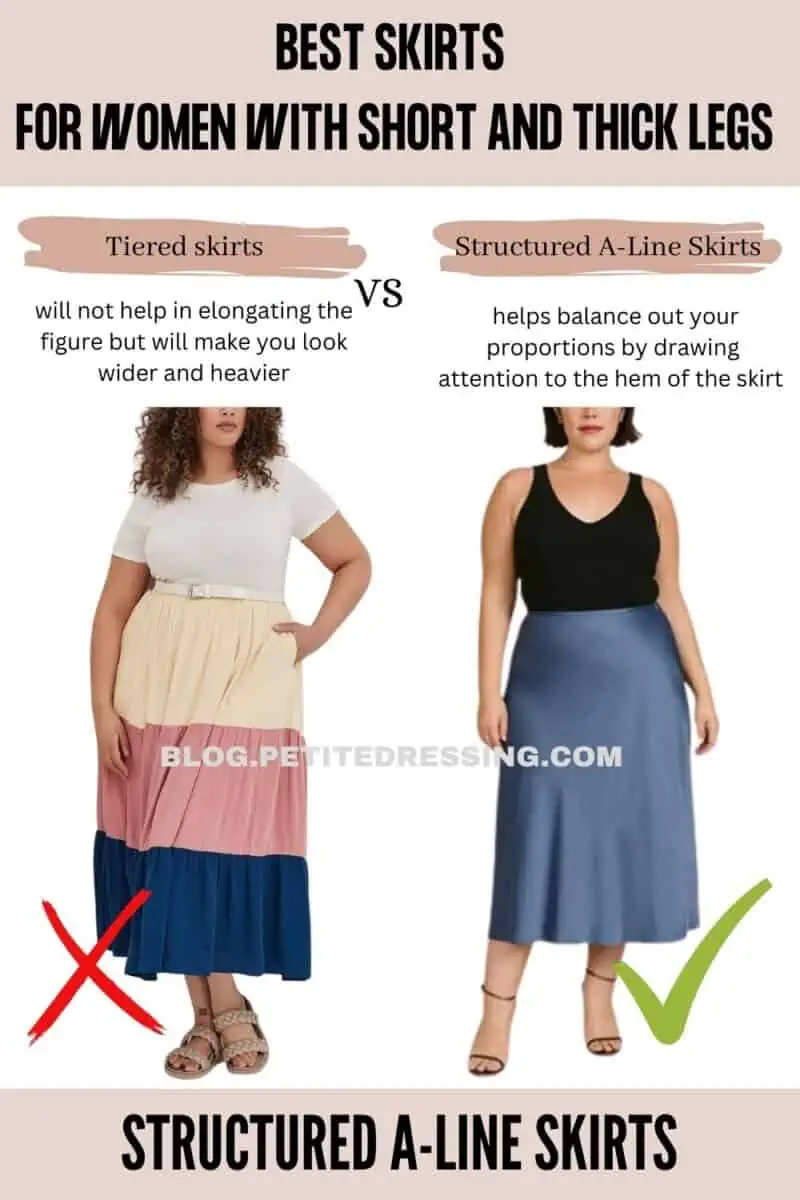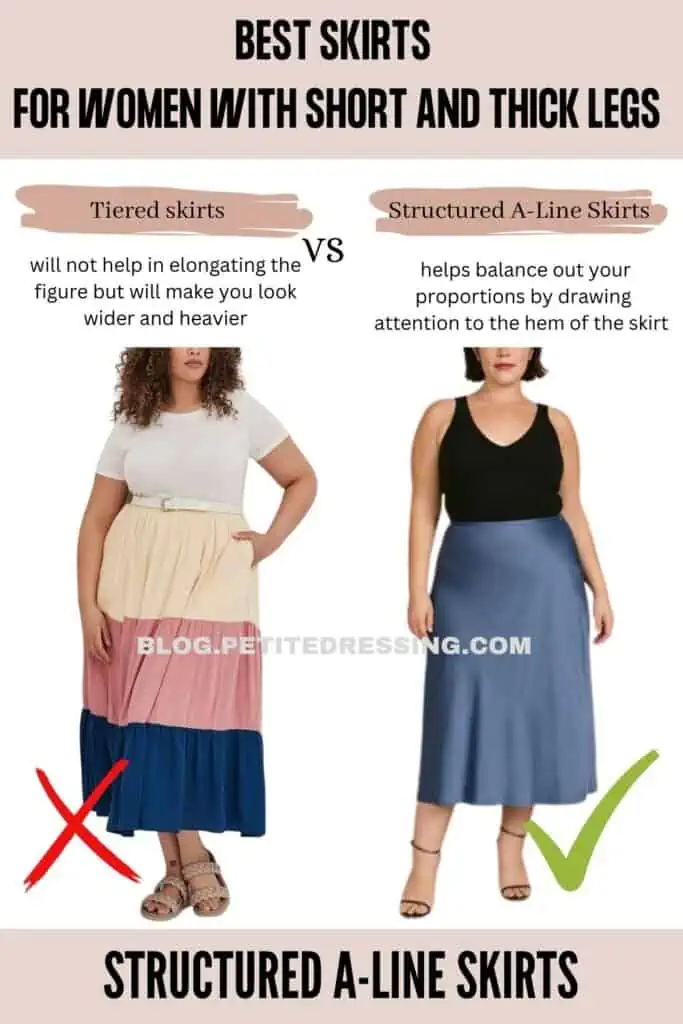 Structured A-line skirts are always an easy and classic option for ladies with short and thick legs because they are designed to cinch at the waist and flare out toward the hem.
This A-shaped structure helps balance out your proportions by drawing attention to the hem of the skirt which makes you appear leaner and taller.
That explains why this type of skirts are always best sellers in our petite skirt collection!
This will work even better with structured seams and fabrics that are slightly stiff as this will make the A shape even more apparent. Apart from this visually-elongating effect, A-line skirts are generally very comfortable as it allows you to move freely thanks to their structure.
Flowy Chiffon Knee-Length Skirts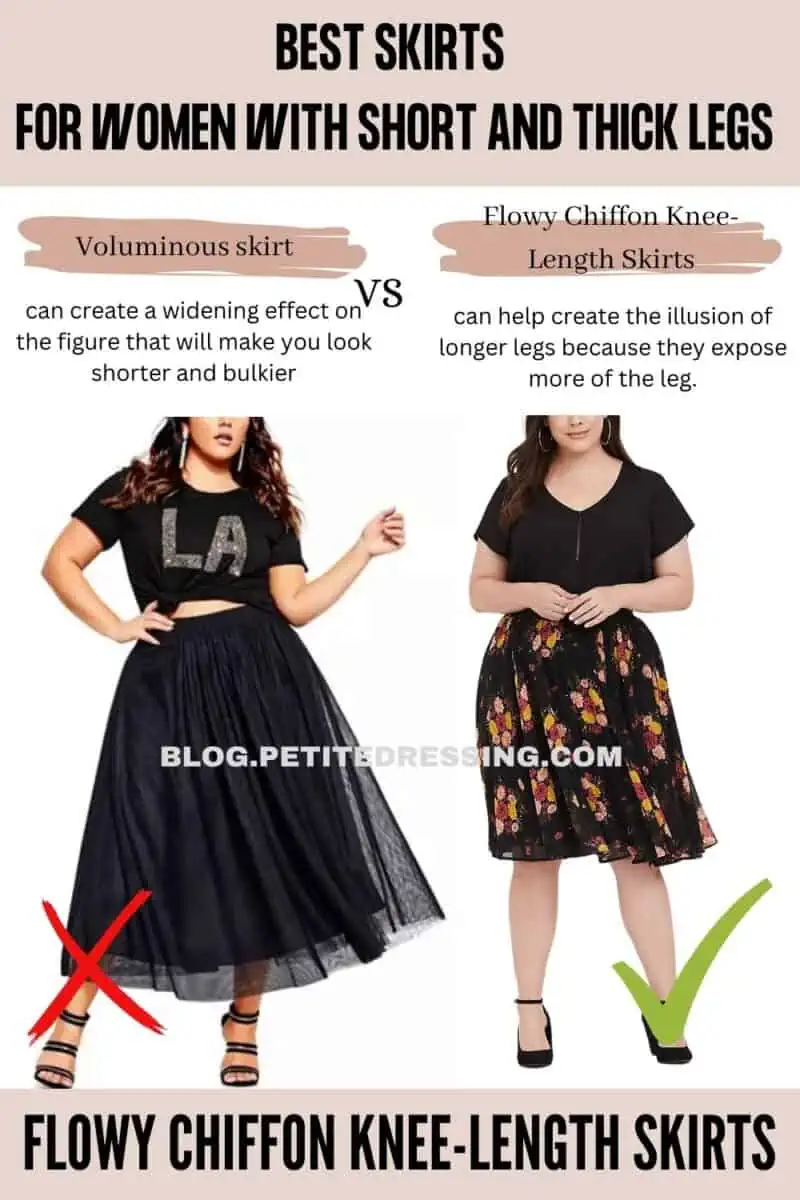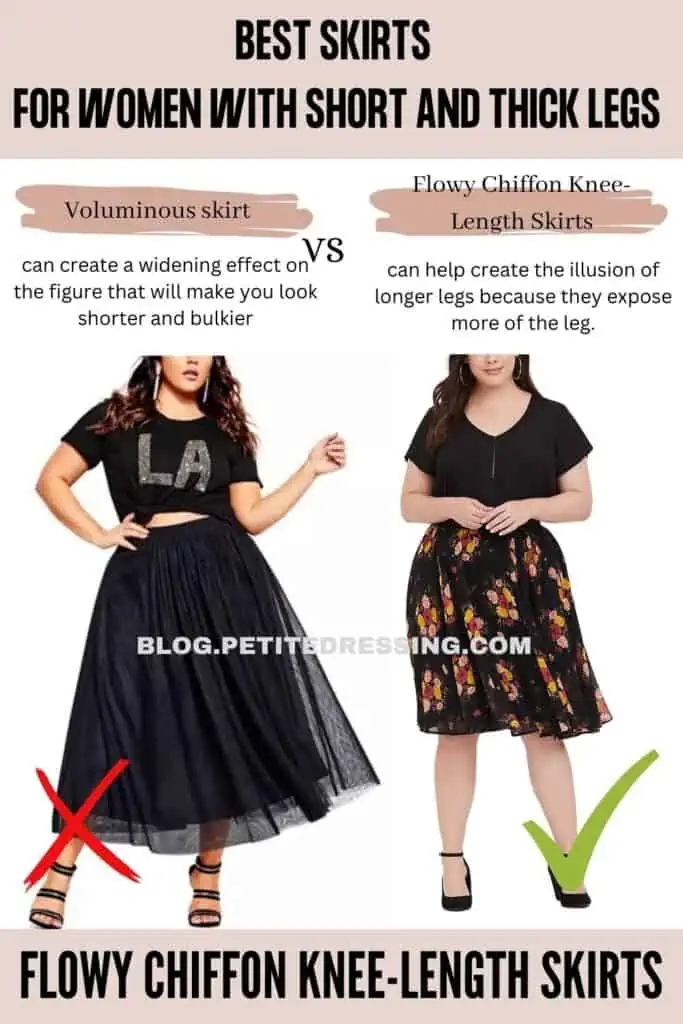 Just like what we mentioned in the Styling Goal section, a knee-length skirt is an example of the ideal length that visually lengthens the leg line: Skirts that hit at or just above the knee can help create the illusion of longer legs because they expose more of the leg.
You can of course opt for any type of fabric for your knee-length skirts as they will have the same flattering effect. However, flowy chiffon knee-length skirts are more efficient in terms of drawing the eyes up and down as this type of soft fabric features movements that result in an optical illusion.
Tailored Skirts with Vertical Patterns or Prints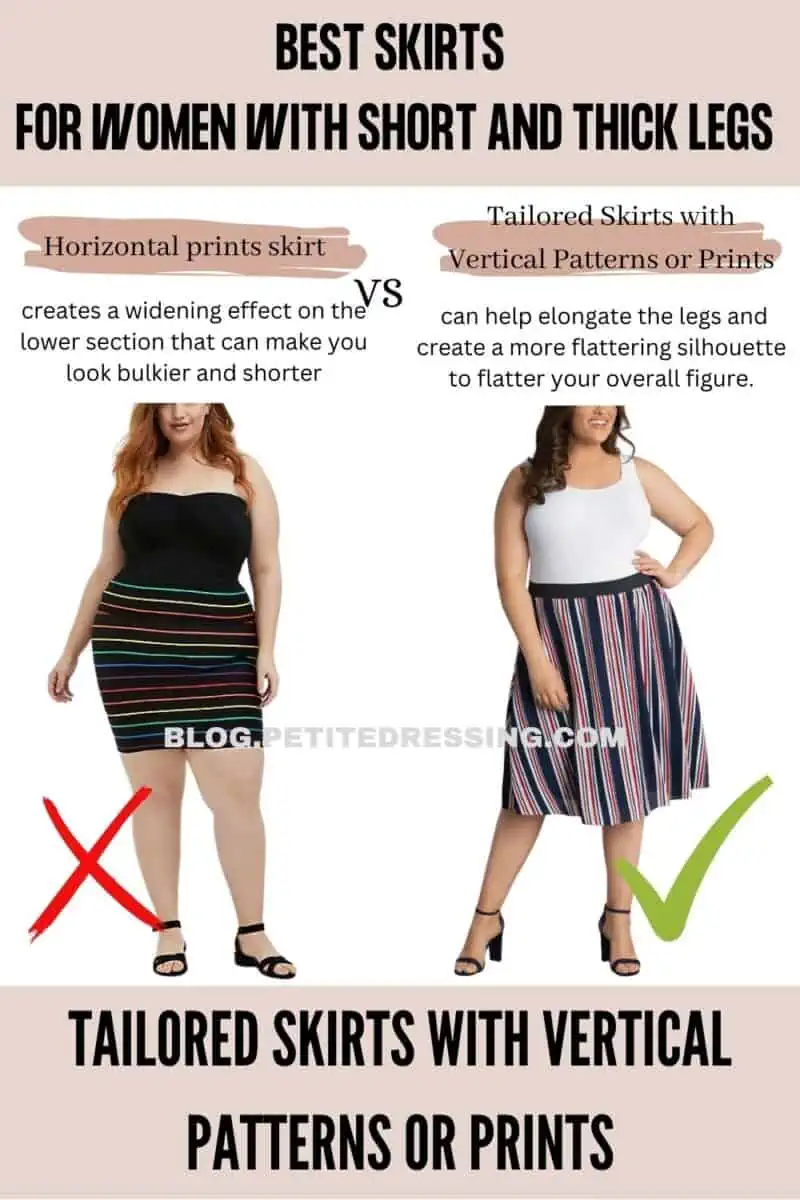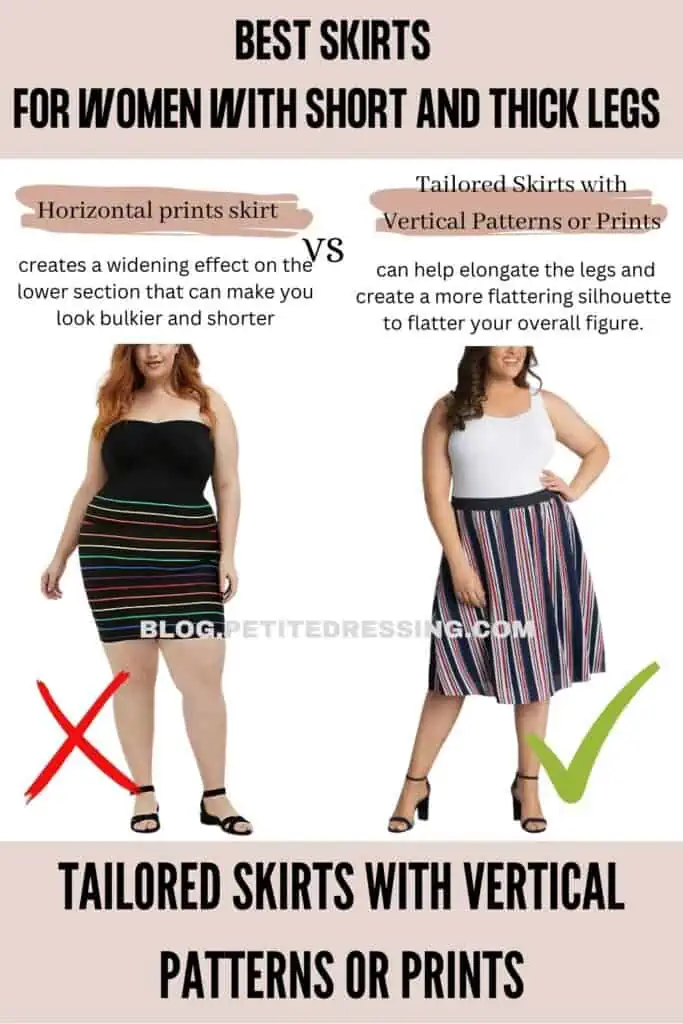 Our eyes naturally follow vertical lines up and down, which can create the illusion of a longer, leaner leg line. When the skirt has these vertical stripes, they can help elongate the legs and create a more flattering silhouette to flatter your overall figure.
They draw attention away from the width of the legs which can be very helpful if you're concerned about your thick legs. This way, you'll have a more balanced-looking silhouette and a more flattering upper and lower body ratio.
Since the right fit is also very important in making a flattering silhouette for your legs, then tailored skirts are also worth a try so you can make sure that it's the best fit for you.
Neutral-colored Wrap Skirts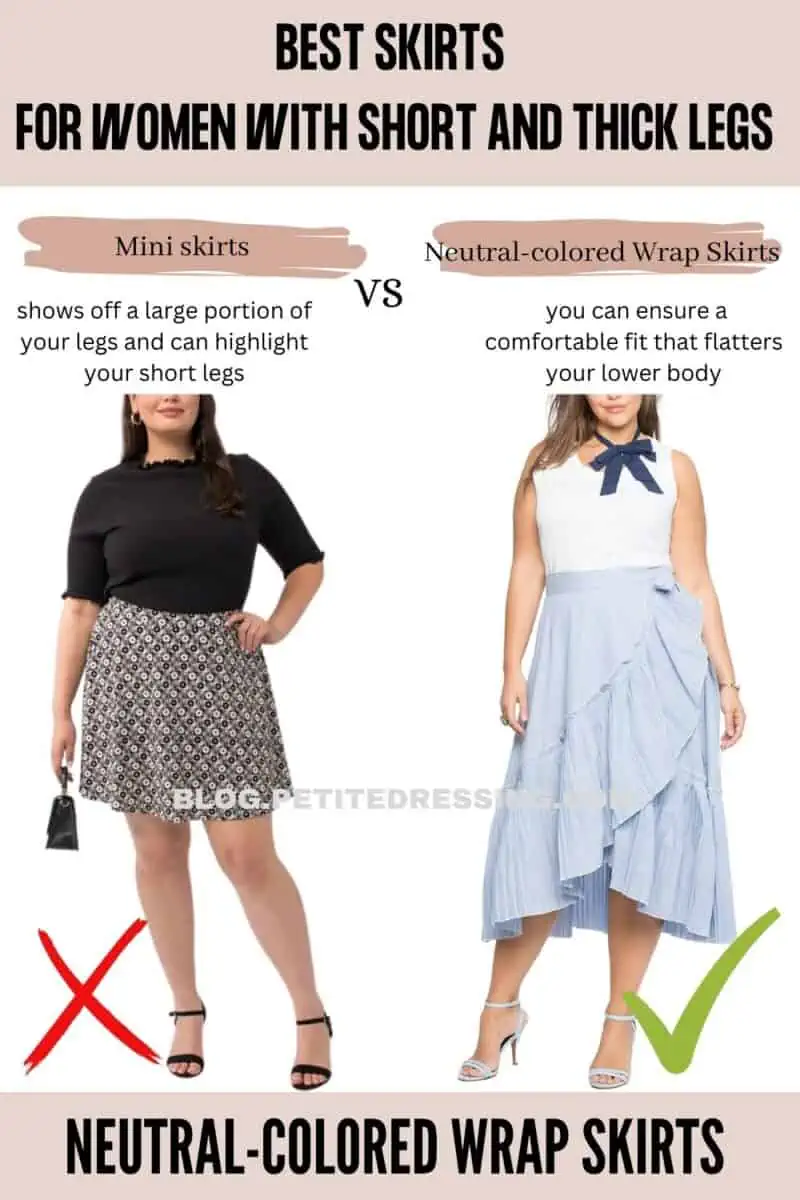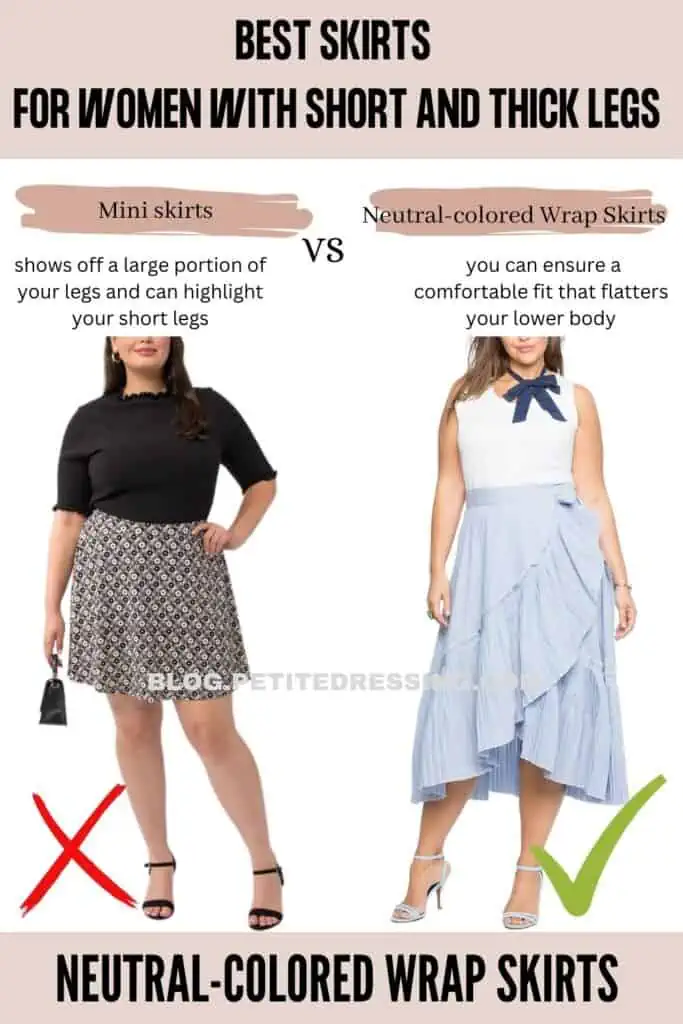 Wrap skirts are also a great choice for women with short and thick legs because of their shape, structure, and adjustability.
Wrap skirts are tied at the waist so they can be adjusted to fit your body shape. This means that you can ensure a comfortable fit that flatters your lower body, regardless of your waist size or hip measurements.
As the tie that cinches the waist is usually quite apparent, the eyes are usually drawn to it and therefore diverts the eyes from your short and thick legs. With the right choice of length and color, you can create an illusion of longer and slimmer legs.
With the choice of colors mentioned, neutral colors can create the illusion of longer legs because they create a seamless, uninterrupted line from the waist down to the feet.
High-waisted Denim Skirts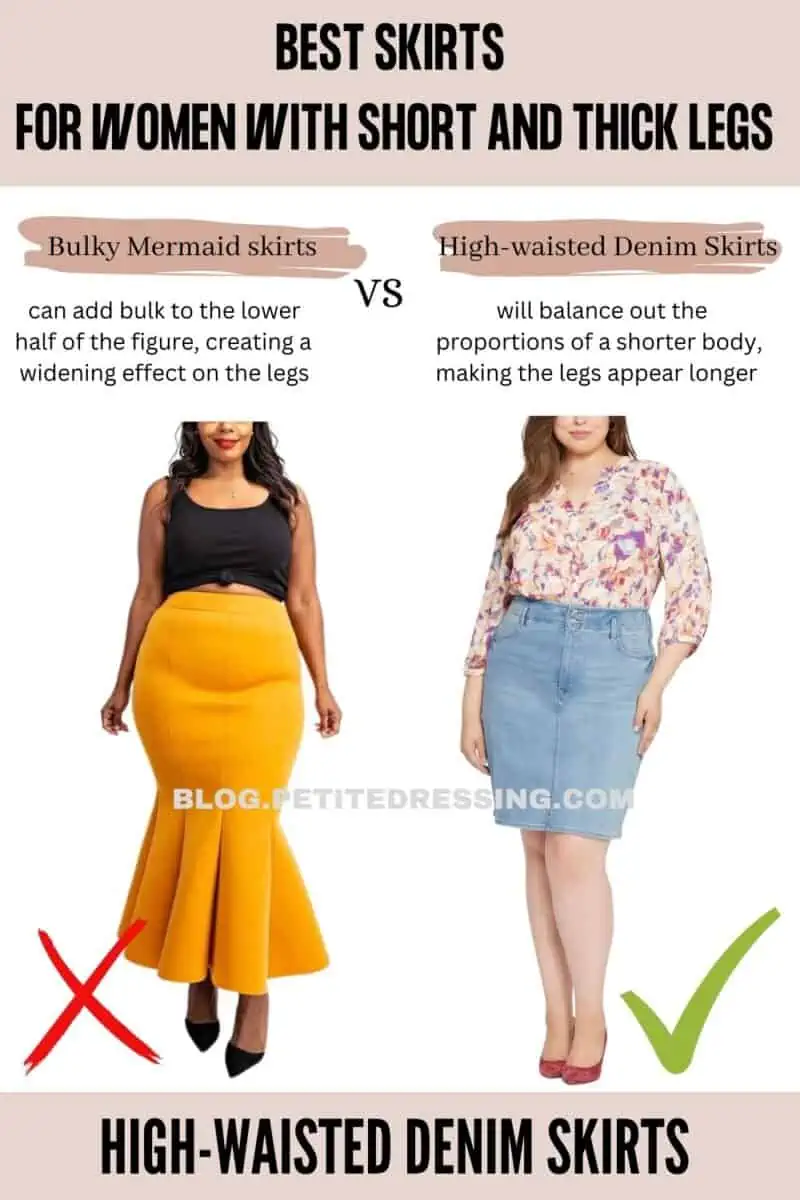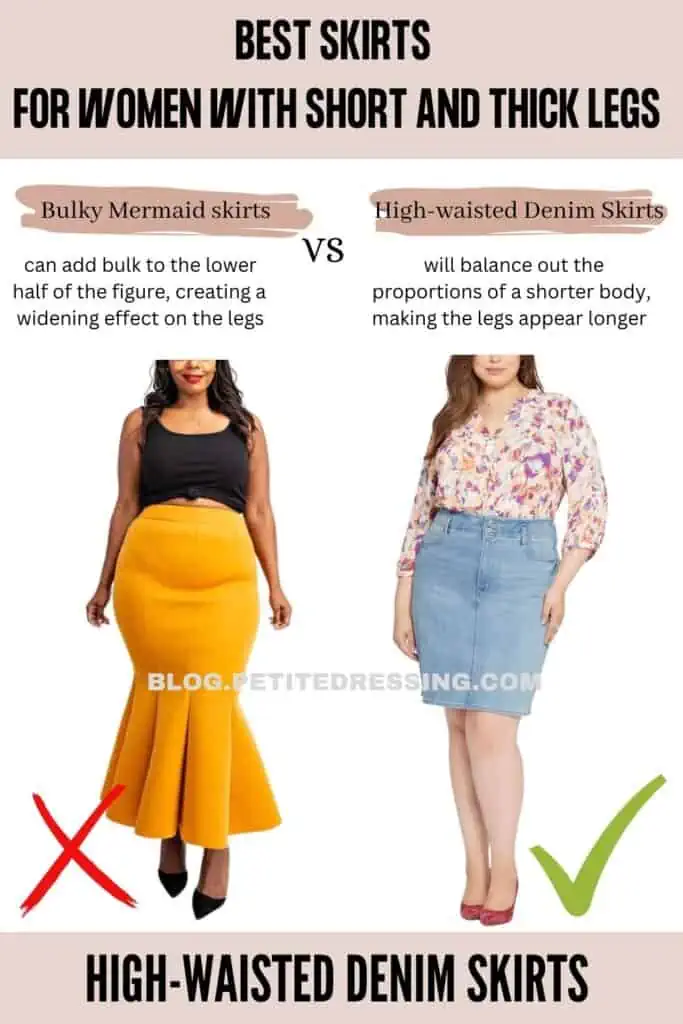 High-waisted skirts visually extend the length of your lower body as they are slightly higher than your natural waistline. This type of skirt structure will balance out the proportions of a shorter body, making the legs appear longer and more proportional to the rest of the body.
High-waisted denim skirts are not just fashionable, but also very flattering on girls with short and thick legs. Since denim fabrics are slightly stiffer, they create a straighter line and a more structured shape.
Button-Down Skirts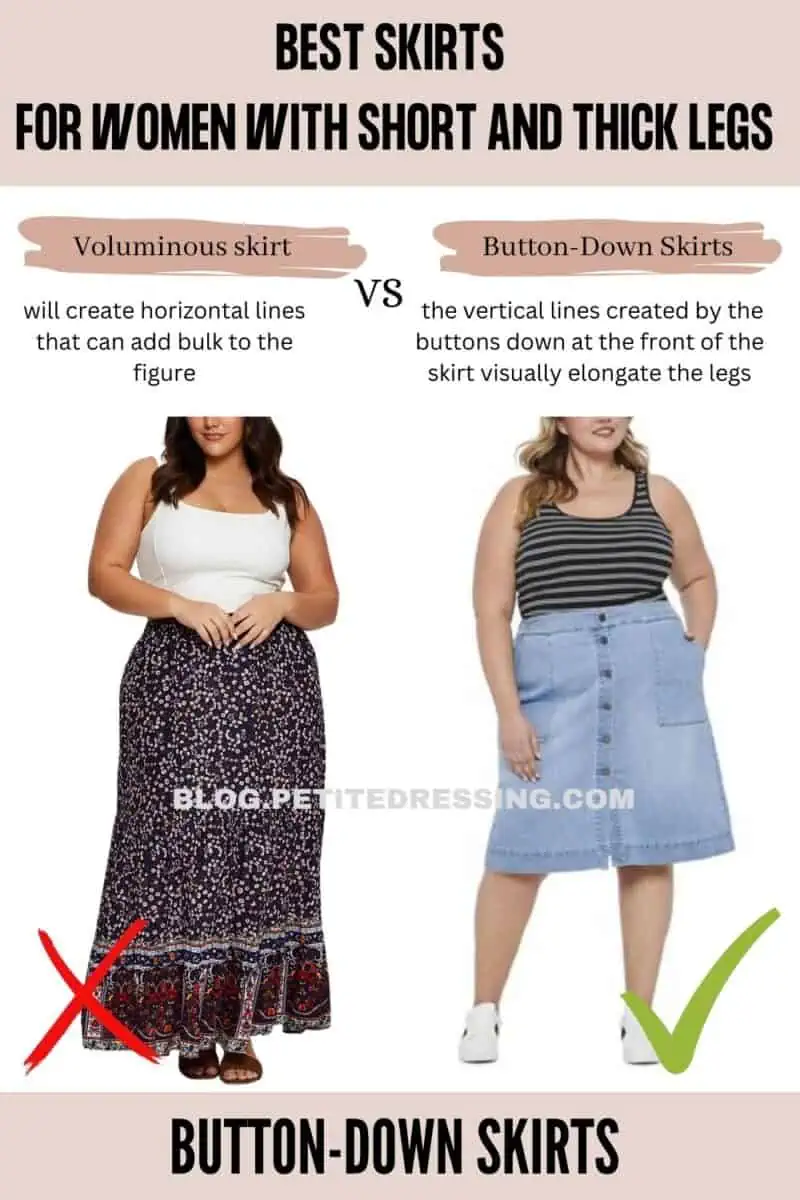 Button-down skirts can be a great choice for people with short and thick legs for a few reasons. One of them is that the vertical lines created by the buttons down at the front of the skirt visually elongate the legs, making them appear longer and slimmer.
This button-down effect is especially pronounced when the buttons start high up on the waist, creating the illusion of a longer torso and more balanced body proportions. Additionally, the structure of a button-down skirt can help to smooth and streamline the silhouette, creating a more flattering and tailored look.
Streamlined Pencil Skirts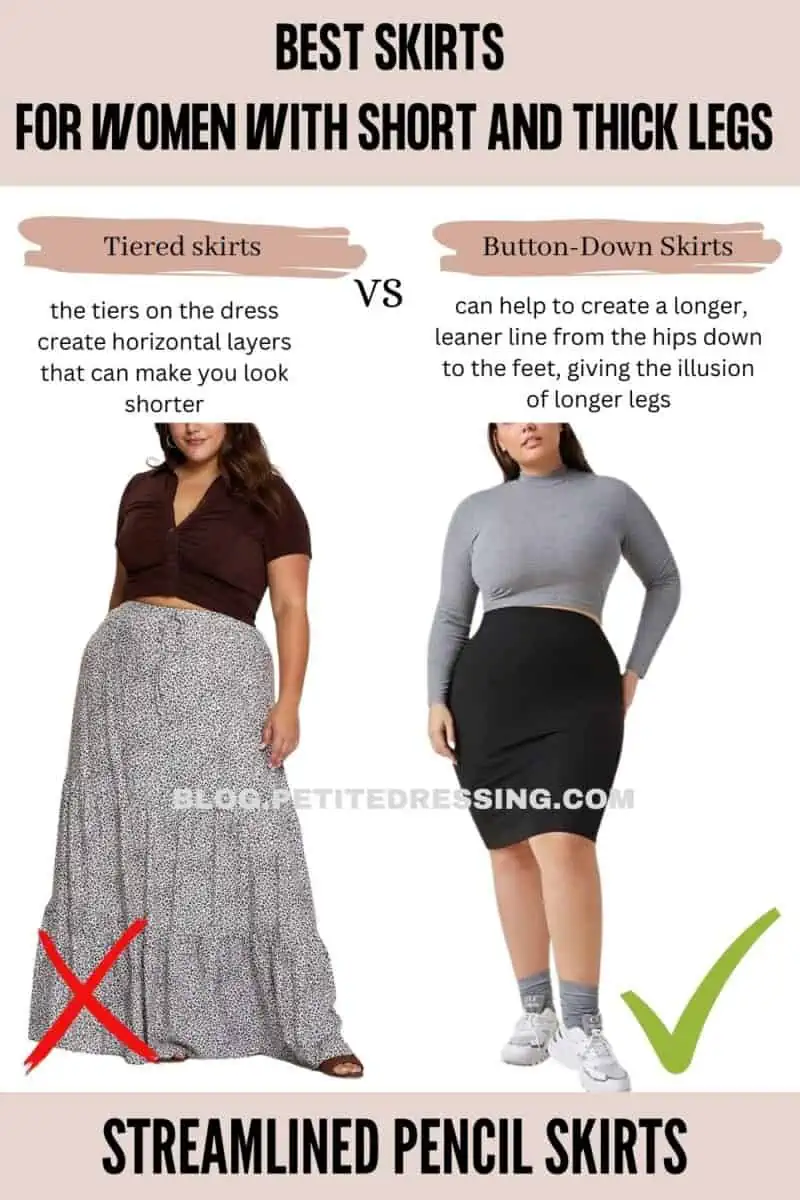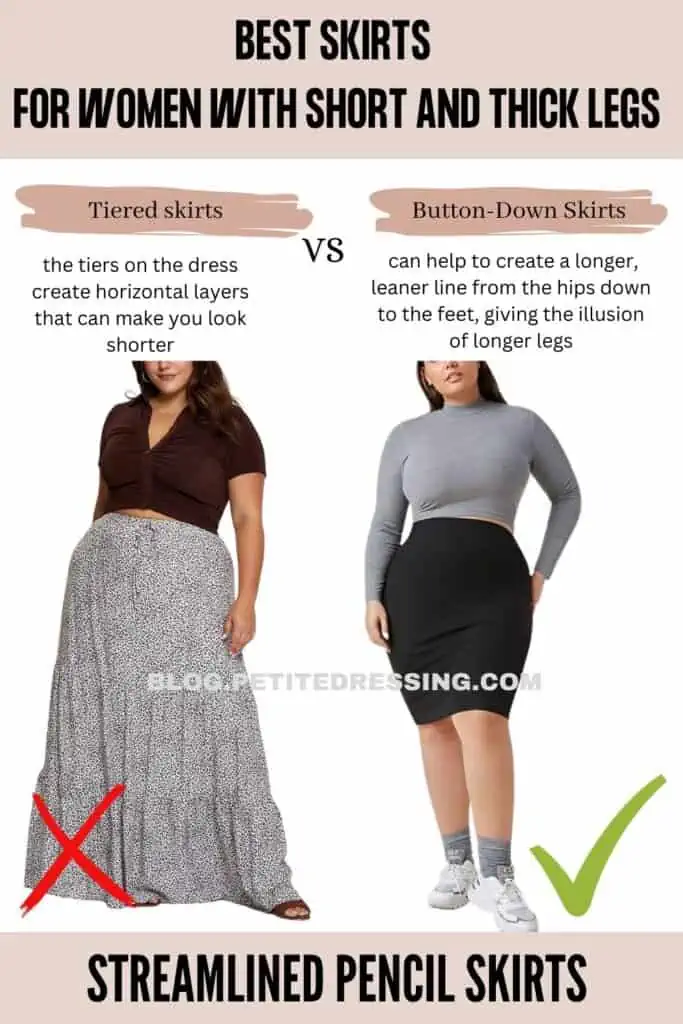 Pencil skirts can be a great choice for people with short and thick legs because they have a slim, streamlined silhouette that can help elongate the lower body. The length of a pencil skirt typically falls just right at the knee, which can be a flattering length for shorter legs as it shows off the ankles and extends the length of the lower leg. 
Also, the tapered shape of the pencil skirt can help to create a longer, leaner line from the hips down to the feet, giving the illusion of longer legs. Just note that the right fit is important when it comes to choosing a pencil skirt because one that is too tight may only highlight the wideness of your legs.
So when choosing a pencil skirt, give it some caution and be extra mindful of the width and length.
Caution with Mermaid Skirts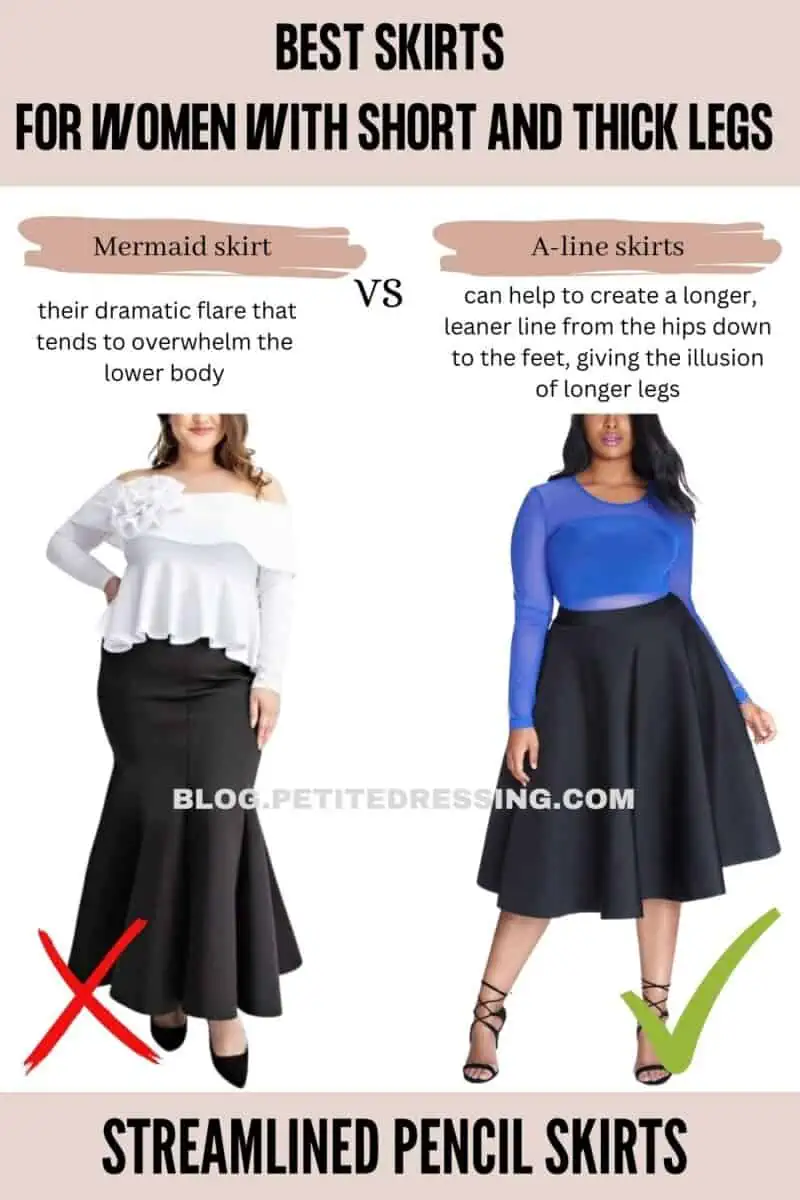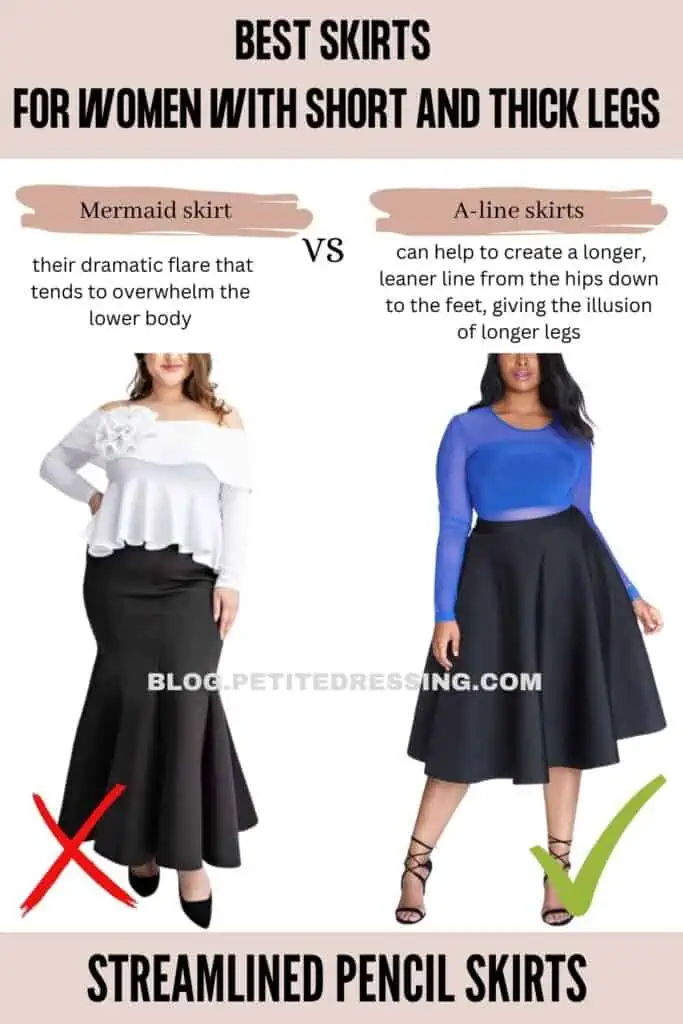 Mermaid skirts can be a challenging style for people with short legs because of their dramatic flare that tends to overwhelm the lower body. However, the fitted top portion of a mermaid skirt can create a flattering and elongating silhouette.
If the mermaid flare is too dramatic, it can overwhelm your lower body but if you go for a subtle flare, it can do wonders for your lower body. This is why it's important to find a mermaid skirt with a flattering cut and fabric that skims the body without adding too much bulk and balances the dramatic lower half of the skirt with a more understated top.
It's quite possible to make a mermaid skirt work for shorter legs with the right styling and tailoring. Opting for a skirt that hits just above the ankle can help to create a longer, leaner line while pairing the skirt with heels can further elongate the legs.
The Key Takeaway
As a woman with short and thick legs, choosing the right style of skirt for your wardrobe shouldn't be so tasking. All you really have to do is be mindful of the length, design, structure, and fit of your skirts.
We hope this comprehensive style guide was able to help you out in planning your skirts for your wardrobe.