Jumpsuits are one-piece garments that come in many different designs. Its popularity has thrived for many years and that's for a valid reason – they are stylish and versatile!
Choosing a jumpsuit can be quite a struggle if you are a girl with a large bust because of the probability that you might need a bigger size on the upper part compared to the lower part of the jumpsuit. But you don't have to fret anymore as there are a variety of styles that can work for you if you have a large bust.
Styling Goal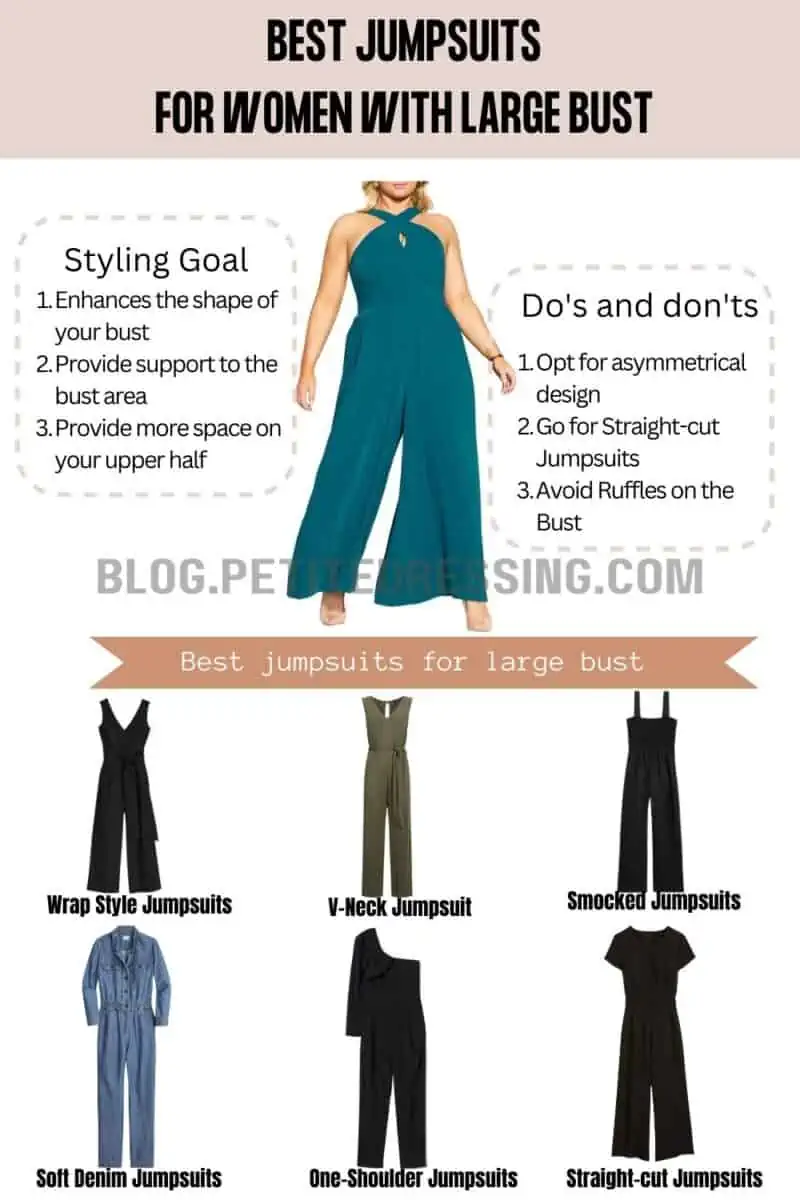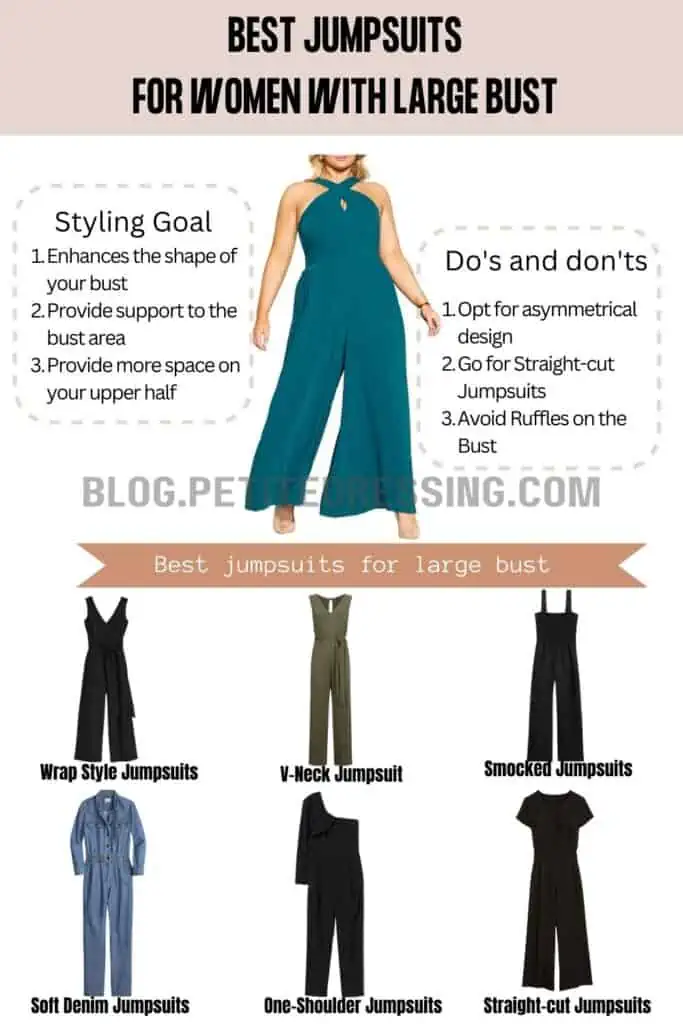 Choose fabrics and structures that will give your upper body enough space to give your large bust comfort. Avoid tight and non-stretchy fabrics because they will cause discomfort and may also look awkward on your frame.
Opt for patterns and details that draw a vertical line for an elongating effect. The key is to create lines that draw the eyes up and down to draw balanced attention overall and not just solely draw the focus on your large bust.
Pay attention to the details on your jumpsuit by avoiding unnecessary embellishments right across the bust. Extra flounces of fabric or bulky details can add more volume to your bust and make your top look heavier.
Wrap Style Jumpsuits
An iconic wrap style is always a safe option for women with large breasts because of its universally flattering structure and silhouette. Its key point is its cinched waist brought by the adjustable waist tie.
The wrap design allows for adjustments to the fit of the top and can provide more coverage and support for your bust. All you need to do is adjust the waist tie accordingly to ensure a comfortable and flattering fit.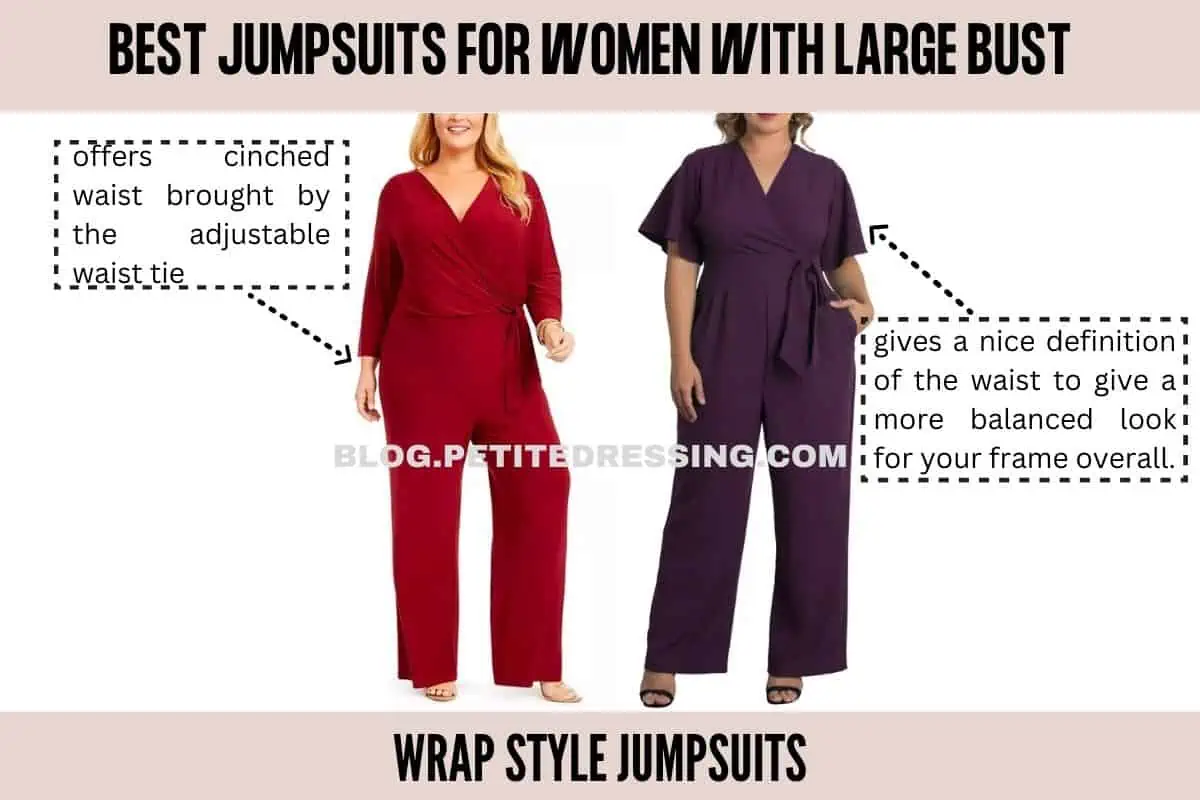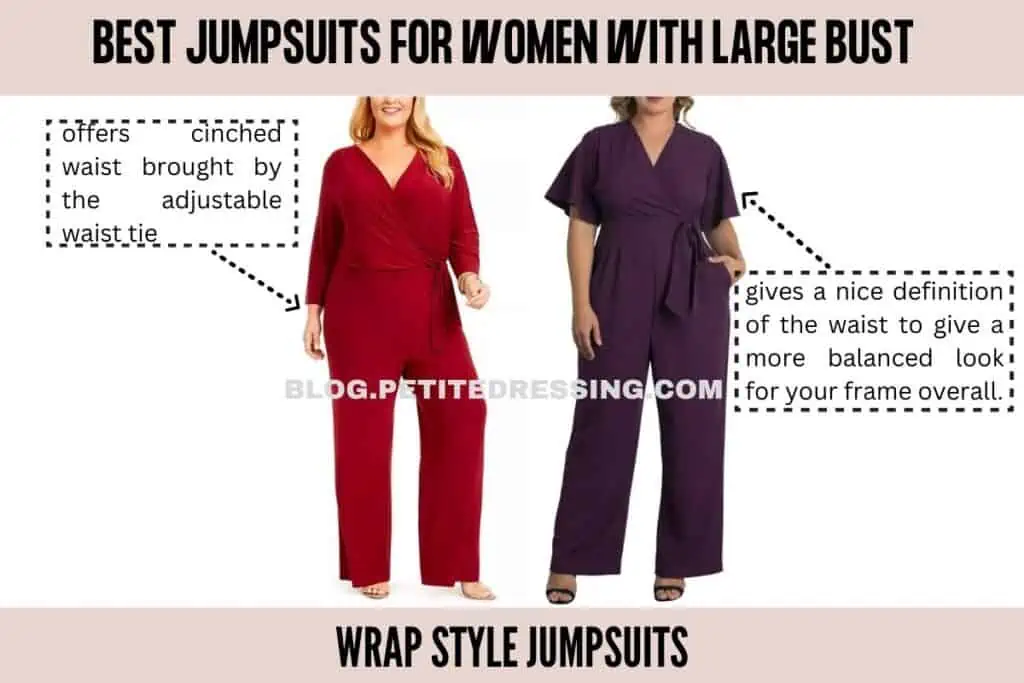 Another alternative for wrap-style jumpsuits would be the faux wrap, wherein there's a gathering of the fabric on one side for that subtle waist cinch. This also gives a nice definition of the waist to give a more balanced look for your frame overall.
V-Neck Jumpsuit
V-necks will always be a busty girl's trustworthy best friend! A V-neck jumpsuit is almost a foolproof option for ladies with big busts because its silhouette gives the bustline more emphasis while also making your body look leaner and longer.
The V-shape of the neckline can help to create the illusion of a longer neck and draw the eye downward, drawing attention to your upper body more evenly. Additionally, the V-neck can help to create the illusion of a slimmer frame by breaking up the expanse of the chest.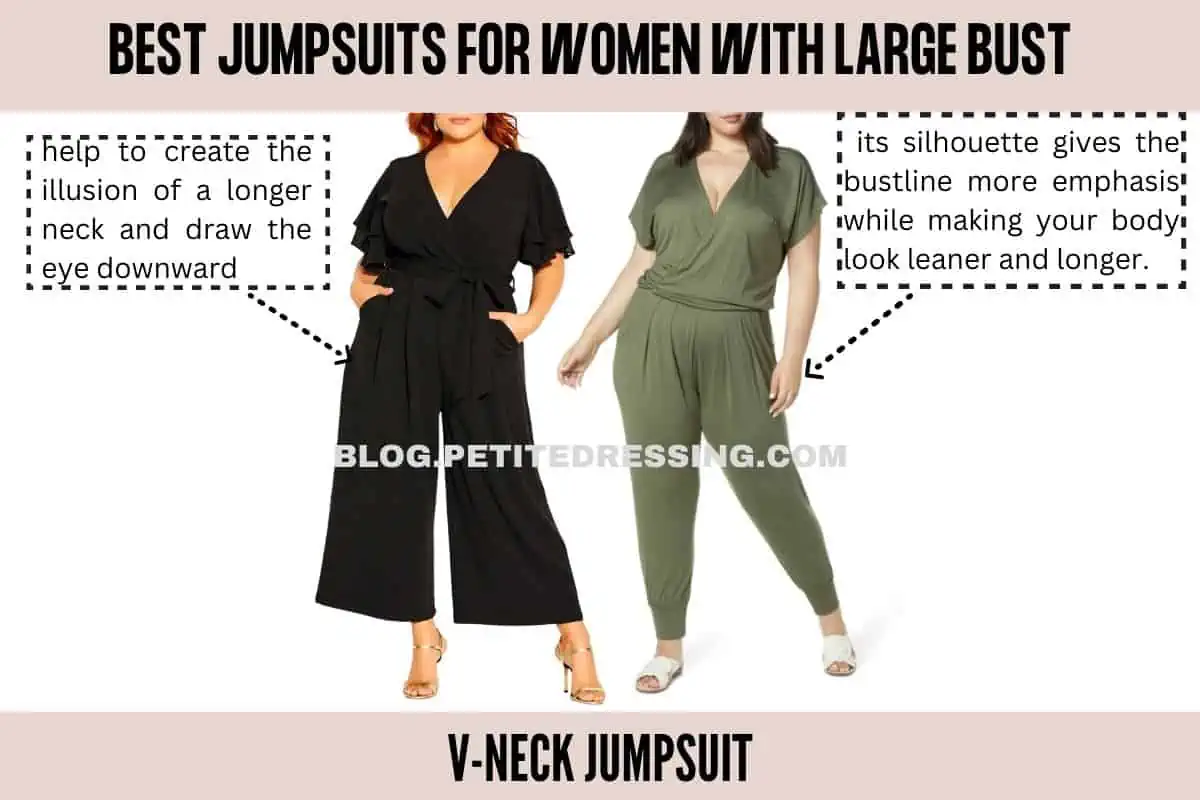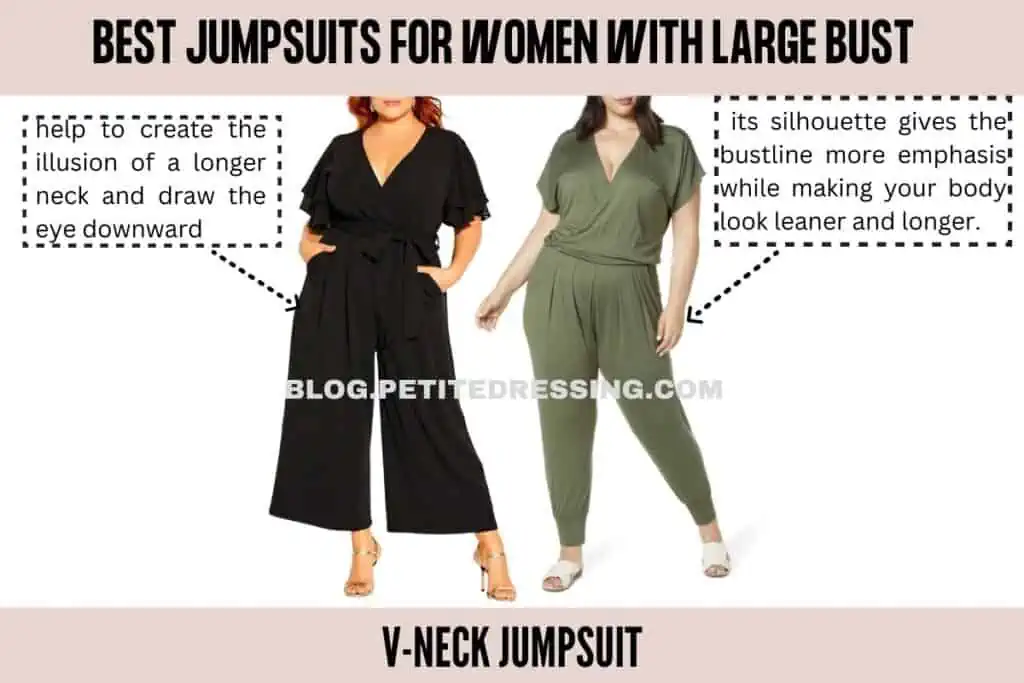 However, that still depends on the fitting of the V-neck, if it is too deep, it may not provide enough coverage and support for larger busts. It is always good to try different styles and fits to see what works best for you.
Smocked Jumpsuits
The structure of smocked jumpsuits wherein the fabric is gathered and sewn on the top part of the jumpsuit feature a snug fit that is good for ladies with big busts. This provides extra support on the bust while also giving your upper body a nicely defined shape.
Smocked jumpsuits are quite comfortable to wear as long as the fit is right for your size. Its stretchy structure allows you to move freely with ease and also enhances the shape of your bust.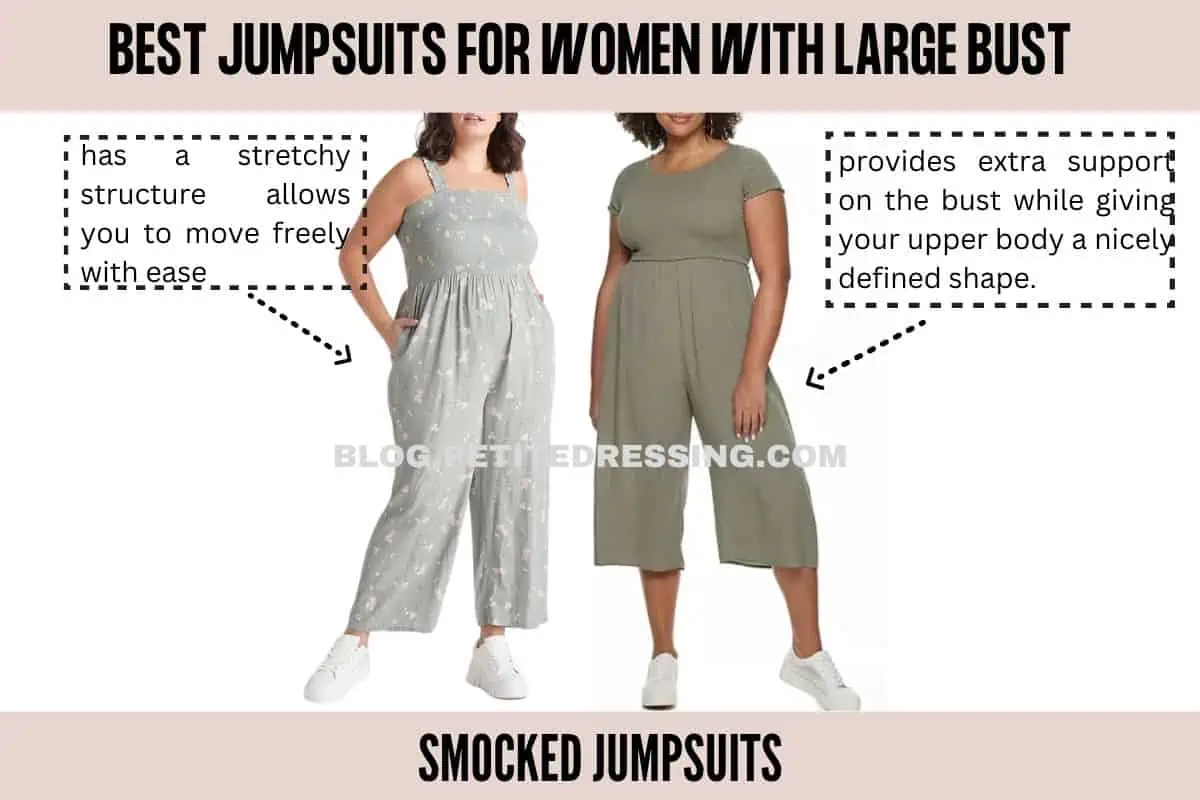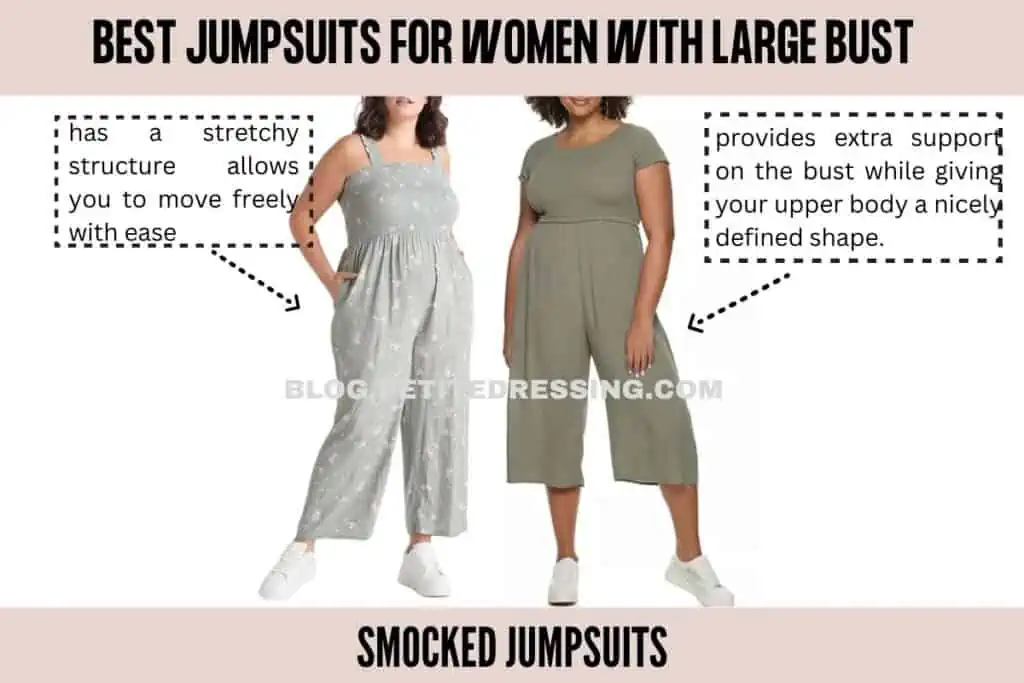 To bring balance to its smocked top, go for smocked jumpsuits that either has a straight-leg or wide-leg silhouette. This will even out the volume of your upper and lower body for your frame to be visually proportionate.
Soft Denim Jumpsuits
Denim jumpsuits are very stylish and comfy to wear but you may want to opt for its softer version if you've got a big bust. This is to provide more space for your upper half since the usual denim fabric might be a little restrictive.
While button fasteners are also quite nice, front zipper enclosures provide a snugger fit to house your big bust more securely. It gives more support and you are in better control of how low you want your neckline would go.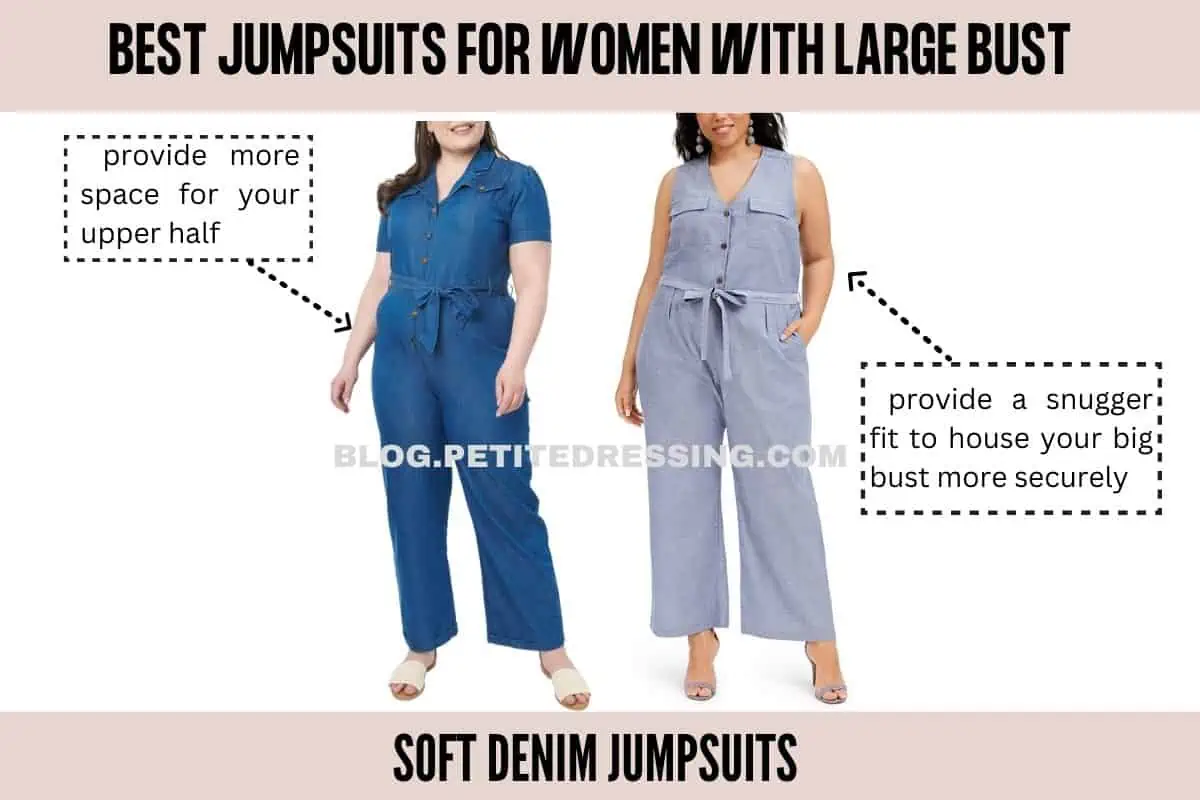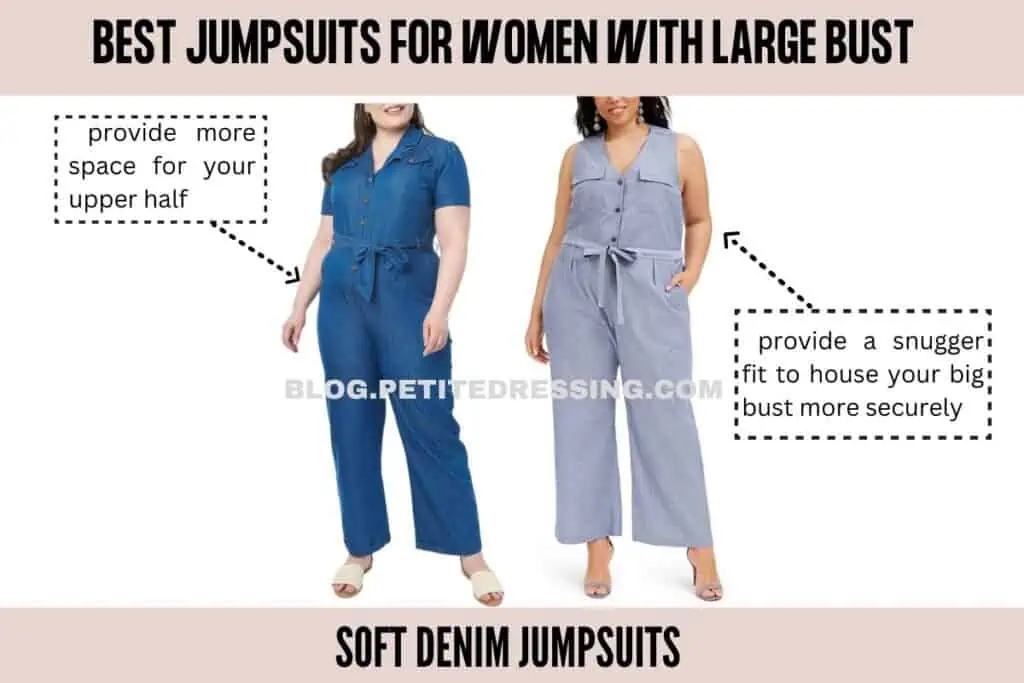 One-Shoulder Jumpsuits
Creating space on your upper body by going for a more open neckline is a good way to draw attention away from your large bust. One-shoulder jumpsuits not only balance the volume on your upper body but also give better support to your breasts with their asymmetrical design.
Most one-shoulder jumpsuits are quite fitted on the upper part and roomier on the legs. This creates a nice balance between your torso and lower body and therefore subtly diffuses the fact that your busts are big.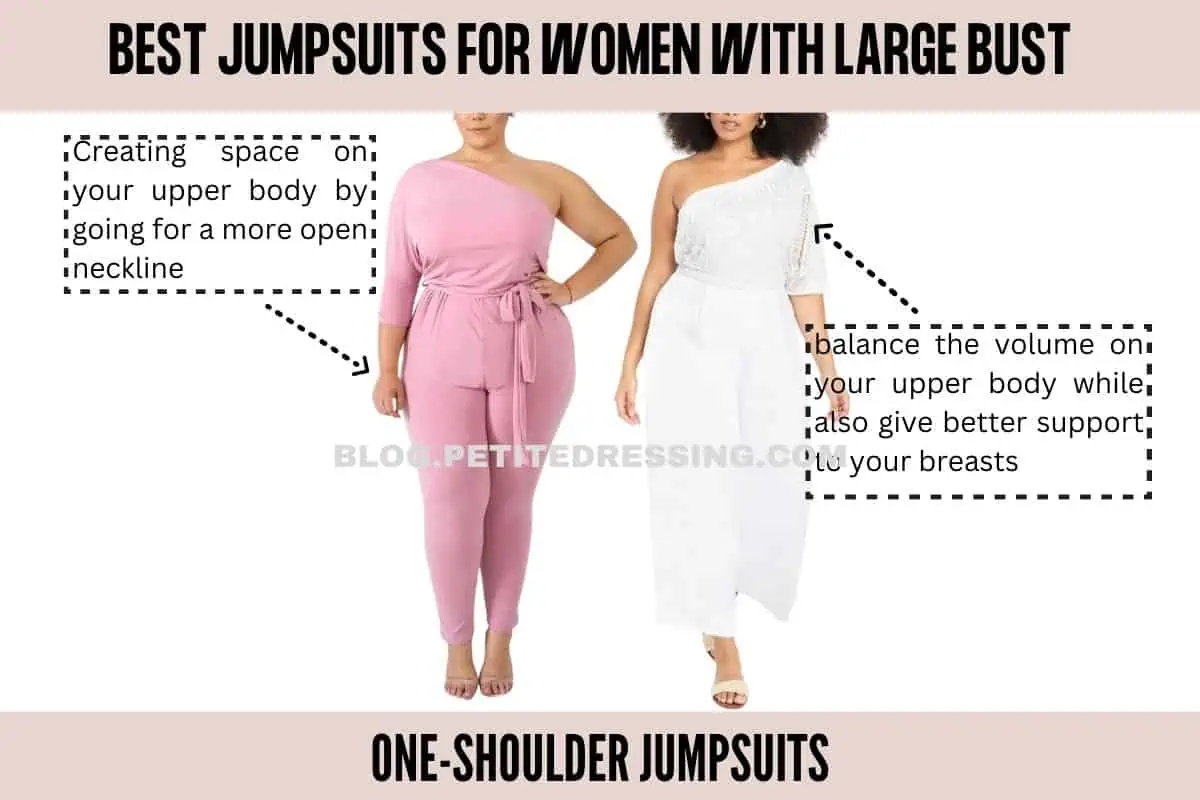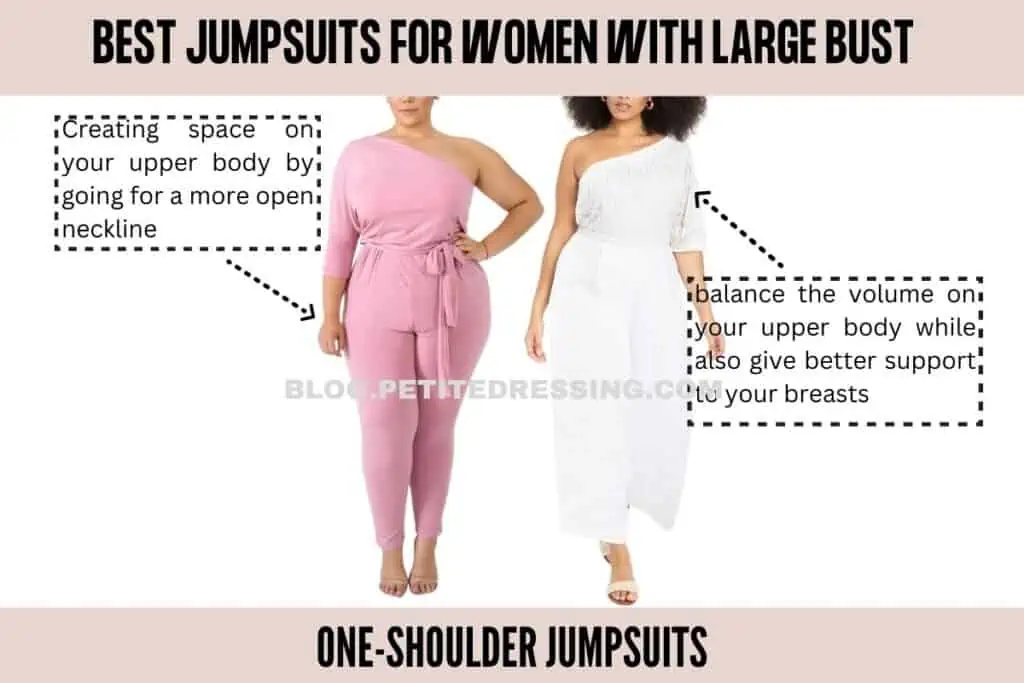 Since the support will only come from the asymmetrical one-shoulder that goes diagonally across your bust line and neck, it's ideal to choose a stretchy fabric for better support. A fabric that's too flowy and loose may look awkward and may even make your top look heavier.
Straight-cut Jumpsuits
Straight-cut structures and vertical patterns are very helpful wardrobe styles to flatter a busty figure because it creates a visual illusion of a slimmer profile, hence not having the focus solely drawn on the bust area. It's also a simple and classic design that's easy to pull off so you can wear it on many different occasions without putting too much effort into styling.
Straight-cut jumpsuits feature a straight, streamlined silhouette designed to have a clean and simple shape, with little to no flare or volume. The legs of the jumpsuit will typically be straight and the bodice usually has a tailored fit that goes extremely well with women with large busts.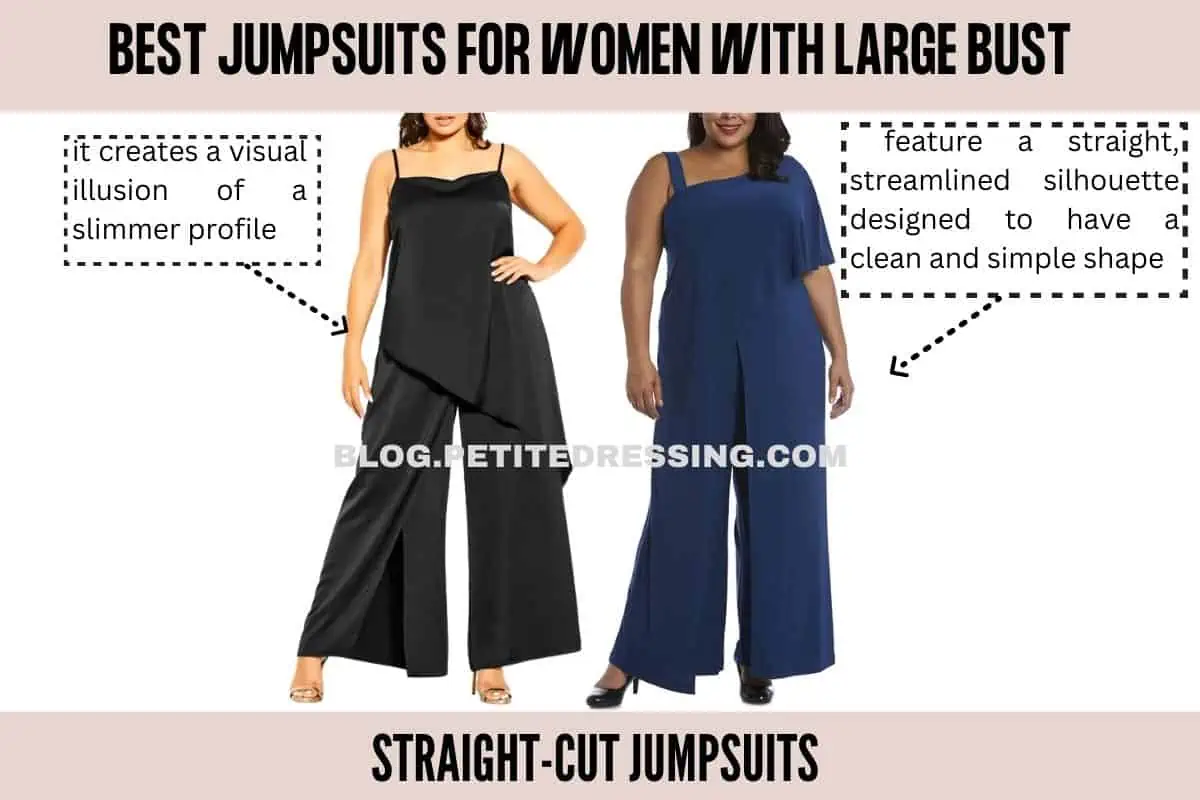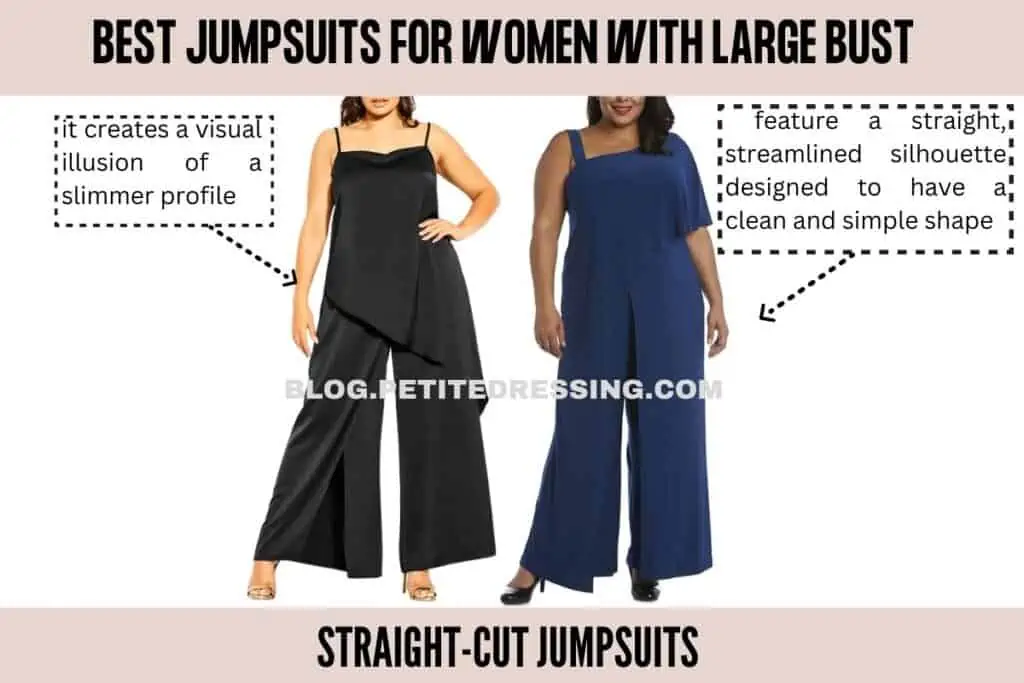 Blazer Jumpsuits
If you're looking into looking more sophisticated and formal, blazer jumpsuits can look amazing on a woman with a large bust. Just like the usual blazers, they have a tailored fit that mostly emphasizes the seams on the shoulders and waist.
With this said, this creates a more defined shape for the body and therefore balances your body ratio by highlighting your other features. This helps split the attention that your large bust gets whenever you'd wear your clothes.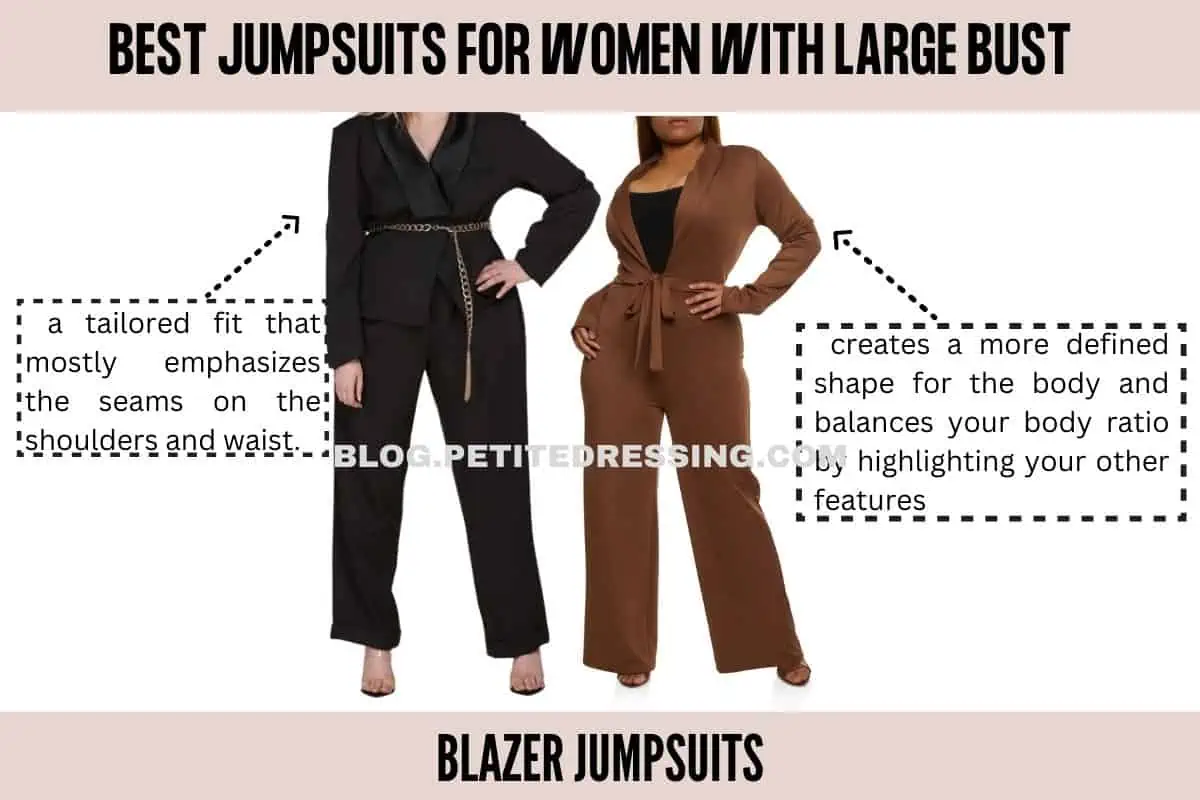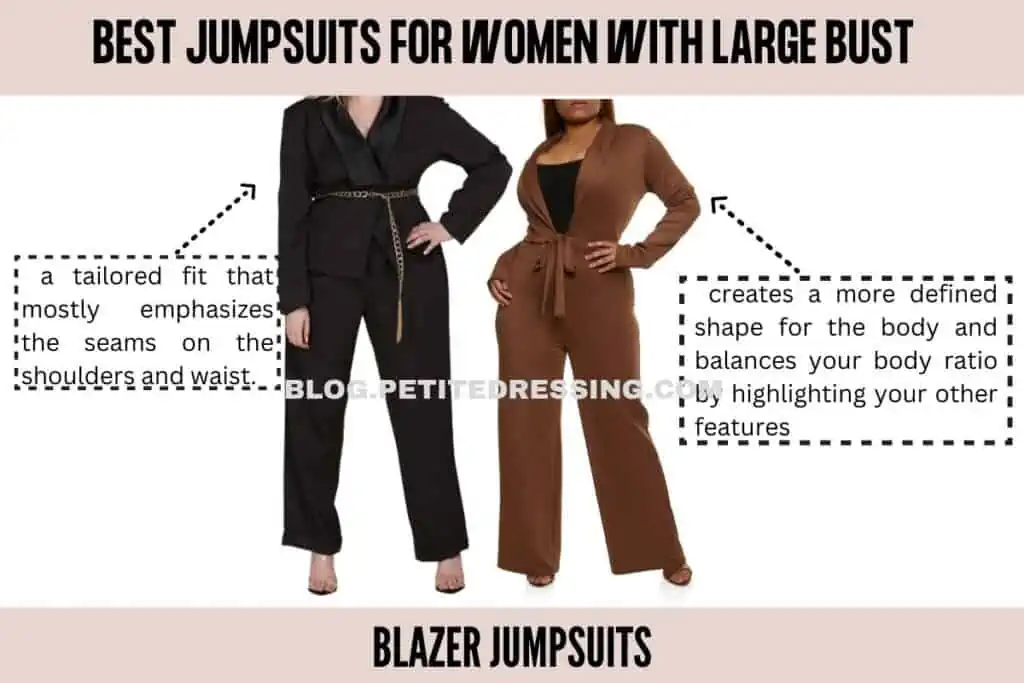 Just make sure to look for a blazer jumpsuit that fits properly and has a bodice that's wide enough to accommodate your big breasts. Try to avoid blazer jumpsuits that are too plunging on the neck area because this may affect the support your large bust requires.
Halter Jumpsuits
Halter jumpsuits are great for ladies with large breasts because of the good support it provides around the neck. Apart from this, its structure wherein it shows a larger area of the shoulders opens up more space on the upper half of the body and therefore splits attention from your large breast, shoulders, and collarbones. 
One thing you need to consider if you're going for a halter jumpsuit is to choose one that doesn't fully cover the neck (like turtleneck shirts) because this can make you look heavier. Opt for halter jumpsuits that have thin string straps so it won't look overwhelming on your upper body.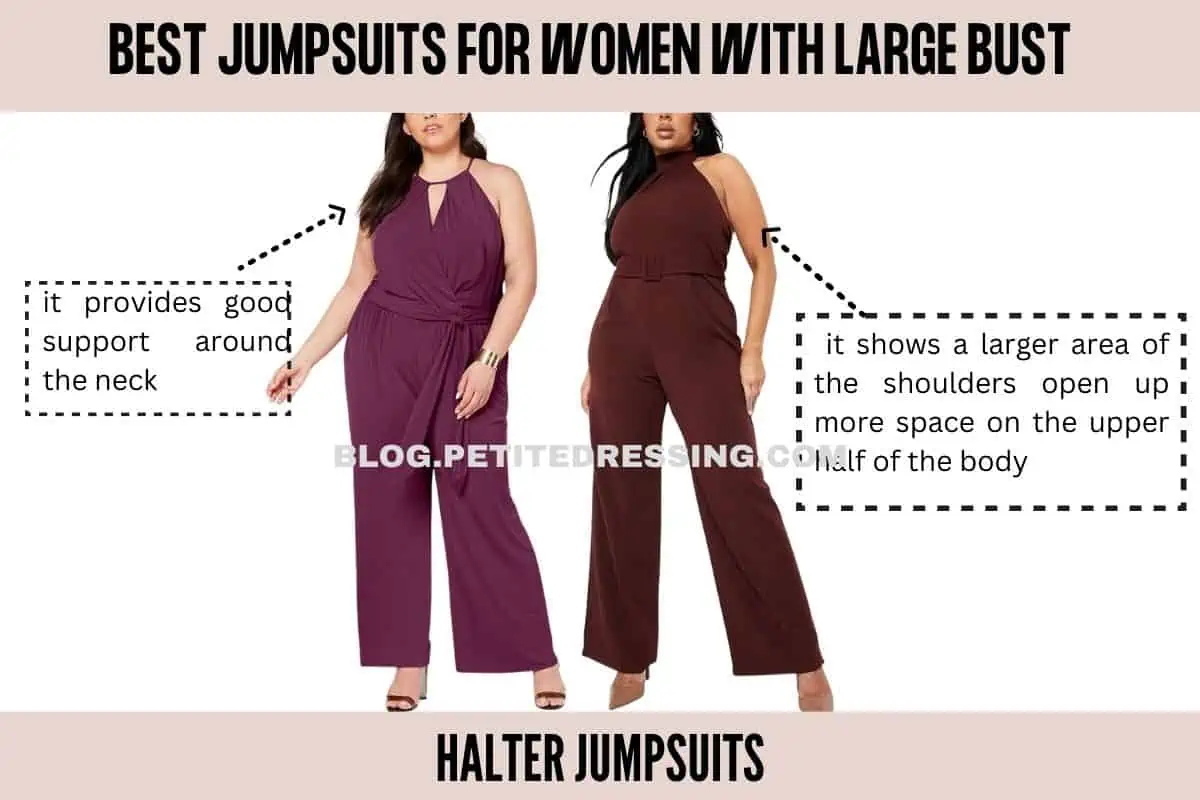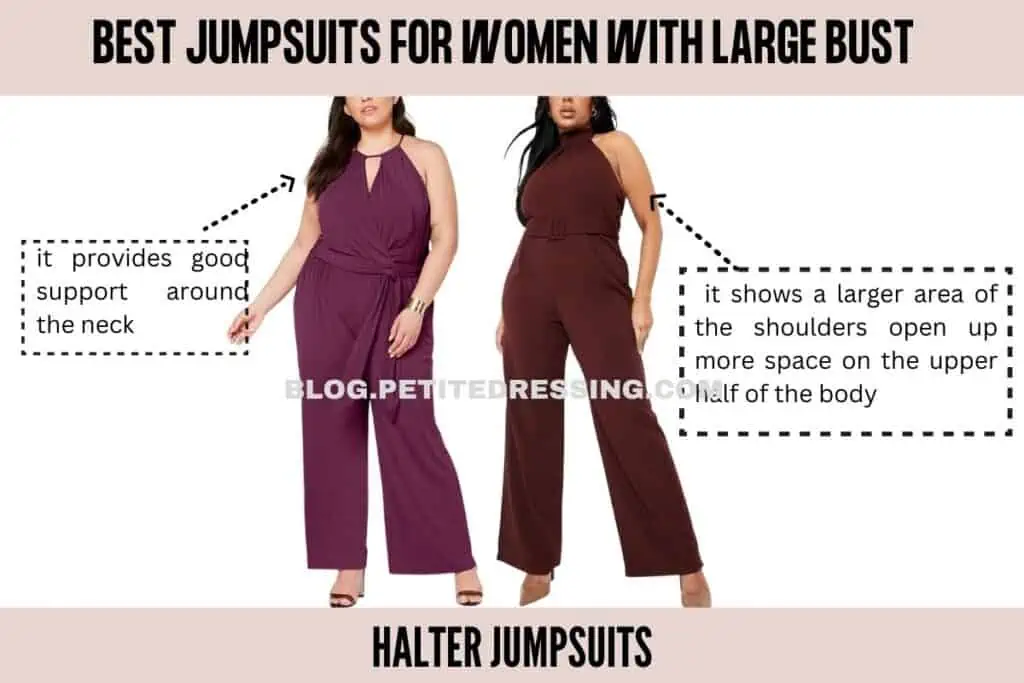 Boiler Jumpsuits
When we think of boiler jumpsuits, we easily associate them with industrial workwear. But this jumpsuit style is actually a fashionable piece that can also look fabulous on a woman with a large bust.
Just like button shirt jumpsuits, boiler jumpsuits usually feature a center fastening that is either buttons or a zipper enclosure. These types of center fastenings allow you to adjust how low you'd like your top to open in order to give your large bust more space and emphasis.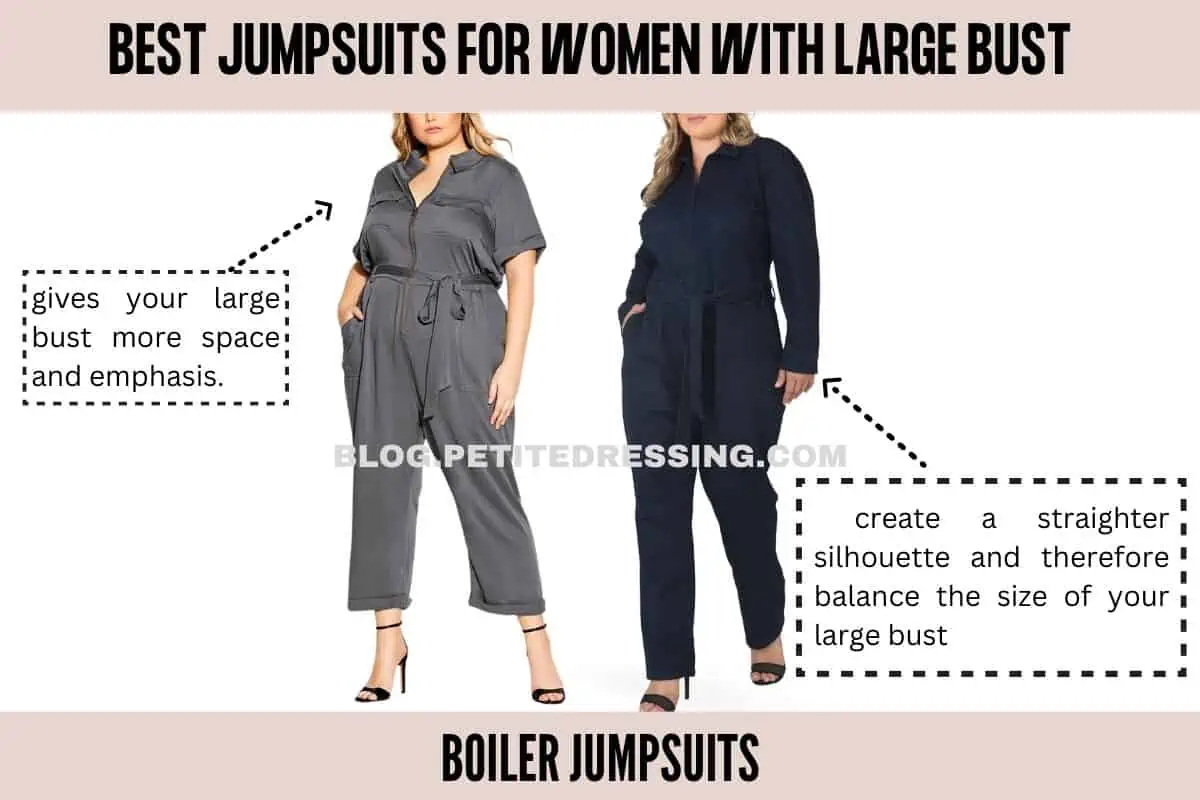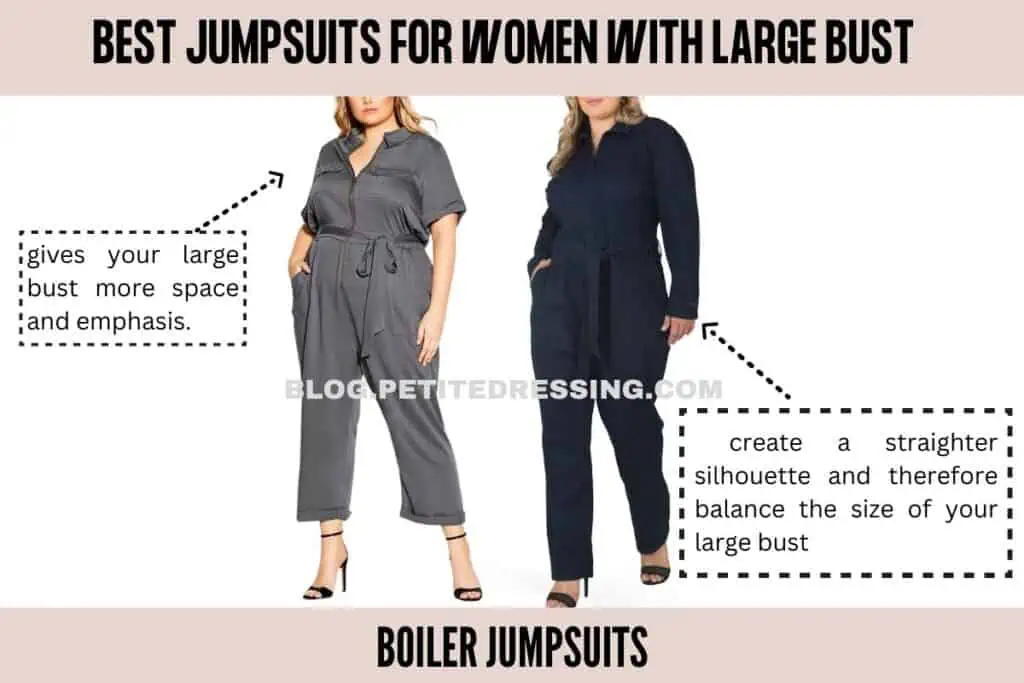 Boiler jumpsuits also usually have tapered bottoms that create a straighter silhouette and therefore balance the size of your large bust against the rest of your body areas.
Avoid Ruffles on the Bust
It's very usual for jumpsuits to have ruffles on the bodice, especially the ones meant for the summer season. While they are all pretty and dainty to look at, having these bulky flounces of fabric attached along your bust line can add significant volume to your already top-heavy body.
Stick to minimalist designs with more streamlined details. This way, you won't attract unnecessary attention to your large breasts.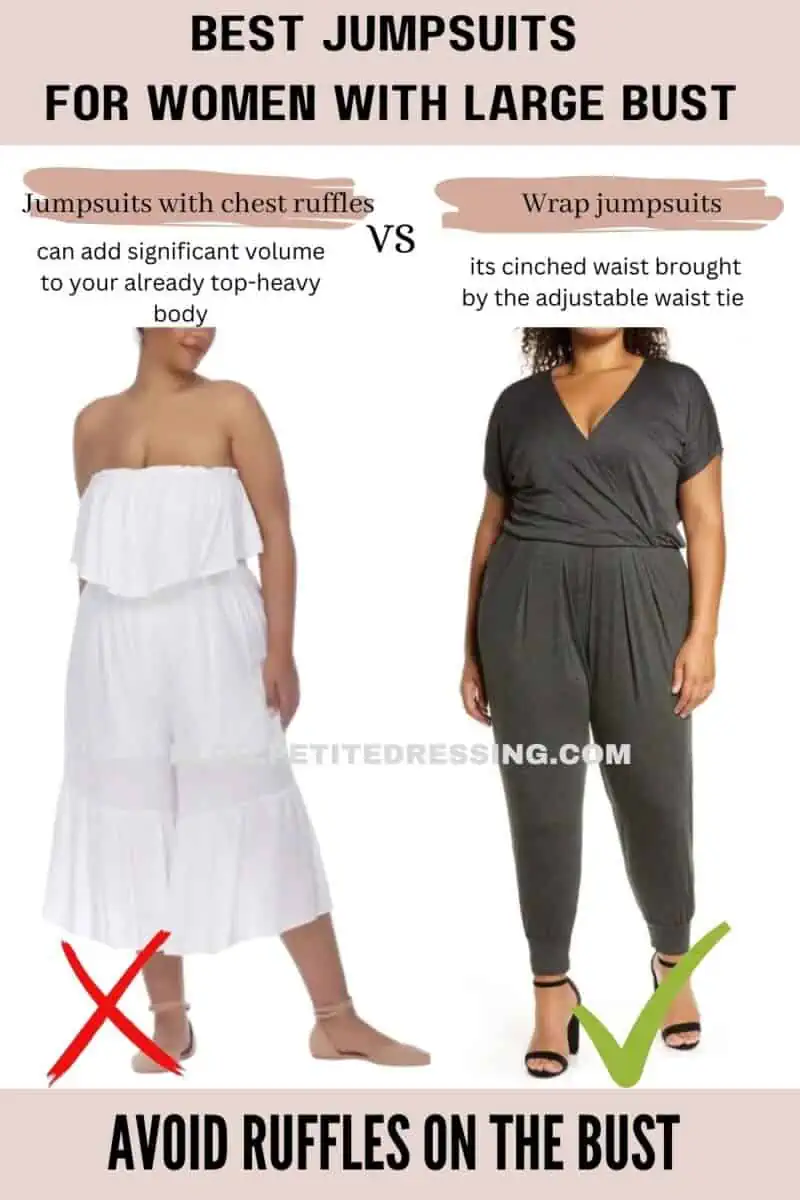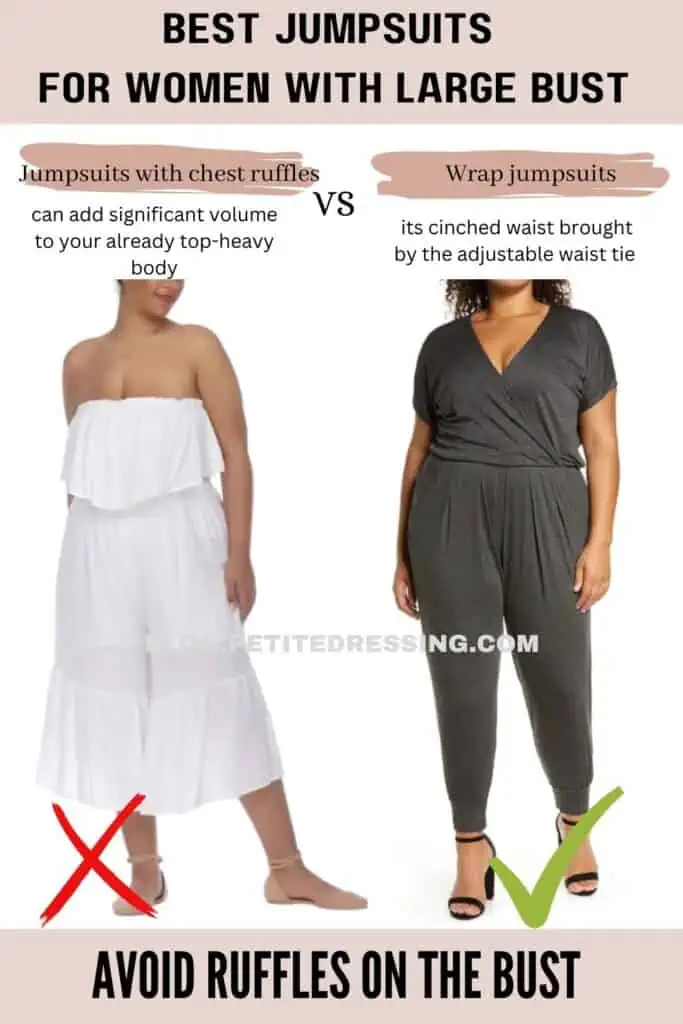 Avoid Weak Front Enclosures
This is very important for ladies with large busts! It's quite common for jumpsuits to have front (or back) fasteners because of their one-piece structure wherein you have to wear it in one go.
If your jumpsuit has weak fasteners or enclosures such as loop closures or snap buttons, there's a tendency that they'll just snap open because they don't have enough force to keep your large bust secured.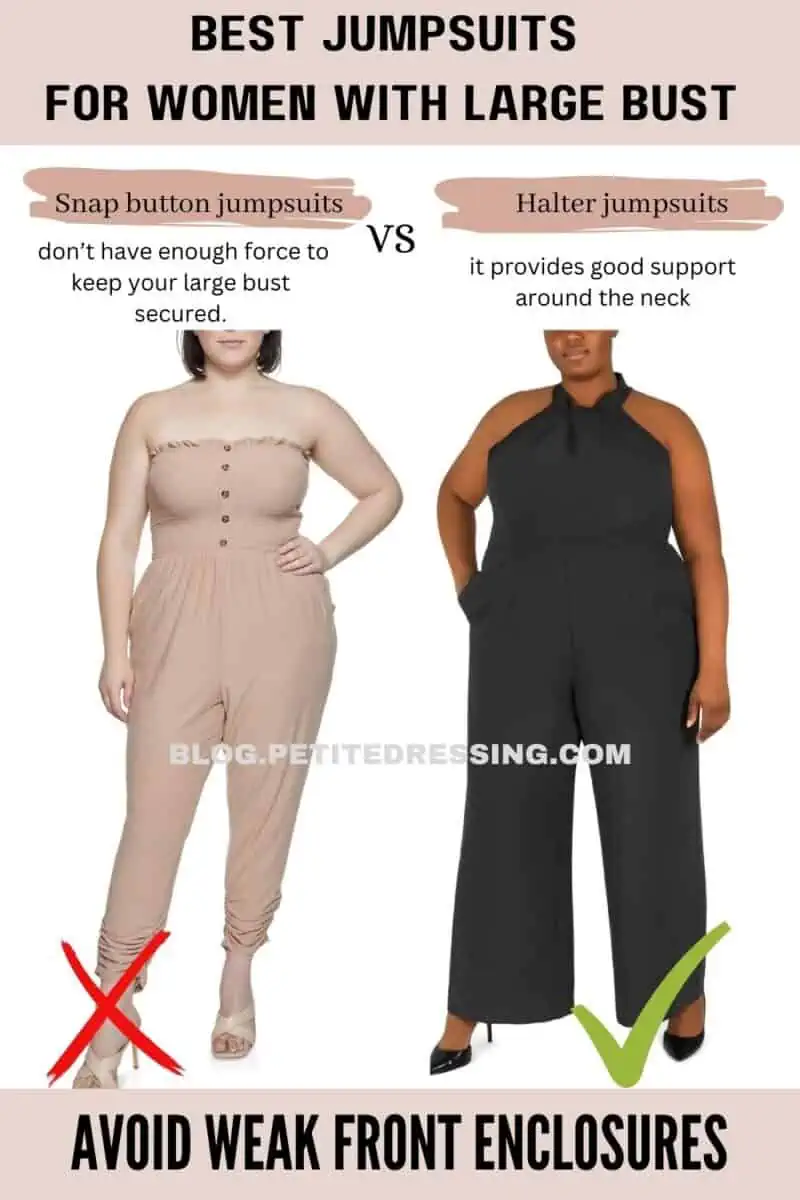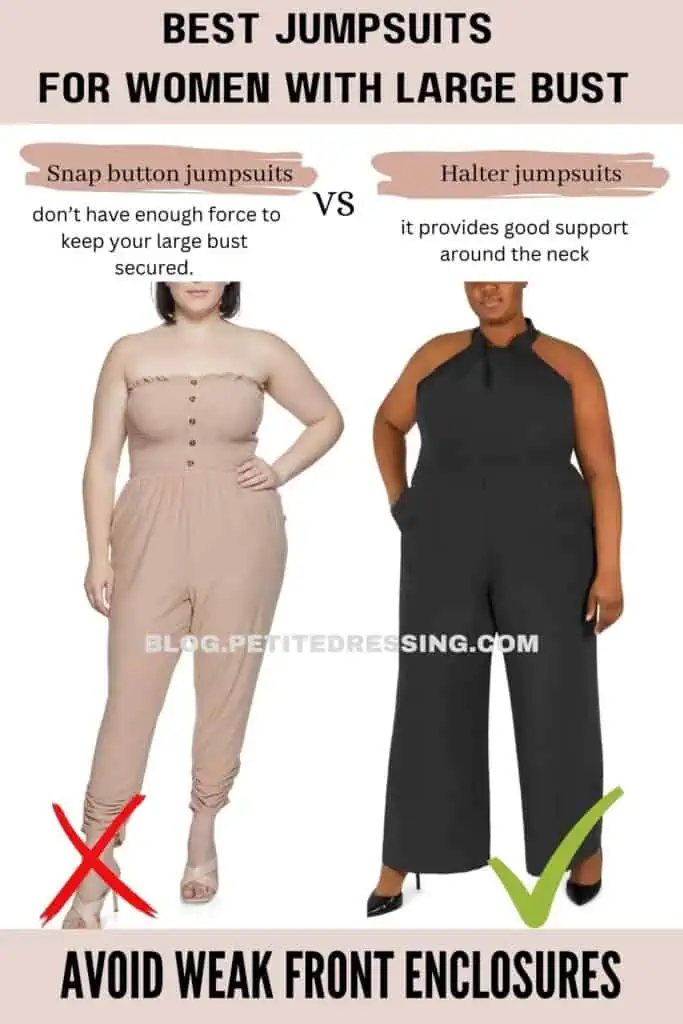 The Key Takeaway
Whatever your body shape is, having a big bust is something you should learn how to embrace with the right style of garment. Jumpsuits are fun to wear and are quite modernly stylish so make sure that you pick the right style that's comfy enough for you!