Casual clothing is all about comfort. You don't need any type of frills and fuss – just all comfortable and minimal.
Whenever we think of comfort, we tend to go for clothes that are too big or too loose to allow the body to move more freely. However, this may not be a good option for those with large bust.
Some women with large bust sizes go for boxy and loose silhouettes because they tend to feel conscious of their busts. However, clothes that have these types of shapes can be quite unflattering and you may even end up giving yourself a much bigger-looking figure.
This is the time to embrace your beautiful body shape and voluptuous bust! In this blog post, let us guide you on how to casually dress if you have a large bust.
Styling Goal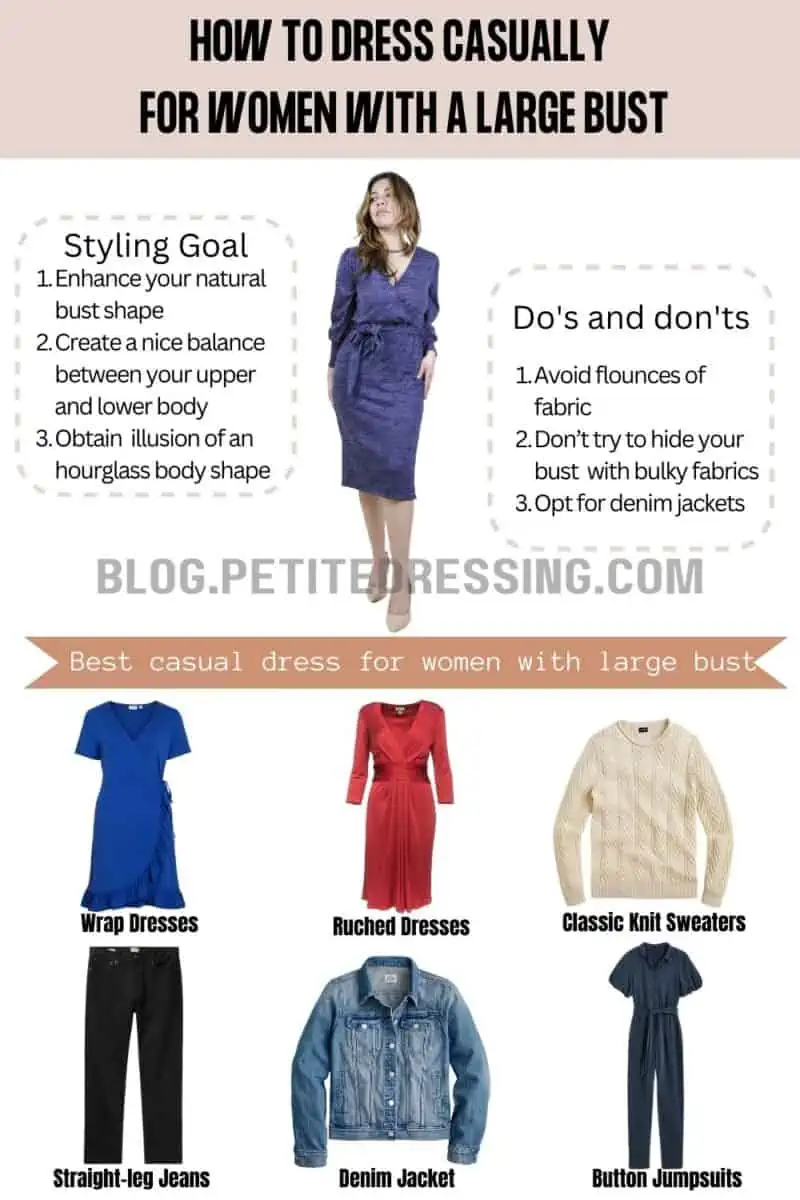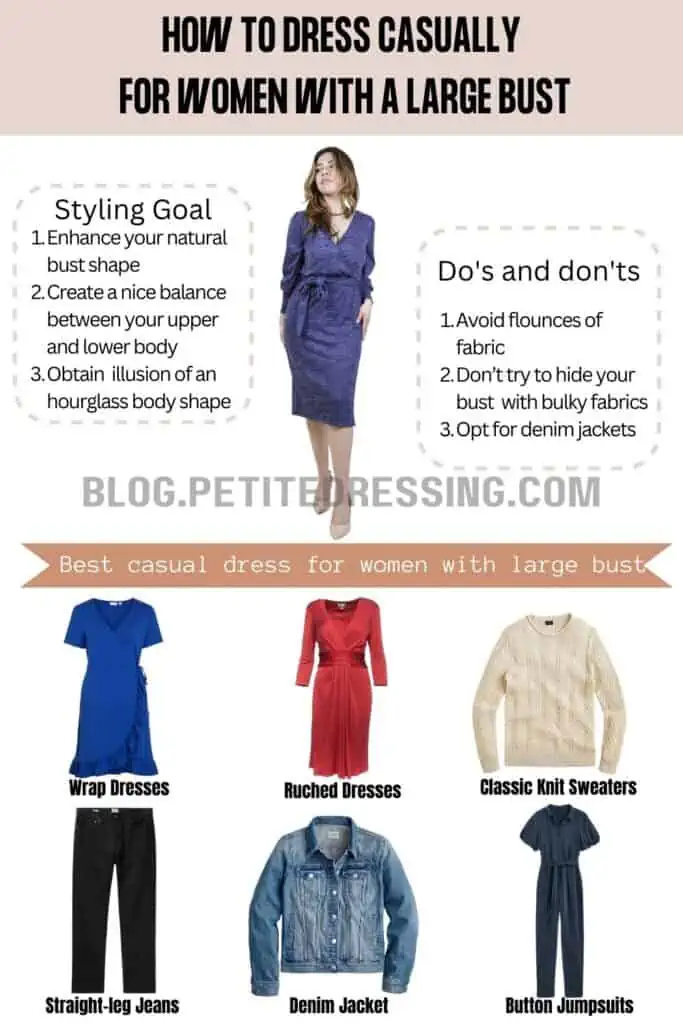 Enhance your natural bust shape by choosing styles and fabrics that naturally skim through your body. Don't try to hide your bust by going for more fabric instead, go for flattering cuts and minimal designs.
Comfort comes from the right fit. It shouldn't be too loose nor too tight in order for you to feel very comfortable in your casualwear.
Cinch your waist to create a nice balance between your upper and lower body. A well-defined waistline will give your body a nice set of curves that will give you the illusion of an hourglass body shape.
Avoid flounces of fabric and bulky patterns on your bust area because this will not only hide your natural shape but will also add too much volume to your upper half. This will make you look heavier and wider.
These simple styling goals are the basic principles you should take into great consideration when picking out wardrobe pieces that we'll mention in this post.
CASUAL DRESSES
Wrap Dresses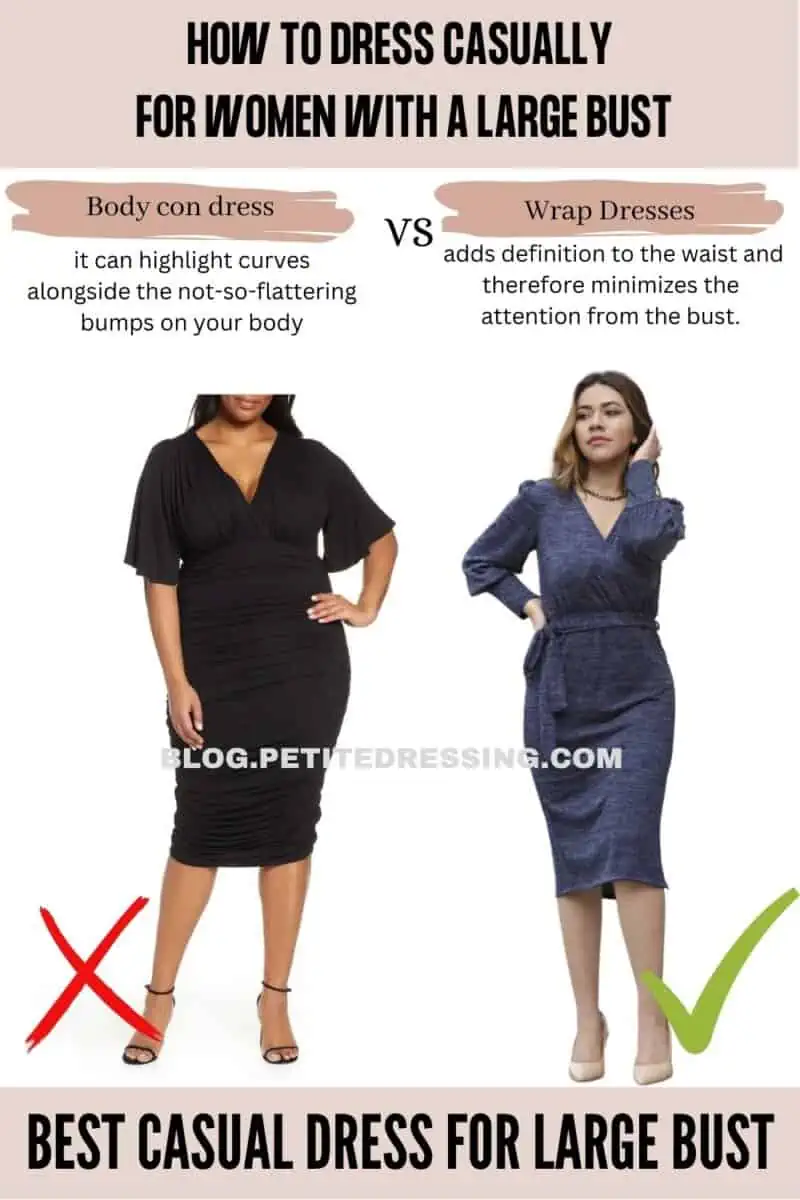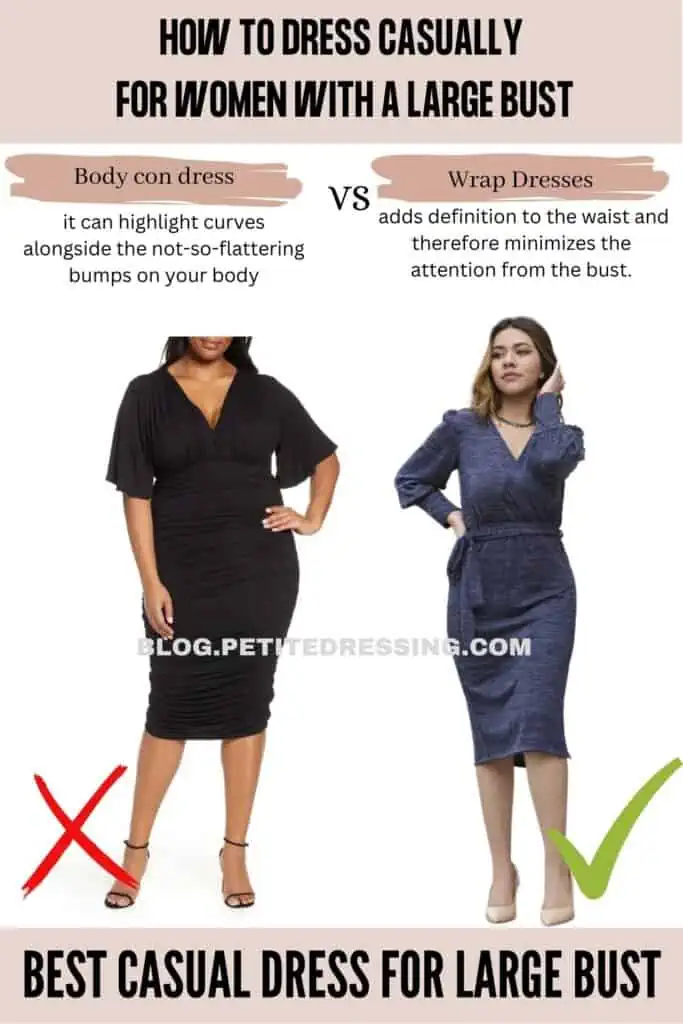 Wrap dresses will always look great on someone with a large bust because of their universally flattering structure. Wrap-style dresses give a flattering and adjustable fit, which adds definition to the waist and therefore minimizes the attention from the bust.
It's also a good idea to look for wrap dresses with a V-neckline because this can elongate the neck and create a more balanced look by creating more space on your upper half. A wrap dress' structured bodice will also provide an extra lift for the bust to enhance its shape.
To casually style a wrap dress, you can try pairing it with white sneakers or a simple pair of doll shoes!
Ruched Dresses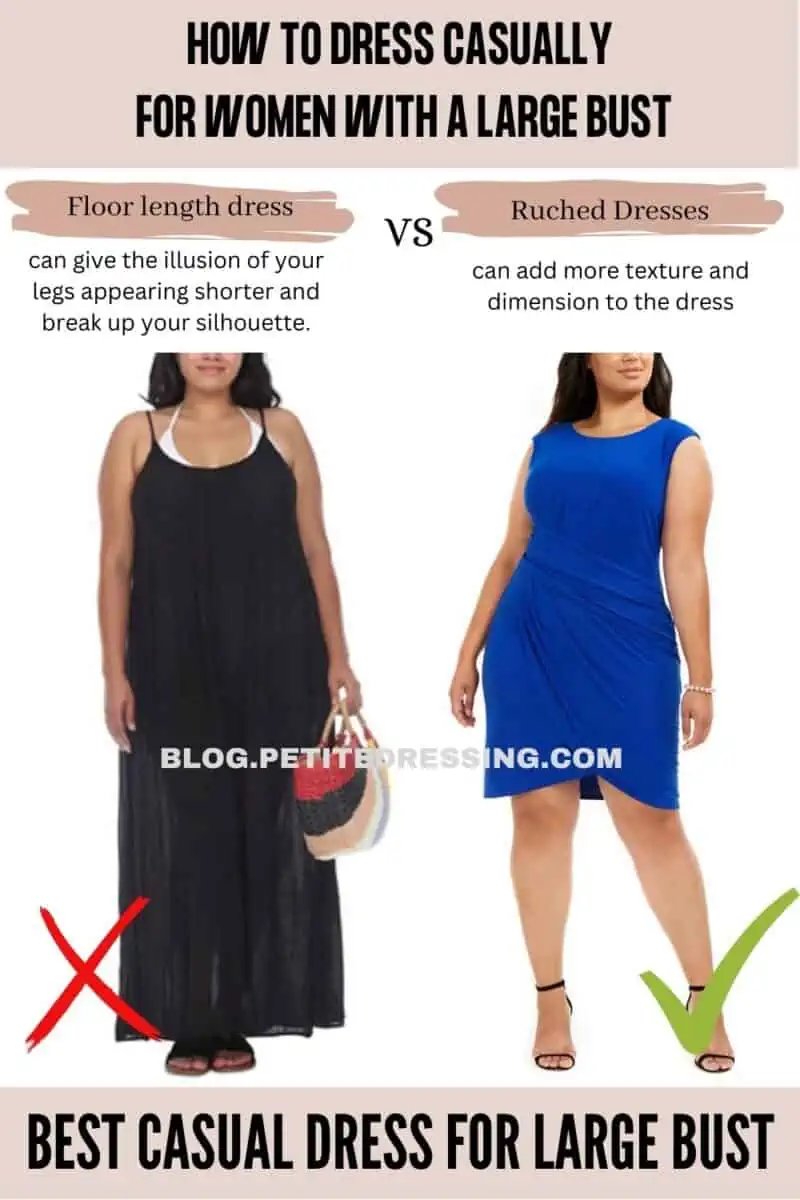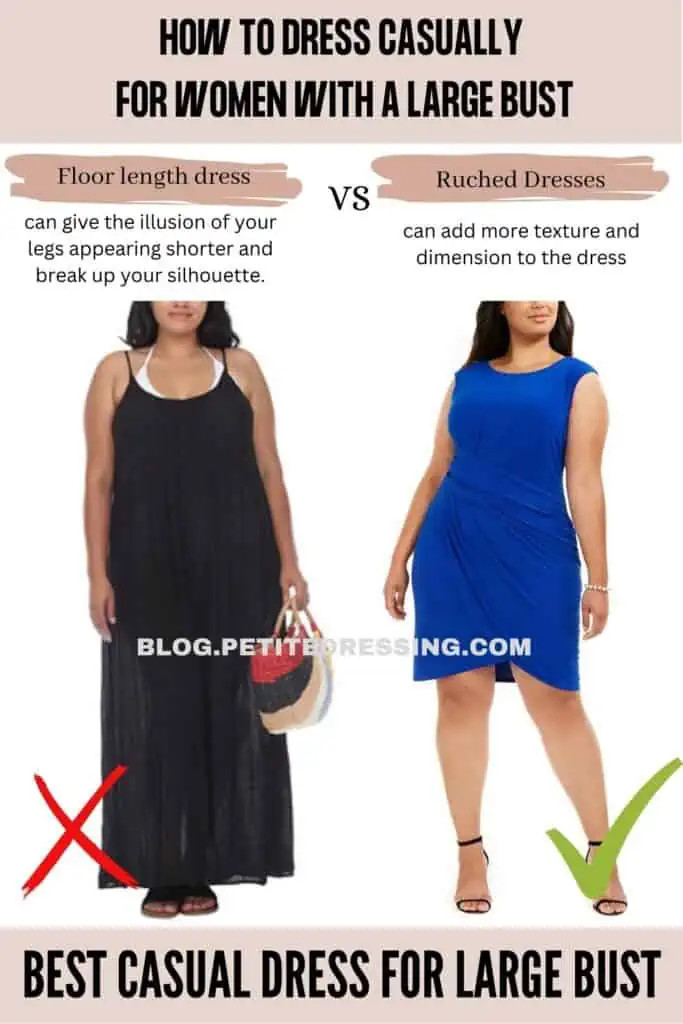 The gathers in the fabric (which is the ruching itself) can add more texture and dimension to the dress, creating a more flattering look overall. For girls with large busts, it's ideal to go for dresses with center ruching because this will subtly enhance the shape of your bust. 
As the fabric gathering is on the center of the dress, it perfectly pulls the fabric inwards and therefore creates a more defined silhouette. Such a seaming structure gives more shape to the body and more prominent emphasis to your curves.
Soft and flowy fabrics are good for ruched dresses but for ladies with large busts, you may also try slightly stiffer fabric with more structure. Structured fabrics such as canvas and polyester don't fully drop down when ruched so it creates better shape and dimension.
SWEATERS
Neutral-colored cardigans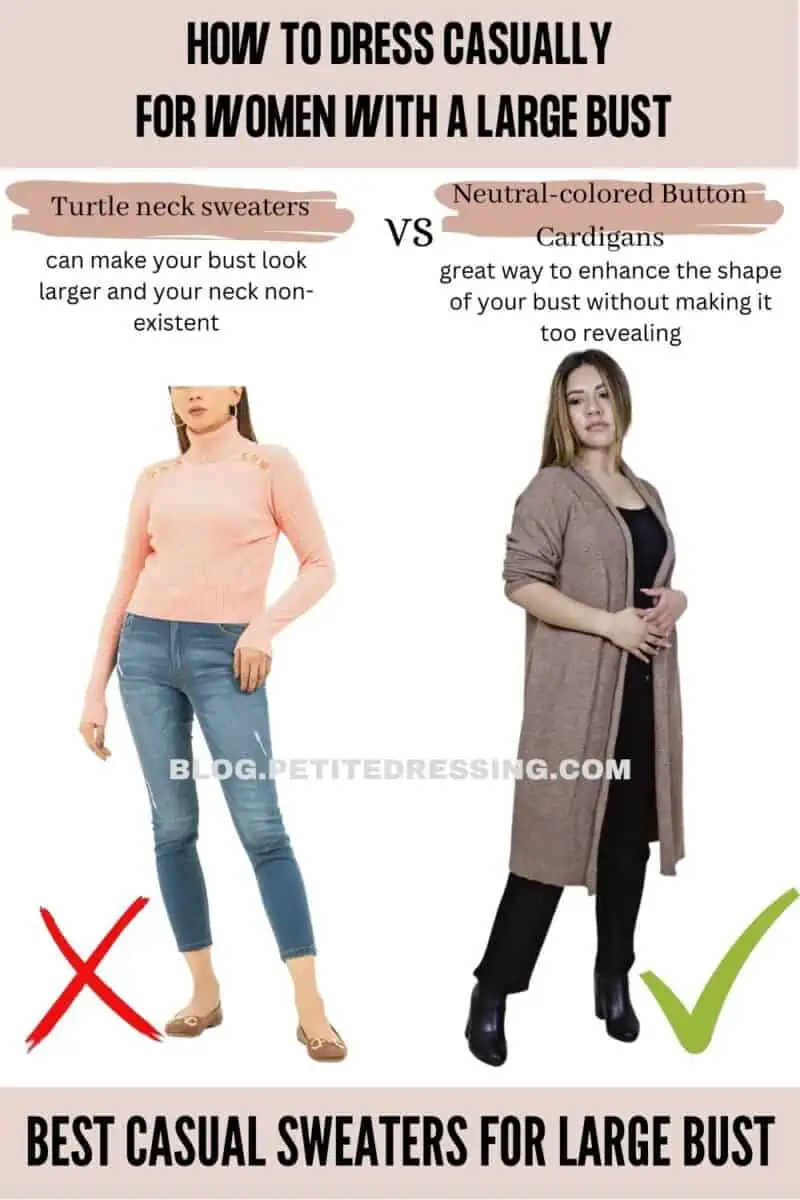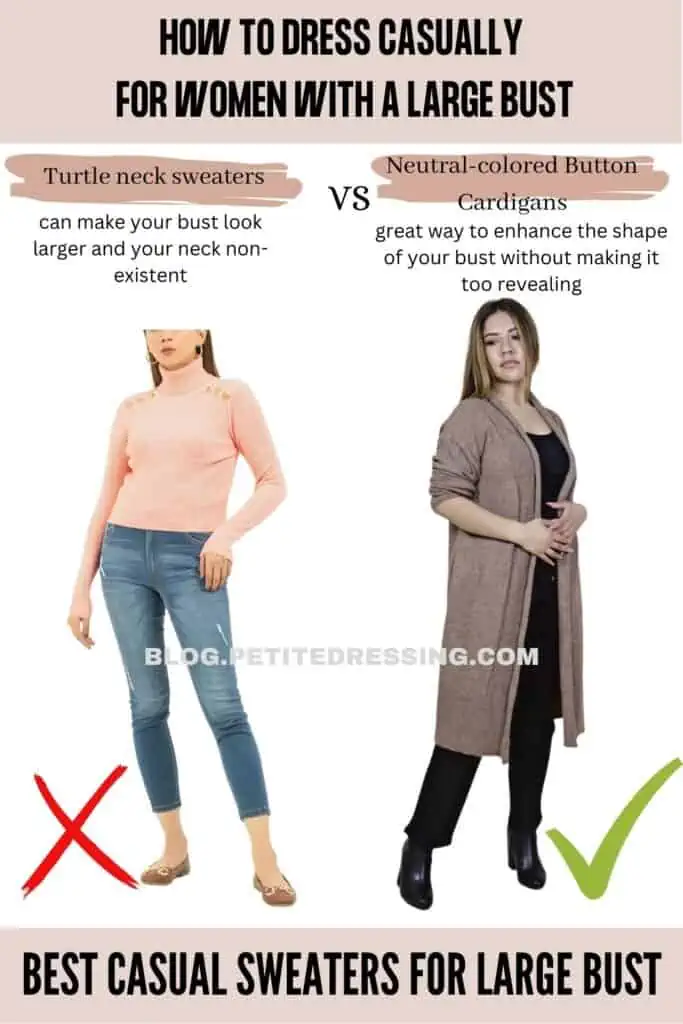 Neutral colors are always a good option if you'd like to neutralize attention. For a girl with a large bust, cardigans in neutral colors are flattering for your upper body and very easy to mix and match.
The center buttons create a visually elongated upper body as it draws a straight line right in the middle of your bust area. This is also a great way to enhance the shape of your bust without making it too revealing.
Classic Knit Sweaters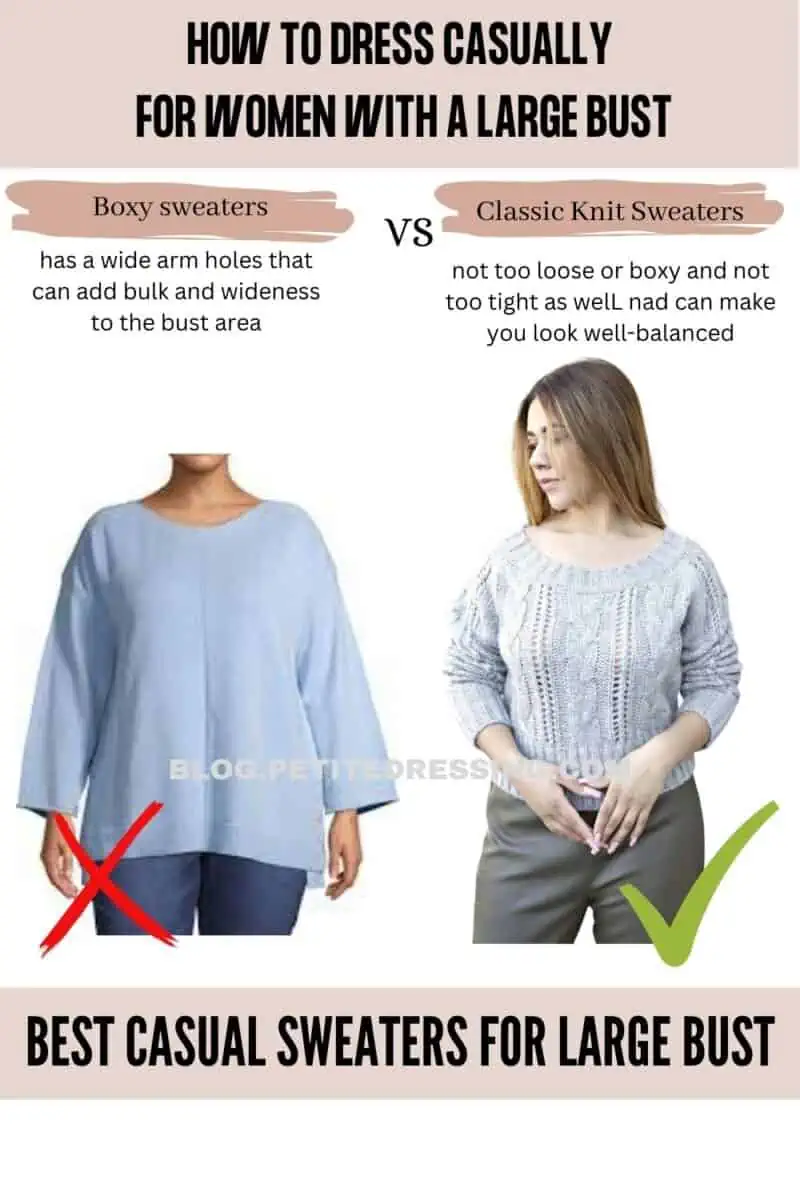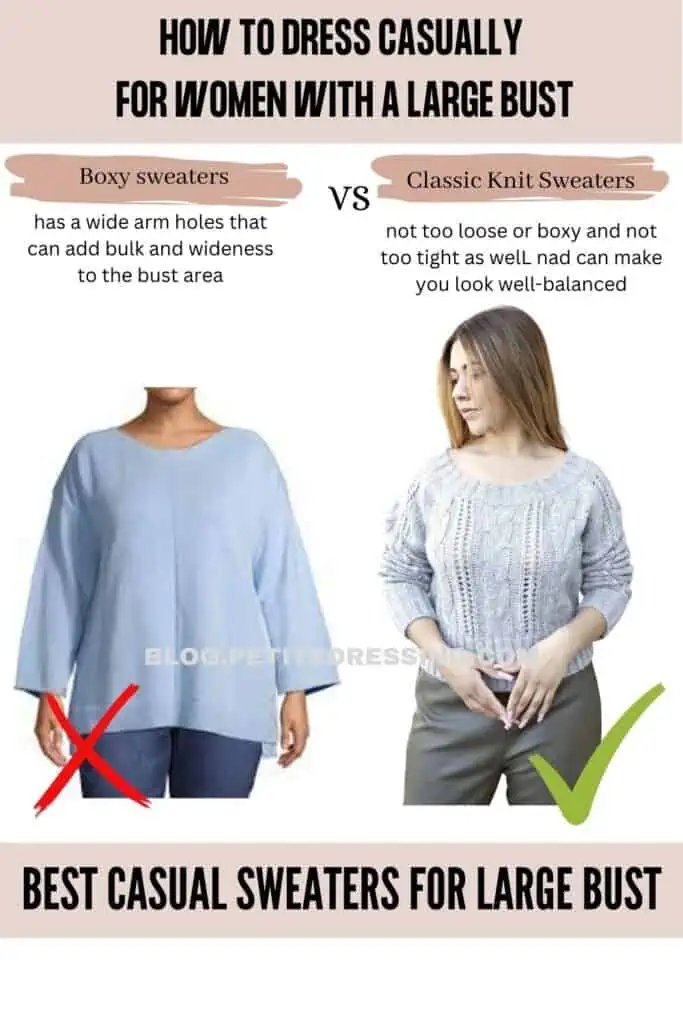 Knitwear will always be a classic casualwear piece and their versatility can take you to so many different types of casual ensembles! For someone with a large bust, knit sweaters can be a bit tricky to go for because the wrong fit can either make your upper half look too heavy or unproportioned.
The key to choosing the best-knit sweater for ladies with big boobs is to go for stretchy woven knits that fit just right on the body – not too loose or boxy and not too tight as well. Not only is this fabric comfy, but it also has a flattering fit for ladies with big busts.
If your knitted top is too loose or boxy, then it will only make you look even more top-heavy and such a garment silhouette will erase your curves. On the other hand, if it's too tight then it may be uncomfortable and might draw too much attention to your bust.
Scoop Neck and V-Neck Sweaters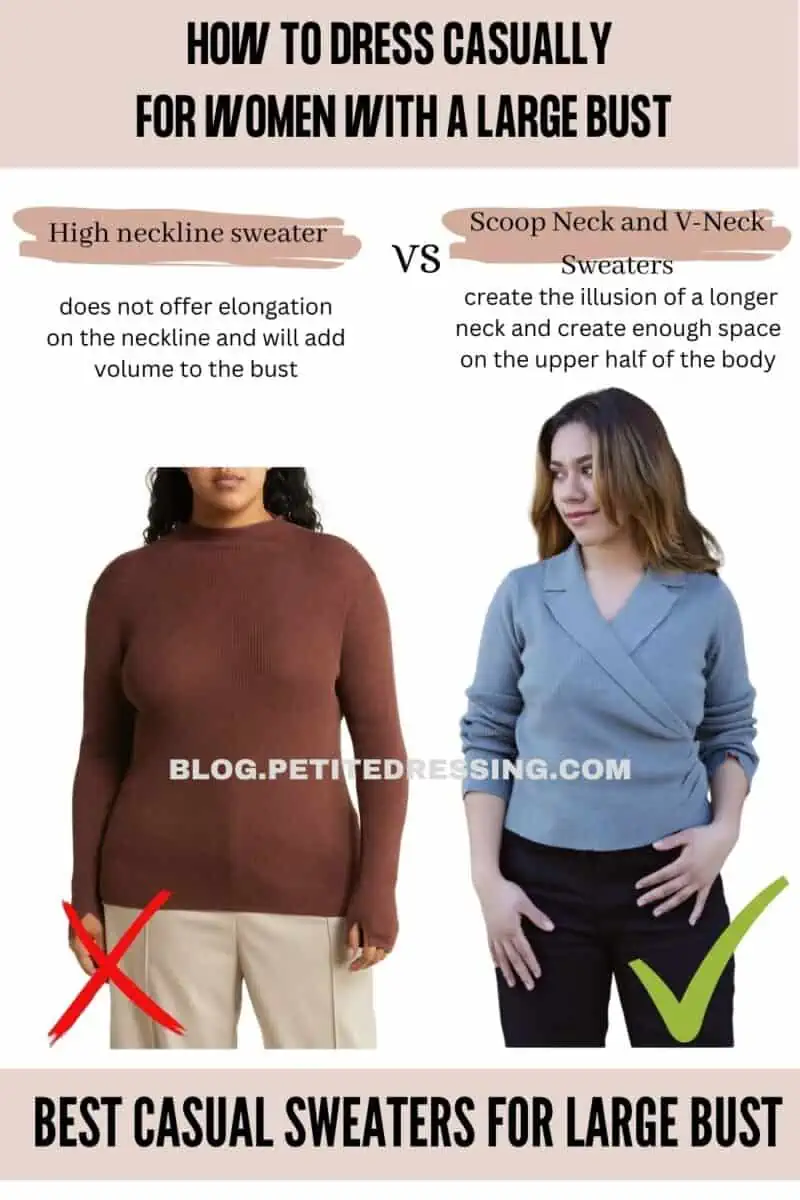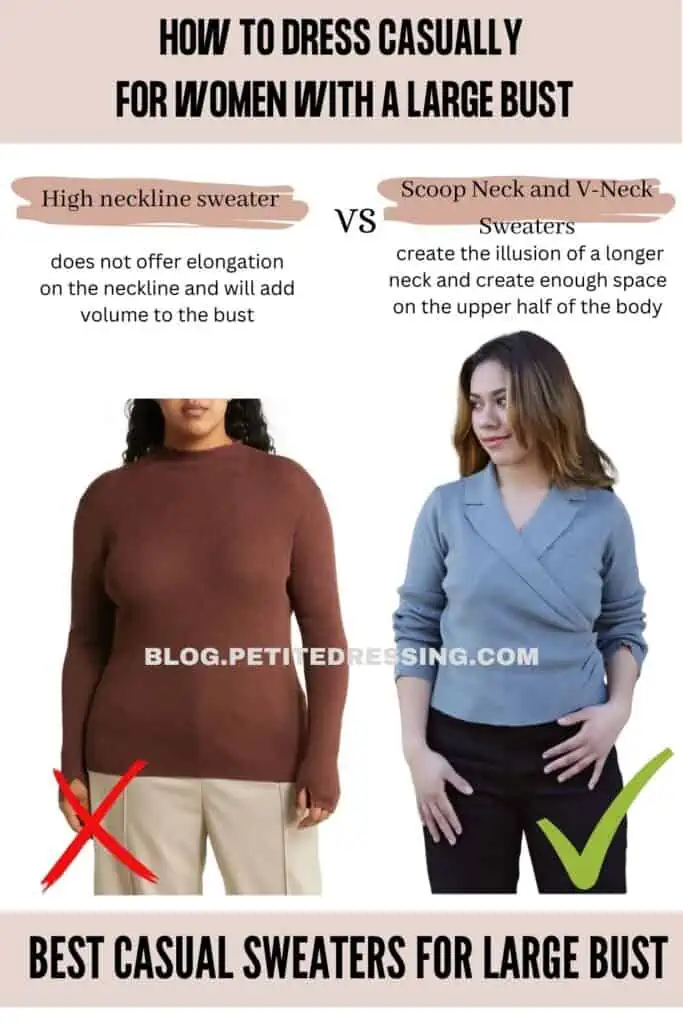 V-neck and scoop neck sweaters are very good neckline options for women with larger busts because they help to create the illusion of a longer neck and create enough space on the upper half of the body. This space helps subtly draw even attention to your upper body and not solely to your bust area.
The V-neckline in particular helps to create a flattering frame around the face and neck and it also helps draw the eyes up and down to extend your frame vertically. Meanwhile, the scoop neckline can be a more subtle and versatile option if you aim to show a wider area on your upper half (specifically your clavicle).
However, it's important to keep in mind that the fit is quite crucial so if possible, it's best to try on sweaters to ensure a good fit. Also, if you are looking for more coverage, you may want to avoid extremely low-cut V-neck or scoop neck tops.
JEANS
Straight-leg Jeans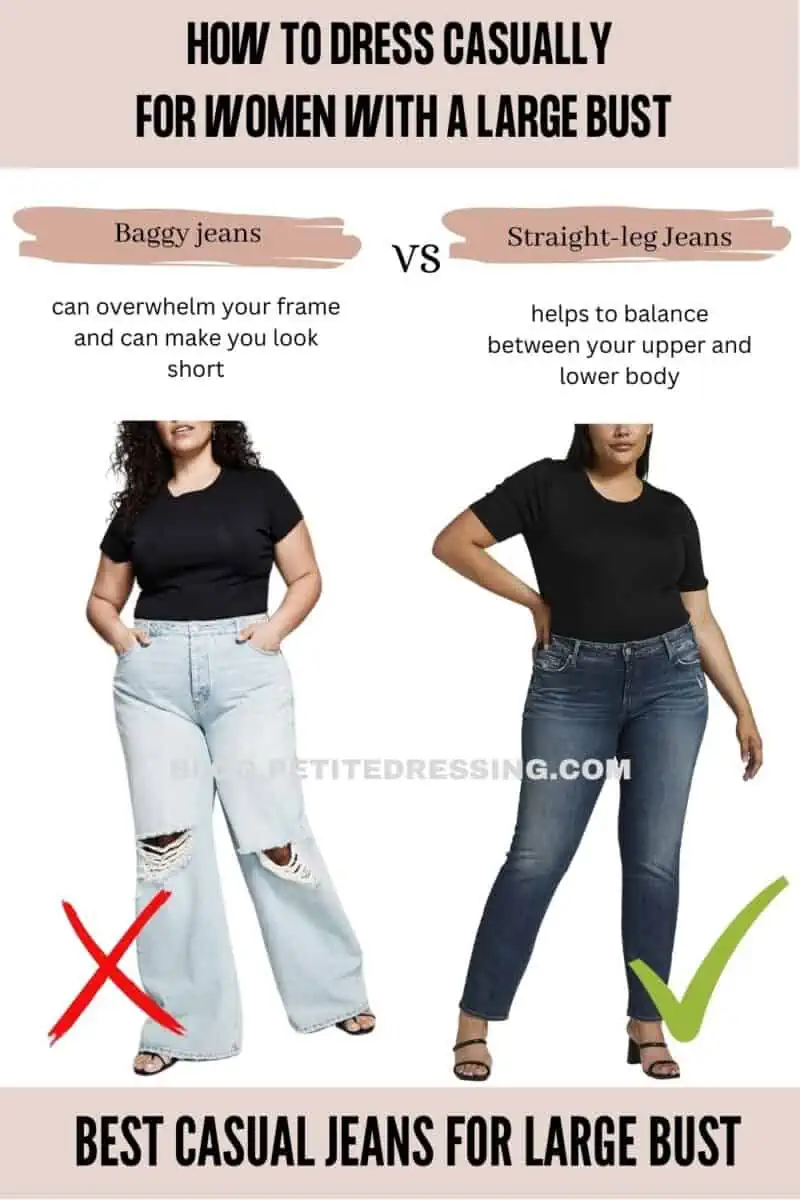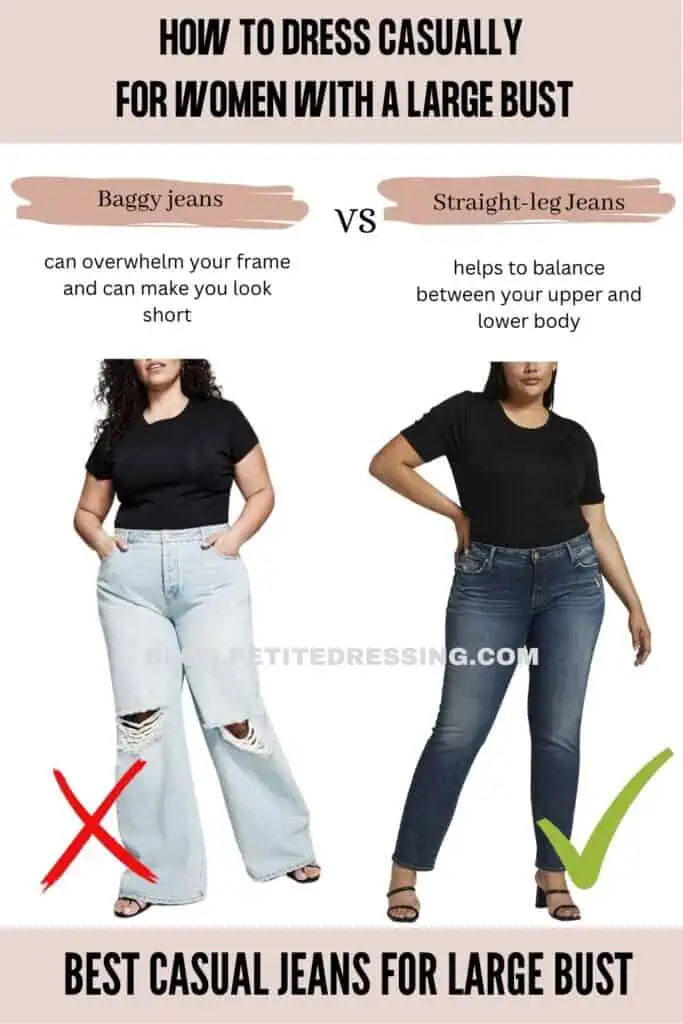 The goal in keeping the balance between your upper and lower body is to wear well-fitted jeans to neutralize the volume that your large bust naturally has. Straight-leg jeans have a simple structure that universally flatters most shapes and since it doesn't add too much volume on the legs, it draws balance to the entire figure overall.
This would look great when paired with sweaters, plain T-shirts, and oversized outerwear.
Skinny Jeans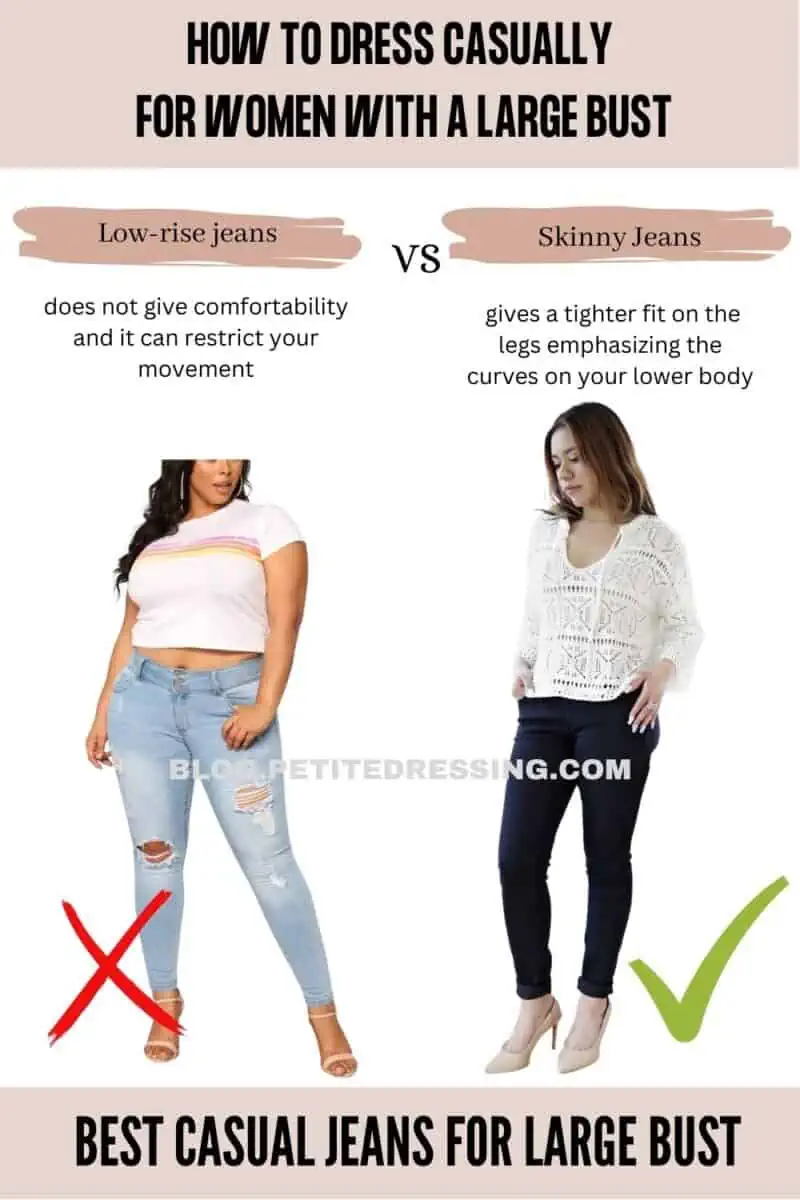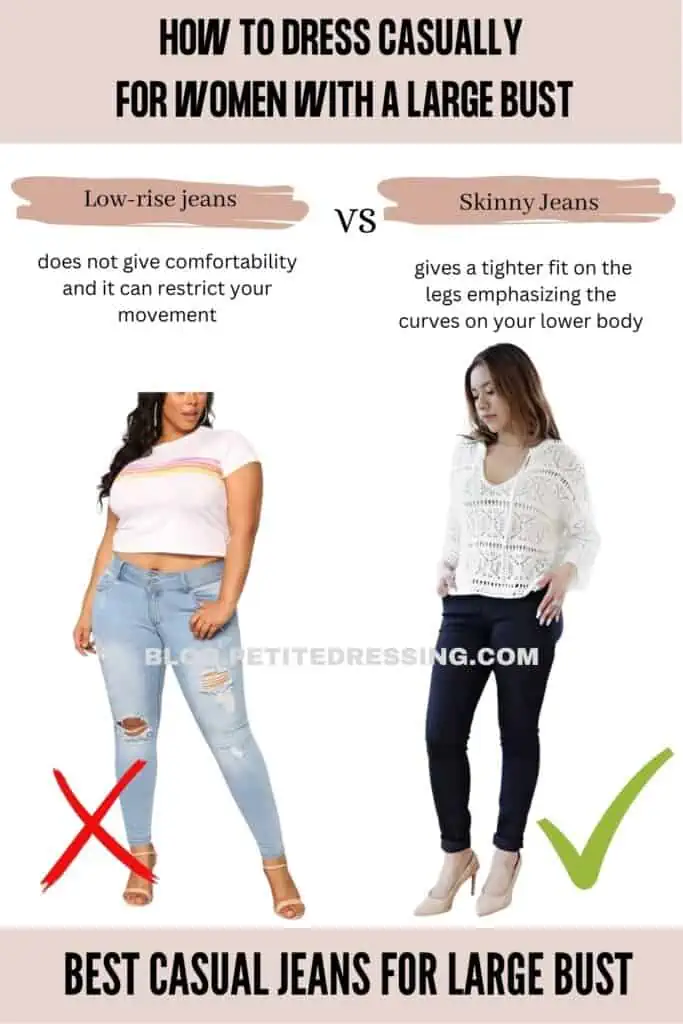 This serves the same principle as straight-leg jeans. The only difference is that this gives a tighter fit on the legs which can be quite ideal if you're looking into emphasizing the curves on your lower body.
Skinny jeans would also look great with a number of different tops and outerwear. All you really need to do is to play with your proportions.
CASUAL JACKETS
Belted Oversized Blazer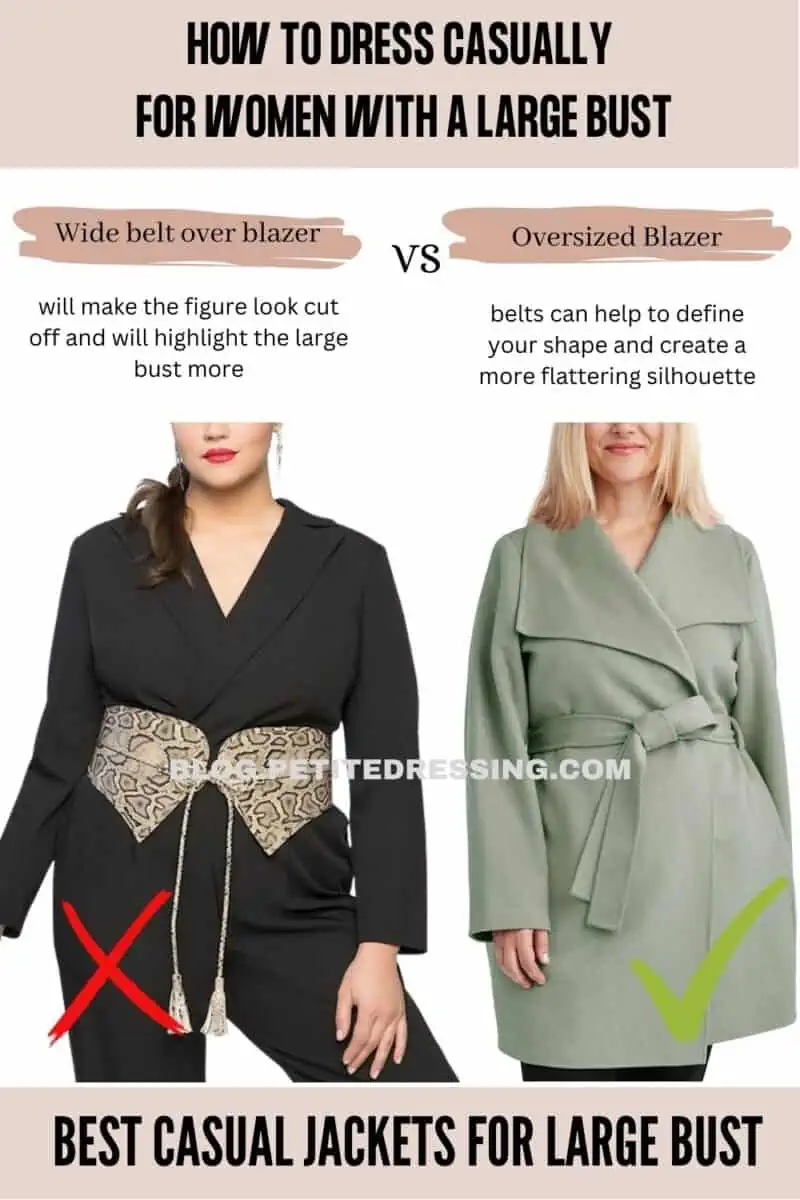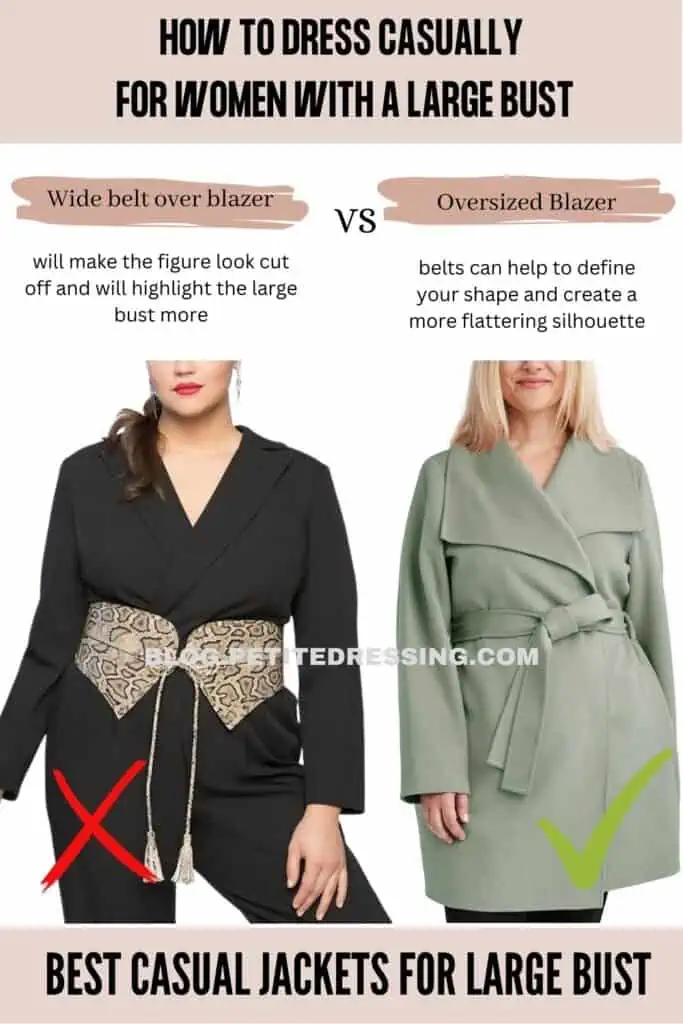 Oversized blazers are undeniably super stylish and they can be a go-to option for women with large busts, as long as they are worn correctly. The key is to balance your upper and lower body proportions by pairing the blazer with well-fitted bottoms, such as skinny or straight-leg pants or a sheath skirt.
This will help create a well-balanced look and prevent the blazer from overpowering your figure. Additionally, you may want to consider blazers with a more structured fit or those that have a cinching or belted waist, as these can help to define your shape and create a more flattering silhouette. 
Depending on your height, it's also important to consider the length of your oversized blazer. Ideally, the ones that go by the hip bone level (or slightly longer) can be universally flattering for most heights.
Denim Jacket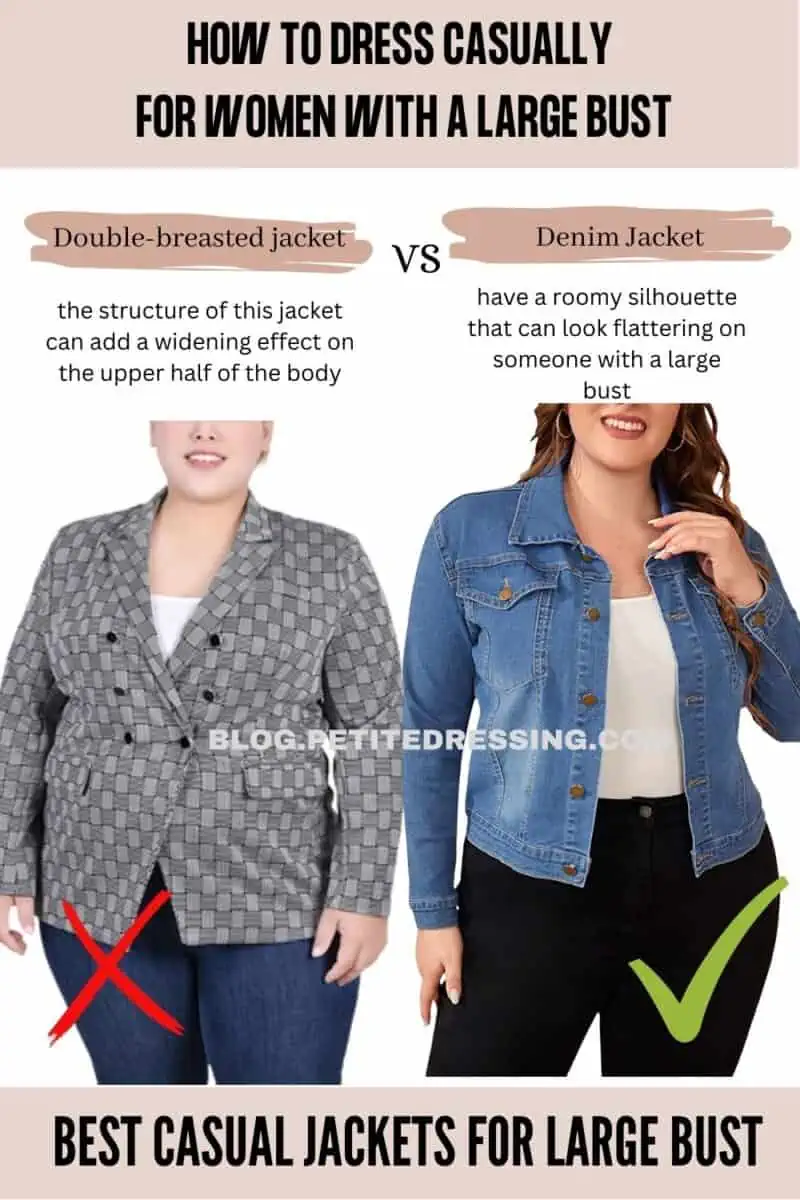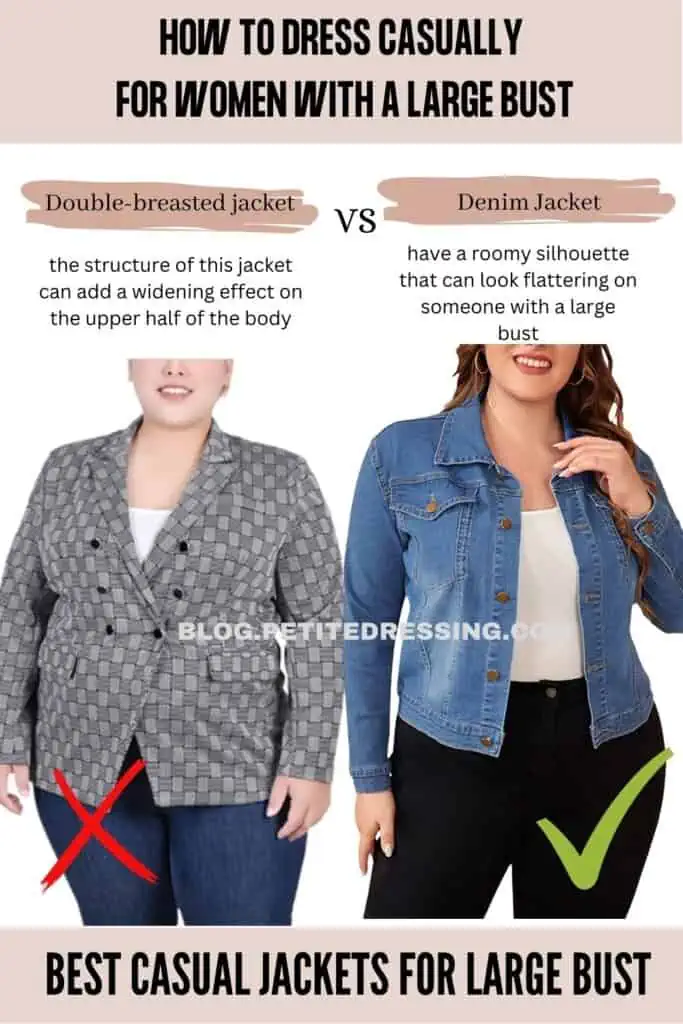 Just like oversized blazers, denim jackets also have a roomy silhouette that can look flattering on someone with a large bust. This is as long as you play your proportions well by layering it over a well-fitted top or dress for a more balanced look.
Classic denim jackets usually feature a streamlined silhouette that also visually elongates your body frame by drawing the eyes up and down. With this said, it's a nice wardrobe piece that can complete your casual wear without any worries about looking too bulky.
JUMPSUITS
Smocked Jumpsuits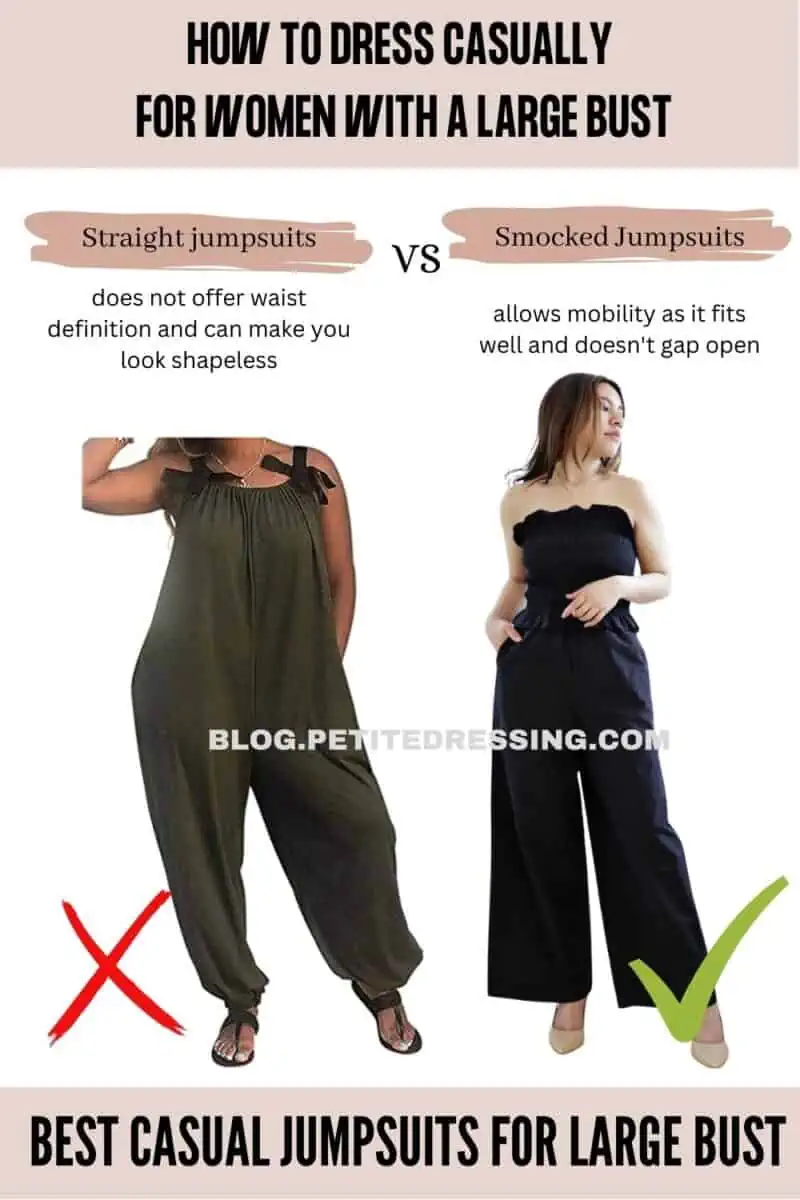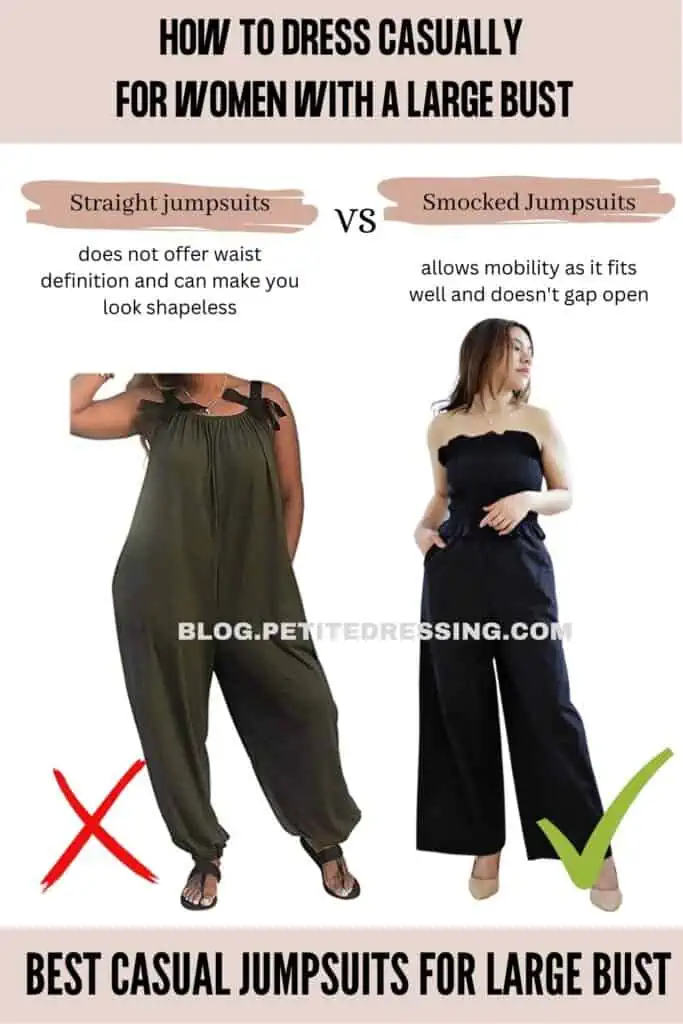 Smocked jumpsuits feature an intricate decorative gathering of fabric sewn in a specific pattern that gives a snug fit. This figure-hugging fit is what makes it a gorgeous company for your large bust.
Since these types of jumpsuits are extremely stretchy due to their smocking, they are obviously quite comfortable to wear as they can accommodate bigger areas such as big breasts. It also gives additional support to the bust area while also enhancing the natural curves of your upper body.
Of course, despite its stretchy structures, you still have to consider the right fit by avoiding jumpsuits with tight smocking on the top area. A nicely fitted silhouette can help to ensure a comfortable and flattering fit.
Button Jumpsuits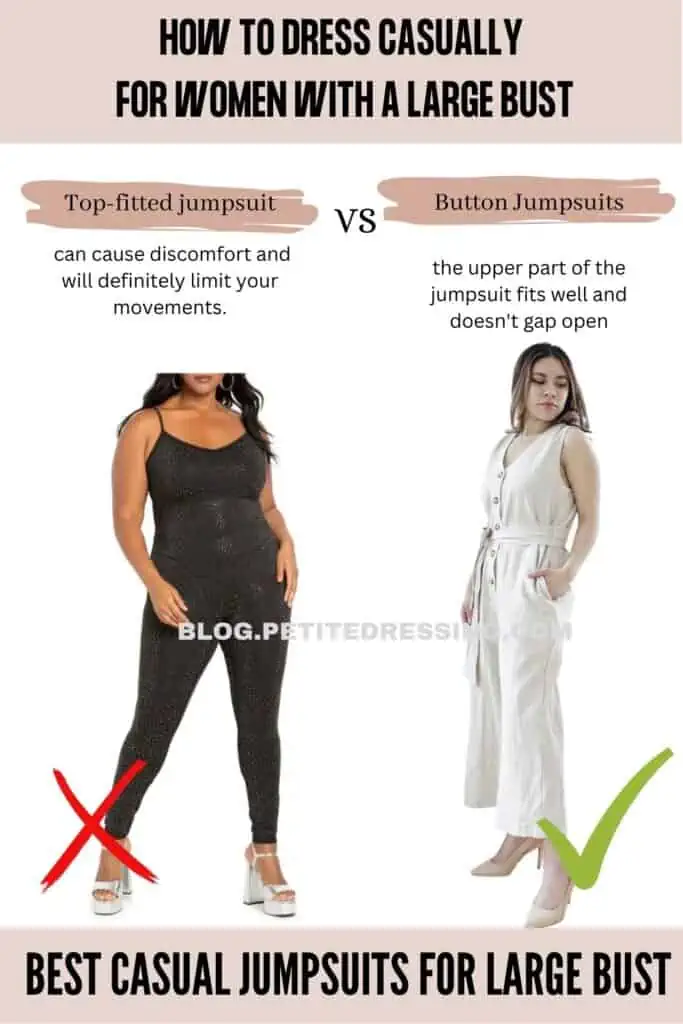 Jumpsuits that have center button enclosures such as boiler jumpsuits and shirt jumpsuits make great casual pieces for busty ladies. Just take note that it is important to pay attention to the fit of the shirt in the bust area since a shirt that's too small won't allow you to properly close the buttons.
Look for styles that have darts or extra fabric in the bust to ensure that the upper part of the jumpsuit fits well and doesn't gap open. Avoid styles that are too tight in the bust, as this can cause discomfort and will definitely limit your movements.
The Key Takeaway
We know how it can be quite overwhelming to have a large bust and so most women tend to hide them by going for boxy silhouettes. But with these pieces we have listed, we hope for you to embrace your voluptuous body even more – even in your simplest and comfiest casualwear!