When swimsuit season comes around, having full bust can create challenges. If you are a curvy woman, the ideal swimsuit should not only provide full coverage and ample support for your shape but also should create a slimming effect for your figure.
The following is a comprehensive guide with 14 best types of swimsuits to wear if you have a big bust.
Underwire swimsuit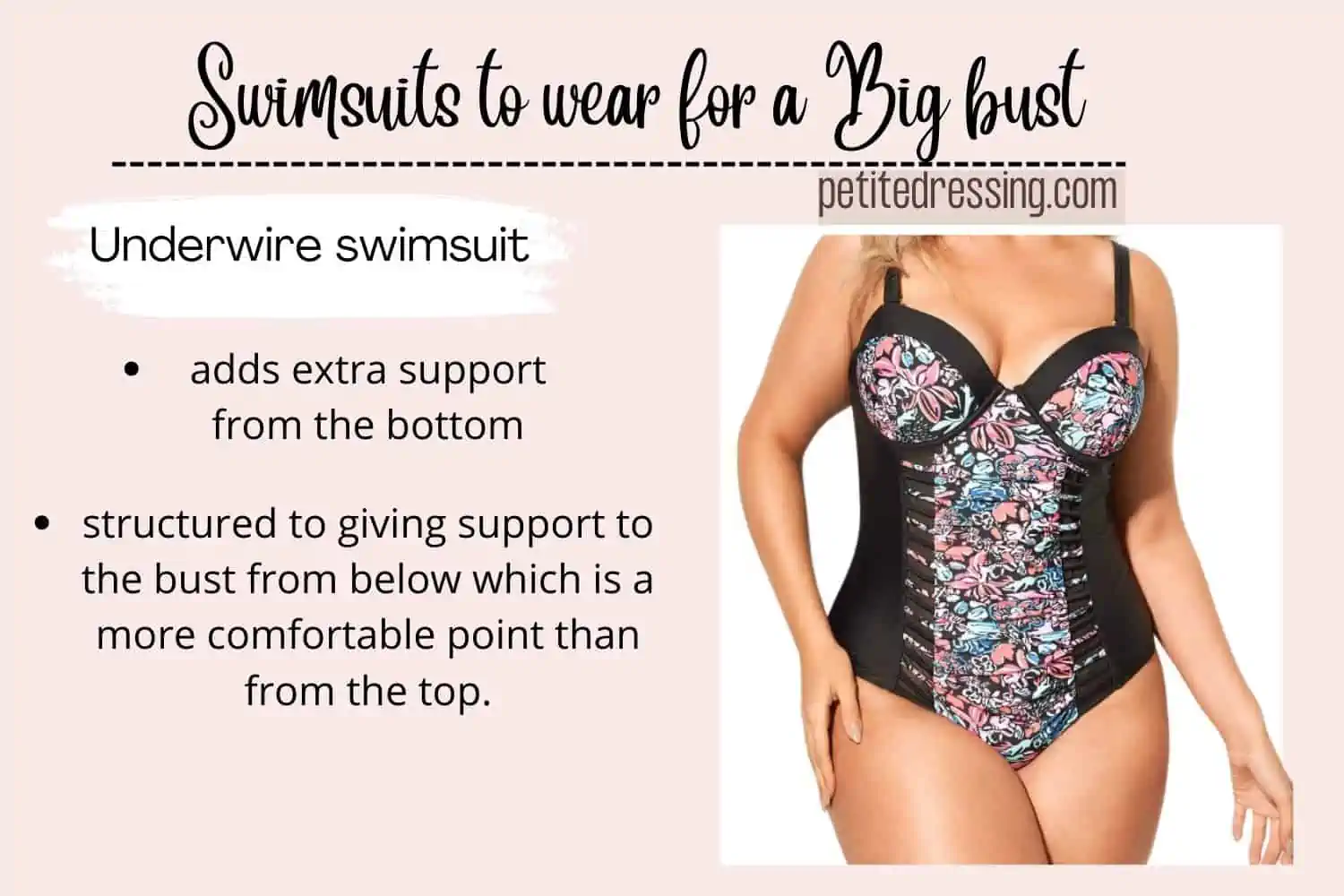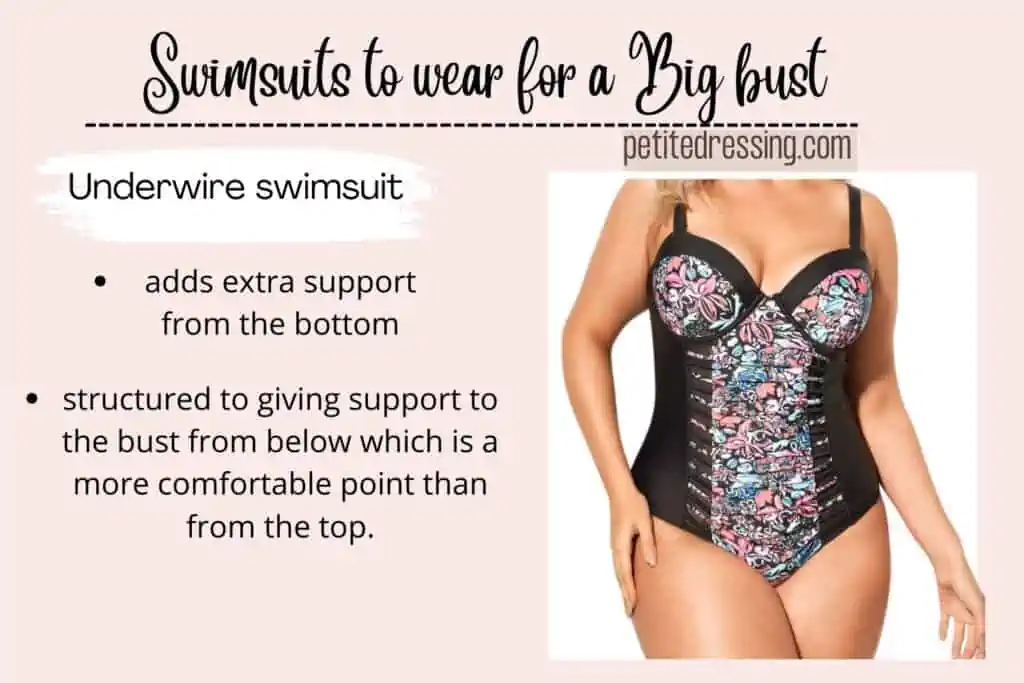 One single key to wearing any swimsuit is to stay sexy and comfortable, especially for one who finds it difficult to select the best fit for a big bust. That is the reason why the underwire swimsuit should be a major point to consider when choosing a swimsuit for your large bust.
The underwire swimsuit adds extra support from the bottom by acting as a pushup for your bust. It is structured to give support to the bust from below which is a more comfortable point than from the top.
One shoulder swimsuit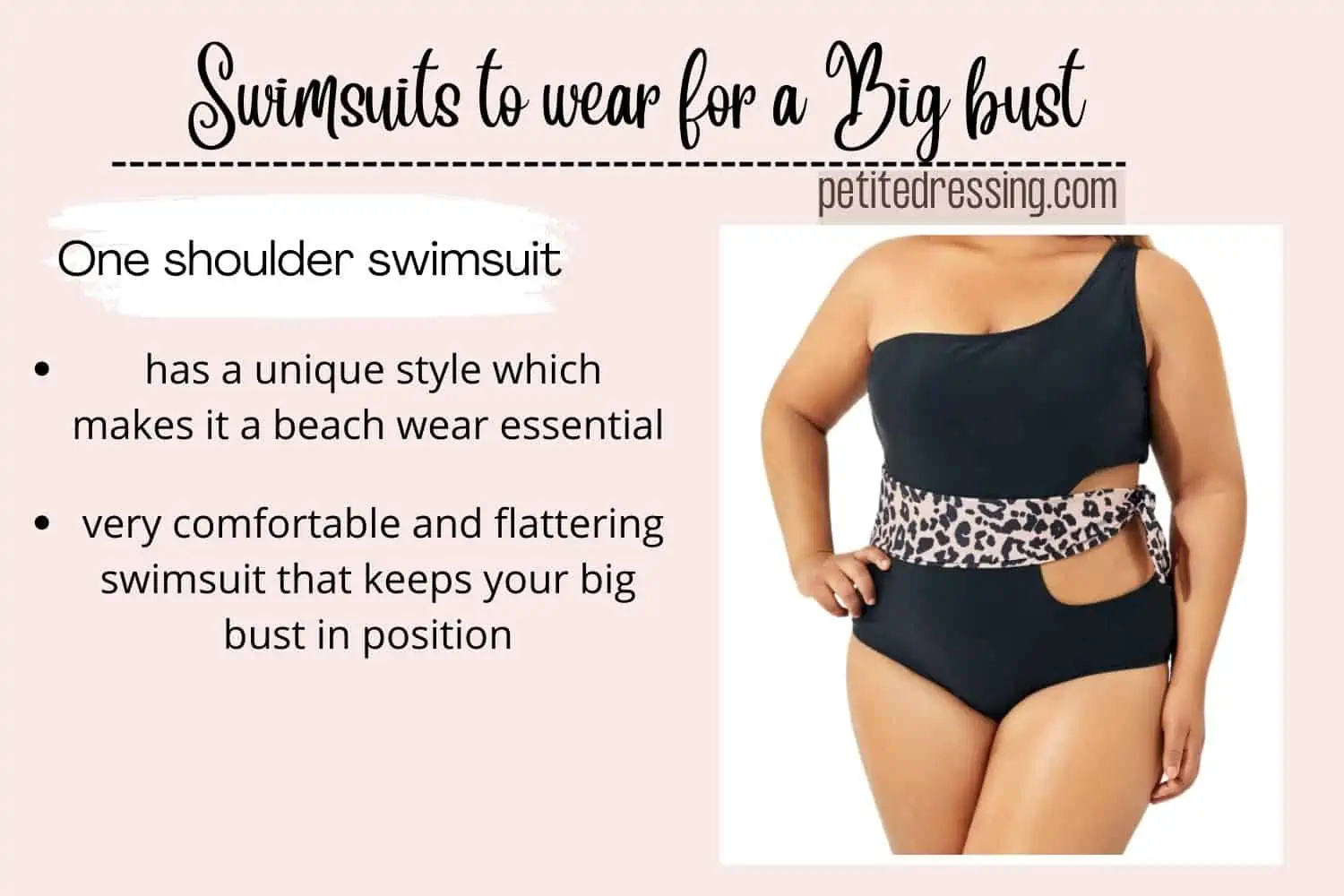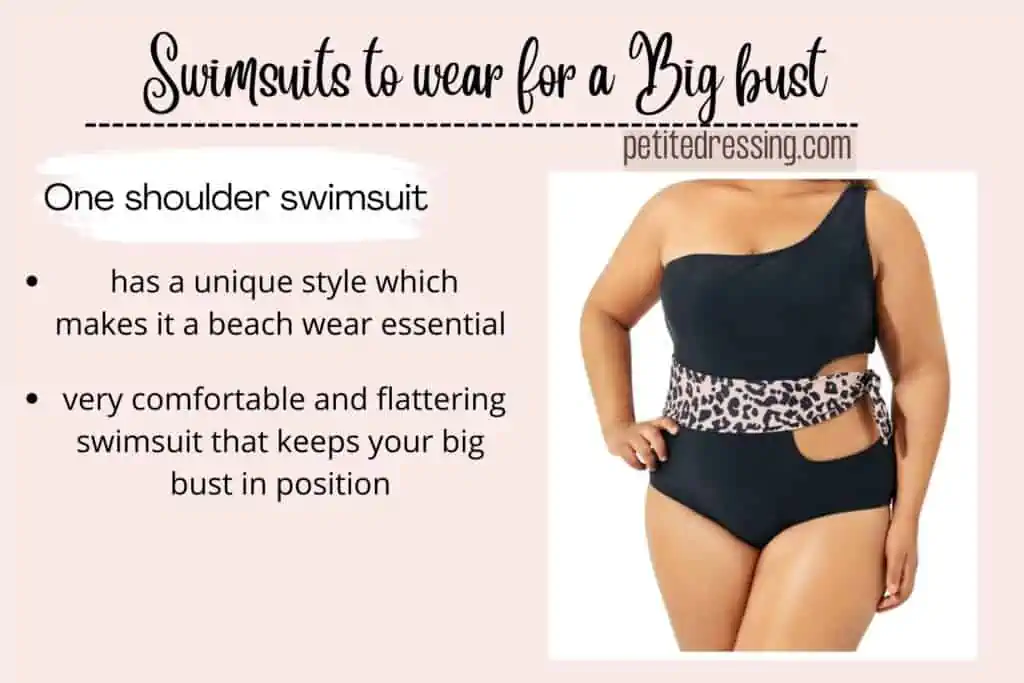 Necklines play a major role in anything you wear, and is especially critical for bathing suits.
If you want to make a splash in summer with a very comfortable and flattering swimsuit that keeps your big bust in position, then the one-shoulder swimsuit is a great choice. This type of swimsuit bares up your shoulder thereby drawing the eyes to the shoulders and with a covered-up bust, less attention is drawn to your concerned area.
They often feature a higher neckline than other styles, which creates more coverage and helps keep your bust contained.
The one-shoulder swimsuit has a unique style which makes it a beach wear essential. Also, depending on the designer, you should opt for a one-shoulder swimsuit with silicon tape around the edge because it allows the swimsuit to stay in position and still grip your skin properly.
Halter Neck Swimsuit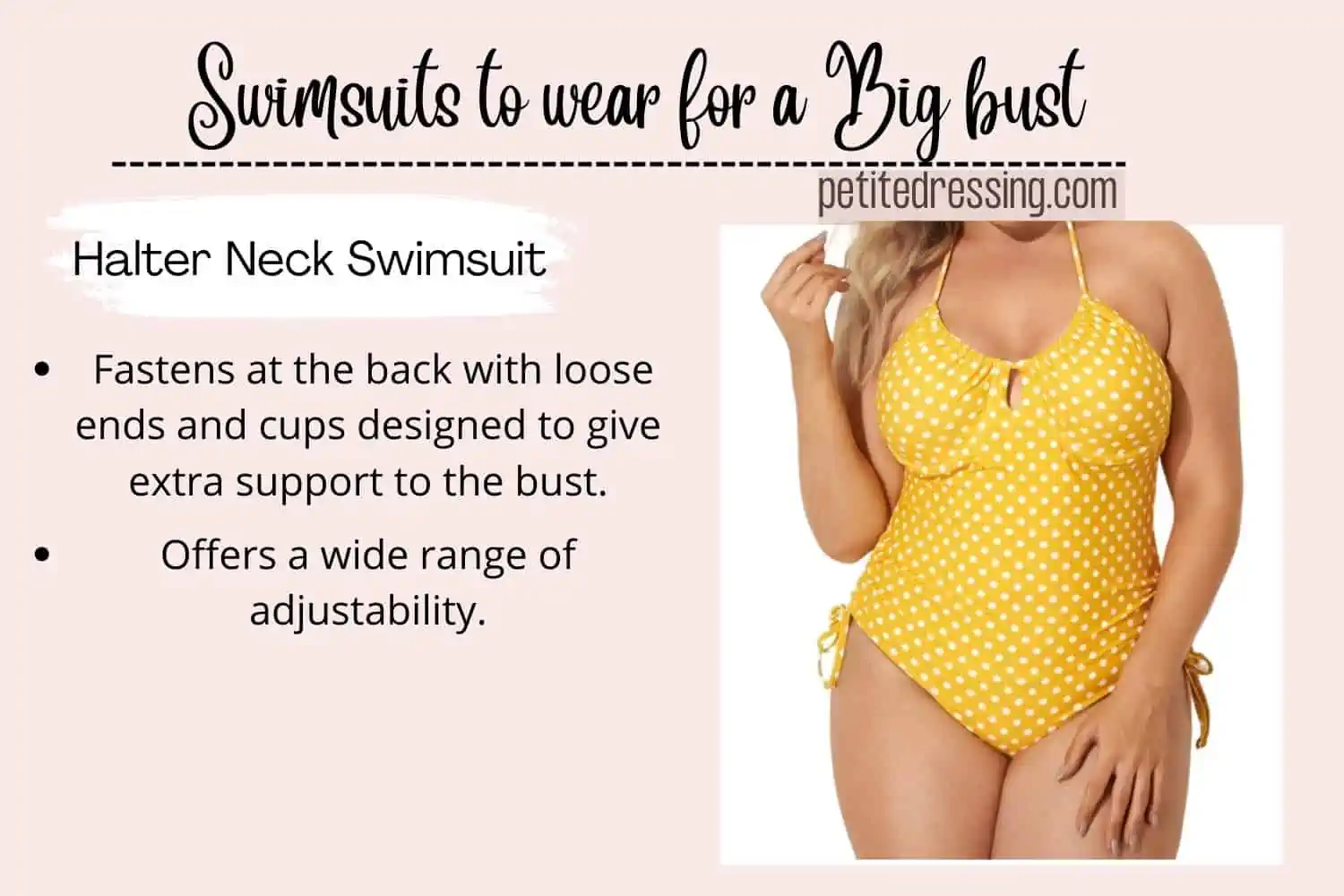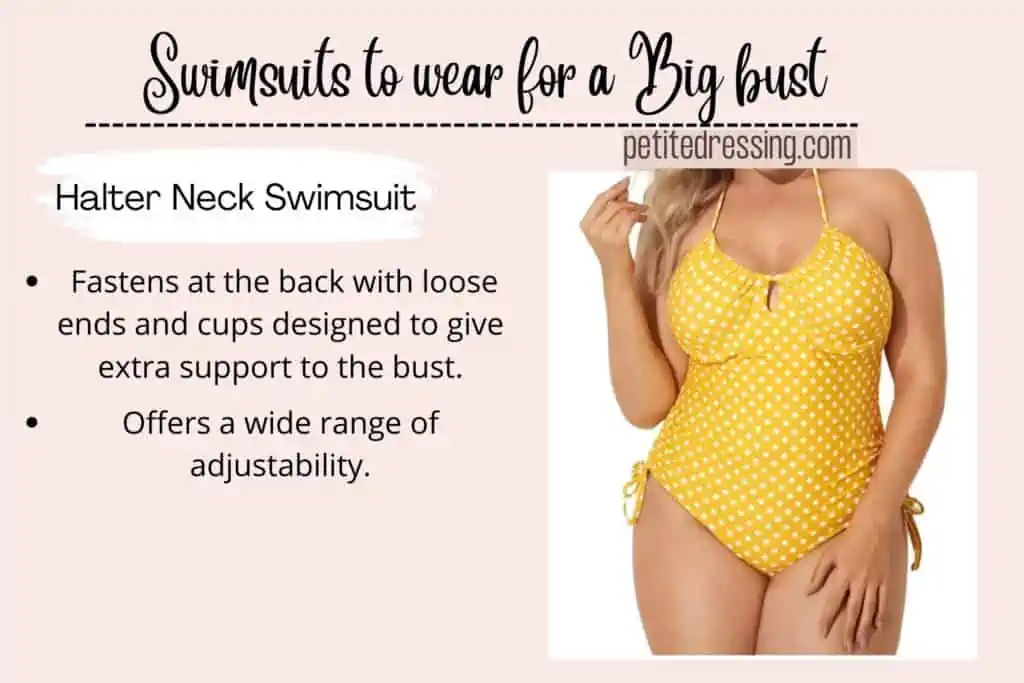 Halter neck swimsuits are of good preference and are perfect for larger busts as well. It fastens at the back with loose ends and cups designed to give extra support to the bust. Halter neck swimsuit offers a wide range of adjustability to give room for comfort and provide the right support to your breasts from the bottom.
They are great flattering silhouette pieces and they are best for bustier ladies with the intent of staying sexy and they could also help prevent slip-ups.
For one to be more secure in the swimsuit, it is best to make sure that the straps of the swimsuit are wide enough to allow for more comfort and adjustment.
Full Back swimsuits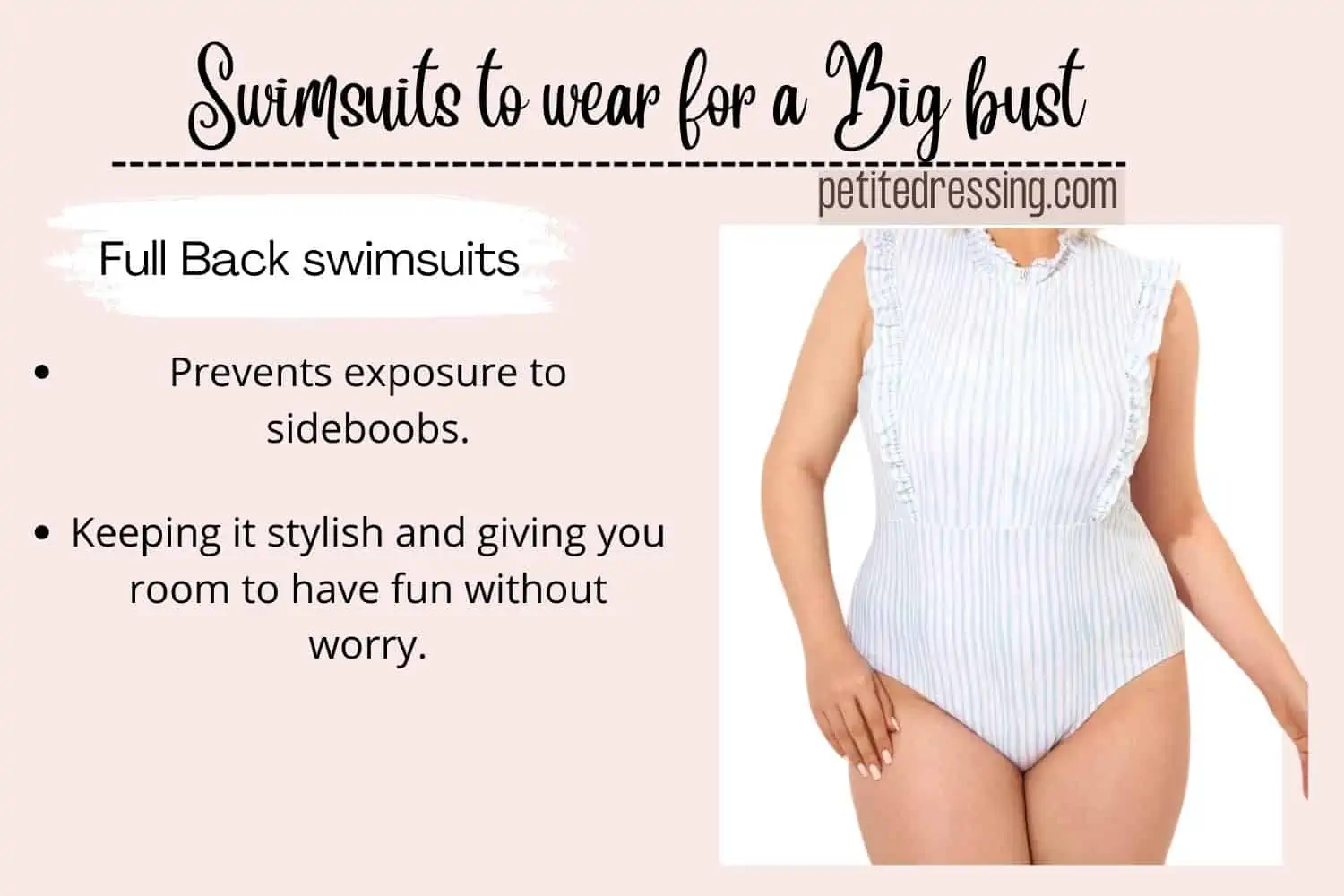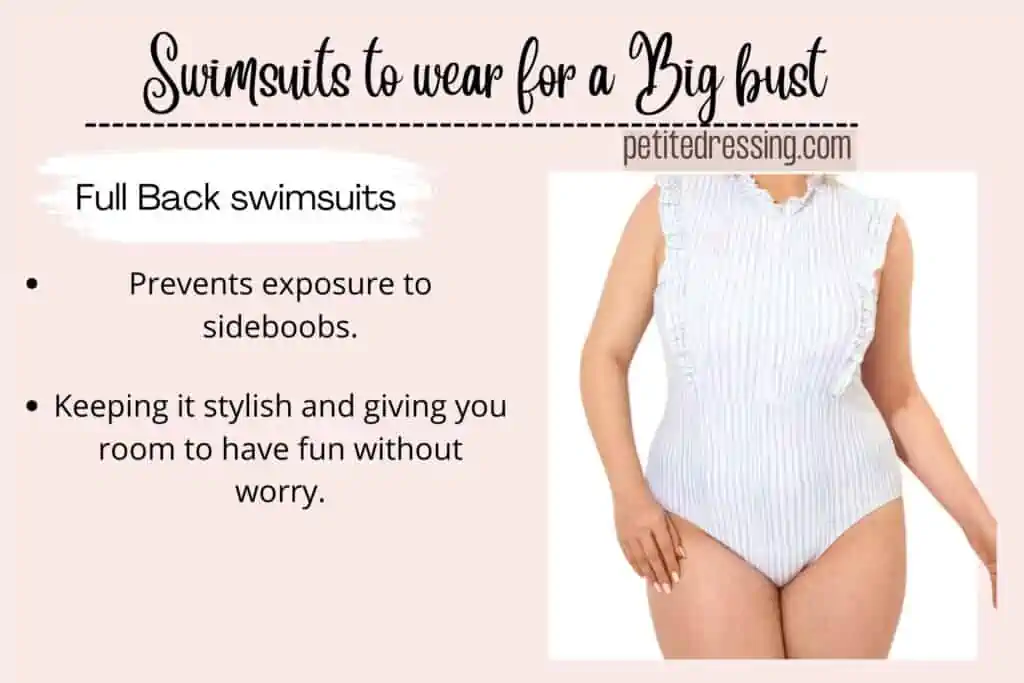 For a fuller bust, you do not want to leave out the full-back swimsuits from your wardrobe. Aside from creating a beautifully sleek silhouette, a full-backed swimsuit goes further to add a lot of support for your chest, much like a high neckline swimsuit.
Additionally, the full-back swimsuit further prevents exposure to sideboobs leaving you to have the best of time while keeping it stylish and giving you room to have fun without worry.
Wrap front swimsuit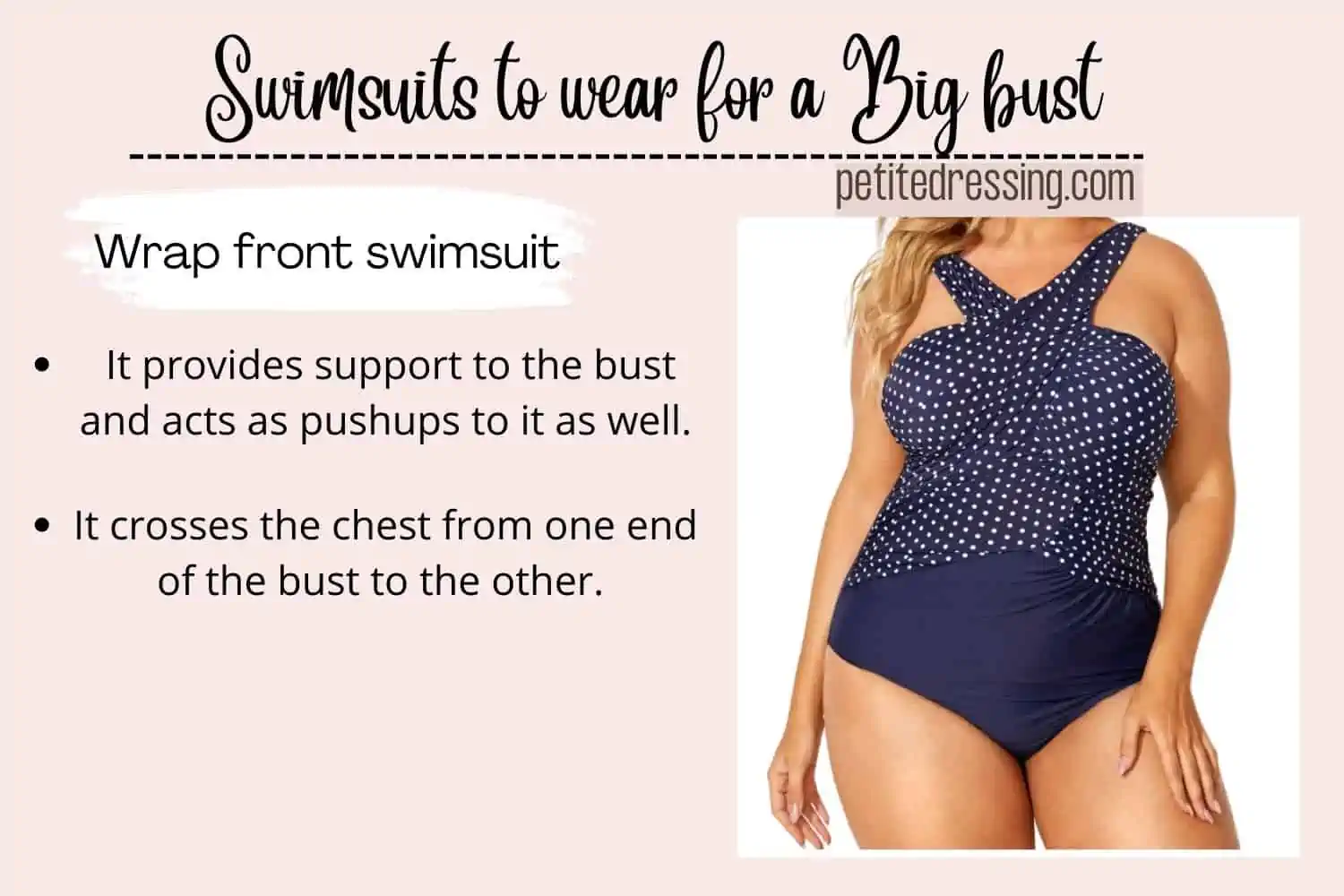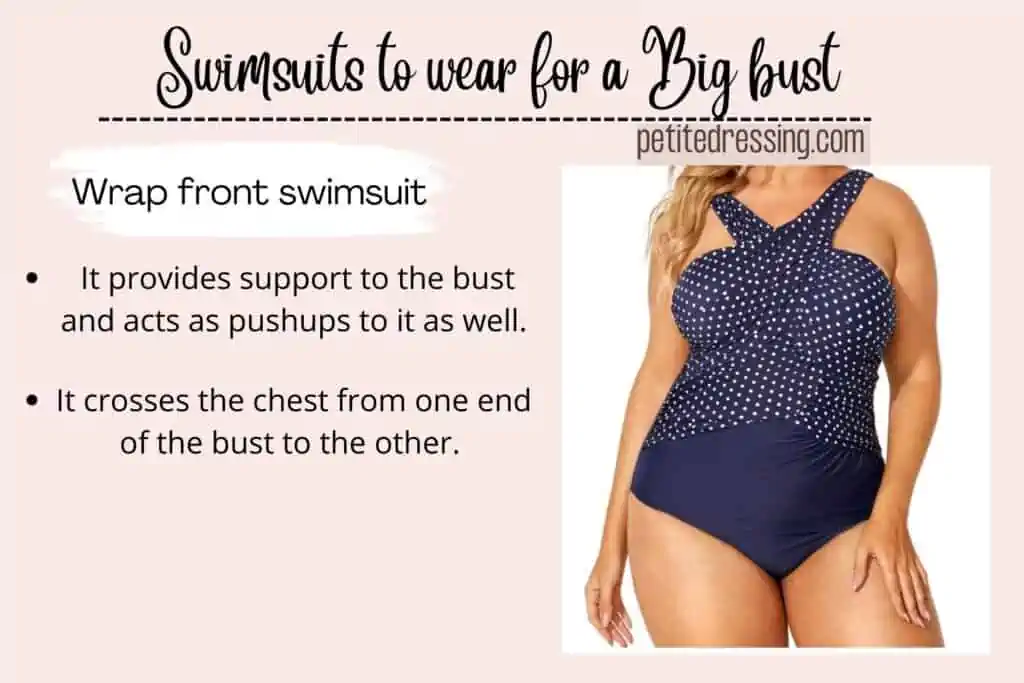 The wrap-front swimsuit is another swimsuit that crosses the chest from one end of the bust to the other and it is rightly essential for a big bust. This is because it provides support to the bust and acts as pushups to it as well.
They are stylish piece that gives the body a sexy look and exists in numerous designs available for one to choose from. Wrap-front swimsuits like every other swimsuit for big busts are best if they have wider straps that can be easily adjustable to how one would particularly prefer.
Balconette bikini top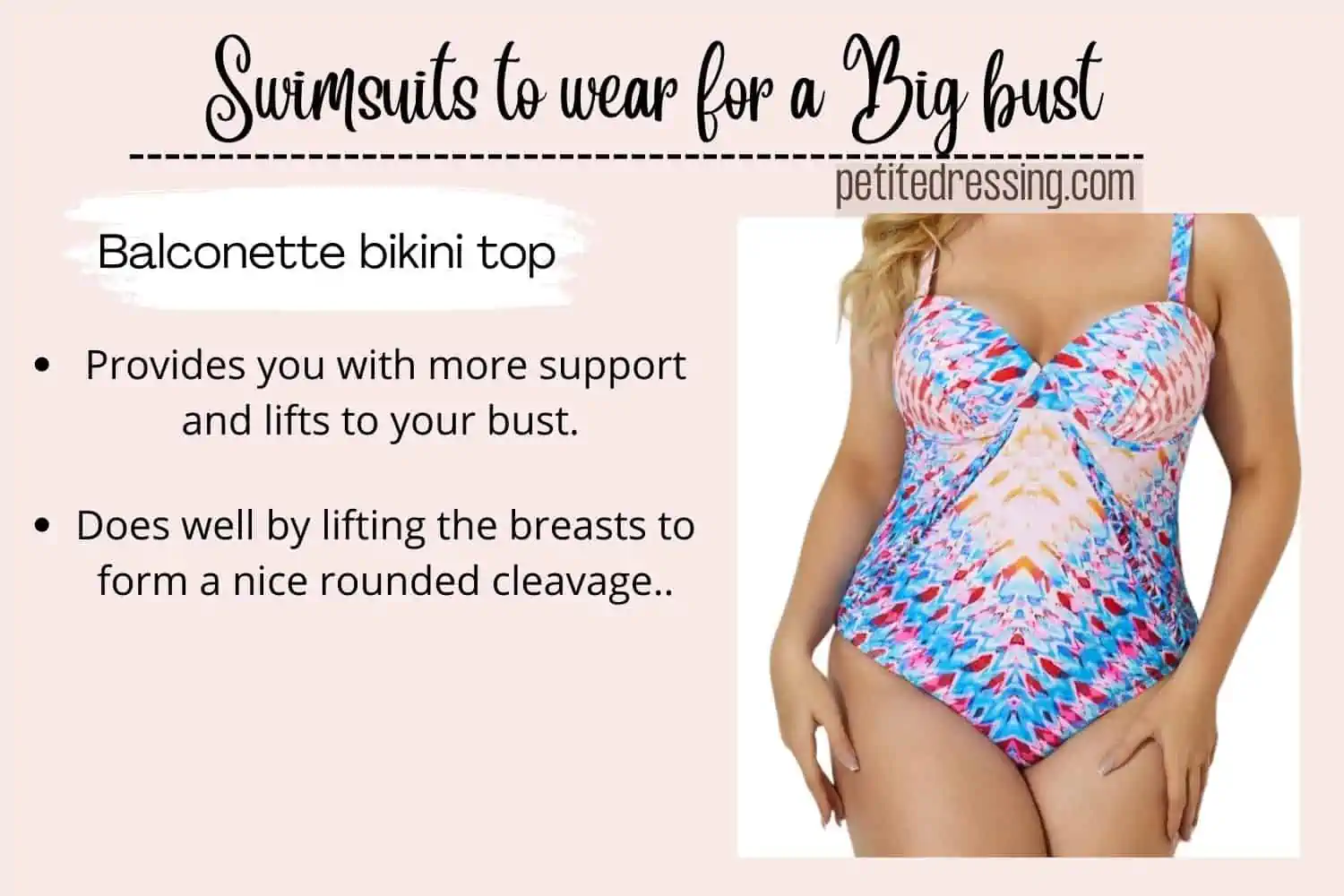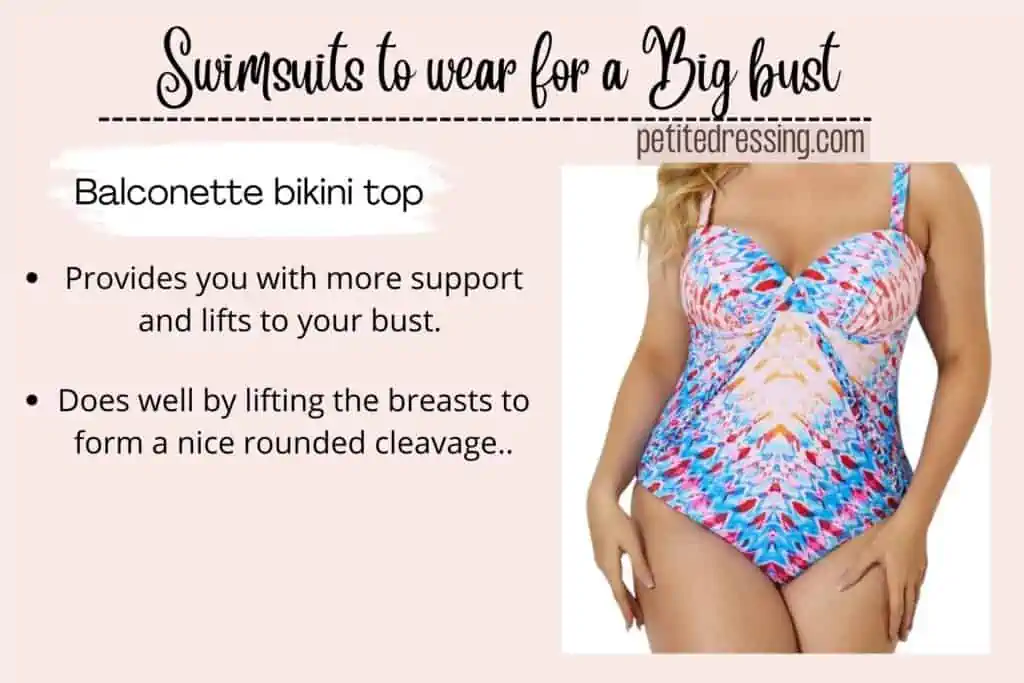 The balconette bikini top is a stylish swimwear design that has cups that are usually of lower height in comparison with other types of tops while the straps are situated a bit wider and closer to the armpits.
They are perfect for one who intends to enhance her assets to give a sexy and flattering fit look balconette bikinis tend to have underwire, which provides you with more support and lifts to your bust. They are also versatile and could be worn as a bikini or styled as a bra top.
The balconette bikini top does well by lifting the breasts to form a nice rounded cleavage. It is important to make sure that the cup is a good size and sits beautifully and fitted on you as you don't want any accidental slip-outs.
Crochet swimsuit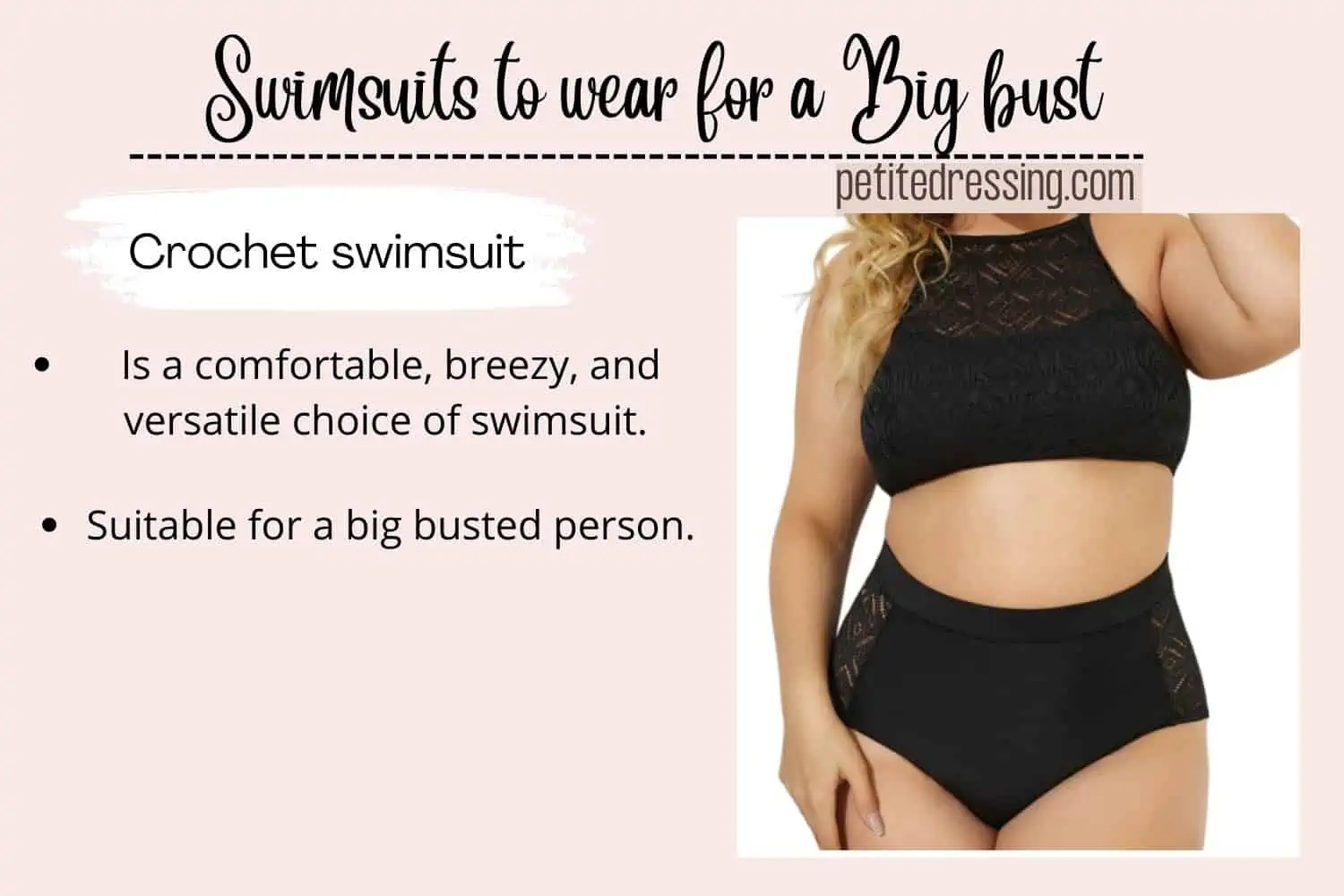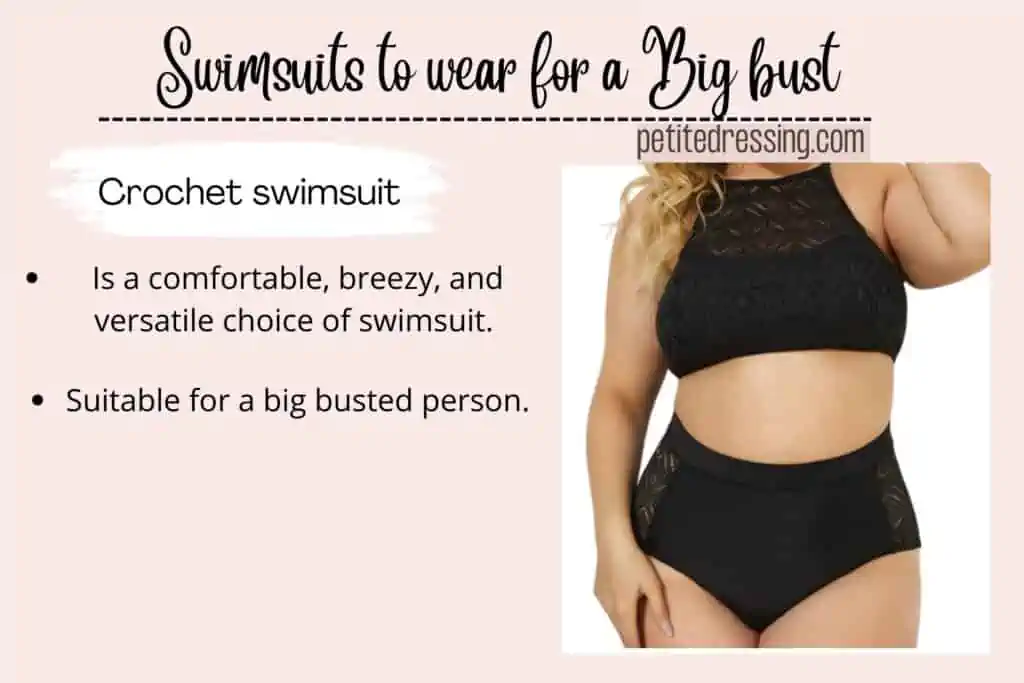 The crochet design of the swimsuit is a comfortable, breezy, and versatile choice of swimsuit that is very much suitable for a big busted person. Depending also on the size of the pin and pattern used as well as the wearer's choice, crochet swimsuits may or may not be see-through.
It is highly encouraged that you add firm cup paddings to the crochet swimsuits as it does well in providing support rather than thinking of it as an added 'side' effect. The crotchet swimsuit can be knitted into different designs that you can choose from.
Well-fitted swimsuit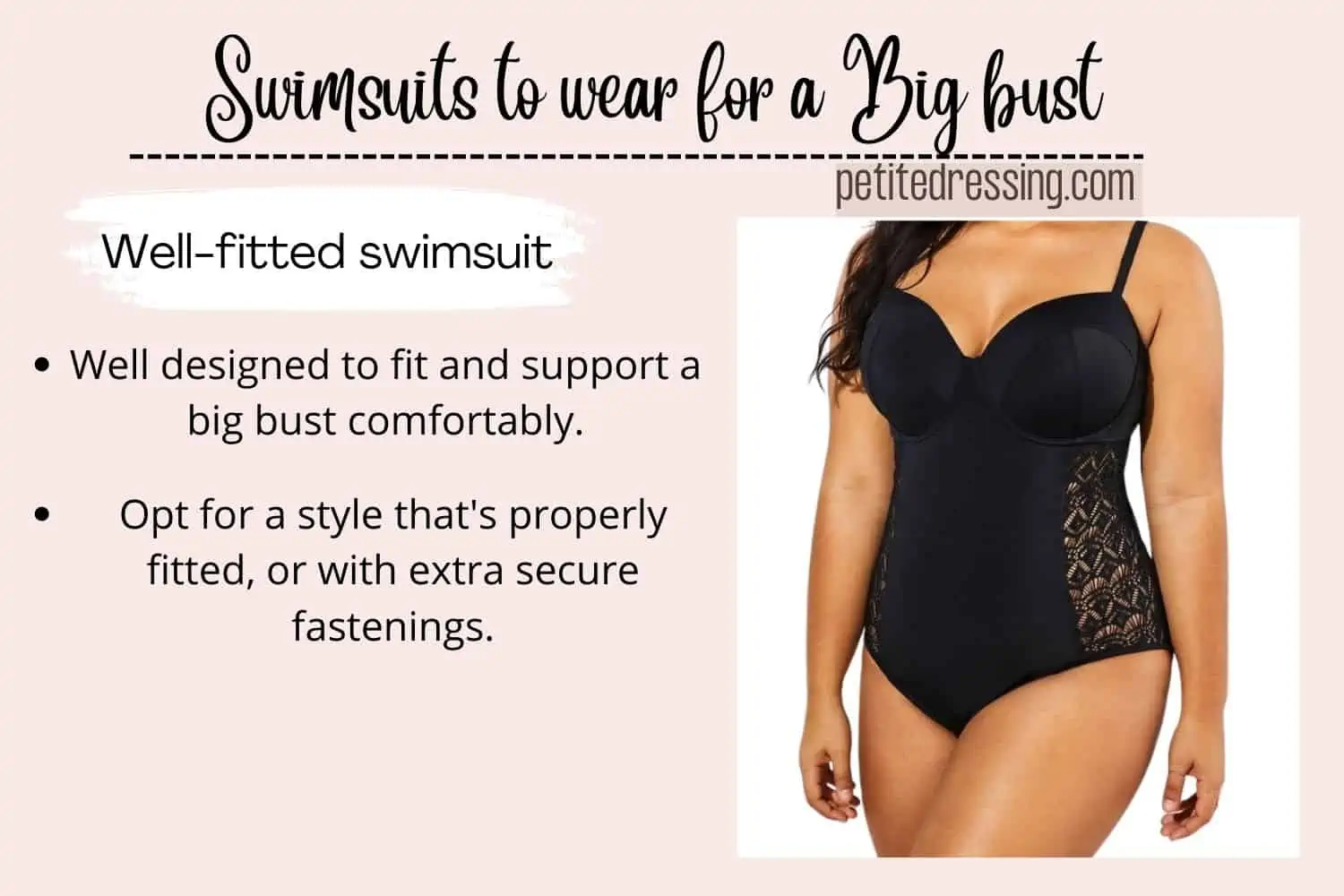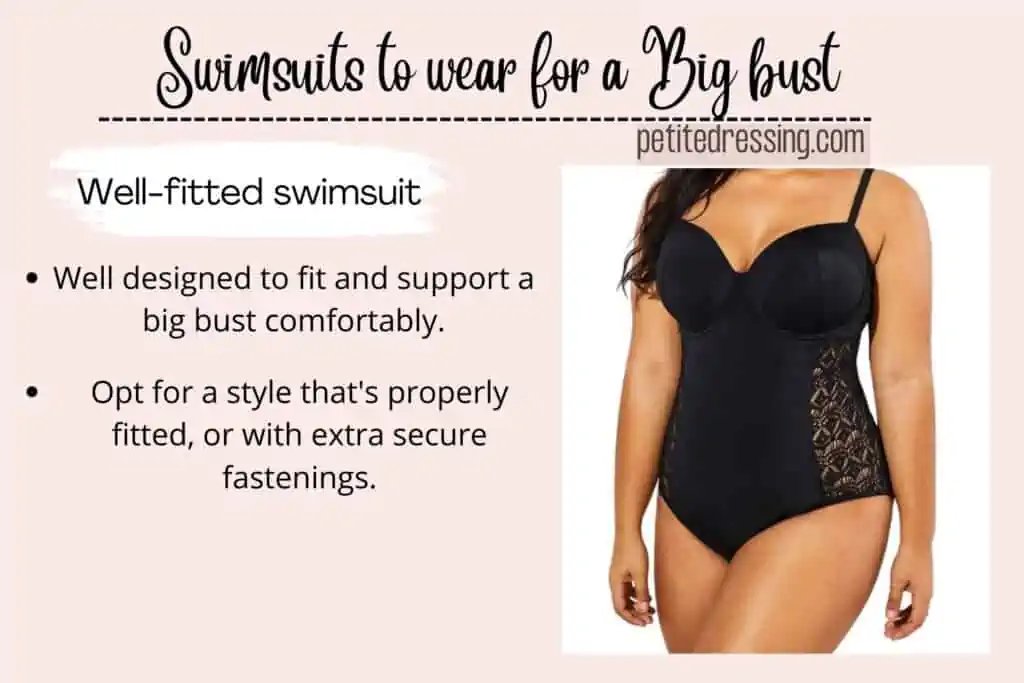 One very important swimsuit idea is to go for a well-fitting swimsuit as they are well designed to fit and support a big bust comfortably. The cups of the bra should be made to your size to enable it to tuck in your boobs properly.
When it comes to sizing, it is important to remember that bathing suits will expand in the water, so if you're going to swim, you might want to opt for a style that's properly fitted, or with extra secure fastenings.
However, do not forget that fitted, doesn't mean too tight and when trying on swimwear or any kind, there should be no straps digging in or pinching underwire, as comfort will also help you feel confident in your chosen style.
Zip front swimsuit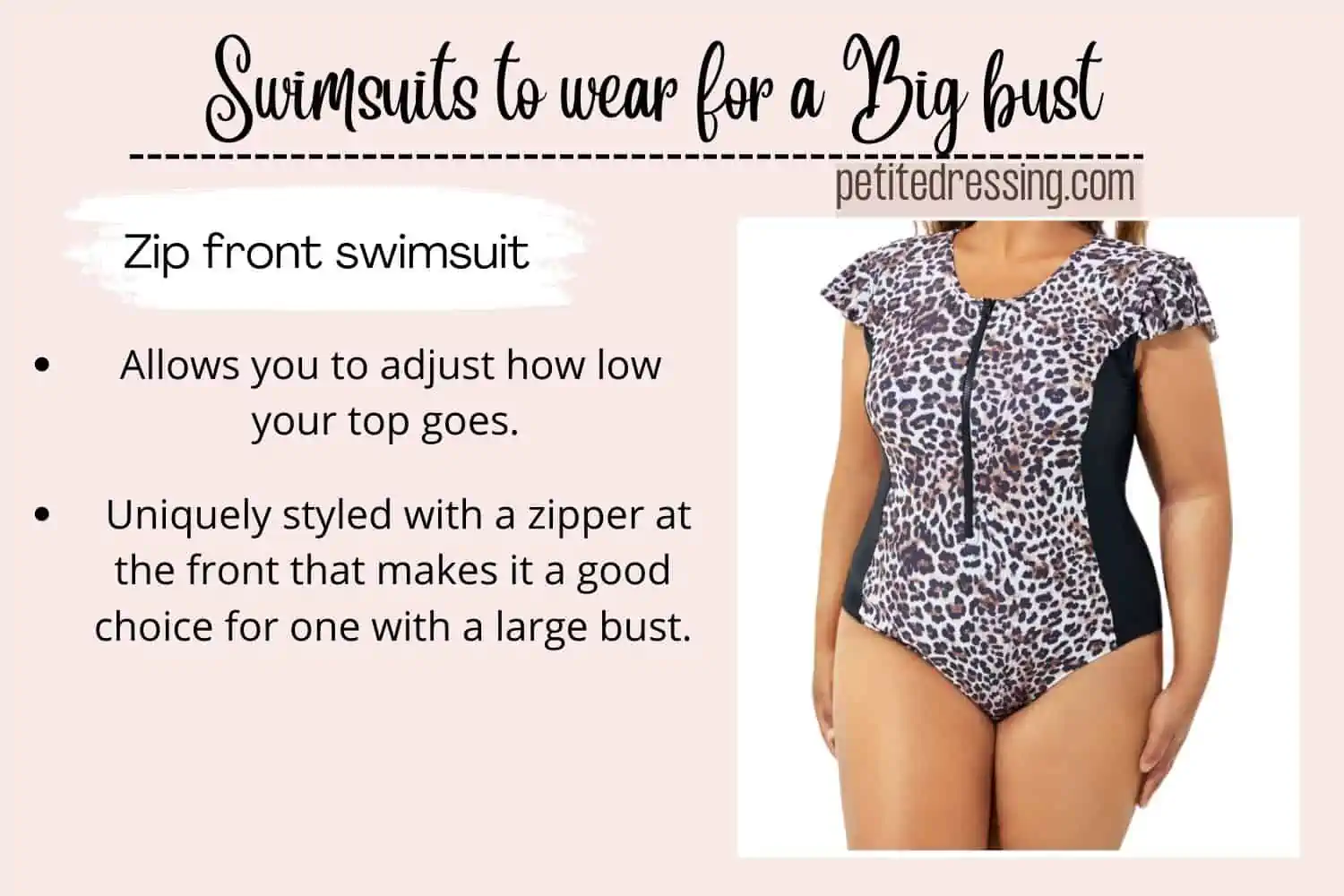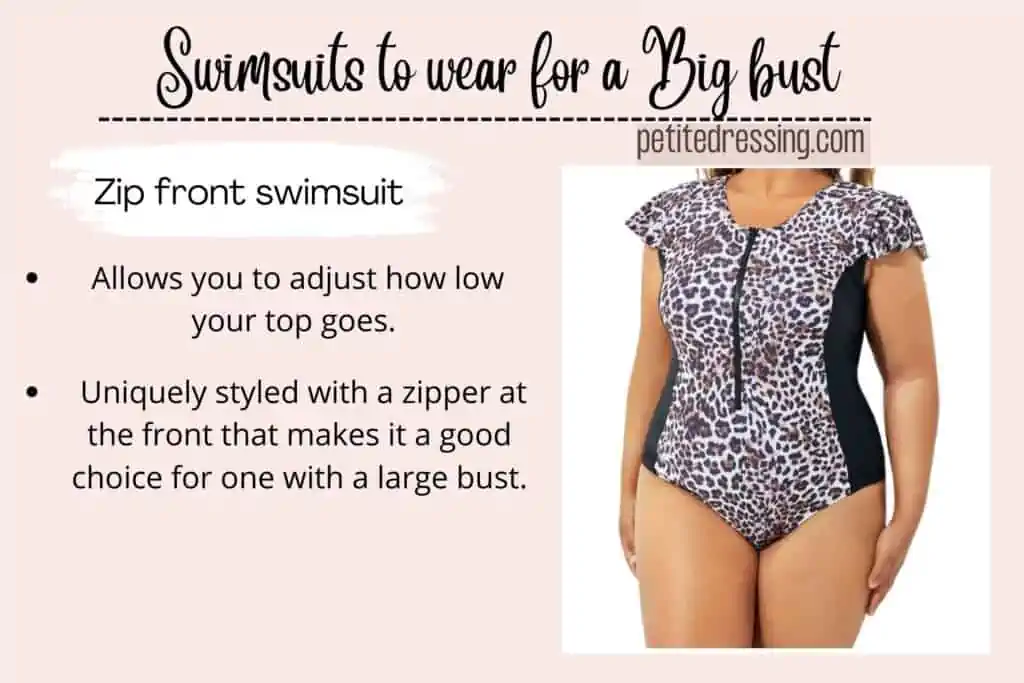 The zip-front swimsuit is a sleek and sophisticated swimsuit uniquely styled with a zipper at the front that makes it a good choice for one with a large bust. It helps you stay in control leaving you to decide the amount of cleavage you would want to reveal in your swimsuit.
You never go out of style with the zip-front one-piece swimsuit as it not only allows you to adjust how low your top goes, but it also gives that V-neck shape effect that is also flattering to elongate your neckline and torso.
Statement pieces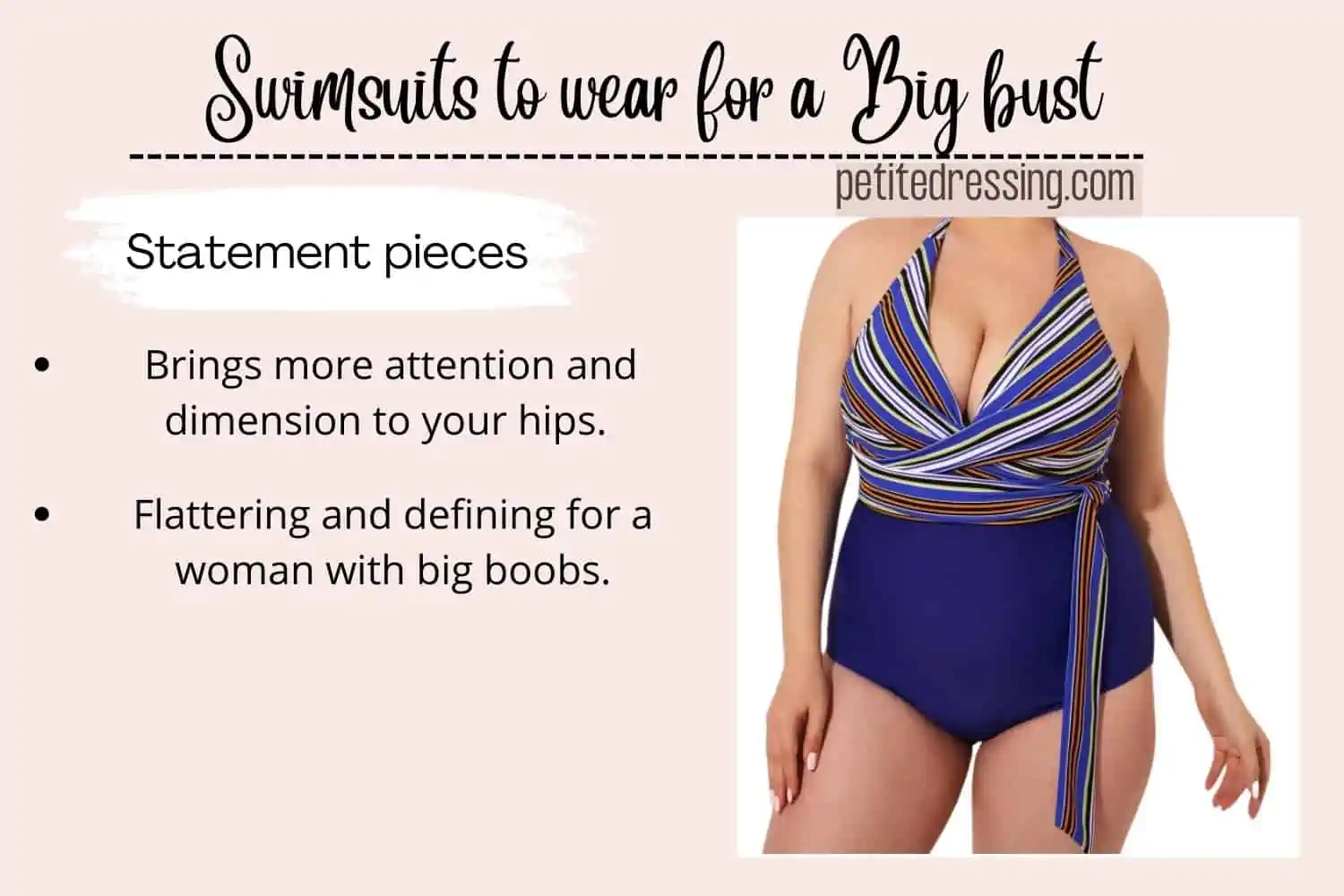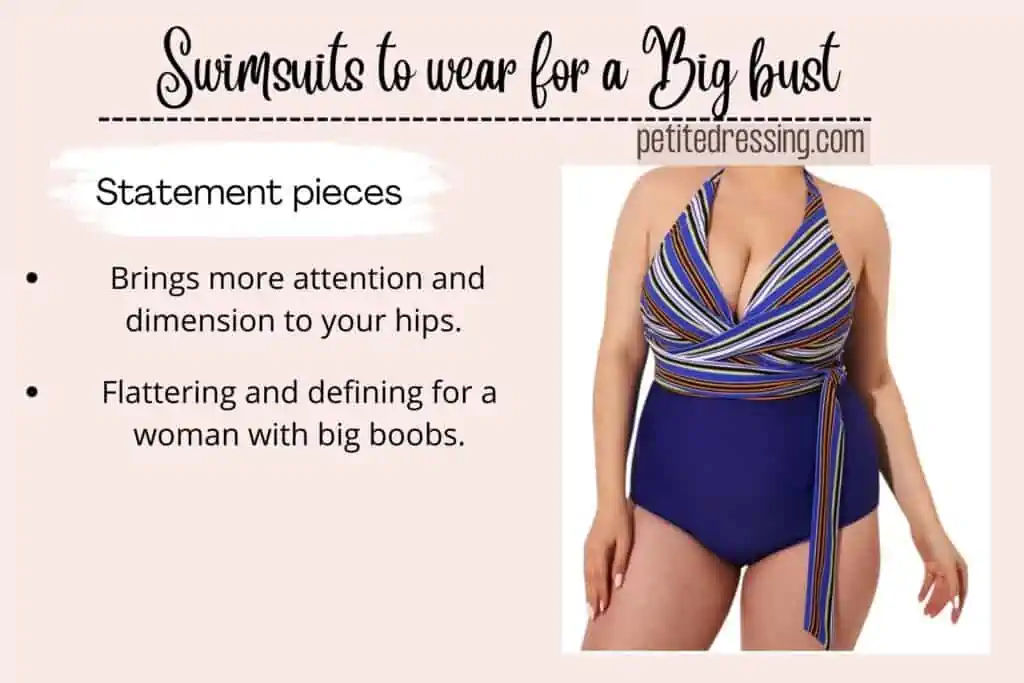 Sometimes, the best way to flatter your shape and create balance in a busty frame is to focus on the bottoms. In such a case, a wide-banded or statement-making option will bring more attention and dimension to your hips, thus complementing your upper half by shifting the focus of the eyes from one part of the body.
The one-piece patterned swimsuit is one choice of swimsuit that should be a part of your wardrobe swimwear pieces. It allows you to work the lines as the patterns are of great help in selecting a one-piece suit that is flattering and defining for a woman with big boobs.
Swimsuits with shelf bra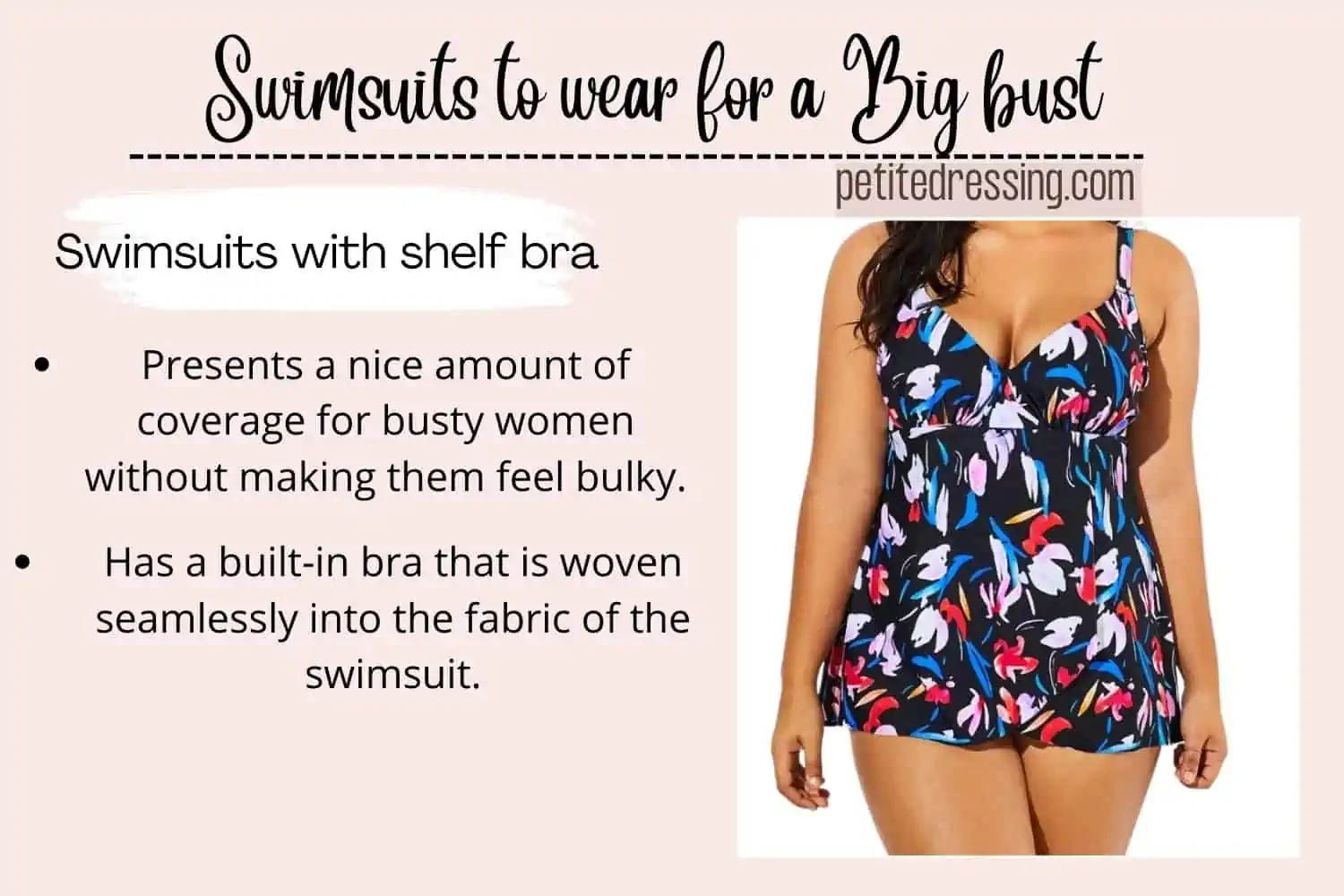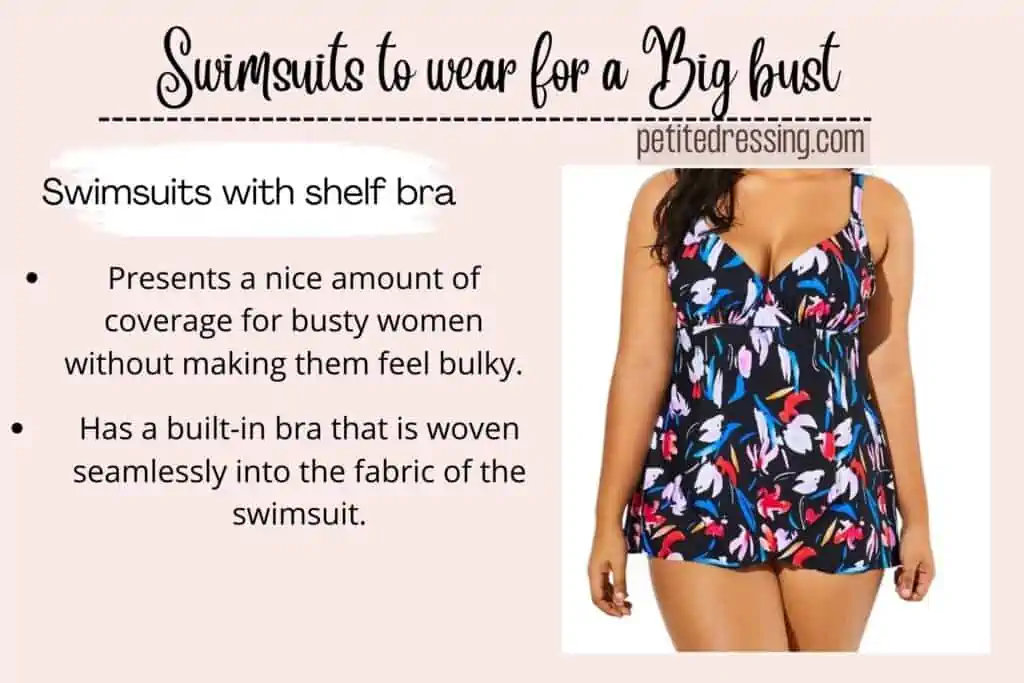 Looking for a swimsuit that would give you comfort and allow you to slay in a unique style, then the shelf bra swimsuit is another preferred choice.
The shelf bra is a built-in bra that is woven seamlessly into the fabric of the swimsuit. It features an elastic band that wraps around the ribcage and provides structural support to the bustline.
The stretchy fabric and elastic, mold to the shape of your upper body to keep things in place. This built-in bra presents a nice amount of coverage for busty women without making them feel bulky.
V-neck swimsuit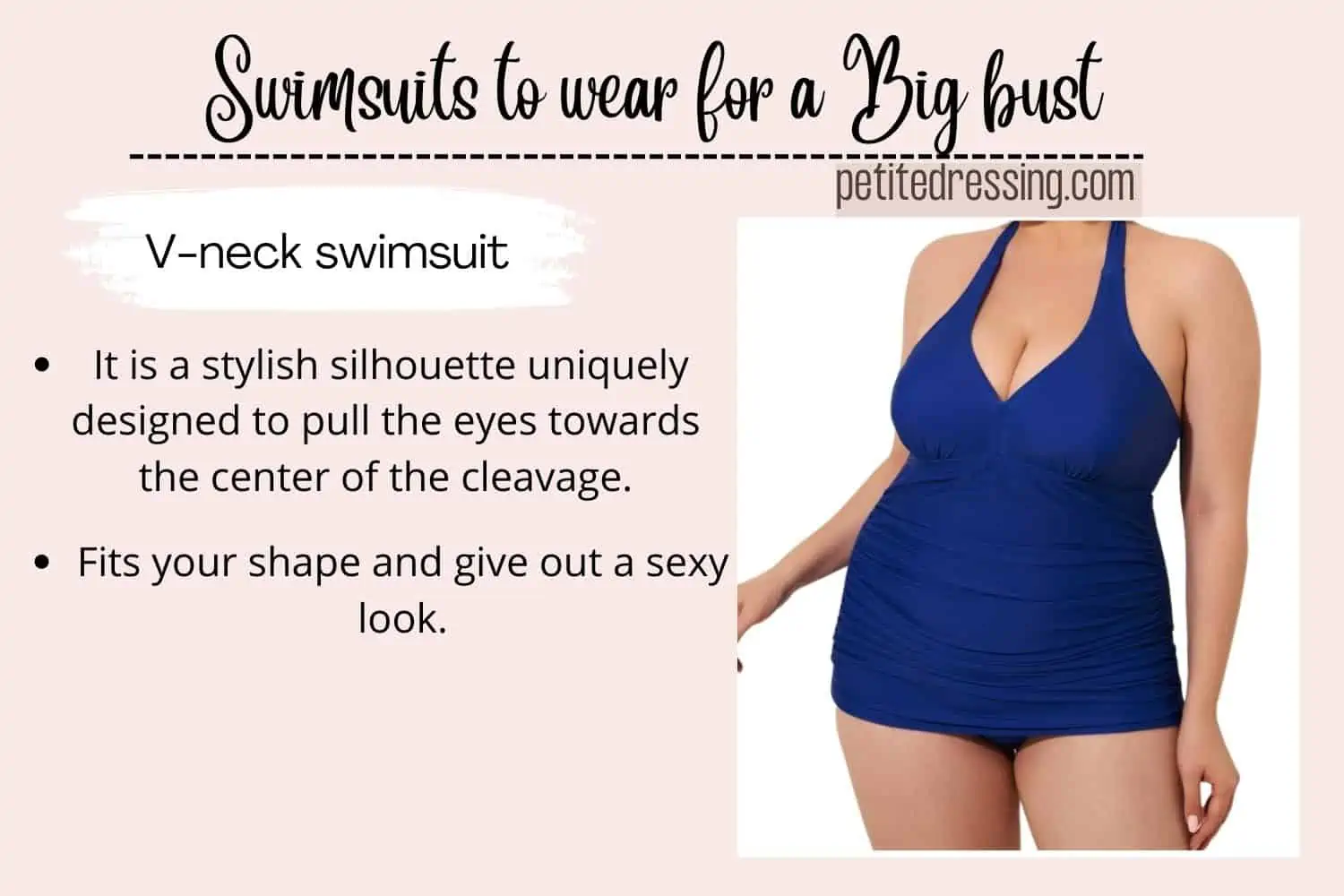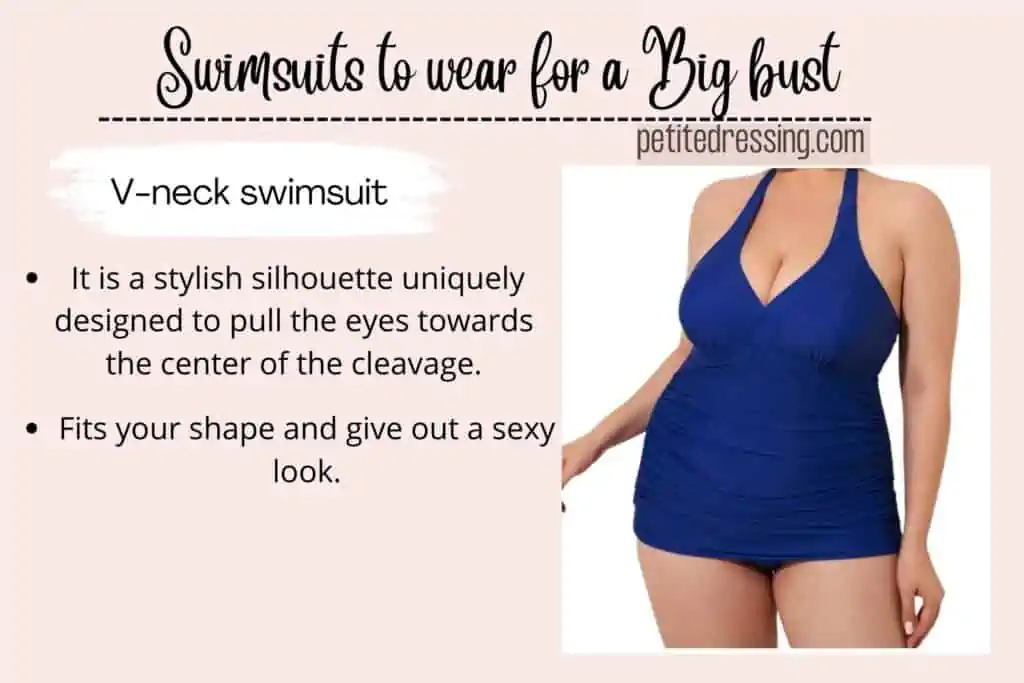 The V-neck swimsuit is a flattering fit swimsuit for one who is confident about their bust, intends to slay, and does not have any issue exposing it in their swimsuit. It is a stylish silhouette uniquely designed to pull the eyes toward the center of the cleavage.
This swimsuit remains a trending style that is designed to fit your shape and give out a sexy look to the bust and entire body. They do not necessarily provide full coverage to the big bust but still keep the big bust in position.
High coverage swimsuit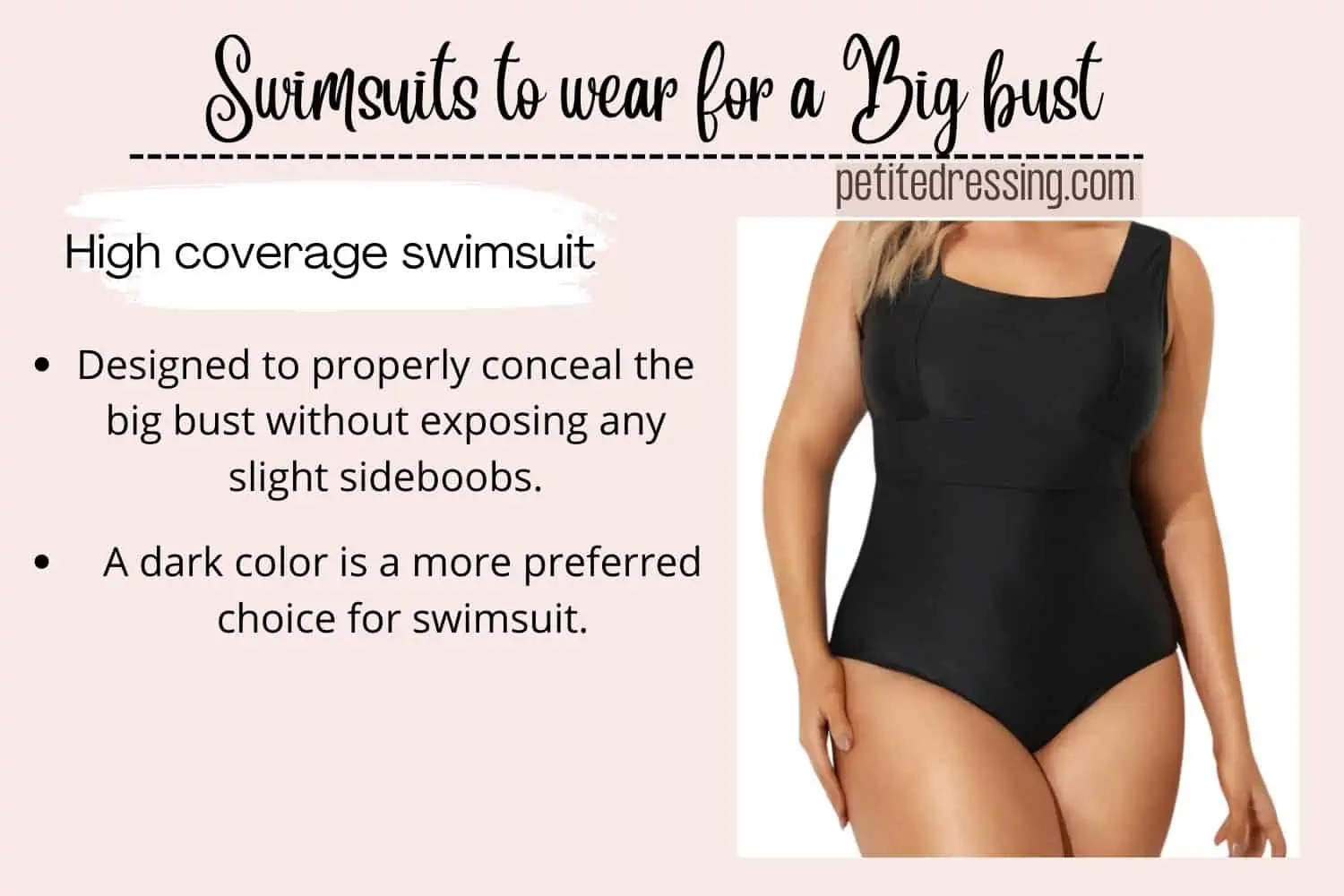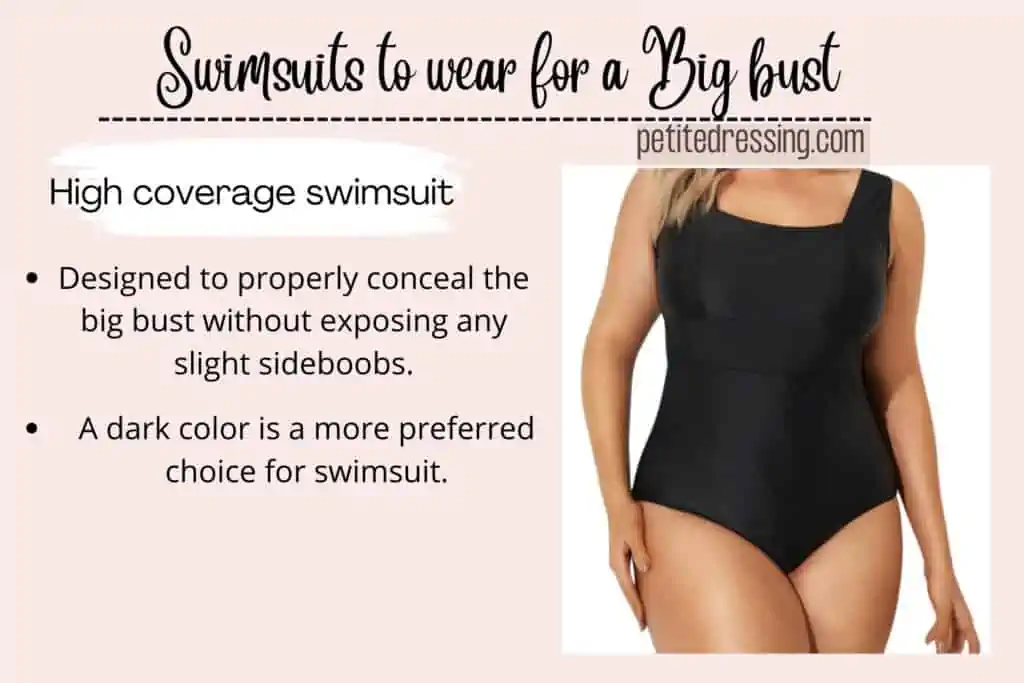 As the name rightly implies, the high coverage swimsuit is a silhouette that was designed to properly conceal the big bust without exposing any slight sideboobs. The first part of confidence when it comes to covering is knowing your why and having conviction in it.
When it comes to a high-coverage swimsuit, the options of design and innovation are endless and they could be in different shades of color but for a slimming and sexy look, a dark color is a more preferred choice for a swimsuit.
Twist front swimsuit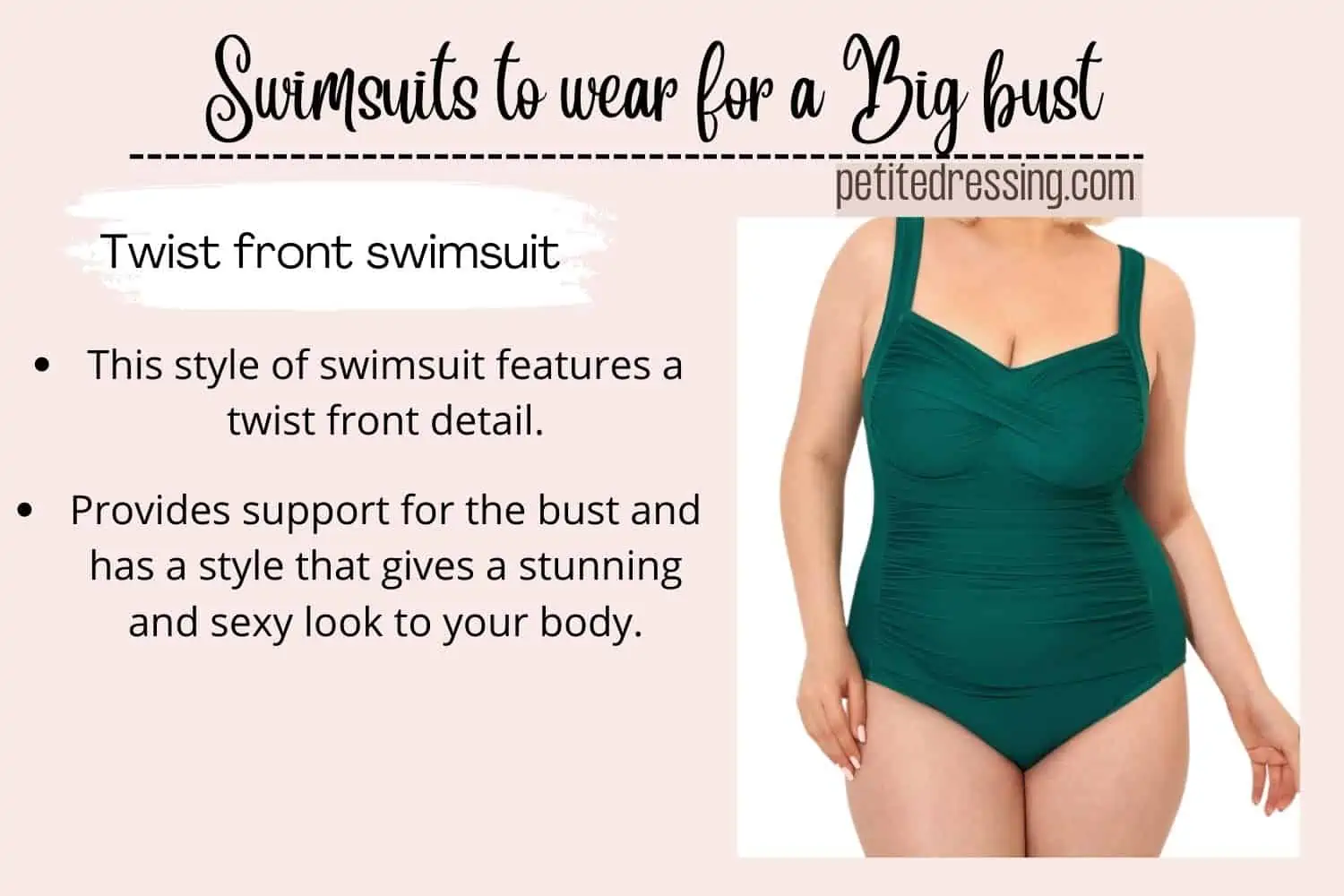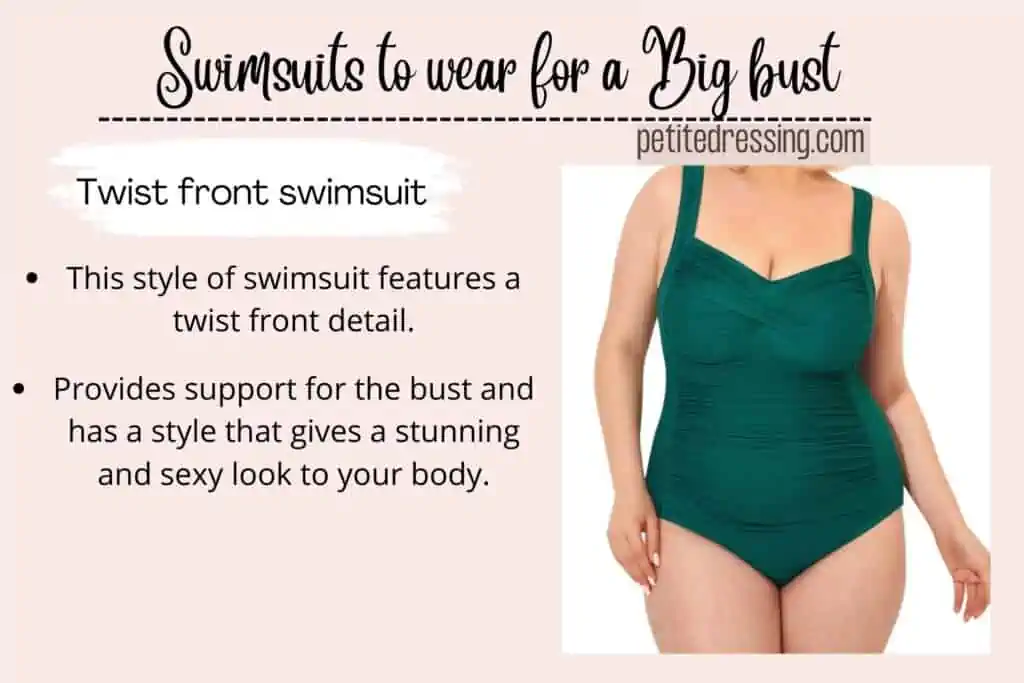 The twist-front swimsuit is a perfect choice of flattering swimsuit if you want a little more coverage for your bust and should therefore remain a swimsuit wardrobe essential. This style of swimsuit features a twist front detail with comfortable bust support and slimming ruched sides.
The bra cups in the swimsuit were made to perfectly fit and it has a unique design that provides support for the bust and has a style that gives a stunning and sexy look to your body.