Sundresses don't have an age limit. Of course, just like with anything else style wise, there may be some changes you make if you wear sundresses when you're over 50, compared to the options you may have chosen in your 20's and 30's.
Here's a comprehensive guide on how to choose the best dresses when you are over 50.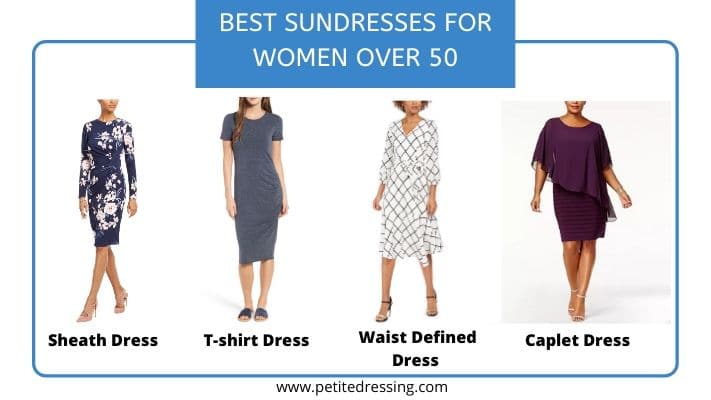 Avoid Shapeless Sundresses
While I'm not one to start with the negatives, there is one major don't when it comes to selecting the best sundresses for women over 50: shapeless sundresses!
Sundresses, like many other types of dresses come in a variety of different silhouettes, fabrics, etc. Unfortunately, some of those styles include sundresses that are really boxy and/or shapeless. The reason this isn't ideal for women over 50 is because it can cause you to appear frumpy and even bigger than you are.
I know, those shapeless dresses are 'comfortable,' I hear this ALL the time, but unfortunately they're just not flattering for a mature woman.
Instead of opting for those shapeless sundresses, it's super important for women over 50 to stick to silhouettes that offer some sort of shape or structure to them. This doesn't necessarily mean that the dress has to be extremely fitted or stiff! There's a happy medium here, and that happy medium needs to be your sundress bff.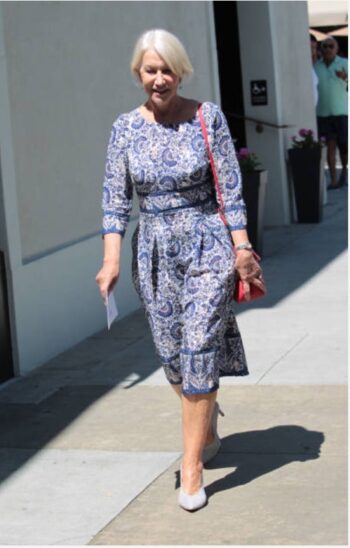 There are a few ways a sundress can offer you some shape. Choosing a sundress that, for example, has a defined waistline is a great option that instantly adds shape to the dress and in turn your body shape. Other attributes to look for and try with sundresses include: open neckline (like a v-neck), halter style top, empire silhouette, etc. The key here is to make sure that we see YOU and your shape in the dress.
In general, less is more when you're a woman over 50. Keep it simple with the silhouette of your sundresses. In terms of the neckline for your sundresses just make sure they're not TOO low. Open necklines are fine as a mature woman, but if the neckline is too low it tends to lean on the edge of not being age appropriate.
Choose Prints + Patterns Wisely
You may have noticed that sundresses often come in various prints, patterns and fun colors. This is one of the reasons sundresses are so stylish and easy to wear during the winter months. The problem with this, when you're a woman over 50, is that some of these different prints aren't ideal for your age. This is why it's essential you choose any of the prints or patterns wisely for your own sundress collection.
The main thing to be aware of in regards to the print of your sundress is that it doesn't feel TOO youthful. I'm sure you've seen dresses, at least a few times, that while they had really fun prints on them they were options that felt like they'd be ideal for a woman in her twenties or thirties.
This tends to trip some women up because I know we all want to look (and feel!) younger than we are, no matter our current age. However, the reason you don't want a print/pattern that feels REALLY youthful is it can actually make you look older.
I know, you would think it would be the opposite! Unfortunately, I have to give you the harsh reality on this one.
Instead of choosing sundresses that are really youthful, stick to options that are either solid colors, minimal print, or prints that feel really modern and sophisticated.
Animal print can be a great choice for women after 50s. It adds a sensual vibe in a very subtle way. It looks powerful, without being pushy.
Flipping your mindset around how you're selecting the prints of your dresses will help you to choose a dress that gives you a modern, classic appeal.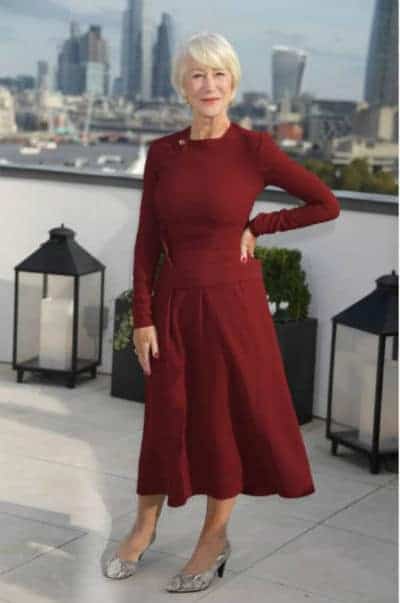 Ok, now that we've established some of the more general things to consider when choosing a sundress as a woman over 50. Let's get into some more details.
Casual sundresses are every woman's (yours soon!) go-to during the warm weather months. They're so easy to wear because there's minimal effort involved – one piece and you're dressed!
There are two great casual sundress options for mature women:
Maxi dresses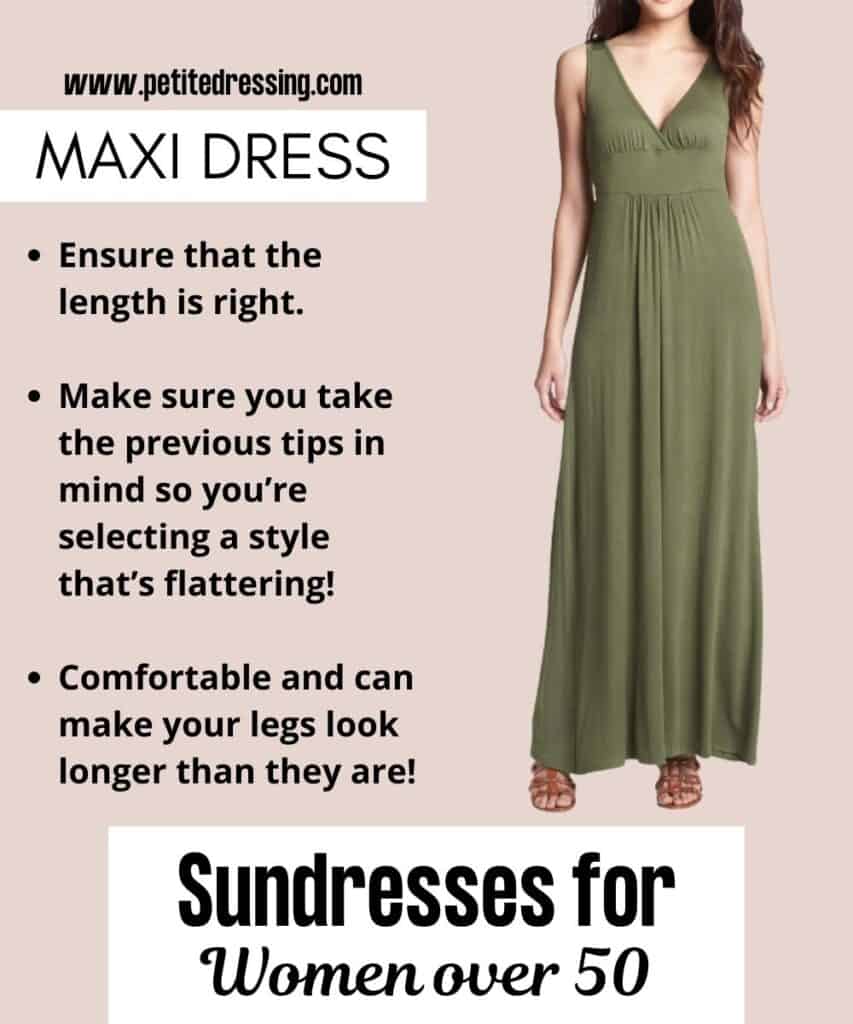 The first casual sundress option to try is a maxi length style. I know I don't have to remind you the variety of maxi dresses available to us right now.
When choosing your maxi length sundress(es), make sure you take the previous tips in mind so you're selecting a style that's flattering!
If you're a petite woman over 50, the key to wearing a maxi dress is ensuring that the length is right. Tailoring may be needed here.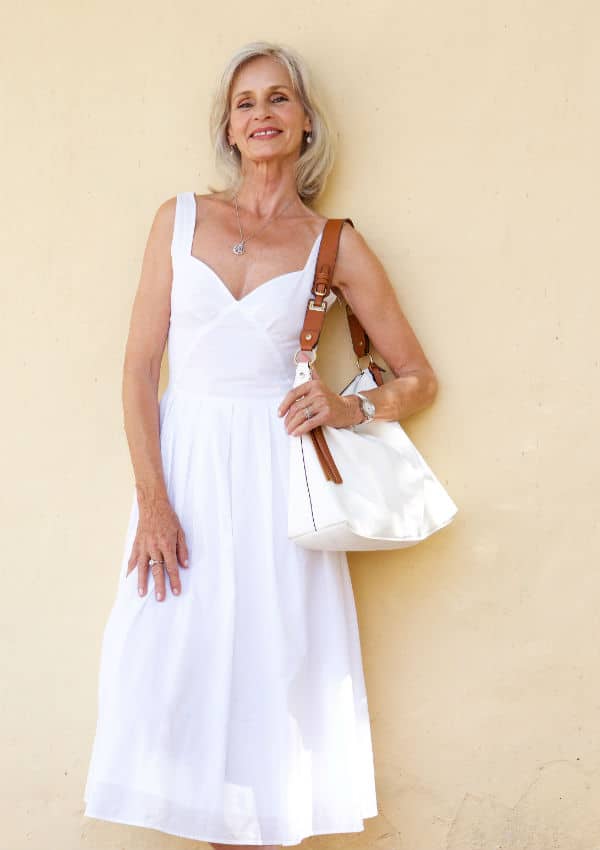 T-shirt dresses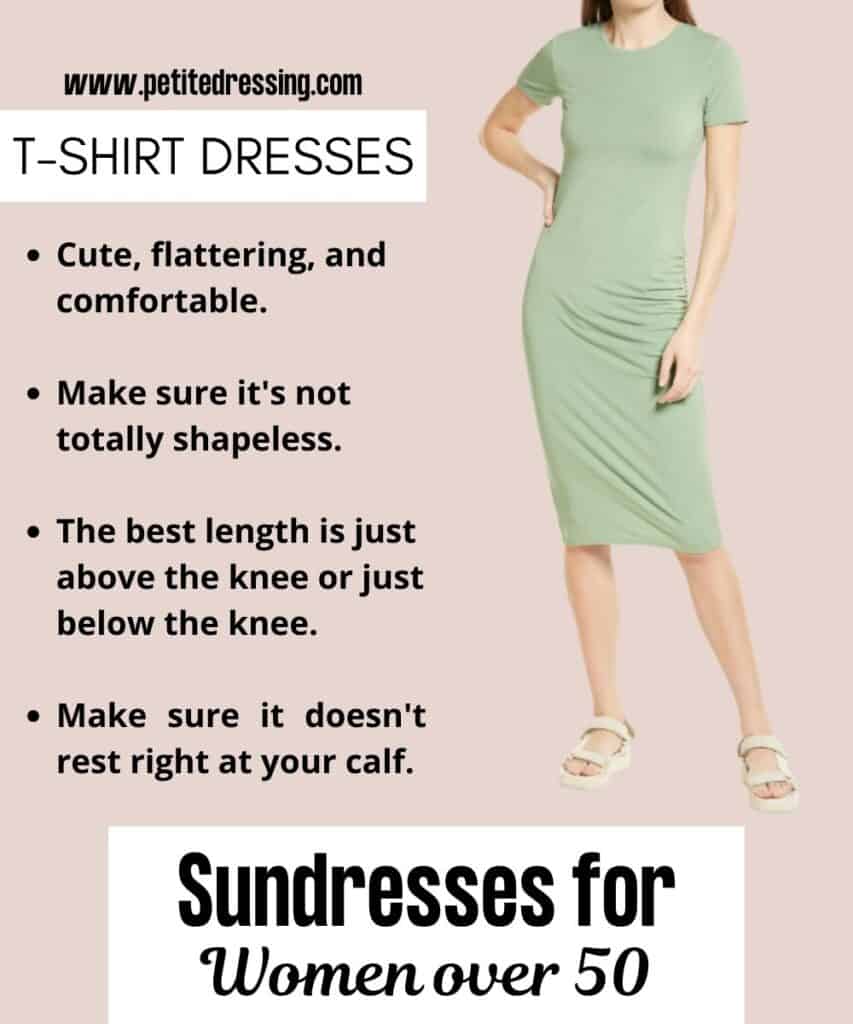 The second best casual sundress to try is a t-shirt sundress. Yep, I told you sundresses can be cute, flattering AND comfortable. T-shirt sundresses are SUPER comfortable and perfection for your casual time.
A few things to keep in mind when selecting a t-shirt dress is:
First, make sure it's not totally shapeless (as mentioned previously, it does apply to this as well.
Second, keep the length in mind. In terms of length with a t-shirt sundress there are two options I suggest:
Above the knee
Just below the knee
Both of these lengths work for a petite woman, as long as below the knee doesn't rest right at your calf, go just above the calf!
The sundress styles I mentioned above are great to wear when you can keep things pretty casual. Now let's flip it a bit.
While the spring and summer tend to be more casual as a whole, I'm sure there will be times when you can't be QUITE so casual. Whether you're going out to dinner, a party, or even a casual wedding you can wear a sundress.
Let's chat about the best options for the times you need to step out of the casual realm.
Fit & flare dress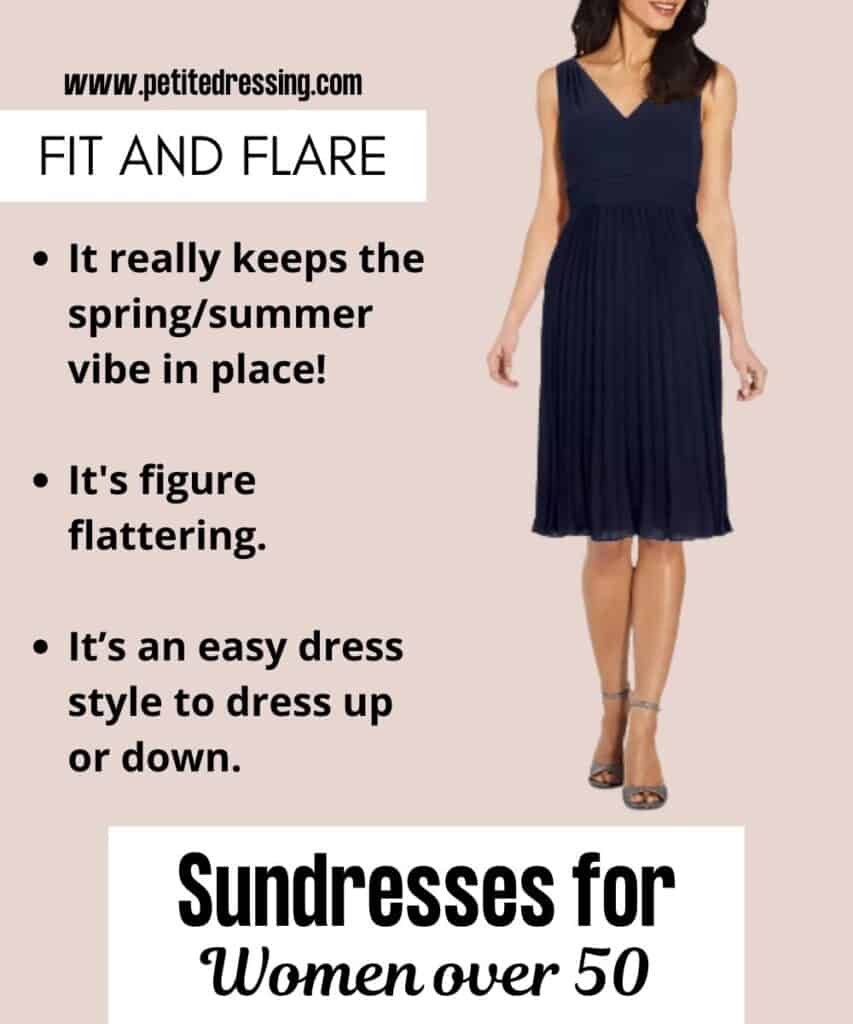 Fit and flare dresses if the number one option. This is such a great type of sundress to wear because it really keeps the spring/summer vibe in place, it's really figure-flattering, and it's an easy dress style to dress up or down.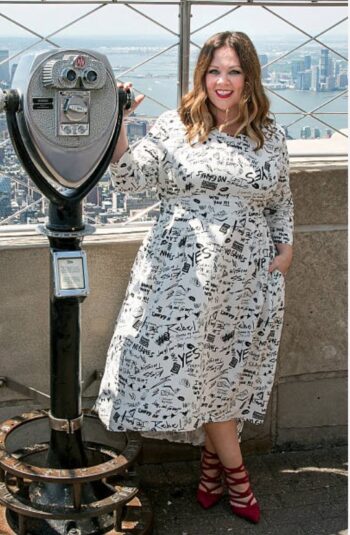 Waist-defined midi dress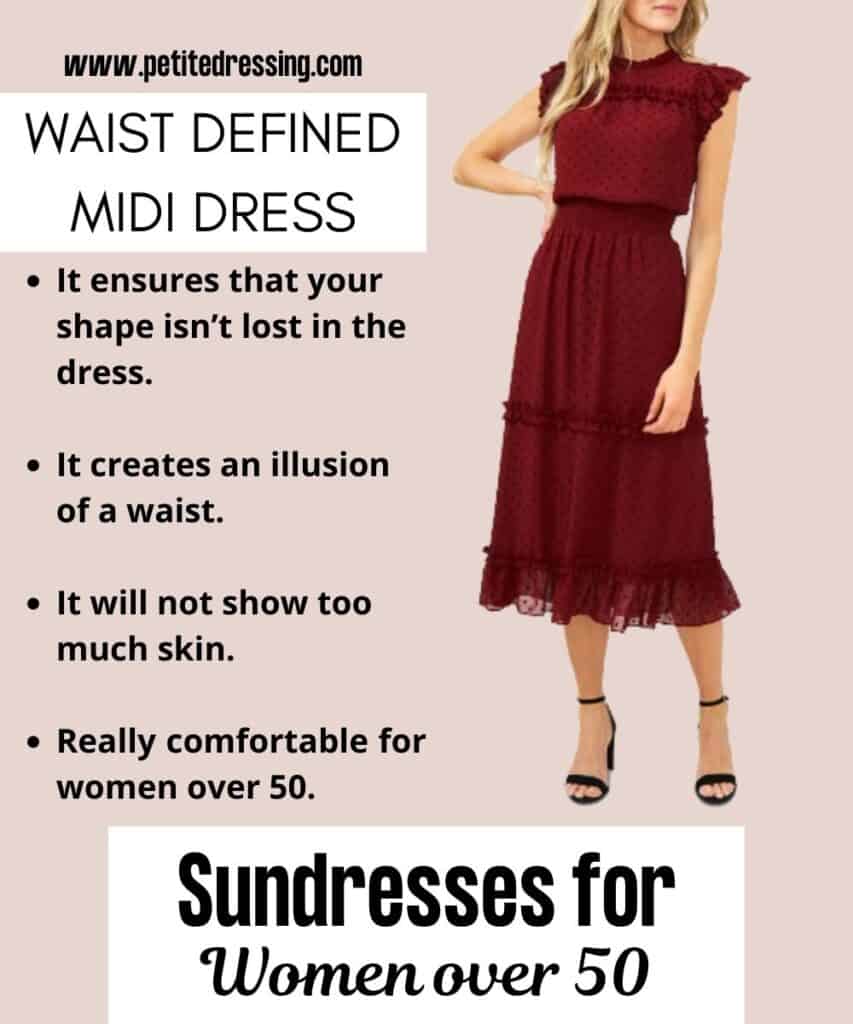 Option number two: waist-defined midi sundress.
Midi-length dresses have become incredibly popular over the past couple of years and as a bonus a great length for mature women. It's a bit longer so you don't have to worry about showing too much skin, and you can feel really comfortable in it. Just keep in mind where the midi length lays on your body – especially if you're petite (as I mentioned above!).
I suggest opting for a midi length dress that offers some waist definition. Since you're wearing a dress that's a bit longer in length, the waist definition ensures that your shape isn't lost in the dress – which is something that CAN happen when you wear a longer-length dress like this.
Talking about waist definition, there's a lot of misunderstanding among mature ladies. Our bodies go through changes as we age, and it is really common that once you are over 50 you might have lost the small waist you used to have in your 20s.
If you are thinking you now need to "hide" your waist with a dress, it is quite the opposite. Compare the two dresses of Kathy Bates. The one on the left has a defined waistline, while the one on the right does not.
Which looks better?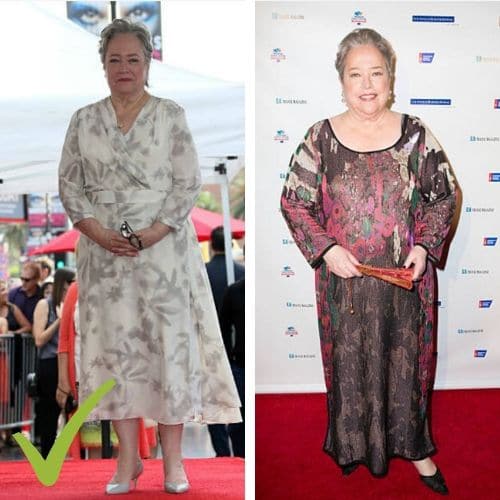 I think it is quite obvious that the one defining the waist "gives" her the illusion of a waist, while the one that lacks a waist definition just shows that she has no waist!
Do you agree with me?
Finally, while I said a waist-defining midi length sundress is a dressier option, it's not to say you can't wear it casually! That's the great thing about sundresses – most of them can be transitioned from day to night with different shoes and accessories.
Sheath dress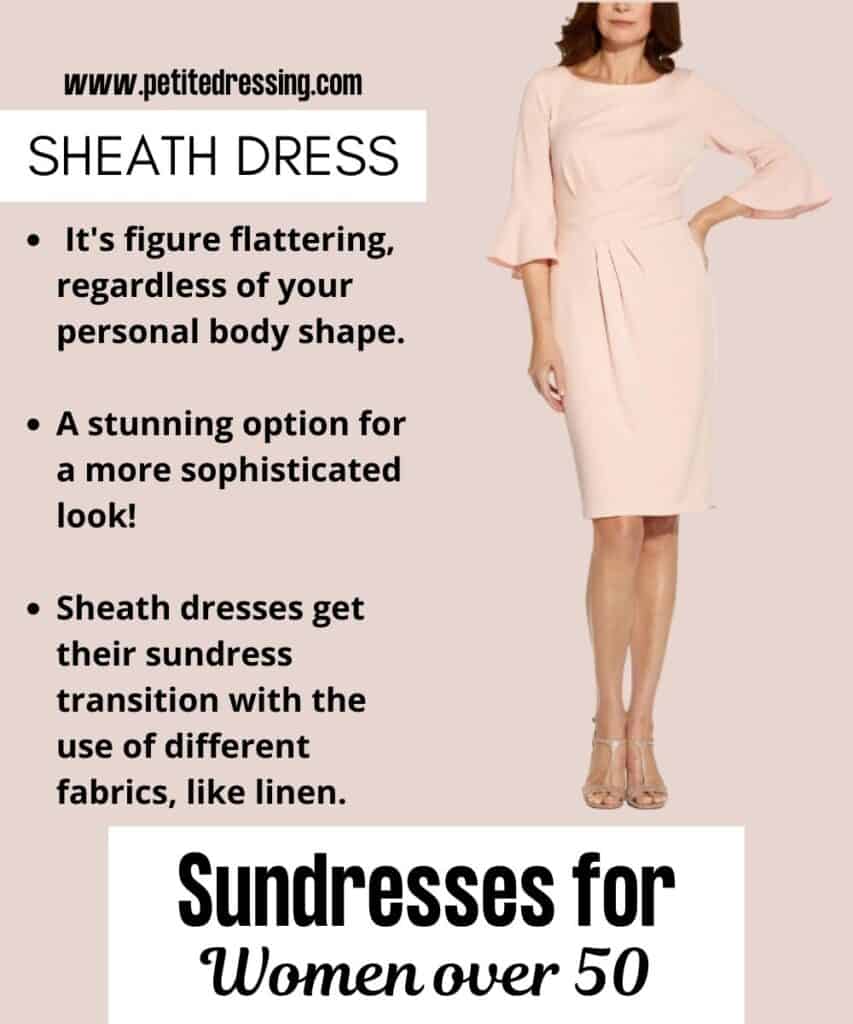 Option number 3: a sheath sundress. This one may be a bit surprising because in general we don't often think of sheath dresses as sundresses, but they certainly can fit into the sundress category.
Sheath dresses are incredibly figure-flattering, regardless of your personal body shape. Whether the flowy sundress just isn't really something that resonates with your personal style, or if you need something that looks a bit more sophisticated, a sheath sundress is a stunning option!
I actually love a linen sheath dress for a summer wedding or even for work. Sheath dresses get their sundress transition with the use of different fabrics, like linen.
Accessorizing Sundresses
As we've discussed, the great thing about sundresses is how easy they are to wear. I've found that accessorizing them is also incredibly easy, making them that much more enjoyable to wear this time of year. That being said, when you're completing your sundress outfits keep it simple! Typically a simple earring and bracelet are enough.
Keep your shoe selection light, though! What do I mean by this? Basically, avoid chunky or heavy feeling shoes with your sundresses. Wearing shoes that feel very heavy can drag down the look of you dresses, and throw off the whole look. Since sundresses often have that light, airy, flowy feel to them you want to keep that consistent with the shoes you choose. Strappy sandals, dainty ballet flats, etc. are ideal!