What is Kibbe Soft Dramatic Body Type
Soft dramatic is one of the original 13 Kibbe body types. Take the Kibbe test to find out your body type. The Kibbe types have two dramatic body types, i.e. dramatic and soft dramatic type.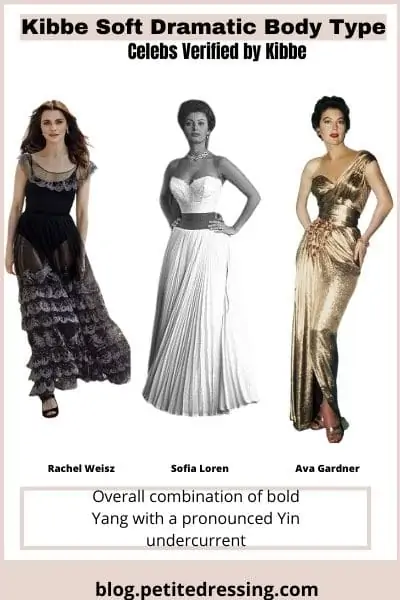 Height:
Moderate to tall, usually 5 feet 5 inches and over.
Body type:
Fleshy (unless ultra-thin), particularly through the bust and hip area. Usually have long legs and arms, which can become fleshy in the upper arm and thigh areas without exercise. Usually have moderate-sized waist, which can become thick.
Bone structure: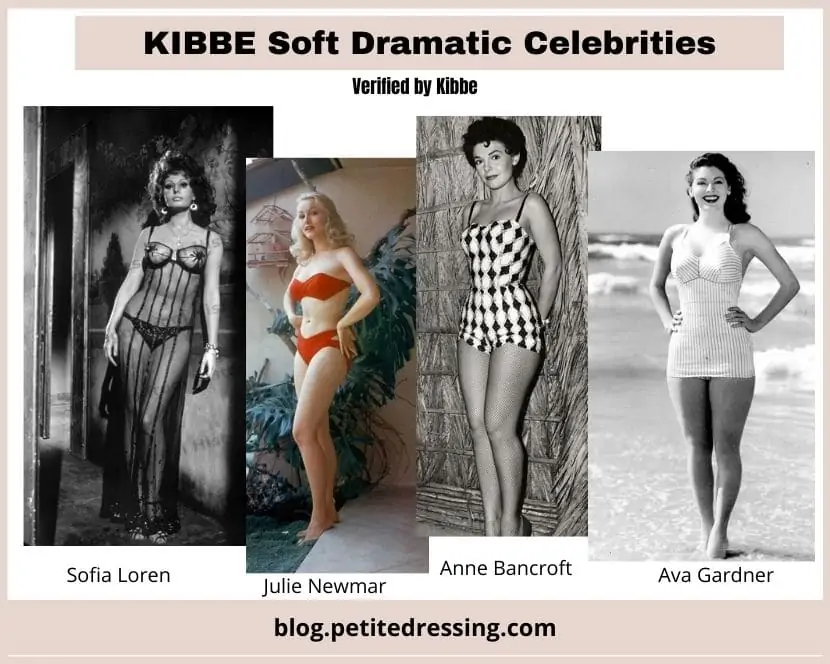 Large and angular. Long limbs, and large hands and feet (may be long or narrow, or wide). Facial bones are prominent or sharp (nose, cheekbones, jawline). If your bone sturcure is narrow (particularly the shoulders, hands, feet, wrists, or angles), you may think of yourself as delicate. This is not true, for the exteme length offsets the narrowness.
Facial features:
Full, lush, sensual, and exotic. Large eyes, full lips, fleshy cheeks.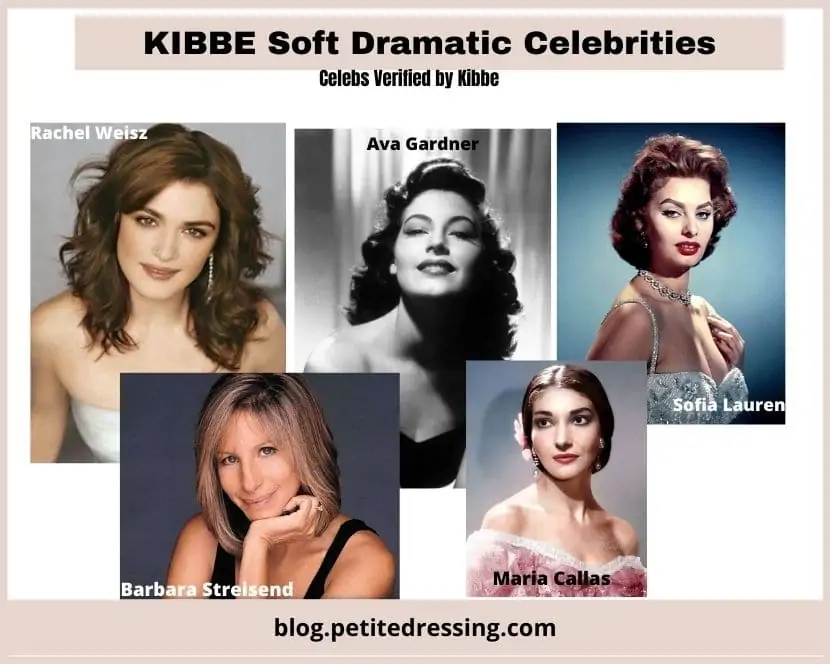 Hair:
Extreme textures. Coarse and wavy, or fine and silky (wispy).
Coloring:
Any coloring is possible (warm or cool, high-contrast or blended), but a Soft Dramatic is usually distinct, either fair, rich or vivid.
If overweight:
Heaviness is seen at the fleshiest parts of the body; the bust, hips, waist, thighs, upper arms, and especially in the face.
A Soft Dramatic will not
Have a boyish figure
Have small hands and feet, or a delicate bone structure
Be overly petite, or small in stature, with short limbs
Have delicate or small facial features
Be symmetrical in body type or facial characteristics
Character of the Kibbe Soft Dramatic
Your position on the Yin/Yang scale is: bold Yang with a pronounced Yin undercurrent. Physically, your bone structure is large and angular (Yang), but it is softened by a fleshy body type and full facial features, particularly evident in your large eyes, and full lips (Yin). Innately, you are bold, charismatic, and creative (Yang), while at the same time you are also sensual, charming, and receptively accommodating (Yin).
Overall, Yang is definitely dominant; Yin is secondary. Both are present in your essence, and both must be visually expressed for your appearance to be accurate and exciting. Just make sure you keep them in proper order.
You will definitely want to read both the Dramatic and the Romantic, and you will find yourself identifying at times with elements of each. However, please remember, you are not an equal combination of the two categories.
Always bear in mind that you are a Dramatic first and foremost! Your Romantic undercurrent should be used in small doses to soften the overall effect of your appearance in a sensual and glamour manner. It is not a substitution. It is an addition to express that extra bit of Yin present in your being.
IMPORTANT: this post is primarily based on the original book of "David Kibbe's Metamorphosis" published in 1987. Visit David's website here.
You can also take this body type test and find out if your body shape is hourglass, pear, apple, rectangle, or inverted triangle.
Kibbe Soft Dramatic Type Celebrities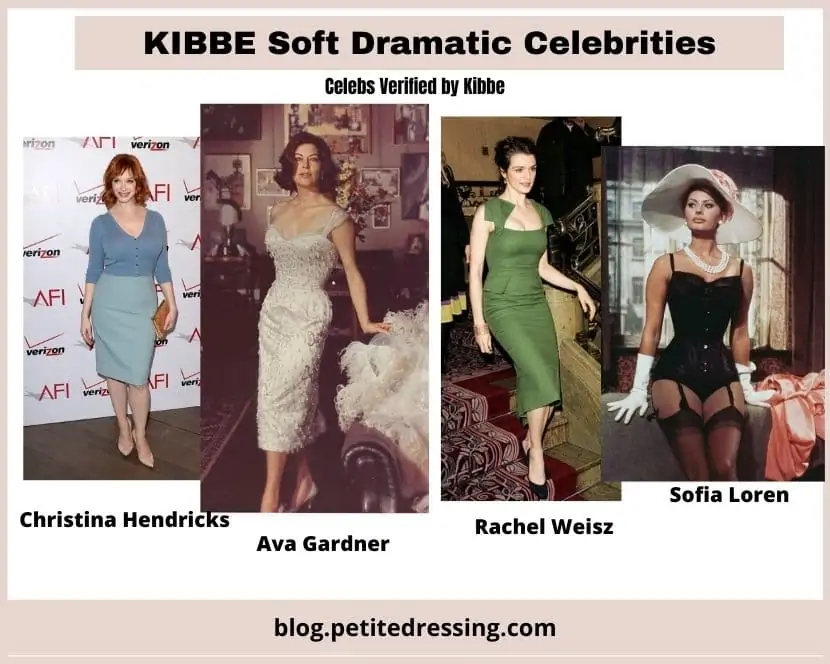 Kibbe's prime Soft Dramatic celebrity- Sophia Loren.
These are the celebrities with dramatic Kibbe body type either mentioned in the Kibbe body type book or verified by Kibbe himself later on.
Sophia Loren
Anne Bancroft
Maria Callas
Raquel Welch
Ava Gardner
Barbra Streisand
Anita Morris
Jacqueline de Ribes
Diahann Carroll
Marlene Dietrich
Connie Sellecca
Christina Hendricks
Rita Hayworth
How to Dress Kibbe Soft Dramatic Type
Your Styling Strategy
To express your bold Yang/extra Yin total essence, we want to develop an appearance that could best be described as Diva Chic.
Your silhouette is bold and sweeping composed of strong geometric outlines that are softened by narrowly draped and flowing lines. Your accessories and detail are oversized and ultraornate. Shoulders should always be strong and broad, and there should be an emphasis on a strong vertical line, head-to-toe.
A "T" silhouette is your most successful basic statement.
You are not the type for delicacy. Femininity on you is best expressed by the theatrical woman; sensual and ripely glamorous, executed with bold, innovative flair!
Likewise, your accessories, hair, and makeup must all provide the lavish edge your Yin/Yang balance requires to be completely fulfilled.
Hair and makeup must also fall in line with your accessories, both requiring a very polished and sophisticated look.

This is the best way for the world to see your arresting combination of strength, power, passion, and magnetic charm. The key to clearly expressing your total essence in your appearance is by focusing on your strength (Dramatic Yang) as your foundation, and adding your feminine magnetism (Romantic Yin) as an afterthought that is more like the icing on your cake! Both sides, in the proper order, are vital for us to appreciate your truly unique nature.

Without the visual expression of your bold Yang as the basis of your look (strong outlines, geometry, and creative flair), your feminine side will seem silly and superficial-to the point of "ditzy"! Also, physically, you'll appear oversized and awkward if we leave out the bold sweep and flamboyance of your clothing.
On the other hand, without the extra touches of the lavish, the ornate, the soft and the polished (which is your extra Yin), your artistry, charm, and radiance will be overwhelmed with starkness. This result will rob you totally of the magnetic pull that is so attractive and appealing. Physically, removing the softness and the glamour leaves your body type looking lumpy, while your lovely face with its full features becomes blowsy. Your diva-esque essence is awe-inspiring, thrilling and deeply inspirational to everyone lucky enough to come into contact with you.
Shape
Bold geometrics with soft edges. Oversized ornate shapes.
Avoid: Sharp-edged geometrics. Small, delicate shapes. Symmetrical shapes.

Line and Silhouette
"T" silhouette: broad shoulders with an elongated vertical that is draped. Bold, sweeping lines. Draped, flowing lines.
Avoid: Stiffly tailored lines. Broken, staccato lines. Overly fitted, fussy silhouettes. Wide, shapeless silhouettes.
Fabric
An important addition to this outline is your use of lightweight fabrics. Heavyweights will be stiff and unbending on you, and when they are executed in the shapes you wear, they will completely overwhelm you and seem quite graceless.
On the other hand, draped jerseys, silks, challis, crepes, etc., will provide the softening that your secondary Yin streak demands. They also add a sensual touch to your appearance that provides subtle elegance. The draping is essential to expressing your inner qualities as well as complementing your body type. It is a must!
Do: Lightweight fabrics that drape easily and flow gracefully (silks, crepe, challis, handkerchief linen, jersey). Soft and plush textures with a deep pile. Shiny fabrics.
Don't: Heavy fabrics that create a stiff shape. Rough textures.
Detail
Detail should always be flamboyant, lavish, and oversized. Simplicity, understatement, and uncluttered edges are not terms that are applicable to you! While they are positive additions to someone else, on you they read dull, boring, dowdy, and extremely unsophisticated. Your elegance comes from a vivid expression of your extraordinary charisma and passion.
Necklines are extreme-the lows are plunging, the highs rise majestically. Cowls are superdraped, pleats are deep and soft, and slits are definitely noticeable! Also, any trim such as bows, ruffles, lace, or sparkly appliques should be dramatic, oversized, and enormously voluptuous.
Lapels are over-sized and soft.
Bold, oversized, and ornate. Broad shoulders (pads with soft edges are best). Soft, draped necklines (may be high or plunging). Lavish trim (beading, applique, oversized bows and jabots, deep and soft pleats of folds, etc.)

Avoid: Small, delicate detail. Sharp, severe, or crisp detail. Minimal, simple, or plain detail. Symmetrical detail.
Separates
Your separates should artfully blend lush textures, rich colors, and luxurious prints, so your elongated line will not be disrupted. You are always striving for a head-to-toe "ensemble" effect, never a mix-and-match look!
Jackets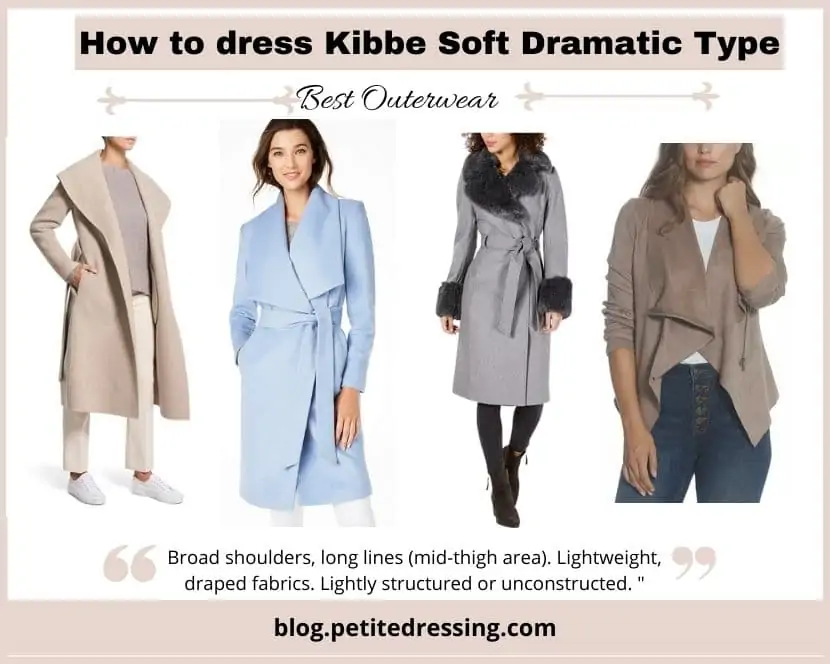 Broad shoulders, long lines (mid-thigh area). Lightweight, draped fabrics. Lightly structured or unconstructed. Soft draped detail (lapels, pockets, etc.)
Avoid: Stiffly tailored jackets with sharp edges. Traditional blazer jackets. Short, cropped jackets. Delicate, fitted, or fussy jackets.
Skirts
Skirts should be straight, long (mid calf) and draped. Short skirts (knee length) may be paired with a long jacket, sweater or top. Detail should be elongated (shirring, soft folds and slits).
Avoid: Full skirts except on certain dresses (see dress category). Wide, unconstructed skirts. A-lines and sharp pleats. Overly fussy and fitted skirts with delicate detail (gathers, tucks, etc.; plackets, etc.)
Pants

Pants should be straight, long, and draped. Detail should be soft and elongated (deep pleats, shirring, softly draped cuffs, pockets, etc.)
Avoid: stiffly tailored pants. Wide, unconstructed or baggy shapes. Overly delicate detail (pegged legs, fussy gathers, small trim, etc.)
Blouses
Blouses should be soft and draped with broad shoulders and draped necklines and sleeves. Detail should be elongated and soft. Ornate detail should be very oversized and lush (large bows, or jabots, sheer lacy trim or sparkly applique). Fabrics should be lightweight, very soft, or very shiny.
Avoid: Sharply tailored blouses. Plain blouses. Delicate, fussy blouses. Wide, unconstructed or shapeless blouses.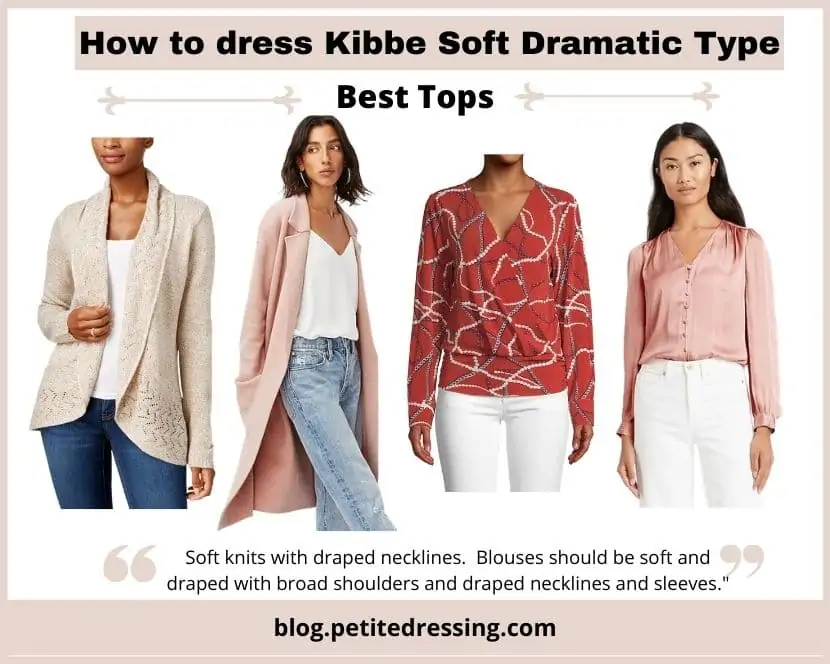 Sweaters
Soft and clingy knits with draped necklines. Plush knits. Draped knits. Broad shoulders and an elongated waist. Oversized patterns or trim, especially ornate or sparkly.
Avoid:
Rough and heavy knits. Skinny, ribbed knits. Short styles, including crewnecked, shetlands, cardigans, and cropped sweaters. Wide, unconstructed styles. Overly delicate, fussy trim. Overly fitted styles.

Dresses
Dresses should be elongated and draped, with broad shoulders. Detail should be oversized and ornate (shirring, trim, etc.). A dropped waist is best on dresses, but an exaggerated waist is also effective when combined with very broad shoulders and a full, sweeping skirt. Narrow, clingy shapes are basic.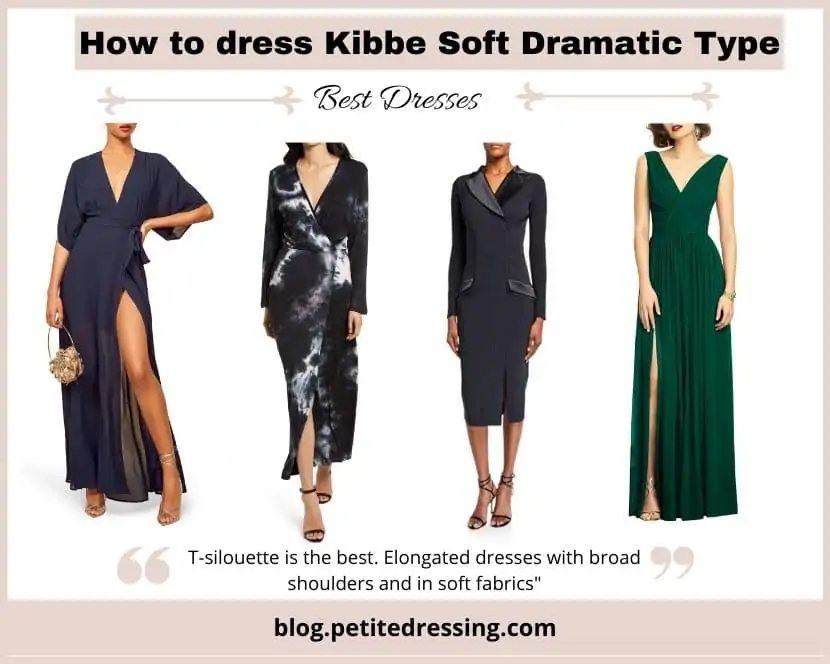 Avoid:
Sharply tailored dresses. Shapeless, unconstructed, or wide styles. Flouncy styles with delicate or fussy detail. Overly fitted and nipped styles.
Color

Your use of color should always be bold and dramatic, never dull. You shine in original color combinations that emphasize bright/dark mixtures. Pastels can be extremely elegant if your execute them in head-to-toe sweeps. Monochromatic schemes will generally require some vivid accenting in the accessory department. Strive for a very polished, ensemble approach to your use of a palette.
Avoid: Multicolor splashes and mix 'n match approach.
Prints: Bold, wild, and ornate shapes. Splashy watercolors. Oversized and abstract florals. Animal prints. Irregular shapes with soft or rounded edges.
Avoid: Sharp geometrics. Small, symmetrical prints. Delicate, fussy prints. Animated, "cute" prints.
Accessories
Shoes:
Tailored and angular with tapered toe and heel. High, narrow heels are best. Bare styles also excellent.
Avoid: Chunky styles. Overly delicate styles with excess trim.
Bags:
Softly rounded shapes in over-sized styles. Exquisite leather or fabric. Very slim briefcases. Ultraornate evening styles.
Avoid: Plain, symmetrical bags and small, delicate styles.
Belts:
Should be bold and wide, of supple leather or special fabric, with large and ornate buckles.
Hats:
Should always be theatrical and glamorous, emphasizing rounded shapes and ornate trim. Should be large and oversized.
Hoisery:
Keep you stockings ultra-sheer. Your strong vertical line is best emphasized by blending with both your hemline and your shoe. Always blend with the shoe. Very lacy or ornate textures are wonderful for evening.
Jewlery:
Jewelry is absolutely your best friend! Here again, the emphasis goes to the bold, the oversized, and the ornate. Anything that sparkles, gleams, or shines works wonders for you!
That could be as simple as an oversized chunk of elegant metal or a brightly colored glass as an earring for a conservative daytime outfit-or, for evening fun, something as glamorous as an enormous color of faux jewels that drips with dazzle all across your breastbone. Basic shapes are large and chunky geometrics, with ornate workmanship, lavish execution, and added sparkle for pizzazz.
A word of caution in the jewelry department: This is another area where "tone-down" wont work in your favor! Even in the most conservative office environment imaginable, you've got to suggest a touch of glamour. Your Image Identity is so boldly expressed that you'll lose your sophistication without doing so. Without the proper accessories, you run the risk of looking as if you're wearing your older sister's clothing, without quite knowing how to pull it together!
Should always be large, bold and ornate. Bold geometric shapes with soft edges. Oversized, ornate shapes. All sparkly, glittery, and shiny finishes are excellent. Wild costume jewelry that is obviously faux.
Avoid:
Sharp geometrics. Simple, symmetrical pieces. Delicate, antique pieces. Rough, chunky pieces. A "no jewelry" look.
Evening Wear
Clingy shapes. Shoulder emphasis. Cleavage emphasis. Soft, draped fabric. Glitzy fabric. Ornate and oversized trim.
Draped gowns
Form-fitting gowns with shoulder emphasis and cleavage
Shirred cocktail dresses with big shoulders
Oversized dinner suits with elaborate trim.
Makeup for Kibbe Soft Dramatic Type
Makeup should emphasize strong eyes and cheeks, and luscious lips. Bold color choices give drama, while a watercolor blend of no sharp angles is the correct style.
Should be lavish and ornate, even for daytime. A very polished face is part of your everyday look. In the evening, pour on the glitz! Bold eyes, with a touch of bright color. Full, vivid lips and strong cheeks.
Avoid smoky colors, neutrals, and minimal makeup. They don't add enough polish to effectively complete your head-to-toe look. Instead of being subdued and elegant, they just look tired and ineffectual.
Hair for Kibbe Soft Dramatic Type
Hair Style
Hair should be well-cared for, in a flamboyant coiffure or superstylized cut. A geometic outline is best, although it will require an elaborate set and a cloud of teasing within the shape for fullness and soft drama. Asymmetrical cuts can also work as long as there are no severe edges. The angles need softening with waves, which make perms and processing very effective on you, if necessary.
Should always be lavish and full-looking. Elaborate coiffures and fantasy styles work well. The shape should be bold (either geometric or asymmetric), but softened with curls, waves, or partial layering.
Hair must always look sophisticated and well cared for, but should also be soft and sensual, not stiff. Teasing, setting, waving, and perms are all possible choices for you.
Avoid: Sharp geometric cuts. Symmetrical, blunt-edge styles. "Wash 'n wear" styles that are unfinished-looking. Overly delicate or wispy styles.
Hair Color
Should be rich, bold, and vivid. If you choose an artificial color, it should be strong and dramatic-blue-black, fiery red, platinum, or bright yellow-blond.
Highlighting should be dramatically streaked. If your hair grays in a theatrical fashion, you can emphasize it through directing the streaks in bold sweeps. The richer your haircolor looks, the better.
Avoid: Subtle highlights or delicate lightening of the hair.