If you have an apple body shape, finding the right skirts is critical. Being 5'2″ and having a short apple shaped body myself, I know from first hand skirts can make a huge difference in how we look.
Even though I am overall thin, I do carry weight in my midsection (a typical apple feature). Therefore, it is critical to find the right skirt style that can conceal our muffin top (our weakness) and shift focus to our slender legs and full bust (our best assets).
Below is a comprehensive skirt guide for women with the apple shape with 7 best skirt styles and 5 skirt types you should stay away from or use caution.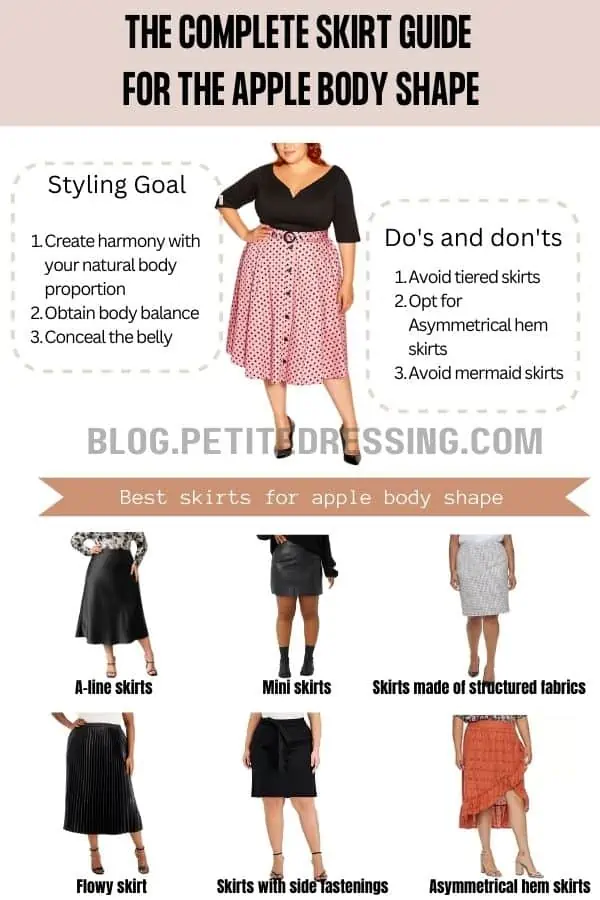 A-line skirts
One very beautiful skirt that skims over your figure without clinging to it is the A-line skirt. If you have an apple shape then the A-line skirt is designed for your figure.
The skirt helps in offering you a defined waistline before flaring out over your lower half to give the eyes an illusion of curves. This way, the concerned area is given less focus, and attention is drawn easily to your slimmer legs.
An A-line skirt is structured to flatter the apple shape and give a unique structure to your feminine figure that would help you appreciate your general look. This skirt is known for lengthening the legs and that is a styling goal you should look out for.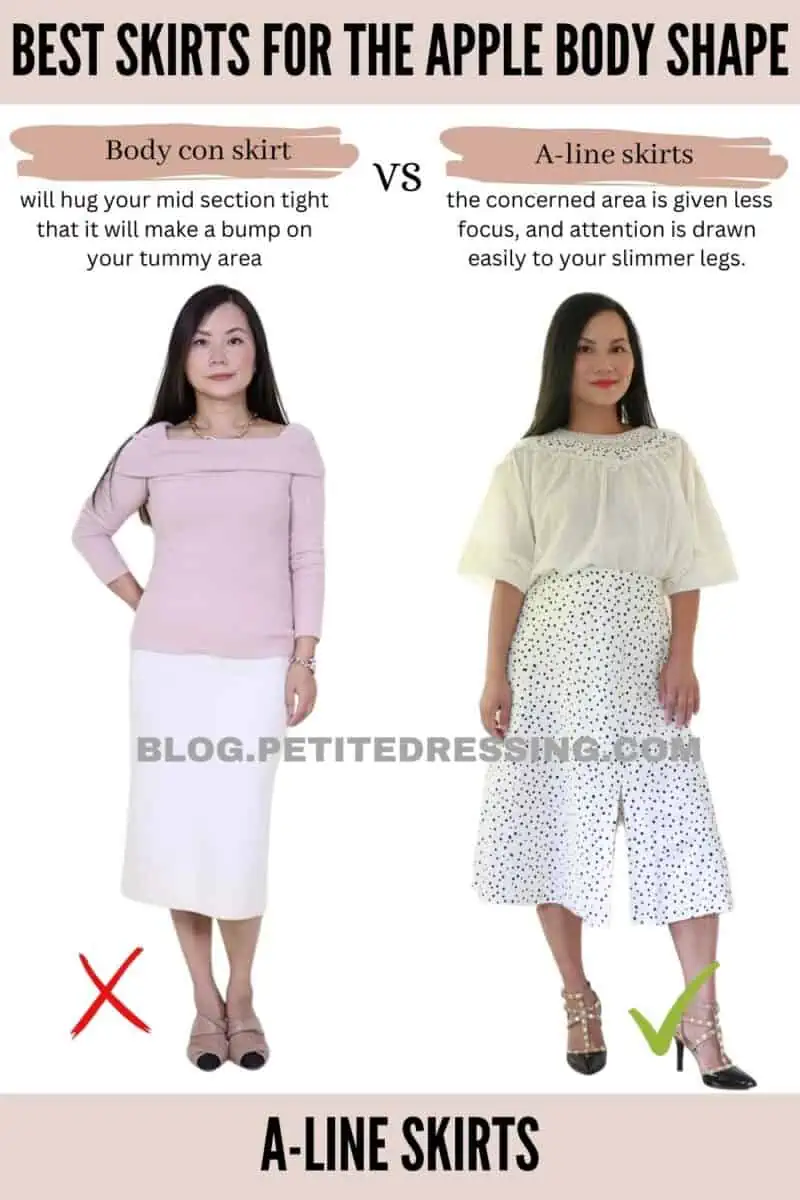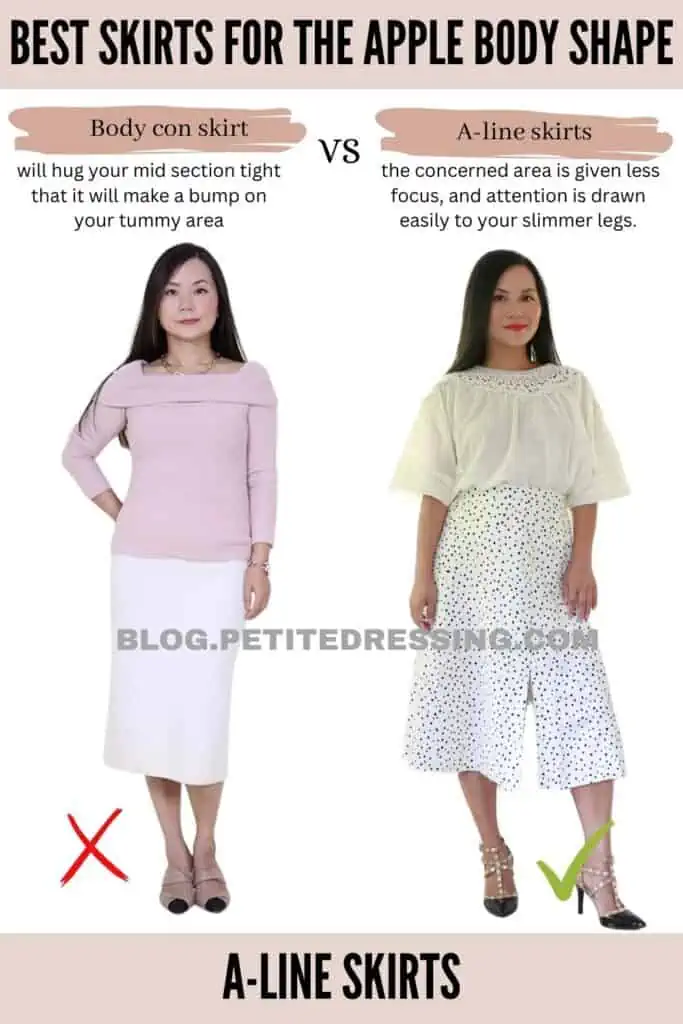 Mini skirts
There is literally everything great about the mini skirts and if you have an apple shape then stick closely to a mini skirt. This is especially recommended for your figure because they have an amazing aesthetic that you should embrace.
This way you would easily make the concerned area in your figure less noticeable because more focus is given to your legs. Mini skirts are definitely the most flattering skirt design that the apple shape should confidently own and rock in summer.
You have slim legs that never add weight and remain part of your best assets and that is why a mini would definitely work wonders on them. Aside from adding a figure-lengthening effect on the apple shape, a mini skirt would show off your legs and cause a major distraction for the eyes.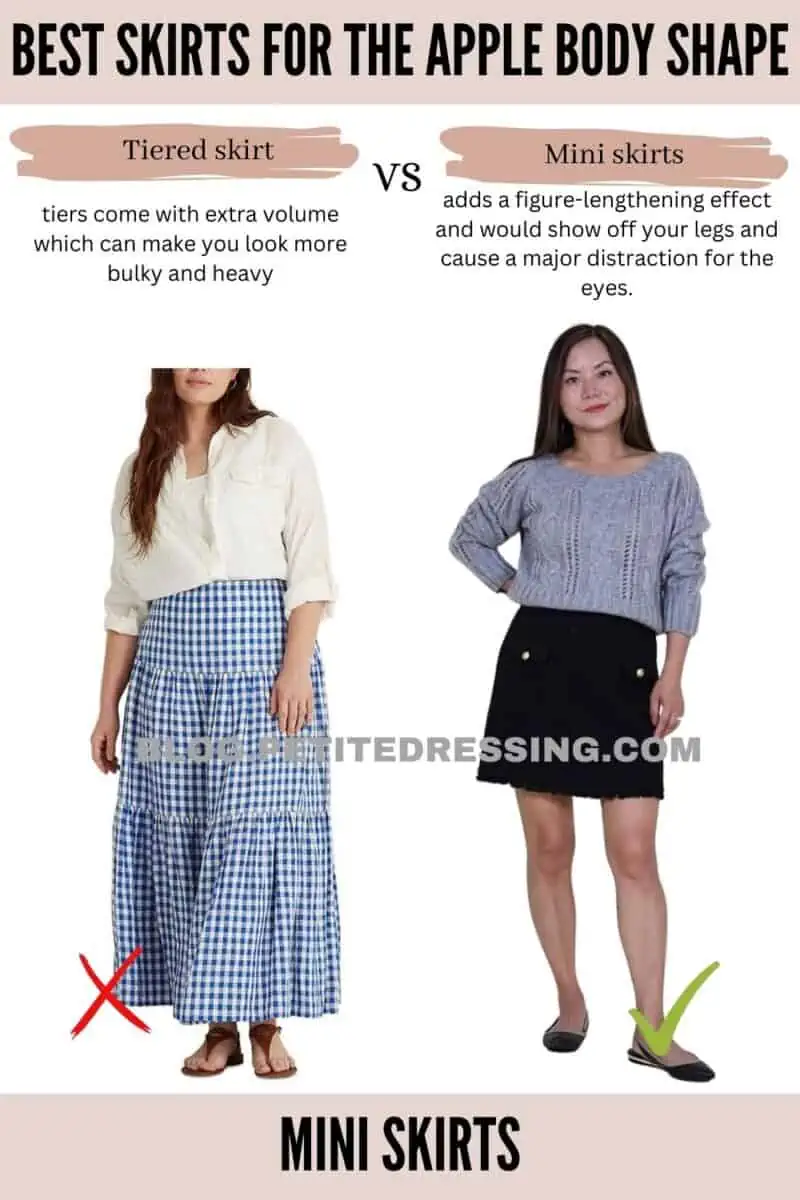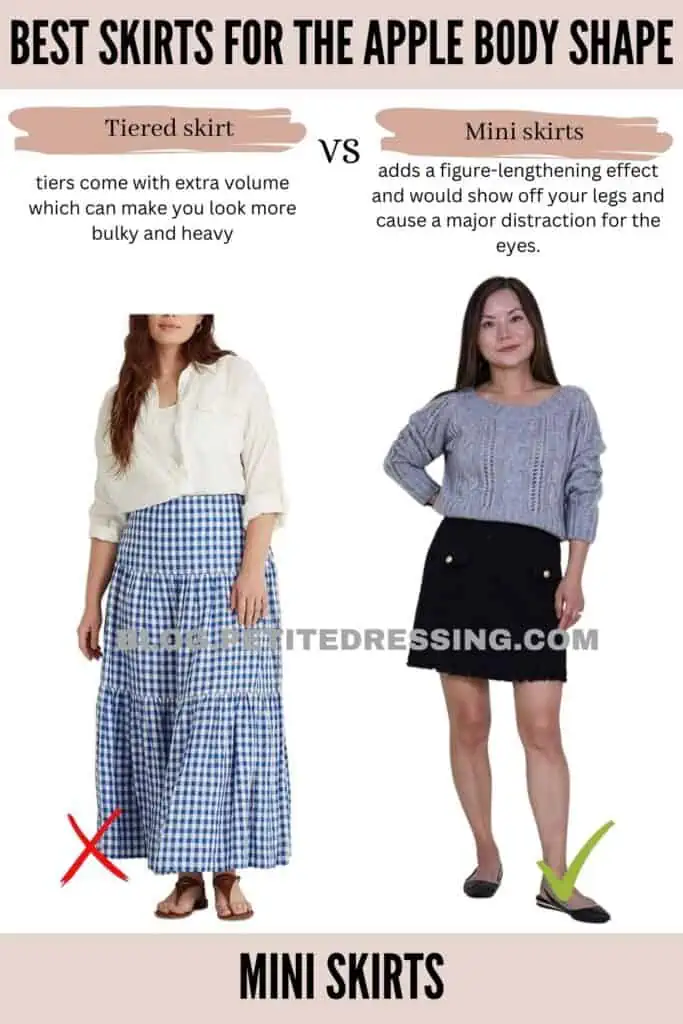 Skirts made of structured fabrics
If you have an apple shape the fabrics you use in making your skirts should be given a lot of attention because that is also a great way to appear fashionable. Structured fabrics are designed to not allow you to lose your natural shape but keep you whole and intact.
Skirts made of structured fabrics do not cling tightly to your body shape and help to properly conceal your concerned area. These skirt designs offer the apple shape a perfect fit is unique.
A balanced silhouette can easily be achieved when you style your apple shape with skirts made of structured fabrics.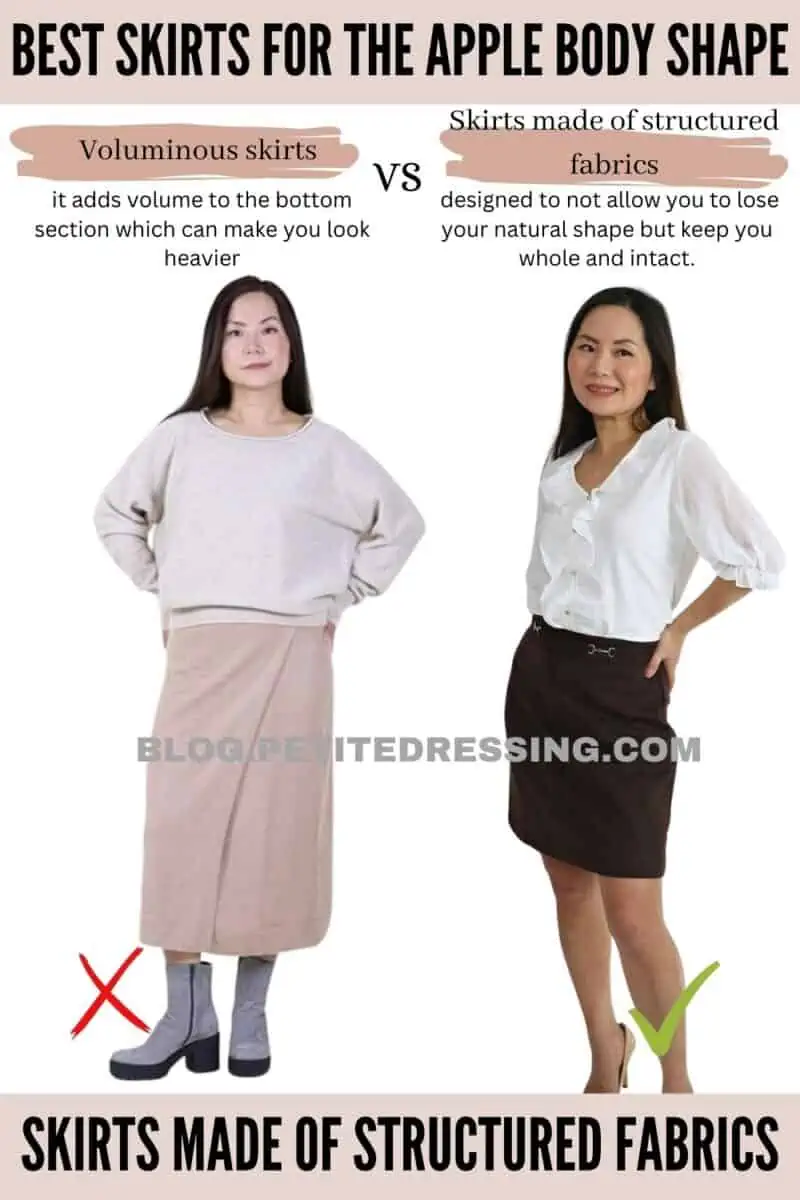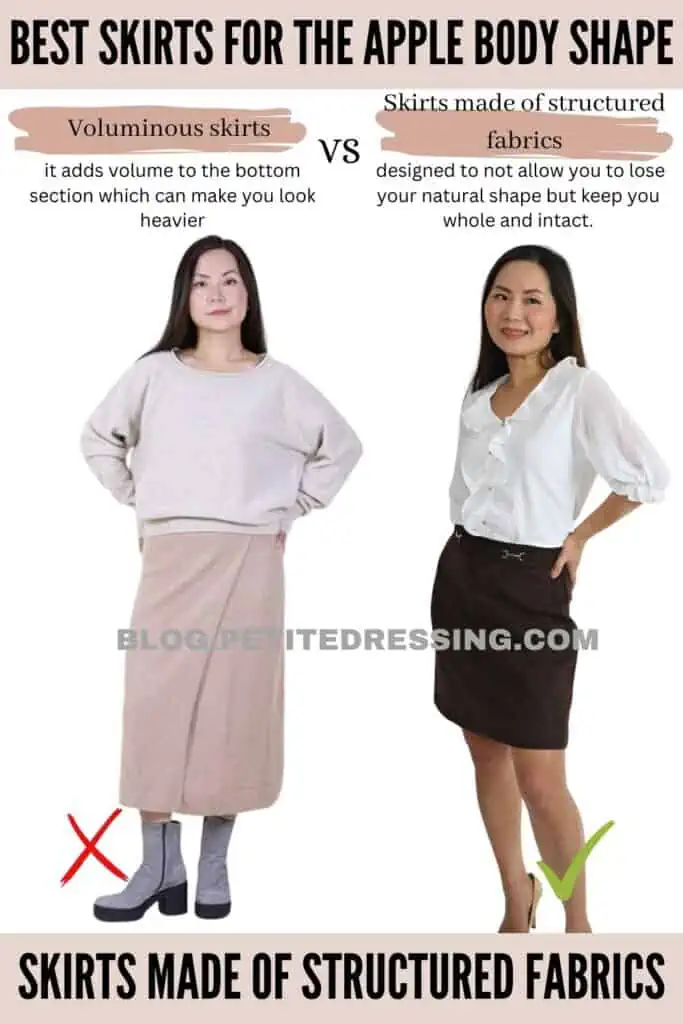 Flowy skirt
Flowy skirts are designs that should make up your wardrobe essential if you have an apple shape because they can help to properly structure your figure. They are simple and incredibly stylish skirt designs that work well with your apple shape without having to emphasize your concerned area.
They are also great for your apple shape because they don't emphasize the volume in your tummy. You should wear a flowy skirt because it offers the pear shape a loose fit that effortlessly helps to keep the eyes away from your lower half. Flowy skirts are unique and versatile designs that are recommended for your figure because they do not cling to the bottom.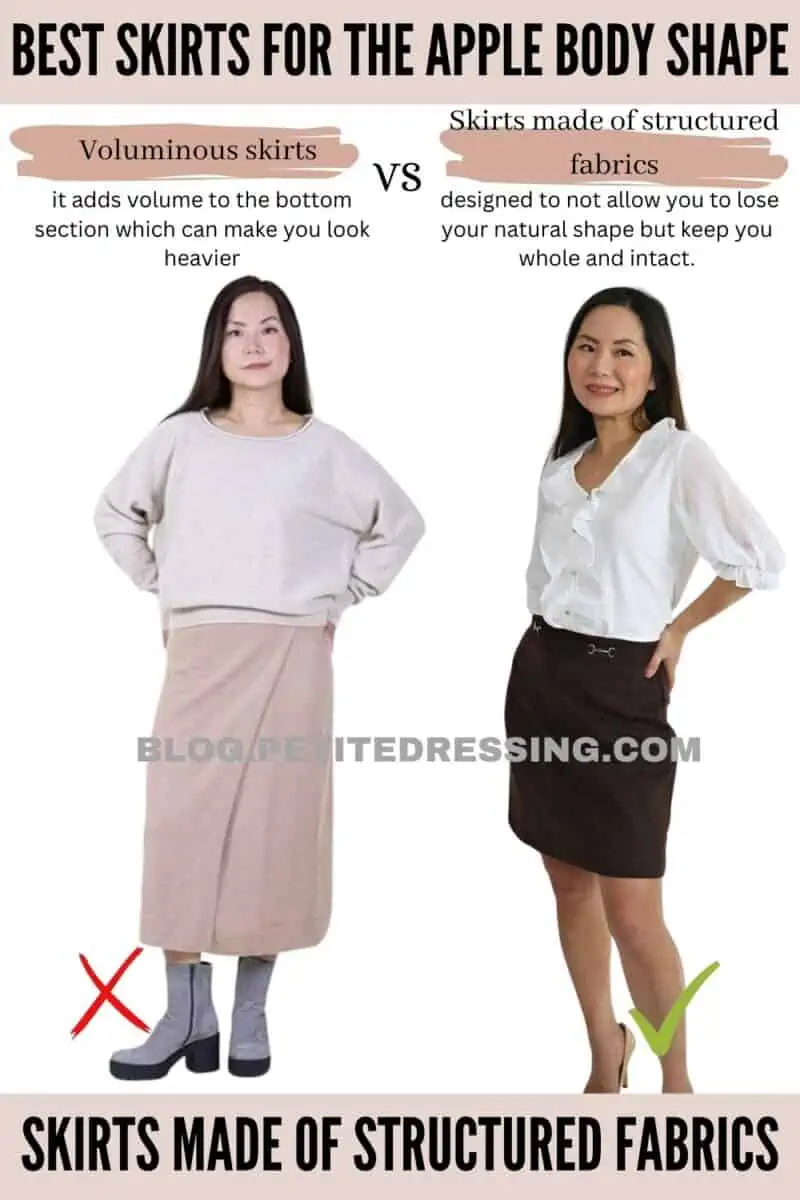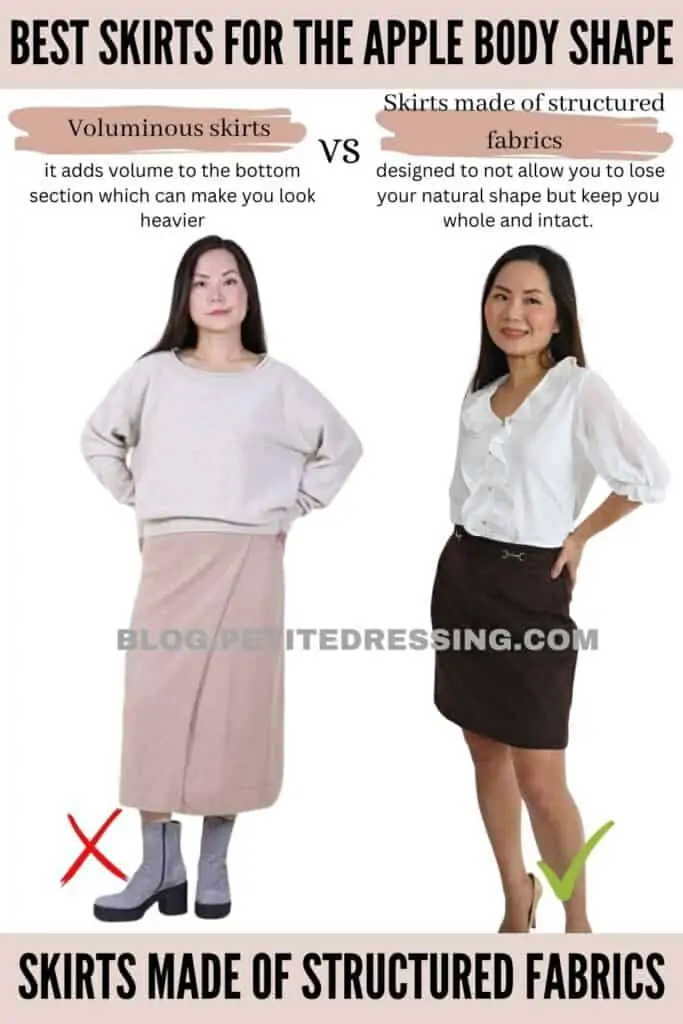 Skirts with wide waistbands
Waistbands are an amazing and effective detailing that the skirt for an apple shape should contain because they have a more friendly feel on the woman. The skirt is super great in minimizing the bulging tummy which is a concerned area.
Skirts with wide waistbands are stylish designs that are incredibly flattering on an apple shape. The skirt offers the woman a proper waist definition that could uplift her overall body frame.
You are encouraged to wear skirts with wide waistbands because they are super comfortable and are great in structuring the apple shape woman. Those designs with a thin waistband would easily make noticeable the bulging tummy and not compliment you as they should.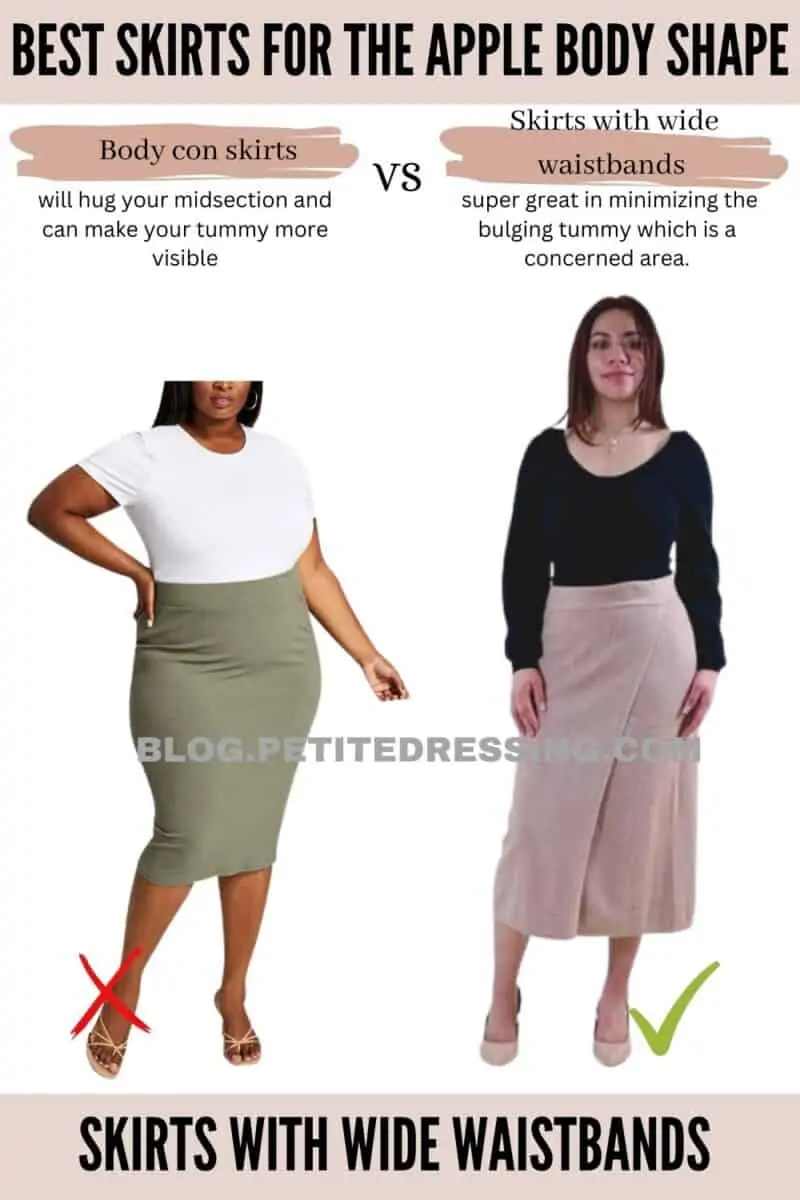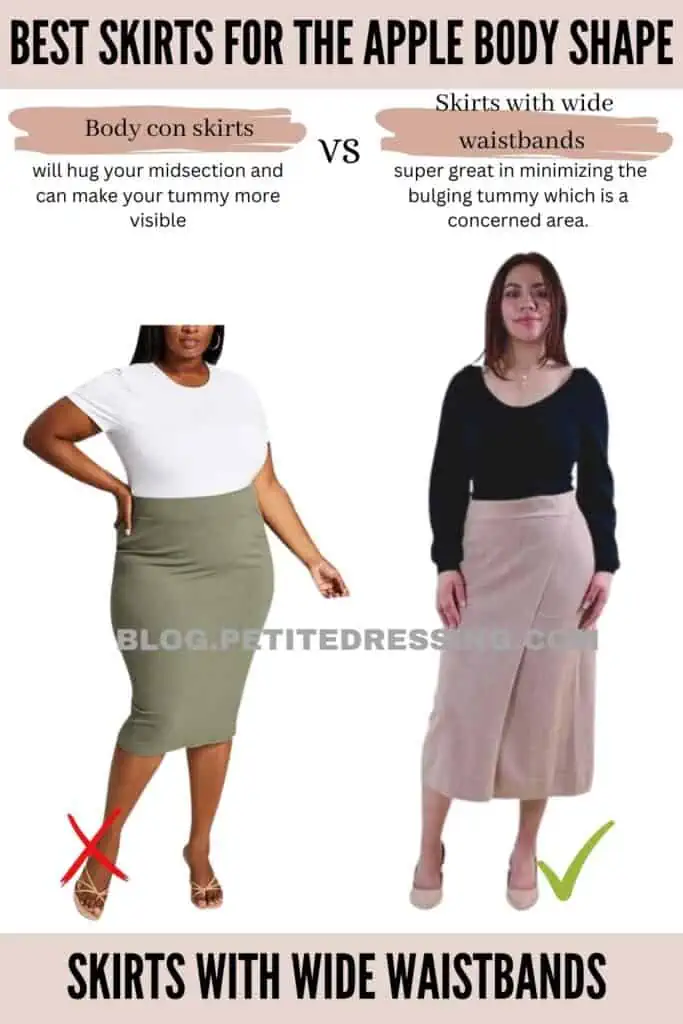 Asymmetrical hem skirts
The most special thing about this skirt is the slimming and lengthening effect it visually creates for most body shapes. An asymmetrical hem skirt is a perfect skirt design that aligns with the apple shape by not making more obvious the concerned area in the body frame more.
This skirt design is unique because it is magical in eliminating horizontal lines and rather replacing them with vertical lines that would easily highlight your precious legs.
Since your legs are part of your best assets the asymmetrical hem skirt would work well in complementing them.If you have an apple shape, the asymmetrical skirt is a must-have skirt design that should be amongst your favorite styles.
They are also versatile skirts for any occasion where you should embrace your apple shape.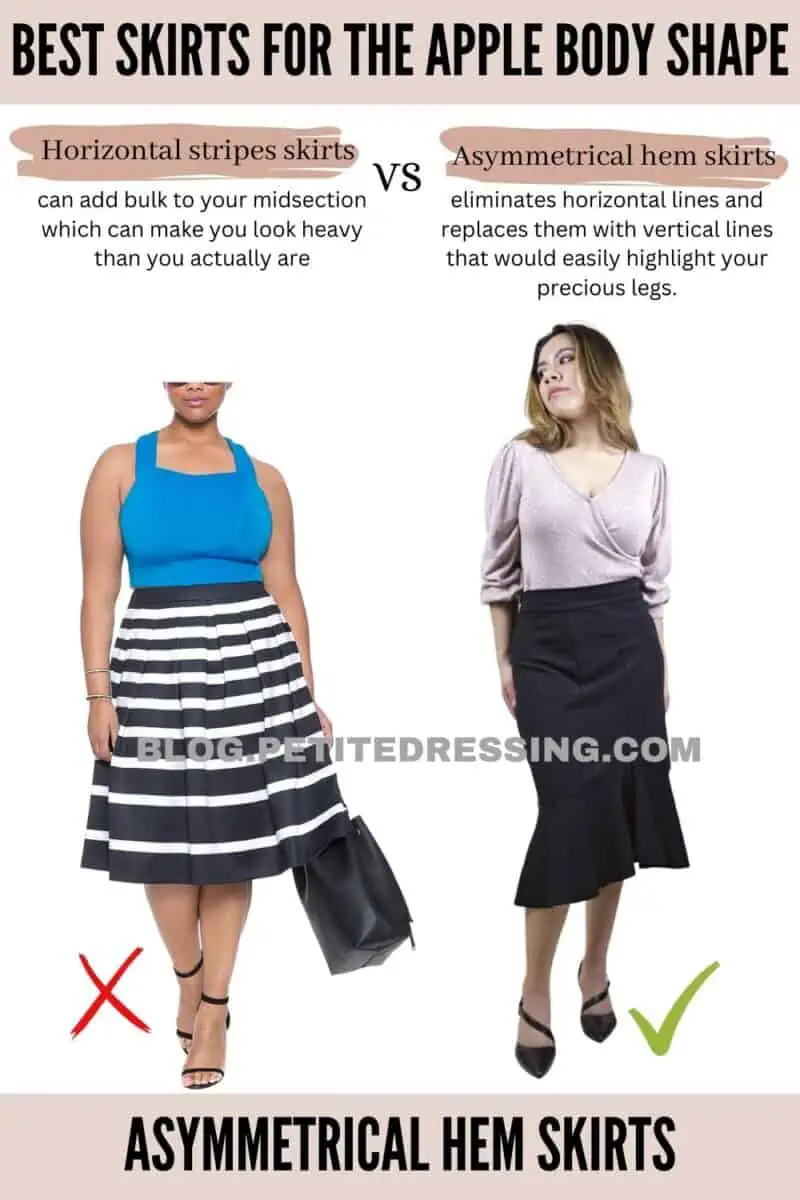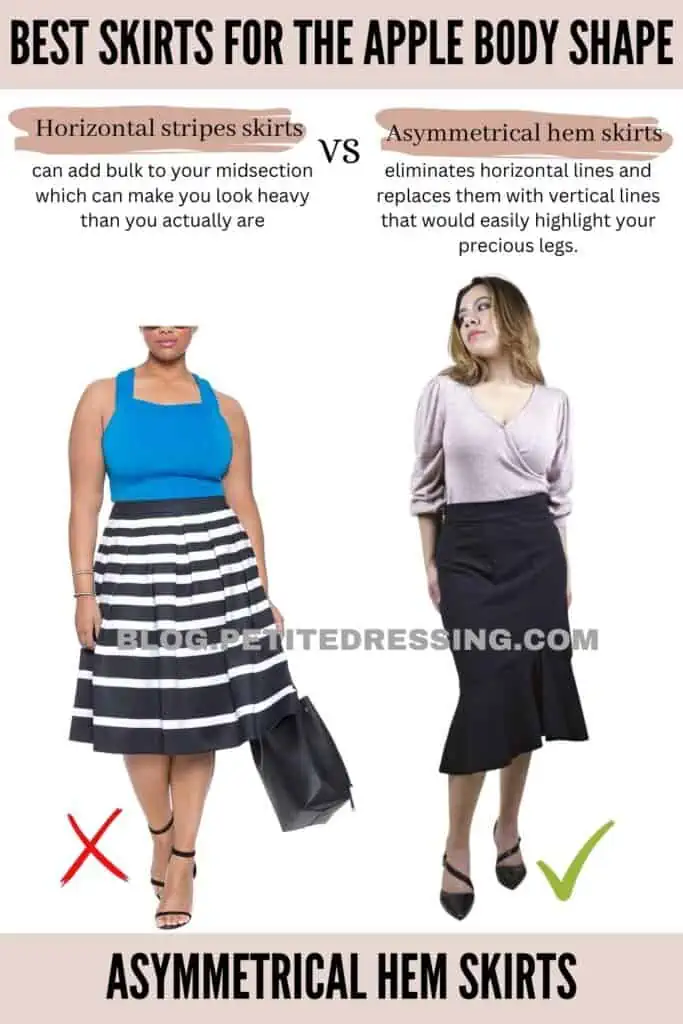 Skirts with side fastenings
When you wear a skirt that has a side fastening, you could effortlessly divert the attention of the peering eyes away from your concerned area. Skirts with side fastenings are easy to style because they do not add any extra volume to the bottom.
Side fastenings are special details that your skirt should contain as they would help you achieve a better structure in your overall figure. Since the detailing is at the side, the front of the skirt becomes flat-fronted and that is a great way to improve your look.
The flat front in the skirt would smoothen the bulging tummy so you won't appear like you have a muffin top. For this reason, make sure you stick to skirts that have side detailing and avoid those with front detailing if you have an apple shape.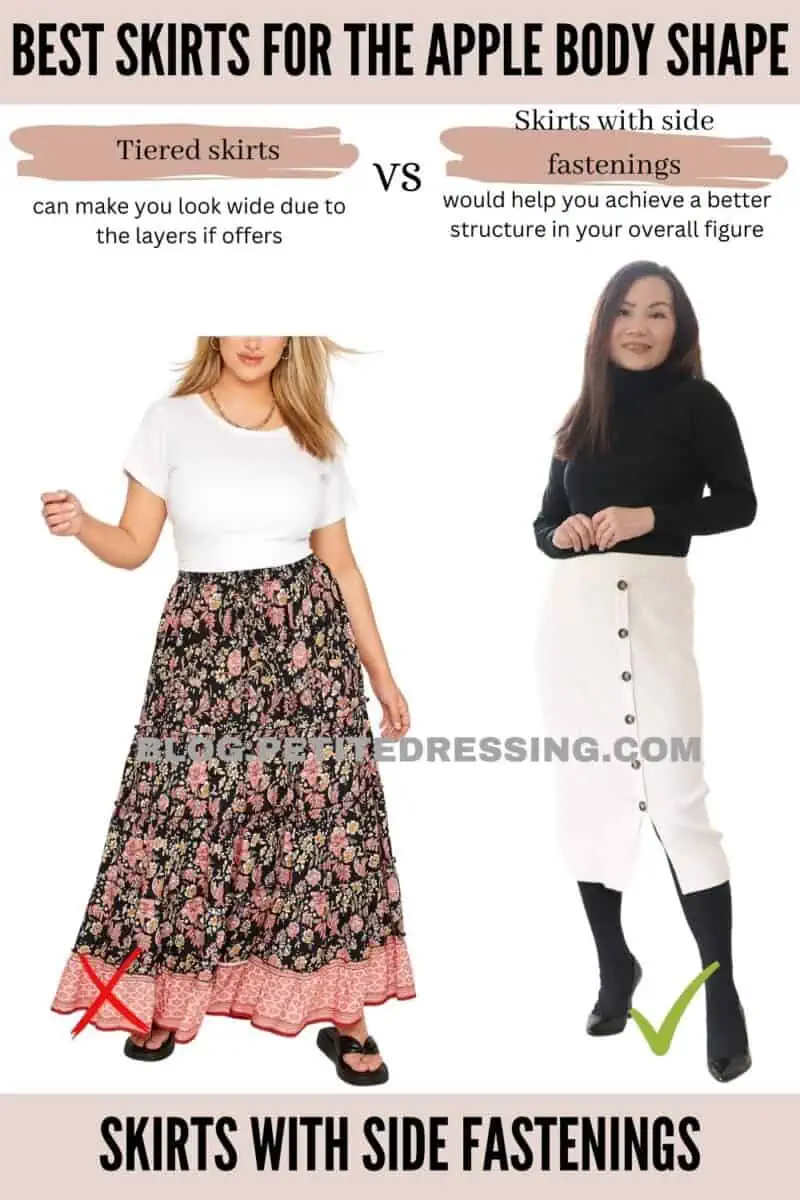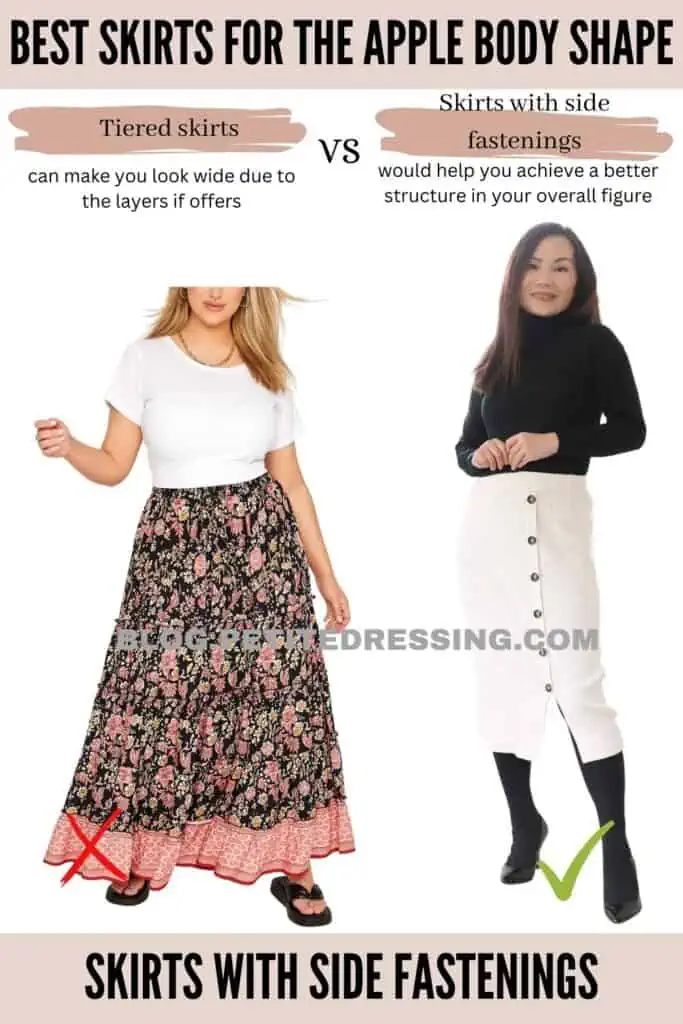 Avoid tiered skirts
Tiered skirts have excessive fabrics layered on each other and wearing them is not the best way to conceal your concerned area. Your lower half has one of the best assets of the apple shape that a tiered skirt would work against.
It is too voluminous for the apple shape and there is no reason for you to have them styled on your feminine figure. Wearing a tiered skirt is not the best way to add the right fashion statement to your figure so avoid them.
Balancing your upper and lower figure is necessary but a tiered skirt would only make them more visible in the concerned area because they are bulky. The skirt would hide your natural figure and make you appear heavier in your lower half.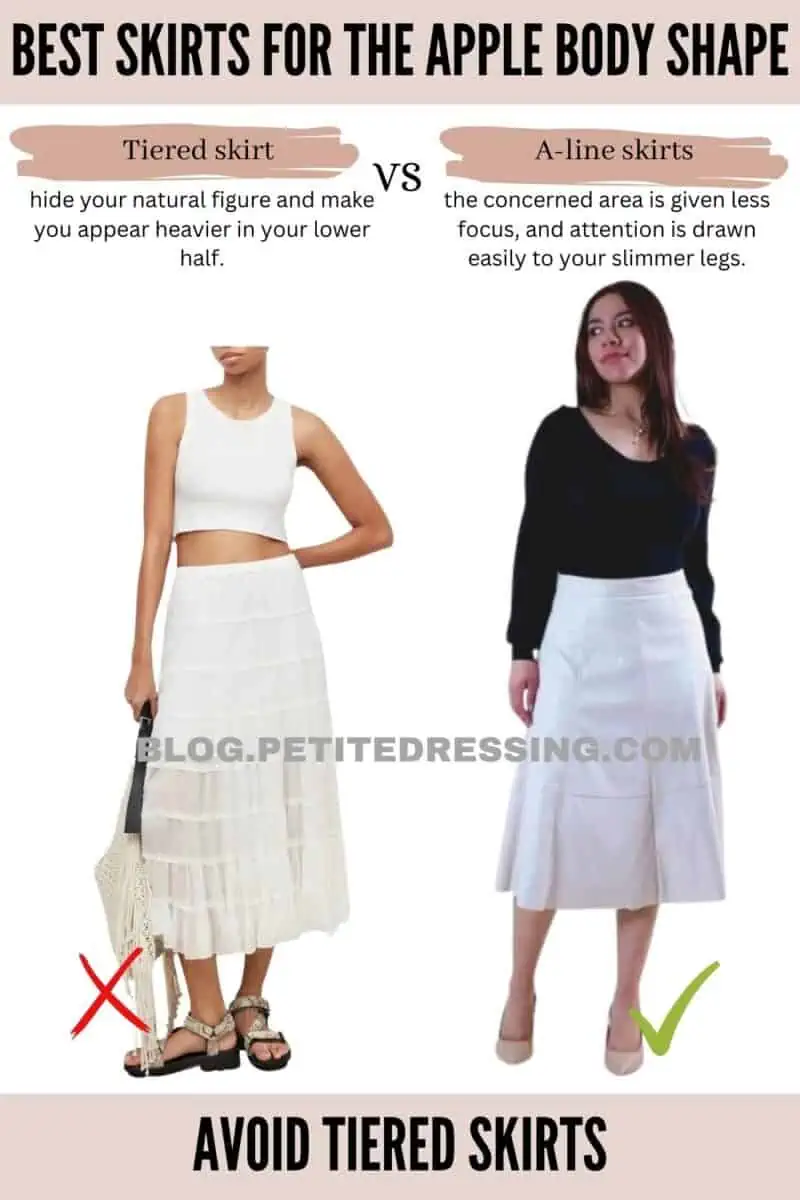 Avoid bodycon skirts
You should not wear anything that has a tight fit in your lower half because it would not flatter your figure. Bodycon skirts are not the most comfortable skirts that an apple shape should wear for any occasion.
It is a wrong choice of skirt that would draw focus to the lower part of the apple shape woman and this can cause a contradiction between both halves of the body. Bodycon skirts would not make you appear classy and sexy so do not find them pleasing for your body frame.
Bodycon skirts are not designed to improve the figure of the apple shape woman because they would not flatter you appropriately. The focus of the eyes is easily drawn to your concerned area with a bodycon skirt.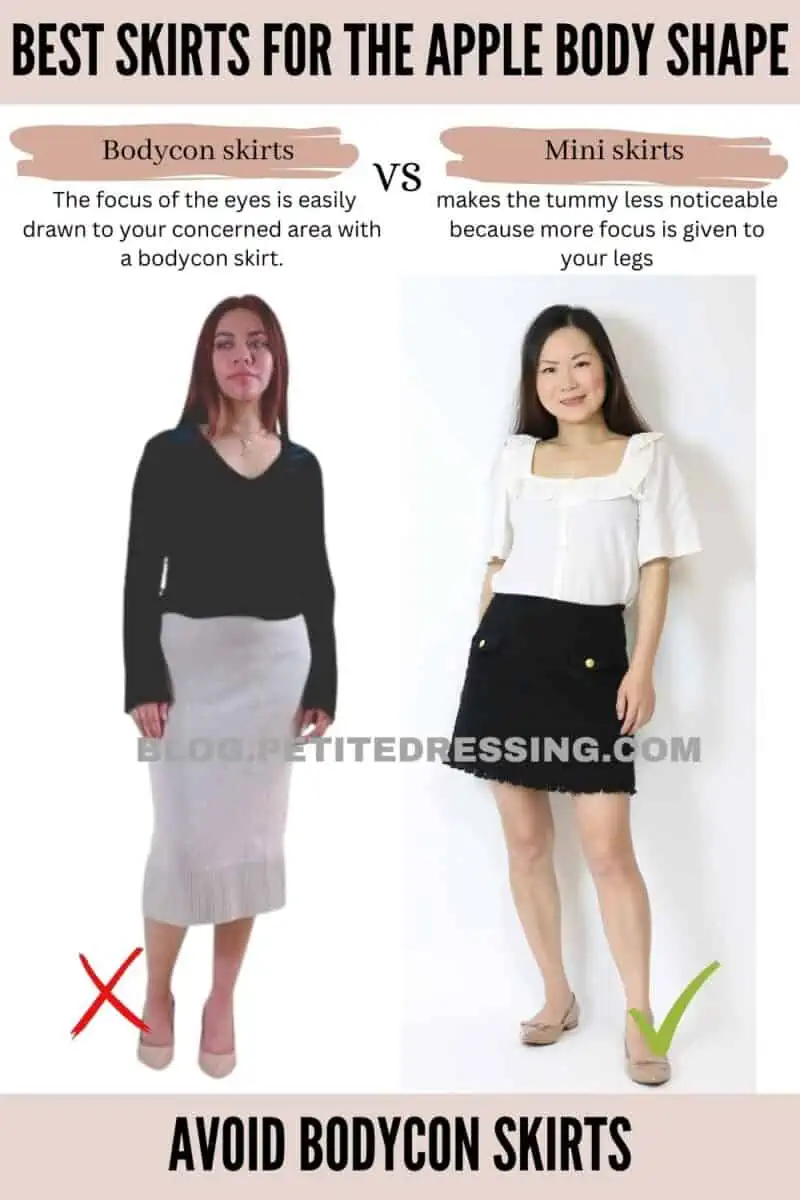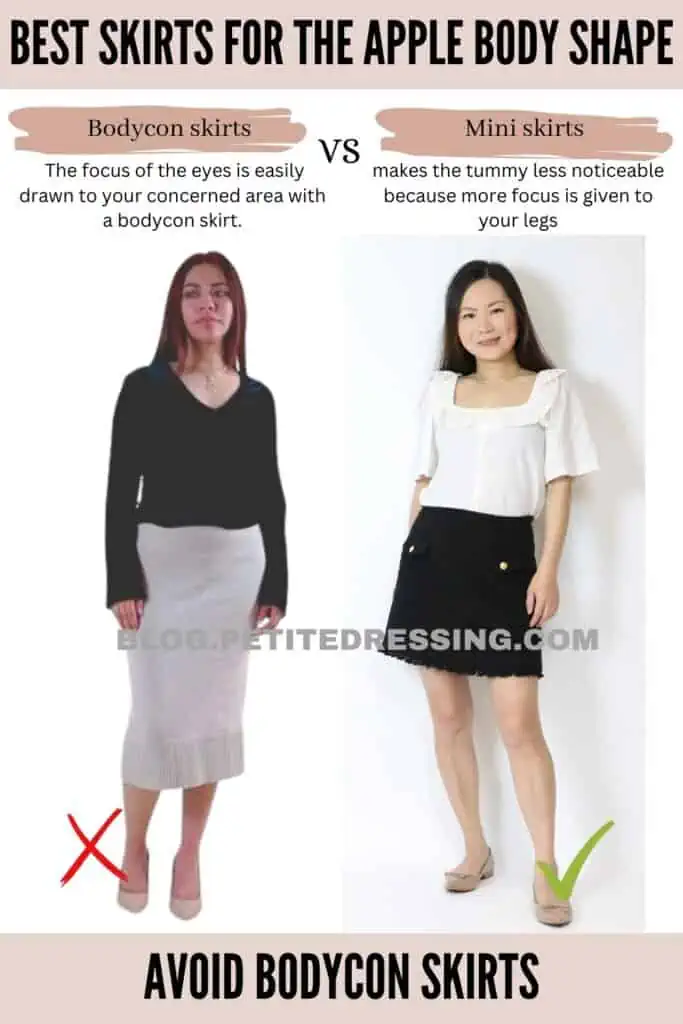 Avoid pencil skirts
Pencil skirts are not the best skirts for the apple shape because it has a structure that could further alter the natural shape of the woman. Pencil skirts are designed to be fitted around the waist and hips before tapering toward the knees.
They have no taste of class and elegance attached to them for your shape and since balance is a major part of your styling goal, you shouldn't invest in them. Pencil skirts wouldn't flatter your apple shape so don't try to make the best out of them because they won't complement your overall figure. When a woman with an apple shape wears a pencil skirt it makes the eyes notice that she is really small in her lower half. This effect is not a great one that should be attached to the best skirts for the apple shape and as such, it is best to not wear them.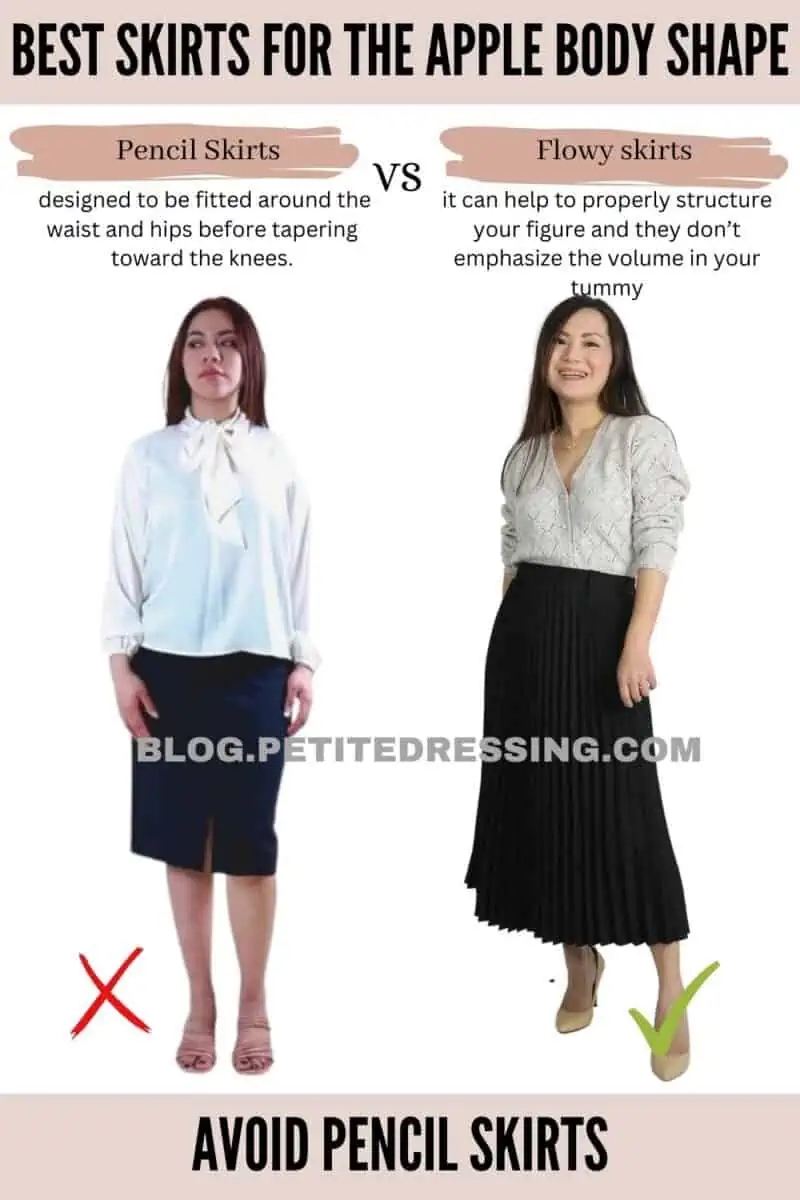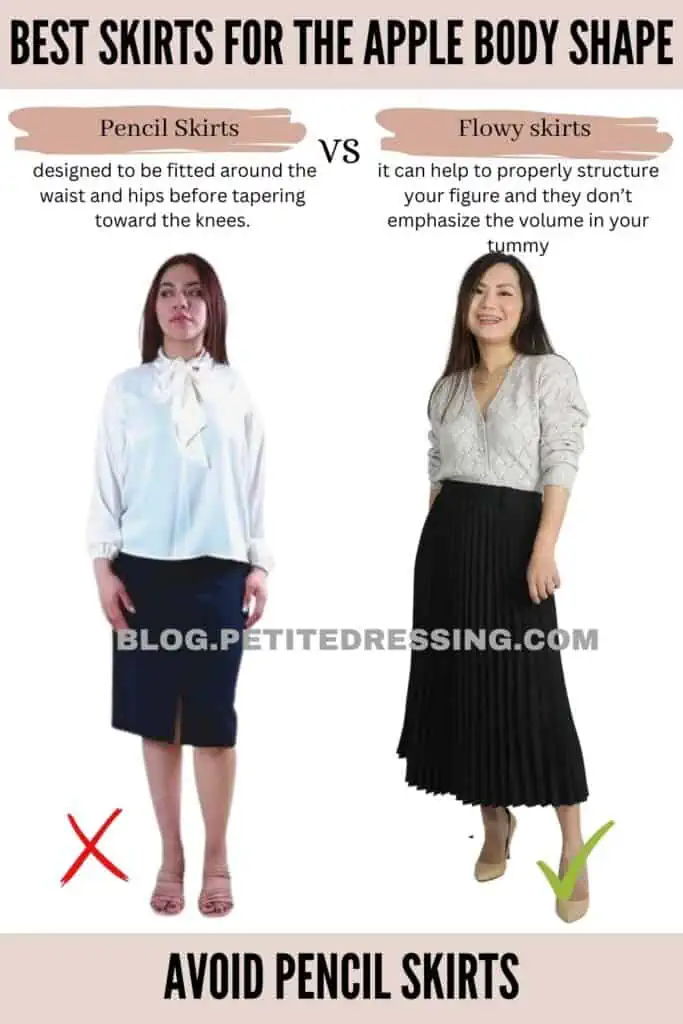 Avoid mermaid skirts
You should let go of a mermaid skirt if you have an apple shape because with them there is no way to hide your concerned area. The skirt is best if you have natural curves but since that is a feature absent in the apple shape, mermaid skirts would work against it.
Mermaid skirts are not the best skirt styles to complement your apple shape as they would make you become too conscious of your shape. There is no way to rightly uplift your feminine figure when you wear a mermaid skirt and it is therefore best that you avoid them.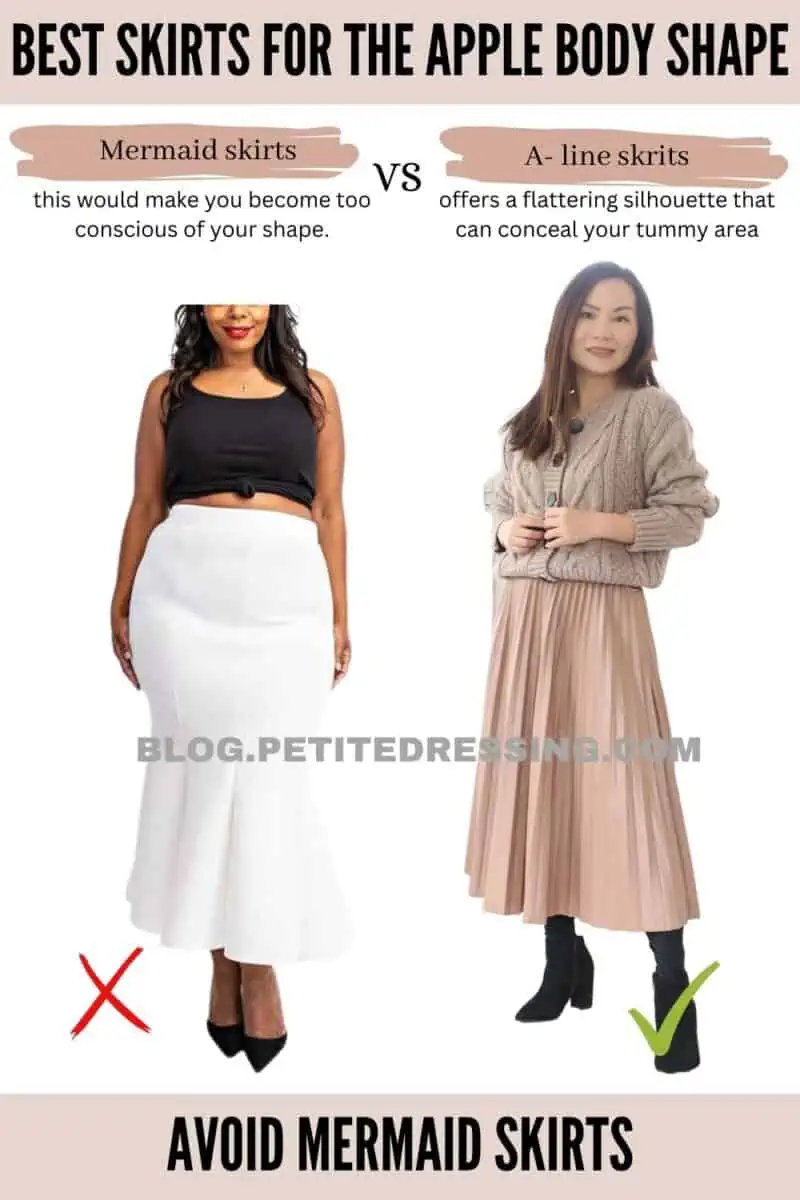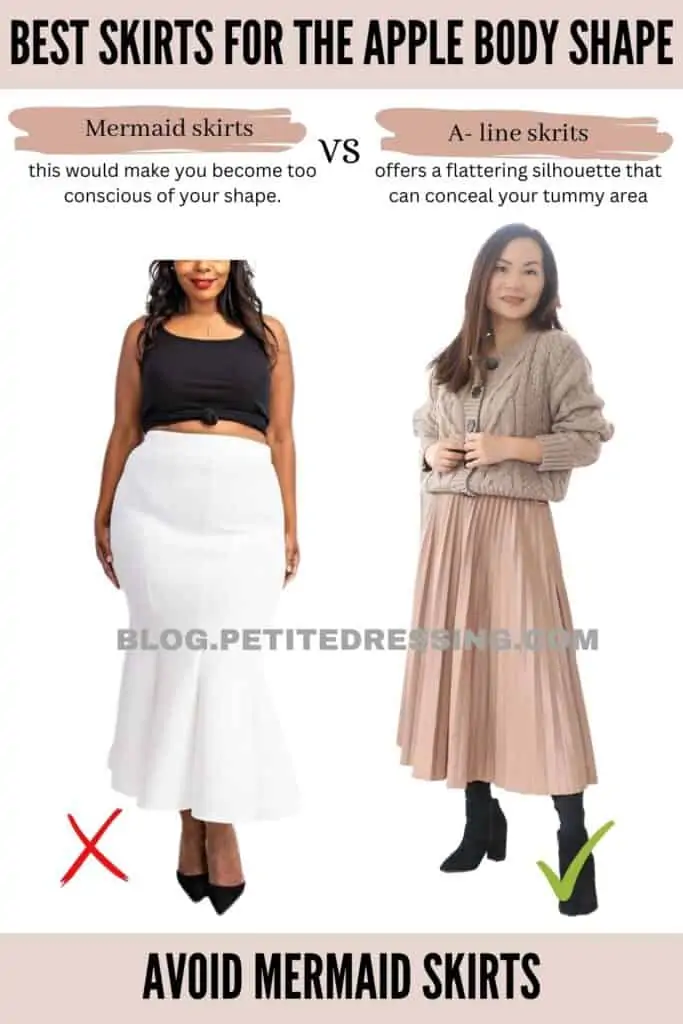 This skirt would not give you a unique structure as intended and as such do not purchase them for your apple shape. They could be a total turn-off for your figure because they can never define your unique body frame.
Avoid wearing bias-cut skirts
If you have an apple shape you should avoid a bias-cut skirt because they do not look amazing on your feminine figure. This type of skirt would only make visible your concerned area and distort the structure in your shape.
A bias-cut skirt can make the tummy appear bigger than normal so make sure you avoid wearing them.