There's no doubt that pants will always be a fashion staple for every woman. They are very versatile as you can style them in a lot of different ways and on many different occasions.
If you are a girl with short and thick legs, certain designs may seem a bit off for you. However, there are also a wide variety of options out there that can bring out the best of your body shape.
There are a few things to keep in mind in order to create a flattering and well-balanced visual frame when it comes to choosing a pair of pants for women with short and thick legs. The key is to choose styles that feature structures that elongate the legs and balance out the proportions of the body.
Ready to shop for a new set of pants to amp up your wardrobe? We're here to guide you out, as usual!
Styling Goal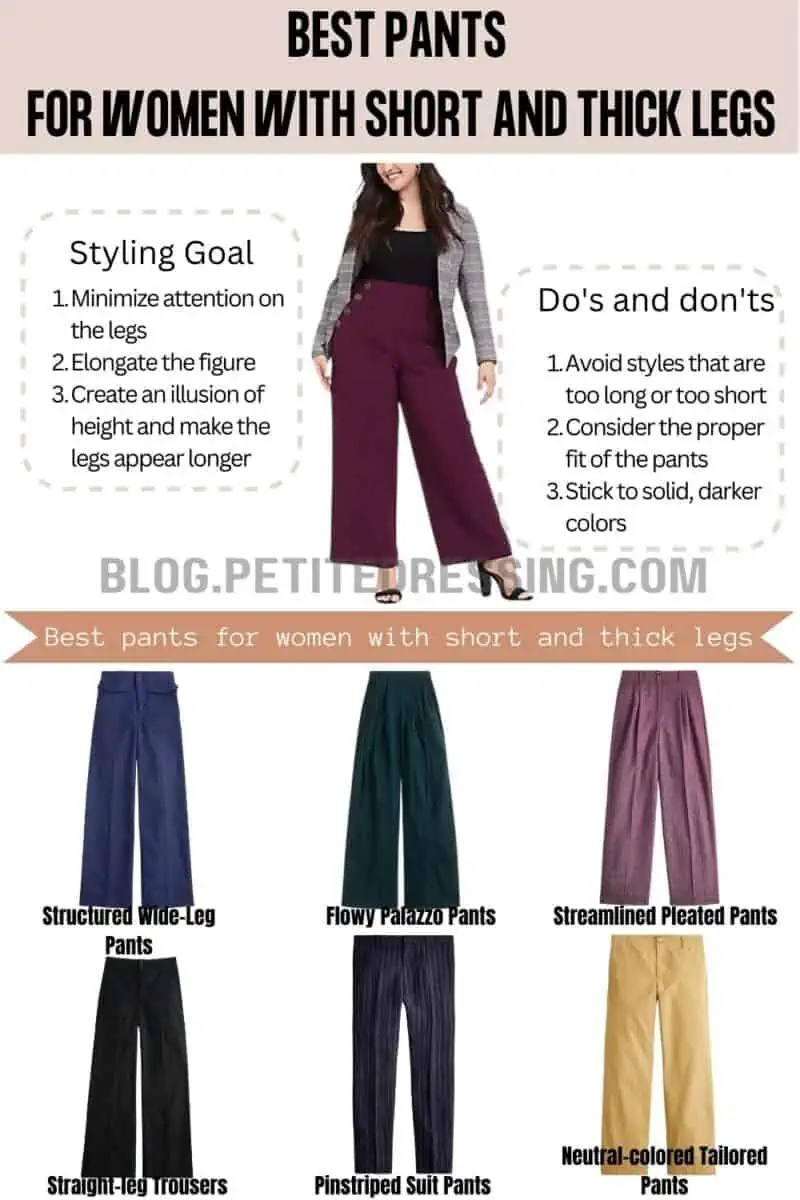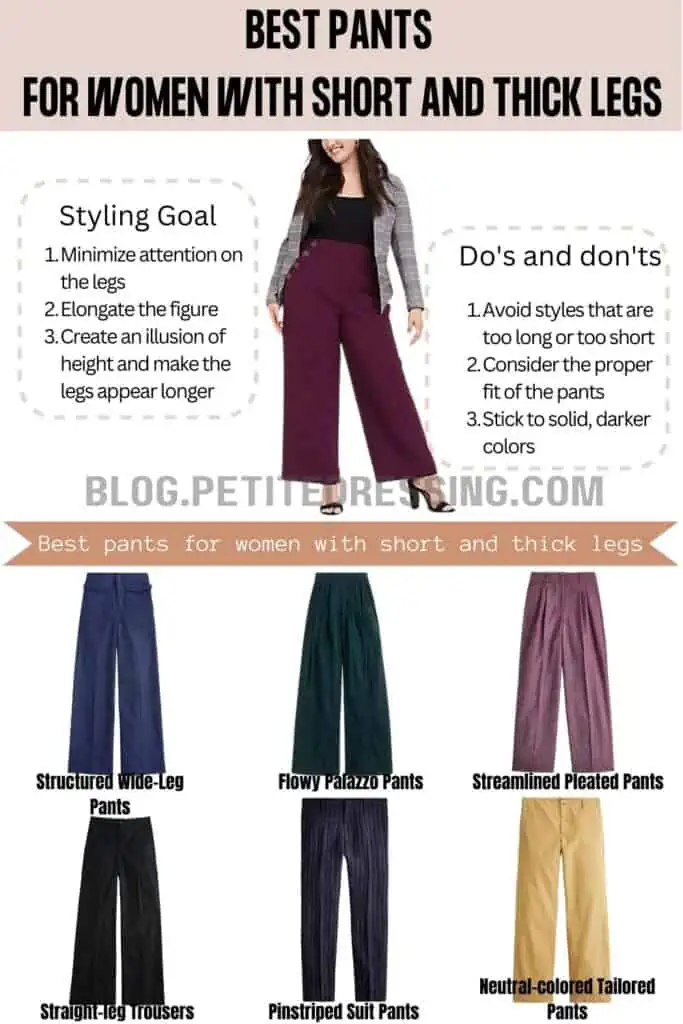 The right length of the pants plays an important role in creating a proper balance between your upper and lower body. Avoid styles that are too long or too short, as they can make the legs appear even shorter so instead, look for pants with a hem that falls right at the ankle or just above it. 
Consider the proper fit of the pants to prevent any instance of overwhelming the length and shape of your legs. It's important to choose styles that are slimming and streamlined, but not too tight or constricting to allow a more comfortable fit.
Less is more in terms of choosing the right color, pattern, and design. It's best to stick to solid, darker colors, as well as muted patterns as these work better in creating visually a slimming effect.
These three basic styling principles will help you find the right pair of pants to complement your short and thick legs without any worries. So now that we've already gotten that out of the way, let's talk about the different pants styles that should work for you!
Structured Wide-Leg Pants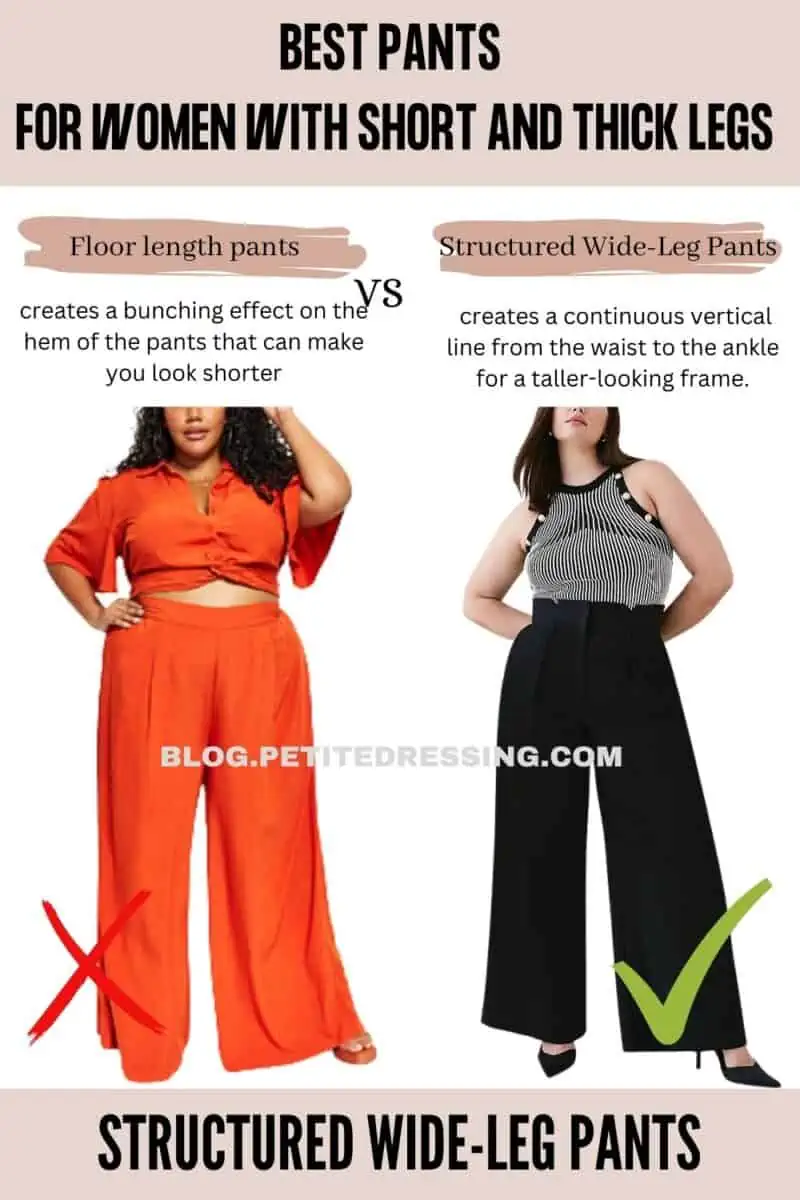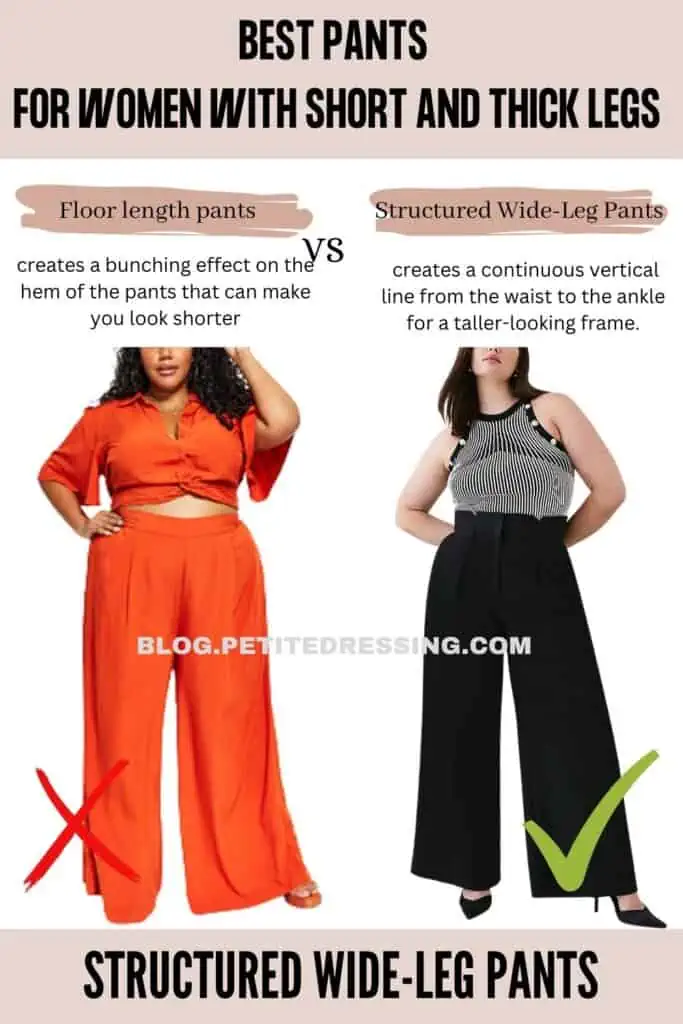 Wide-leg pants are specifically structured to have a streamlined silhouette and a wider leg room that efficiently lengthens the height of the legs, particularly when they are high-waisted and worn with heels. This is because the wide leg creates a continuous vertical line from the waist to the ankle for a taller-looking frame.
Having thicker legs, and wearing pants with wide legs can help balance out a heavier or wider upper body, creating a more proportionate look. They also provide more room to move around due to their comfortable fit and structure.
What you need to take note of is the proper length to go for since this can critically make or break your outfit balance. If they are way above the ankles or way below the heels, then they may either break the continuous visual line of your legs or overwhelm your figure.
Flowy Palazzo Pants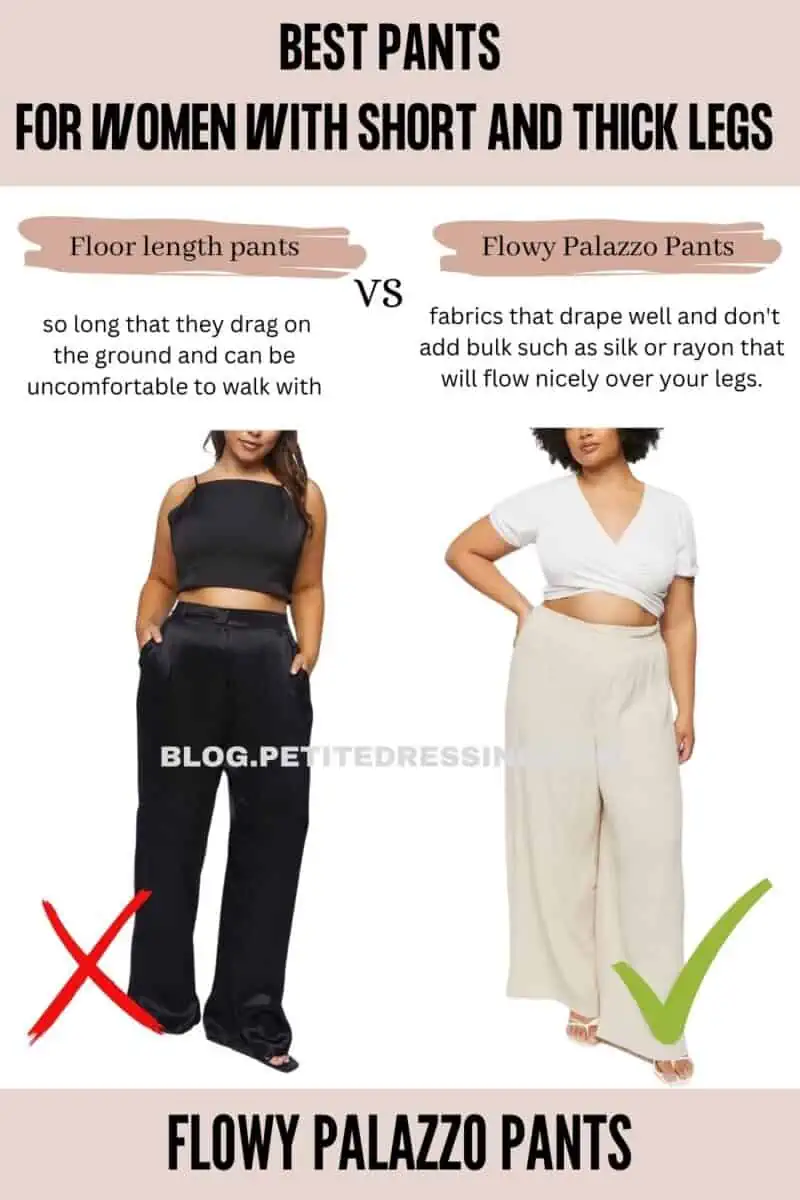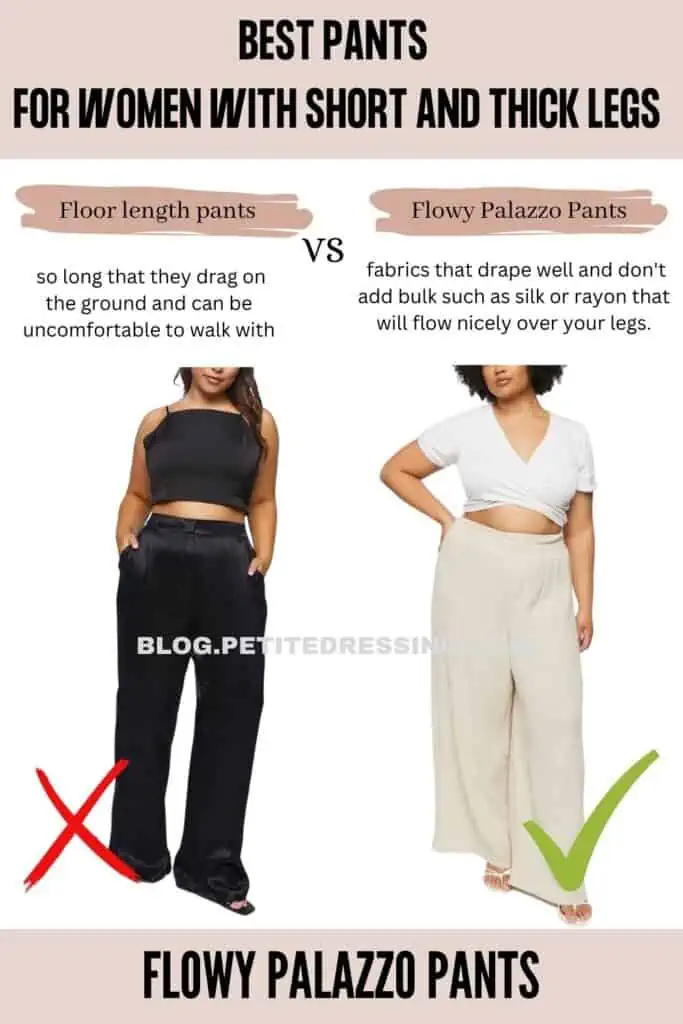 Palazzo pants are a versatile and comfortable style of pants that can be flattering on a range of body types, including those with thick and short legs. They are loose-fitting trousers that are cut with a wide, flowing leg that flares out from the waist down to the ankle.
As they are usually made of flowy fabrics that drape well, the subtle draping movements they have strategically trick the eyes into thinking that you have a leaner figure, which also means having your legs elongated. Just remember to opt for fabrics that drape well and don't add bulk such as silk or rayon that will flow nicely over your legs.
Palazzo pants should be long enough to graze the top of your shoes, but not so long that they drag on the ground. If you're on the shorter side, consider getting your pants hemmed to the right length.
Streamlined Pleated Pants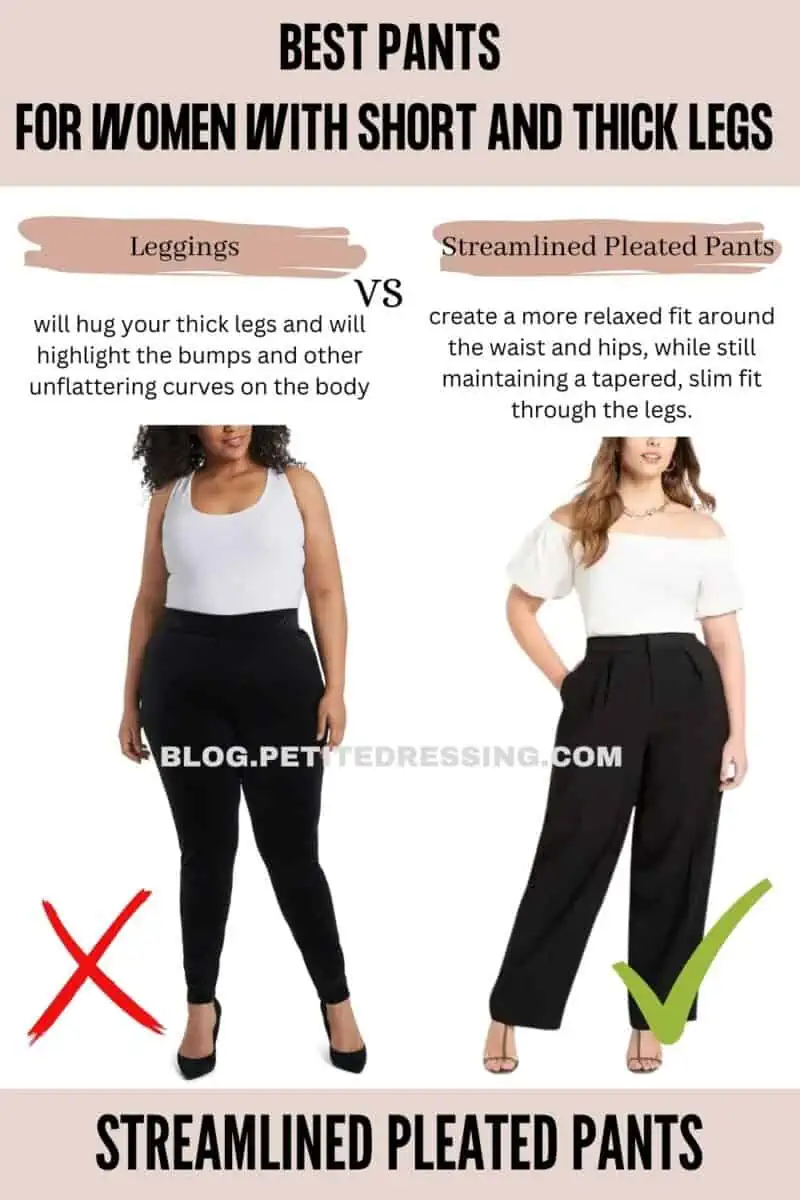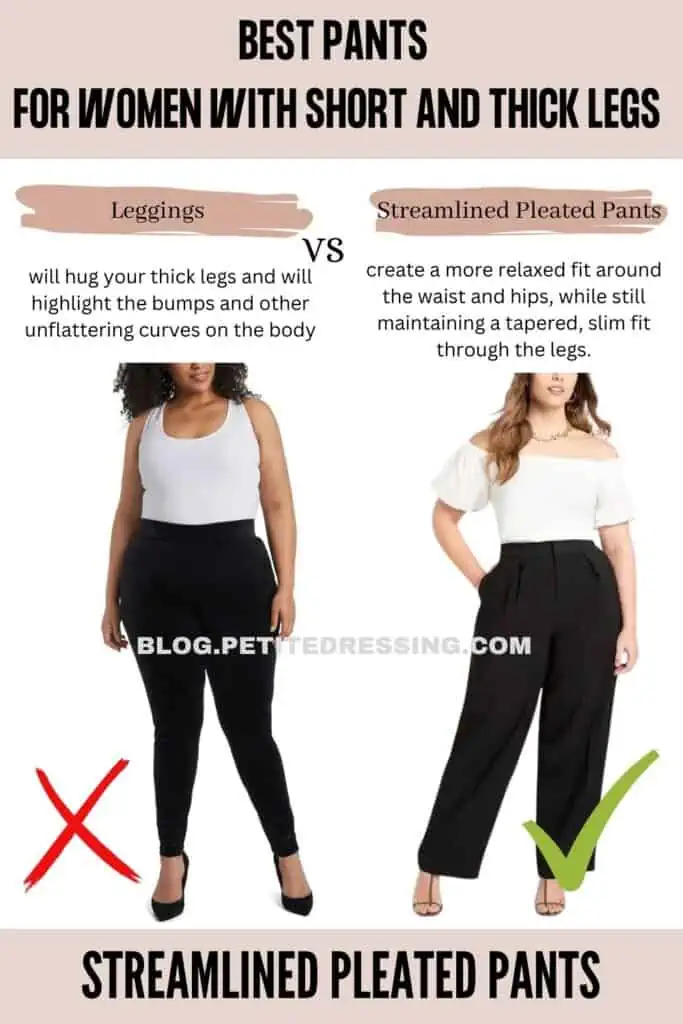 Another flattering pair of pants to suit ladies with short and thick legs are pleated pants.
This type of trousers has pleats at the front of the pant legs which are basically folds of fabric that are stitched in place at the waistband and then released to create a neat and structured effect down the front of the pants. The pleats create a more relaxed fit around the waist and hips, while still maintaining a tapered, slim fit through the legs.
You also have to be mindful of the type of pleats by going subtle with them. Smaller, subtler pleats can be more flattering on short and thick legs than those with larger, more exaggerated pleats because that way, it won't draw too much attention to your lower body.
Straight-leg Trousers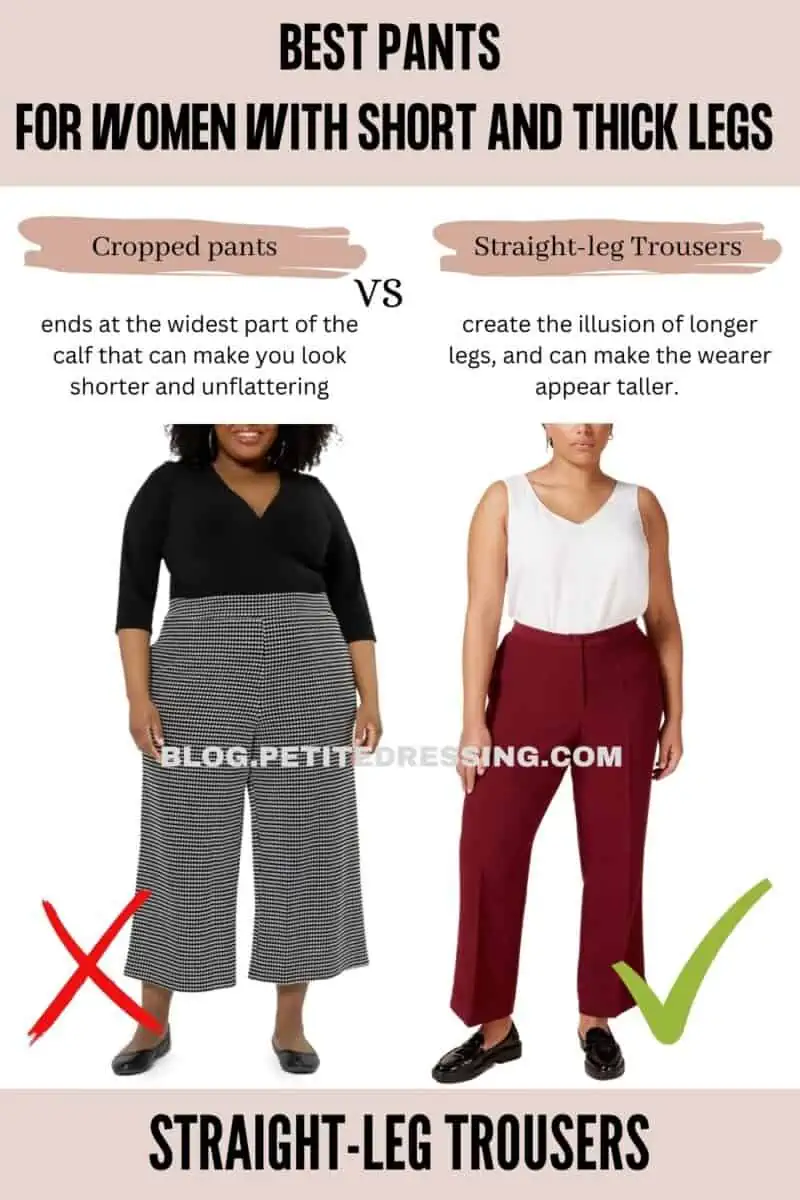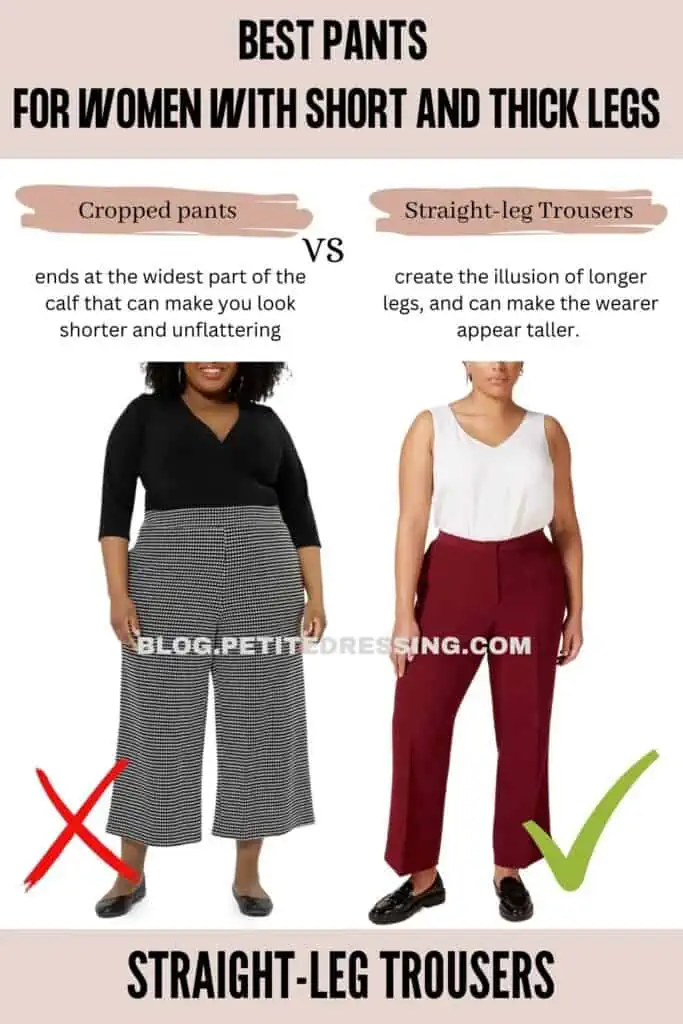 Straight-leg trousers are considered one of the best and safest options when it comes to women with short and thick legs. They are quite simple and the design is pretty straightforward which makes them a classic choice to be worn on a number of different occasions.
They are cut straight from the hip to the ankle, with little to no tapering at the bottom of the leg. The streamlined silhouette can be particularly flattering for you, especially when you pair it with a well-fitted top.
The straight, vertical line of the pants can create the illusion of longer legs, making the wearer appear taller. What's great about it is that they do such an effect stealthily with its simple but well-structured cut.
Black Trousers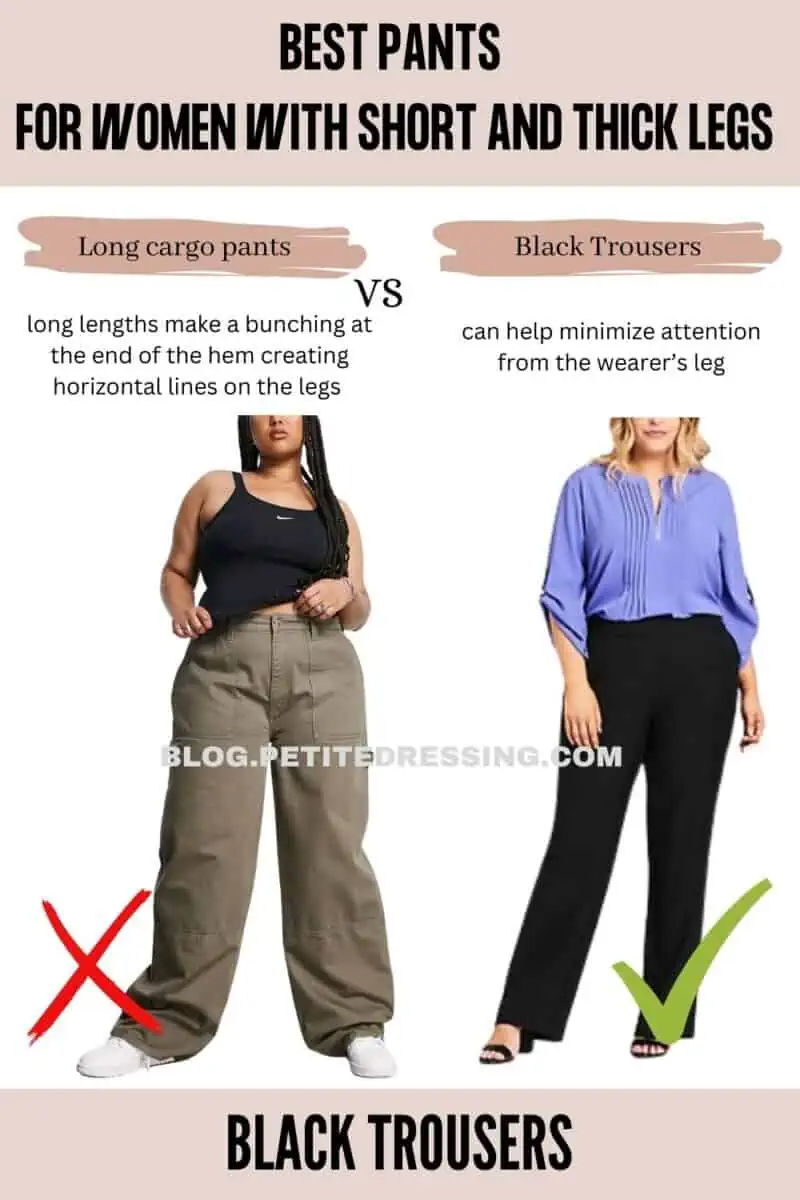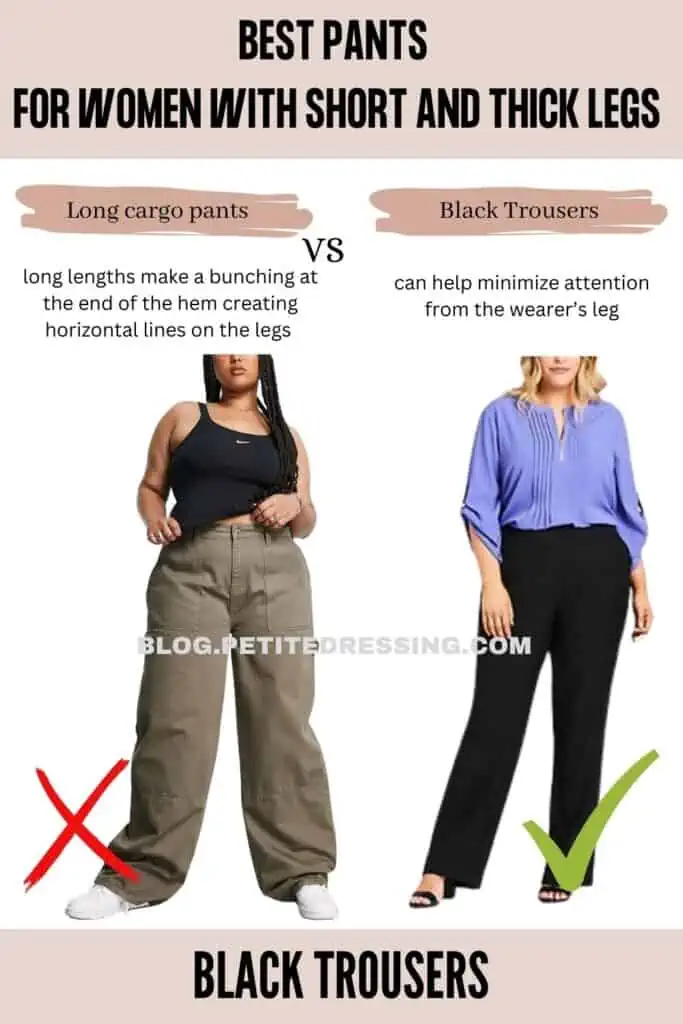 One of the most obvious reasons why this is included in the list is that black is a slimming color that can absorb light and therefore gets rid of shadows that may potentially highlight your short and thick legs.
When worn on the bottom half of the body, black can make the legs appear longer and slimmer and can help minimize attention from the wearer's legs. Additionally, we all know that black is a classic color that's versatile and easy to style, making them a great option for a range of occasions.
The beauty of going for black trousers is that it's a classic, timeless style that will never go out of fashion and you can also wear them at a number of different events. From casual gatherings to semi-formal occasions – a pair of black trousers won't ever go wrong!
Pinstriped Suit Pants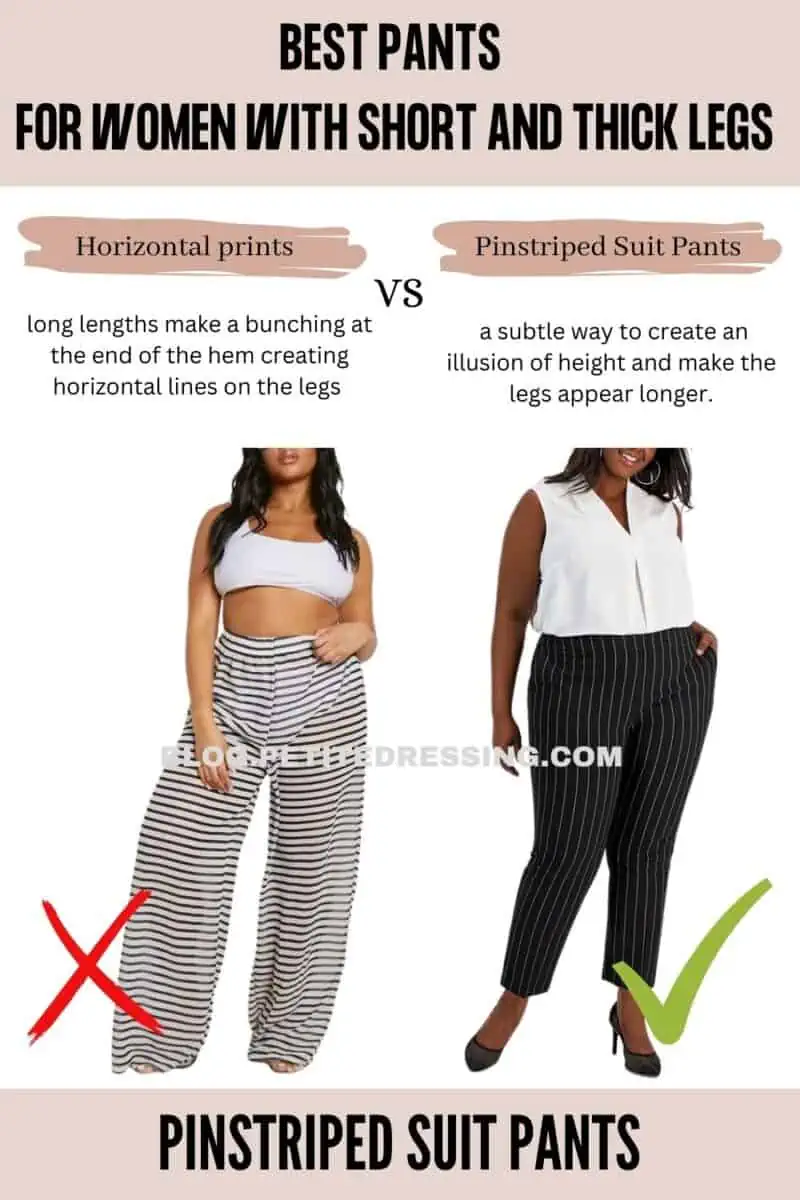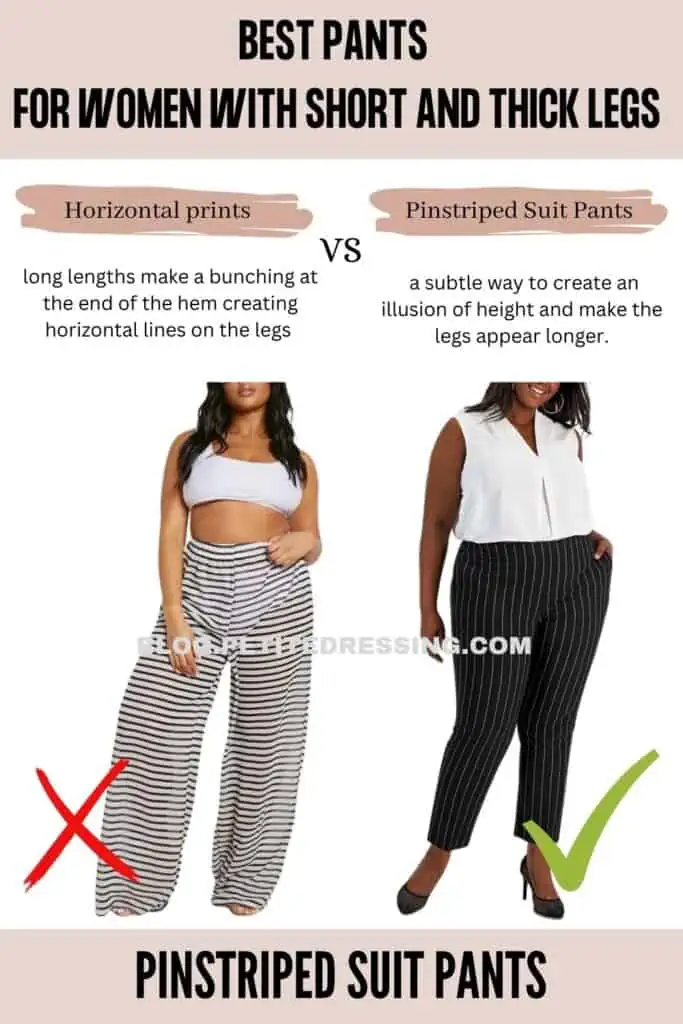 If you're looking into a pair of pants that is formal and is typically worn as part of professional or business attire, get pinstriped suit pants right there on your fashion shopping list. They are strategically designed to fit your form, with features such as a contoured waistband, a well-seamed leg, and a high-rise or mid-rise waistline.
The pinstriped design pattern is a subtle way to create an illusion of height and make the legs appear longer. The vertical lines that run through the pants are particularly beneficial for those with shorter legs as they can make them look taller and leaner as well.
The pinstriped pattern can also be used to distract the eyes from the fact that you have thick legs as it basically cuts down the sides of your leg frame through optical illusion. As they're not too obvious, you can freely pair them with both plain and printed tops.
Neutral-colored Tailored Pants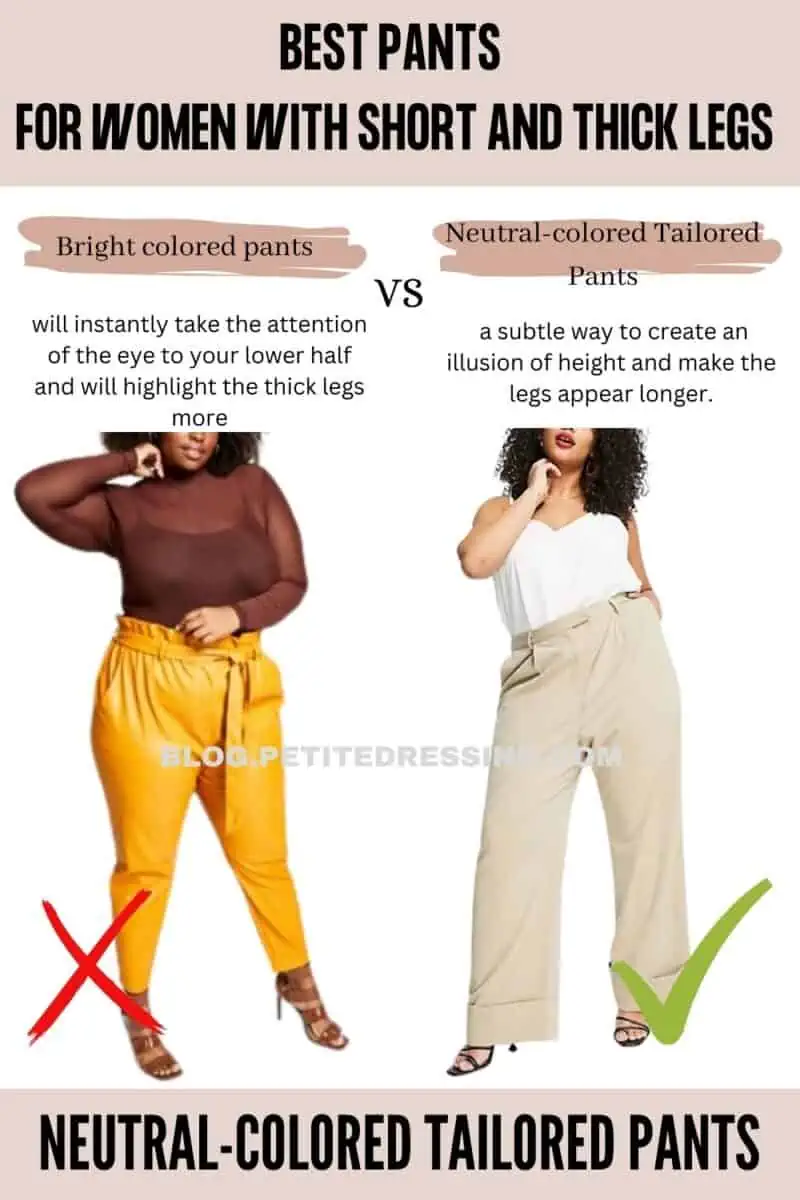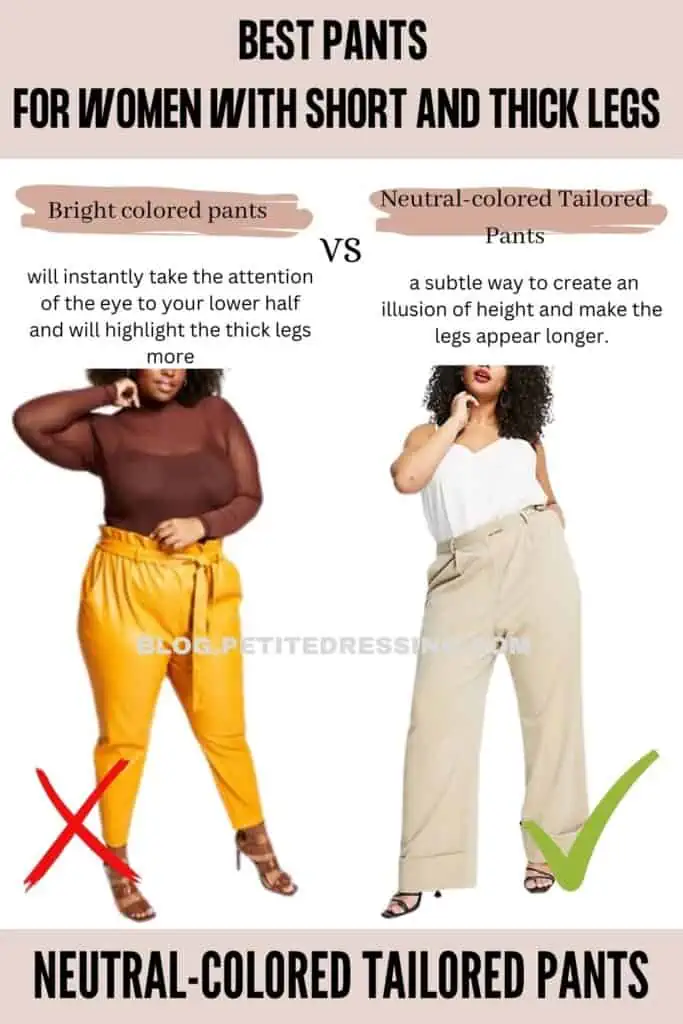 Neutral colors are generally easy to style thanks to their timelessness and ability to complement a number of different styles and colors. But apart from this, tailored pants that come in neutral colors also do a great job of making the legs appear longer and slimmer.
In addition, tailored pants feature a bespoke fit that makes them uniquely designed to suit the shape of your legs. As the characteristics of neutral-colored pants are deemed to be classic, you can wear them freely without putting too much effort into styling them.
Dark-colored Sailor Pants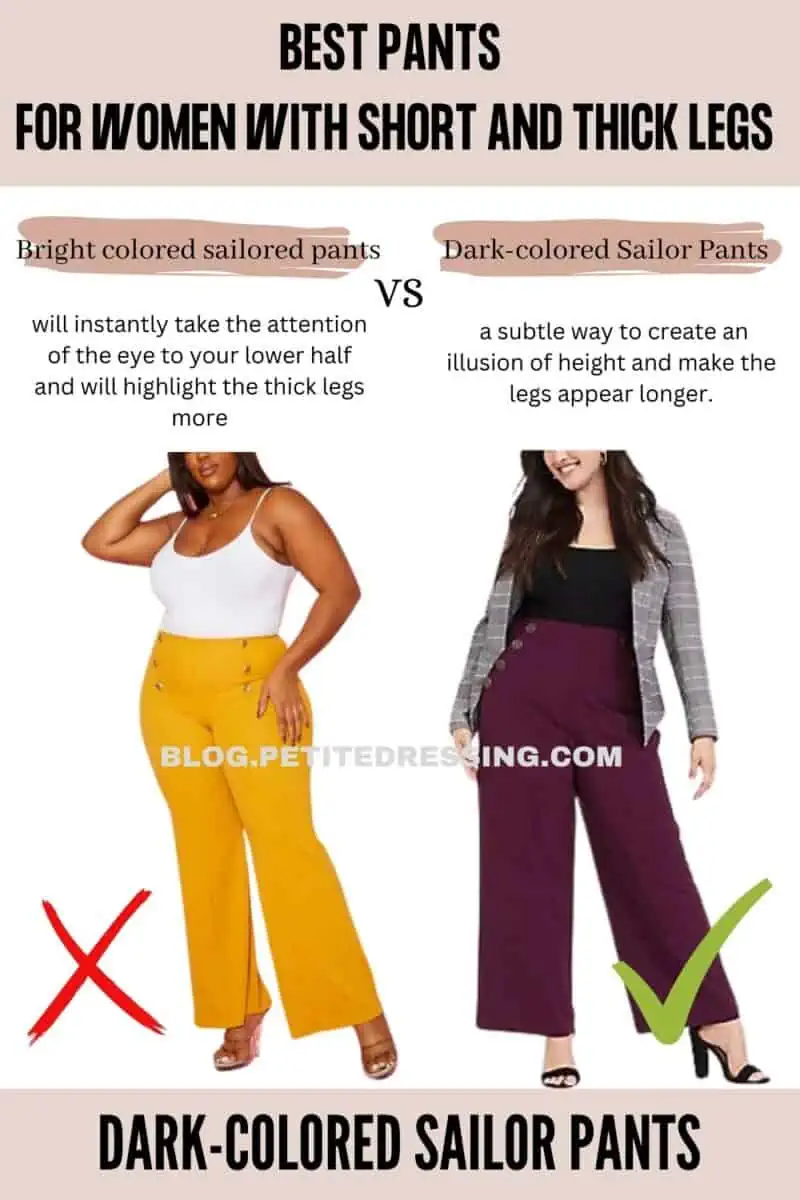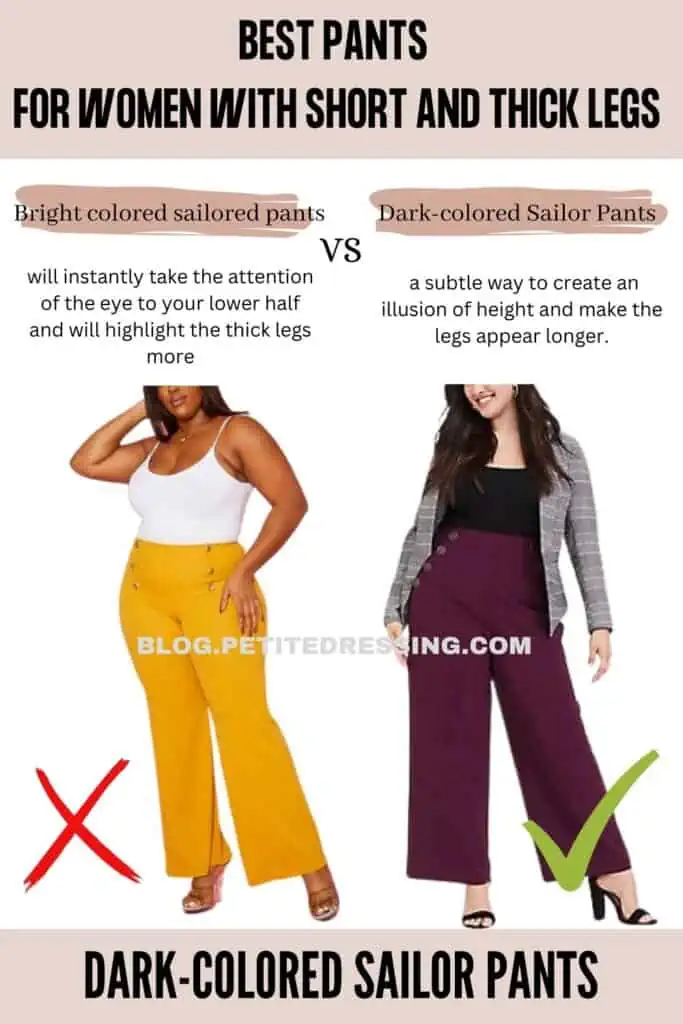 Sailor pants are usually high-waisted, which is also one of the reasons why it can also be flattering on women with short and thick legs. They feature nautical-inspired details such as the golden buttons on the front of the pants, which is basically its main characteristic.
Like most styles of pants, sailor pants also come in a wide variety of designs and colors, but if you'd like to maximize its elongating effect, it's quite ideal to go for darker colors like navy blue or black. Since hues like these two are generally slimming, they will help make you appear taller and slimmer.
The Key Takeaway
As a girl with short and thick legs, you shouldn't feel intimidated when shopping for pants because there are a lot of gorgeous choices for you out there! All you need to do is to be mindful of the structure and fit so you'll surely end up with a pair that will bring the best out of your figure.