For apple-shaped ladies with a shorter frame, finding the perfect swimsuit can be quite an overwhelming task. I know that struggle being 5'2 myself and I have a clothing line for petite women.
Apart from the fact that I'm totally petite, I also have a very typical apple body shape feature, i.e. I ALWAYS gain weight on my stomach first. Because of that, swimsuits can be a real challenge.
So, before you hit the shops or online stores in search of the ideal swimsuit, read on to discover some tips and tricks that will help you choose the right swimsuit for your short apple-shaped body.
Styling Goal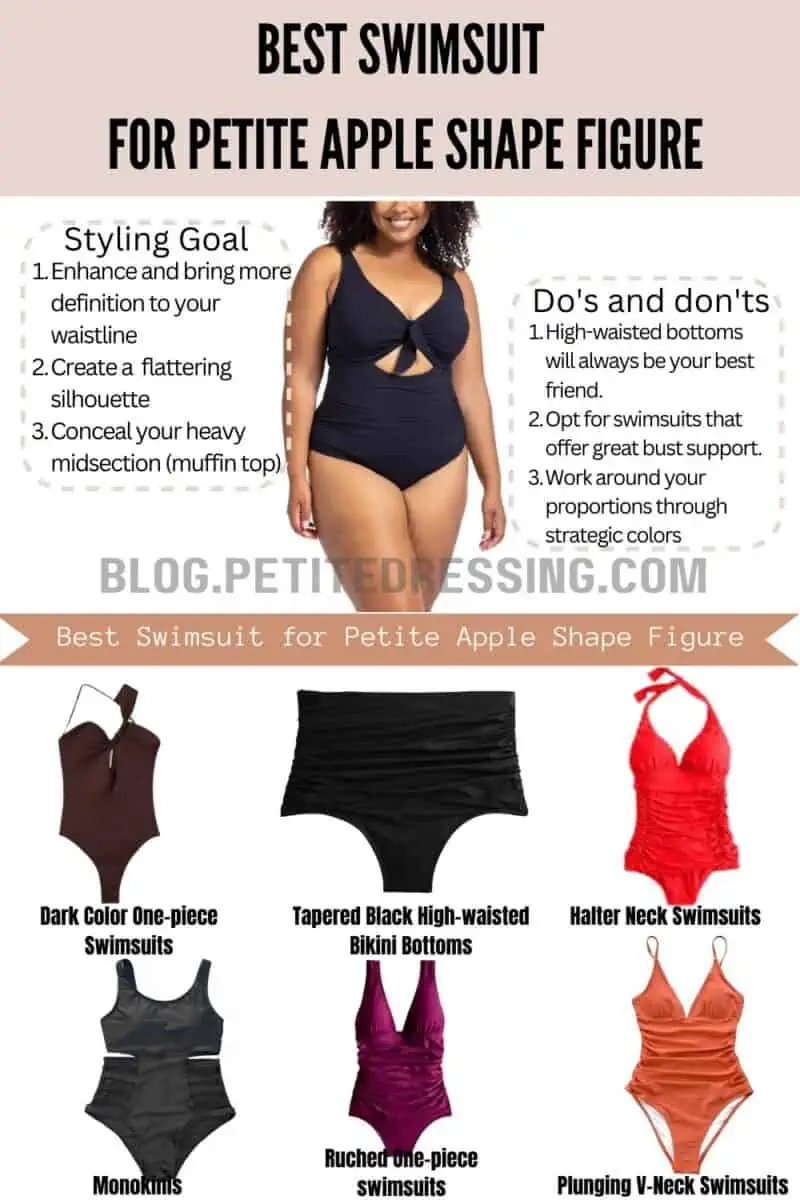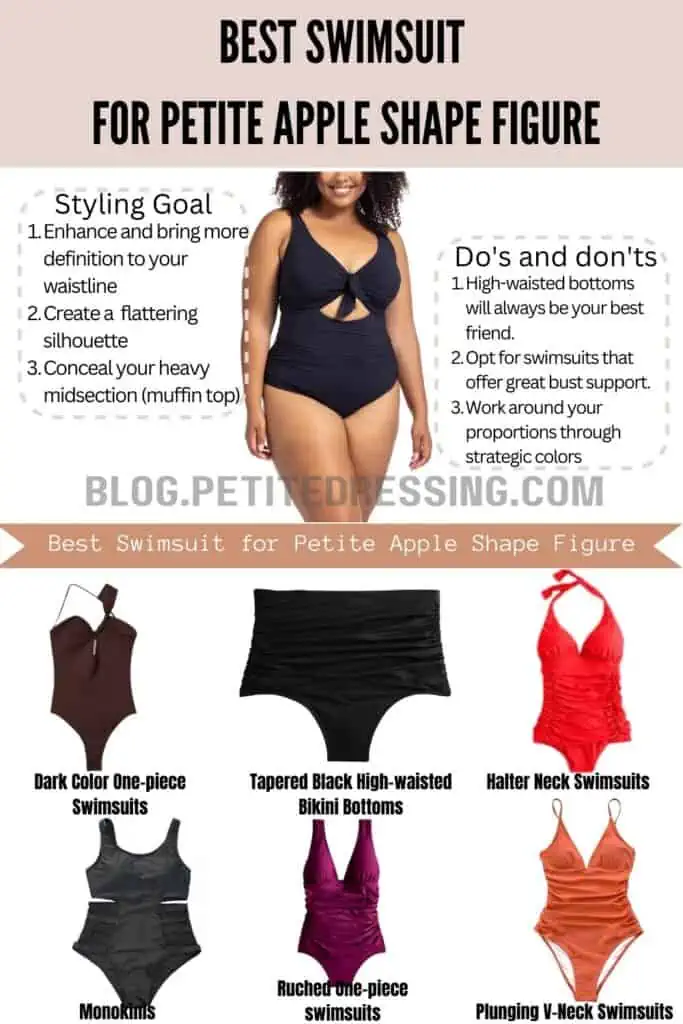 High-waisted bottoms will always be your best friend. High-waisted bottoms are great for apple-shaped bodies because they help to define the waistline (which apple shapes usually lack) and create the illusion of an hourglass figure.
Opt for swimsuits that offer great bust support. A swimsuit with built-in support can help to smooth and lift your bust area, creating a more flattering silhouette.
Work around your proportions through strategic colors and pattern placements. Darker colors and vertical prints can be more flattering for apple-shaped bodies because they help to minimize any problem areas and create a more slimming effect.
Dark Color One-piece Swimsuits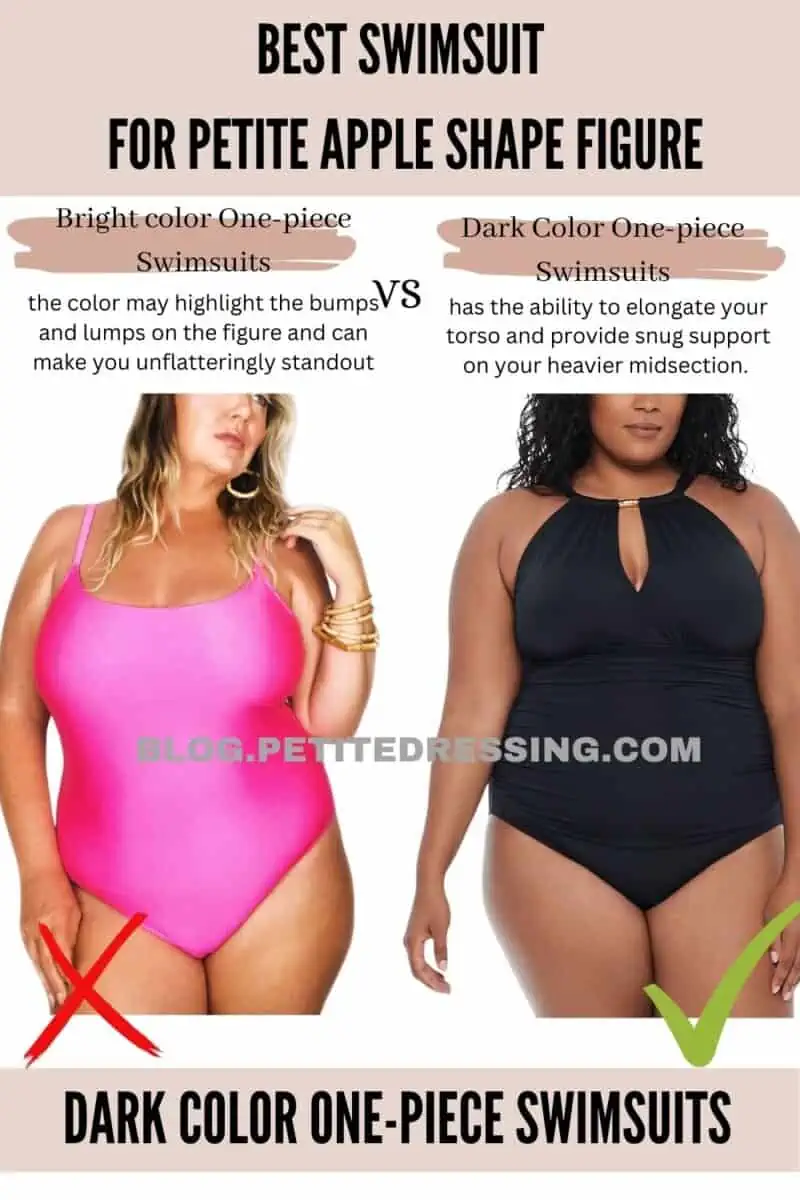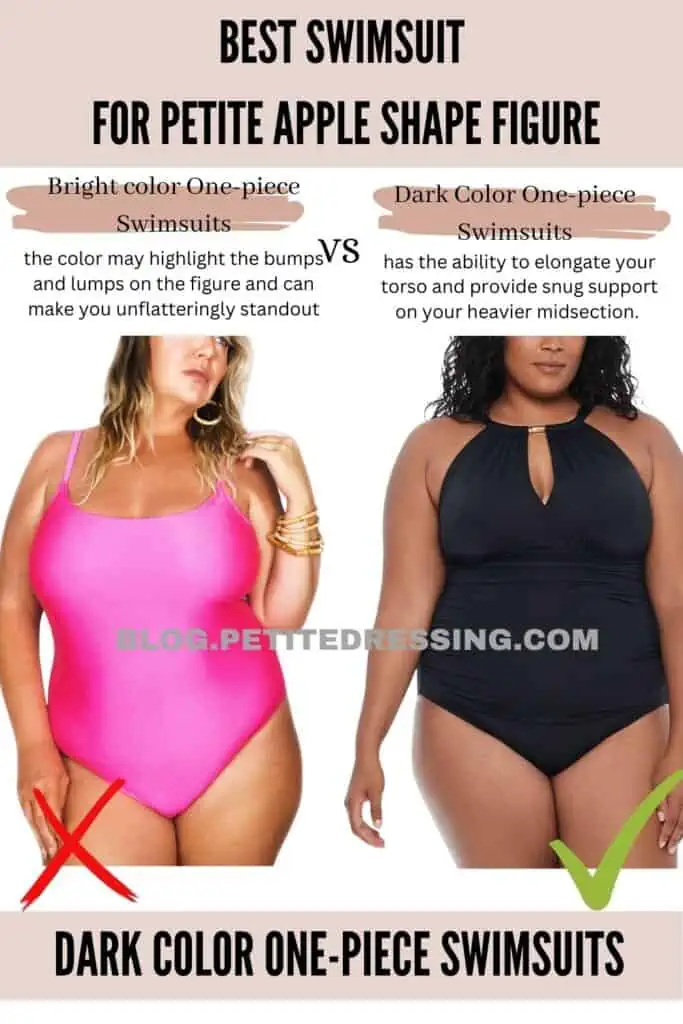 Embrace the elegance and simplicity of a one-piece swimsuit, which can be the perfect choice for your apple-shaped body. The beauty of this style lies in its ability to elongate your torso and provide snug support on your heavier midsection.
Look for styles with a deep V-neckline that draws the eye upward, or a chic halter top that accentuates your shoulders and elongates your upper body. With a one-piece swimsuit, you can feel confident and stylish without worrying about your less-flattering areas.
Black High-waisted Bikini Bottoms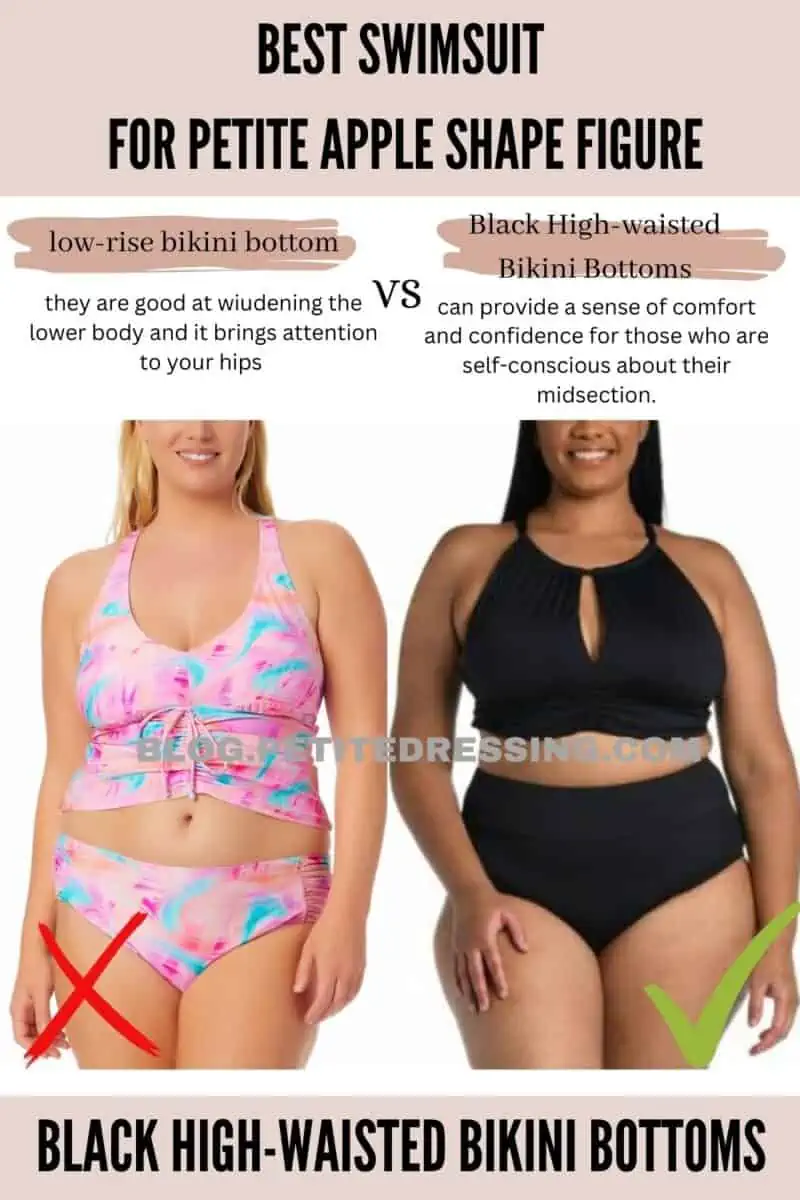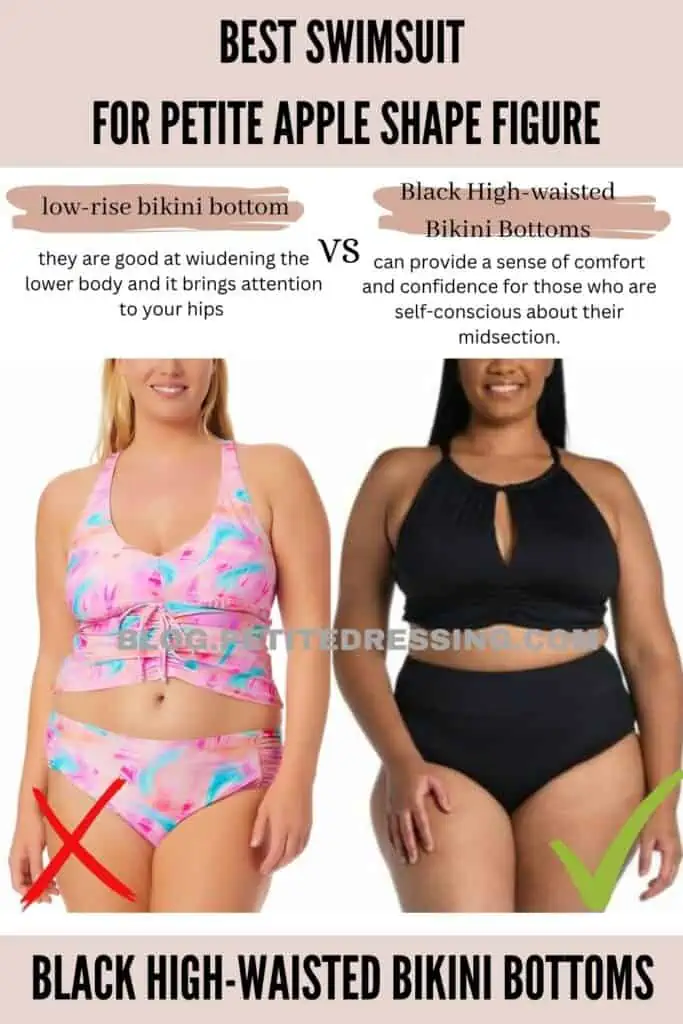 As petite apple-shaped women tend to carry a bit more weight on the midsection, they are more prone to having that unflattering tummy bulge, also known as a 'muffin top'. With this said, this area of your upper body would want more support and coverage in order to flatter your frame.
The added coverage of high-waisted bikini bottoms can also provide a sense of comfort and confidence for those who are self-conscious about their midsection.
High-waisted bikini bottoms efficiently define the waistline, which is often less defined in apple-shaped figures, by cinching in at the smallest part of the midsection. This creates a more hourglass-like silhouette, balancing out the proportions of the body.
Halter Neck Swimsuits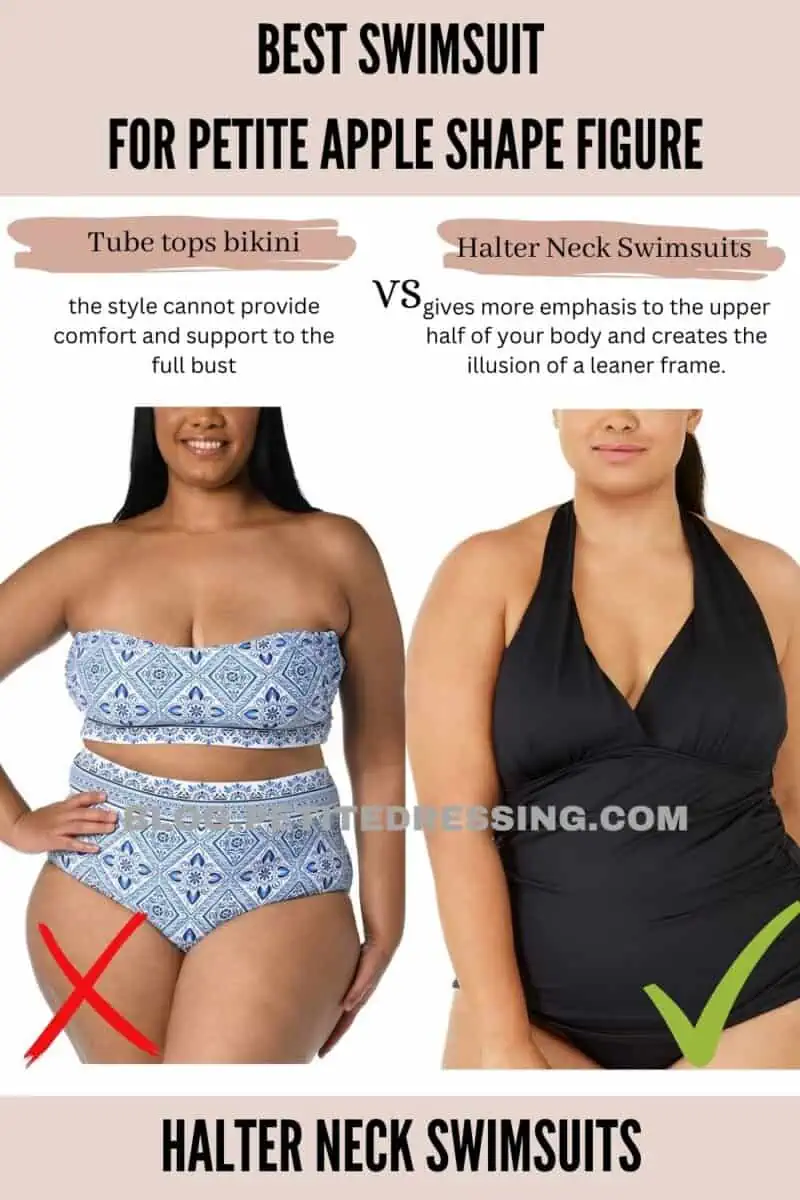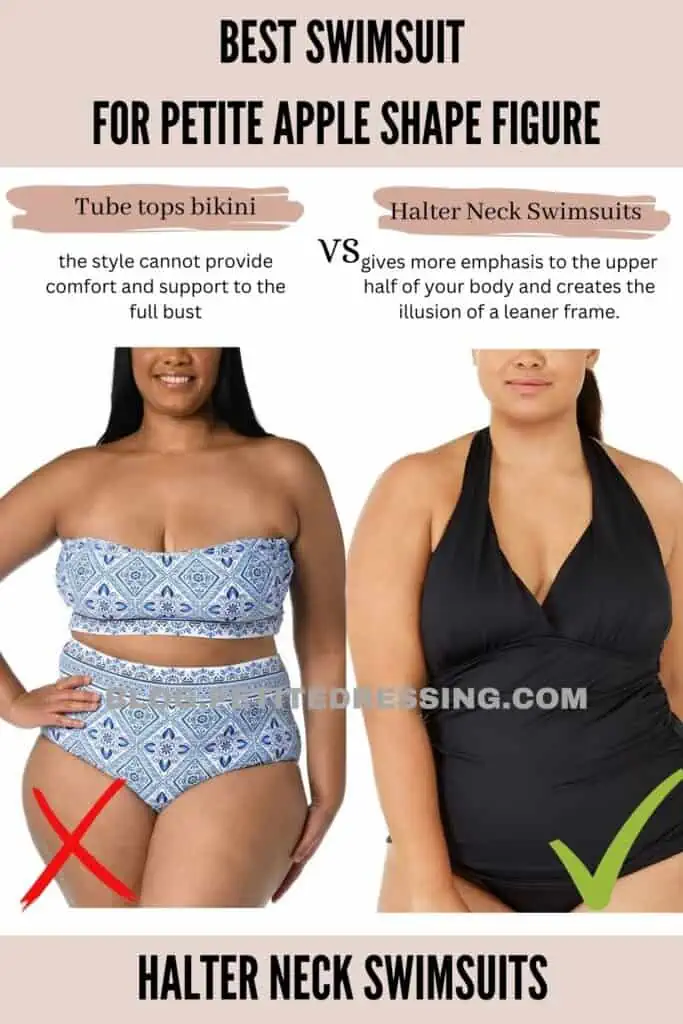 When it comes to petite apple-shaped bodies, halter swimsuits can be a great choice because they can help visually elongate the torso. By drawing the eye upwards towards the neck, a halter neckline can create the illusion of a longer, leaner torso.
The halter strap also fastens behind the neck, leaving the back and shoulders bare. This effect gives more emphasis to the upper half of your body and therefore creates the illusion of a leaner frame.
In addition to this, halter swimsuits typically have a higher neckline, which can help to balance out a larger midsection. This is especially important for apple-shaped bodies because they usually have more weight around the waistline.
Monokinis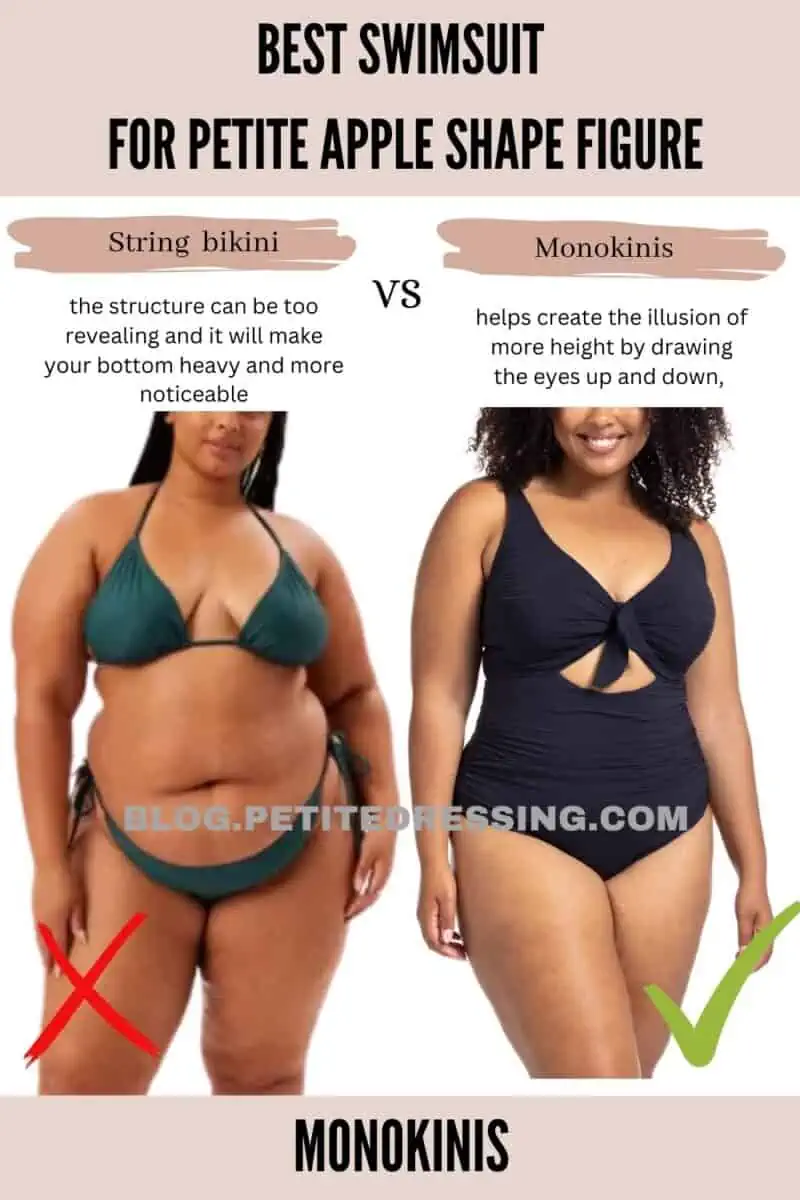 Monokinis are quite distinct due to their cutouts or sections of fabric removed from the sides, back, or front, creating a more revealing and unique design. It's a popular choice for women who want to show off their curves while still having the coverage of a one-piece swimsuit.
Petite apple shape ladies have little to no waist definition so the cutouts in a monokini can help to create the illusion of a more defined waistline. By strategically removing the fabric from the sides of the swimsuit, a monokini can create the illusion of a smaller waist, helping to balance out the body's proportions.
The unique design of a monokini can help to elongate the appearance of your upper body, which is especially important for petite women who want to create the illusion of more height. By drawing the eyes up and down, as well as creating a long line down the body, a monokini visibly helps create a more proportional and elongated silhouette.
Ruched One-piece swimsuits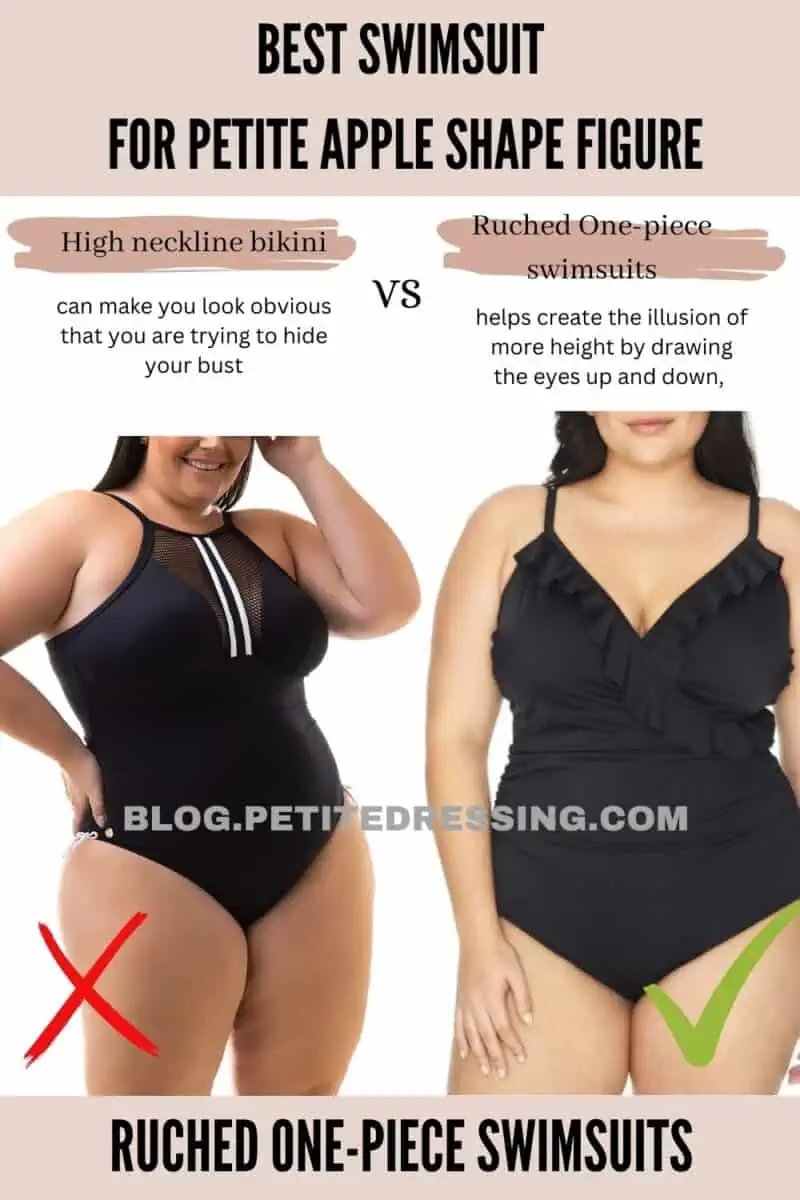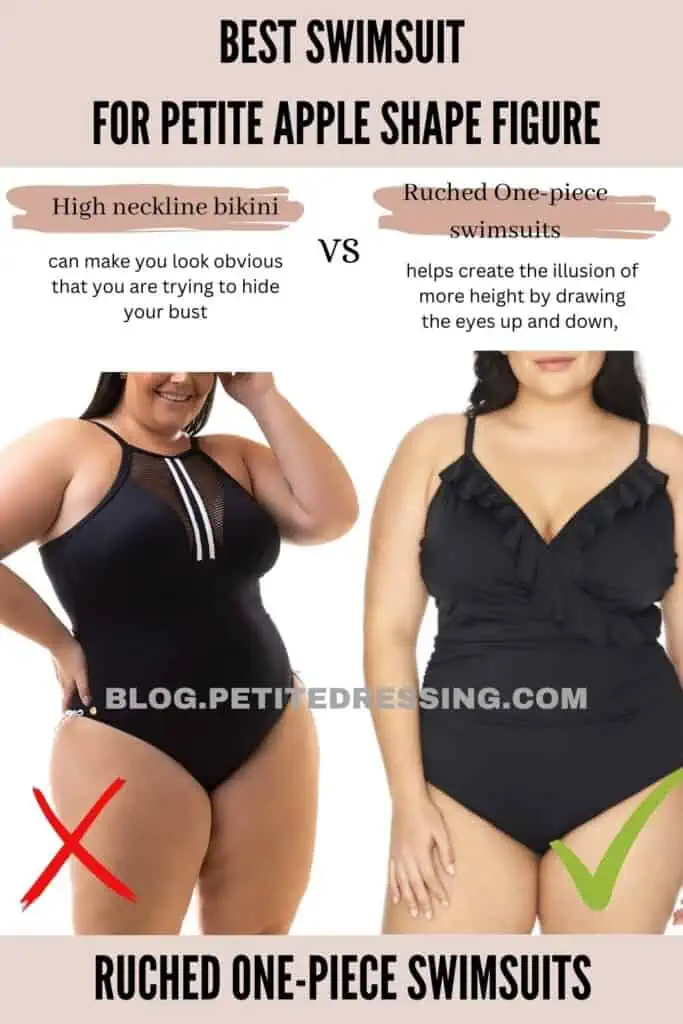 The world of fashion has come up with a brilliant solution to flatter women with apple-shaped bodies – ruching! Adding ruching to swimsuits around the stomach area is a clever design technique that works wonders.
Ruching adds texture and depth to the fabric, which can help to conceal any lumps or bumps around the midsection. This is especially important for apple-shaped figures because they usually have very little waist definition and are also quite heavier on the midsection of the body.
It makes your frame look more balanced because it also contributes to making your legs appear longer. The eyes tend to be distracted by the ruching so it'll draw the eyes somewhere else, which would be your best features (bust and slim legs).
Plunging V-Neck Swimsuits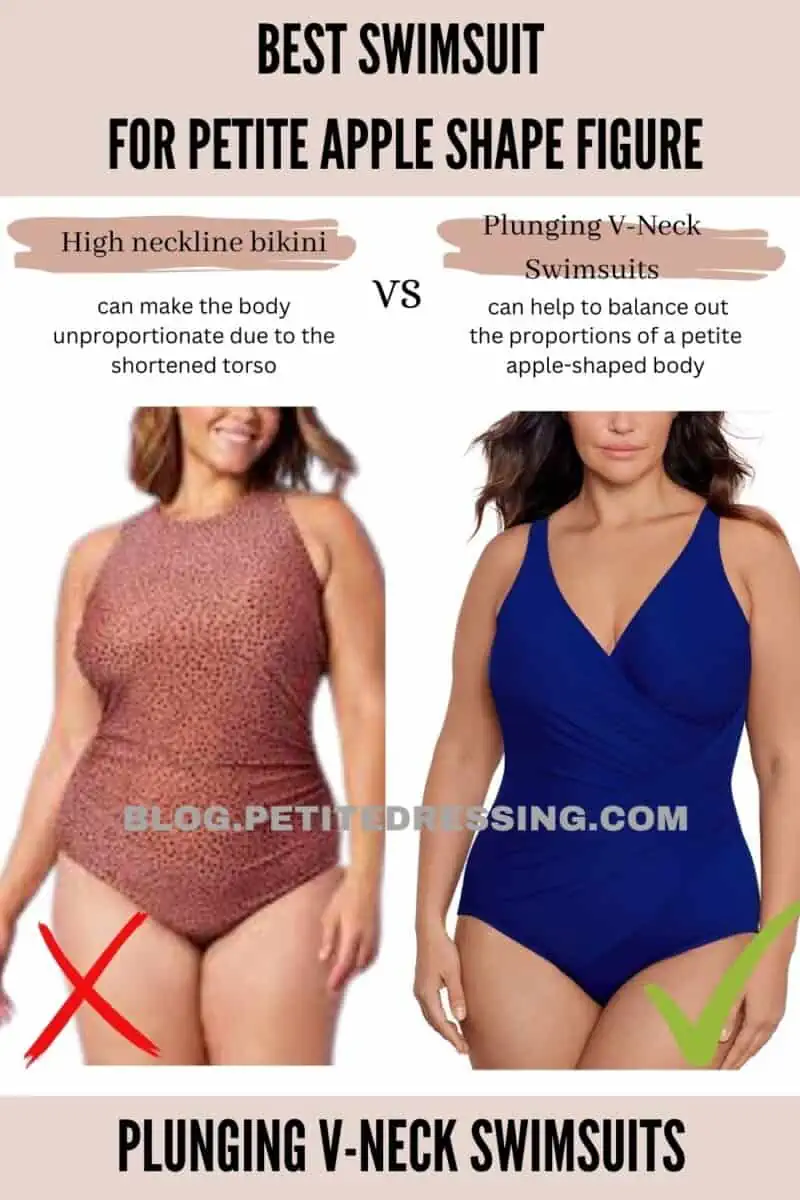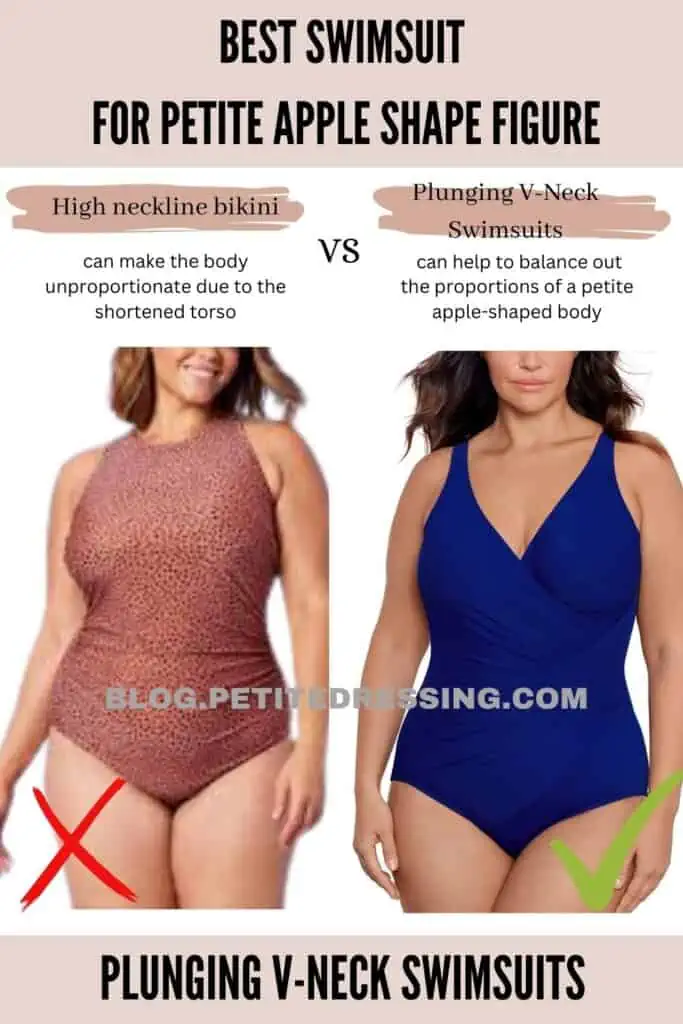 V-neck structures will always be an amazingly flattering style for petite women in general, most especially apple-shaped petites. Since one of your most notable features is your breasts, then wearing a plunging V-neck should be a perfect way to proudly flaunt them!
The neckline structure draws the eyes upwards towards the neck and shoulders, creating the illusion of a longer, leaner torso. This can be especially helpful for petite women, who may want to create the appearance of more height and elongation in their figure.
Moreover, the plunging V-neckline can help to balance out the proportions of a petite apple-shaped body. By creating a more dramatic V-shape at the neckline, the swimsuit visually and strategically creates the appearance of a smaller waistline.
Color Blocking Swimsuits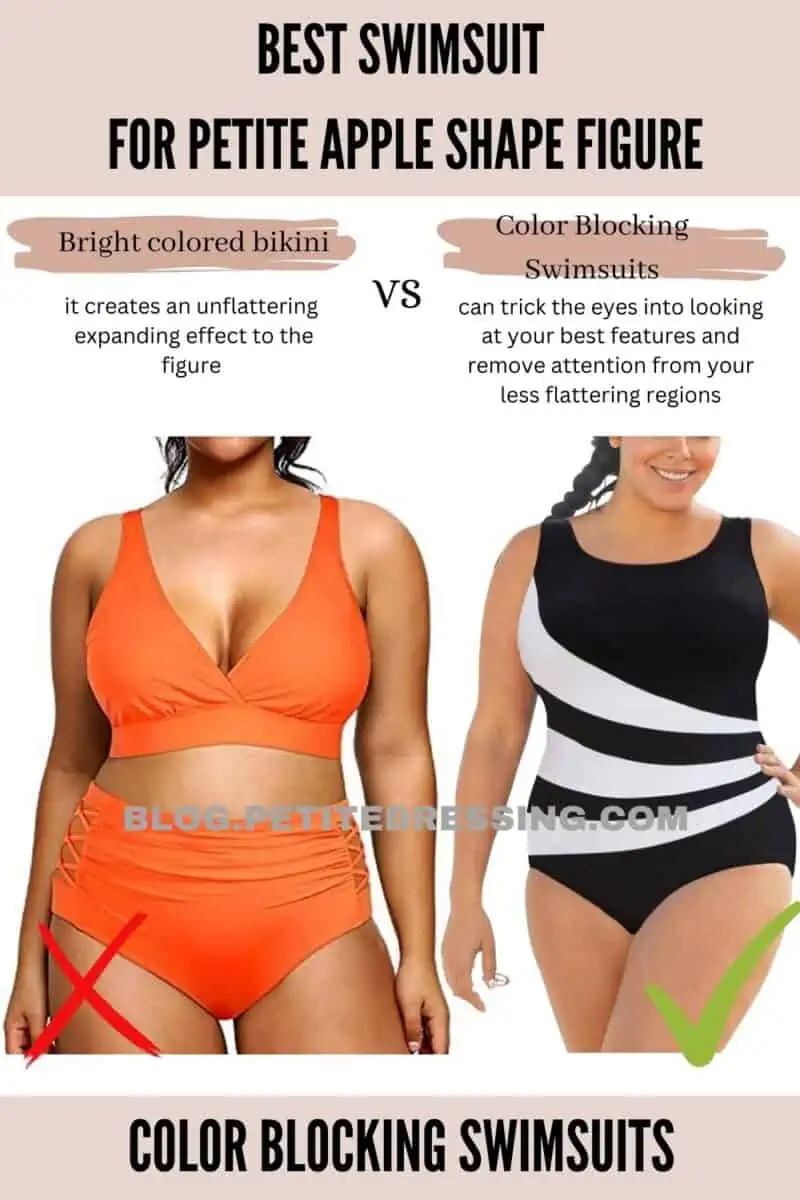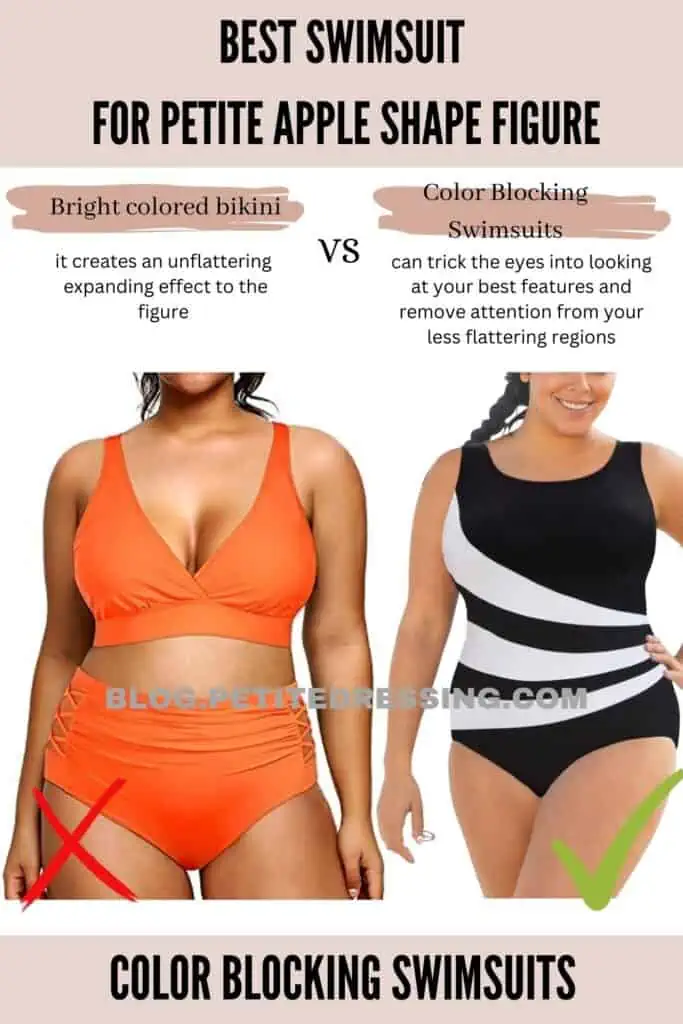 One of the most fun and playful options for petite apple shape girls out there is the color-blocking swimsuit. By going for strategic placements of a variety of contrasting hues, you can definitely make your frame look balanced and visually pleasing.
Color-blocking is a style that uses contrasting blocks of color to create a bold and striking look. Instead of blending colors together, color-blocking separates them into distinct sections, which can be used to create the illusion of a slimmer silhouette.
The fuller midsection is often a concern for apple-shaped bodies, but with a color-blocking swimsuit, you can create the illusion of a slimmer waistline. By using darker colors or neutral shades in the midsection, and brighter or lighter colors on the top and bottom, you can trick the eyes into looking at your best features and remove attention from your less flattering regions, creating a more balanced look.
Caution with Large Prints and Patterns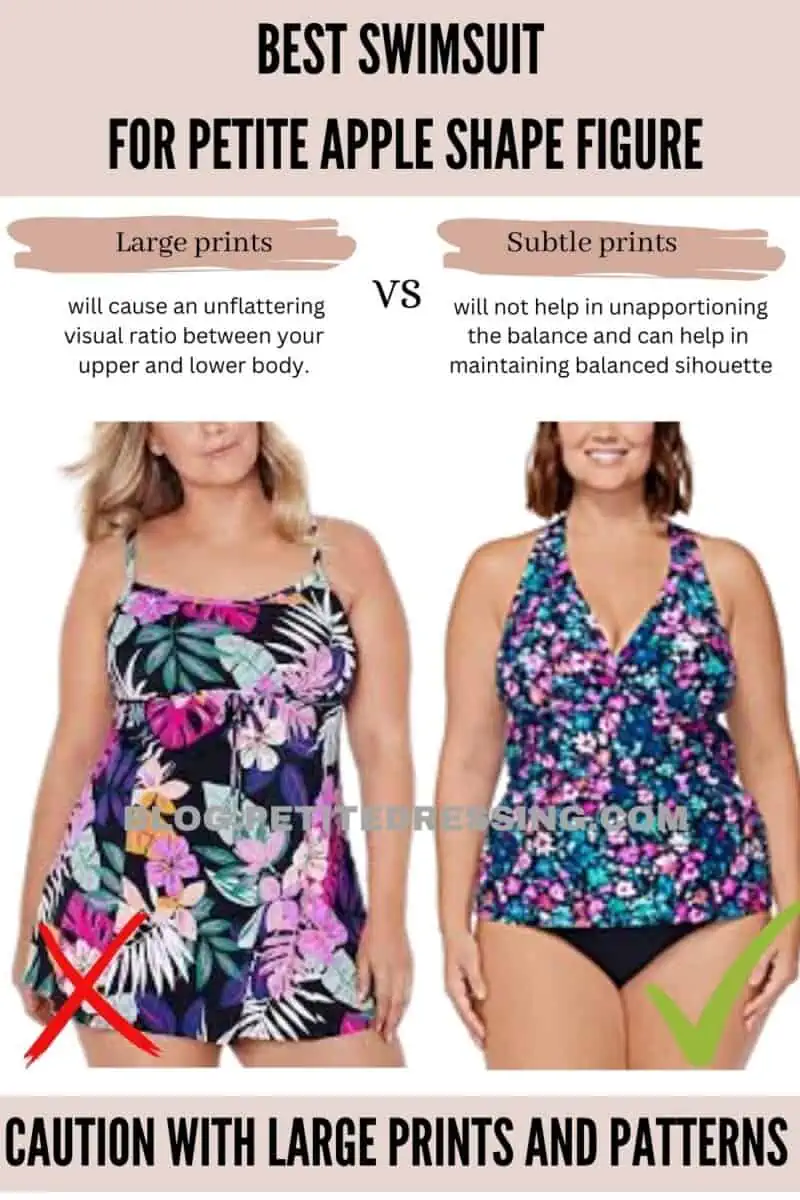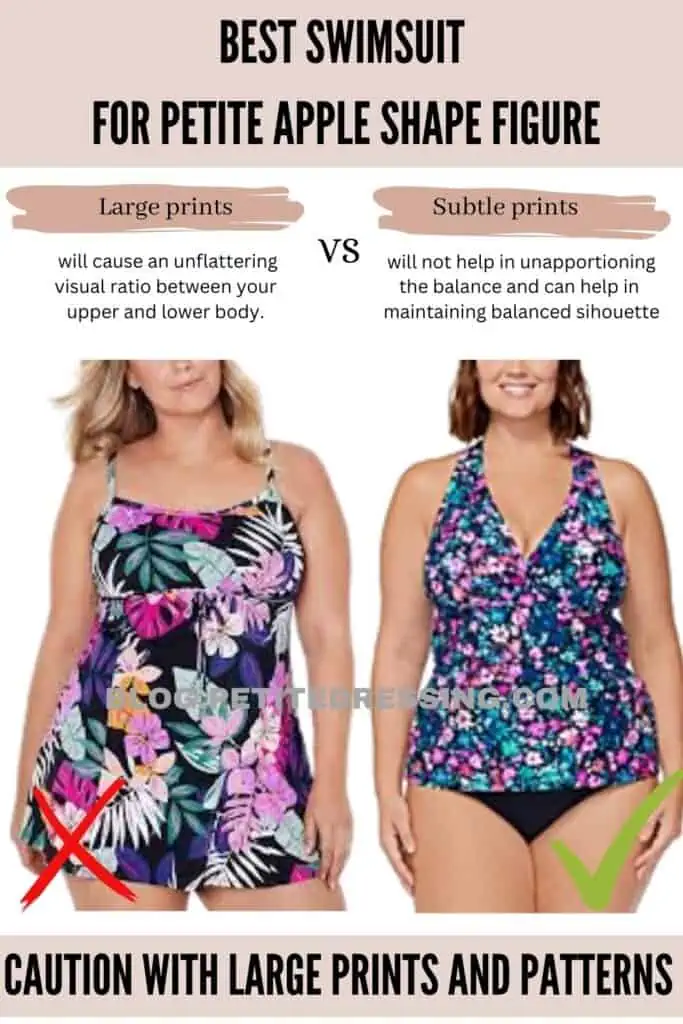 You can of course be adventurous with your swimsuit design, but you have to be extra mindful of bulky-looking patterns such as large prints. And this requires more caution if such prints are placed around the midsection.
Your midsection tends to be heavier compared to the rest of your body so wearing a swimsuit with large, eye-catching prints will just add more volume to this area. This will cause an unflattering visual ratio between your upper and lower body.
The Key Takeaway
It gets easier when you know your styling goals, right? So go ahead and have some fun with your swimsuit choices, and embrace your beautiful apple-shaped body with confidence and style!