For women 5′ and under, finding the right jeans is critical. Since I am 5'2″ myself, I've always noticed what a big difference the jeans can make on me. If you are 5 foot and under, this will be even more obvious. The right jeans can elongate and flatter you, and the wrong styles can do quite the opposite.
Since I have a petite clothing line, I receive feedback constantly from thousands of my petite customers, many of who are 5′ and under. I've put together this guide to help you find the best jeans, based on my experience as well as their feedback.
Styling Goal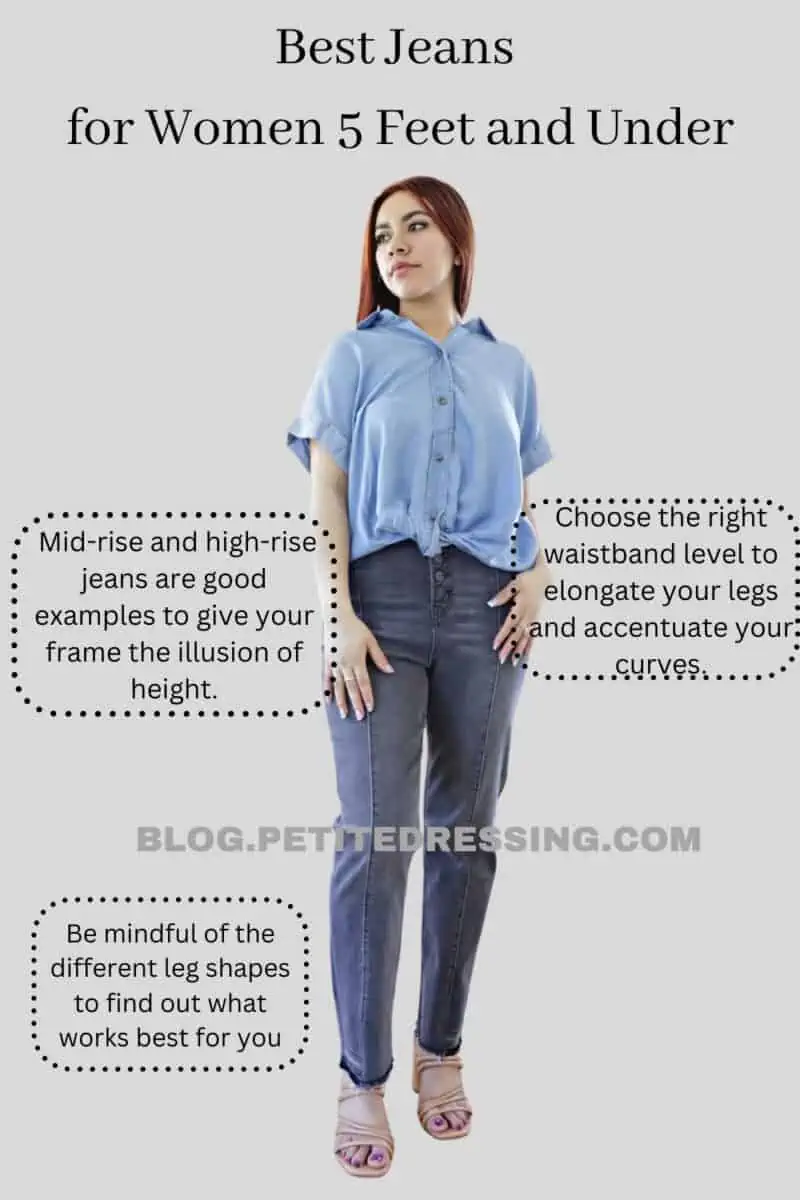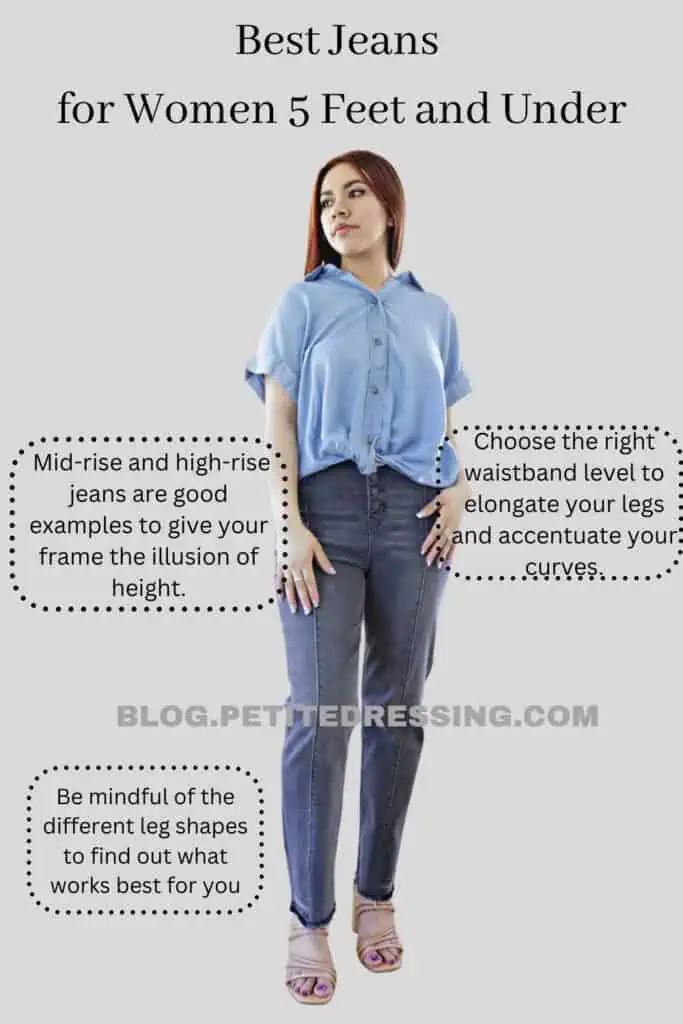 Choose the right waistband level to elongate your legs and accentuate your curves. Mid-rise and high-rise jeans are good examples to give your frame the illusion of height.
The proper fit is quite crucial to looking and feeling great in jeans. Opt for styles that fit perfectly but not too tightly, and as much as possible, avoid baggy or excessively tight jeans that can overwhelm your frame.
Be mindful of the different leg shapes to find out what works best for you if you are 5 feet and under. For instance, skinny jeans can make your legs appear longer, whereas bootcut or flared jeans can help balance out your proportions.
The length and hemline cut of your jeans matters a lot in regard to your visual proportions. Don't wear jeans that bunch up around your ankles; they can make you look shorter.
High-Waisted Jeans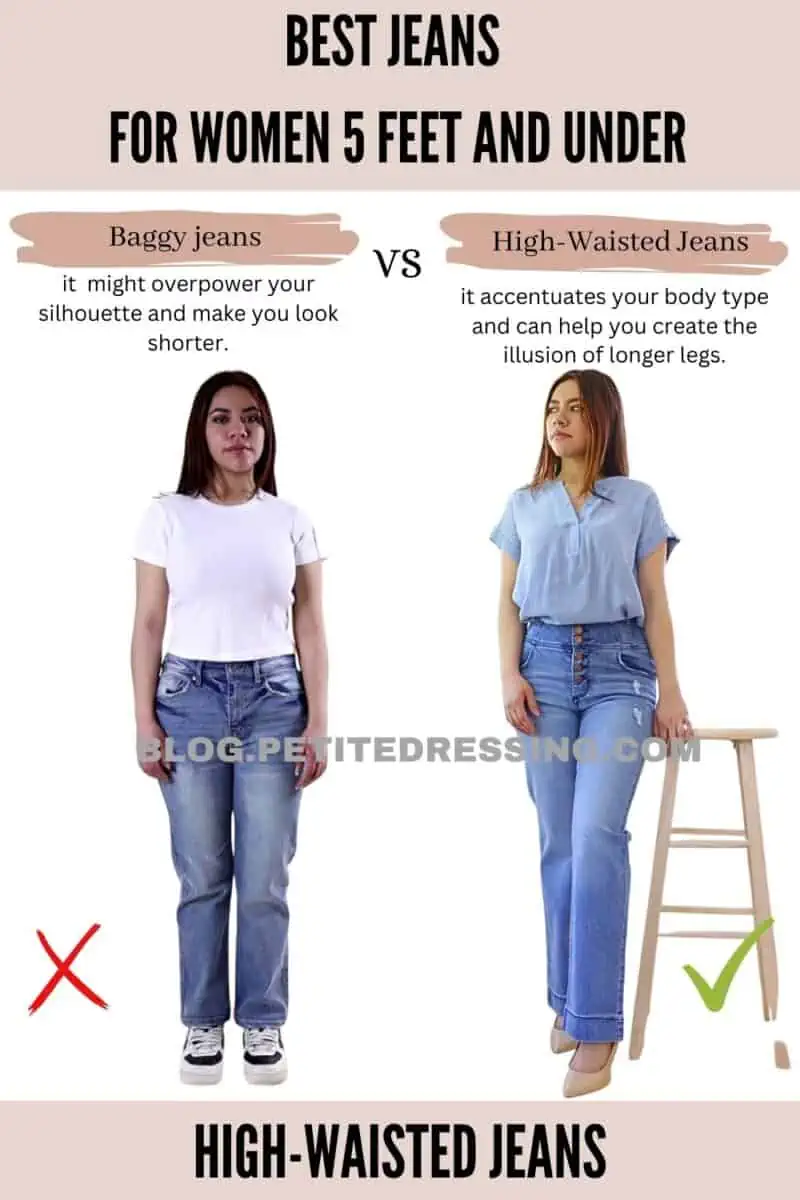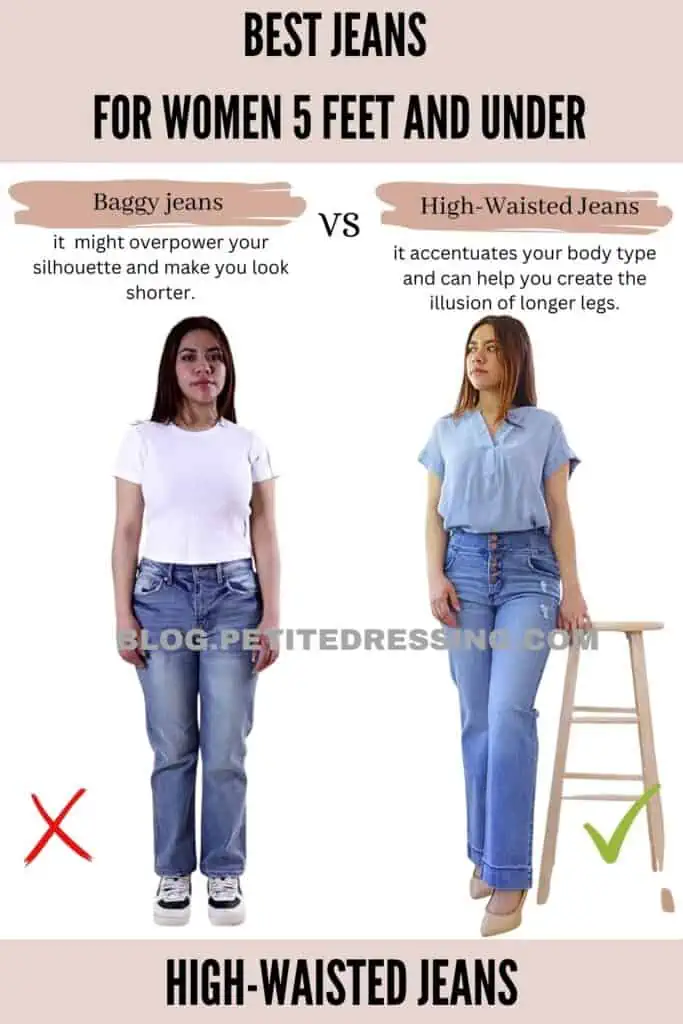 If you are a bit on the shorter side, fret not! High-waisted jeans are indeed a game-changer, and they can help you create the illusion of longer legs.
The key is to pick a pair that falls at your natural waistline rather than below your belly button as this might make your legs appear shorter. I recommend looking for slimming styles such as straight-leg or slender fit for a leaner and more balanced look.
Moreover, always choose a pair of high-waisted jeans with a cropped hem or a raw hemline to elongate your legs even more. Avoid bulky or baggy styles because they might overpower your silhouette and make you look shorter.
You also have to choose the style of high-waisted jeans that accentuates your body type, which can range from skinny to wide-leg. Pair them with a tucked-in T-shirt or a cropped top for a more relaxed style!
High-Rise Skinny Jeans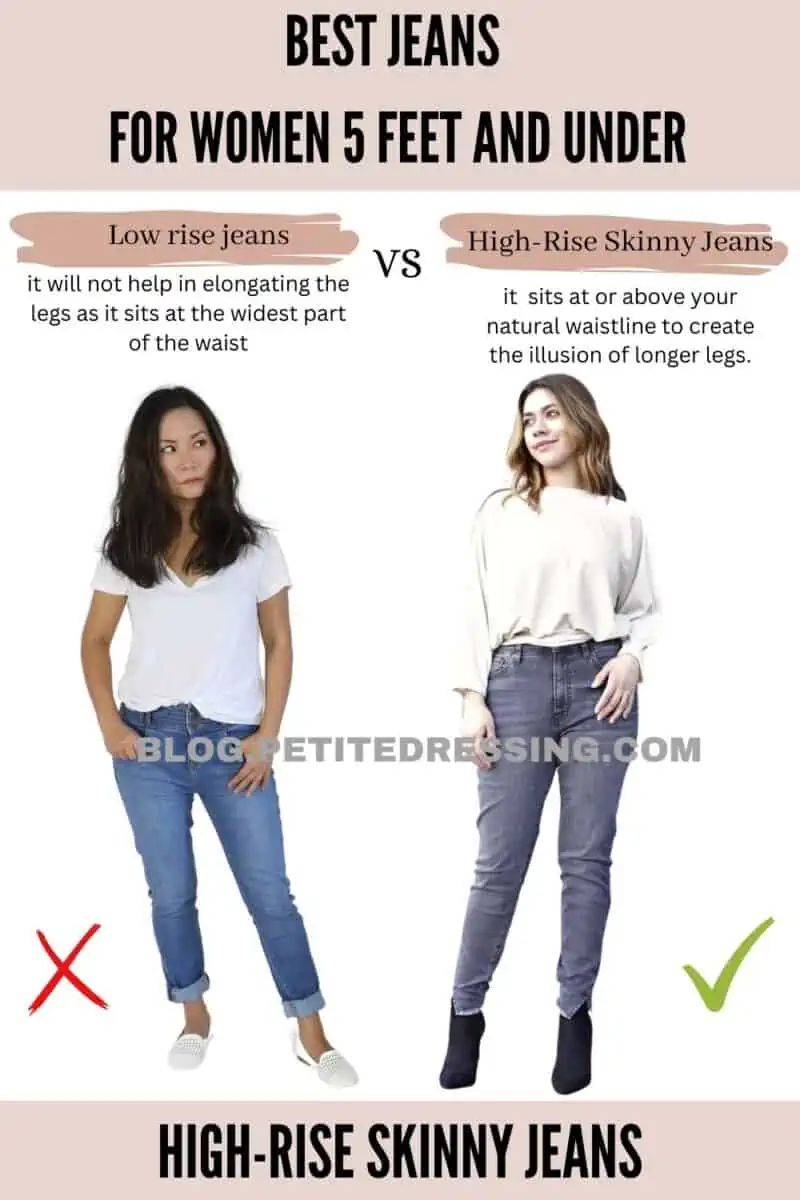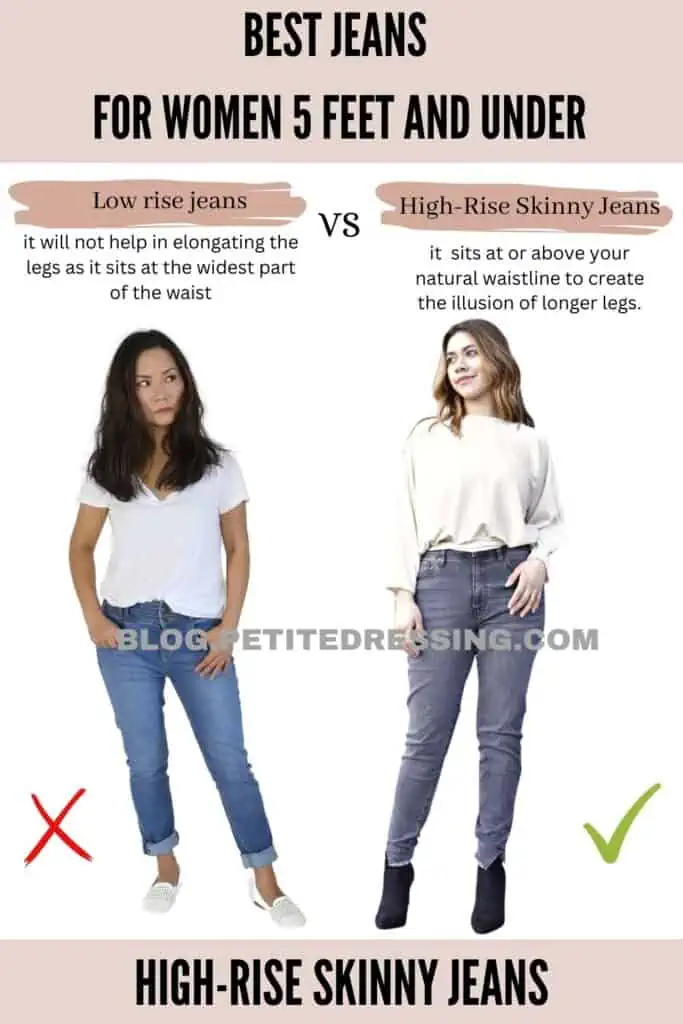 We all know that high-rise skinny jeans are an incredible option for shorter women since they hug your curves while giving you an attractive silhouette. So, I highly advise choosing styles that fit snugly but not too tightly and avoiding excessively tight jeans, which might make you look top-heavy.
Furthermore, these jeans should sit at or above your natural waistline to create the illusion of longer legs. You can even wear them with high heels for an added height increase.
The possibilities for styling high-rise skinny jeans are countless! This is actually one of the best things about this style – its style versatility.
Retro-Style Flare Jeans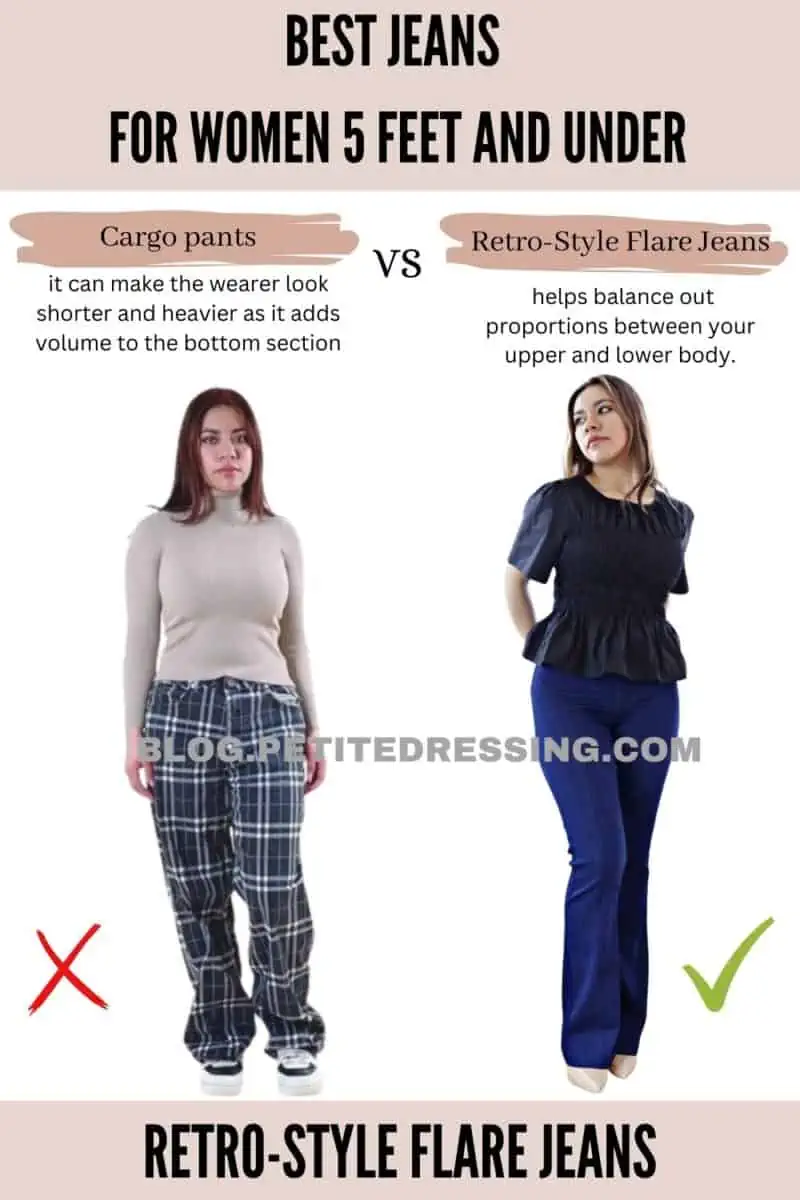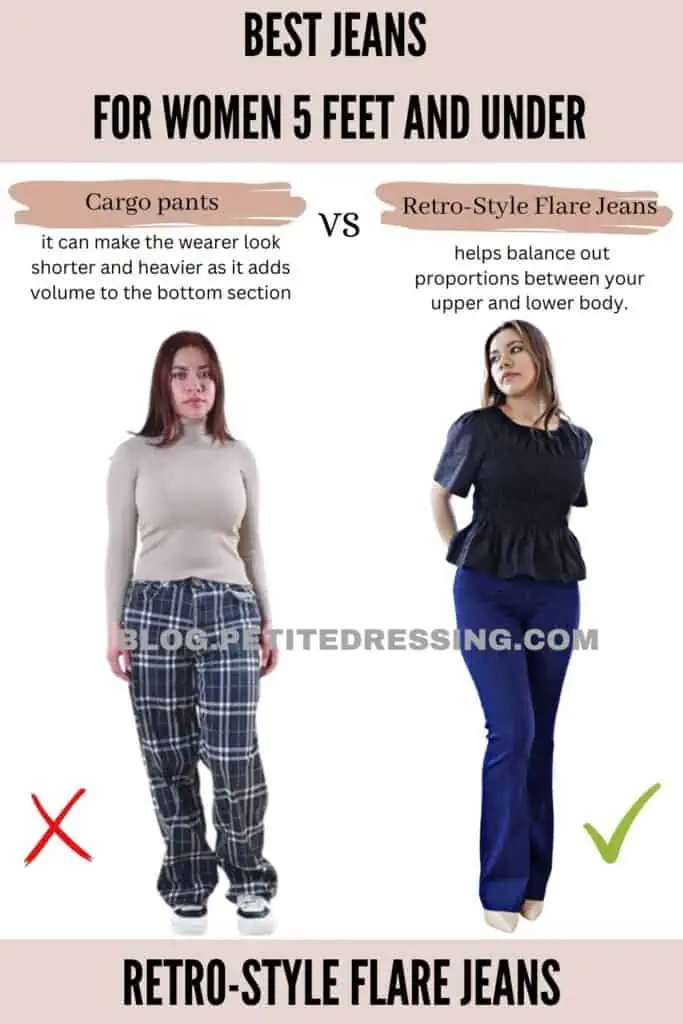 Flare jeans are a flashback to the 1970s, but wearing them is still a perfect way to add a retro touch to your wardrobe. They're also a good choice for shorter women because the wide leg opening helps balance out proportions between your upper and lower body.
For all women 5 feet and under, I generally recommend looking for styles with a high waistline as well as a fitted thigh that flares out gradually below the knee. Flare jeans with excessive embellishments might add weight and bring attention to areas you don't want to draw attention to so try to stick to minimal designs.
To achieve a balanced look, select a style with a small flare that does not overpower your frame. Plus, you can pair it with a fitted top or a tucked-in blouse to highlight your waistline.
Mid-Rise Stovepipe Jeans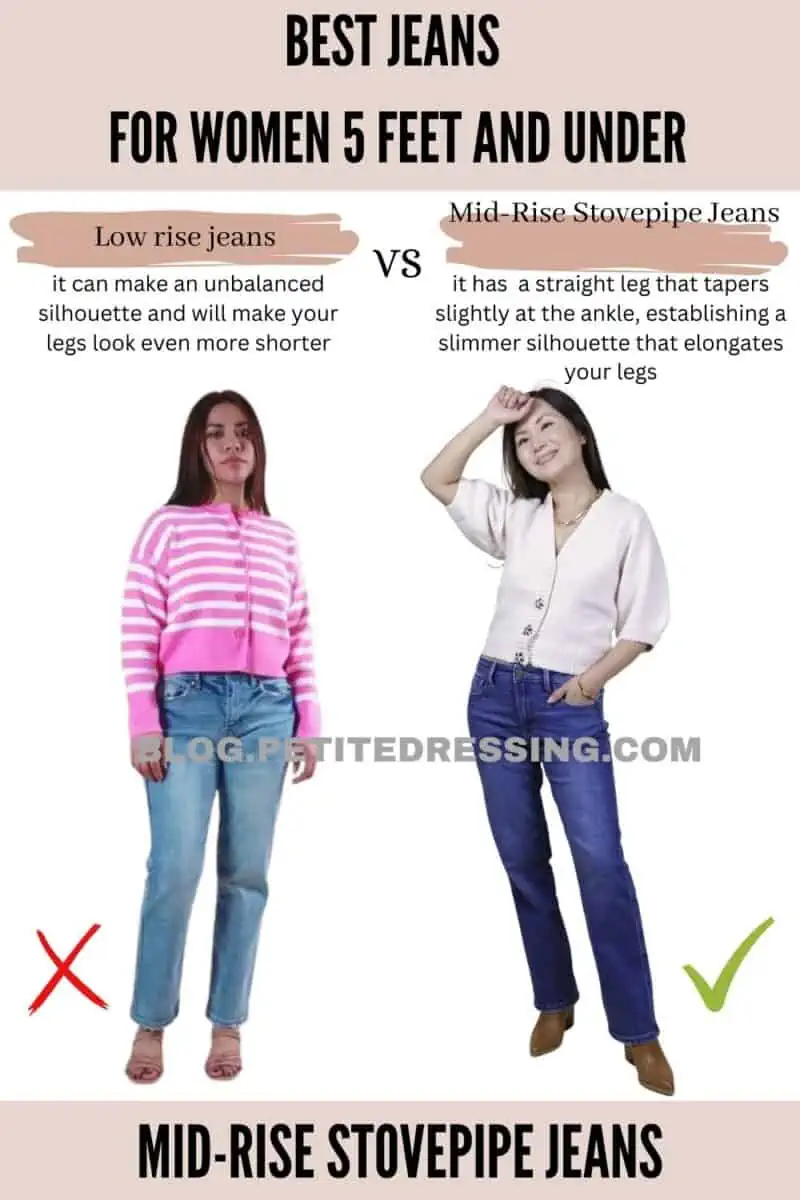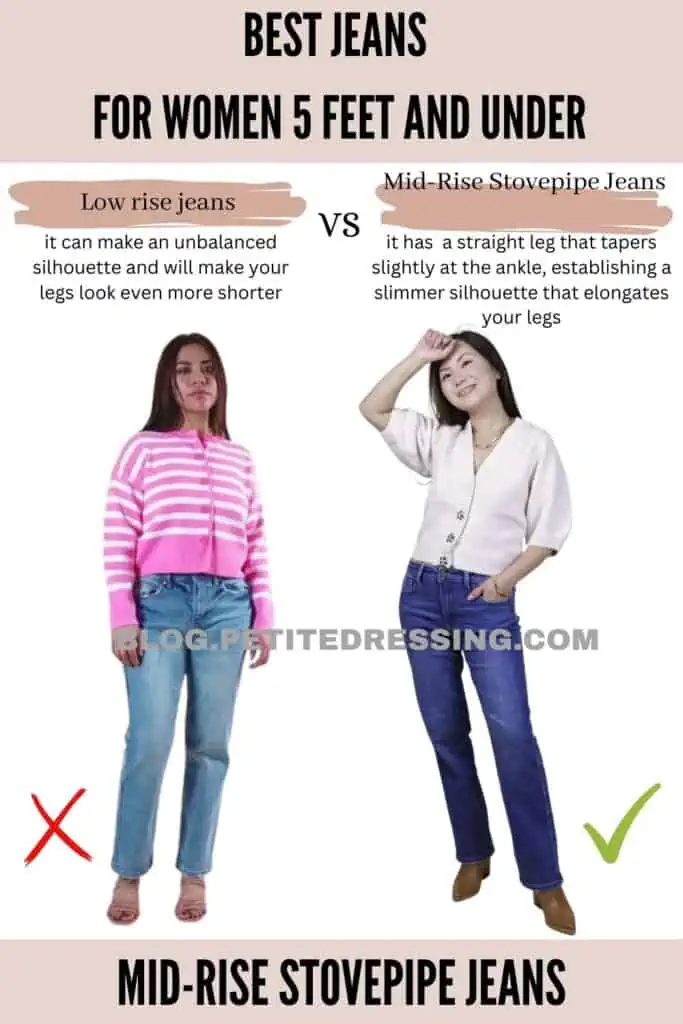 These jeans are fantastic because they sit just above your hips and have a straight leg that tapers slightly at the ankle, establishing a slimmer silhouette that elongates your legs. You can add height by wearing them with chunky heels or ankle-length boots.
Stovepipe jeans are available in an array of washes and styles, ranging from dark denim to distressed denim. If you feel like going for distressed jeans, just go for those that don't have extreme rips as this can create horizontal lines that will make you look shorter and wider.
Structured Bootcut Jeans
Structured bootcut jeans, which provide a well-balanced streamlined shape, are another fantastic option for women on the shorter side. I would recommend these jeans as they have a nicely-fitted thigh that flares out barely above the knee, creating a subtle bootcut shape that flatters the frame of women 5 feet and under.
You'll notice how versatile these jeans are because they go with everything from T-shirts to blouses. You can even easily pair them with layered tops because they are more streamlined and minimal compared to flare jeans.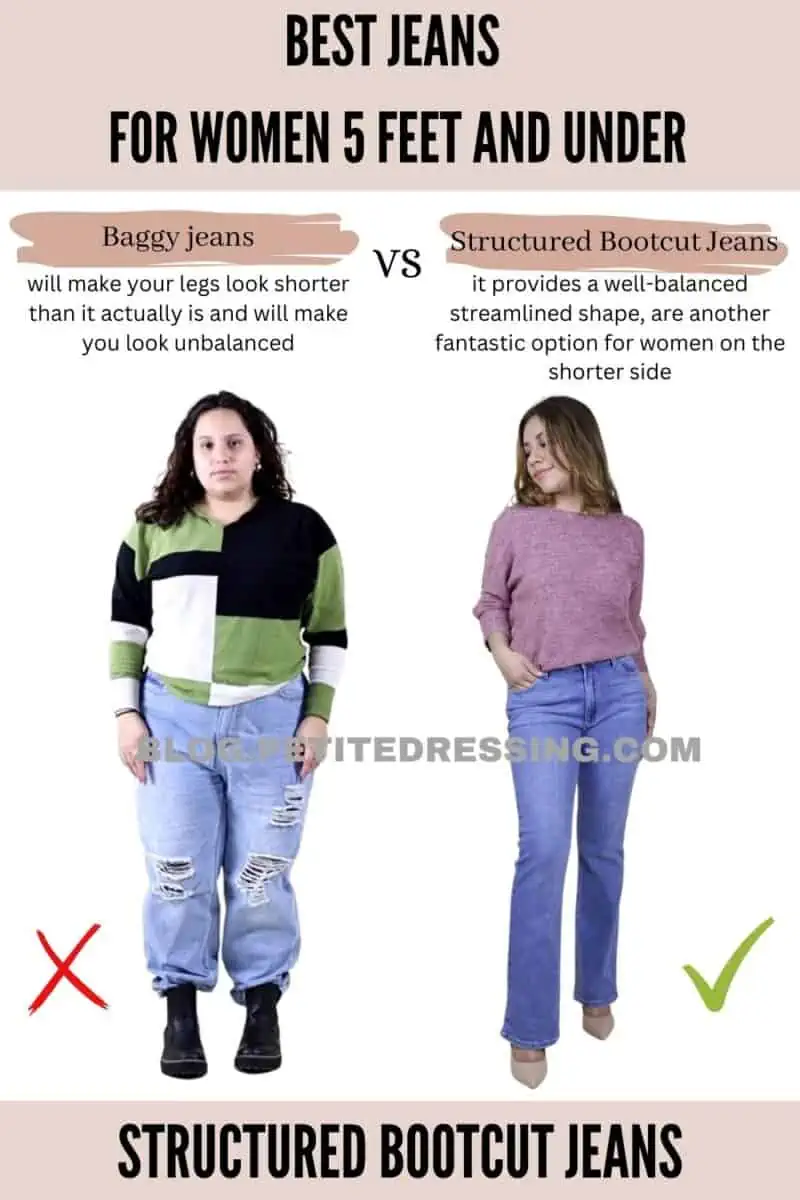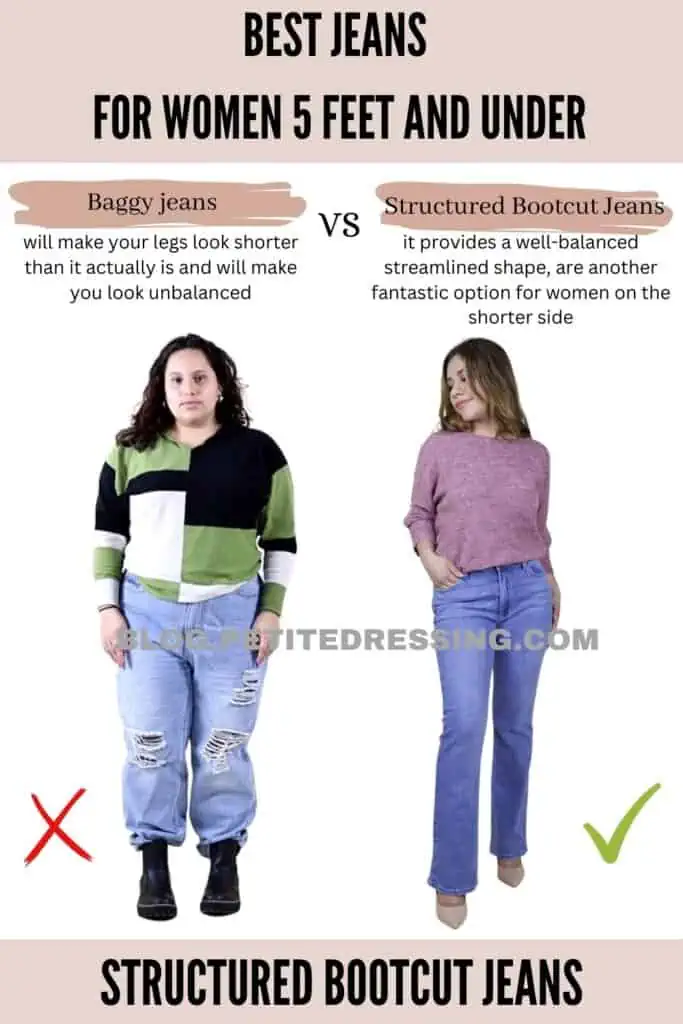 When selecting structured bootcut jeans, pay close attention to the fit. Look for a pair that fits snugly but not too tightly around the waist and hips. The flare should be minimal, not excessive.
Streamlined Straight-Leg Jeans
As we know, straight-leg jeans are the real deal for petite women looking for a sleek and chic style! The straight-leg cut flatters practically every body type and, when worn high-waisted, they efficiently elongate your legs. 
When browsing for streamlined straight-leg jeans, make sure they're not too wide at the bottom. This will help you achieve a neat and refined appearance.
Go for dark-wash jeans that are slim through the hips and thighs. The style will surely complement both flats and heels, making it adaptable and appropriate for any occasion.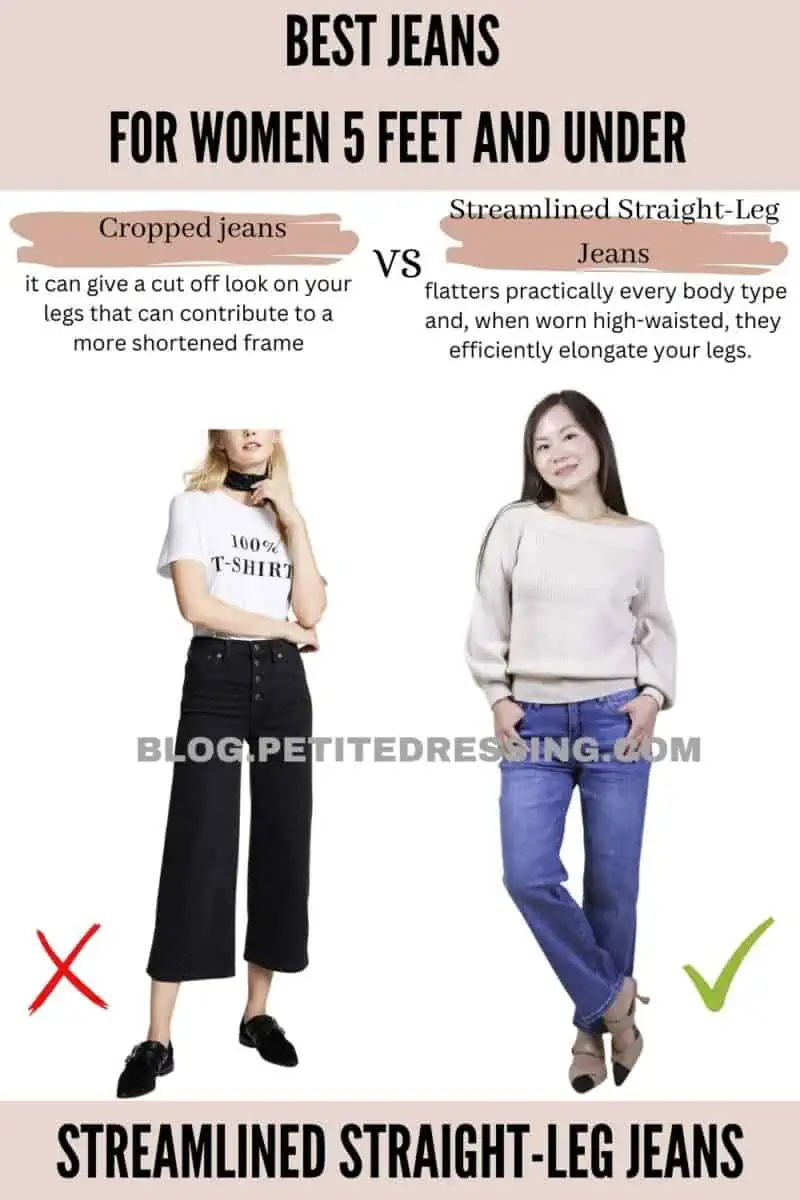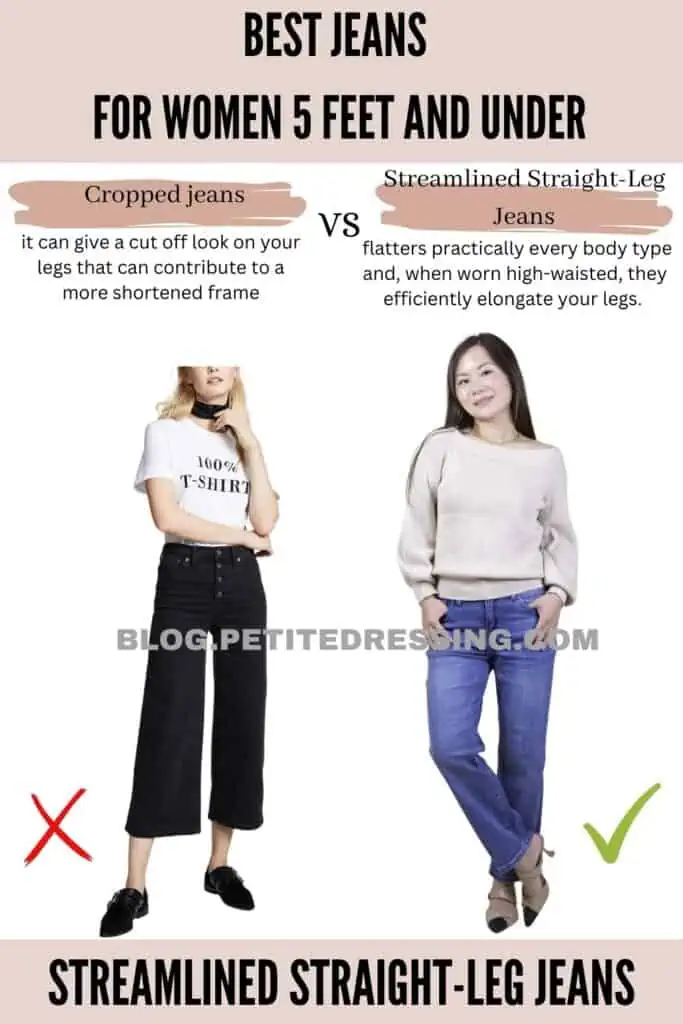 Slim-Fit Boyfriend Jeans
Slim-fit boyfriend jeans are a fantastic option for women 5 feet and under who want a casual, boyish look. These jeans offer a looser fit throughout the hips and thighs yet gently taper at the ankle, giving not just an attractive silhouette but also a comfortable fit.
Once you decide to opt for this style, try to find a pair that is snug around the waist and hips but still has a little stretch in the legs. I suggest cuffing the hem to display off your ankles and wearing them with a basic tee and sneakers for a sleek and easygoing appearance.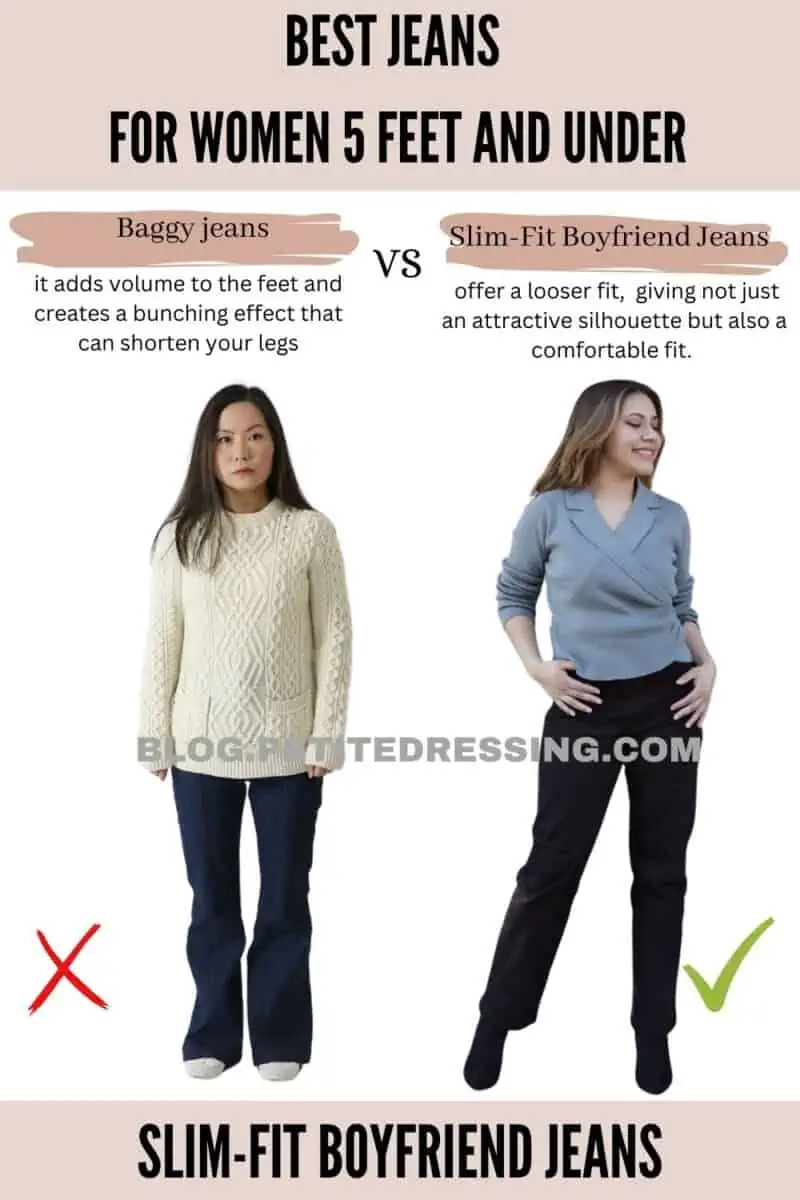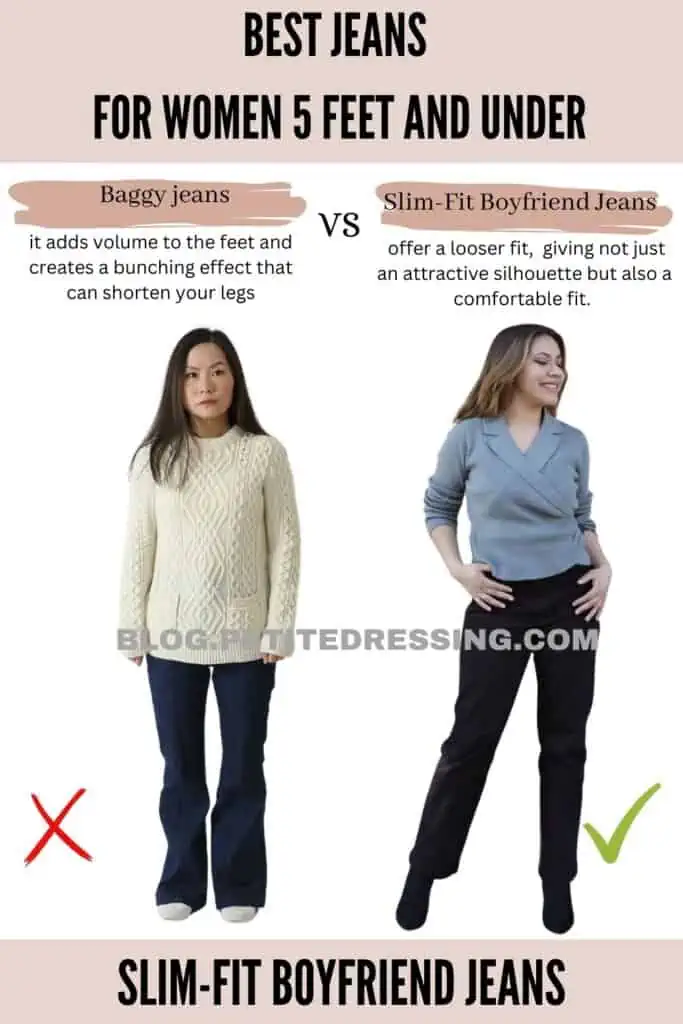 Dark Wash Jeans
Dark-wash jeans are another must-have for every small woman's wardrobe! They're superb since they're quite versatile, flattering, and quite slimming as well.
The dark tone slims the figure and goes with practically any top, thus I generally advise looking for a pair that is snug around your waist and hips but not too tight around your thighs. This will create a gorgeous silhouette and make your legs appear much longer.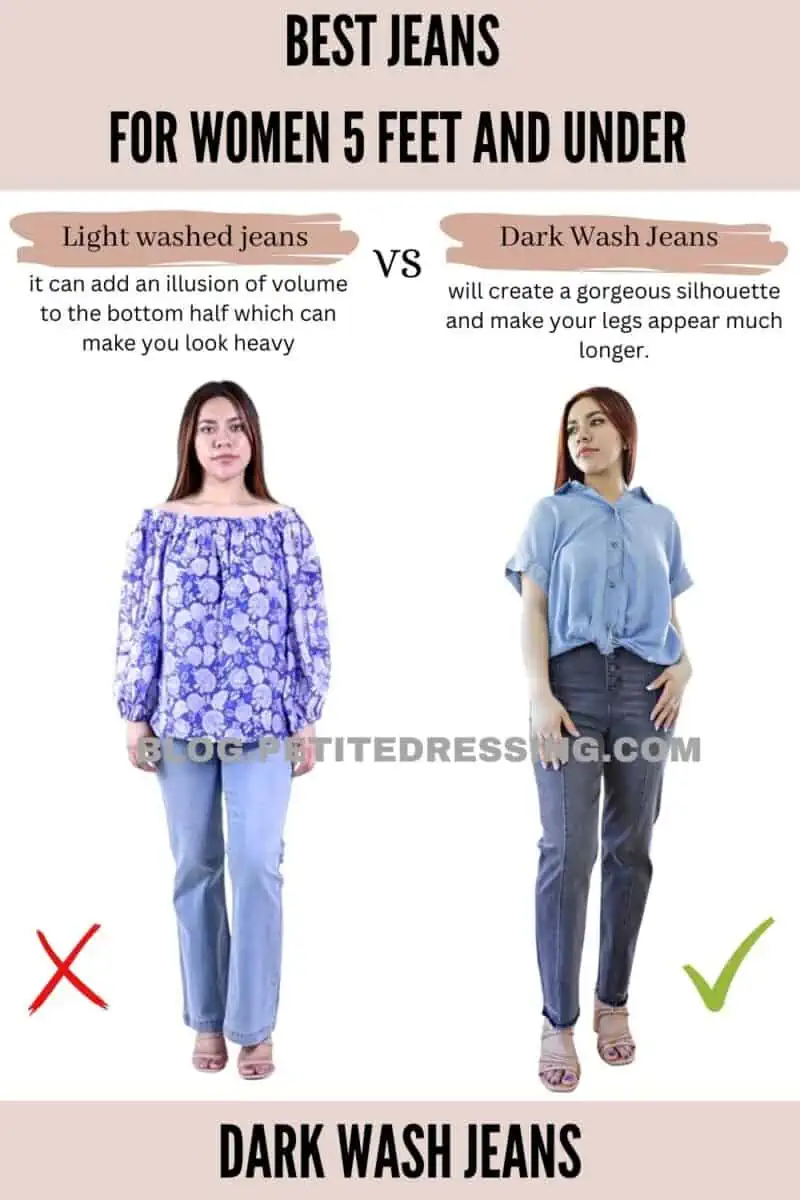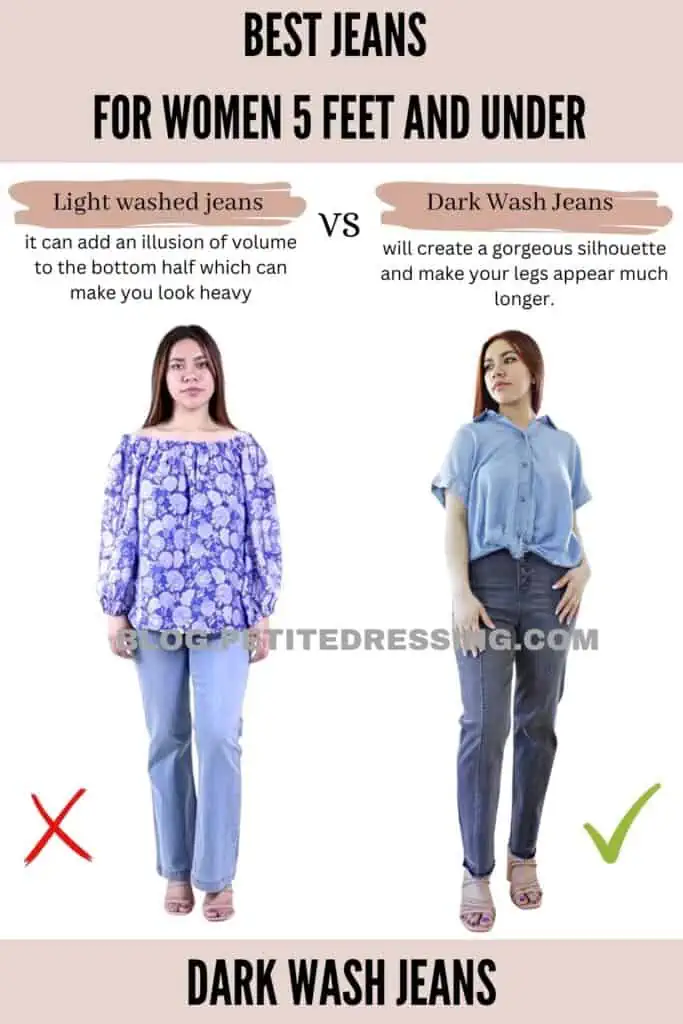 Petite Jeggings
We have to admit that jeggings are perfect for all women who long for the comfort of leggings but aim for the style of jeans! If you are a fan of petite jeggings, make sure that when you wear them, they fit snugly around your waist and hips to prevent them from sliding down.
Additionally, I highly suggest choosing petite jeggings that have a darker wash as they tend to have that slimming effect that also gives the impression of more elongated legs. To complete a comfortable look and style, you can pair them with a sweater.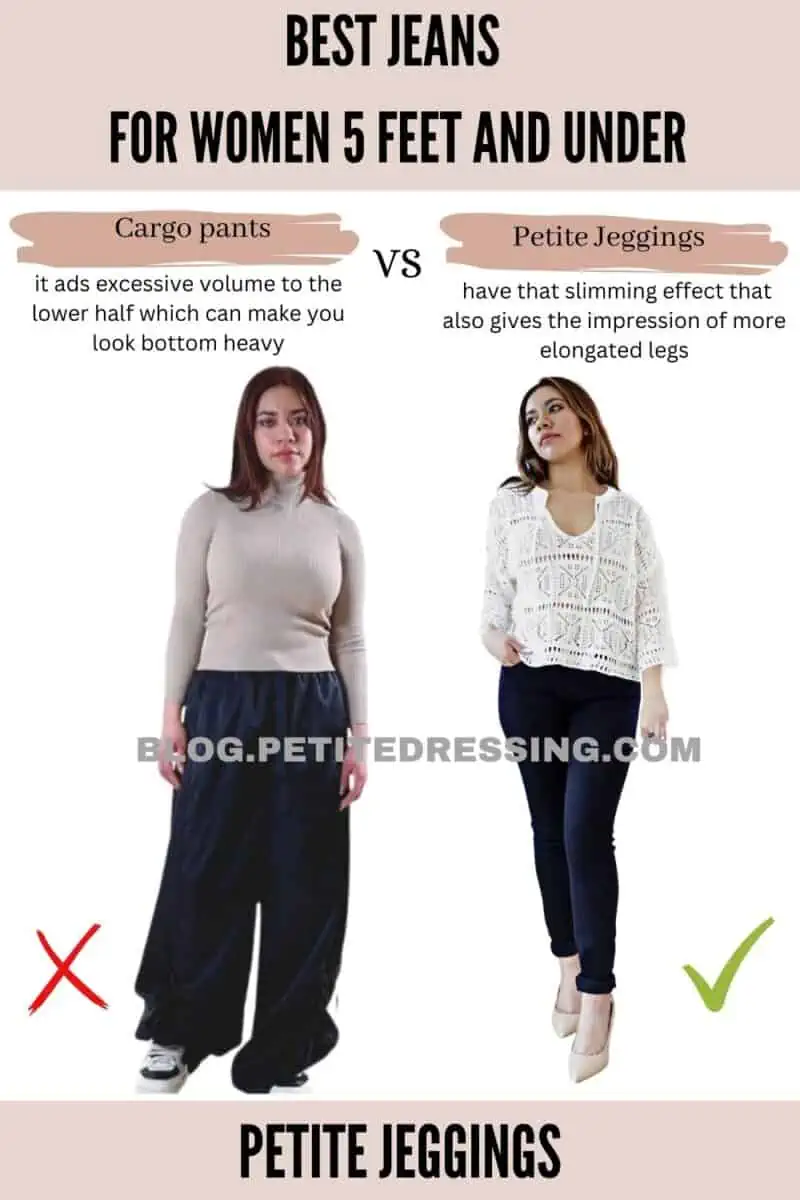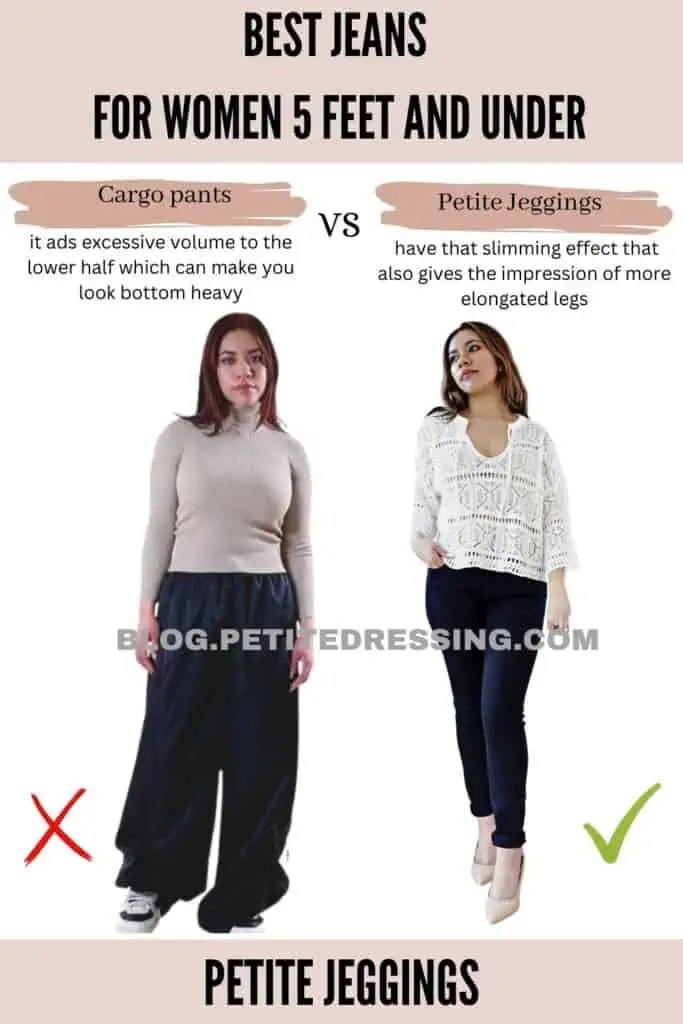 Avoid Low-Rise Jeans
Low-rise jeans sit below the natural waistline, making your legs look shorter. They may also result in a muffin top or unsightly bulges.
If you are 5 feet and under, you wouldn't want to wear jeans that give a shorter rise and cuff off your torso, right? That is why I advise against wearing low-rise jeans if you are 5 feet or under.
Instead, only go for mid-rise or high-rise jeans, which elongate your legs as well as make you look slimmer and taller.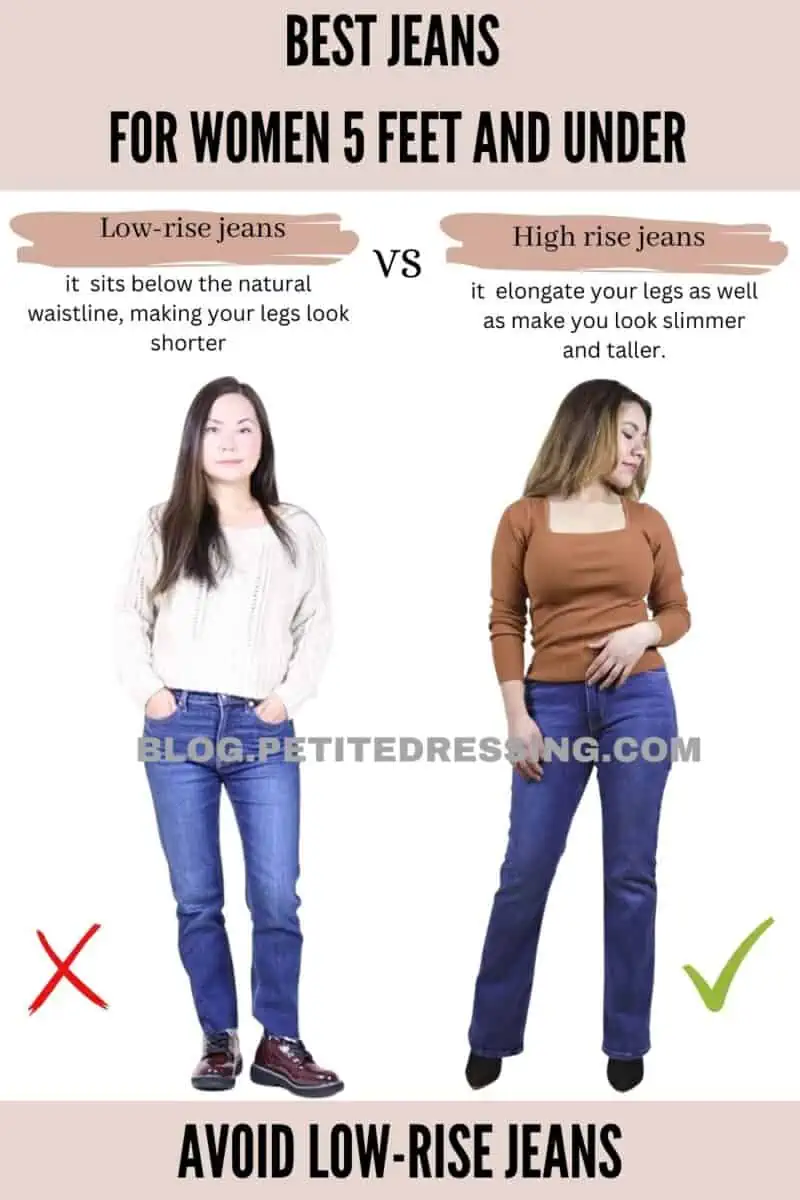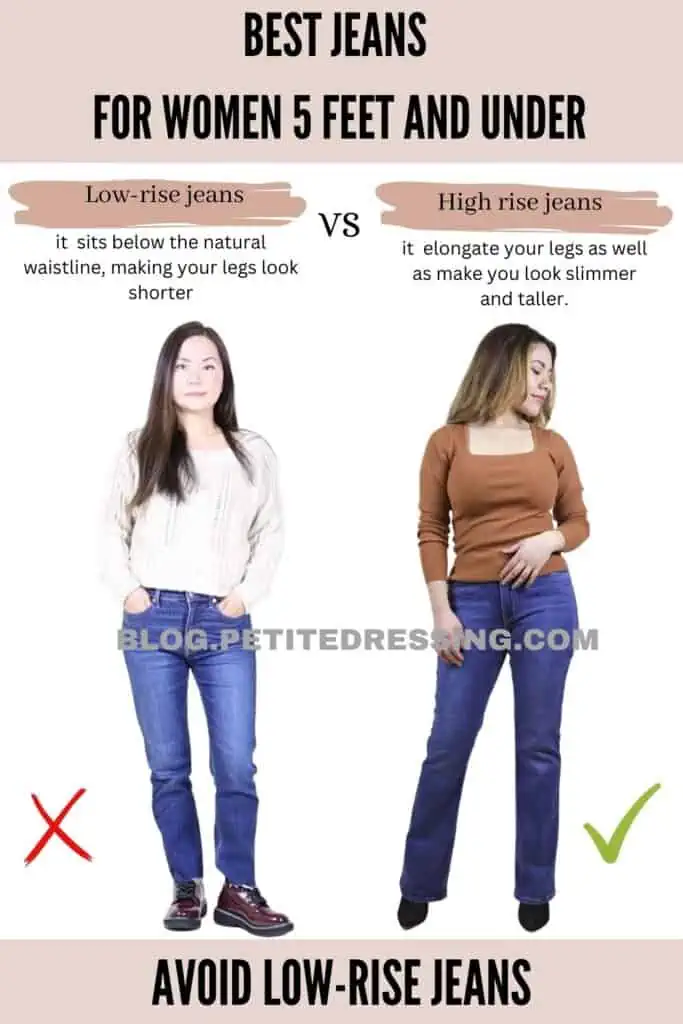 Caution with Jeans with Whiskering
Although jeans with whiskering or fading patterns are popular, they can draw undesirable attention to your hips and thighs, especially if you are below 5 feet. The horizontal lines on the hips and thighs can produce a visual interruption that creates an illusion of shorter legs.
So, I usually advise selecting jeans with a simple, dark wash or subtle fading that does not call attention to any particular spot. This will give you a slim and elongated physical appearance.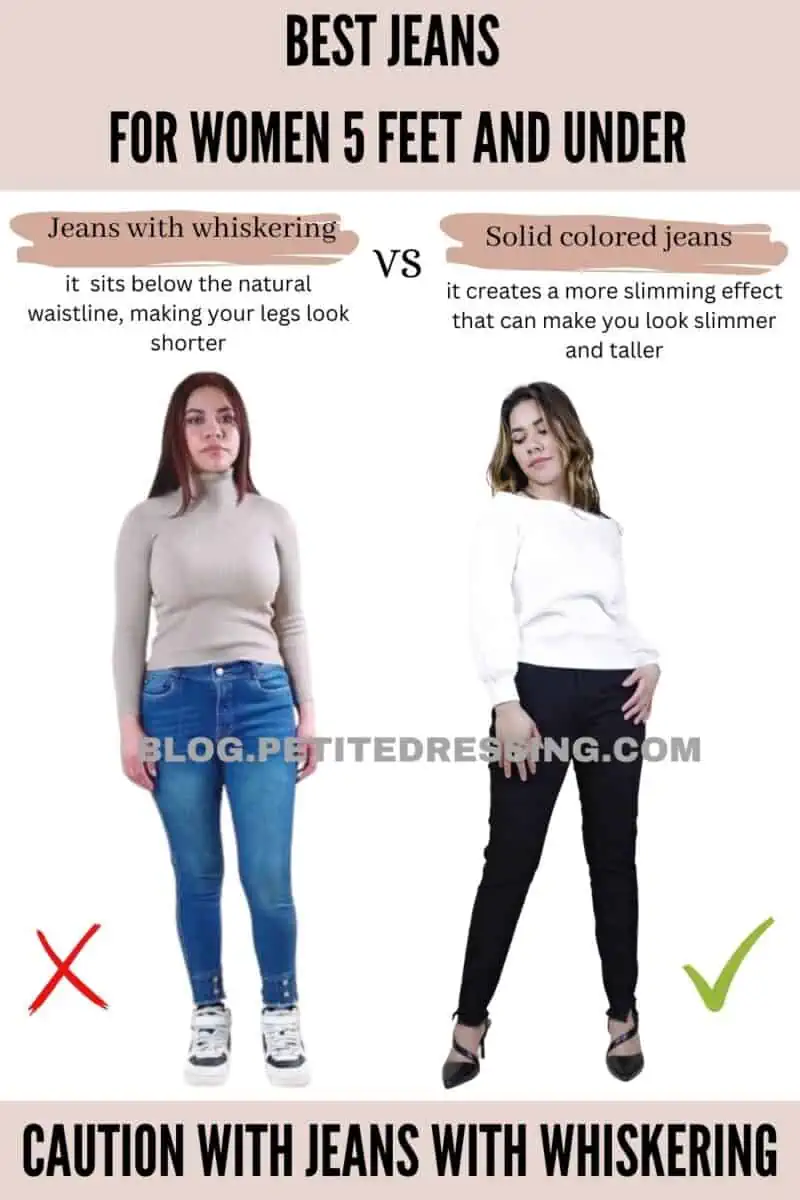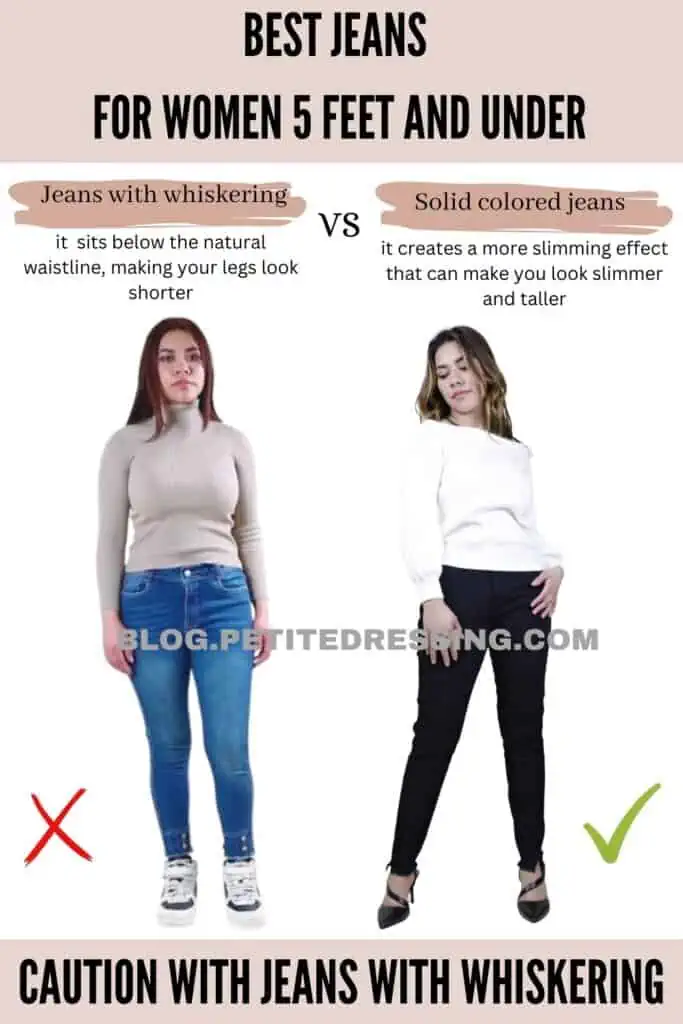 The Key Takeaway
There you have it, gorgeous petite ladies! I hope this jeans style guide has provided you with some valuable advice and ideas on how to rock your jeans like a pro.
Keep in mind that the correct pair of jeans can make or break how you feel and look, so don't be hesitant to try on several styles and fits until you discover your perfect fit.