Suede pants are one of the hottest trends right now. While it's a warm fabric mostly preferred for fall season, suede can also be worn during other seasons within the year. It all just depends on what you choose to style your suede pants with.
This suede fabric is available in several different colors that you can choose from based on your preferences. It's also a versatile fabric that you can wear to different occasions. Suede pants in particular are so easy to wear and feel so comfortable. They come in different fun designs that work for the office, a day out running errands, events and so much more.
Here are some of the best outfit ideas on what to wear with your suede pants:
With a blazer
Wearing a blazer to your suede pant outfit adds some sophistication to a look.
Blazers are a wardrobe staple for anyone who wants to look classy, Regardless of whether your outfit is casual or more formal, a blazer will always tie up your outfit so well. They come in different colors and materials that can be styled with a pair of suede pants.
If your blazer is simple, you can finish the look off with a pair of leopard print shoes. Closed shoes make the outfit more formal, but you can also wear a pair of open heels with this look.
With a coat
You can wear one over a suede pants outfit for a classy and lady like outfit.
Coats are functional, especially when it's cold outside. Not only they keep you warm, but they can also be very stylish. They can be either long or short, which you can choose depending on the outfit you are wearing underneath. You only have to pick them in a color that goes well with the rest of your outfit.
This is a combination that will have you looking so stylish during fall weather. You can wear dressier shoes like strappy heels, when the weather is not too cold.
With a vest
A vest makes for great outerwear. Wearing a vest with your suede pants is a nice way to make your outfit more interesting. You can go for a formal style vest, but casual styles look great too, if you want to step out in a more laid back look.
Most vests look great when worn with suede pants. Since they come in different materials, you can easily find one that looks great with suede pants.
For this combination, you can pick suede pants in different styles such as bell bottoms, skinny pants, straight-leg ones, to mention just a few.
With a leather jacket
You can wear leather jacket with a pair of suede pants as the two materials contrast so well with each other.
A leather jacket is a closet staple, thanks to the fact that it is versatile. Being both a classic and timeless piece, you can be sure yours will never run out of style. Leather jackets make you look edgier in the right way.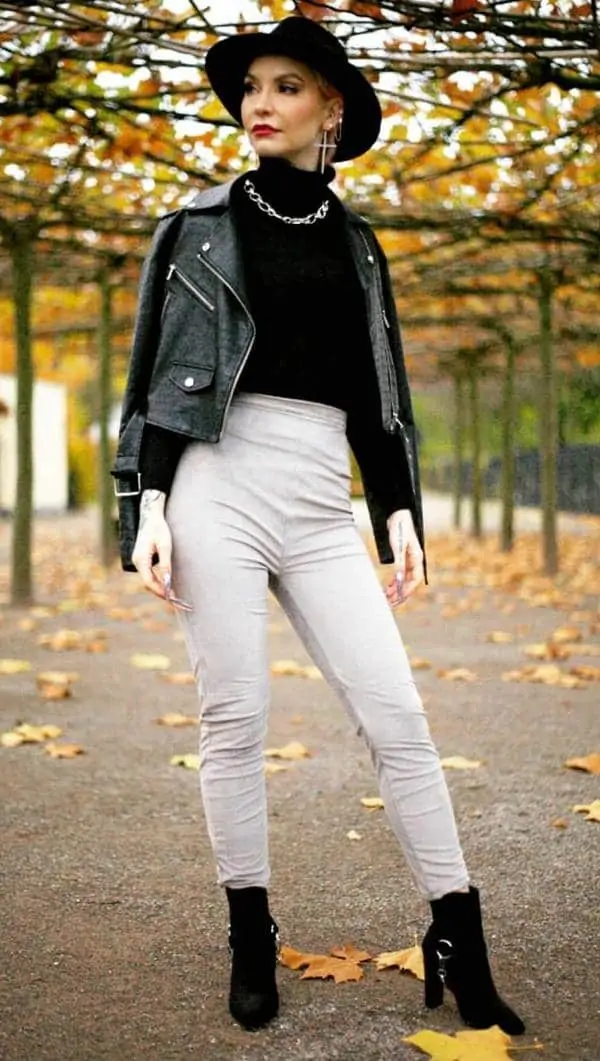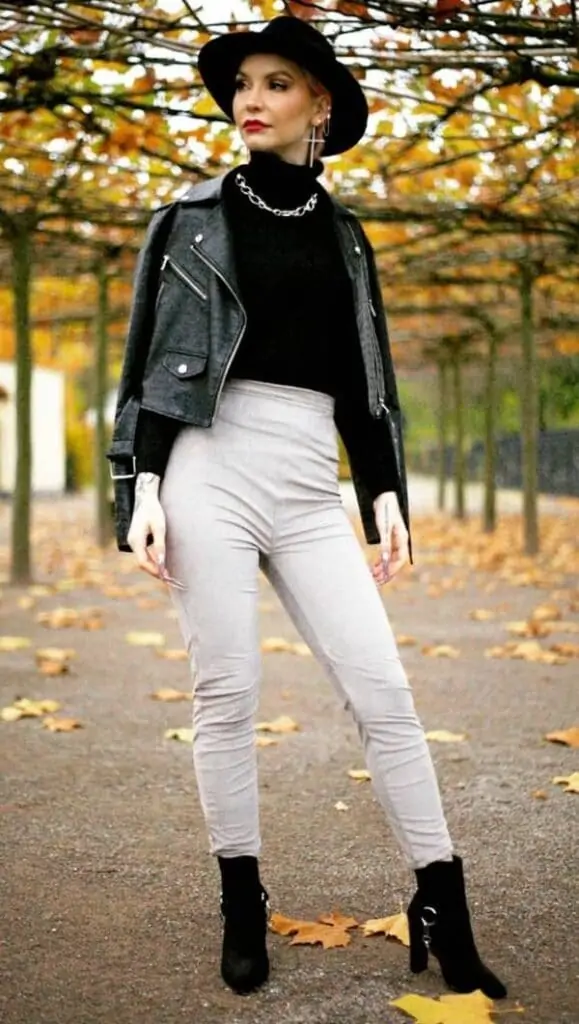 Sonja (above) styled her white suede pants with a black top and a leather jacket, then completed her outfit with a pair of stylish ankle boots. A motor style leather jacket is the most versatile, as it will go with several different suede pants styles. Alternative, you can play around with leather jackets of different lengths, depending on the design of your pants.
With a faux fur jacket
Faux fur anything is a big trend right now. Faux fur jackets are comfortable and warm on cold days. They also make your outfit look trendier, no matter what you wear with these jackets.
Because they are available in different colors and even designs, you can have all the fun you want with them. You could pair your faux fur jacket with a stylish pair of suede pants.
These jackets make your outfit more fun, when the weather is gloomy. The best part about them is that they are appropriate for women of different ages, whether you are 20s or over 50. So, if you happen to be in the mature age group, do not shy away from the faux fur jackets, as they can add such a youthful vibe to your outfits.
With a pullover
Pullovers are always so cozy, especially when it's cold and fortunately. They are available in different styles such as embroidered ones, and other trendier styles. You can style these too with suede pants.
Going for neutral colors gives you a classier look. This outfit in particular is a monochromatic look, ideal for anyone who wants to look taller and leaner. Since pullovers are generally easy to style, you can play around with different colors for this combination.
With a polo shirt
Wearing a polo shirt with your suede pants adds an athletic vibe to your outfit.
Polo shirts are not just reserved for men or for sports such as golf and tennis. You can actually style them with your everyday bottoms to get a stylish outfit.
The best part about a polo shirt is that it gives you the same comfort you would get from another ordinary t-shirt. With the suede material, you get an even cozier look.
With a tank
Wearing a tank with your suede pants is the most effortless but chic look anyone can pull off easily.
A tank is always so minimalist and looks great when paired with different pieces, such as skirts, pants, leggings and any other bottoms. Their versatility also makes it easier for you to layer different outerwear pieces over them. They look great with a pair of suede pants.
Since a tank top is minimal in design, you can choose suede pants in a variety of designs and colors, and you can also experiment with different footwear.
With a utility jacket
Utility jackets have become so popular, understandably because they easily go with most pants you have or even dresses and skirts. They add a touch of toughness to a look in a way that's so fashion-forward. They come in different colors, and will look great when paired with your suede pants.
Alternative, you can go casual with it by wearing sneakers and going for a crossbody instead, as they will also look great with this combination.
With a tweed jacket
Tweed jackets are ever so chic, and add an expensive touch to an outfit. This is why tweed is often spotted during high fashion events. You can style your tweed jacket with a pair of suede pants too.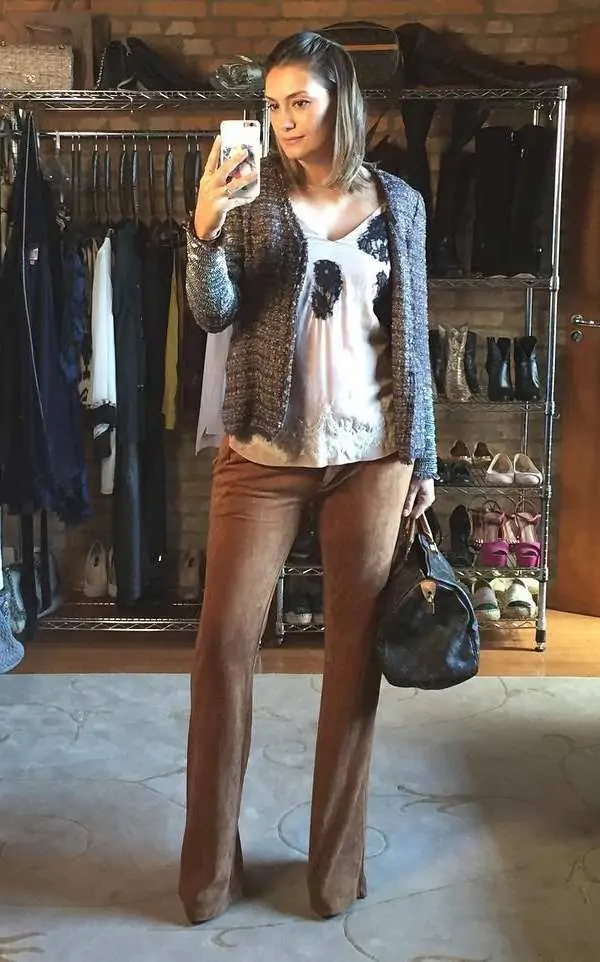 Juliana (above) styled her tweed jacket over a simple top, and then wore a pair of suede boots to complete her outfit. This combination also works well for work, as the tweed blends in so well with suede. It gives a classy look.
These ten outfits should inspire you to wear suede pants more often. If you like the casual chic looks you can create with suede pants, you can stock them up in different leg shape, length and colors so that you can play around with them during the different seasons of the year. They suit different body shapes and are great regardless of your age. Most of all, they are stylish and with them, you don't have to think about whether or not what you're wearing is in style or not.
The suede material is also very comfortable, and well, who doesn't like to feel great in their clothes right? So in case you've been shying away from buying that pair of suede pants, these should be enough reason for you to walk into the nearest mall or store and get yourself a pair so that you don't miss out on this amazing wardrobe piece.