The biggest fashion trend right now? It's all about embracing quiet luxury wherein you exude class and old-money vibe without showing off too much extravagance.
However, most of these 'old money' designs involve longer cuts so they are not the most friendly if you're on the shorter side like me, standing at just 5'2″. I know the struggle of making these fancy pieces work since they can sometimes make us shorter ladies look a bit out of proportion.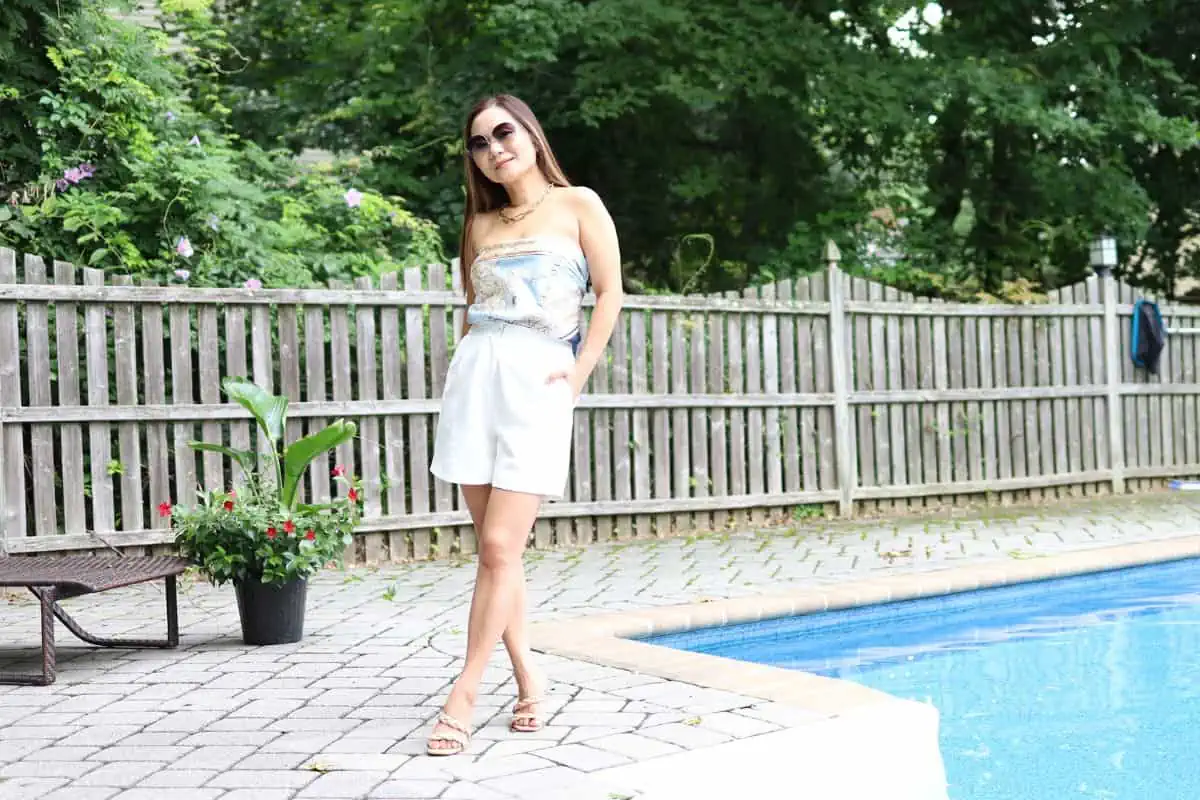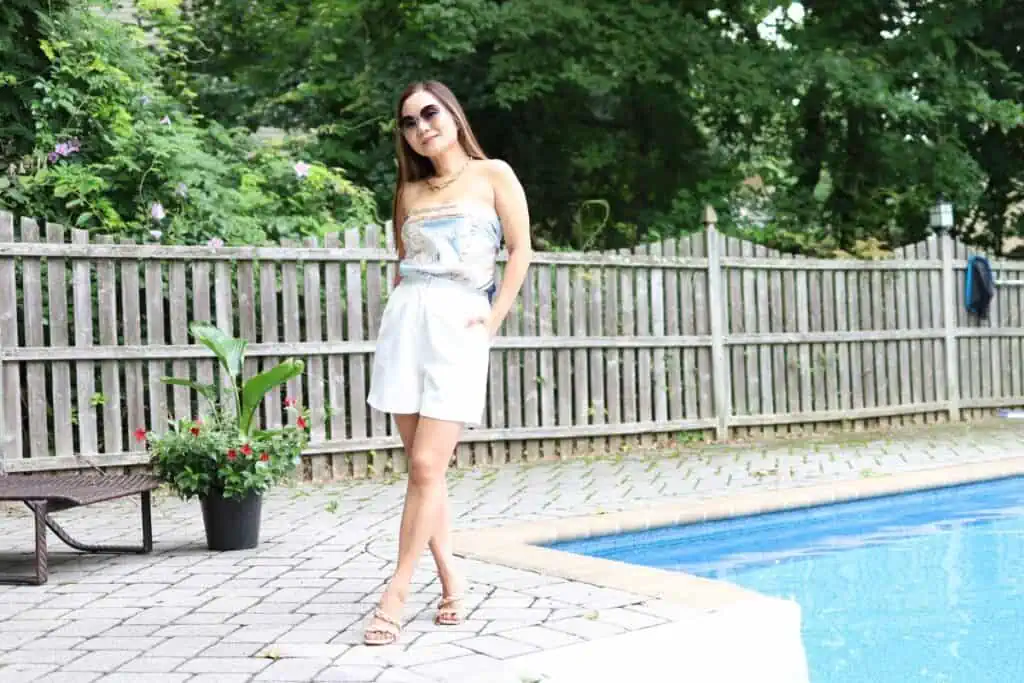 So in this guide, I'm going to share with you some useful tips and tricks to achieving that timeless old money elegance. If you're a fellow petite fashionista, let me walk you through the secrets of making this style work for us!
Go for Neutrals
When embracing the old money aesthetics, choosing the right color combinations is paramount, especially for us gorgeous petite women. Solids are our best friends, whereas neutrals are the name of the game.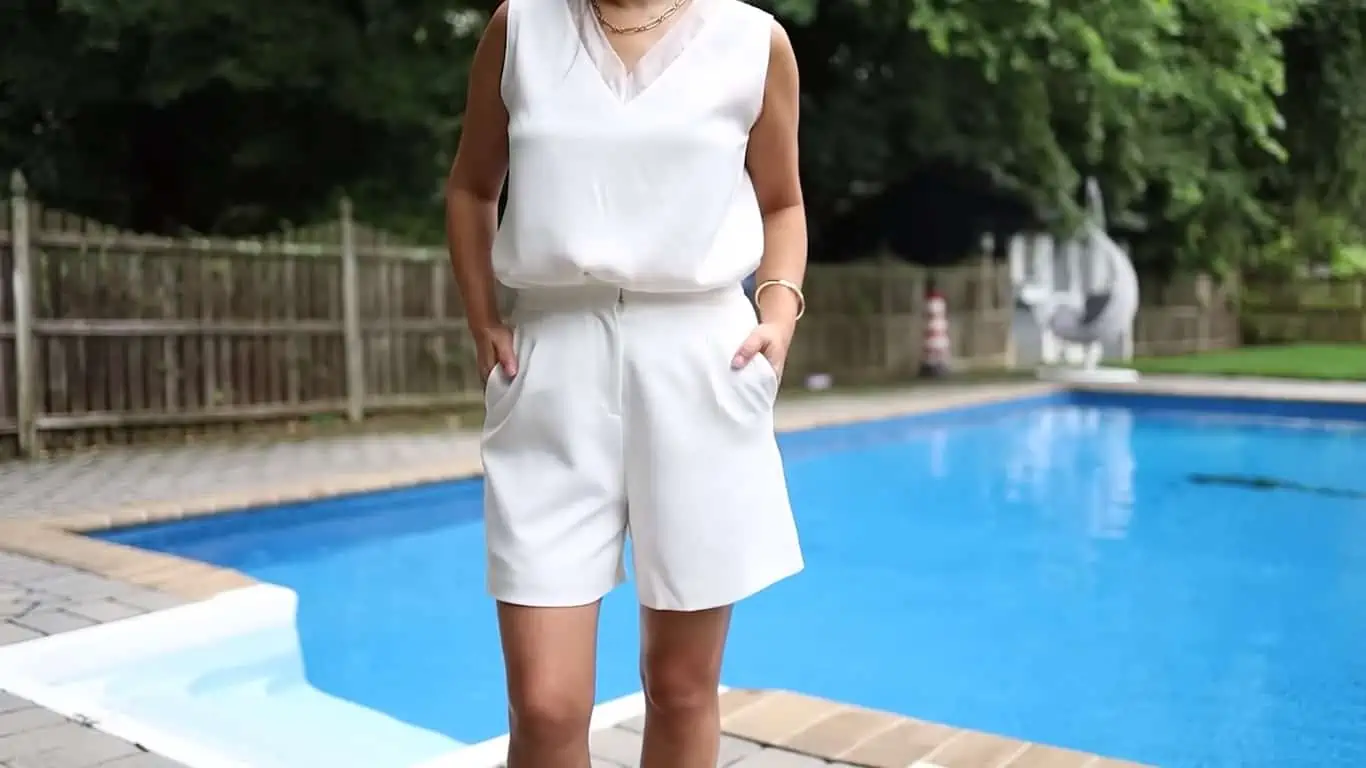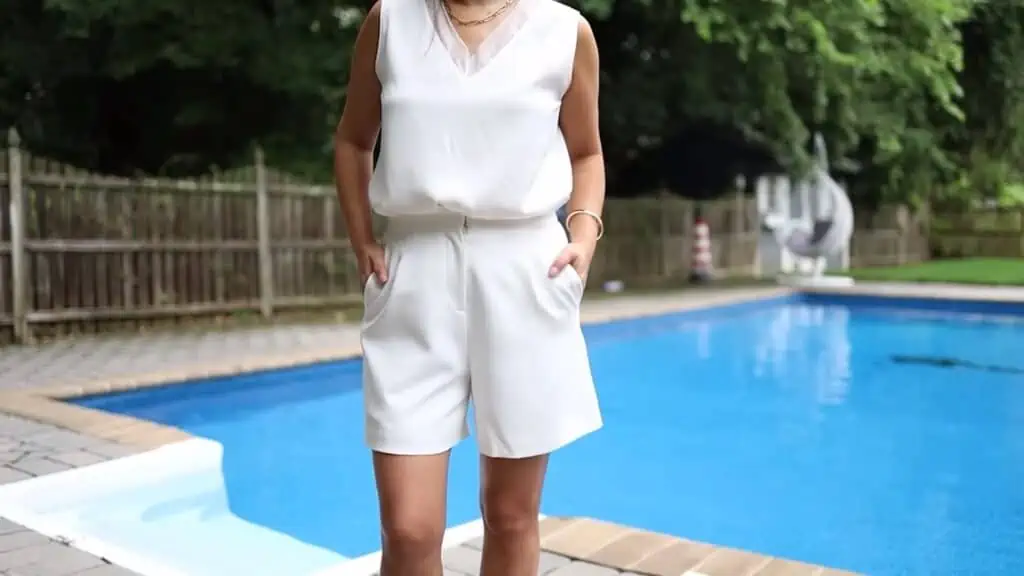 Consider incorporating blacks, whites, grays, and navies into your wardrobe. These versatile shades effortlessly complement each other, allowing you to mix and match them for a cohesive and sophisticated ensemble.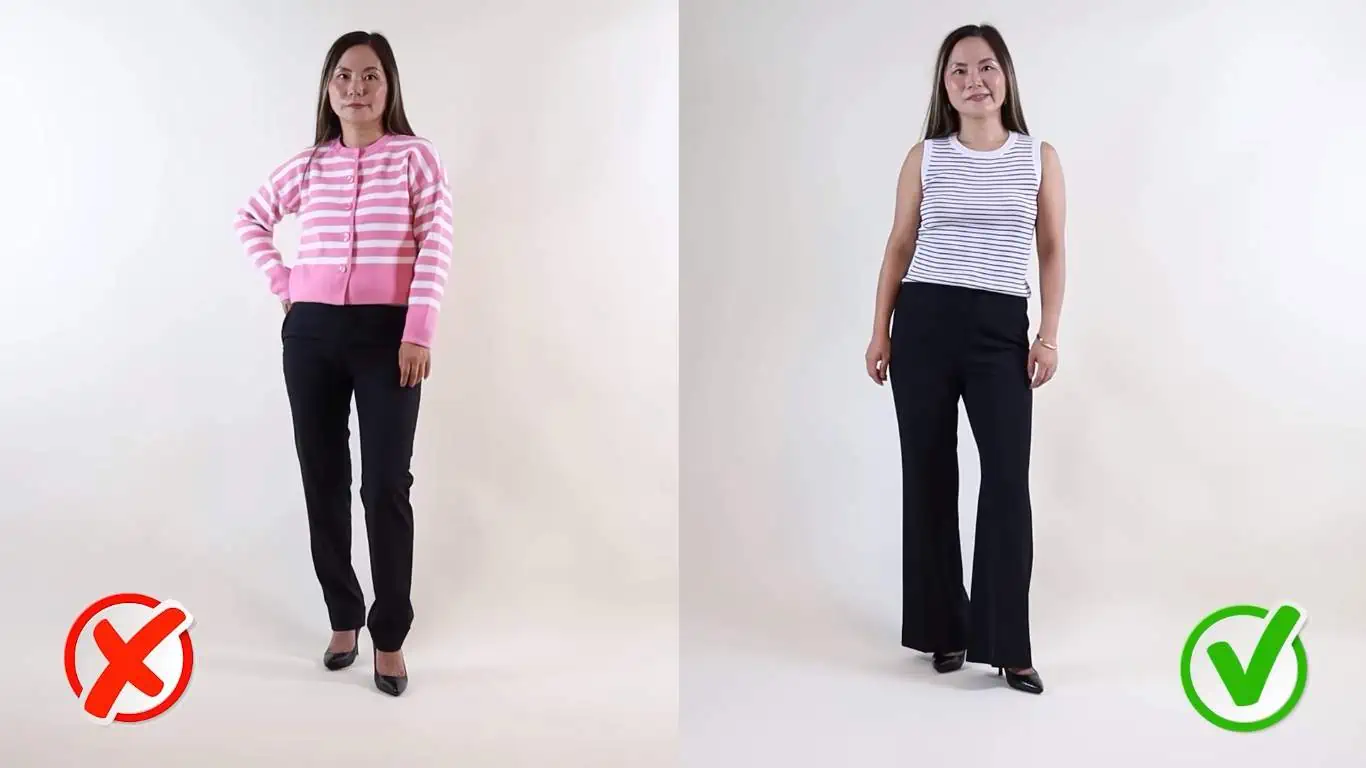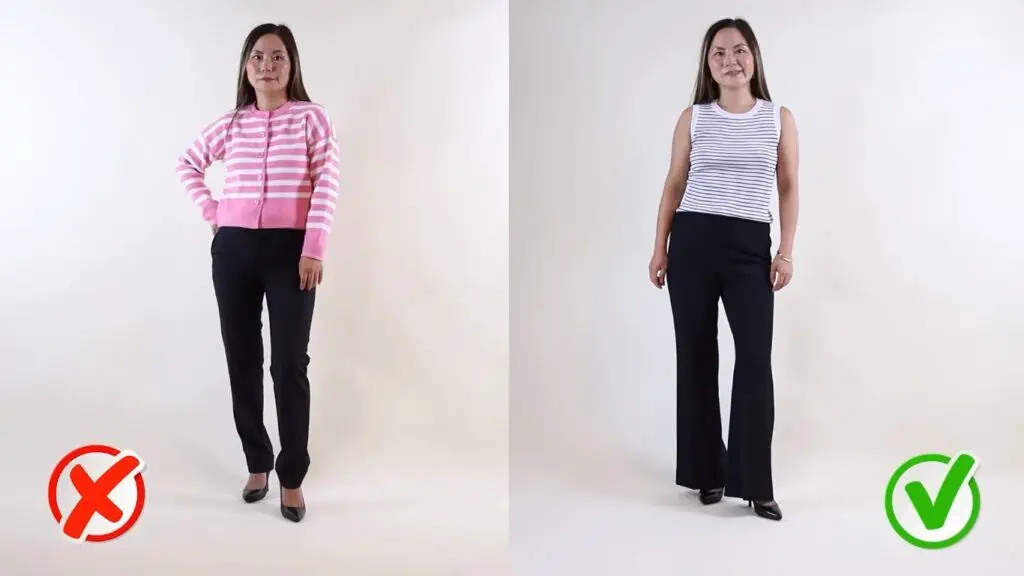 Take note: Always steer clear of any overly attention-grabbing color combination! Remember, the quiet luxury look is all about understated sophistication.
Wear Black and White Stripes
For those who appreciate patterns, you can't go wrong with classic stripes. You can always select the evergreen combination of black and white stripes for an eye-catching classic appearance.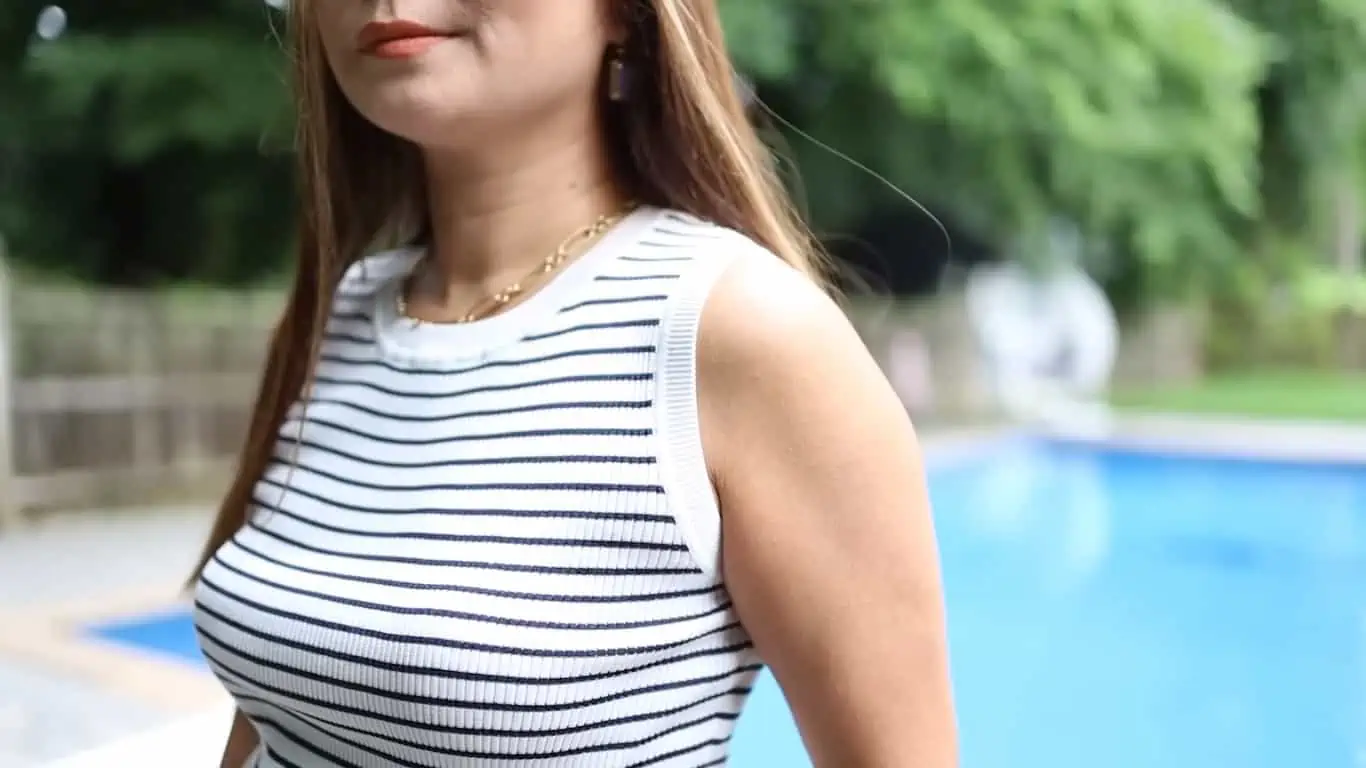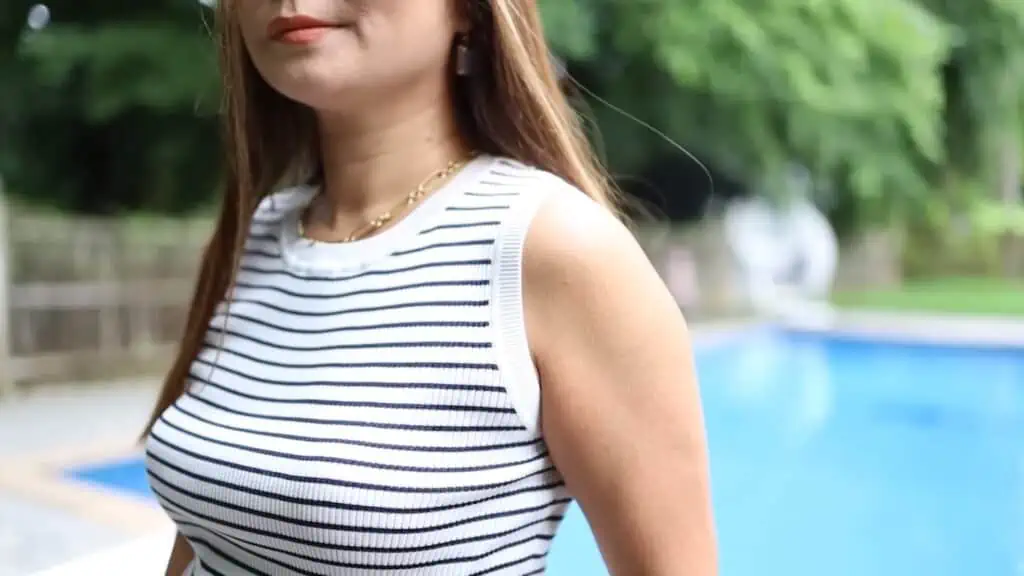 Furthermore, opting for thinner stripes can be our go-to strategy since wider stripes can give the illusion of a broader and shorter silhouette.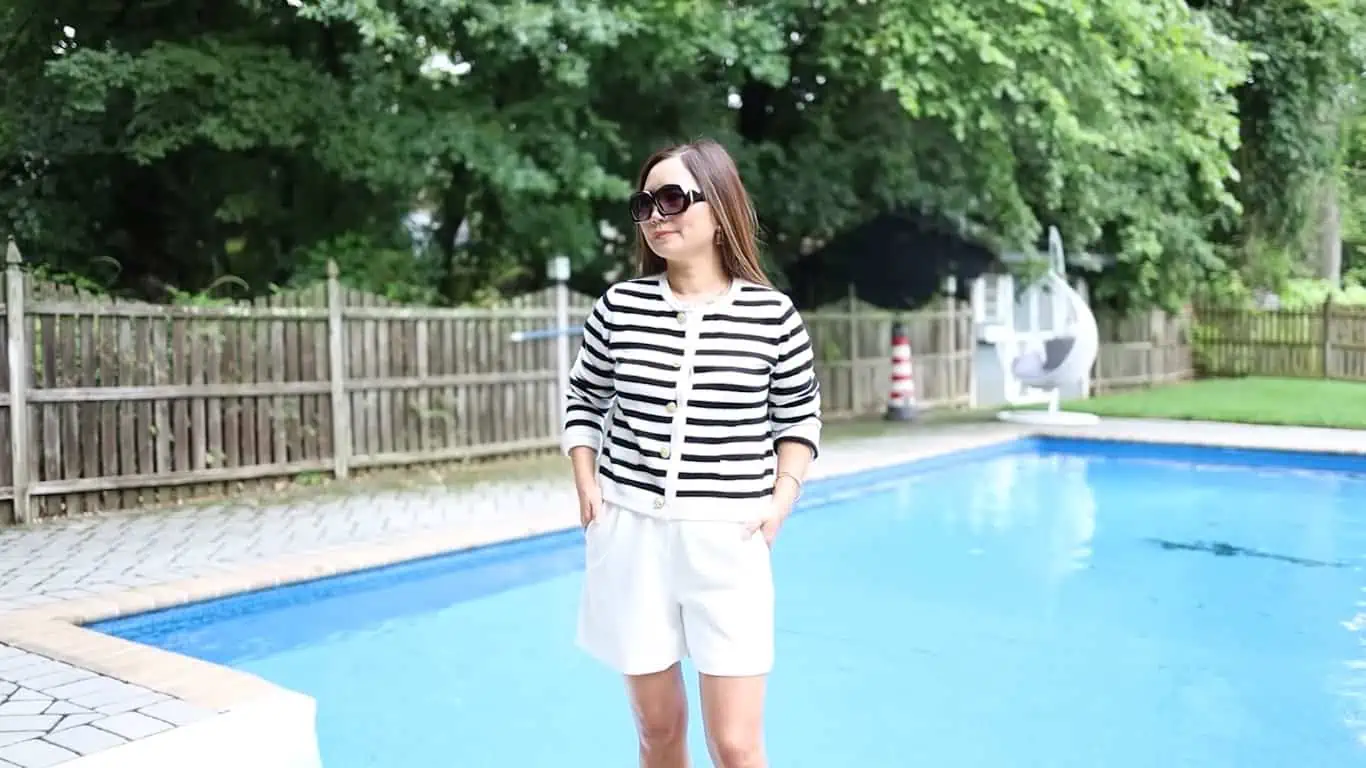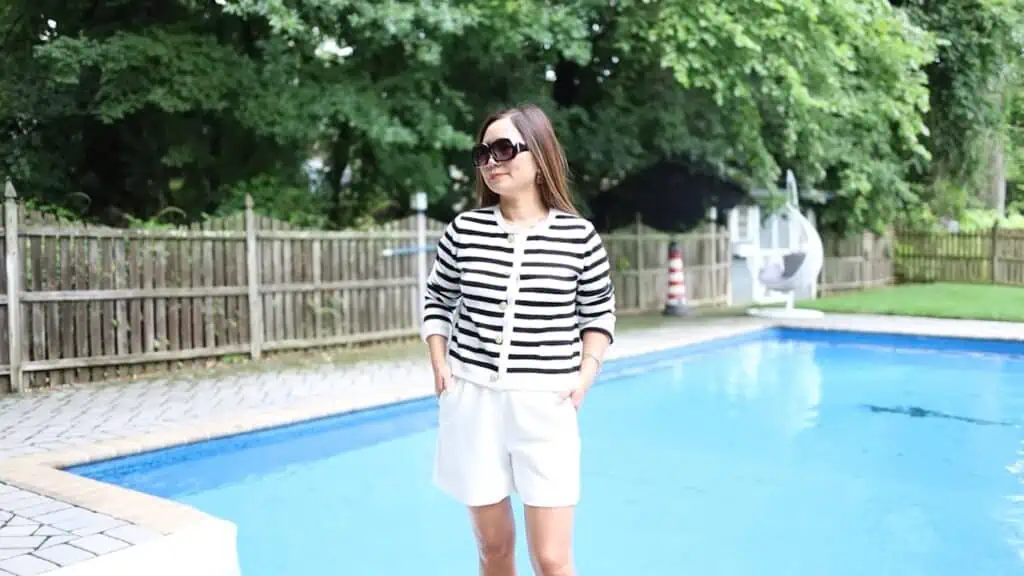 For instance, I've got this incredible cardigan in my collection; it's adorned with exquisite gold buttons and crafted from wool, which lends it a truly opulent and sumptuous look. The combination of black or navy, accented by gold, exemplifies the old money style's quiet and understated luxury, making it an excellent pick for those aiming to capture the essence of the old money trend.
Consider the Silhouette
In terms of nailing that vintage old-money look, you also have to take into account the silhouette. I've found that sticking to timeless cuts is the way to go – it's about ditching anything too tight or overly flashy.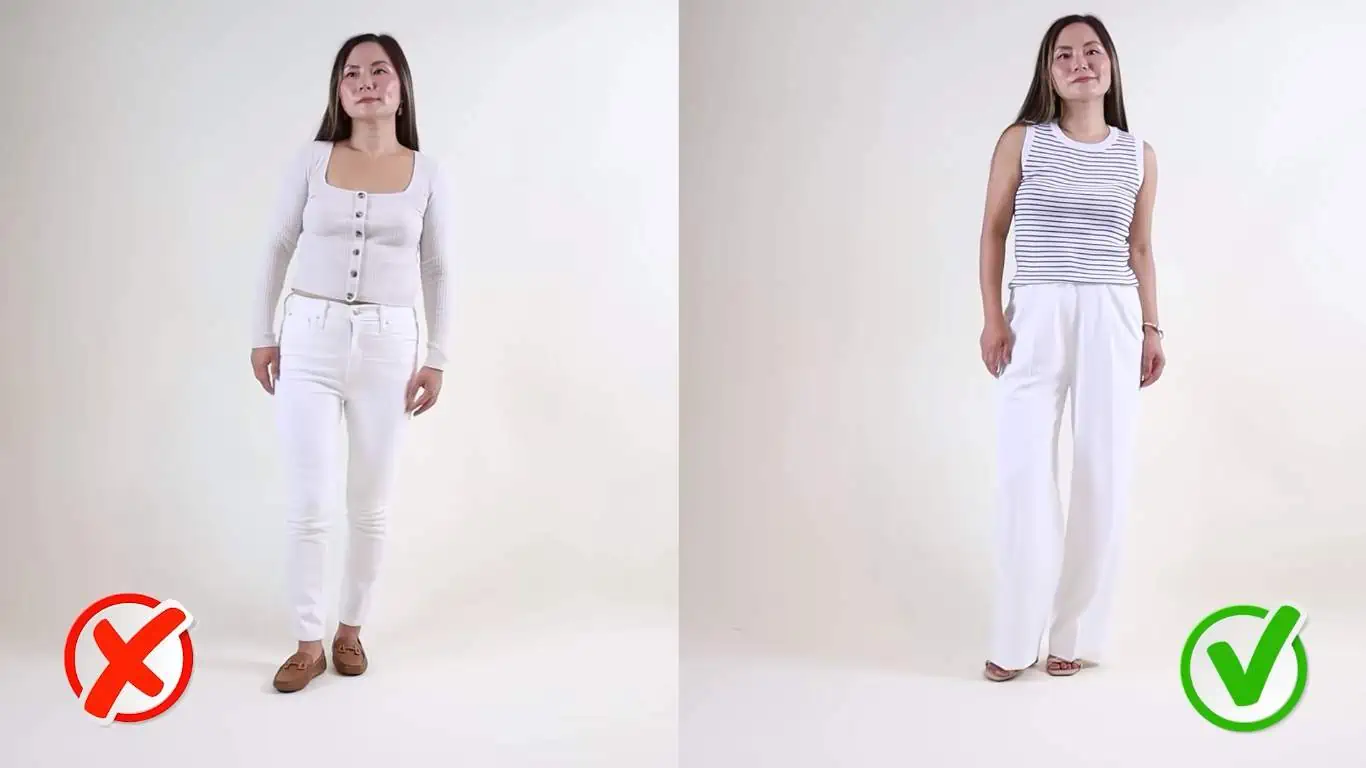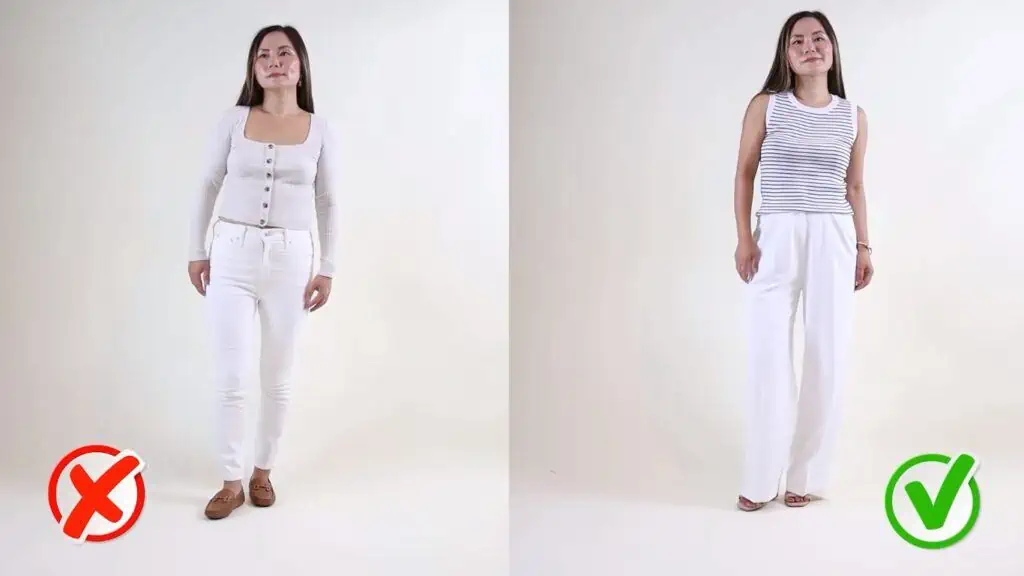 How about achieving that fabulous summer aesthetic?
Well, white pants can be your new best friend; even so, for those of us who are vertically challenged, like myself, choosing the right fabric and length is a game-changer.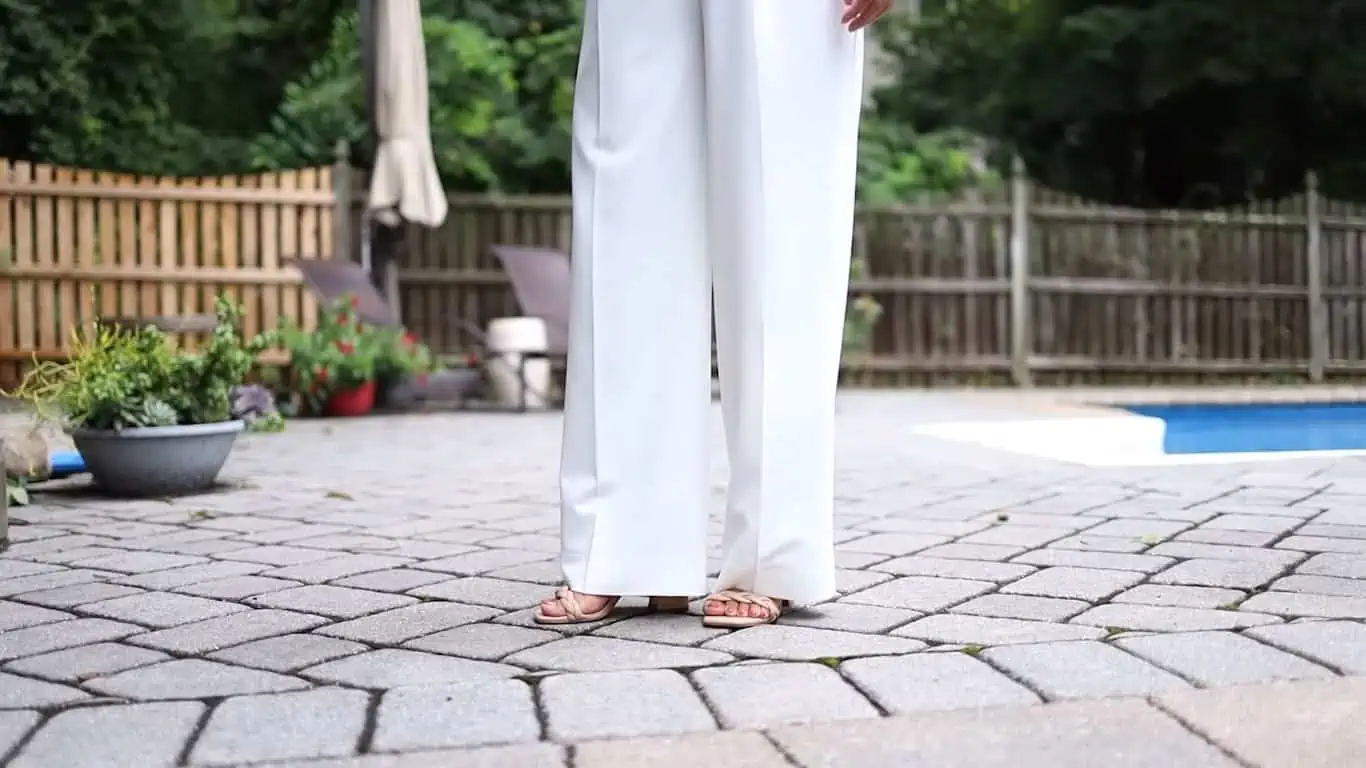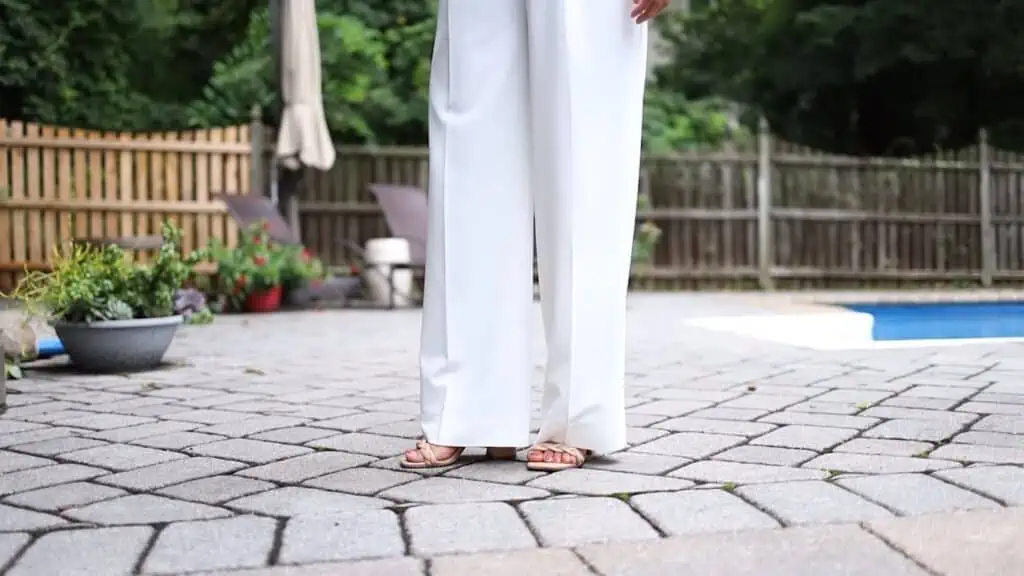 I always recommend going for thicker fabrics; not only do they add structure and a touch of luxury but they also allow your skin to breathe. And for the perfect length, aim for a 29-inch inseam – it's like a magic trick when paired with heels, instantly elongating your legs.
Opt for Flare Legs
Here's another style secret: the classic flare legs. They are a petite gal's best friend – fitted at the thighs and gracefully widening below the knees, they work like a charm to create the appearance of elongated legs.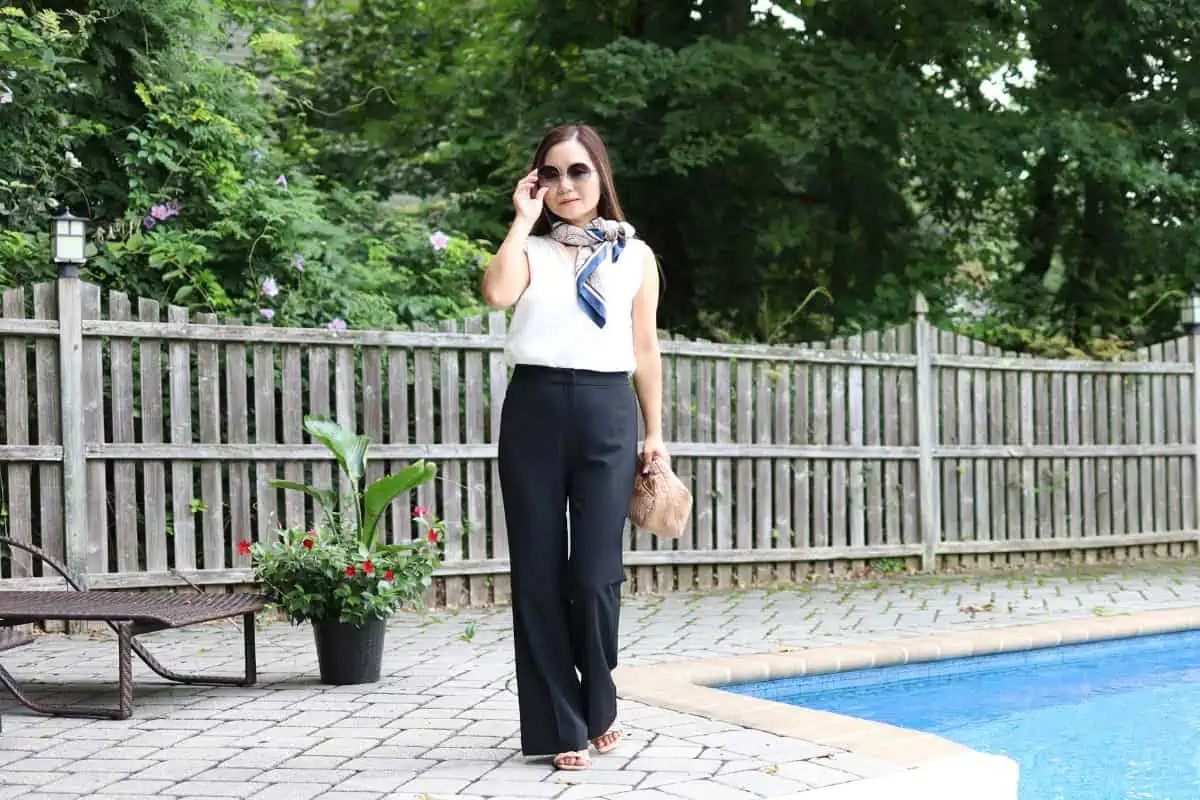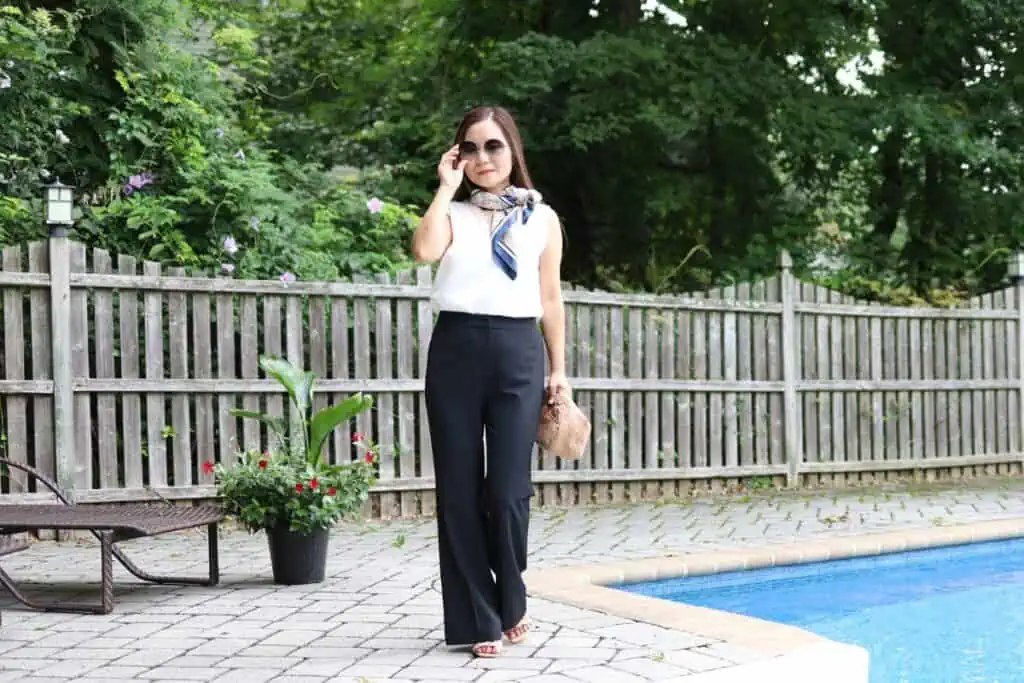 Just make sure to choose fabrics with a bit of stretch for comfort and a flattering fit. These subtle tweaks will help you master the ideal old-money look without sacrificing an ounce of elegance and femininity.
Wear A-Line Shorts
When aiming for the old money style, casual shorts also become an integral part of your wardrobe. But not just any shorts; you should opt for those with an A-line structure as this choice provides several key advantages.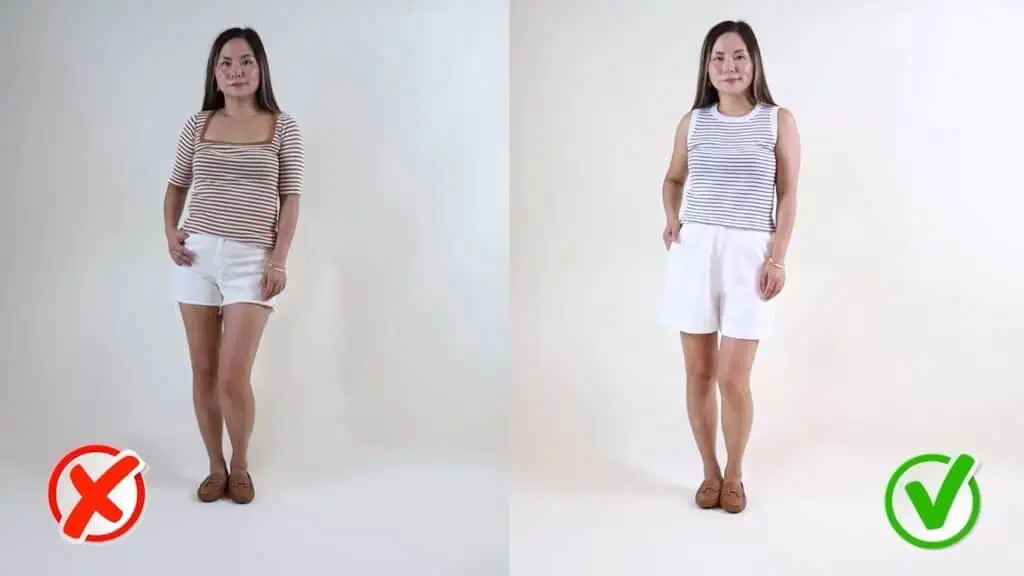 The A-line structure ensures that the casual shorts do not cling tightly to your legs. For the old money aesthetic, it's essential to strike a balance between looking elegant and feeling comfortable, and these shorts achieve precisely that since they are tailored to offer a relaxed fit without being overly loose.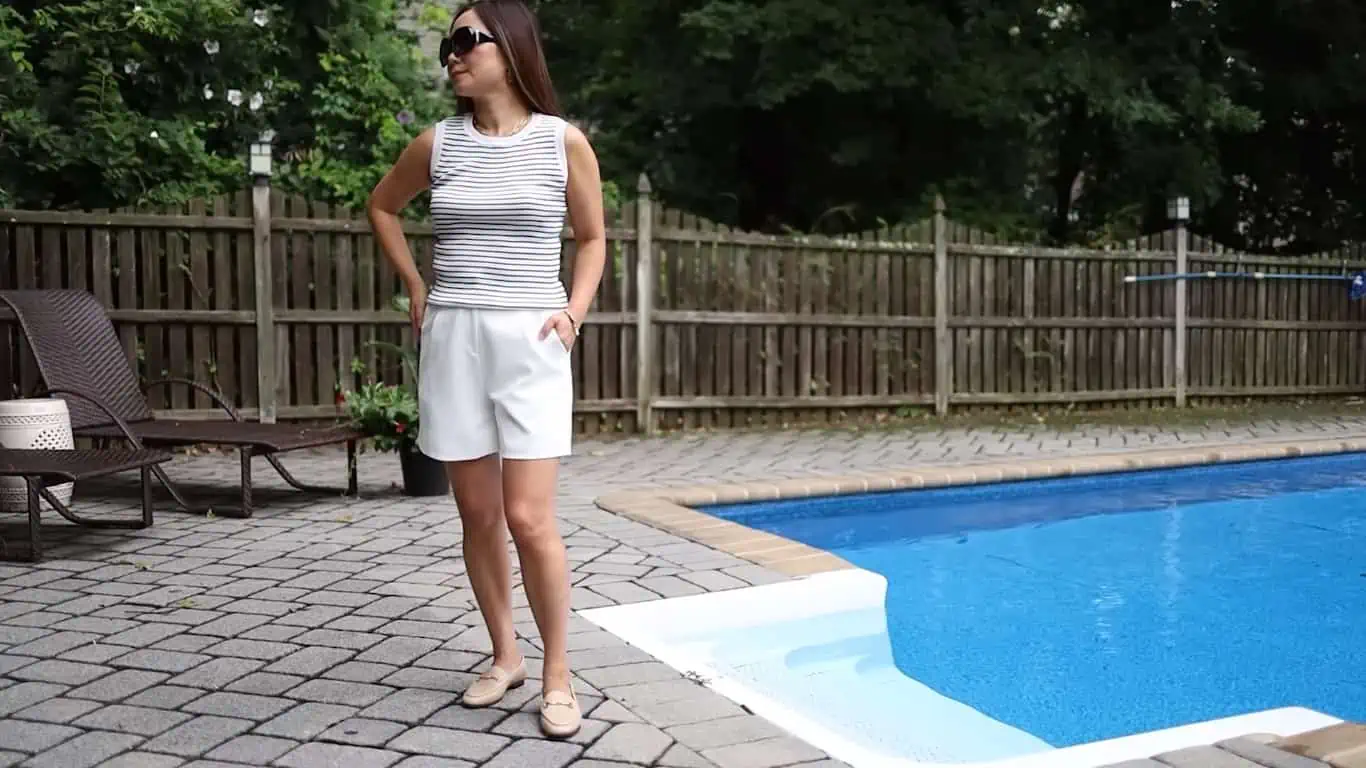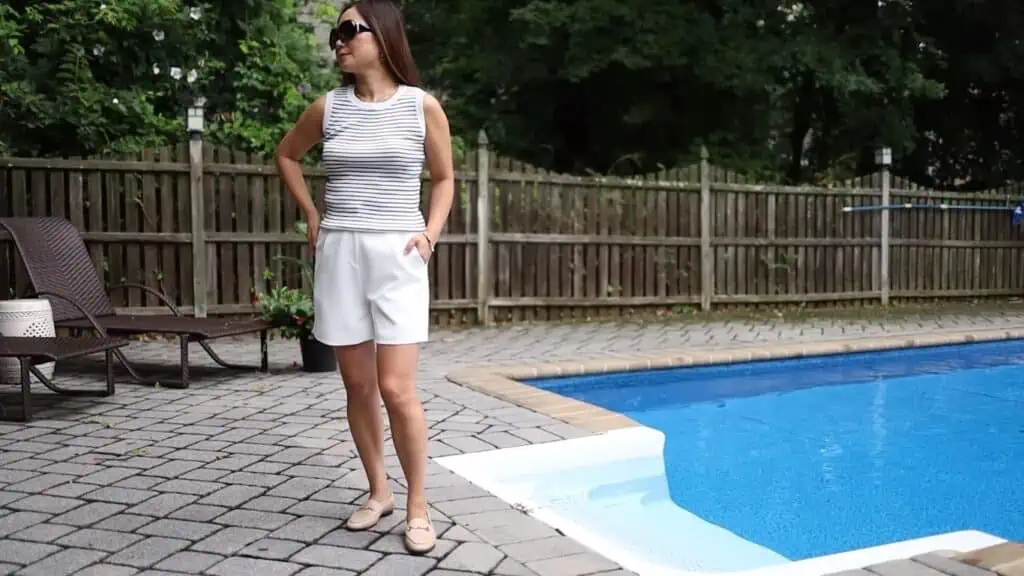 In addition, the A-line shape is particularly flattering, specifically if you're on the shorter side like me. It adds an element of elegance and prevents the shorts from hugging your body too tightly, which can look less refined.
Wear Matching Sets
One of the most effective ways to embody the old money outfit, and something that resonates deeply with my personal style, is the concept of wearing matching sets. By opting for well-coordinated ensembles, you achieve a polished and refined look effortlessly.
In the world of old money fashion, these matching sets exude intentionality and are indicative of a well-thought-out outfit. This coordinated elegance not only saves you the time and effort of mixing and matching pieces but also ensures that you always look put together.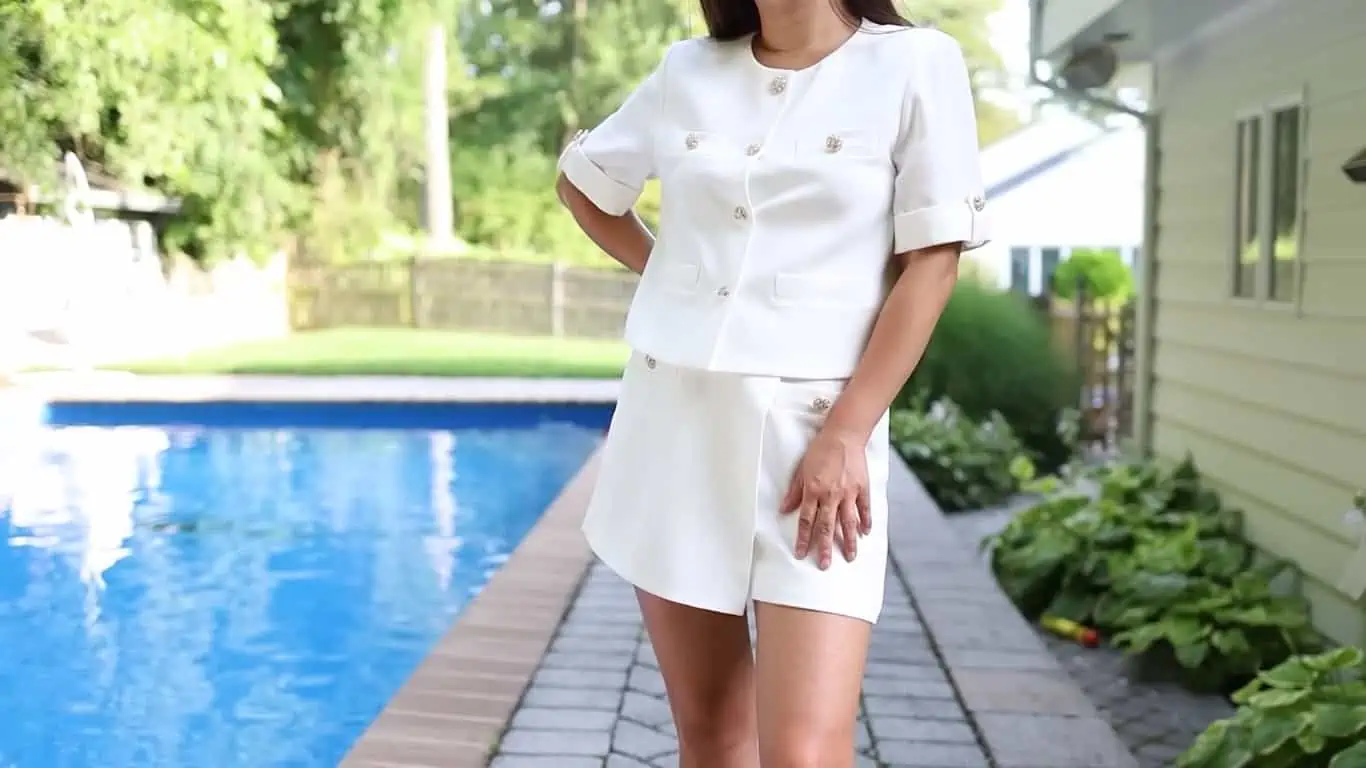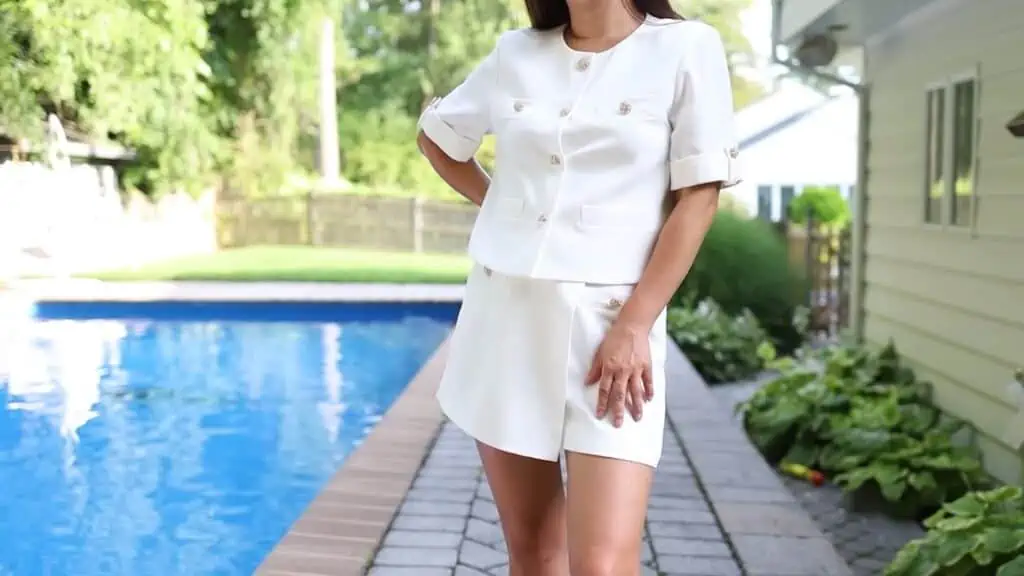 The primary element to pay attention to is the fabric since premium-quality fabrics, such as acetate, guarantee that your matching sets will always look luxurious and feel soft on the skin. This is crucial, especially if you have sensitive skin like I do, but fortunately, acetate is not only gentle on your skin but also feels extremely smooth and even more comfortable than cotton.
One of my preferred matching sets includes a blazer and a skort. The fabric's structure and thickness are vital here as the semi-manmade acetate fabric is derived from natural fibers, which gives it the perfect balance of structure and breathability.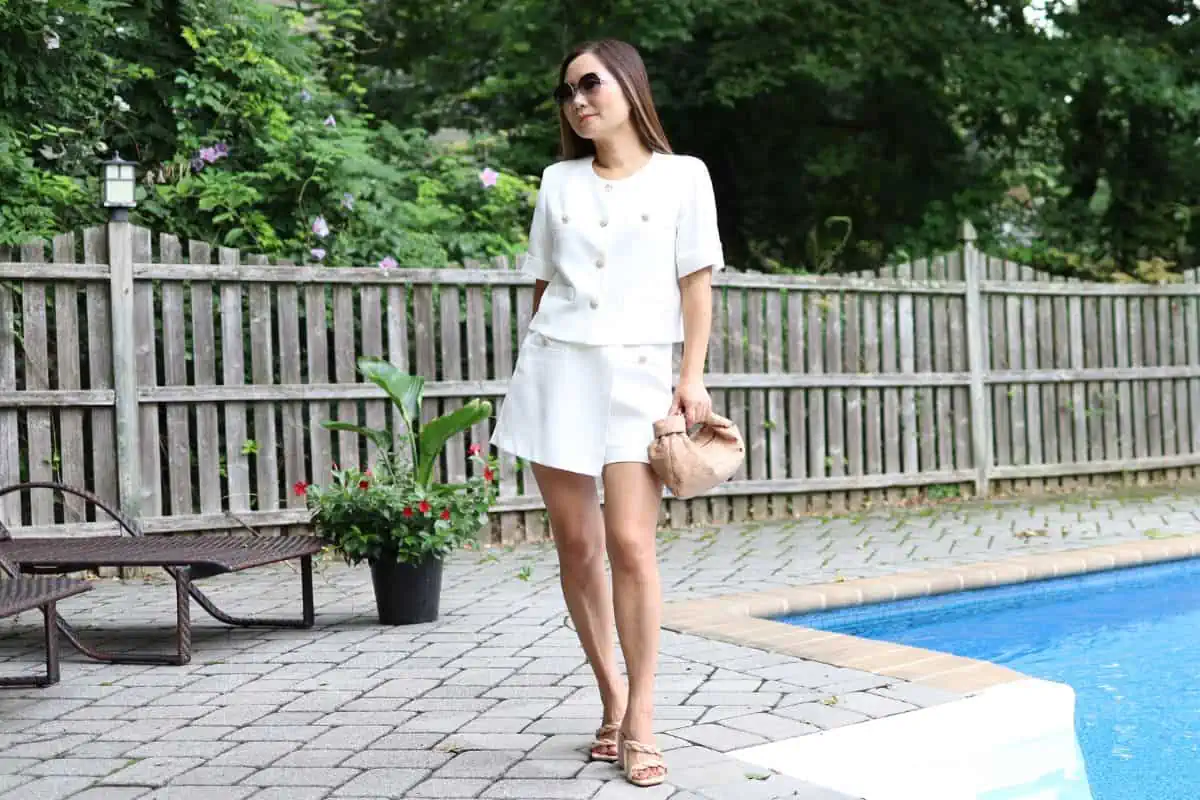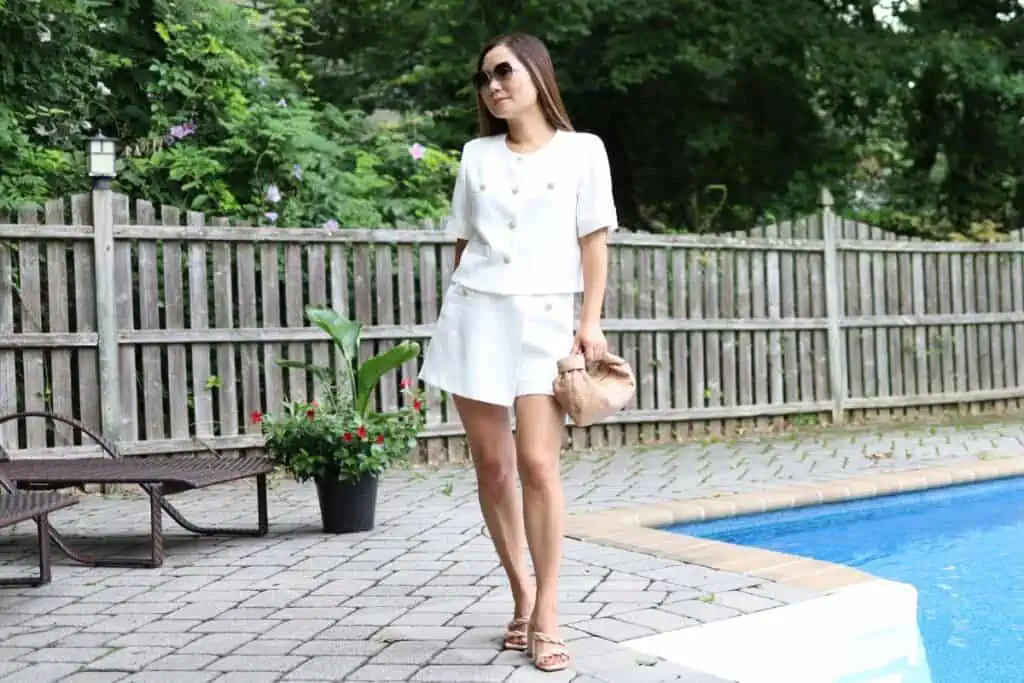 A short-sleeved blazer also adds a casual hint to the old money aesthetic, but thanks to its structured shoulders, it still manages to maintain a formal, polished outfit. And yes, you can effortlessly dress it up or down according to your needs and the occasion, allowing you to adapt to various scenarios while staying true to the ageless spirit of the old money style.
Amplify Your Look with Accessories
Accessories play a vital role in elevating your old money outfit. Scarves, like the silk one I adore, are incredibly versatile – I even love using them as bustiers on hot summer days, perfect for a poolside getaway!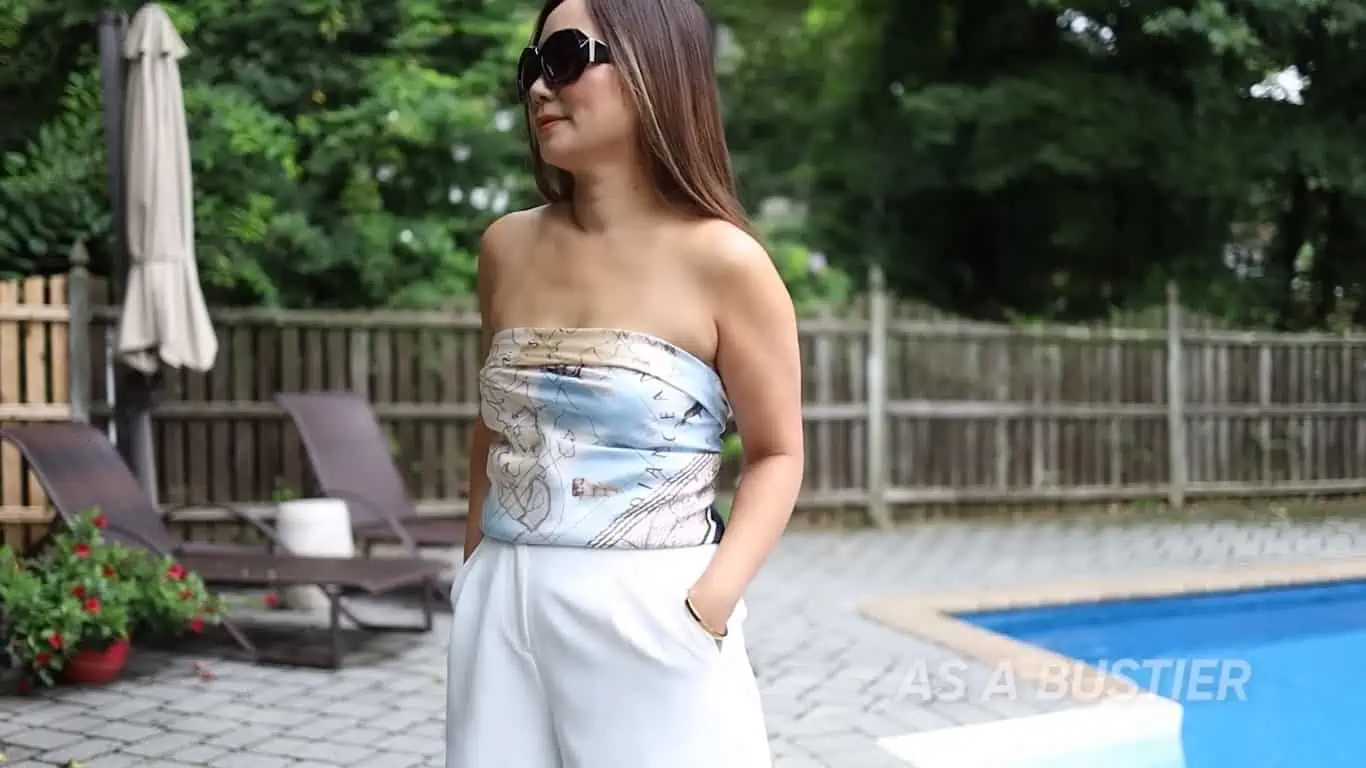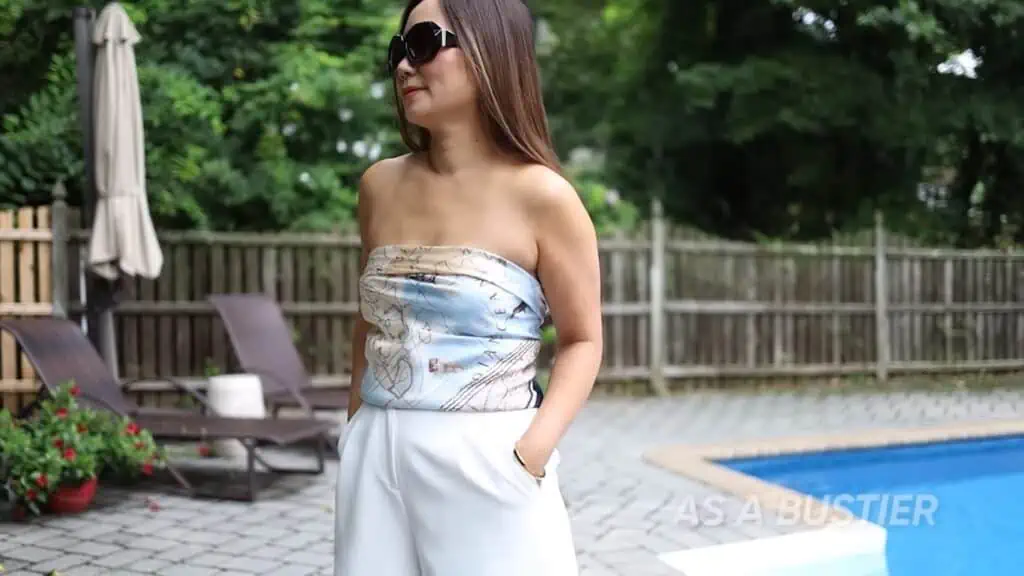 Indeed, you can use these stylish scarves in different ways to enhance the old money aesthetics. It's all about adding dimension to your outfit and breaking up the simplicity of your color scheme.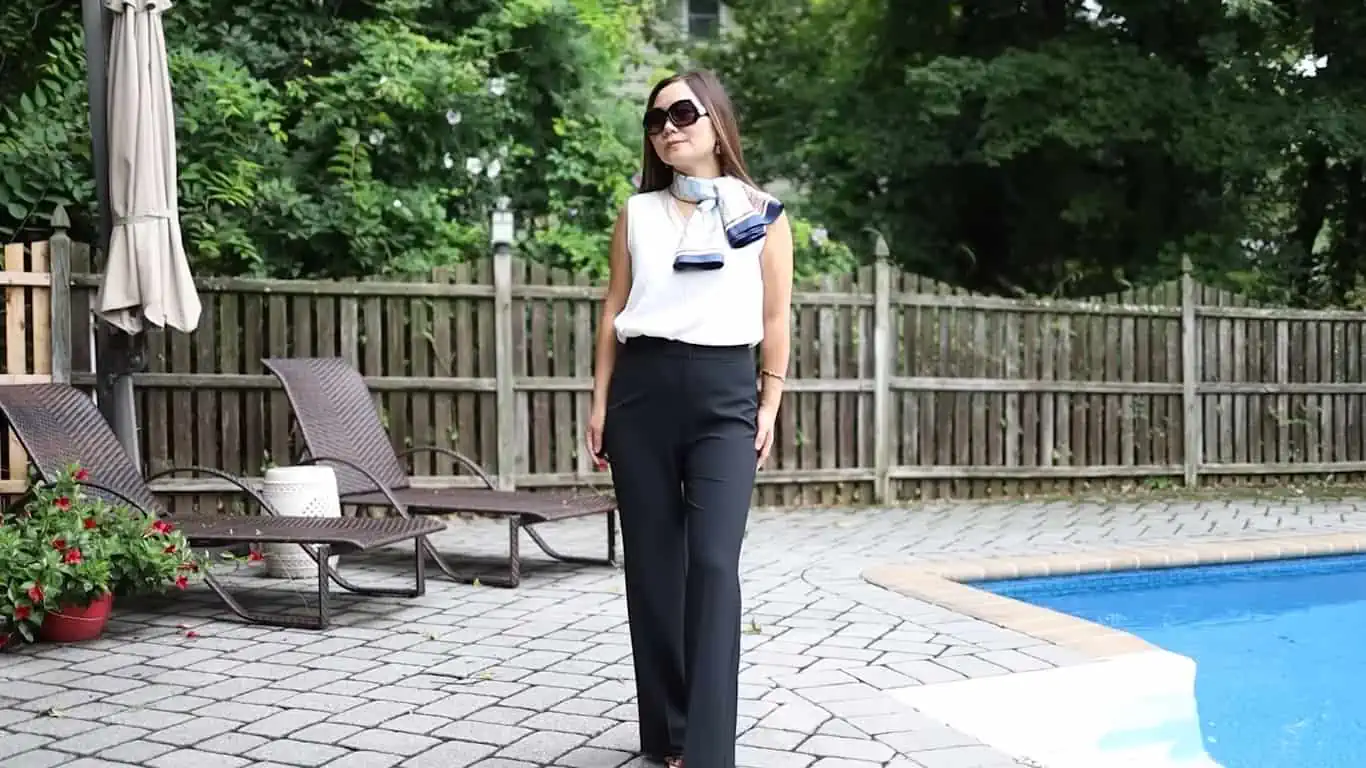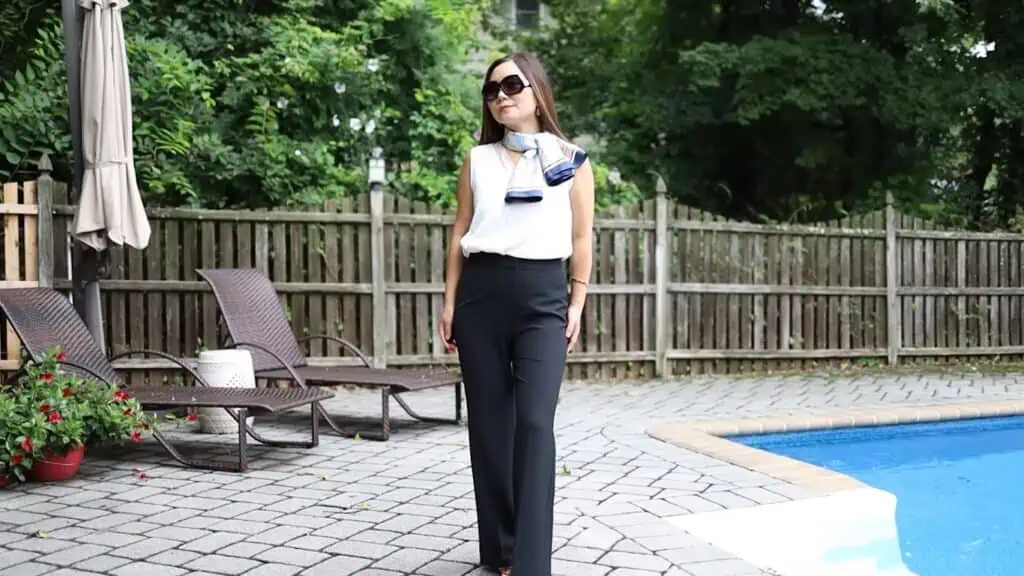 Scarves can also be worn in a classic way around your neck, giving your outfit an extra touch of grace. These small yet impactful additions bring depth and character to your old money look, ensuring that it's far from boring.
Look for Interesting Necklines
Pulling off the perfect old money look is all about the details, and one detail that can truly transform your outfit is the neckline. If you're looking to add polish to a casual top, go for interesting necklines.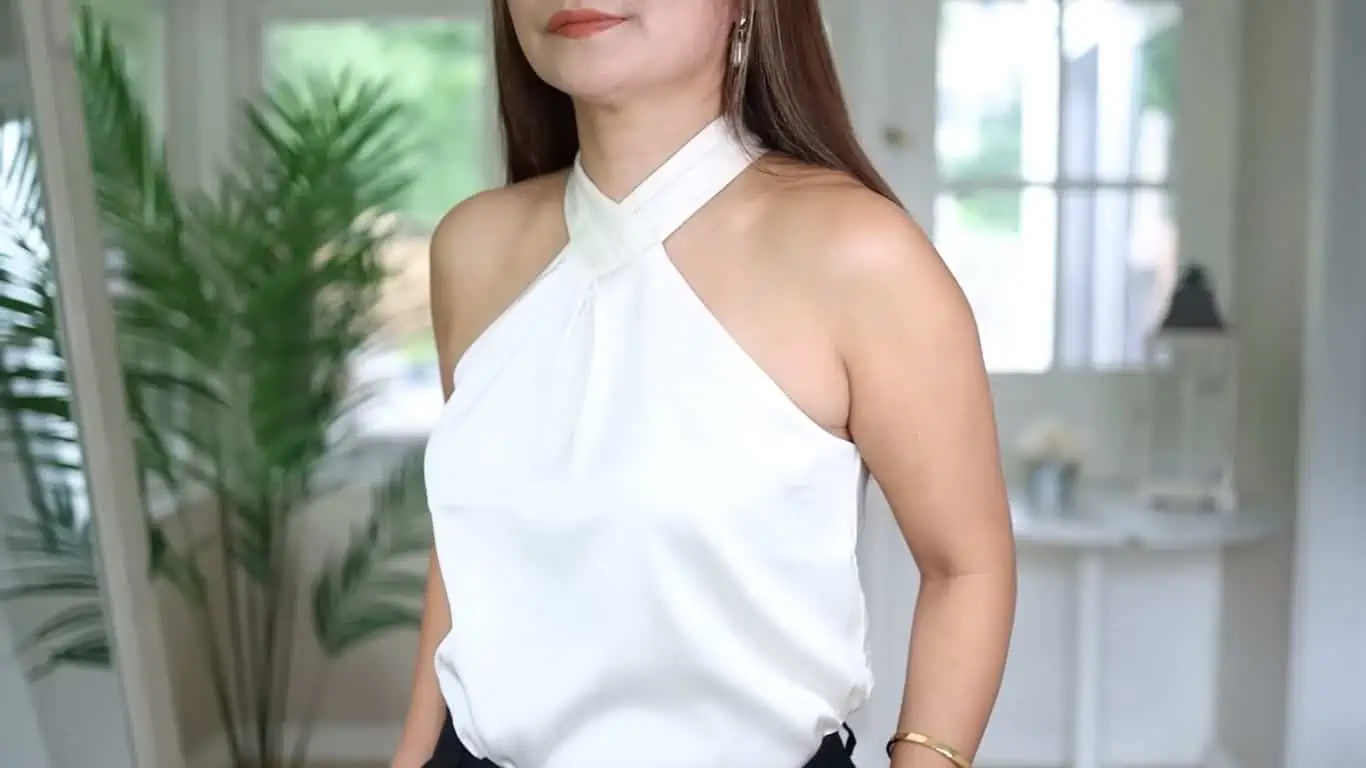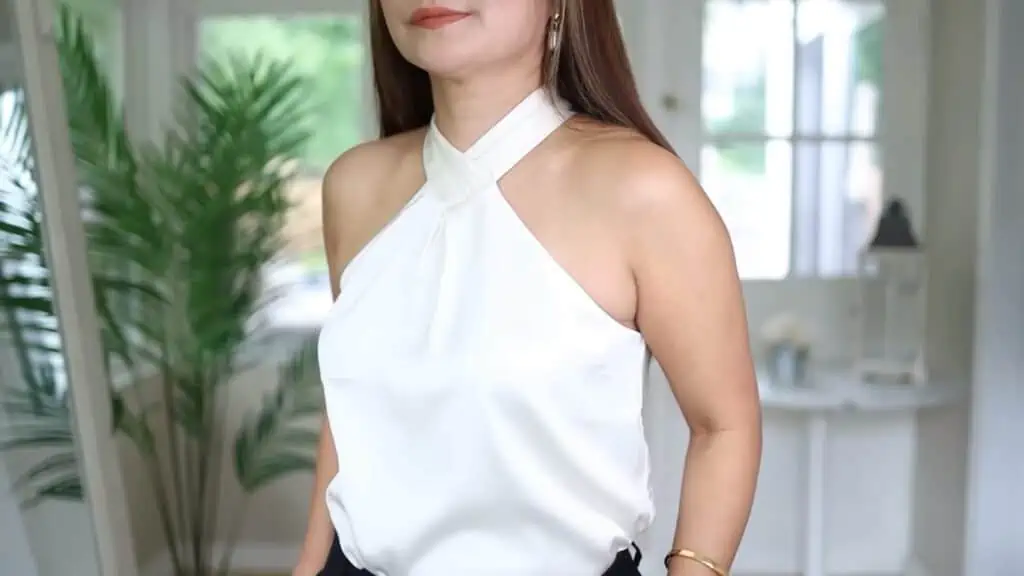 A personal favorite of mine is the halter neck – it instantly elevates any casual outfit, making it look more intentional and well-put together. Incorporating necklines like the halter neck into your attire presents an ideal way to capture the spirit of old money fashion while tailoring it to your unique style.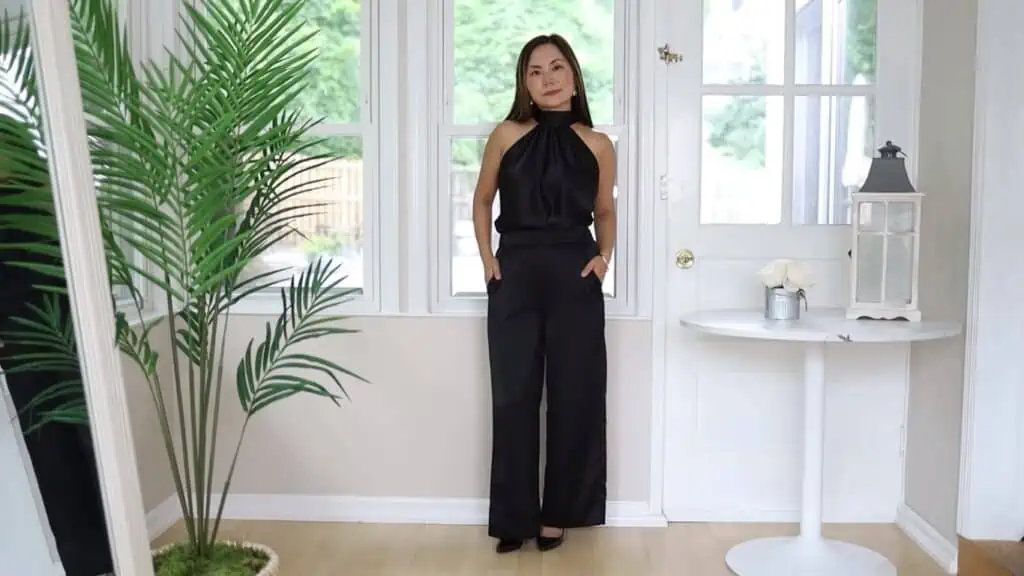 For those of us with shorter torsos, halter necks work exceptionally well as they create the clever visual trick of a more balanced torso length. It's a small change that can render a significant difference in how you present the old money aesthetics!
Avoid Shoes that are too Trendy
Your shoe selection can either make or break your old money outfit, and as someone who has a penchant for fashion, I've come to understand the significance of selecting the right footwear that aligns with the sophisticated aura of old money fashion.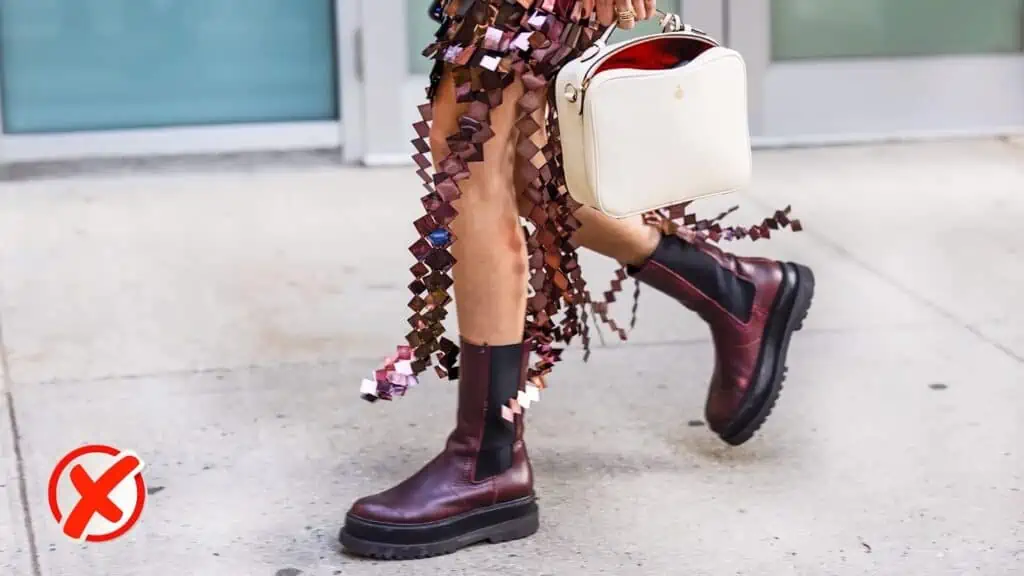 Here's a nugget of wisdom that I've taken to heart: Avoid shoes that are too trendy! While trend-driven footwear may be tempting, they often come and go with the seasons, making them a risky bet for achieving that classic old money ensemble.
My go-to option, which I find to be unbeatable, is the immortal loafer. The vintage design of loafers hasn't changed since the beginning of time, thus you can't go wrong with a pair of loafers.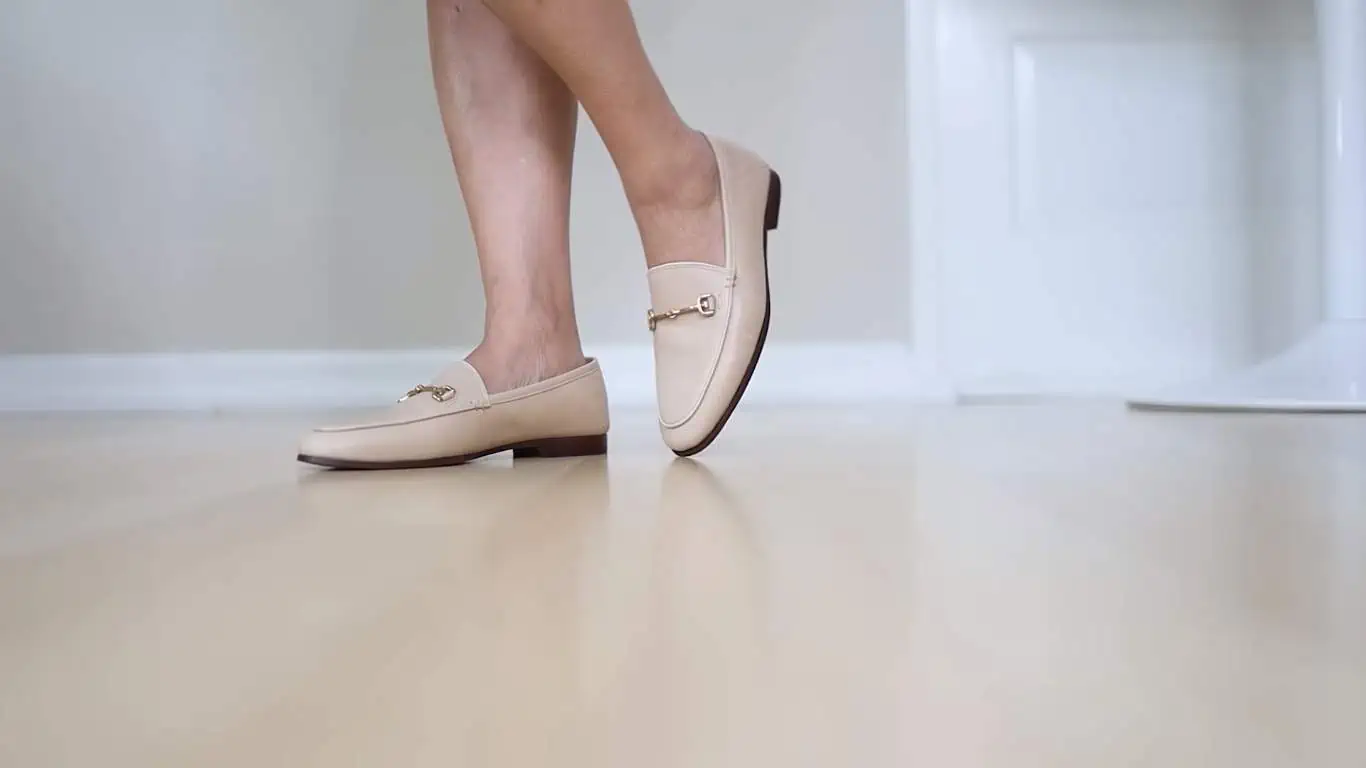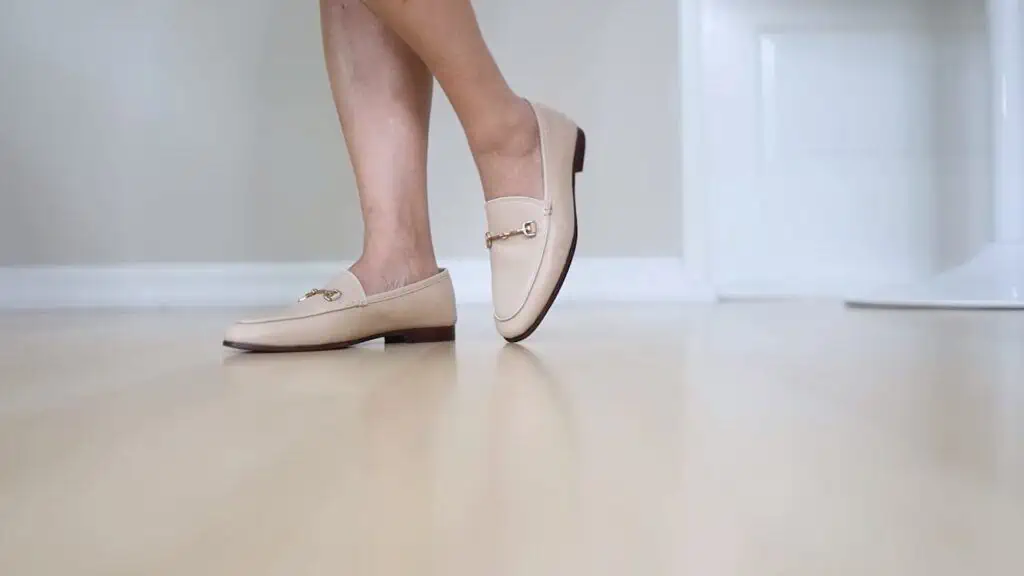 But if you want to make your legs appear longer, especially if you're petite like me, go for skin-tone loafers. Remember that matching your shoe color with your skin tone tricks the eye into believing your feet are an extension of your legs.
Be Mindful of your Body Proportions
Last but not least, regardless of your chosen style, pay close attention to your body proportions. Everything you wear should be proportioned just right; avoid tops that are too long or too short and do not highlight those areas that make you feel self-conscious.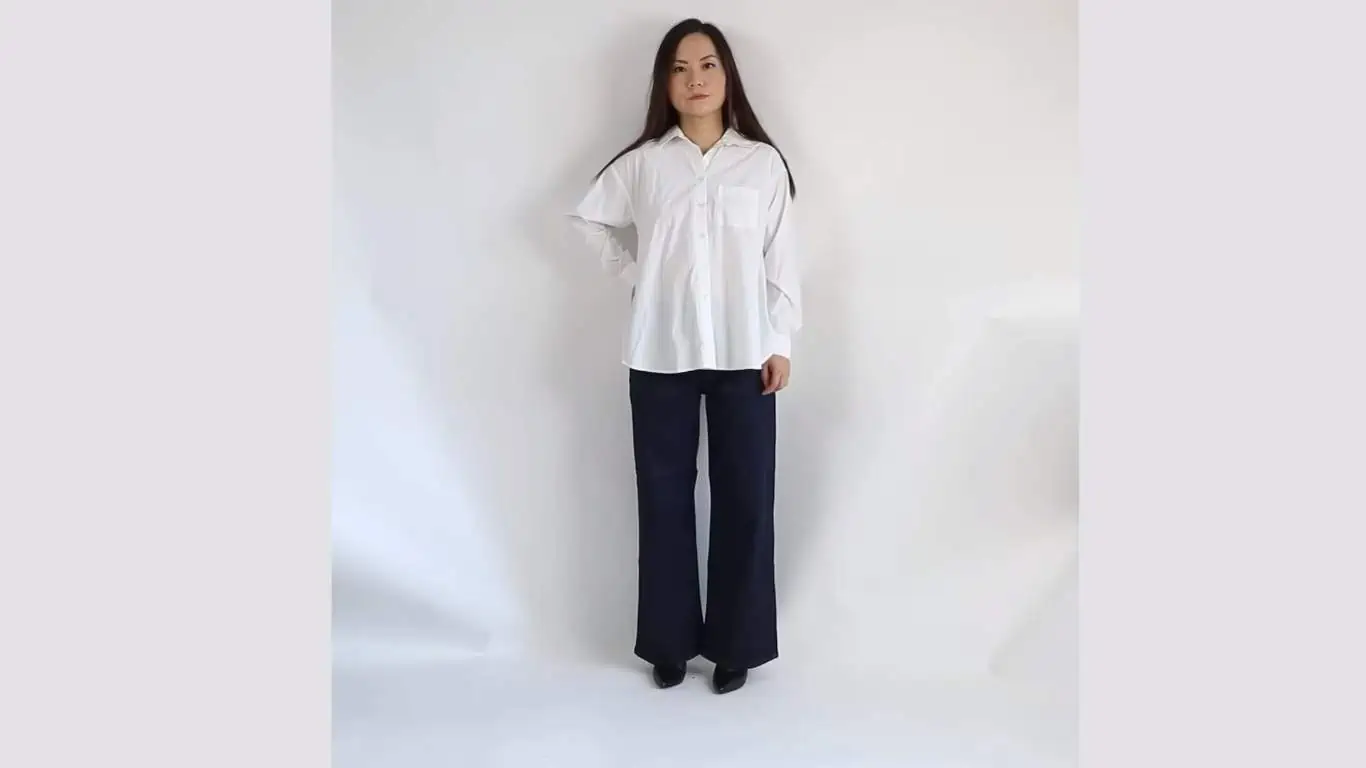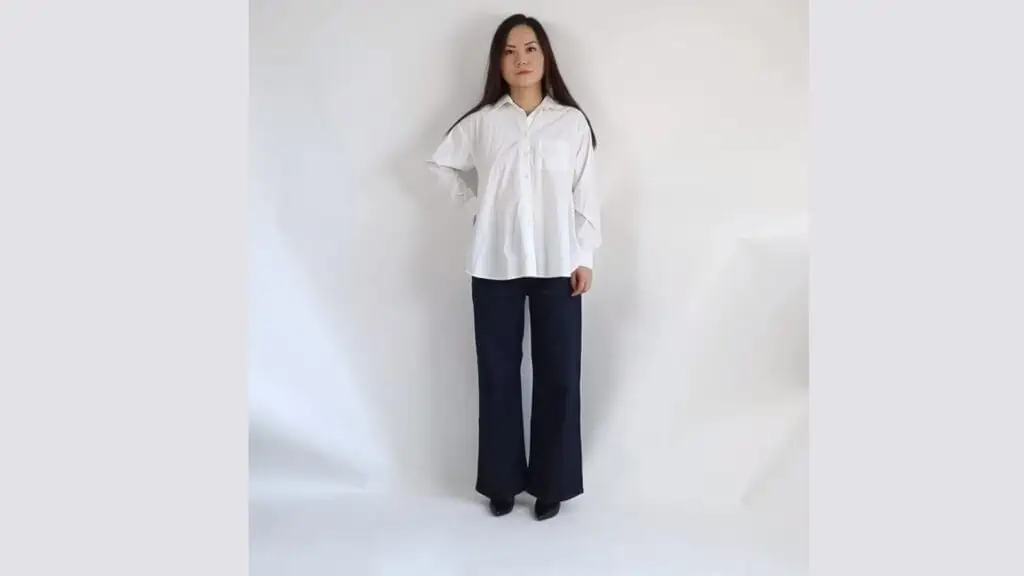 As a petite woman, finding the perfect balance between top and bottom length is pivotal. It's all about creating a harmonious look that accentuates your unique figure and enhances your old money outfit.