If you are short and chubby, it can be a challenge to find the right jeans. Since I'm 5'2″ myself and I have a petite clothing line, I fully understand the ins and outs for what kind of jeans work (or doesn't work) for someone who is short.
I've put together this detailed guide to help you find the perfect pair of jeans, based on the feedback I received from thousands of my petite customers, many of whom are short and stocky.
Besides choosing the right styles I listed below, you also need to understand how to choose the right inseam for your jeans for which I have a separate article.
Styling Goal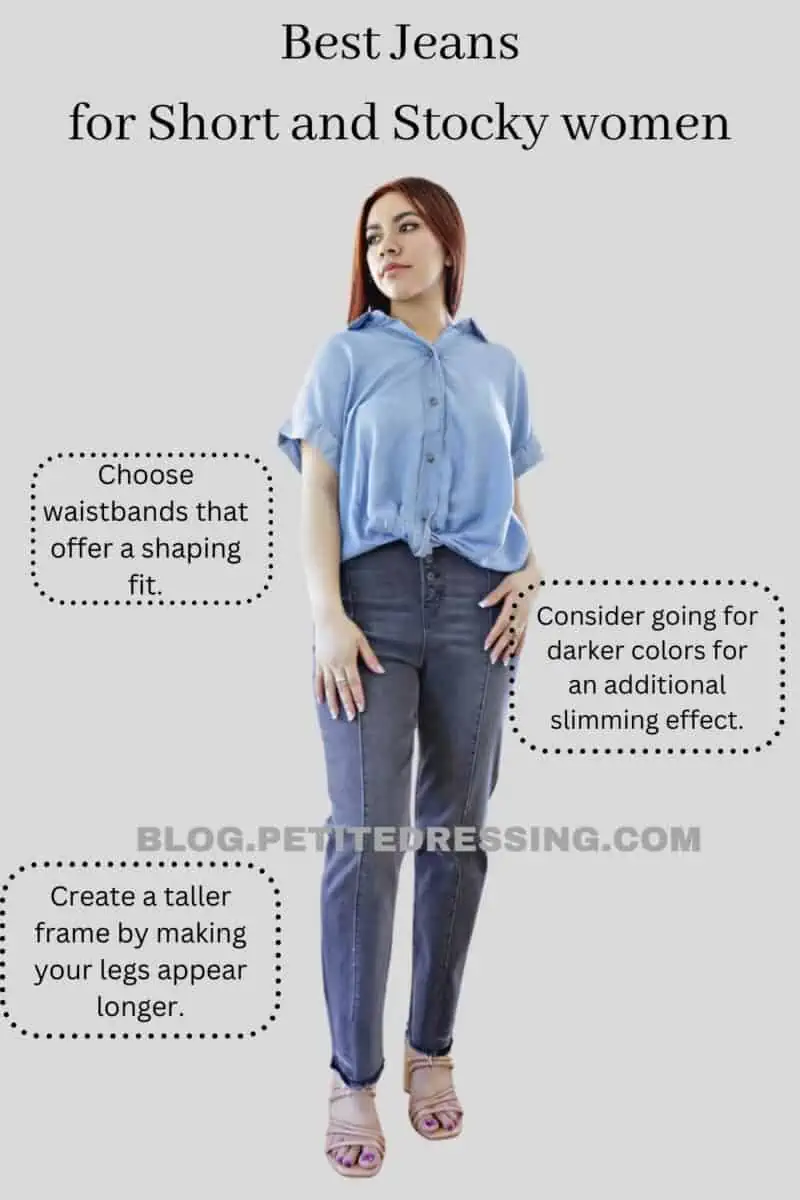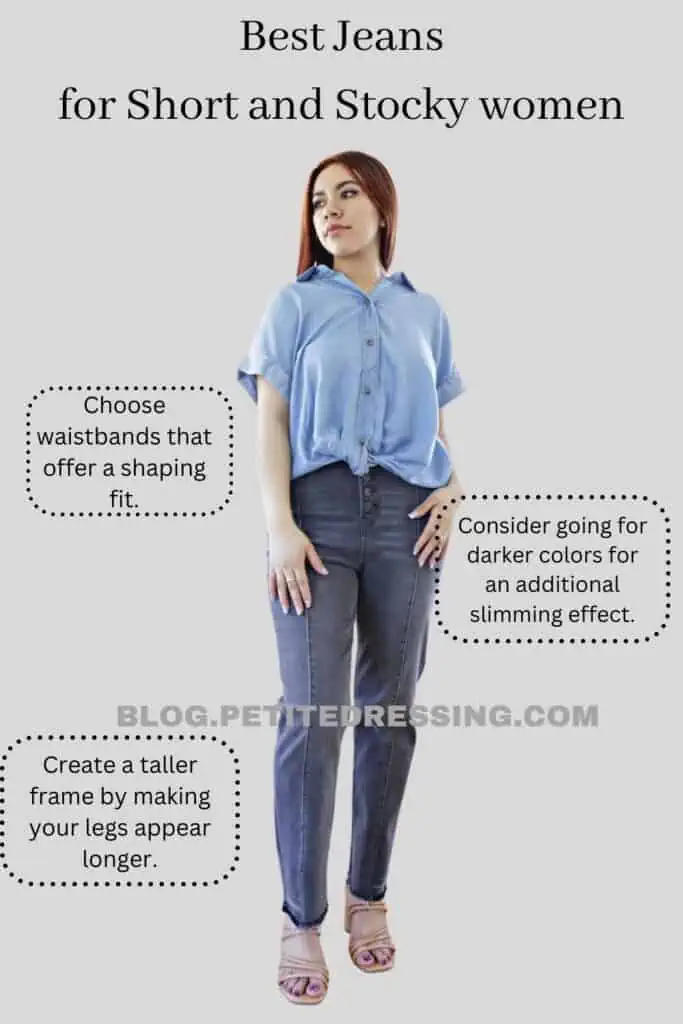 Create a taller frame by making your legs appear longer. You can do this by choosing cuts and structures of jeans that enhance the shape of your legs.
Consider going for darker colors for an additional slimming effect. As we know by now, dark colors are very effective in making you look slimmer because it absorbs light and therefore visually trim down the stubbiness of your legs.
Choose waistbands that offer a shaping fit. This usually comes in high-rise waistbands and sometimes, a midsection-shaping structure too.
The proper length can help visually lengthen your frame. Consider the right crop length by going for ankle-length (or slightly longer) cuts because this will keep the vertical visual line uninterrupted.
Jeans are an absolute casualwear essential so choosing the right fit to embrace your short and stocky figure matters so much! Here in this guide, I'll share with you the best jeans styles to work with your frame.
Dark-washed Straight-Leg Jeans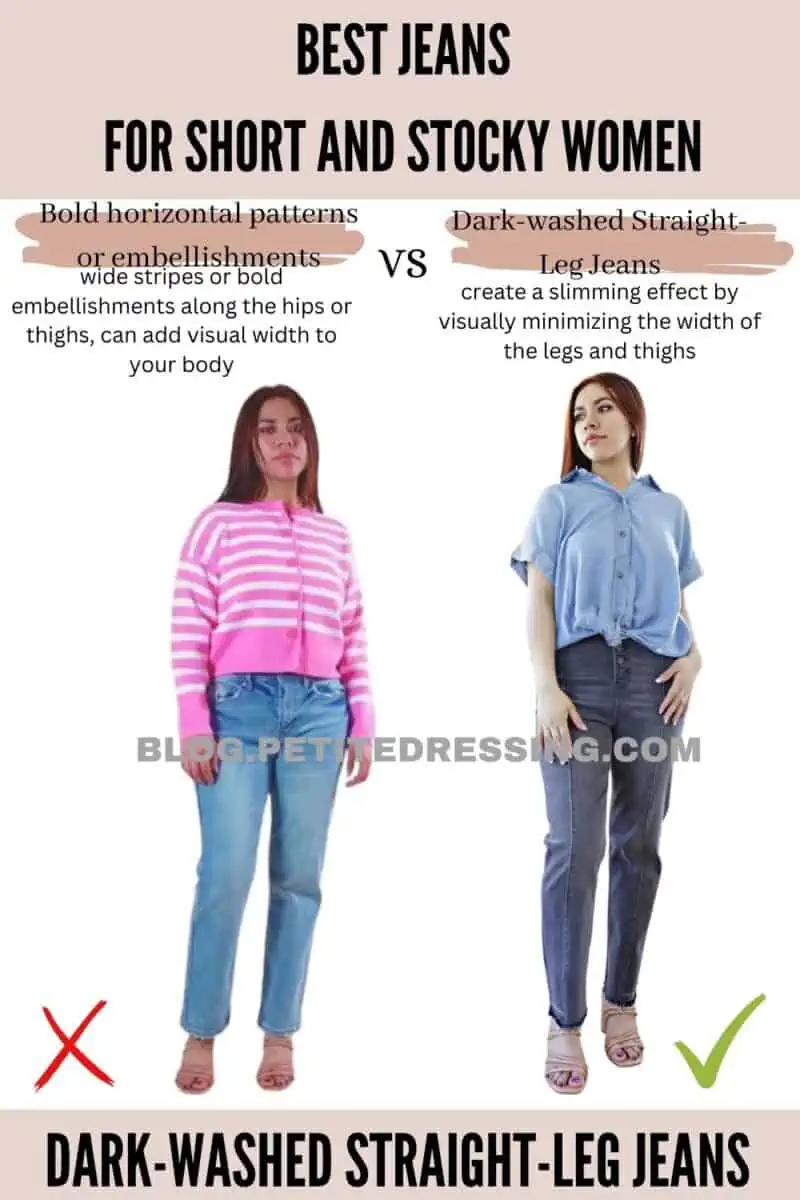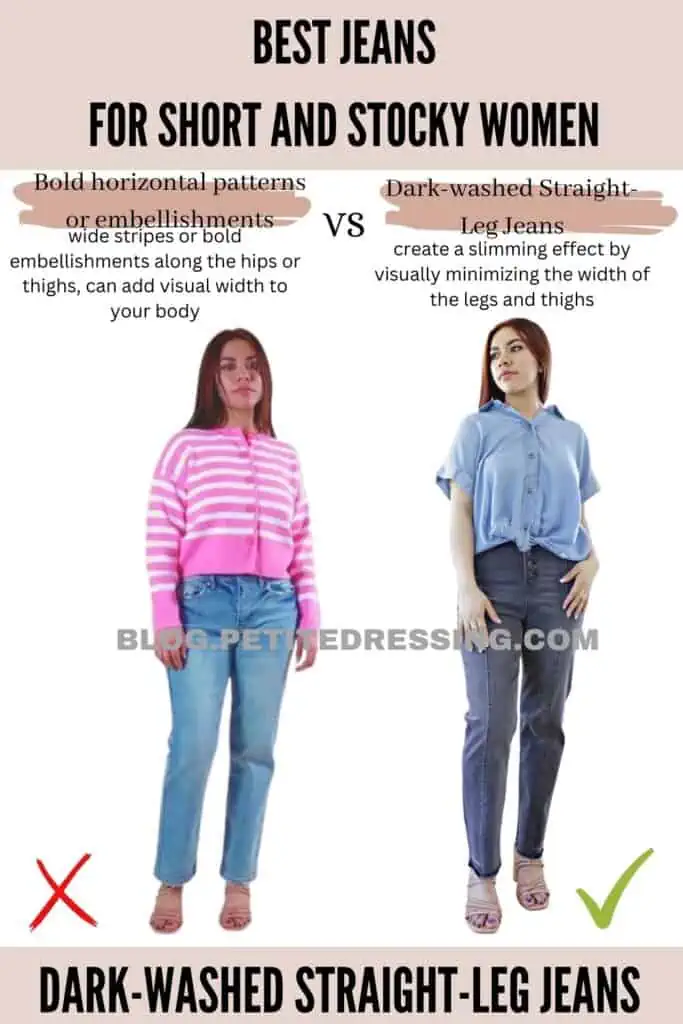 Just like what we have covered in our "Styling Goal" section, dark-washed jeans create a slimming effect by visually minimizing the width of the legs and thighs. Dark colors have a natural slimming effect as they absorb light and minimize shadows, making your legs appear longer and leaner.
In terms of the cut, straight-leg jeans provide a clean vertical line that elongates the legs. As a short girl, you will find this very helpful as it creates the illusion of added height and the straight cut from the hips to the ankles gives a seamless and elongated leg line, making you appear taller and more slender.
The straight-leg cut of these jeans balances out the proportions of a stocky figure as they provide a more streamlined and uniform look from top to bottom, avoiding any excessive emphasis on certain areas. By creating a straight and continuous line, they create a harmonious balance that flatters the body shape.
Vintage Style Flare Jeans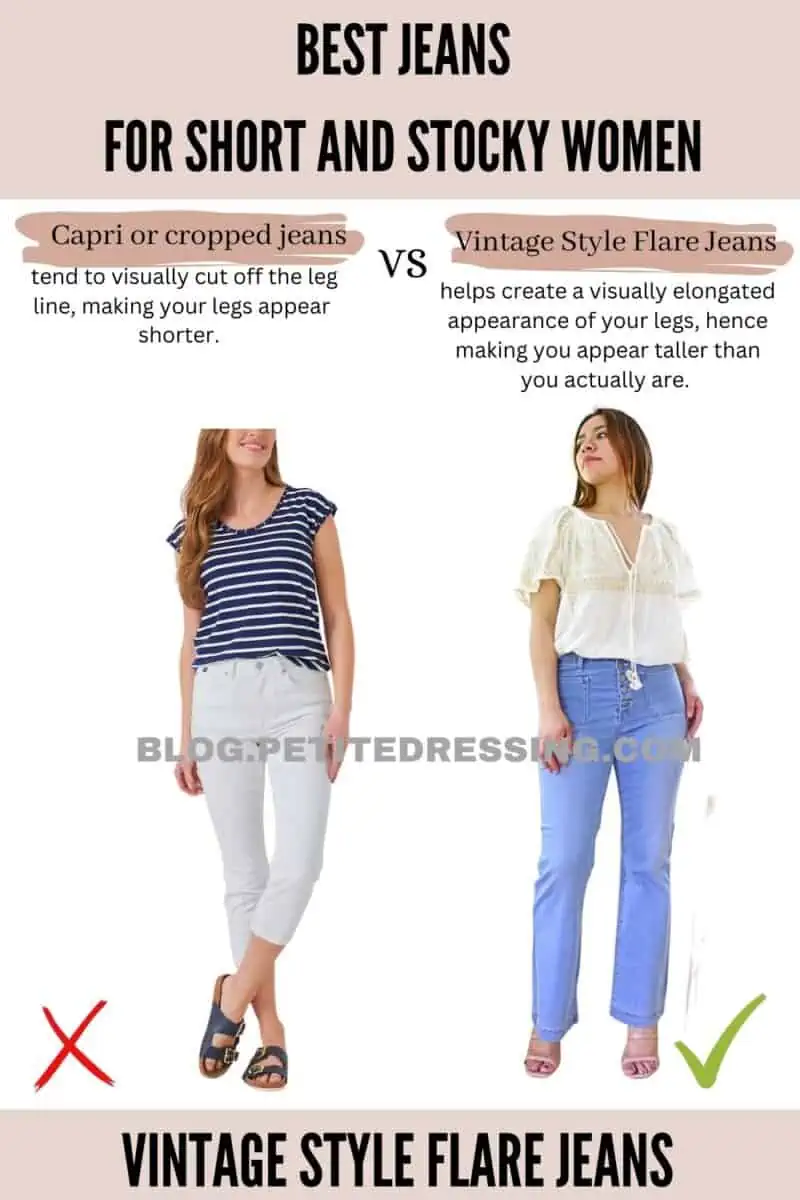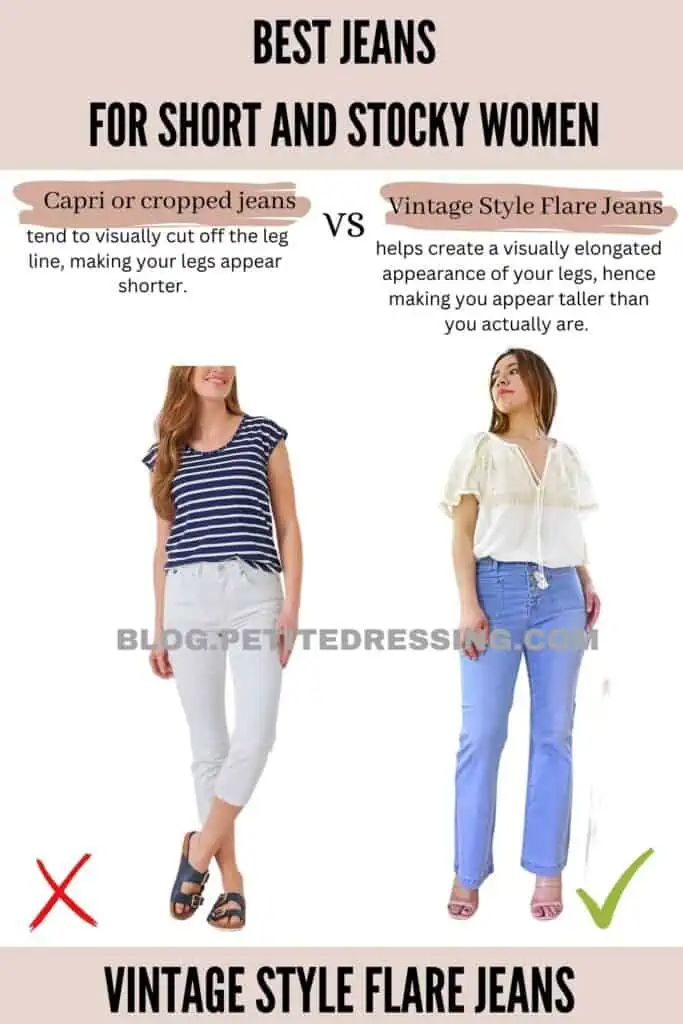 There's something so special about the vintage aesthetic of flare jeans – it just screams retro-chic! With all that nostalgia and one-of-a-kind uniqueness, these trousers can make a serious fashion statement, but of course, other than style, it's also a great pair to flatter your short and stocky figure.
The flared shape of these jeans creates a lengthening effect on the legs by adding volume and width at the bottom part. This helps create a visually elongated appearance of your legs, hence making you appear taller than you actually are.
Additionally, the extended hemline of the flare jeans can be paired with heels for an added height boost, further enhancing the lengthening effect. Just make sure to go for vintage style flare jeans that feature a high-waisted design because the high waistline cinches at the smallest part of the waist to give you an hourglass illusion and emphasize curves.
High-rise Bootcut Jeans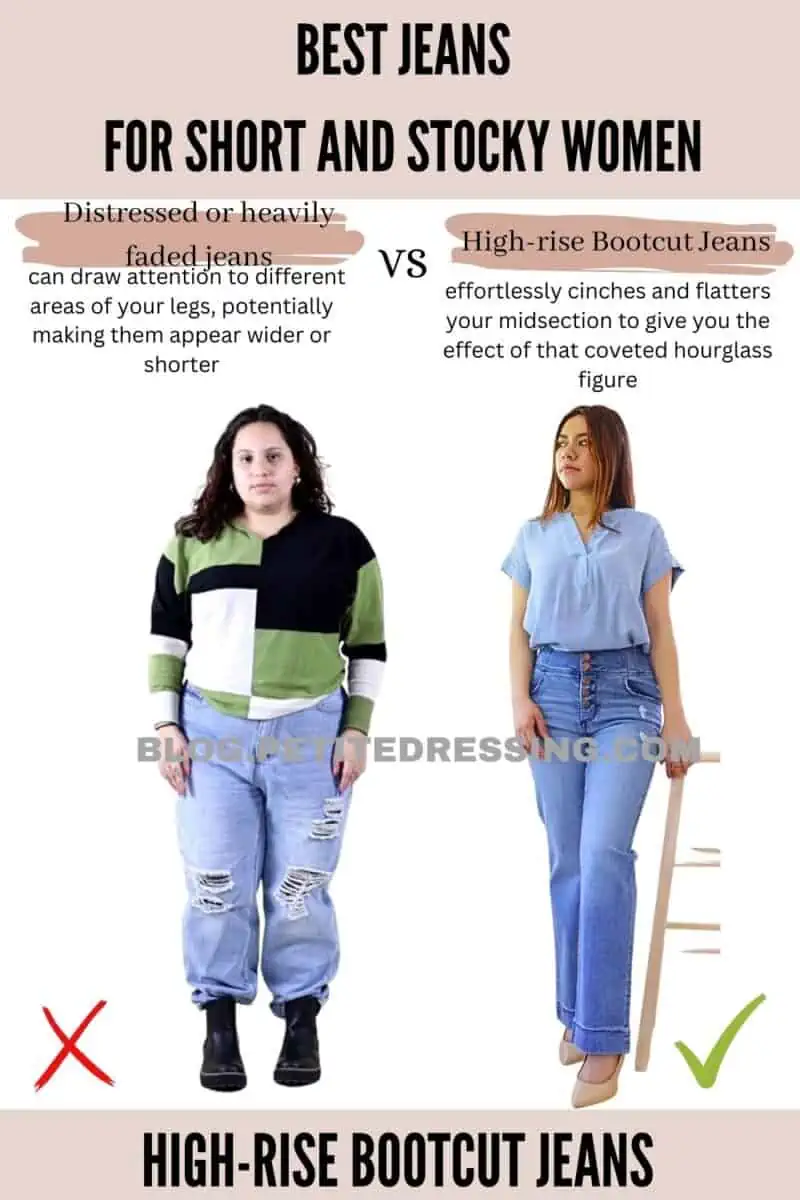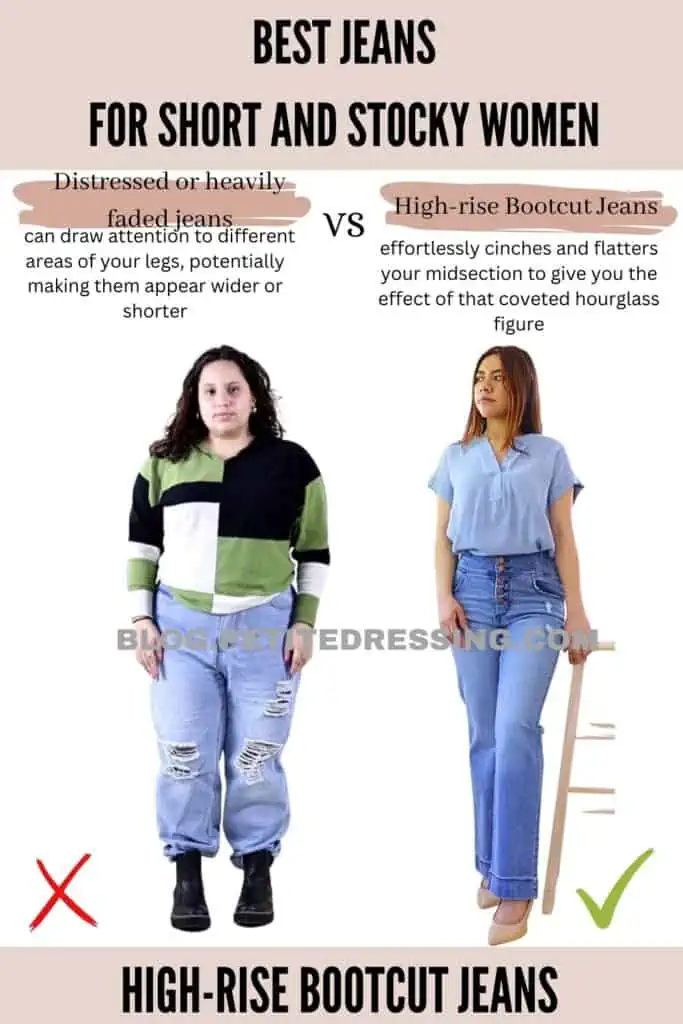 High-rise bootcut jeans feature a shape and structure that can work wonders in accentuating your curves and creating a beautifully defined silhouette! First is its high waistband which sits above your natural waist and effortlessly cinches and flatters your midsection to give you the effect of that coveted hourglass figure!
In addition to its high-rise feature, bootcut style jeans feature a slightly flared hemline that adds a touch of retro charm while working its transformative power on your figure. The subtle flare starts just below the knee, gracefully elongating your legs and creating a visually balanced look!
It's a less dramatic option compared to vintage flare jeans so high-rise bootcut jeans tend to be more versatile. You can easily pair it with a lot of different types of wardrobe pieces!
Slim Straight Jeans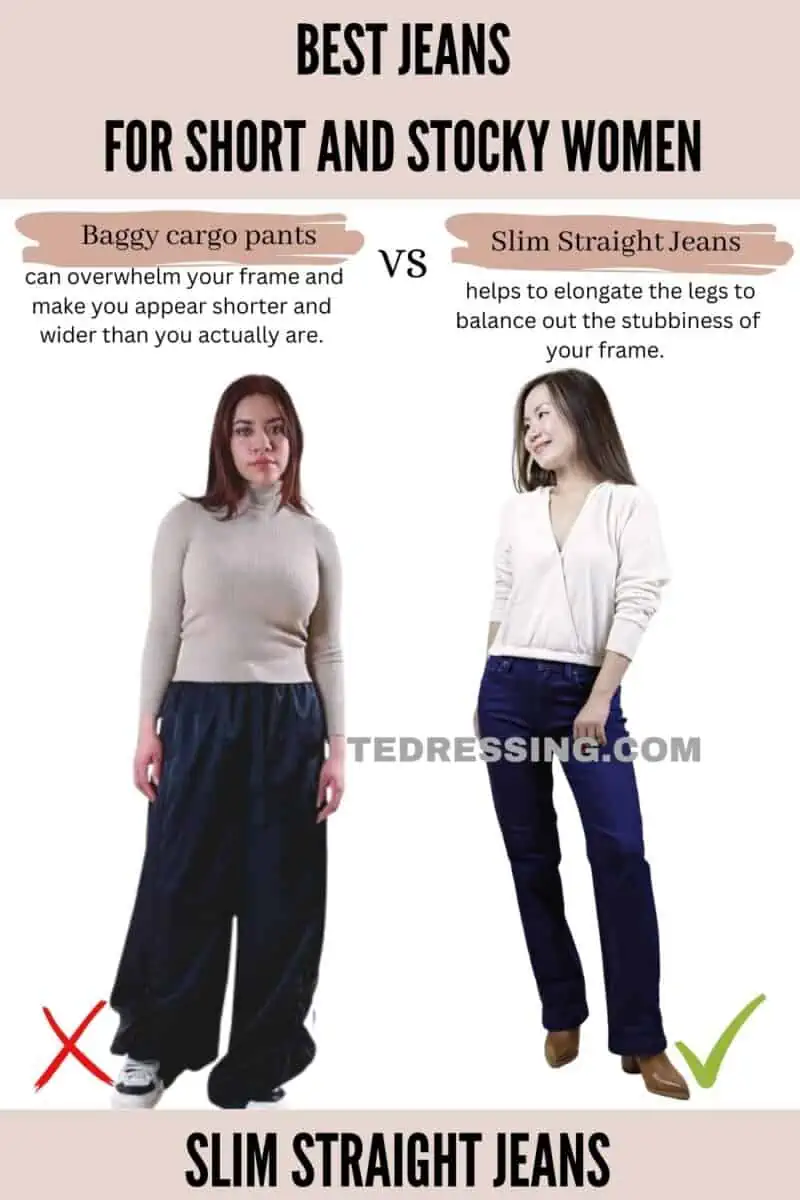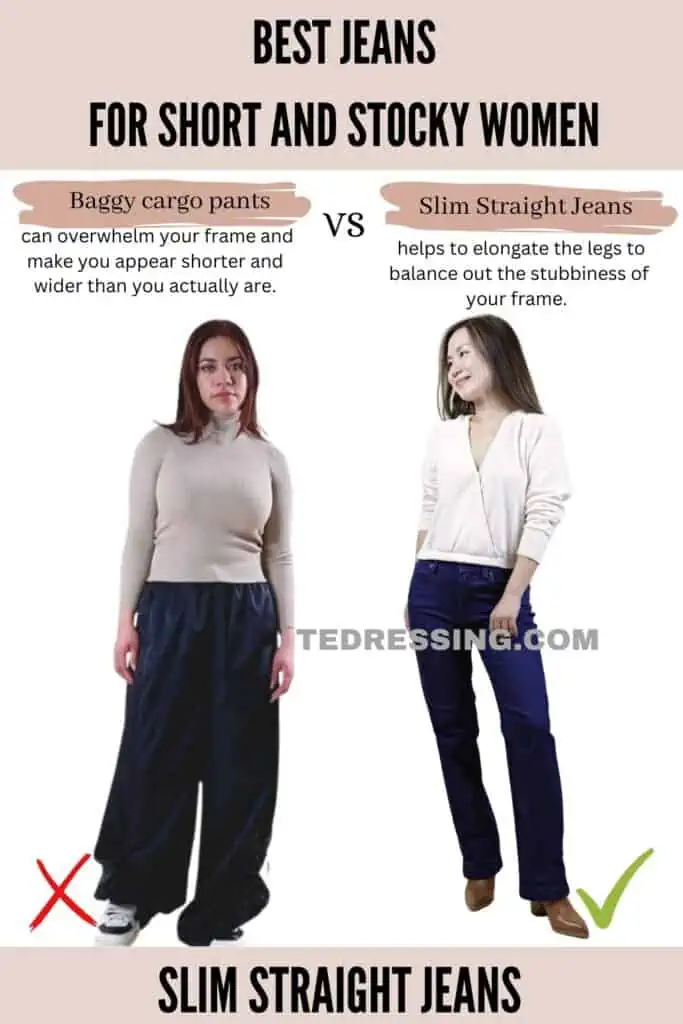 Structured cigarette jeans are a chic and tailored style of jeans that fit snugly from the waist to the ankles, with a straight leg that tapers slightly towards the hem. Think of it as skinny jeans but more structured and less clingy!
It's characterized by the jeans' clean lines, crisp look, and polished silhouette which makes it perfect for women who are short in height and have a stocky figure. One of these jeans' best style benefits is their ability to create a sleek and streamlined appearance.
The slim fit of these jeans hugs the body without being overly tight which gives you a polished and tailored look and the slim silhouette also helps to elongate the legs to balance out the stubbiness of your frame. Shorter frames can particularly benefit from the elongating effect of these jeans for the illusion of added height.
High-Waisted Mom Jeans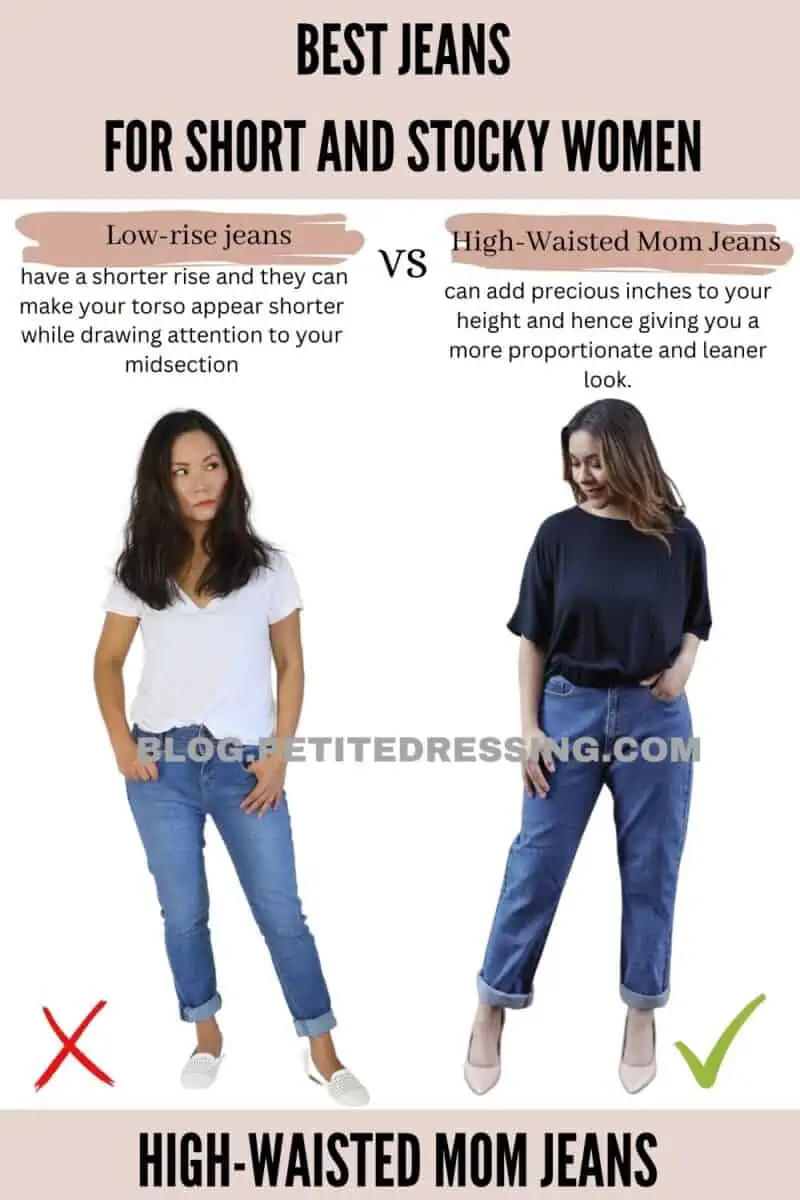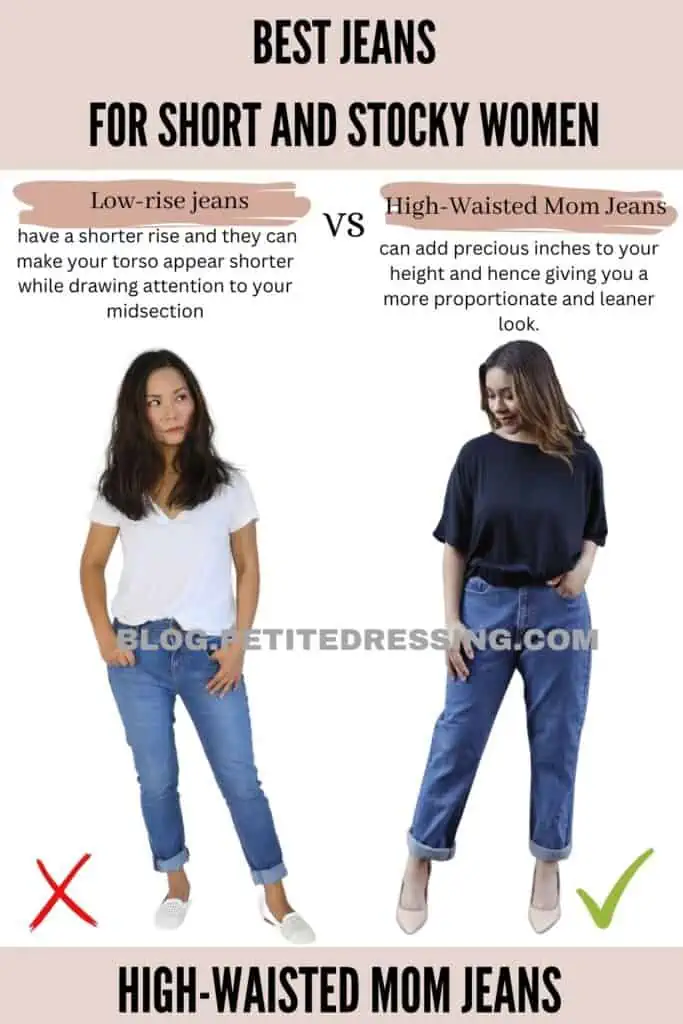 The high-waisted design of mom jeans serves as an optical trick to elongate the legs as they sit higher on the waist to create the illusion of longer legs, making short women appear taller. This elongating effect can add precious inches to your height and hence giving you a more proportionate and leaner look.
Not only do high-waisted mom jeans make you appear taller, but they also work their magic in slimming down stocky figures. The higher rise of these jeans nicely cinches at the narrowest part of the waist, resulting to giving the illusion of an hourglass figure and drawing attention away from the midsection. This helps to visually minimize the appearance of a stockier build, creating a more streamlined and slender look.
Additionally, the relaxed fit and straight leg of mom jeans provide a flattering and comfortable option for those with stocky figures as its roomier silhouette allows for ease of movement which also makes it very easy to pull off. The straight leg helps to create a continuous line from the hips down to the ankles, enhancing the elongating effect and contributing to a slimmer appearance.
Tummy Control Jeans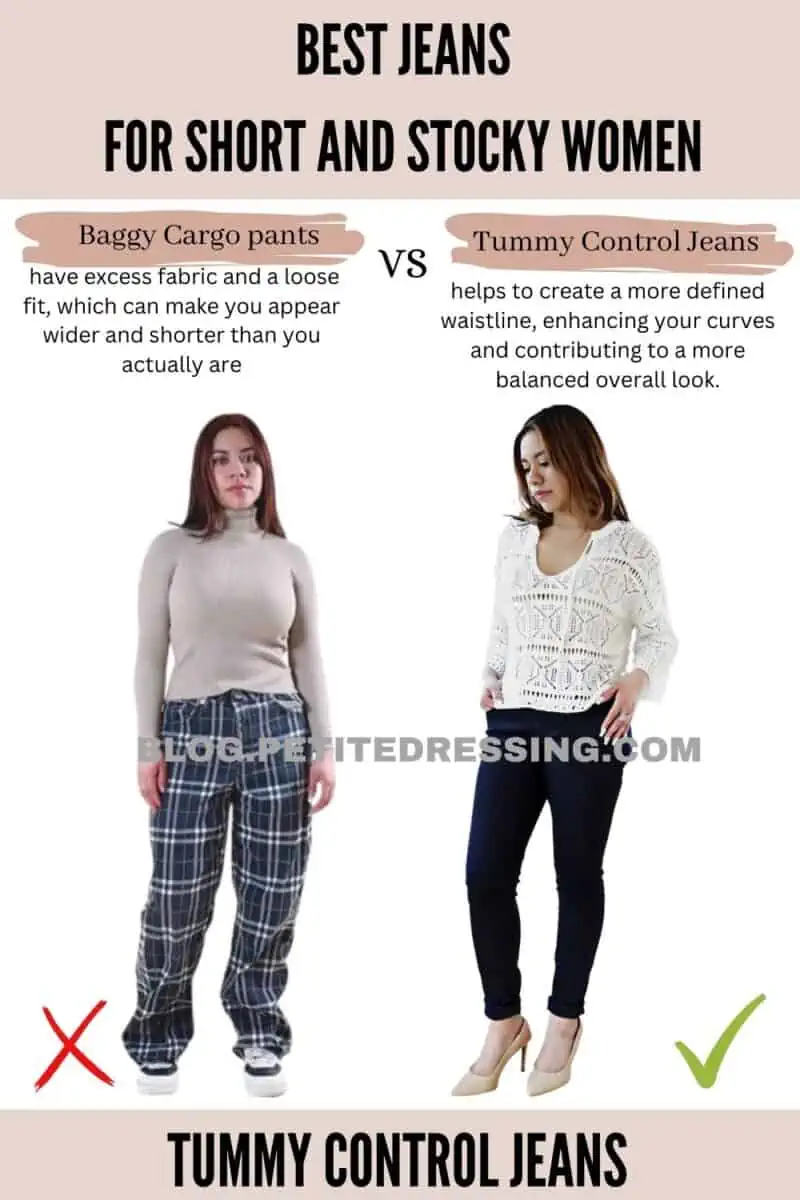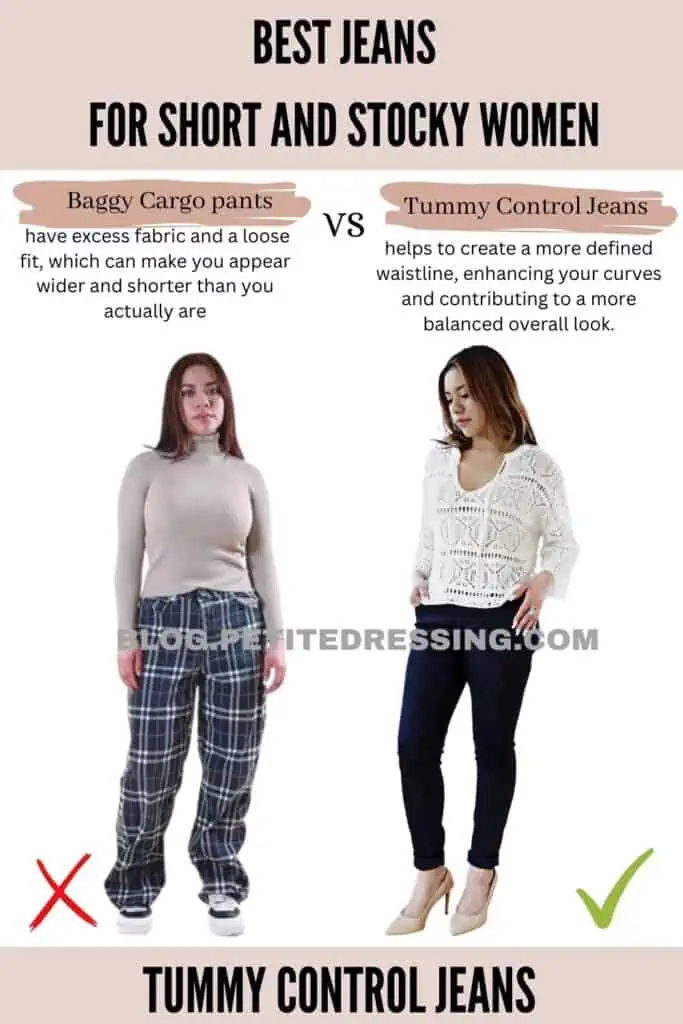 Curvy-fit jeans are a go-to option for short and stocky women as they offer a tailored fit that celebrates and enhances your natural feminine curves. Opting for curvy fit jeans with tummy control features provides extra support, shaping the midsection and creating a smoother silhouette.
Curvy-fit jeans are designed with a focus on the waist-to-hip ratio, accommodating curves and providing a more flattering fit, especially for stocky frames. They are tailored to hug the curves in all the right places, ensuring a comfortable and secure fit around the waist, hips, and thighs.
Choosing curvy-fit jeans with a tummy control feature is a smart decision for those with a stocky body shape as it provides an extra level of comfort and confidence. The added support around the midsection helps to create a more defined waistline, enhancing your curves and contributing to a more balanced overall look.
Avoid Low-rise Jeans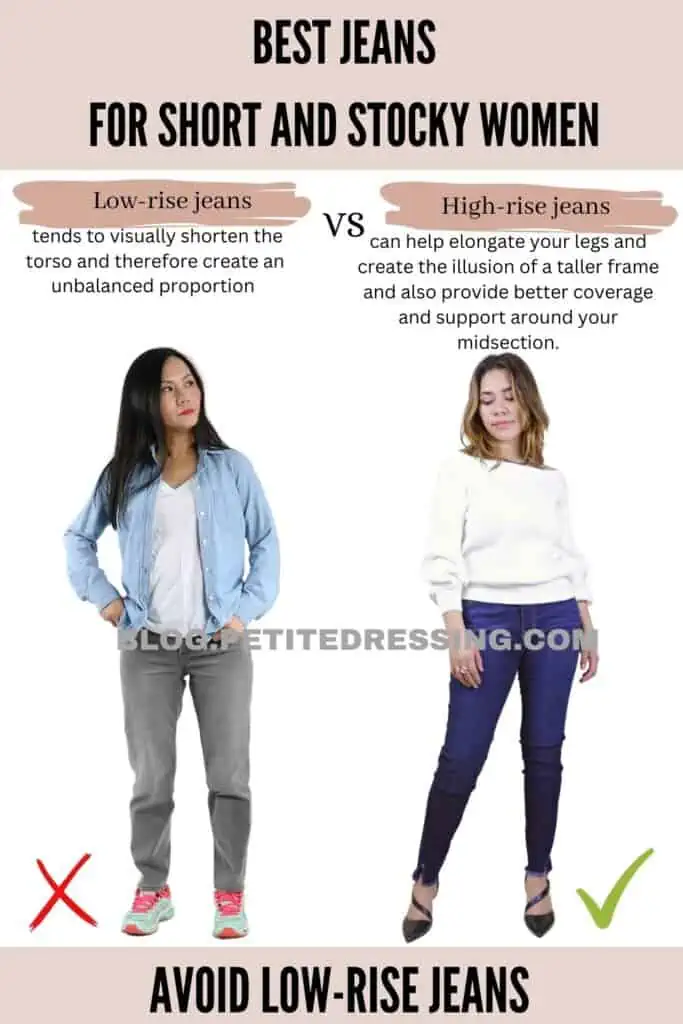 Low-rise jeans are best avoided if you have a short and stocky figure because this can highlight your areas of concern even more. This style tends to visually shorten the torso and therefore create an unbalanced proportion for those with shorter frames.
Additionally, it accentuates the lower abdomen and can make the midsection appear wider, which is not ideal for stocky figures. Low-rise jeans tend to hit right at the widest part of the hips or slightly below, drawing attention to that area and so this can give the illusion of wider hips and contribute to an unbalanced figure.
Another reason why you should steer away from low-rise jeans is the fact that they feature a tendency to create a "muffin top" effect, where excess skin or fat spills over the waistband. This can be particularly noticeable for those with shorter and stockier figures.
Caution with Whiskering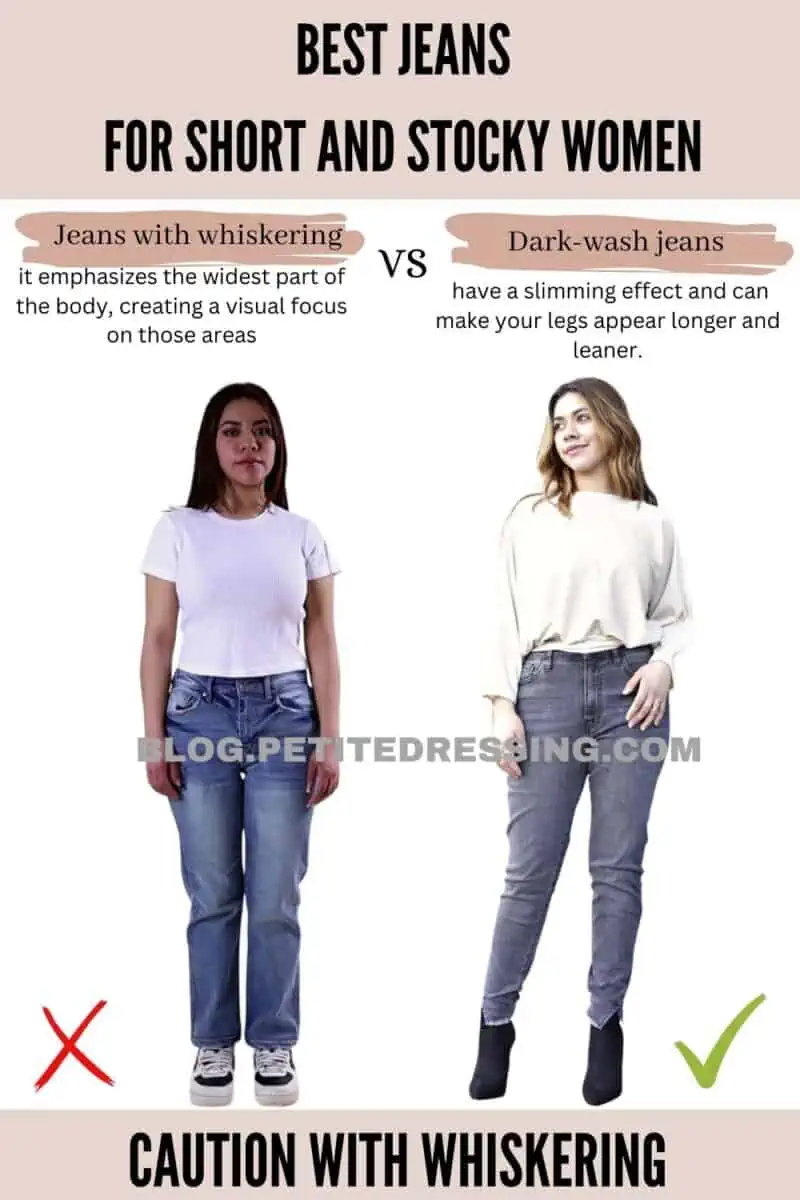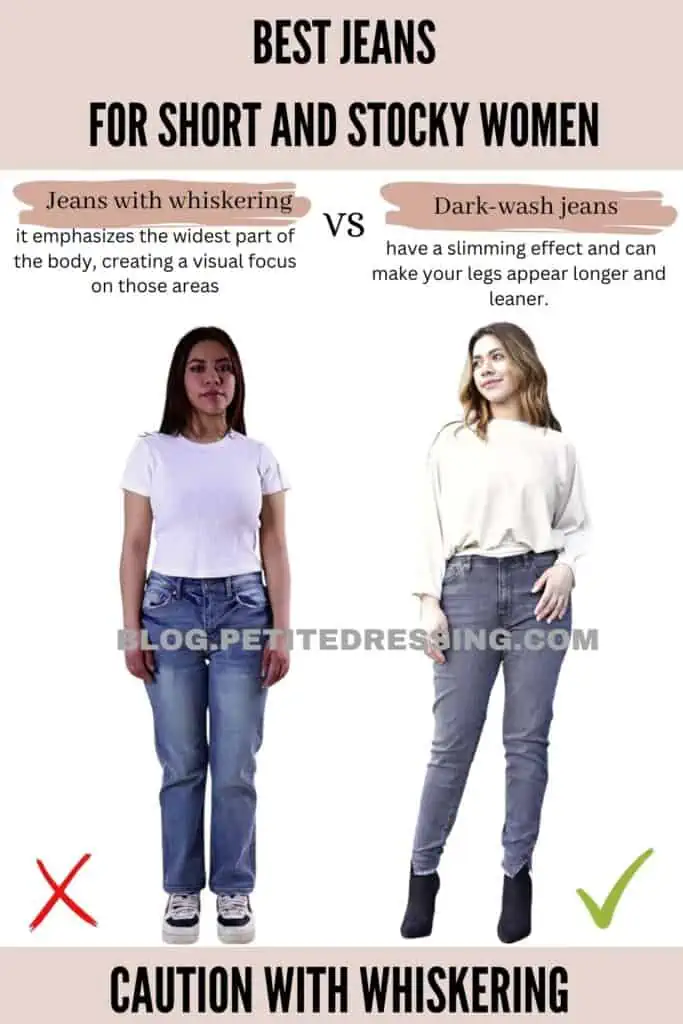 When it comes to short and stocky body shapes, jeans with whiskering details are generally considered unflattering because of how their horizontal pattern makes you look wider. Whiskering refers to the faded lines or creases that are intentionally placed on the front of the jeans, typically around the hips or thighs.
For short and stocky body shapes, this can be problematic as it emphasizes the widest part of the body, creating a visual focus on those areas. It can make the hips appear wider and detract from creating a balanced silhouette.
The Key Takeaway
The right pair of jeans will take you to places! Embracing your beautiful figure also means choosing what looks best for your body and jeans can really make that apparent.
With this style guide, I hope your fashion shopping spree is going to be more fun and hassle-free!