If you are 5 foot and under, the main challenges to find the right blazers are always related to the length. Not only the length of the jacket, but also the that of the sleeves. I know this since I'm 5'2″ myself and I face the same issue. Besides, I also have a petite clothing line and I have thousands of customers who are 5′ and under.
Based on my own experience as well as feedback from my customers, I've put together this detailed guide to help you find the best blazers regardless of your height.
Cropped blazers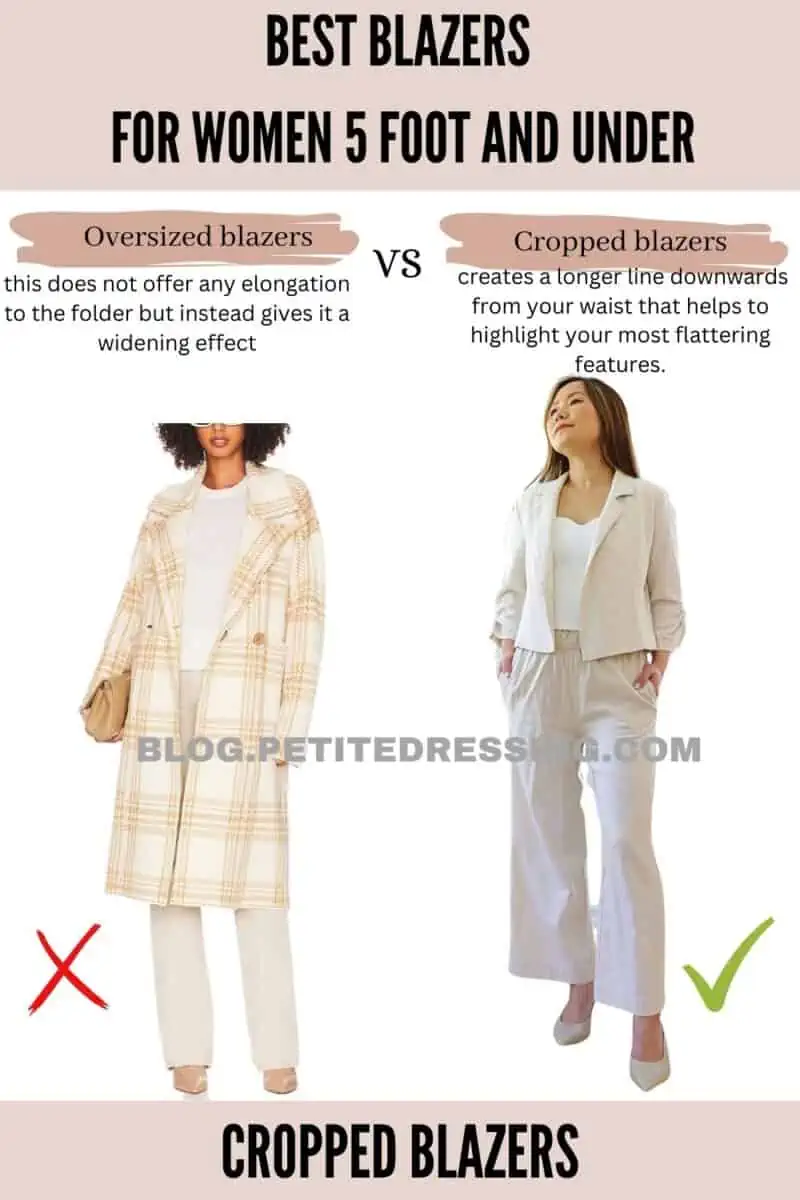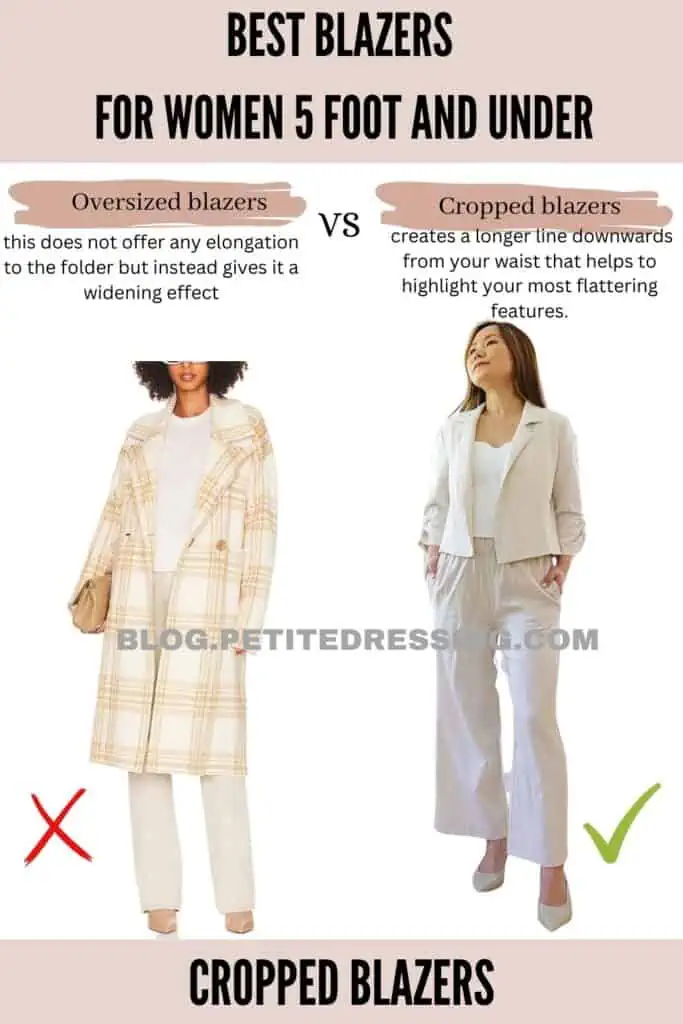 If you were a bit skeptical about how you would look in a cropped blazer for a woman who is five foot tall and under, I'm here to tell you that you would look amazing and fall hopelessly in love with your look.
With cropped blazers, you can easily create the illusion of longer legs. Of course, they are super sexy and who doesn't want to explore such a look? The cropped blazers are usually shorter than traditional blazers, which means they hit above the hips or at the waist.
Any of these two locations are fine, since these are positions that help to create a flattering silhouette. With this, the blazer creates a longer line downwards from your waist, which helps to highlight your most flattering features.
One of the best ways to wear your cropped blazer is with high-waisted wide-leg pants which help to elongate your legs. Pair this with a fitted top and the result is a balanced look with the illusion of longer legs.
Single-breasted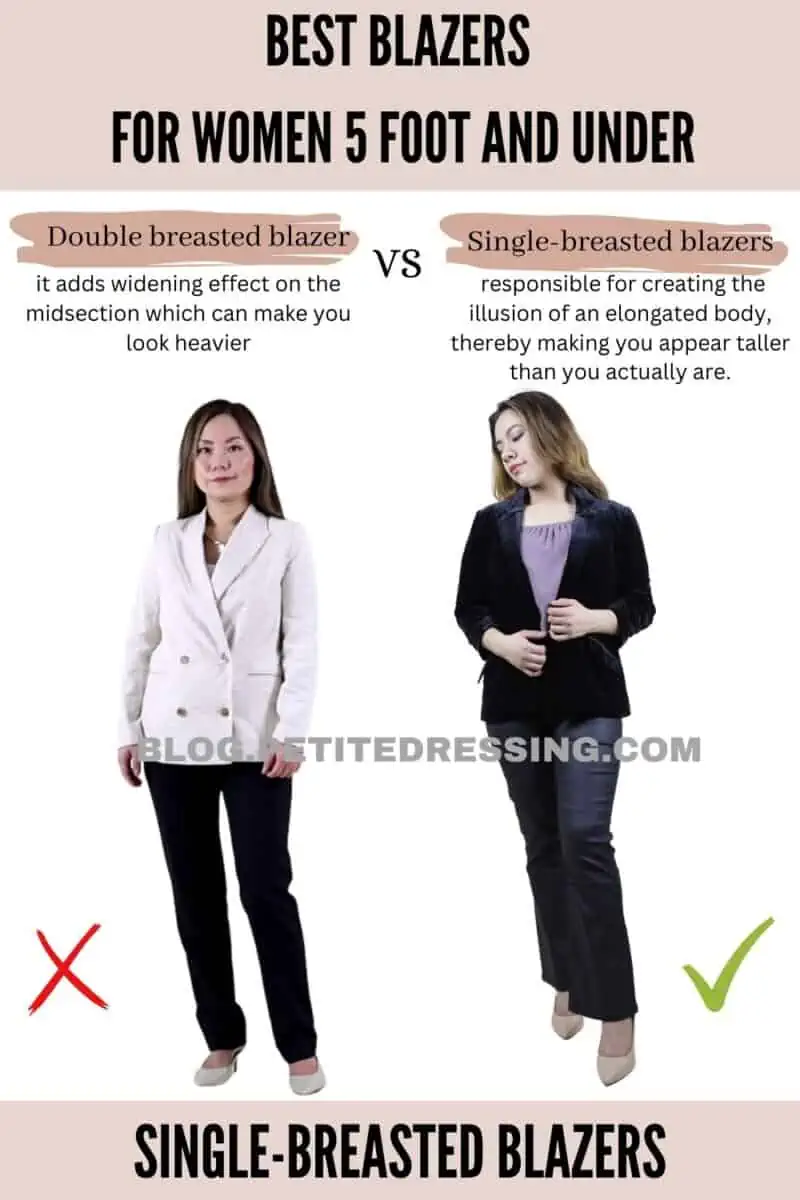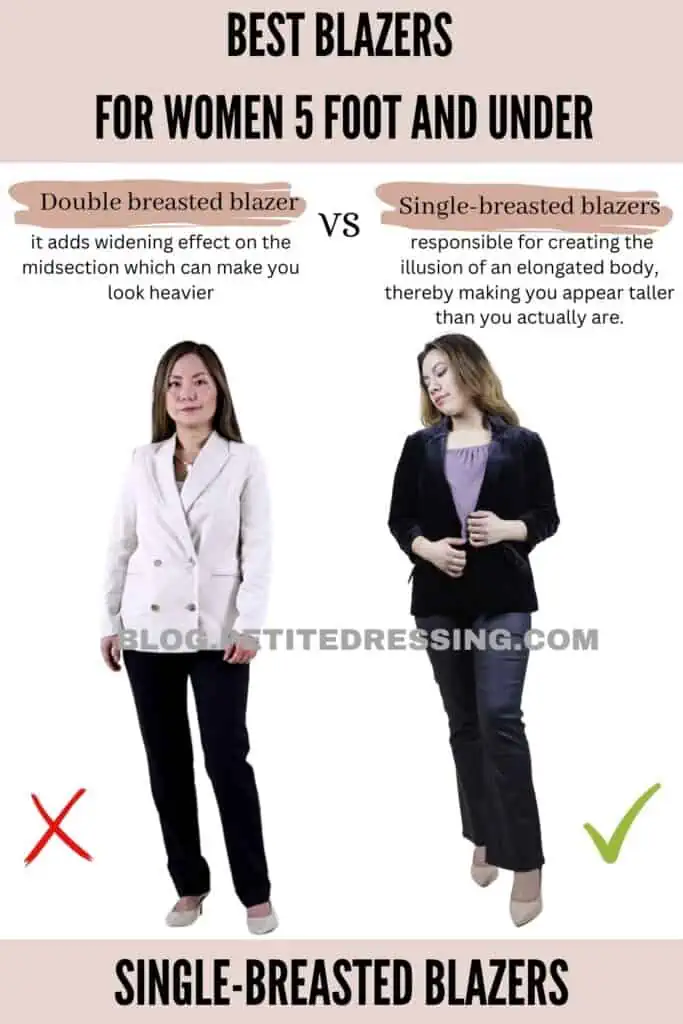 Blazers also come in single-breasted and double-breasted styles. However, the double-breasted blazer style is not a great choice for women that are five foot tall and under as it gives you a much smaller appearance.
With single-breasted blazers, you can enjoy a tailored and more streamlined look. This style of blazer has just a row of buttons down the front that creates a vertical line. This is responsible for creating the illusion of an elongated body, thereby making you appear taller than you actually are.
If you have a high-waisted skirt of straight-cut pants, this is a good time to pull them out and pair with your single-breasted blazer. The result is a sophisticated and chic look that can even be rocked to formal events.
Don't forget to accessorize as subtly as possible. A statement earring or necklace is just enough to draw attention upwards, and make you more elegant.
Blazers with structured shoulders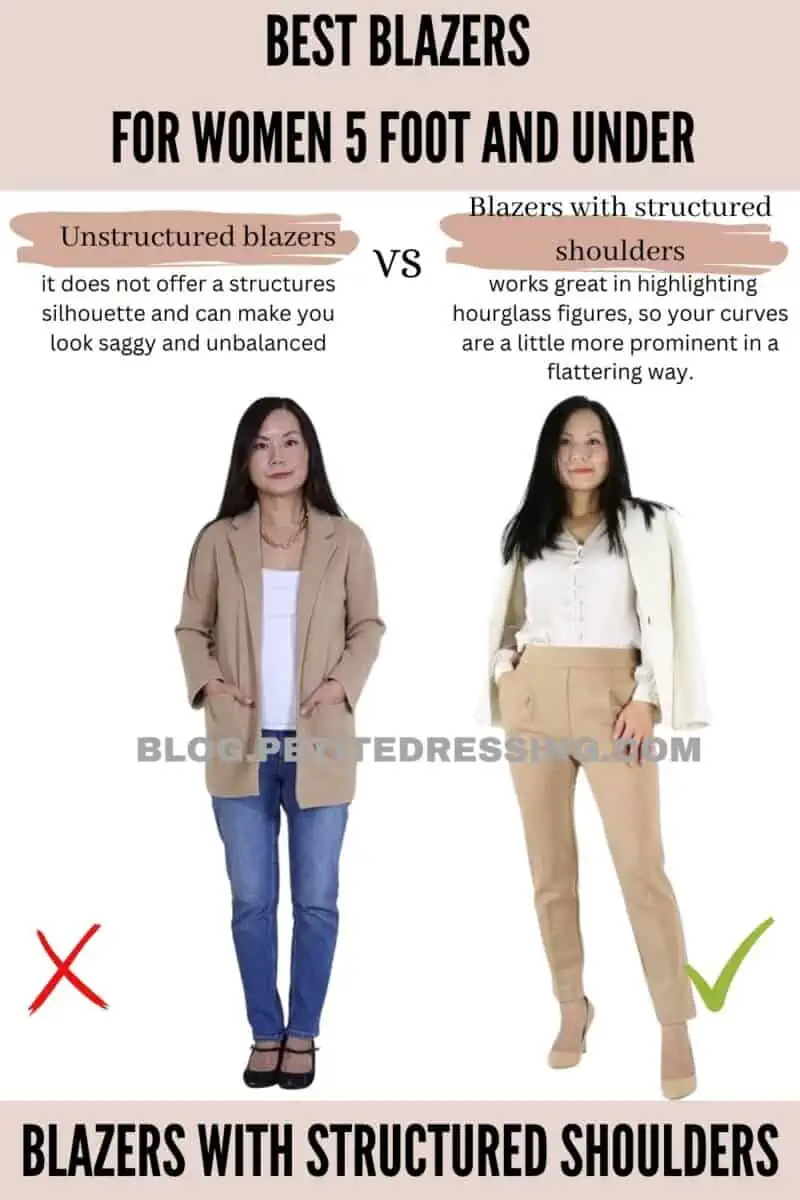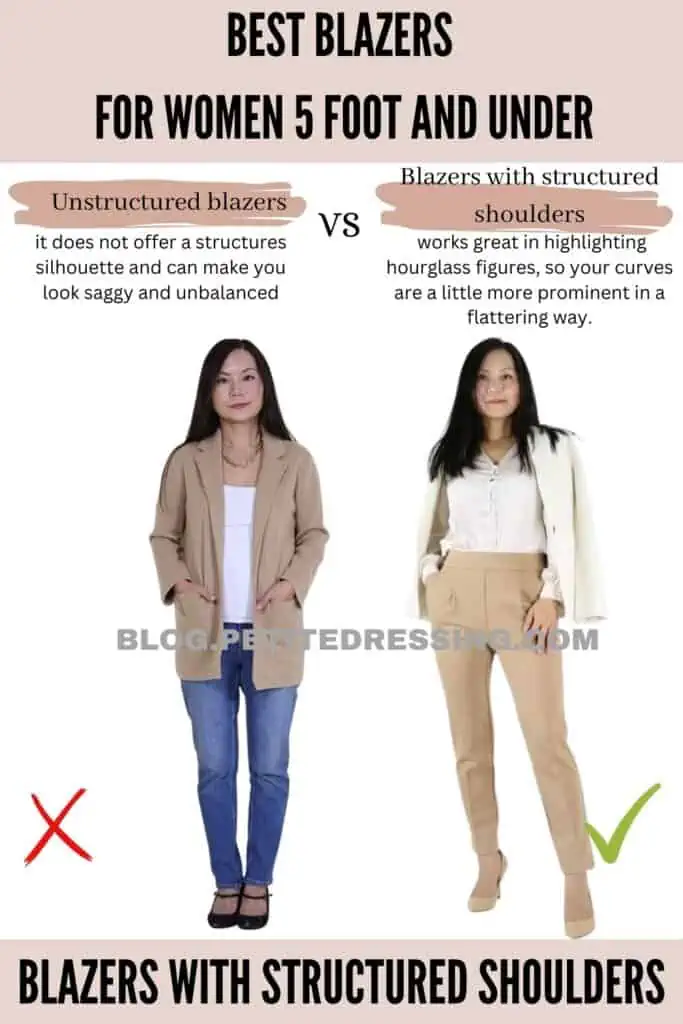 Blazers with structured shoulders usually have shoulder pads which is perfect for balancing out the asymmetrical angles of your shoulders. This is common with a lot of petite women with triangle or rectangle body shape.
If you fall in any of these categories, blazers with structured shoulders can help you create a more commanding and powerful look. This also works great in highlighting hourglass figures, so your curves are a little more prominent in a flattering way.
The purpose of the structured shoulders on your blazer is to create a more balanced silhouette, especially with how it helps to broaden your narrow shoulders. Of course, this works perfectly with a fitted top and you can complete the look with statement jewelry.
You can wear this in bold colors like navy blue or brown. However, black will always be a winner, whether it's with pants or blazers. So, be sure to mix things up so you don't end up having a boring selection of clothing.
Belted blazers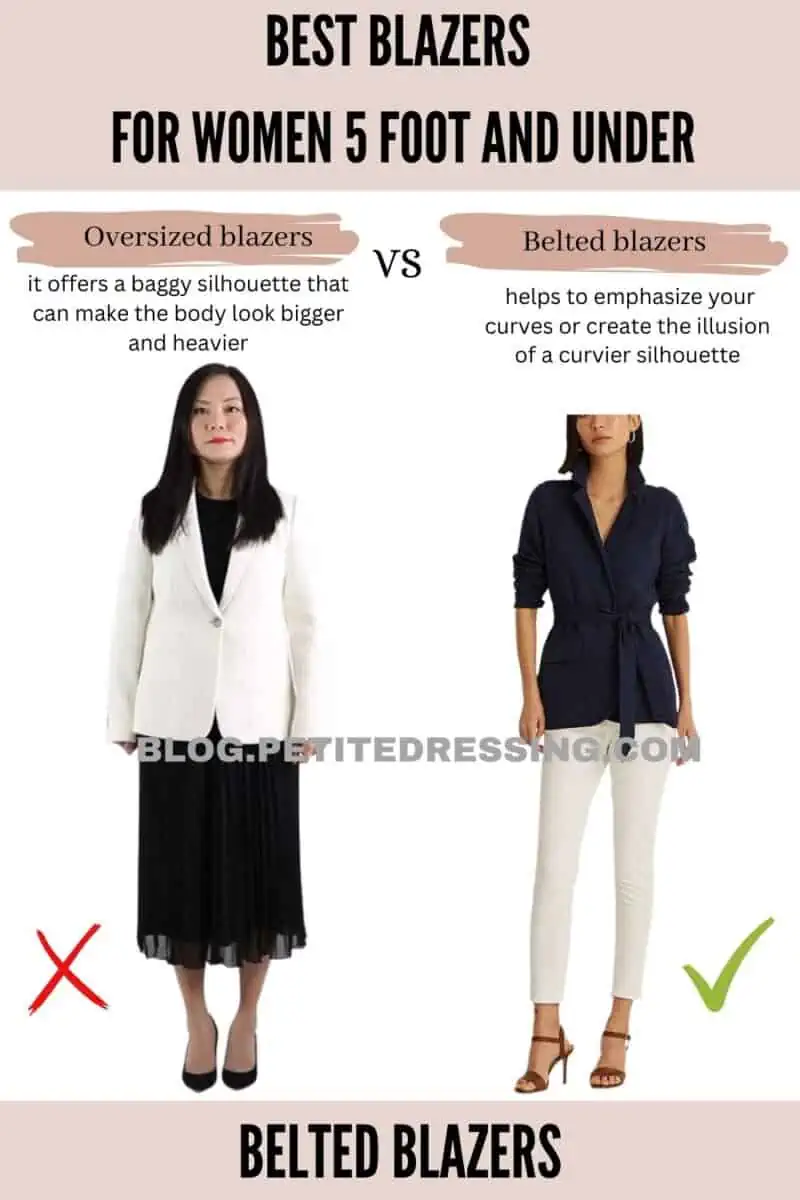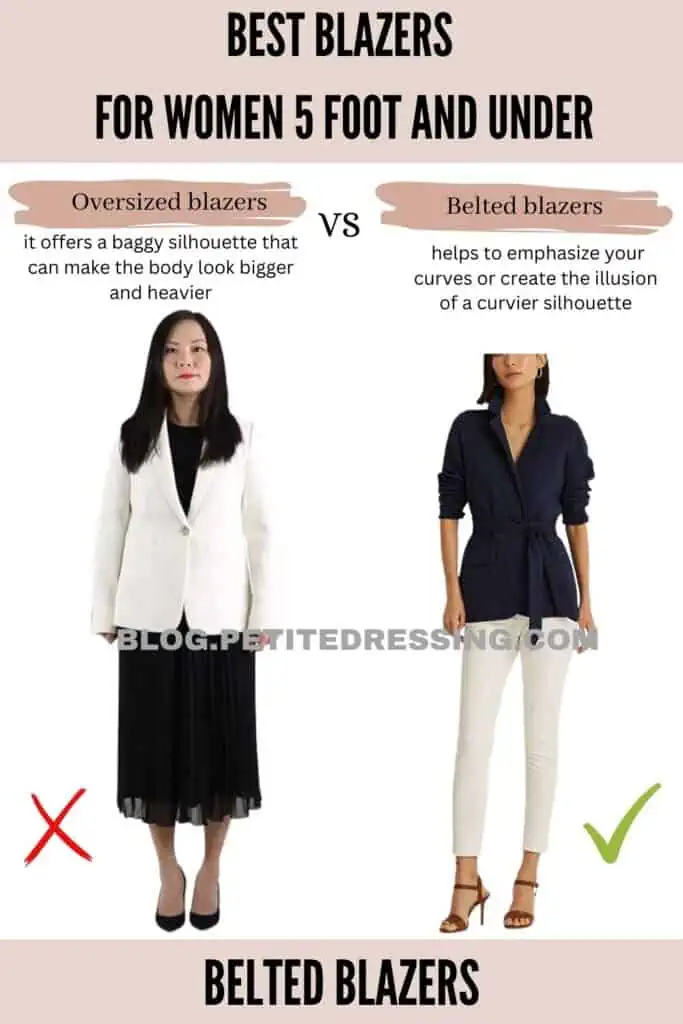 Belts are perfect for creating a smaller waistline, which helps to emphasize your curves or create the illusion of a curvier silhouette if you don't have a lot of this naturally. So, every petite woman who is five foot tall and under should have a belted blazer as one of their readily available clothing choices for a day out.
Accentuate your waistline seamlessly with a belted blazer, especially when it's not so big on your waist. Since belted blazers usually have a cinched waistline, this is one of the most stress-free ways to create the hourglass silhouette. The flare makes your legs appear longer while your waist is smaller.
So, how do you choose the right belted blazer? It starts with paying extra attention to the fabric and design. With plain colors, you won't be drawing so much attention to your body structure, and this means there's more emphasis on appearing a few inches taller.
You should also pick fabrics that are slightly stiff as these look more structured. There are many ways to rock your belted blazer. This could be with high-waist pants/skirts, or with a dress. Regardless of your choice, the results will be fantastic. Don't forget to adorn your feet with the best and most comfortable pair of shoes you can find, depending on the occasion.
Peplum blazers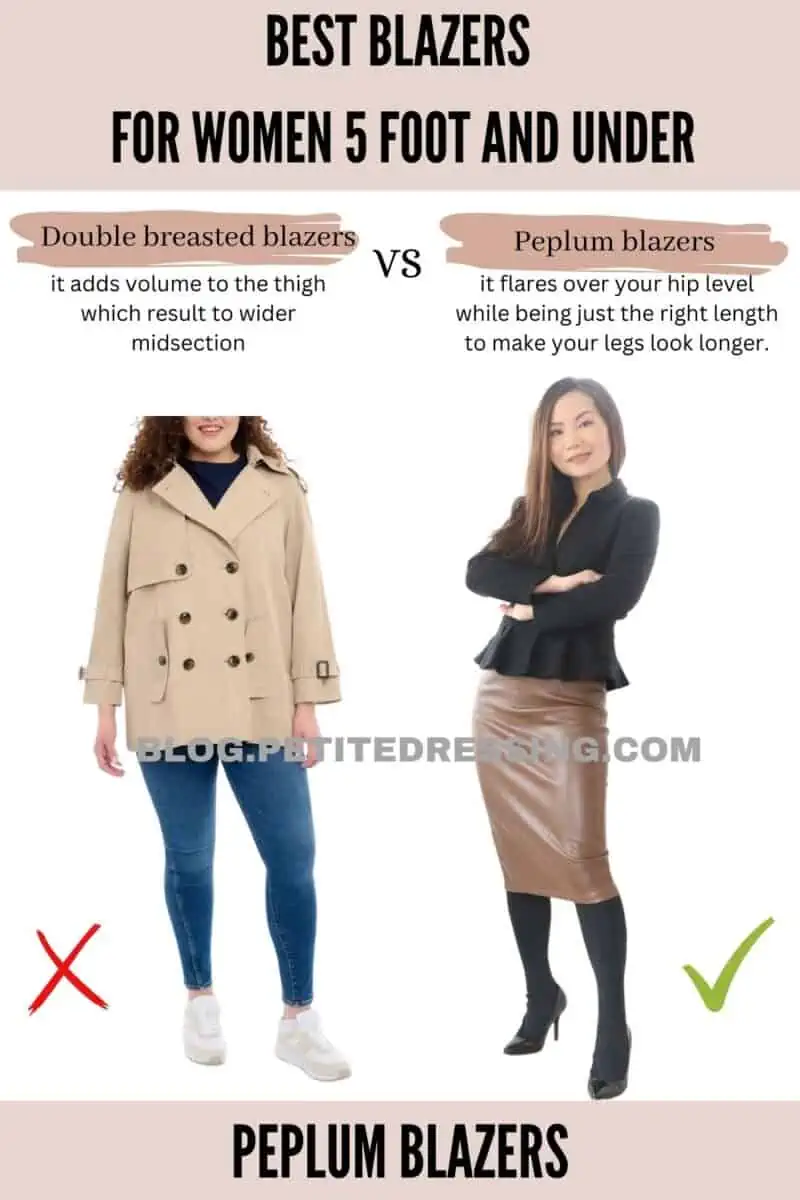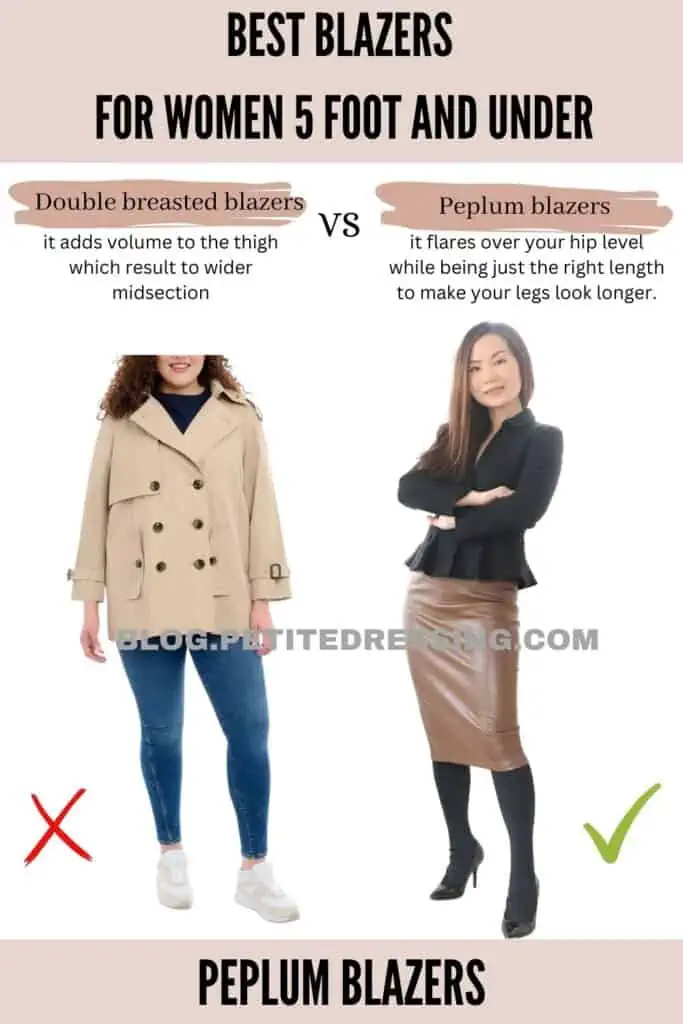 Peplum blazers are one of the most elite blazers for petite women and you'll be glad to have one. This style involves a short overskirt that flares over your hip level while being just the right length to make your legs look longer.
The magic of peplum blazers is in how they create the hourglass figure effect on your silhouette. As a woman who's five feet tall, this blazer will highlight the smallest part of your waist just enough to give the illusion of curves as naturally as possible.
This incredibly versatile style of blazer works amazingly well with both pants and dresses. So, whether you just need something for a relaxed night out with friends or a more formal style for a work meeting, peplum blazers are your guy.
With this blazer, your choice of neckline matters. As a petite woman, my top recommendation is the deep V-neck which draws attention upwards and this makes you look slimmer. This is the perfect choice for women that want to look more curvy and feminine.
Blazers with three-quarter sleeves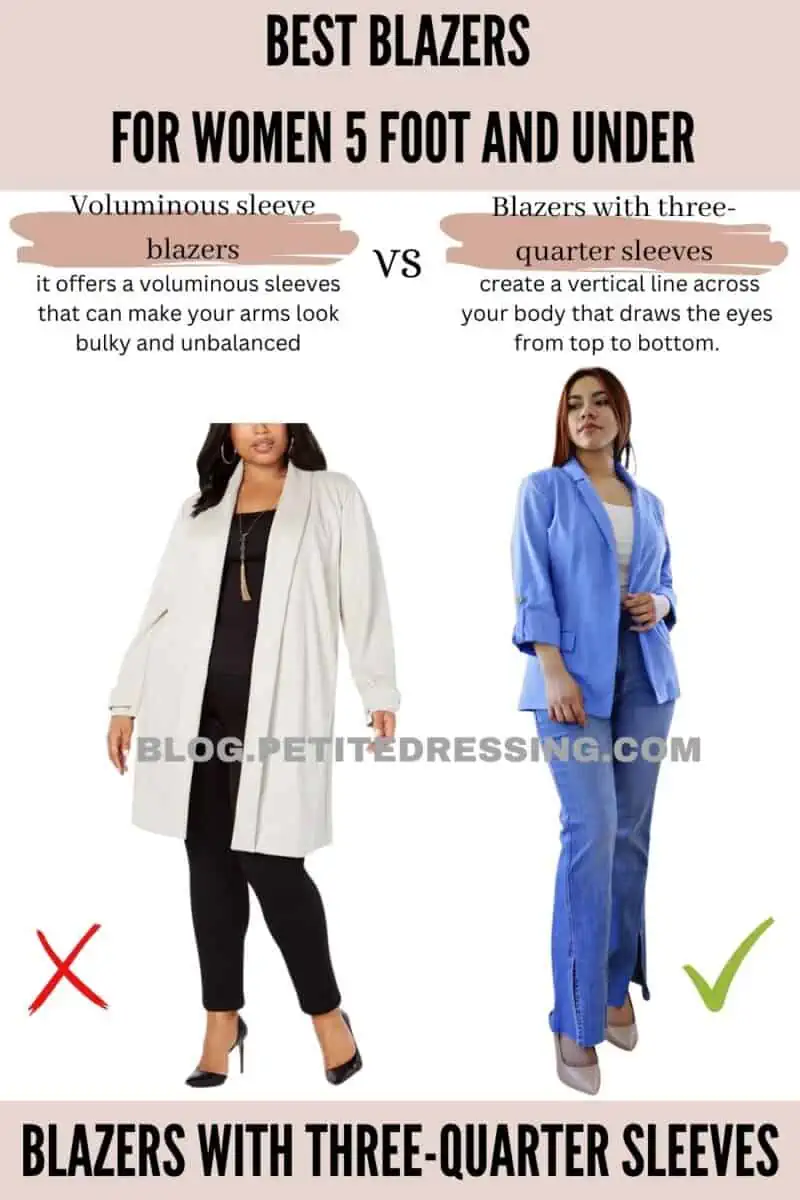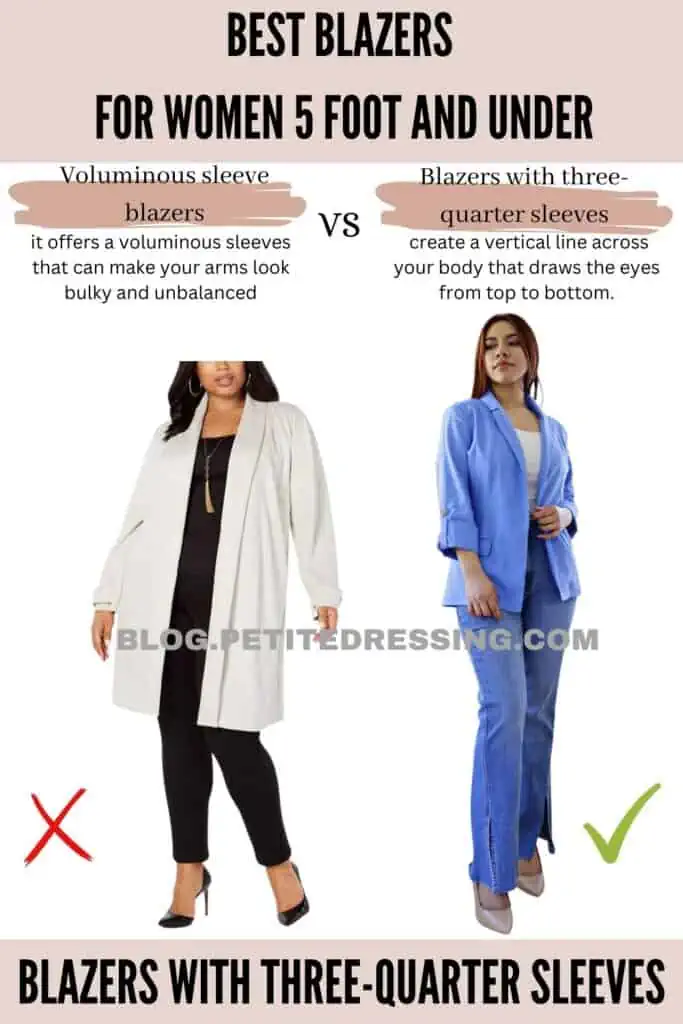 Here's another great way to create a more proportionate and balanced look. Many petite women find it challenging to find a blazer that fits just right on their body and doesn't draw too much attention to their height.
Well, this is one choice that will help you achieve this and more. And it's all thanks to the three-quarter sleeves. Blazers with three-quarter sleeves create a vertical line across your body that draws the eyes from top to bottom.
This is solely responsible for the elongation effect on your body where you appear taller by a few important inches. The three-quarter sleeves work great with straight-cut pants or high-waisted wide-leg pants. You'll love the sophisticated look.
In this case, the three-quarter sleeves stop just a little below your elbow. While there's nothing wrong with wearing blazers with full-length sleeves, choosing three-quarter sleeves is a great way to switch up your look.
Avoid oversized blazers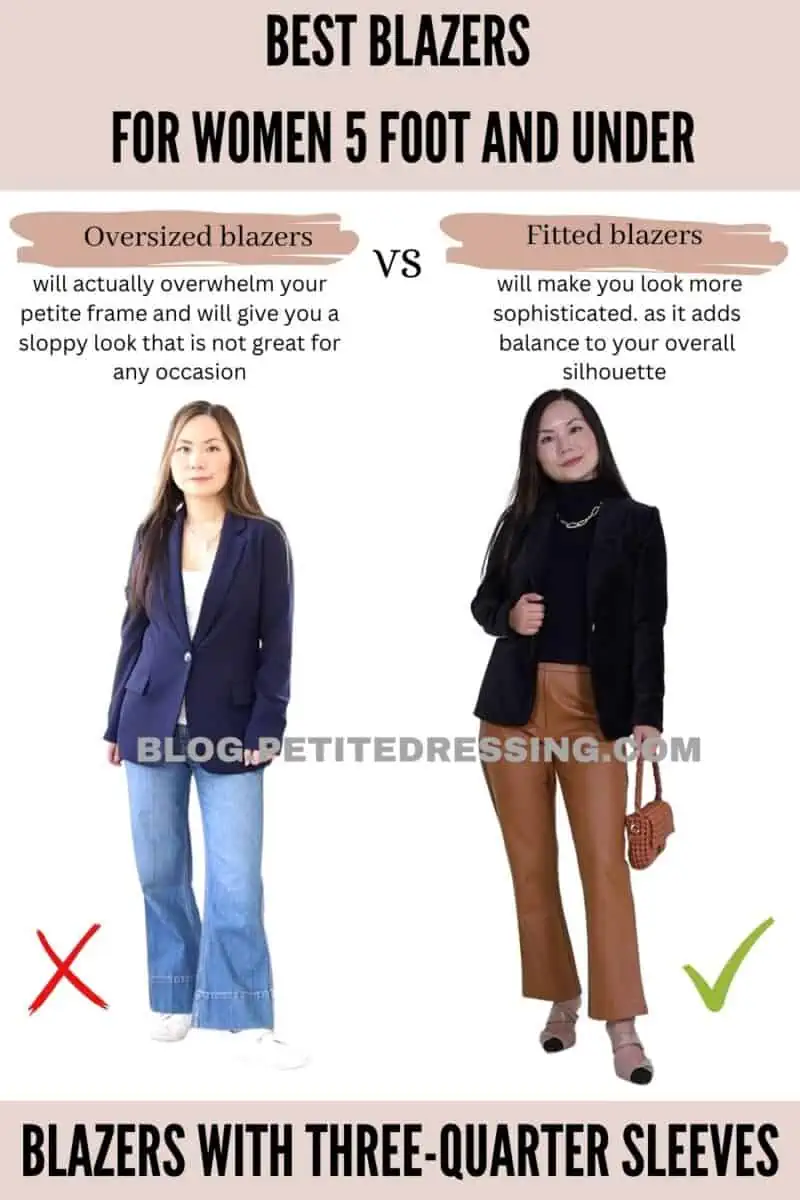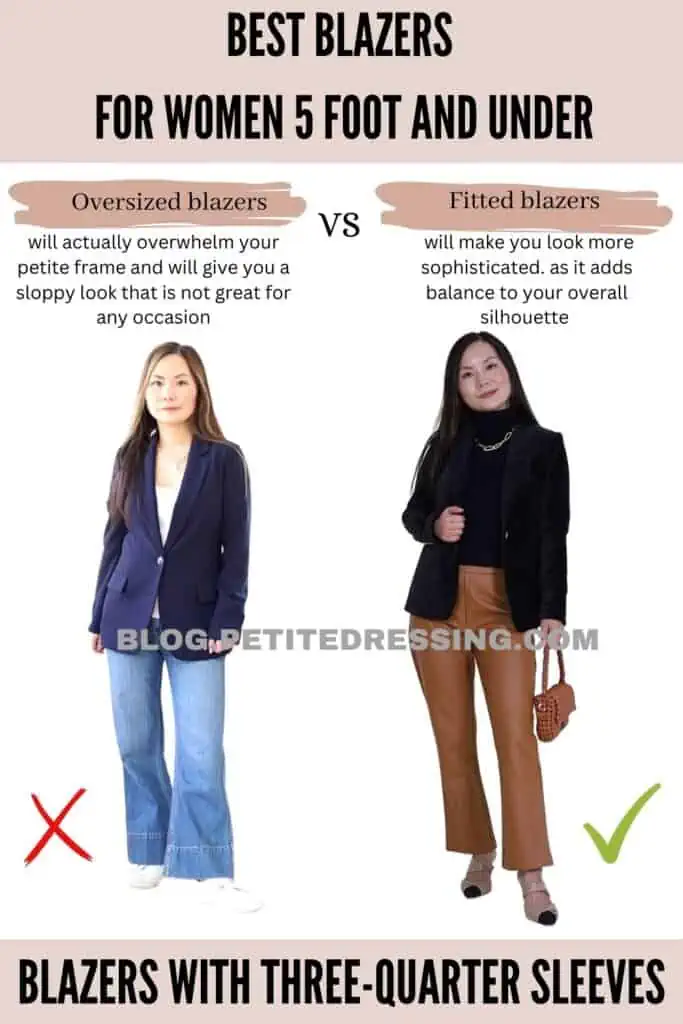 No matter how tempted you are to hide your smallish size behind an oversized blazer, don't yield to this. Unfortunately, some petite women erroneously think that this will give them a bigger appearance. However, that's so far from the truth.
Oversized blazers will actually overwhelm your petite frame. The result is a sloppy look that is not great for any occasion. Don't feel self-conscious about wearing fitted blazers that highlight your curves. This will do you a lot of good.
When shopping for blazers, it's important to pay attention to the structure and fit of the blazer. If you're having trouble finding your preferred blazer in your size, it's totally okay to have this tailor-made to your size.
A fitted blazer will make you look more sophisticated. Of course that means a more balanced overall silhouette that flatters your petite body frame and makes you look chic. So, explore as many fitted blazers as you can, especially those in the styles that I already discussed.
Blazers are a great way to switch up your look and add a lot more class to your outfit. So, add a few of them to your wardrobe today.