If you are a short and chubby girl, finding the right dresses can be a challenge. I am 5'2″ myself and I have a petite clothing line for women 5'4″ and under, so I know from first hand experiences what type of dresses look the the best on your shape.
Based on the feedback from thousands of my customers, many of whom are short and stocky, I've put together this detailed guide to help you find the perfect dress. Besides choosing the right styles I listed below, you should also know how to pick the right shoes for petites to complement the look.
Styling Goal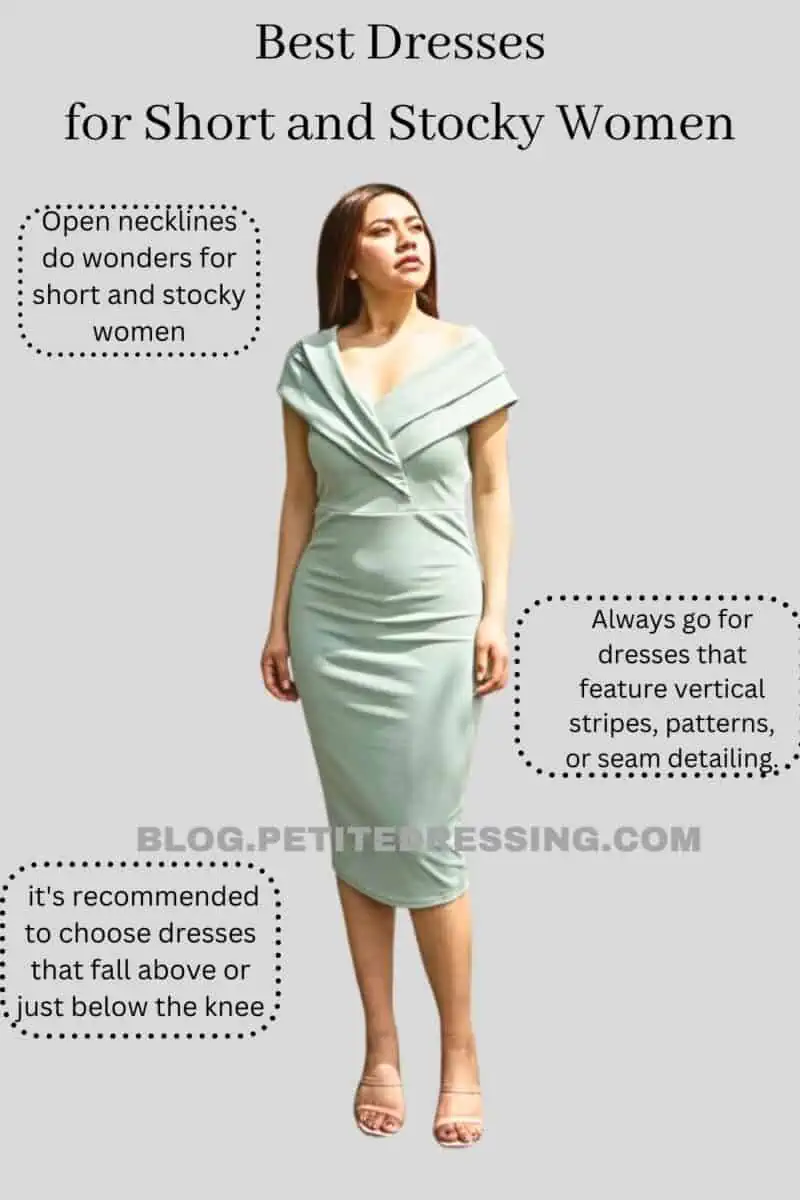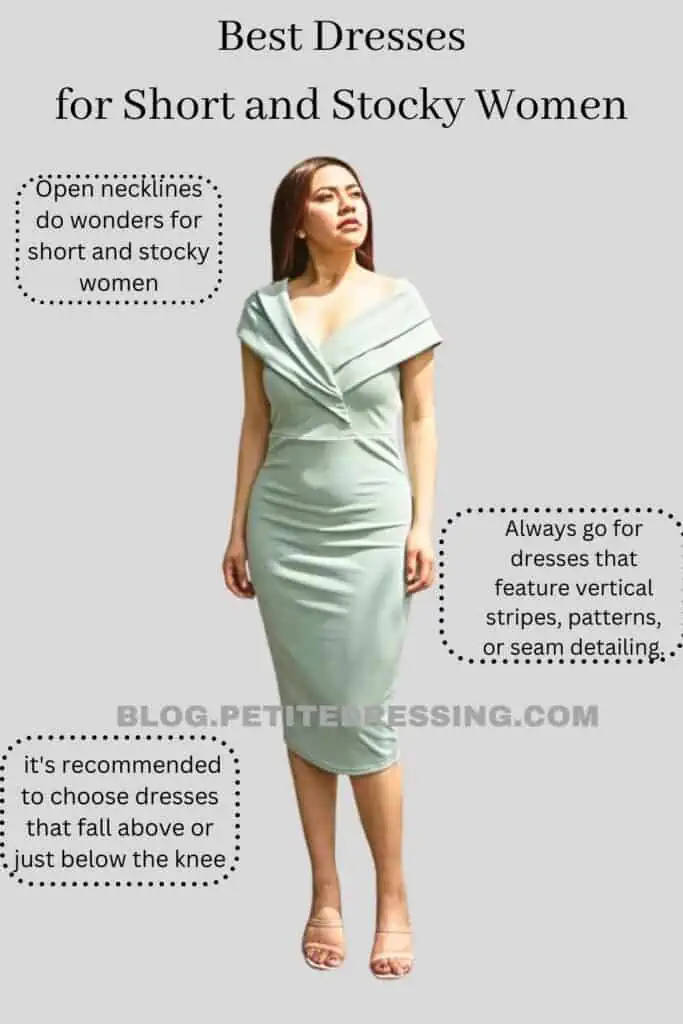 Always go for dresses that feature vertical stripes, patterns, or seam detailing. These elements draw the eye upward and downward to create a streamlined effect that can make you appear taller and slimmer. 
Choose dresses with a cinched waist or styles with belts or ties to emphasize your midsection. Showcase this asset of yours – it's a sure way to balance out your silhouette.
Open necklines do wonders for short and stocky women – they help create the illusion of length by drawing eyes from top to bottom. Dresses featuring open necklines such as V-neck and scoop neck flash a bit of skin, providing ladies with little height and a lean upper body.
For short and stocky women, it's recommended to choose dresses that fall above or just below the knee. This length helps elongate your legs and creates a more harmonious silhouette.
It's time to step up your fashion game. Now is the time to confidently navigate your way through the dress style options and create looks that enhance your natural beauty!
Structured A-Line Dresses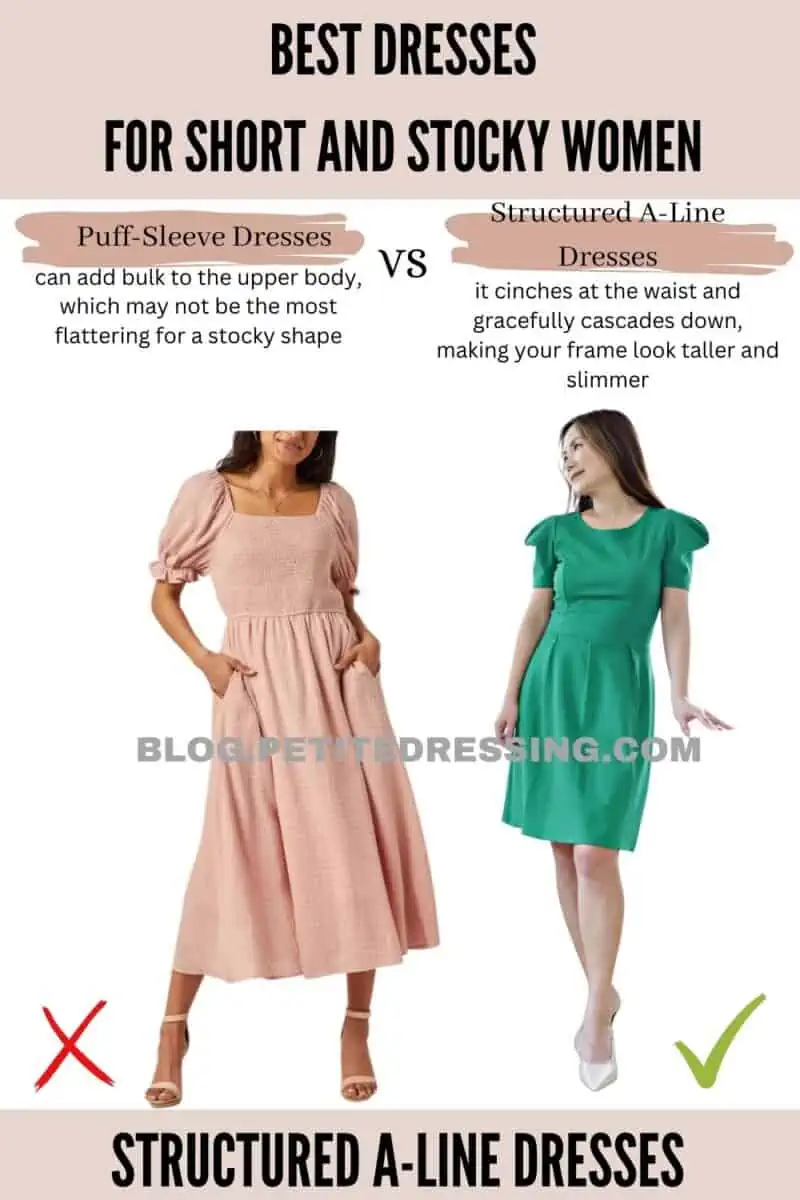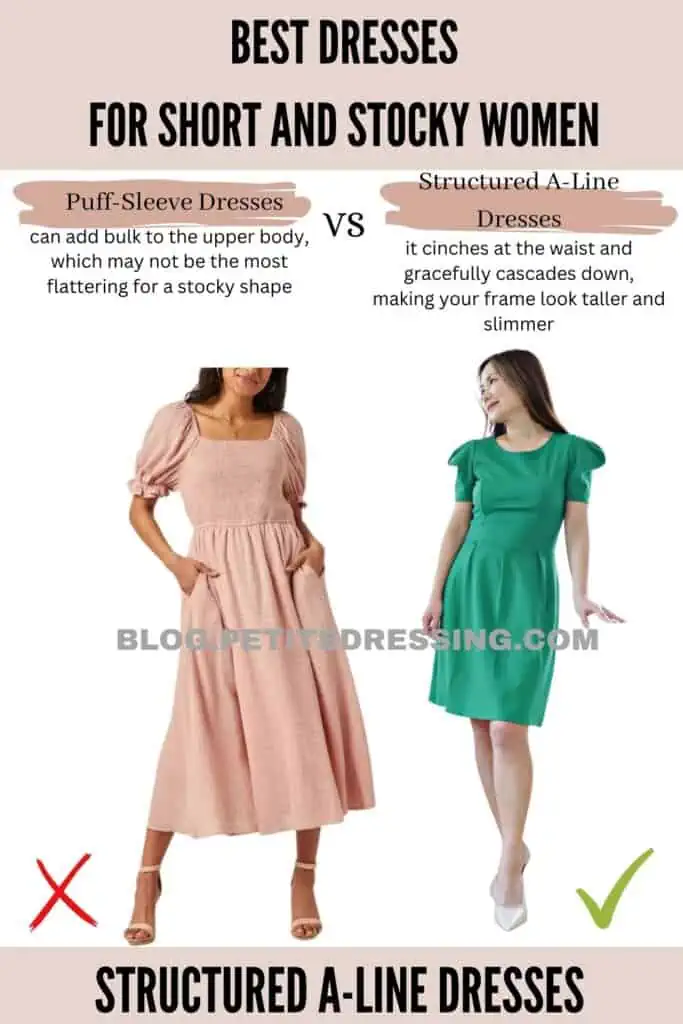 Short and curvy ladies are going to love the way A-line dresses flatter their figures! This chic silhouette cinches at the waist and gracefully cascades down, making your frame look taller and slimmer.
This style really brings out your best assets, slimming down any areas you might feel insecure about. The structured A-line cut will give you a flattering silhouette – it'll cinch in just above the waist and gracefully skim over anything else – perfect for highlighting those gorgeous curves!
I suggest wearing a V-neck or boat neck to create an illusion of length, and for accessories, it's all about making a statement – go with dazzling earrings or a classy pendant necklace. Finish off the look with some slight heel shoes you will flaunt your best features!
V-Neck Dresses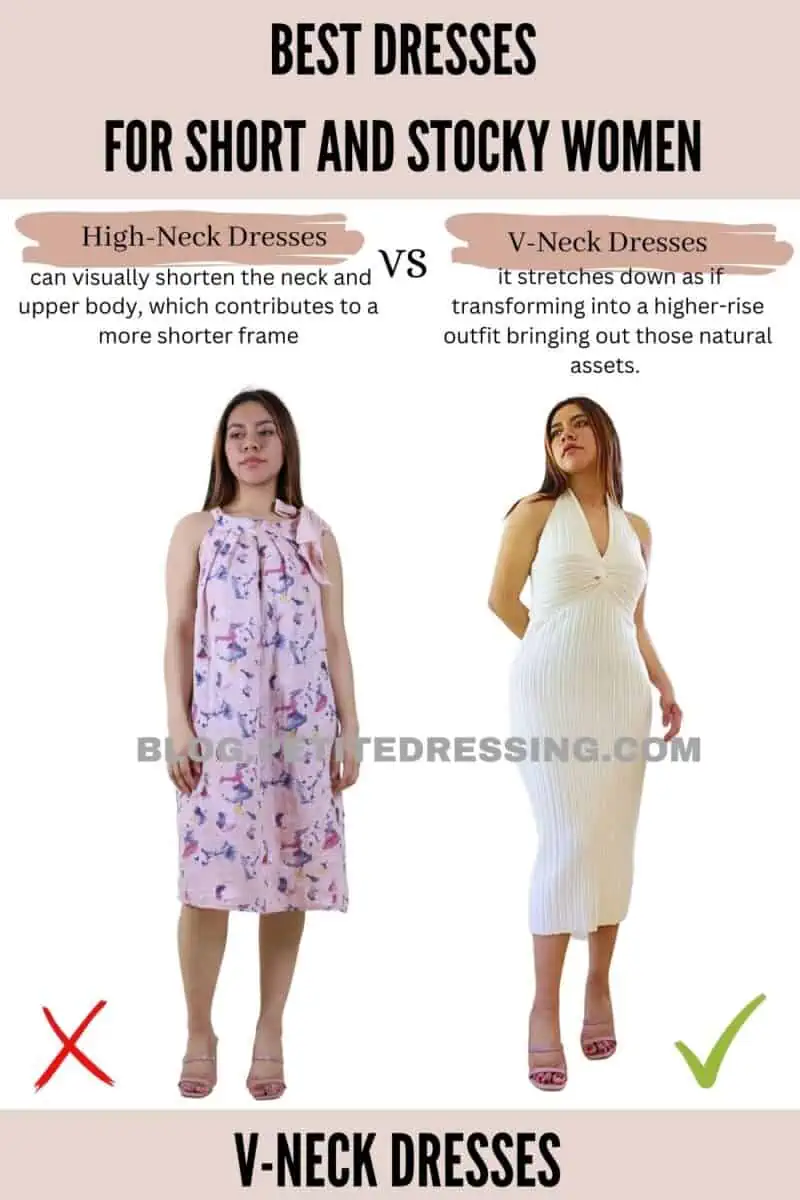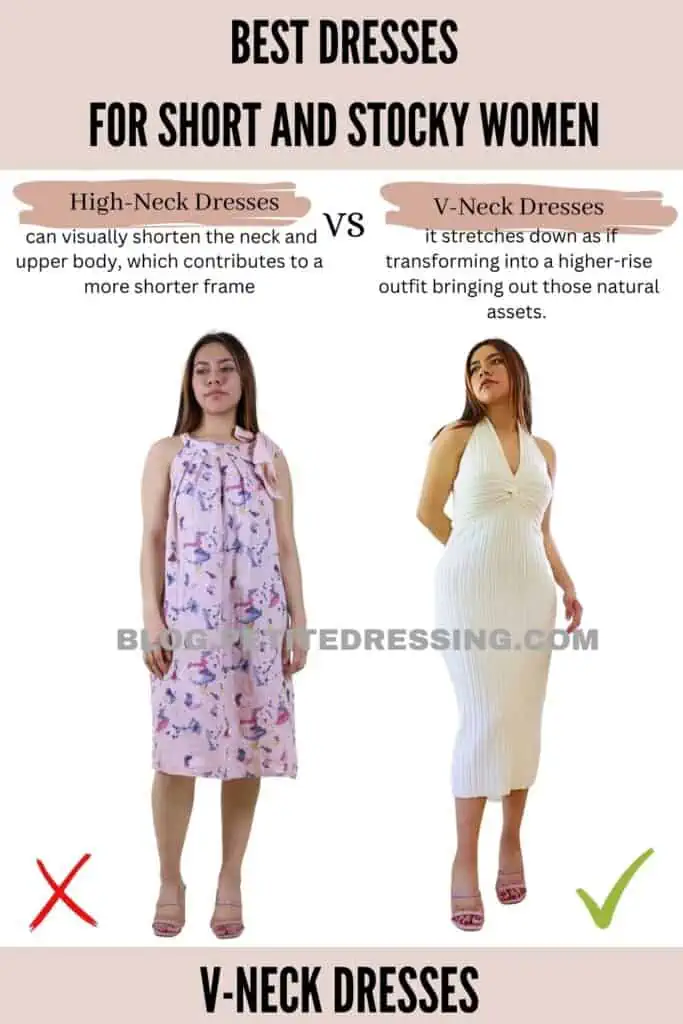 Short and stocky ladies should definitely go for a comfy cotton V-neck dress. Its breathable fabric gives you that relaxed vibe, plus the v-neckline adds to your charming personality with its absolutely flattering effect.

Better yet – it stretches down as if transforming into a higher-rise outfit bringing out those natural assets. It's indeed an exquisite way of showing them off in sophistication.
Rocking a cotton V-neck dress can give you the perfect balance of flatter and comfort; it won't cling to your curves but instead gently skims over them to create an elongated silhouette. It's perfect for showing off your best features without sacrificing the chicness!
You can try styling your cotton V-neck dress with a denim or leather jacket for a sharp, edgy look. Mix and match different lengths, sleeve styles, and patterns until you find the one that perfectly expresses your personal style.
Button-Down Dresses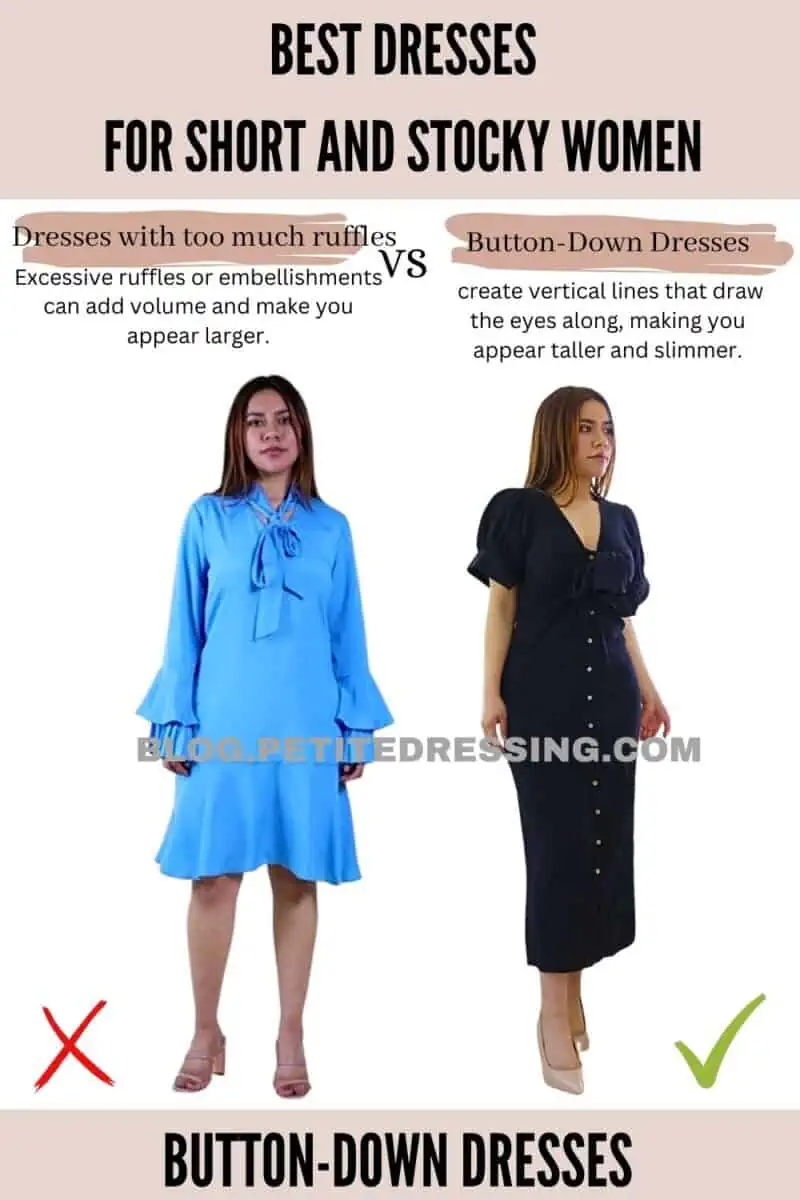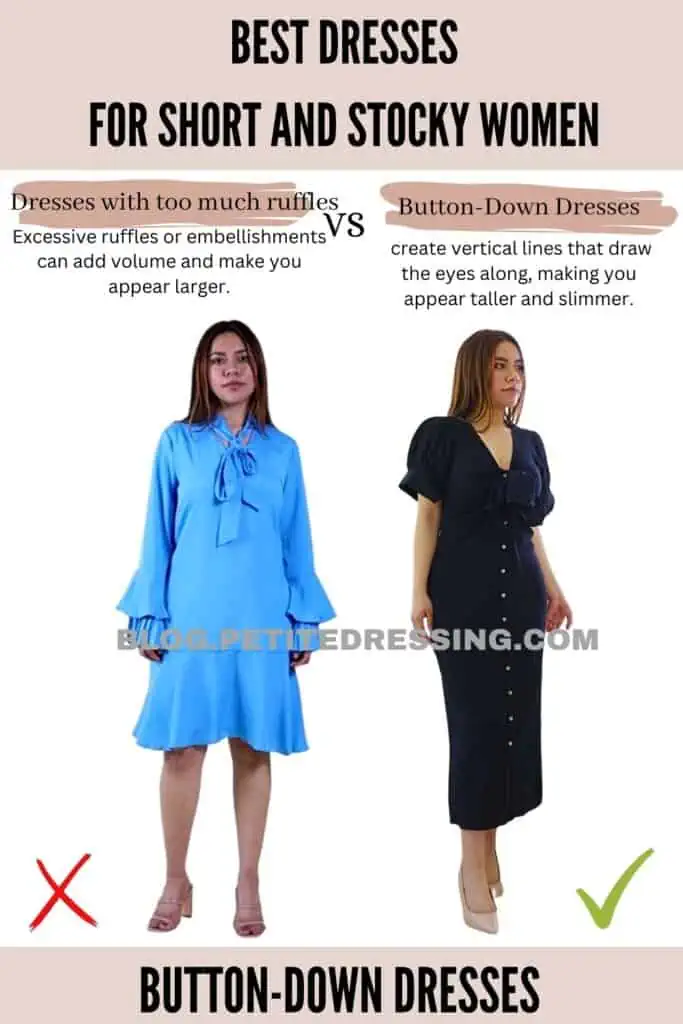 Short and stocky ladies, no need to look any further – basic button-downs are the way to go! These dresses are versatile as they offer that timeless appeal that looks great on all body types – whether it's petite or curvy frames, there's nothing like a classic silhouette from these dashing ensembles.
It's amazing just how much of a difference a basic button-down dress can make – it really gives your body structure an incredible definition. The strings of buttons create vertical lines that draw the eyes along, making you appear taller and slimmer.
To boost the appearance of basic button-down dresses, accessorize with a waist belt to emphasize your waist and add definition. Swap out the sleeves too – try long, short, polka dots, or stripes!
Wrap-Style Maxi Dress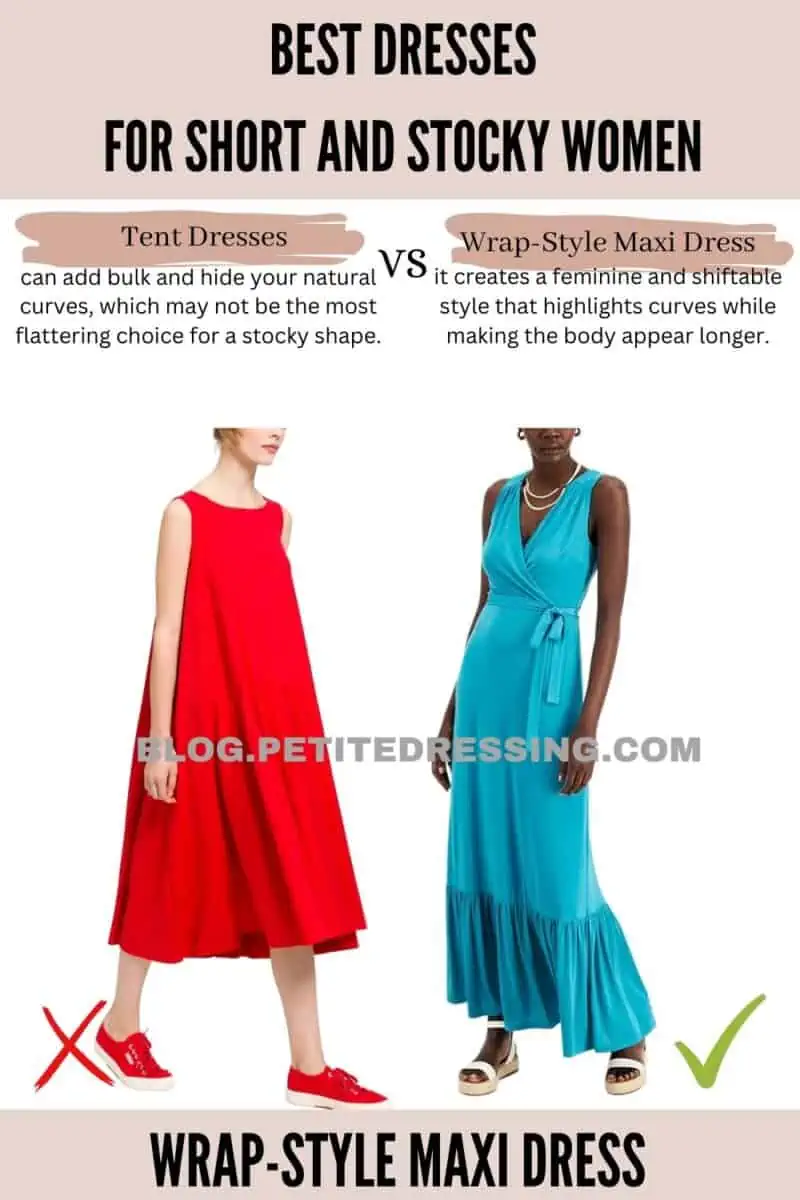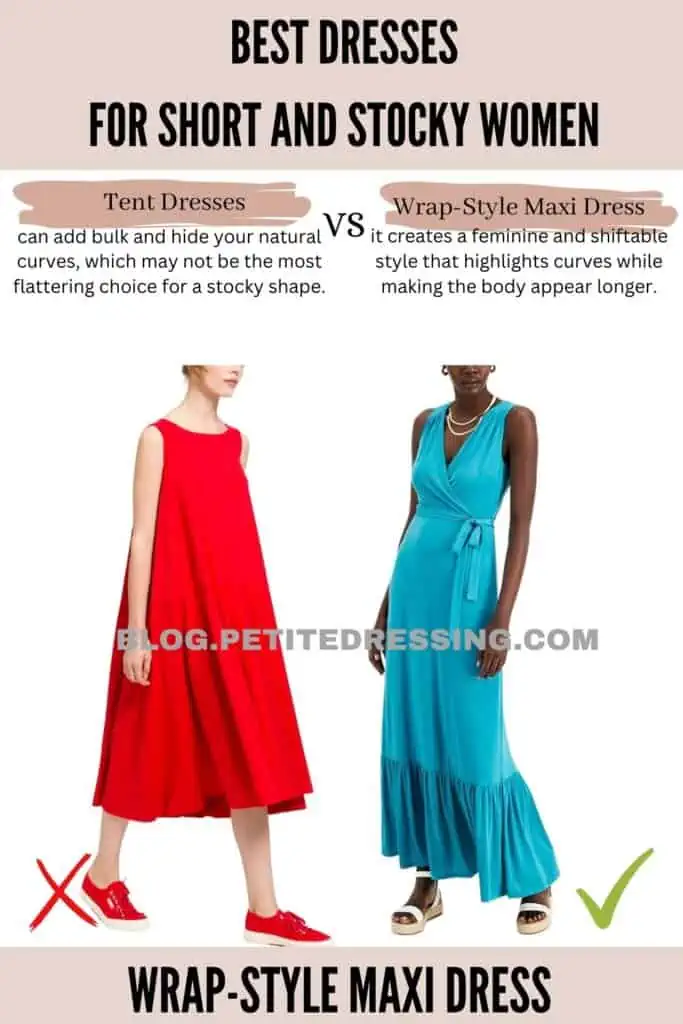 Wrap-style maxi dresses are absolute dynamite for short and stocky ladies, giving them a comfortable yet classy profile with an oh-so-flattering silhouette. With its wrap structure, it creates a feminine and shiftable style that highlights curves while making the body appear longer.
Coming out of its shell, the wrap-style maxi dress is a veritable wonder. It really accentuates those curves and offers up a defined waist to make you look like an hourglass and gives that fluttery flowing skirt that'll have you looking slenderized from all angles.
A wrap-style maxi dress can truly transform your look if you add some flair with an eye-catching belt. A V-neckline is the best way to go if you want to draw attention from head to toe and show off some neck.
Dresses with Slit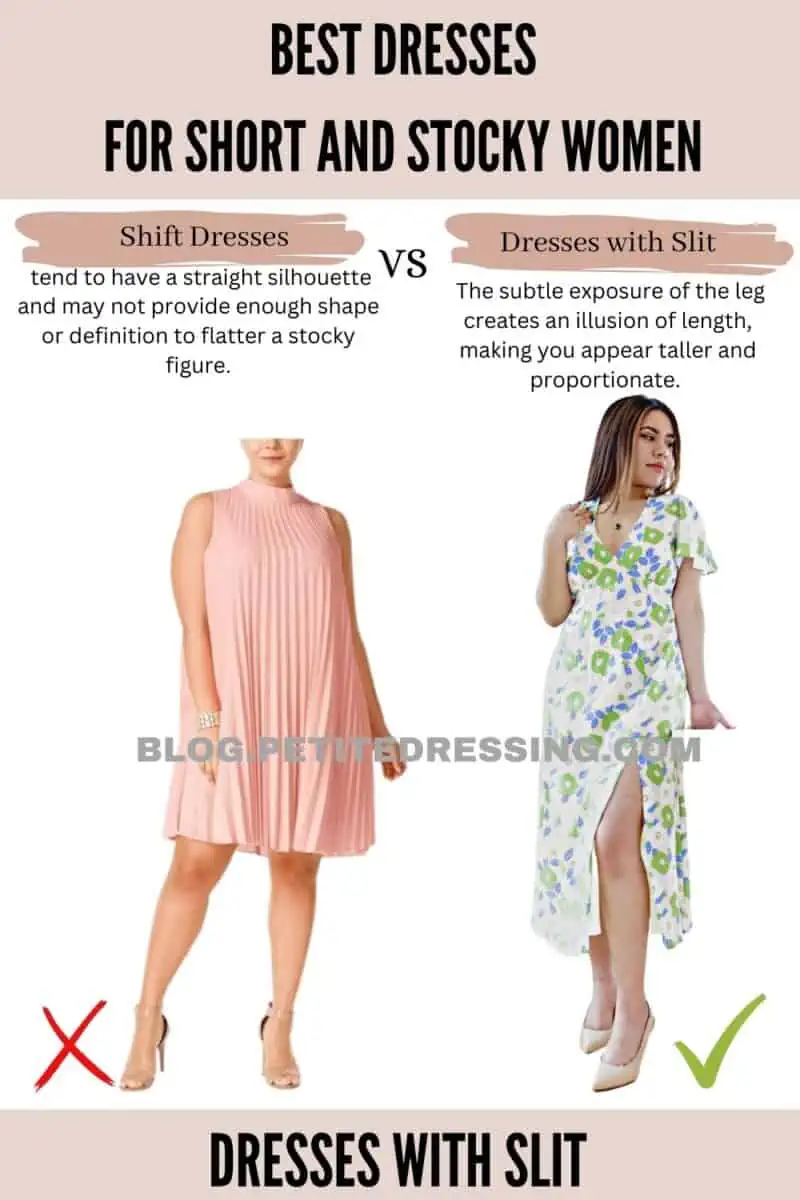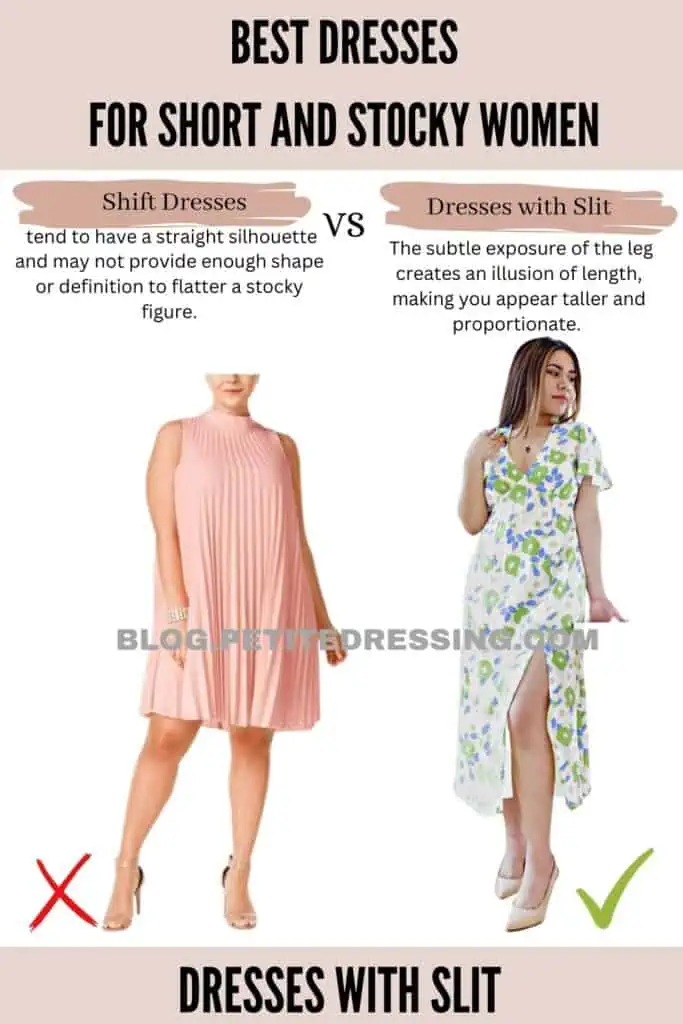 Dresses with slits are a fantastic choice for short and stocky women as they add a touch of elegance while elongating the overall silhouette. The subtle exposure of the leg creates an illusion of length, making you appear taller and proportionate.
Rocking a dress with that strategically placed slit is sure to turn heads and you'll feel fabulous in it. Its delicate fabric draws attention to your legs and skims over those curves, leaving you feeling confidently feminine as they gently billow around you.
If you want to level up your look, adding a bit of flair in the form of an outfit with a slight asymmetrical or diagonal slit will do the trick. Let this piece be the star – keep everything else minimalist and let it pull together a refined ensemble that totally flatters your figure.
Dresses with Vertical Patterns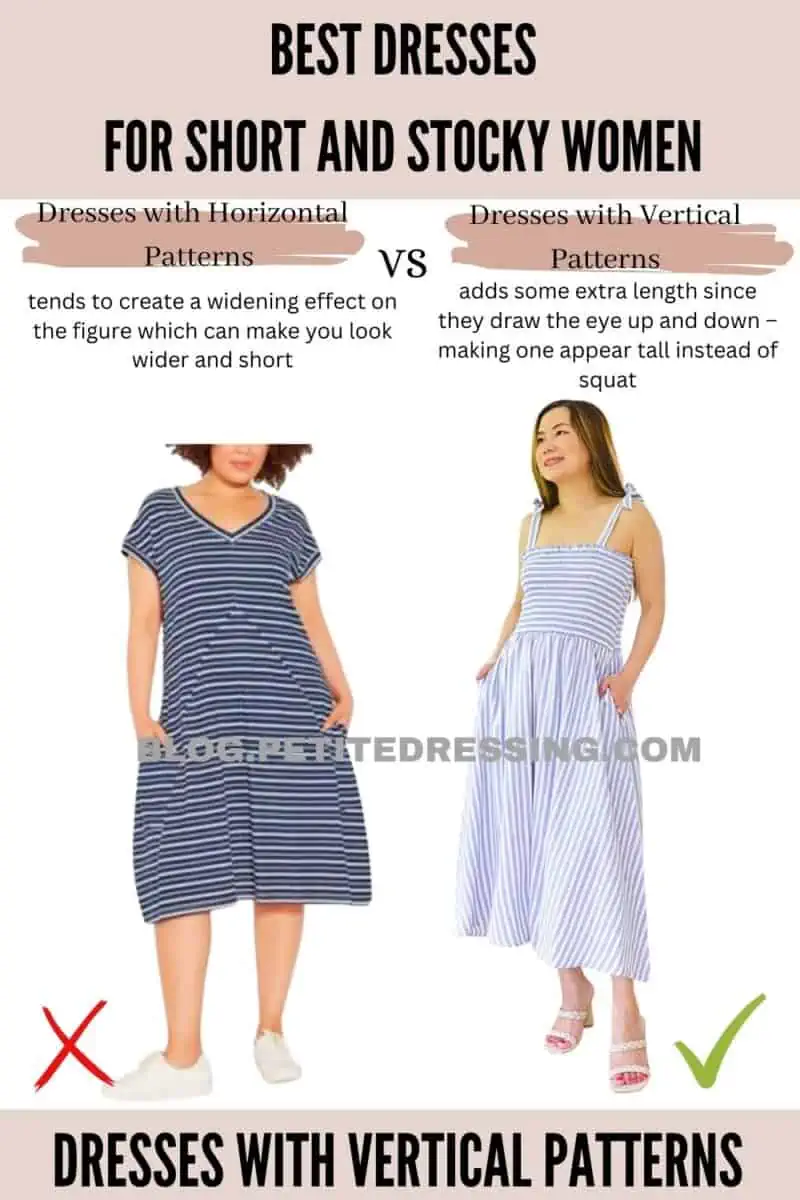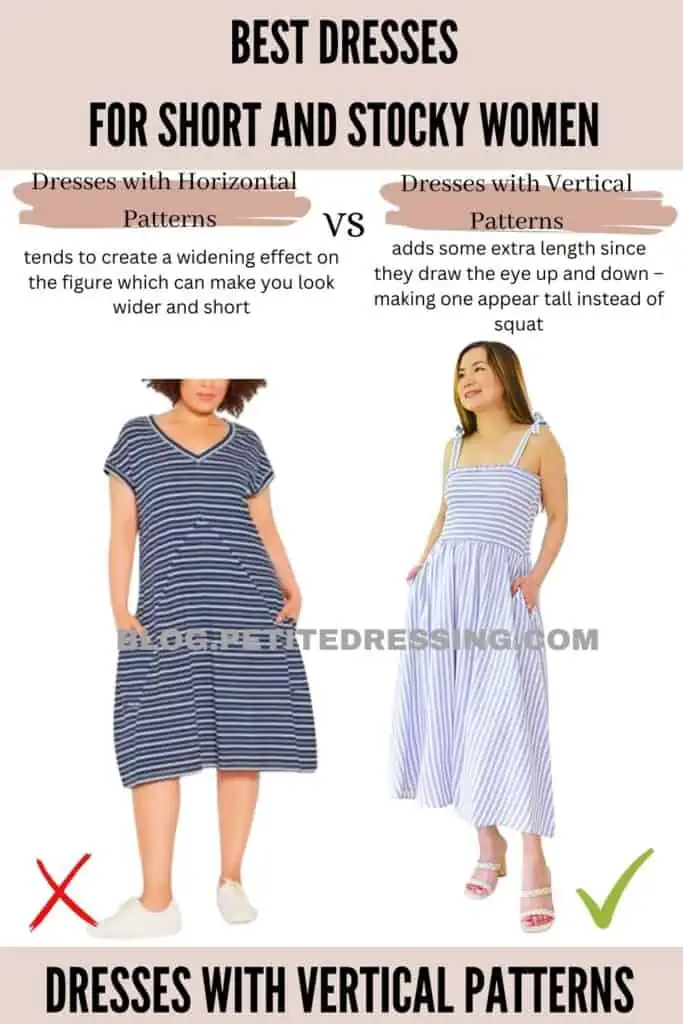 The vertical patterns on linen dresses are exceptional for petite frames looking to add some extra length since they draw the eye up and down – making one appear tall instead of squat. Whether you're short or stocky, this sneaky illusion can have anyone seeing double when it comes to your slender figure.
When you slide into a linen dress sporting bold vertical lines, magic happens. Suddenly, those lines have lengthened your silhouette for an enviable look full of finesse.
A linen dress with vertical patterns can be absolutely striking – just cinching it at the waist and using a belt to create definition can already do miracles. That said, take your game up a notch by layering it with a lightweight cardigan or hip jacket for an edgier look oomph.
Dresses in Dark Neutral Colors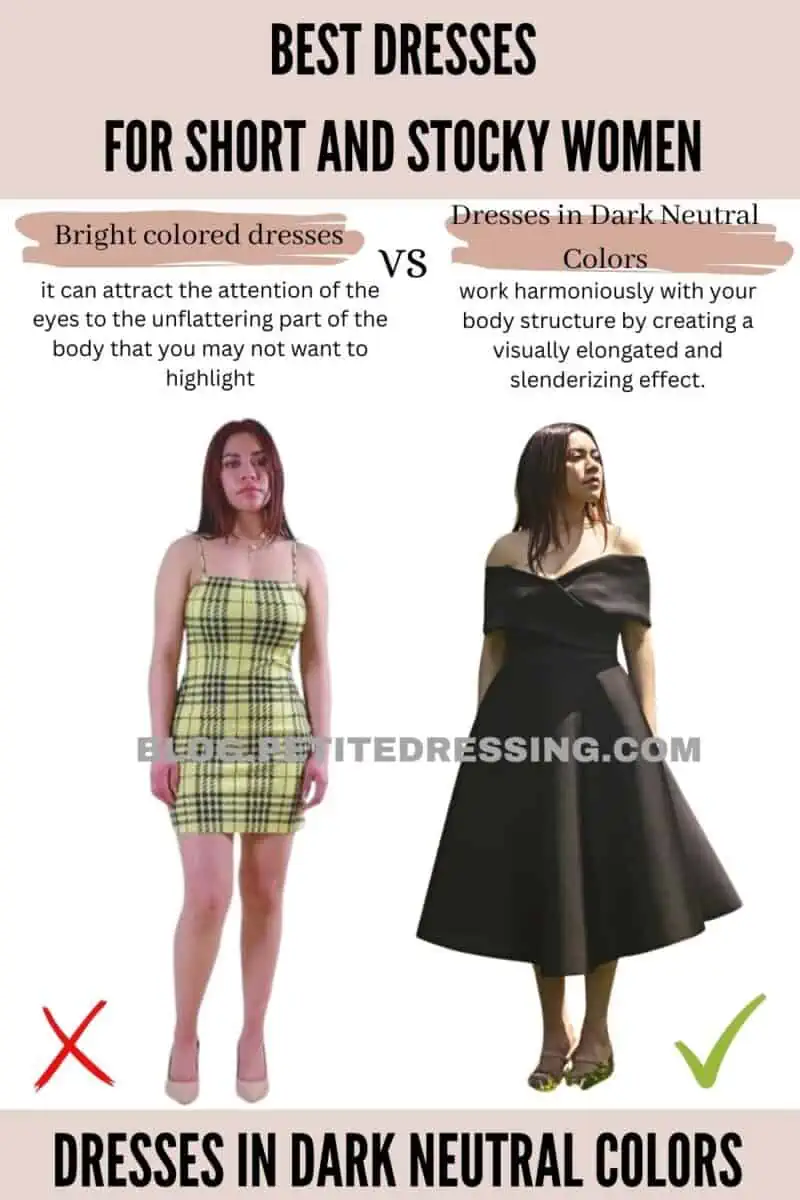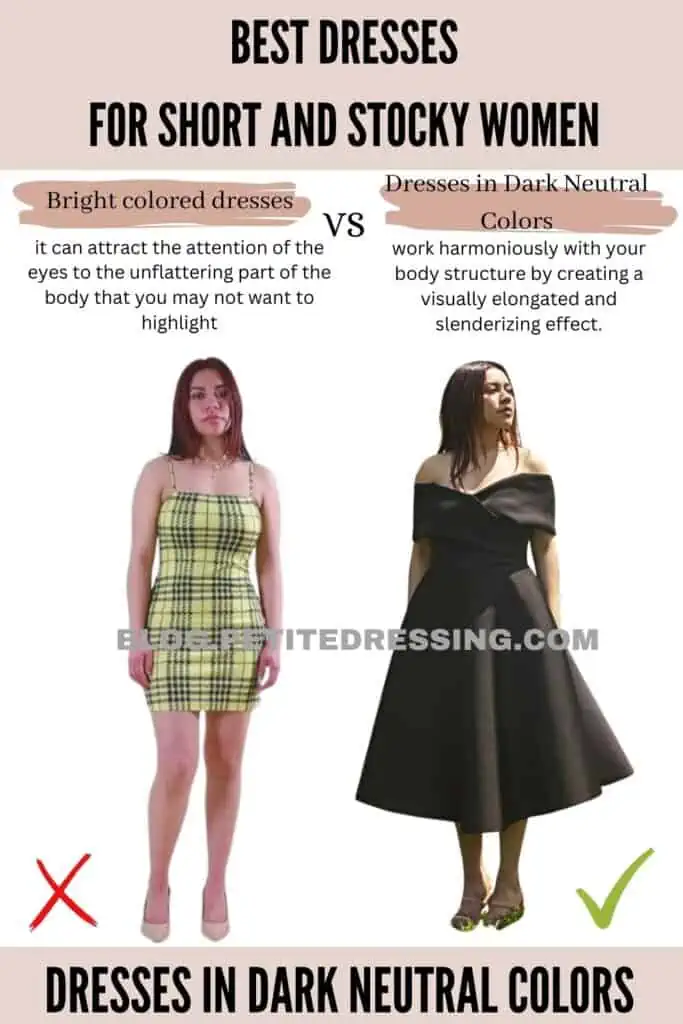 The timelessness of slimming dark colors like black, navy, charcoal gray, or deep brown is a classic fashion choice for short and stocky women who wish to create the impression of greater length. Letting their clothing do the talking, such shades let them get away with dressing up or down depending on the occasion.
When you wear dresses in dark neutral colors, they work harmoniously with your body structure by creating a visually elongated and slenderizing effect. The darker tones absorb light and shadows, minimizing any areas you may want to downplay.
You can experiment with different textures and fabrics to add interest to your outfit and boost your confidence and style! Consider pairing your dark-colored dress with statement jewelry or a colorful scarf to create focal points and draw attention upward!
Butterfly Sleeve Dresses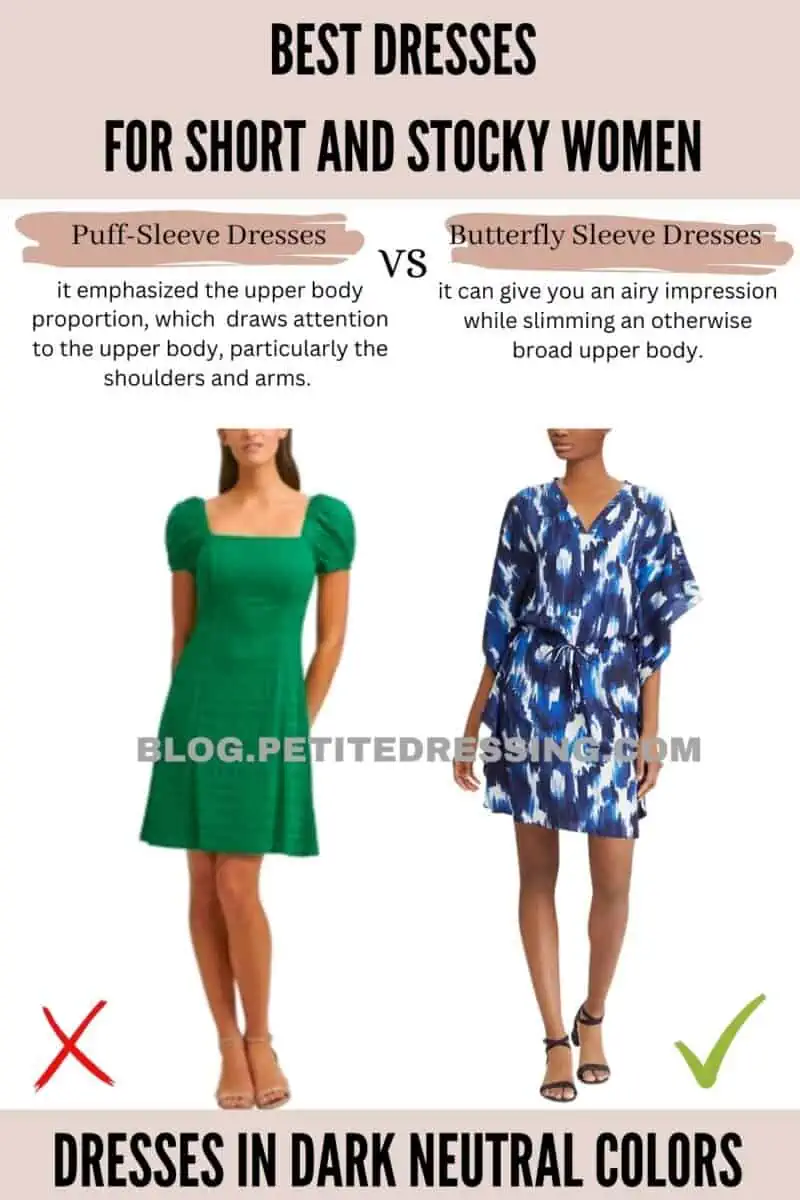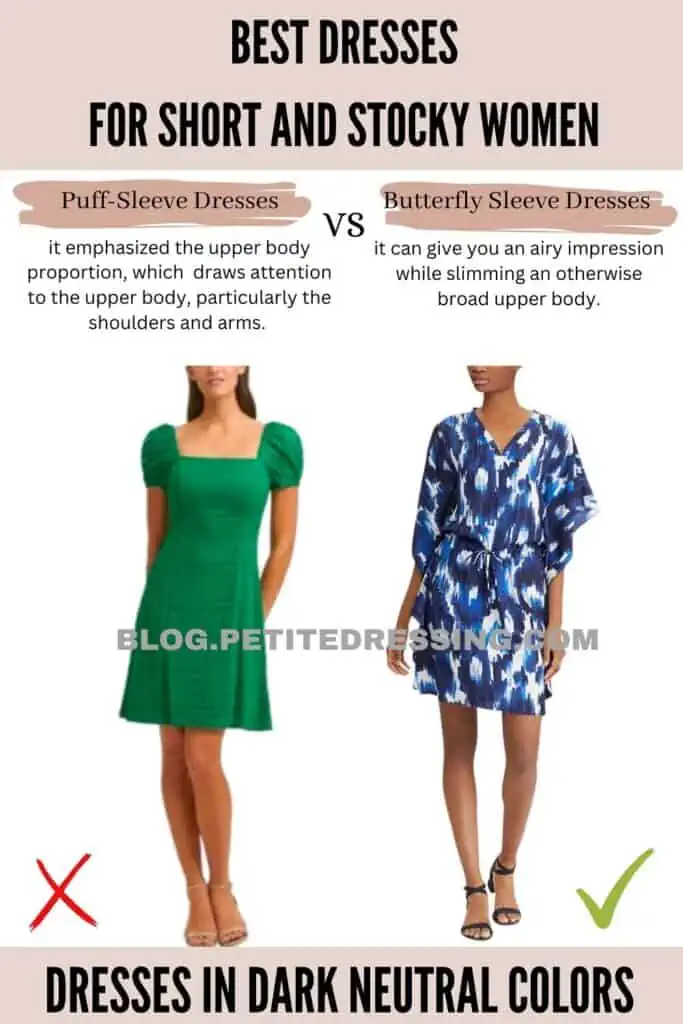 The butterfly sleeves gracefully flutter around your arms and shoulders, offering a tasteful touch that finds harmony between those with short and stocky body frames. Not to mention the ethereal look of light chiffon cloth, it can give you an airy impression while slimming an otherwise broad upper body.
Adorning a chiffon butterfly sleeve dress can take your look to the next level; the whimsical draping effortlessly accentuates your silhouette. Fuss-free and flowy, the sleeves bring attention to the head and shoulders – heightening your posture by creating an elongated illusion.
Pair the chiffon butterfly sleeve dress with strappy sandals or heels to elongate your legs and complete the feminine look. Try wearing delicate accessories, such as dainty earrings or a pendant necklace, to maintain a balanced and elegant aesthetic.
Avoid Floor-Length Dresses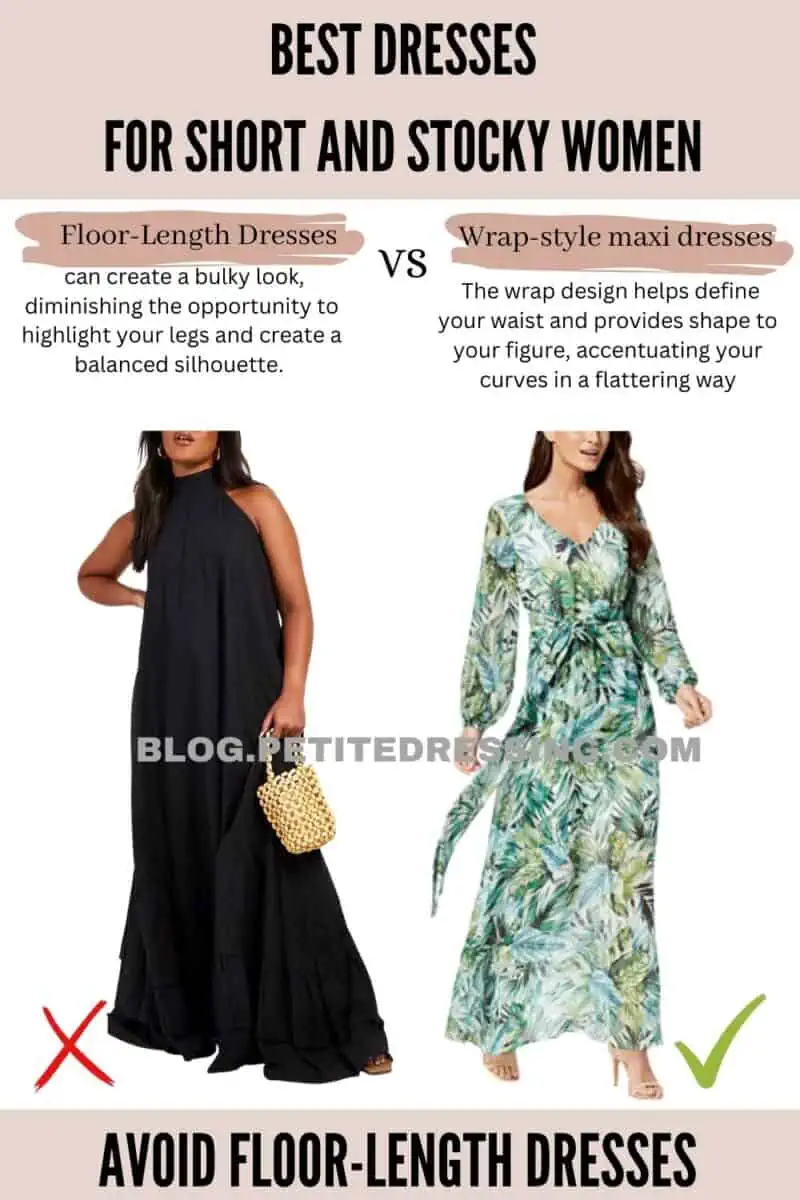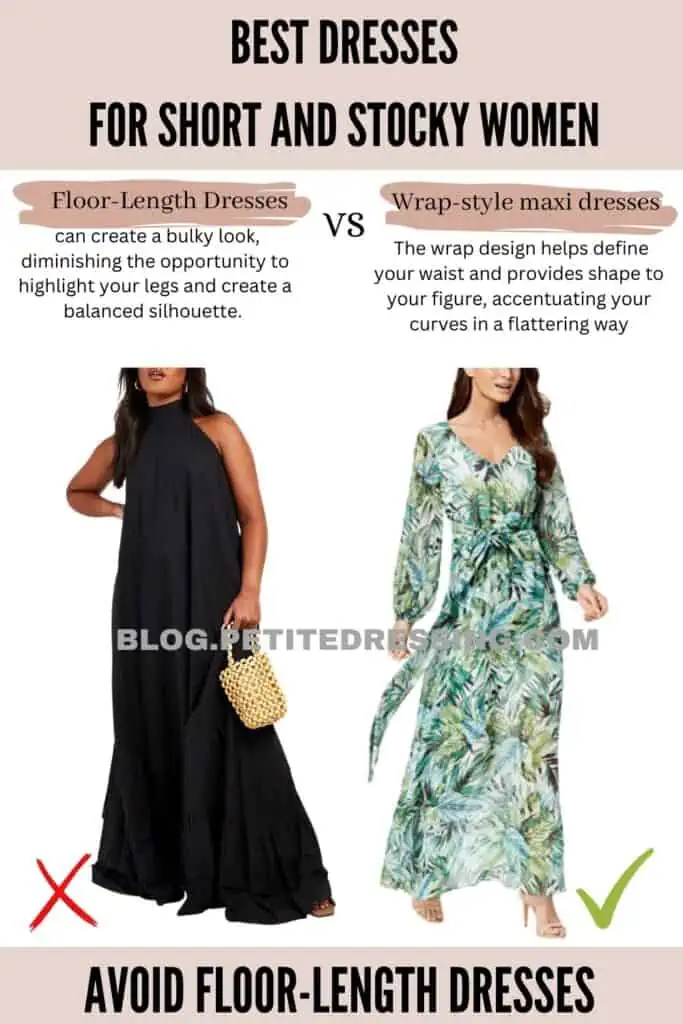 Floor-length dresses are not meant for short and stocky women as they can overwhelm the frame and make you appear even shorter. The excess fabric at the bottom can create a bulky look, diminishing the opportunity to highlight your legs and create a balanced silhouette.
Rather, I recommend going for dresses that fall above or below the knee to elongate your legs and maintain a proportional and flattering look.
Avoid High-Neck Dresses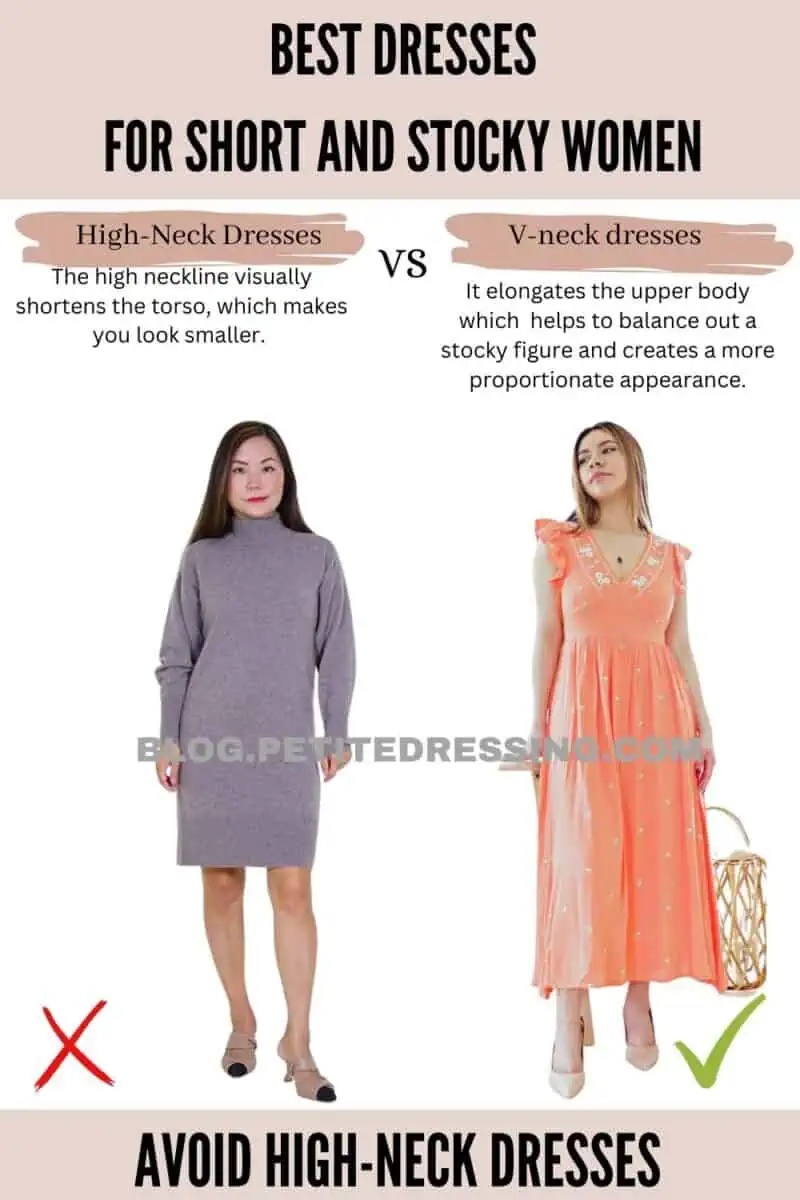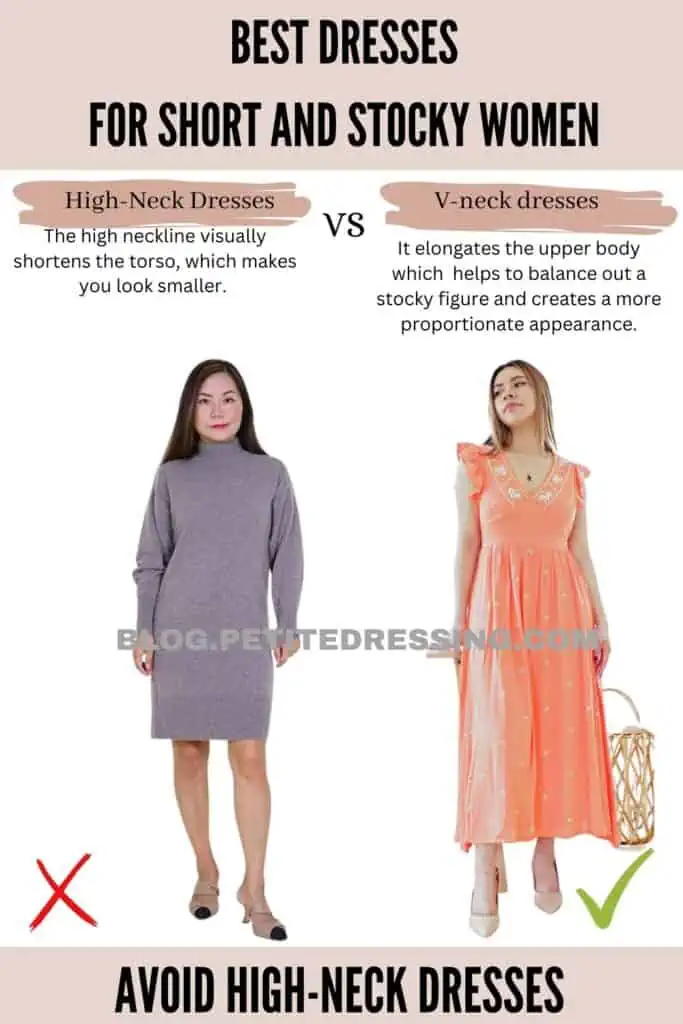 High-neck bodycon dresses may not be the most flattering choice for short and stocky women. The high neckline visually shortens the torso, which makes you look smaller.
Additionally, the bodycon fit can emphasize areas you may prefer to downplay, potentially drawing attention to insecurities. Instead, always choose dresses with more open necklines that elongate the upper body and choose styles that flatter your shape.
The Key Takeaway
Dresses will always be a quick style go-to so it's very important to choose the best fit for your short and stocky figure. Hopefully, this thorough style guide helped you narrow your choices down when it comes to shopping for your next batch of dresses!