Because swimsuits expose a lot of our skin, it can make us feel self conscious sometimes, especially if you happen to have a muffin top, or perhaps a bigger bum.
Here is a comprehensive guide of the most slimming types of swimsuit that make you look thinner instantly and create that flattering look, no matter what body shape you have.
Plunging necklines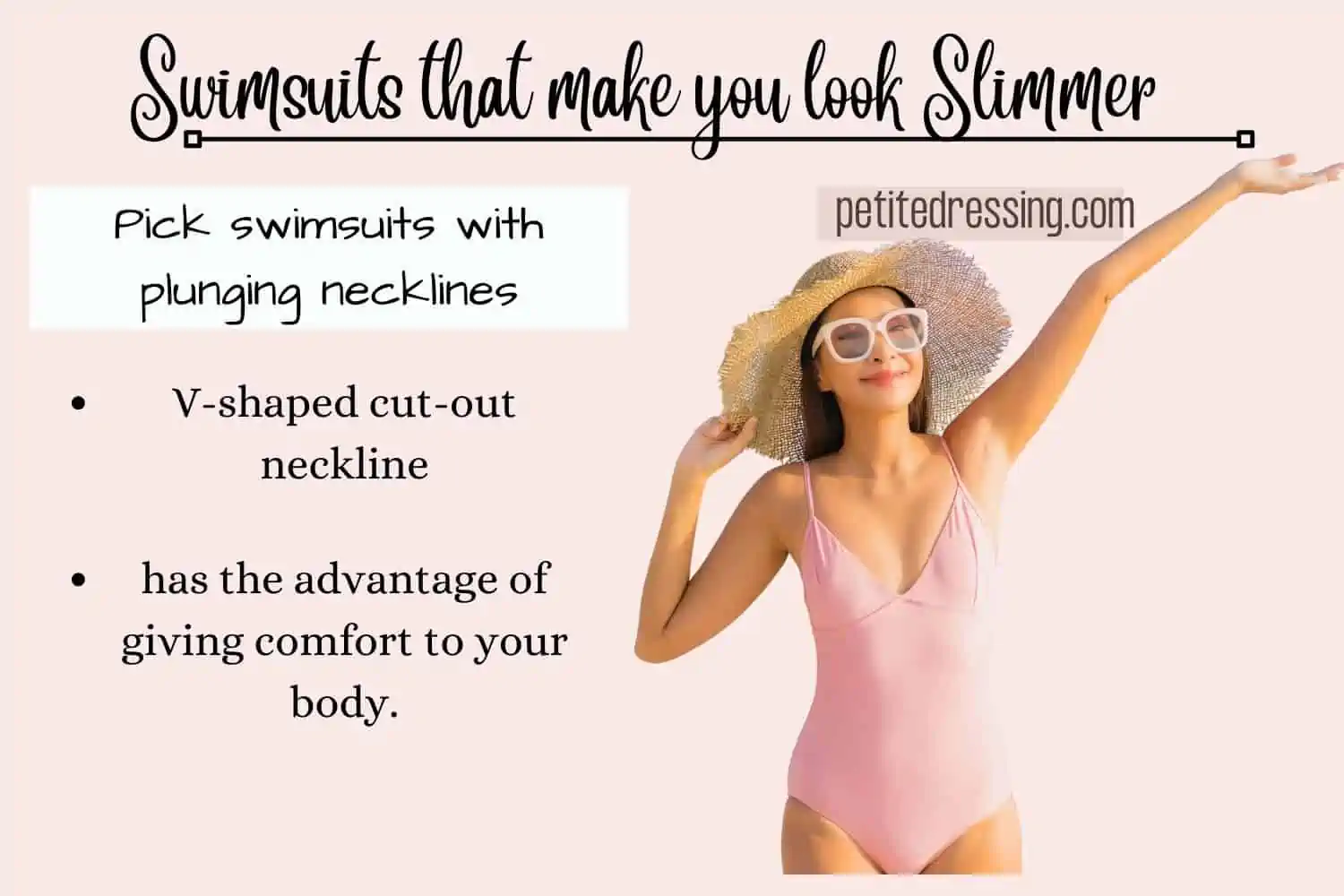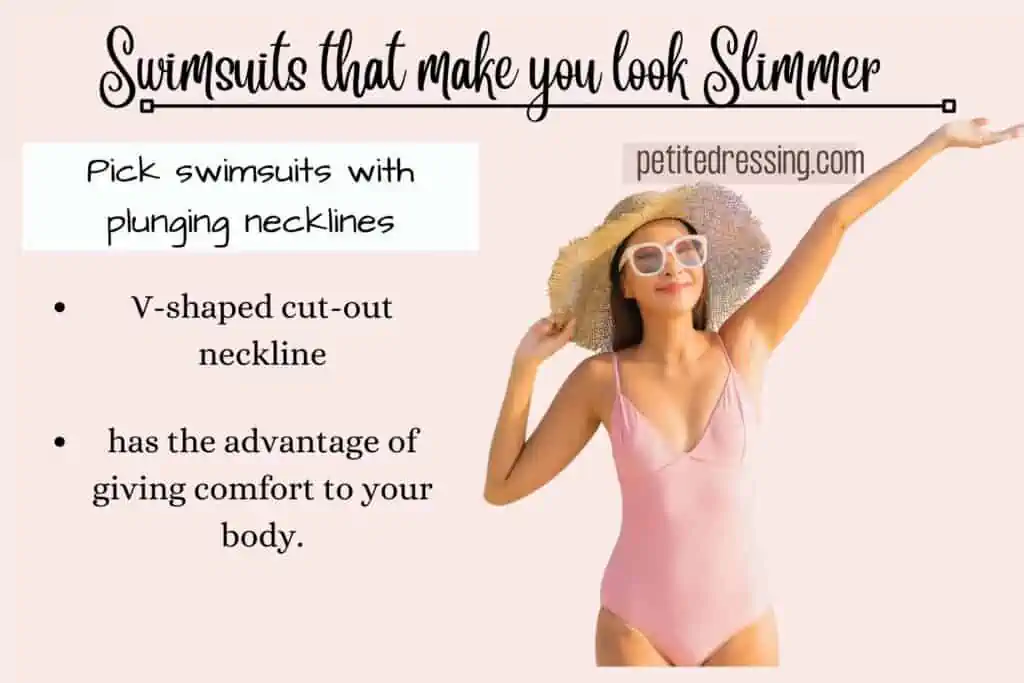 A plunging neckline swimsuit is a classic silhouette to have in your swimwear collection. This type of swimsuit has a V-shaped cut-out neckline that can draw so much attention to the center of your body.
If you wish to show off a little skin without wearing a two-piece bikini, then choose swimsuits with plunging necklines as it also has the advantage of giving comfort to your body.
Making a plunging neckline will focus all eyes up to your bust and face and a swimsuit with some eye-catching detail at the neckline like bright contrast banding, sheer net, or a lace-up neckline would focus the gaze upwards giving a flattering and slim fit look to your figure.
Ruched swimsuits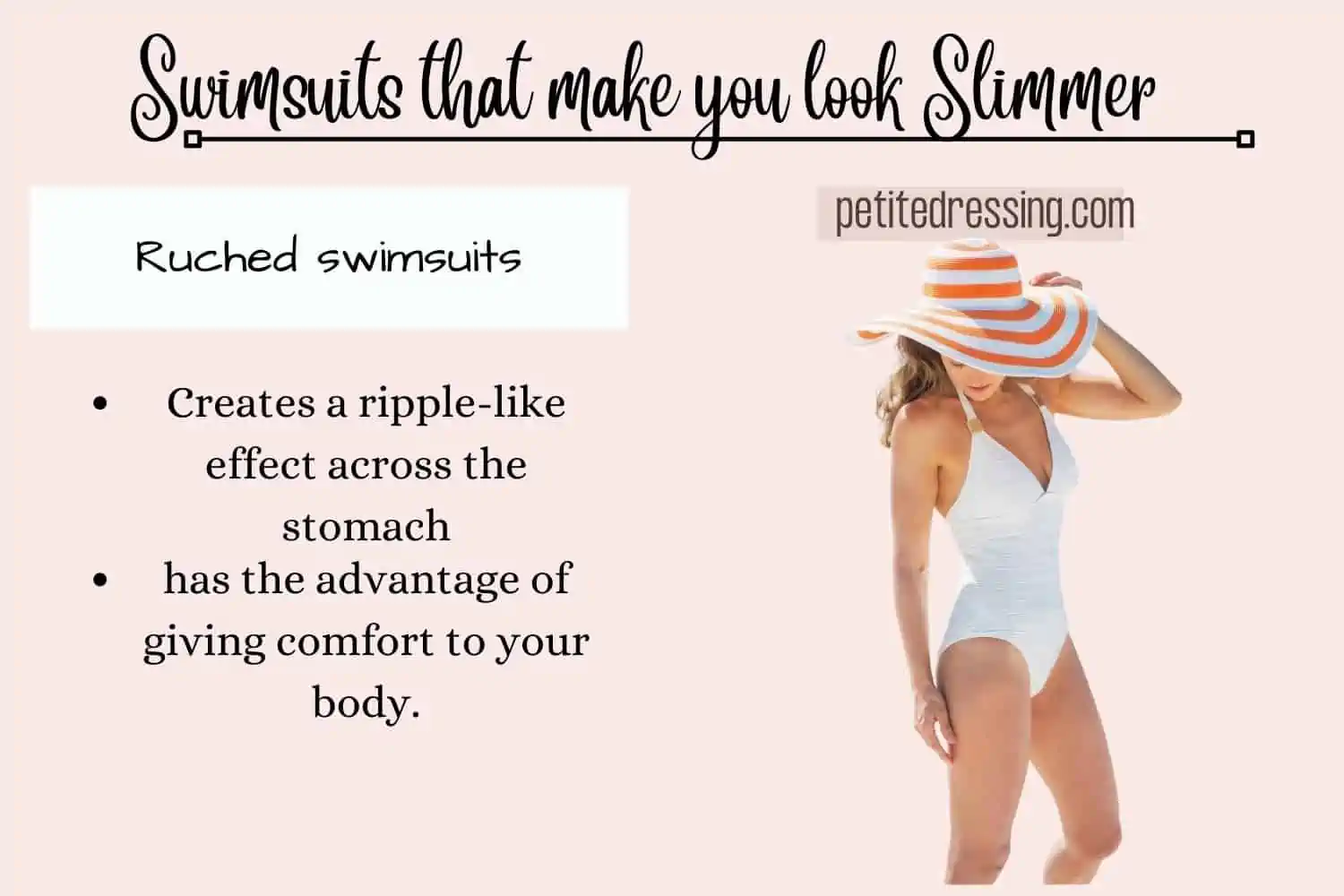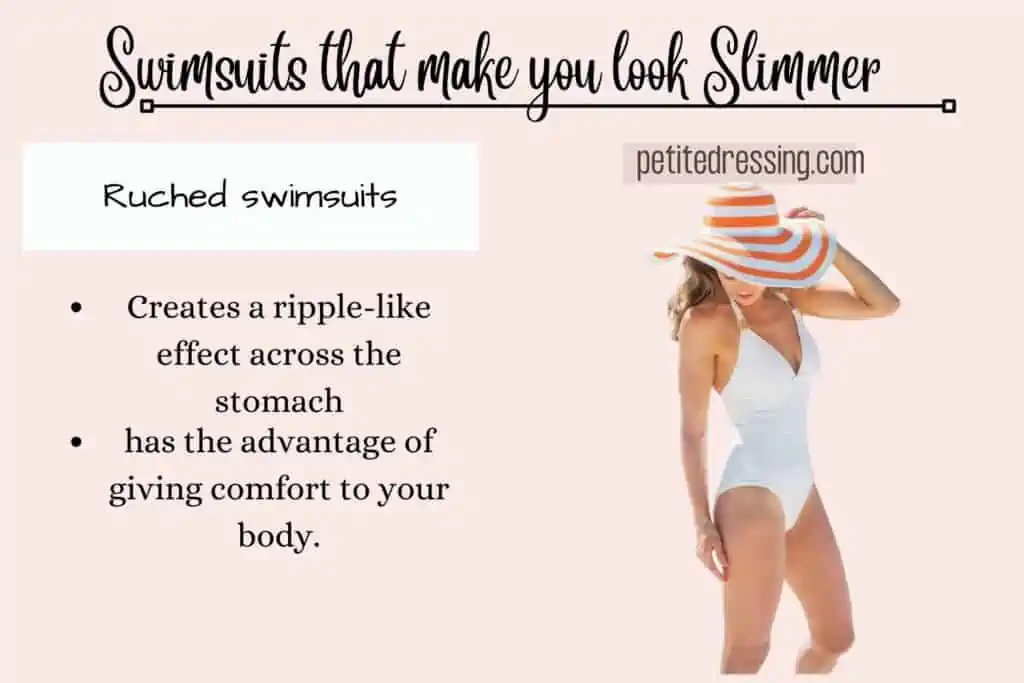 This sort of swimsuit gathers together and creates a ripple-like effect across the stomach. It is ultra flattering, accentuates your waist, and helps conceal any form of insecurity in your figure.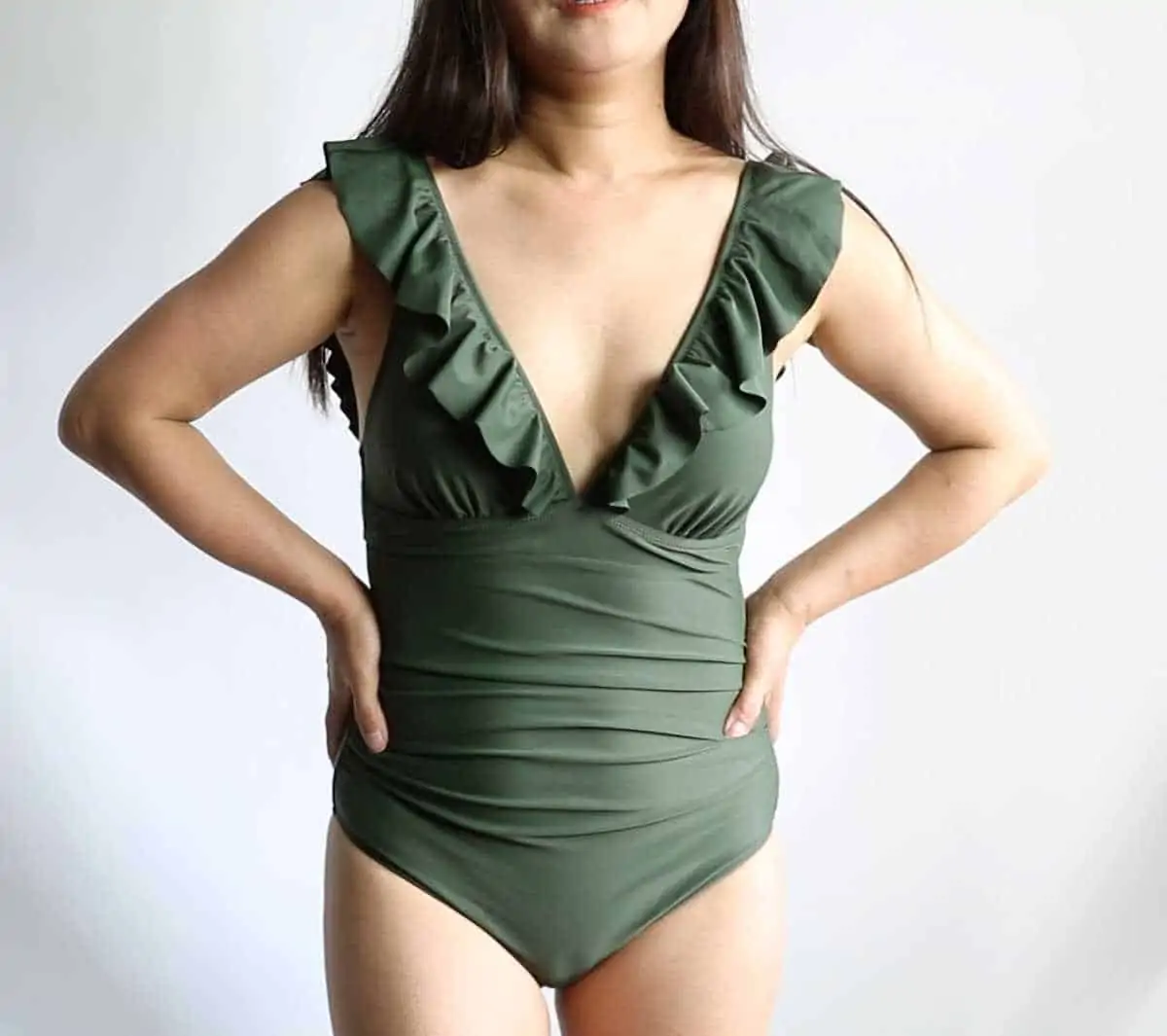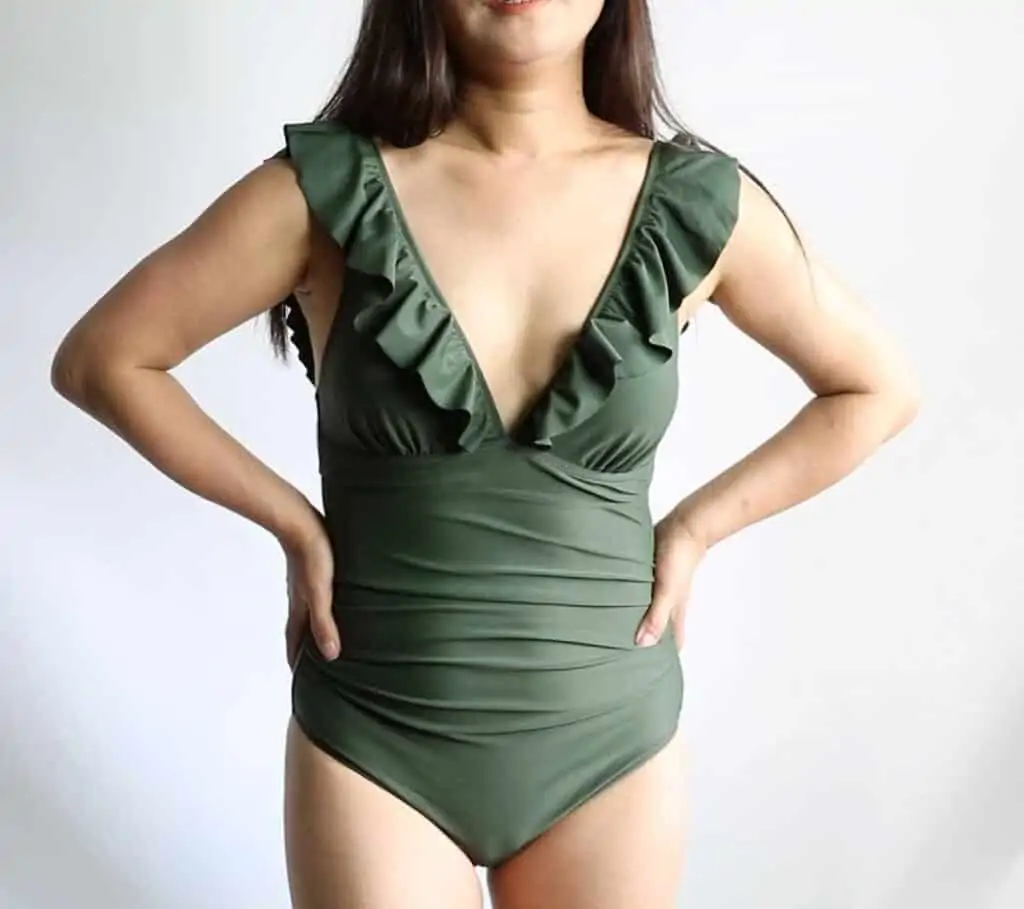 How does ruching on swimsuits create the slimming effect
It hides unwanted bumps to create a smooth feminine curve to give the desired slimming fit look for your figure.
It streamlines your silhouette providing a slimming effect to the point where it rests and giving swimsuit bottoms smoother edges that enhance your natural curves.
It does well in giving the idea of a slimmer waist and torso.
You should also pick pieces with a soft texture.
The high-neck ruched swimsuit is a more covered-up silhouette that stands out for its refreshing sense of stylish sophistication. They are well-flattering, sexy, and supportive enough to give your body a slimming effect.
High-neck swimsuits would generally elongate your body and the waist tucks in everything so there's no reason for you to worry even if you carry weight on both your hips or your tummy. They not only provides support and shaping but also conceals concerned areas efficiently providing also a great tummy-slimming effect.
Halter swimsuit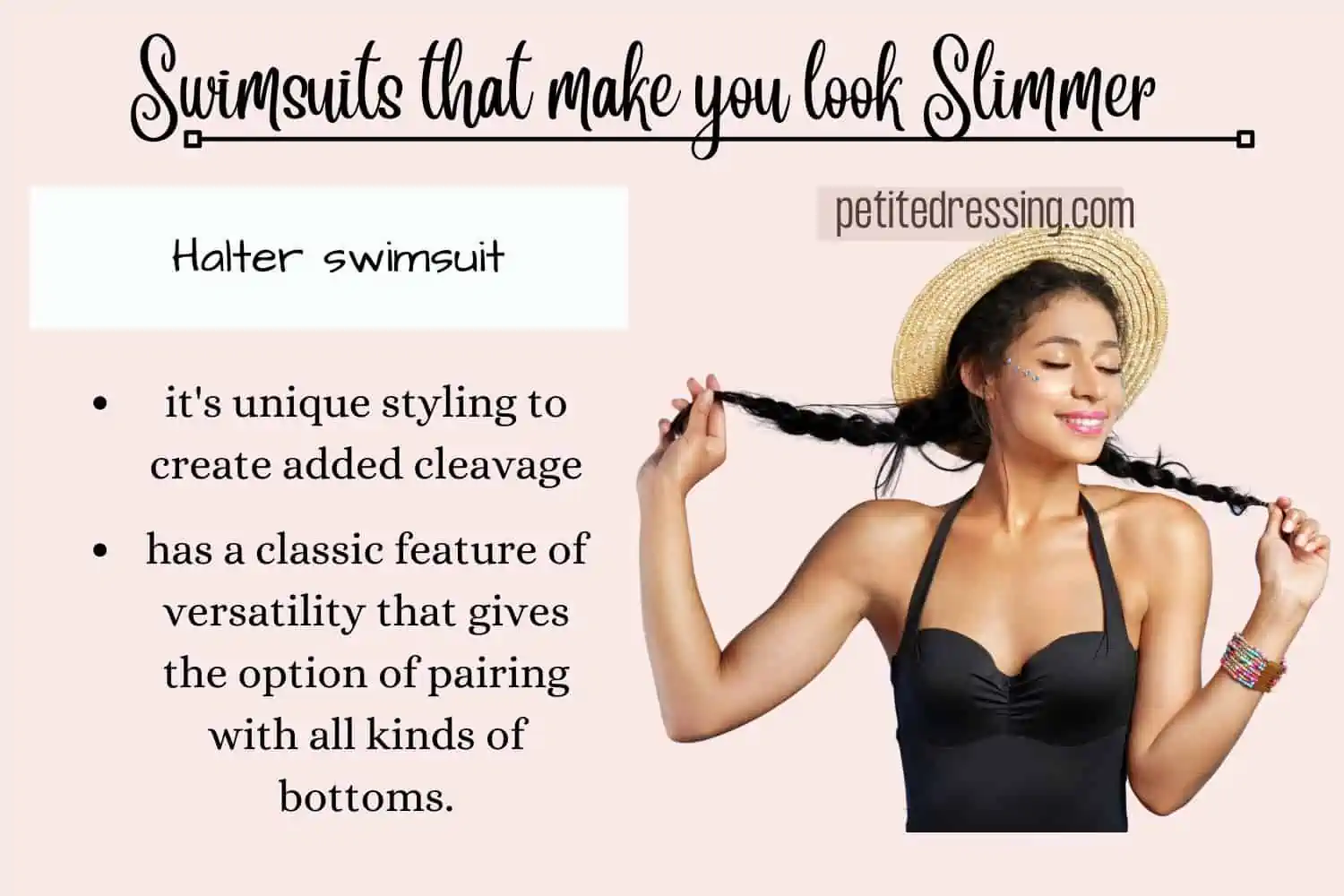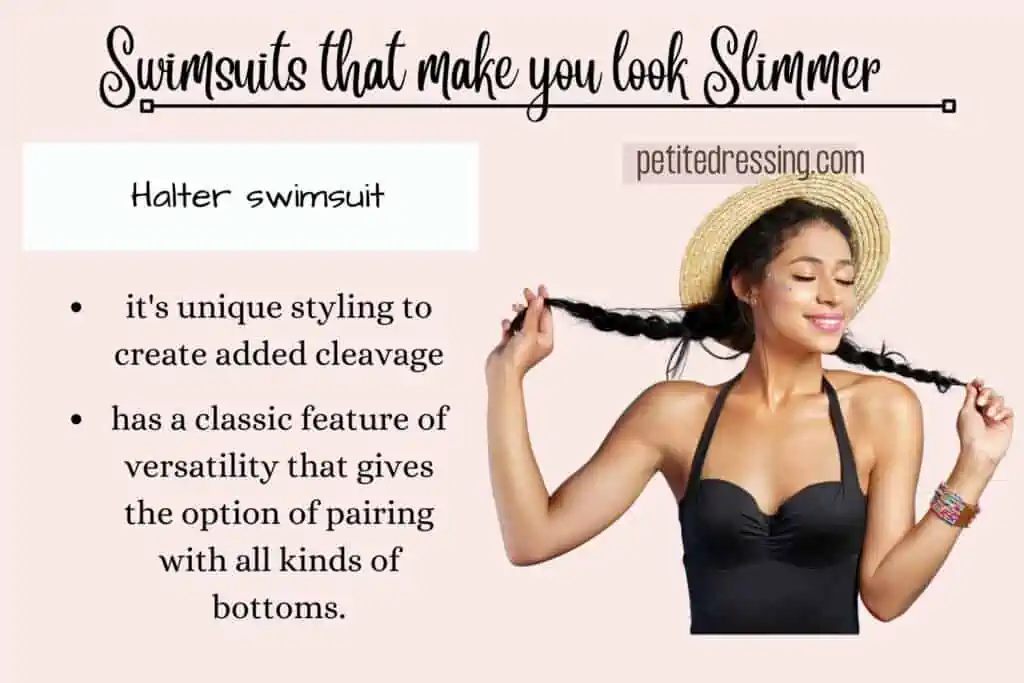 The halter shape is both iconic and extremely flattering and for those who are not familiar with halter tops, this style of swimwear has straps that usually fasten around the back of the neck to keep it in place, leaving the wearer's back completely free and open.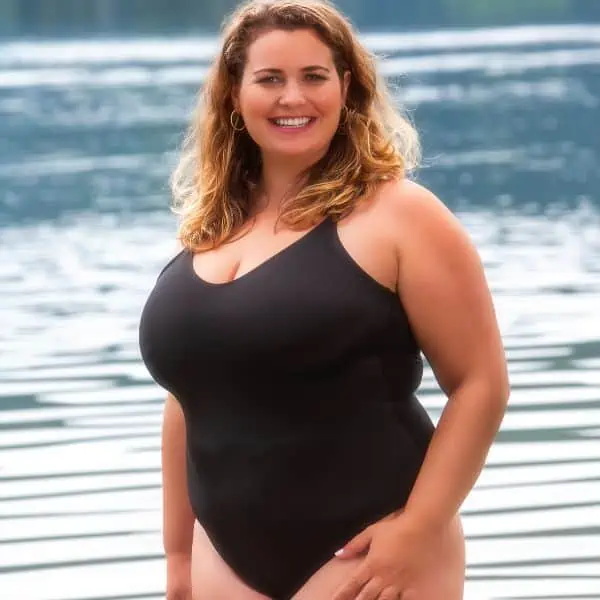 Halter neck swimsuits are flattering for women with full bust
They are a perfect choice for one with a busty body because they provide a subtle lift that helps it stay comfortable in the water.
It also has a classic feature of versatility that gives the option of pairing with all kinds of bottoms.
Halter swimsuits with embellishments further give flatters for shape and a cross wrap halter swimsuit uses its unique styling to create added cleavage. It further accentuates a smaller bust and gives a slimming effect to your figure.
Underwire swimsuit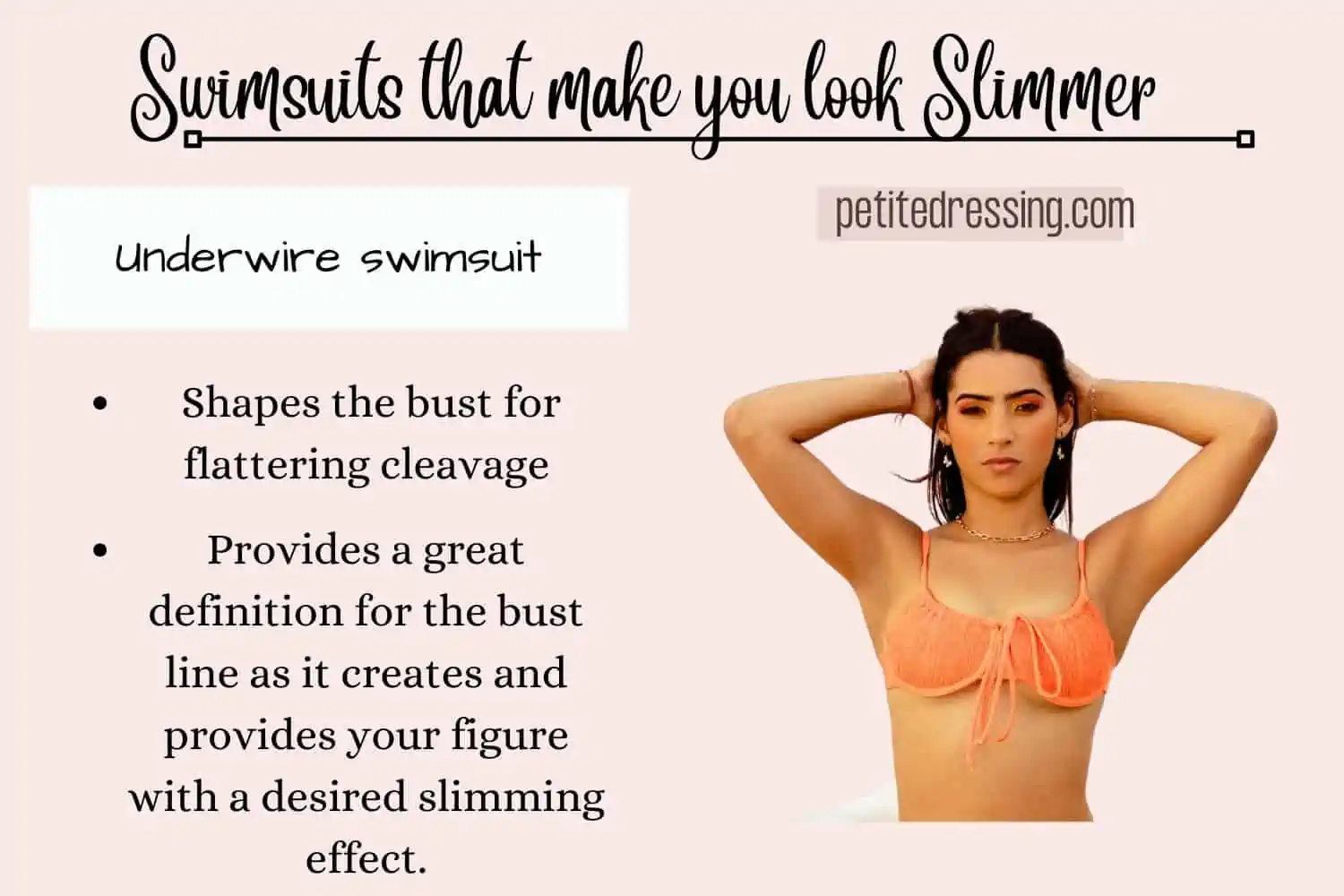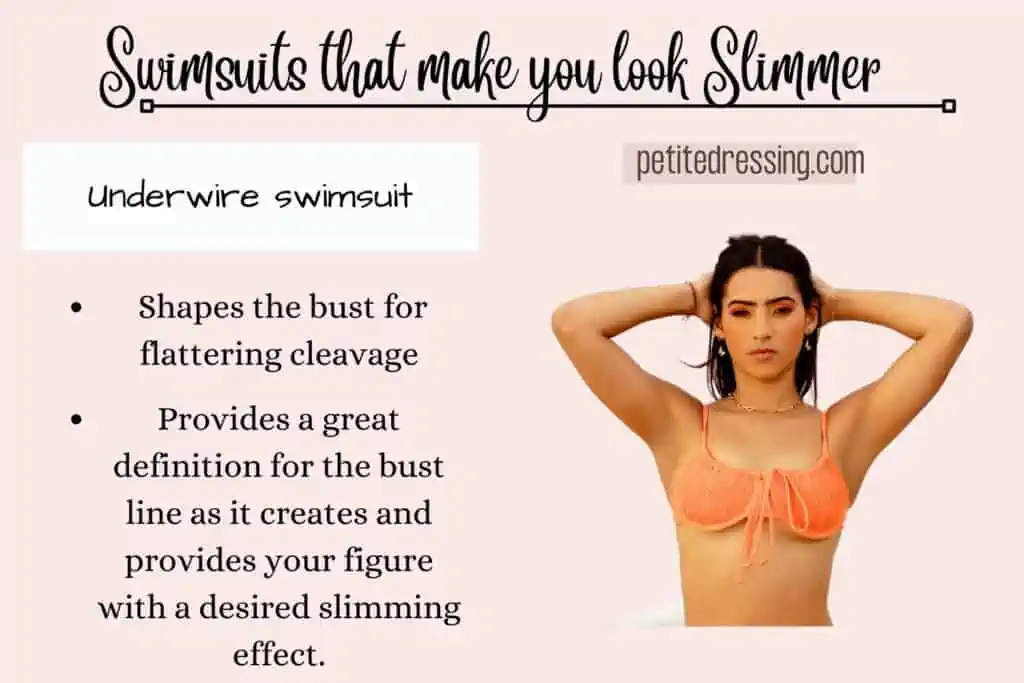 The best swimsuit to properly accentuate your natural asset is the underwire swimsuit as it provides excellent support that shapes the bust for flattering cleavage. The cups have a way of providing more lift or volume and further enhance the appearance of the boobs.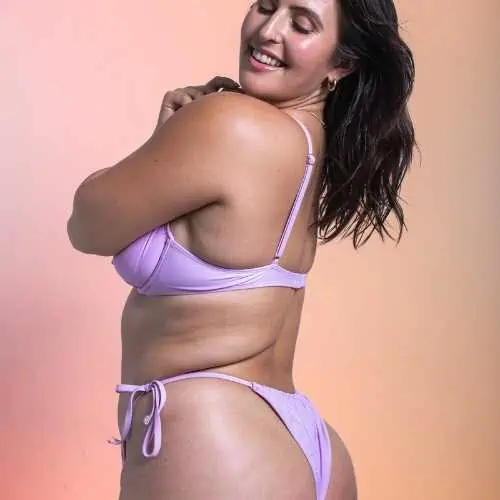 Underwire provides more support for women with curves
The underwire swimsuit does not only give an added boost of confidence, it further gives your figure a flattering look.
It provides a great definition for the bust line as it creates and provides your figure with a desired slimming effect.
Skirted bottom
If you desire to have the best piece of swimsuit to give comfort to your body and a slimming effect to your figure then the skirted bottom should be in your wardrobe.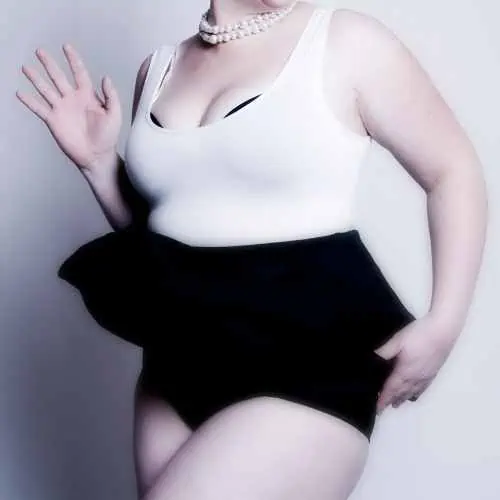 How does swim skirts flatter curvy women
Swim skirts are a fun, flirty piece for anyone who wants to look more slender.
They offer a bit more coverage to your lower half than average swim bottoms.
They are universally flattering, but they are especially best for women with wider hips and thicker thighs, as they provide more coverage.
High-waisted swimsuit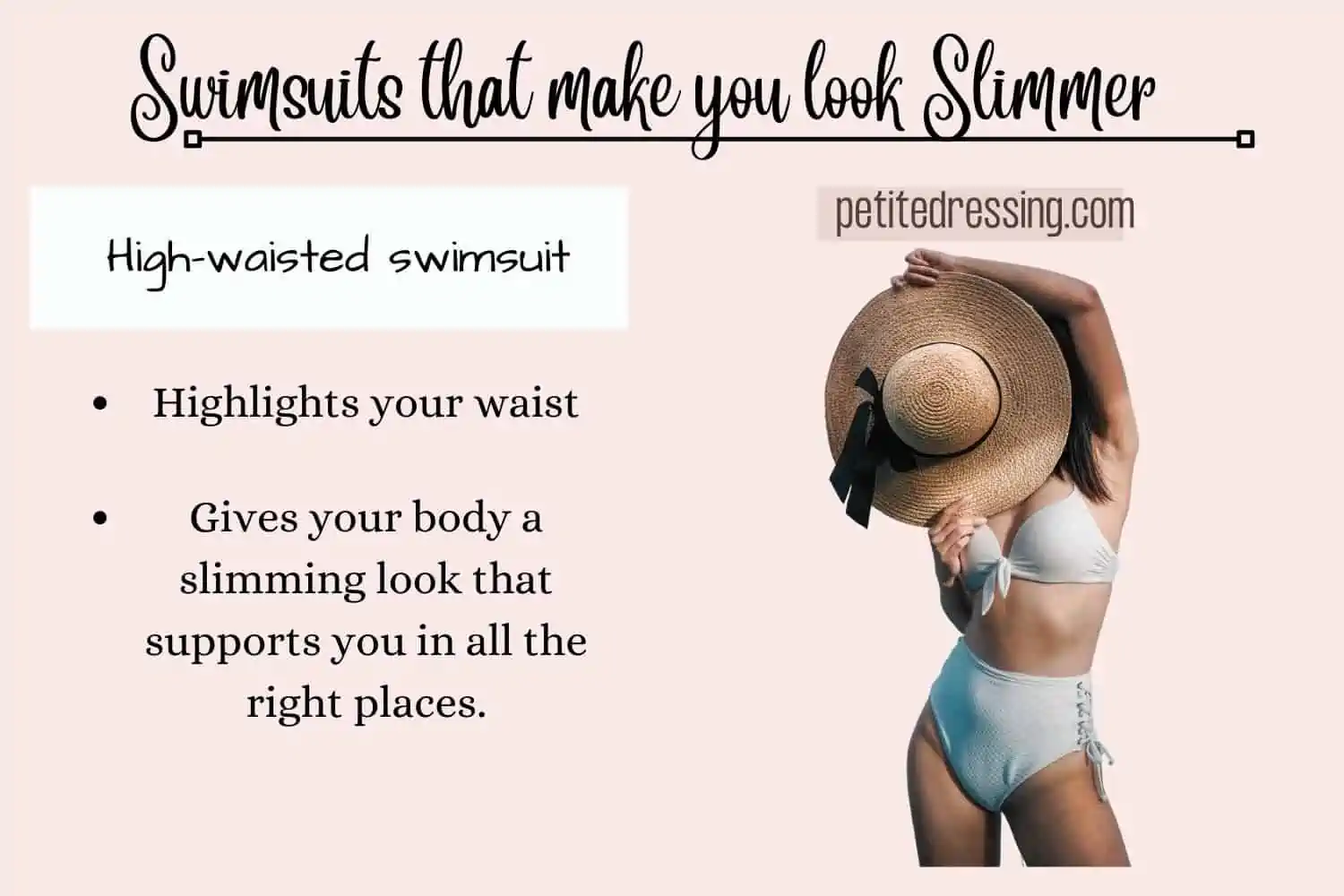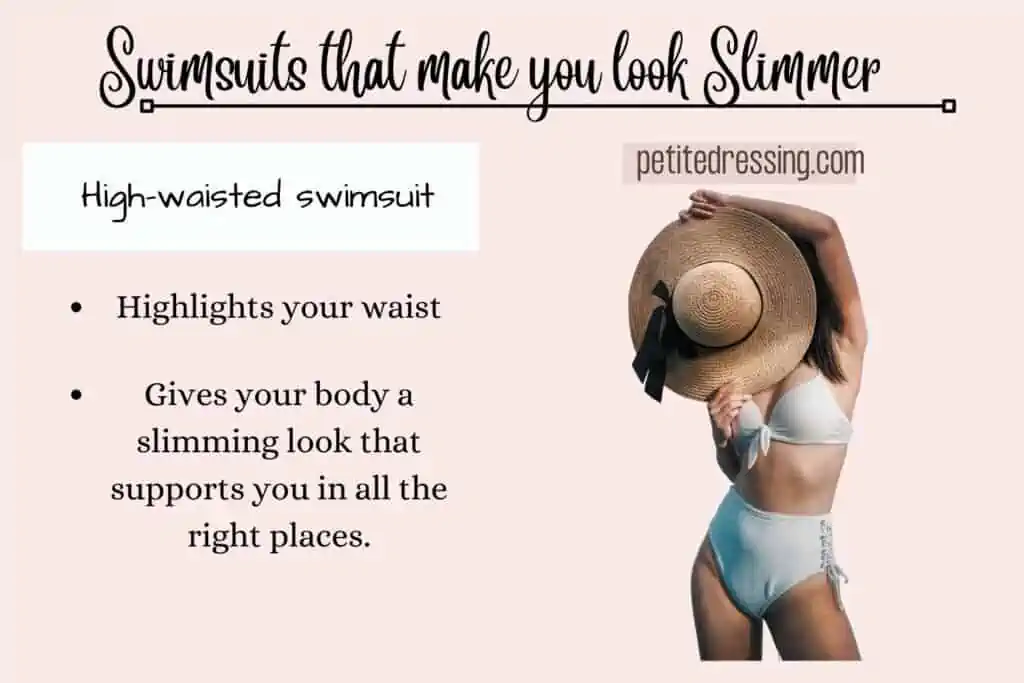 The high-waisted swimsuit features a bottom that goes beyond your belly button.
It provides full coverage over the string bikini and allows you to show off a little bit of skin without giving any form of discomfort and also gives a bikini style that flatters your figure.
High-waisted swimsuit gives support to the lower body as it highlights your waist and also gives your body a slimming look that supports you in all the right places.
Striped One-piece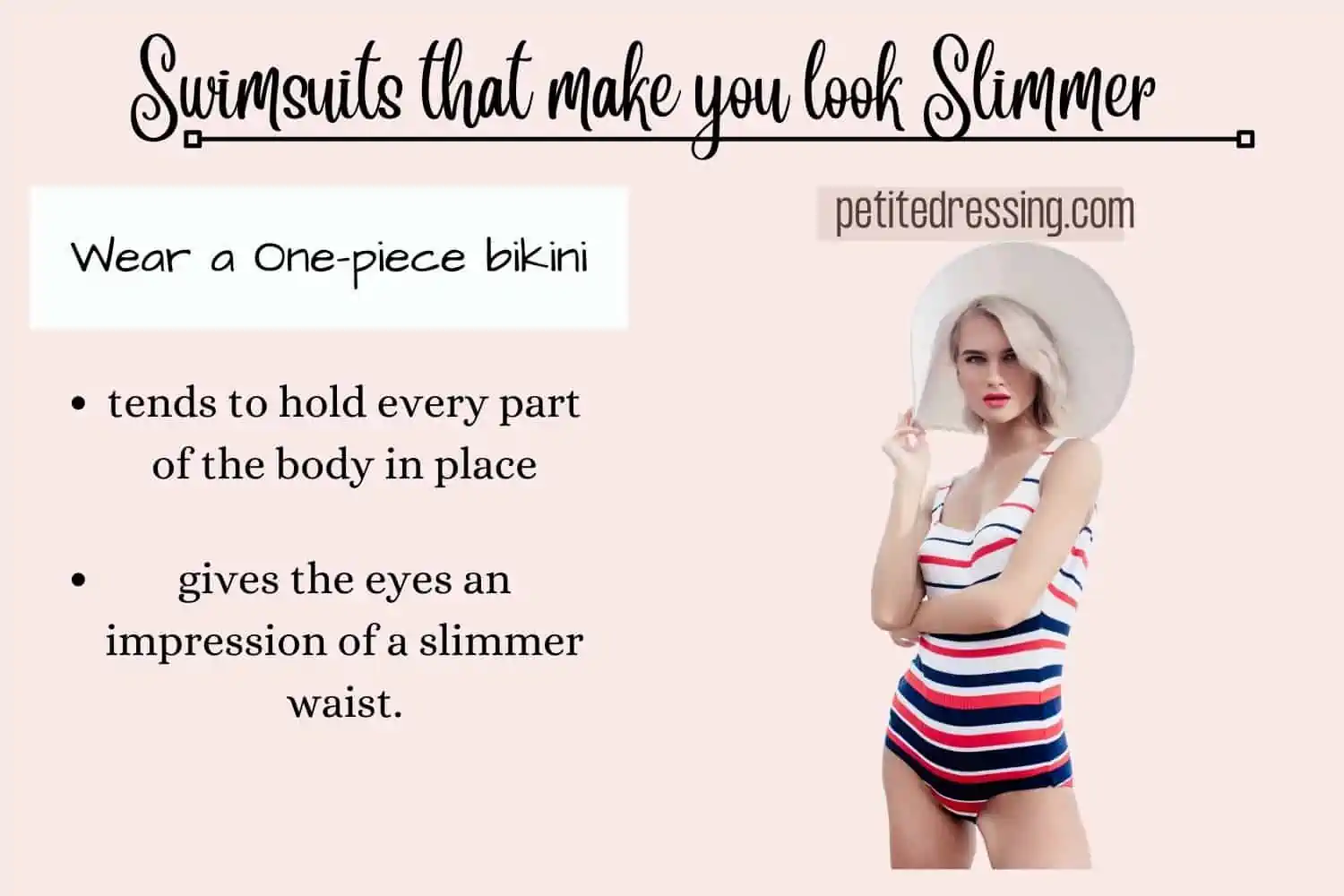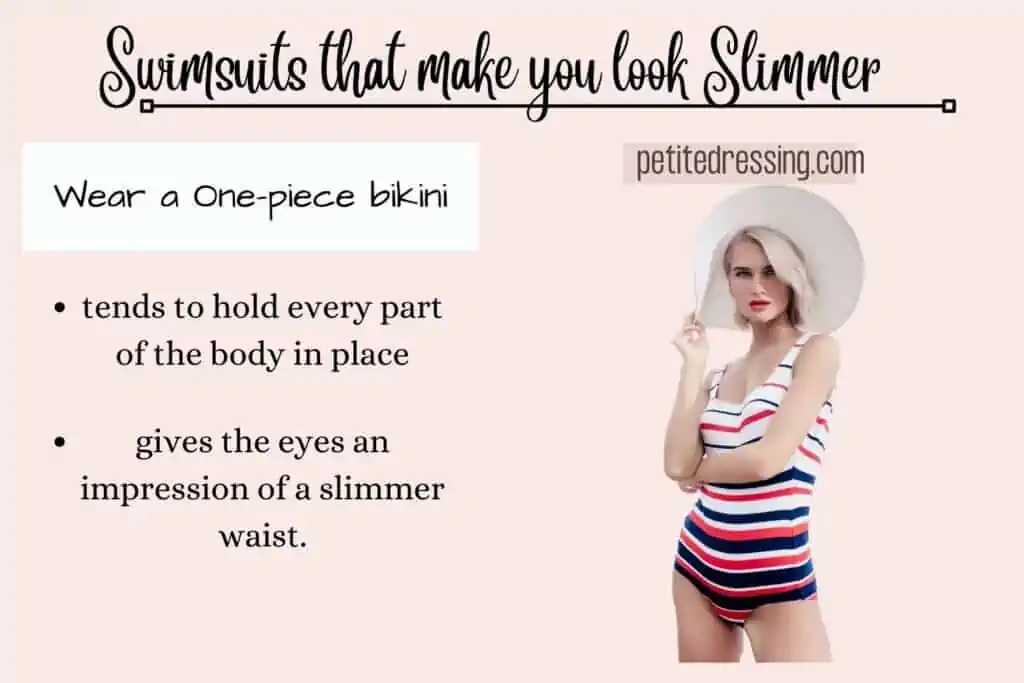 Your number one choice of swimsuit that would give the essential slim look for your figure is the one-piece swimsuit, because it tends to hold every part of the body in place.
They are classic, versatile, and always in style giving room for extreme comfort.
Wear a one-piece with stripes and contrasting patterns and color as it gives room for color blocking. It also elongates the body and creates an illusion that gives the eyes an impression of a slimmer waist.
Swim dress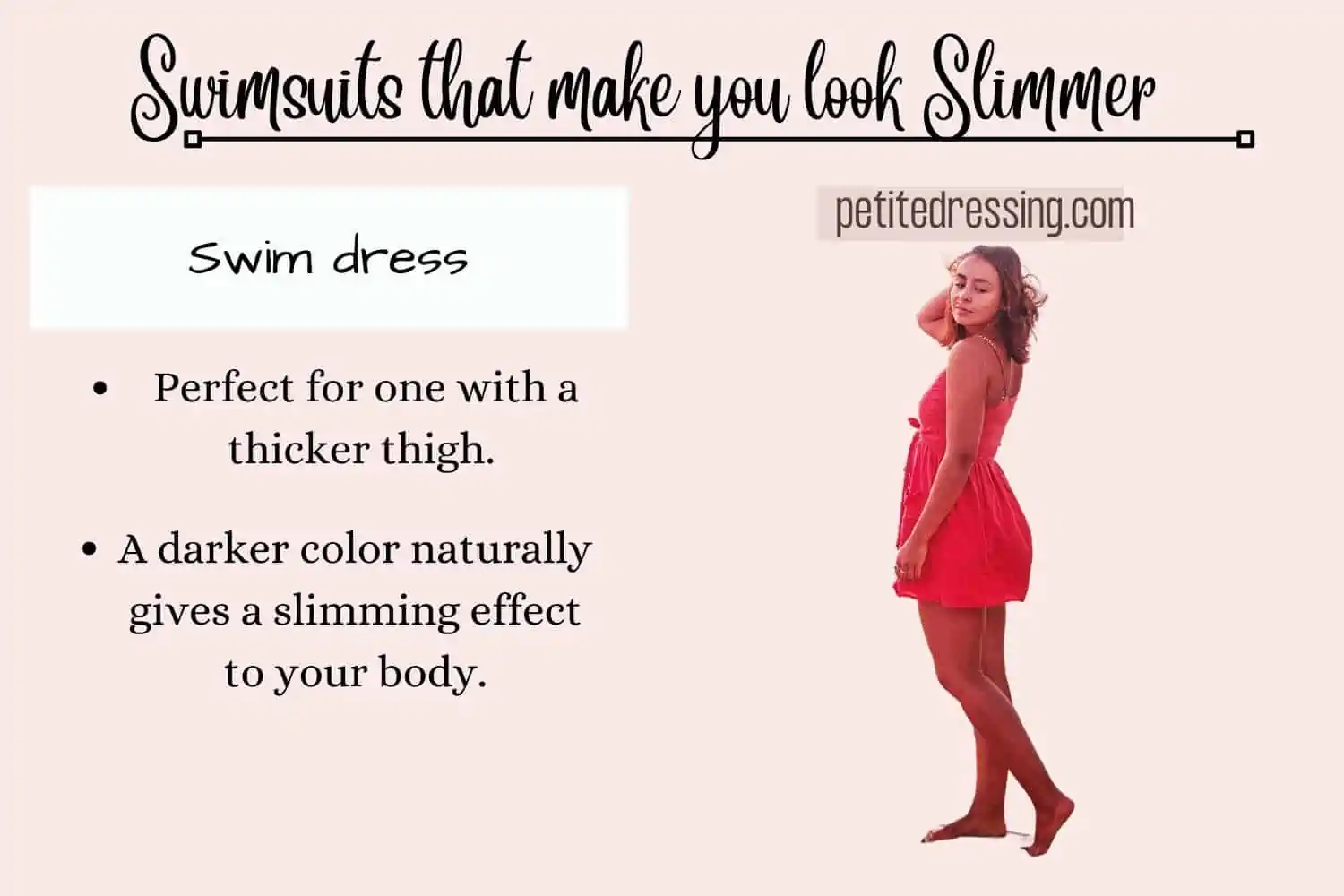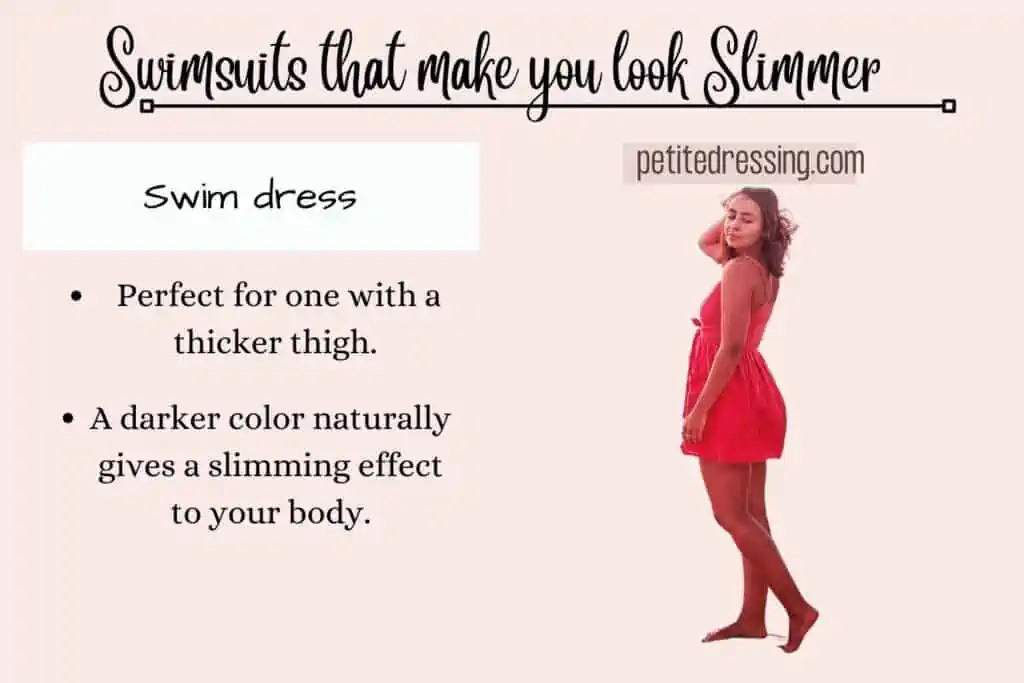 Swim dresses are uniquely designed to fit and make slimmer your figure. Also depending on body shape, the length of the swim dress should be considered as a longer swim dress is perfect for one with a thicker thigh and it would serve better as a great coverage for them.
The swim dress is also a good option for the pear-shaped body because it blows up around the waist to conceal the concerned area. While taking note of the length of the swim dress, the color of your swim dress should not be overlooked because a darker color naturally gives a slimming effect to your body.
Belted swimsuits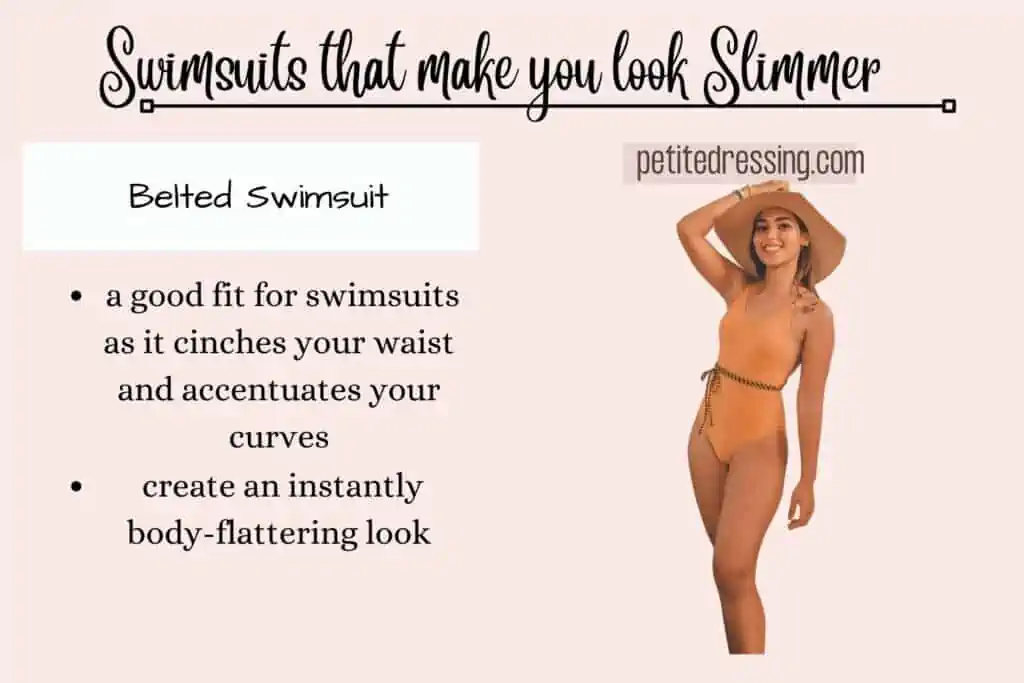 Belts are not just a great accessory for dresses but they could also be a good fit for swimsuits as it cinches your waist and accentuates your curves. It is a known fact that belts create an instantly body-flattering look that wraps around your natural waist and creates the illusion of an hourglass shape.
Hence, wearing a belted swimsuit not only flatters your figure but gives a well-defined look to your waistline. Belted swimsuits are therefore the right choice of swimwear as they give the illusion of a slimmer shape and waist.
Fringed swimsuit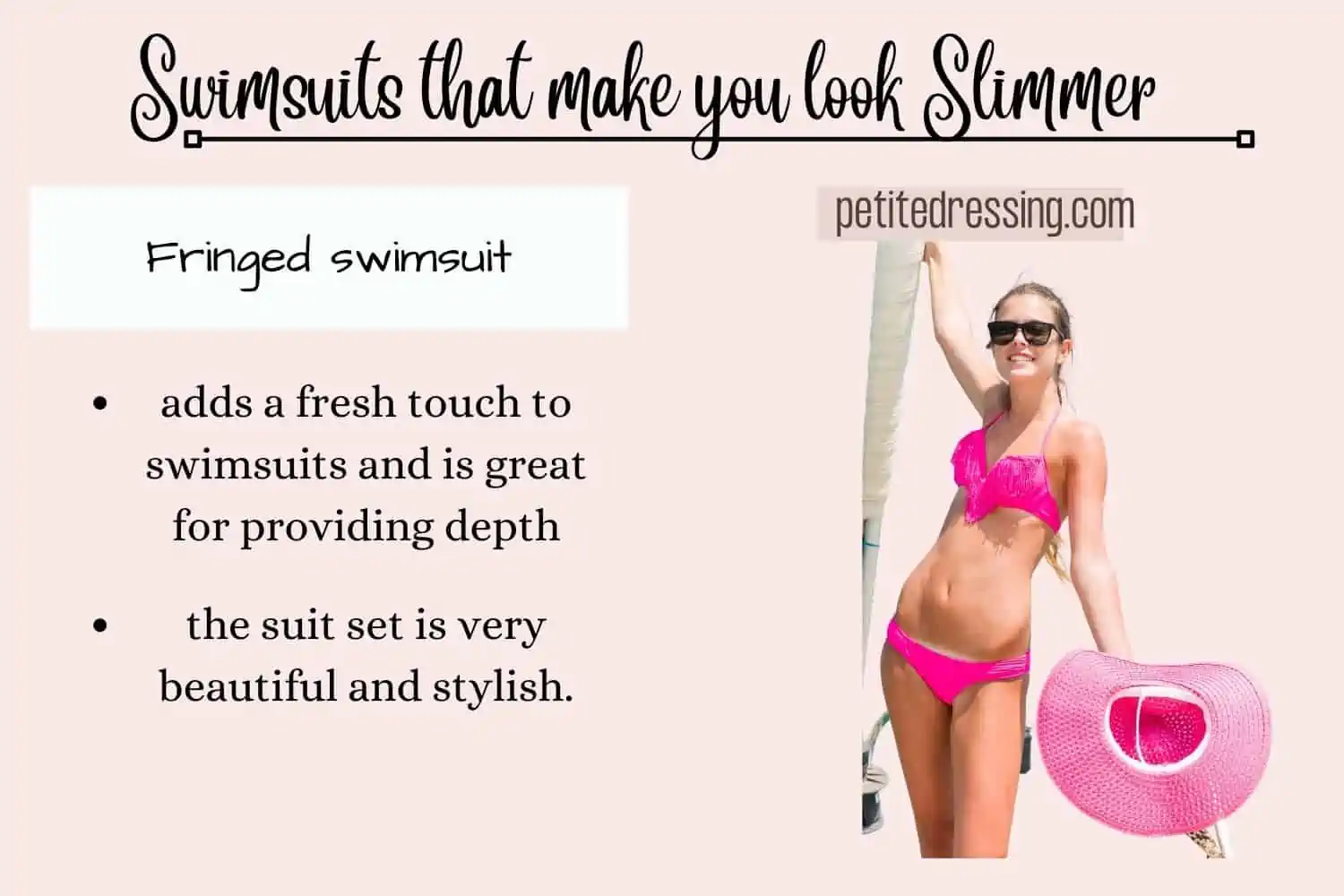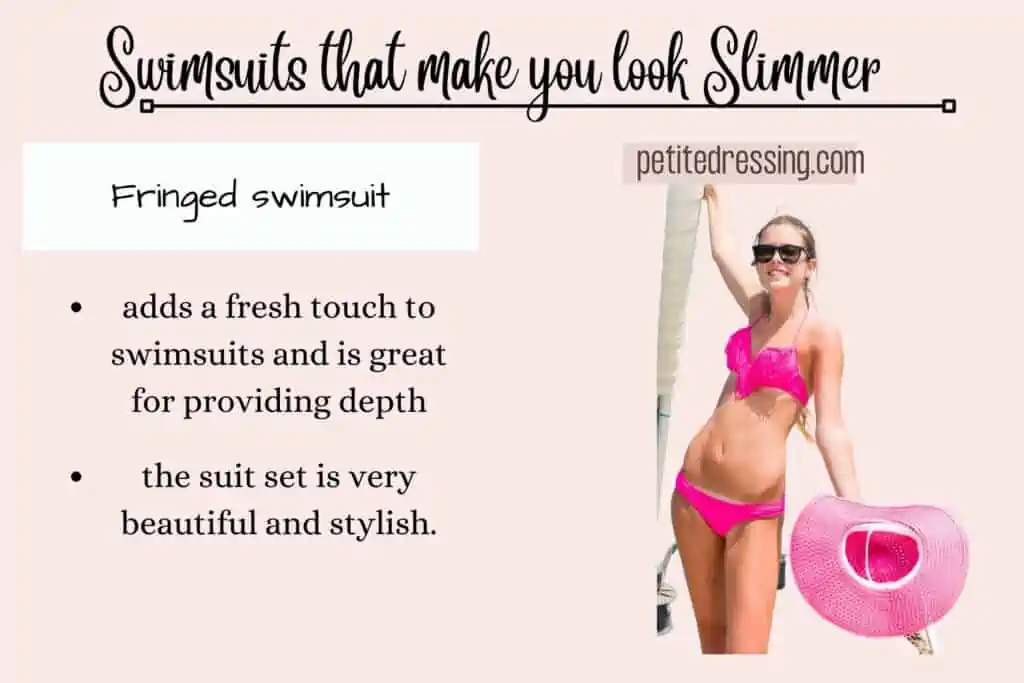 Fringing is a modern embellishment that adds a fresh touch to swimsuits and is great for providing depth. A fringe bikini top with tassels provides full coverage or partial coverage in the front and as such draws attention to the upper body.
Tassels can end above the tummy or cover all or a portion of the belly button and can be used to conceal insecurities. At the same time, the suit set is very beautiful and stylish.
Cut out swimsuit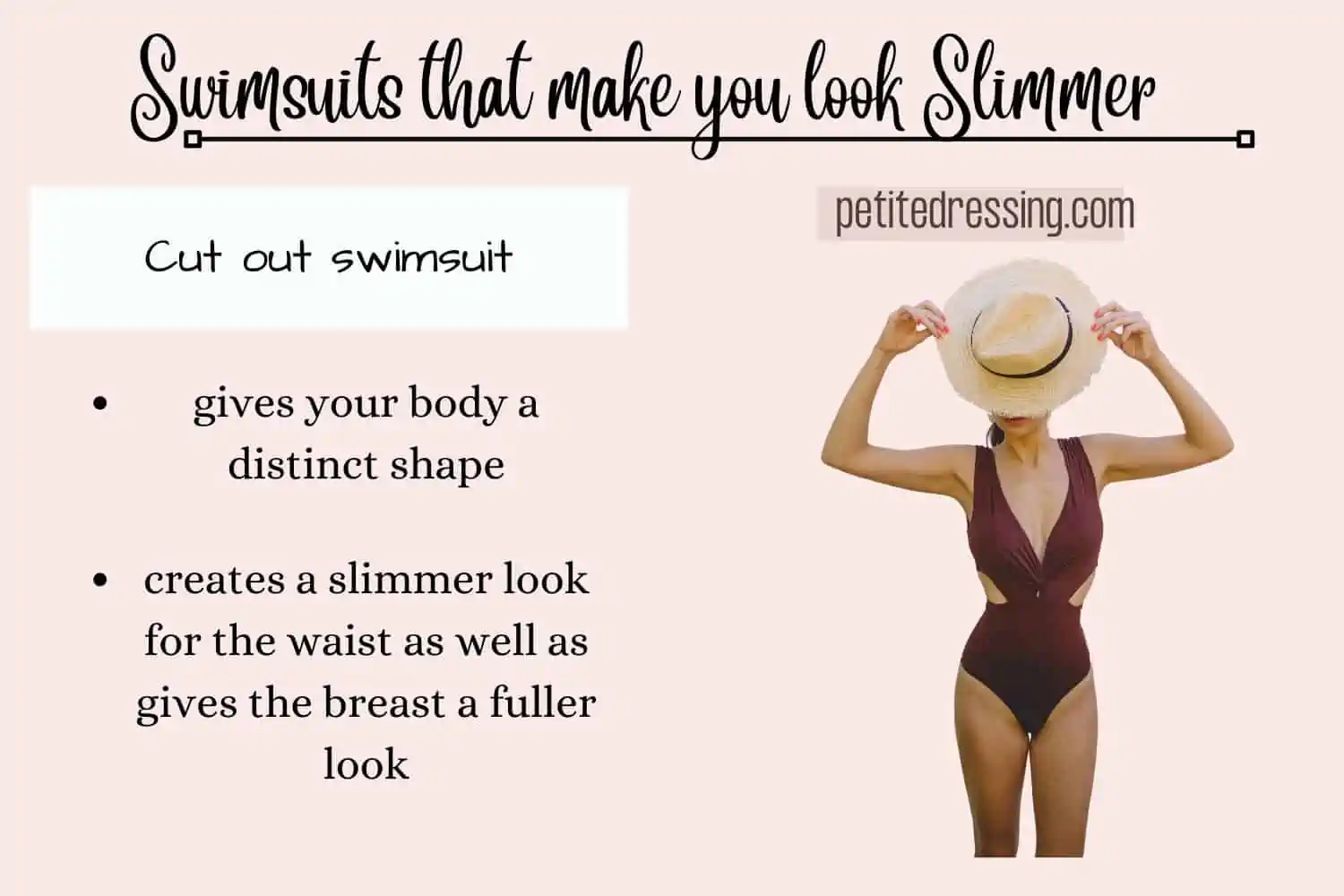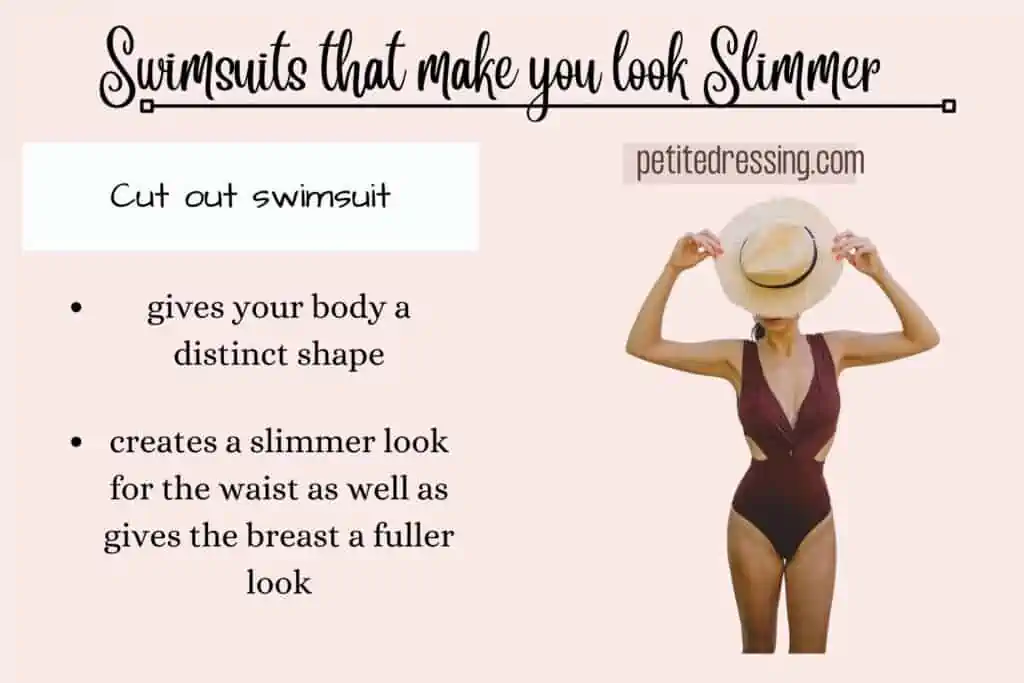 The cutout swimsuit gives your body a distinct shape and creates a true fashion style. It is a swimsuit that gives your figure a flattering look and makes the body look slimmer.
The cutout swimsuit creates a slimmer look for the waist as well as gives the breast a fuller look and in the same way, makes the hips look curvier.
Opt for swimsuits with built-in shapewear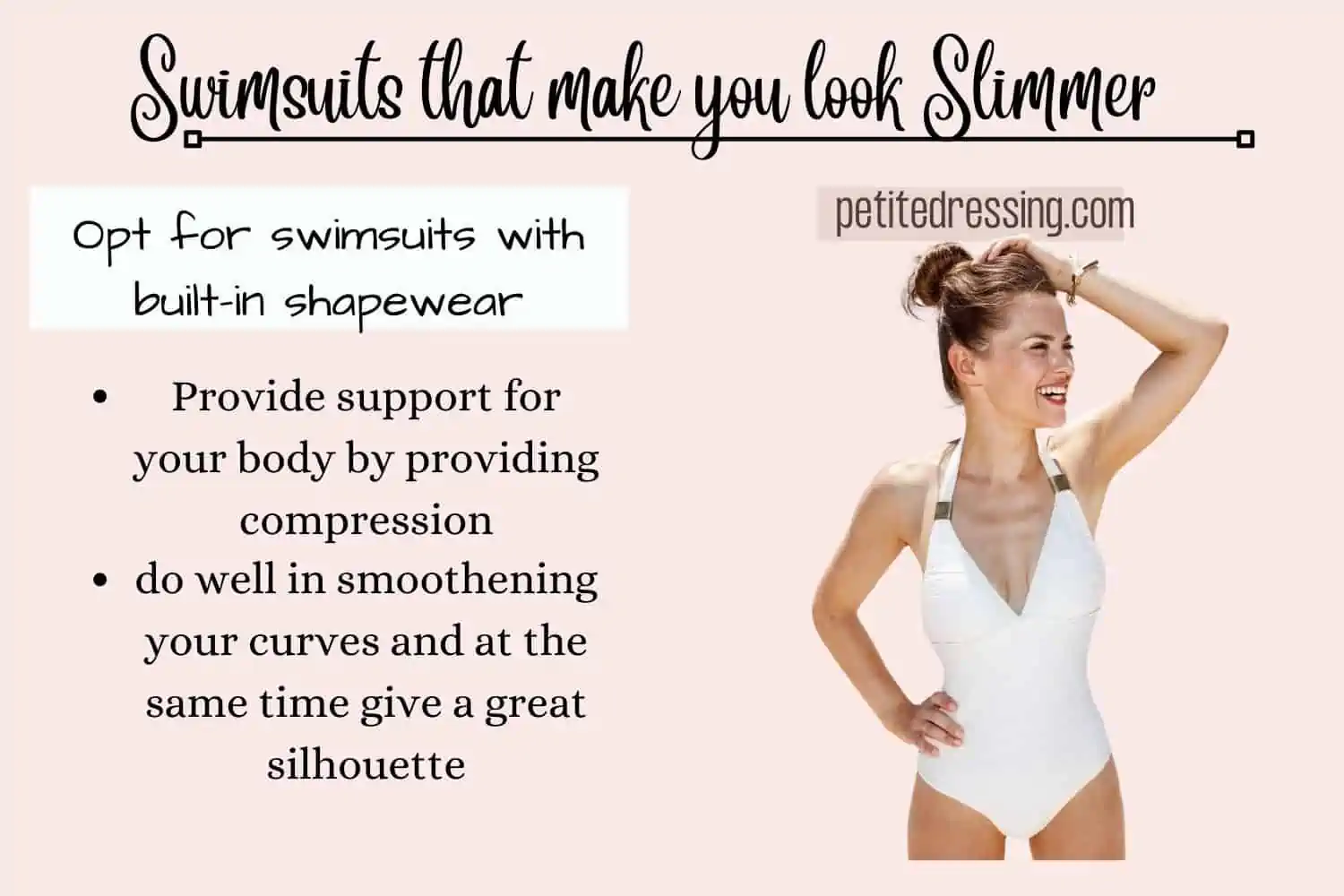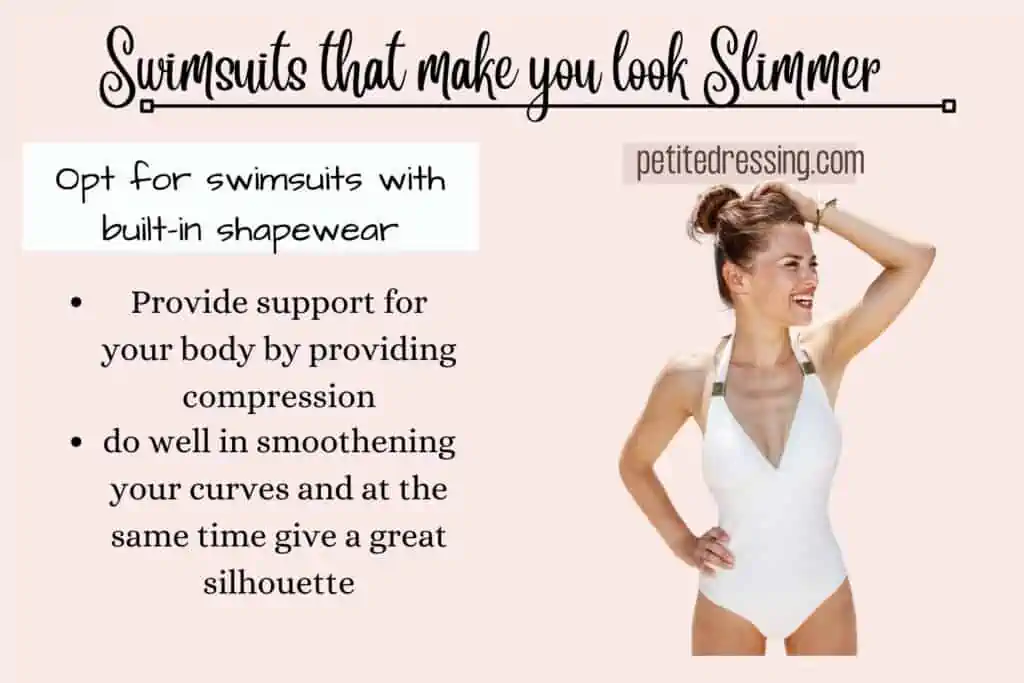 Shapewear has the advantage of holding your body parts in position as it gives a firm and gentle support. They should be the right choice of swimsuit if you intend to create a slimming effect for your body.
Swimsuits with shapewear provide support for your body by providing compression and do well in smoothening your curves and at the same time give a great silhouette. It gives your body a structure with which you're most comfortable.
Select a Cover-up or Wrap swimsuit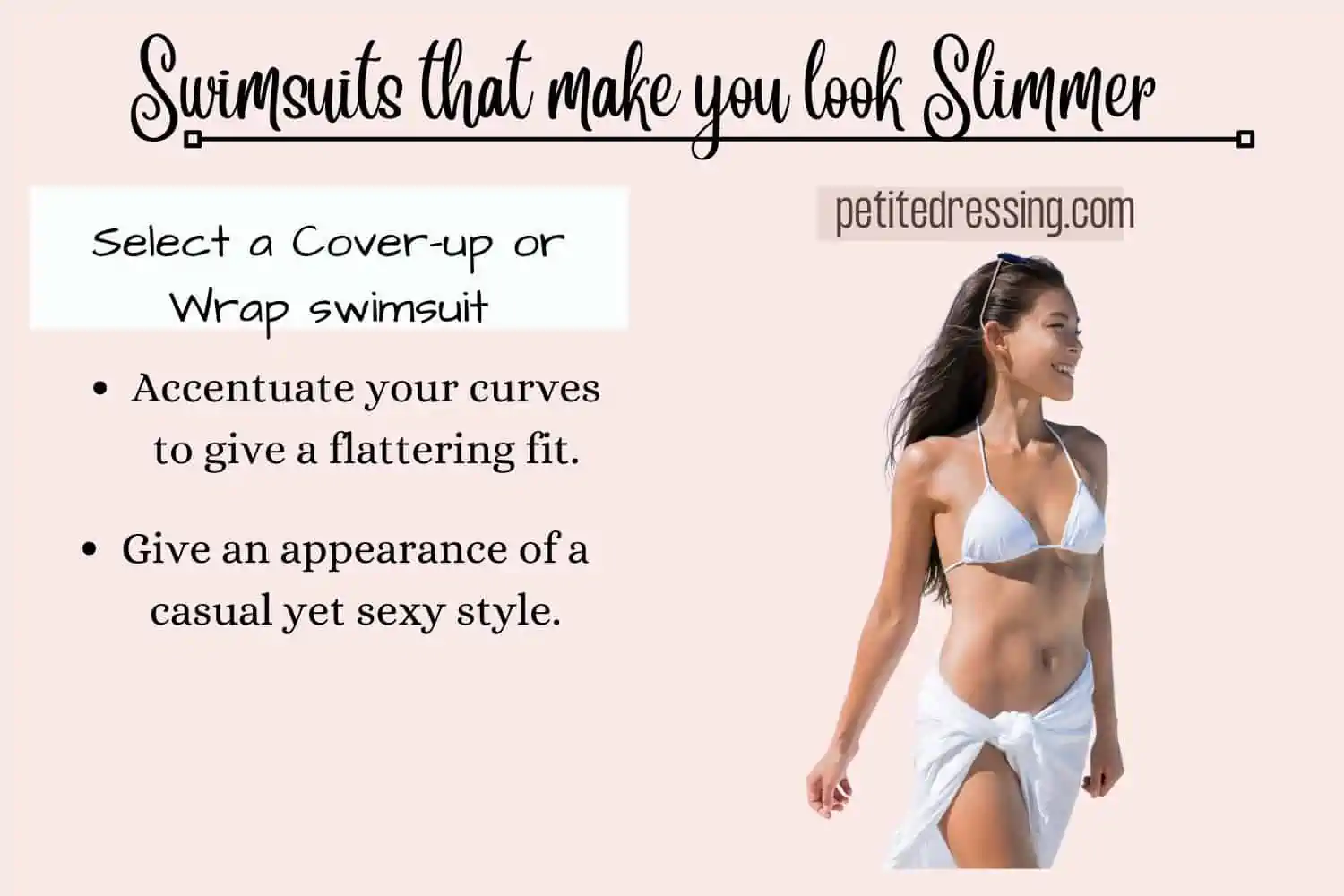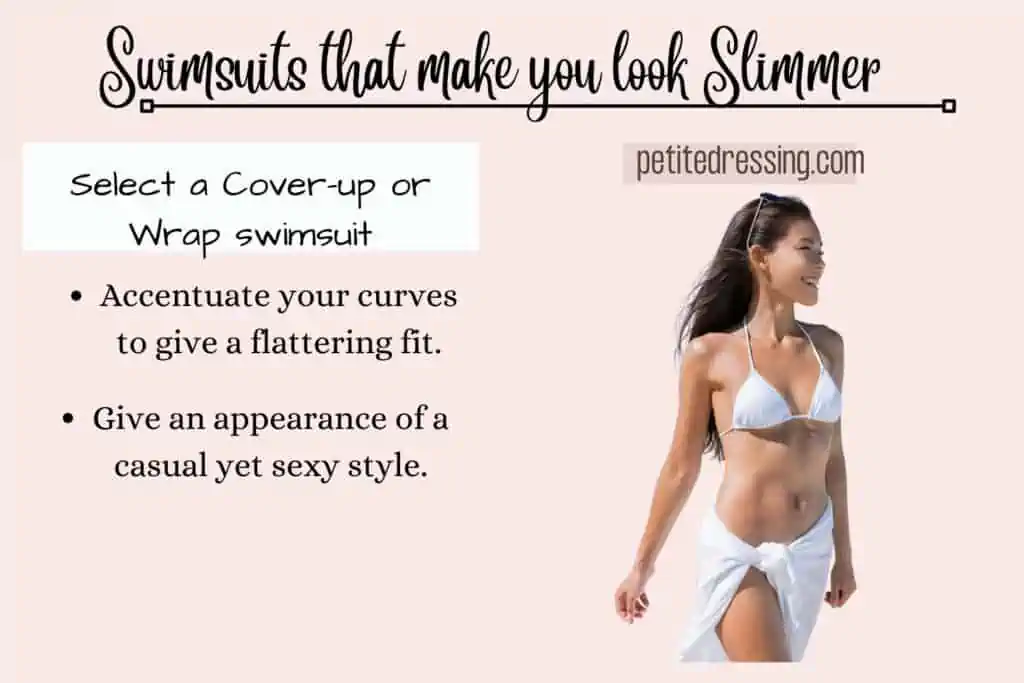 The wrap swimsuits accentuate your curves to give a flattering fit giving your tummy control to make the waist look slimmer. Get a stylish cover-up and a wrap that compliments your beachwear.
They give an appearance of a casual yet sexy style and are far more slimming when compared to wearing an old t-shirt or a beach towel wrapped around the waist. It is also important that you choose a wrap swimsuit with light and breezy fabric.
A skirt-style wrap swimsuit is preferable for one with thick thighs while a front-open shrug does it better for a person with thick arms.
Wear swimsuits with dashing prints or tiny patterns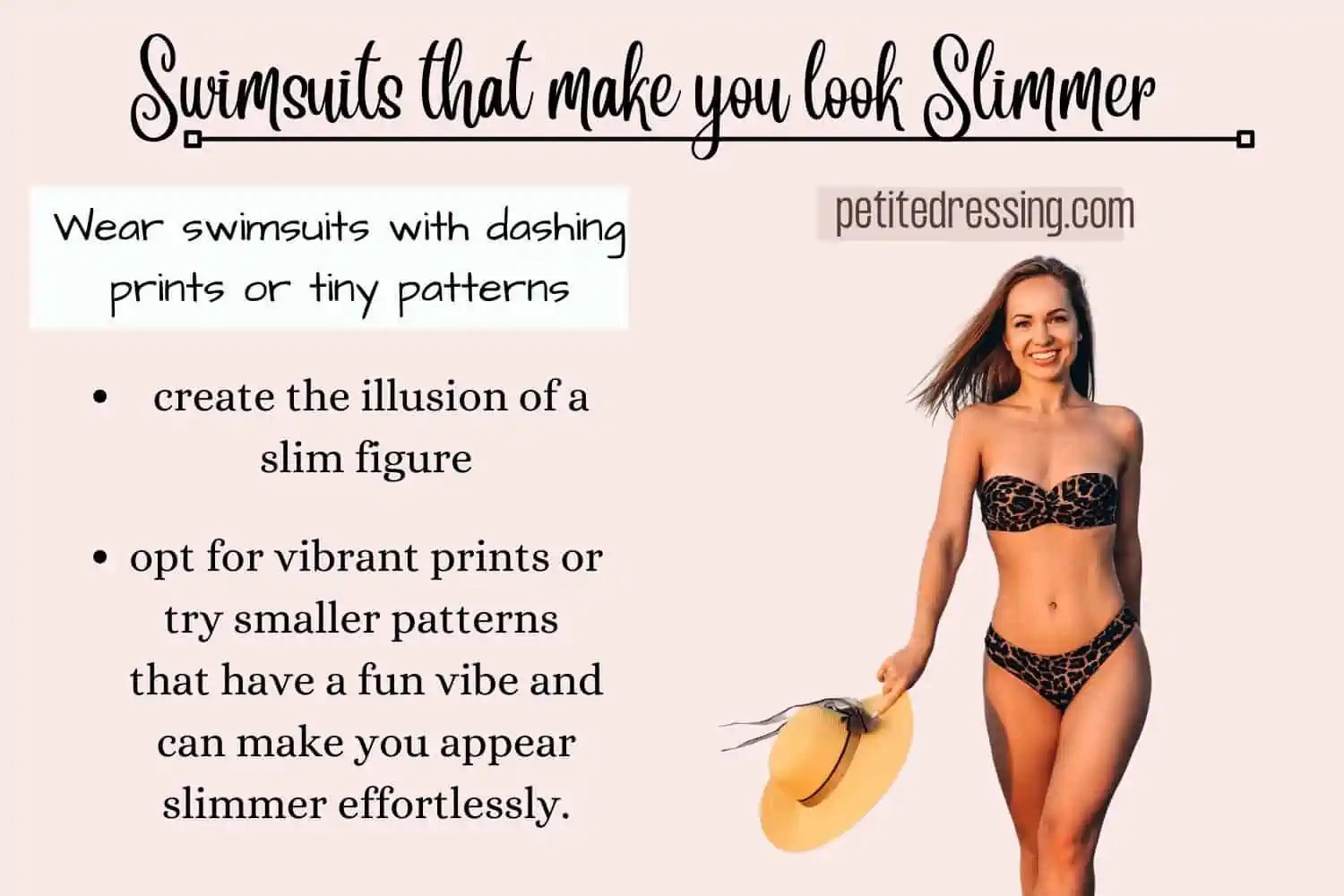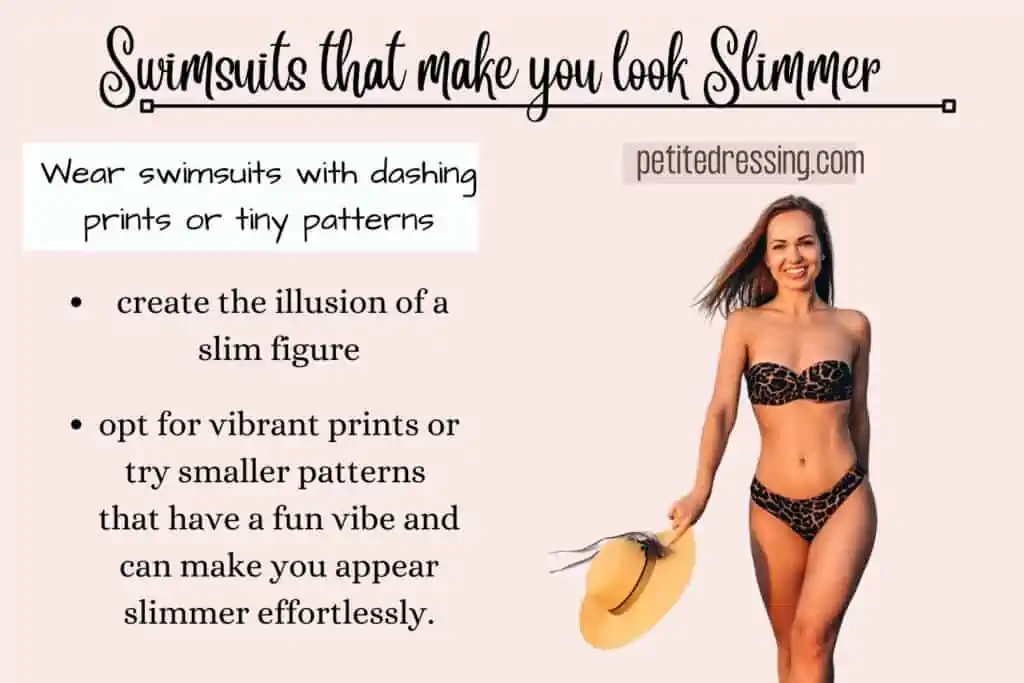 Small prints have a way of drawing the eyes in to create the illusion of a slim figure. It is therefore the best design option for a swimsuit if you must attain a flattering fit and slim look for your body.
Big prints tend to make you appear big. It is preferable to either opt for vibrant prints or try smaller patterns such as polka dots that have a fun vibe and can make you appear slimmer effortlessly.
It is important to note that both dashing prints and tiny patterns do not work together and as such you should select your swimsuit accordingly.