If you are short and curvy, it is critical to find the right styles that flatter your shape. I am 5'2″ myself, and I have a petite clothing line, so I understand exactly the challenges you face.
The key to dress your shape is to create an unbroken vertical line to make you look taller and leaner. Based on the feedback from thousands of my customers, many of who are short and stocky, I've put together this comprehensive guide to help you.
It is also critical for you to pick petite sizing vs otherwise, in order to find the perfect pieces that fit you like a glove!
Styling Goal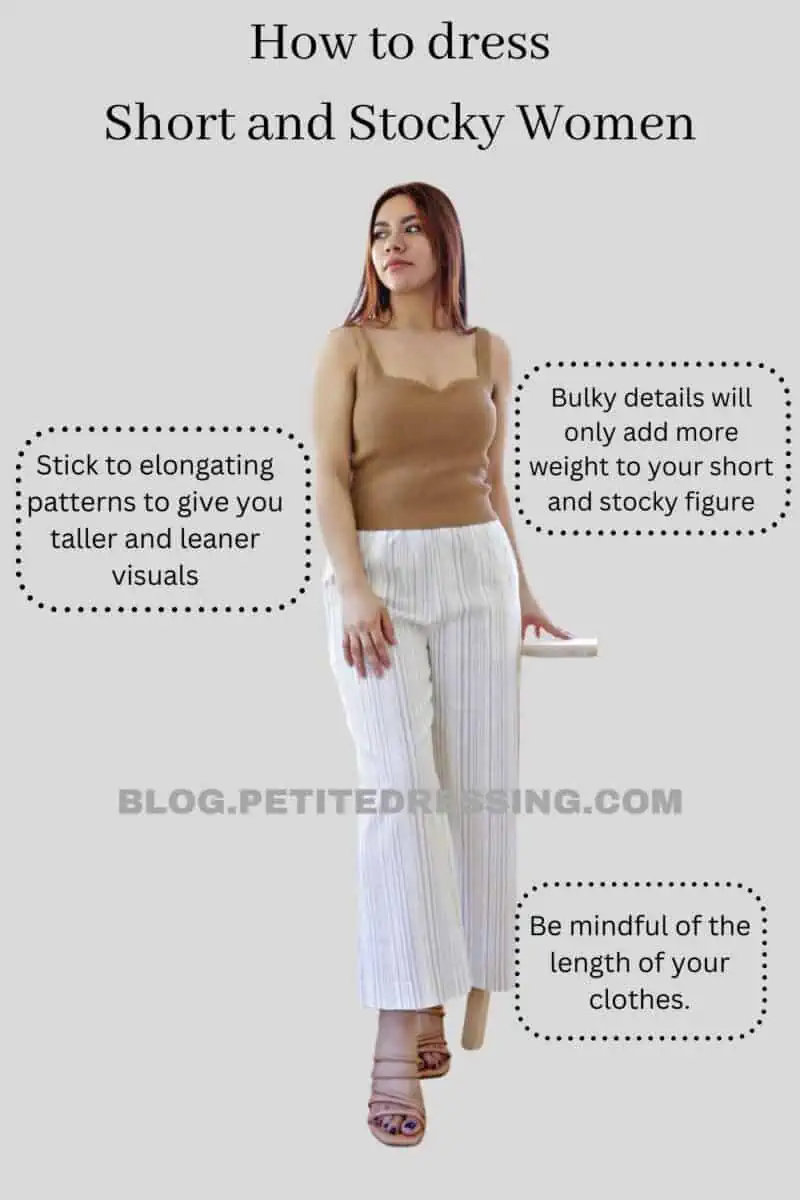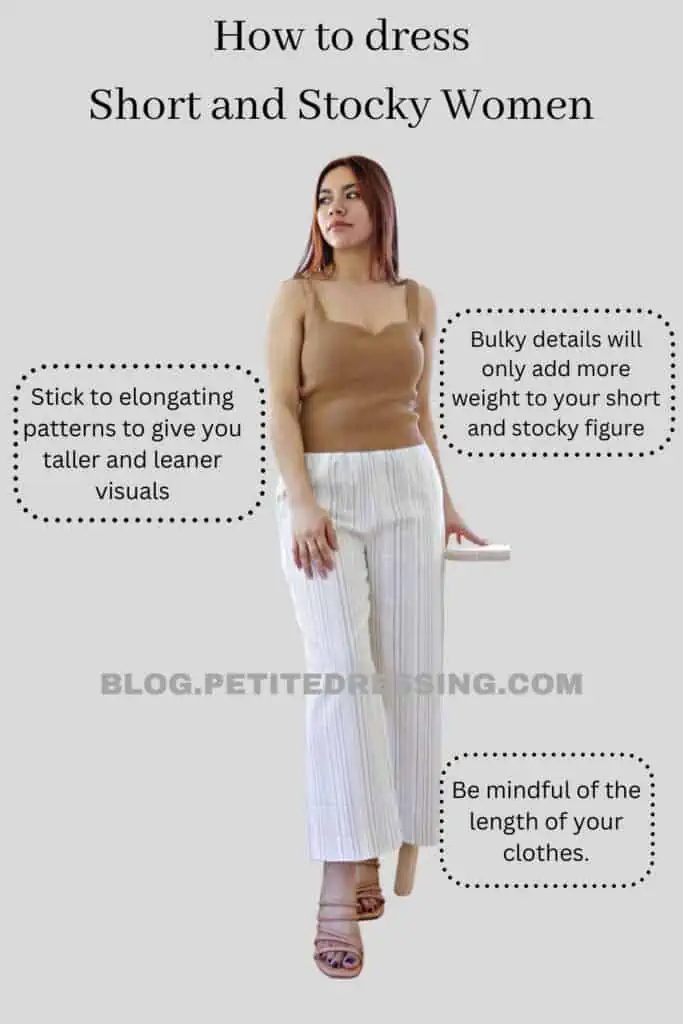 Stick to elongating patterns to give you taller and leaner visuals. Vertical lines, streamlined seams, and open necklines are some of the best visually elongating features that can flatter your figure.
Be mindful of the length of your clothes. Whether it's a top, a pair of jeans, or a dress, going too long or too short can affect the continuity of your body's visual line.
Avoid dramatic flounces of fabric and bulky embellishments. Bulky details will only add more weight to your short and stocky figure which can look too frumpy and unbalanced.
Now that we have simply covered our styling goals, let's delve into which types and styles of clothing should you go for in order to fully embrace your natural shape.
TOPS
V-Neck Wrap Tops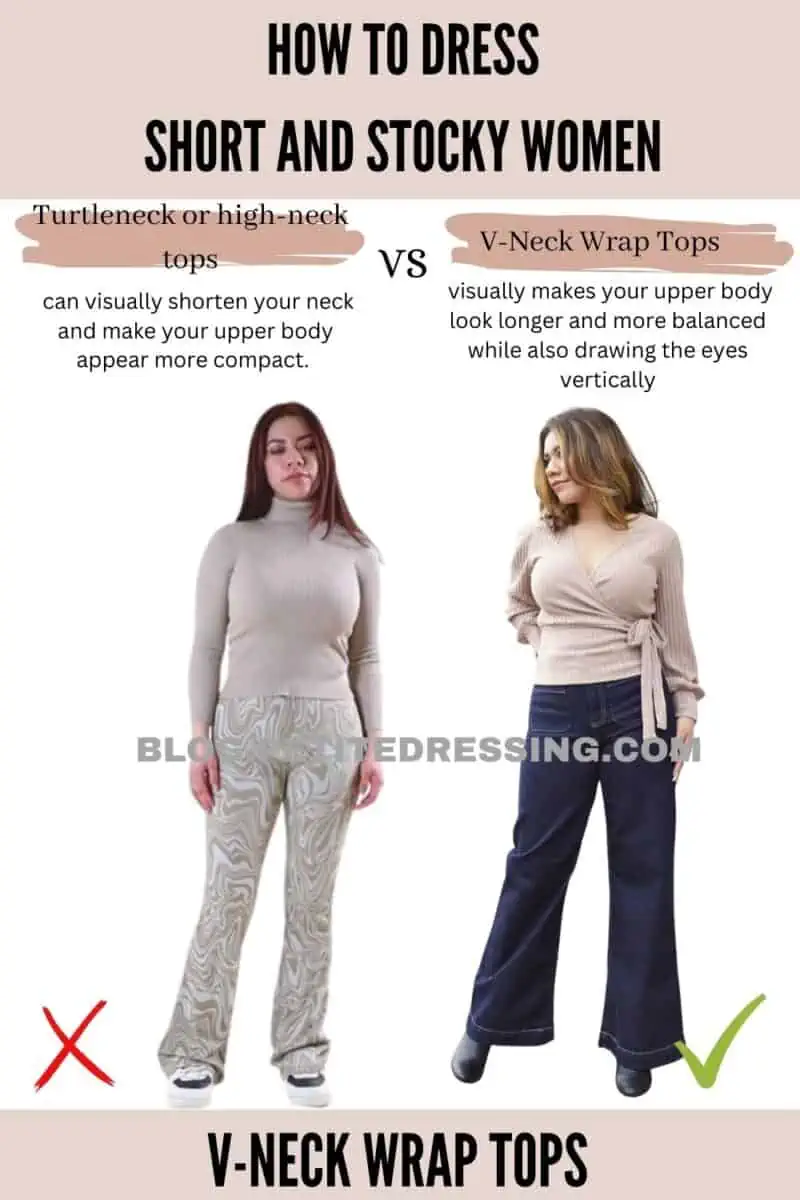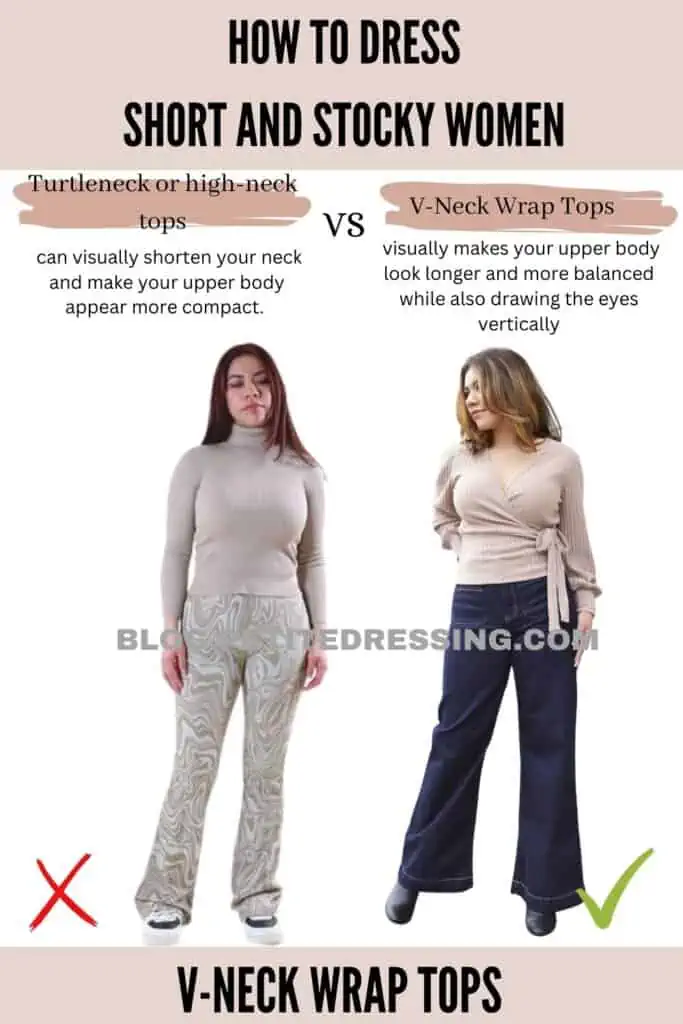 V-neck wrap tops are a fantastic choice for short and stocky body shapes due to their inherent style elements that work together to create a flattering look. The V-neckline visually makes your upper body look longer and more balanced while also drawing the eyes vertically to create the illusion of a longer and leaner torso.
The neckline alone visually stretches the frame and adds height, which can be very flattering for shorter figures. In addition to this, wrap-style tops are universally flattering and can look good on almost every body shape.
The wrap design cinches at the waist, accentuating the smallest part of the body for a well-defined silhouette as it also provides a draped and flowing effect from the narrowest part of the waist, which adds movement and elegance to the overall look. It subtly conceals any areas of concern around the midsection, creating a streamlined appearance and boosting confidence.
Off-the-Shoulder Tops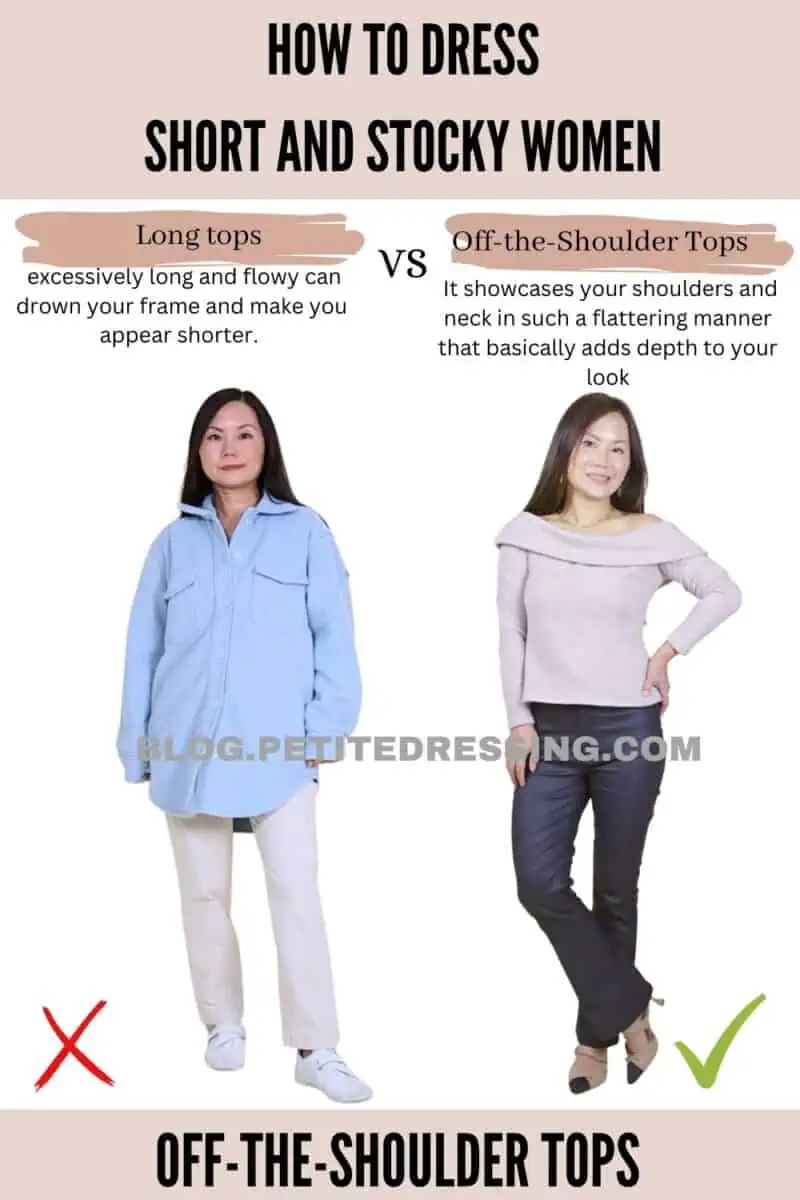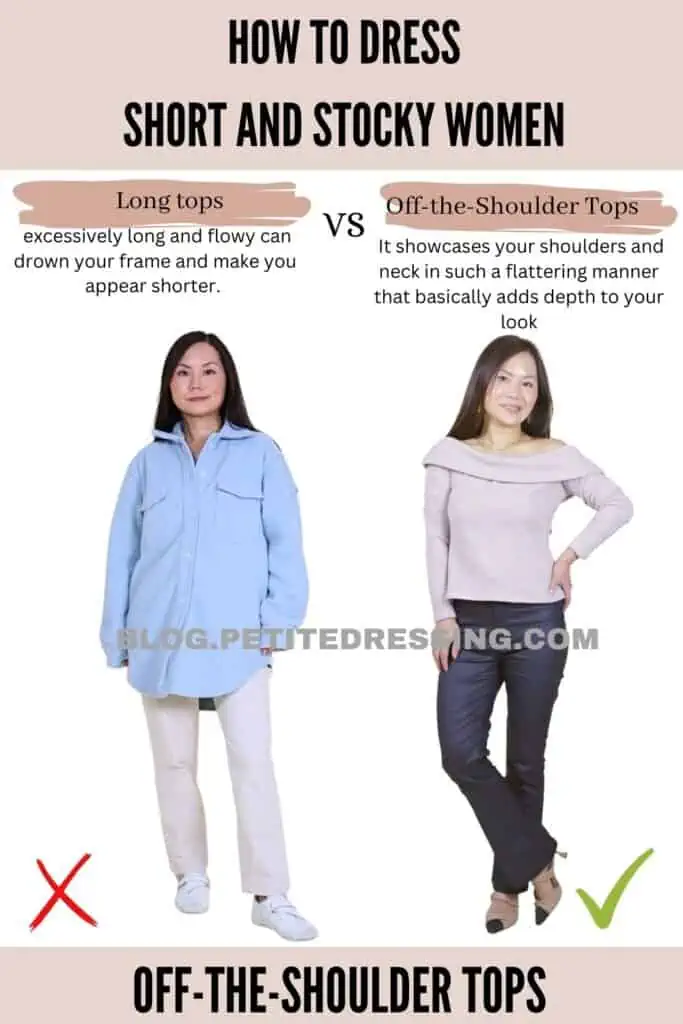 Off-the-shoulder summer tops swoop in to steal the show, sending all eyes up toward your shoulders, collarbones, and neckline. This silhouette whisks onlookers away from focusing on the heavier parts of your body and instead draws sole attention to its shoulder-baring form!
Uncovering the neck and shoulders also contribute to a wider visual appearance in the upper half, and voila! – you have instantly countered the appearance of your wider waistline. Summer tops are usually made from flowy fabrics too which is also a good thing when it comes to subtly camouflaging stocky areas.
Having off-the-shoulder tops with a wide neckline is the way to go for that extra oomph! It showcases your shoulders and neck in such a flattering manner that basically adds depth to your look, which reveals an illusion of being slimmer.
Peplum Tops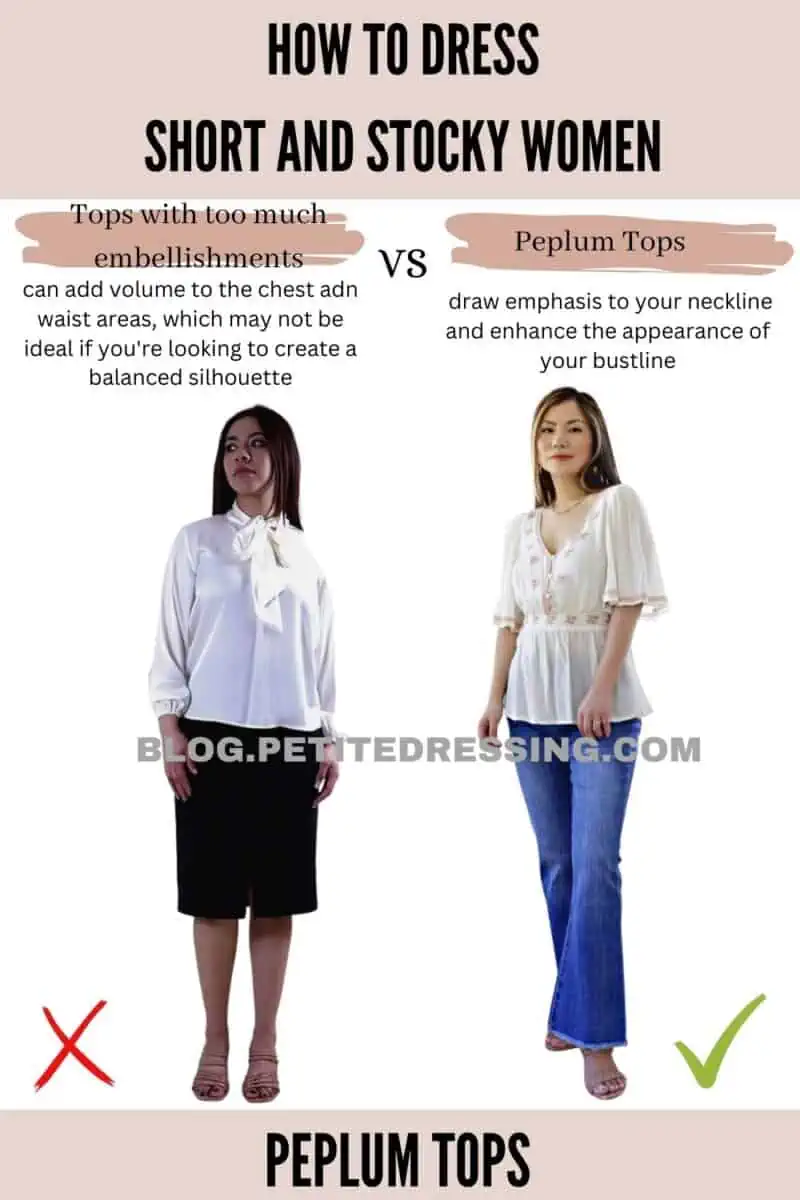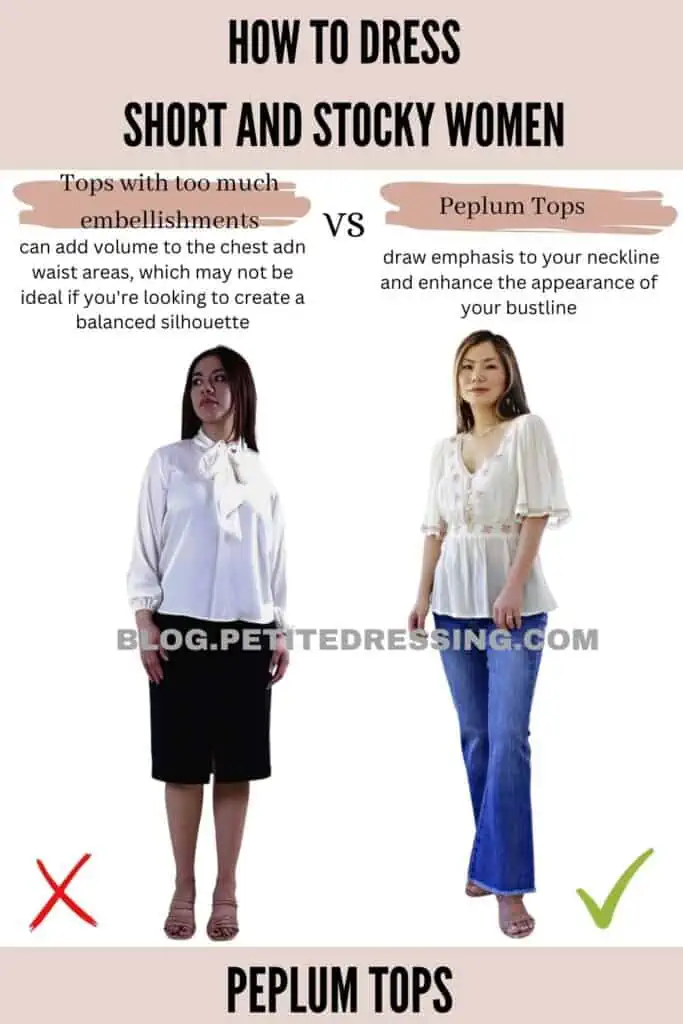 Now if you're on the hunt for something more romantic and feminine, peplum tops that feature a pretty sweetheart neckline should have a place in your shopping cart! Sweetheart necklines draw emphasis to your neckline and enhance the appearance of your bustline, which can be very helpful for short and stocky ladies.
Other than this, peplum tops also help balance your stocky figure by accentuating your waist. Its form-fitting top and flirty skirt attachment by the hem can easily give you that hourglass figure!
PANTS
Long Wide-Leg Pants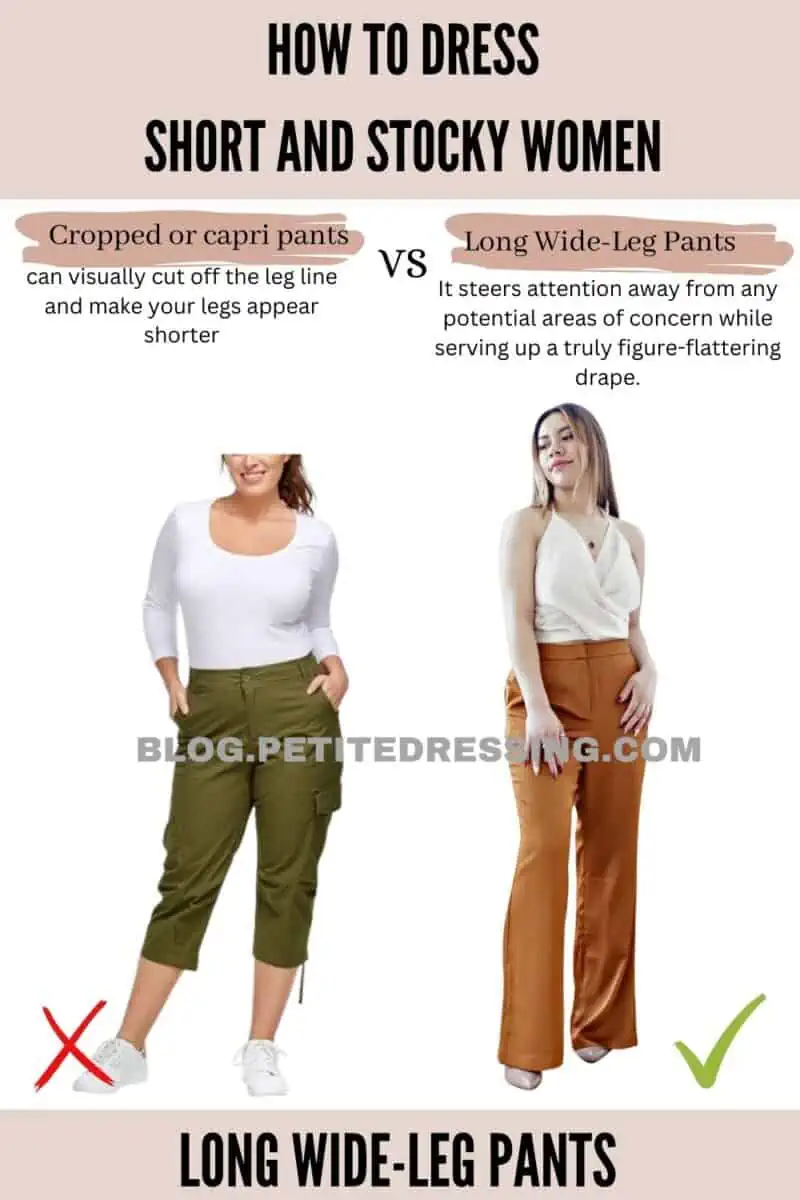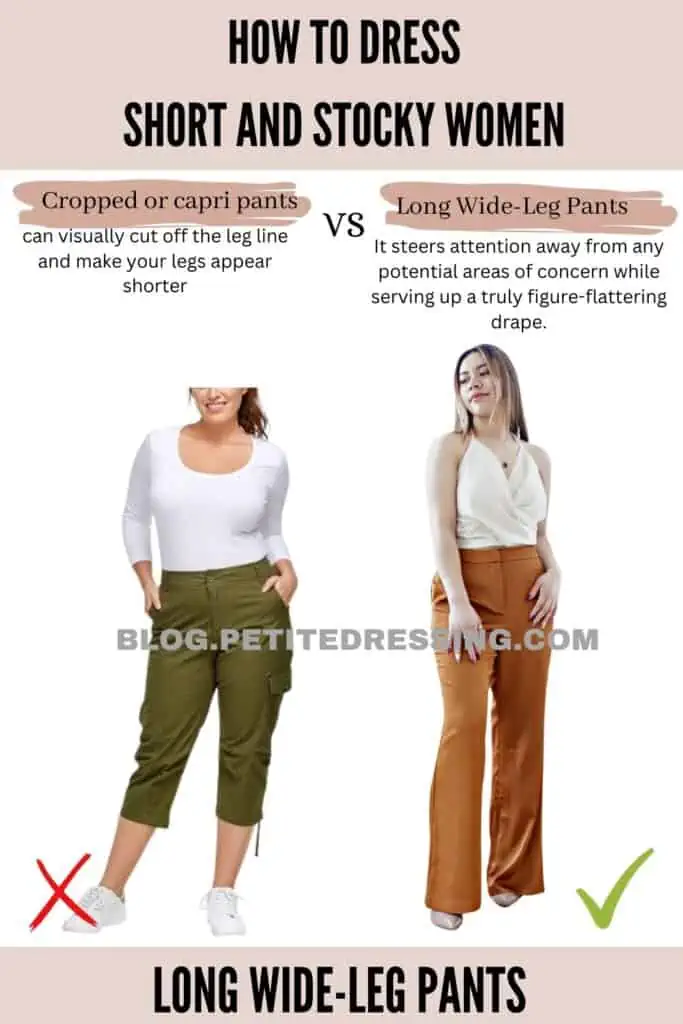 Long wide-leg pants are an absolute must-have for women with short and stocky frames because their structure features a loose, relaxed fit from the hips to the hem that perfectly accommodates your curves. Though roomy cuts may seem counterintuitive when it comes to going for the super body-clinging fashion trends, they steer attention away from any potential areas of concern while serving up a truly figure-flattering drape.
The tricks of the fashion trade for tall-looking pants come down to their impressive vertical lines, all the way from the waist to the heel. These wide-legged wonders forge a perfect balance between the proportions of your body, elongating those legs to ensure you stand taller than you really are!
Retro Flare Pants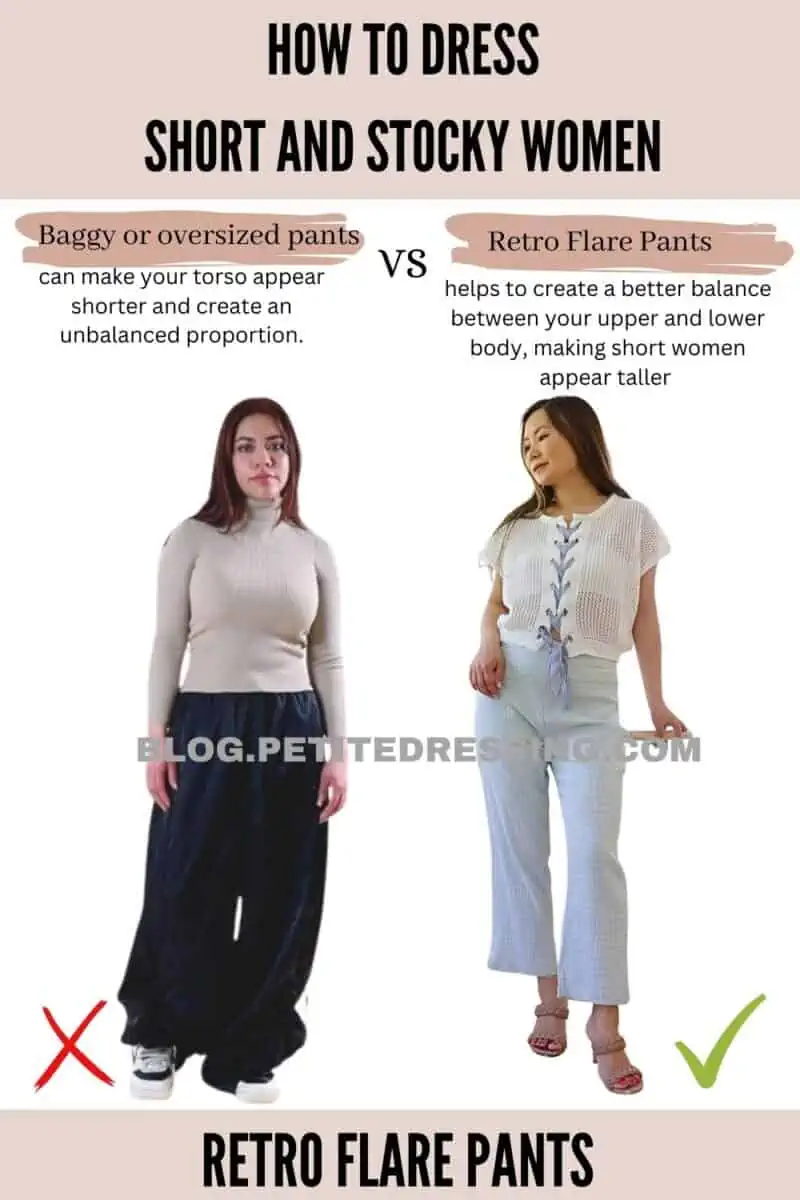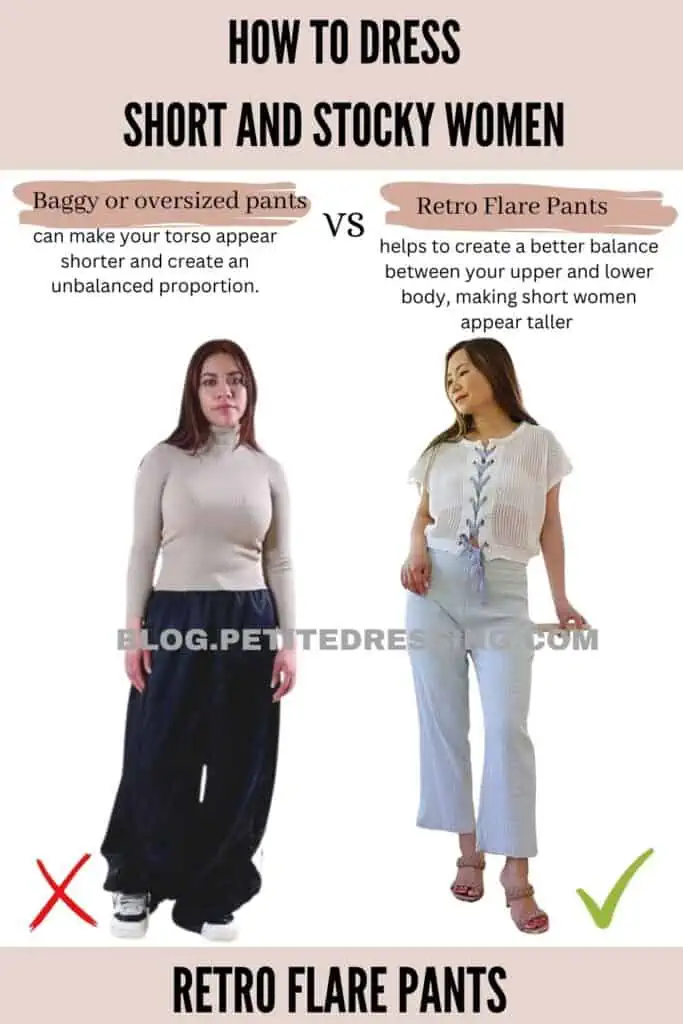 Retro flare pants, with their signature wide leg and flared silhouette reminiscent of past eras can easily be a stylish go-to for every short and stocky woman out there! The flared shape of retro pants creates a long vertical line that gives you a lengthier set of modelesque legs.
The flare starts from the knee or mid-thigh, drawing the eyes downward and creating the illusion of length. This elongating effect helps to create a better balance between your upper and lower body, making short women appear taller and adding gracefulness to the overall look.
Pleated Dress Pants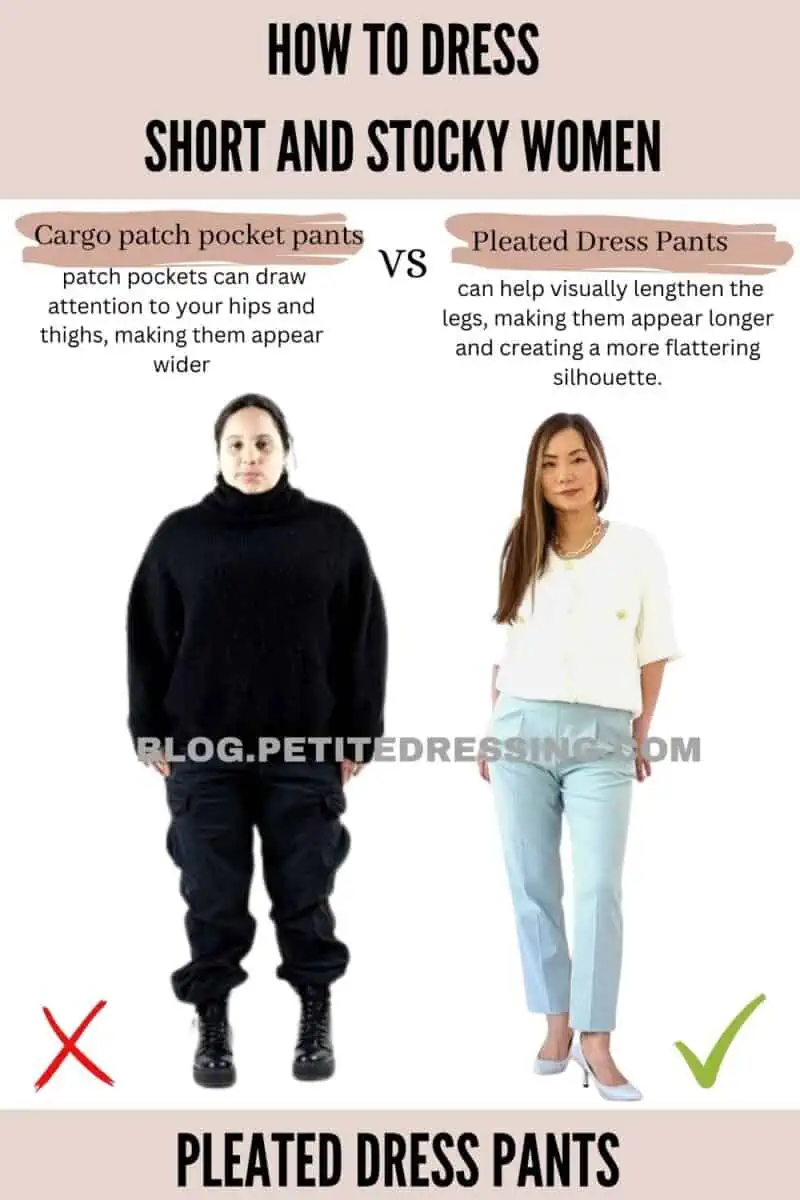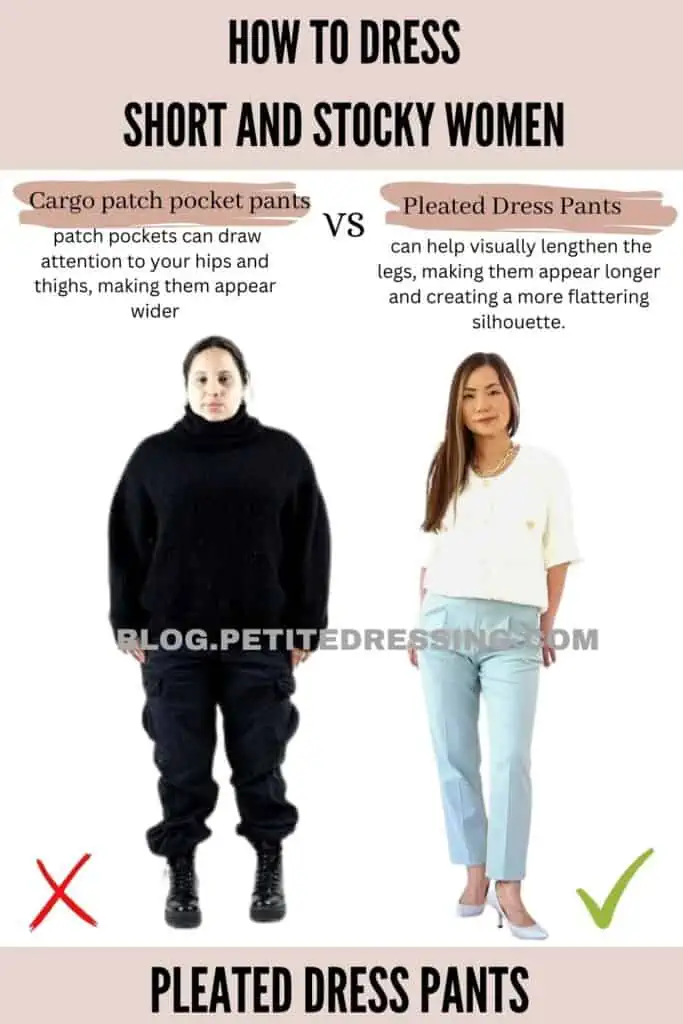 The pleats featured in dress pants are the neat folds in the fabric at the waist, which helps create vertical lines that help to elongate the body. These lines draw the eyes up and down, giving the illusion of added height.
Pleated dress pants often have a higher rise, meaning they sit higher on the waist, giving them better definition and enhancement. High waistbands can help visually lengthen the legs, making them appear longer and creating a more flattering silhouette.
JEANS
Dark-washed Bootcut Jeans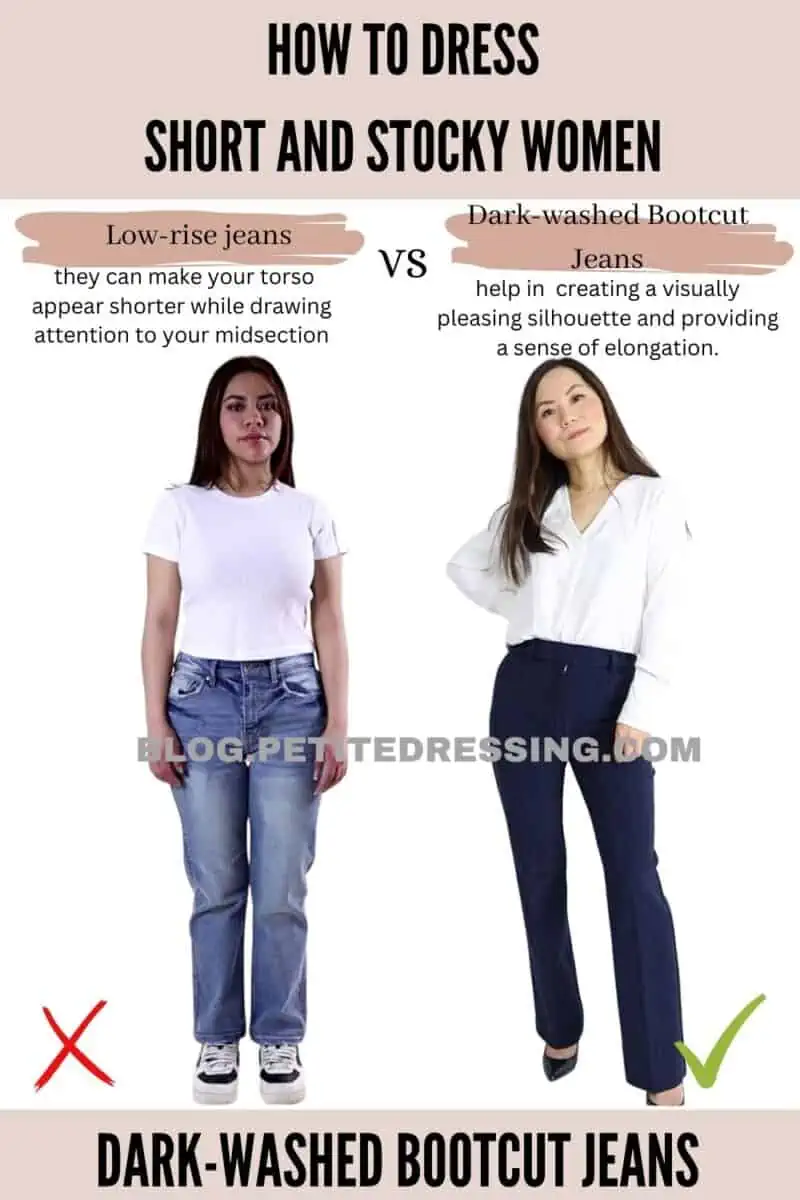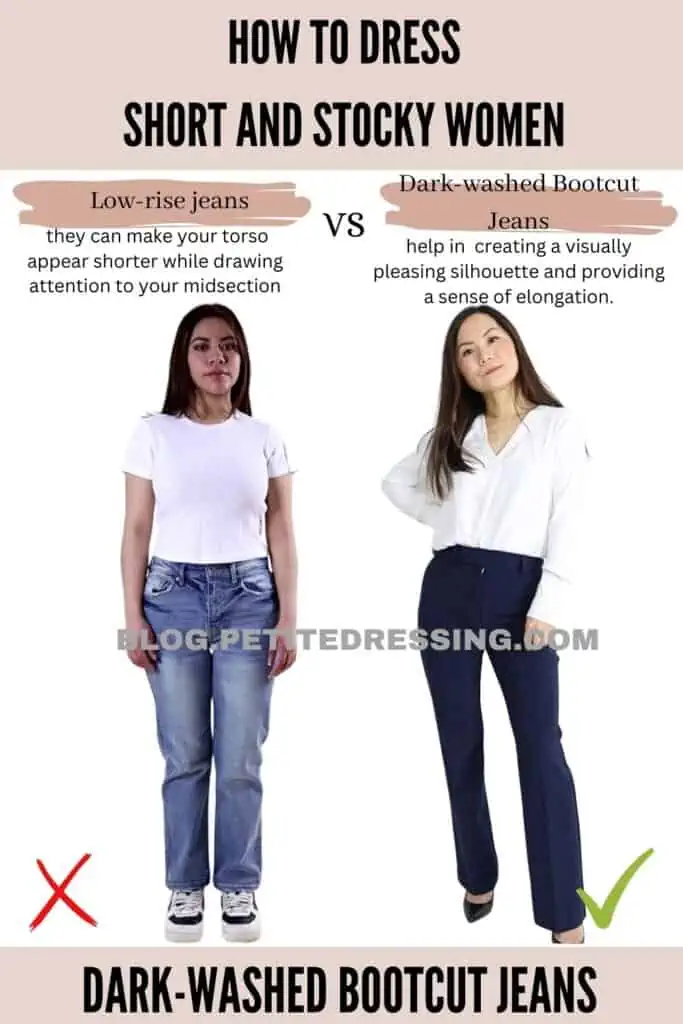 Dark-washed bootcut jeans have a range of style benefits that can make them a great choice for short and stocky individuals looking to create a taller and leaner appearance. The dark wash of these jeans creates a sleek and uniform color from waist to hem that also keeps your visual line uninterrupted, and therefore draws the eyes up and down to give the impression of longer legs and a taller silhouette.
Bootcut jeans feature a slightly flared leg opening that starts at the knee and extends to the ankle and this design detail helps bring balance to the body, especially for those with wider hips or thighs. The gentle flare creates a gradual widening of the lower leg, creating a visually pleasing silhouette and providing a sense of elongation.
Structured Straight-Leg Jeans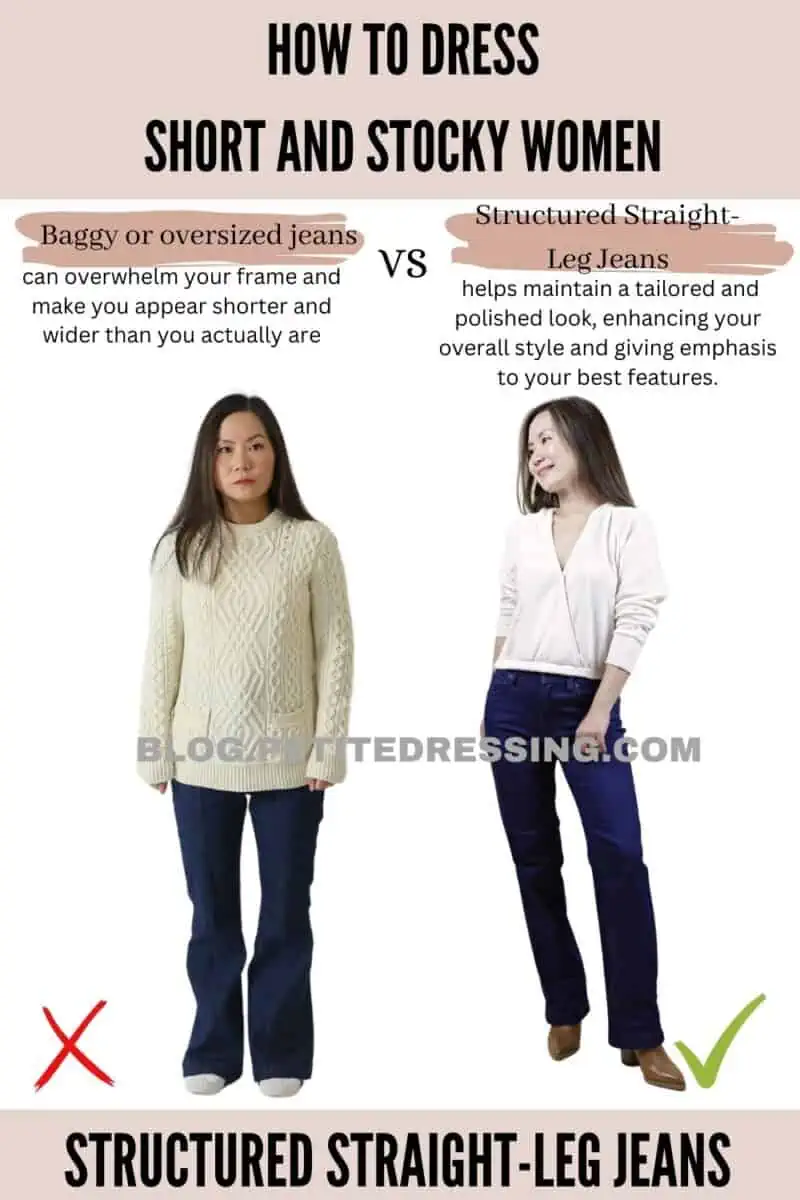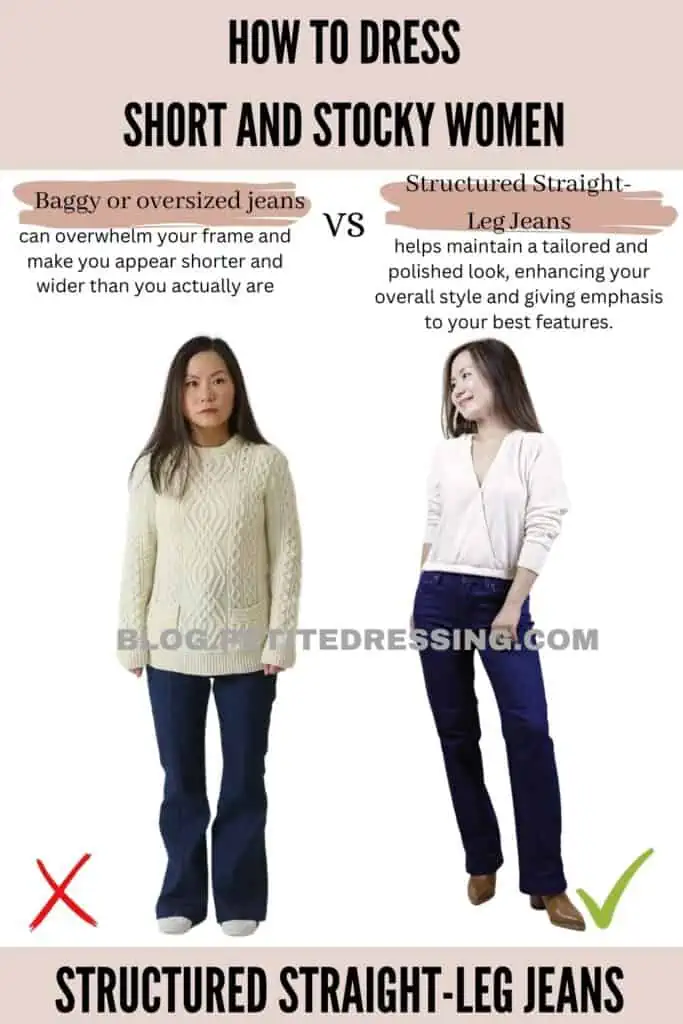 The straight-leg design efficiently creates a clean and streamlined silhouette from your waist to the ankle. The structured nature of the jeans helps maintain a tailored and polished look, enhancing your overall style and giving emphasis to your best features.
By maintaining a consistent width from hip to ankle, they create a harmonious visual balance. This helps to counteract any unevenness or disproportionate aspects of the body, making the overall figure appear more symmetrical.
High-Waisted Mom Jeans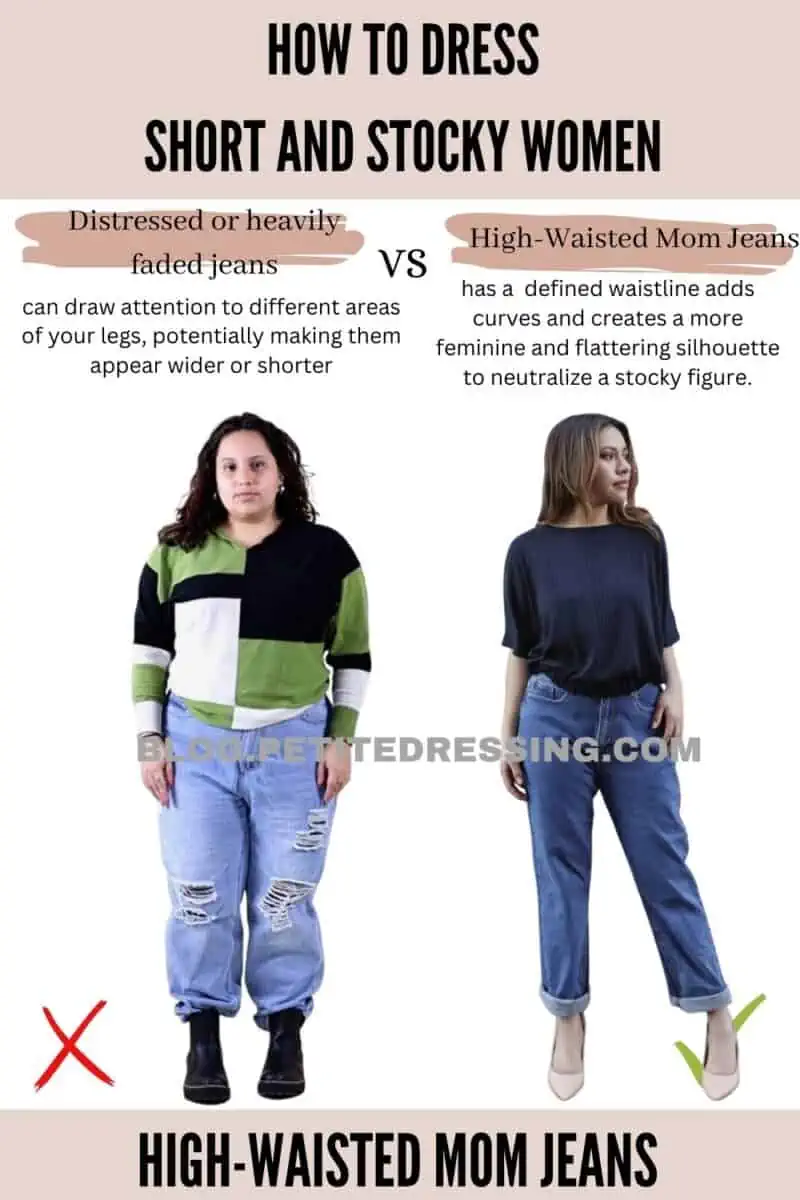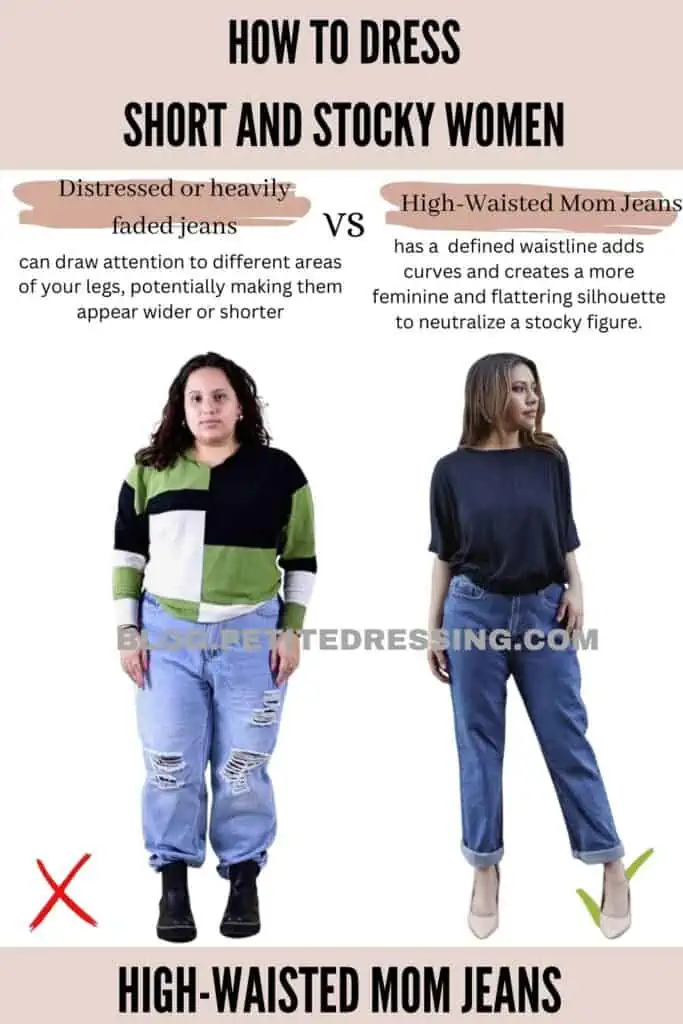 Mom jeans always flaunt a cinched-up or belt-emphasized waist, which results in giving you the illusion of an hourglass shape. This defined waistline adds curves and creates a more feminine and flattering silhouette to neutralize a stocky figure.
Mom jeans are stylishly comfortable; they're designed with a loose fit around the hips and thighs that is particularly advantageous for those of us who are a bit stockier – helping ensure ease of movement without feeling too snug in the areas which count. So, whether you've got some curves, or could just do with more room to move freely, mom jeans got your back!
DRESSES
Structured Fit and Flare Dresses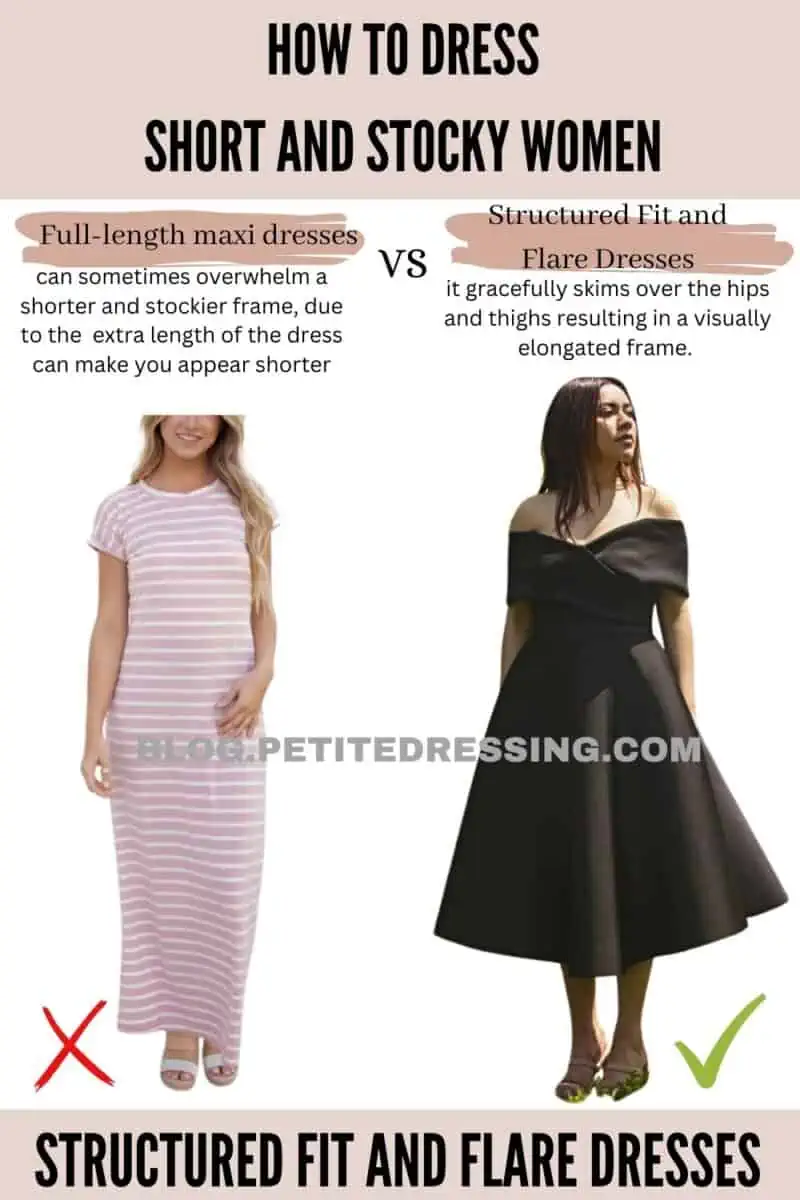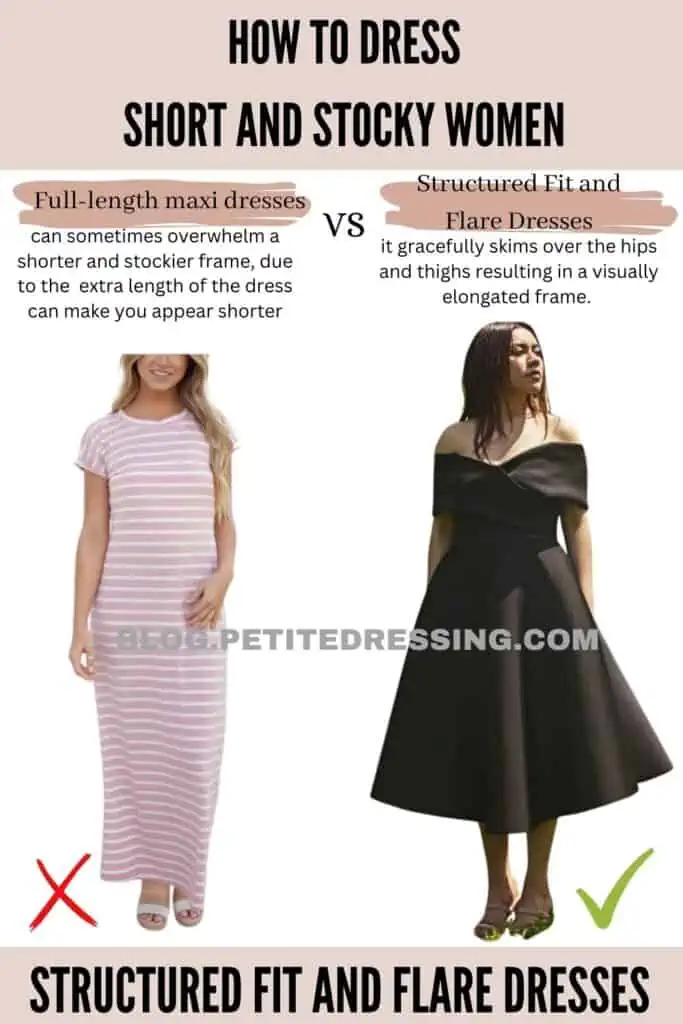 The flare of the skirt in fit and flare dresses works wonders for short and stocky figures. As the skirt nicely flows outward from the waist, it gracefully skims over the hips and thighs resulting in a visually elongated frame.
The structure of the fit and flare dress strategically hides any areas of concern while accentuating your best features. The fitted bodice hugs the upper body, highlighting the chest and neckline, while the flared skirt effortlessly skims over the lower body, minimizing any perceived stockiness.
Button-Down Dresses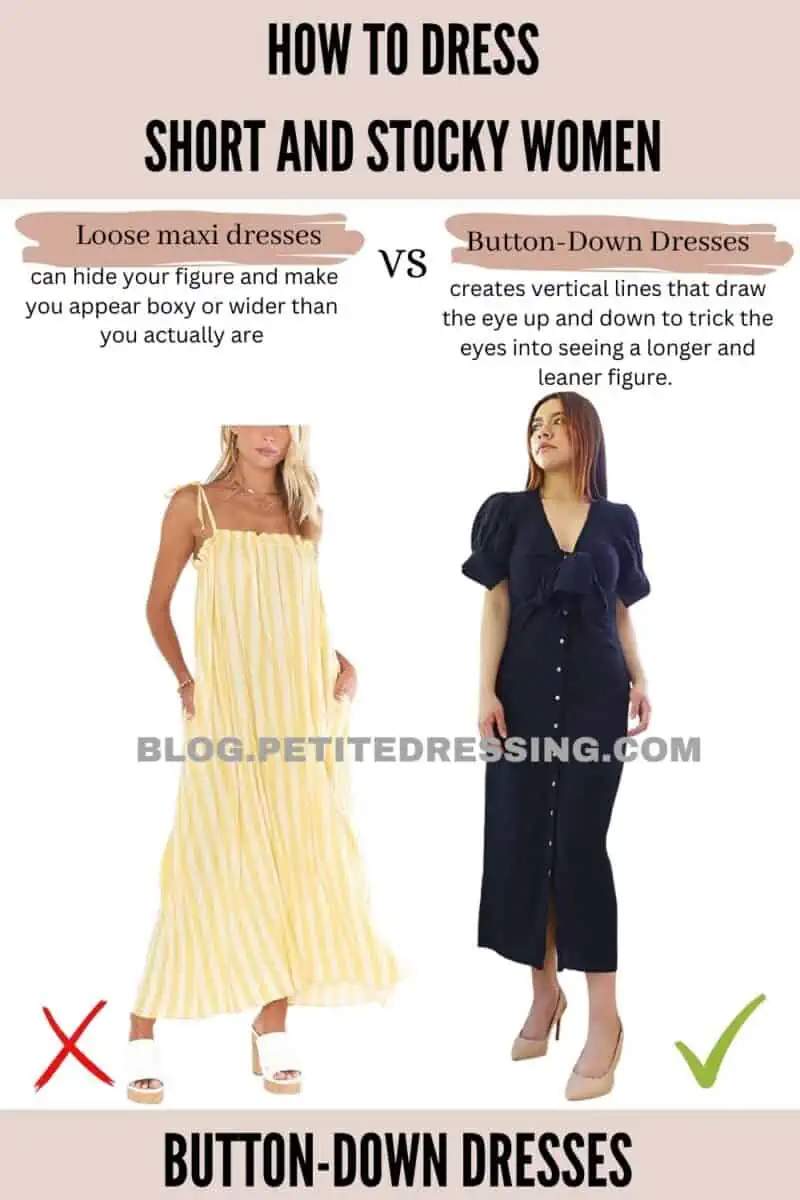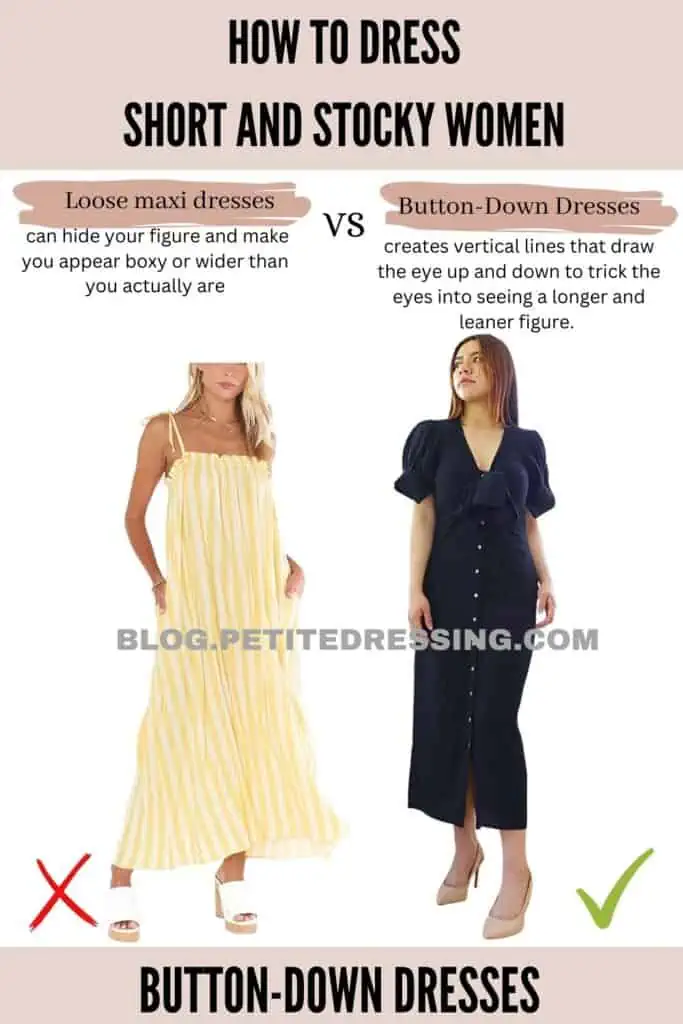 The button-down style of linen dresses often features a row of buttons running vertically down the front. This design detail creates vertical lines that draw the eye up and down to trick the eyes into seeing a longer and leaner figure.
By emphasizing verticality, these dresses divert attention away from any stockiness and create the illusion of a longer and leaner silhouette. Additionally, linen is a lightweight and breathable fabric that drapes beautifully on the body as its natural texture creates a relaxed and effortless look, allowing the dress to softly skim over the curves without adding unnecessary bulk.
Square Neck Smocked Dresses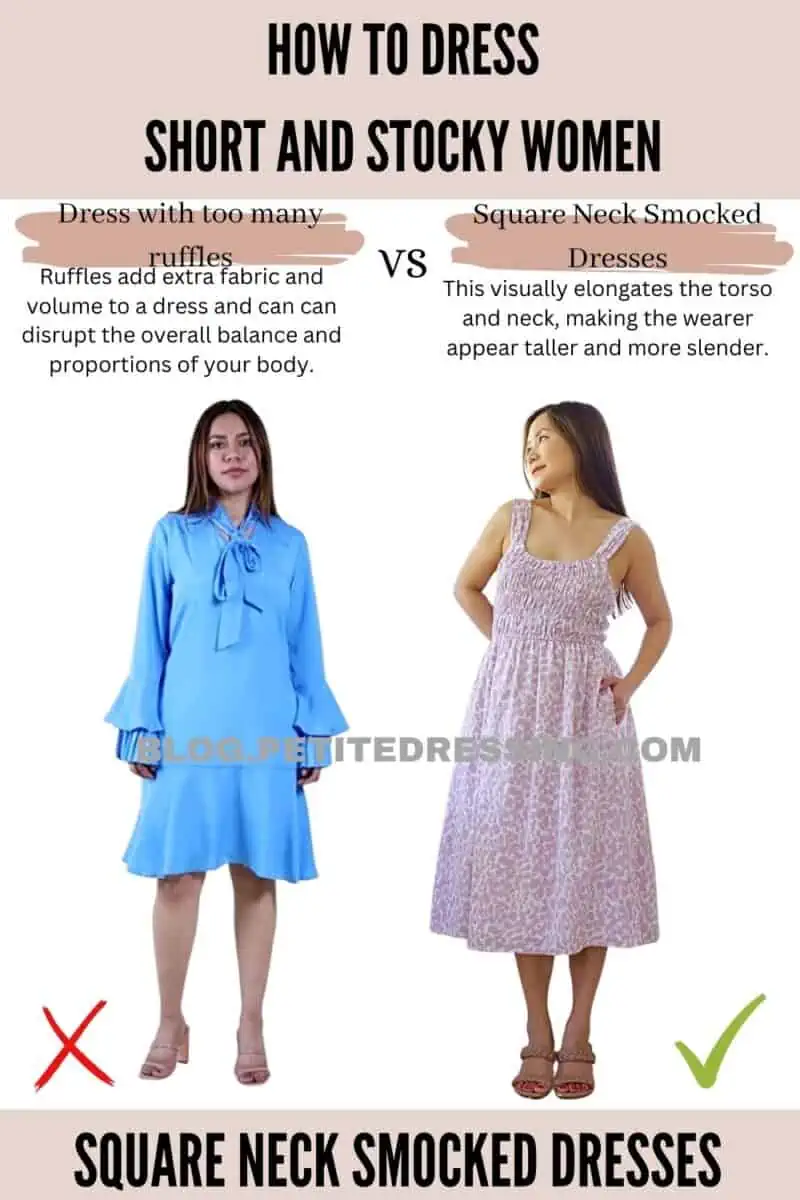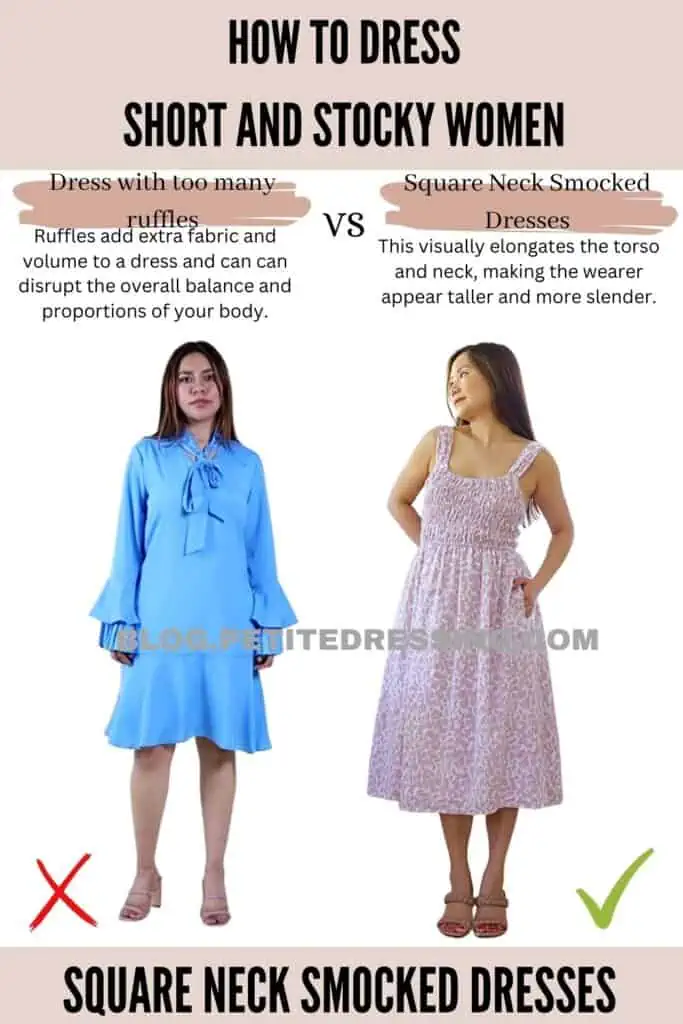 The smocked (aka shirred) bodice, often found in square-neck dresses, adds texture and dimension to the dress. The gathered fabric creates a flattering and forgiving effect, gently molding to the curves of the body and so this detail not only enhances the fit and comfort of the dress but also adds a touch of elegance and femininity.
In addition, the square neckline and the shirred bodice, create an elongating effect on the upper body. This visually elongates the torso and neck, making the wearer appear taller and more slender.
COATS
Tailored A-Line Coat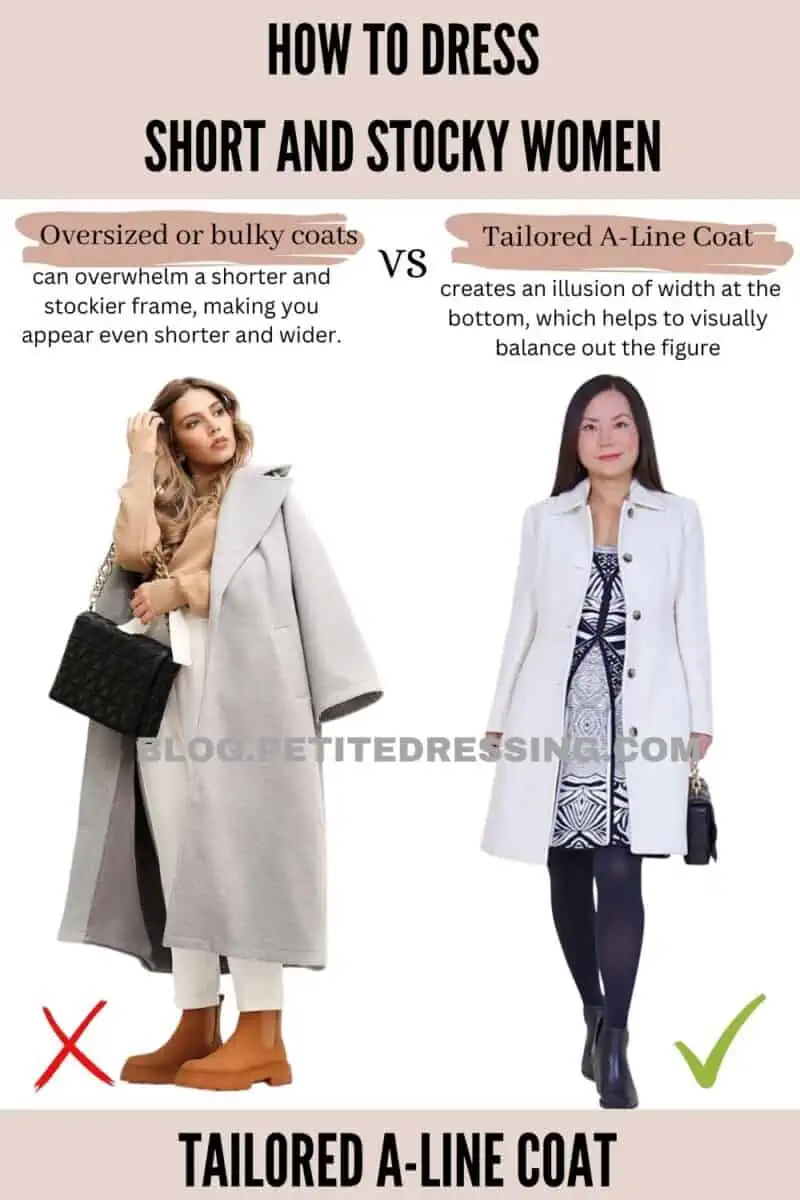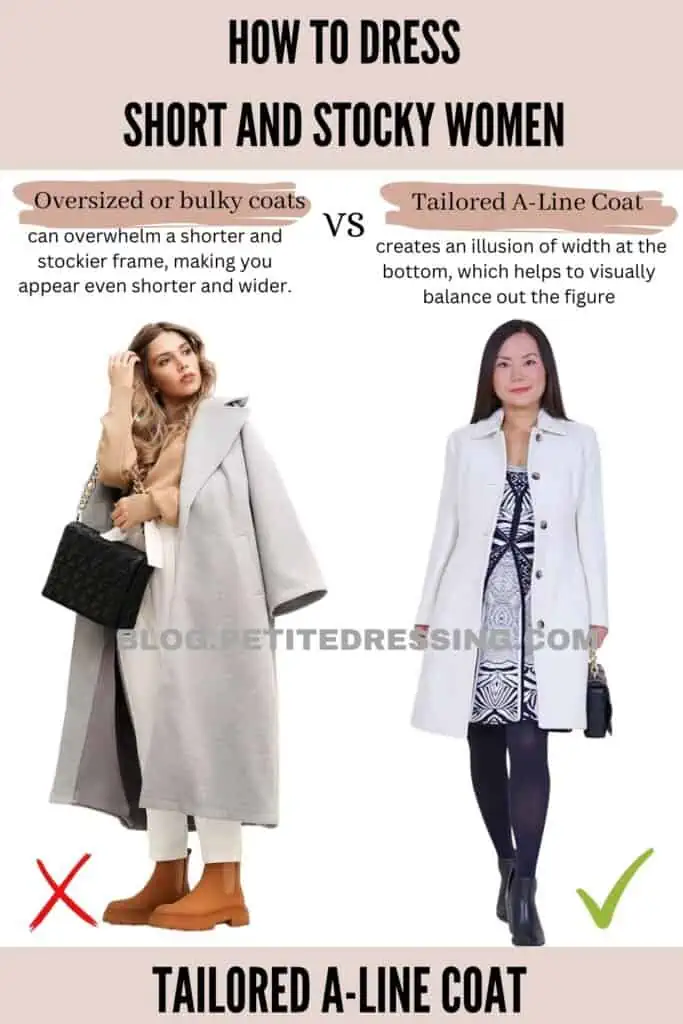 The A-line silhouette of the coat perfectly accommodates a stocky figure. Its gently flared shape skims over the body which provides better proportions to keep a short and stocky figure well-balanced.
The slightly wider hemline creates an illusion of width at the bottom, which helps to visually balance out the figure and minimize any stockiness in the midsection. Moreover, the tailored nature of the coat adds structure and polish to the overall look.
Neutral-colored Princess Seam Coat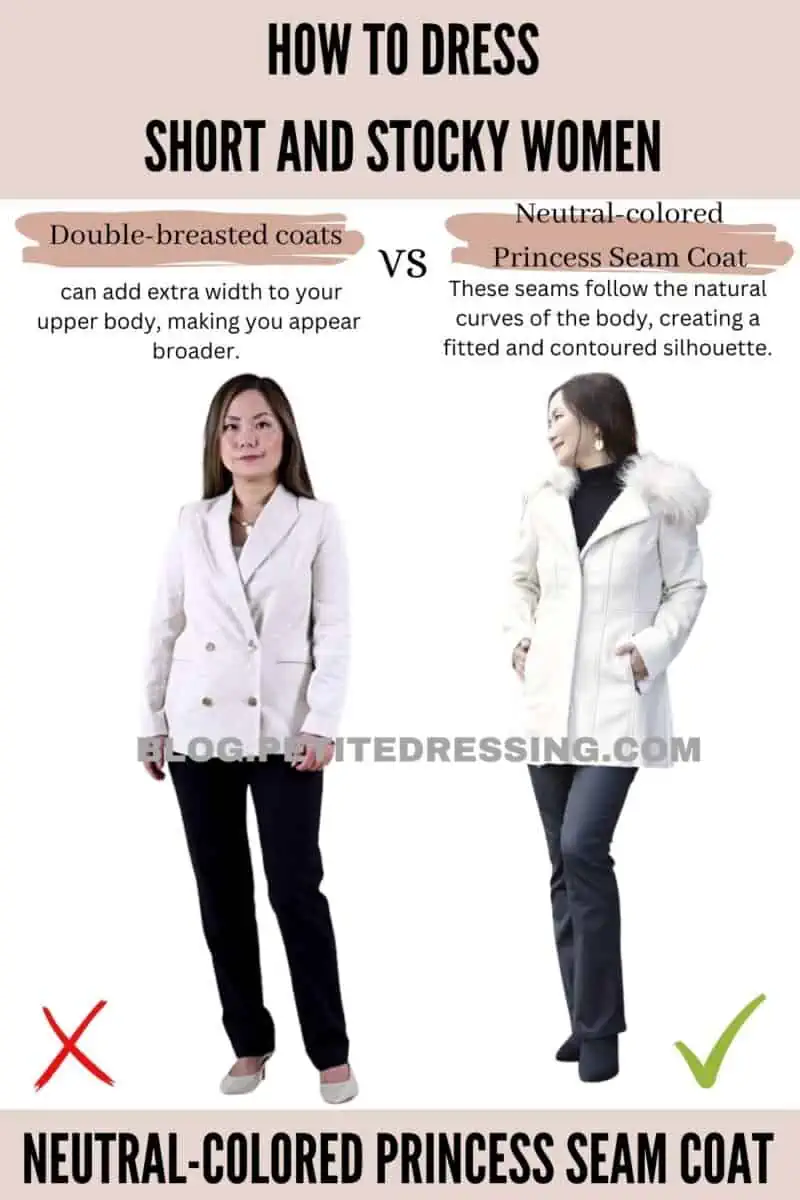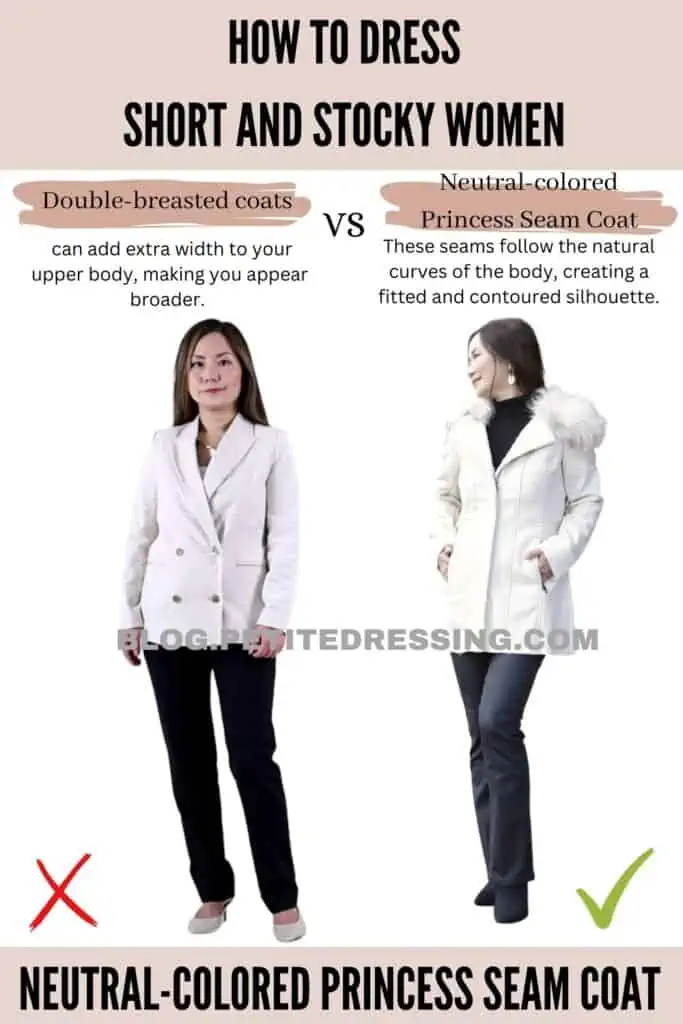 A neutral-colored princess seam coat can be incredibly flattering for women with a short and stocky body figure and the princess seam construction of the coat is key to its flattering effect. These seams follow the natural curves of the body, creating a fitted and contoured silhouette.
Plus, the neutral color of the coat adds to its flattering qualities. Neutral shades such as beige, camel, or gray are versatile and timeless.
Wrap Coat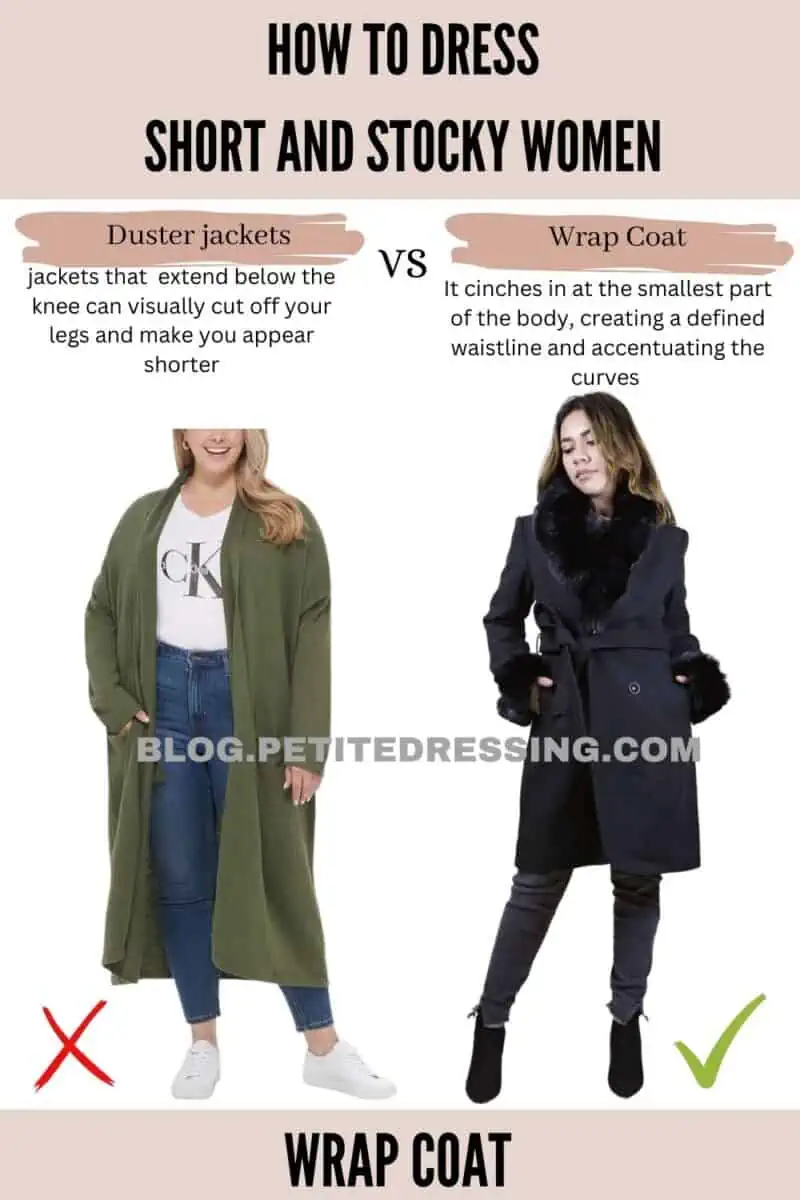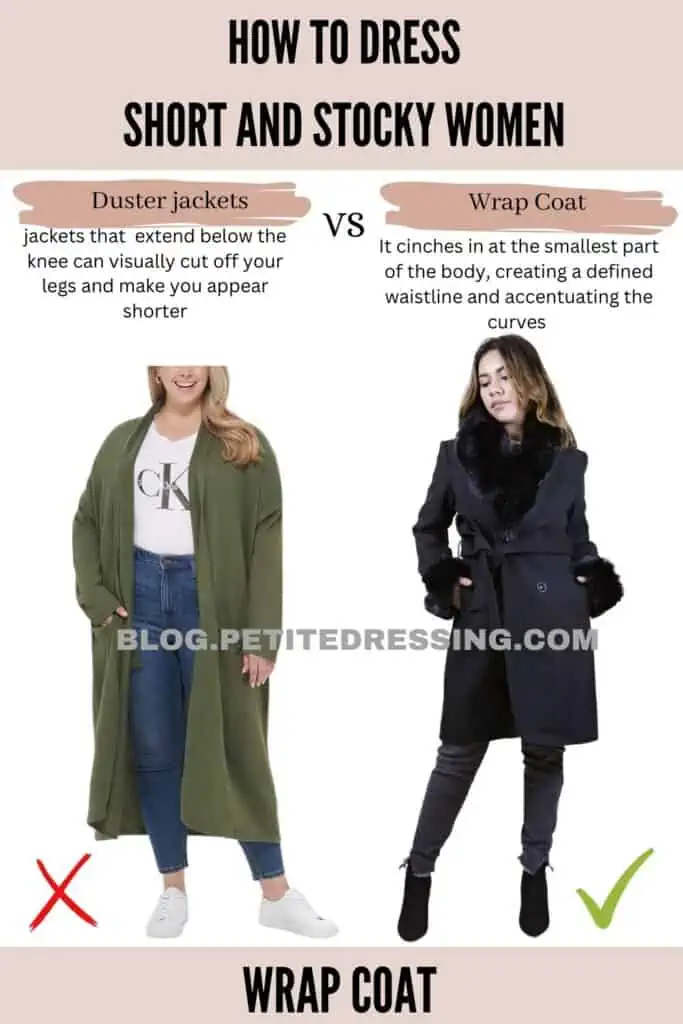 A wrap coat is a stylish outerwear piece that combines the comfort of quilting with the elegant design of a wrap silhouette. It typically features a lightly padded or quilted construction, offering warmth and insulation without the bulkiness of heavier coats.
Due to the adjustable nature of the wrap closure, the wrap coat allows for a customized fit around the waist. It cinches in at the smallest part of the body, creating a defined waistline and accentuating the curves and therefore minimizing your figure's stockiness.
The Key Takeaway
Knowing the best clothing pieces for your short and stocky body shape is essential in curating a classy and versatile wardrobe. Don't let style shopping intimidate you just because society tells you that you have to be a certain body type just to look fashionable – you are gorgeous as you are!