If you are short and curvy, it can be challenging to find the coats that fit you right. Since I'm 5'2″ myself, and I have a petite clothing line, I know the ins and outs of what kind of coats flatter a short girl and what doesn't.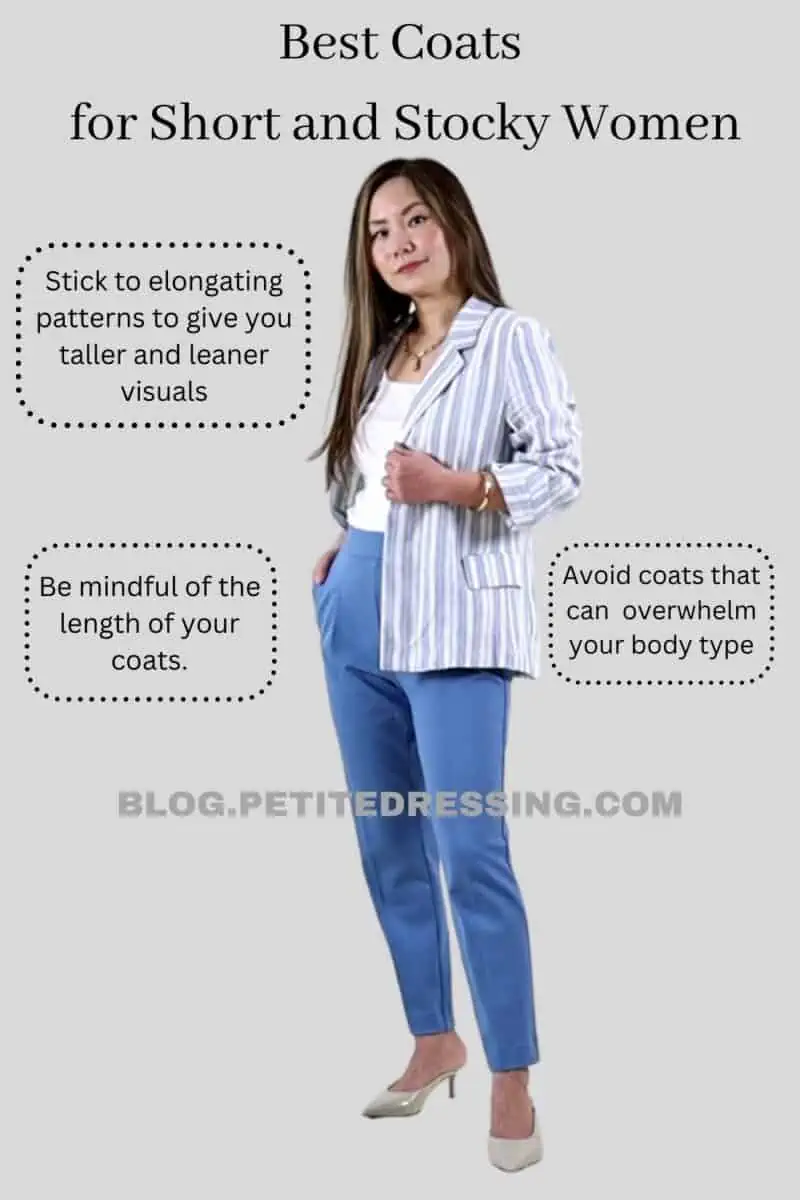 Based on feedback from thousands of my customers, many of whom are short and stocky, I've put together this detailed guide to help you find the best coats for your shape.
Besides choosing the right styles I listed below, it is also critical you understand how petite sizing works in order to find the prefect fit, as well as choosing the coats according to your body shape.
Black A-line coat
A-line coats are a stylish choice for short and stocky women who want coats that will flatter their natural silhouette. Thanks to its fitted style, this will create an hourglass silhouette which gives a more feminine outlook compared to bulkier coats.
To be sure that this is the right style for your figure, I recommend choosing an A-line coat that stops just above your knee. It's one of the most flattering choices for the short and stocky body type, especially as it makes you look taller, slimmer and chic.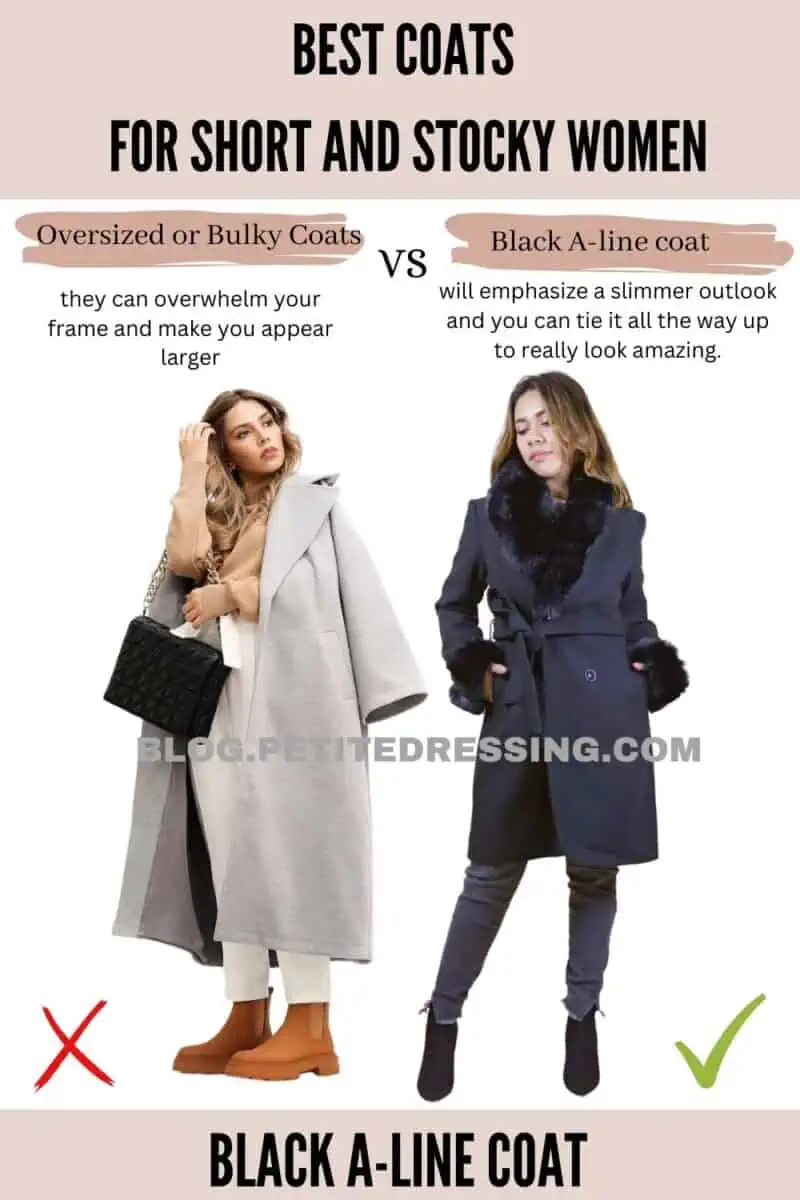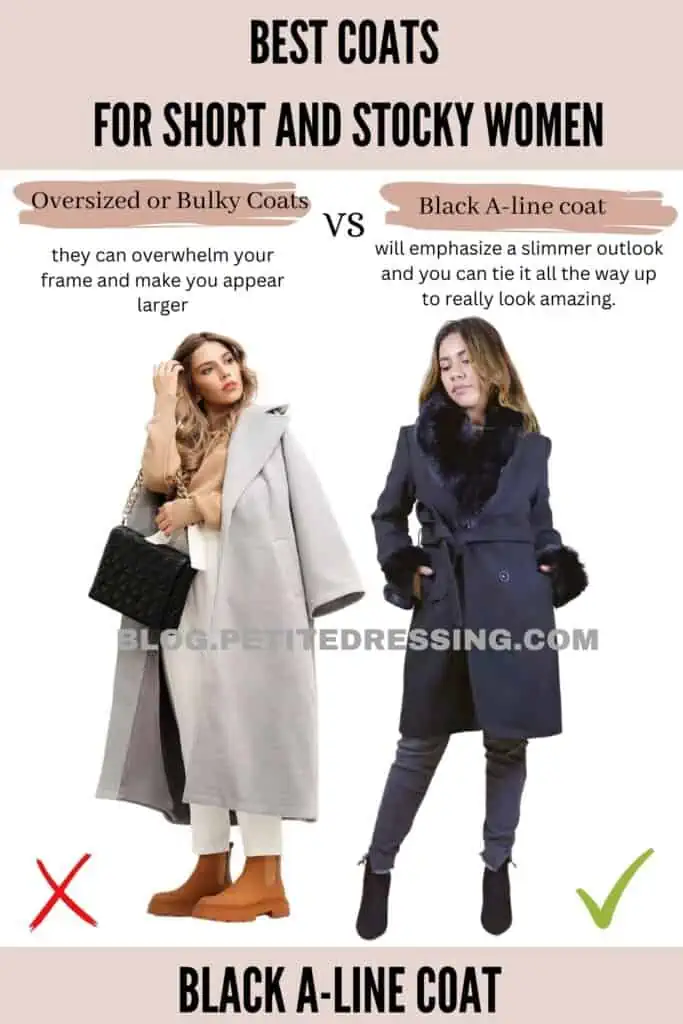 The appeal of A-line coats is in how they are fitted at your waistline and emphasize an hourglass shape without being excessive. With this, stocky women can flaunt their wonderful bodies without being worried about emphasis on their body sizes.
Another way to make your A-line coats look even better is to choose only those in darker colors. A black A-line coat will emphasize a slimmer outlook and you can tie it all the way up to really look amazing.
With this, there's little attention on what you have on underneath the coat as this black A-line coat will be the star of the show, in a good way of course. Try out this coat for an extremely elegant look that will turn heads.
Belted puffer coat
Another great coat choice for short and stocky women is the belted puffer coat. The first thing you would notice about this coat is that it helps to create a defined waistline, which is great if you're going for an hourglass shape. This makes your body look curvier while adding the illusion of a slimmer body frame.
I've always fallen in love with belted styles because they are easily adjustable. A belted puffer coat cinches your waist and you have more control over how you want the final look to be. With this, the coat style won't be overwhelming to your figure and you can adjust this to complement your body shape.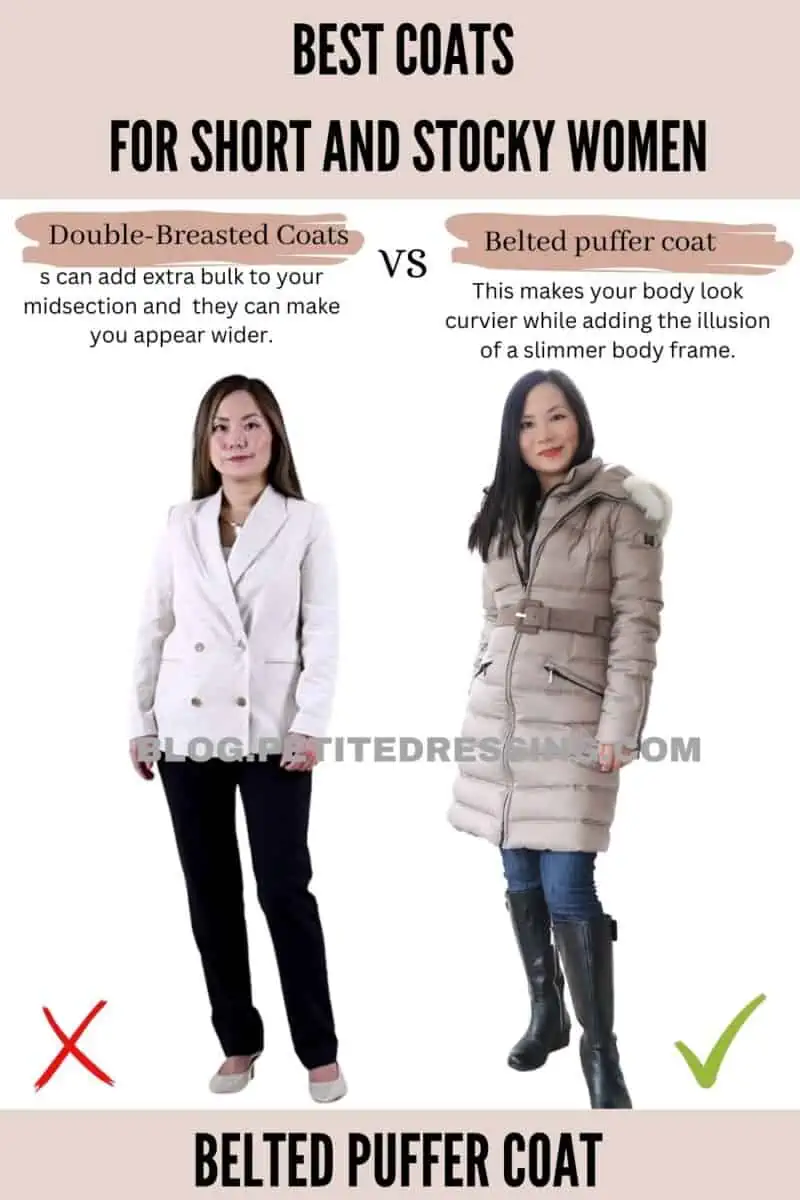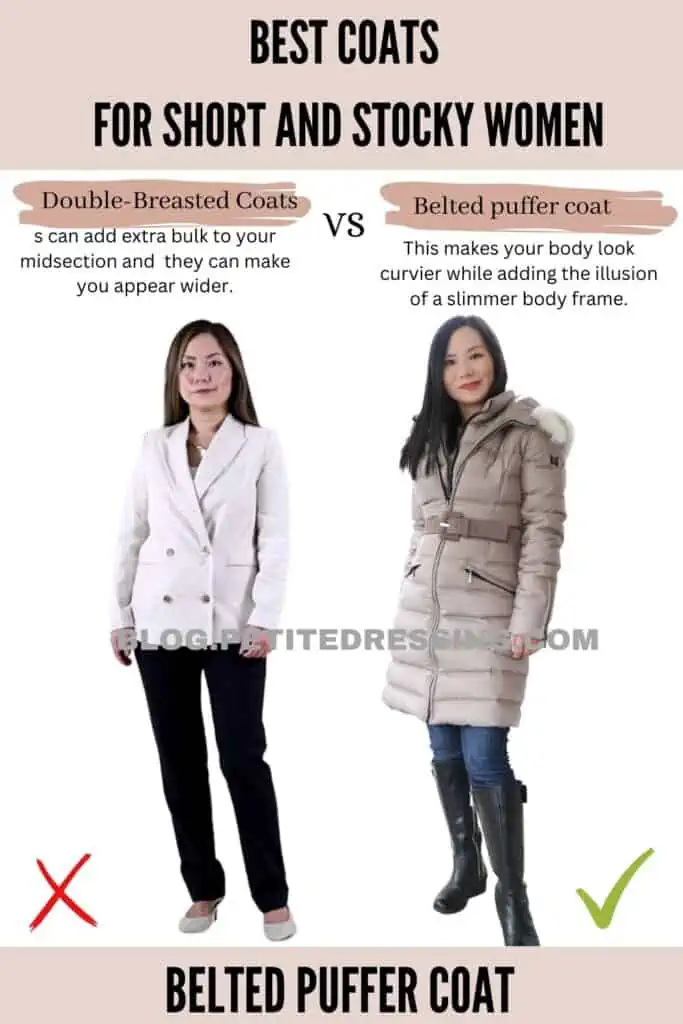 Consider opting for a coat that hits at mid-thigh or a little above your knee as this is a flattering length for short and stocky women. This adds to the illusion of being taller, with the belted style drawing attention away from the bulky nature of the coat.
Belted puffer coats are also practical for cold weather. So, you can slay with a sophisticated outfit while enjoying the warmth from this comfortable coat. This is a trendy style that you can tap into as a short and stocky woman.
Avoid oversized boyfriend Blazers
Many short and stocky women make the huge mistake of wearing oversized coats to conceal their body type, hoping that this makes them look slimmer. If you're in this category, it's time to consider throwing out that oversized boyfriend blazer in your wardrobe.
An oversized boyfriend blazer is not flattering for the short and stocky body type as it can make you appear much larger than you look. Therefore, you wouldn't want to go for a blazer that draws more attention than necessary to your height and body size.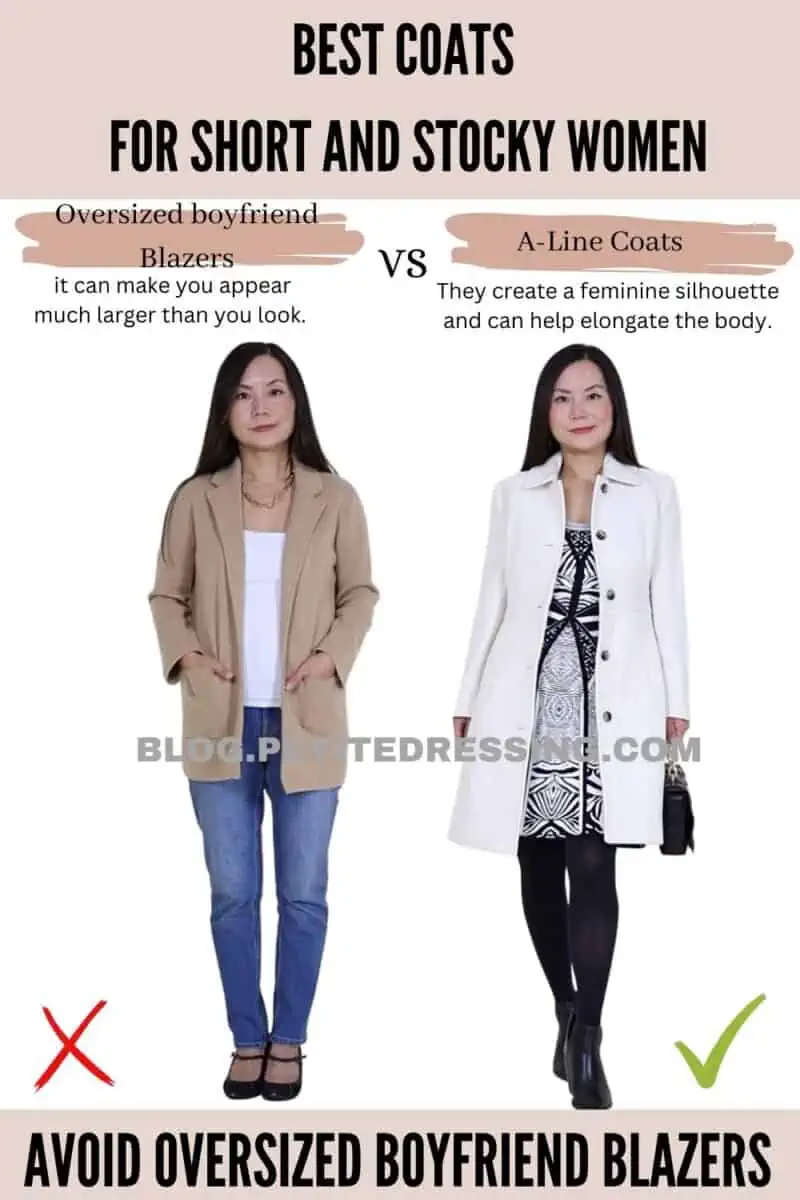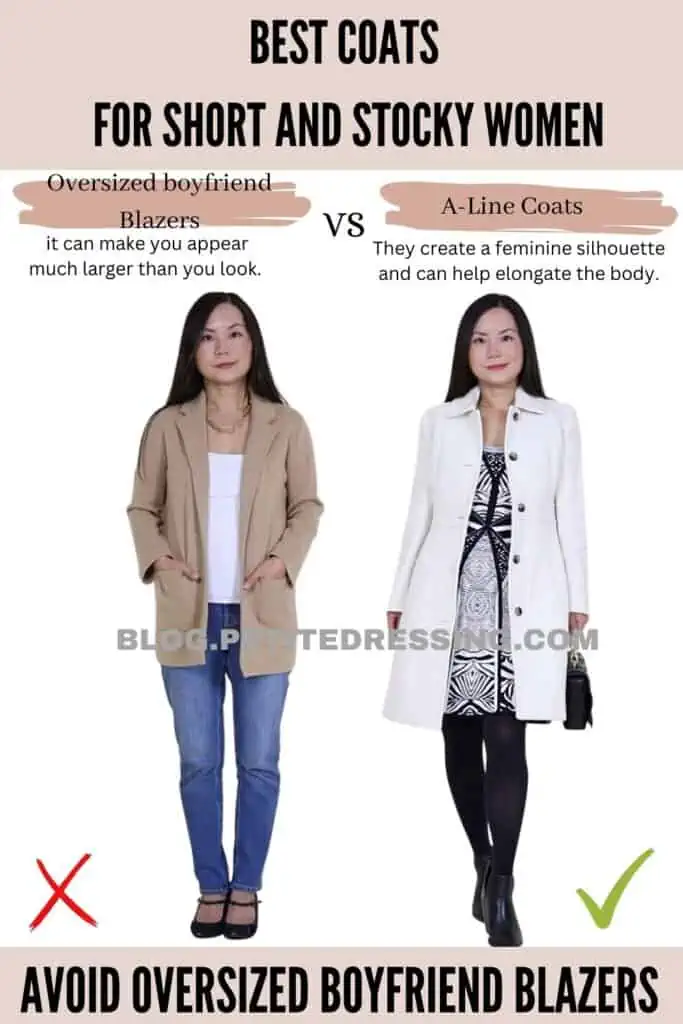 Meanwhile, most blazers would be shorter than you would like, especially as this length will give you an appearance of being much shorter than you actually are. It would be much better for your coat to give you a taller silhouette than take you down several inches.
Black trench coat
When it's winter, you want to be able to pull out that trusty black trench coat that gives a stylish and elegant appearance to short and stocky women. A black trench coat is a must-have in your wardrobe for numerous reasons.
One of them is how they make your waist look smaller which gives you a curvier outlook. So, if you would like to have the illusion of curves where your body embraces an hourglass silhouette, you should consider putting on a black trench coat.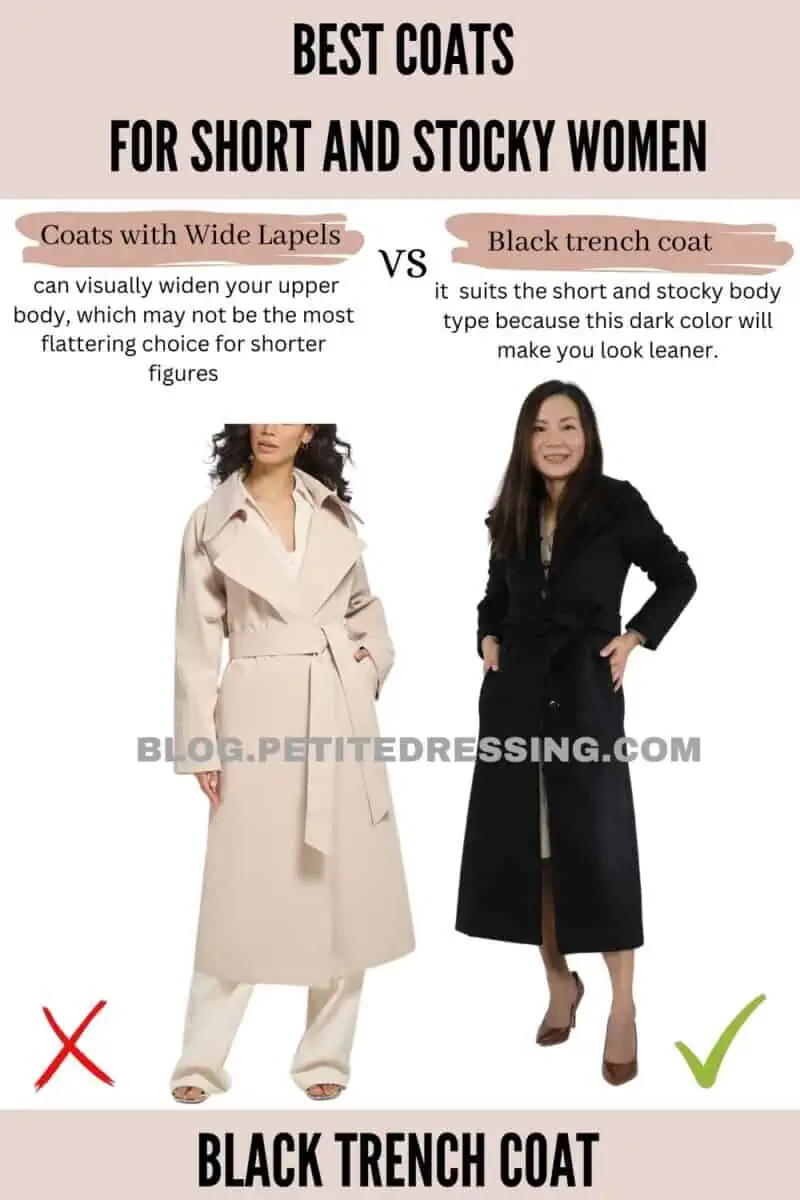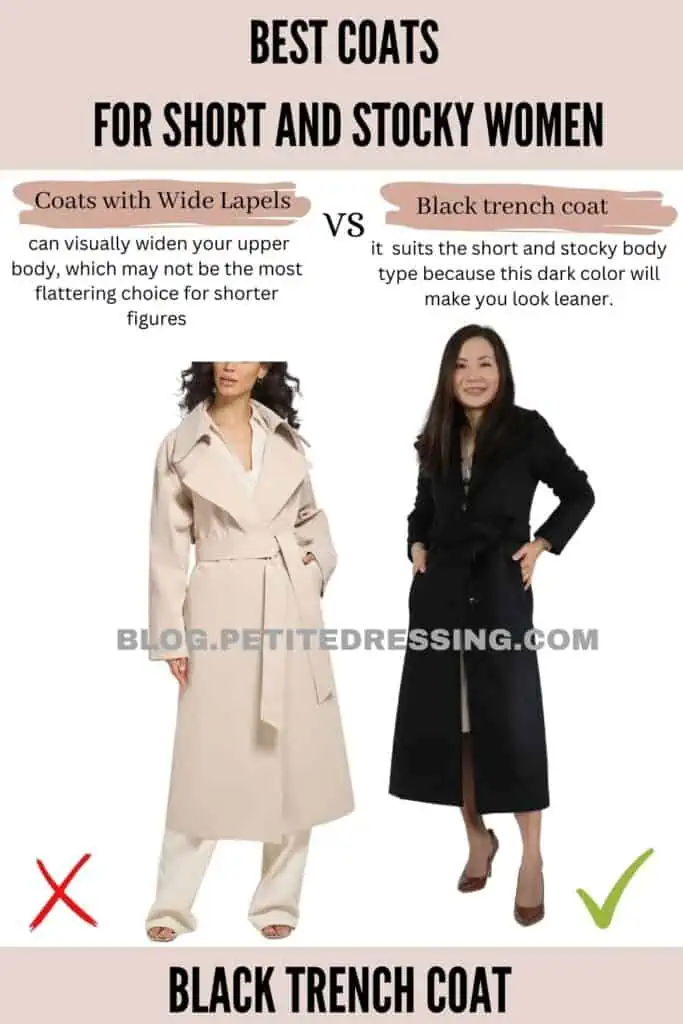 Most trench coats come with a belt tie which adds to the waist-cinching effect. However, this is not a compulsory feature. Wearing a black trench coat suits the short and stocky body type because this dark color will make you look leaner.
It's no secret that the fashion world embraces black as a color that has a slimming effect on the body. Pair this with stylish ankle boots on black fitted jeans, and you'll complete your sophisticated look that's perfect for informal outings.
Cropped denim jacket
A denim cropped coat can be amazing for short and stocky women, but this depends a lot on how you choose to style it. A key feature to look out for is how long your denim cropped coat should be. Since this is a cropped style, look out for a cot that sits just above your waist.
This is long enough to flatter your body and short enough to create the illusion of having longer legs. It's fantastic for short women that want to give the impression of having a few extra inches added to their height.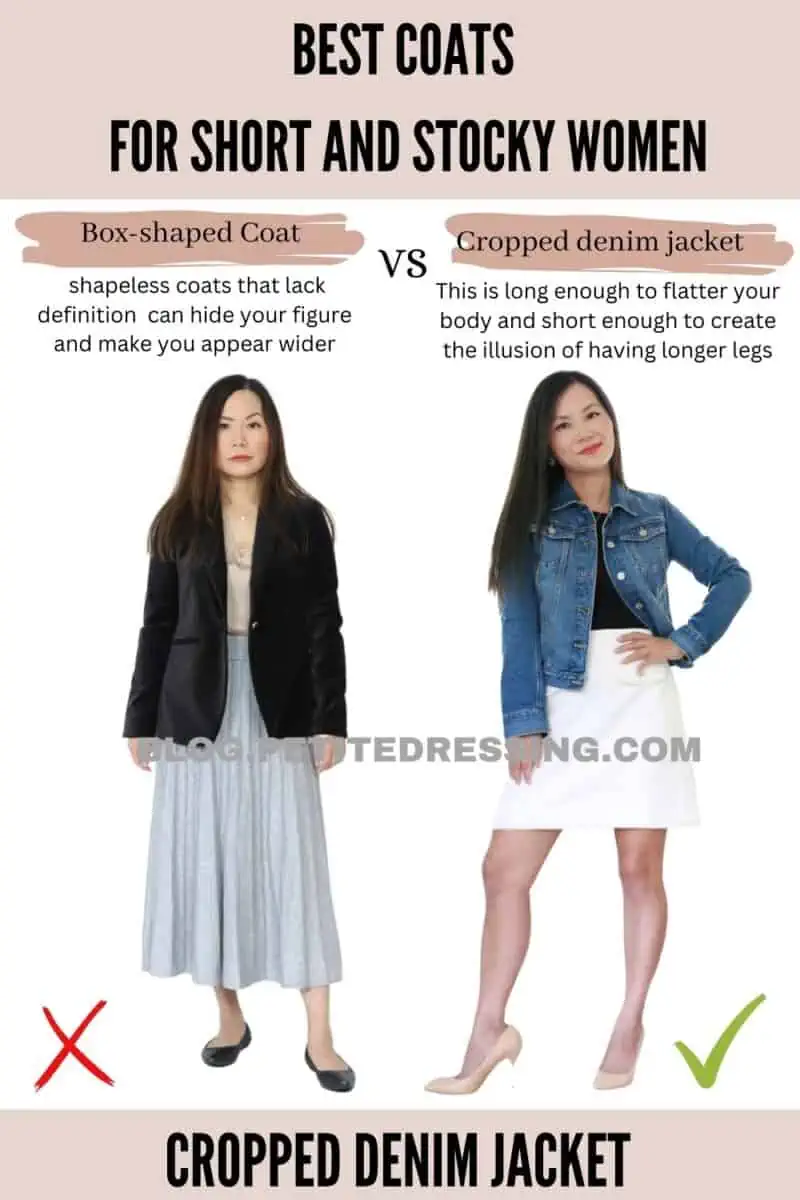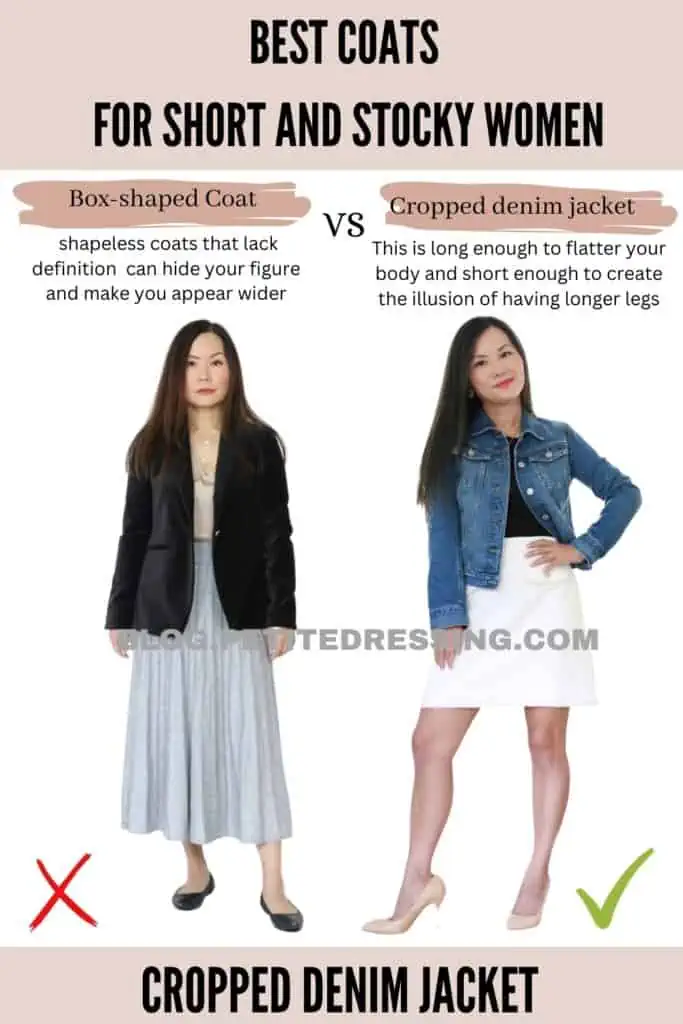 Another thing to look out for when shopping for your denim cropped coat is how well it fits on your body. Avoid bigger sizes as fitted styles flatter your body shape better. Also, as much as you want to avoid bulkier styles, you should also stay away from boxy or overly tight denim cropped coats.
Look out for a cropped coat with a slight A-line silhouette that skims over your curves in a feminine way. Also, I would recommend going for long sleeves that end around your wrist since they will give a more balanced overall outlook.
Avoid padded coats
Padded coats are a huge no for short and stocky women that want to stand out beautifully. Coats that are padded can be overwhelming on short women. Eventually, this will only make you appear smaller as they give a more compact outlook.
Rather than give you a longer vertical look where you appear taller, padded coats add more to your horizontal width. This means that you'll appear wider and for a stocky woman, the results are not exactly flattering.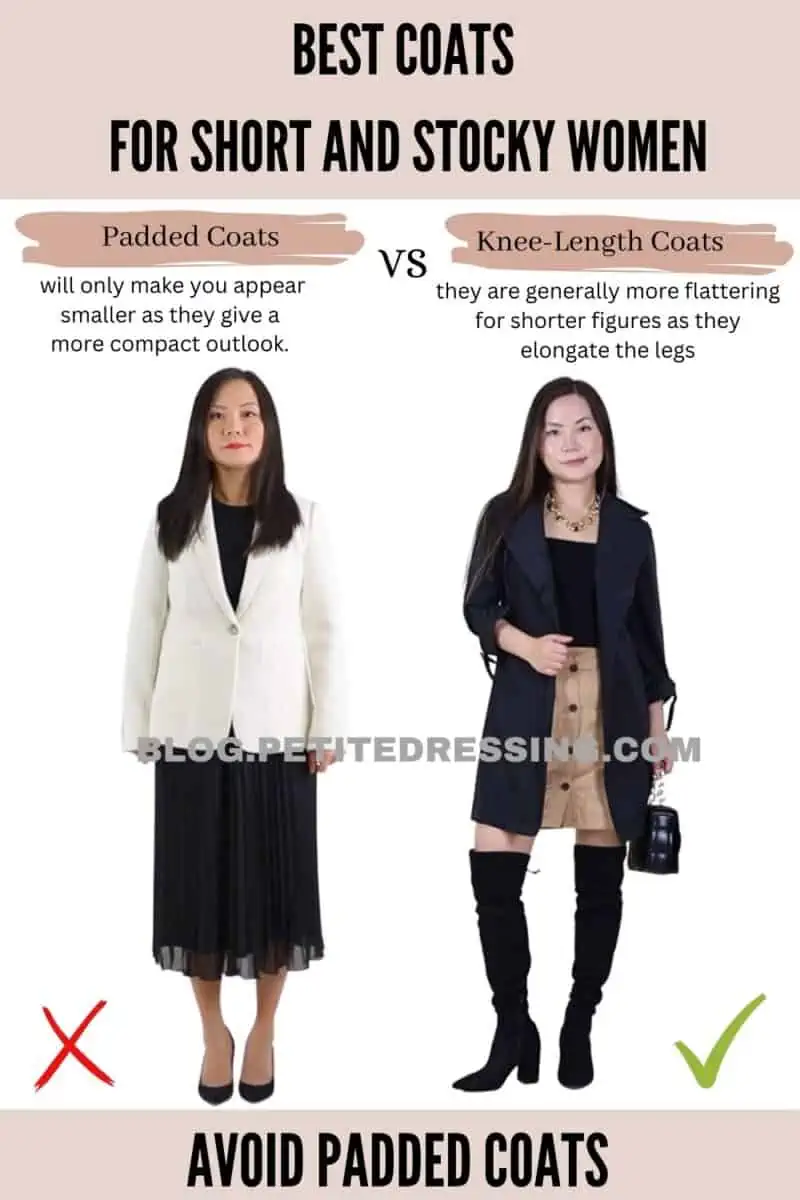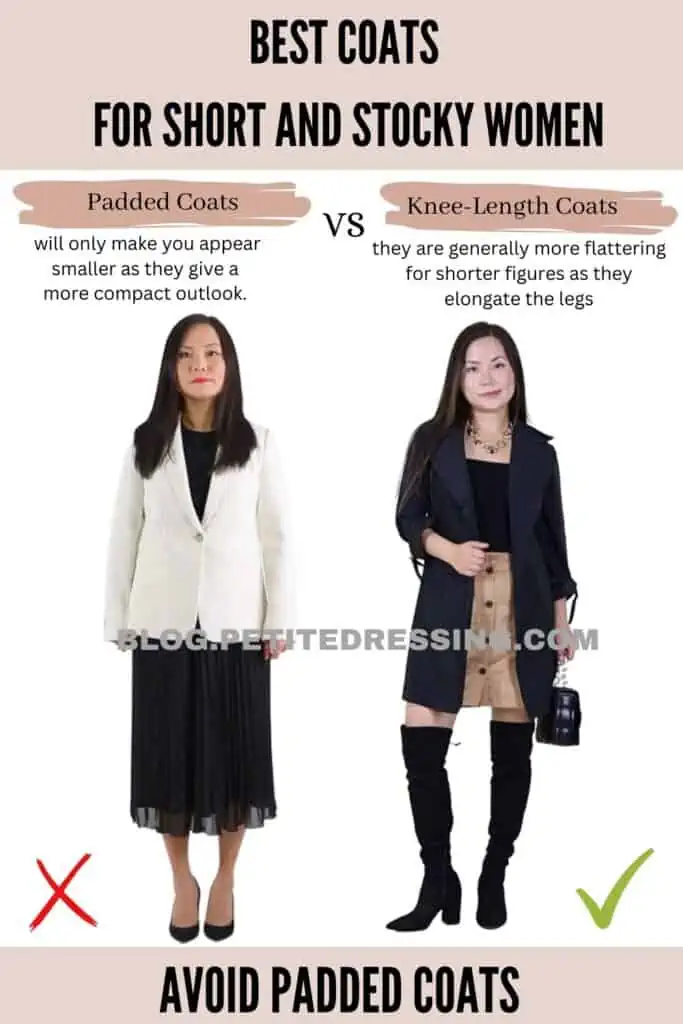 For your body type, it's much better to opt for coats that make you look taller not wider. Therefore, since this is the effect you get with padded coats, that means getting rid of them from your wardrobe.
The rule of thumb here is to avoid any coat style that makes you look heavier and that goes for all bulky coats. You want to draw attention away from your upper body and padded coats will only draw focus here.
Avoid bulky fur coats
The first thing that pops into your mind when you see fur coats is that they have a luxury feel. However, no matter how sophisticated and elegant they are to look out, this is not a flattering style for short and stocky women.
Bulky fur coats are attention-grabbing, which means that there will be more focus on your upper body. As a short and stocky woman, this is not flattering as it will make you appear wider and shorter.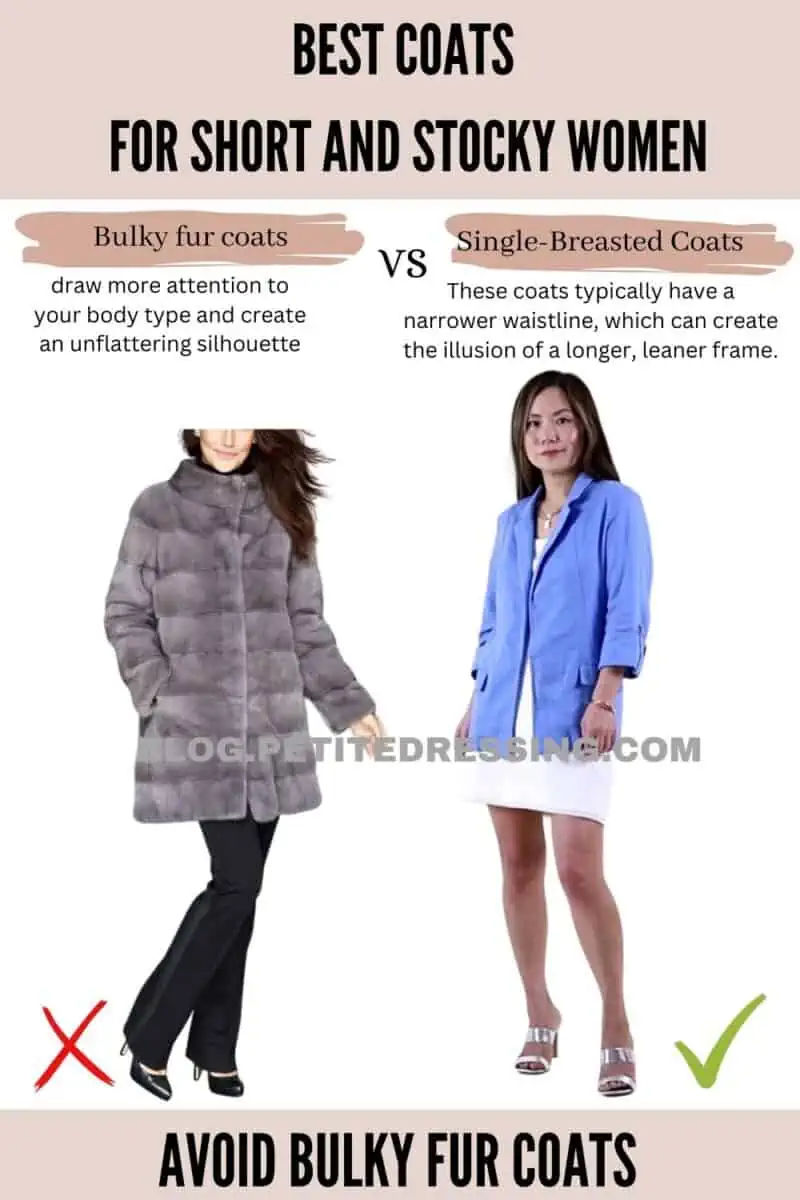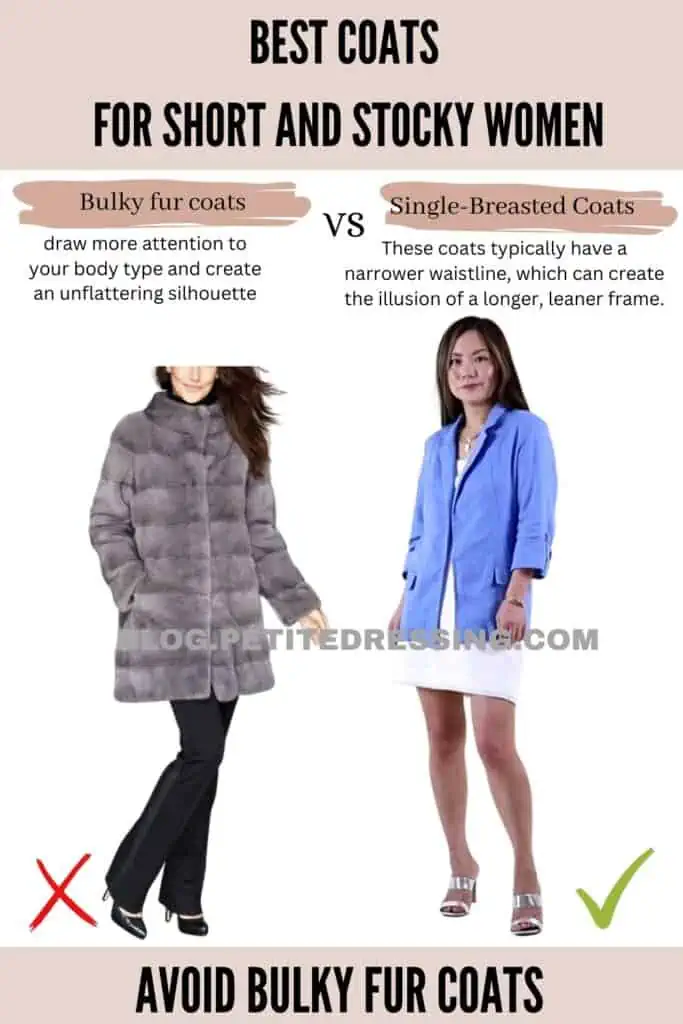 Even with heeled shoes, you may end up looking awkward. Of course, it's not all the time that you would want to put on shoes with extra inches, especially for informal outings. Therefore, if you don't want to draw more attention to your body type and create an unflattering silhouette, avoid bulky fur coats.
Style is personal. However, these coats for short and stocky women will help you choose stylish coats that emphasize your amazing shape and give you the confidence to step out into any outing looking elegant.