No matter what size you are, looking slim will make you feel more confident. Some of us carry weight in our midsection, and some in our hips, yet others in our hips. I personally always gain weight in my tummy, so I understand how important the fashion hacks are to appear more slender in jeans without having to lose weight.
I've summarized the 19 best hacks that can make you instantly appear more slender in your jeans. I've tried all of them and they really work!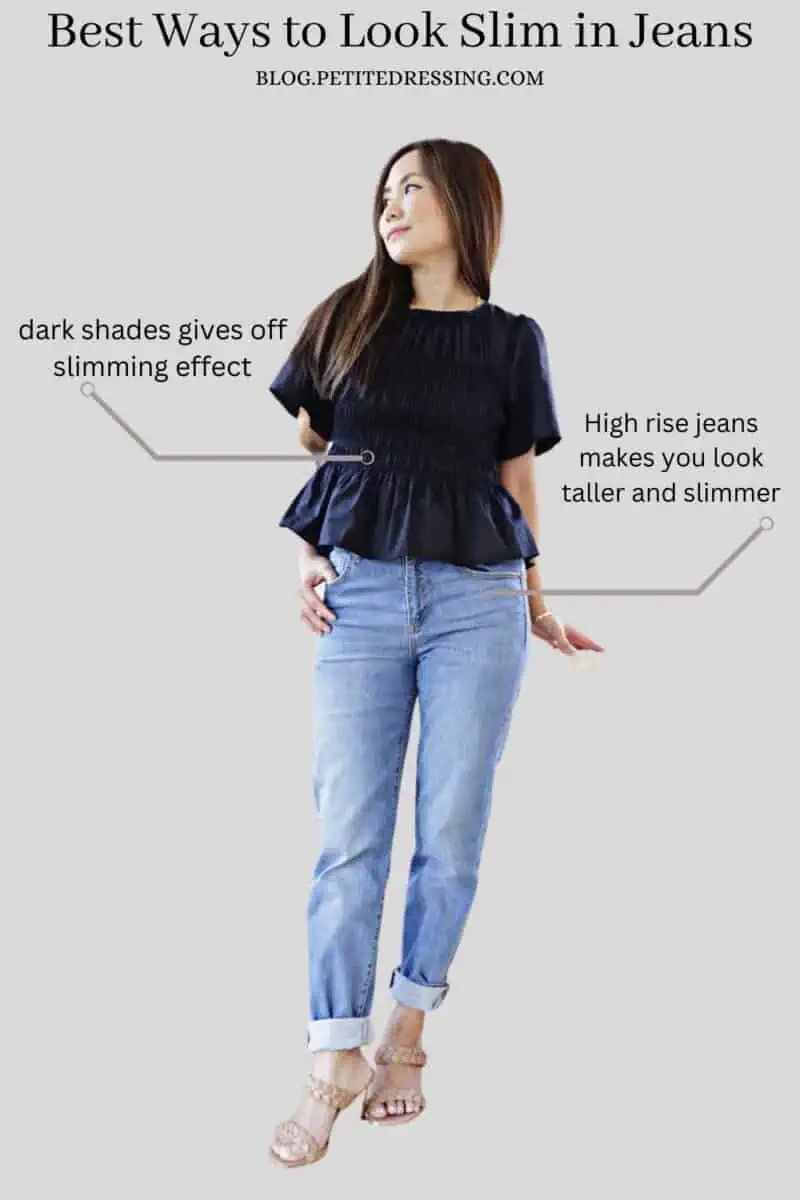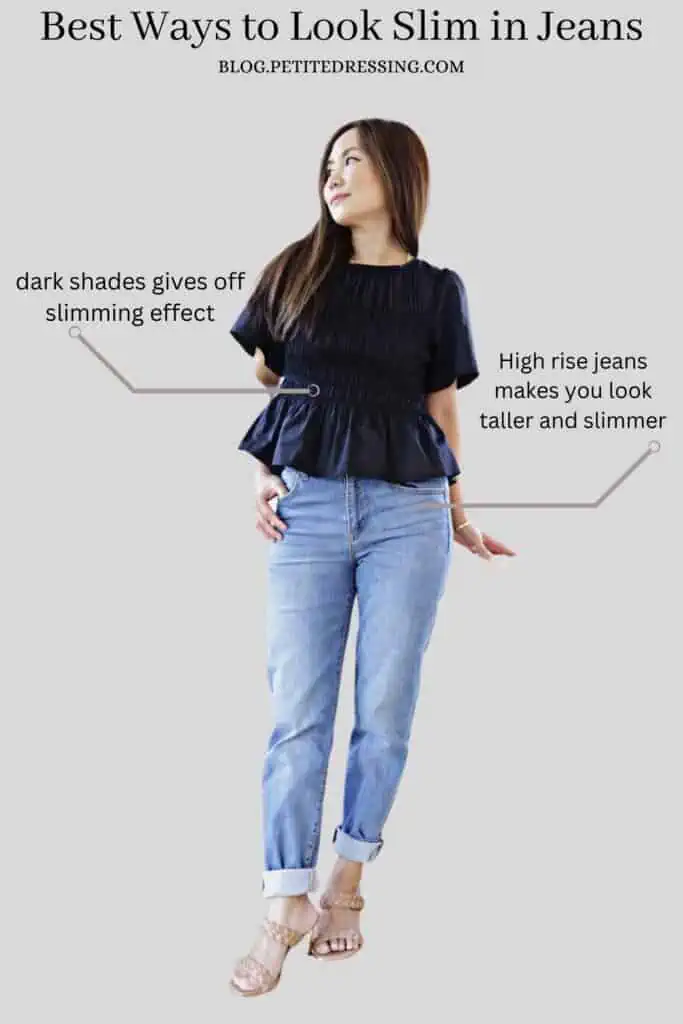 Wear a fitted base layer
To look slender in jeans outfits, the smart layer is key. It is important to wear a well-fitted base layer because it sets a sleek foundation for your entire outfit.
A form-fitting top or a lightweight, fitted sweater that perfectly hugs your body without being overly tight can give you a good foundation for an overall slender look.
On the other hand, a loosely fitted under-layer carries a lot of volumes, which can make anything you wear on top look bulky and make you look wider and heavier than you actually are.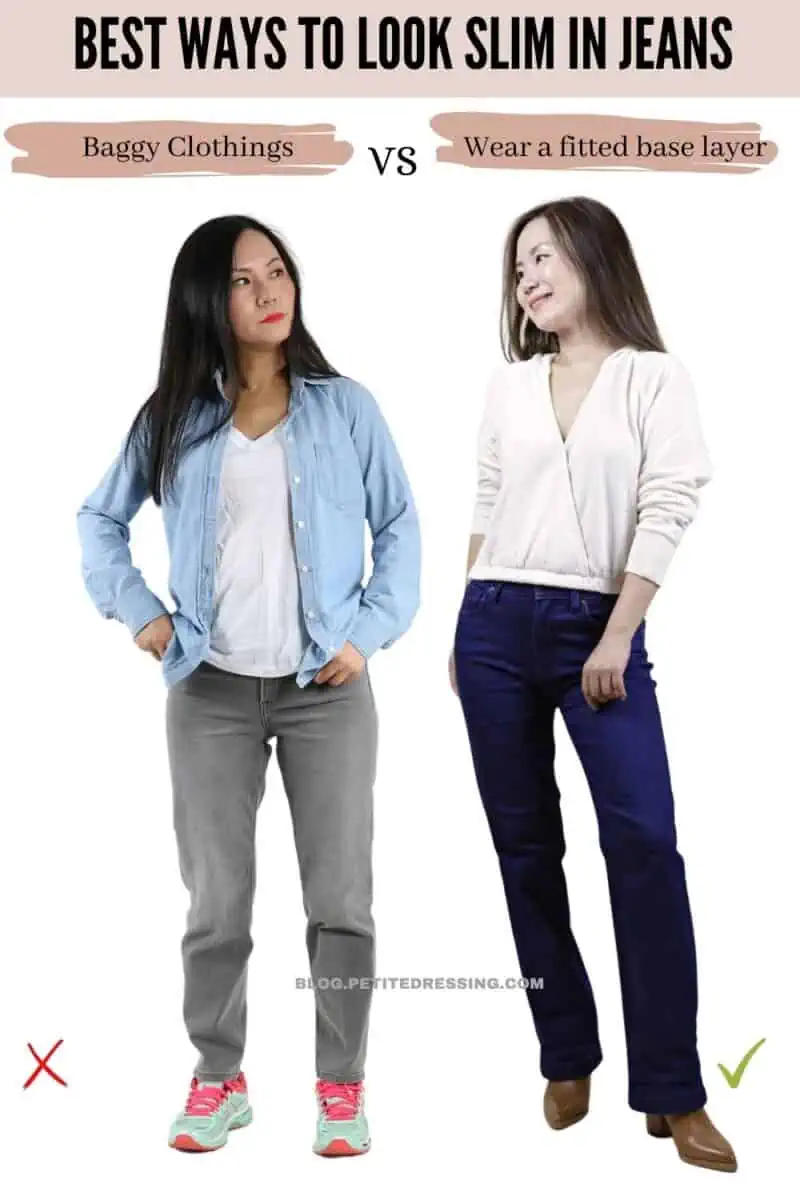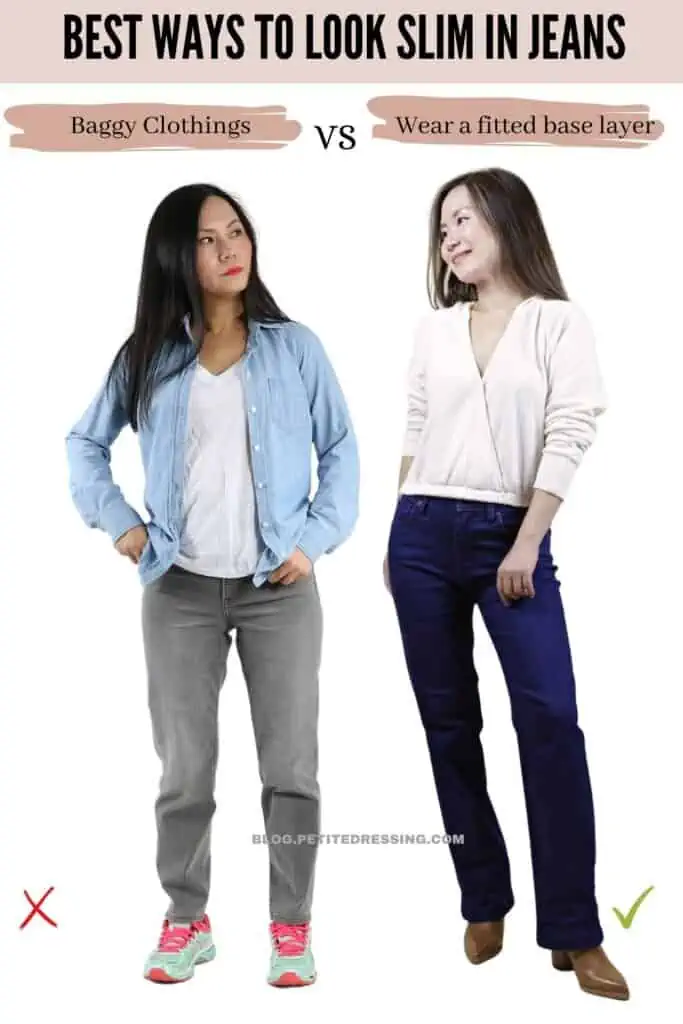 Wear waist-cinching outerwear
Now for your outerwear, going for structured pieces that cinch at the waist or have defined lines can help you layer your clothes without worrying about too much volume.
Tailored blazers or structured leather jackets can add structure and create a more defined waistline which helps create a visually slimming effect while adding sophistication to your overall look.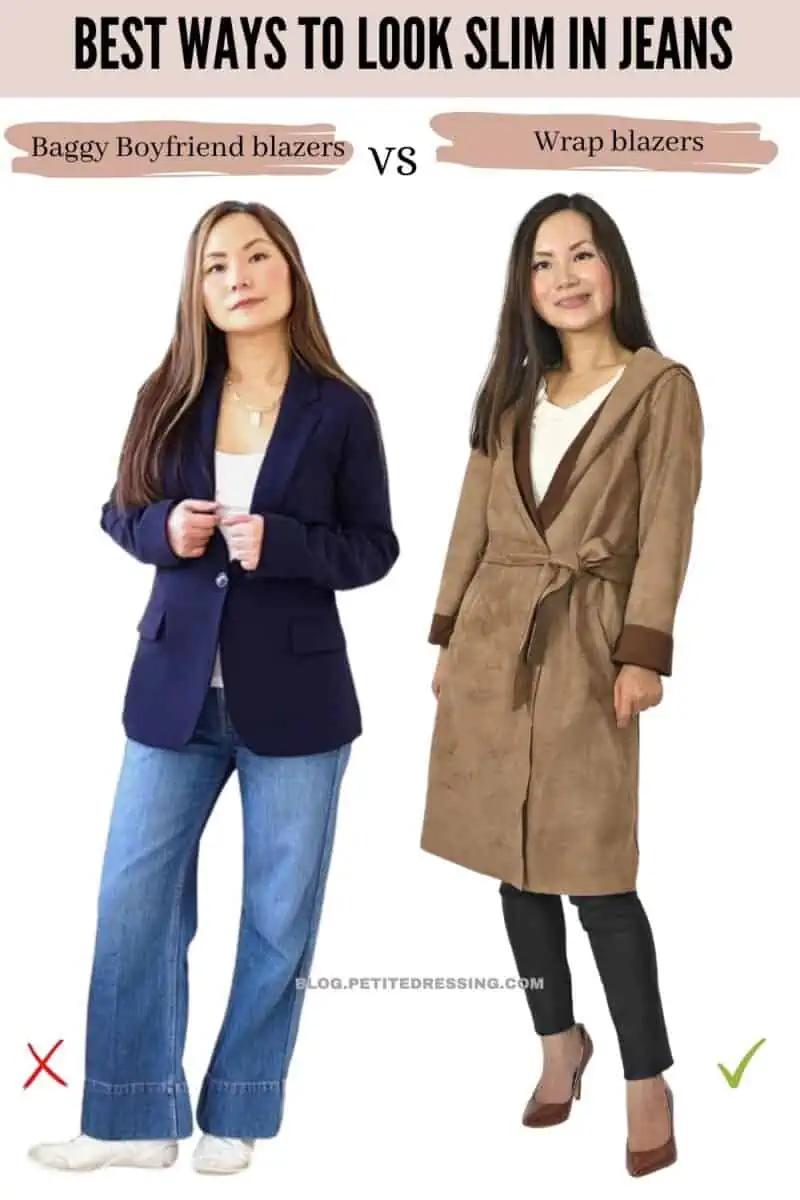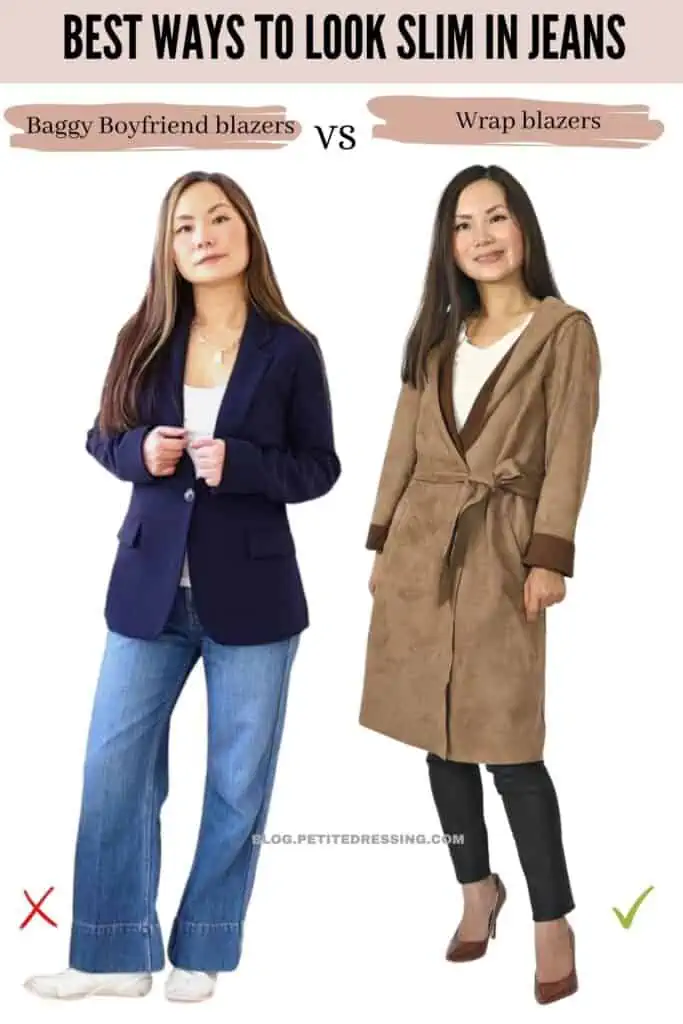 Balance the volume
Most importantly, you have to pay attention to your upper and lower proportions when layering your clothes. If you're wearing skinny jeans, balance them with roomier or longer tops to create contrast.
Alternatively, if you prefer a more relaxed fit, you can pair your jeans with a fitted top layered with a tailored blazer or jacket to maintain a balanced silhouette.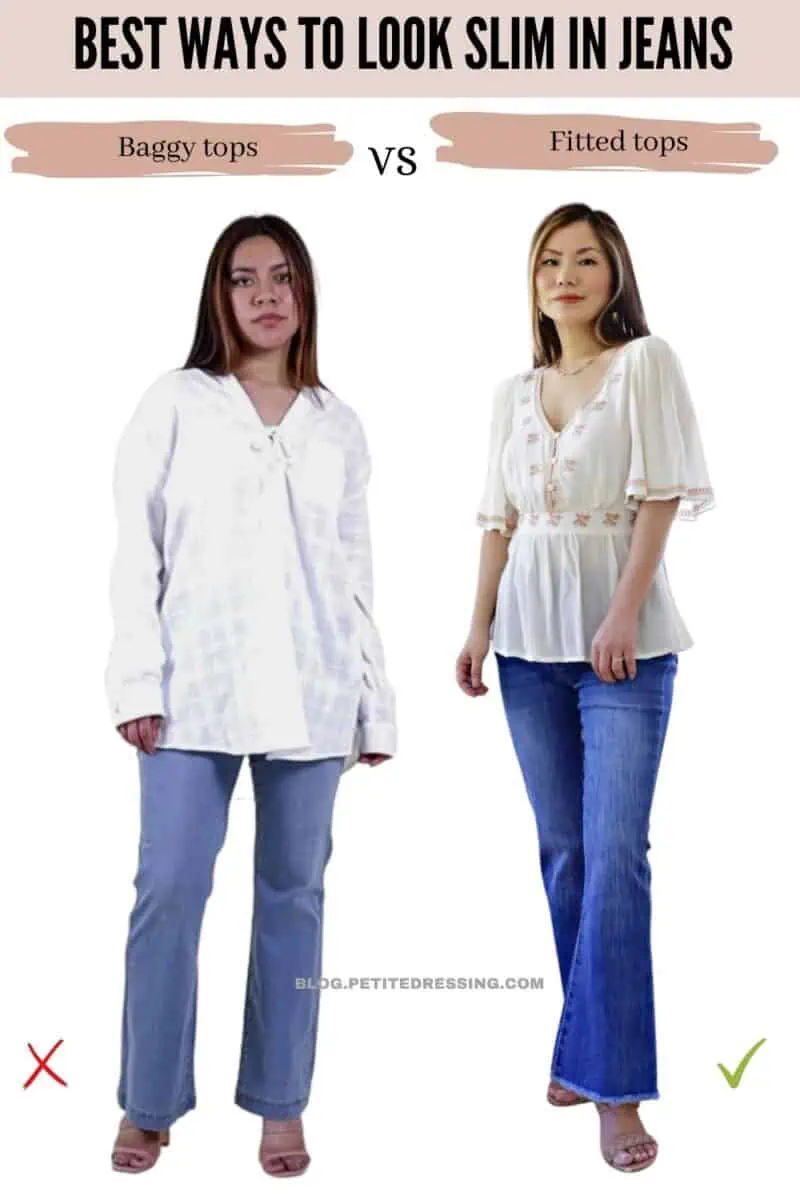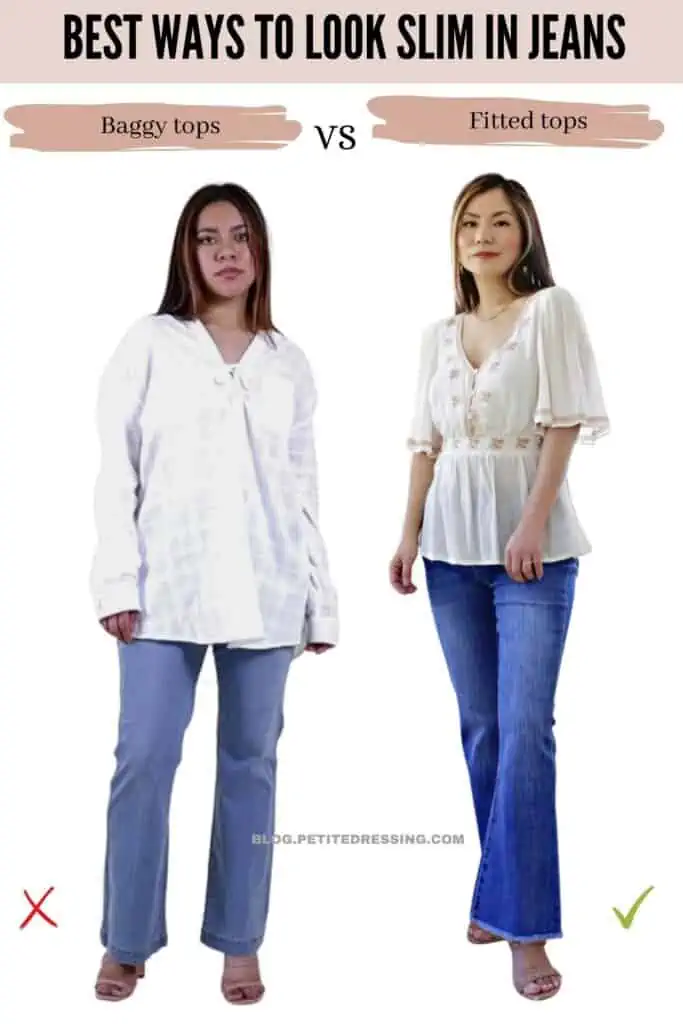 Pair with Dark-Colored Tops
The timeless pairing of jeans with dark-colored tops is one of the easiest and simplest ways to rock an instantly slimmer look. Not only does this ensemble create a slimming effect but also offers a versatile and stylish approach to everyday casual dressing.
The science behind the optical illusion behind the slimming effect of darker shades lies in their ability to absorb light, which significantly reduces the appearance of width and volume. When worn on the upper body with the right pair of jeans, dark-colored tops draw attention away from the midsection and lead the eyes towards the lower half, instantly elongating the legs and creating a more proportionate look.
Dark-colored tops are also deemed as a foolproof style option as they can be visually flattering whether you choose a pair of light-washed or dark-washed jeans. Of course, I'd still recommend dark-wash jeans to maximize your jeans' slimming effect, but dark-colored tops can also be similarly flattering due to the contrast and definition they give.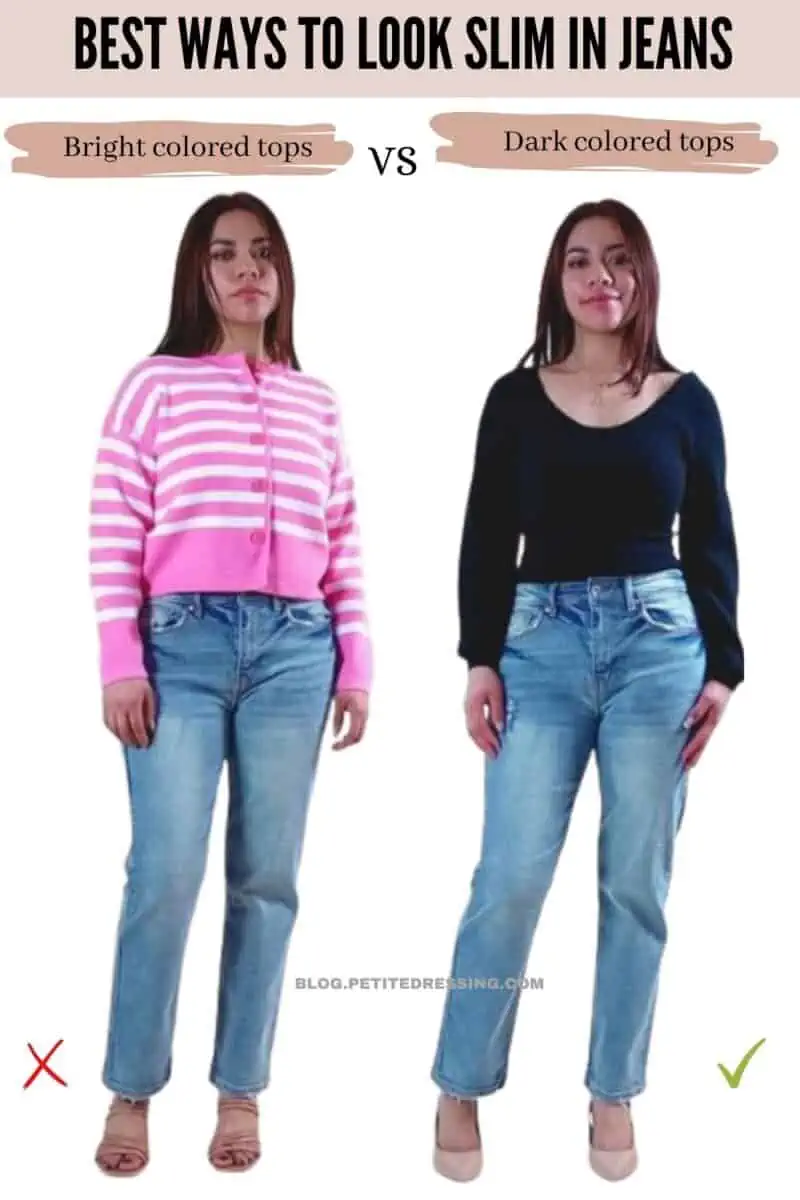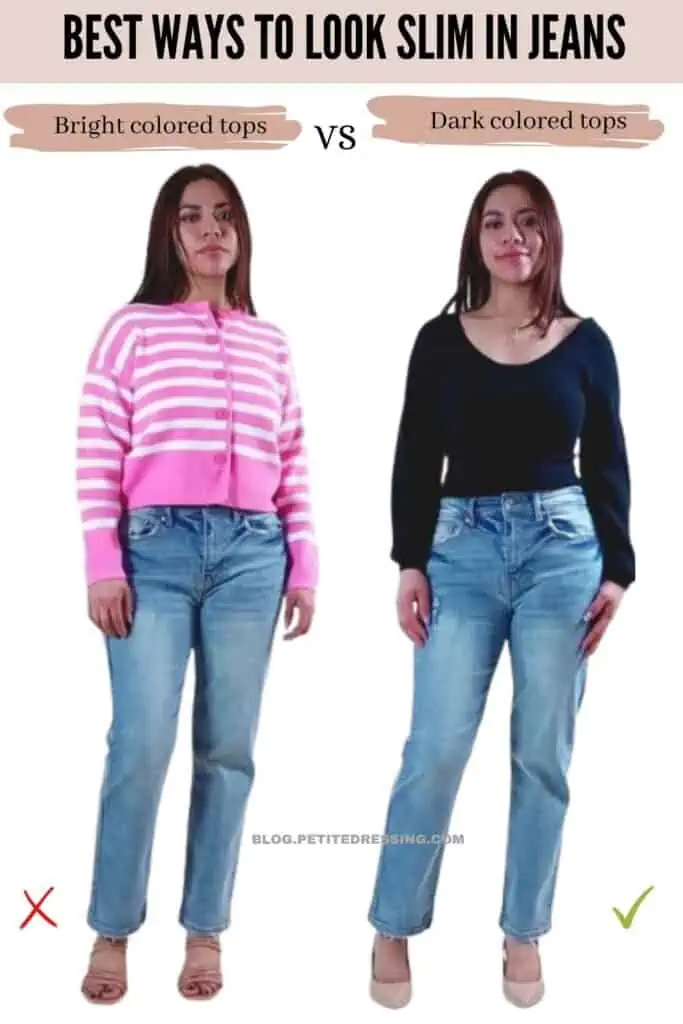 Avoid low back pocket position
It's no surprise that many of us tend to overlook how our rear looks in jeans, but the style of back pockets on jeans can indeed have an impact on how our silhouette appears. Choosing the right style of your jeans' back pockets can help slim your figure down, while the wrong style may add visual weight to your figure.
The placement of back pockets plays a crucial role in how your buttocks would appear in jeans. It's ideal that the pockets should be positioned higher on the backside, closer to the natural waistline because higher pockets create the illusion of a lifted and more defined rear, making your silhouette appear leaner.
Avoid jeans with pockets placed too low because they can make the buttocks appear droopy and contribute to an overall heavier look. Additionally, the size of back pockets can also affect your appearance so it's better to opt for smaller pockets rather than oversized ones because large or wide pockets can draw attention to the width of your hips, giving the illusion of a fuller bottom.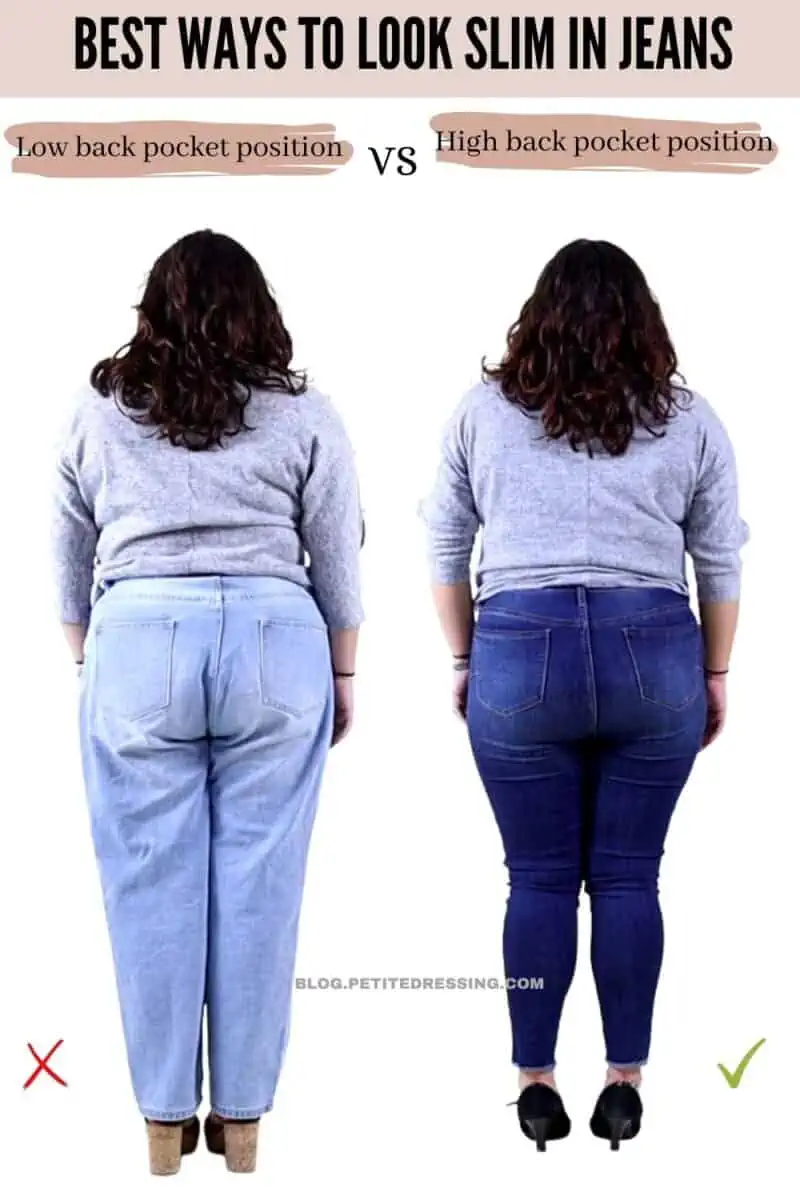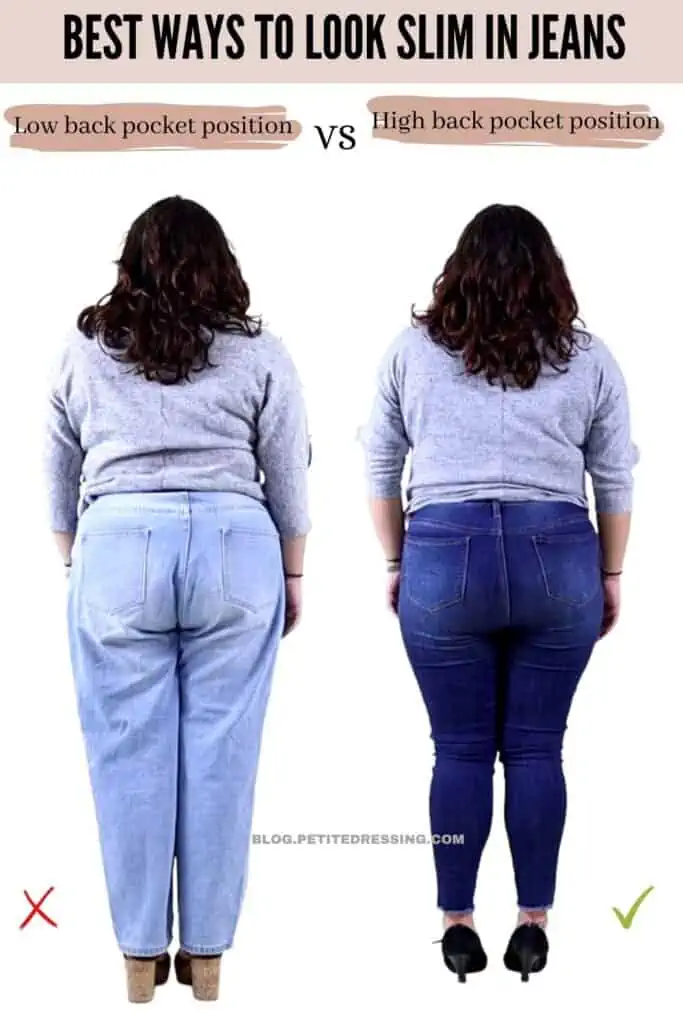 Opt for Dark-Wash
As most of us fashion enthusiasts already know, dark colors feature a visually slimming effect. They create an illusion of a more streamlined silhouette by minimizing the appearance of width and bulkiness.
Dark-washed jeans have the ability to camouflage and conceal certain areas of the body wherein there might be a presence of bulge. They can minimize the visibility of imperfections, such as lumps, bumps, or cellulite, creating a smoother and more toned appearance.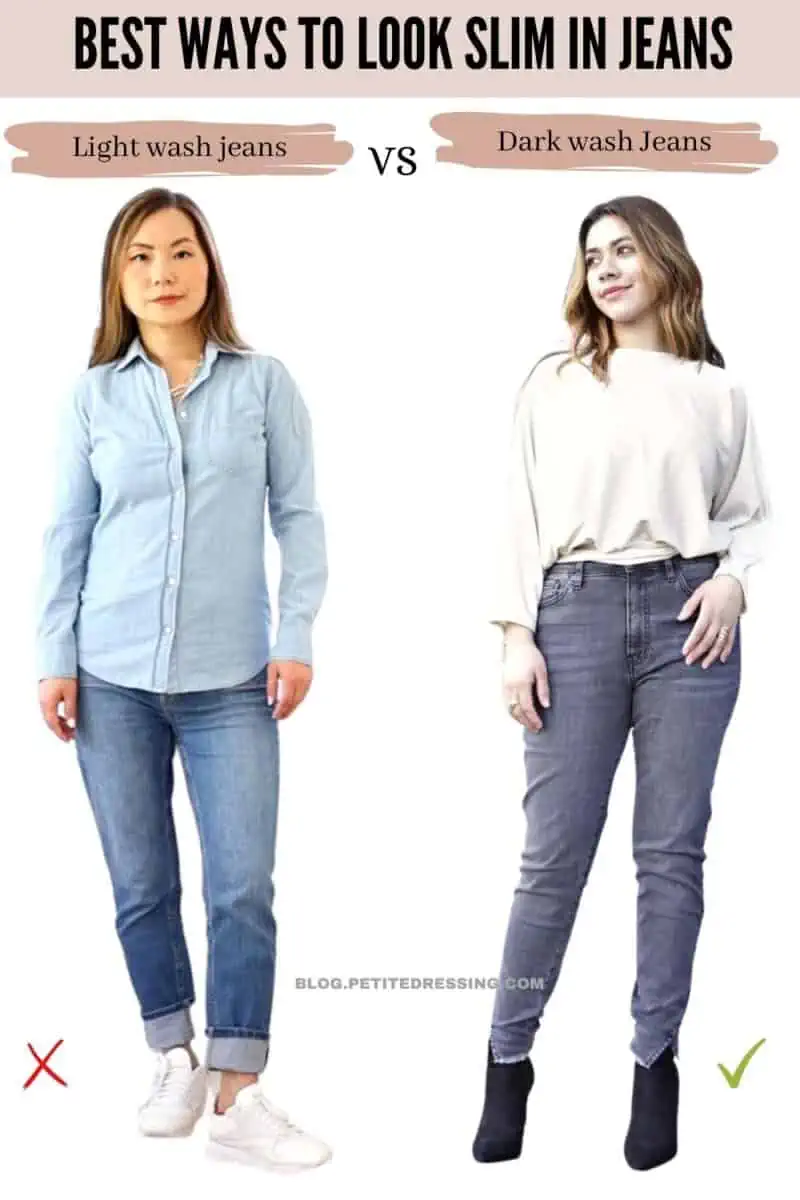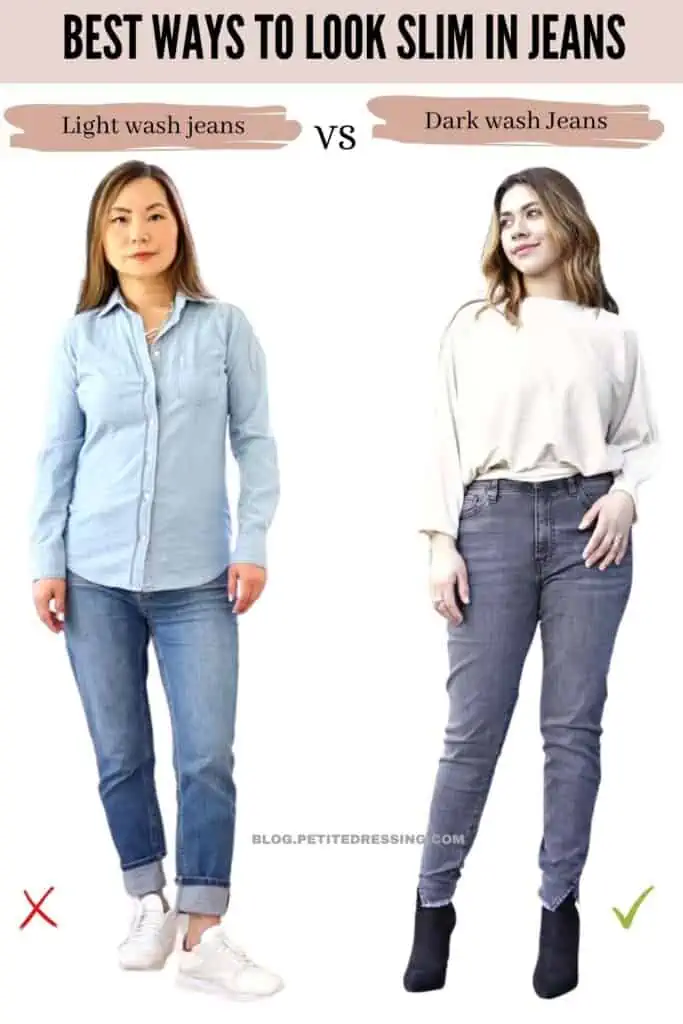 Wear High-Rise Jeans
High-rise wide-leg jeans have all the necessary features to make you look slimmer in an instant. The high-rise waistband sits above the natural waistline, which gives the illusion of longer and slimmer legs.
The wide leg structure falls straight down from the hips which creates a smooth and flowing vertical line. This elongates the leg and can create the illusion of a leaner and longer silhouette.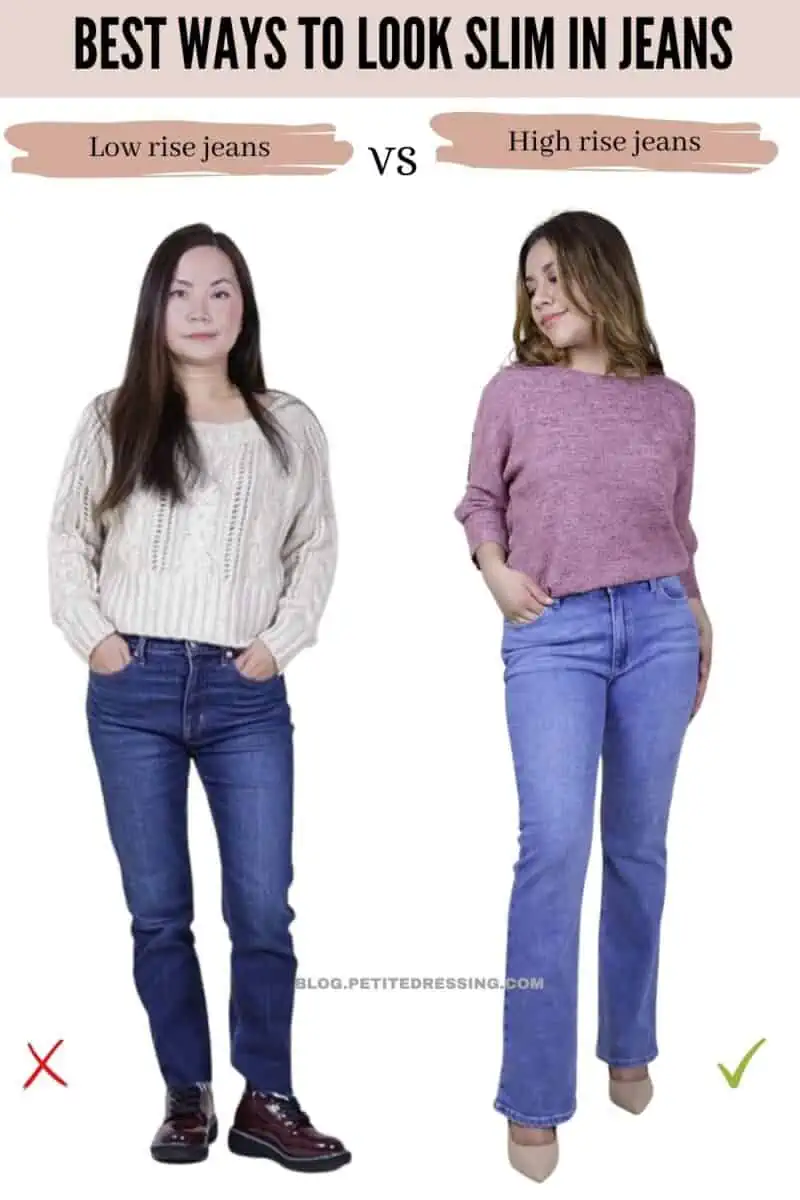 Cover up Elastic Waistband
Elastic waistbands in some jeans are undeniably comfortable, however, they also tend to create a bulging effect or emphasize the midsection if left exposed. By covering up the elastic waistband of your jeans, you can achieve a smoother and more streamlined look.
A visible elastic waistband on your jeans can draw attention to the stomach area, which may potentially be an area of concern for some individuals. So concealing the waistband of your jeans can redirect the attention to other parts of your outfit to shift the focus away from the midsection.
This is also beneficial in visually elongating your torso and creating a more proportional silhouette, ultimately making you appear slimmer. You can cover the elastic waistband up in a number of ways like half-tucking your tops, adding a belt, or wearing longer tops.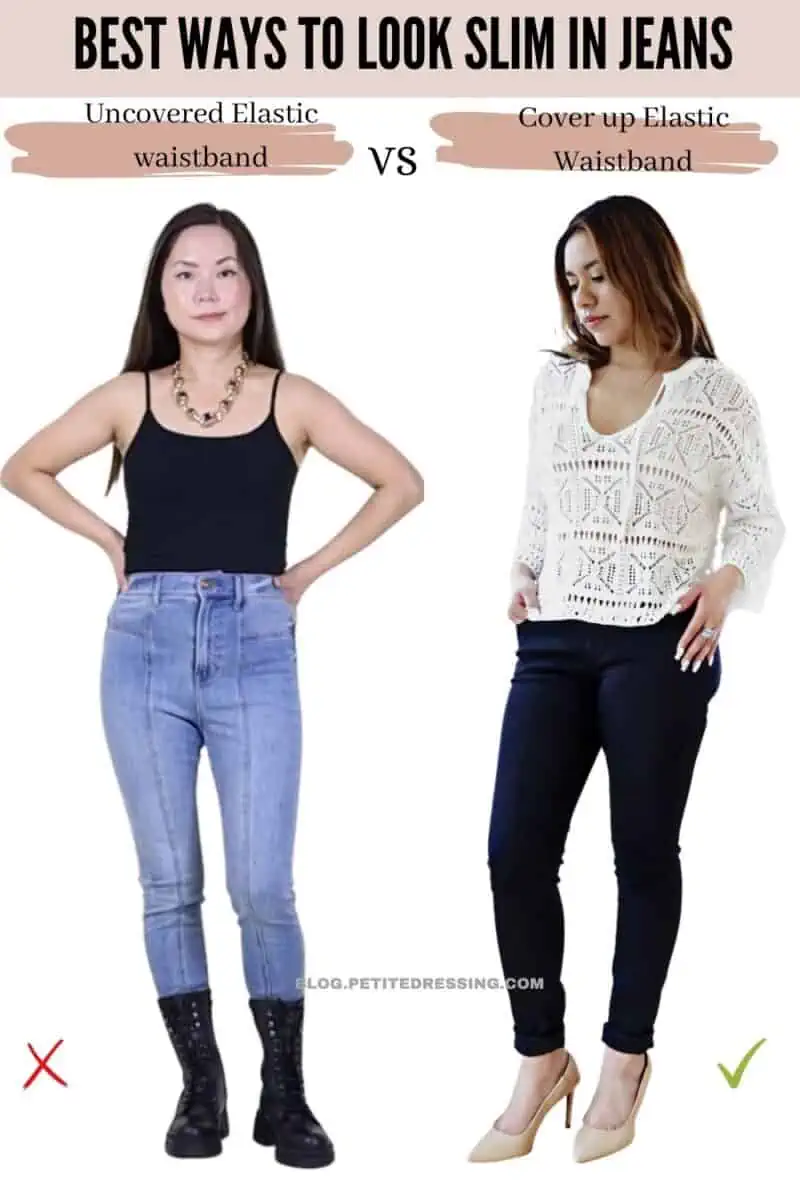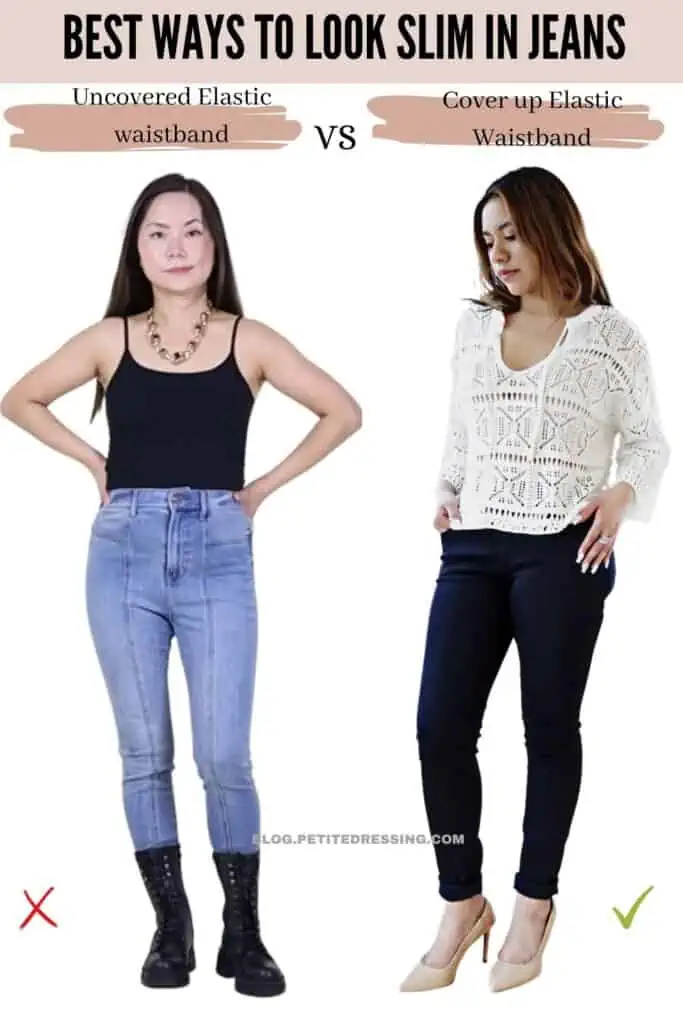 Wear a Top with Asymmetrical Hem
The diagonal or uneven cut creates a sense of movement with its dynamic lines that divert attention away from the midsection and hips. This diversion of focus can create the illusion of a slimmer figure by shifting attention to other parts of your outfit, most particularly your legs.
Tops with asymmetrical hemlines also help construct a vertical line that visually elongates the body. When worn with jeans, it can give the impression of longer legs and a more streamlined silhouette.
Taking one of the styling tips I previously mentioned which talks about covering up the elastic waistband of your jeans, wearing a top with an asymmetrical hemline is one subtle way to do this. Since it's not too long (with one side actually shorter than the other), it won't overwhelm your torso and even make you look more balanced.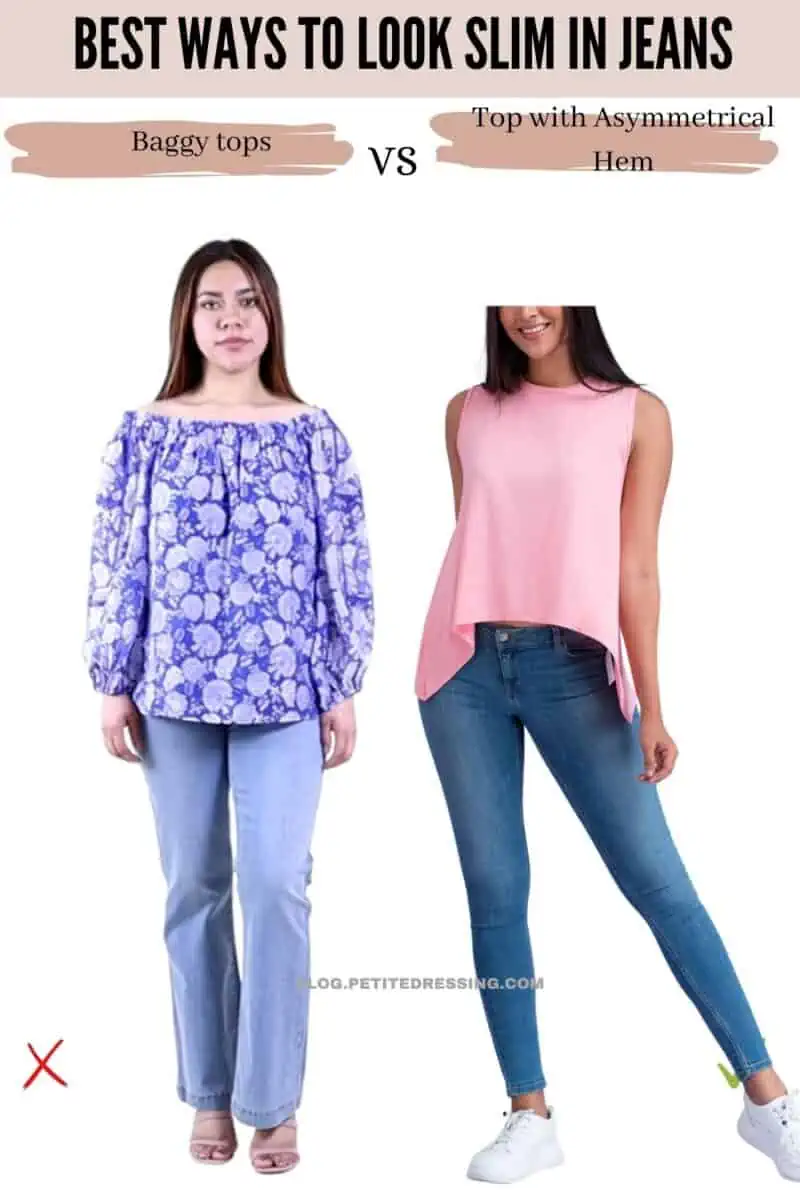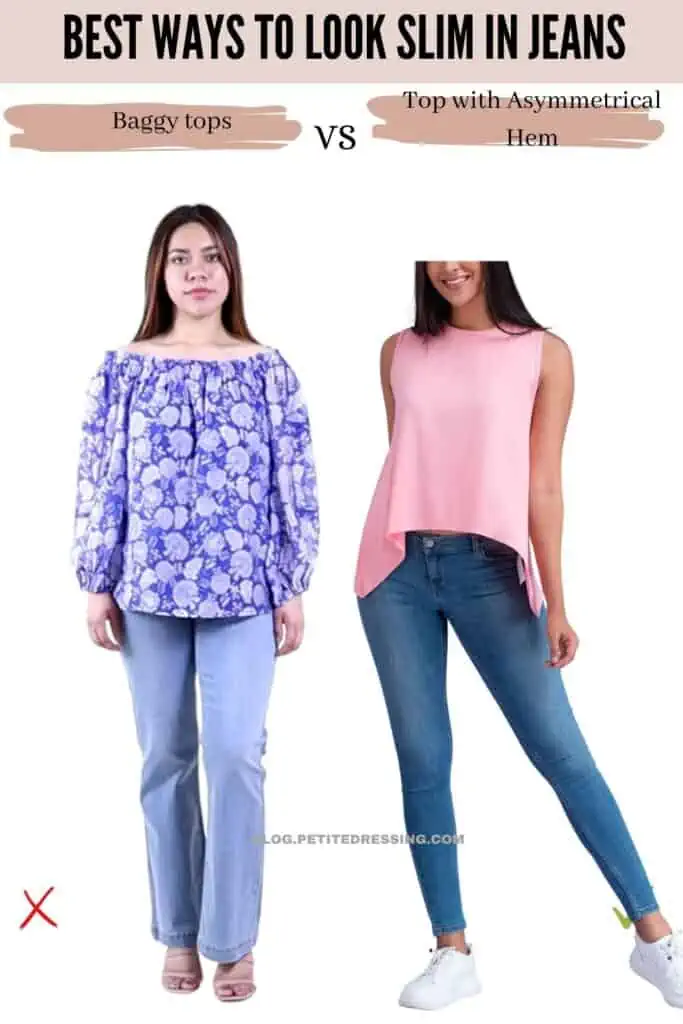 Opt for Tummy Control Fabric
Some types of high-quality denim feature a structure that gently compresses the body to give you more shape and definition.
Sculpting denim is specially engineered with innovative fabric technology to provide more support and control the areas wherein you may have more weight such as the tummy or thighs. These jeans often feature a higher percentage of stretch fibers combined with a structured weave.
These types of jeans are made of fabric that helps hold in and shape the tummy area, creating a smoother and more toned look. Look for jeans labeled as sculpting or shaping denim for this enhanced control.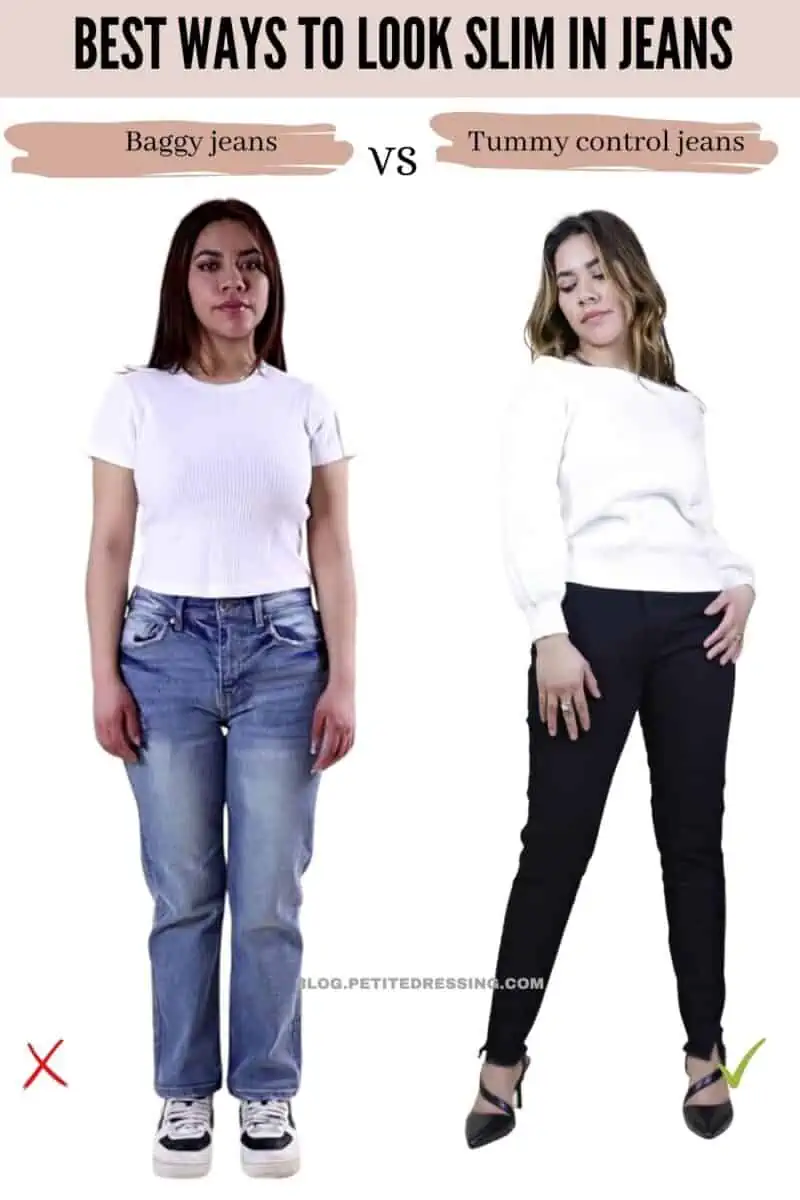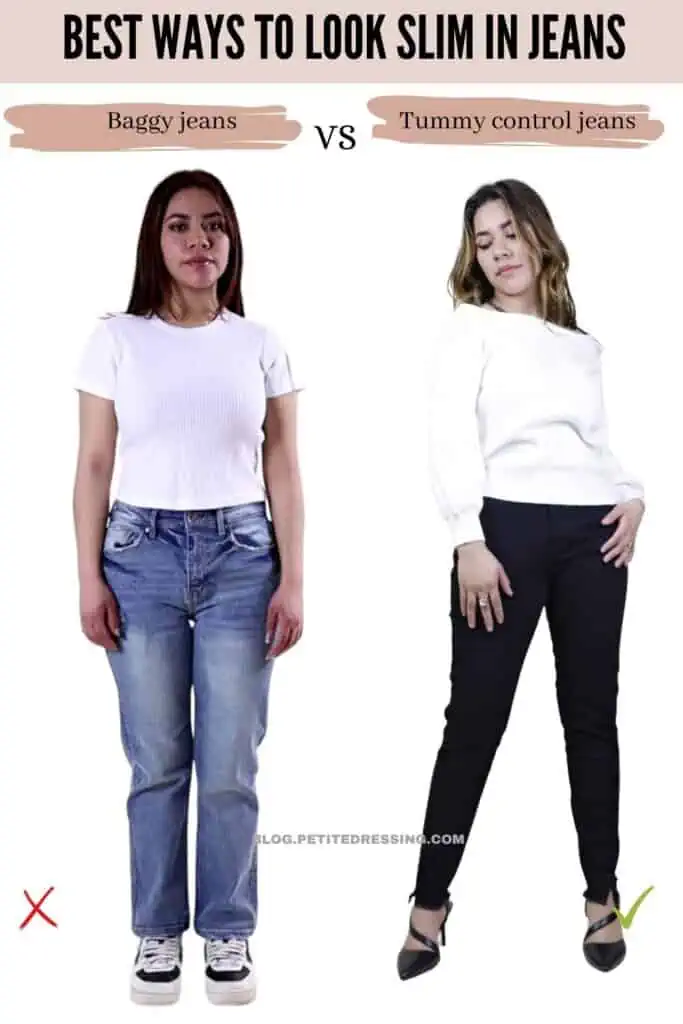 Avoid Baggy Jeans
The goal of looking slimmer in jeans is mainly about enhancing your natural curves and adding definition to your body's narrowest points. However, baggy or oversized jeans do the complete contrary so if you'd want to look slim in jeans, you can give this style a skip.
Baggy and oversized jeans tend to lack shape and definition as the excess fabric can create a bulky and unflattering look that hides the natural curves and contours of your body. Without proper definition, your figure may appear shapeless and larger than it actually is.
In addition to this, they also feature unflattering lines and wrinkles, especially around the crotch and knee areas. These excess folds and creases draw unnecessary attention to areas you may want to downplay or neutralize.
Because they add visual weight to your body, you're more likely to end up looking unbalanced overall. So instead of baggy or oversized jeans, go for smooth and well-fitting jeans that create clean lines enhancing your natural shape.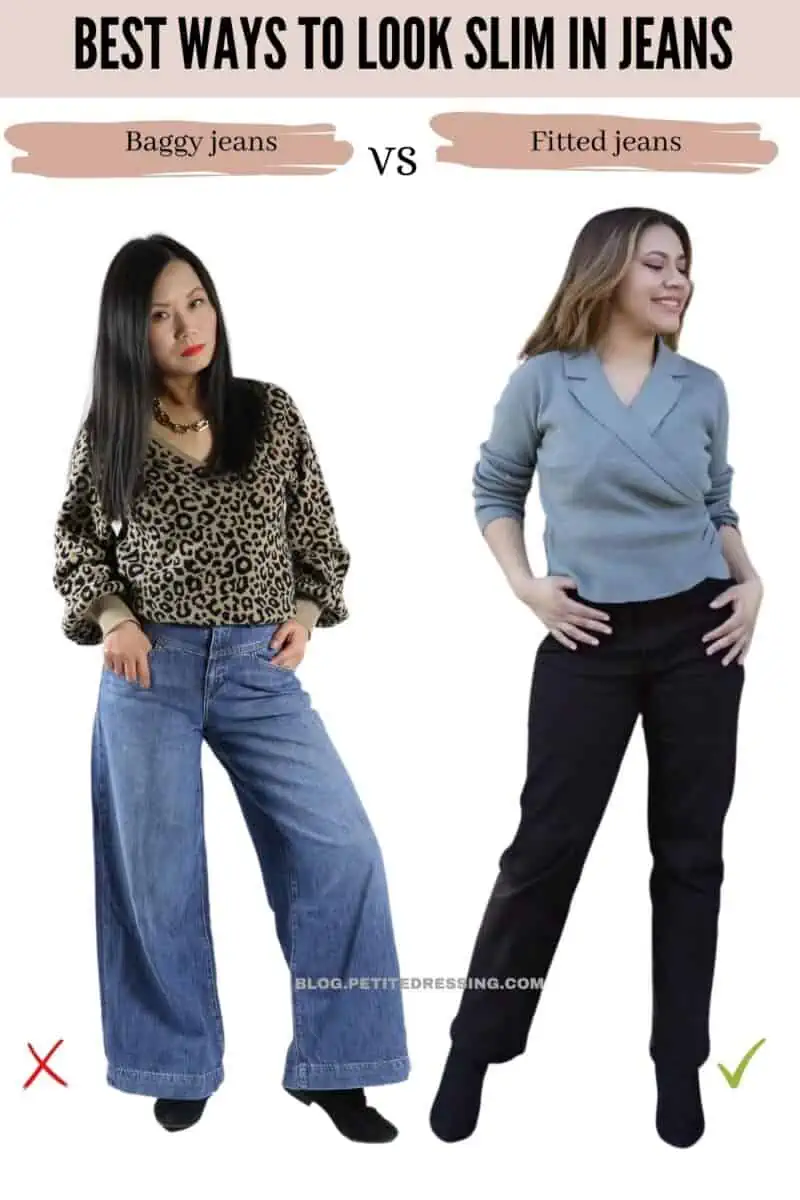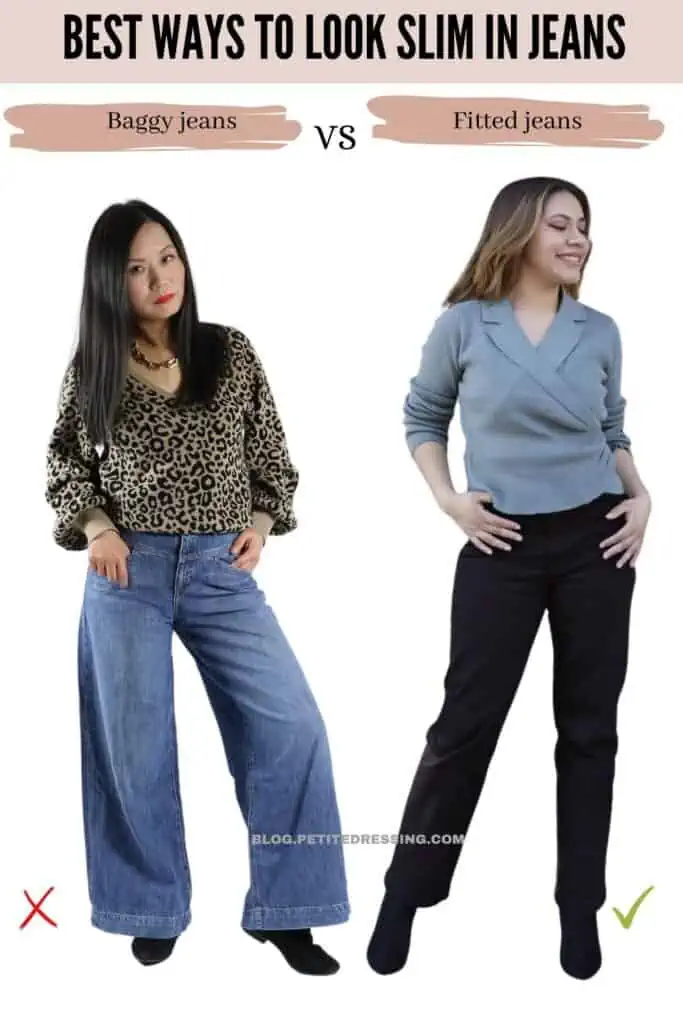 Avoid Bulky Pockets
Jeans with bulky pockets can create the illusion of heaviness and disproportion, which can work against your goal of having a slimmer appearance. One main reason is that bulky pockets draw attention to certain areas where you may already look heavier. In that case, they add extra volume and can make those specific areas appear larger than they actually are.
For example, pockets that are situated on the hips or thighs can definitely make those areas look wider and more pronounced, creating a sense of heaviness and disproportion. They also disrupt the visual balance and proportions of your frame which obviously can be very unflattering.
When pockets are oversized or have excessive embellishments, they can create a focal point that throws off the overall symmetry and proportionality of your figure. This can also give the impression of added weight or make certain body parts look uncomplimentary larger, which can be detracting from a slimmer appearance.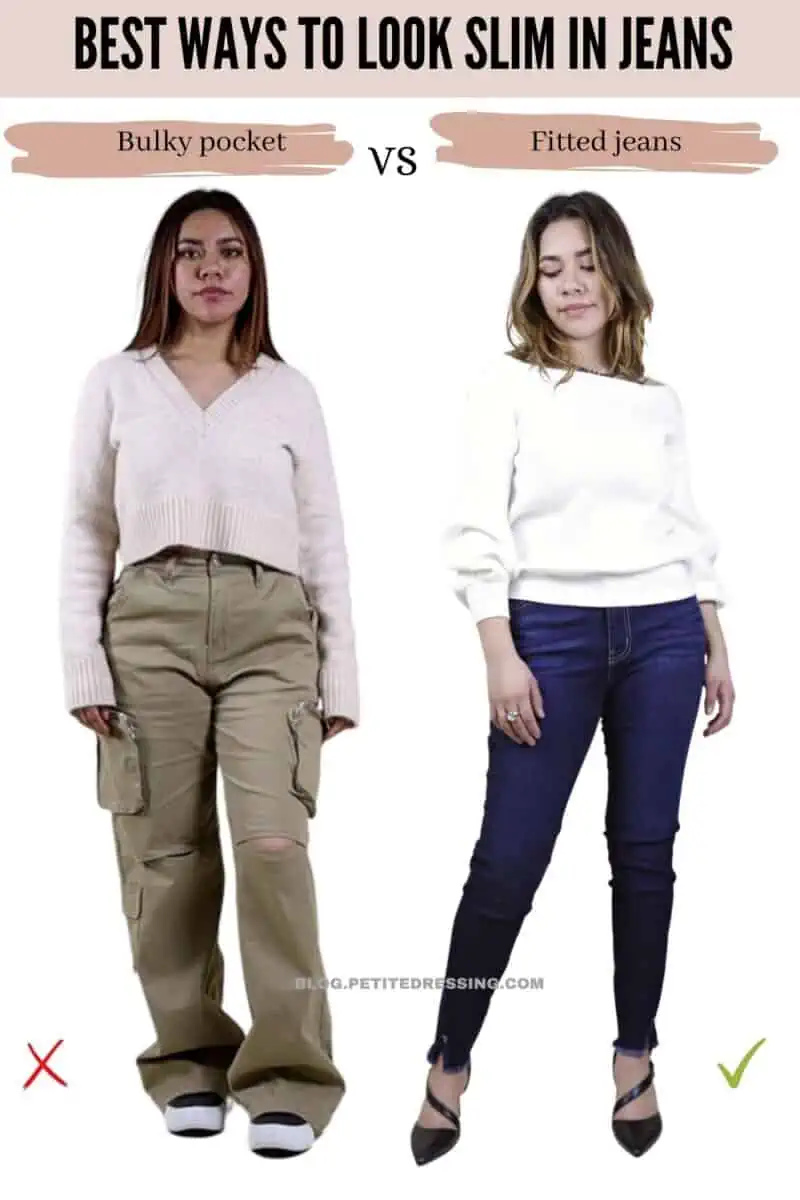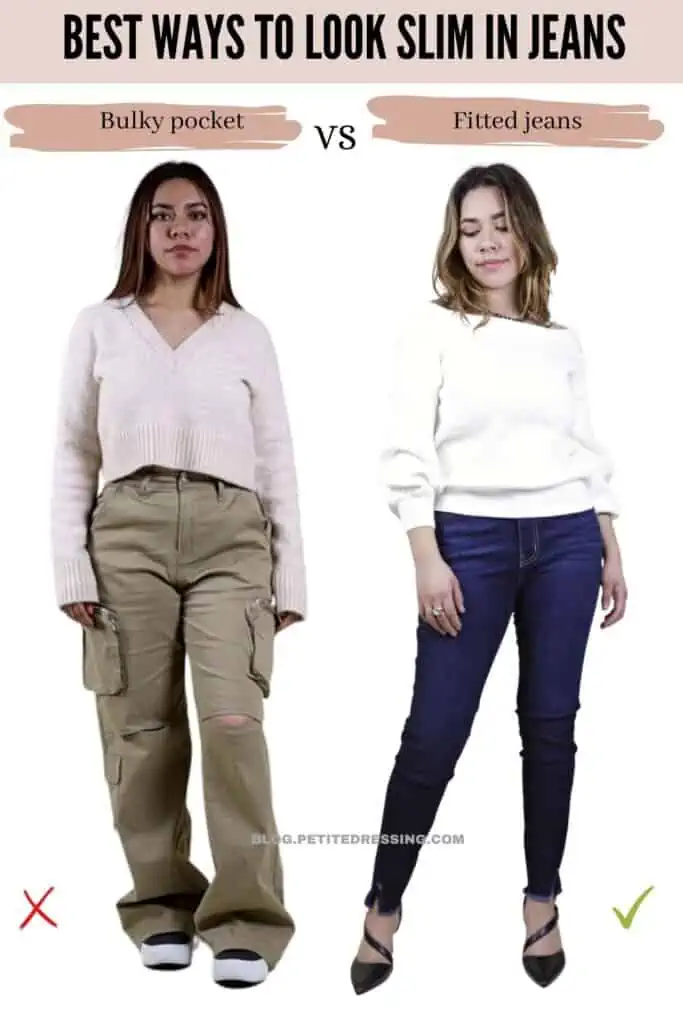 Avoid excessive distressing
Wearing jeans with excessive distressing may look quite trendy, but they can also have style disadvantages that may make you appear heavier and wider. Distressing in the form of rips and frayed edges can disrupt the clean lines of the jeans and these irregular lines can create visual breaks and interruptions in the overall silhouette.
Excessive distressing, such as heavy fading, rips, and abrasions, tends to draw attention to specific areas of the jeans. These types of details can accentuate certain areas on your lower body and make those areas appear wider and larger than they actually are, resulting in a broader overall appearance.
These very eye-catching rips can draw unintentional emphasis on imperfections and might end up making you appear heavier. The contrast between the distressed areas and the exposed skin can highlight these imperfections, making them more noticeable.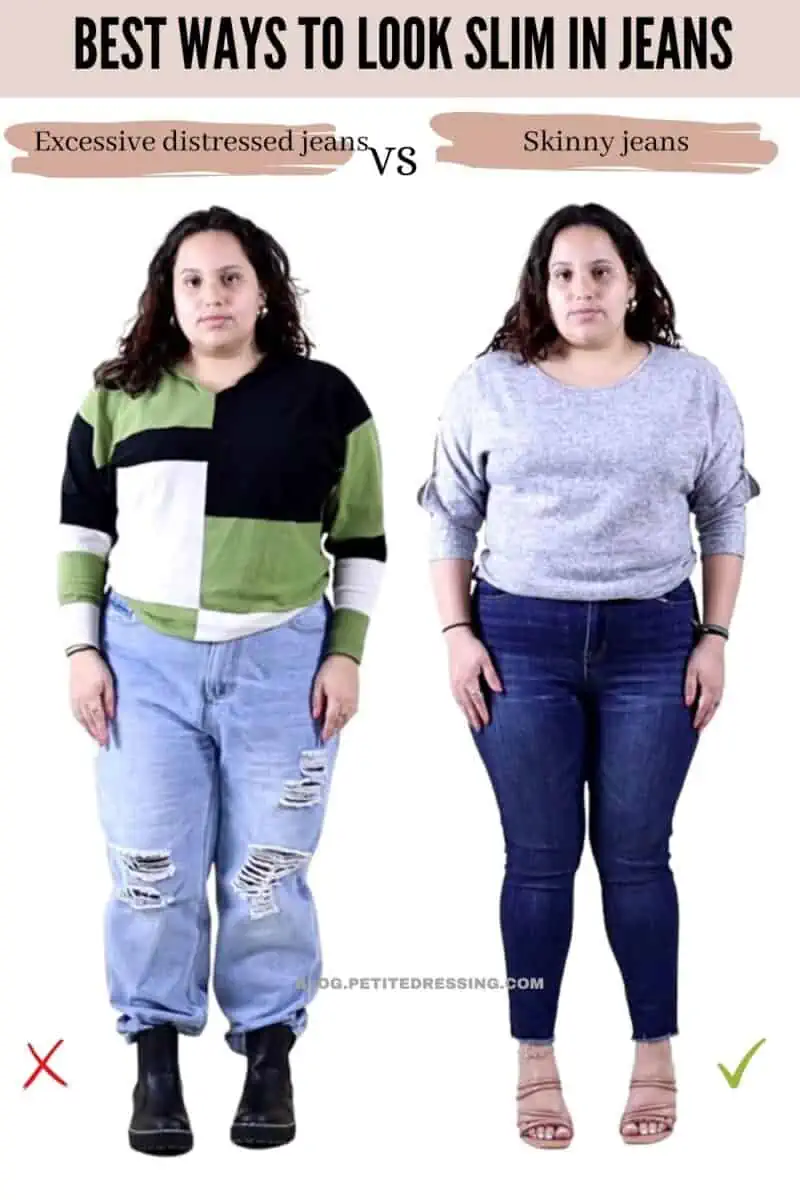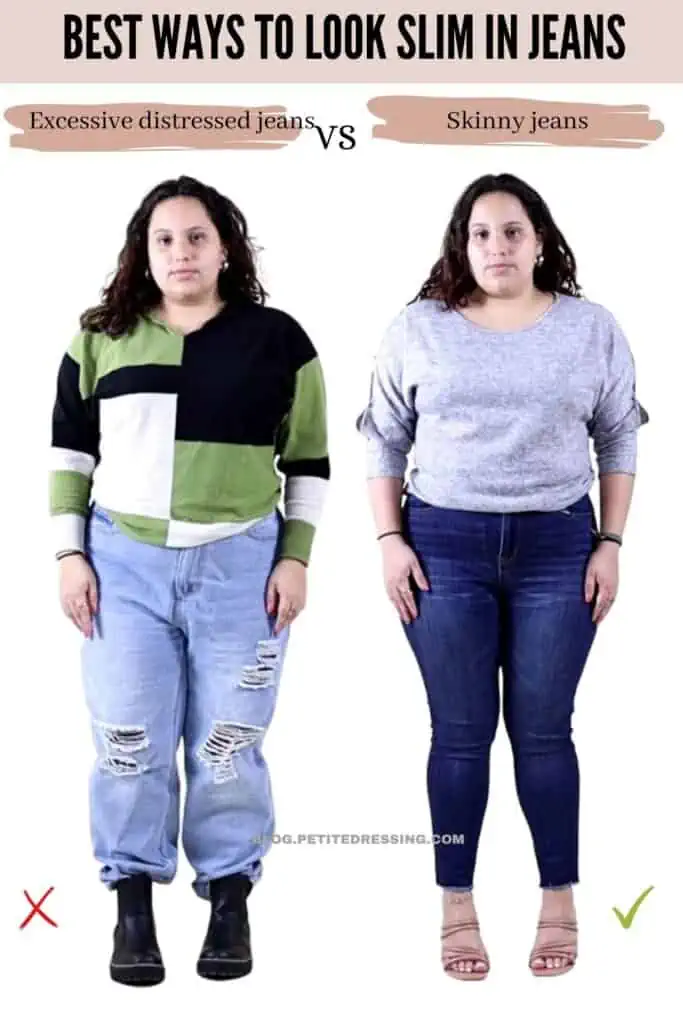 Half-tuck your top
Half-tucking your tops in your jeans can create a slimmer appearance as it strategically enhances your frame and brings your upper and lower body into proper balance. This style hack efficiently adds definition to your waistline, which can create the illusion of a narrower midsection.
By highlighting the natural curve of your waist, the style hack of half-tucking creates a more tailored and structured look. This can give you the appearance of a more proportionate and slender silhouette.
Doing this also contributes to giving your frame a sense of length, most particularly your legs. When you half-tuck your top into high-waisted jeans, it raises the perceived starting point of your legs to make you look taller and slimmer.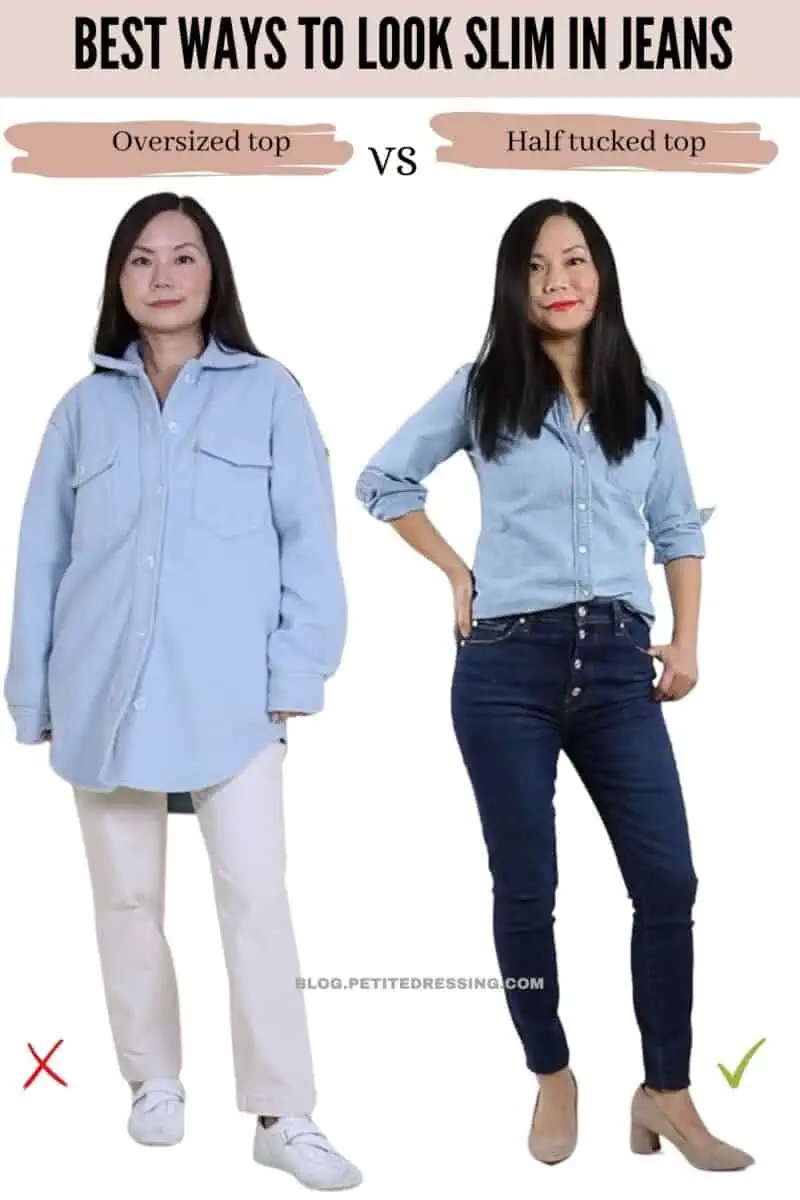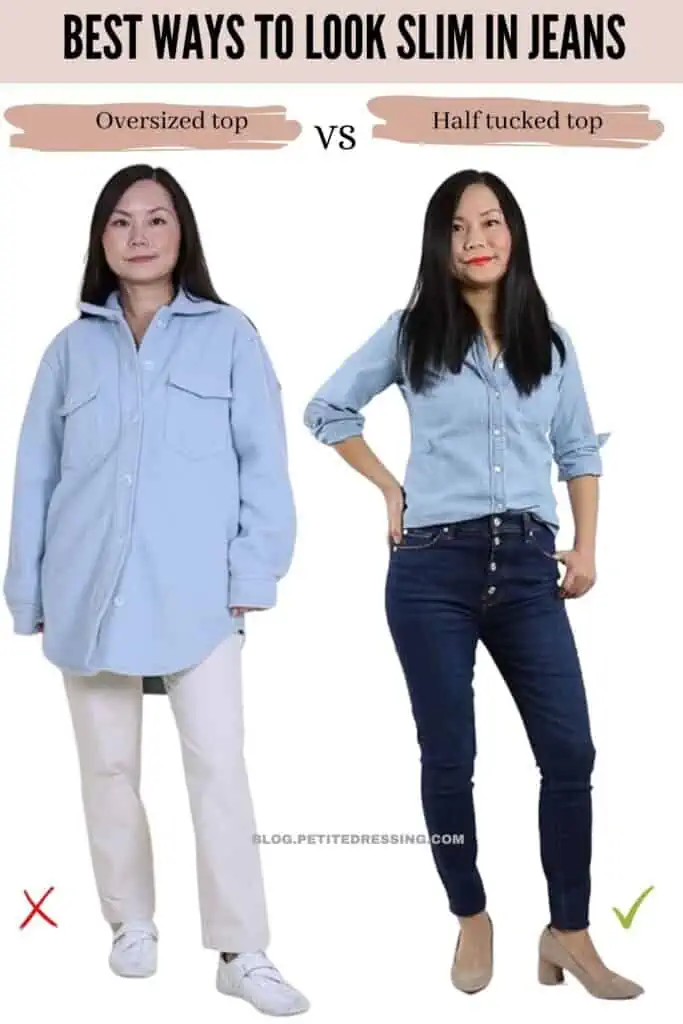 Avoid Heavy Embellishments and Embroidery
Heavy embellishments, such as large studs, sequins, or patches, add visual weight to the jeans. These types of details can create a focal point that draws attention to specific areas, making those areas appear larger and more pronounced.
In addition to this, excessive embellishments and embroidery can create a busy and visually distracting look. The intricate designs and textures can take away from the clean lines and simplicity that often contribute to a slimming appearance.
They also disrupt the vertical visual line that creates an elongated silhouette. The irregularity and bulkiness of the embellishments on your jeans can break the smooth flow of the fabric and make the legs appear wider and shorter.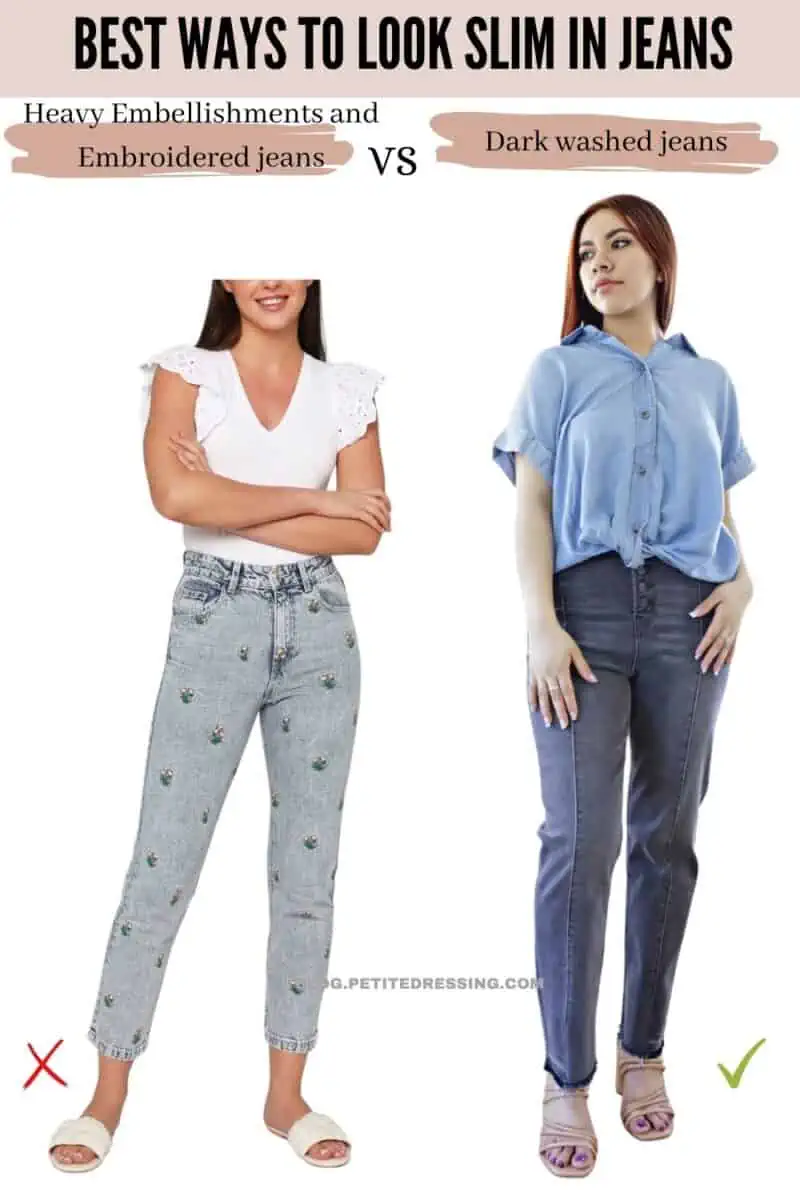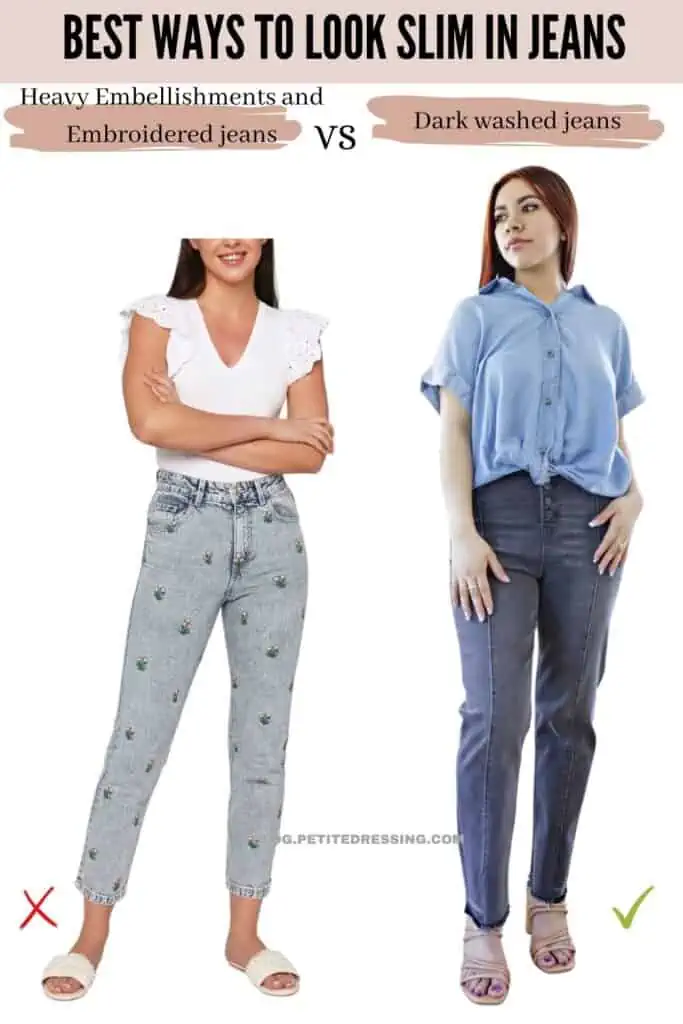 Try denim on denim
You may think denim on denim is no more than just a style statement, but did you know that it's a pairing that can actually make you look slimmer in jeans as well?
Wearing denim pieces in the same or similar shades creates a monochromatic effect and this gives your silhouette a sense of visual continuity, resulting in a slimmer-looking figure. When the top and bottom match in color or are close in tone, it creates a continuous vertical line from the upper body to the lower body and this is how denim on denim flatters your figure.
Incorporating different textures within your denim-on-denim ensemble can add depth and dimension to the outfit as pairing a denim shirt with a slightly textured denim bottom, (i.e. a pair of jeans with subtle fading or whiskering), can create a more visually interesting look while still maintaining a slimming effect. Mixing textures helps to break up the monotony and create a balanced and flattering ensemble.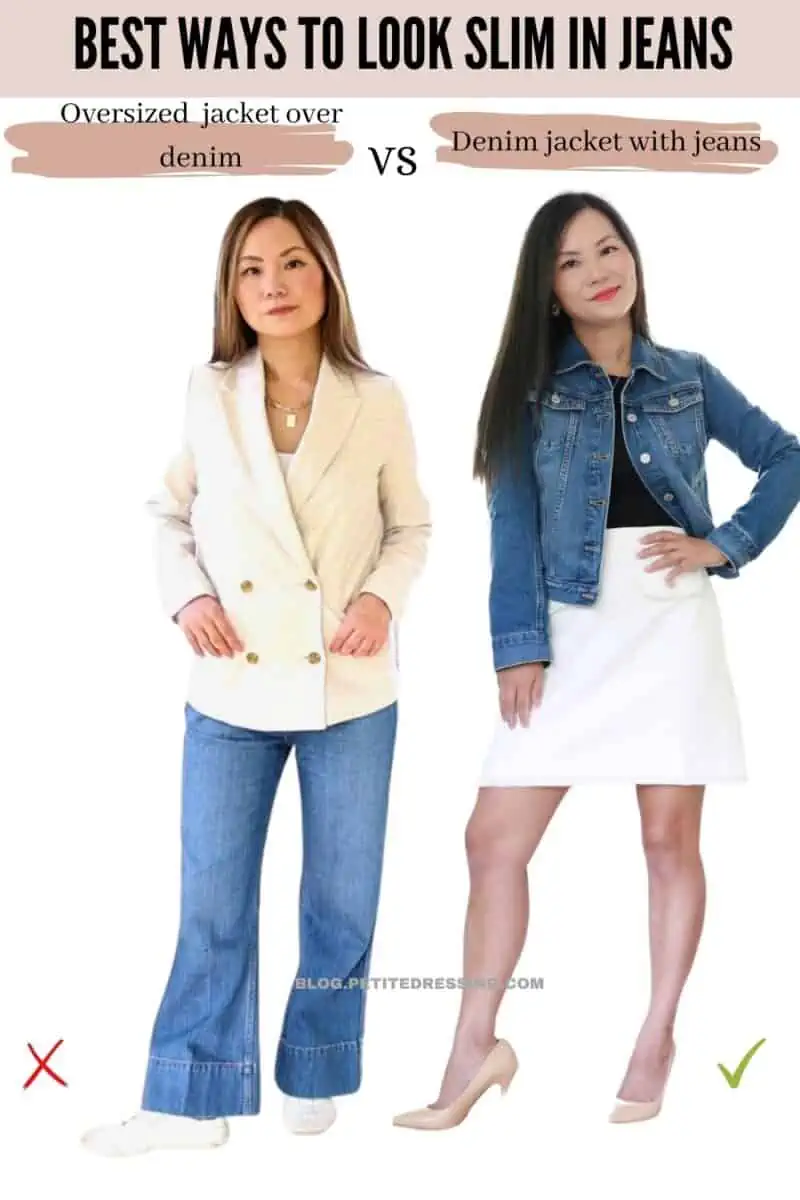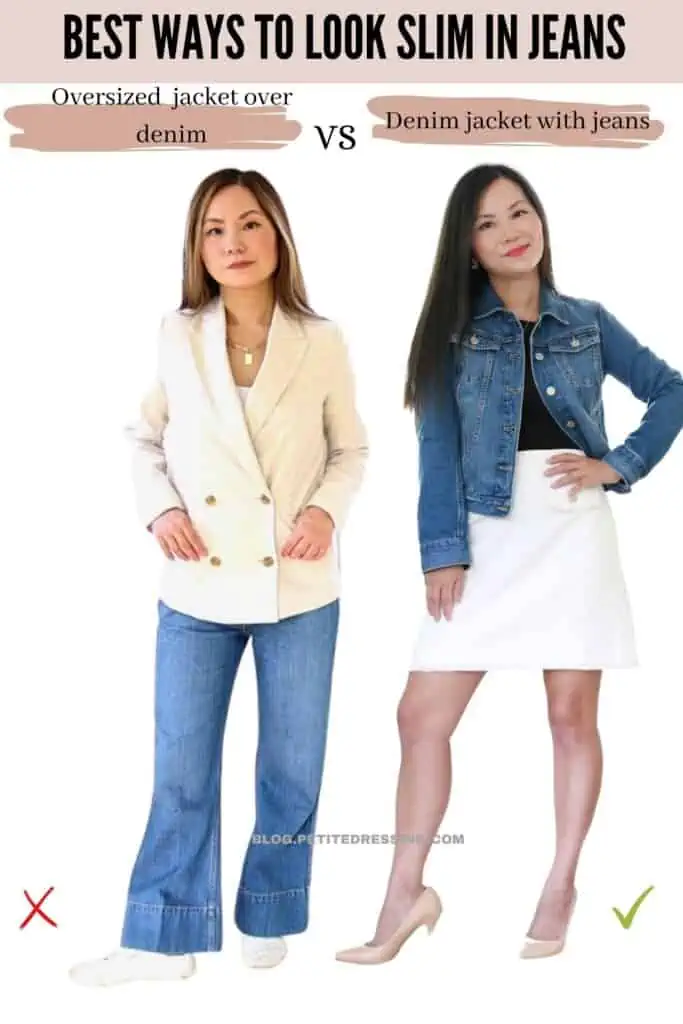 Pair with pointy-toe shoes
To look slender in a jeans outfit, your shoes are critical. Specifically, the toe shape plays a big role.
Pointy-toe shoes are the most slimming shape, and it can immediately make your entire silhouette look longer and leaner.
It goes without saying that heels can boost your height, so wearing jeans with pointy-toe heels will immediately make you look taller and leaner.
Even when you do not feel like wearing heels, go for a pair of pointy-toe flats can still give you a similar elongating effect for your legs and make you look slender in jeans.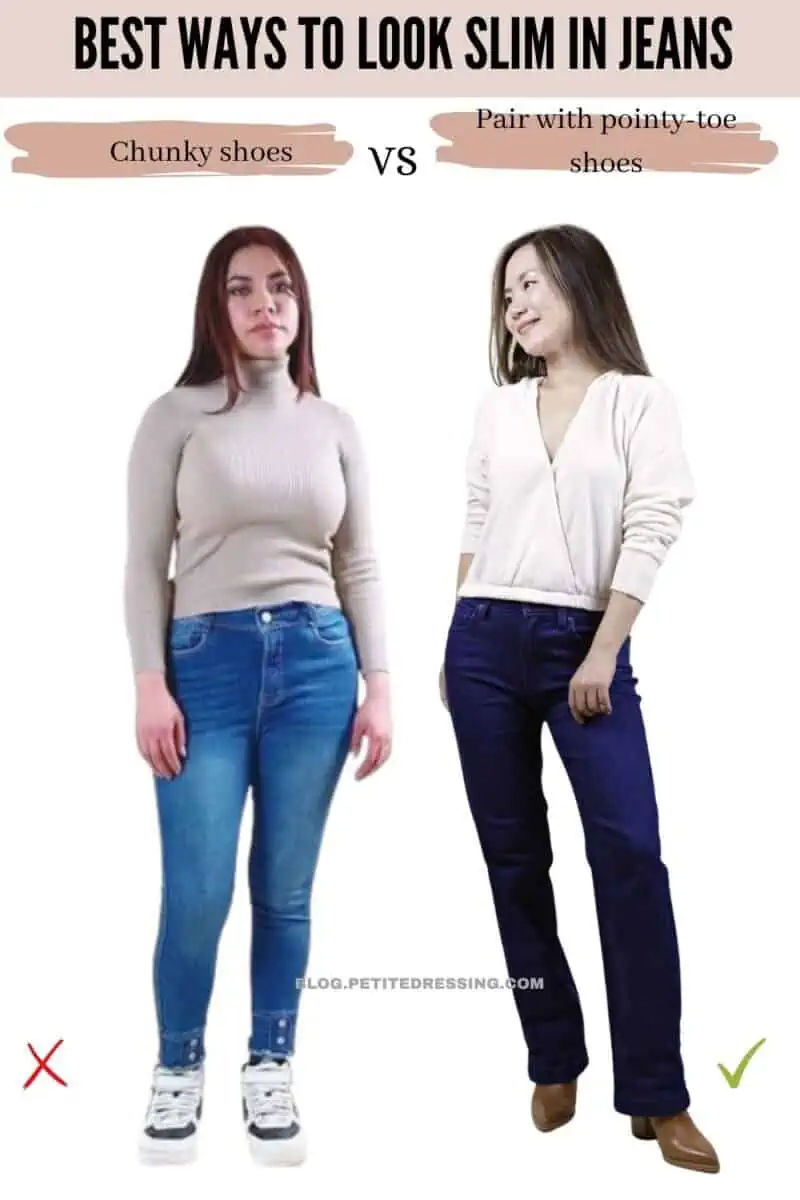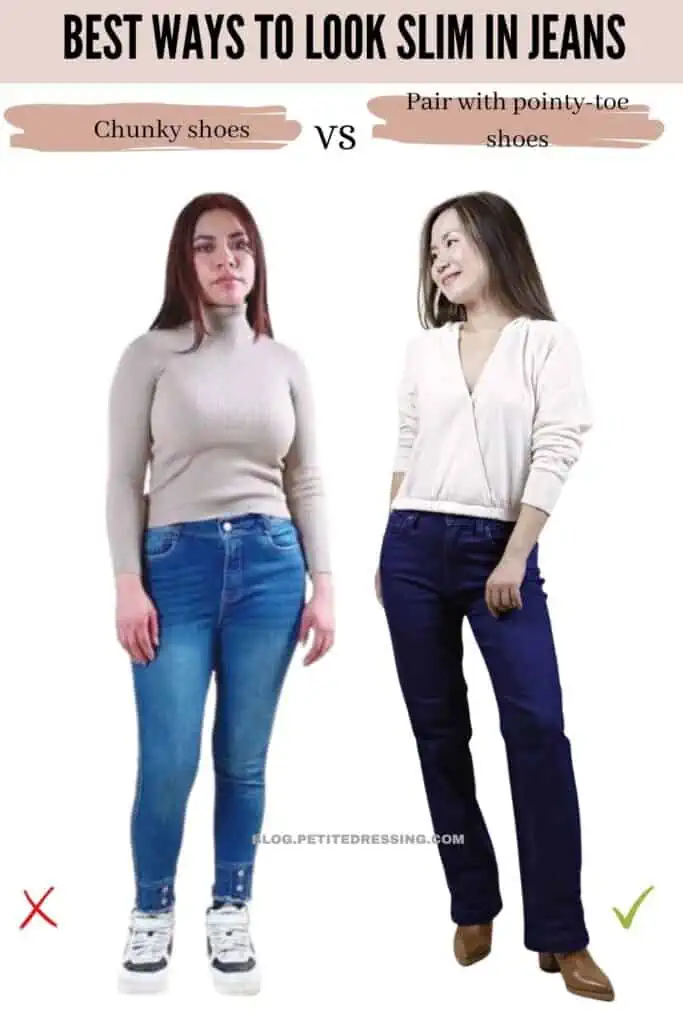 Avoid bulky shoes
Any shoes with a heavier bottom, such as platform heels, or thick wedges, will only make your entire outfit appear bulky and make you look bigger than you are in your jeans.
Even though it may seem like those kinds of shoes can easily make you taller, they do not serve the purpose of elongating your figure or improving your proportion.
Because of the heavy volume they carry, they will make you look bottom-heavy, which is the opposite of what you want in your jeans outfit.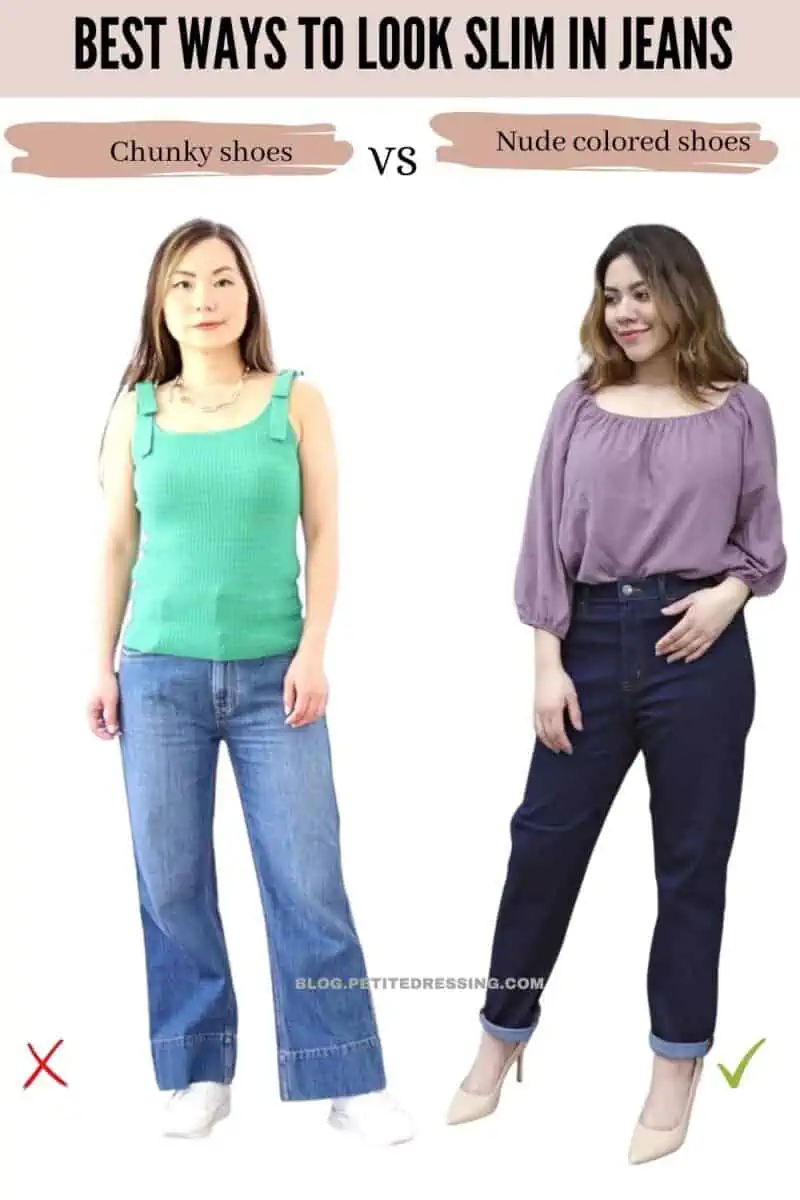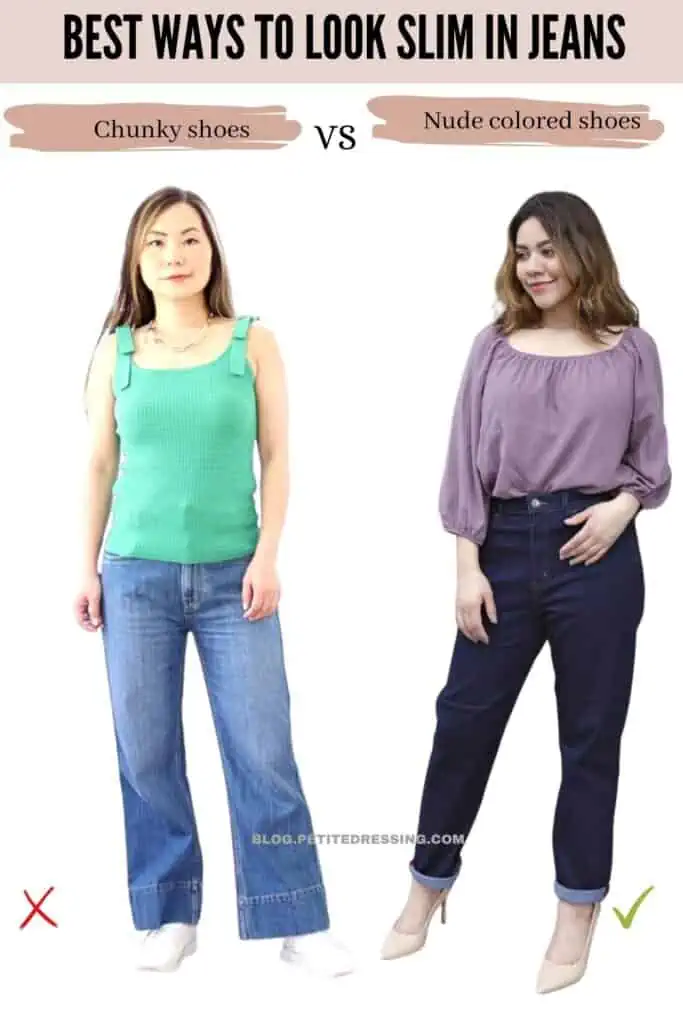 The Key Takeaway
There are several strategies you can employ to create a slimming effect when wearing your chosen pair of jeans. Choosing the right fit, silhouette, and details can greatly impact your overall appearance.
Looking slimmer in the right pair of jeans doesn't have to be complicated. All you need to do is to take these basic styling principles into consideration to make sure you choose the right jeans to flatter your figure.