Choosing the right top for your body shape can be a challenge.
Since I'm 5'2″, more than a few times, I've found myself in a situation where my preferred top doesn't highlight my best features. This is a common struggle for petite women. Besides, I have a petite clothing line, so I am working with petite models of different sizes and shapes on a weekly basis.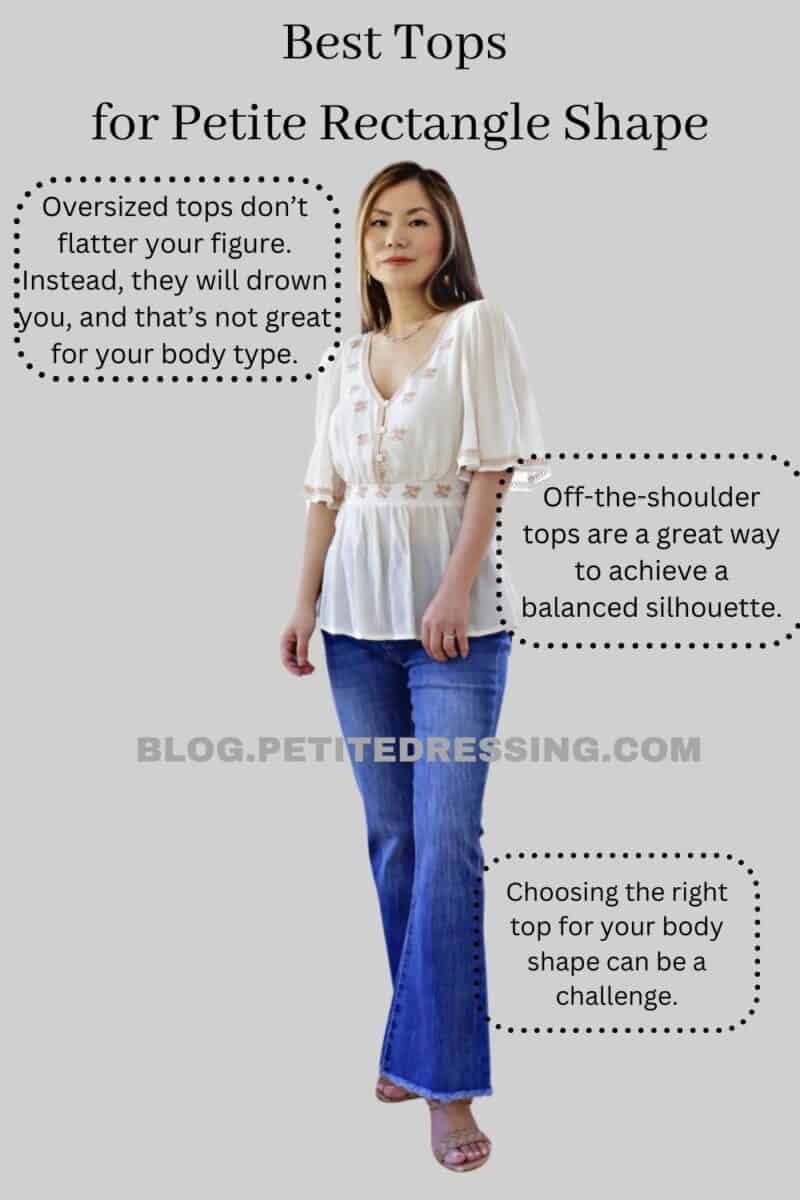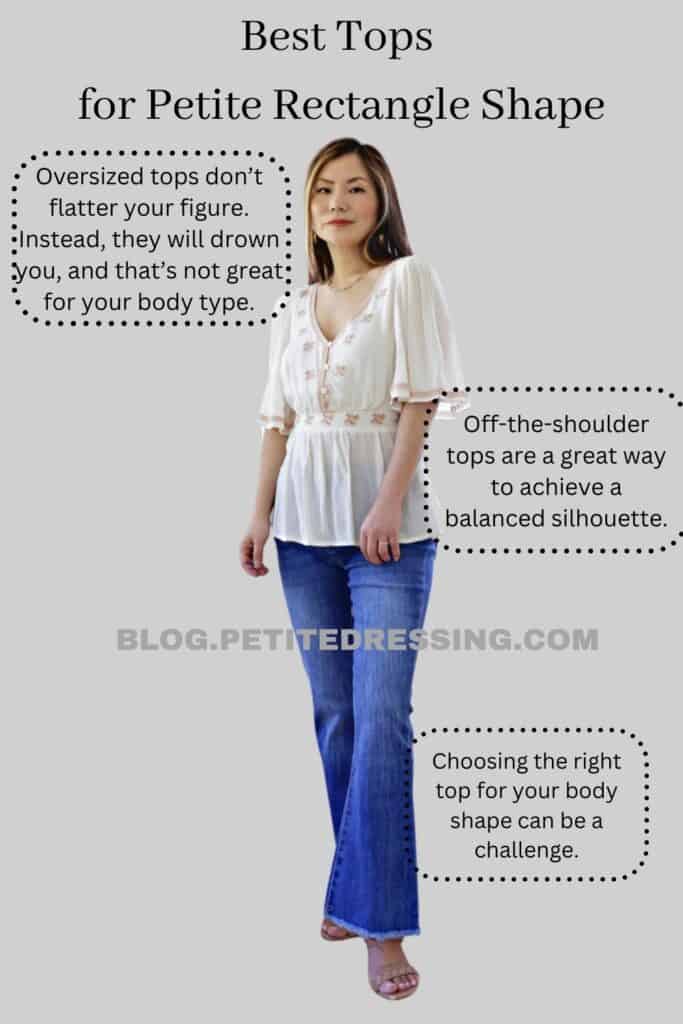 So, how do we address these challenges? It all has to do with creating the illusion of curves.
Based on my first hand experience, as well as feedback from thousands of my petite customers, I've put together this guid. You'll love this ultimate tops guide for petite rectangle shape which contains amazing tops you'll be happy to rock on various occasions.
Flared-sleeved blouse
Sleeves can make all the difference as a petite woman with a rectangular body shape. The right type of sleeve on your arm can add more visual interest to your appearance.
There's also the impressive benefit of adding more volume to your upper or lower body, depending on the style and length of the sleeve. However, the wrong choices won't complement your body shape.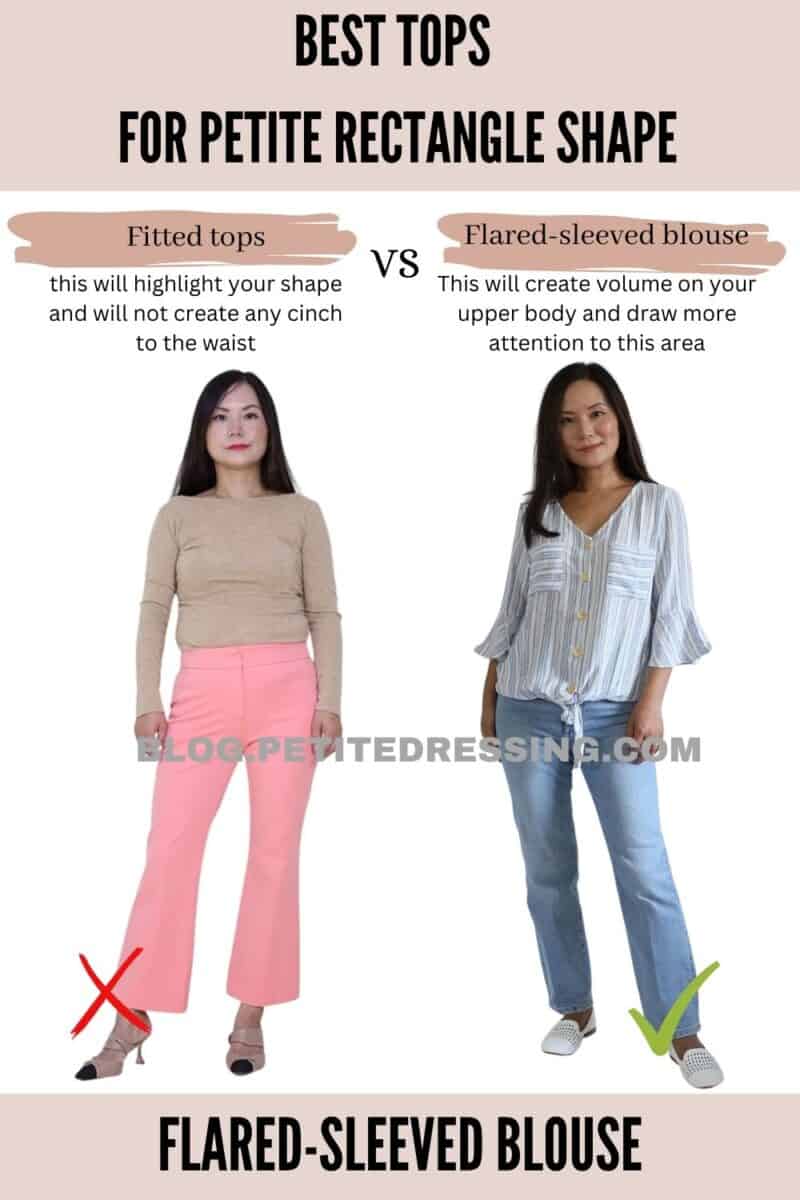 Your best bet is to go for sleeve styles that have a flared style. This will create volume on your upper body and draw more attention to this area. You can also rock several other styles, including puff sleeves.
Choosing the right sleeve style for your top is serious business. So, feel free to try out a few styles like the sleeveless, three-quarter sleeves, or the classic style that stops at your elbow. However, you should completely avoid sleeve styles that have a shapeless outlook.
These include fitted sleeves which will give you a column look. A flared-sleeve blouse is a top choice for the petite rectangle shape.
Wrap top
For the petite rectangle shape, you should aim for tops that create shape by adding more volume to your upper body. When tops add more volume to your hip line, bust, and shoulder, this helps to create a feminine silhouette that you'll love.
One great option for doing this is with a wrap top. Wrap tops that finish at the hip level rather than your waistline will help you create an amazing feminine shape rather than make you look more rectangular.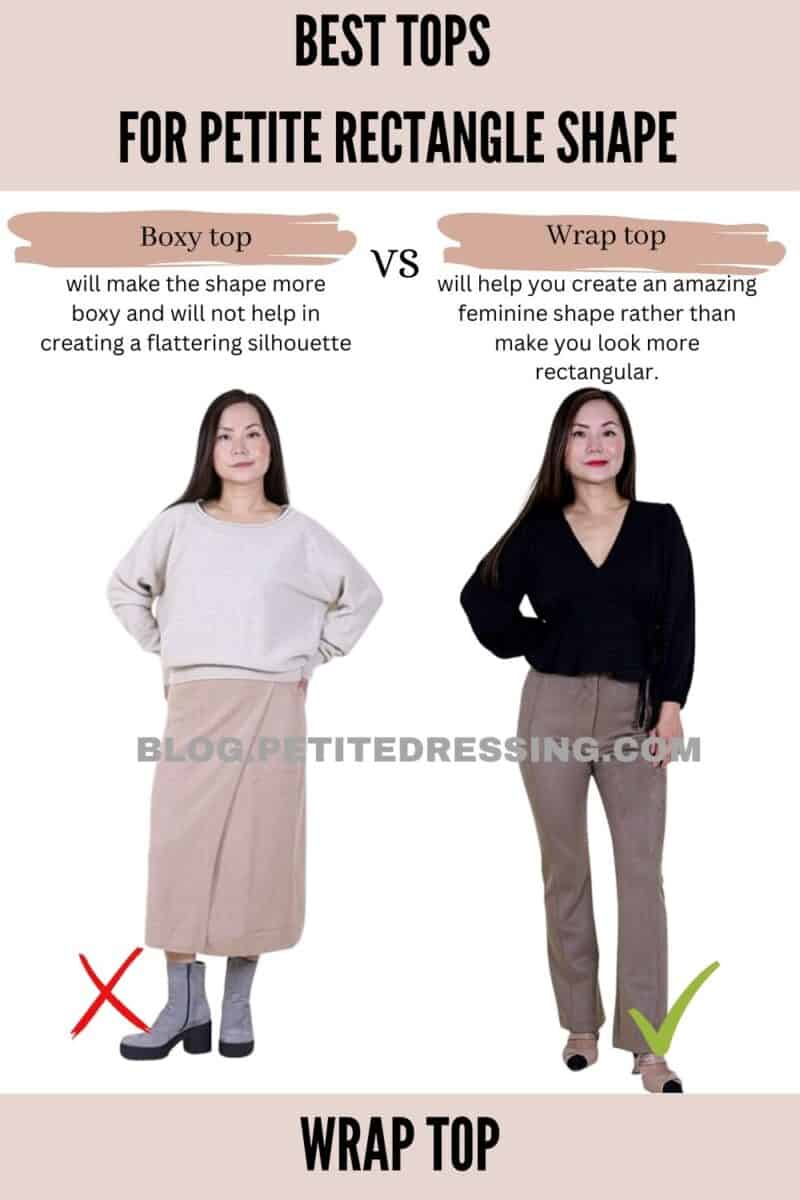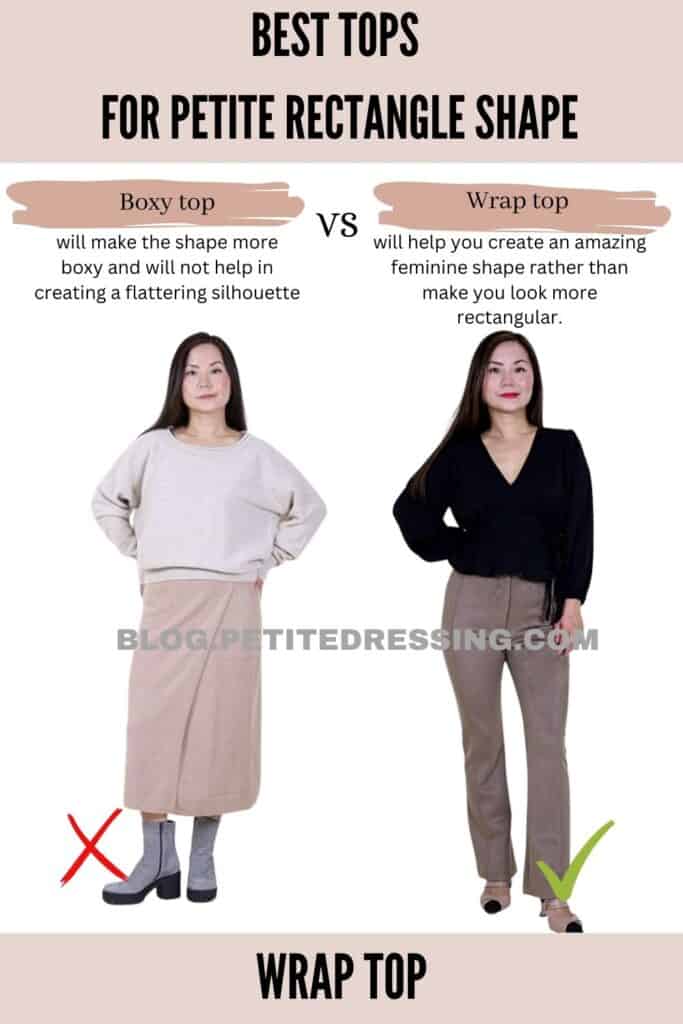 Feel free to rock wrap tops with ruffles or pleats, as they add more interest and volume to your bust line. However, the secret to getting this effect is to make sure that these extra details are not around your waist but above your bust area.
To enjoy a slimming effect on your petite rectangle frame, wear wrap tops in darker colors. Darker colors are known to create a slimming silhouette which makes your body more proportionate on both halves.
Belted top
Want to create a curvy silhouette? Then try out a belted top and enjoy all the benefits it attracts to your body shape. Not everyone can pull off a belted top, but the good news is that you can if you have a petite rectangle shape.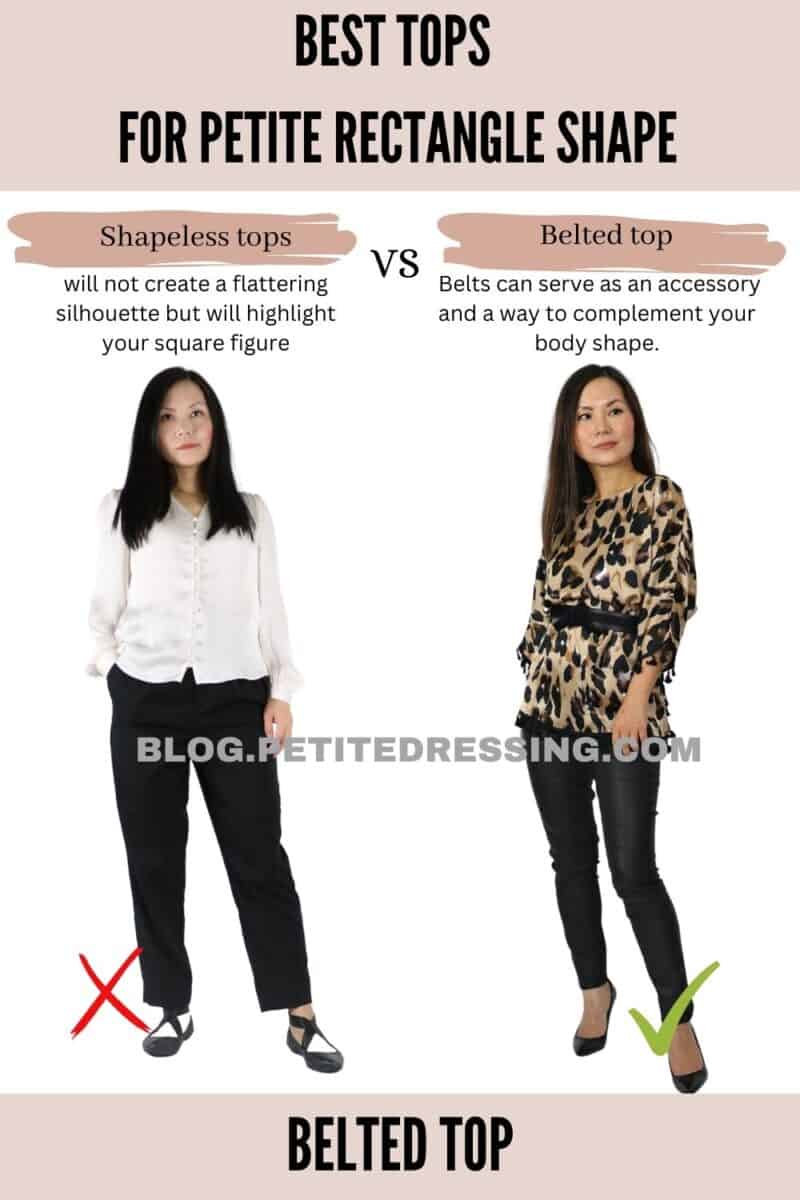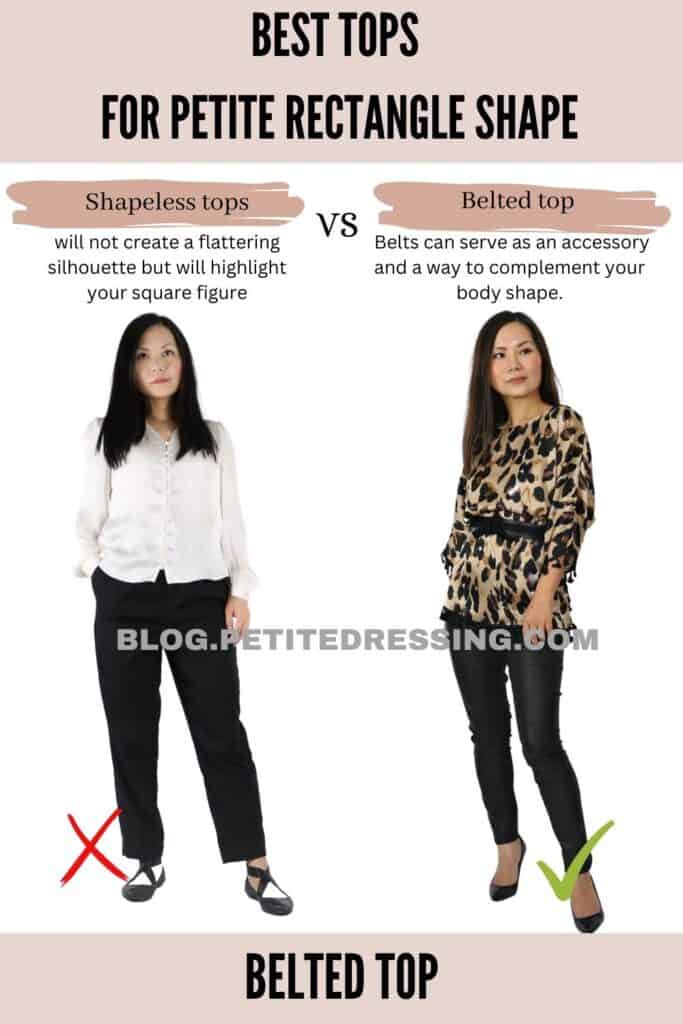 The advantage of wearing a belted top is that it creates a cinching effect on your waistline, which is perfect for implementing feminine curves on your rectangle shape. Belts can serve as an accessory and a way to complement your body shape.
In this case, you'll be glad you wore one. However, here are some tips to help you rock belted tops the right way. The first one is to ensure that the belts are not too wide. You want to create curves not completely draw attention away from flattering parts of your body.
You also don't want to overwhelm your petite frame. So, I suggest wearing a slim belt, preferably in darker colors like black.
Color-block top
Define your body frame with strong blocks of color. So, what exactly is color blocking, and how can you use this to your advantage as a petite woman with a rectangle body shape? The concept of color blocking involves using blocks of color to create an eye-catching effect.
It's not just about being bold with your color choices, a color-block top can be useful in flattering your rectangle body shape. With darker colors, it's easy to draw attention away from areas you're not excited to show off.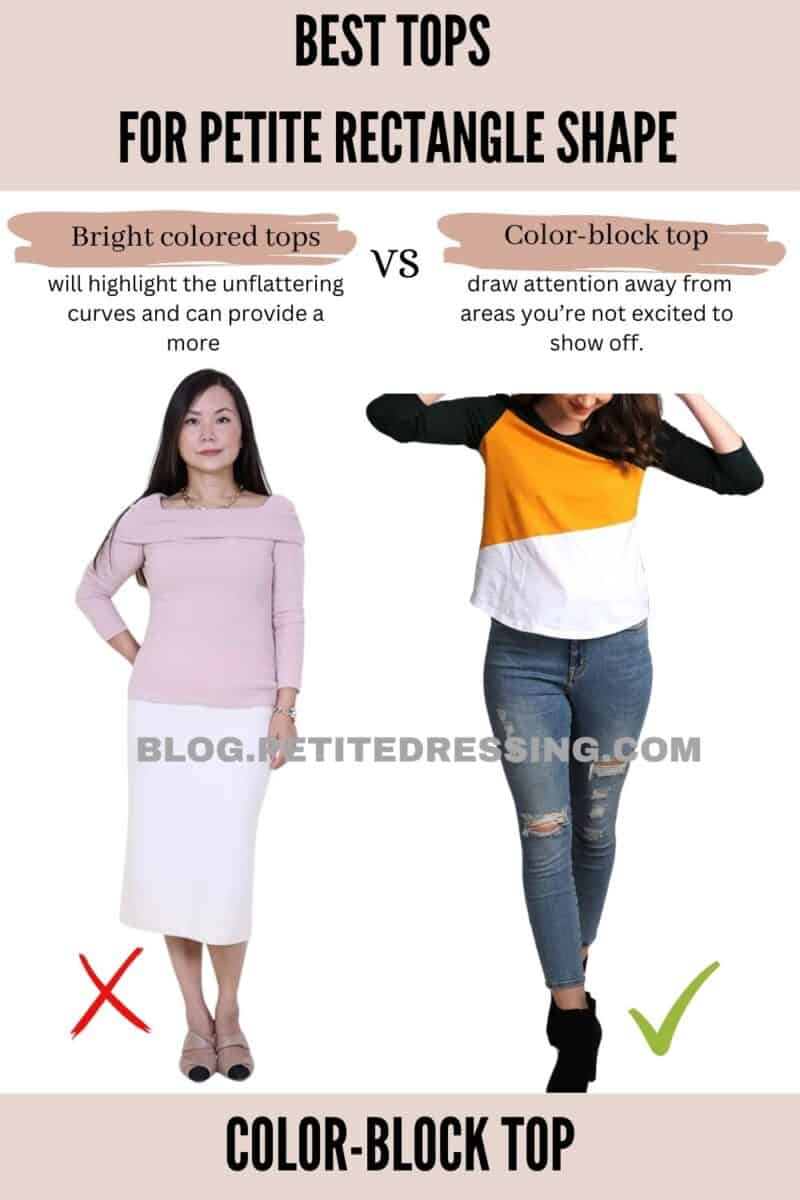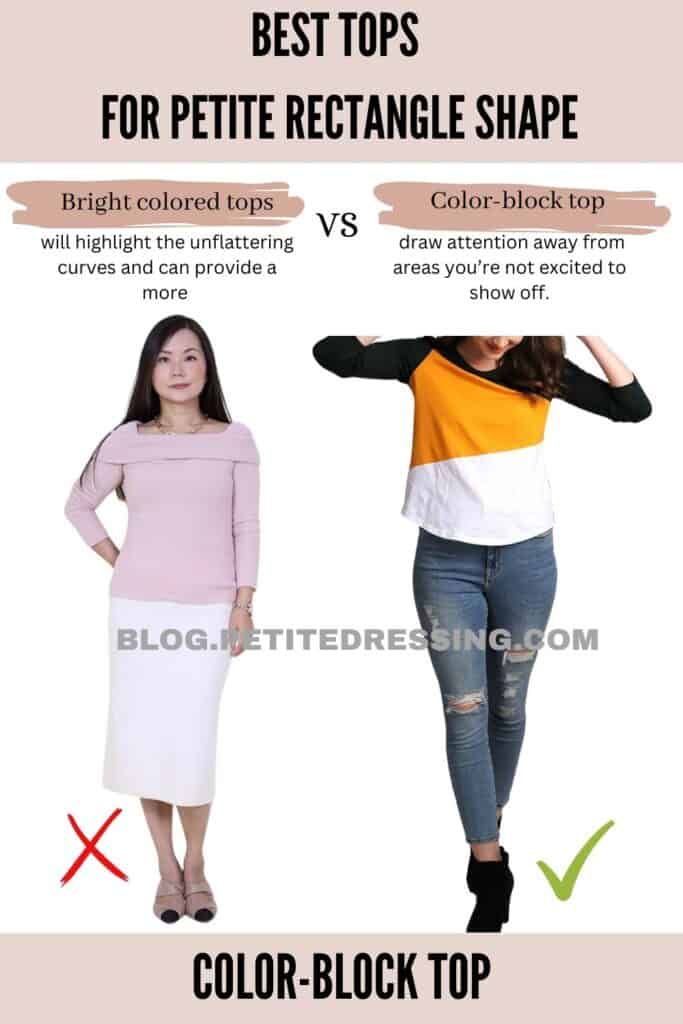 Use strong stripes in your color-blocking technique for an amazing slimming effect. When color blocking, I'm a huge fan of choosing colors from the same family, and I suggest you try that too.
It's quite simple. The rainbow color order is red, orange, yellow, green, blue, indigo, and violet. The red, orange, and yellow shades belong to one family, while the others belong to another family.
So, you can choose to color-block this way and play around with colors on your tops to see how well they enhance your body shape in a super-flattering way. This is a vibrant way to express your style and personality.
Peplum top
Women with a petite rectangle shape should work on using tops to create a defining waistline, and this is possible when you wear tops with the right elements. A peplum top will help to draw attention to this area which ultimately gives you a more defined waistline.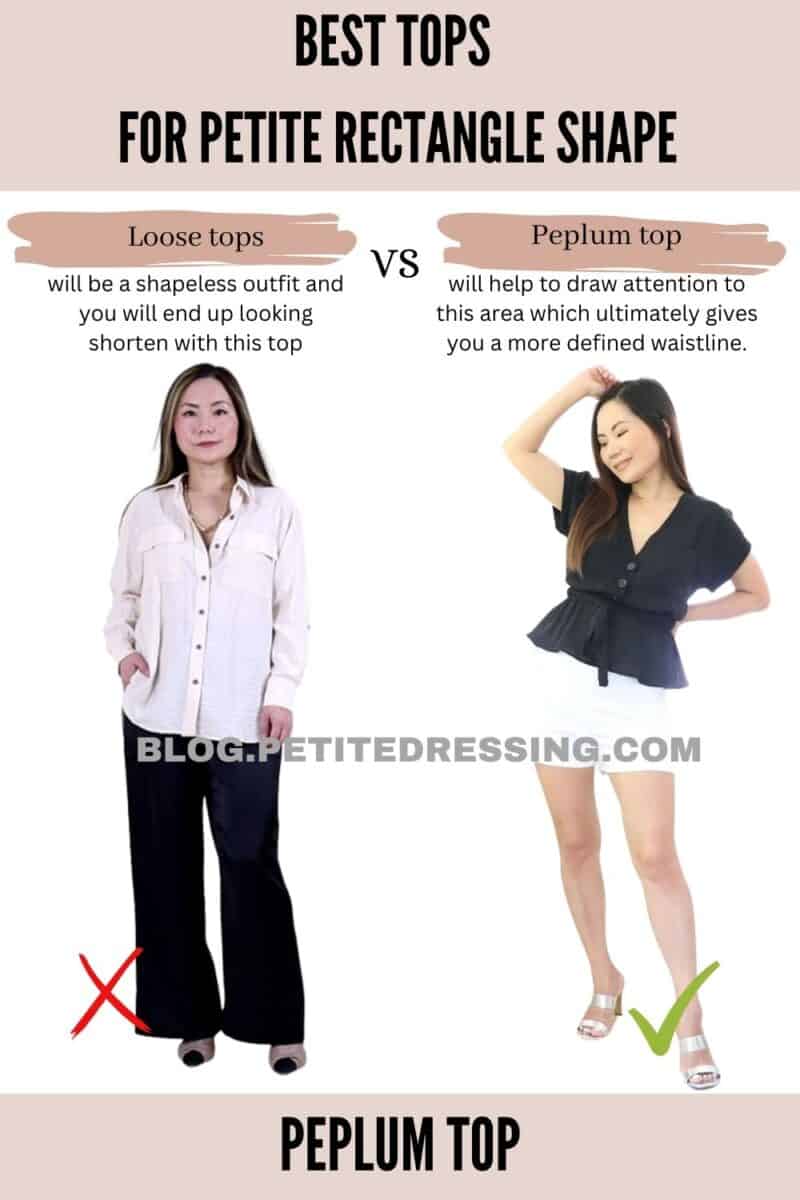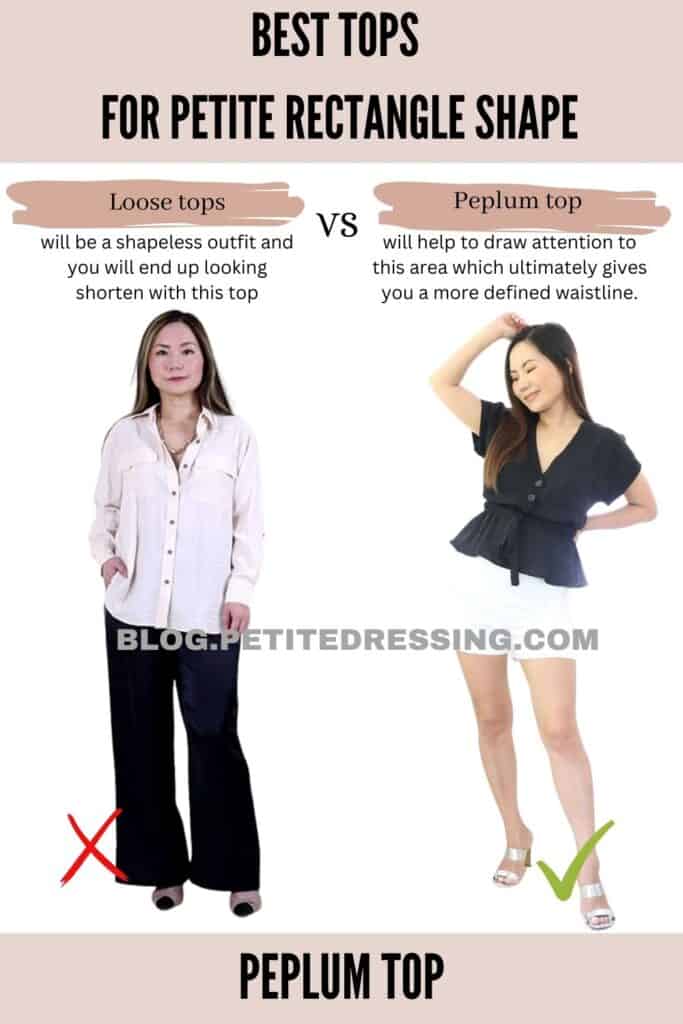 One person who has been able to pull this off in public glare is Reese Witherspoon. She is a true petite woman at 5'1, and I've seen her rock a peplum top on long jeans more than a few times. This had the amazing effect of creating a curve at her hip and a cinched waistline.
It works for Reese because she is a petite rectangle with no defined curves. You can pull this off too. Your peplum top can have a v-neck. It's really all about bringing the eye in so that there's the perfect illusion of a waistline, even if you don't have one on your rectangle shape body frame.
Off-the-shoulder top
Being a petite woman with a rectangle shape doesn't mean you have to opt for boring tops. In fact, you can really take things up a notch with your outfits and still achieve that beautiful glow.
Off-the-shoulder tops are a great way to achieve this. There's a huge chance that your body type comes with prominent collar bones. If that's the case, then you shouldn't be shy about showing them off as much as you can.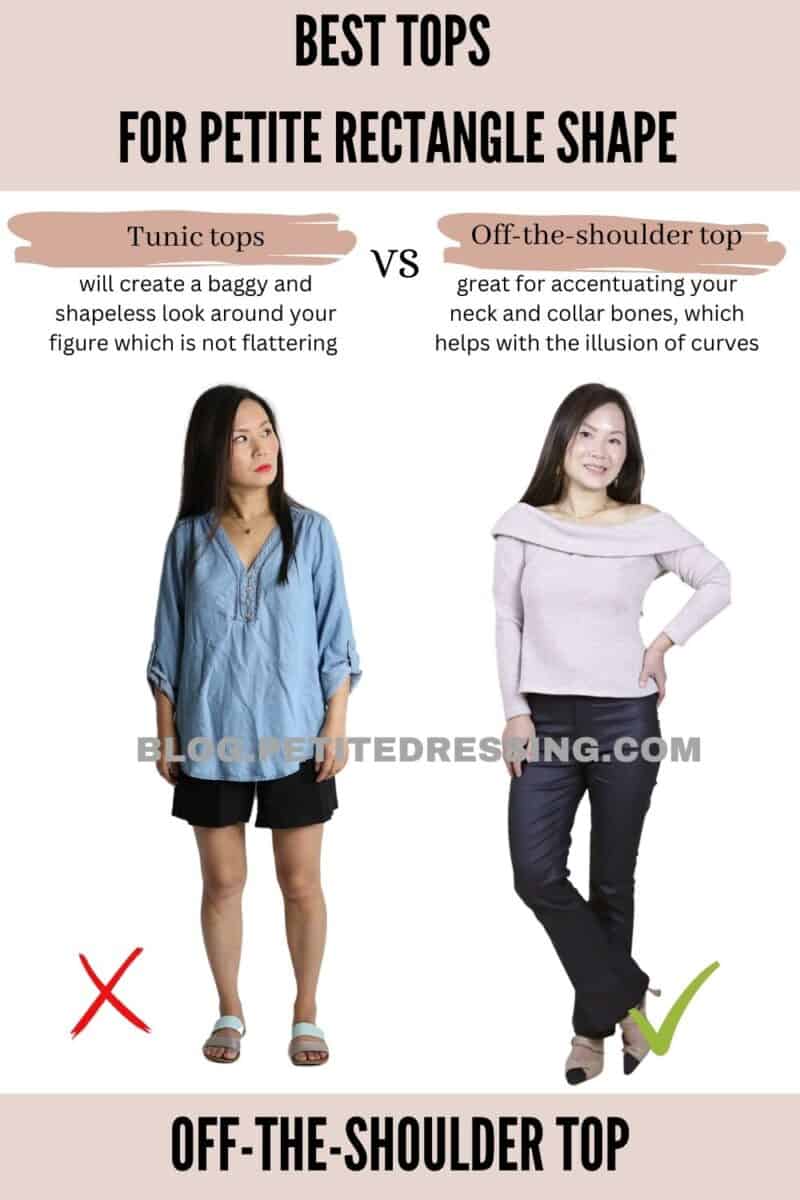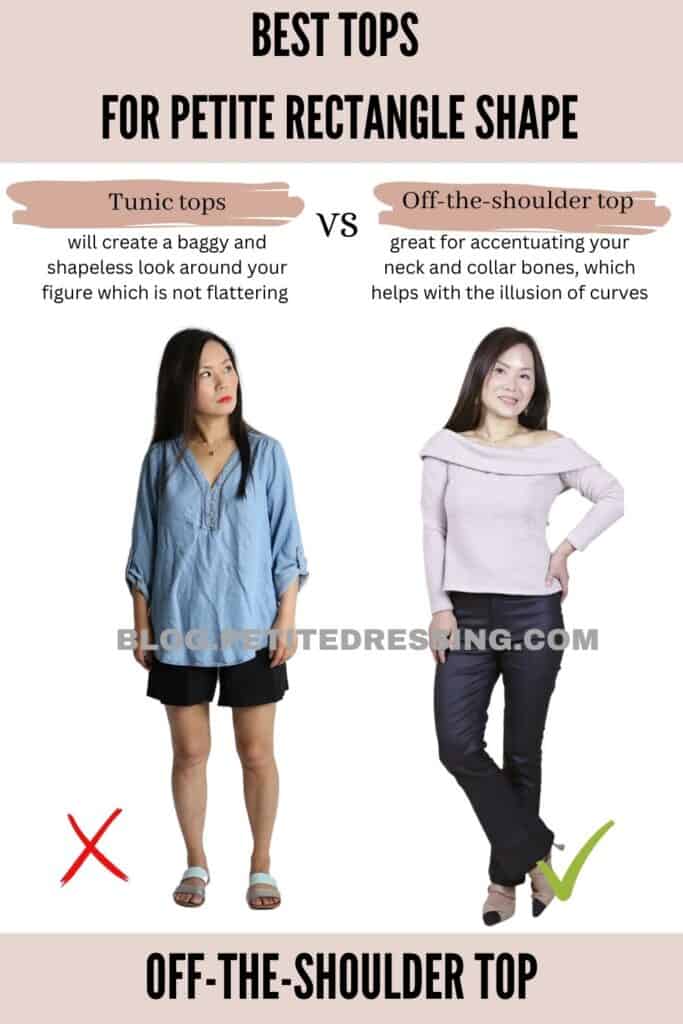 You can definitely add a playful touch to your outfit by opting for off-the-shoulder tops. This is great for accentuating your neck and collar bones, which helps with the illusion of curves. Petite women with rectangle shape have a column-like silhouette, and it's helpful to wear outfits that are great for creating curves.
So, you should definitely consider adding some off-the-shoulder tops to your wardrobe as a great way to spice up your outfits, especially when paired with the right pair of shoes.
Avoid oversized tops
As much as you're tempted by the idea of throwing on a baggy sweater once in a while just to feel comfy or conceal less-flattering aspects of your body, don't. Oversized tops don't flatter your figure. Instead, they will drown you, and that's not great for your body type.
Most women with a rectangle body shape already have a boxy silhouette and minimal curves. The last thing you want to do is emphasize this silhouette with oversized clothing. A much better choice is to wear tops with a closer fit which have an elongation effect that makes you look taller.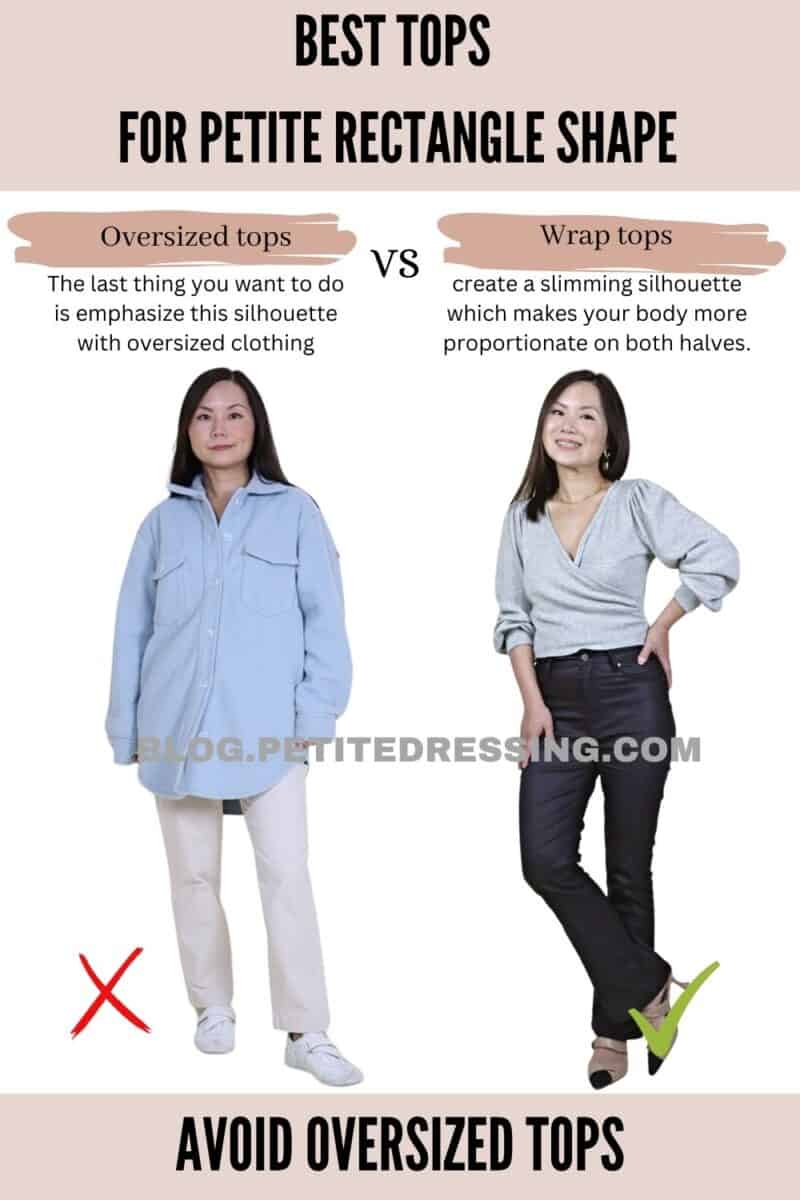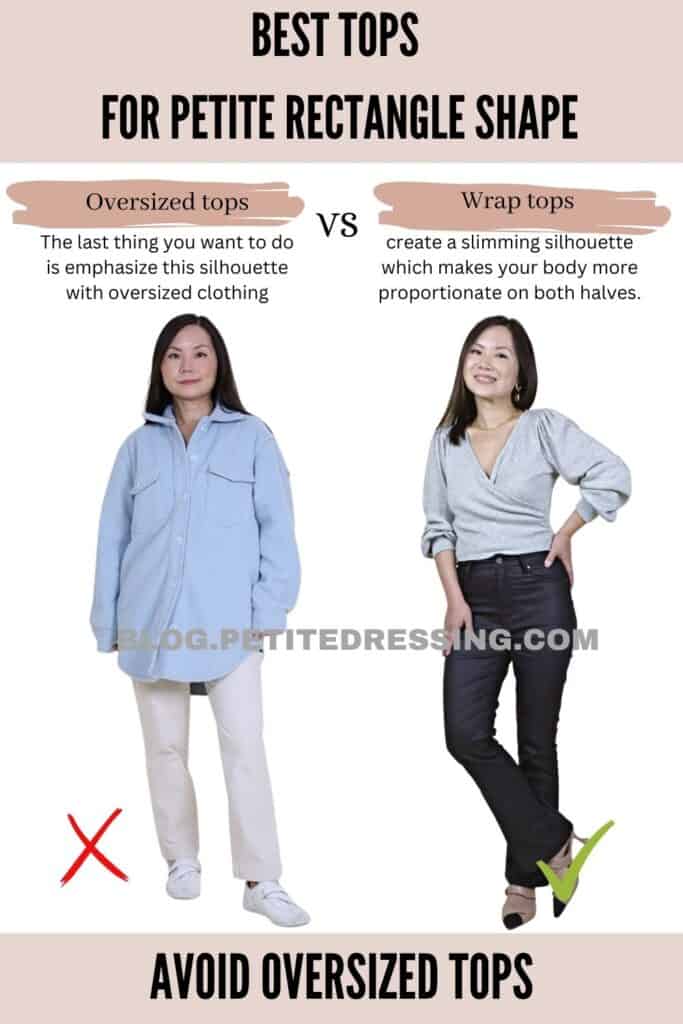 Closer fits on tops also give you a more proportionate look, balancing both halves of your body. The goal is not to completely conceal your body but to wear clothing that emphasizes your best look.
These tips are a great way to get started on creating your stylish and flattering wardrobe. Remember that you shouldn't be afraid to step outside of your comfort zone, especially when it comes to finding the perfect tops to flatter your petite rectangle shape.
You can definitely create a wardrobe that will make you feel fabulous and confident using these tips and tricks.