The strawberry body shape is synonymous with broad shoulders and a narrow waist/hip area.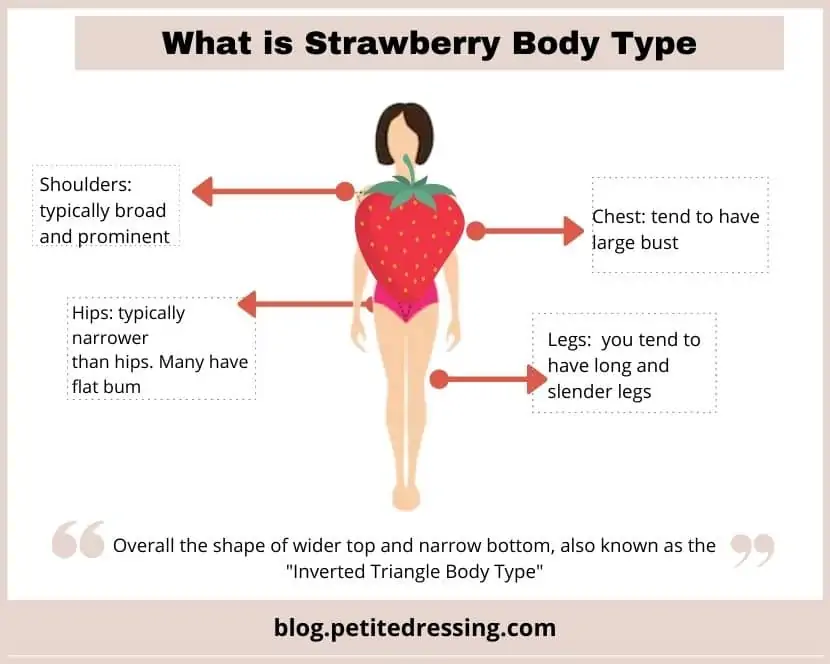 Most often, women with a strawberry body shape have a large bust and flat bum. If that description describes you, you may have a strawberry body type. You've likely heard this specific body shape also called the inverted triangle.
Tops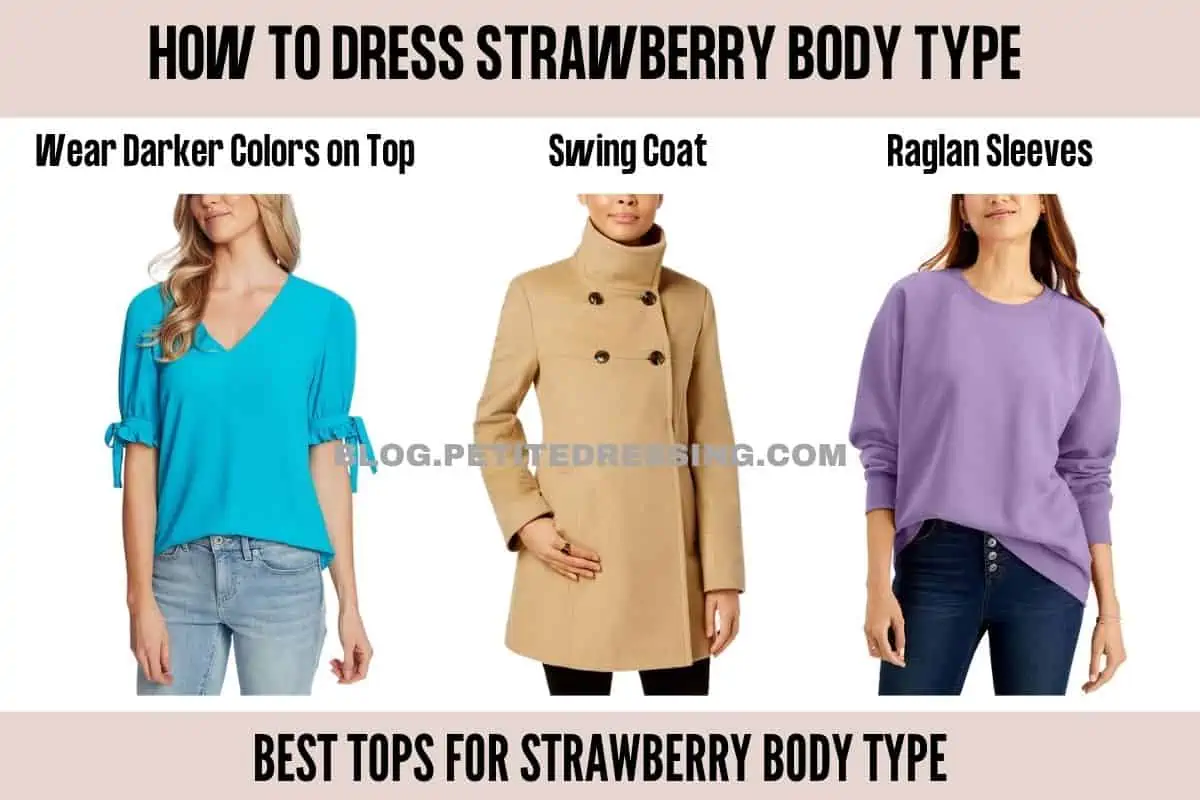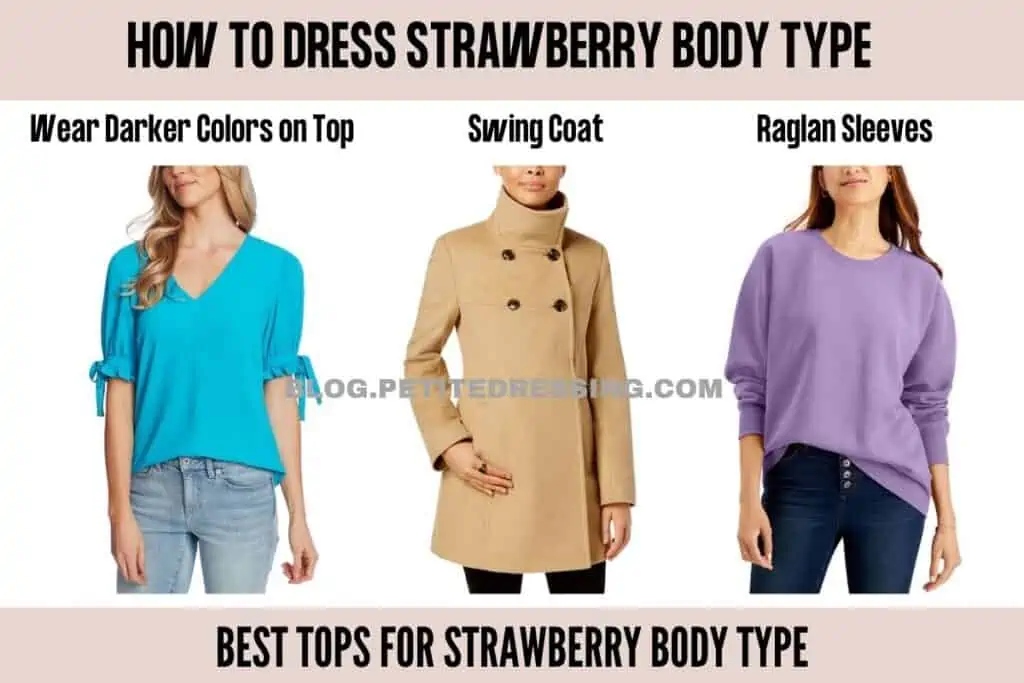 Wear Darker Colors on Top
To flatter broad shoulders, favor wearing dark colors on the top half of your body. This doesn't necessarily mean you have to wear black tops every day, but rather compliment whatever color(s) you wear on the bottom half with a color that's darker. The good news is any color can be considered 'darker,' with this approach.
Since you will be wearing darker colors on the top half, it means you can really have fun with bright and light colors on the bottom half. Have fun with patterns, prints and all colors of the rainbow. This is going to highlight the bottom half of your body, giving the illusion of your strawberry shape being balanced.
Avoid Spaghetti Straps
Having broad shoulders is one of the most noticeable features of the strawberry-shaped women. Even though having broad shoulders is viewed as an asset in fashion (most supermodels have broad shoulders), sometimes you may feel self-conscious about it. If you want to make your shoulders less noticeable, you should stay away from spaghetti straps.
The reason is spaghetti straps are very thin, thus they form a very sharp contrast with your wide shoulders. Whether it is a dress with spaghetti straps or camisole top, they call can make your shoulders look even broader than they already are. So, if your goal is to minimize attention to your shoulders, then spaghetti straps are not the best option for you.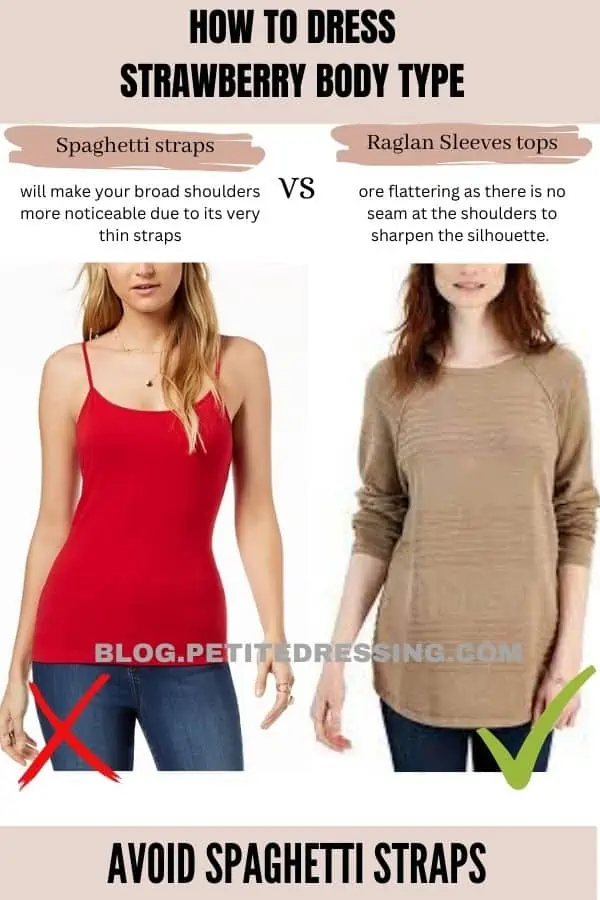 However, since spaghetti traps is a very feminine design, there may be occasions when you do still want to wear them. In that case, I suggest you go with the straps that is closest to your skin color and avoid anything that has a contrasting color.
The more contrast the straps have with your skin, the more attention they will draw to your broad shoulders. On the other hand, if you go with nude color or skin tone color traps, they will be much less noticeable.
Swing Coat
A swing coat is a type of coat that is fitted at the top and flares at the hem. This type of coat is most flatting to women with strawberry body type because it is the exact opposite of your body shape.
Since the strawberry body shape is wide on top and narrow at the bottom, you need to counterbalance that by wearing a silhouette that does the opposite. That is why the swing coat is the perfect option.
Raglan Sleeves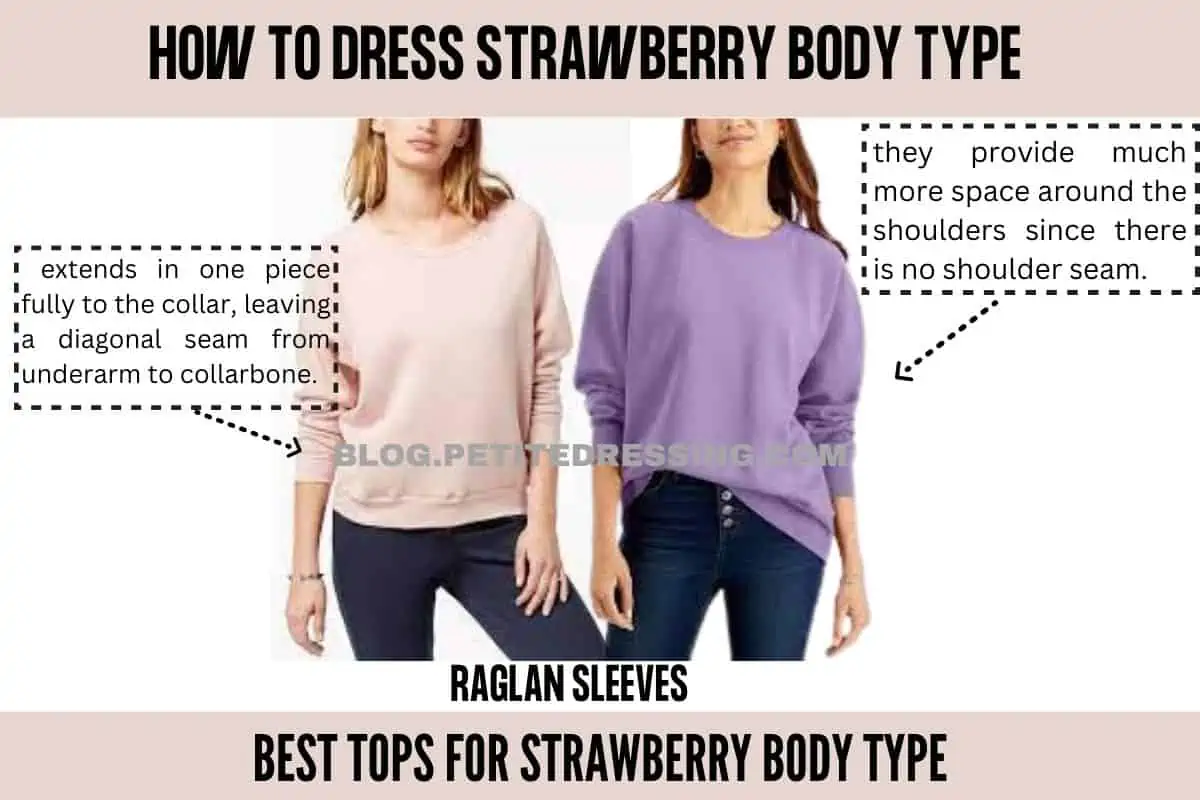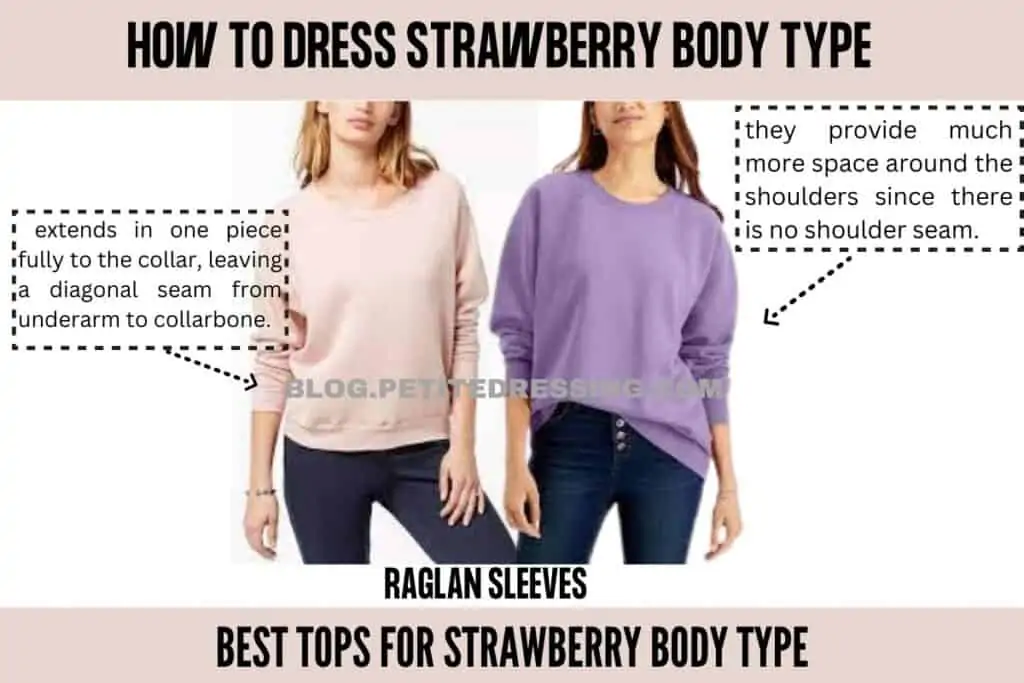 A raglan sleeve is a sleeve that extends in one piece fully to the collar, leaving a diagonal seam from underarm to collarbone.
Women with strawberry body type will find a raglan-sleeved garment more flattering as there is no seam at the shoulders to sharpen the silhouette.
One major frustration for women with wide shoulders is that they often find their shoulders too tight in coats or jackets. That is especially true for clothing designs featuring a well-tailored shoulder. If you wear the raglan sleeves, they provide much more space around the shoulders since there is no shoulder seam.
People with large upper arms may benefit from a raglan as the fitting is wider in the underarm area than a set-in.
Avoid Boxy Jackets and Tops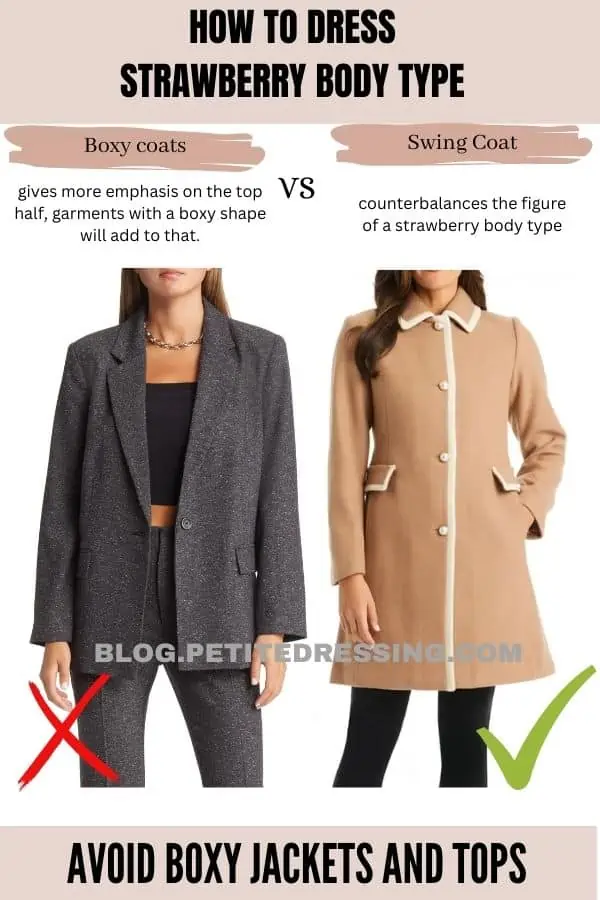 Because a strawberry body shape naturally has more emphasis on the top half, garments with a boxy shape will add to that. As fall and winter are just around the corner, pay close attention to the silhouette of the pieces you wear on the top half of your body.
You will want to favor pieces that are softer in fit, fitting to the body without adding bulk. Tops and jackets that fall straight on the body tend to be the most flattering and give your shape an elongated effect.
Long, Light Layers
Dressing to make your shape look longer, especially your top half when you're a strawberry shape, is a styling hack experts love to utilize. Complete your outfits with long, lightweight layers to achieve this. Examples of these types of layers are long cardigans or vests. Due to the exaggerated length of these garments they add a vertical line down the center of the body, and draw some attention towards your bottom half. Just be sure to keep these layers lightweight so they don't add bulk to your top half.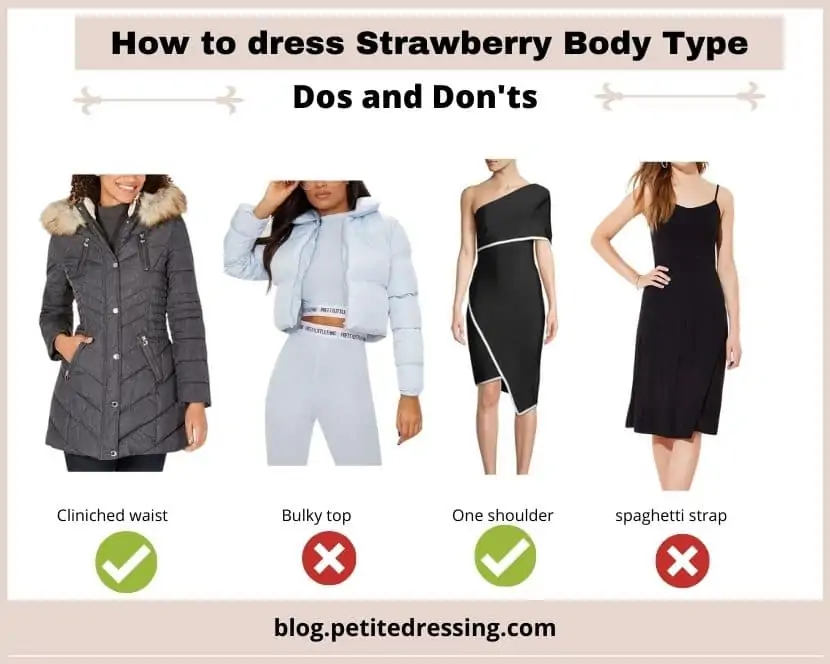 Avoid High Necklines
Choosing the right necklines is critical for strawberry shape women to balance out their body type.
Contrary to what many believe, high necklines aren't the best option for women with a strawberry body type. Simply put, it's because a high neckline draws a LOT of focus to the widest part of your body and cuts off your shape in a less than flattering manner.
Necklines that are open break up the space around your neck and shoulders by enhancing your natural curves. Scoop and v-necklines are found to be some of the best go-to options to enjoy wearing.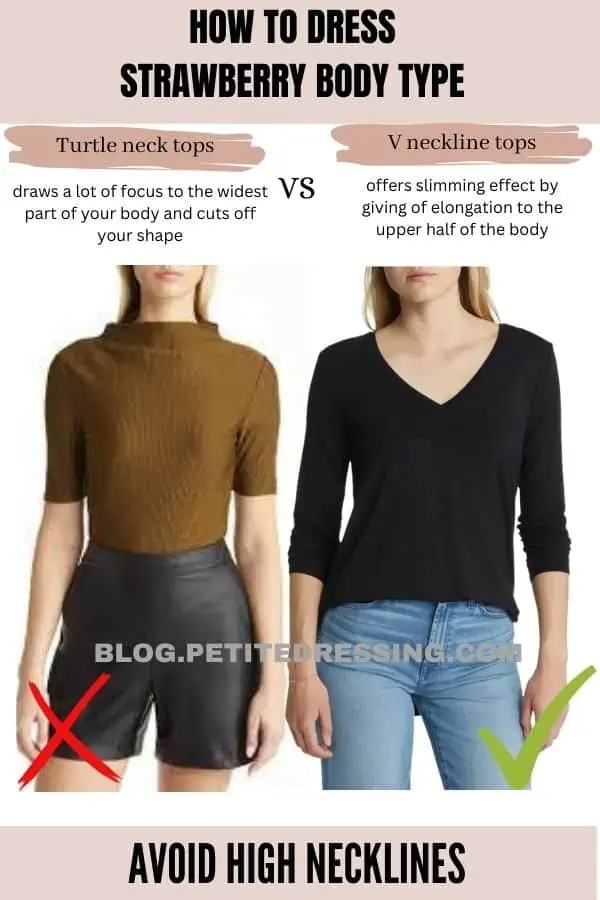 Skip Tops with a Lot of Details
This isn't to say you can't have fun with tops and blouses, but it's suggested to air on the side of caution for a strawberry body type.
Any top, jacket or dress that has a lot of ruffles, embellishing, etc. around the shoulder and chest area will make that area the focal point of the outfit.
If that's not your goal, keep those details to the garments you wear on the bottom half of your body. This will minimize the bulk around your shoulders and give a slimming effect.
Bottoms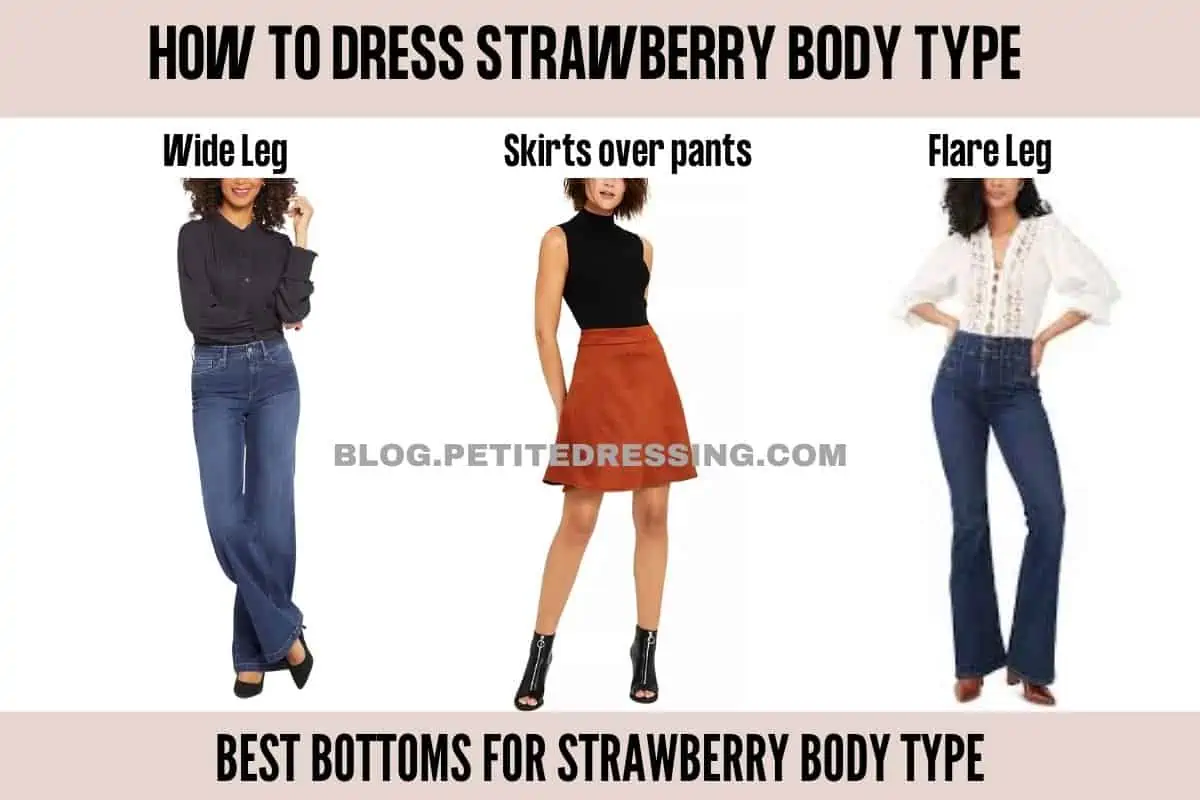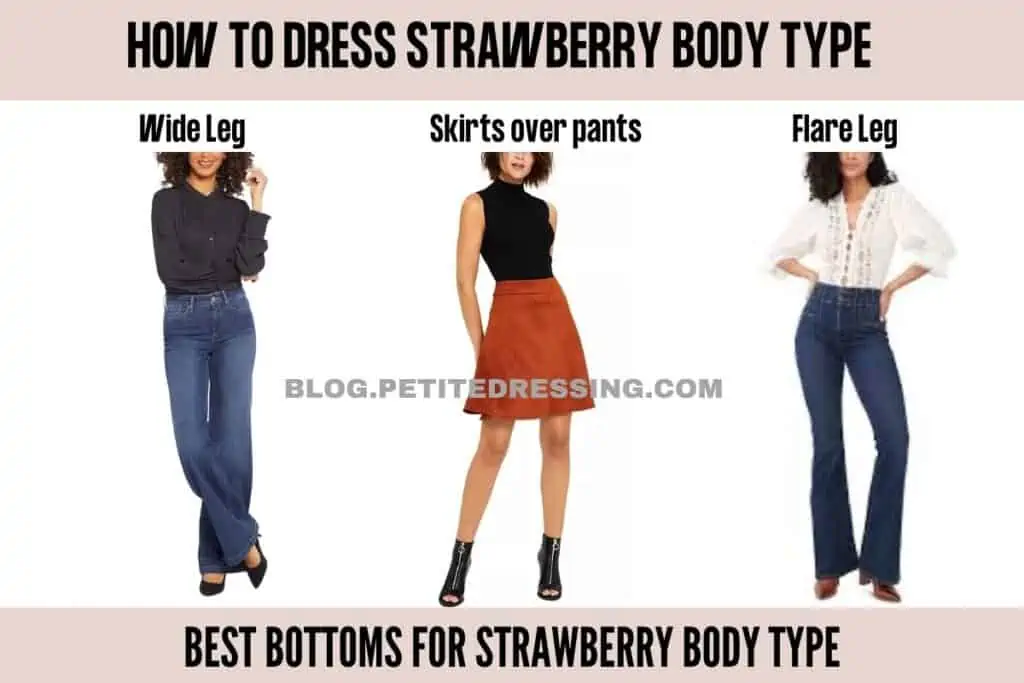 Avoid Skinny Fit
As you've noticed, the key to flattering the strawberry body type is putting more of the focus on the bottom half of your body.
Skinny-fit pants, while on trend, aren't the best fit for a strawberry body because they make the bottom half appear even smaller.
Your ankles and calves look incredibly small in a skinny fit, which draws attention to the bottom half of your body in a way that isn't ideal.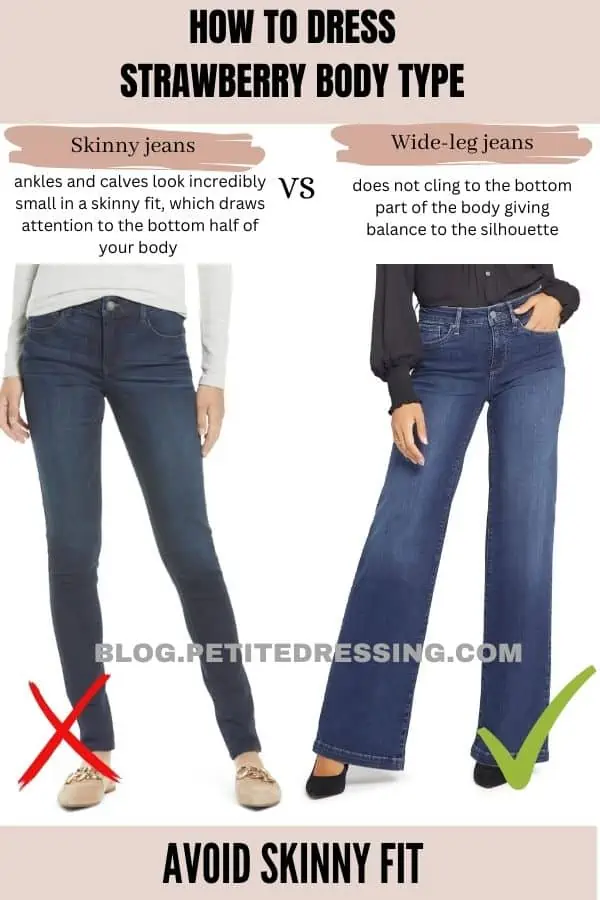 Wide Leg
Instead of wearing skinny fit, it's recommended to stick with pants that add volume to your legs. The best pant silhouette for the strawberry body type is the wide leg.
Wide-leg pants come in a variety of fabrics and can be worn in all seasons. Those made of flowy and light weighted fabrics are commonly referred to as palazzo pants, and they are the best option for the summer or going on vacation.
You can also opt for wide-leg jeans, which are seasonless and can be worn year-round.
Either wide-leg pants or wide-leg jeans are going to be better options when you want to give the look of more balance to your shape.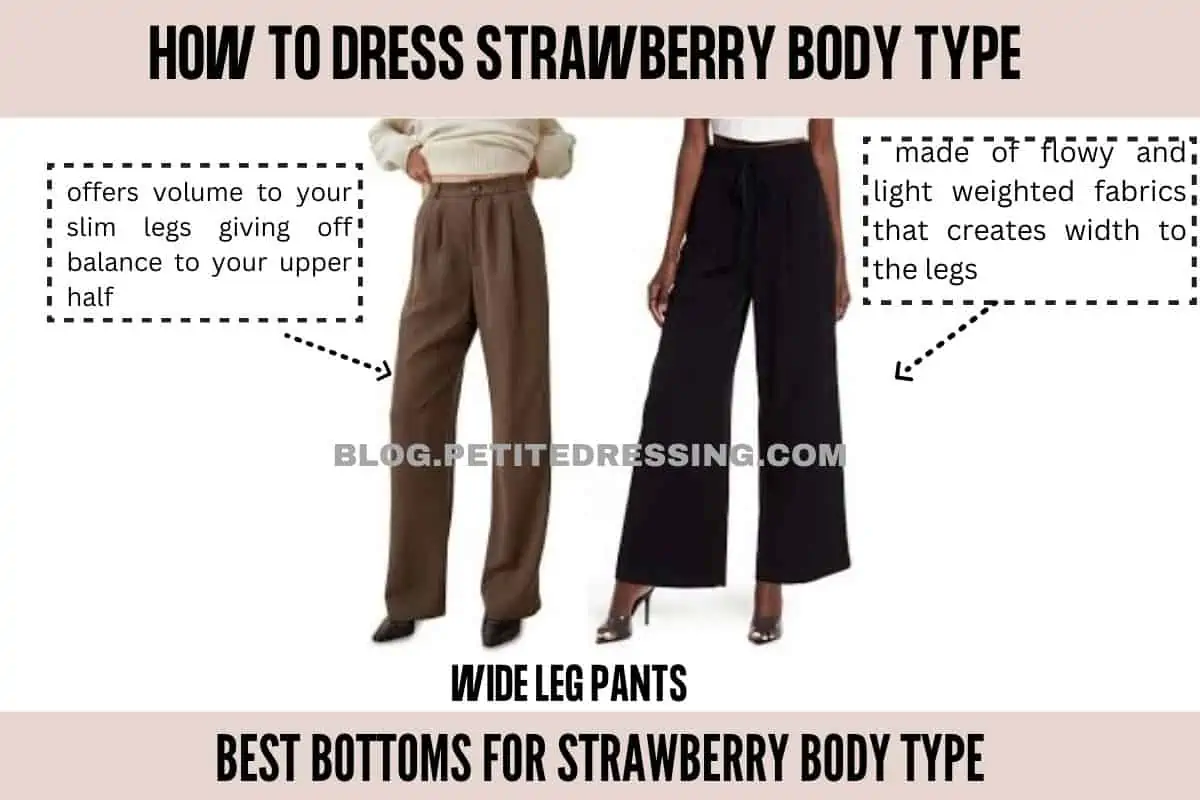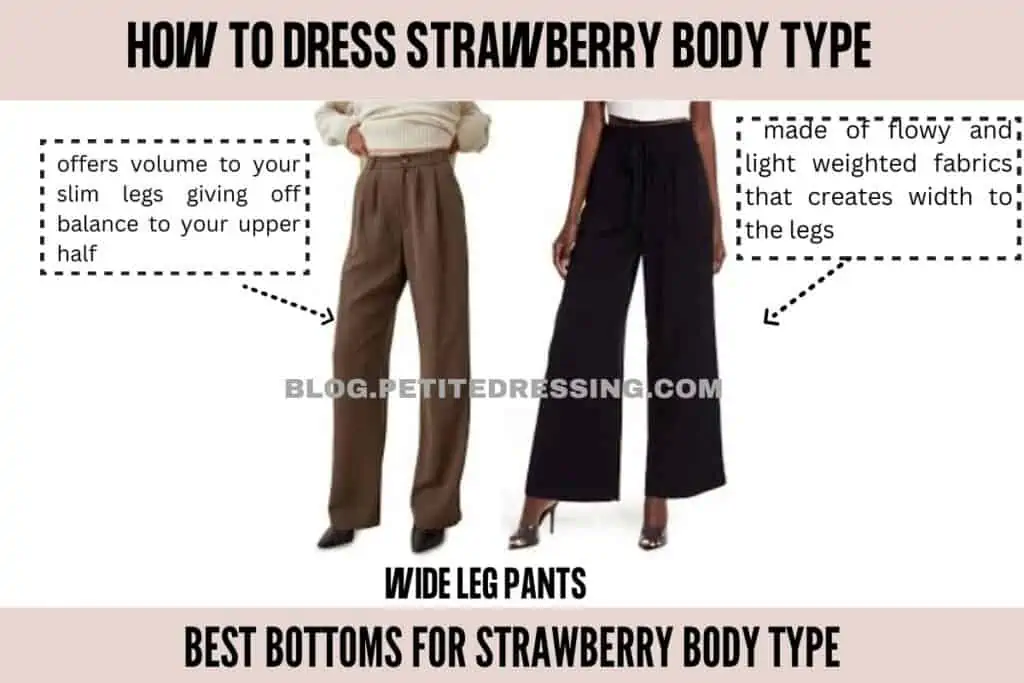 Skirts over pants
It's time to show off those legs! Chances are as a woman with a strawberry body shape, you have great legs. Focus on the positive and show them off. Skirts and dresses should be your new best friend to achieve this. Generally, hemlines that rest just above the knee are the most universally flattering. If you're comfortable showing a little more leg, you can certainly wear a mini skirt with confidence.
When selecting skirts and dresses, you will want to focus on those with a-line silhouettes. This particular shape is perfect to enhancing a strawberry shape because of the subtle flare at the bottom half, it adds just enough volume to balance your top half.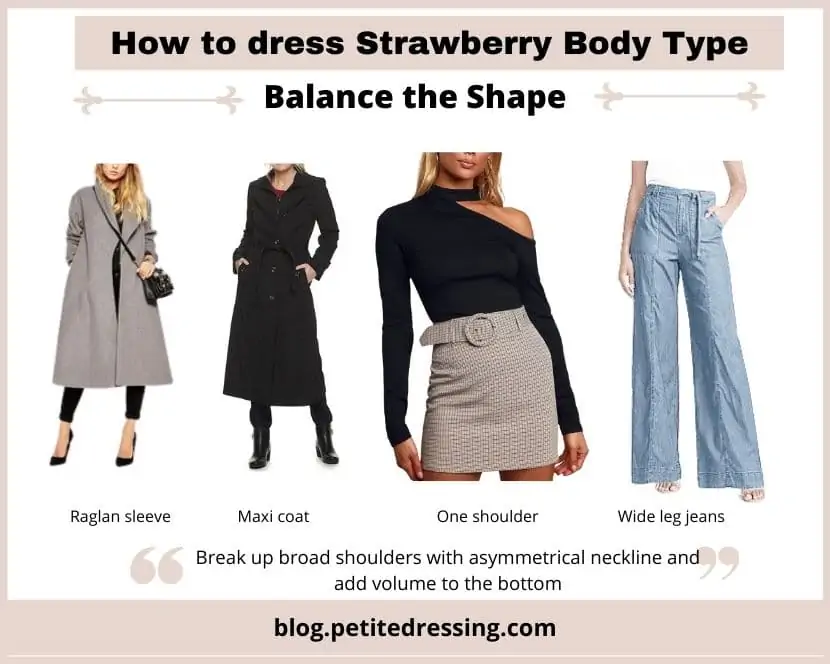 Flare Leg
Flare leg pants or jeans are another great option for women with the body shape of a straberry.
The reason is the flared leg shape is fitted on the thighs and gradually widens under the knees, forming a very flattering shape for the legs. The widening of the legs adds the volume that will balance out the shape of the strawberry.
Dresses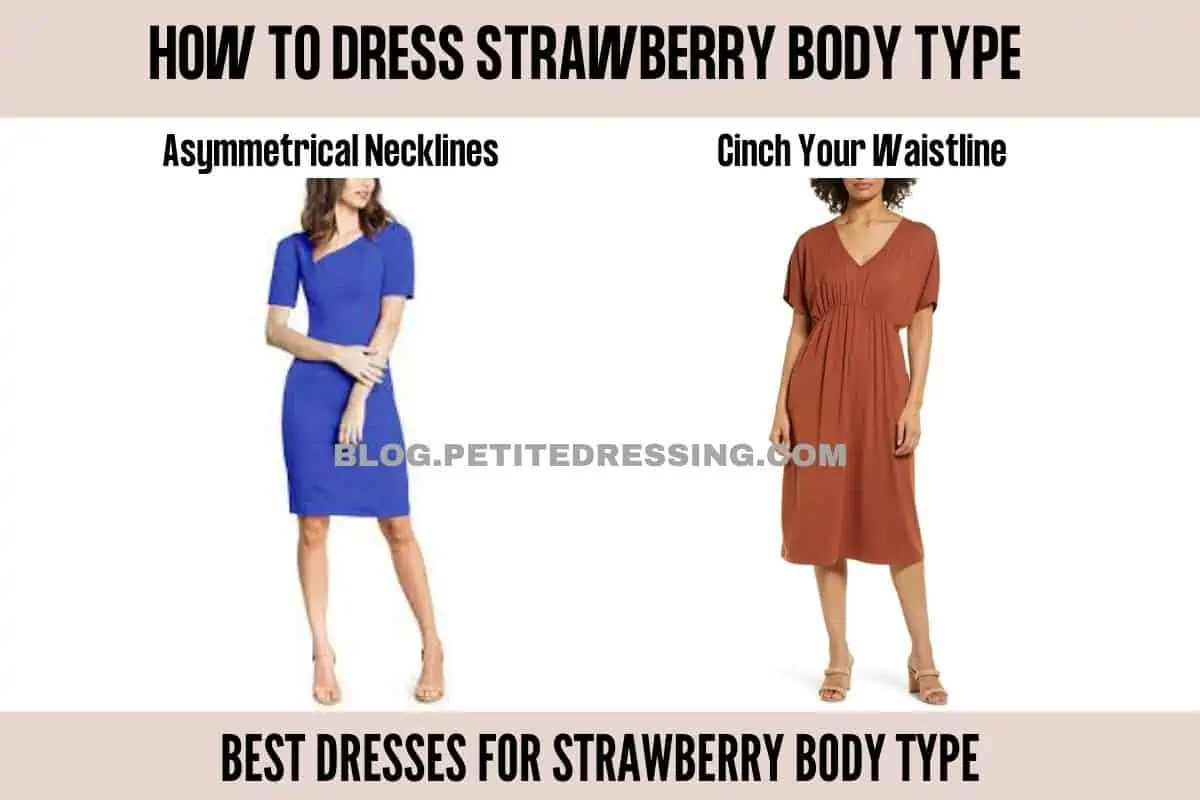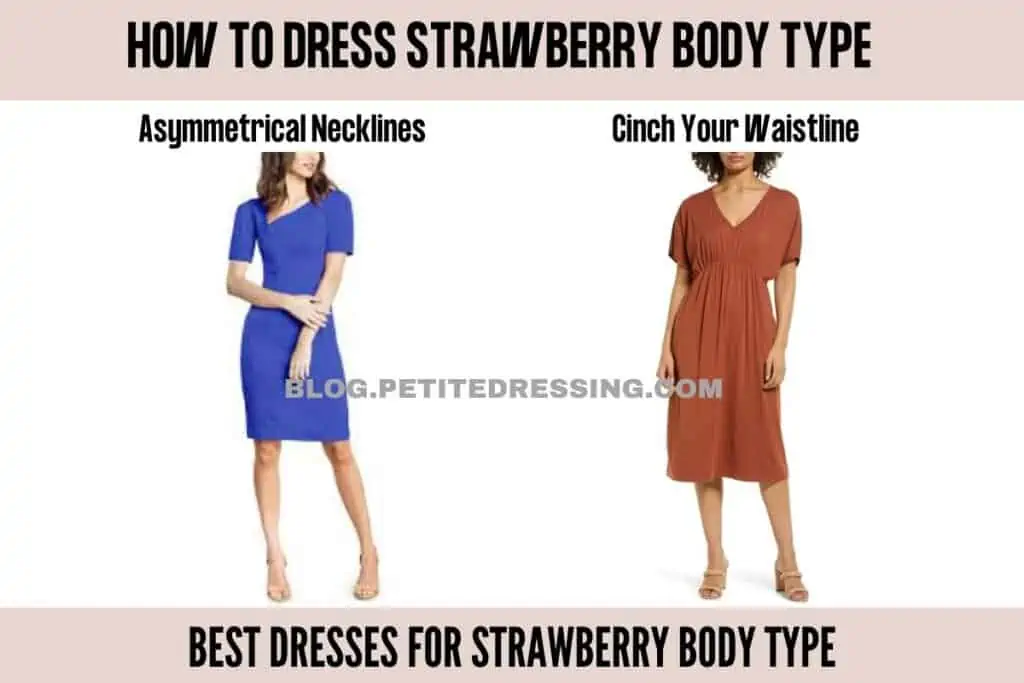 Asymmetrical Necklines
When you wear an asymmetric neckline such as the one shoulder tops or one shoulder dresses, they actually break up your broad shoulders, thus achieving a visual balance.
You can use this styling concept in not just your tops, but also dresses, and even swimsuits.
Cinch Your Waistline
Wearing clothes that cinch at the waist is a universally flattering style tip to reference, so naturally it applies to strawberry body type.
Anytime you highlight your waist, as the smallest part of it, it creates a slimming effect to your body as a whole.
Because the goal is to specifically flatter a strawberry body type, it's best to not just cinch the waistline but also wear items that flare at the hip in combination.
Think peplum and a-line silhouettes. This shape not only enhances your waist, but it adds balance to your hip area.